22 Cute Wedding Sweet Table Ideas (& How to Create Your Own)
Wedding sweet tables are a delicious addition to any type of ceremony, and are so easy to DIY yourself. These ideas will satisfy the sweet tooth of even the most sugar-obsessed couples – scoops at the ready!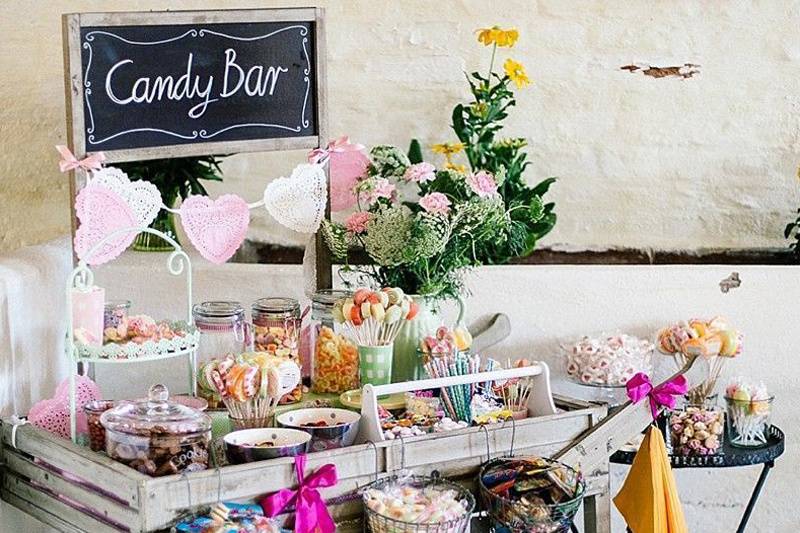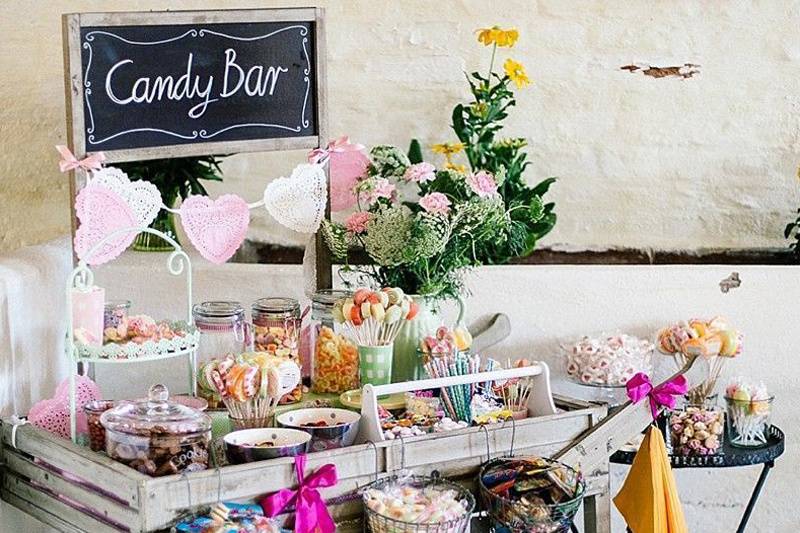 Wedding sweet tables piled high with pick and mix are the type of reception extra that guests will remember forever. Regardless of their age (or how full they might be after that three-course wedding breakfast) no one can resist the siren call of those stripy paper bags.
Along with increasingly creative dessert tables, candy bars and buffets have become a major trend in recent years, thanks to their wonderful sense of nostalgia and low-cost, high-reward set up. Not to mention the fact they could not be more Instagrammable: colourful candy + stylish serving dishes + a cute slogan sign = a recipe for sweet, photogenic success.
Thinking of making your own for your big day? These wedding sweet table ideas will give you plenty of inspiration for how to present your selection, and we've got all of the tips and props you need to make sure your display fits seamlessly into your wider wedding theme too. Sugar rush, here you come…
READ MORE
1. Industrial-Chic Shelving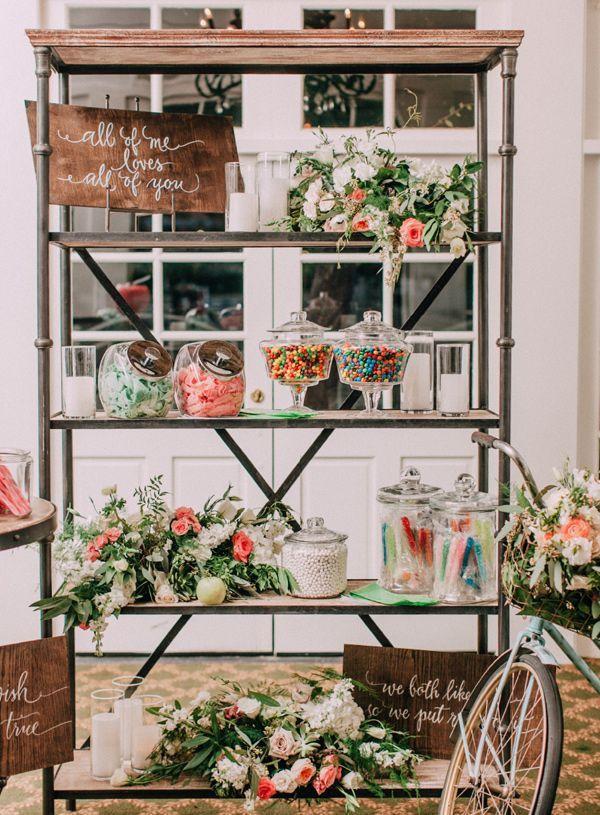 A tall, industrial shelving unit like this will have space for all of the candy your guests could dream of, plus bonus décor like flowers and signage to set it off. Scour second hand stores, Gumtree, Freecycle or Facebook's marketplace to see if you can find a second hand gem, or look at sites like Amazon, where you can invest in similar styles for less than £100 (and find a place for them in your home after the big day).
2. Use a Bureau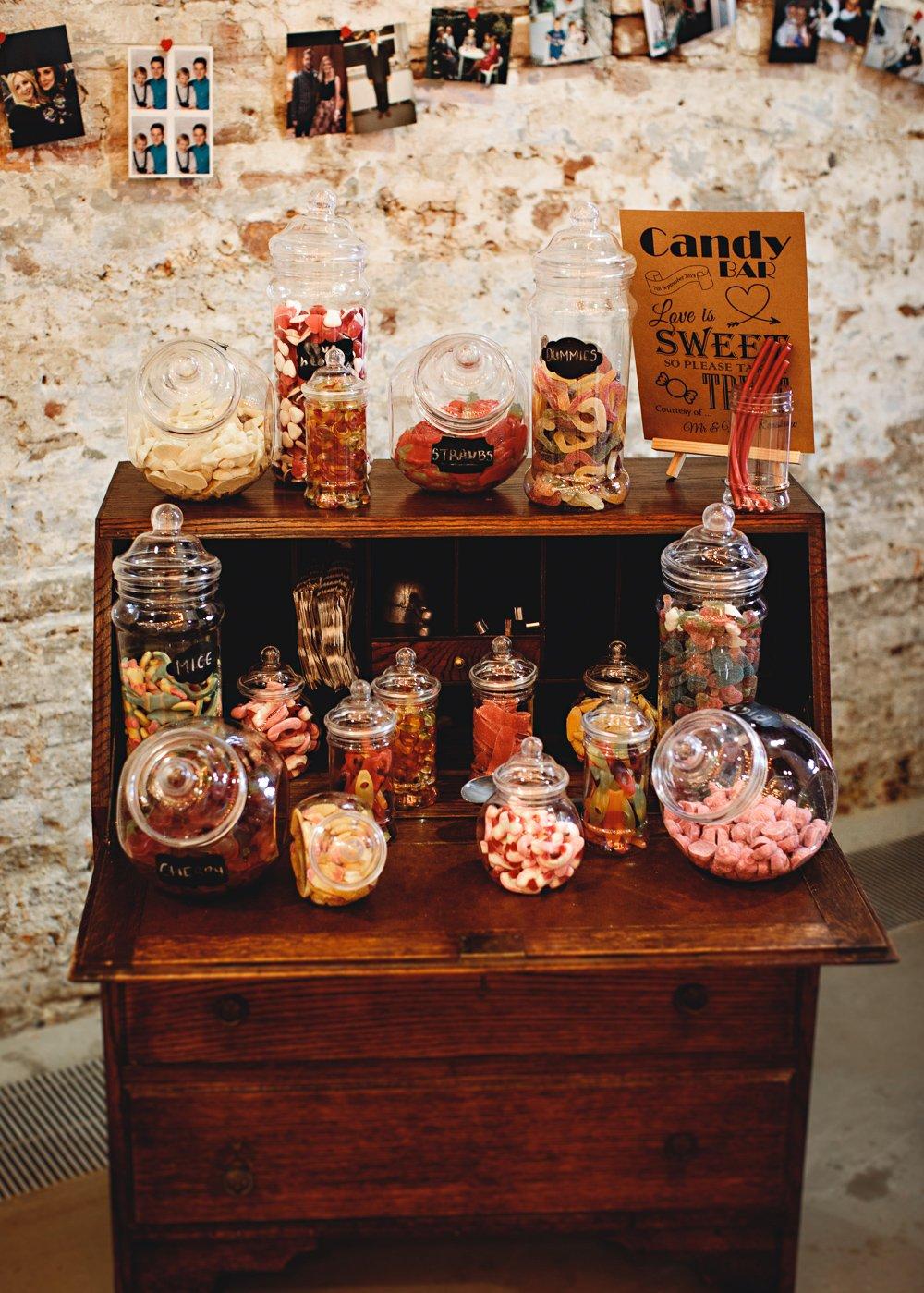 Another gorgeous way to repurpose old furniture! This dark wood bureau would look especially great at a wedding with an old-world, vintage vibe. The old-fashioned jars will summon up fond memories of retro sweet shops, and we love the idea of hanging a string of fun photos behind your arrangement so people can admire them as they snack.
3. Keep Things Colour Coordinated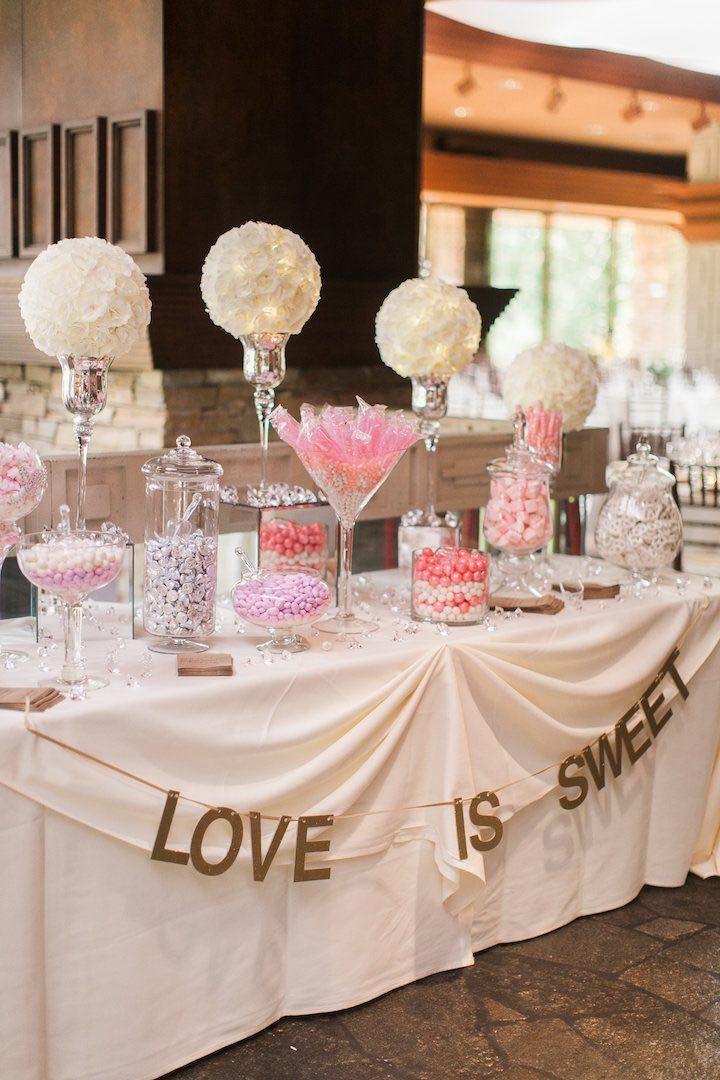 If your wedding has a clear colour theme, a rainbow of M&Ms and lollipops could end up distracting from the finished aesthetic. However, it's absolutely possible to colour-coordinate your sweets, like this couple have done on their pastel pink table. If you can't find enough of one particular colour, accent it with white or metallic, both of which feel more neutral.
4. Scale Down Your Size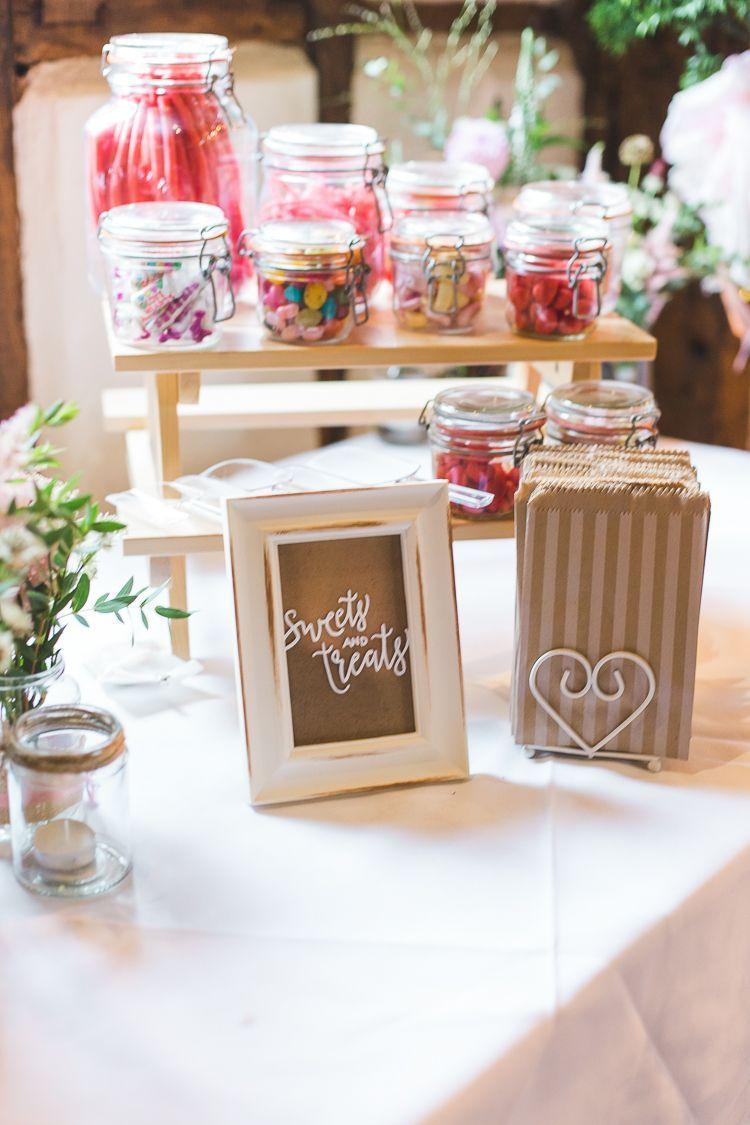 This small but perfectly formed set-up is proof that you don't have to go big or spend a fortune to have a wedding sweet table as part of your day. If you've already got lots of dessert options on offer, a couple of sweets per person will be plenty – present them on a mini picnic table and use a napkin holder to prop up your bags.
5. Call on a Cart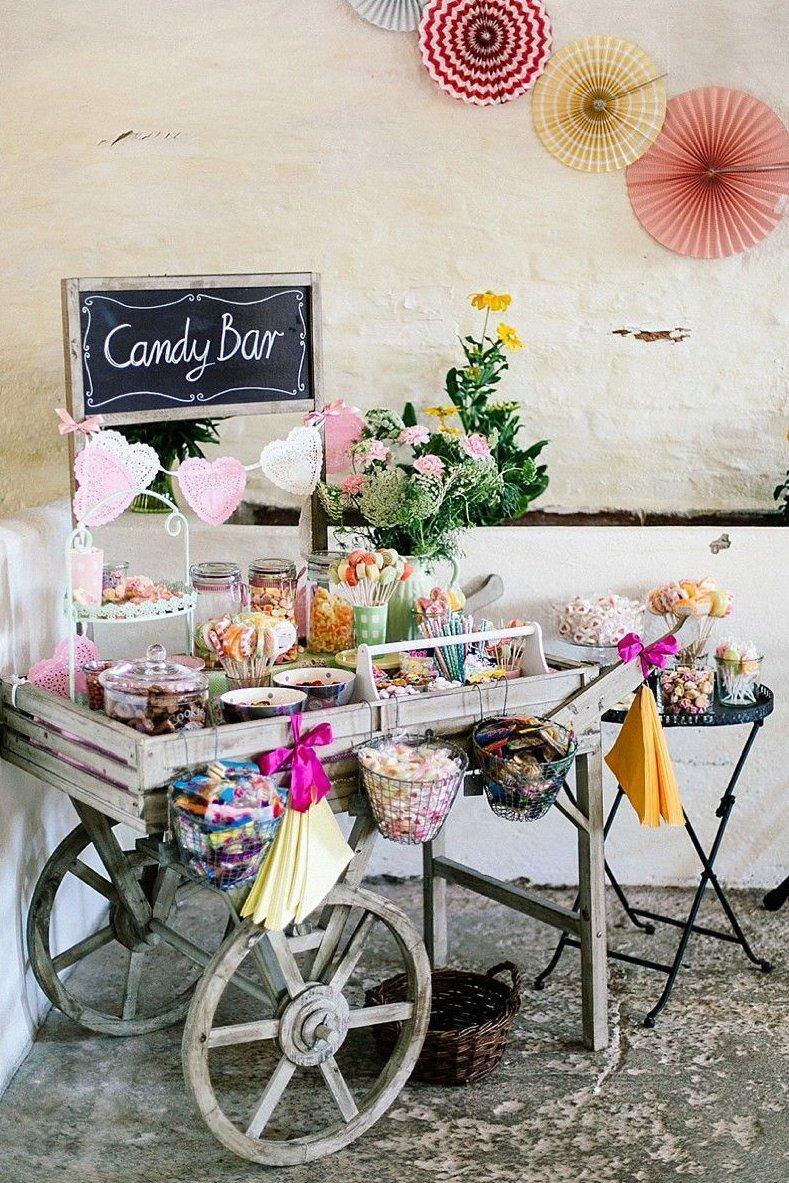 However, if you do want to go big, may we suggest tracking down an adorably rickety wooden cart like this. Using baskets and an extra smaller side table is also a smart way to extend your display without minimal set-up stress – add flowers, ribbons and bunting and you're good to go.
READ MORE: 48 Awesome Ways to Entertain Your Wedding Guests
6. Dress Up Drawers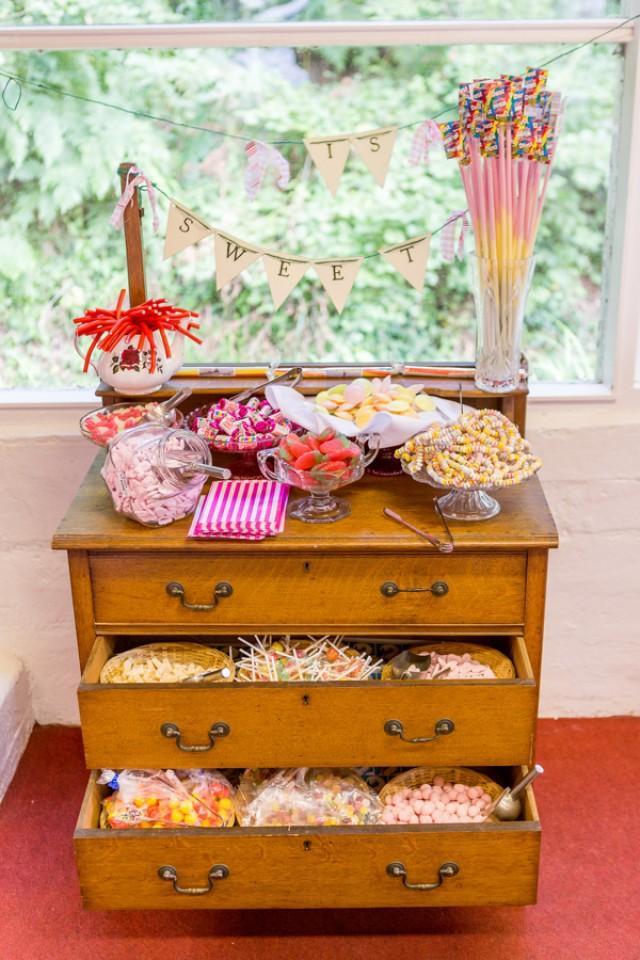 If this looks like the stuff of your childhood fantasties, now could be the time to make it a reality – what could be better than a chest of drawers absolutely overflowing with sweets?! This is another concept where charity shops and boot sales will be your friends. You could really play around with the look of the furniture by painting it or updating the handles too.
7. Try a Round Table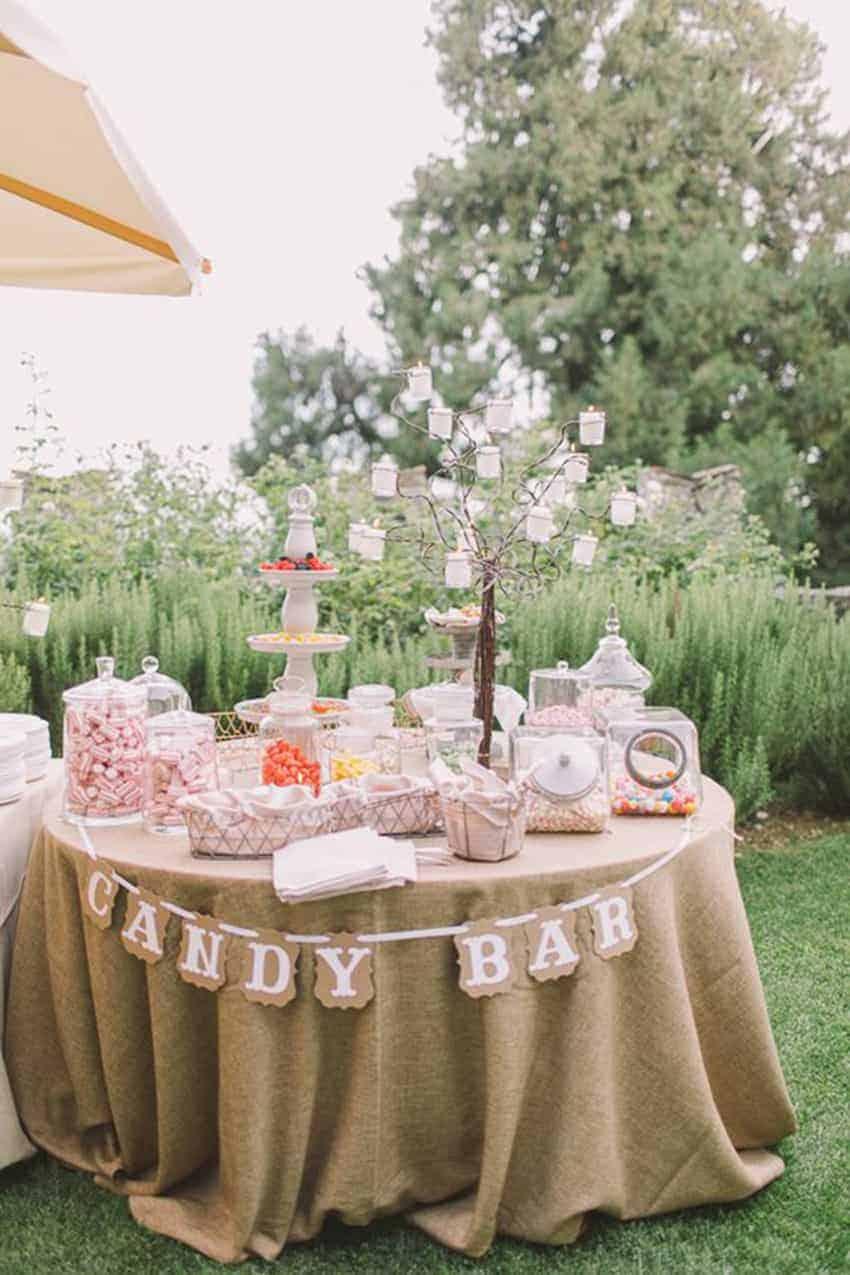 When you think buffet table, you probably think long and rectangular, but round designs are actually often even better, allowing guests to access all areas at the same time. The hessian cloth and brown paper bunting gives this table a chic, rustic finish, and using accessories and caddies of all different heights keeps thing interesting for the eye and for the taste buds.
8. Go Chocolate-Only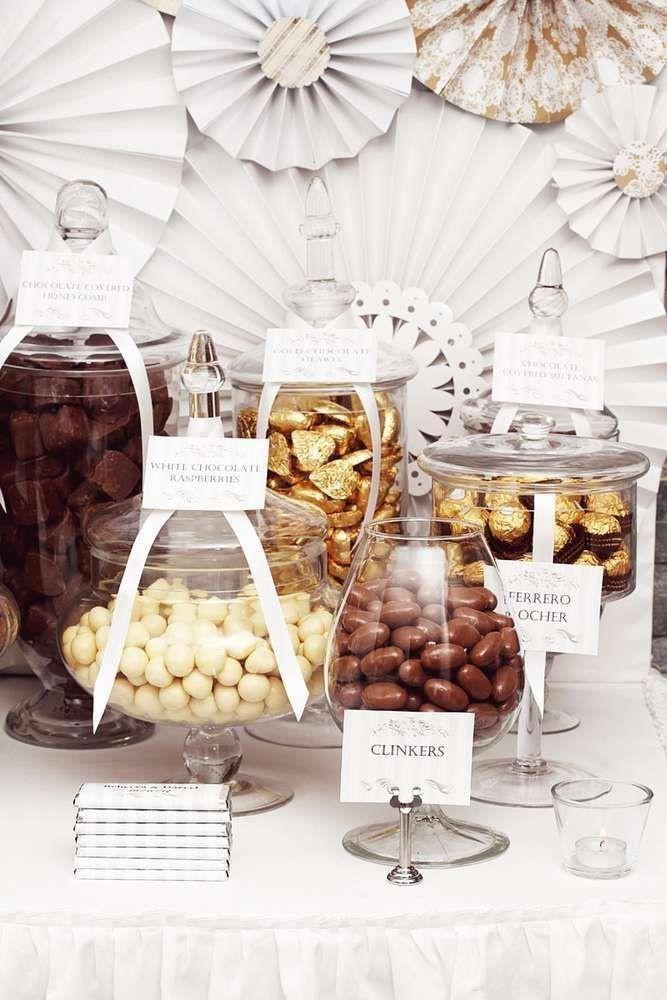 Not really a sweets person? Not a problem – why not opt for an all-chocolate display? From chocolate covered honeycomb and brazil nuts to classics like Ferrero Rocher, there's still tons of choice. This couple have kept things looking particularly luxe by sticking to a warm palette of browns, creams and golds, set off with cool, neutral paper fans as a backdrop.
9. Spell It Out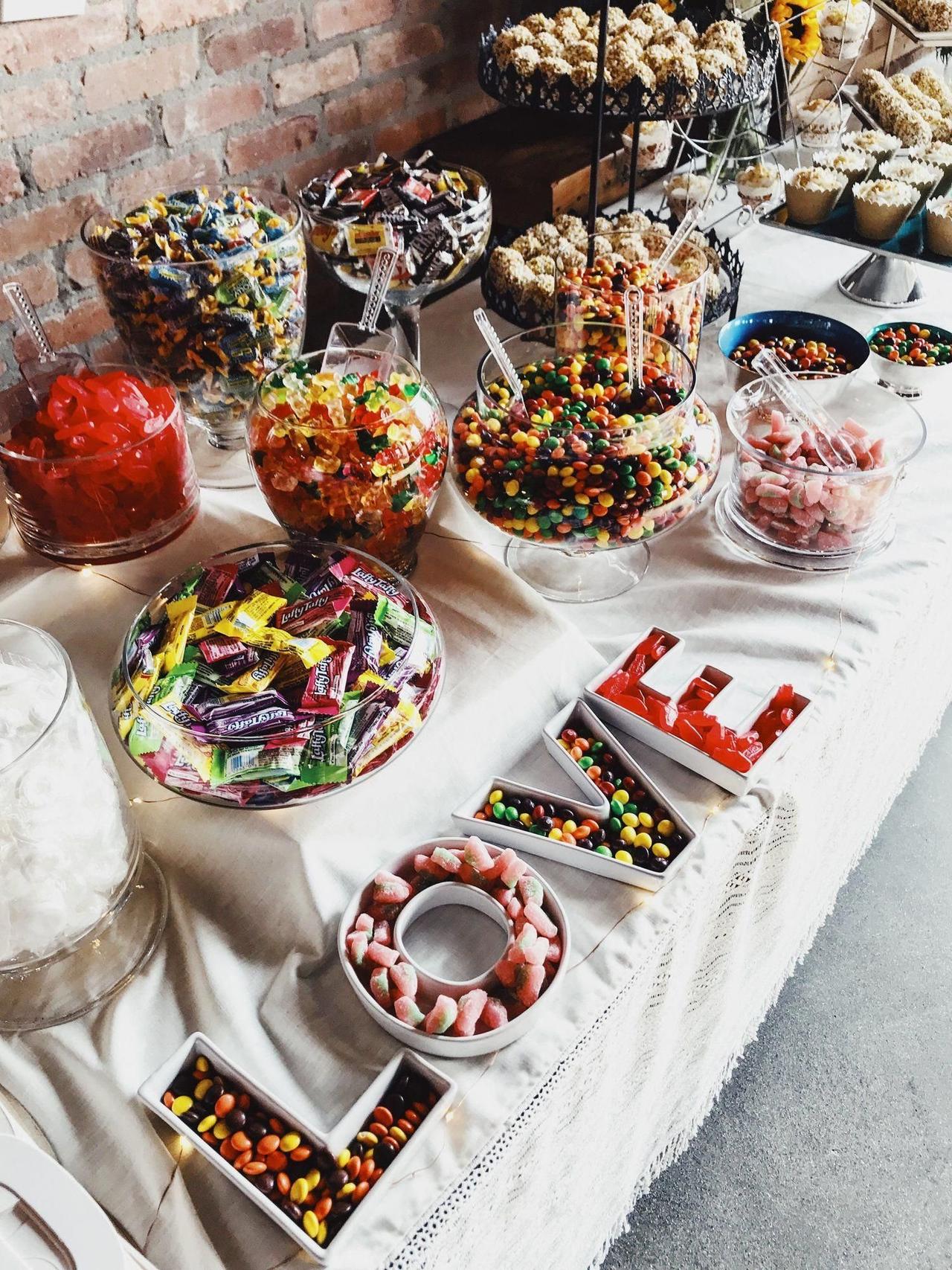 Jars, vases and votives are all well and good, but letters really make a statement, in every sense of the phrase. 'Love' is obviously a super appropriate option for a wedding, but you could also go a touch more personal and find dishes in the shape of your initials, or number bowls to spell out your wedding date instead.
10. All Bright on the Night!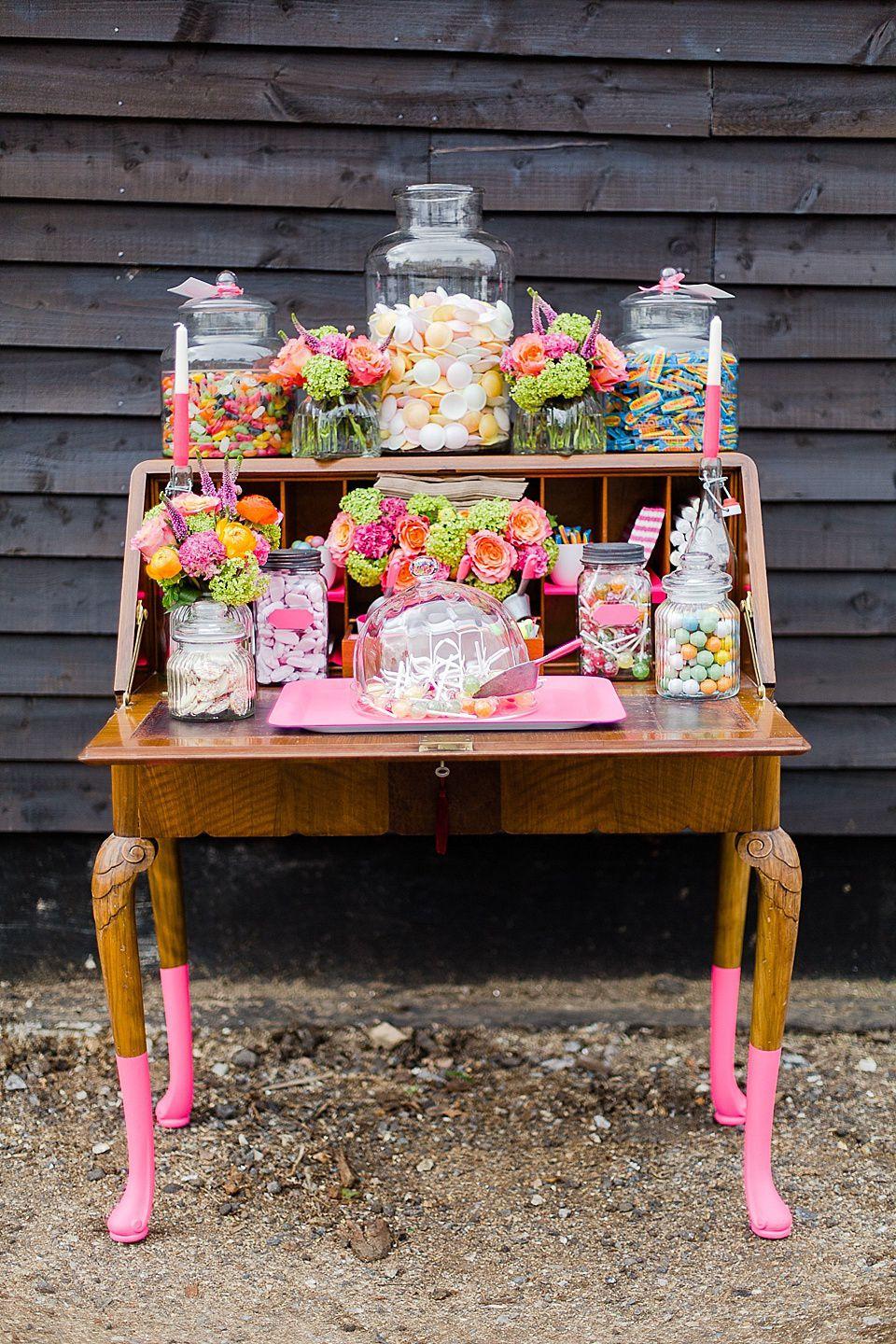 Calling all colourful brides and grooms, this is the table for you! From the neon paint on the table legs to the abundance of bright flowers, we can't think of a more brilliant way to showcase colour-pop sweets like jelly beans, pink shrimps, Refreshers and flying saucers.
11. Or Classic White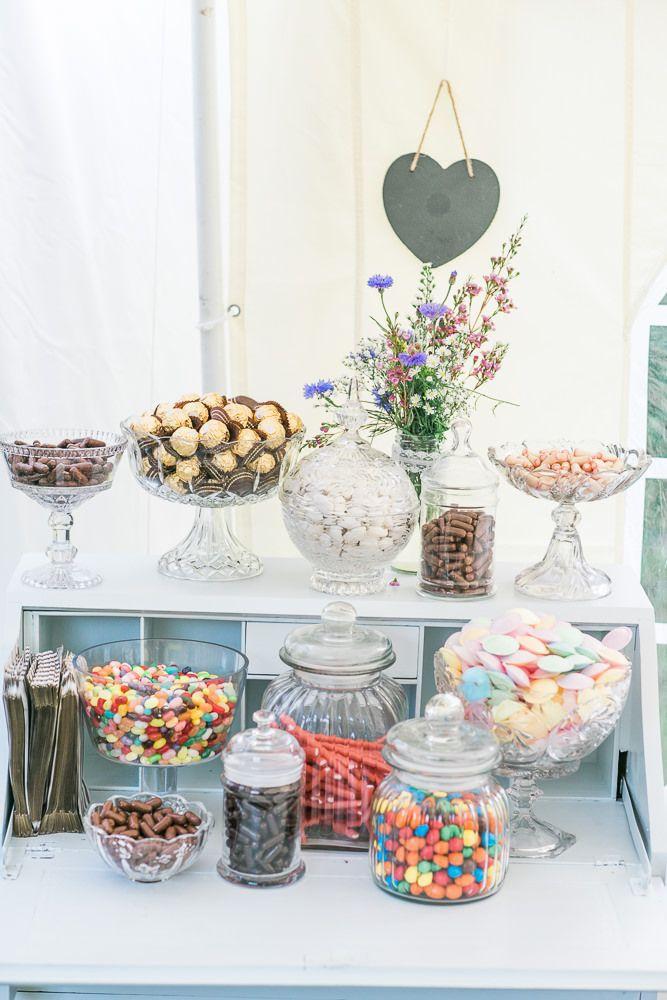 As you've probably gathered by now, the type of jar you use will make a big difference to your finished look. Sweets come in all shapes and sizes, so your containers should too – find wider bon bon jars for bigger, rounder options and look for taller hurricane styles to house sweets with height like cables and lollipops.
12. Step Up with a Ladder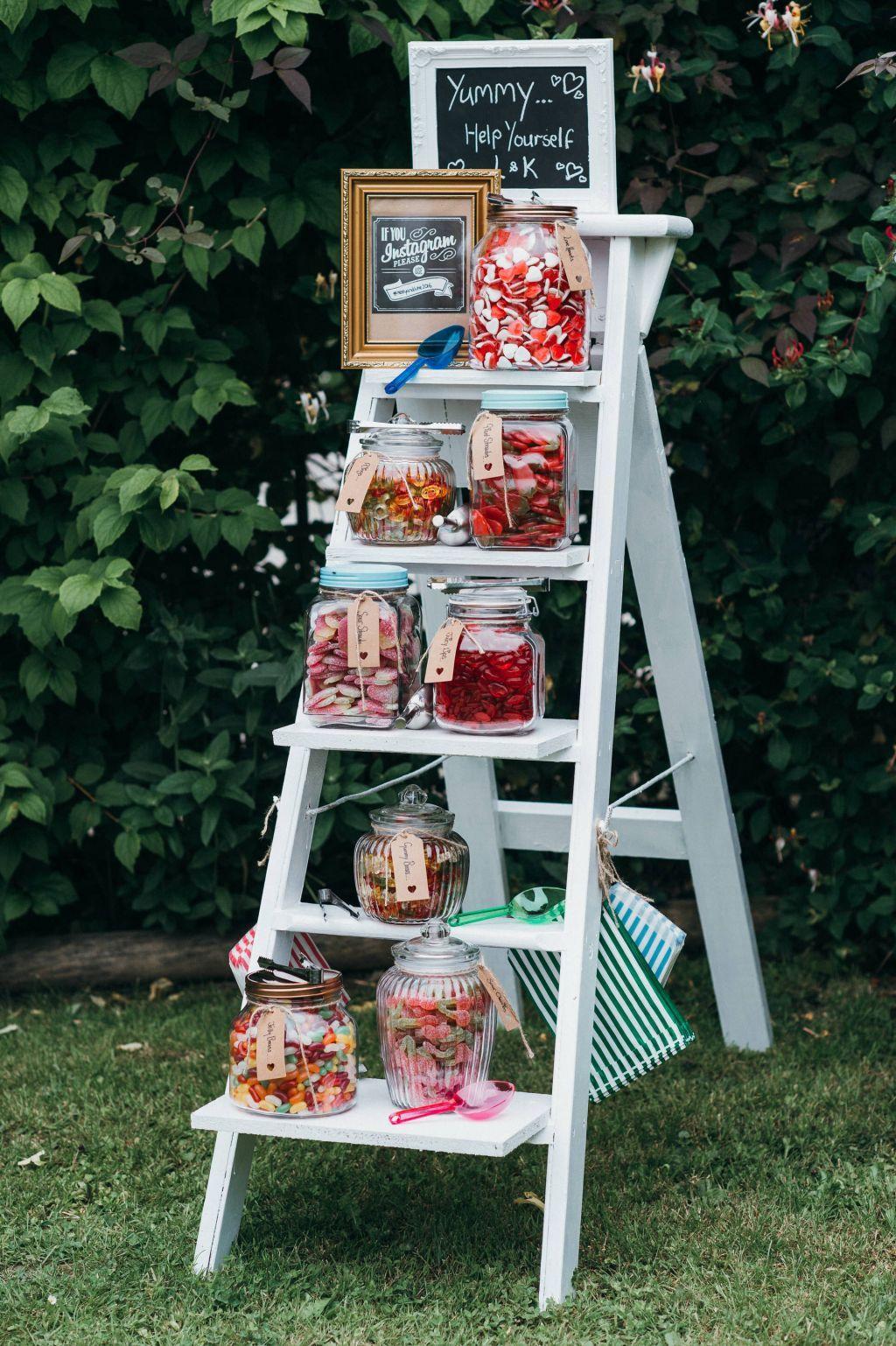 Ladders look particularly cute at outdoor weddings as they're ideal for a summery, garden party feel. The baby blue of this one is especially striking against the vibrant reds and pinks of the sweets – and it's such a simple yet effective touch to add string across the frame for the bags.
13. Stack Some Crates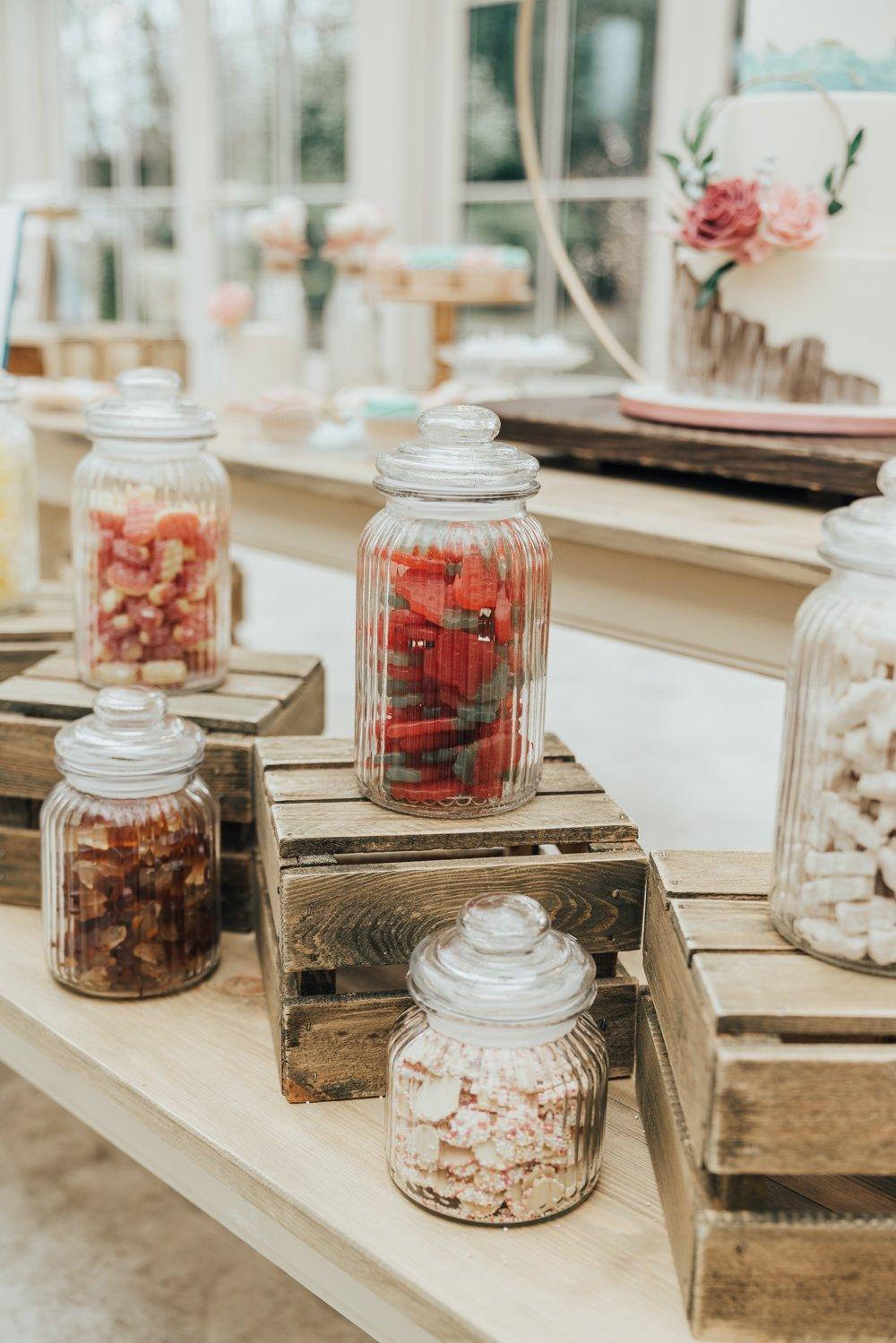 Wooden crates are a dream for shabby chic weddings – you can buy them for next to nothing and they have so many great uses, including taking pride of place on your wedding sweet table. Left plain, they're still stylish, but don't be afraid to paint them to match your wider theme too.
READ MORE: How to Keep Kids Entertained at a Wedding
14. 'Stick' with One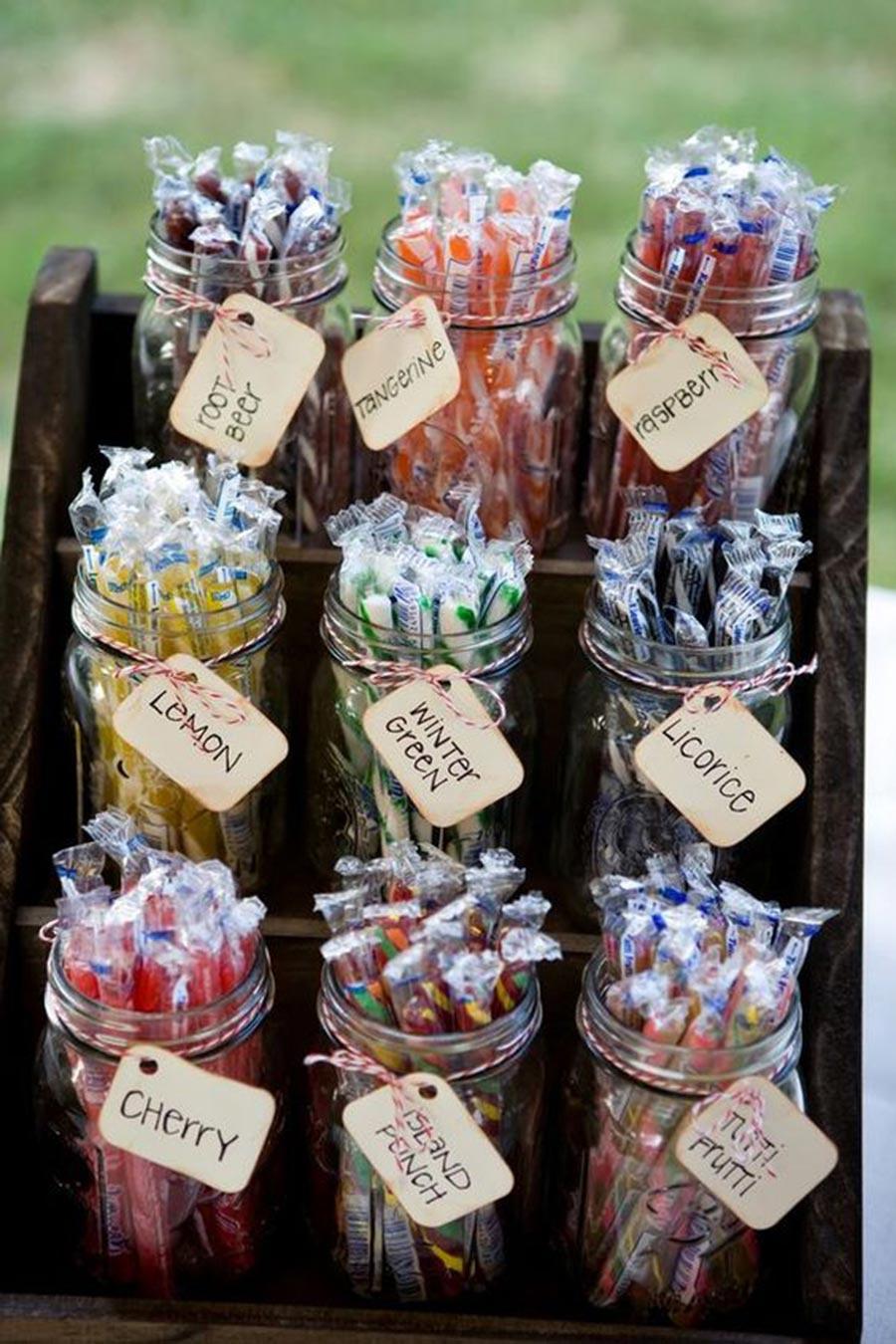 Sometimes just one kind of candy is more than enough – just look at this low budget, high impact idea! Start saving jars from your jam or pasta sauces now and then stuff them with different flavours of individually-wrapped, single-serve sweets like rock. This would be especially cool for a beachside or nautical-themed celebration.
15. Lighten Up with Candy Floss
Speaking of one-candy-only situations, if there's a better way to bring all the fun of the fair to a wedding, we haven't found it yet. Fluffy clouds of candyfloss have such a great visual impact (everyone will be taking pictures with their stick!), and don't forget, you don't necessarily have to think pink – in fact, these days, you can find suppliers who can make candyfloss in the full spectrum of shades.
16. Mix Vases and Votives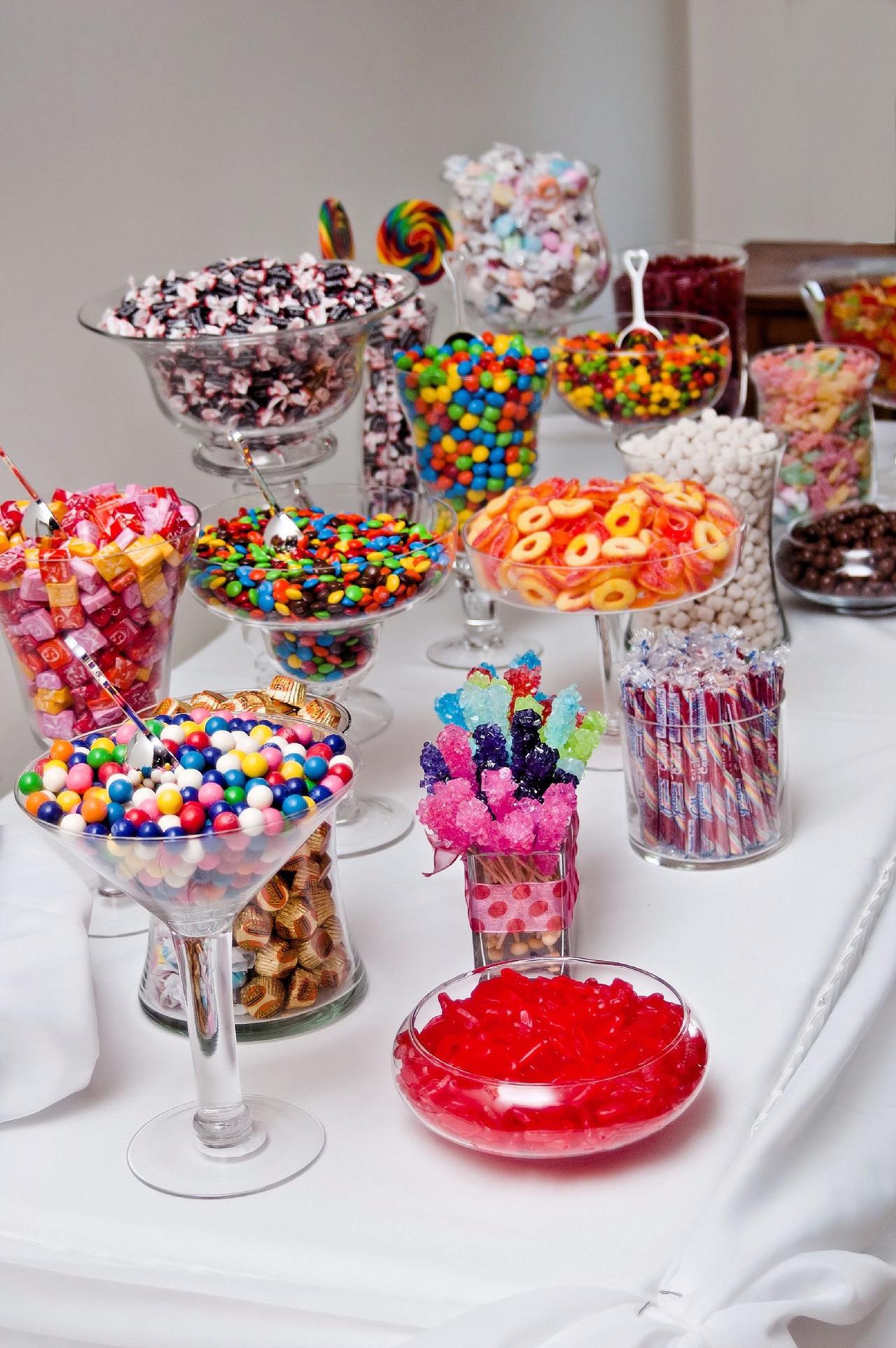 This wedding sweet table forgoes jars in favour of a pick and mix combination of vases and votives. To get the look, search for trifle bowls, oversized glasses, and other dessert stands as well as the typical sweet jars – if you're prepared to invest, LSA has a good-quality range of options you can use in your kitchen for years to come, or start making regular visits to charity shops to snap up whatever's in stock.
17. Or Use Cake Stands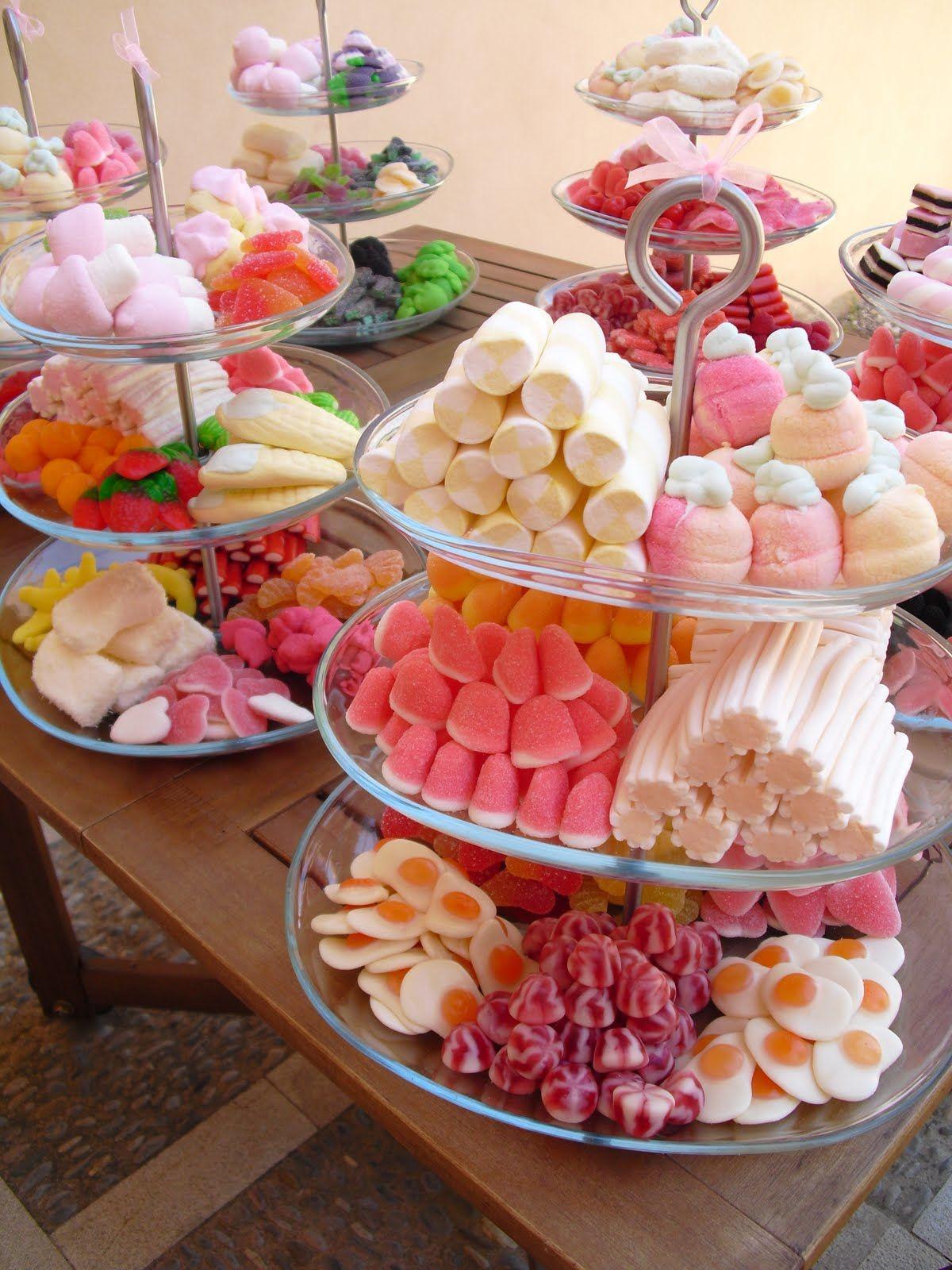 Another great (and super affordable) alternative to jars is cake stands – you can pick them up from stores like IKEA or Flying Tiger for just a few pounds, and there's loads of space to stack up your favourites on their tiers.
READ MORE: 37 Wedding Cake Alternatives for Couples Who Are Over Tradition
18. Make It Muted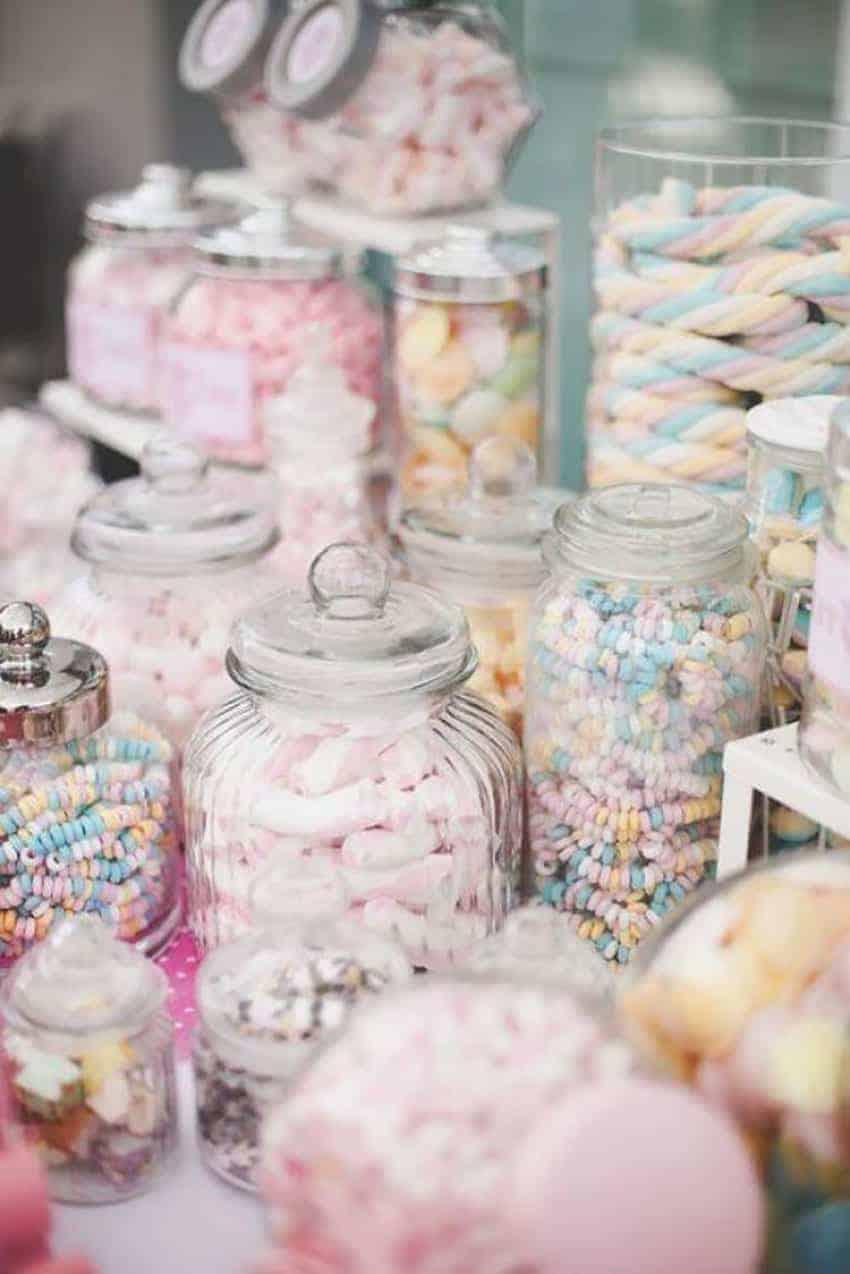 This soft, pastel display is super pretty, and finding sweets to fit into it is a doddle – you'll be amazing how many candies are out there in these baby pink and blue hues. Start with marshmallows, candy necklaces, flying sauces and dolly mixtures, then branch out into lollies and bon bons too.
19. Pair Blue and Gold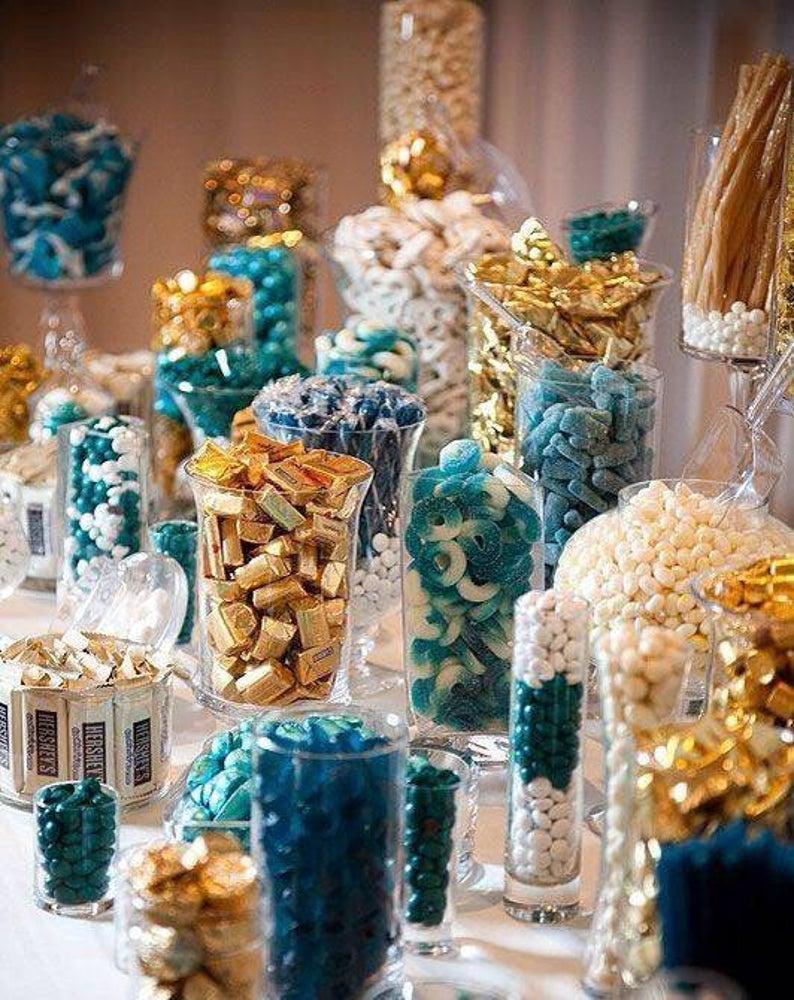 Another colour scheme that we couldn't resist is this blue and gold assortment, set off with accents of white. There's something about gold-wrapped chocolates and sweets that feels incredibly decadent – and we're obsessed with the genius addition of white chocolate pretzels in the background.
20. Rock a Rose Gold Finish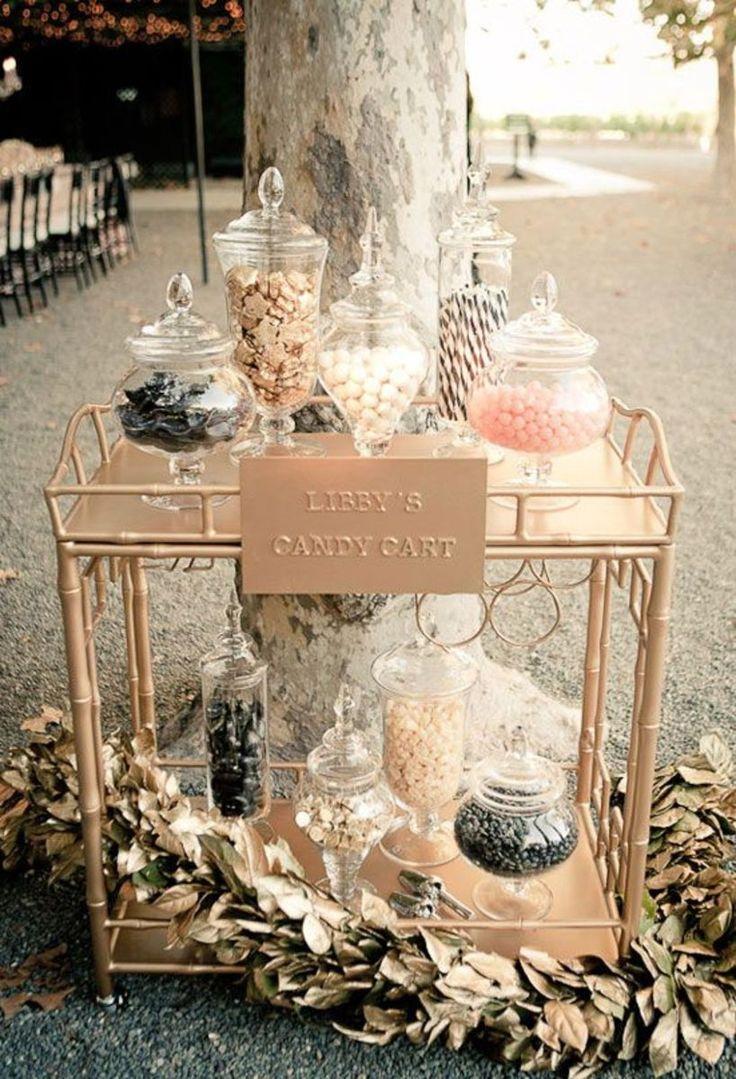 Move over bar carts, sweet carts are definitely where it's at. This metallic stand is eyewateringly chic, thanks to its rose gold tone and the addition of the gold-sprayed foliage around the bottom. This is a case of how less can sometimes be more – there's less than 10 different types of sweets on there, but the ones that are take centre stage without things feeling cluttered or overly busy.
21. Opt for a Platter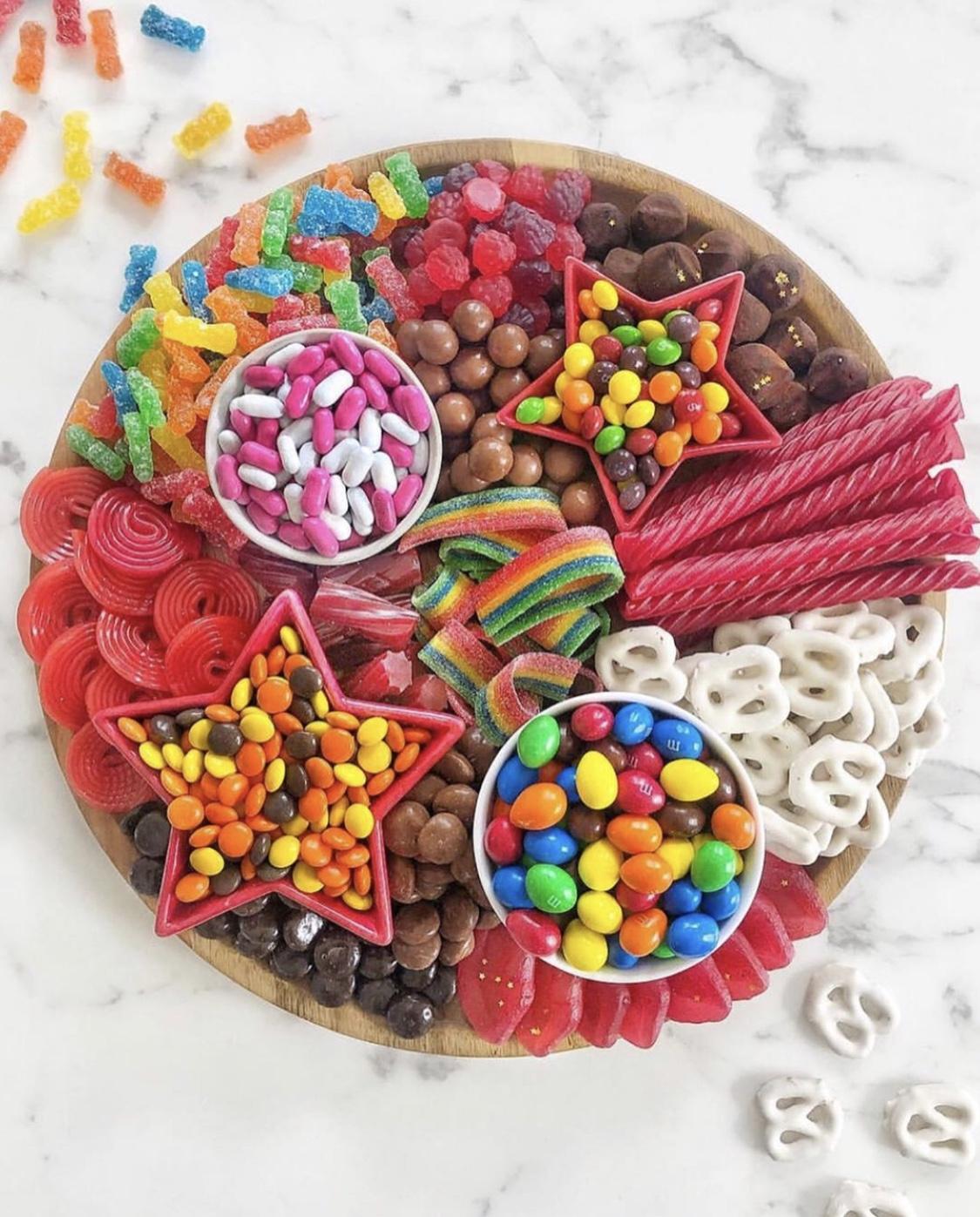 Grazing platters are trending for all kinds of events, and they don't just have to feature meats and cheeses. Take inspiration from this amazing pick 'n' mix spread – to scale it up for extra guests, you just need more boards and bowls.
22. Travel in Style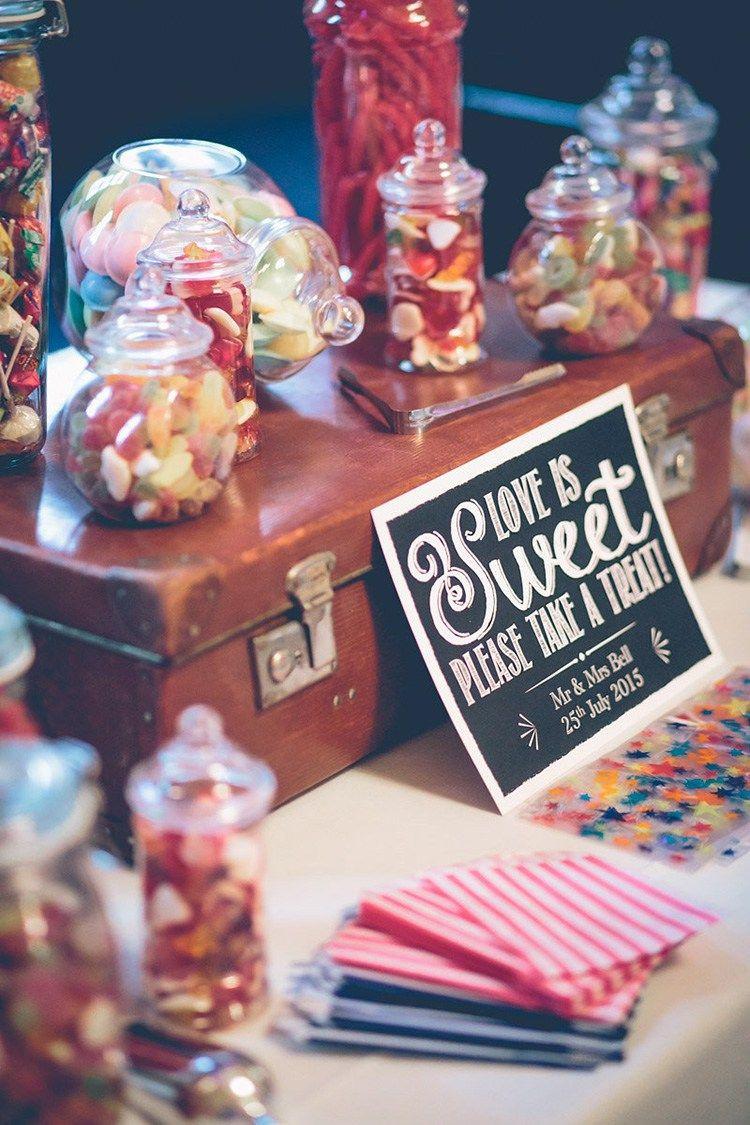 For those having a travel-inspired day, this is a gorgeous finishing touch. Old leather suitcases, even when they're a little bit battered, are such a fun and whimsical inclusion to any wedding display. Use them to add an extra tier to your sweet selection, as has been done here, or if it's got great lining, open it up and pop the candy inside.
READ MORE: The Best Wedding Cake Makers in London
How to DIY Your Wedding Sweet Table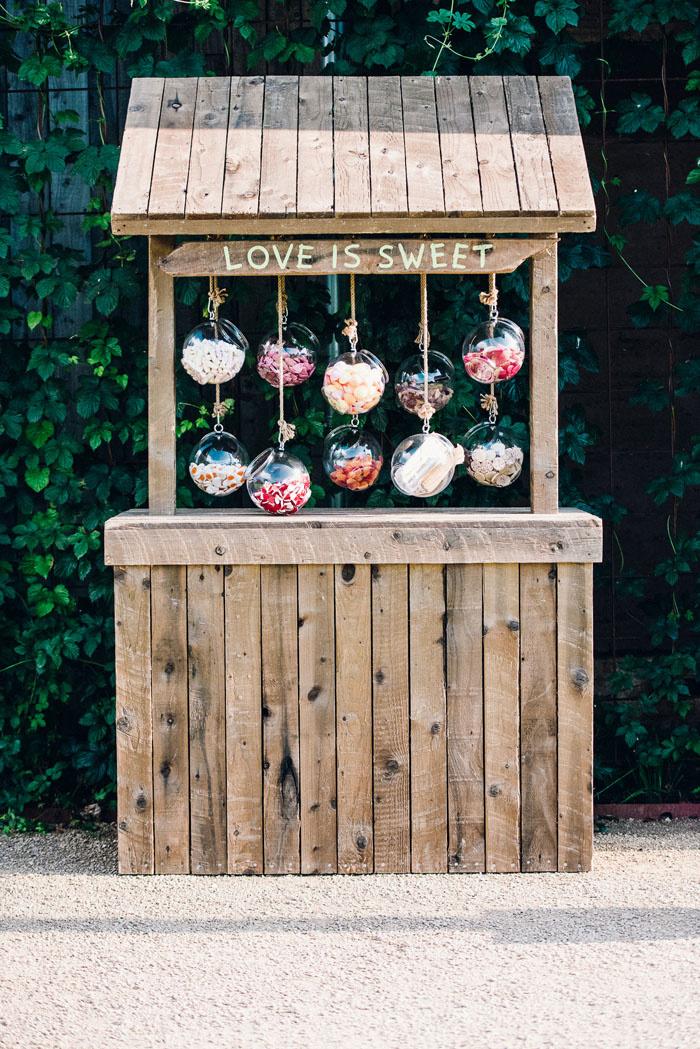 1. Choose Your Arrangement
It may seem a bit chicken or egg to pick out your styling before your sweets, but ultimately, you need at least a rough idea of what space you have to fill before you go about filling it. Consult with your venue about the best location, and it's worth reaching out to your suppliers and seeing if they can help – for instance, caterers may have glassware you can rent rather than buy, which can save a lot of money in the long run.
However, don't forget, it's not just about putting sweets out. You want to really set the scene with signage, bunting, foliage, backdrops and more. Your florist might be able to add a few extra flourishes, or else look to sites like Etsy or Sell My Wedding, where you can shop second-hand props that other couples used but now no longer need.
2. Work Out How Many Sweets to Buy
The question of how many sweets per person is a difficult one – remember, guests will eat some on the day, but most wedding sweet tables also supply bags, so they'll probably stash some away to take home. If in doubt, it's always better to slightly over-cater. Most sweets have a long shelf life, so if it means you have a fully stocked pick 'n' mix counter in your home for the next six months… well, it's not the worst problem we've ever encountered.
A good rule of thumb is a minimum of 100g per person, so if you're hosting 100, you'll need at least 10kg of sweets. But you should also take into account size, popularity, and cost – it's sometimes worth bulking out your table with less expensive sweets, and then having smaller vessels of the pricier option. If that runs out, you can always refill it with something cheaper.
If 10kg sounds like a lot, those big tubs of 1p and 10p Haribo sweets you used to pick from at school tuck shops were just over a kilo each, so it's about 9-10 of those.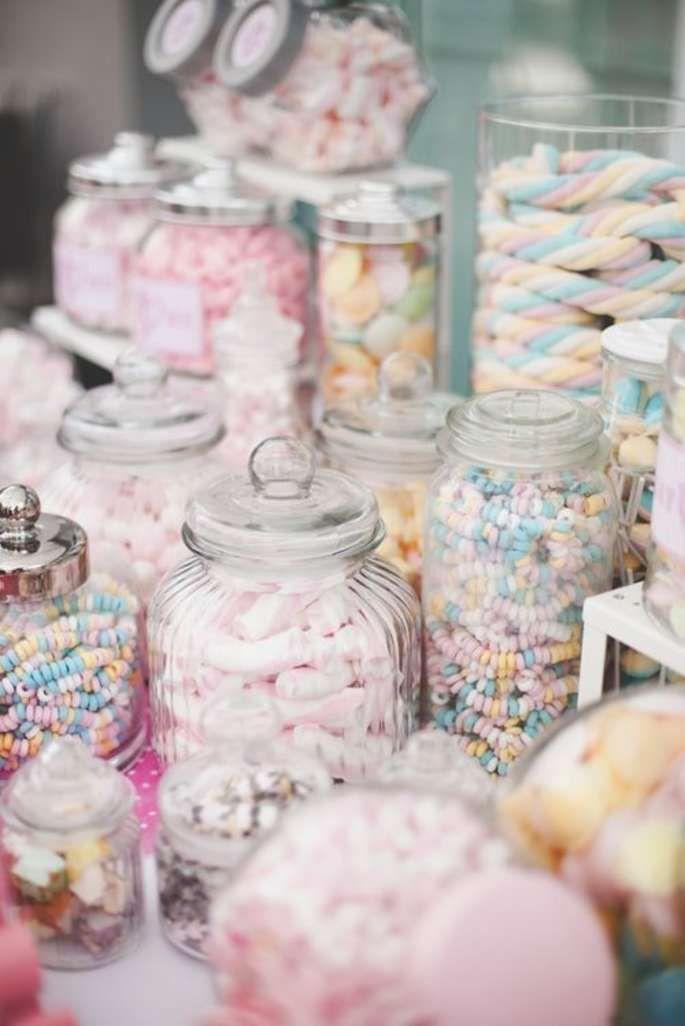 3. Pick Your Sweets
Possibly the most fun part will be picking out all your favourite sweets to include in your wedding sweet table. Here's lots of delicious ideas:
Retro
Refreshers
Fruit Salads
Black Jacks
Fizzers
Parma Violets
Love Hearts
Flying saucers
Candy necklaces
Drumsticks
Wham Bars
Popping candy
Dip Dabs
Fried eggs
Fizzy dummies
Cables
Rainbow belts
Strawberry laces
Dolly mixtures
Jelly beans
Rainbow Drops
Chewits
Rainbow dust
Millions
Skittles
Fruit Pastilles
Jelly Tots
Classic
Marshmallows
Foam shrimps and bananas
Milk bottles
Cola bottles
Cherry cola bottles
Bubblegum bottles
Milkshake bottles
Lollipops
Love hearts
Jelly snakes
Jelly lips
Bon bons
Humbugs
Foam mushrooms
Lemon sherbets
Rhubarb and custards
Kola cubes
Pear drops
Sherbet pips
Hard gums
Midget gems
Gummy bears
Blackberries and raspberries
Cherries
Wine gums
Mint imperials
Toffees
Nougat
Sticks of rock
Candy canes
Liquorice allsorts
Chocolate
Honeycomb
Brazil nuts
Raisins
Ferrero Rocher
Jazzies
Fudge
Caramel hearts
Toffee chews
M&Ms
Maltesers
Smarties
White mice
Fish 'n' chips
Mini eggs
Spinning tops
Ice cream cones
Chocolate buttons
Chocolate coins
Eclairs
N.B: if you're opting for chocolate, consider how you will keep it cool and fresh – soaring temperatures and chocolate coatings do not make the happiest of partnerships.
4. Find a Supplier
There are so many places to buy sweets online these days, it can feel a little overwhelming. These are some of the best destinations we've come across to buy in bulk:
Don't discount supermarkets and pound shops, especially for sweets you need smaller quantities of, or consider signing up for a Costco membership so you can raid their aisles for those oversized bags and boxes.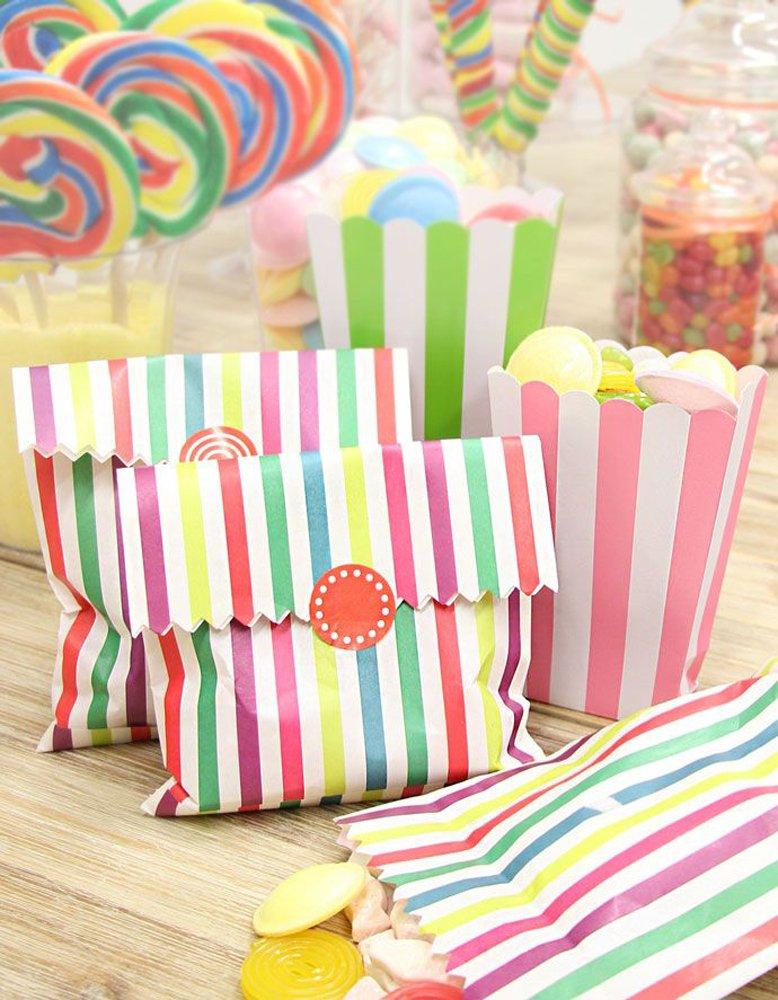 5. Pick Out Your Containers
Do you want traditional jars or open vases? A platter or a stand? Again, while you want the containers to cater to your choice of candy, the number and size of your receptacles need to fit on your table, crates or cart. A clever tip if you're worried about things not looking full is to add an upturned glass into bigger containers, so the sweets go right to the edges without you having spend a fortune.
When it comes to decanting, be sure to consider dietary requirements, and have everything separated and clearly labelled for allergens. If you're stuck for vegetarian or vegan sweet options, check out The Conscious Candy Company or the Guilt Free Sweet Shop, or try M&S, where the majority of own brand sweets are veggie friendly.
6. Stock Up on Scoops and Bags
It's finishing touches time! No one wants everyone else's sweaty-from-the-dancefloor hands all over the sweet they're about to eat, so keep things hygienic by ensuring there's enough scoops and tongs for each item, and maybe even a couple spare in case they get dropped or broken.
Paper bags are also an essential – stripes are traditional, but you can add your own twist by choosing a colour that matches your theme, or even stamping them with your names and the date of your wedding. For an extra personal touch, you can order stickers with your initials for everyone to seal their bags with.
The Best Wedding Sweet Table Props
Here's some of our favourite props to decorate your sweet table with - your guests will be Instagramming this all night!
Acrylic Love Is Sweet Sign – ­£11.50, Etsy
Pink & Gold Candy Bar Bunting – £10.99, Ginger Ray
Cylinder Vases Set Of Three – £10, IKEA
Sweet Bar Sign - £3.55, Etsy
Mixed Striped Party Bags – £5, Etsy
3 Pcs Plastic Scoops with 2 Piece Stainless Steel Sugar Tongs - £2.49, Amazon
Ribbed Glass Jar – £6, John Lewis & Partners
24 Chalkboard Jar Labels – £3.99, Lakeland
Tall Comport - £45, LSA
Food Cones Sweet Table Treat Stand - £14.99, Not On The High Street
ComSaf Glass Candy Sweet Jar with Lid - £10.99, Amazon
Ceramic Letter Dish - £14.95, Not On The High Street
Sweetie Candy Scoop – £6, Wedding Star
Love Is Sweet Treat Bags – £4.99, UK Wedding Favours
Want to expand beyond sweets? Here's how to create a dessert table display and 18 delicious ideas for you to copy.