33 Unusual Wedding Place Card Ideas Your Guests Will Remember
These beautiful wedding place cards will get guests to their seats as well as adding extra personality to your reception tables. From traditional flat cards to vintage-inspired ideas, there's something here for every style of wedding
We have included third party products to help you navigate and enjoy life's biggest moments. Purchases made through links on this page may earn us a commission.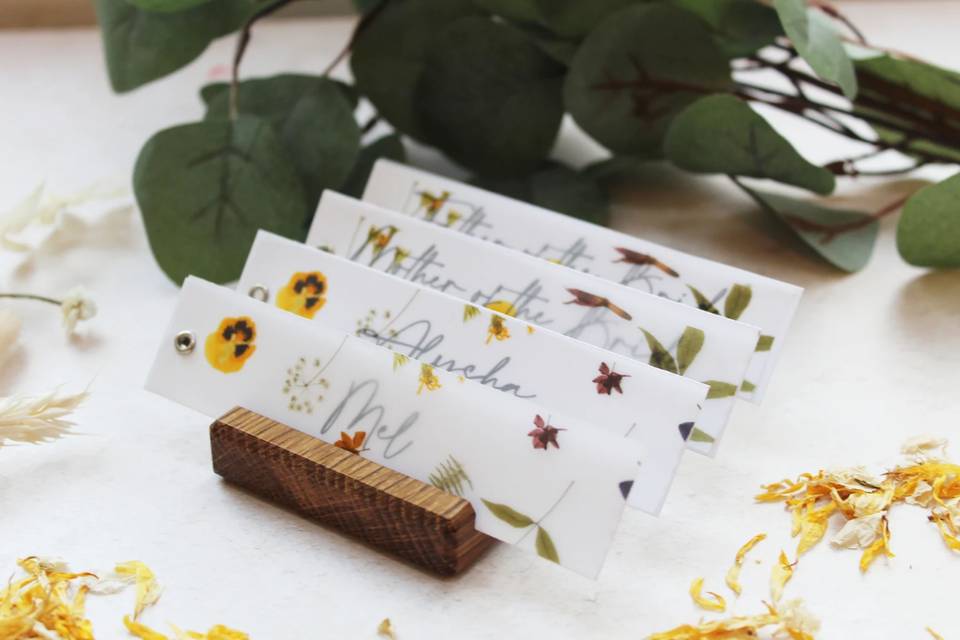 Wedding place cards are one of the sweetest favourite finishing touches to include at your wedding reception - they're a great way to add a personalised finishing touch without going over the wedding budget.
Like all good wedding stationery, wedding place cards are both practical and pretty. On the practical side, they tell guests where they're sitting, so everyone can easily find their seats and get ready for the wedding breakfast. On the pretty side, they give you an opportunity to personalise your reception tables and make your guests feel extra special.
Some couples may want to keep their wedding table decoration classic with simple folded place cards, but for those who want to get creative, there are plenty of amazing wedding place card ideas that will really make your tables stand out.
Some are so utterly stylish and covetable that they can do double duty as wedding favours. From pretty floral wedding place cards and cool vintage-inspired styles to place cards made from non-paper materials and rose gold place card designs, we have something to suit every style of wedding.
33 Wedding Place Card Designs Your Guests Will Adore
As with all things, having so much choice can make it difficult to arrive at a final decision. That's why we've put together an edit of the best wedding place cards ideas and designs for you to choose from. Browse the very best wedding name card ideas, including both classic and alternative styles - we just know you'll find something here to perfectly complement your theme and grab your guests' attention.
1. Rose Gold Hoop Wedding Place Cards - £4.23, Etsy
Ideal for those looking for a boho-style wedding place card, these gold hoop designs are simply stunning. They can be combined with dried or fresh flowers, depending on your preference, making them easy to customise with the ability to create something completely bespoke. The set of 4 comes with twine and the 4 place cards, themselves, as well.
Pros & Cons: This design is incredibly versatile, making it ideal for a range of wedding themes. This aspect might also allow you to reuse them in another setting, making them a great eco-friendly wedding product! The pack comes with cards and twine, but if you don't want to use them for your wedding place cards, there are plenty of DIY wedding decorations you could create with them.
READ MORE: Unique and Fun Wedding Table Name Ideas
2. Coloured Wedding Place Cards - From £1, Etsy
Simple but effective, these colourful designs are an example of how simple wedding place cards can be just as eye-catching as more complex designs and we just know they'd make an elegant addition to any reception table. To make them even more bespoke, all of the names are handwritten by the Etsy vendor in iridescent ink. This design would compliment a metallic wedding colour scheme perfectly.
Pros & Cons: As these are handmade, they give your wedding an extra authentic and special feel. There are only a select number of colours to choose from, but the range likely suits a plethora of wedding palettes.
3. Rainbow Place Cards - From £1, Etsy
Looking for ways to bring a little more colour into your wedding design? These rainbow place cards are sure to do the trick. They are also ideal if you are hosting a pride-themed wedding celebration or if you just love bright colours and positive themes. The bright boldness of the rainbows is balanced out perfectly by the simple and plain background so it's not too overpowering as a design.
Pros & Cons: Rainbows also come with the added benefit of being cheerful in design, which makes them perfect for a wedding. They come unprinted with the names, but this also gives you the chance to hire someone with pretty handwriting, or try it out yourself.
4. Wedding Place Card Napkin Holders - From £3.05, Etsy
Fully integrate your name cards into your place cards by having them as napkin holders, like these easy-chic laser-cut rings. The natural wood makes them a great choice for a rustic wedding. These napkin holder place cards are so sweet and unique, they could definitely double up as personalised wedding favours. You can also tailor the look to your wedding theme by using napkins that match your wedding colour scheme.
Pros & Cons: With the rustic tones of the wood, this design likely suits only certain wedding themes. That said, the company welcomes custom requests, such as different shapes, and encourages couples to reach out with their ideas.
5. Personalised Christmas Tree Place Setting - From £2.85, Sophia Victoria Joy
Planning a winter wonderland Christmas wedding? These Christmas tree ornaments feature little trees along with the guest's name engraved on the wood base - what a great festive personalised place card. It's a charming way to welcome loved ones to their seats and we love the cursive font used to engrave all of the guest names.
Pros & Cons: Not only does this provide a great way to label guests' seats, but it another design that works as a wedding favour for them to take home. This being said, the bottle-brush tree design has a particular vintage vibe that may not suit every Christmas wedding theme.
6. Glass Bauble Christmas Place Card Holders - £8.91, Etsy
In keeping with the previous theme, how adorable would these glass bauble place card holders be at a Christmas wedding? They're perfect for the festive season, yet still pared-back enough for an elegant table. We have so many great ideas for winter weddings including a lovely selection of winter and Christmas wedding invitations.
If you're having a wedding before Christmas, your guests can take the baubles home and put them on their Christmas tree - that way, on Christmas day they can all be reminded of your wonderful wedding celebration.
Pros & Cons: The whole colour scheme of this design is wonderfully frosty, which gives your wedding a winter wonderland feel. The only drawback might be the addition of pampas grass if that doesn't suit your style. However, it is a perennial trend!
7. Lavande Place Card - From £11.25, Papier

Put a twist on the classic folded place card by choosing a style that includes a design element - like Papier's Lavande. The pretty design is available across a whole wedding stationery suite, for a cohesive look that matches completely and will continue your wedding theme from invite to the day itself.
We love the simplicity of the design, but if you wanted to make it stand out more, you could use a bright coloured pen or really large lettering when you add names to the wedding place cards.
Pros & Cons: You can have these customised with or without guest names, leaving open the possibility of names written in calligraphy. However, if lavender isn't in your floral arrangement plans, this might not work well for your design.
8. Gatsby Place Cards - £2.67, Hitched
These art-deco style cards have a wonderfully vintage design ideal for couples going for a Great Gatsby theme. The set of wedding place cards come in a range of vibrant colour themes and paper types, all of which are available to buy on the Hitched wedding stationery shop. As well as a number of different colours, you can choose between gold, rose gold and silver for your foiling to ensure it matches your chosen background perfectly.
Pros & Cons: While the glimmer in this look might not be for everyone, this design comes in a variety of colour and foil options, making it simple to match to your wedding palette.
9. Granite Stone Wedding Place Names - £1.80, Etsy
These granite stones are ideal wedding place name cards if you are hosting a nature-themed wedding and want to really embrace the theme. Even if that's not the case, these stones would also suit a glamorous wedding theme where marble and a monochrome colour scheme were in place - plus the text is absolutely gorgeous. After the wedding, your guests could use them as a paperweight.
Pros & Cons: Choose between white, silver, or gold ink, depending on your preferences. That being said, as these are handwritten in ink, they have to be kept dry, so if you use them outside and a shower passes, be sure to keep them protected from the weather.
10. Spring Themed Wedding Place Cards - £1.10, Etsy
These wildflower designs would make perfect wedding place cards for a countryside themed wedding full of pretty touches. We can't help but love the vintage feel of the printed vellum too and would love seeing these at a wedding where the wedding flowers and decorations complimented this design.
Pros & Cons: The subtle variations in design provide a bit of originality to your table settings. The metal eyelets also provide the chance to add your own decorative ribbon, not included. Reviews mention excellent customer service and open communication, so you can rest assured this retailer can help you in the ordering process.
READ MORE: The UK's Most Impressive Country House Wedding Venues
11. Geometric Acrylic Place Settings - From £0.90, Etsy
If you are in the search for simple and sophisticated wedding place cards for a modern and stylish wedding, these hexagonal designs are perfect for you. The hexagonal cut is clean simplistic while the painterly background feels artistic and adds a bit of colour to the design. We love a botanical themed wedding - it reminds us of Stacey Solomon's wedding style!
Pros & Cons: The hexagons might not be for everyone, but there are multiple ways you can customise this design. For example, they can be ordered without the paint splash in the background if you want an ultra-contemporary and understated look.
12. Ink Wedding Place Name Cards - £2.67, Hitched
Looking for an elegant wedding place card design that really stands out? This vibrant ink design is sure to fit the bill! Your wedding guest names are crafted in romantic calligraphy against an abstract inky pattern which would perfectly match a black tie wedding theme or a colour scheme that's really elegant and classic.\.
Pros & Cons: The inky design covers part of the name, which might make them a little harder to read, but it also helps enhance the visual appeal and make your guests more eager to take a look.
13. Circle Acrylic Wedding Place Cards - From £0.50, Etsy
How cute are these round metallic wedding place holder cards? These circle acrylic designs can be placed on glasses instead of regular place name stands which really sets them apart from the rest. On a practical level, it's also a great way for your guests to know who's drink is who's - there's always one person on the table who 'mistakes' your glass for theirs. We're watching you!
Pros & Cons: This product is yet another option which can double as a wedding favour, saving you a little in your budget. The design is especially modern though, suiting contemporary wedding themes best. The seller offers the place cards in a number of colours and fonts so you can choose a style that you feel best suits your wedding venue and vibe.
14. Agate Coastal Themed Wedding Place Cards - £4.50, Wild Sea Calligraphy
Those with a love for gems, rocks and geology who are looking for unique place setting options are sure to fall in love with these agate place cards. You choose between white and gold text and we love the fact that each one will be slightly different from the other - they are so unique and will match a coastal wedding perfectly.
Pros & Cons: As these are made from agates, no two will be exactly the same, but that also gives your table settings subtle variations that can help the look stand out.
15. Love Mountains Place Cards - £2.67, Hitched
Whether you are planning a mountaintop wedding or you just appreciated mountain-themed art, this simple mountain design has a distinctive quality that your loved ones will surely adore. Therr are so many ways you can build on a mountainous theme, we're thinking Ain't no mountain high enough as your first dance?
Pros & Cons: This design is very simple, which lets your other table decorations take centre stage, but if you are looking for something more intricate, a place card with less blank space might suit better.
16. Mini Wedding Chalkboard Name Stands - £12.00 for 5, Etsy
If you love the style of chalkboard, this sweet design could be right up your street. Perfect for teachers who are getting married, or even place name cards for children at your wedding, we love how cute and sweet they are. Plus, how charming are these little easels? All you need are some coloured chalks to add the name and you have a fully realised place card.
Pros & Cons: Besides place cards, these can also work as labels for dessert stands and as table numbers, making it simple to create a cohesive look. And while you may have to add the text, this gives you plenty of opportunity to be creative.
17. Preserved Eucalyptus Wedding Place Settings - £1.50, Etsy
Nature-loving couples, you really need to consider these botanical cards for your wedding day. The green design includes dried gypsophila attached to the wedding name card - all in a gorgeous array of green hues. What's more, we absolutely love a wax seal, even more so when they are used outside of wedding envelopes!
Pros & Cons: While these only come in this gorgeous shade of green, the shop also sells similar designs in other colours, so it is worth taking a look. Reviews confirm an absolutely top-tier ordering experience, with artist Sinead at SeventySixStationery being a dream to work with.
18. Leaf Wedding Name Card - From £2, Etsy
If you are hosting a country or nature-themed wedding, or perhaps getting married in a woodland wedding venue, you are sure to love these leaf cards. The on-trend leaf wedding place cards offer couples a unique way to add some greenery to the wedding that your guests are sure to remember. We love the contrast between the green of the leaf and the gold font.
Pros & Cons: Eventually, these leaves, being an organic material, will fade, but the creator has preserved them to keep them looking naturally gorgeous for your big day. It's also an eco-friendly and sustainable wedding idea that will leave minimal waste behind.
19. Peacock Feathers Place Card - From £13.61 for 15, Papier
This peacock feather design is giving us glamorous 1920s vintage vibes - but the card is pared-back enough not to compete with the rest of your wedding table decorations. You can style this design with bright-coloured writing, or simply use a plain black calligraphy pen to write your guests' names - how you style it is completely up to you.
Pros & Cons: These wedding place cards features plenty of blank space, which may or may not be for you, but it lets the feather motif breathe and be the real star of the show. It is ideal for those that want to add glamour but in a very understated way.
20. Wedding Place Card with Lasercut Heart - £2.50, The Hummingbird Card Company
Romantic and elegant, this laser cut design has a romantic and intricate heart cut into the card stock which really elevates the design. The heart theme makes it perfect for weddings as it screams romance in all the best ways and, It is an event celebrating love after all.
Pros & Cons: This design is especially well suited for Christmas-themed wedding, which is ideal if that is the style you are going for. The cards come blank, but it offers you a great chance to show off your own penmanship.
21. Plantable Gold Leaf Place Cards - From £2, Etsy
A combination of seed paper and gold leaf, this sophisticated design would complement an opulent wedding look. The best part is they can be planted after to double as a wedding favour which your wedding guests can plant and watch grow long after the wedding is over.
Pros & Cons: The plants that grow from these place cards can serve as a lovely reminder of your big day and double as a wedding favour. They may even inspire those of your loved ones without a green thumb to try something different. Reviews highlight this vendor's fantastic communication, artistry, and quick shipping. What stars.
22. Cartoon Caricature Wedding Place Cards - From £20, Etsy
What could be more personal than an individual caricature of every single one of your guests? Coming in at £20 per cartoon, these unique caricatures are probably best for smaller weddings, but they'll certainly be a talking point and something that your guests will truly never forget about your wedding.
Pros & Cons: While these bring fun and humour to your big day, they also don't fit the traditional design of more classic wedding looks. If you're looking for fun, festive, and deeply personalised place cards, though, these will certainly hit the mark.
READ MORE: 35 Stylish Small Wedding Ideas for an Intimate Day
23. Painted Beach Wedding Place Cards - £2.50, Hitched
Waves can be a powerful and evocative symbol, so why not get yourself some beachy themed designs that feature them? This wedding place card design displays your guest names amid a watercolour wave pattern that really matches a coastal wedding theme.
Pros & Cons: We love how subdued this design is, which can help add a tranquil ambience to your celebrations. The design doesn't necessarily work for all seasons (though who is stopping you?), but would do well for weddings in the summer months.
24. Mini Succulent Place Card - From £1.25, Etsy
Here at Hitched we're suckers for a succulent - so if we rocked up to a wedding to find one of these beauties at our place settings, we'd be pretty delighted. This Etsy store sells these personalised wedding tags which can be easily added to succulents picked up at your local nursery.
Pros & Cons: While these place cards don't come with the plants themselves, greenery is easy enough to find, and this gives you more choice in what kinds of succulents you choose. This place card design is especially well suited to rustic wedding themes as well.
25. Grey and Gold Natural Agate Slices - From £5, Etsy
You can get agate place cards in a range of colours, like the blue mentioned above, but we like this neutral grey hue. And if you're looking to choose a place card that doubles up as a keepsake for your guests, you may want to choose a more neutral colour that will look good in any setting.
Pros & Cons: Couples can choose from different ink colours to personalise these even more! Gold, black, white, and silver look especially nice, though, which is perfect if these colours are in your wedding colour scheme palette.
26. Vintage Style Travel Place Tags - £12.50, Vintage Twee
Have a love for travelling and the vintage look? These vintage-inspired tags are designed to look like luggage tags tied on with rustic twee and stamped with your guest names. It's a great idea to get carried away with and really suits an overall vintage wedding theme.
Pros & Cons: You can get these personalised with guests' names or they can be delivered ready for you to write on them yourself, depending on your preference. Each place card comes with rustic twine as well, which, if that doesn't suit your tastes, you can replace with a ribbon of your own finding.
27. Pastel Pink Wedding Name Tag With Bow - £2, Tabitha Kate
Wax seals are a lovely way to finish any wedding stationery, but we love when it's used on wedding name tags and these pastel pink cards are no exception. You can even pick from different colours, allowing them to fit perfectly with your overall scheme. We love the bow detail - bows are totally in right now so if you're after something on-trend, this is the design for you.
Pros & Cons: The minimum order for these is 50, which might not suit smaller wedding celebrations. That being said, you can use them for more than just place cards, with them also working for table numbers and menu options.
28. Custom Foil Wedding Place Cards - £1.20, Etsy
Here is an idea to take a bite out of... These lemon themed designs are cheerful and fun, making them ideal for lighthearted wedding themes. These are great for weddings but also for showers and other gatherings as well which means you can start the theme at your engagement party, take it through to your hen and stag dos and carry it on at the wedding.
Pros & Cons: They don't stand up on their own if that is the look you are going for, but this gives you the chance to get creative with place card stands. According to reviews, make sure you order these with a bit of extra time to spare if they have to travel internationally, just to be on the safe side.
29. Laser-Cut Wedding Place Names - From £1.00, Etsy
These laser-cut names would also make for lovely personalised wedding favours. Constructed from wood, they can add a rustic and stylish touch to your big day and it'll make your guests feel so special knowing you went to the effort of having each of their names laser cut.
Pros & Cons: While these have a rustic look thanks to the wood, the design also feels incredibly contemporary, suiting different wedding themes. They only sell them in sets of 5s and 10s, but if you need to round up, you can have labels for your dessert tables made.
30. Eucalyptus Wedding Place Card - £5.94, Etsy
Want to print your own wedding place cards but aren't feeling the design side? You want a wedding place card template - like this chic eucalyptus design. Simply download, customise and get printing. Doing it this way means you can make place names whenever you want, which could come in handy if there are any last-minute changes.
Pros & Cons: You'll need access to a printer to complete these, but this option lets you play with the font and more, letting you give it your own touch. As the reviews attest, these present an affordable and glamorous option for modern place cards, all from the comfort of your own home.
READ MORE: The Best Digital Wedding Invite Wording & Ideas
31. Grace Simple Wedding Place Card - £2.67, Hitched
Planning to bring some contemporary glamour to your wedding tables? This simple by stylish design would be an elegant finishing touch, featuring an understated foil detail. Matching stationery is available so you can have everything matching - how satisfying is that?
Pros & Cons: While this design is modern, it also has a vintage appeal which gives it a classic twist. As such, you can easily pair it with a variety of looks and designs. There are only four colour options, but they are subdued tones that could complement many wedding palettes.
32. Woodgrain Lace Place Cards - £2.50, Hitched
If you are planning to marry at a barn or farm, this rustic design would complement your dinner tables perfectly. Lacy florals and a woodgrain pattern decorate the design, while your loved one's name is showcased in a classic font.
Pros & Cons: This design has a cosy feel about it that works year-round. Though some might prefer actual wood, the printed card helps you save on space too!
33. Summer Blossom Place Cards - £2.67, Hitched
Bright and vibrant, these summer-themed place cards are guaranteed to bring your dinner tables to life. Your guest's name is presented in a classic font amid painted flowers and leaves.
Pros & Cons: The classic nature of this design is hard not to love, though it would suit a more traditional wedding look best. That said, if you have a modern wedding theme, this could serve as a nice contrast that pops on the table settings!
Are Wedding Place Cards Necessary?
If you're not having a seating plan and are happy for guests to sit where they like, you clearly don't need place cards. This kind of thing works best at an informal wedding, such as a back garden celebration.
However, if the food is being served by waiting staff, some venues will insist on a seating plan, so they know where people are who have allergies and need special meals. You may want to have a seating plan anyway. In those cases, place cards make it much easier for guests to find their seats.
What Are Wedding Escort Cards?
Wedding escort cards are an alternative to a table plan. You put all the cards in one place, often at the entrance to the reception room. Ahead of the wedding breakfast, each guest picks up the card with their name on, and this tells them which table to go. Once they're at the table, they either find their designated seat by looking at the place cards, or choose their own seat, depending on what you want.
What Do You Write on a Wedding Place Card?
You put your each guest's name on a place card - which is why they're also known as 'name cards' - so they can find their designated seat. You can have the names printed (or print the place cards with names yourself), or write them by hand.
If you're not sure your handwriting is up to scratch, or you just don't fancy writing out every single name, you could always hire a wedding calligrapher, or choose a service that sends the place cards to you with the names written. You could also look at learning modern calligraphy, for a stylish DIY finish.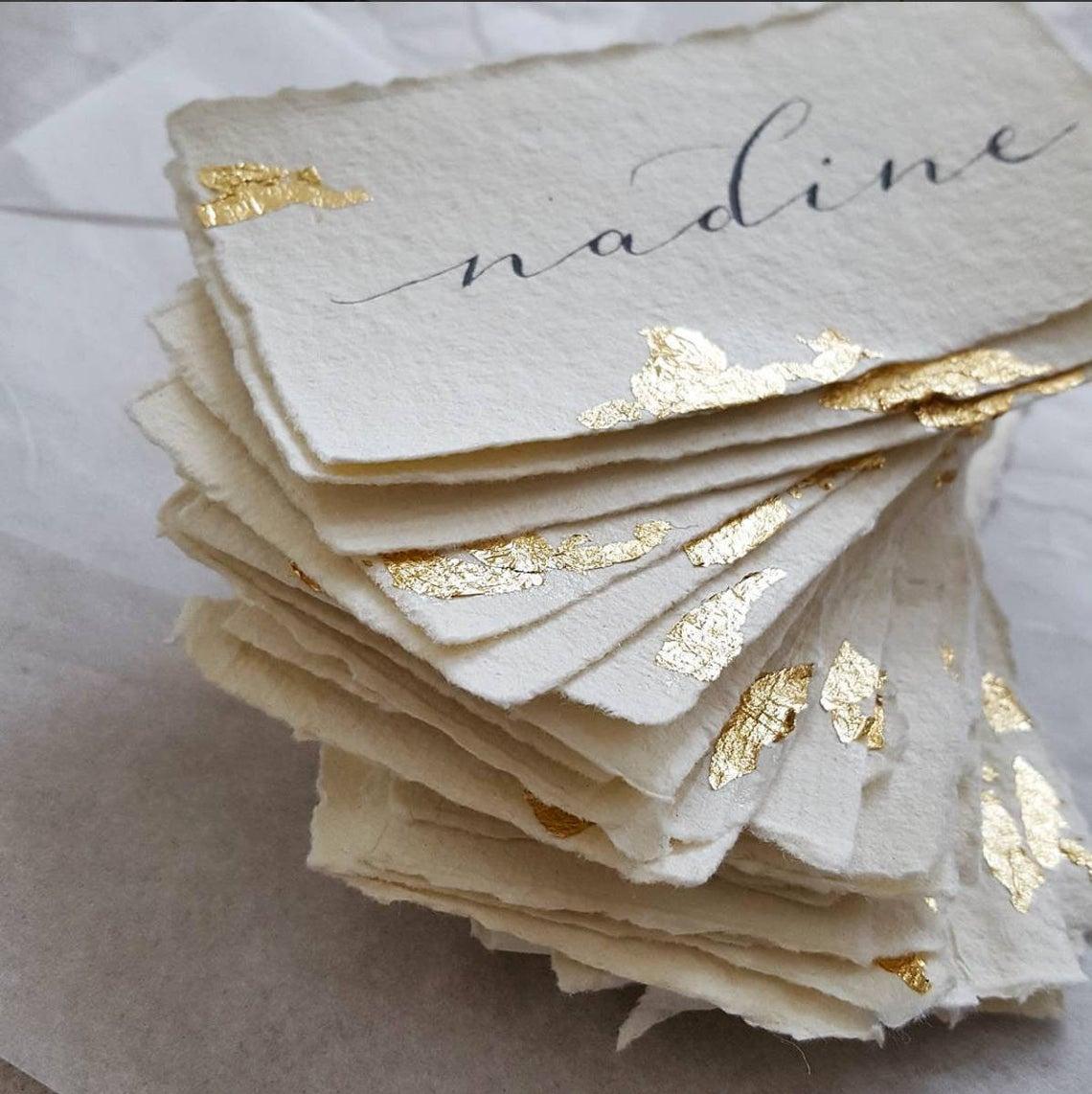 Do You Put Full Names on Wedding Place Cards?
According to Debrett's, the etiquette experts, the naming convention for guests at a formal event is surname, first name, title - so that's 'Smith, Jane Ms'. If you want to go totally trad, follow that formula! However, nowadays, first name then surname is absolutely fine - 'Jane Smith'.
You can also leave off surnames if you want a more laidback feel, but that may cause confusion if some guests have the same first name.
READ MORE: Wedding Traditions and Their Meanings
Can You Print Wedding Place Cards at Home?
Absolutely. You just need a printer, card stock and a place card template. You can create your own template if you're good with design, but you can also download wedding place card templates and print from those. Think carefully about whether you have the time to go DIY - if your guest list is on the longer side, it's easier to have them printed.
If you're downloading a design, be sure you have permission to use it. Often designers will ask for a donation for the copyright - if you aren't sure, it's always best to ask.
What Size Should Wedding Place Cards Be?
There are no rules - it all depends on your vision for your place settings. You need to decide whether you want a traditional folded card or a flat card (or other object). Classic place cards are around the size of business cards - approximately 10cm x 5cm unfolded.
You may want to go bigger to make it easier for guests to see their names, or because that fits better with your overall look. Some couples use place card holders for an extra dose of prettiness.
What's next on your to-do list? Take a look at our ultimate wedding planning checklist to make sure you don't miss an important detail.