35 Best Beach Wedding Ideas for the UK and Abroad
Whether you're having a destination wedding or braving the British seaside, we've rounded up the best beach wedding ideas - from the best ways to keep yourself steady on the sand to the cutest seaside centrepieces and favours
We have included third party products to help you navigate and enjoy life's biggest moments. Purchases made through links on this page may earn us a commission.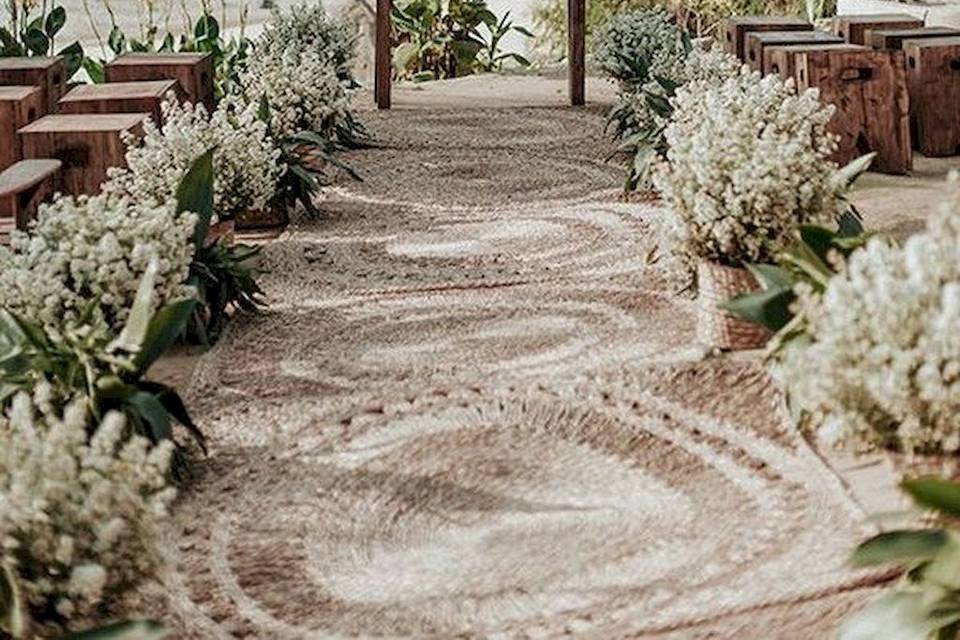 Whether you're escaping the unpredictable British weather for a destination wedding or are planning to tie the knot at a gorgeous beach wedding venue in the UK, we've got a bucket (and spade) load of beach wedding ideas for you!
From seafood feasts and ice cream-inspired signature cocktails to message in a bottle guestbooks, postcard invites and deckchair setting, we've got all the cute beach wedding ideas you need covered. Wherever you choose to have your big day, these ideas can be adapted to suit the weather and size of your day. Enjoy planning - a beach wedding is a truly special setting!
READ MORE
1. Create a Special Ceremony Area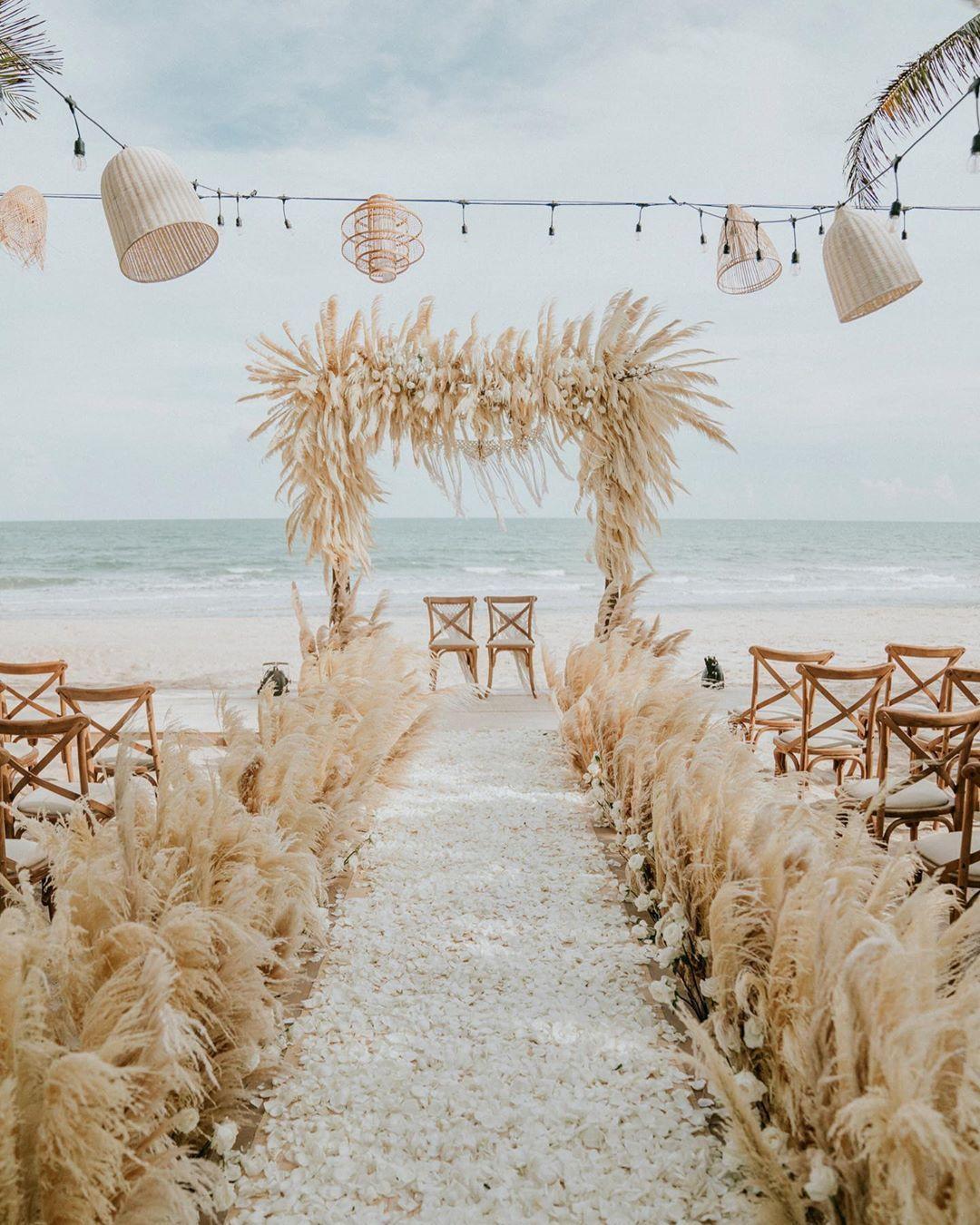 Faced with a vast beach, it's important to create a beautiful ceremony space that feels like yours. If your ceremony is on a public beach then it can also keep bystanders from wandering too nearby, meaning a speedo-clad bather doesn't get caught in your photos!
The key here is to frame your ceremony space so that the view to the sea is left uninterrupted. Think about using pampas grasses to create a path down to your aisle or using glass lanterns with candles and tropical or seasonal floral displays. For destination weddings, palm fronds laid on the sand look gorgeous. Above your head, you can string fairylights between trees or beautiful rattan lanterns around a gazebo like they have here.
2. Have a Carpeted Aisle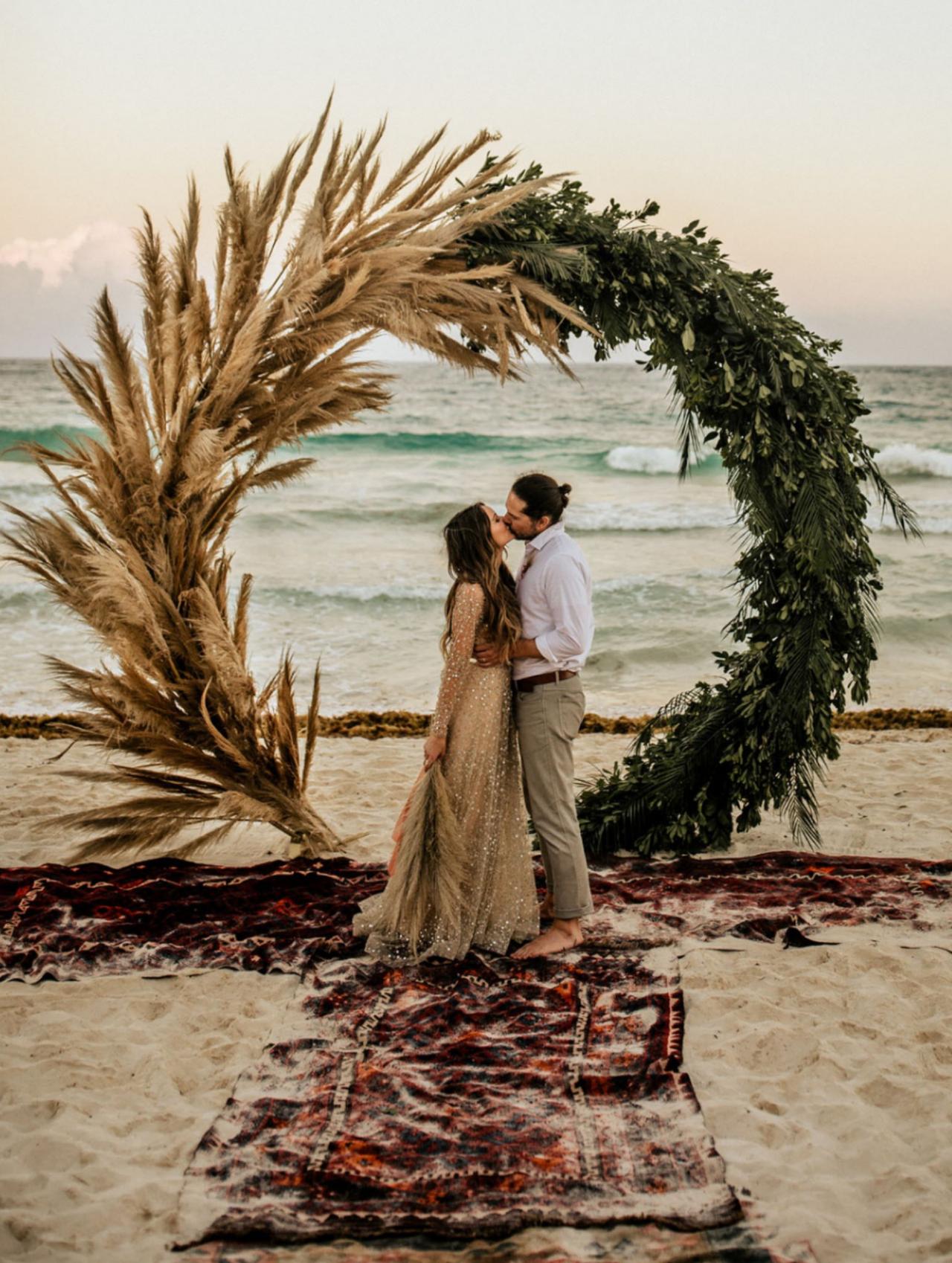 The eternal problem with a beach ceremony is walking on the sand in heels (and pretty much any shoe). This can be avoided by laying something underfoot down the aisle and there are loads of creative ways you can do, with boho-style rugs being one of our favourites.
Alternatively, choose wooden decking or rustic hessian matting to make a more solid surface to walk on. The other option is...
3. Go Barefoot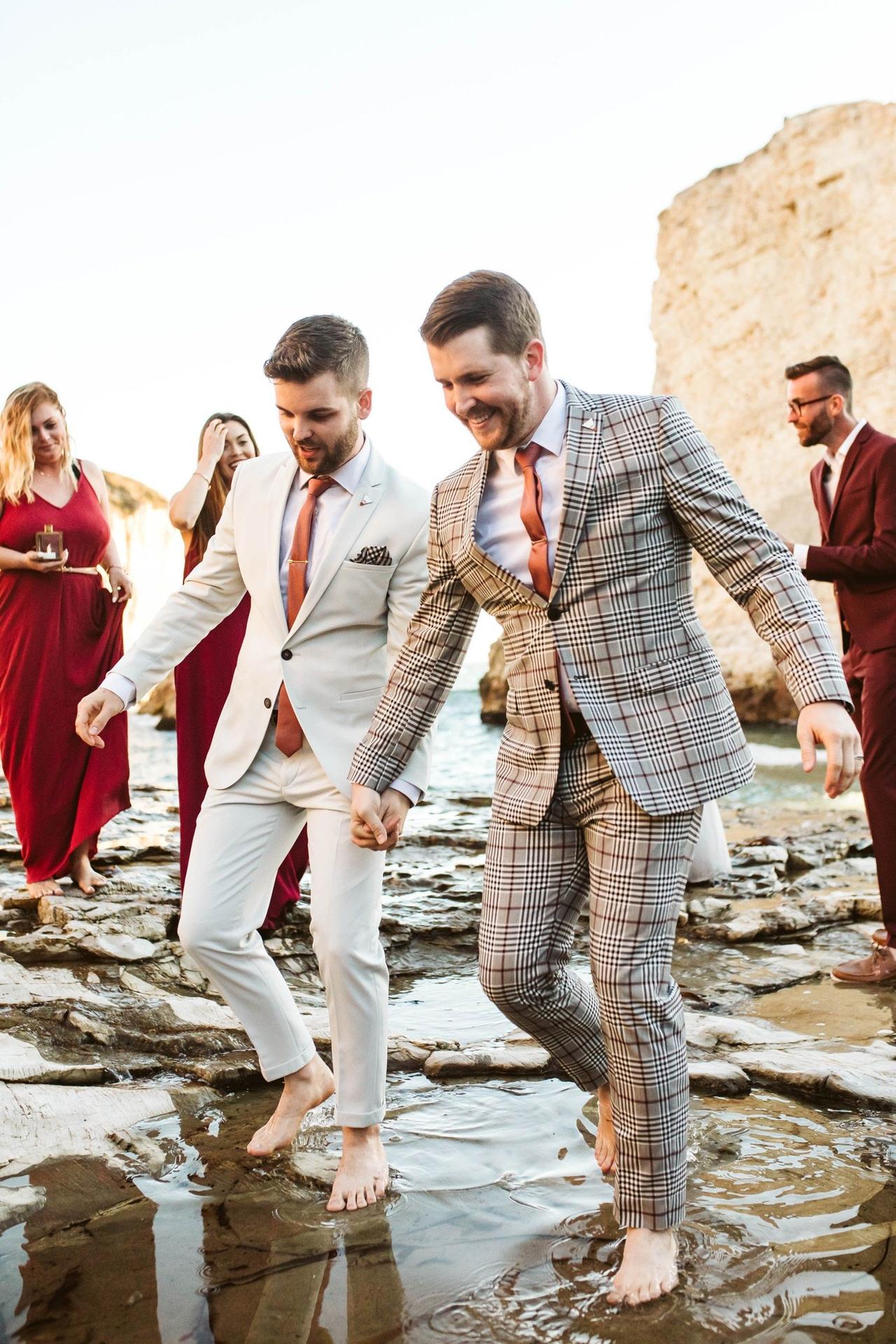 Nothing feels better than the sand between your toes so kick those shoes off! If you're saying your 'I do's on the beach then why not go completely shoe free for the whole ceremony? These grooms married on smooth rocks by dramatic cliffs rather than sand and they chose to keep their wedding party's and guests' feet dry from sea-spray by having everyone go barefoot.
Boho brides might want to accessorise with cute toe rings and ankle bracelets. And everyone can benefit from a manicure before your feet are immortalised for life in your wedding photos.
4. Make the Most of Beach Huts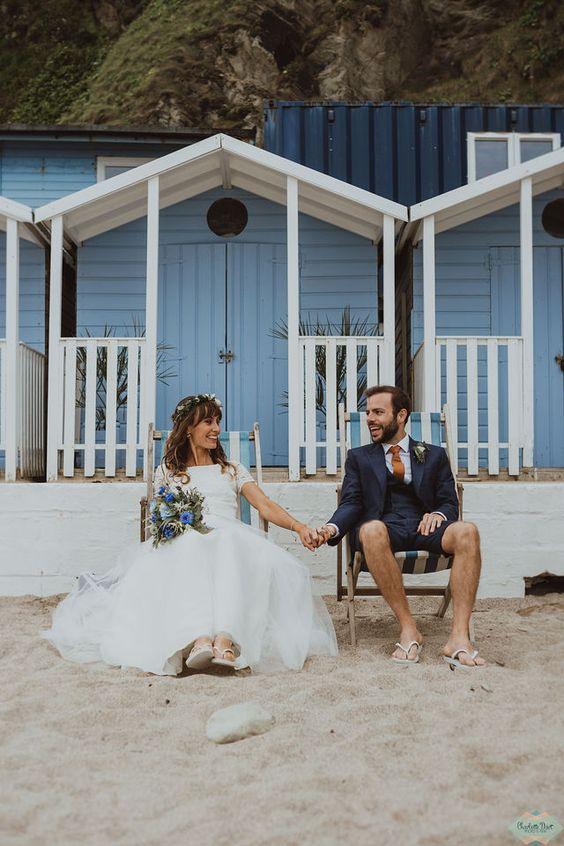 British beaches are full of picture opportunities and nothing is cuter than an iconic, colourful beach hut. Grab your photographer and get them to snap some shots of you and your love on deckchairs or posing with your wedding party in front of the huts.
You could also hire a beach hut and use it as your venue for getting ready in the morning with bridesmaids or groomsmen; you'll get some amazing snaps.
We've also seen couples utilise a beach hut for their wedding ceremony sand ceremony and unity candle ceremony so the breeze didn't blow anything away. They're an ideal 'indoor' spot for parts of the ceremony that need a little shelter and they look darn cute while you're at it.
5. Use Rustic Wedding Signs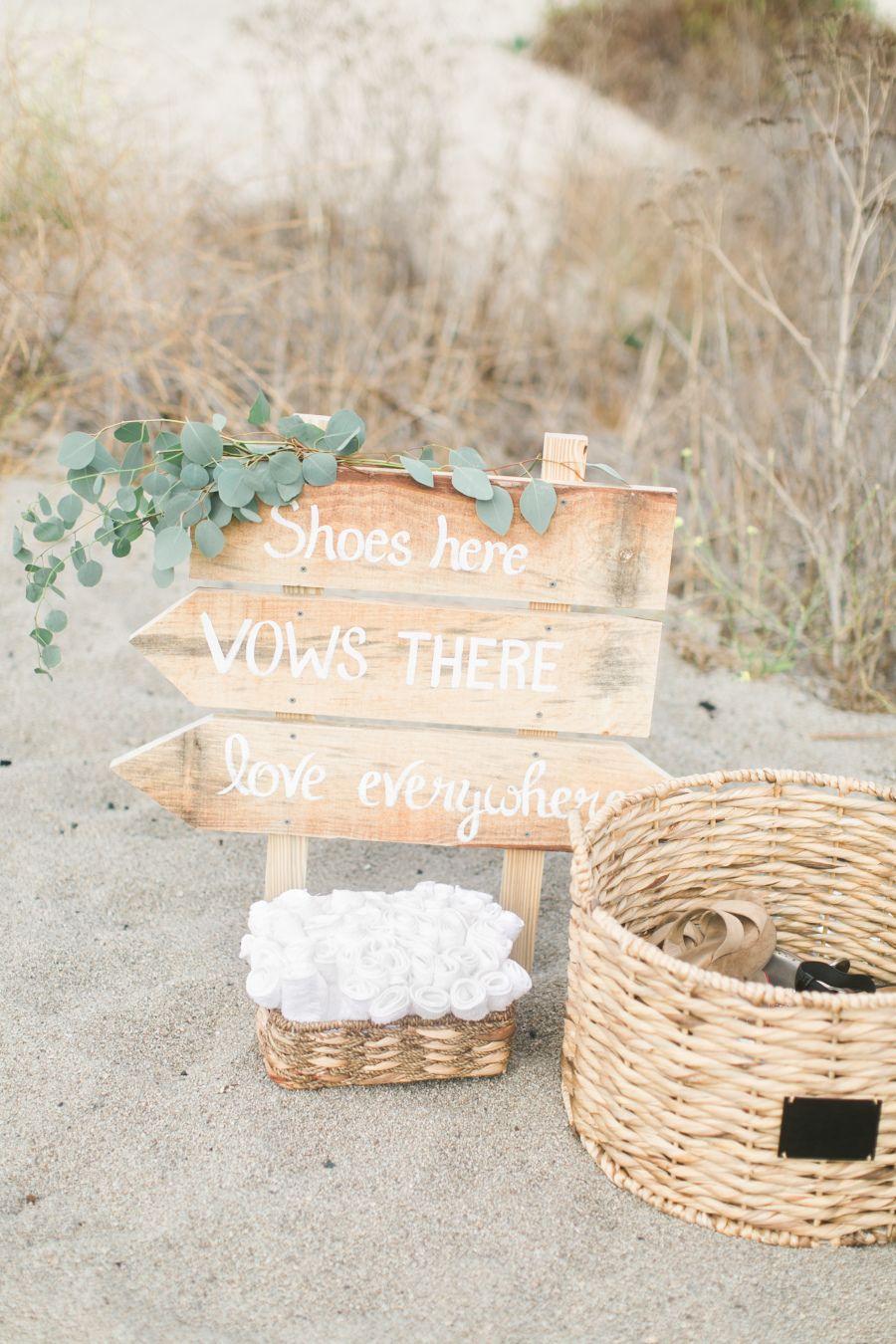 Guide your guests to where they need to be with a cute wooden wedding sign – an idea for a beach theme wedding that is both practical and decorative!
Rustic wooden signs work so well on the beach, and see if you can get them made of driftwood for an even more boho feel.
6. Display Cocktail Menus on Tropical Leaves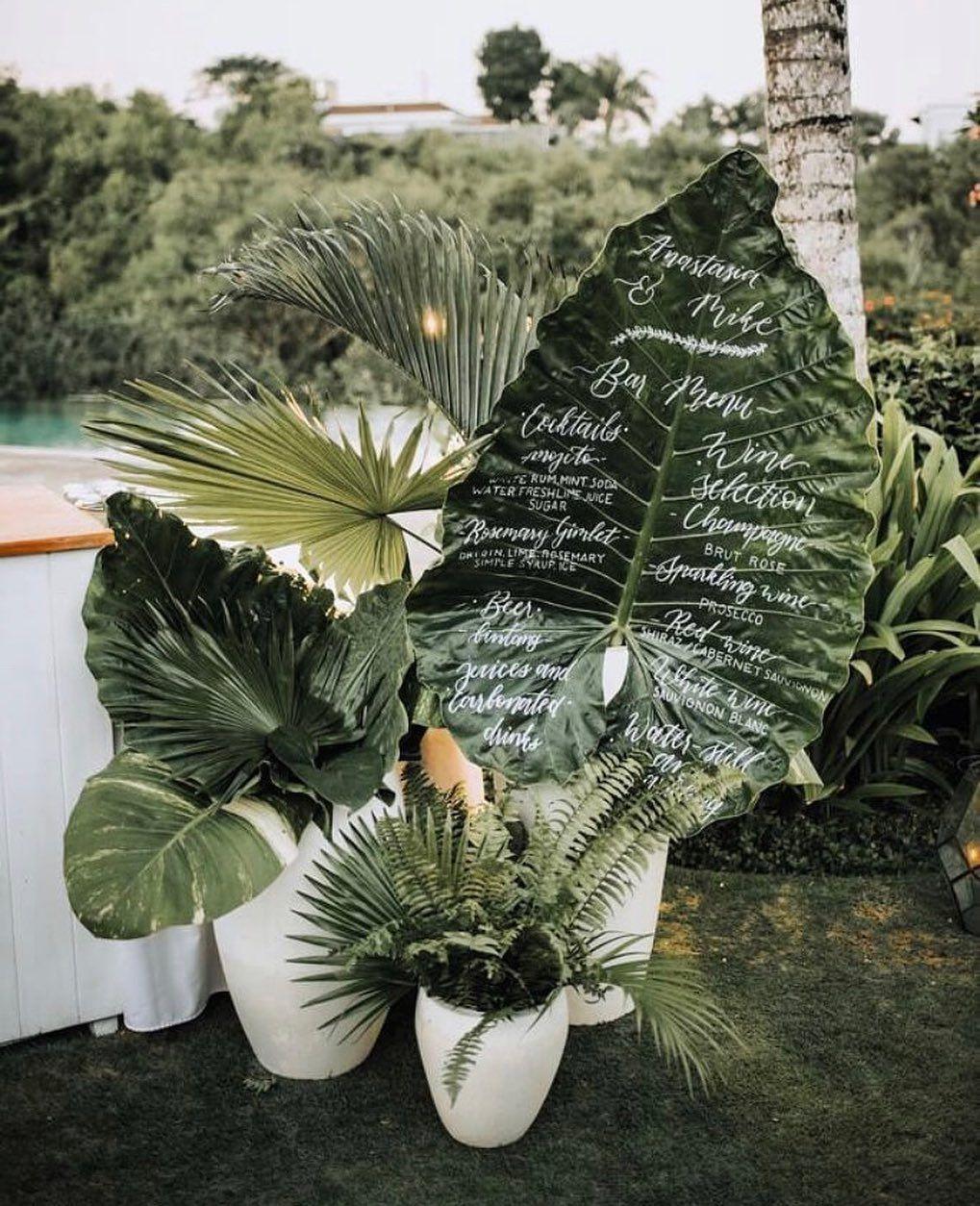 If you're having a drinks reception on the beach, embrace a tropical theme with cool palm and fern leaves. A large tropical leaf can be transformed into a reception drinks menu at a destination wedding.
7. Give Seaside-Themed Wedding Favours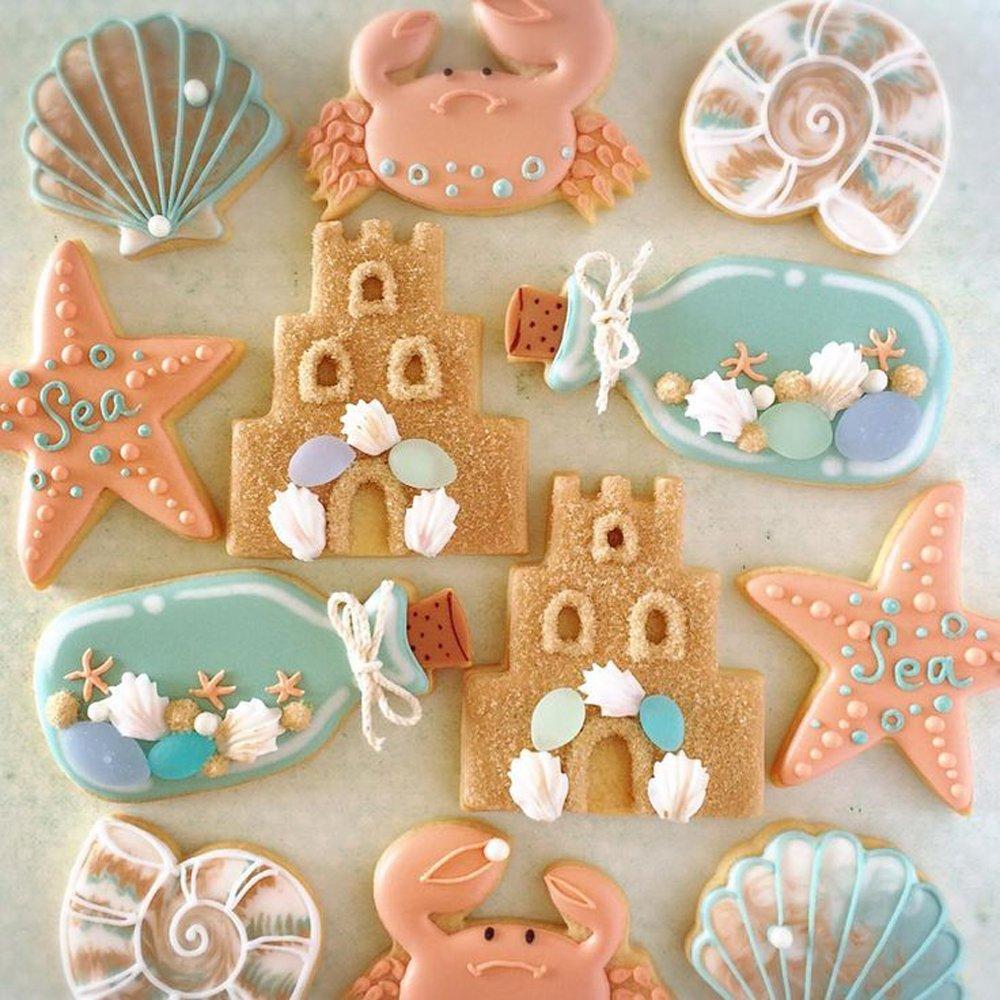 To round off an incredible beach themed wedding, present your guests with some wedding favours that follow the theme. How cute are these seaside-themed biscuits which would look amazing on each guest's table setting.
You could do rea-life mini messages in a bottle with something personal written to each guest inside, or how about a stick of rock with your name and wedding date inside it? Sea salt scented soap and candles are great for a beach wedding, as are fun sunglasses for all your guests. If you have a bit of budget to splash, what about giving guests personalised flip flops as their wedding favours which they can change it for the dance floor.
8. Plan a Sunset Watching Party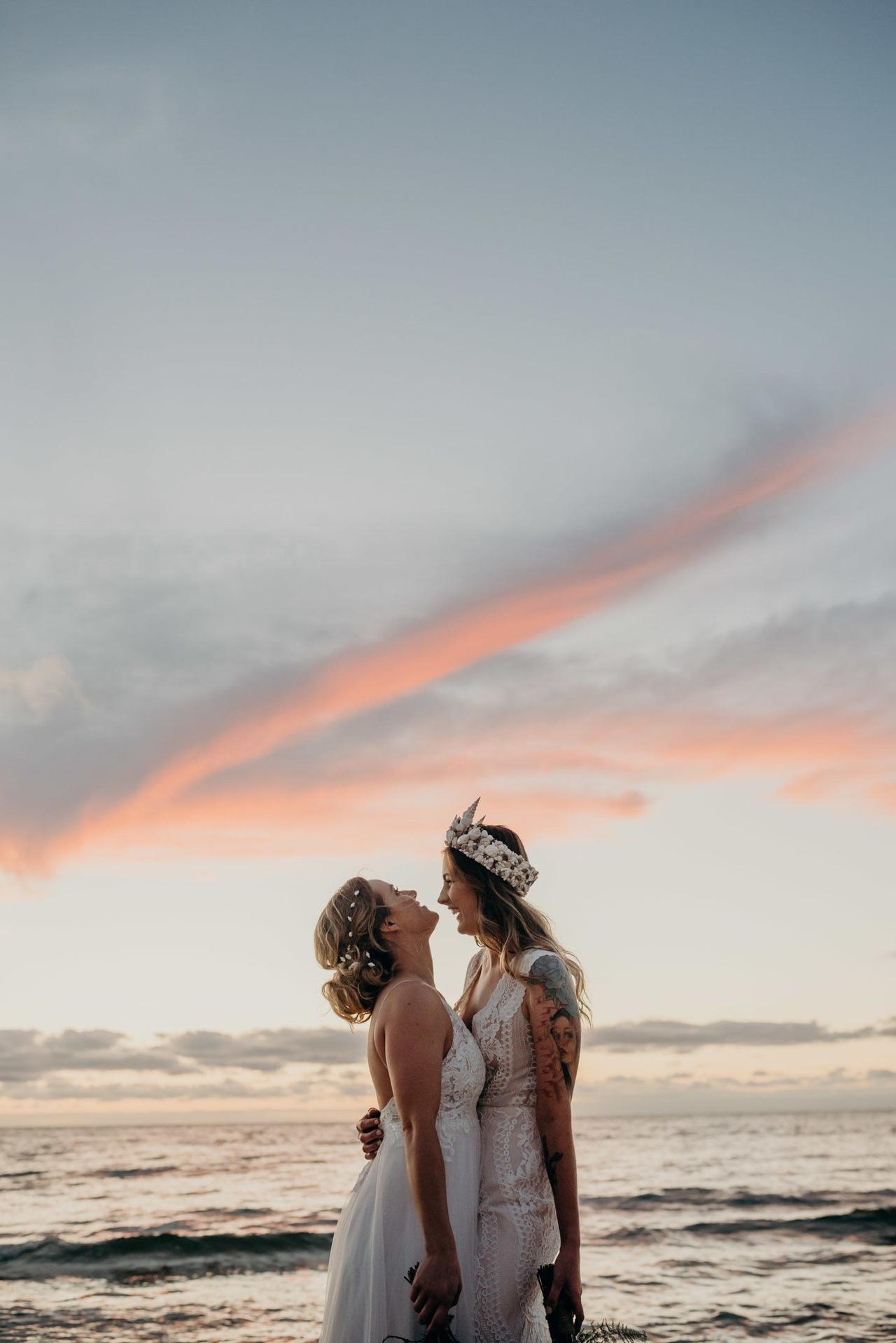 You can't have a wedding on the beach and not watch the sun go down! The amazing scenery will be so worth the wait and you'll never want the moment to end.
Plan the sunset into your wedding timetable and gather everyone together with a drink to catch the final moments of the golden hour. Set up fire pits too in case it turns chilly once the sun has gone in and then move inside for dinner or have your tables set up on the beach.
9. Have a Beach-Themed Wedding Cake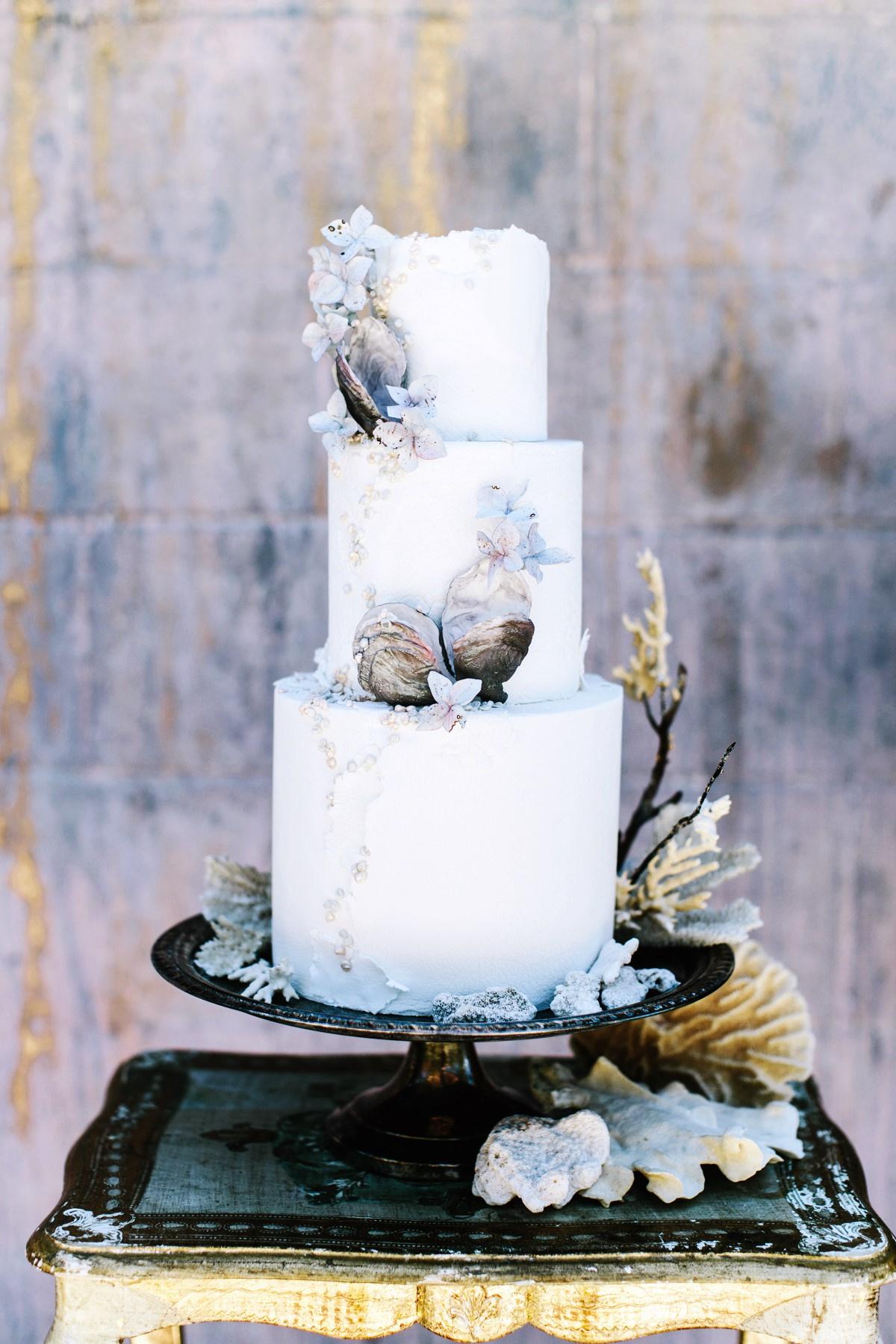 If you're incorporating all things seaside into your theme then you must pick an appropriate cake. This oyster shell and pearl adorned three-tiered cake is a beautiful beach wedding idea.
You can also add the finishing touch to your cake with a unique wedding cake topper inspired by the sea! Think starfish, seahorses or pieces of coral - ask your cake decorator if they can make something out of sugar or fondant.
10. Have a Beach Dessert Table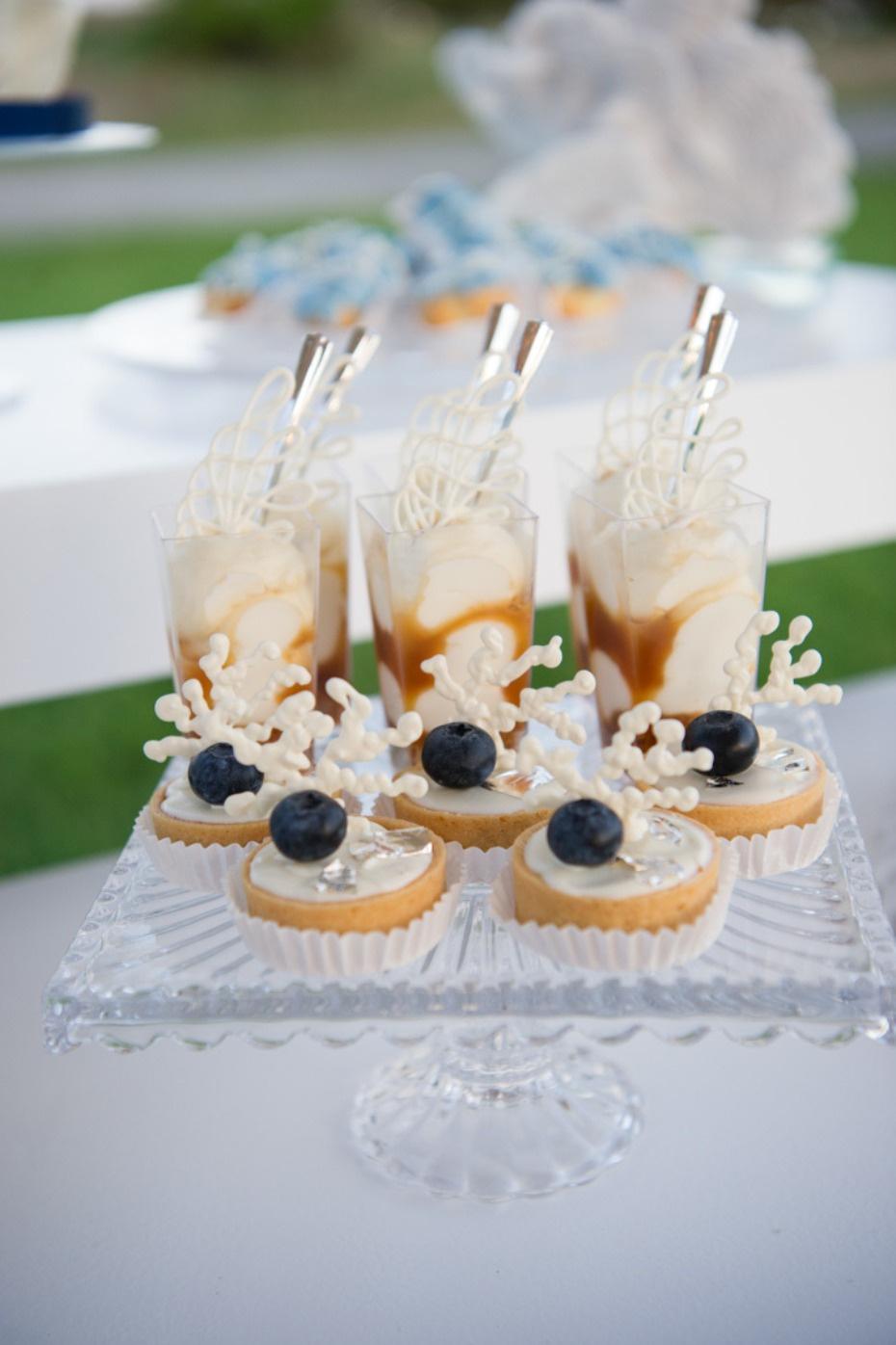 While you can have a dessert table on the beach, we'd recommend you reconsider due to sand and flies. Instead, we mean a table full of beachy desserts, like these white chocolate coral tartlets, sea salt caramel parfaits, painted macarons and blue marbled cake pops.
Have bowls of seaside-themed sweets, like rock, gummy dolphins, foam shrimps, ice cream cones and sour candy fish sweets for guest to make their own pick 'n' mix selection. You could even serve them in retro style buckets with spades to serve the sweets.
11. Send out Seaside-Themed Invites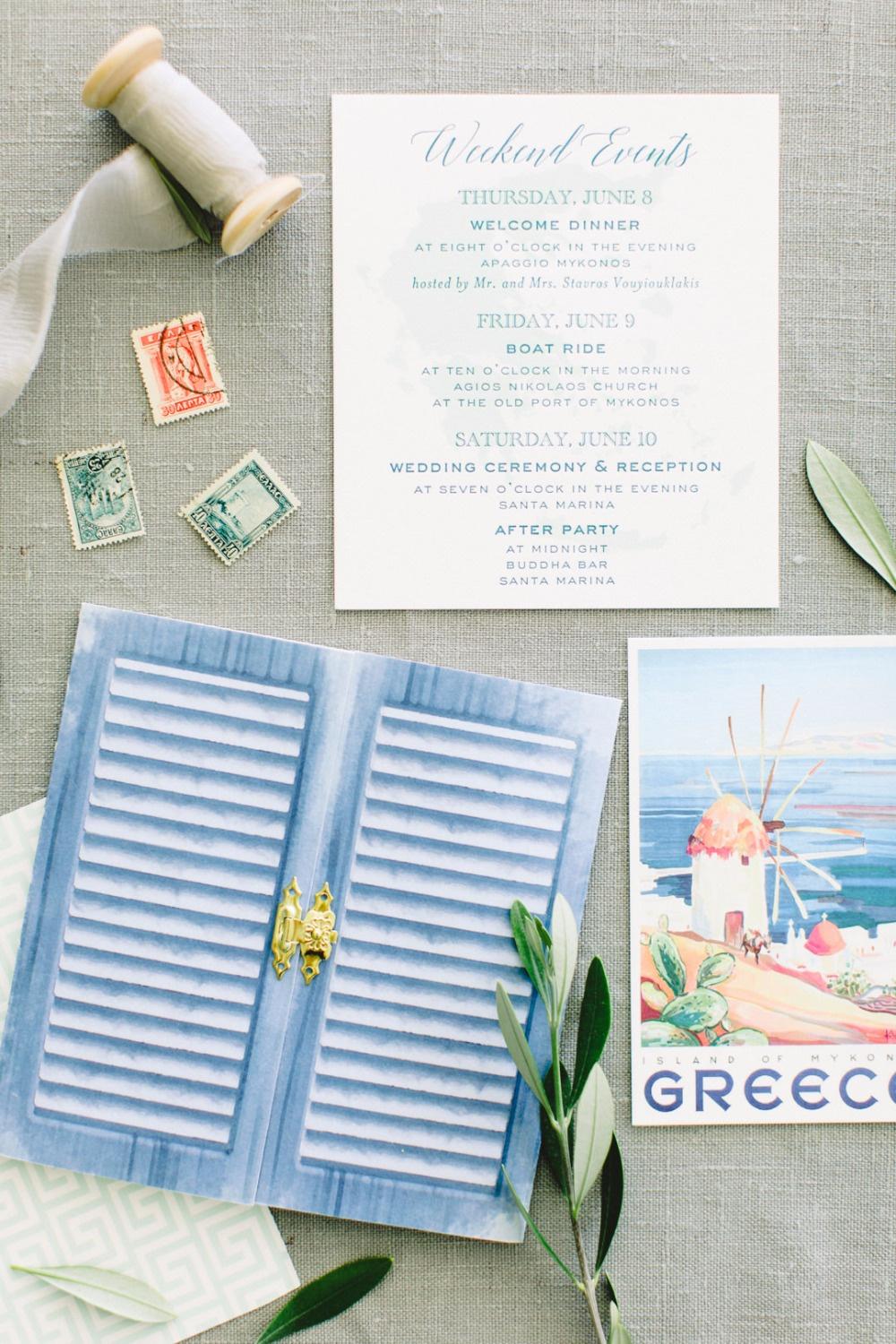 If you're having a destination wedding, follow the theme and send out postcard save the dates and destination themed wedding invitations to all your guests! It's the best way to announce where you're planning to tie the knot.
If it's a beach at home in the UK, think about everything that beach means to you and get an illustrator to paint a custom watercolour for your invites. For example, it could be the beach you and your partner walk your dog everyday, or it could be where the two of your go surfing or sailing together. These little motifs of daily life will show your guests how meaningful your beach venue is to you.
12. Light It up with Candles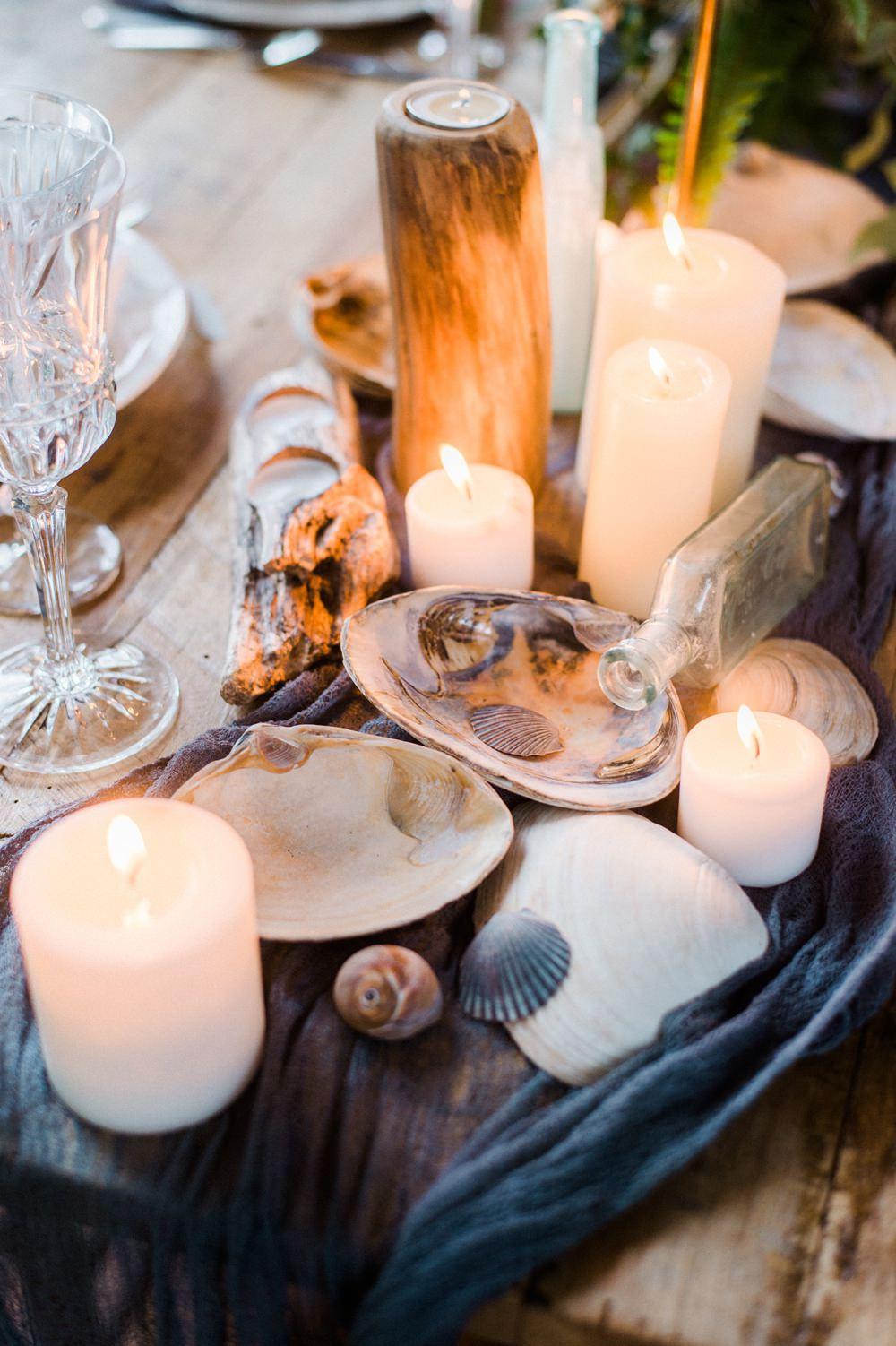 Beach weddings are all about nature, so add some soft, natural lighting with candles through your venue. They really elevate this textured mix of driftwood, shells and glass, and totally change the feel of your table setting.
13. Cool Down Your Guests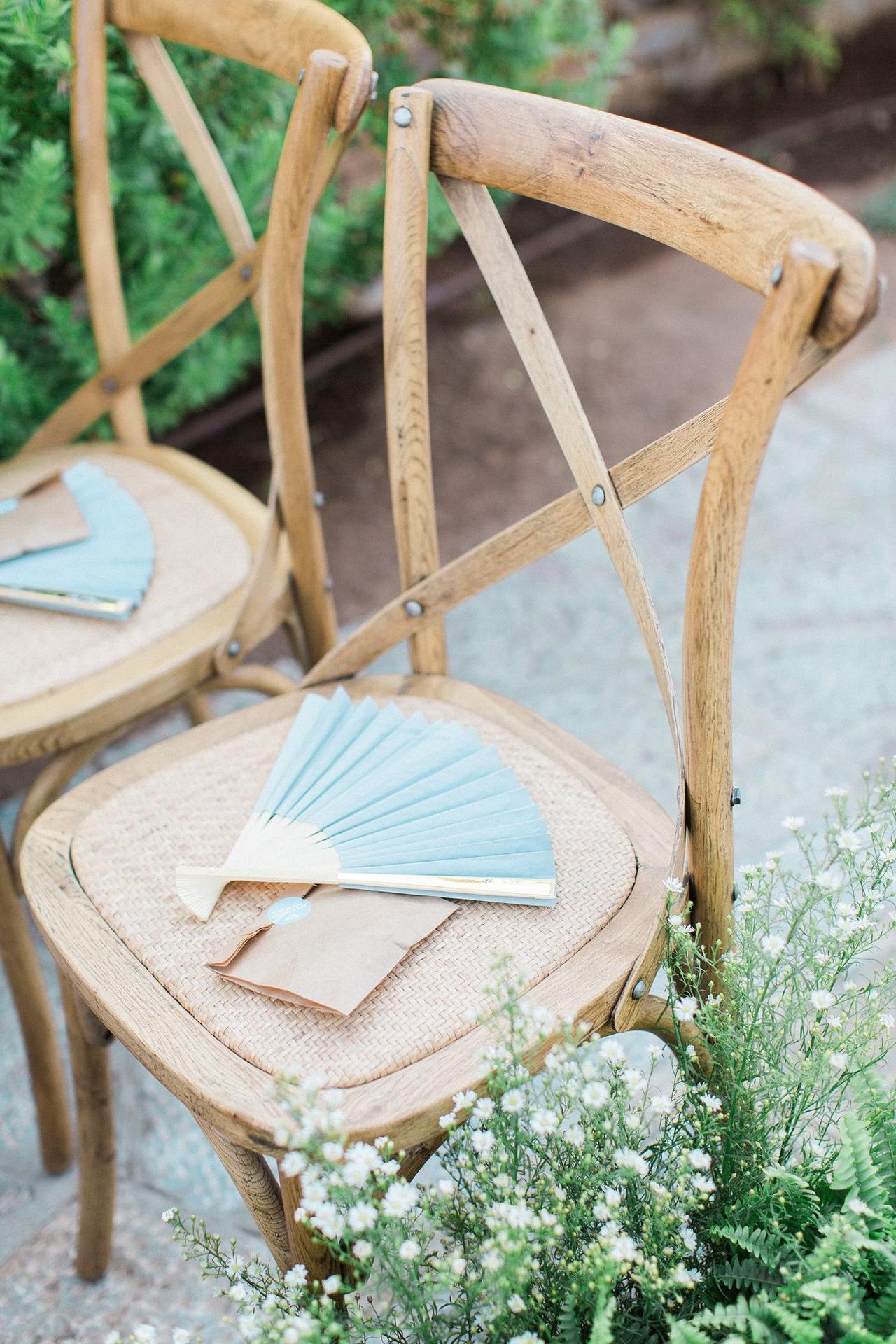 If hot weather is on the cards, make sure your guests have lots of ways to keep cool. We love having a fan on each guest's seat, parasols available for them to sit under, shaded areas out of the sun at the drinks reception and an emergency kit in the bathrooms with extra deodorant and blotting paper.
14. Chose a Coastal Venue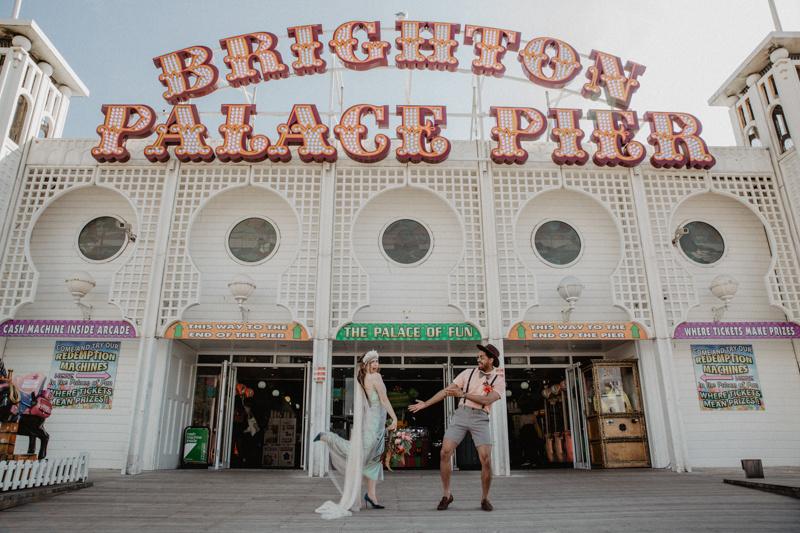 Beaches aren't always suitable for every wedding, so why not choose a coastal wedding venue where you'll get the joy of being by the sea but not have some of the impracticalities? This is especially necessary if you have elderly guests or guests with disabilities who would find it hard to walk or take a wheelchair on the sand.
You can go for a unique and quirky venue like the pavilion or pier at Weston-super-Mare or Brighton, or a gorgeous country house venue like Fairyhill in the Gower which looks straight over the sea and you can go to for photos. You can incorporate everything you would at a beach wedding, but you won't be on the sand itself.
15. Use Deckchair Seating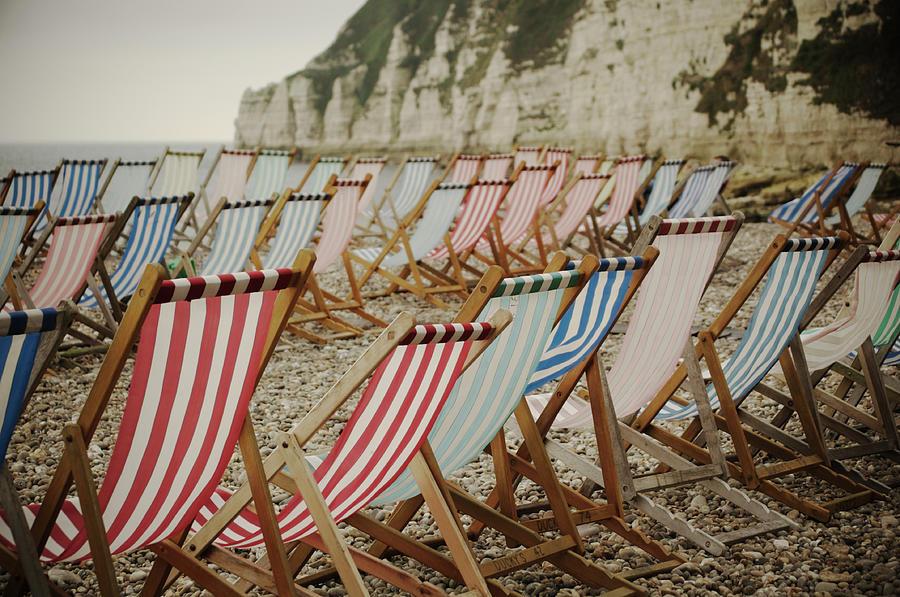 No wedding on the beach is complete without some brightly coloured deckchairs – particularly if you're at the seaside in the UK! Sit back and soak up the atmosphere of your special day.
16. Serve Local Seafood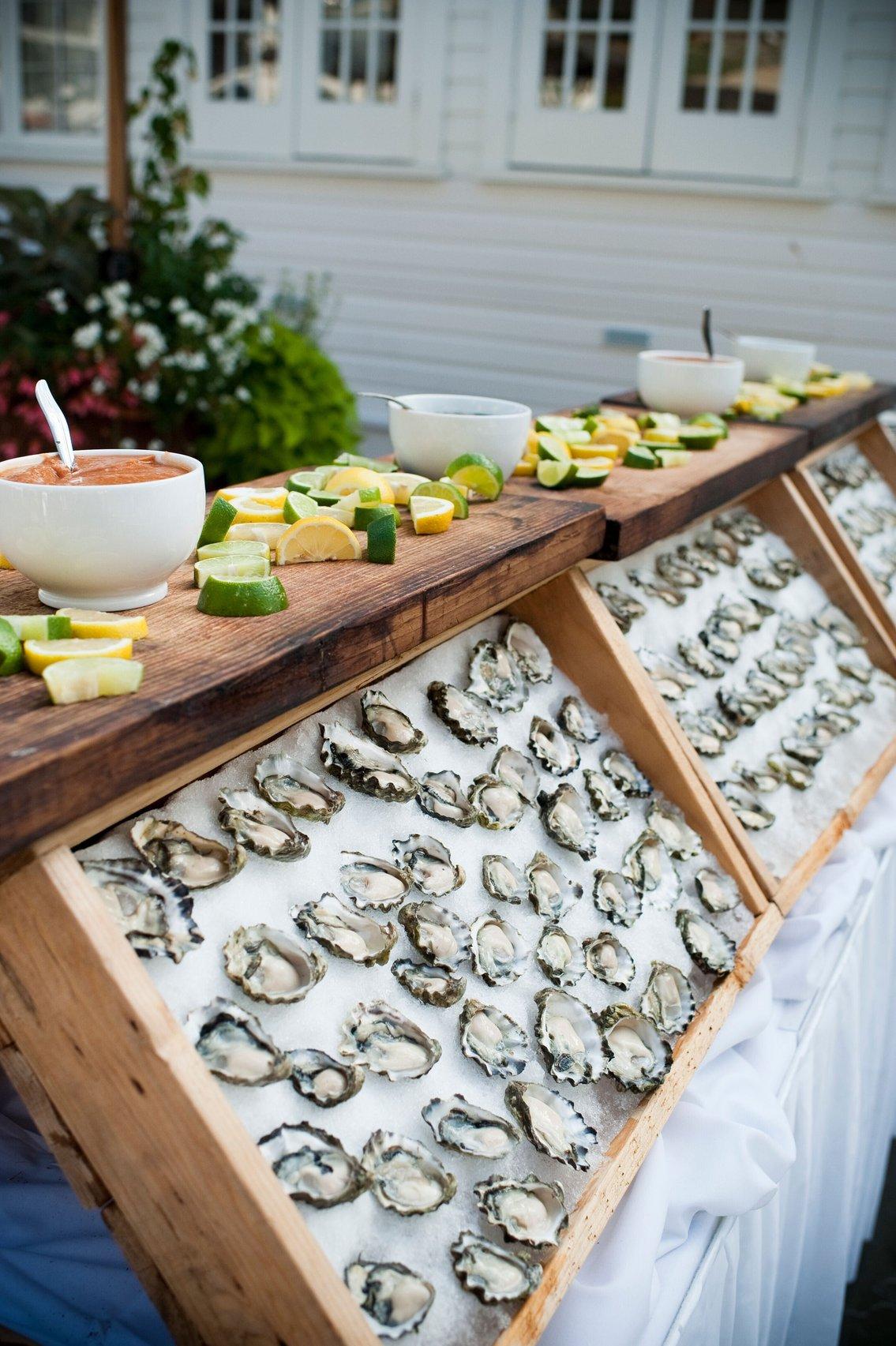 You're by the sea therefore seafood just makes sense. Speak to your caterer and ask for local, seasonal produce with a focus on the best catch of the area. It could be fish as a main course or it could be an extravagant seafood feast with oyster on ice, prawns, lobster claws, crab and more. See what your budget can get you.
17. Embrace Beach-Themed Décor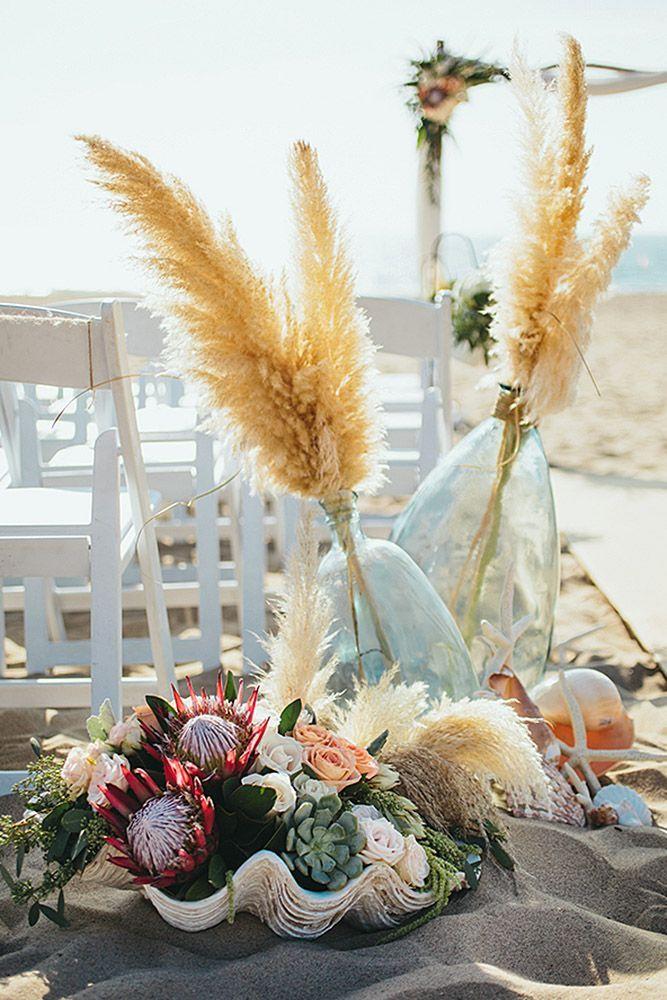 Whether its aisle decoration or centrepieces on your tables, sea-themed décor draws together the whole vibe of the day. How stunning are these giant shells filled with flowers and succulents, mixed with giant glass vases filled with pampas grass and sitting next to shells and starfish. It's quite a simple set-up to put together but will make a big impact.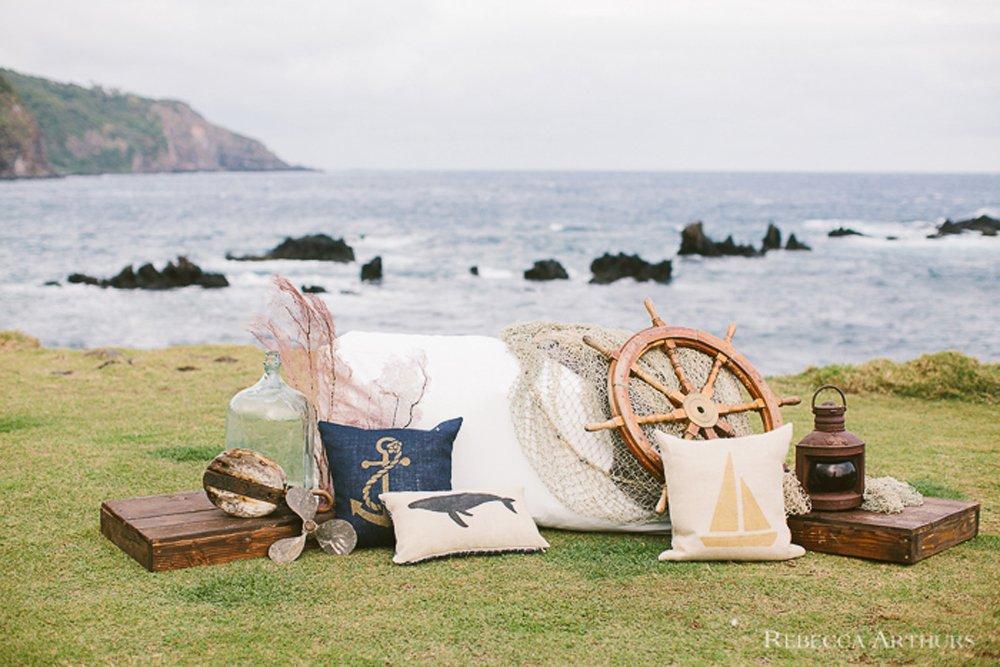 We also love this nautical set-up with a ship's wheel, fishing net and lamps, plus soft cushions that guests can recline on.
If you're looking for something very simple to do, forget the usual fairy lights and hang up strings of starfish and nautical bunting around your reception for a quirky beach wedding idea.
18. Create Nautical Table Settings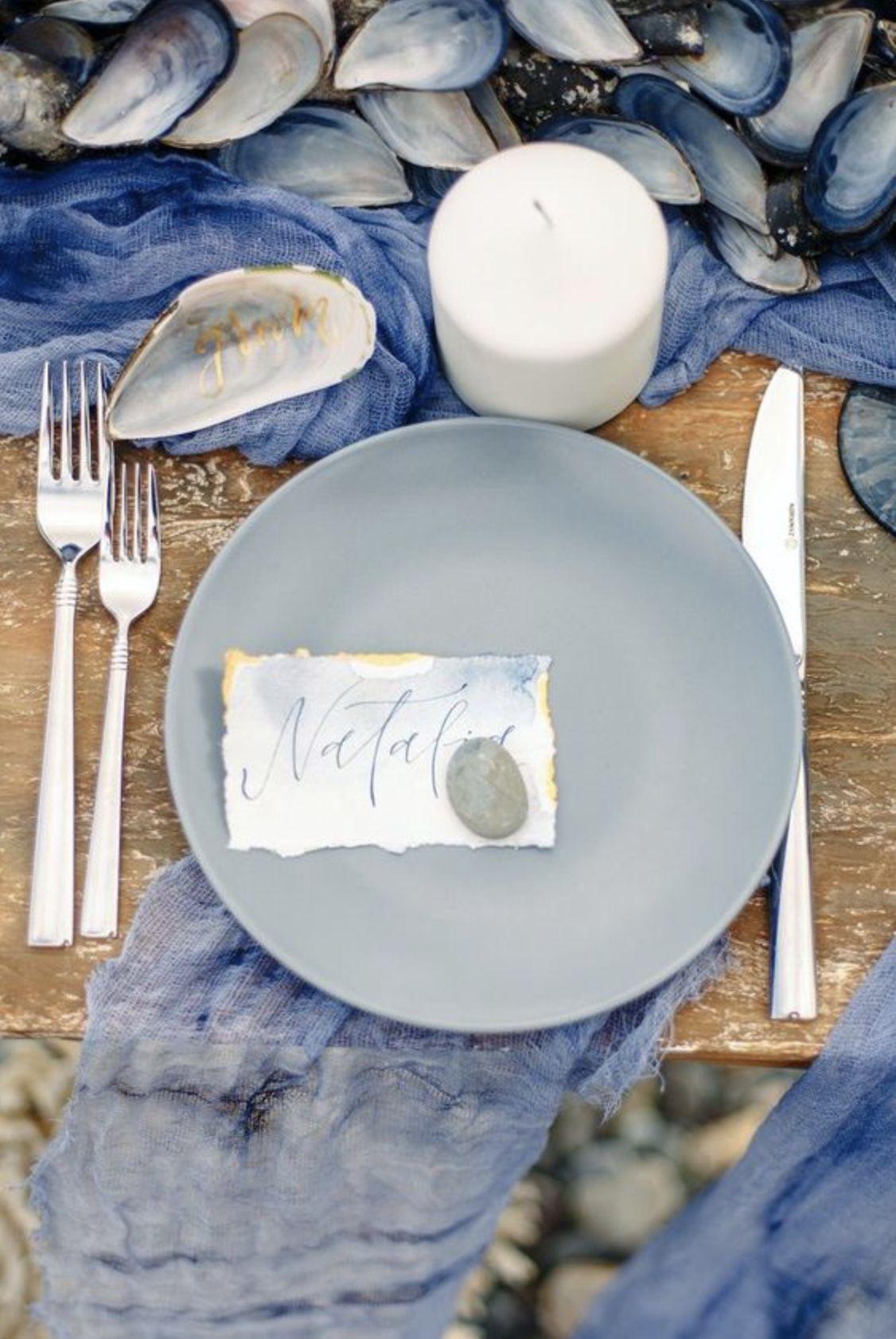 Blue is naturally a popular choice for beach themed weddings as it reflects the sea and the sky.
Go for jewel tones if you want a more glamorous feel or pale blue for an informal celebration. It looks beautiful mixed with cool greys and glints of gold.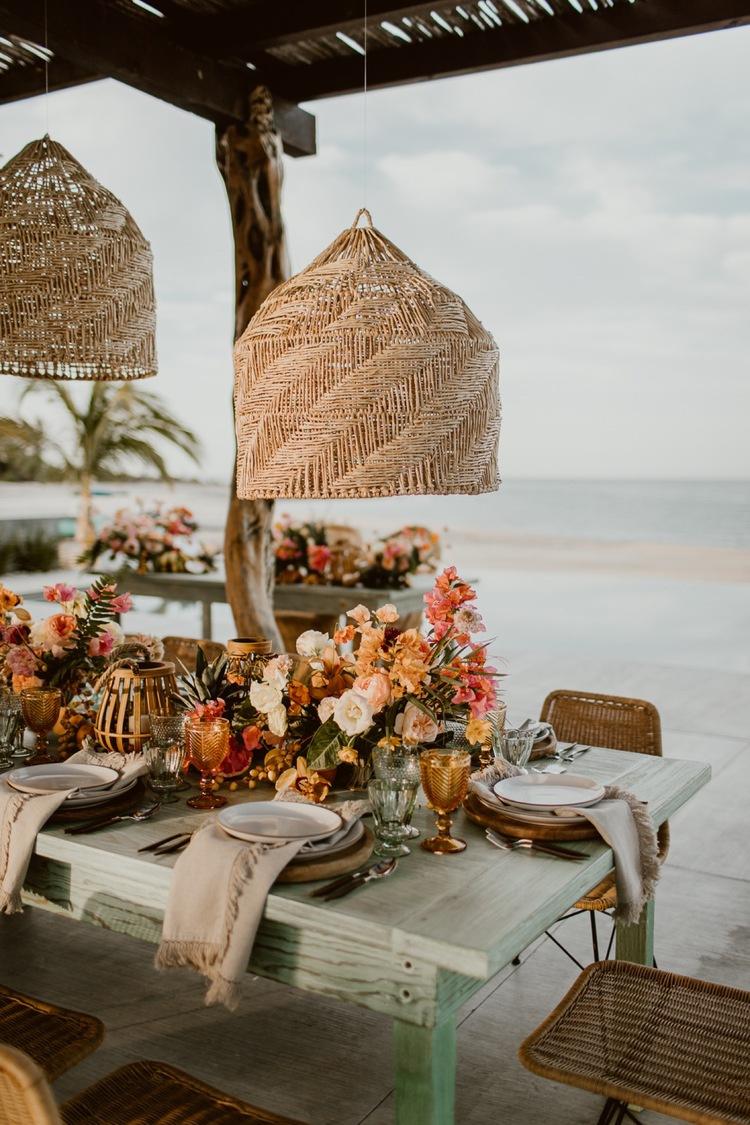 For a destination wedding, go for a similar colour scheme to the flora and fauna around you, such a lush greenery and bright orchids or hibiscus at a Caribbean wedding. Try adding in natural textures such as rattan, linen, dried grasses and colourful glass.
19. Serve Signature Cocktails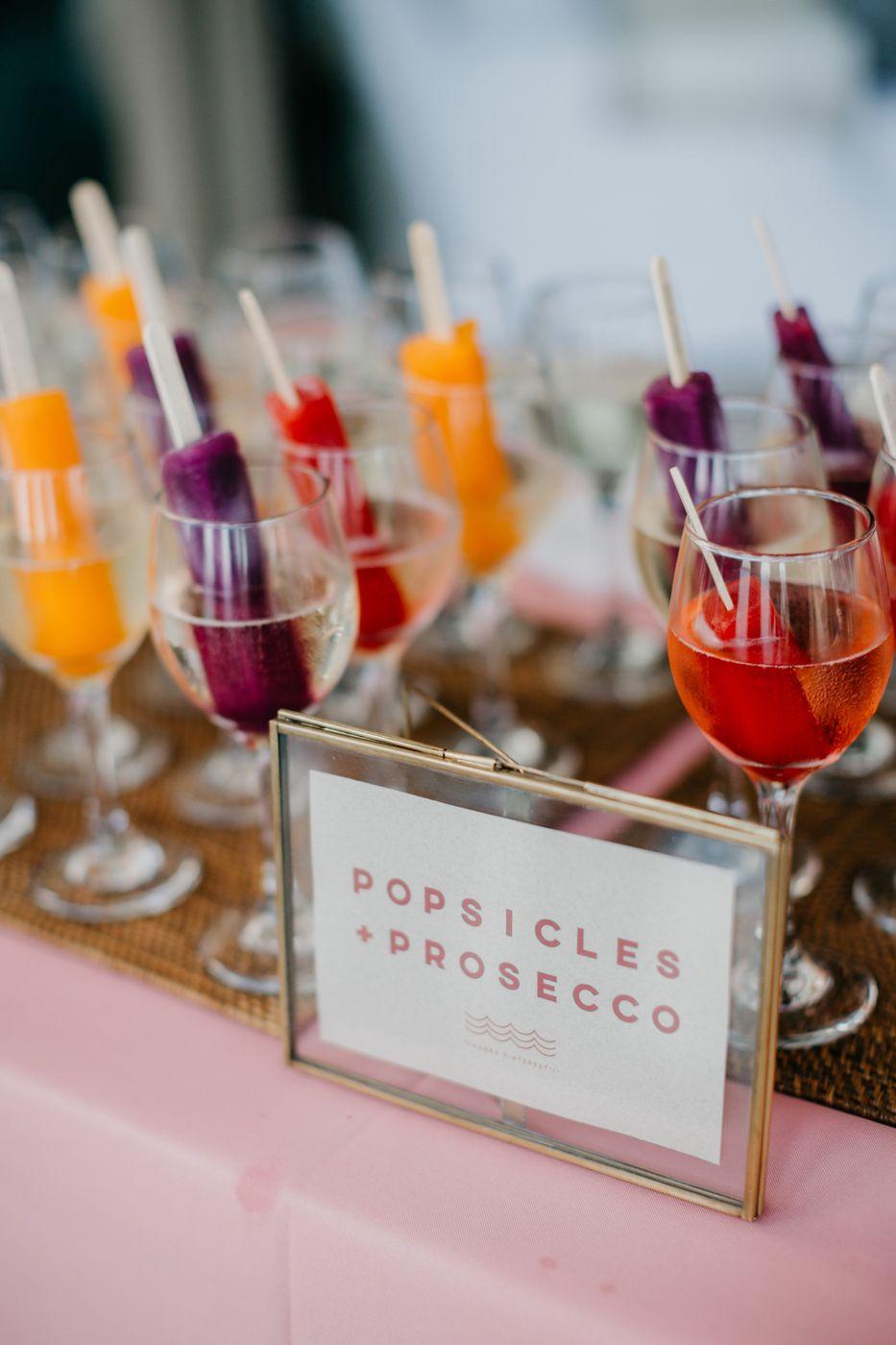 Who doesn't love a cocktail by the beach on holiday? Well, channel that energy into your wedding.
At a destination wedding, you could use local spirits and fresh fruit juices or coconut water, while in the UK, you could embrace retro seaside flavours like a vanilla and chocolate shake, a fruity rocket lolly, or the ice cream van favourite - a pineapple and lime Twister.
20. Make a Boat Origami Seating Plan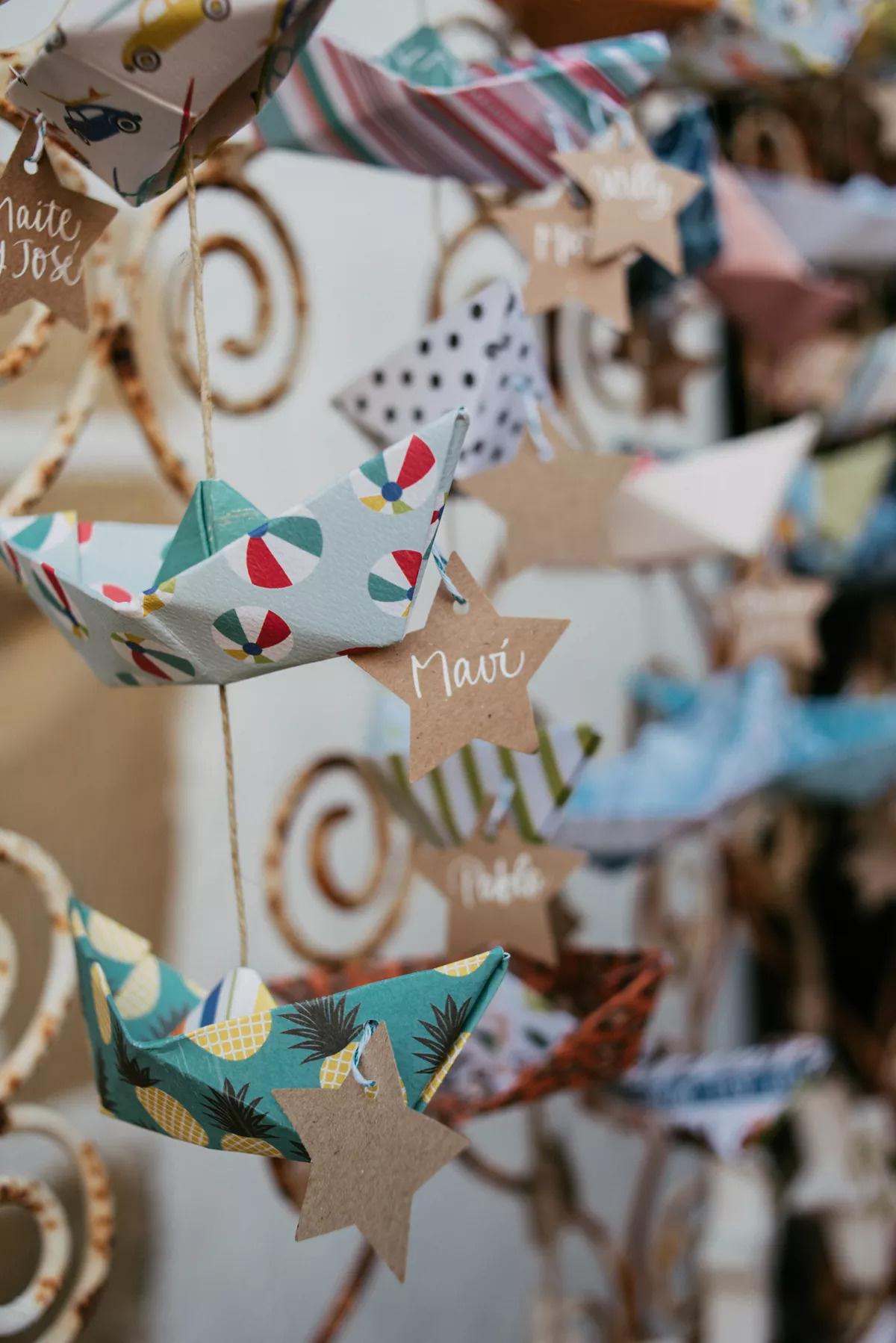 Origami paper boats make for a whimsical seating plan. Hang them in strings according to the table numbers and let your guests have fun seeing all the different designs. It's such a colourful addition to your reception venue and a cute way of displaying seating. Even better, if your seating plan gets moved around last minute, you can just swap around tags.
21. Hire an Ice Cream Van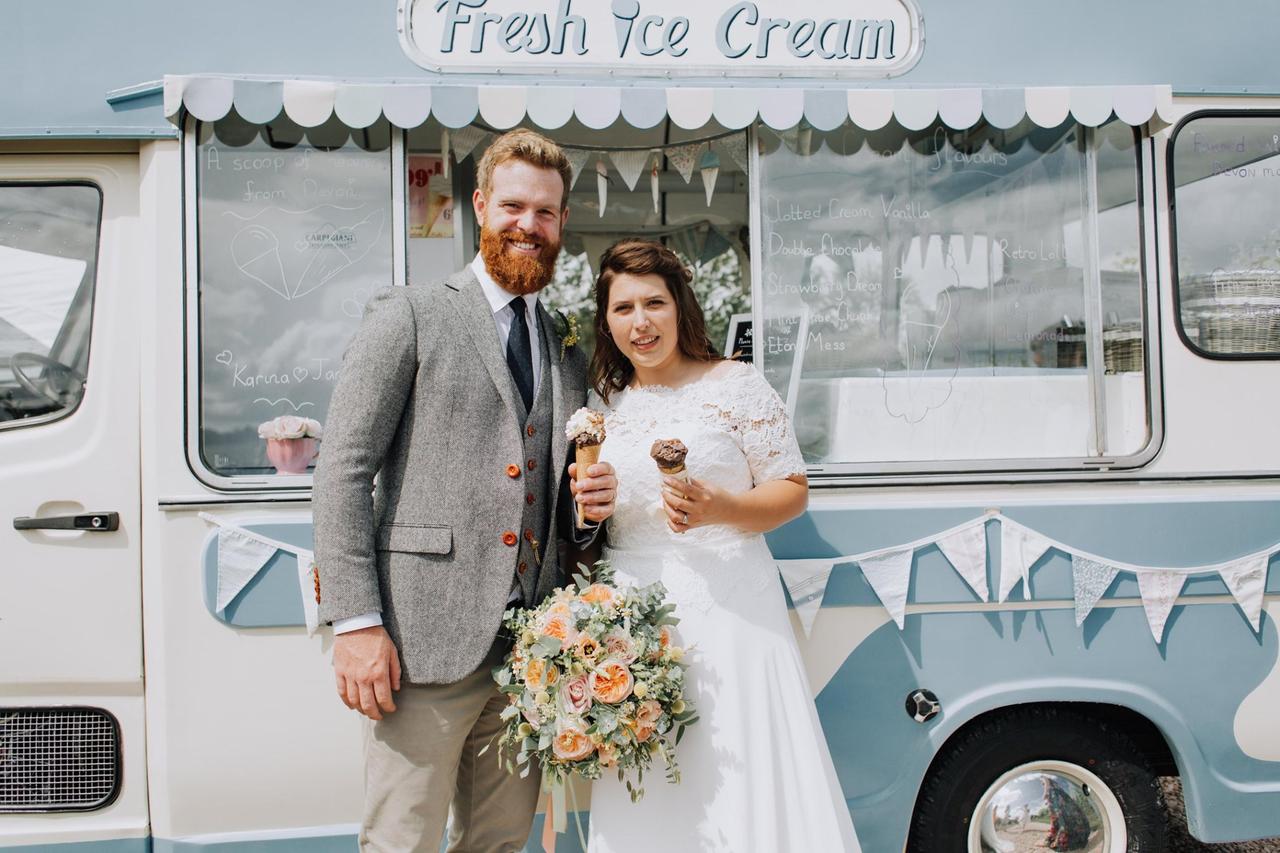 Everyone knows that ice cream is a tradition at the beach, so why not serve your guests some yummy flavours at your reception? Or better yet, hire an ice cream van.
You could get a traditional Mr Whippy van with 99 Flakes aplenty! Get in there quick as this beach wedding idea will go down a treat.
22. DIY Place Cards and Centrepieces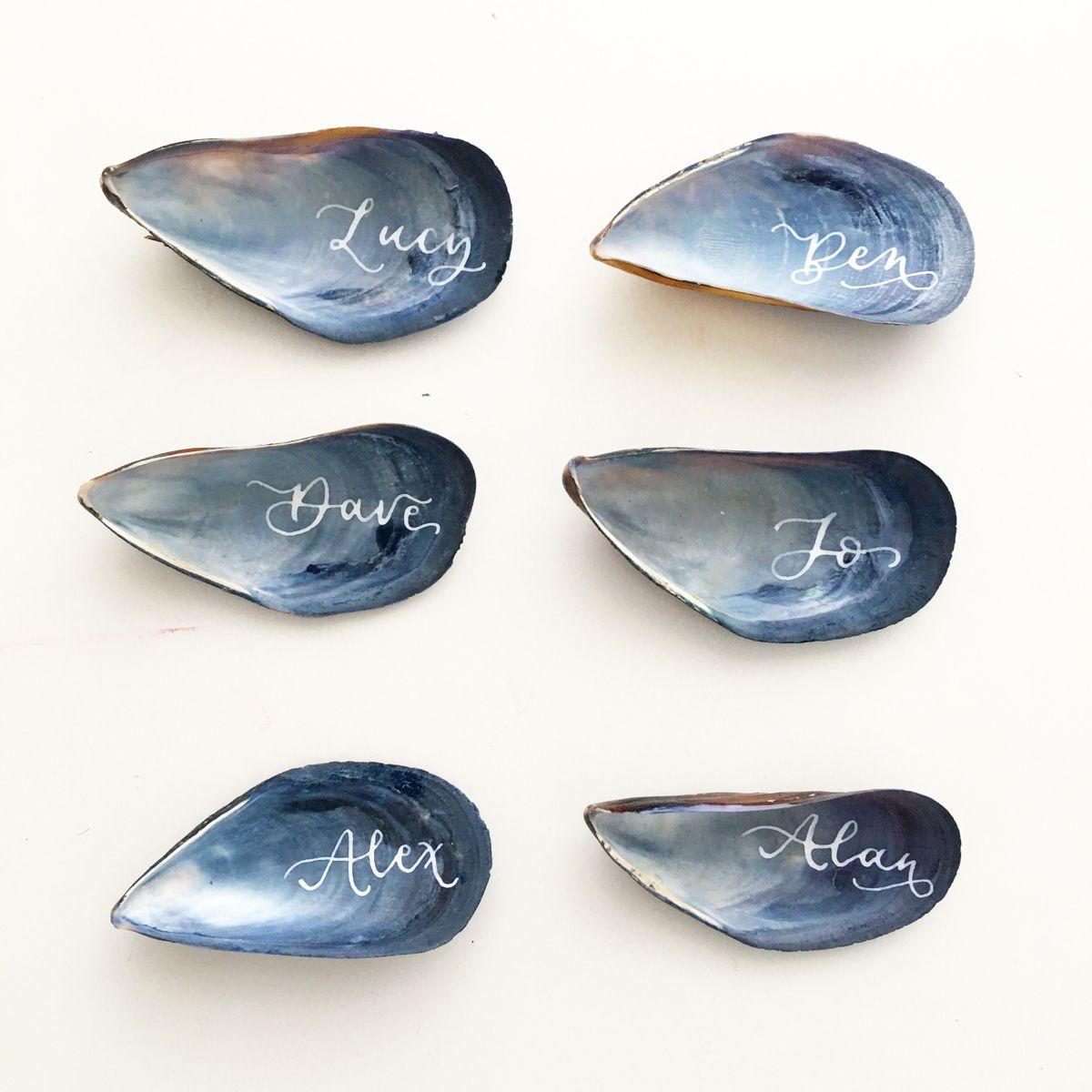 Get crafty and visit the beach before your wedding to collect some cool shells and stones for some DIY reception décor (although only do this if you're taking a few as it can be bad for the beach - buy larger amounts of oyster or mussel shells, pebbles and sand online).
An easy idea is to fill jars with sand, stones and anything else interesting that you find on the beach! Shells and pebbles make perfect bases for DIY place cards, but you can also ask your stationer if they'll do some beautiful calligraphy on them if that isn't your thing.
23. Message in a Bottle Guestbook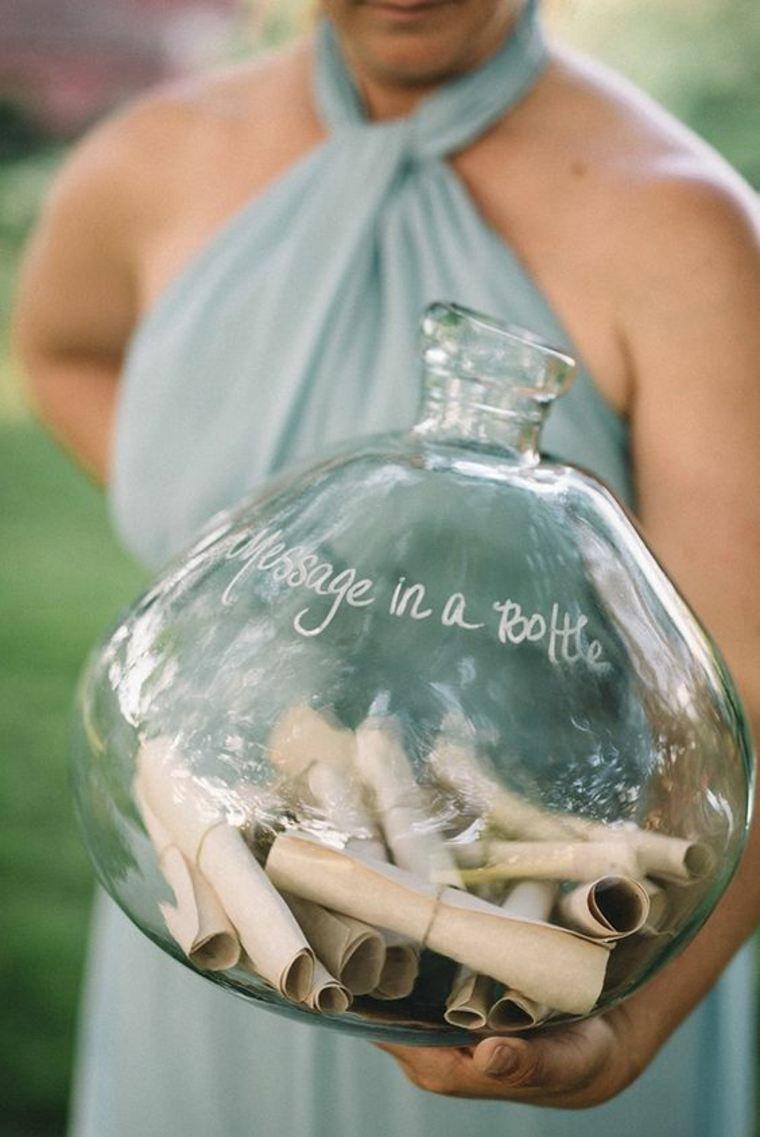 A great sea-themed wedding guestbook idea is to set up a message in a bottle station. Have a big vase and leave pens and paper for your guests to send you some wonderful messages - you can then turn them into a scrapbook or leave them in the jar and have it as a cool piece of artwork in your house.
24. Add Shells to Your Wedding Bouquet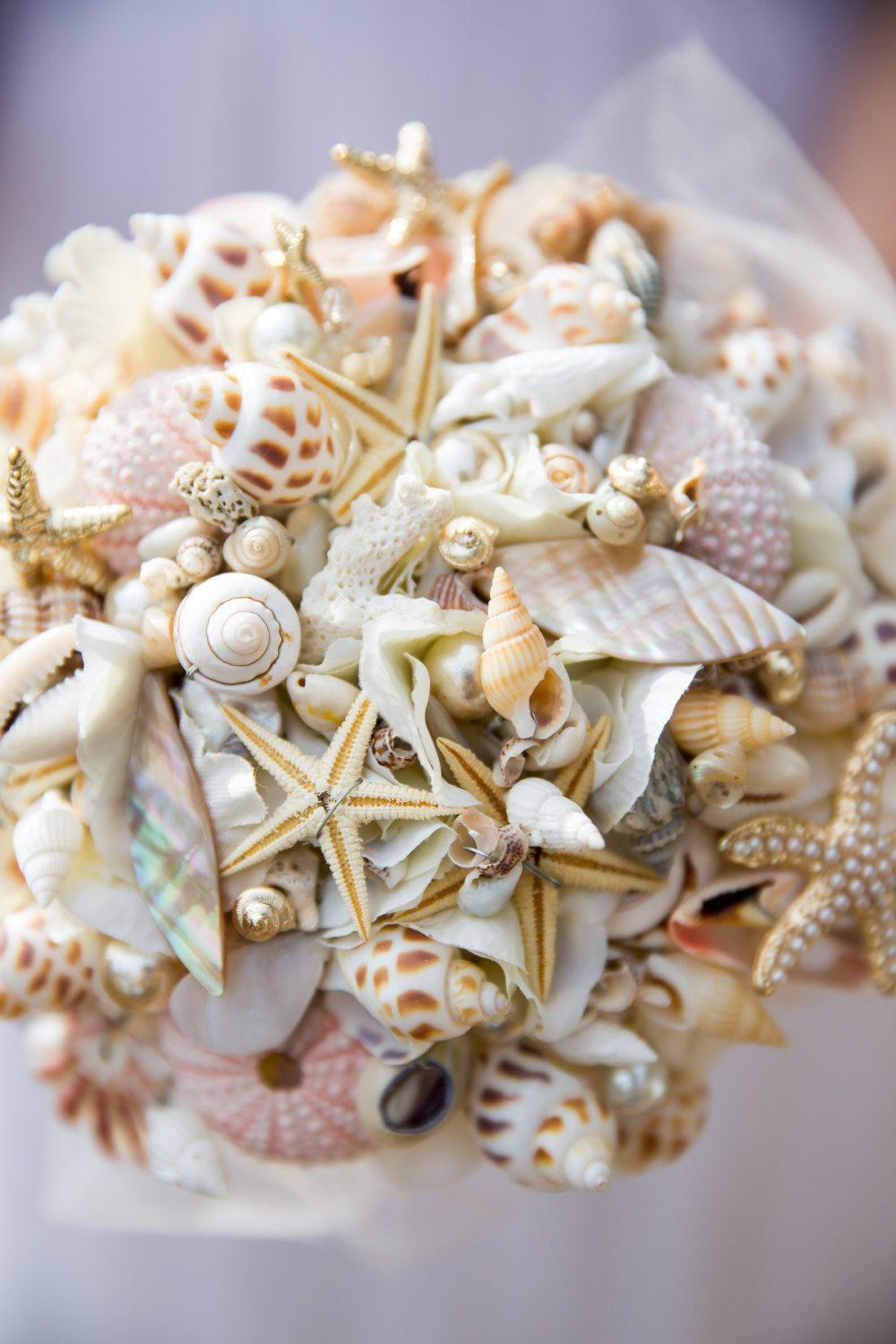 We love a seashell bouquet! It's such a unique idea for a beach-themed wedding. We've also seen bouquets that look like they're growing from large conch shells - bridesmaids can hold them while walking down the aisle and groomsmen can have smaller shells as part of their buttonholes.
25. Pastel Bridesmaid Dresses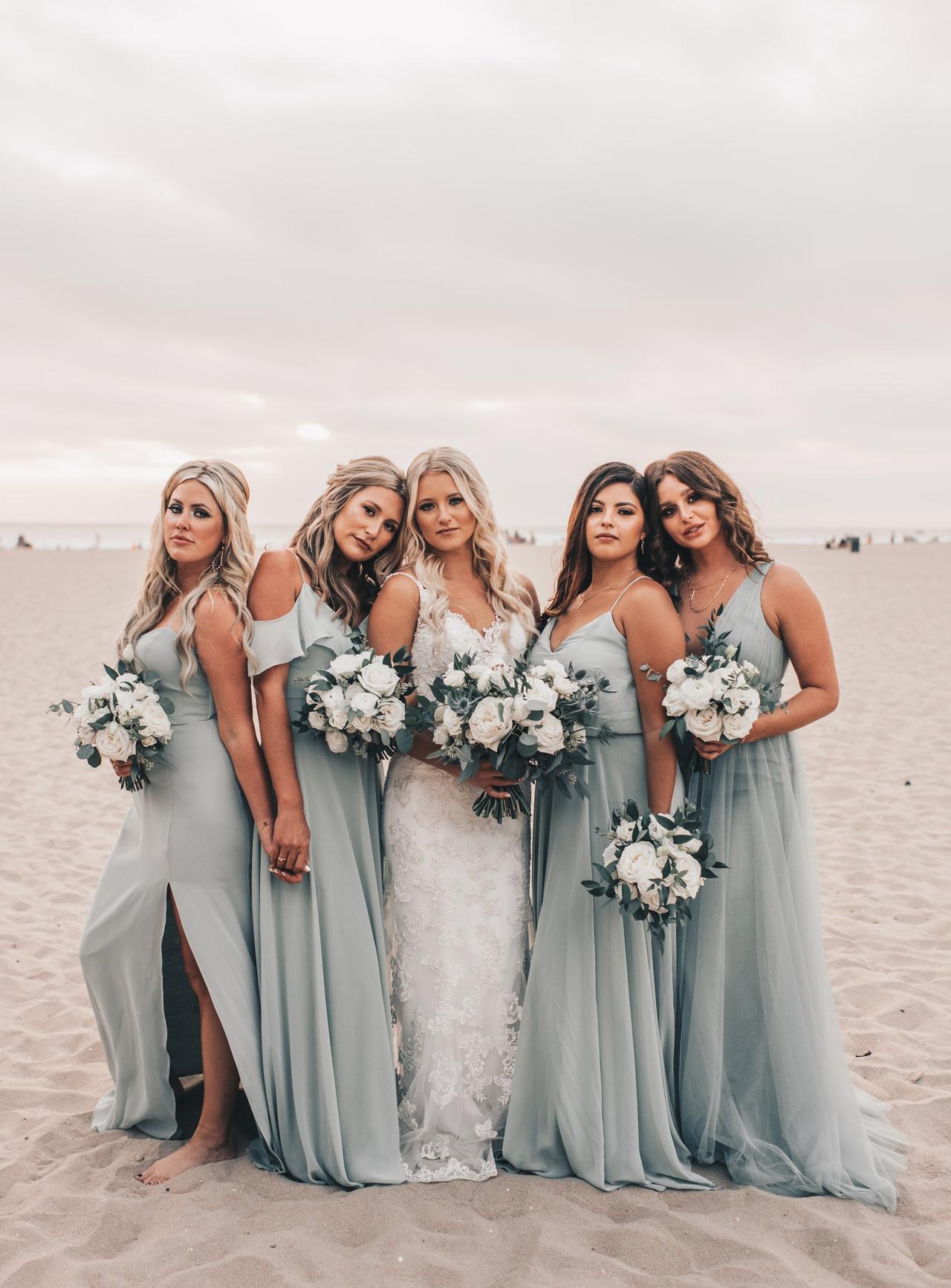 If you're having nautical navy as your colour scheme, dress your girls in pastel blue, mint or turquoise. The soft colours are reminiscent of the sea and look gorgeous in photos. Go for a soft satin material which will have a beautiful sheen, or a lovely chiffon that will be light and floaty when they walk down the aisle.
26. Linen Groomswear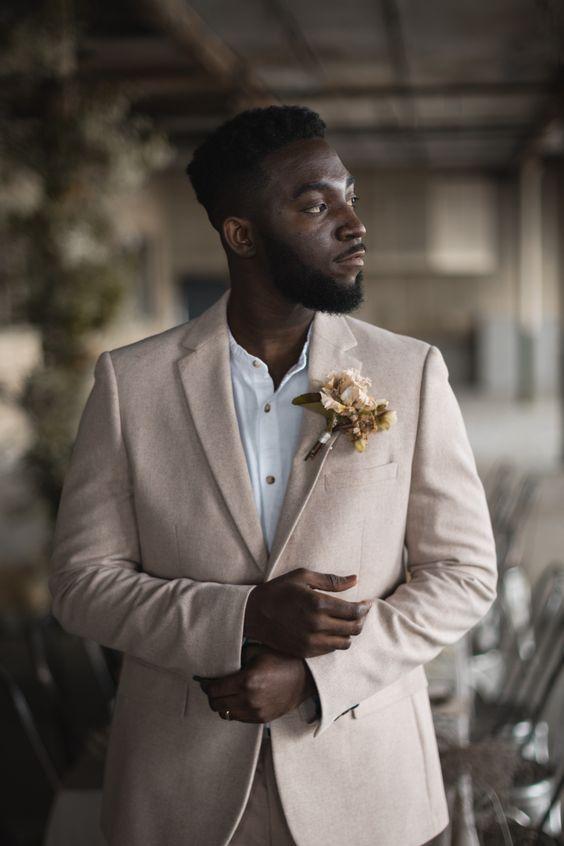 Linen is a cooling material for grooms' and groomsmen suits in hot weather, but it works whether you've got tropical sun or a rare UK heatwave. Linen suits in pale shades like grey, sky blue, mint and ivory look incredible in wedding photos and they add a lot of texture and lightness to your wedding styling.
27. Beach Hut Post Box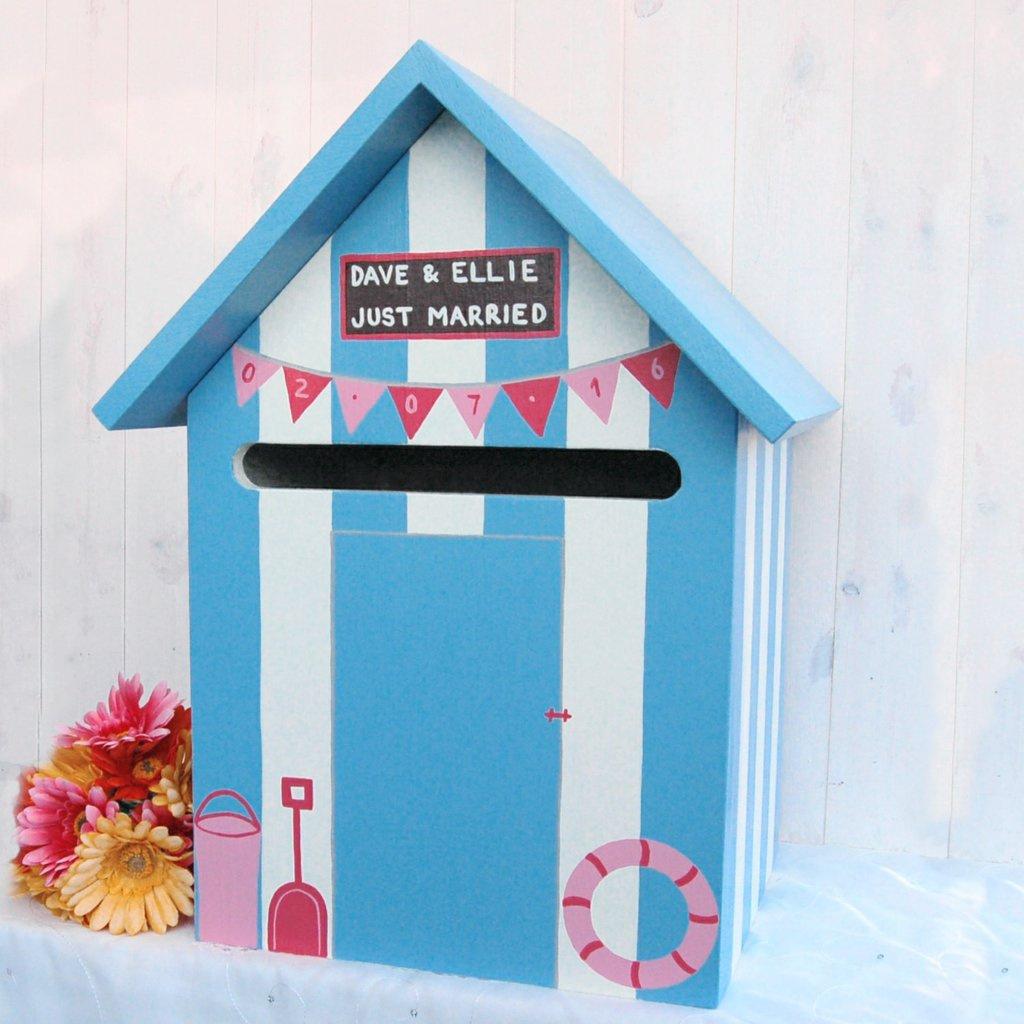 This beach hut post box is a quirky and cute place for your guests to leave their well wishes.
If you're having a destination wedding, what about leaning into the theme with either a vintage suitcase or even something wackier like a treasure chest?
28. Have a Wedding Breakfast by the Sea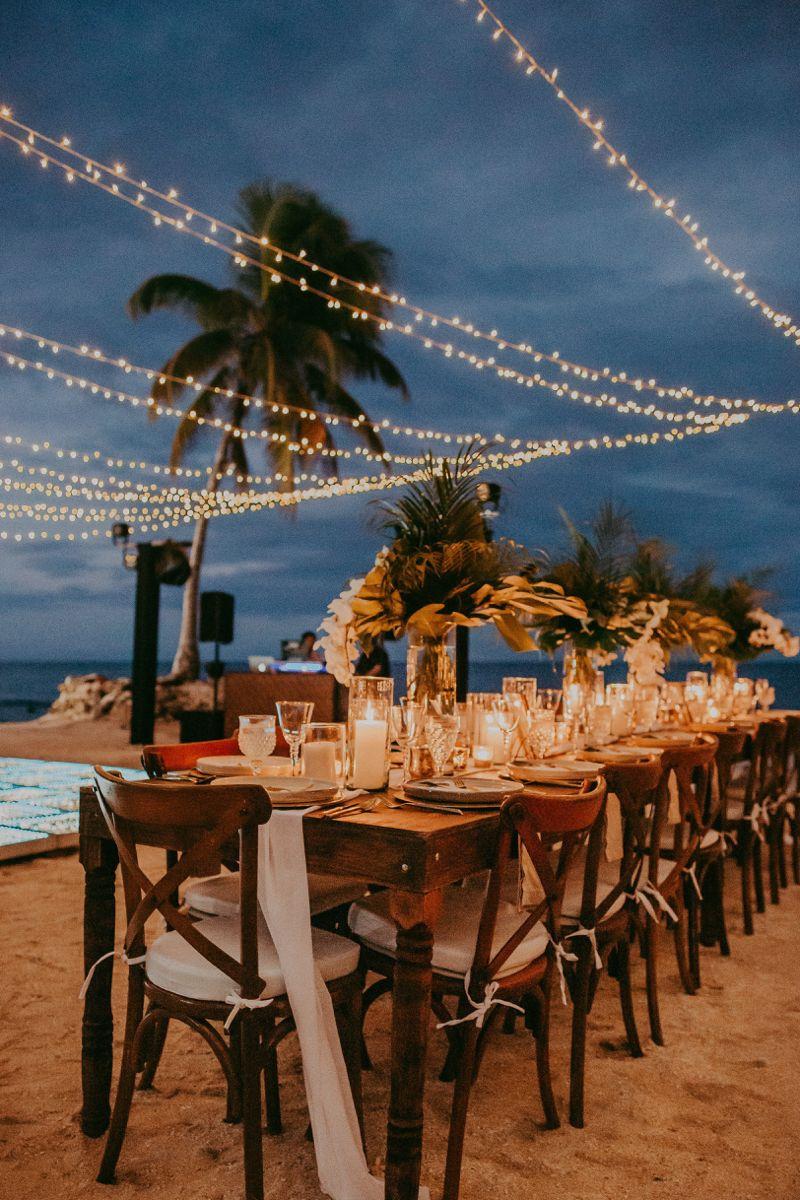 If you're holding your wedding by the sea, pick a venue with a coastal location and enjoy a relaxing meal with all your loved ones while drinking in that view.
How good does this beachside Mexican wedding set-up look, but you'll find a marquee or beach house by the sea in the UK has just as stunning views.
Beach Wedding Photo Ideas
29. Pose with Surfboards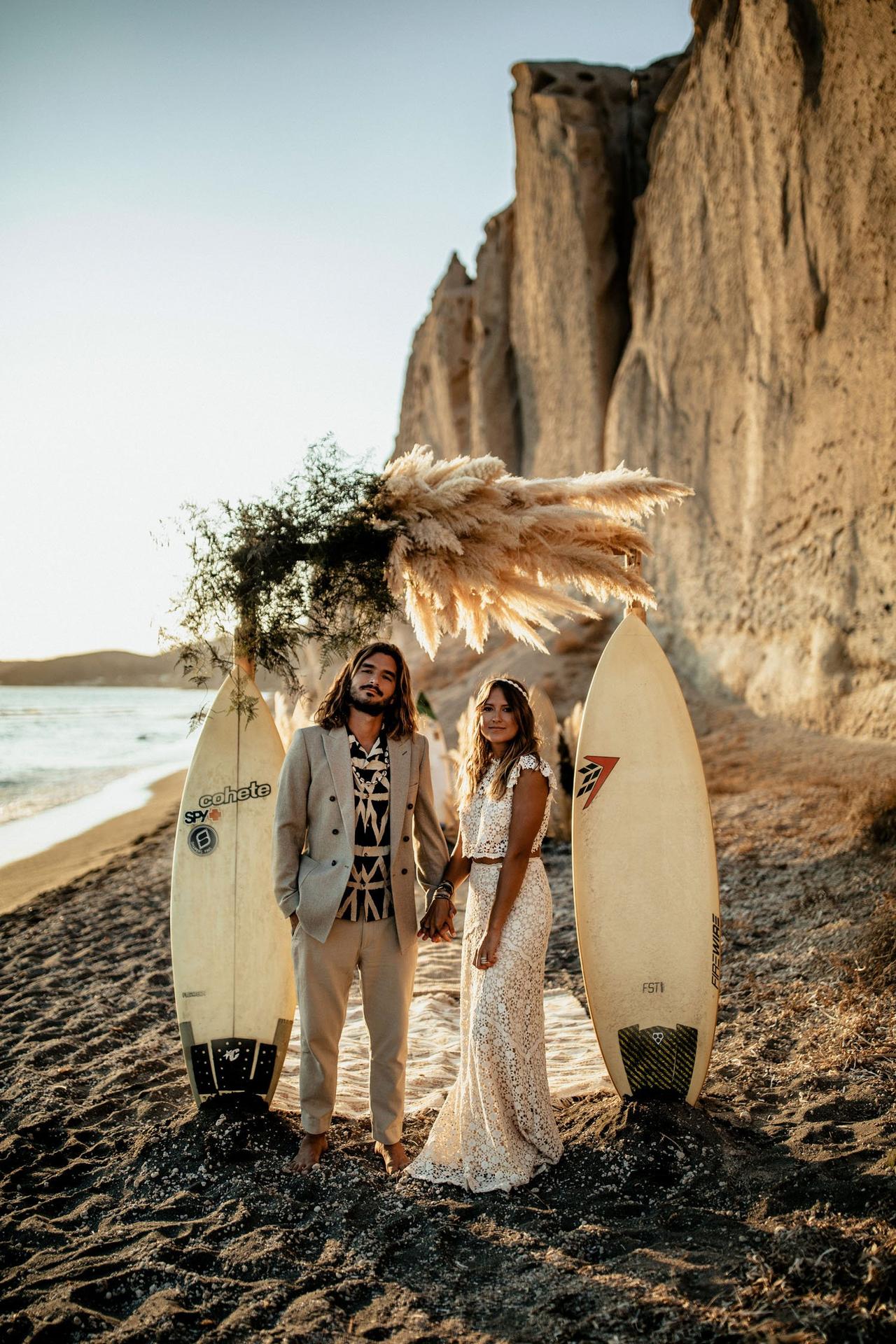 Did you meet because of a shared beachy hobby? Do you and your partner love hitting the waves or just simply want to have some fun with your photos? Grab some surfboards and instruct your photographer to snap away – surfs up!
We love this couple who turned their surfboards into a frame for their ceremony, and you can also use a surfboard as a cool alternative guestbook idea!
30. Steal Some Alone Time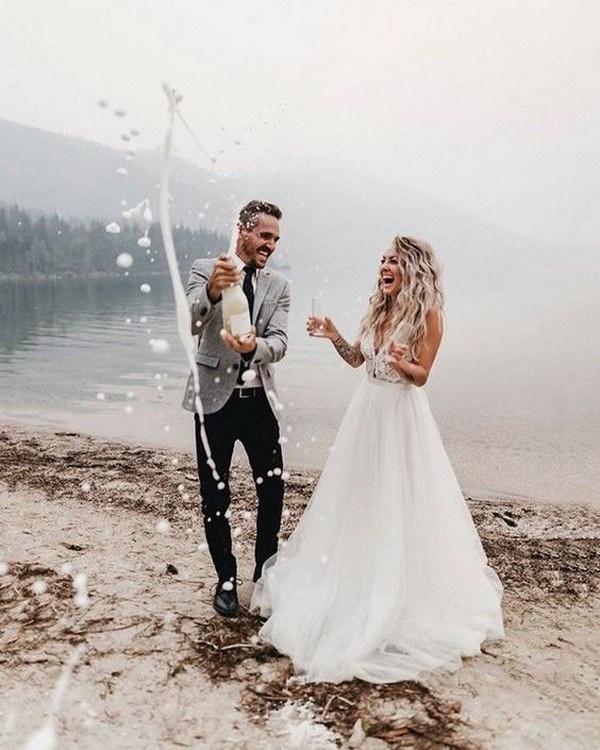 Steal some precious moments with your partner and break away from the party to have a romantic walk on the beach hand in hand or to pop some Champagne.
31. Get On Yer Bike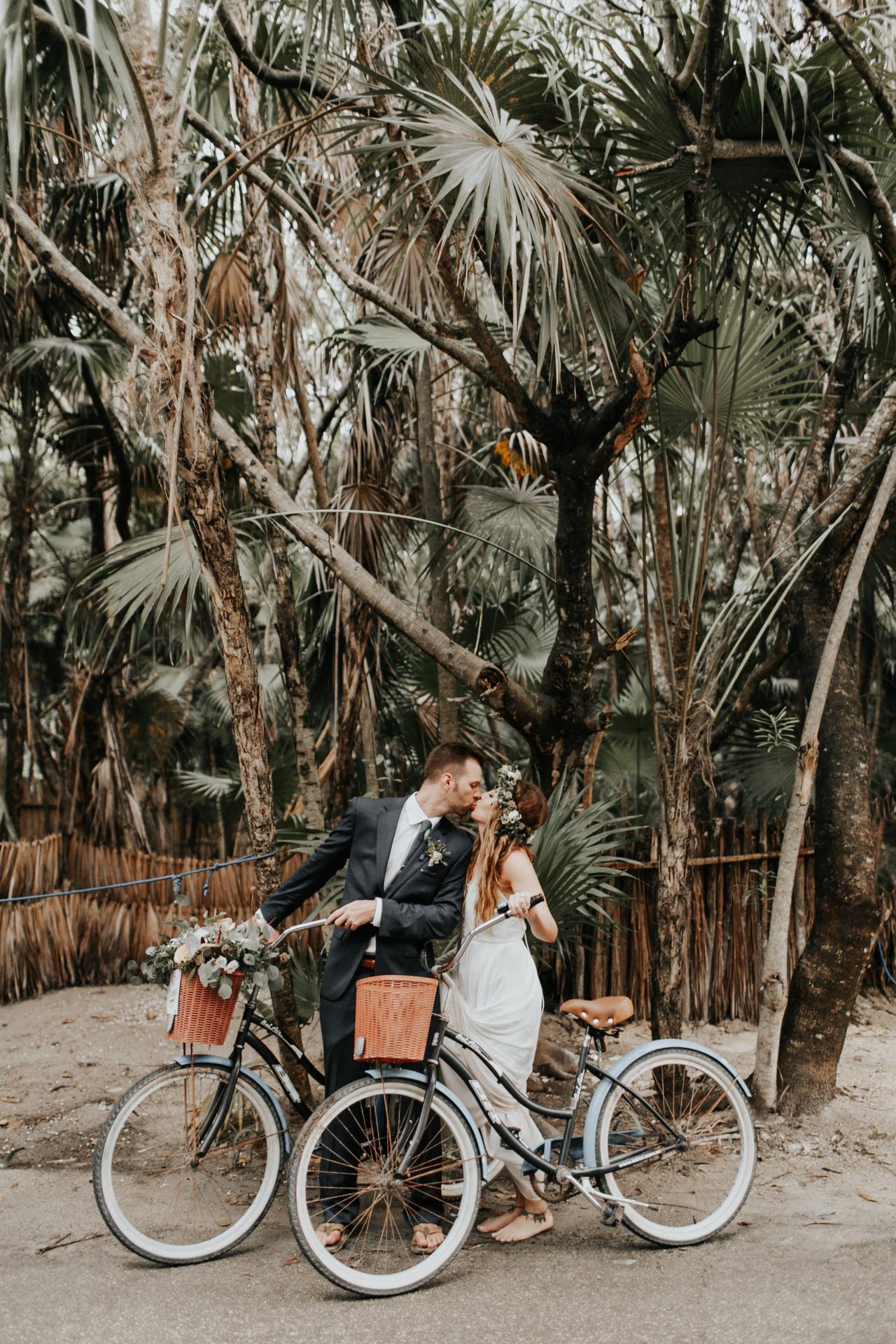 Hire two bikes (or even a tandem!) and do a cute barefoot shoot in the sand or along the closest boardwalk. It'll add a fun, boho vibes to your photos and make for a memorable moment with you and your partner as you try and navigate getting on the bikes in your wedding outfits!
32. Trash the Dress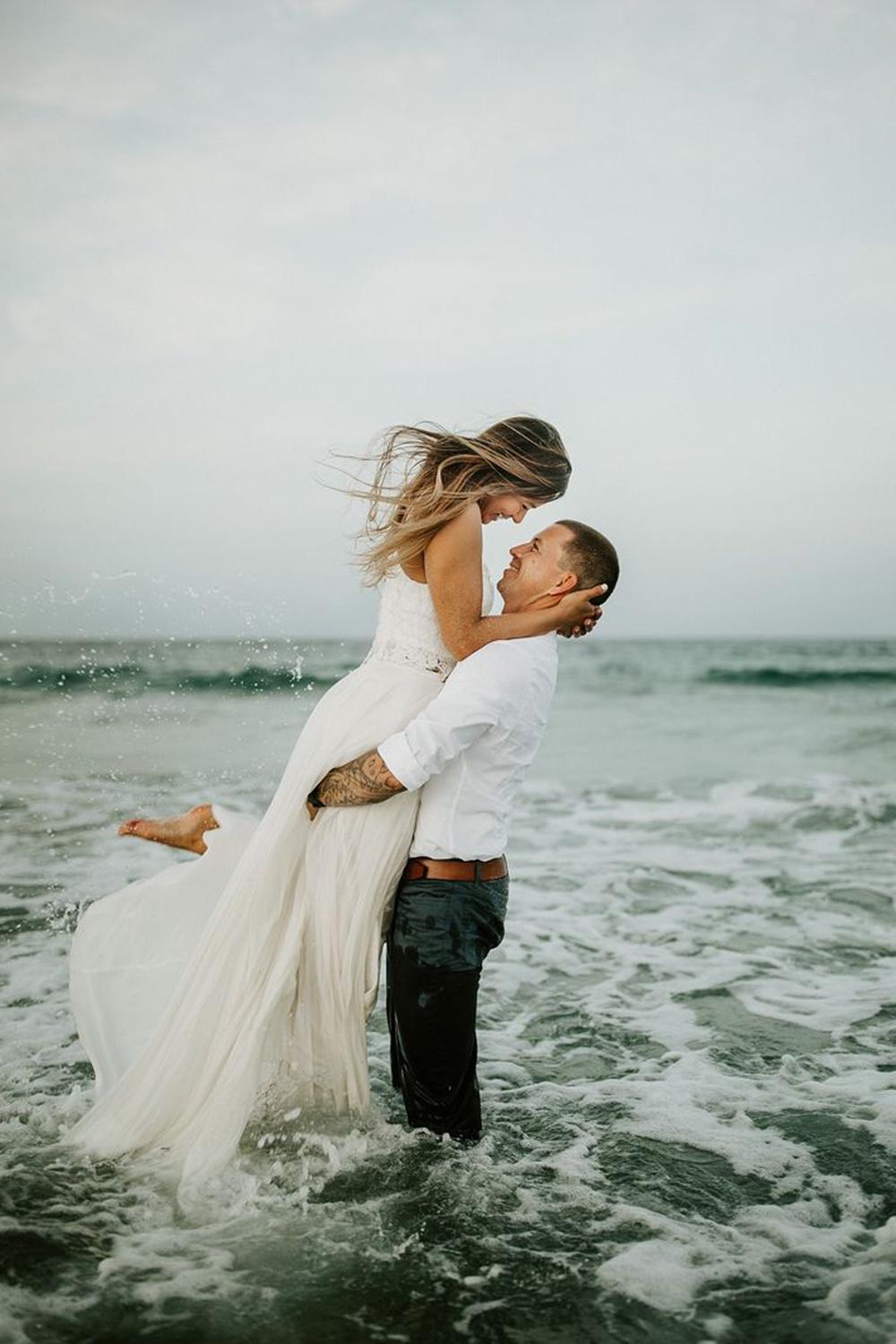 If you've thought about a trash the dress shoot, why not do it on your wedding day? You're guaranteed amazing photos! Run into the sea with your partner and then change into something different for the reception like a cool jumpsuit or shorter dress. You can just paddle in if you don't want to trash the whole thing!
33. Make a Horse Friend...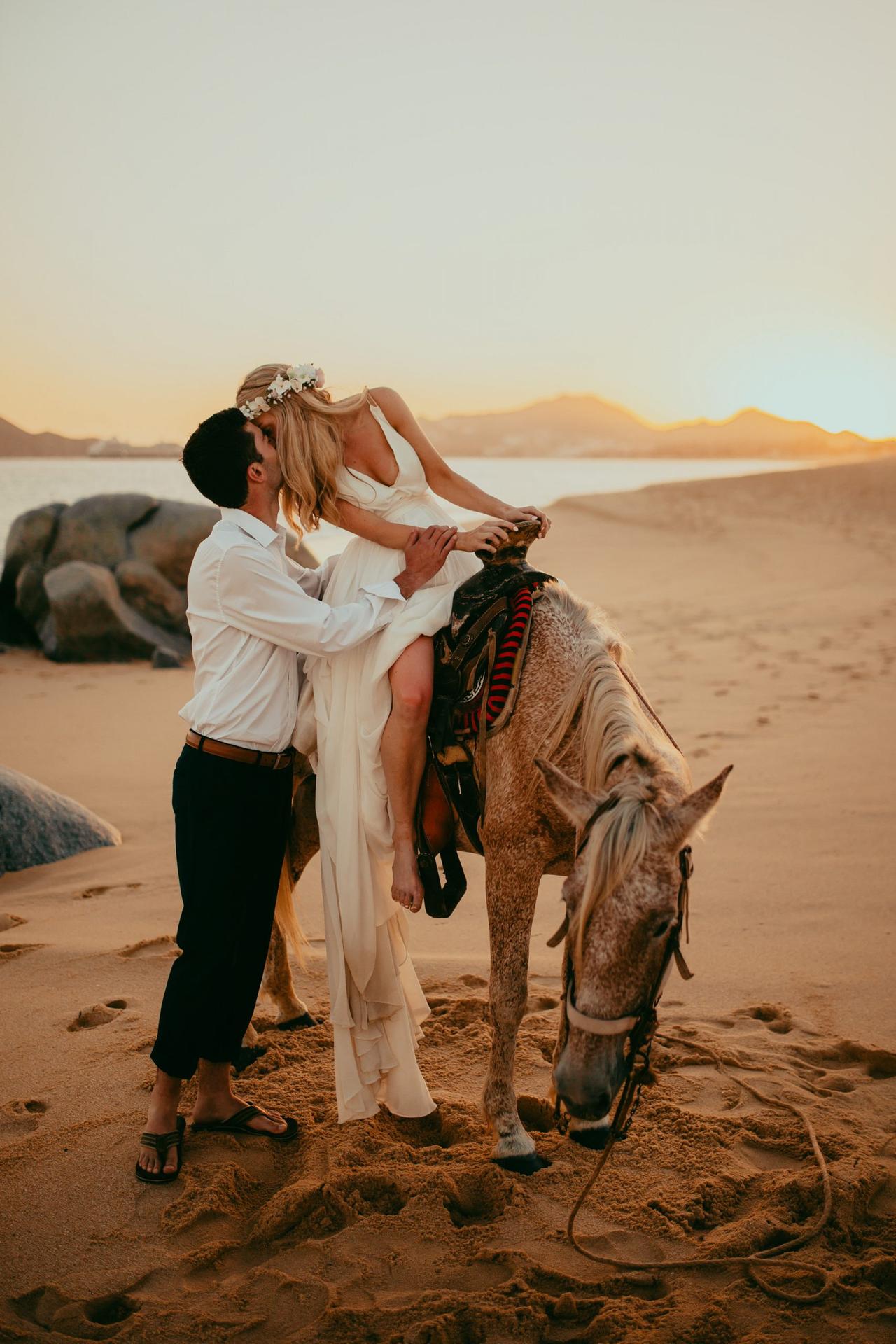 If you love horses or bonded over a fun horse riding date, what about having a horse pal join you for photos? How incredible is this beach pose at the couple's destination wedding. Admittedly in the UK, you're more likely to get a donkey on the beach, but if you can find a horse happy to run through the surf with you on its back - go for it!
34. Or Bring Your Furry Friend!
If you have a dog, there's no doubt you'll want them to be part of your special day. Lots of venues aren't pet-friendly but beaches are perfect to bring your dog and pose up a storm (check the beach is dog-friendly first). It makes for such a cute family photo.
35. Finish with Sparklers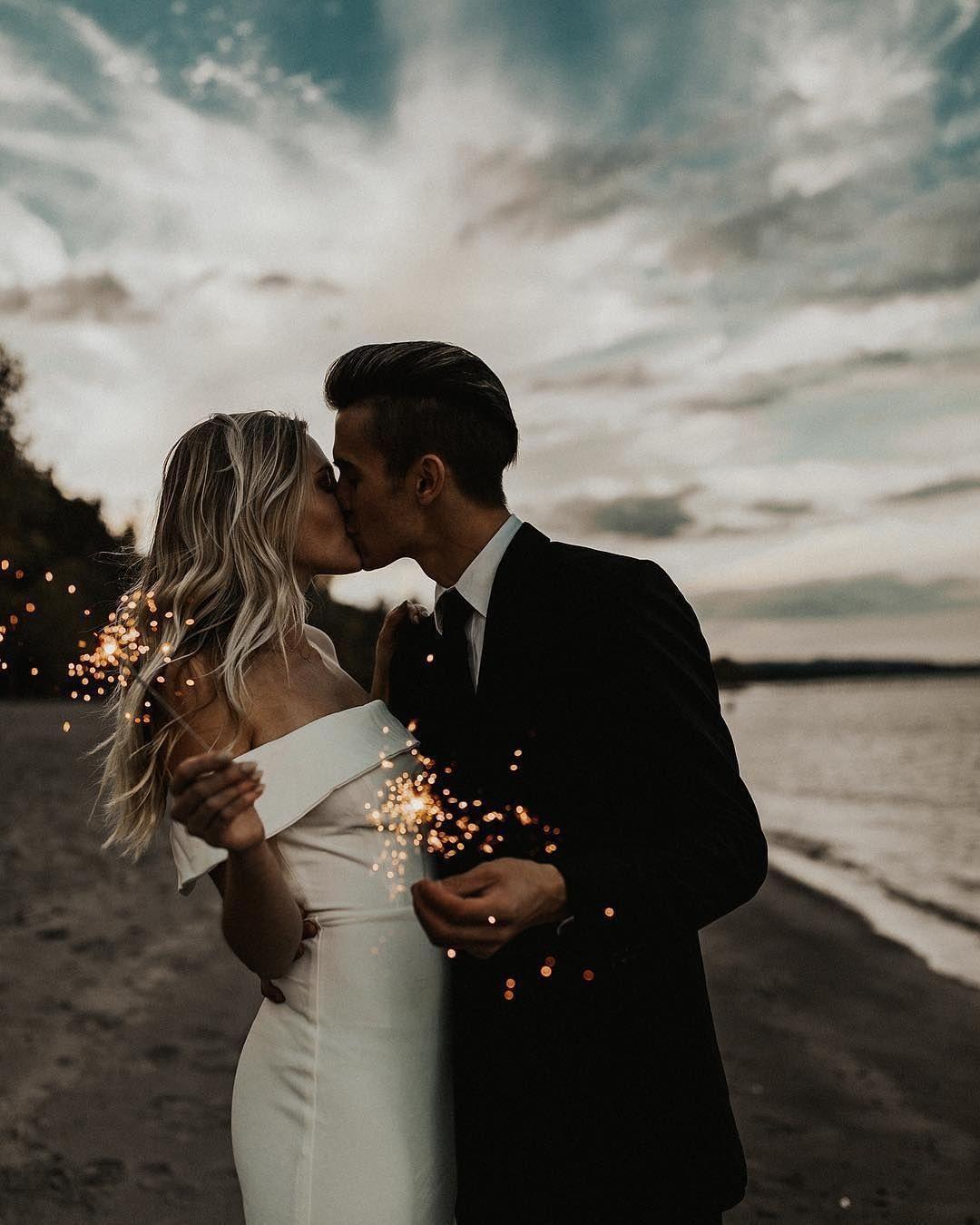 After the sun's set, grab some sparklers and do a little shoot with your partner. The photos will be unmatched!
If you want to escape the cold and jet off somewhere hot for your vows, we've got 19 of the best beach wedding destinations around the world to inspire you and everything you need to know about marrying abroad.