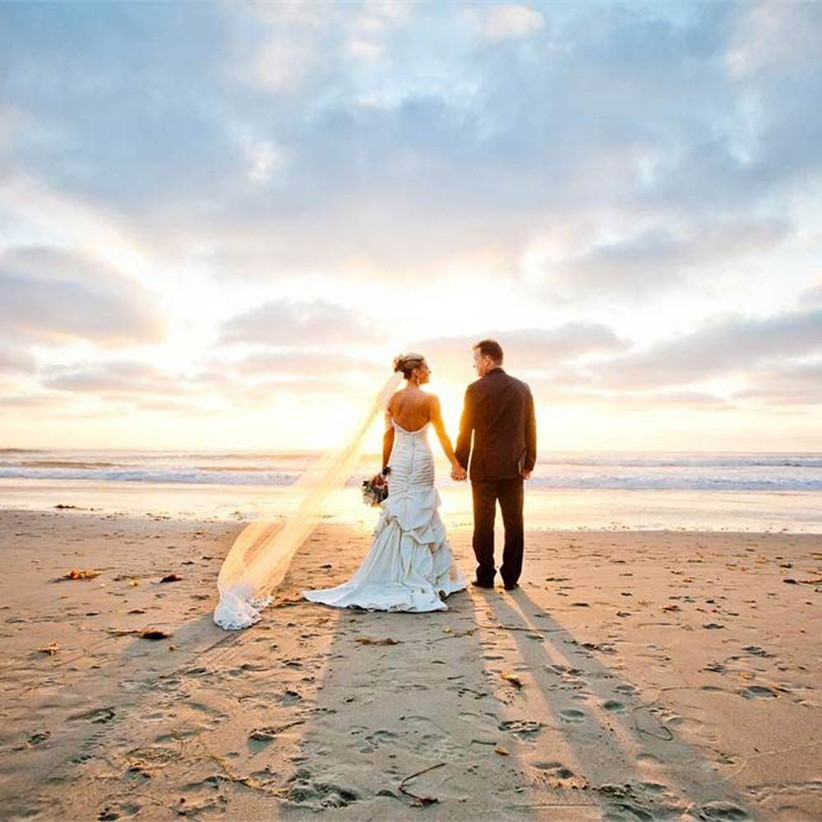 Whether you're escaping the unpredictable British weather for a destination wedding, are planning to tie the knot at a gorgeous coastal wedding venue in the UK, we've got a bucket (and spade) load of beach wedding ideas for you!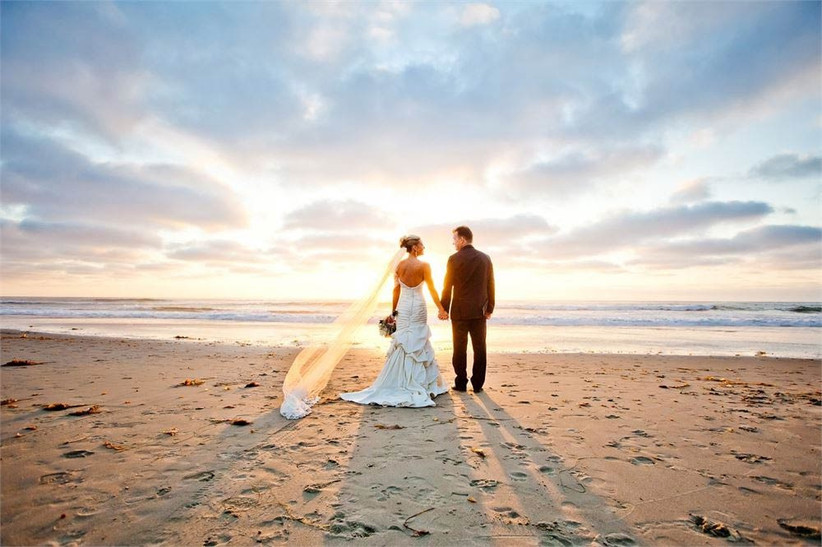 Image Credit: Martin James Photography
Get Photos in Front of Beach Huts
Beaches are full of picture opportunities. Grab your photographer and get them to snap some shots of you and your love in front of some cute beach huts like these multi-coloured ones.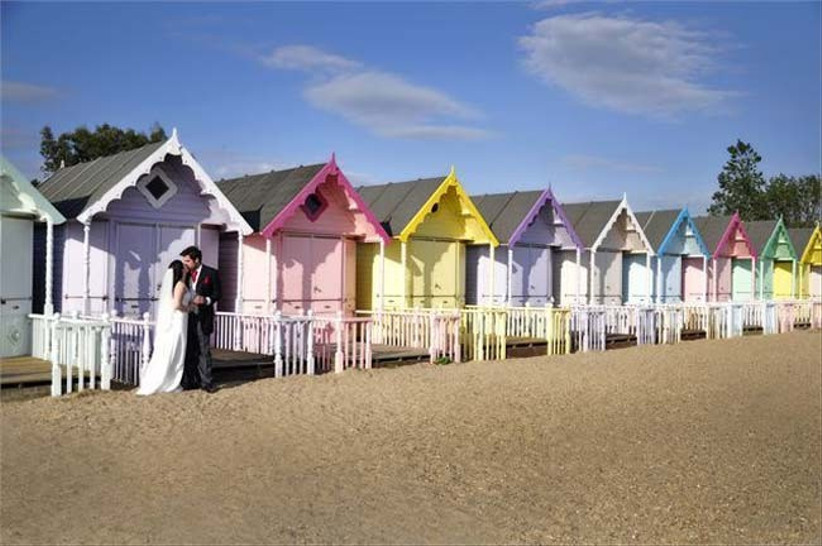 Image Credit: Imaging by Susanne
Go Shoeless
Nothing feels better than the sand between your toes so kick those shoes off! If you're saying your 'I do's on the beach then why not go completely shoe free for the whole ceremony? Boho brides should accessorise with cute foot jewellery and sparkly toe rings – and wear a gorgeous boho wedding dress of course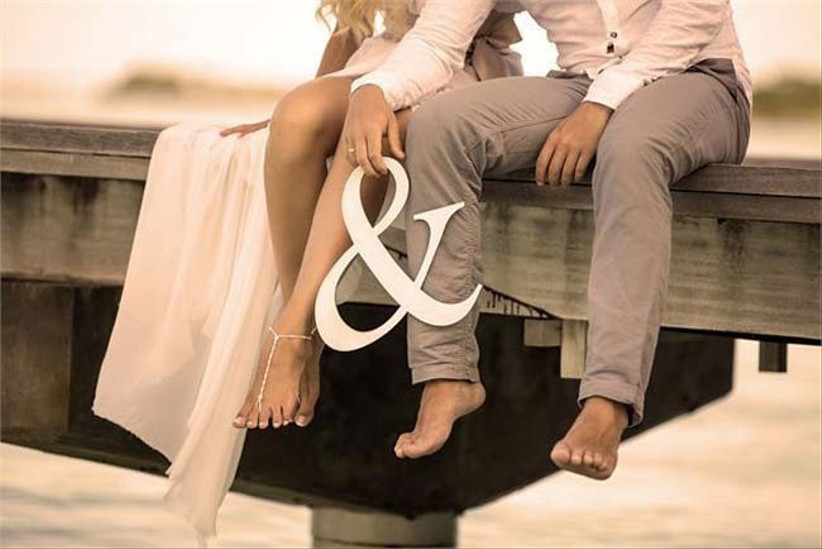 Image Credit: Sass & Grace Bridal Boutique
Get an Arty Shadow Picture
For a romantic beach wedding idea, wait for the sun to start sinking in the sky and snap a romantic shadow shot like this one photographed by Imaging by Susanne.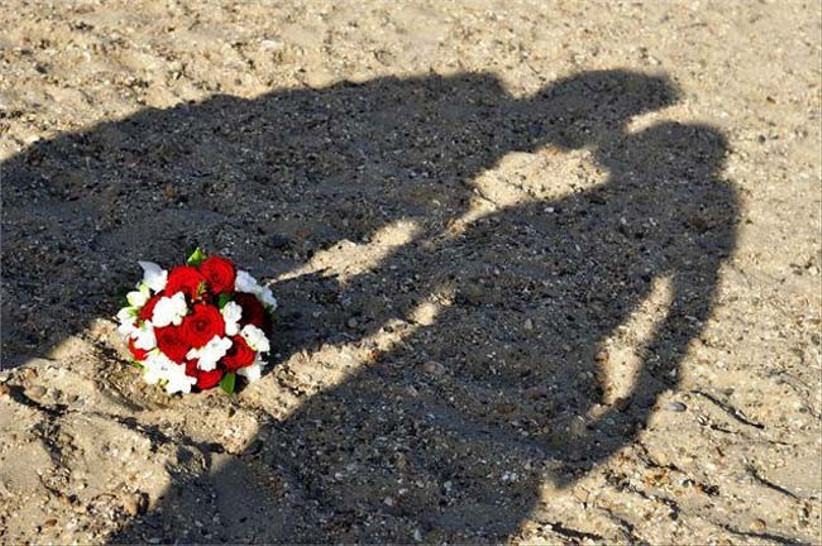 Image Credit: Imaging by Susanne
Wedding Signs
Guide your guests to where they need to be with a cute wooden wedding sign – an idea for a beach theme wedding that is both practical and decorative!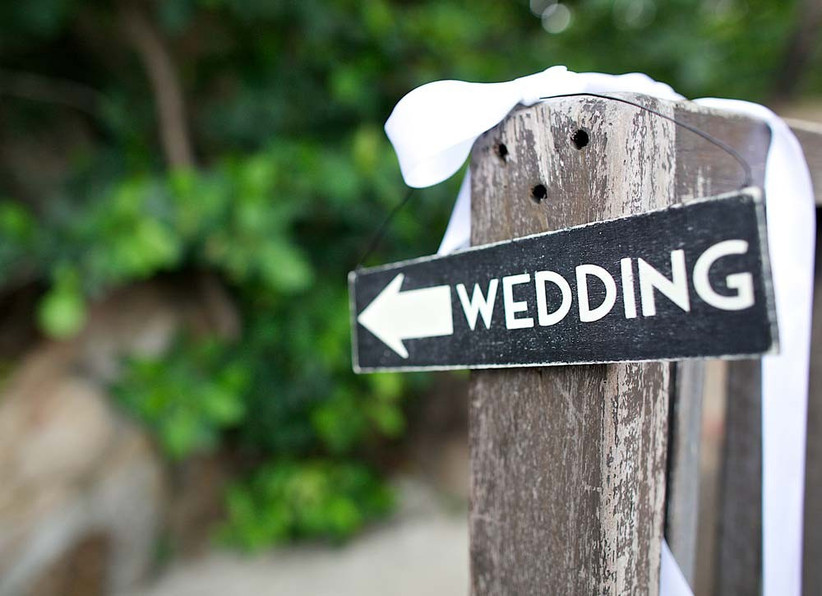 Have Your Ceremony on the Beach
Our Great British weather isn't always the most reliable, however if you trust a sunny forecast or are having your wedding abroad, a ceremony by the sea is a romantic and unforgettable beach wedding idea. We love this pink themed ceremony which is filled with floral details and has a gorgeous white canopy around the altar.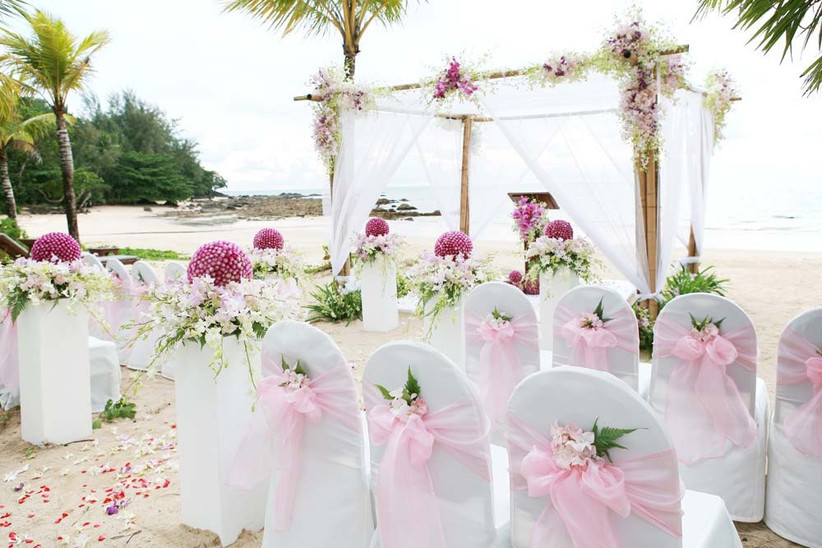 Denise and Steve's real wedding took place on a beach in the Philippines – their ceremony was beautiful and the sea made for a spectacular backdrop! We loved the matching wicker chairs for the bride and groom that said 'better together'.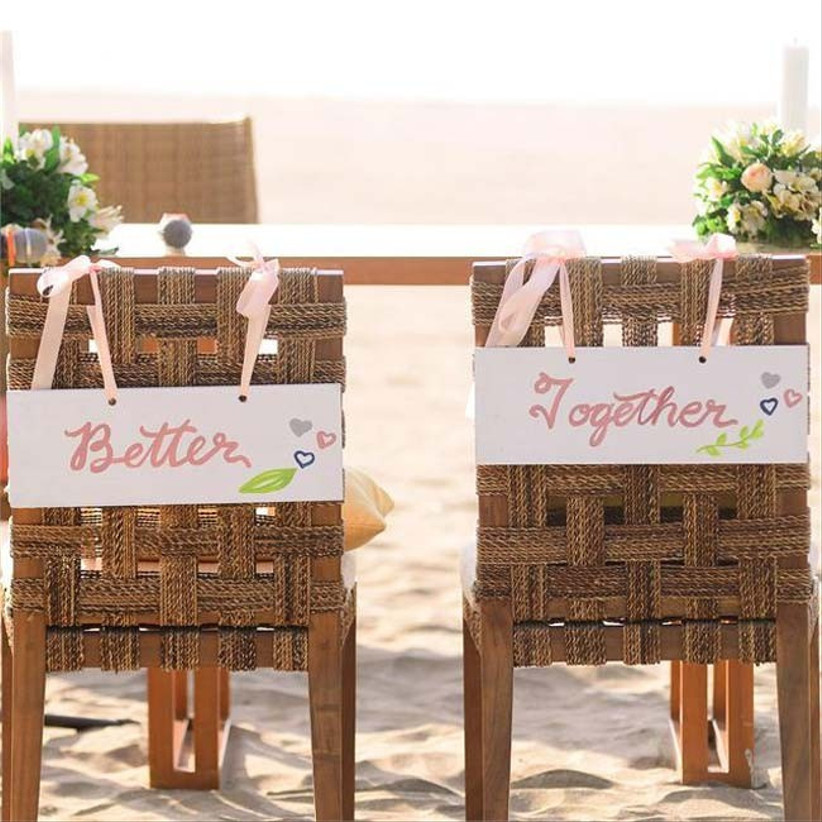 Image Credit: Nez Cruz Photography 
Walk Hand in Hand on the Beach
Steal some precious moments with your partner and break away from the party to have a romantic walk on the beach hand in hand.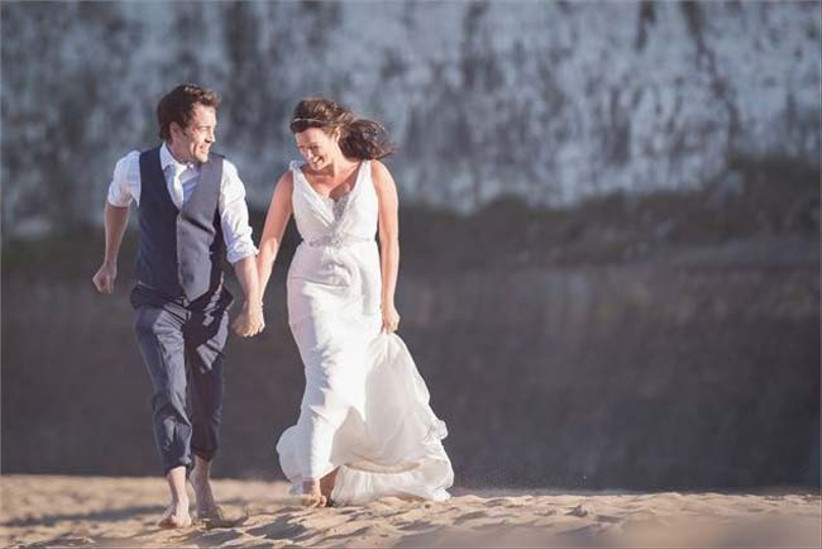 Image Credit: Richard Perry Photography
Watch the Sunset
You can't have a wedding on the beach and not watch the sun go down! The amazing scenery will be so worth the wait and you'll never want the moment to end. We love this pretty shot by Light Source Weddings.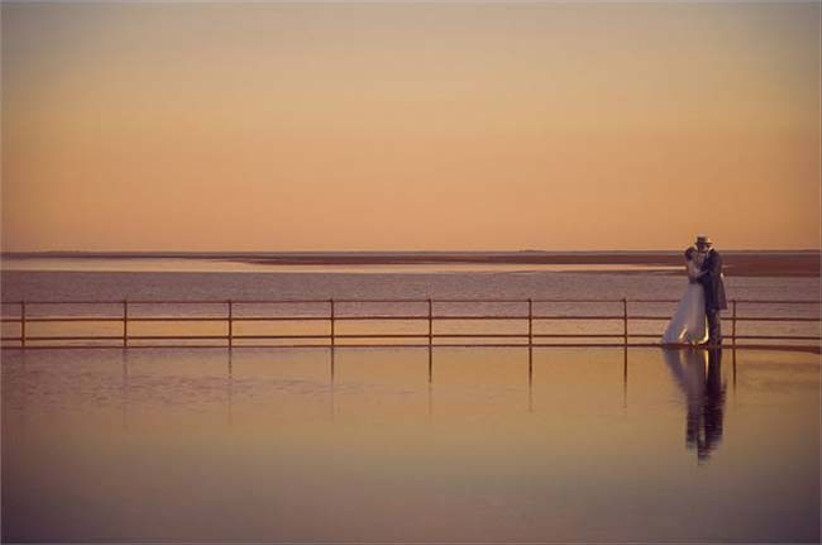 Image Credit: Light Source Weddings
Have a Beach Themed Wedding Cake
If you're incorporating all things seaside related into your theme then you must pick an appropriate cake! This starfish topped three tiered cake is a fun beach wedding idea. An unusual wedding cake like this would certainly be a top talking point for your guests!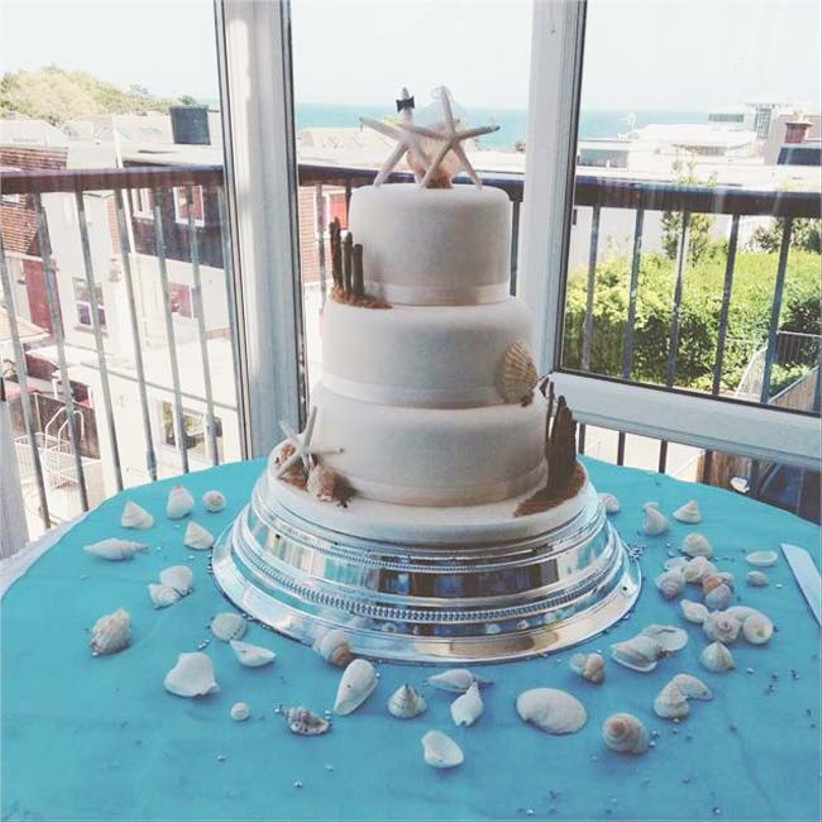 We love this beach themed cake that has lots of cute details – it almost looks too good to eat! Make a cake like this the centrepiece of a yummy dessert table and serve up cute sea themed cupcakes to accompany it.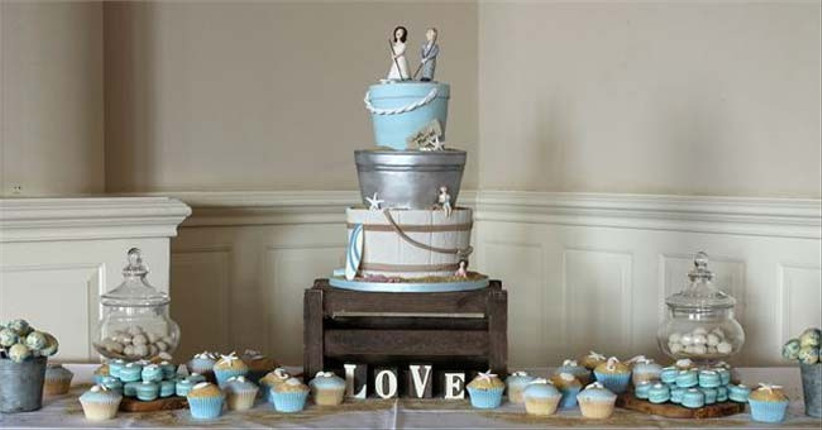 Send out Beach Themed Invites
If you're having a destination wedding, follow the theme and send out postcard wedding invitations to all your guests! It's the best way to announce where you're planning to tie the knot.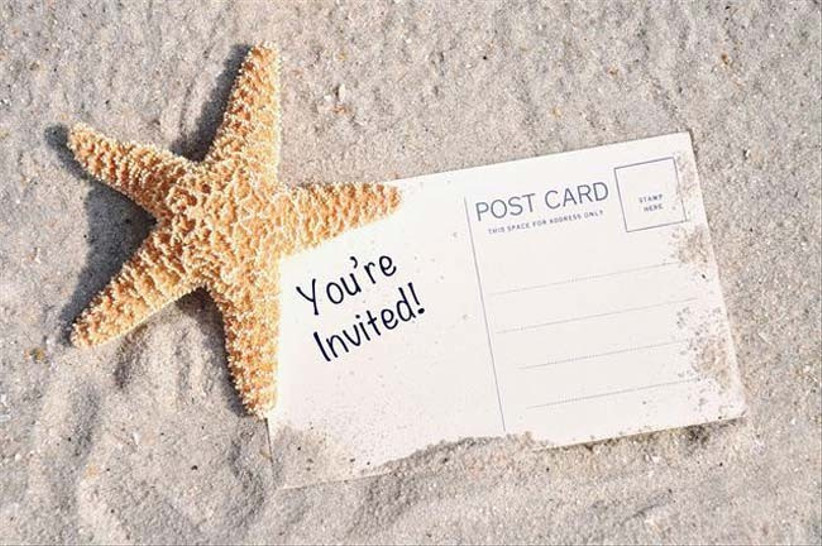 We love these stripy blue invites from PaperGrace that would be ideal for announcing a beach theme wedding.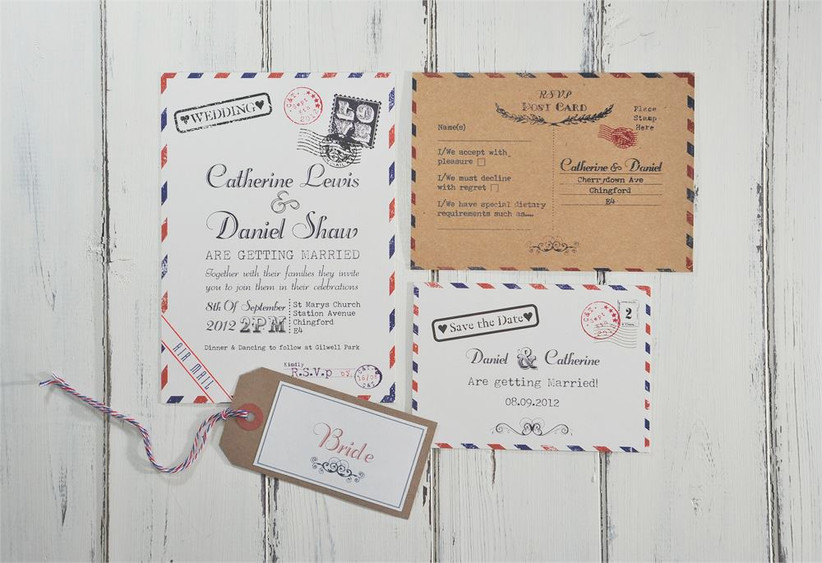 Arrive in an RV
Real wedding couple Sarah and Adrian arrived at their coastal venue in style in a white camper van from the 1960s! This idea is one of our 50 vintage wedding ideas and is great for retro obsessed couples getting married in a beach themed wedding.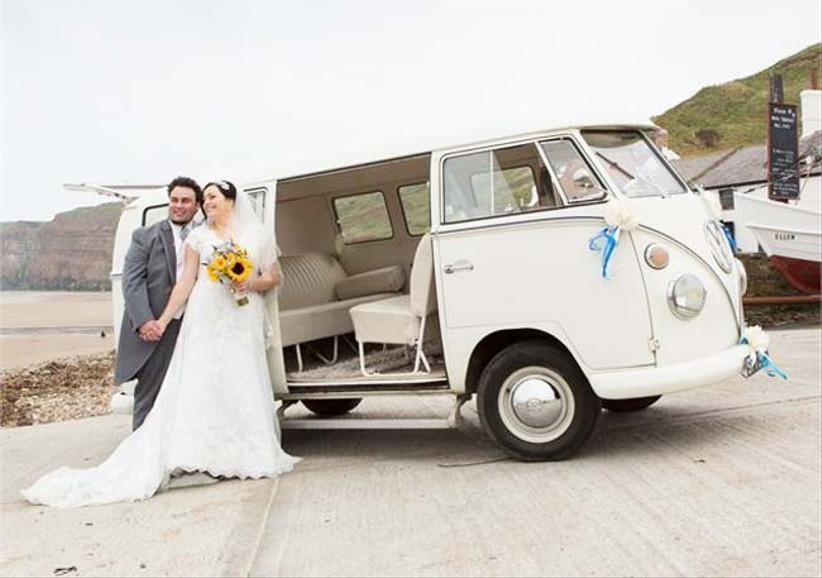 Image Credit: Geoff Perry Photography 
Pose on Surfboards
Do you and your partner love hitting the waves or just simply want to have some fun with your photos? Grab some surfboards and instruct your photographer to snap away – surfs up!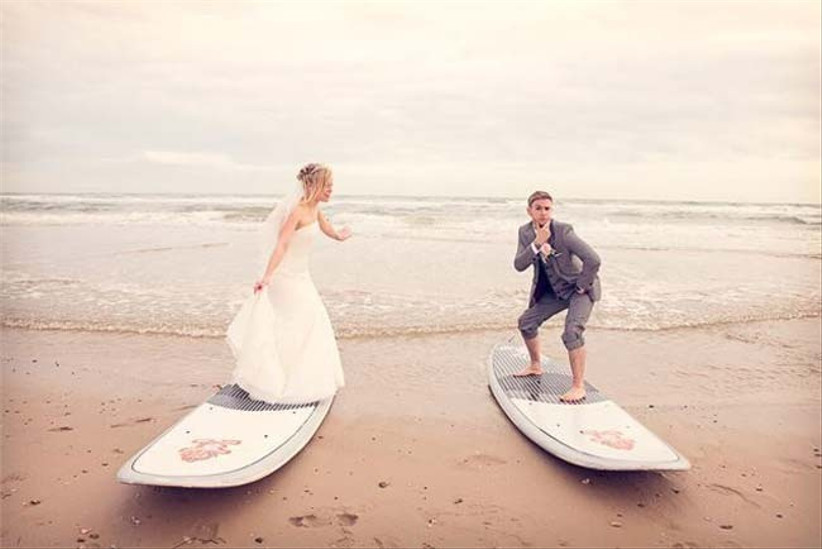 Image Credit: One Thousand Words Photography
Grab Some Deckchairs
No wedding on the beach is complete without some brightly coloured deckchairs – particularly if you're at the seaside in the UK! Sit back and soak up the atmosphere of your special day.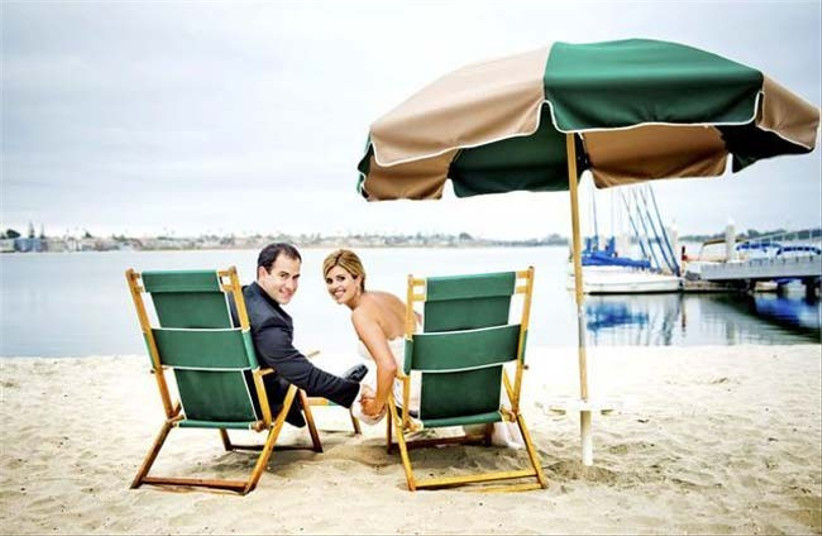 Image Credit: Martin James Photography
Get Married on Brighton Pier
For a unique and quirky place to say your vows to the one you love, why not hold get married on the iconic Brighton Pier? Feast on fish and chips with your guests and brave the rides if you dare!
Give Your Guests Seaside Themed Wedding Favours
To round off an incredible beach themed wedding, present your guests with some wedding favours that follow the theme! At Abbie and Ralph's real wedding, they had a vibrant blue seaside celebration and gave their guests some goodies in stripy paper bags – finished off with sparkly windmills!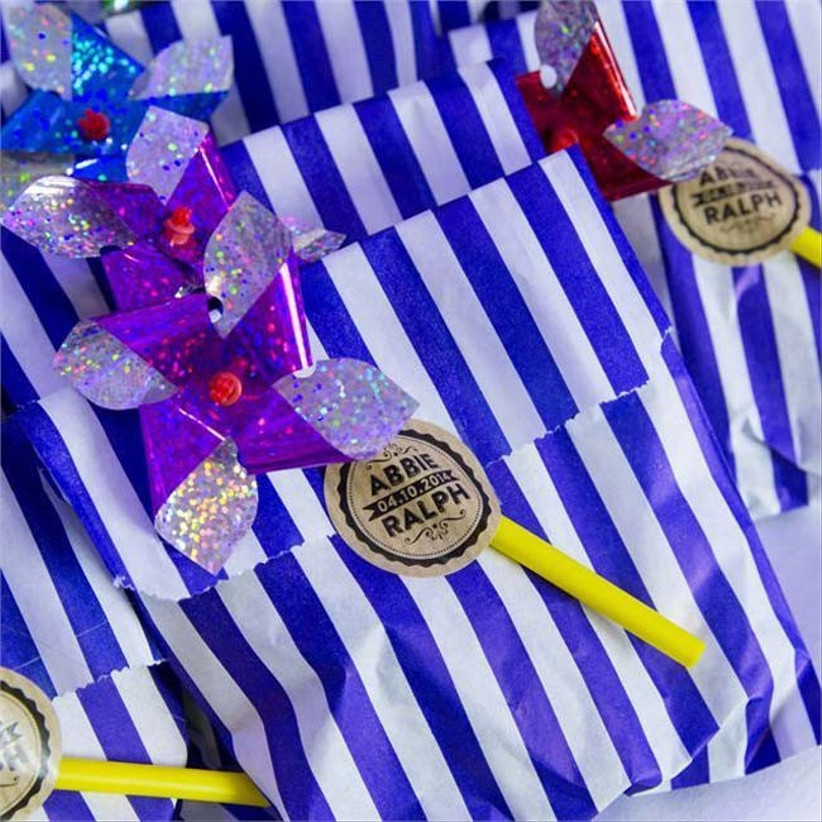 Image Credit: Maxeen Kim Photography
Abbie and Ralph also gave their guests a stick of rock and they were allowed to take home the personalised pebbles that were placed on the tables to show where everyone sat – Abbie collected all 65 pebbles herself from the beach!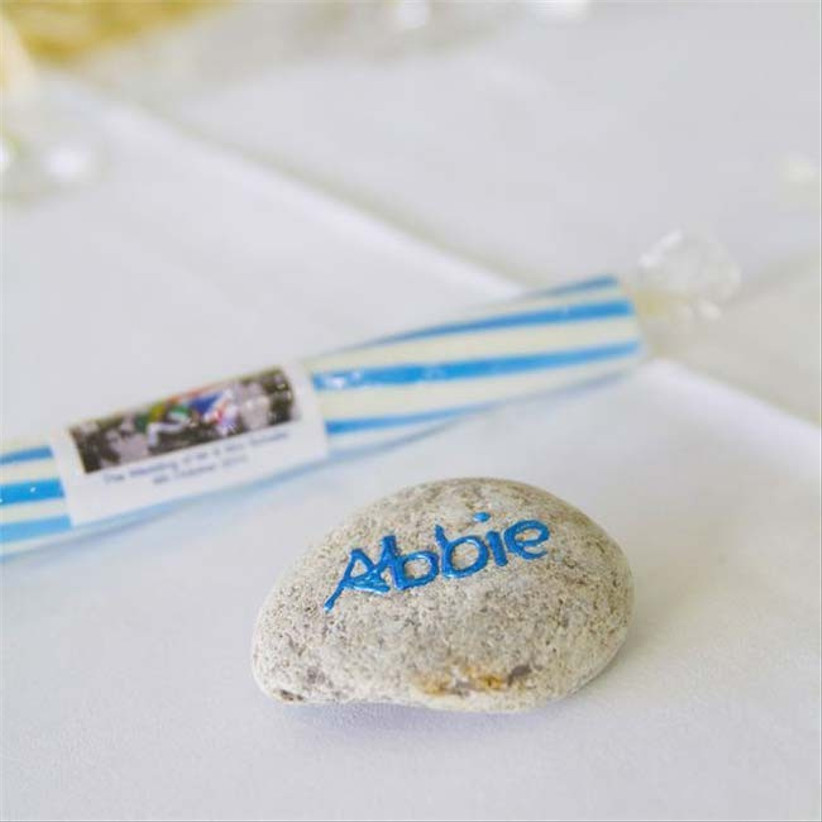 Image Credit: Maxeen Kim Photography
Beach Themed Decor
Add to your theme with some quirky beach related décor at your reception! We're still loving Abbie and Ralph's real wedding and the little details that they included, like the fishbowl centrepieces surrounded by sand and starfish and the miniature beach huts which gave a pop of colour to the tables.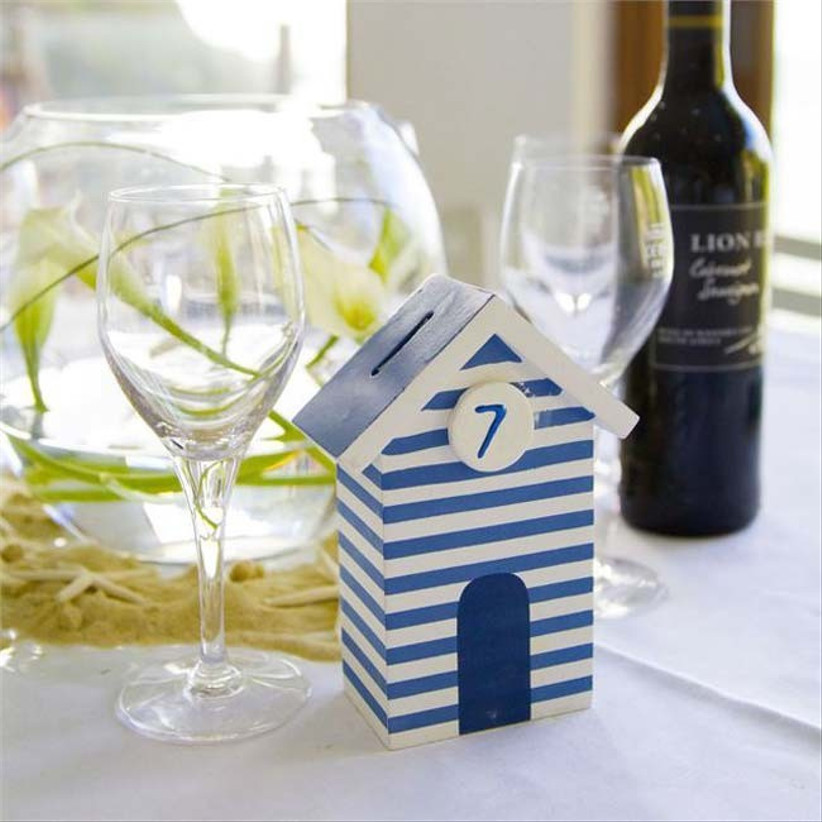 Image Credit: Maxeen Kim Photography
Forget fairy lights, hang up strings of starfish around the décor at your reception for a quirky beach wedding idea!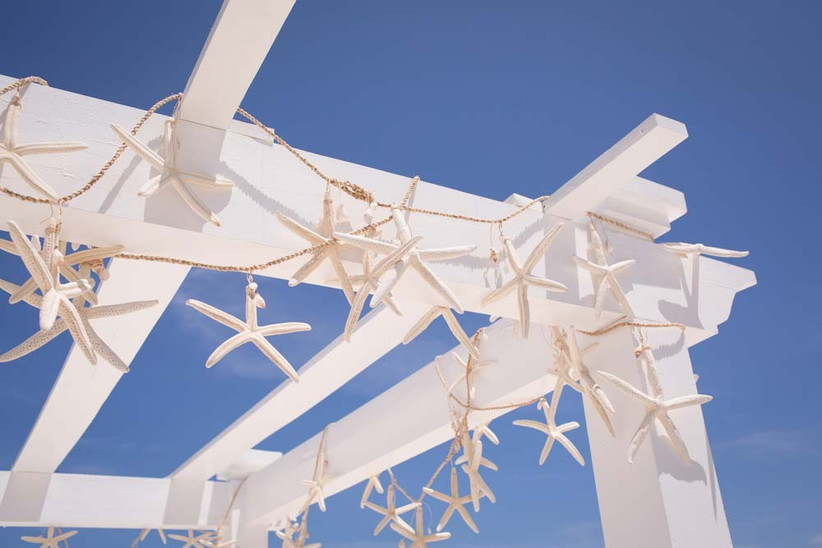 Blue is a popular choice of décor for beach themed weddings as it reflects the sea and the sky. Go for jewel tones if you want a more glamorous feel or pale blue for an informal celebration.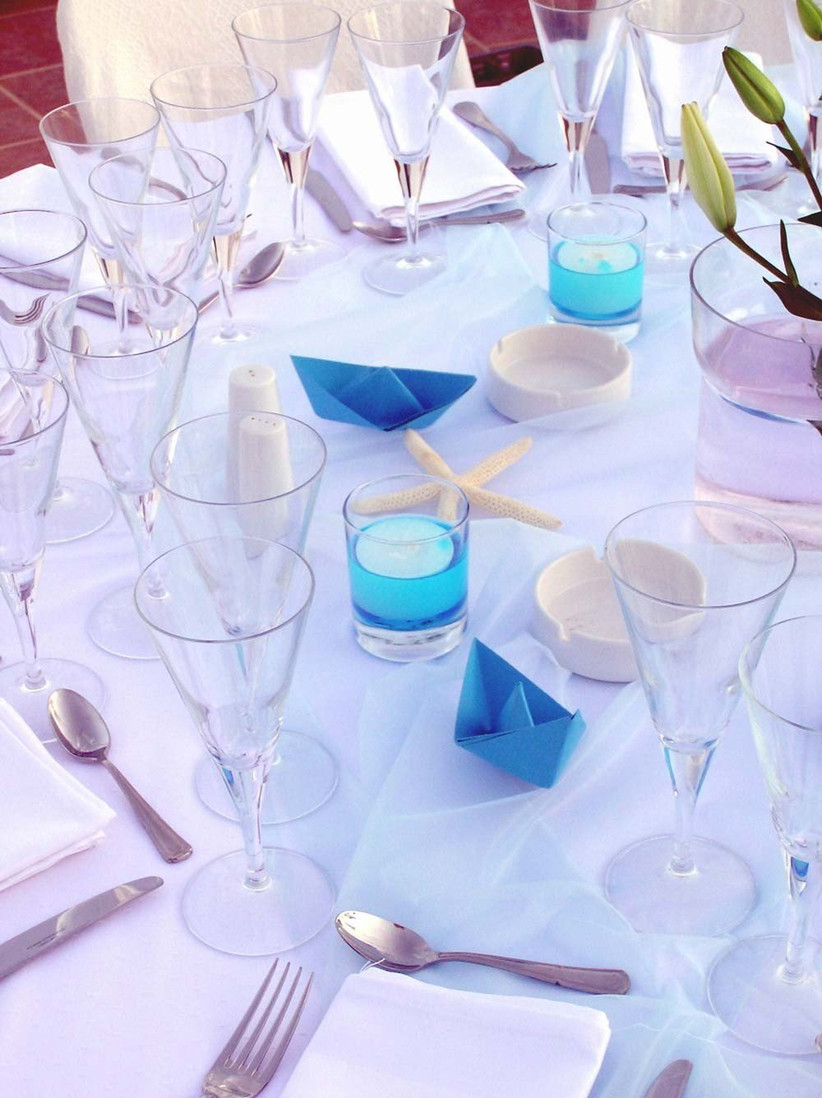 Ride Camels on the Beach
If you're travelling abroad for a destination wedding, take in the fabulous weather and crystal clear surroundings with a camel ride across the sands! A totally unique and memorable beach wedding idea.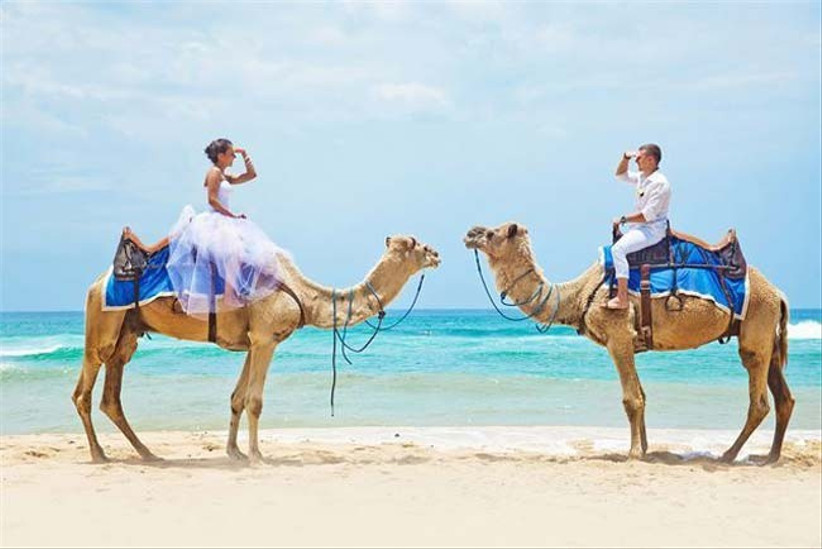 Hire an Ice Cream Van!
Everyone knows that ice cream is a tradition at the beach, so why not serve your guests some yummy flavours at your reception? Or better yet, hire an ice cream van! Get in there quick as this beach wedding idea will go down a treat.
Seaside Themed Wedding Cake Toppers
Add the finishing touch to your cake with a unique wedding cake topper inspired by the sea! We love these amazing ones from MorganTheCreator on Etsy.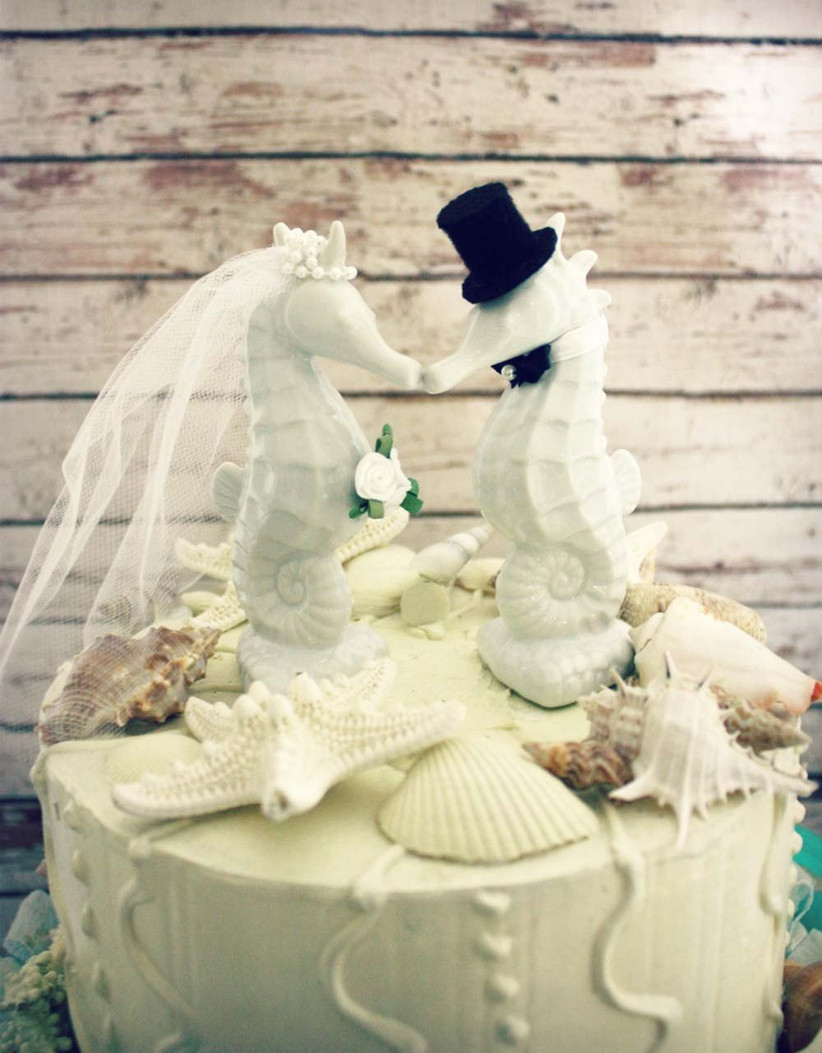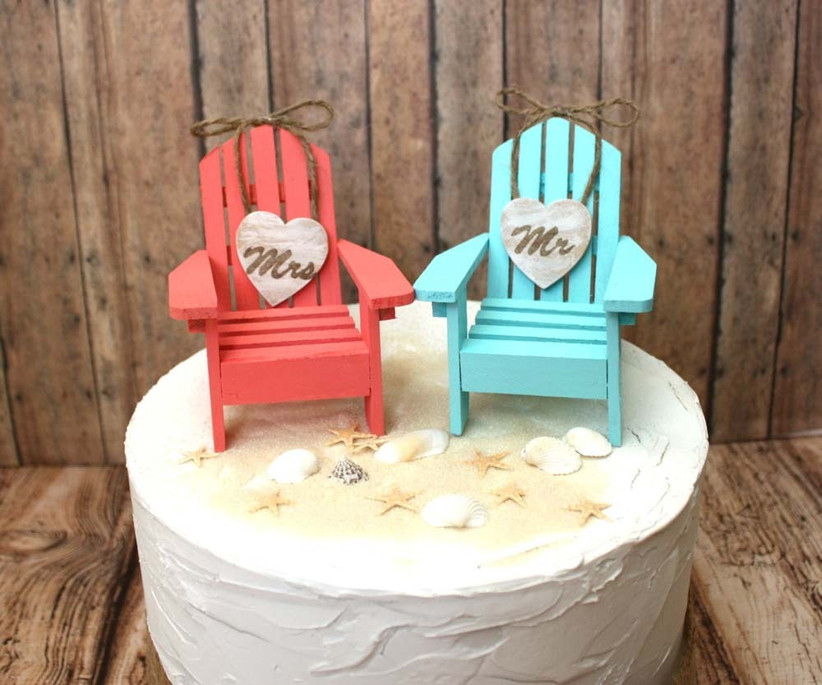 Image Credit: MorganTheCreator on Etsy
DIY Décor Inspired by the Sea
Get crafty and visit the beach before your wedding to collect shells, stone and sand for some DIY reception décor! We love these white bottles that are covered in beads and mini starfish. Another easy idea is to fill jars with sand, stones and anything else interesting that you find on the beach!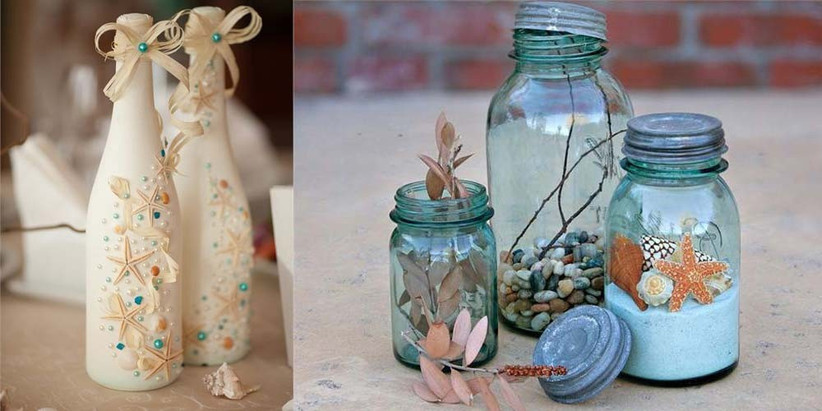 Feeling inspired to get more hands on with your wedding décor? We've got plenty of DIY wedding centrepiece ideas for you to browse.
A Wedding Bouquet with Shells
We love this fab seashell bouquet! It's such a unique idea for a beach themed wedding and the lace and blue details make it look pretty enough to complete your bridal look.
Blue Bridesmaid Dresses
If you're having nautical navy as your colour scheme, dress your girls in this beautiful blue bridesmaid dress! The V-neckline and floaty material of this B2 dress make it perfect for a wedding on the beach.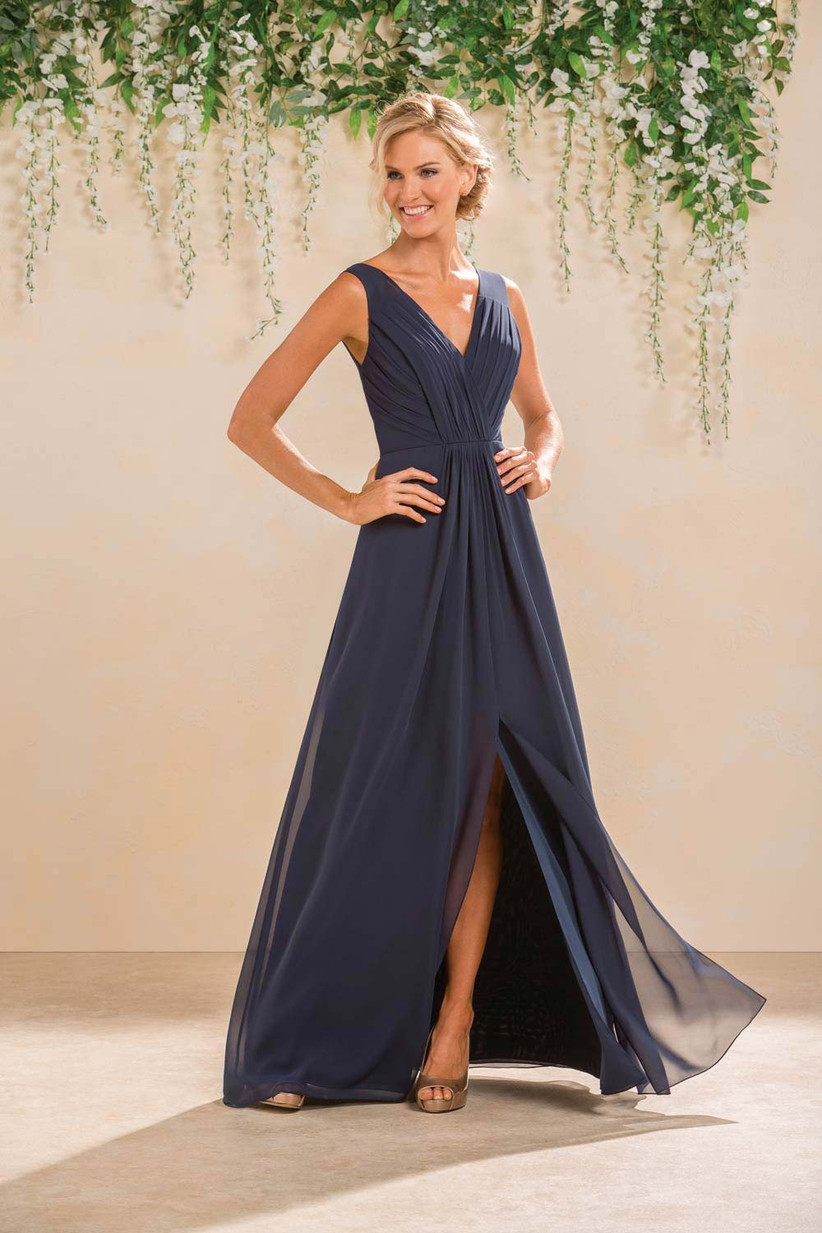 Seaside Themed Sweet Table
At Claire and Paul's real wedding, they emphasised their seaside theme by serving retro sweets in buckets, complete with spades for spoons of course!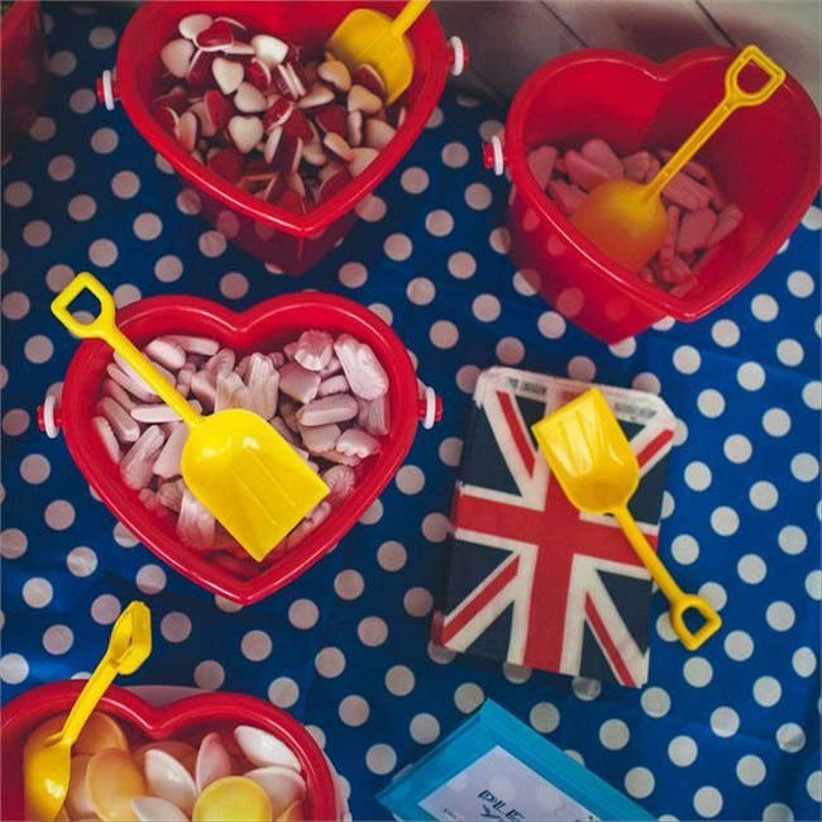 Image Credit: Marianne Chua Photography 
Wear Anchor Earrings
Incorporate the nautical theme into your bridal look with a pair of cute anchor earrings! We love these sterling silver ones by Lucy Loves Neko on Not on the High Street!
Image Credit: Lucy Loves Neko at Not on the High Street
Beach Hut Post Box
This personalised post box from Lindleywood at Not on the High Street is a quirky and cute place for your guests to leave their well wishes.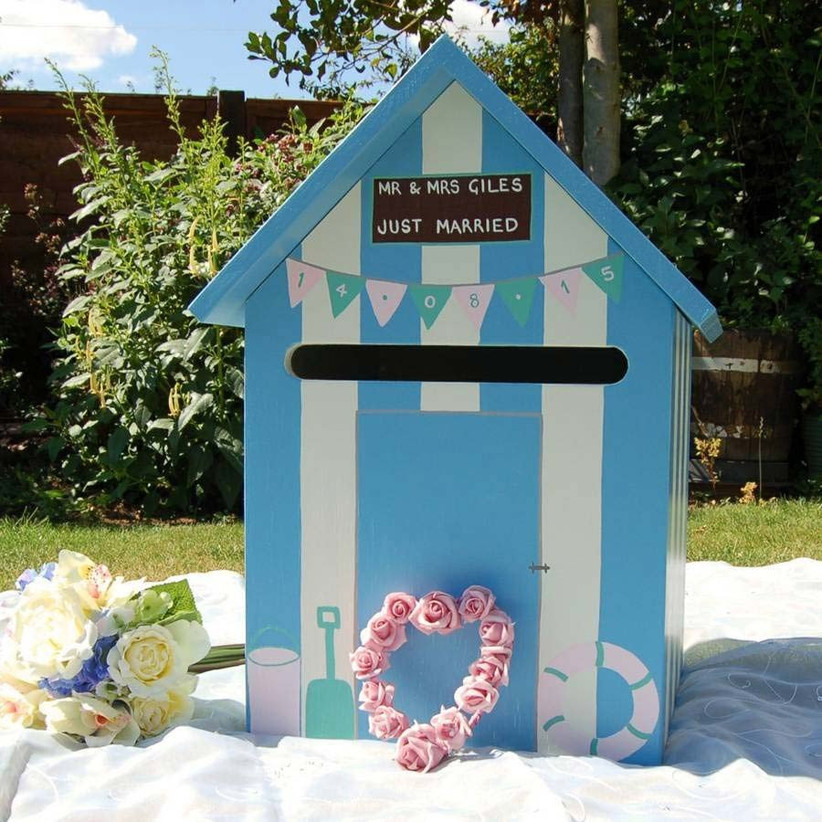 Image Credit: Lindleywood at Not on the High Street
Put Stripy Straws in the Drinks
If you're serving up a range of refreshing beverages at your beach themed wedding, make them look pretty with some stripy straws! Add paper flag stickers from The Wedding of my Dreams at Not on the High Street for a thoughtful touch.
Image Credit: The Wedding of my Dreams at Not on the High Street
Have a Wedding Breakfast by the Sea
If you're holding your wedding by the sea, pick a venue with a coastal location and enjoy a relaxing meal with all your loved ones whilst drinking in that view.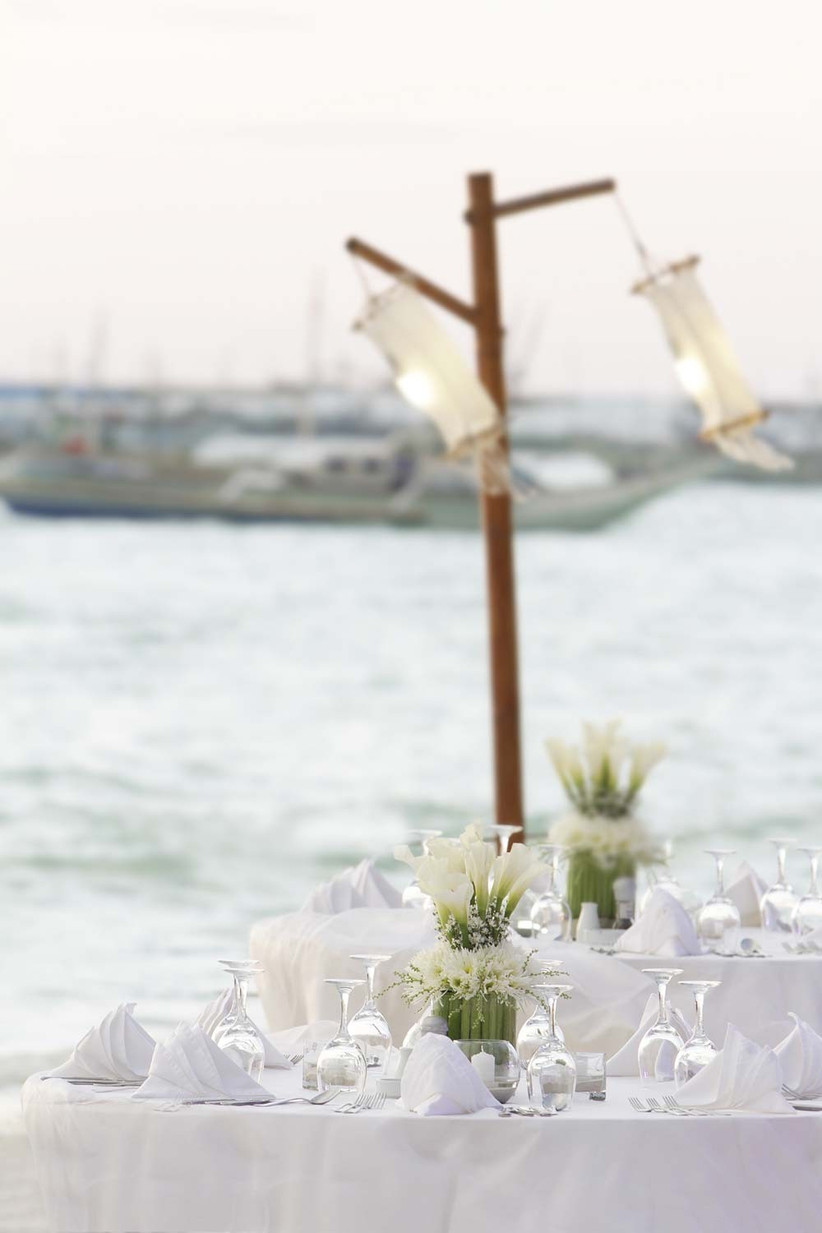 Have a Romantic Post Wedding Dinner on the Beach
Kick off the honeymoon by enjoying a lovely meal for two by the sea. It's the perfect start to your new life with your partner.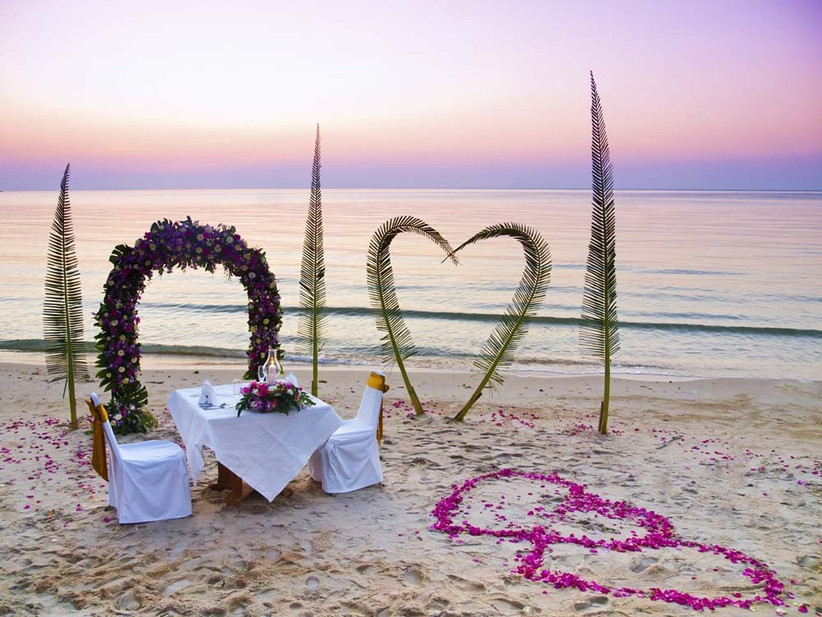 If you want to escape the cold and jet off somewhere hot for your vows, we've got 50 of the best beach wedding destinations around the world to inspire you. Now you just need a beach beautiful wedding dress to match!