40 Unique Save the Date Ideas Your Guests Will Love
From save the date wine corks to coasters and balloons, our unique save the date ideas are bound to impress your guests!
We have included third party products to help you navigate and enjoy life's biggest moments. Purchases made through links on this page may earn us a commission.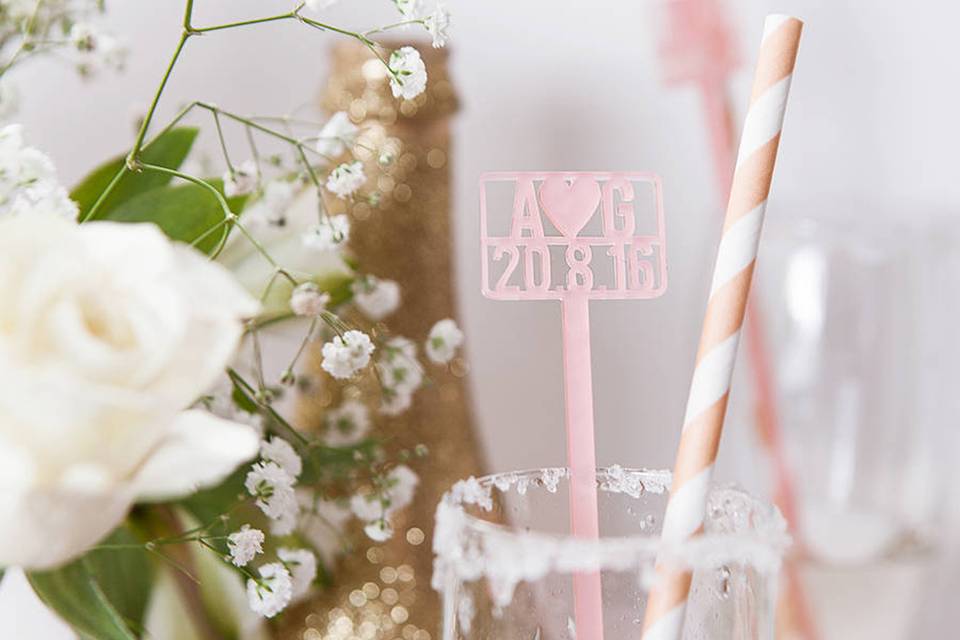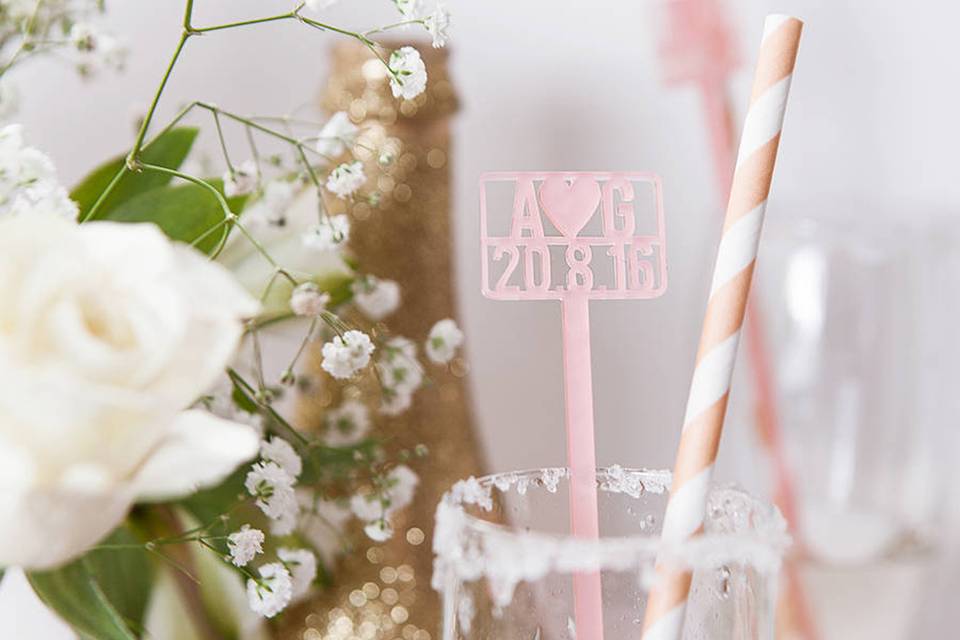 Once you've booked your wedding venue, you'll need some guests to fill it! Making sure your nearest and dearest 'save the date' will be an important task to tick off your to do list.
As this comes before your wedding invitations, your save the dates will be your guests' first glimpse at what your special day will be like so you need to get it right.
With so many save the dates ideas out there it can be hard to know where to start, so we've gathered some of the most unique and unusual save the date ideas that will help you make a decision.
Whether you're getting married abroad, in a library, or you and your partner want something memorable – it's always great to use the save the date to showcase your personalities or where you'll be tying the knot. Take a look at our save the date ideas below for some inspiration.
NB: We have included third party products to help you navigate and enjoy life's biggest moments. Purchases made through links on this page may earn us a commission.
1. Wooden Save the Date Card – £3.50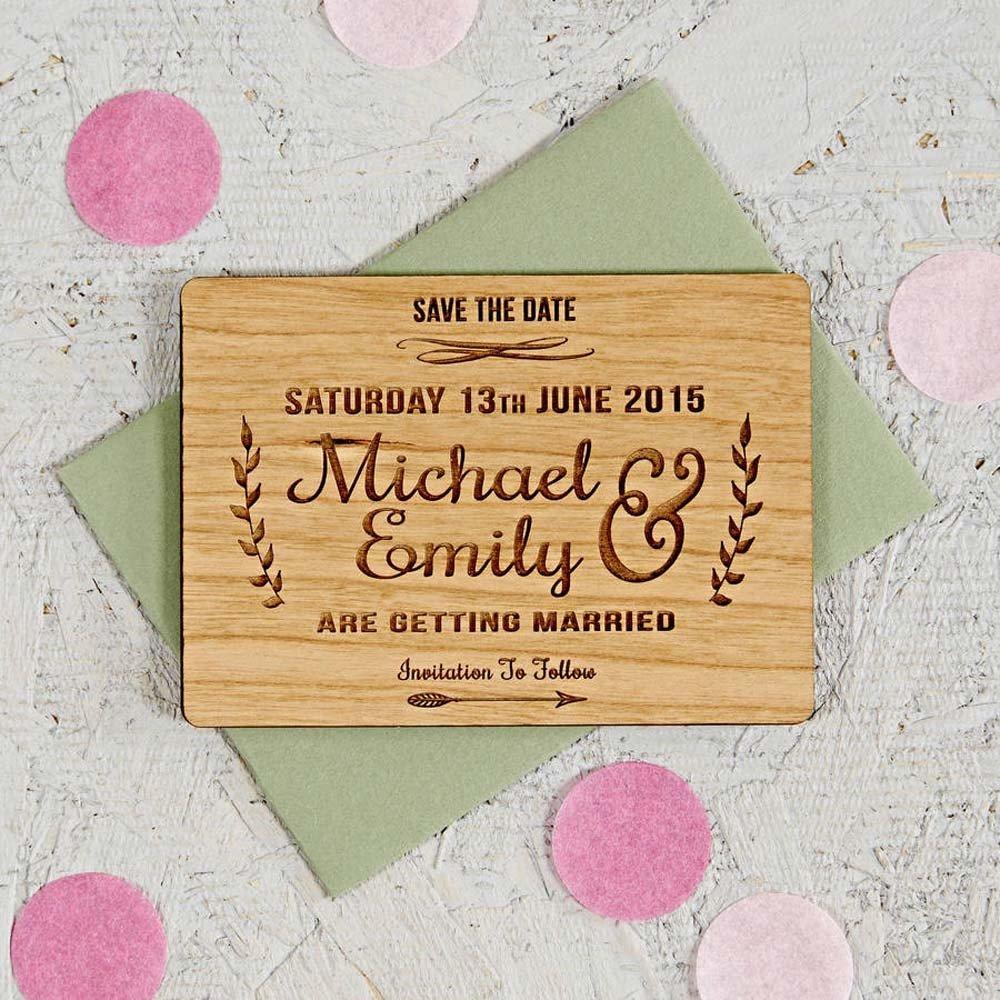 If you want your save the date cards to stand the test of time, why not opt for one made out of wood? This floral save the date card is pretty to look at and would suit a rustic themed wedding.
2. Save the Date Wooden Magnet – £1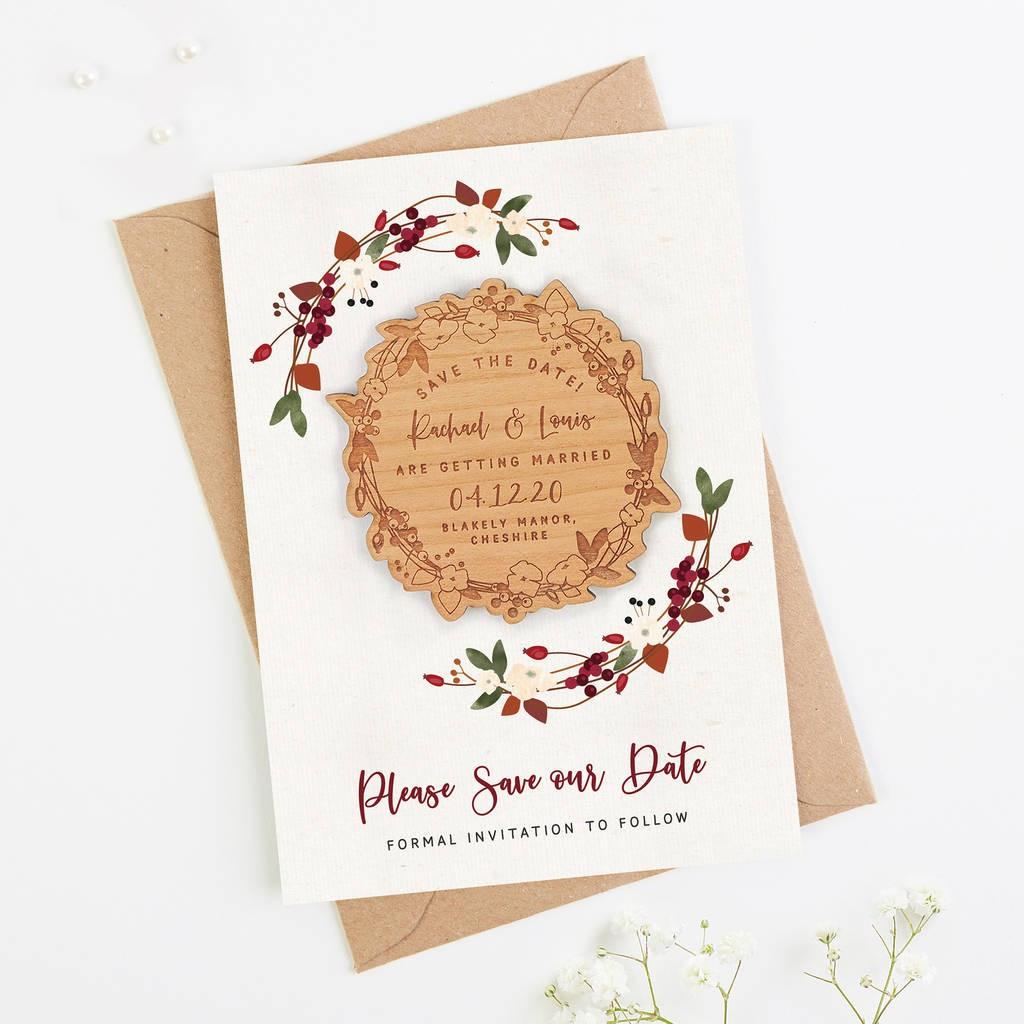 Keeping with the wooden theme, a wooden magnet is a great choice for your save the date cards. People visit their fridges frequently throughout the day so the date of your wedding is something that will be hard for guests to forget.
3. Save the Date Bookmark – From £20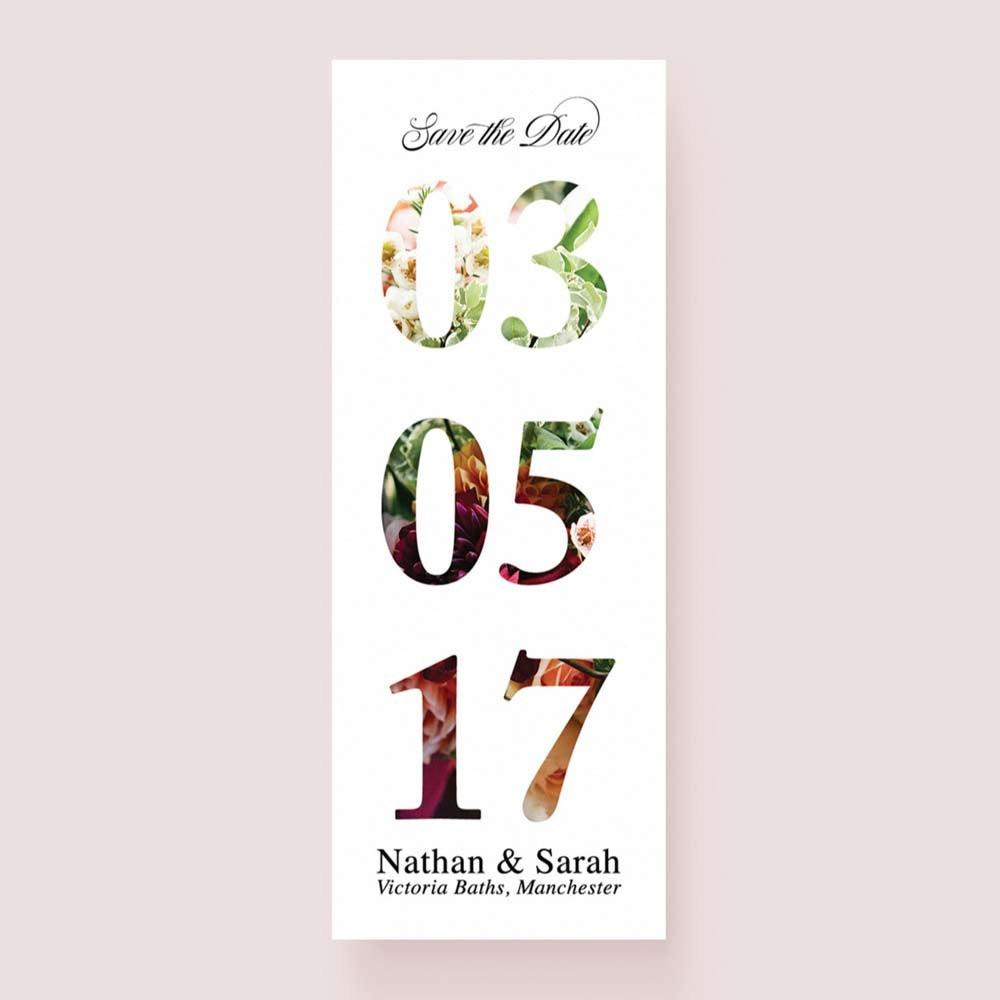 If you're a book worm or you're planning to tie the knot in a library wedding venue, why not consider having bookmark save the date cards? They're both practical for your guests and super pretty to look at.
4. Save the Date Laser Cut Design – £4.50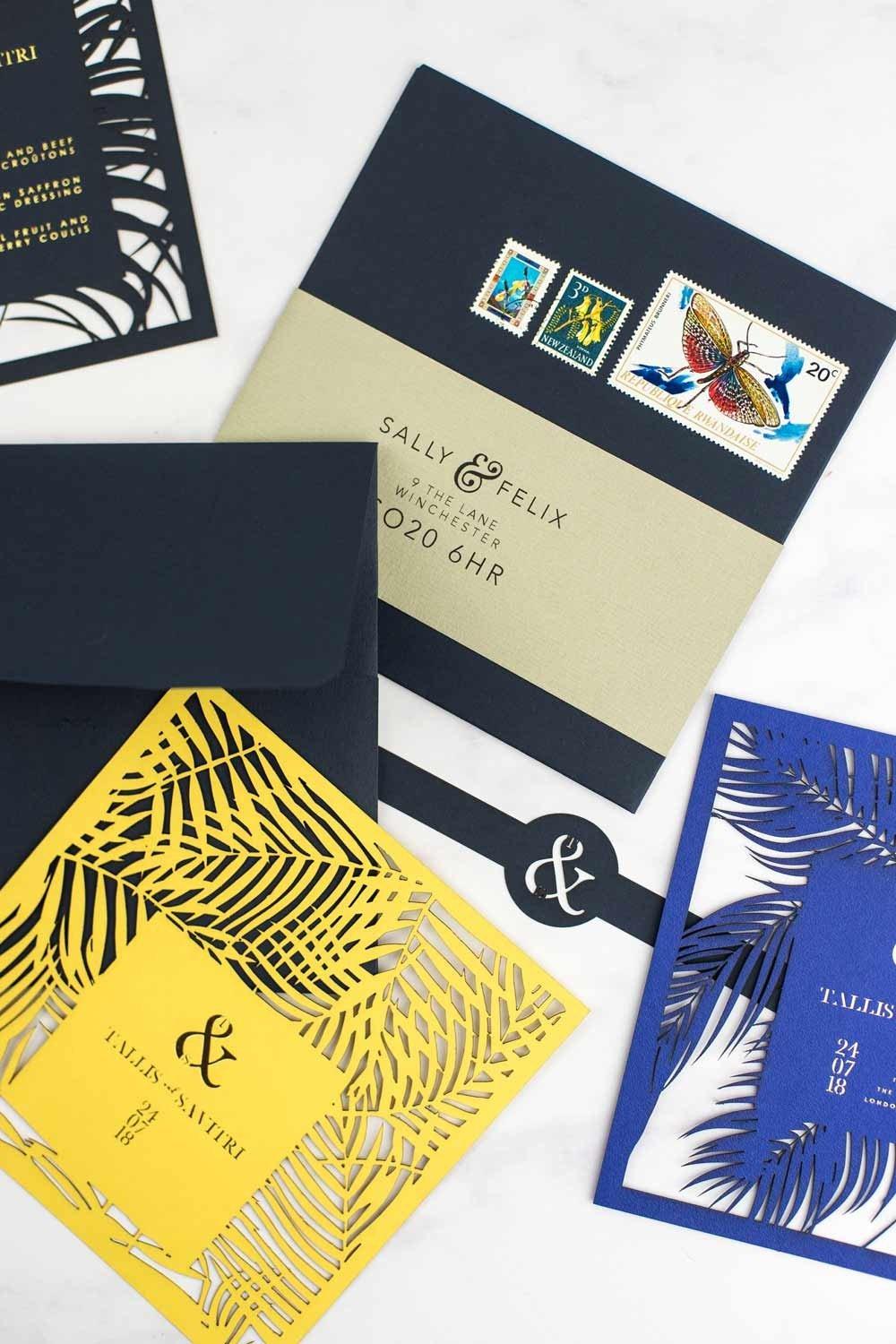 If you're into detailed wedding stationery, this laser cut save the date card could be the perfect choice for you. It's simply designed, yet really intricate and special-looking.
5. Save the Date Postcard – £2.40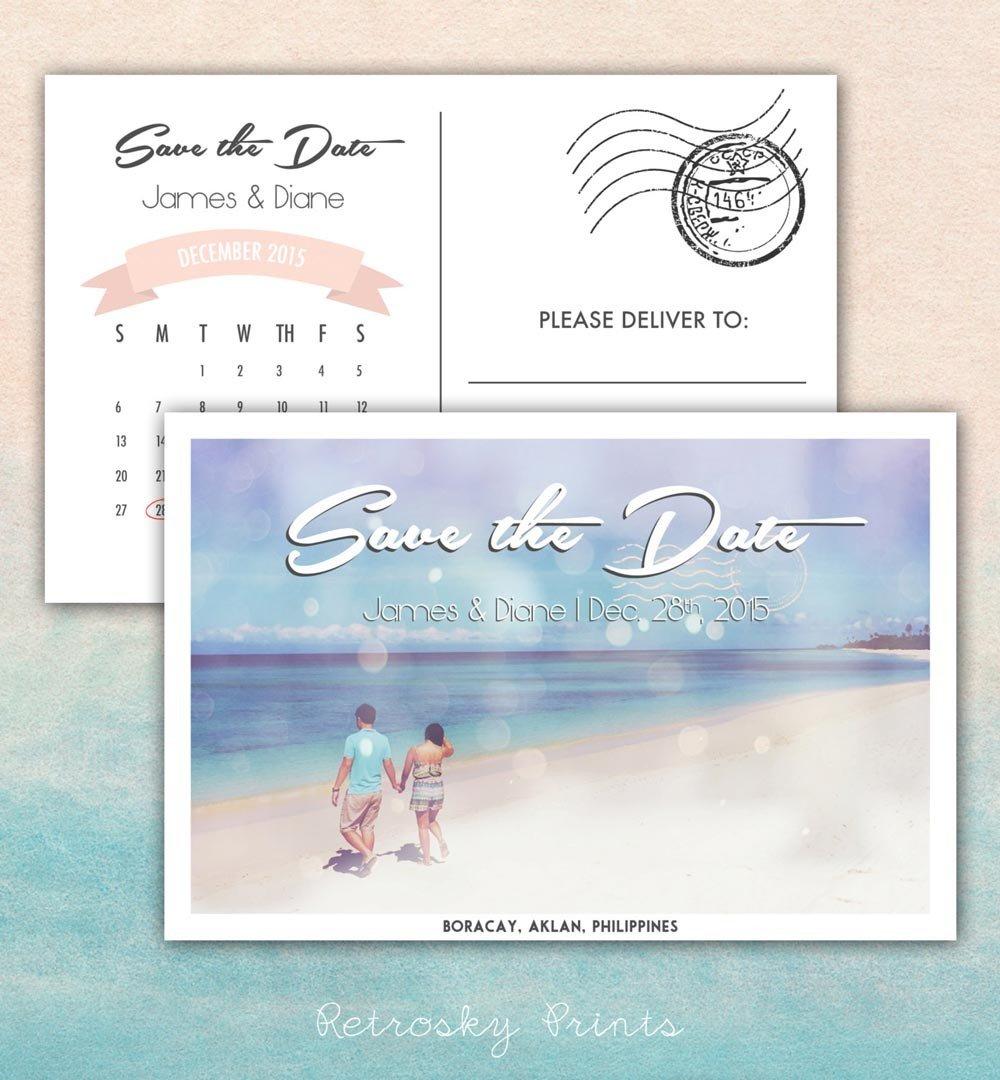 A postcard save the date is perfect if you're having a destination wedding or a ceremony on the coast – it really ties in the holiday theme with your overall wedding stationery look.
6. Save the Date Library Card – From £17.60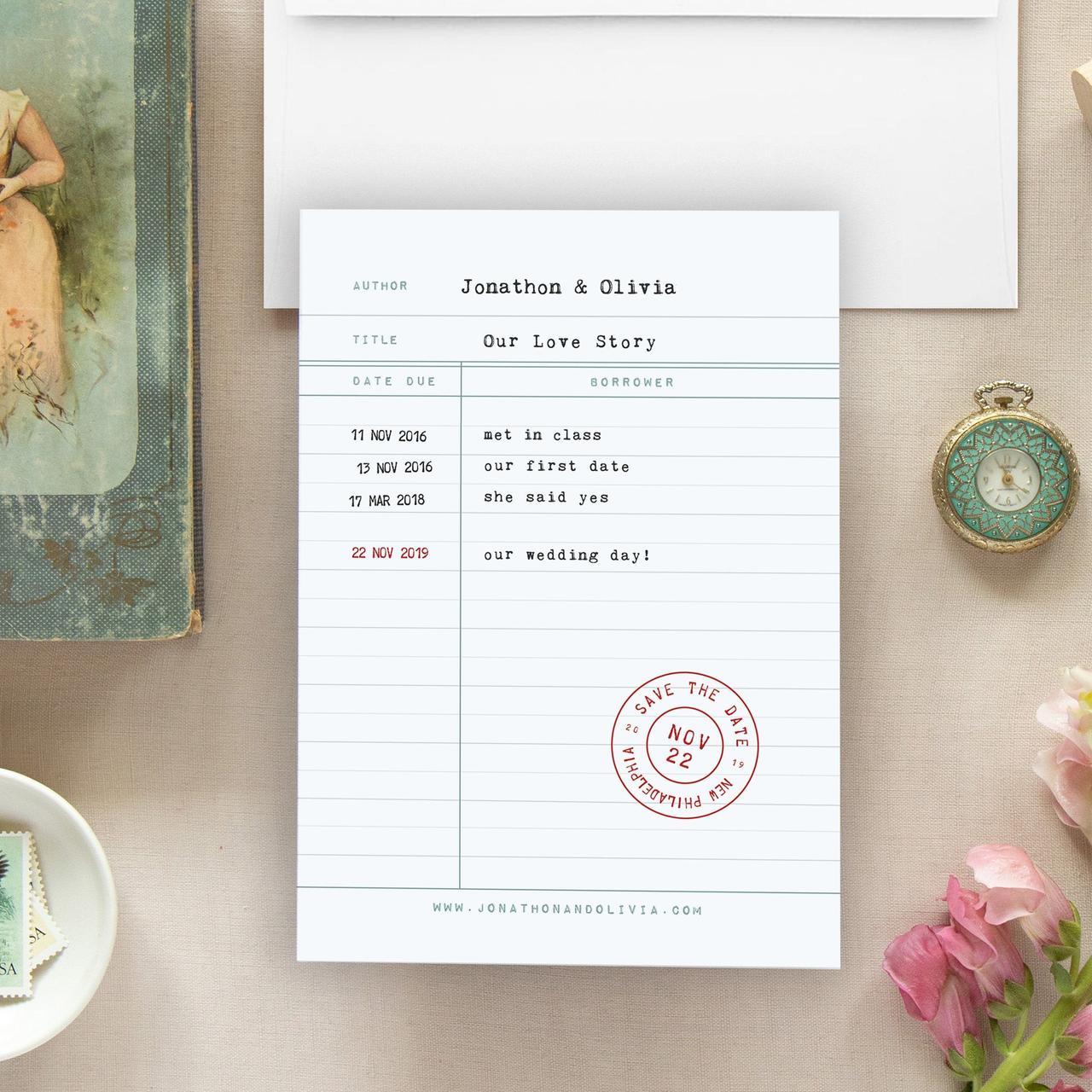 If you and your partner are total bookworms, these amazing library card-themed save the dates are perfect for you! You can even add in important dates – like when you met and when you said yes.
7. Save the Date Penguin Book – 99p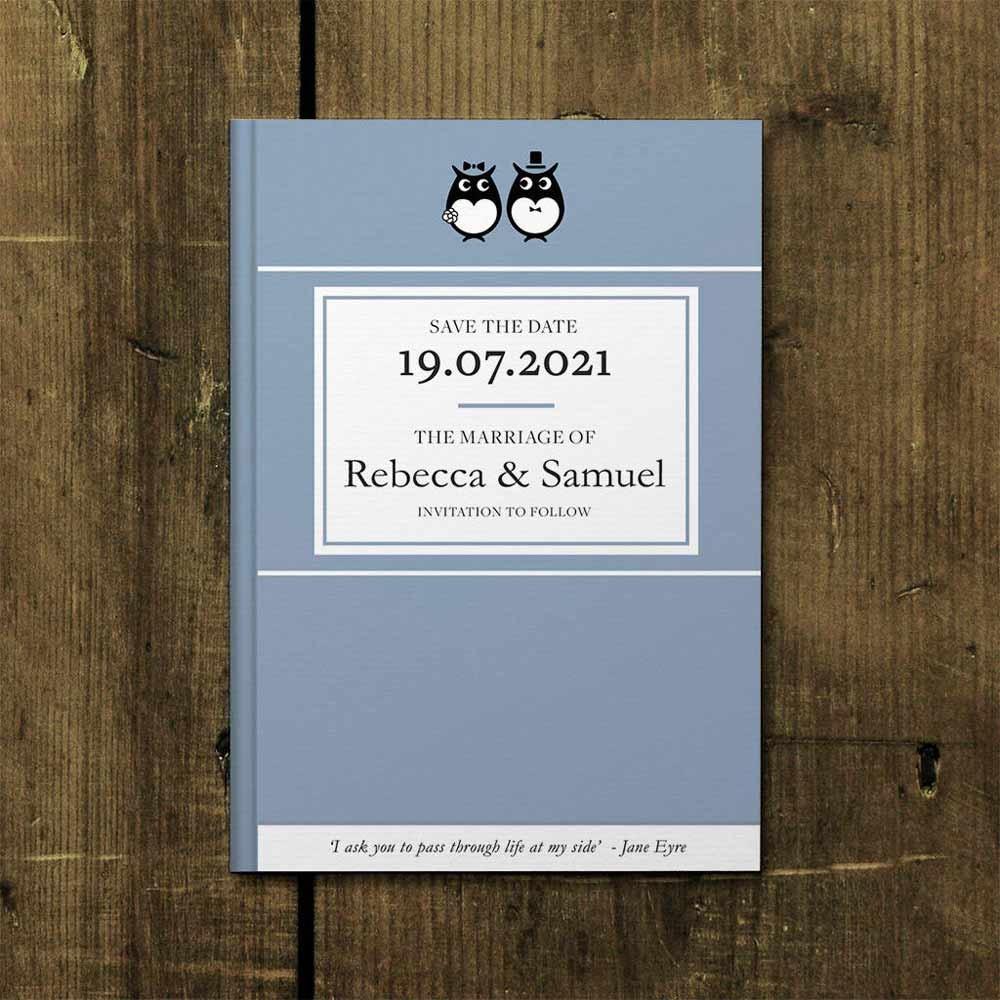 Sticking with the book theme, we adore this gorgeous save the date. The design is simple, elegant and perfectly suited for couples who enjoy literature and reading.
8. Save the Date Sticker – From £11.16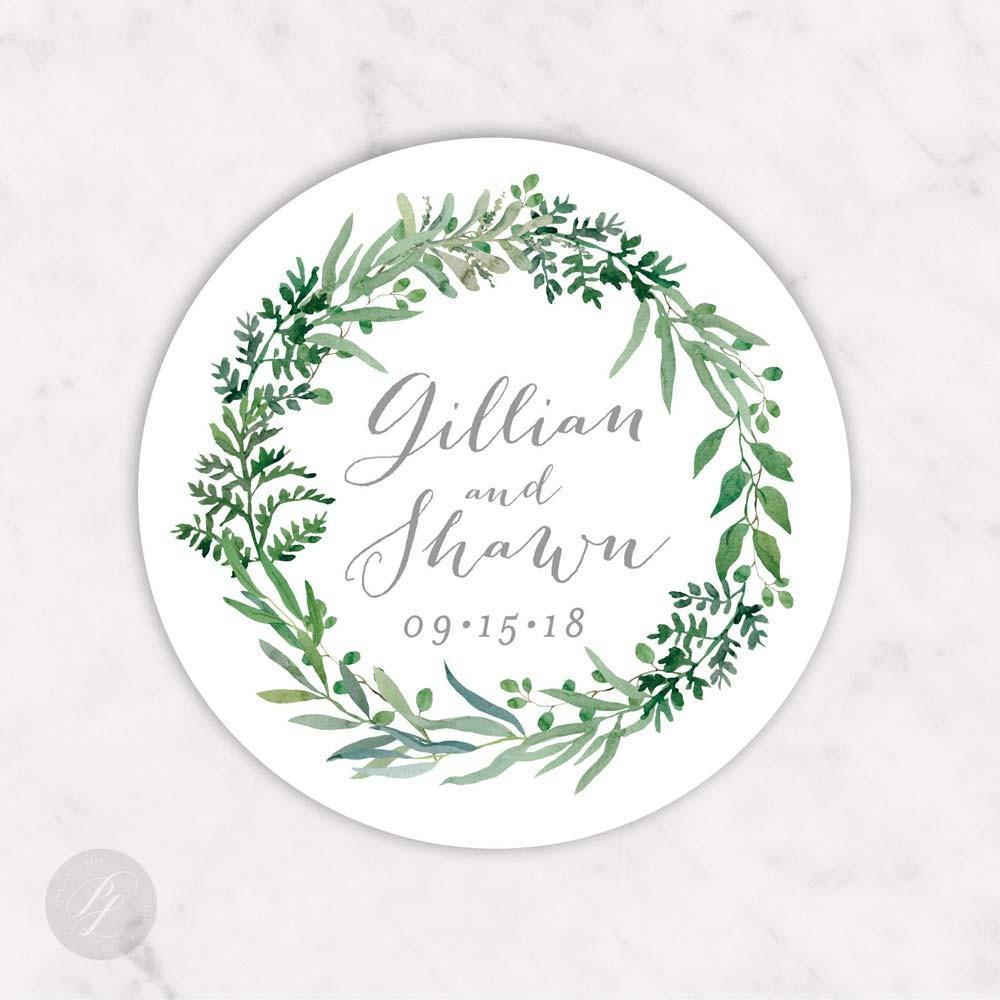 Remember when you were at school or at the dentist and getting a sticker was the highlight of your day? That feeling has never really gone away so indulge your guests with a quirky save the date in the form of a sticker.
9. Save the Date Comic Book – £24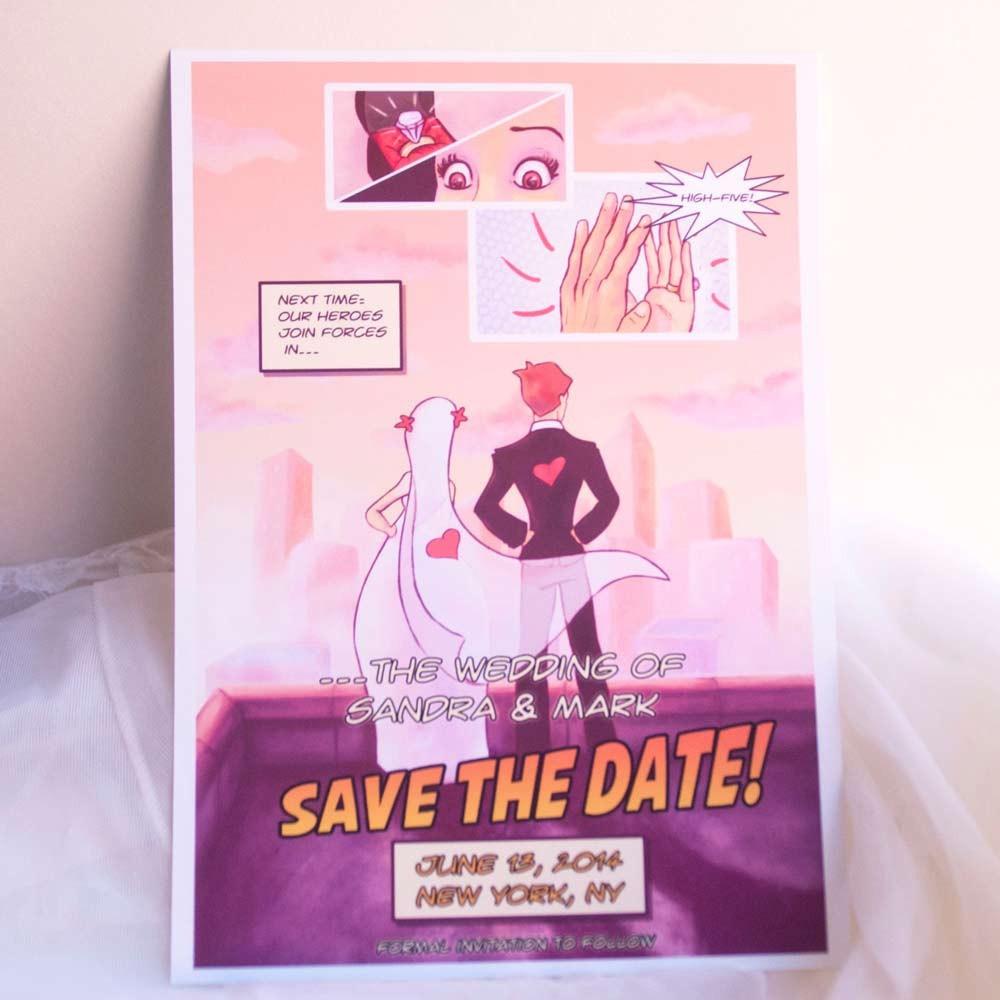 If you and your partner are obsessed with all things superhero and comic book related, why not extend your passion and include it in your wedding stationery? This cool save the date idea is fun and will really showcase your personalities.
10. Save the Date Infographic – £2.37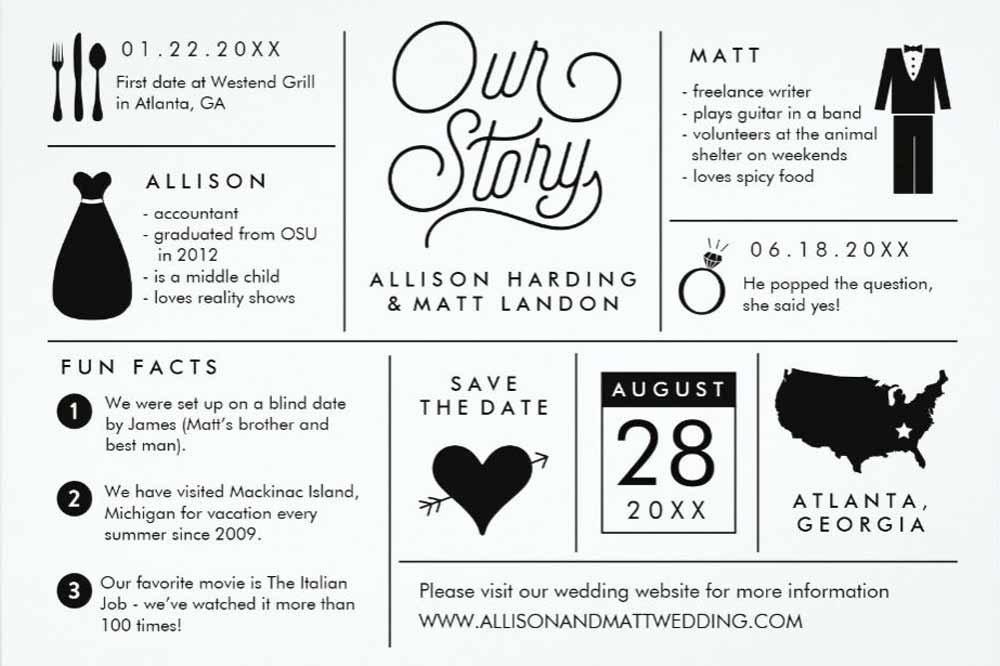 Infographics are becoming increasingly popular when it comes to save the date ideas and can be used as a cool way to map out the timeline of your relationship. If your guests don't already know your story, now is the time to share it with this fun design.
11. Save the Date Personalised Handkerchiefs – £6.95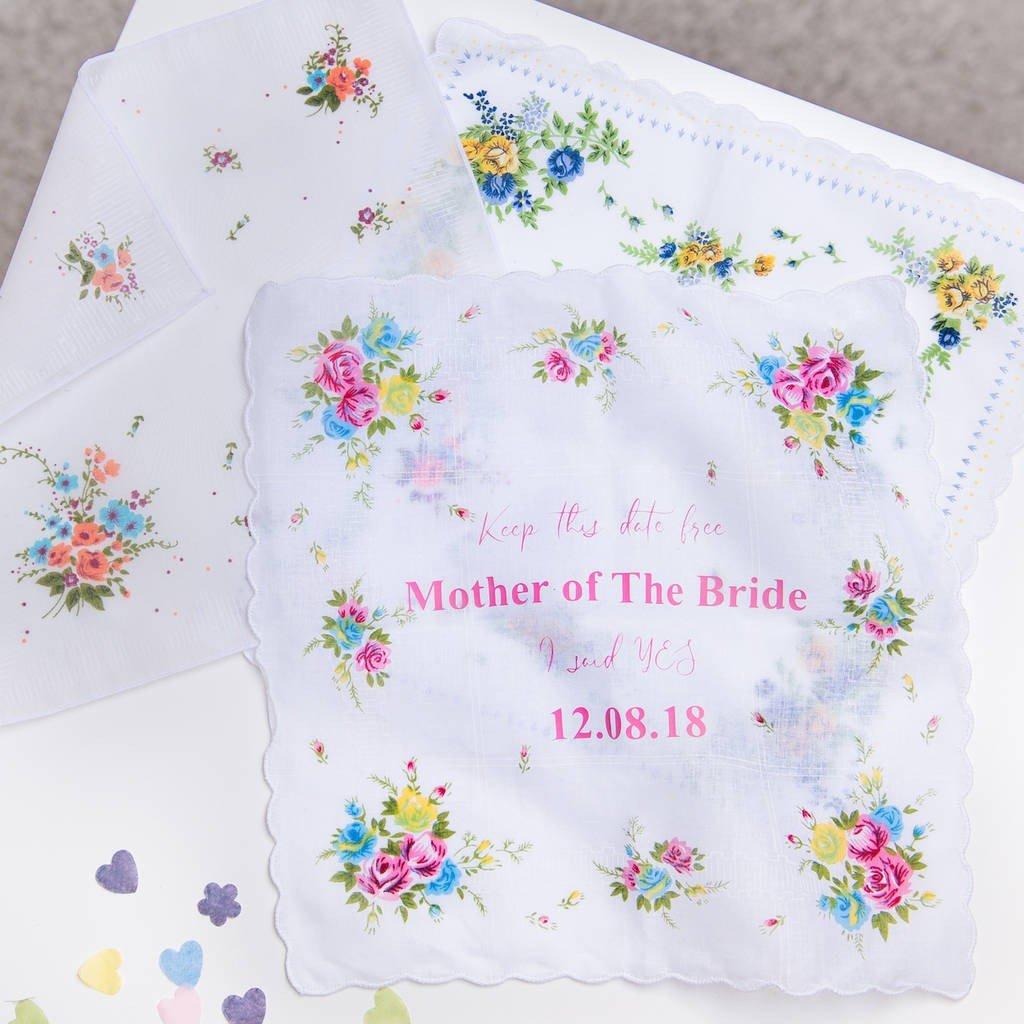 If you want to remind your guests about your upcoming nuptials in a pretty and personal way, this is the way to do it. From the mother of the bride to your bridesmaids, they'll love this cute handkerchief design.
12. Save the Date Personalised Cocktail Stirrers – £9.60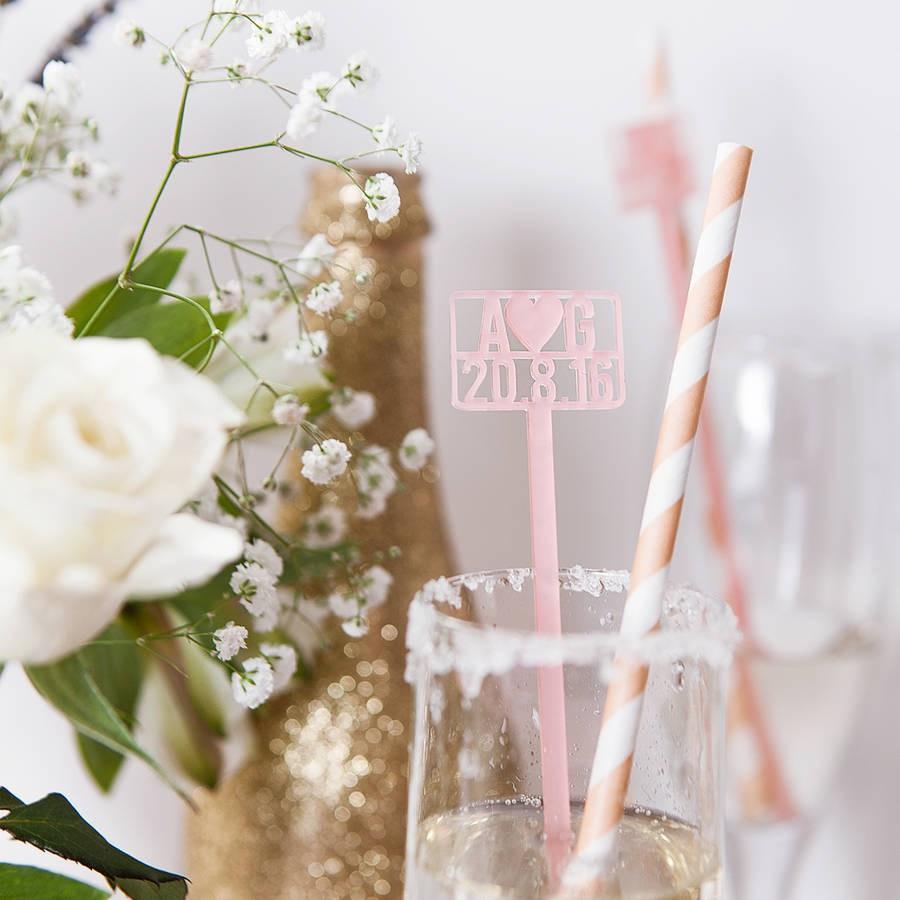 If you're having an engagement party these clever personalised cocktail stirrers are perfect. They give you the option of adding you and your partner's initials and the date of your wedding – and it's a keepsake that your guests can take home and use over and over again.
13. Save the Date Polaroid Pictures – From £19 for 10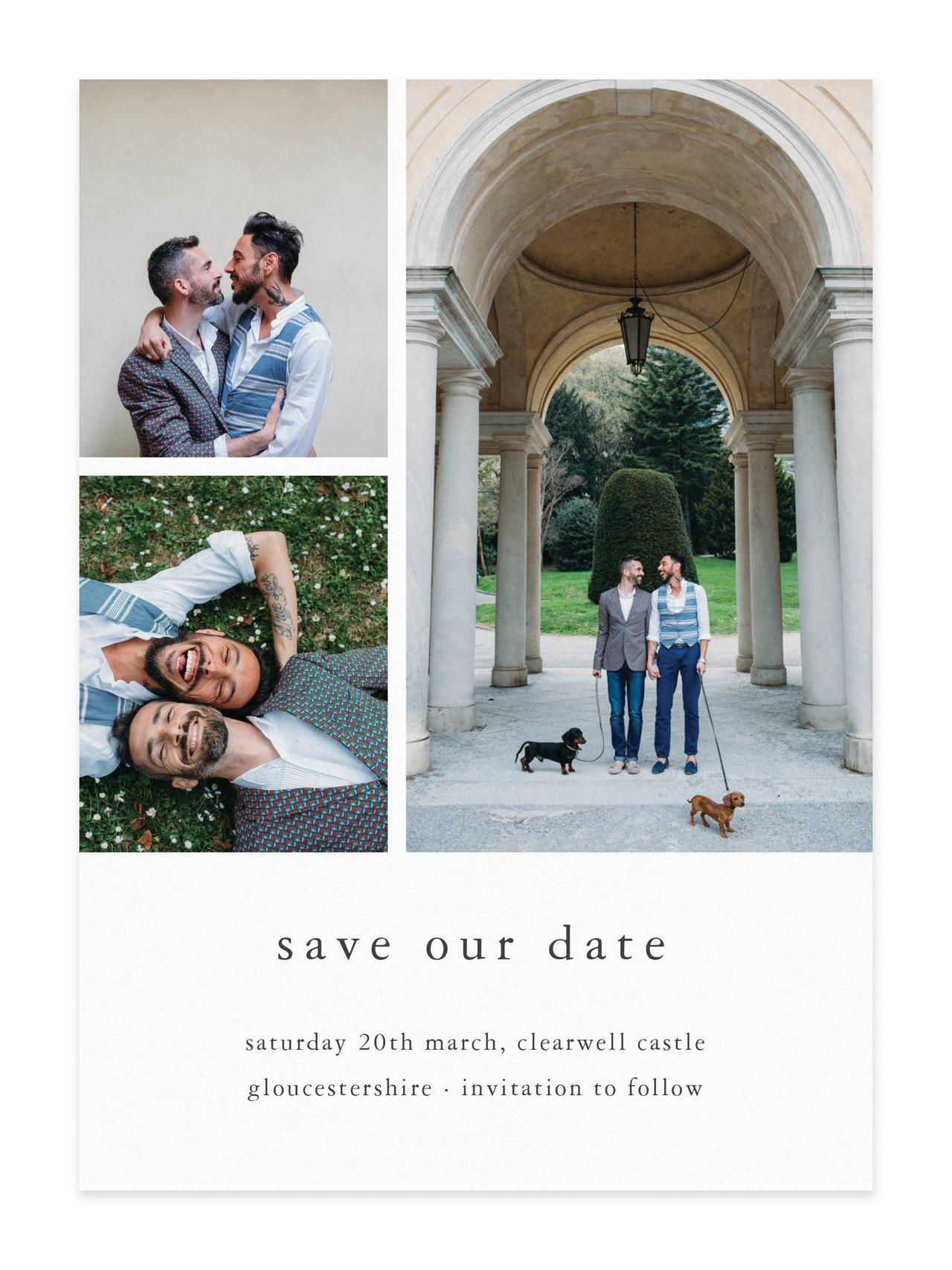 These cute save the date photo cards can capture your engagement photos, or just some of your favourite photos. Plus, your smiling faces beaming at them will remind friends and family why you're getting married.
14. Save the Date Wine Cork – From £4.78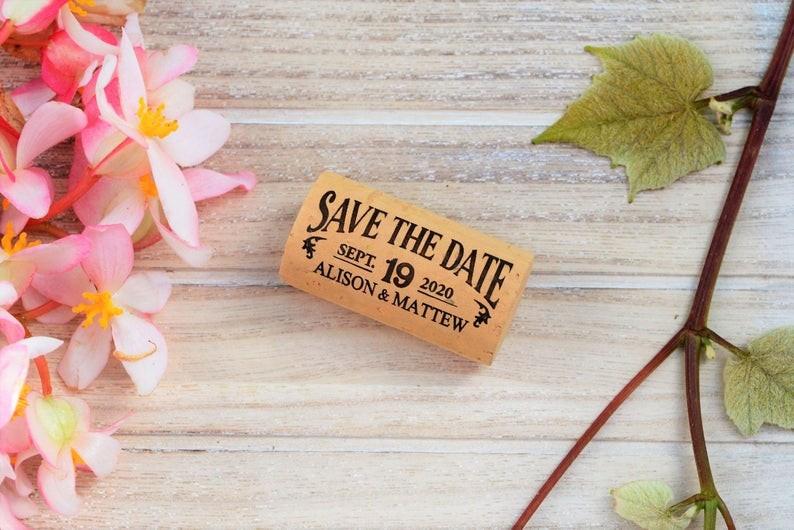 If you're a wine connoisseur or just love a tipple from time to time these cute save the date wine corks are perfect. They're so unique that friends and family won't want to lose them.
15. Save the Date Tea Towel – £200 for 20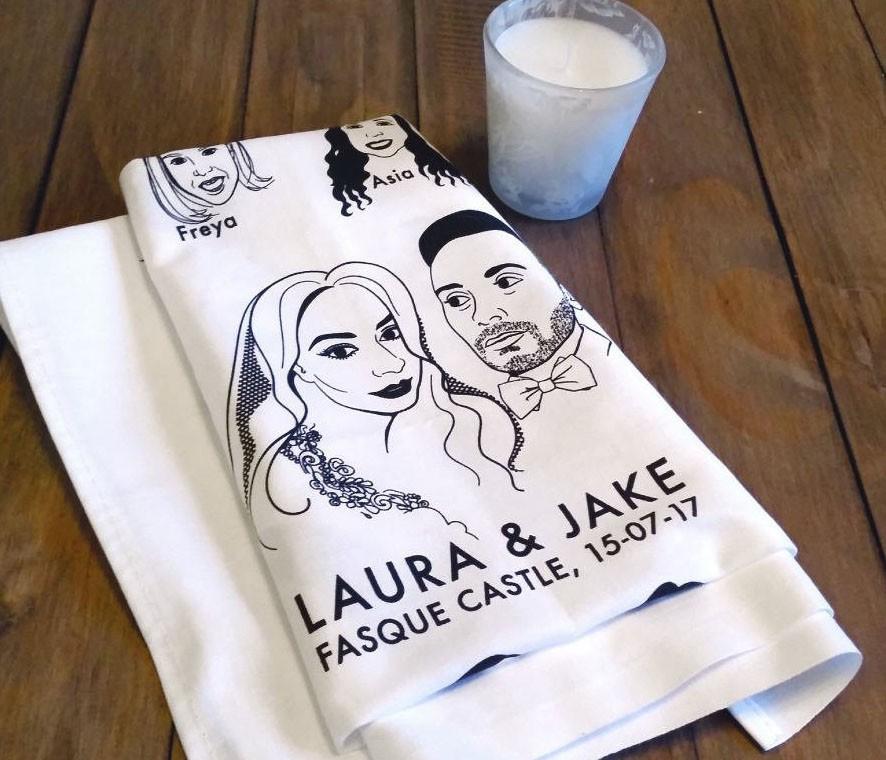 Your guests will love you for this one – a save the date that is both practical and fun! By sending out this awesome save the date tea towel, your guests will remember your wedding date every time they do their washing up – what better way to brighten up chores?
16. Save the Date Festival Flyer – £1.35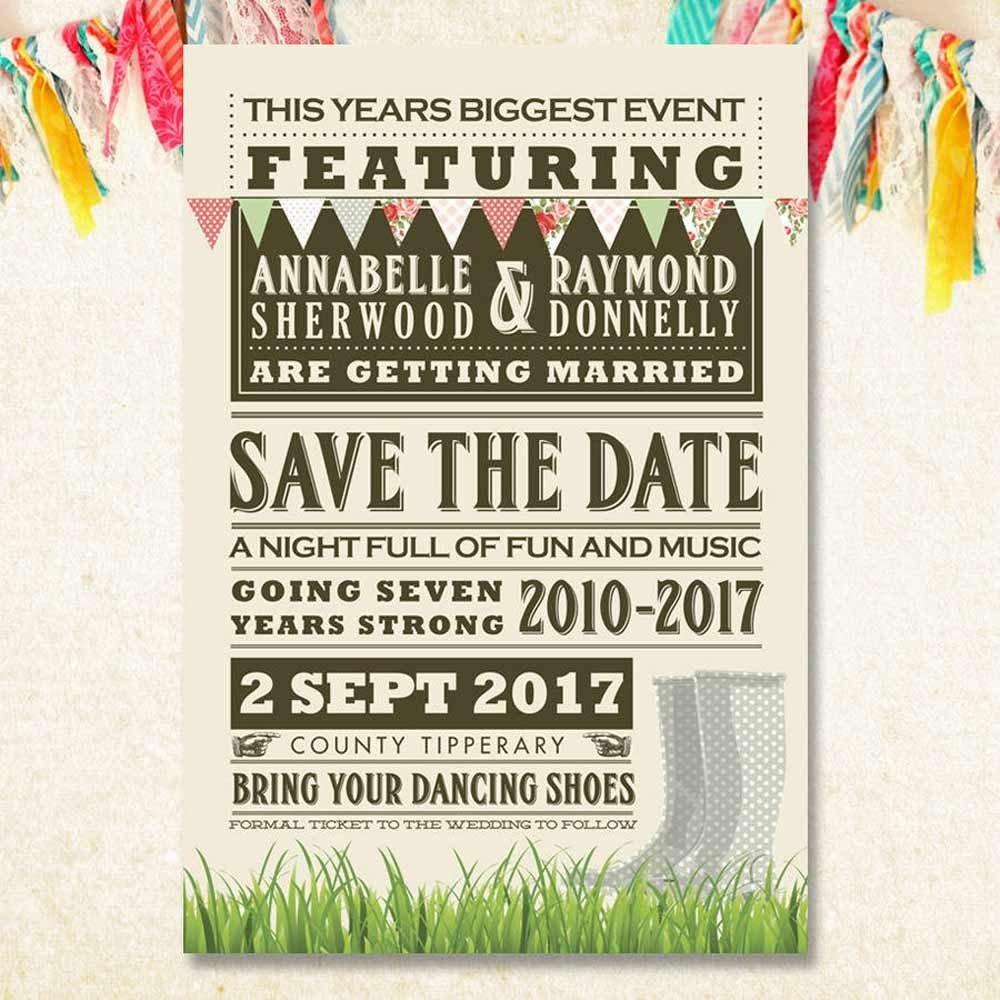 If you're planning a festival themed wedding, make sure your stationery fits the bill. These save the dates inspired by a festival flyer are a perfect fit and will get your guests hyped up for the big day.
17. Save the Date Festival Wristband – £140 for 50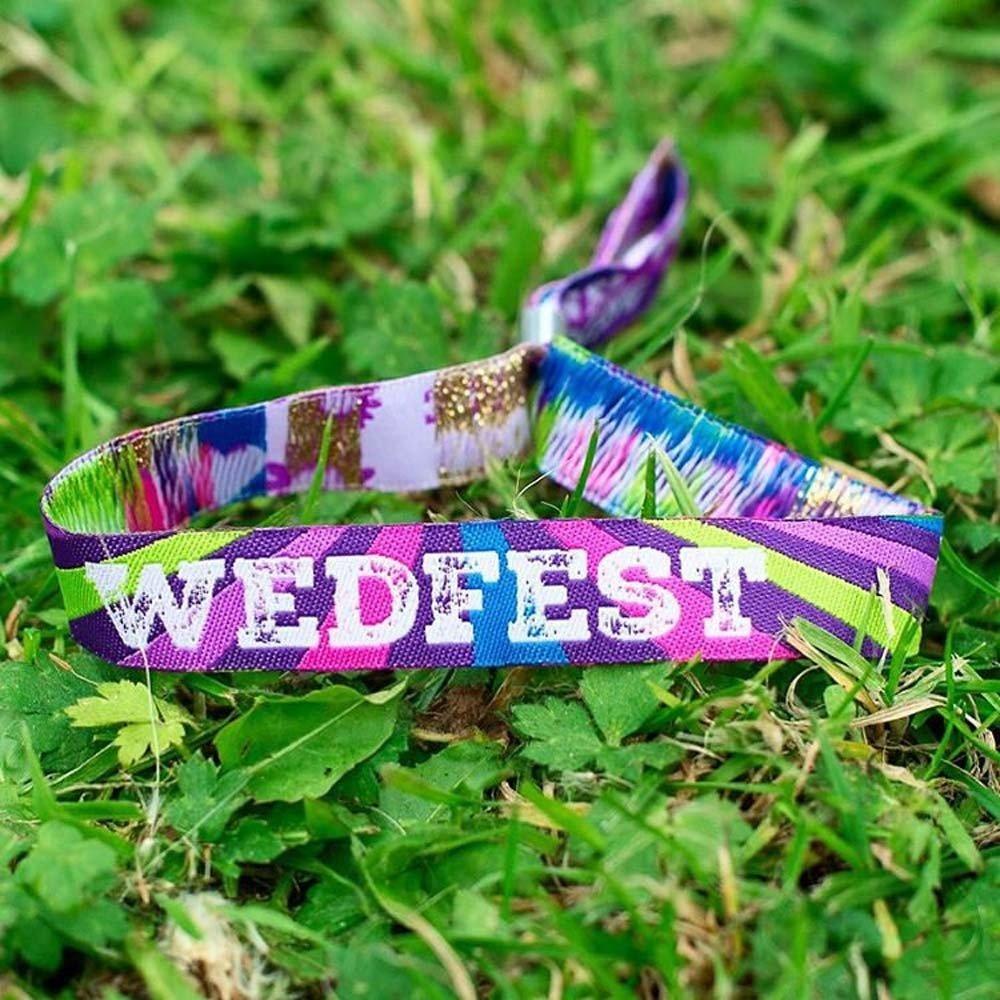 If a festival flyer isn't enough, why not go one step further and send your wedding save the dates in the form of festival wristbands? They can double up as 'proof of entry' to your amazing festival themed wedding and look amazing, too.
18. Save the Date Scratch Cards – £2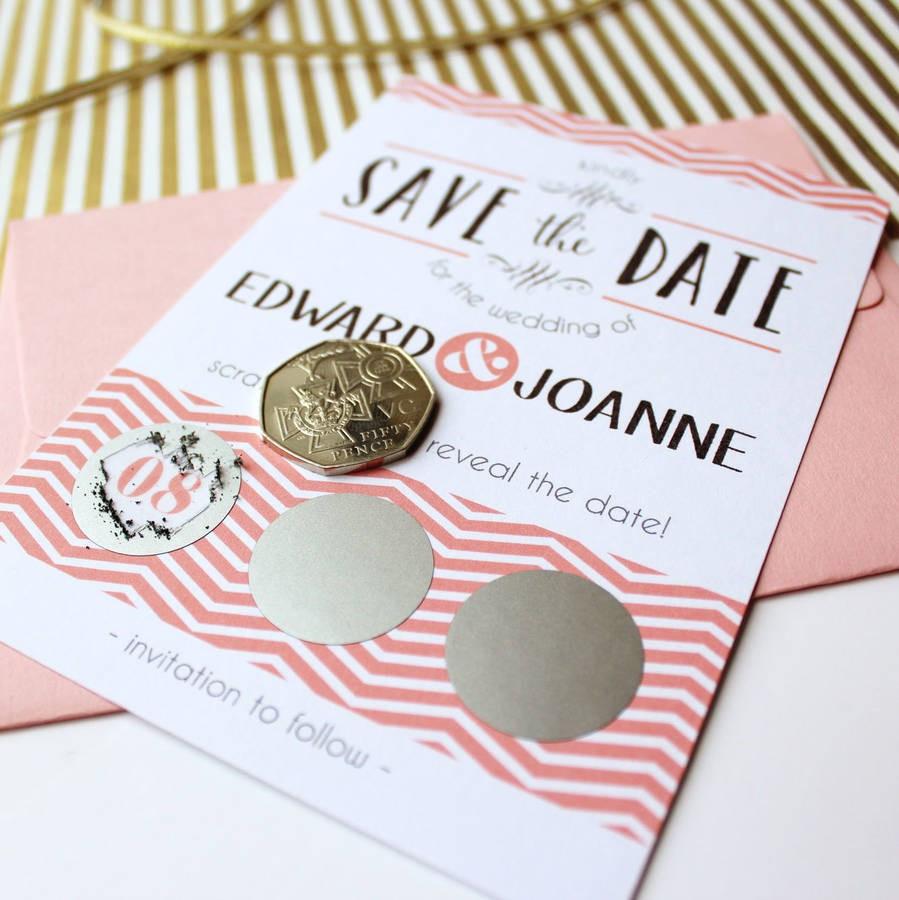 Keep the anticipation going, even when your guests receive these quirky scratch cards. Your guests will need to scratch off the silver circles to reveal the date of your wedding.
19. Save the Date Train Ticket – £5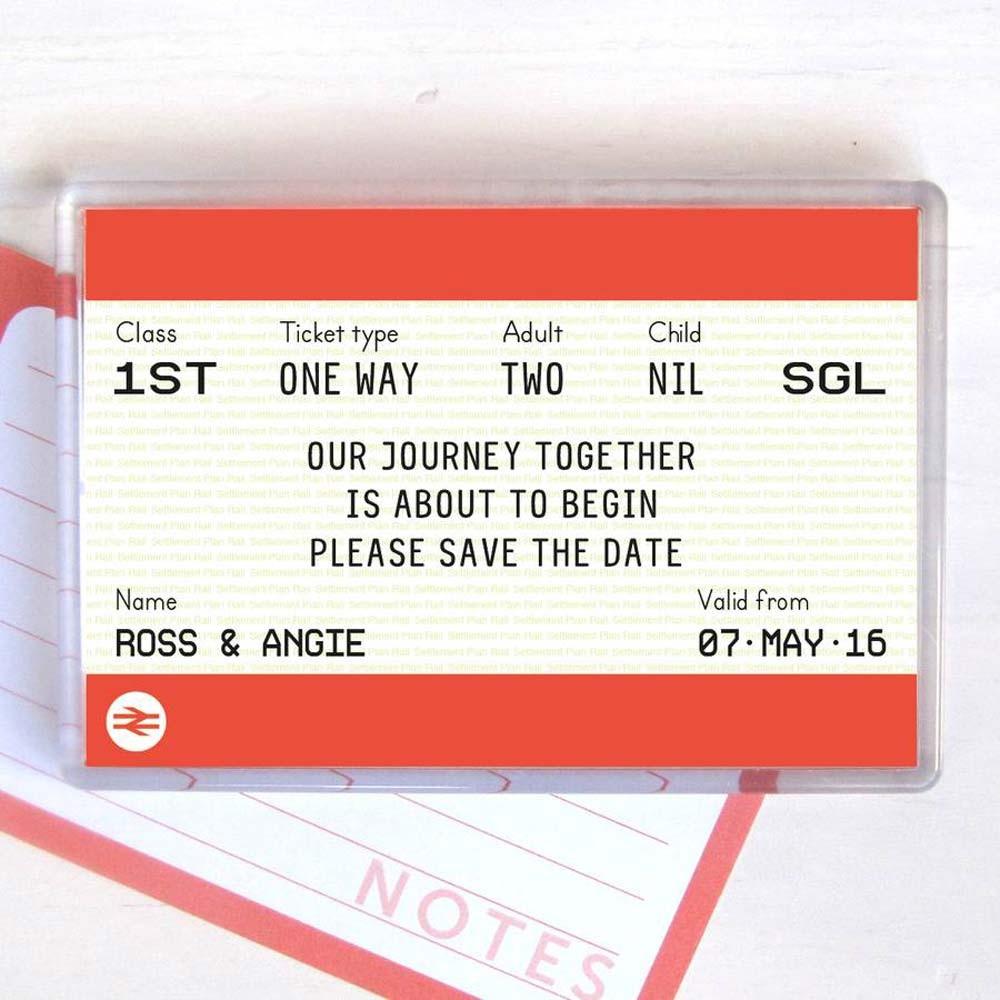 City-loving couples will love these fabulous save the date cards. Designed to look like train travel cards, they're perfect for couples getting married in a city wedding venue, especially in London.
20. Save the Date Aeroplane Ticket – £85 for 100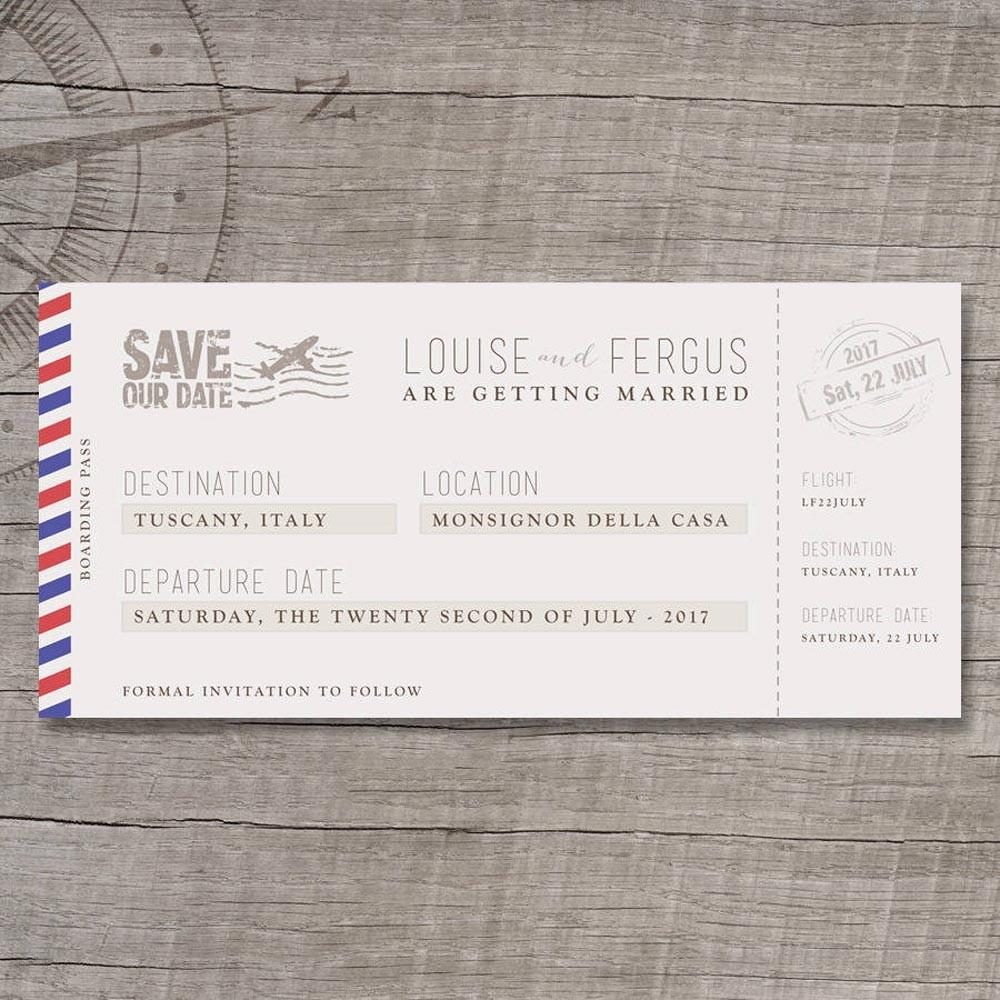 Sticking with the travel theme but going one step further are these super cool aeroplane ticket save the date cards. If you're planning to get married abroad or have friends and family travelling from overseas, this quirky design will fit in perfectly.
21. Save the Date Luggage Tags – £1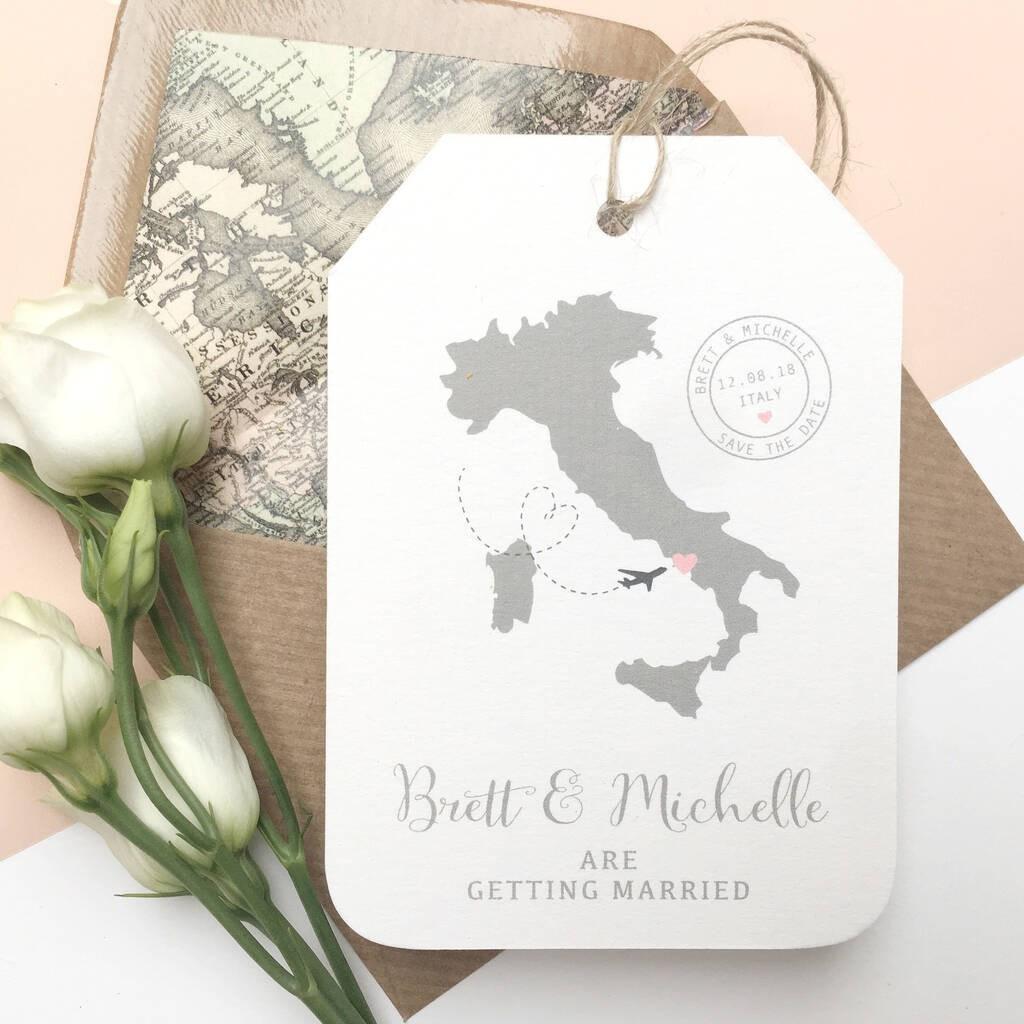 An alternative to the aeroplane ticket design are these adorable luggage tag save the date cards. They give a more rustic vibe to destination weddings and will work perfectly if you plan to jet away for your nuptials.
22. Save the Date Mobile Phone Card – £7.99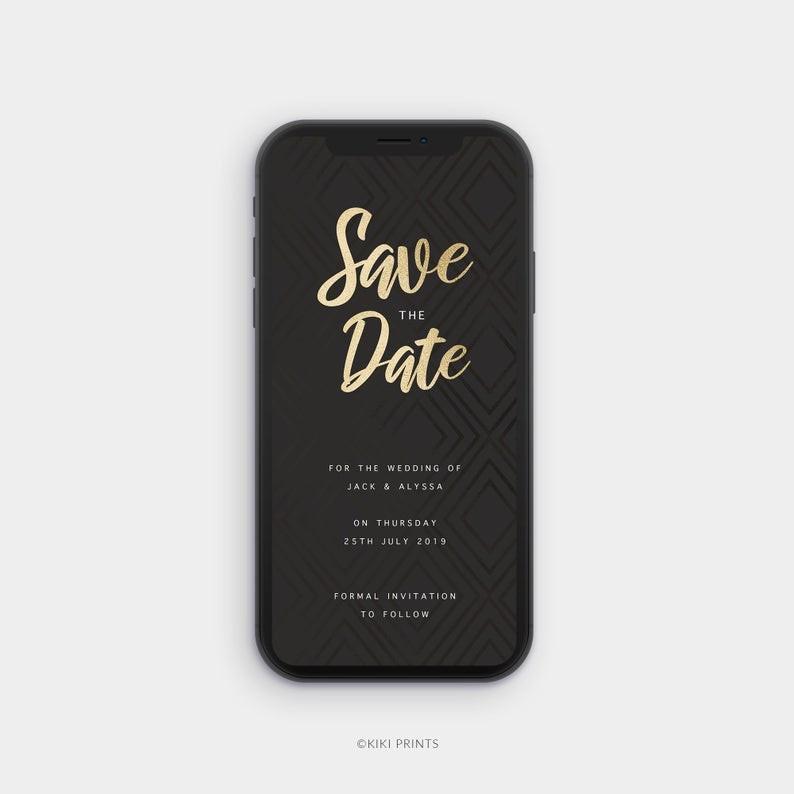 Most of us are glued to them at all times, so why not create a save the date card, which looks exactly like the back of a mobile phone. This cute one, with gold lettering, is sure to fool your guests.
23. Save the Date Telegram – From £26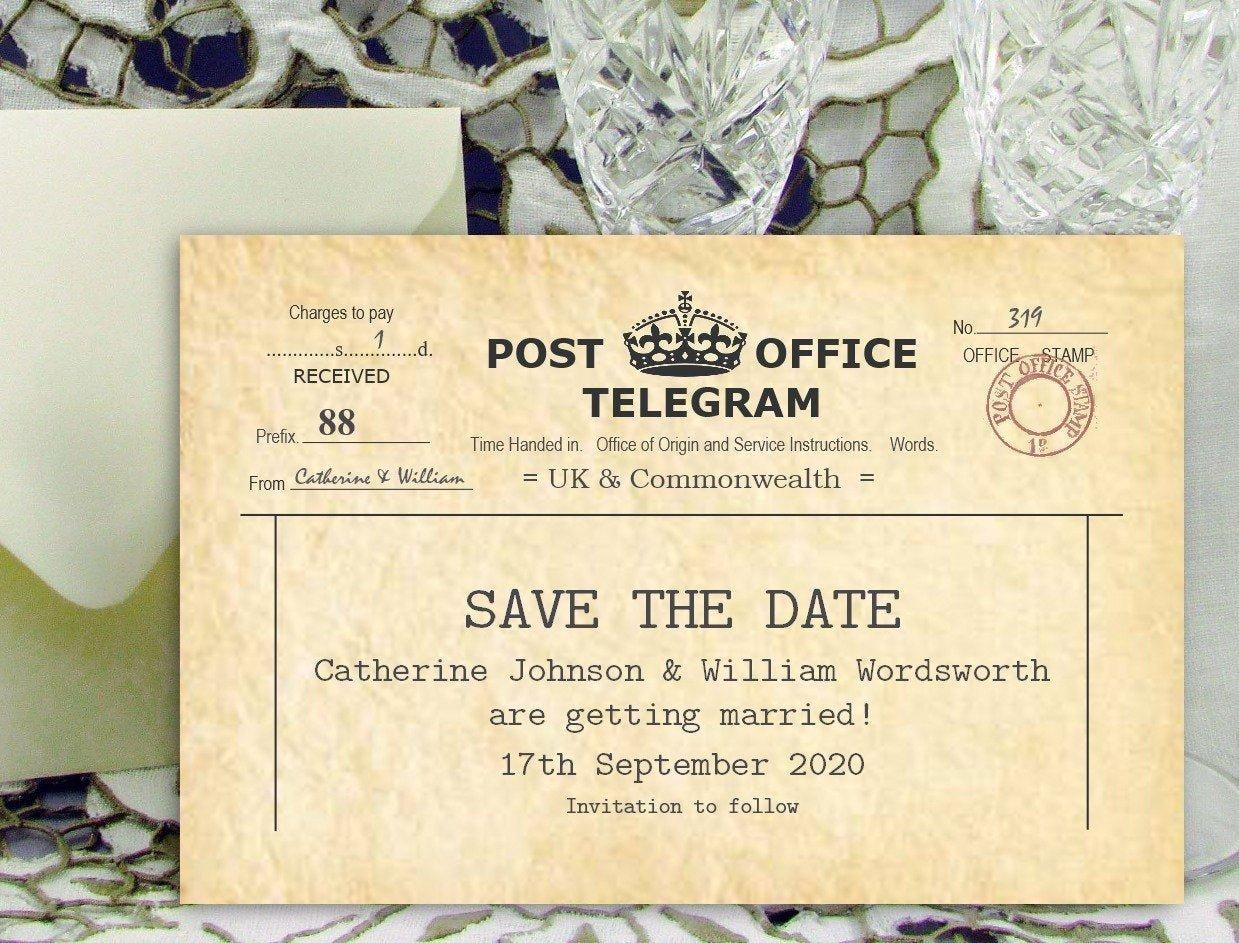 If you're old souls and want to take it back to basics with your wedding stationery, why not send out Post Office telegrams? We love the formal look and your guests will too.
24. Save the Date Map Magnets – £2.00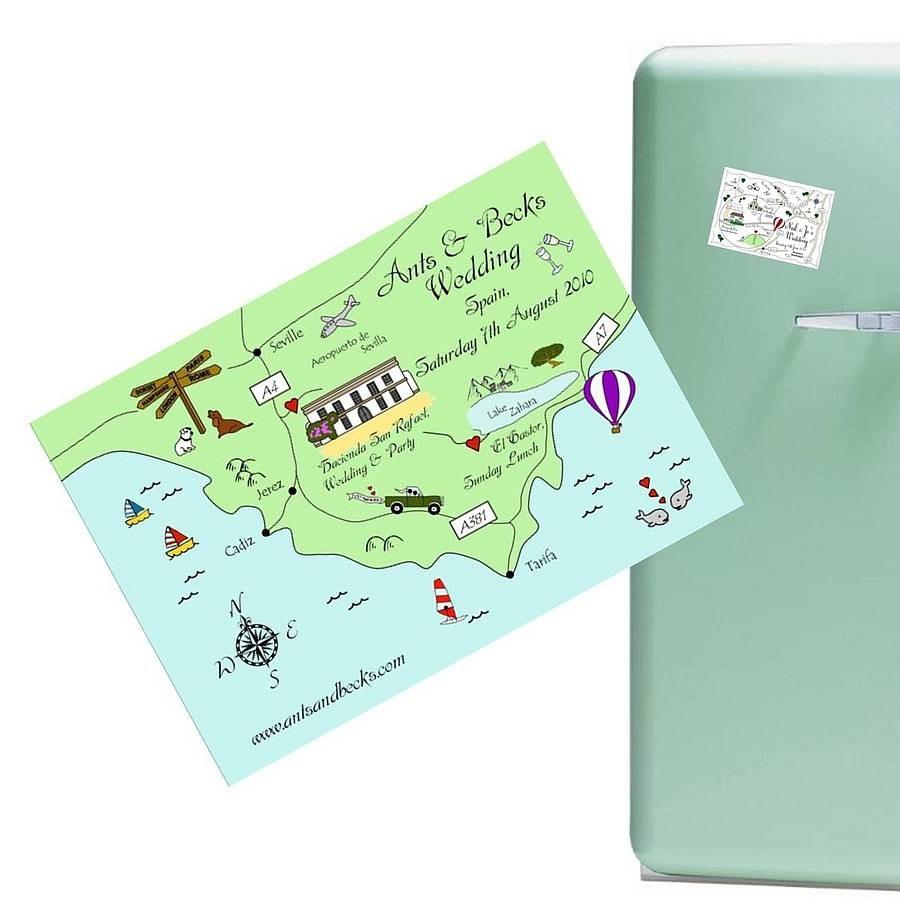 If you're keen to illustrate you and your partner's journey to married life these save the date magnets are spot on. Your guests can stick them on the fridge and always be reminded of your story and, most importantly, the date you'll be marrying.
25. Save the Date Chalkboard – £2.45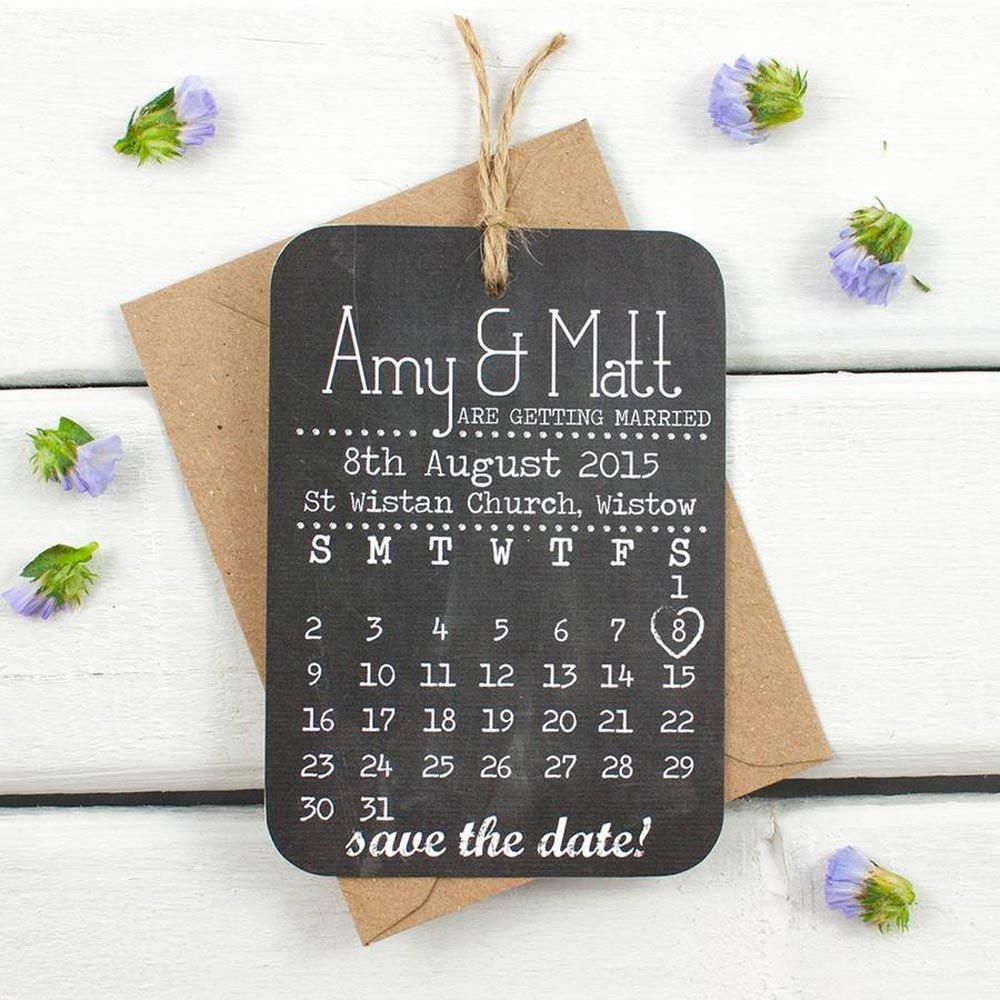 Chalkboards are a wedding trend that will never go out of fashion. So why not incorporate them in your wedding save the dates? We love the calendar design of this one.
26. Save the Date Stamp – £17.50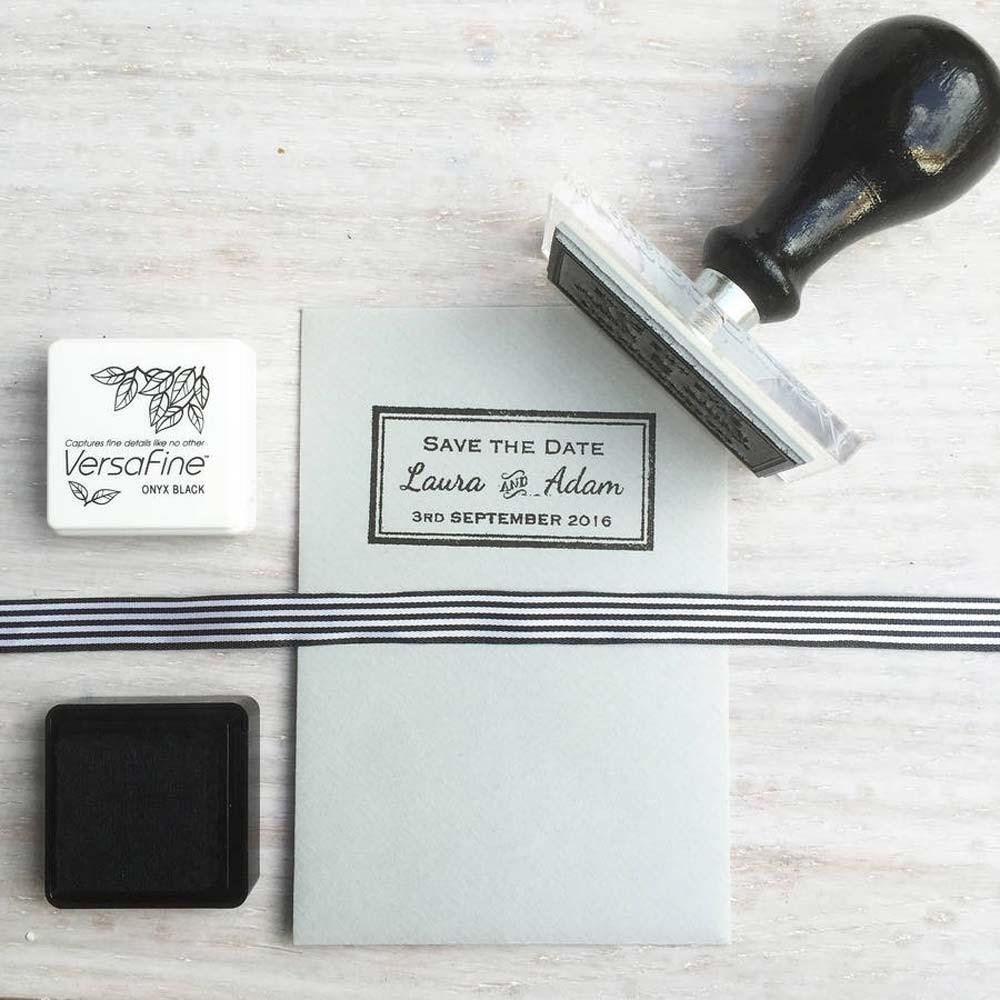 Wedding stamps are a great way to DIY wedding invitations and save the date cards. This cool stamp can be personalised with your names and wedding dates to customise plain card or envelopes.
27. Save the Date Destination Card – From £19 for 10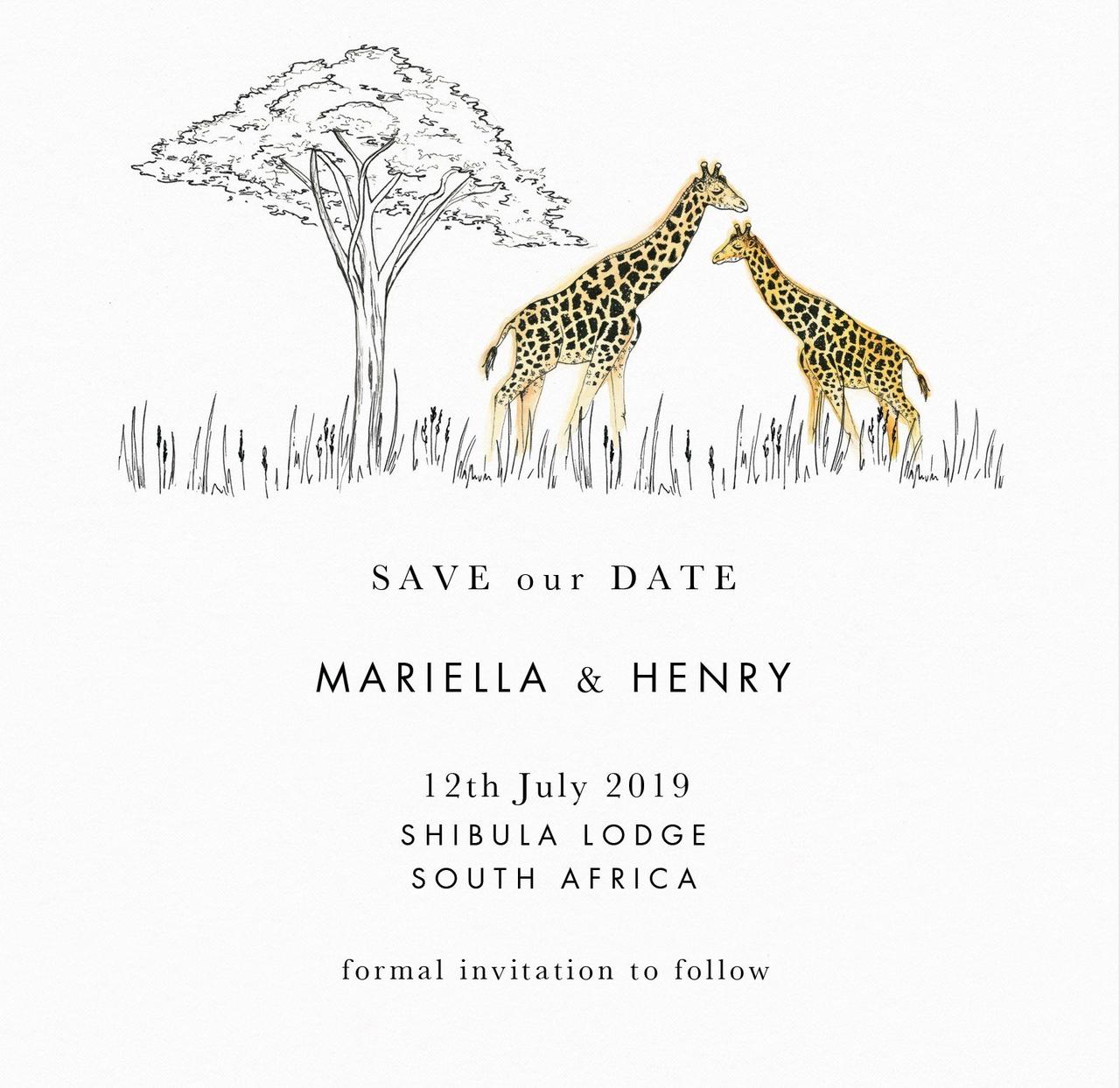 What better way to illustrate where you'll be getting married than to showcase it on your save the date cards. This one uses handpainted giraffes to invite the couple's guests to their destination wedding in Africa.
28. Save the Date Balloons – £1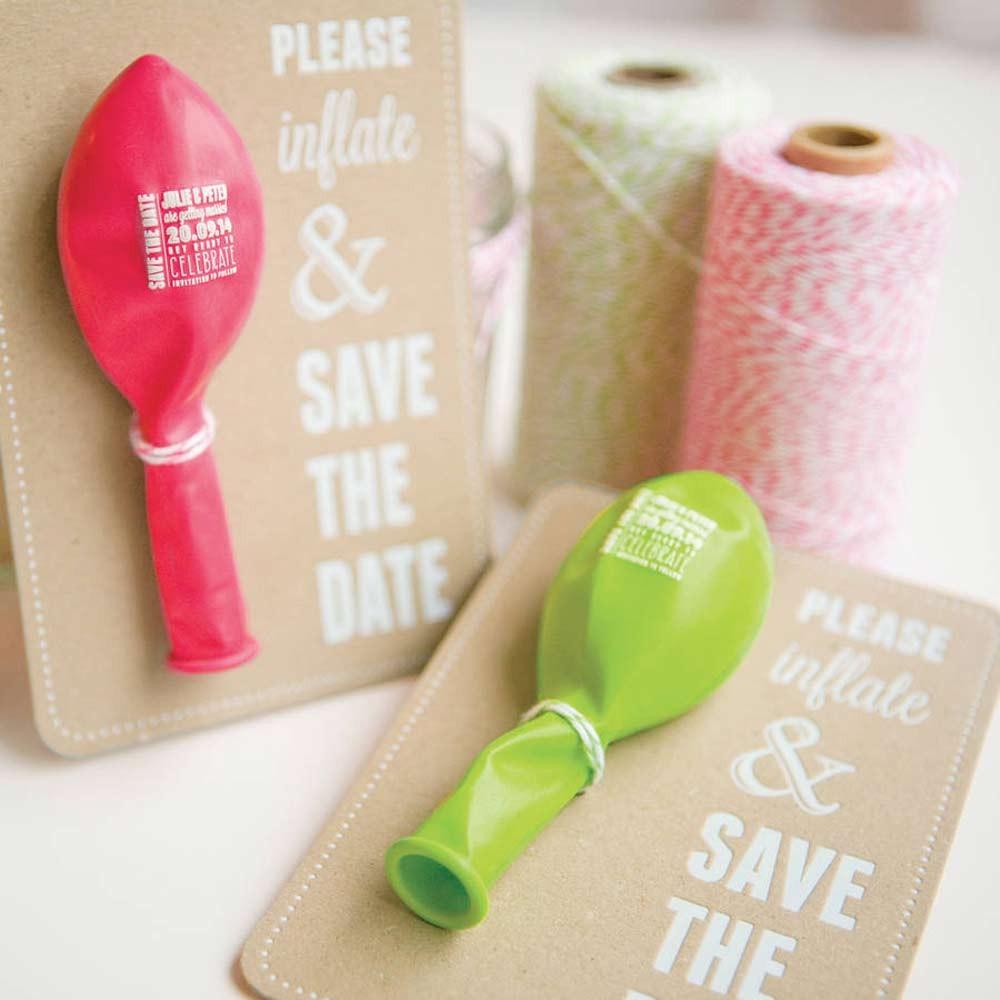 Get everyone in a party mood early by sending out balloon save the dates. In this design, your guests have to blow up the balloons to reveal the wedding date in full.
29. Save the Date Paper Aeroplane – £8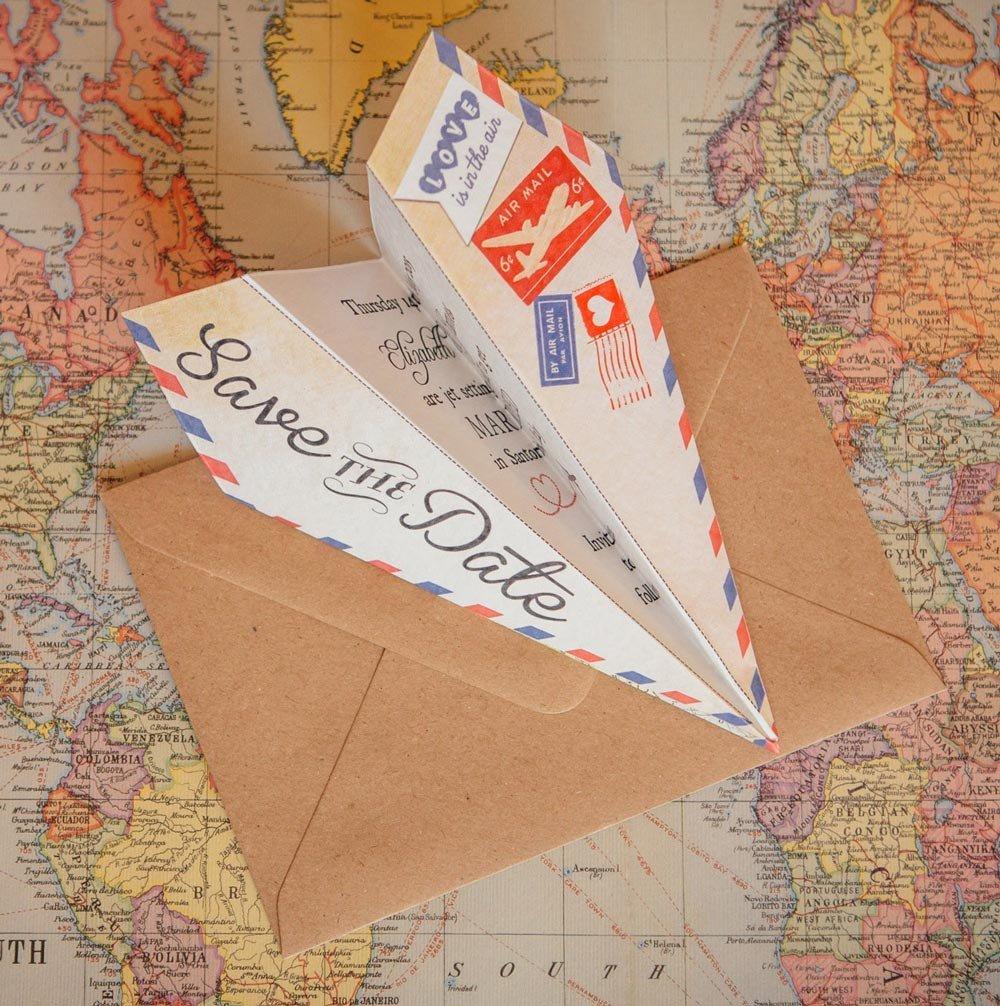 This creative save the date idea will give your guests hours of fun and will ensure they remember your wedding date over any others they have to attend that year – how could you possibly forget a save the date idea as cool as this!
30. Save the Date Confetti – £6.25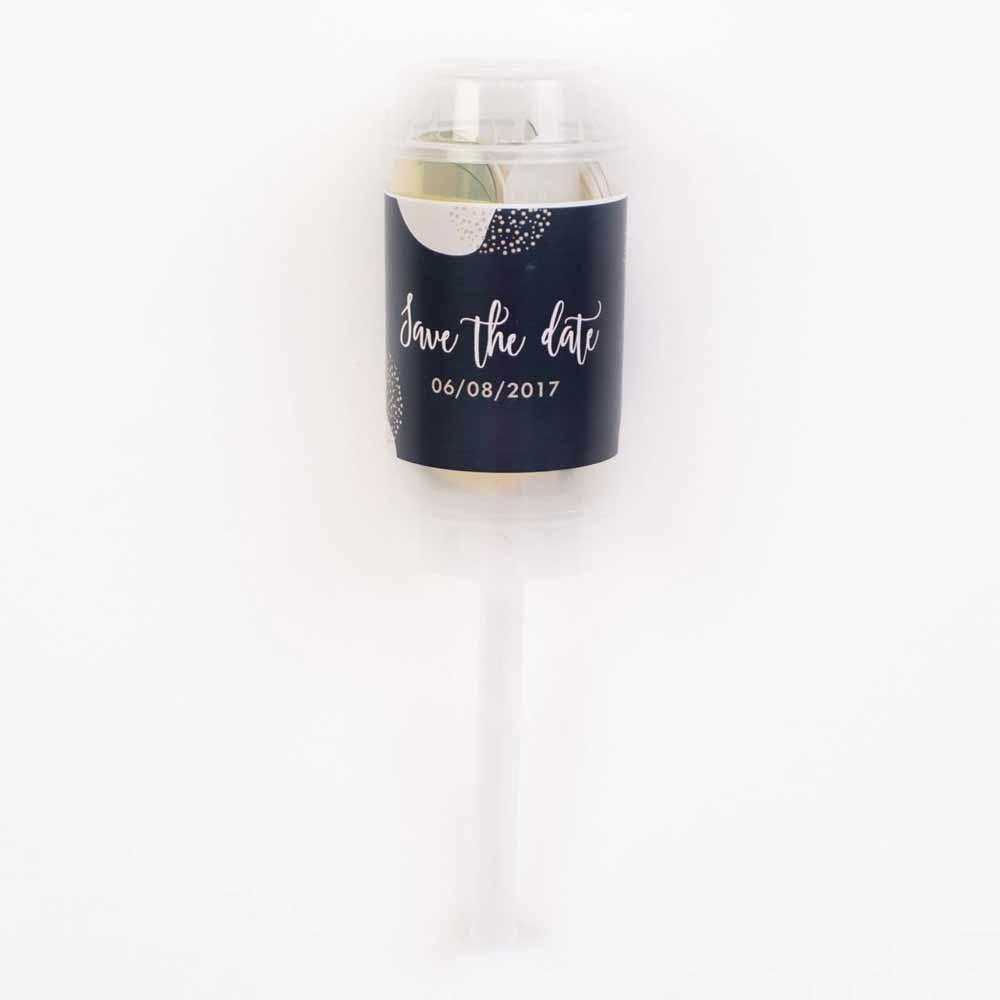 Confetti is something that plays a huge part at weddings so why not send your guests these amazing confetti poppers as save the dates? They're fun, pretty and totally worth the mess.
31. Save the Date Petal Confetti Card – £10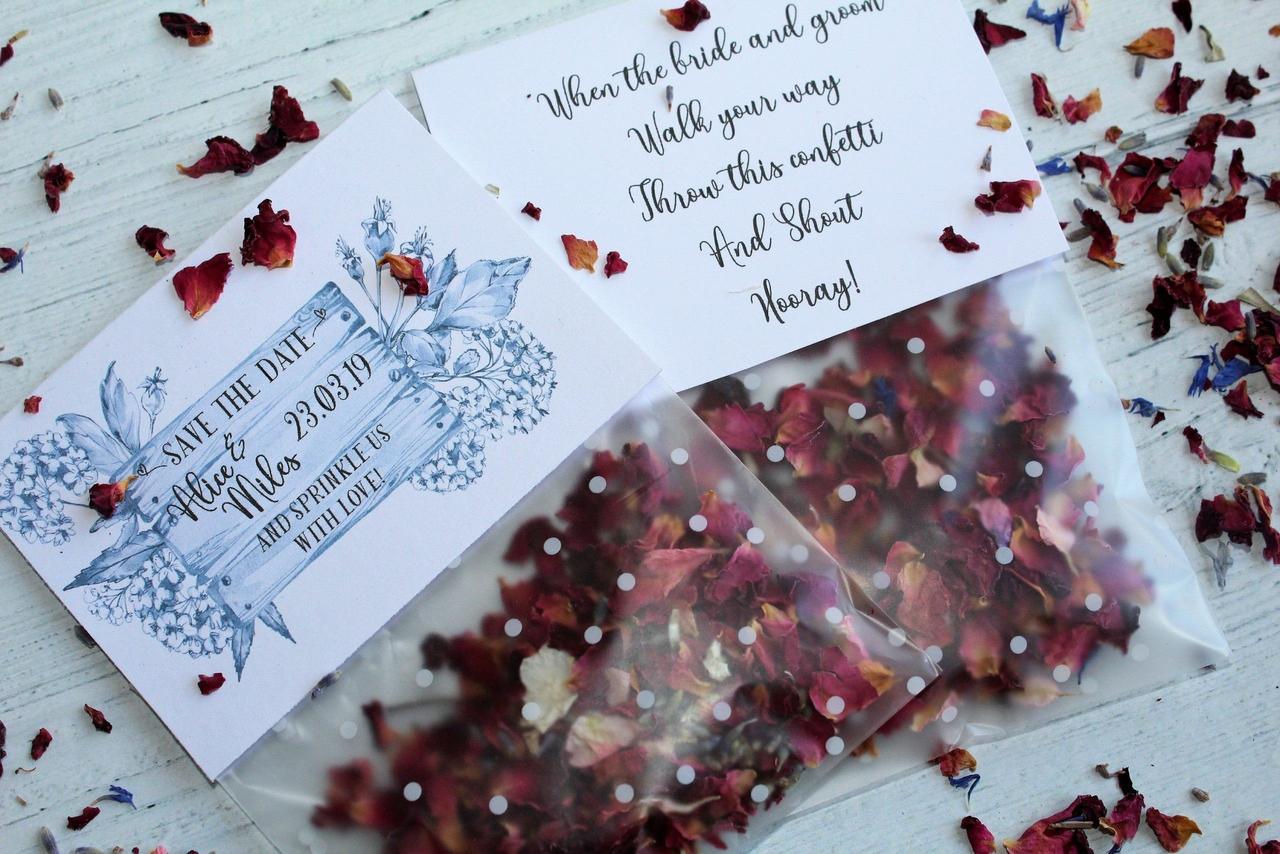 Want all the fun with less mess? These petal confetti cards are a great save the date idea and make the perfect gift for your guests to bring along to the wedding with them (and it saves you buying two lots of confetti!).
32. Save the Date Record – £80 for 40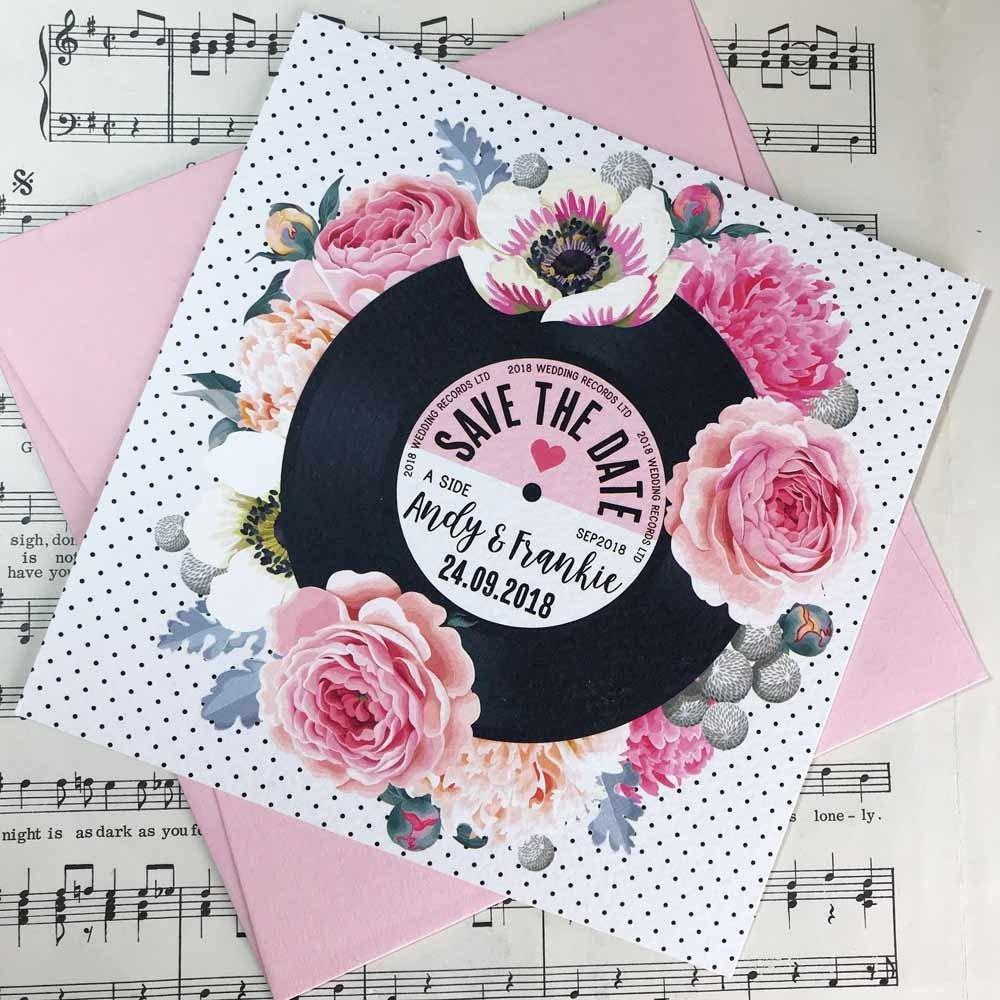 Couples who love music should definitely consider these funky record-themed save the date cards. What better way to show your love of music than this?
33. Save the Date Tattoos – £9.59 for 5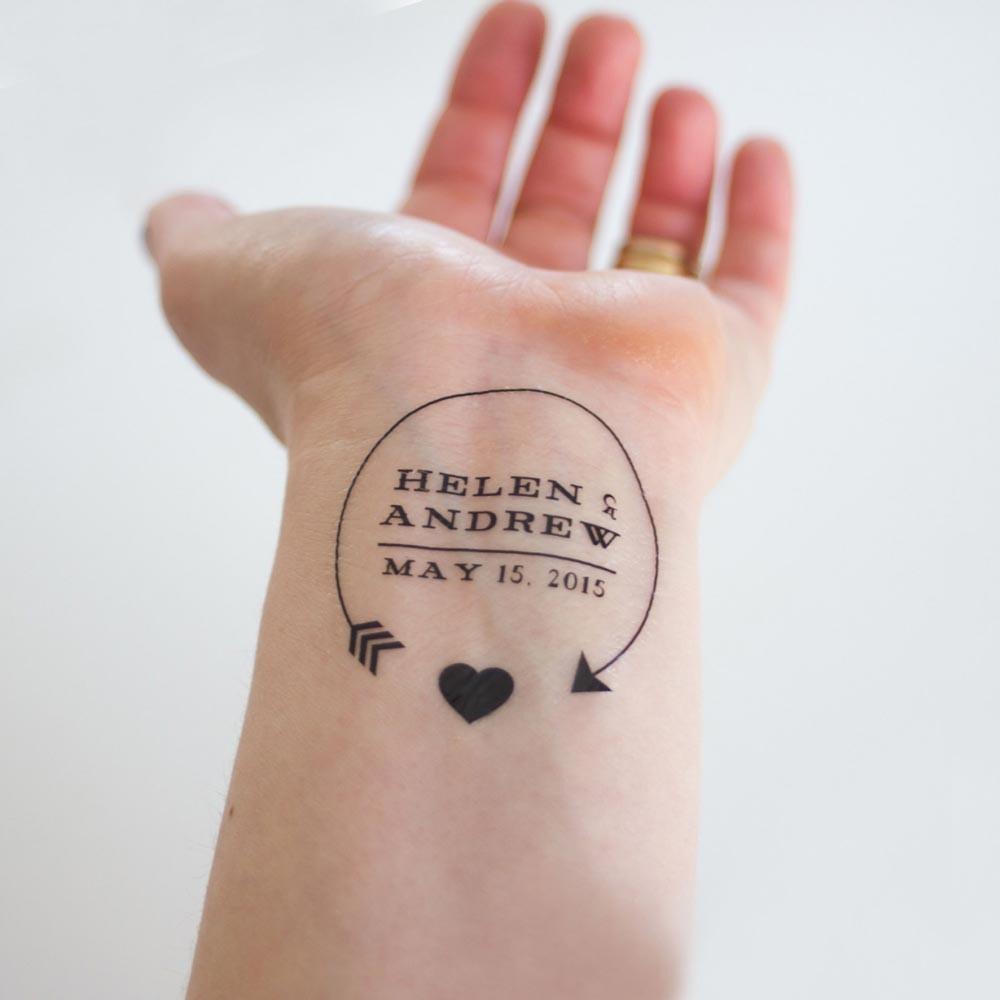 We're definitely not endorsing actual wedding date tattoos, but a temporary tattoo is an amazing way for guests to remember your wedding date – and it's fun too!
34. Save the Date Keyring – £16.99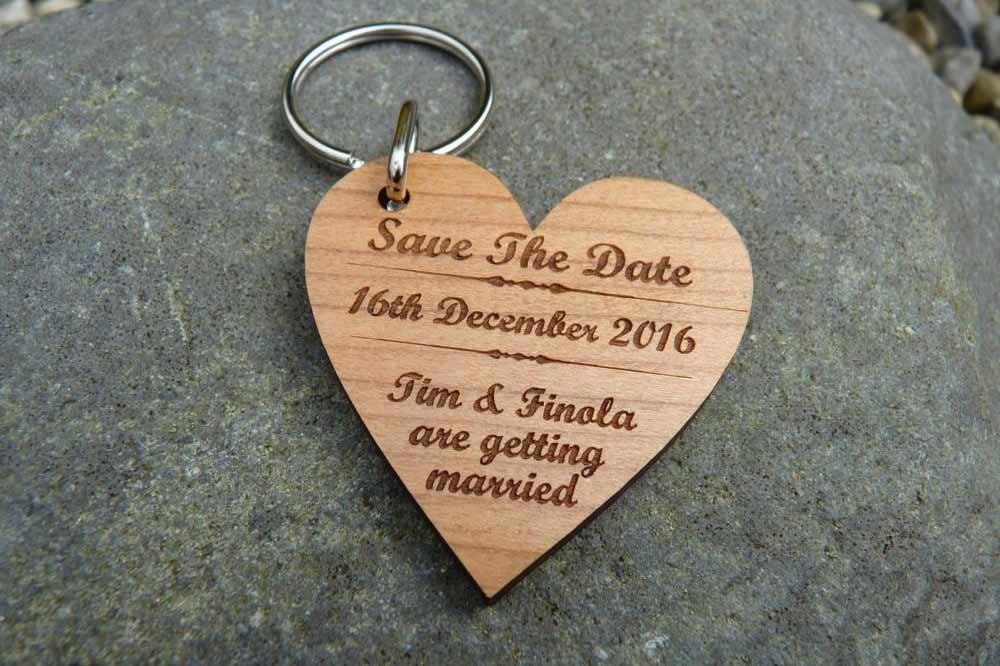 Giving your guests a key ring as a save the date will ensure they never forget when your wedding is taking place. Every time they unlock their car or open their front door they'll be reminded of your big day.
35. Save the Date Chocolate Bar – From £7.99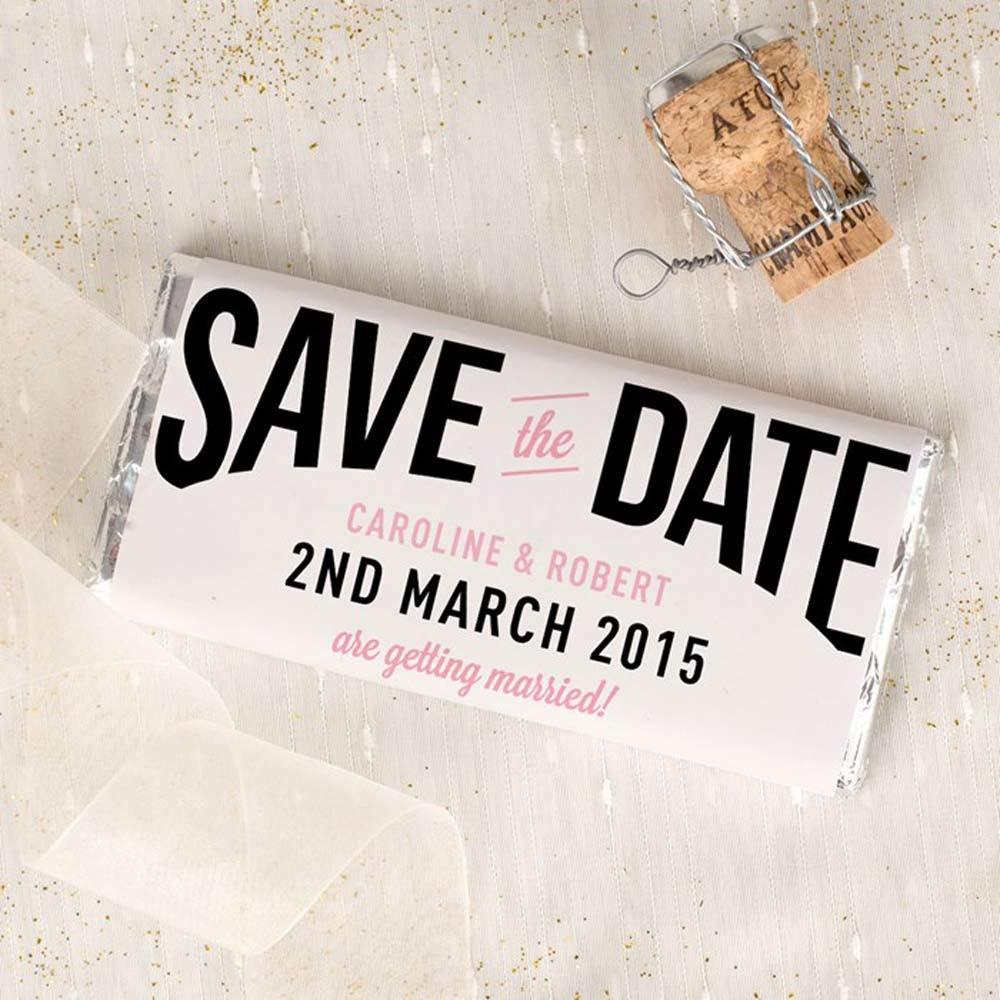 We have no doubt in our mind that each and every one of your wedding guests will enjoy opening this save the date card. A chocolate bar will win the hearts of everyone and will have your friends and family itching for the day to arrive.
36. Save the Date Constellation Coaster – £1.60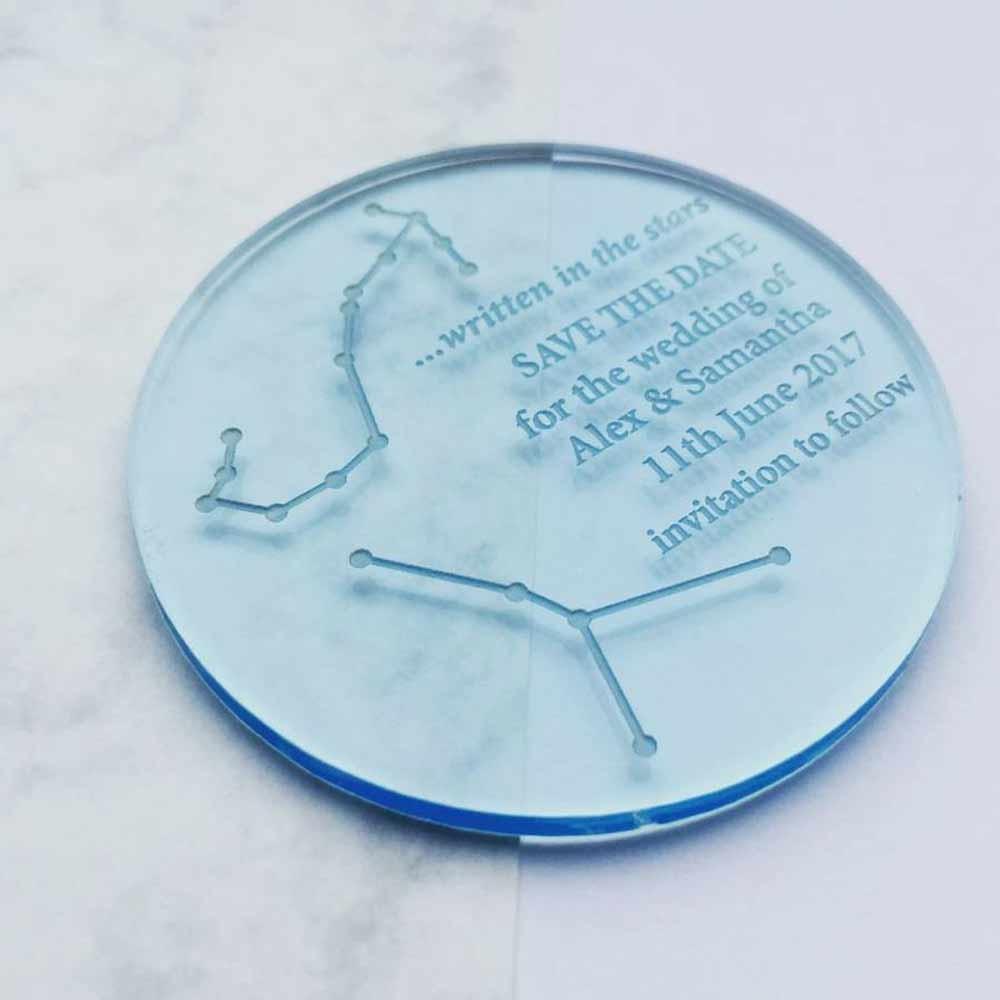 If you're a romantic couple and want that to be reflected in your wedding stationery, consider sending this constellation Perspex dish as your save the date.
37. Save the Date Calendar Card – £1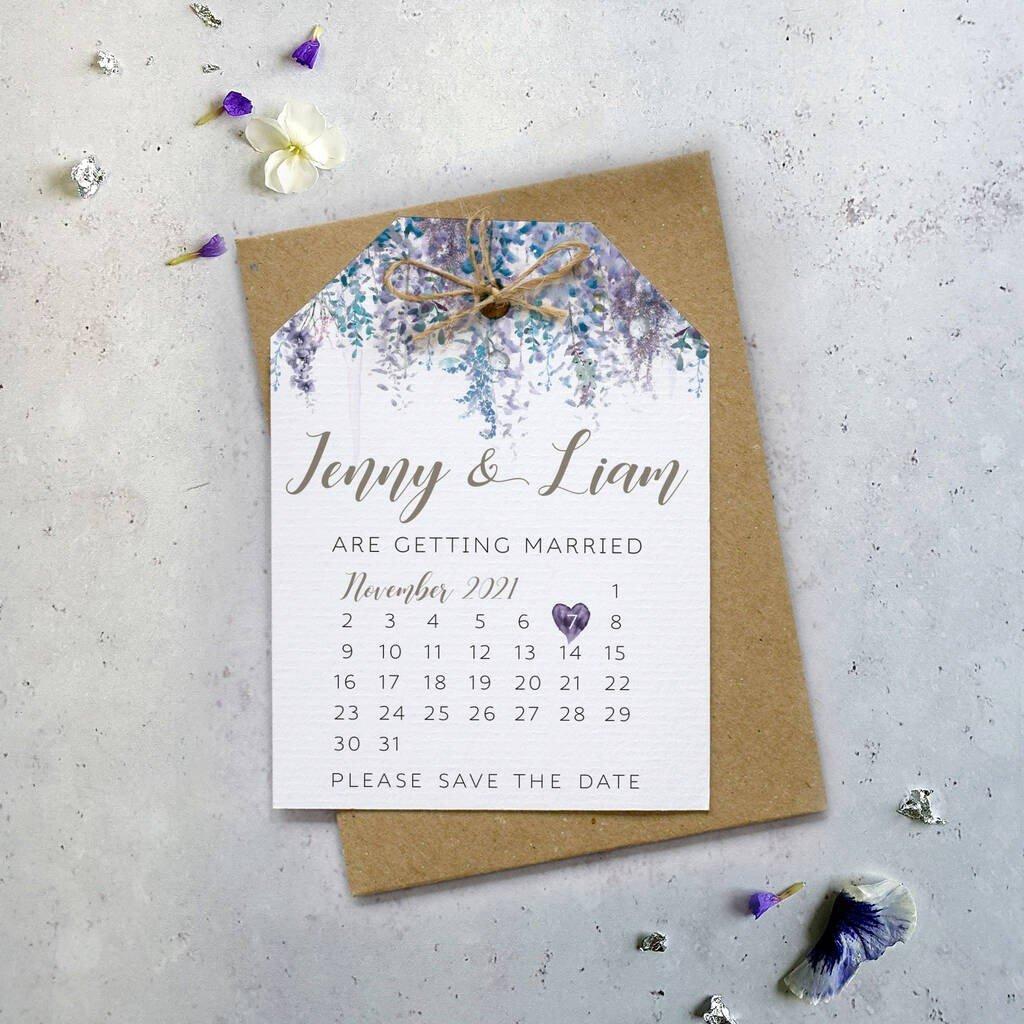 Your wedding guests won't fail to remember your wedding date with this pretty save the date card – it's literally set out like a calendar.
38. Save the Dave Pencil Card – From 99p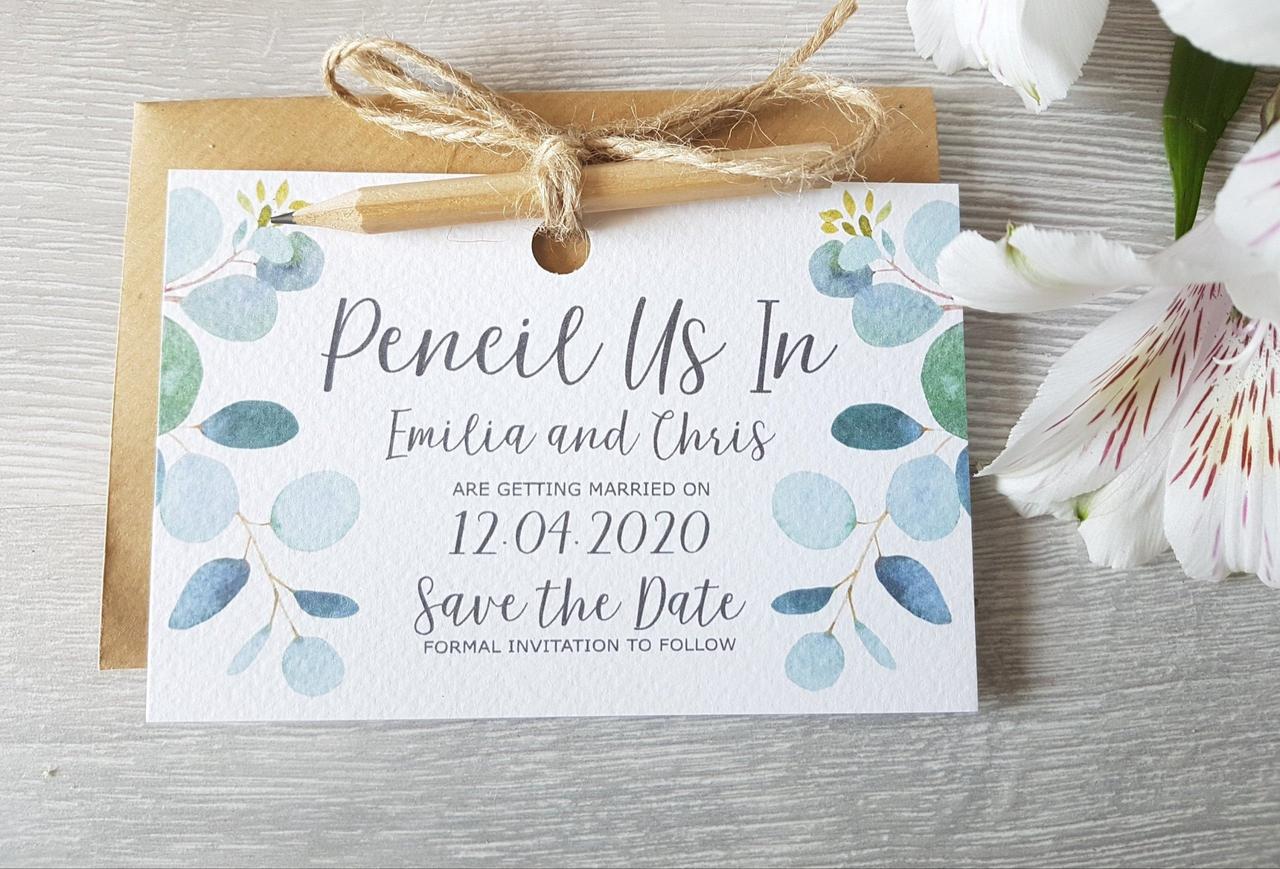 We love the pun on this original save the date card. It's definitely a memorable save the date idea and will have your guests giggling when they receive it.
39. Save the Date Coaster – £3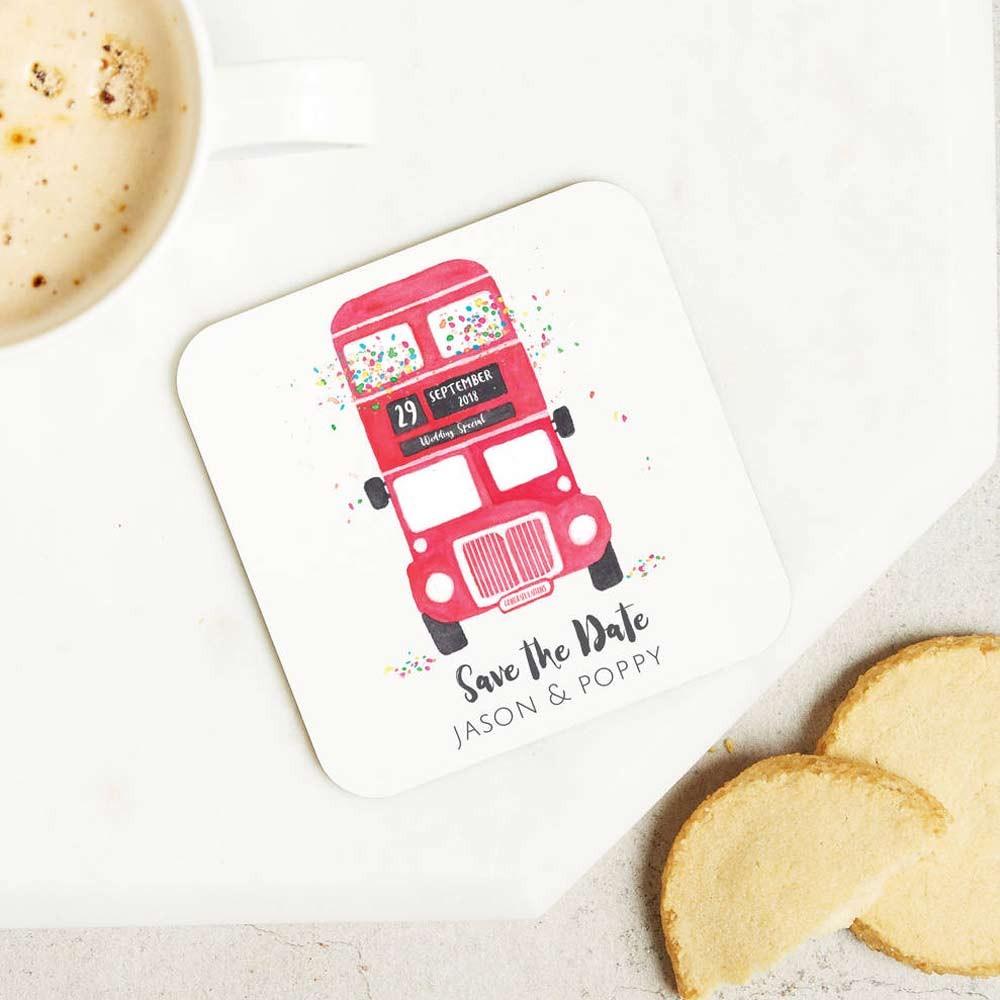 This cool London-themed coaster is the perfect save the date idea if you're looking for an alternative to a card. Couples getting married in a London wedding venue will find no better fit for their save the dates – we guarantee it!
40. Save the Date Fingerprint Card – £1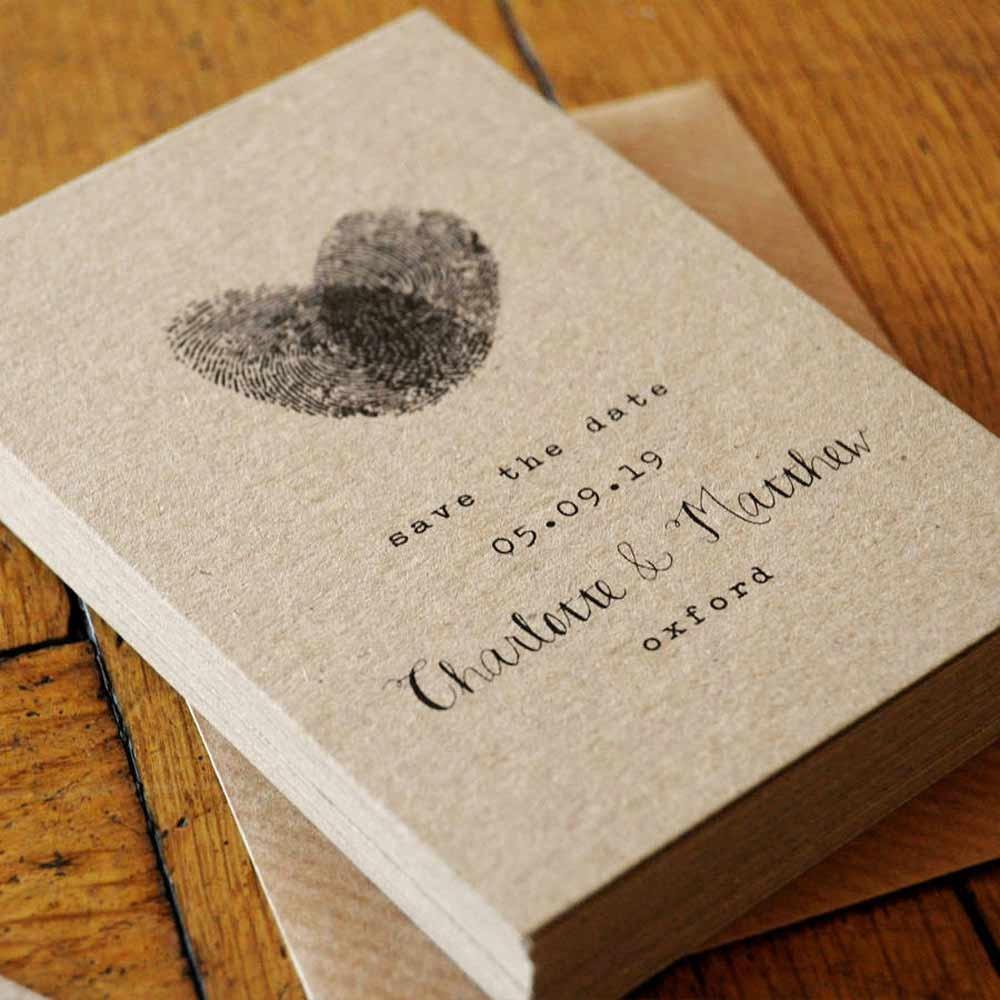 There's nothing more personal than a couple could have on their save the date cards than their fingerprints and this adorable design , which entwines both your fingerprints, to make it into a heart, allows you to do just that. It's such a gorgeous idea and looks beautiful, too.
Now you have your save the date cards sorted, it's time to browse wedding invitations!