Bridesmaids: they're some of the most important people in your wedding. They're also perhaps the most hardworking, taking on extra jobs and ensuring everything goes swimmingly for you on your special day. So it goes without saying that picking them up a little something to say thank you is a lovely gesture.
The problem is there are so many wonderful little gifts out there, it can be tough to hone in on just one. There are plenty of presents you can pick up that may help with their planning for your special day, such as organisers, as well as on-the-day personalised takeaways and keepsakes like engraved hangers and dressing gowns. Then there are bridesmaid gift ideas to give them after your wedding, to really show your besties how much you appreciated everything they did for you.
Whatever avenue you decide to go down, there are lots of lovely bridesmaid gifts out there to work for all budgets. We've selected the very best bridesmaids gifts and maid of honour gifts and divided them into the following categories: under £15, under £25, under £50, under £80, under £100, and under £150.
Keep scrolling to pick out the gift you know your special squad will appreciate.
NB: We have included third party products to help you navigate and enjoy life's biggest moments. Purchases made through links on this page may earn us a commission.
Bridesmaid Gifts Under £15
1. A5 Faux Leather Gold Bridesmaid Planner – £10.99, Amazon
There's nothing better than getting a notebook for the bridesmaid who loves to plan. It also drops a subtle hint to those who need to be a bit more organised! This lovely book is something they can hold onto for years after their special role.
2. Bridesmaid Tote Bag – £7, Hitched Shop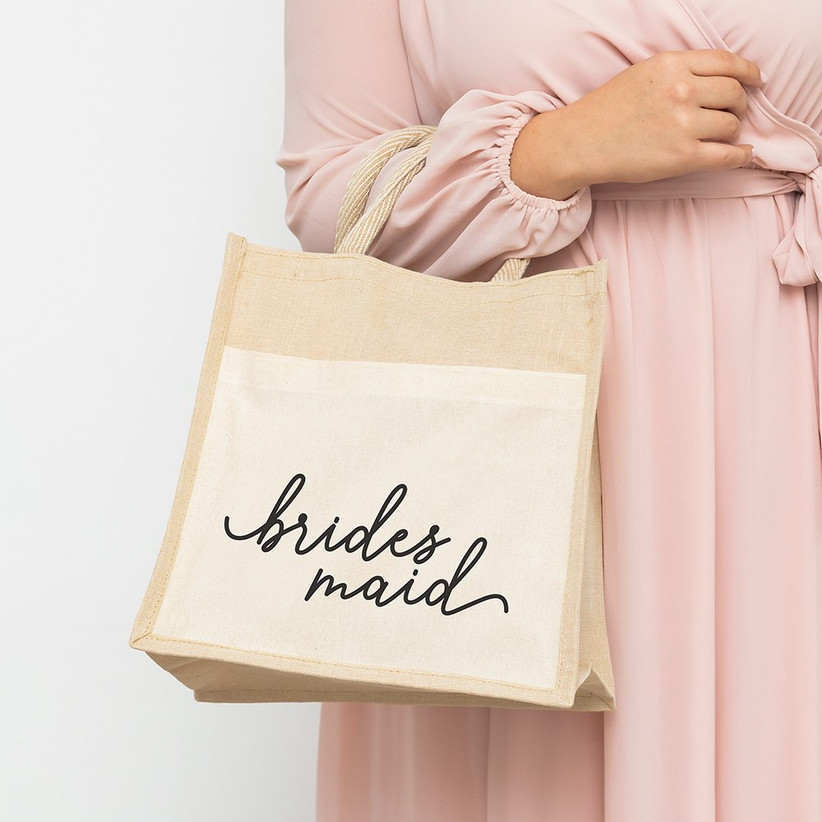 Fill this cute bridesmaid tote bag with goodies and give them to your pals the morning of or the night before your wedding day. At only £7 each they're a great choice if you're having lots of bridesmaids.
3. Pink Bridesmaid Badge – £3.49, Amazon
If picking up bridesmaids presents isn't really in your budget but you want to show your appreciation for your special crew, these badges will do the trick and act as a small token they can remember the day by.
4. Bridesmaid Socks – £8, Hitched Shop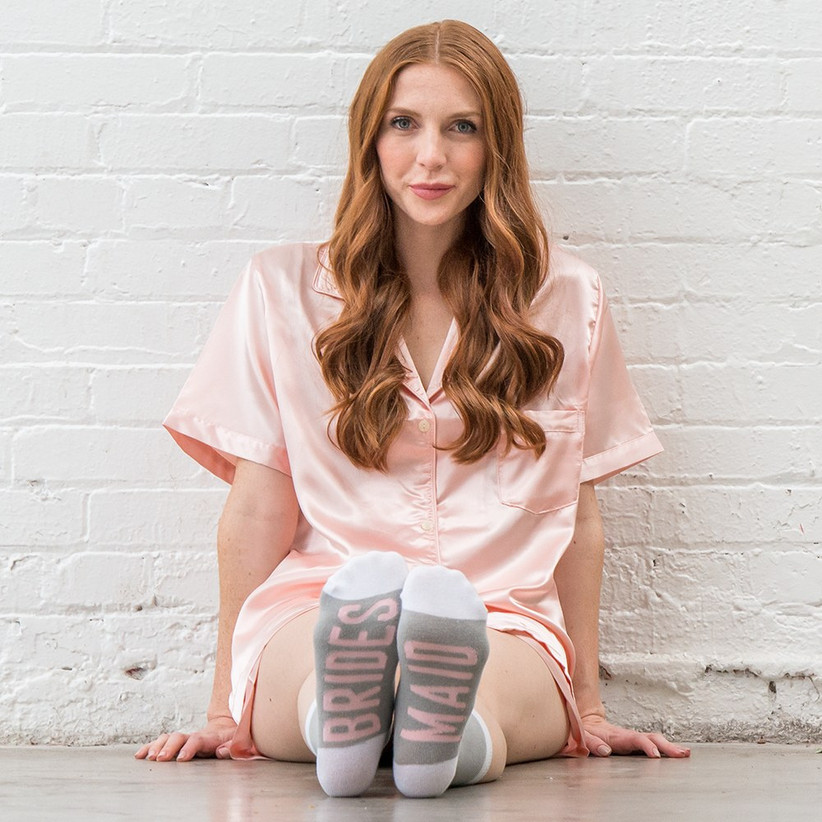 How adorable are these bridesmaid socks? Your bridesmaids can wear them to the hen party or when they're getting ready on the big day. There are even matching socks available that have bride and maid of honour written on the bottoms too.
5. Twisted Bar Fan & Gem Detail Stud Earrings – £15, Oliver Bonas
6. Satin Bridesmaid Sleep Mask – £7, Hitched Shop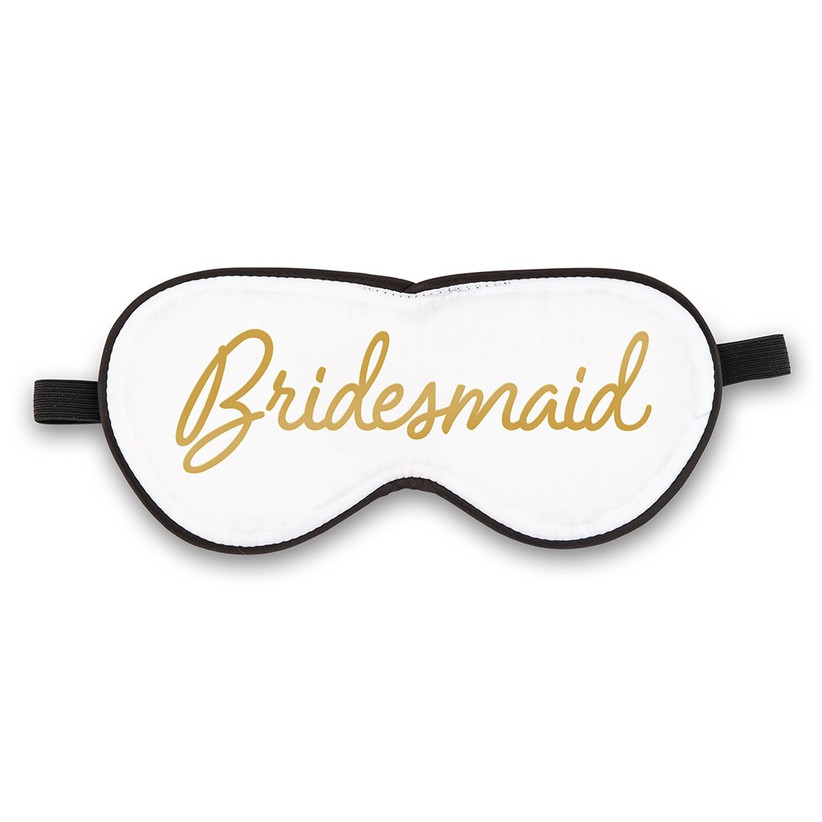 Having a slumber party with your besties the night before the big day? You're going to need these sleep masks if anyone wants to get a wink of sleep!
7. Scented Candle in Glass Holder – £12.99, H&M Home
Who says scented candles need to be super pricey? Certainly not us! We're in love with the purse-friendly range from H&M Home and this stylish Sandalwood candle is our top pick for your best girl!
8. Thank You For Being My Bridesmaid Keyring – £12, Twenty-Seven
This gorgeous little engraved keyring can be personalised with each of your bridesmaids' names, and comes in either silver, rose gold, or gunmetal. It's the perfect keepsake that your pals will see every day!
9. Maid of Honour Waffle Spa Slipper – £15, Hitched Shop
Your maid of honour will really appreciate these soft spa slippers from the Hitched Shop if they're wearing high shoes on your wedding day!
Bridesmaid Gifts Under £25
10. Engraved Bridesmaid Compact Mirror – £22, Hitched Shop
We think a compact mirror is a bridal and bridesmaid clutch essential. Treat them to this stylish rose gold mirror from the Hitched Shop and they'll be able to do on-the-go touch-ups!
11. 'I Couldn't Tie The Knot Without You' Bridesmaid Bangle – £20, Junk Jewels
Available in rose gold, yellow gold or silver, Junk Jewels' knotted bangle is one of the most sophisticated, classy and sweet presents out there for under £25. Every bracelet comes attached to a white organza ribbon and is enclosed in a white luxury matchbox style gift box.
12. 'Spa Day in a Box' Gift Set for Her – £19.95, Amazon
Featuring a bottle of rose sparkling wine, rose salt scrub and pomegranate heart sweets, this 'spa day in a box' is the ultimate treat to say thank you to your bridesmaids for doing such a solid job. And at under £20, it's a total bargain.
13. Wooden Personalised Bridesmaid Hanger – £16, Sophia Victoria Joy
A classic favourite for bridesmaids, these hangers add a touch of class and personality to your big day. Made from pine wood and specially engraved, they can be kept forever.
14. Personalised Bridal Party Hip Flask – £25, Hitched Shop
A cheeky take on personalised bridal party gifts, these hip flasks are playful and great fun. They're made from stainless steel, and can be personalised with your chosen name. Bottoms up!
15. Personalised Bridesmaid Keepsake Box – £24.50, Kate Charlton Ceramics
Not only is the outside of these boxes super cute, the inside is even more adorable as you're able to have your very own message to each bridesmaid engraved within. Your bridesmaids can keep their jewellery or other personal belongings in here and think of you every time they open the box.
16. Box of Poems – £20, The School Of Life
For literary fans, this cute little box of joy from The School Of Life is a perfect alternative present. Quirky and cute, these poems are full of tongue in cheek musings.
17. Personalised Bridesmaid Make Up Case – £17, Hitched Shop
Your pals are going to need somewhere to store all of their on-the-day makeup essentials, right? Where better than this gorgeous personalised case from Tillyanna at Not on the High Street? We love the stylish gold lettering!
Bridesmaid Gifts Under £50
18. Sabaka Arrangement – £48, Shida Preserved Flowers
Preserved real flowers are a fantastic alternative to fresh blooms, especially if (like us!) your bridesmaid struggles to keep plants alive! Not only are they low maintenance, they also last forever, serving as a constant reminder of your celebrations. Pampas grass is seriously in right now and so we'd plump for this arrangement from Shida Preserved Flowers.
19. Loving Candle – £50, Bella Freud
Can't think of anything you'd really like to get them? A candle is the perfect answer. Show them how much you love them with this sandalwood and tuberose offering from Bella Freud.
20. Butterfly Bridesmaid Hair Comb – £45, t
How gorgeous is this beautiful hair comb , which can be worn on your special day by your bridesmaids? Emblazoned with flowers, foliage and butterflies, this would look stunning as the finishing piece in a stylish updo.
21. Sipsmith Strawberry Smash Gin – £30, Liberty London
Perfect for the adventurous group of bridesmaids, this lovely liqueur is a super special gift – particularly considering it's from Liberty London. Gift this during your hen do for some extra boozy fun!
22. Oil Bath for the Senses – £50, Susanne Kaufmann
A bath oil always makes a lovely gift, and the ones by Susanne Kaufmann are the most decadent and luxurious out there. The 'Oil Bath for the Senses' version is a delightful blend of ylang ylang, patchouli and lavender. Perfect for post-wedding soaks for your hardworking team of bridesmaids.
23. Personalised Bridesmaid Dressing Gown – £40, Hitched Shop
Along with bridal hangers, bridesmaid robes are another classic choice for gift ideas. They also make for brilliant wedding day photographs. This one features a gorgeous luxury fabric, flowers, ¾ length sleeves and a tie belt.
24. Personalised Sophia Tassel Cross Body Bag – from £39.99, Katie Loxton
A personalised bag is a super chic option for your bride squad, and this vegan leather design features top zip fastening and is a beautiful mint green shade. It's sizeable enough to fit in all your necessities, but won't be weighing you down.
25. Personalised Swarovski Crystal Necklace – £30, Hitched Shop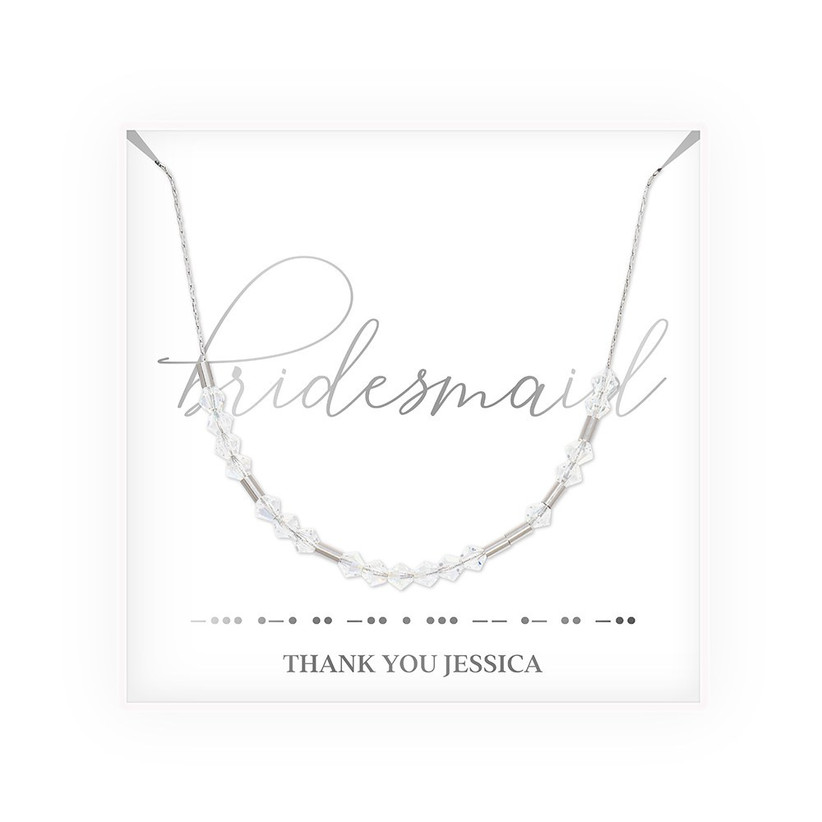 You can have this gorgeous crystal necklace from the Hitched Shop packaged with your bridesmaid's names, making it a gift that's as personal as it is beautiful.
26. The Mothership Gift Set – £29, Bloom & Blossom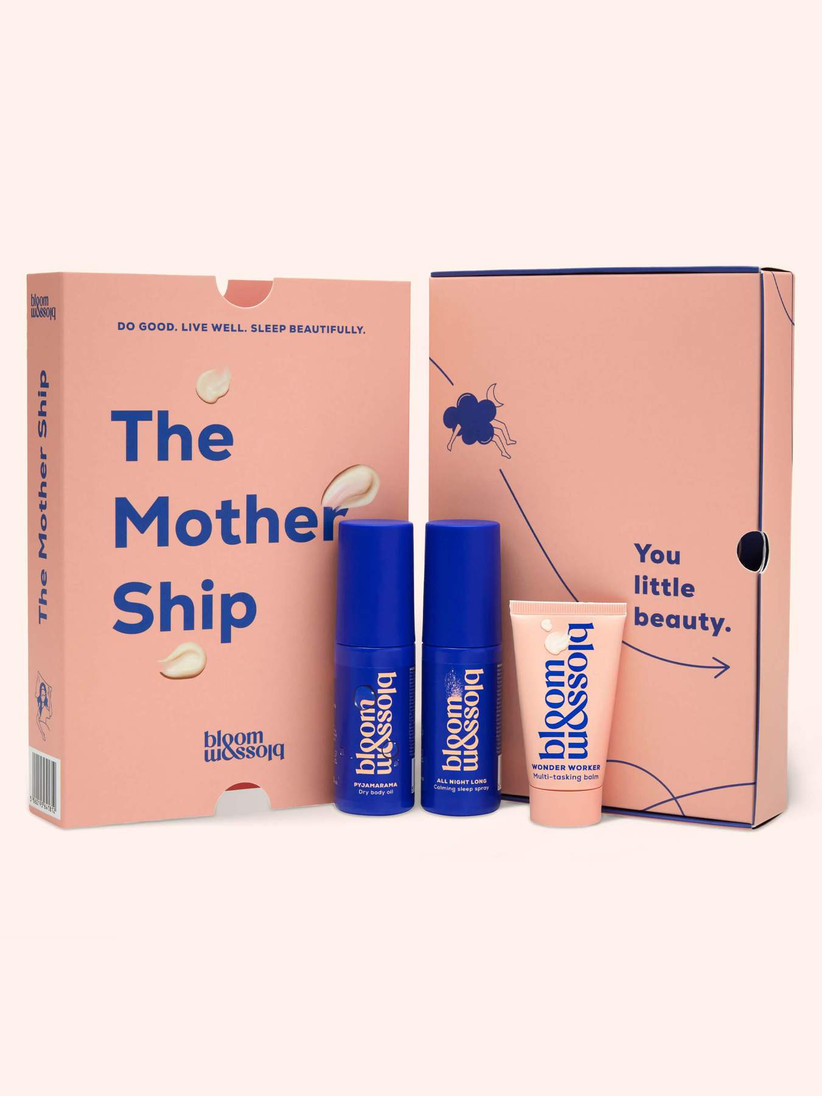 Bloom & Blossom's Mothership gift set includes a multi-tasking balm, a dry body oil and a calming sleep spray - everything your bridesmaid will need in order to pamper before the big day. The packaging is so cool you won't even have to wrap it.
27. Bridesmaid Photo Frame – £69, Dust and Things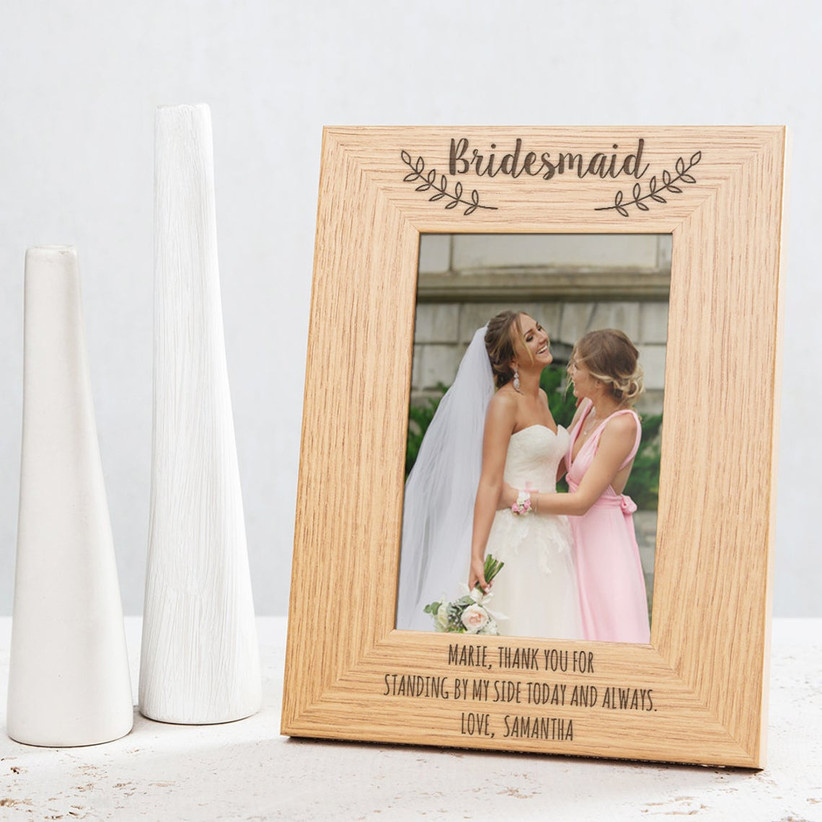 We love the idea of giving your bridesmaids this gorgeous engraved photo frame as a thank you for all their help. We're sure you'll have plenty of beautiful snapshots from the wedding that you can use.
Bridesmaid Gifts Under £80
28. Personalised Open Leaf Bangle – £69, Merci Maman
We love this delicate 18K gold plated leaf design from Merci Maman at Not on the High Street. Not only will it look gorgeous with her dress, but you can also personalise it with your own message - the perfect keepsake!
29. Moet & Chandon Imperial Rosé and Personalised Tin– £58.99, Selfridges
What could be better than champagne? Pink champagne in a personalised keepsake tin of course! We reckon any bridesmaid would be very happy indeed with this bottle of Moet & Chandon.
Bridesmaid Gifts Under £100
30. £100 Gift Coin – Liberty London
Really can't make your mind up when it comes to the perfect present? Settle on a gift coin to one of the classiest retailers in the whole of the UK and let your bridesmaid pick their own treat.
31. Pure Silk Pillowcase – £85, Slip
A pure silk pillowcase is the ultimate luxury, and makes a great gift for a special friend. This one by Slip comes in a huge range of colours, from silver to pink, navy to a range of special prints.
32. Tiny Heart Diamond Stud Earrings – £99, Claudette Worters
What's more special than diamonds? Pick up these cute little studs for your top tier team.
33. Tom Ford Black Orchid Eau De Parfum – £98, Selfridges
This iconic Tom Ford scent makes a great gift idea for brides willing to splurge. The intoxicating fragrance is perfect the big day and beyond!
Bridesmaid Gifts Under £150
34. Pineapple Print Pyjama Set – £150, Desmond & Dempsey
For those who enjoy a cosy evening in, a pair of comfy pyjamas is the ultimate gift. These Desmond & Dempsey ones are super high quality, and you have them personalised with your bridesmaids' initials.
35. Peony & Blush Suede Deluxe Candle – £125, Jo Malone London
Jo Malone candles are a beautiful gift for any occasion, but we think this Peony & Blush Suede scent is the perfect way to say 'thank you' to your bestie.
Now that you've found the perfect pressies for your bridesmaids, make sure you have a gift for the best man sorted too!