30 Best Bridesmaid Gifts to Show Your Besties You Love Them
Your bridesmaids are some of the most hardworking and important members of your wedding, so thank them with one of these sweet gifts. We have bridesmaid gift ideas to suit all budgets from just £2.99!
We have included third party products to help you navigate and enjoy life's biggest moments. Purchases made through links on this page may earn us a commission.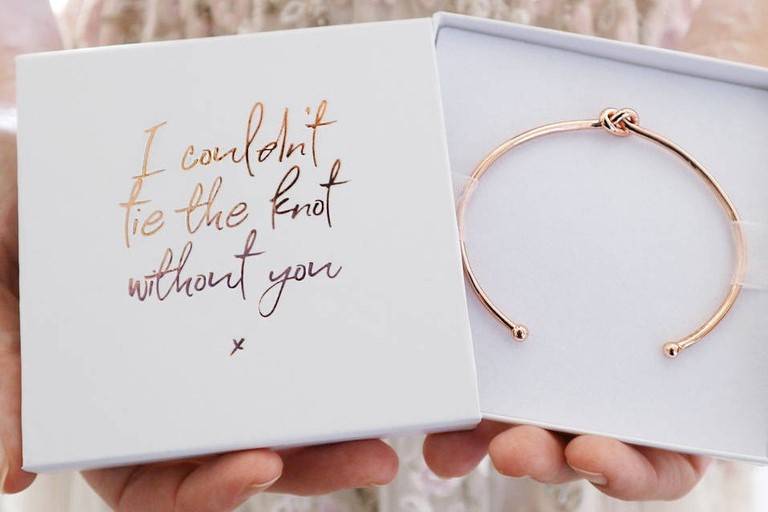 Bridesmaids: they're some of the most important people at your wedding. They're also perhaps the most hardworking, taking on their bridesmaid duties and ensuring everything goes swimmingly for you on your special day. So it goes without saying that choosing bridesmaid gift ideas to say thank you to them is a lovely gesture.
The problem is there are so many wonderful little gifts out there, it can be tough to hone in on just one. There are plenty of bridesmaid present ideas you can pick up that may help with their planning for your special day, such as organisers, as well as on-the-day personalised takeaways and keepsakes like engraved wedding hangers and bridesmaid dressing gowns. Then there are bridesmaids gift ideas to give them after your wedding, to really show your besties how much you appreciated everything they did for you.
Martha Keith, gifting expert and founder of Martha Brook agrees saying: "It's a lovely idea to get your bridesmaid a gift to thank them for all they've done. Whether they've helped with the prep of your special day, given you one hell of a hen do or have simply been on the other end of the phone listening to a rant because people have RSVP'd late, it's a nice gesture to thank them for playing a part in your big day or as a way to ask them to be a part of it!"
Whatever avenue you decide to go down, there are lots of lovely ideas for bridesmaid gifts out there to work for all budgets. We've selected the very best gifts for bridesmaids and maid of honour gifts and divided them into the following categories: under £25, under £50, under £75, and £75 or over.
If you're in a hurry, here are the top three most popular bridesmaid gifts in this edit:
Keep scrolling to pick out the gift you know your special squad will appreciate and browse wedding thank you gifts for parents here if you're on a gifting spree!
Bridesmaid Gifts Under £25
On the hunt for cheap bridesmaid gift ideas? The picks below are perfect as they are affordable yet still super stylish. If you are having or had quite a few bridesmaids and want to treat them while sticking to a budget of under £25, this is where to look.
1. Personalised Bridesmaid Notebook – £14.95, Martha Brook
Martha Brook specialise in making paper goods and gifts that are personalised and thoughtful, so they really do the work for you!
"My top pick would be our beautiful personalised bridesmaid notebook that you can customise with a colour to match each bridesmaid and their name. You can even make it extra special by upgrading this to a personalised luxury 'will you be my bridesmaid?' gift box which includes a personalised notebook, beautiful card, trinket dish and pen! It's a lovely gift they will use time and time again and will remember the wedding by," says Martha.
Discover more ways to ask 'will you be my bridesmaid?' here.
Delivery Time: £2.75 for next day delivery
Pros & Cons: You can choose to have the pages lined or blank, plus opt for silver, gold or rose gold text. The notebook contains 70 pages meaning it is lightweight enough to carry in your bag.
2. A5 Faux Leather Gold Bridesmaid Planner – £9.99, Amazon
There's nothing better than getting a notebook for the bridesmaid who loves to plan so we couldn't resist including another one in our edit. It also drops a subtle hint to those who need to be a bit more organised! This lovely book is something they can hold onto for years after their special role.
It is available in blush pink, gold or white and has a handy ribbon page marker and elastic closure band to keep everything safe. This planner also features useful hints and checklists, plus four tabbed sections for planning, hen party, the big day and general notes.
Delivery Time: Free next day delivery
Pros & Cons: There is a pen loop so they can always have something to write with to hand, however a pen isn't included with the planner. You can find a wedding planner book version here.
3. Bridesmaid Tote Bag – £14, Hitched Shop
Fill this cute bridesmaid tote bag with goodies and give them to your pals the morning of or the night before your wedding day. They come with several different personalisation options, including maid of honour, best day ever and even a matching one for a bride.
One reviewer said they used their bridesmaids used these bags to take shoes and jewellery to the wedding venue - what an adorable idea!
Delivery Time: £4.99 for five day delivery
Pros & Cons: It features a protective layer inside for easy cleaning, so you won't have to worry about anything leaking. It also has a sturdy exterior, while still being able to be flattened and transported. It's also a great shout for a hen party bag too.
4. Pink Bridesmaid Badge – £3.49, Amazon
If picking up bridesmaids presents isn't really in your budget but you want to show your appreciation for your special crew, these badges will do the trick and act as a small token they can remember the day by. We love how they resemble school badges - ideal if you've known your bridesmaids since back in the day.
Delivery Time: Free three to four day delivery
Pros & Cons: This badge is rated 4.8/5 and has glowing reviews. Many say that they are really good quality with very quick delivery.
5. Bridesmaid Socks – £8, Hitched Shop
How adorable are these bridesmaid socks? Your bridesmaids can wear them to the hen party or when they're getting ready on the big day. There are even matching socks available that have bride and maid of honour written on the bottoms too. They are made from 100% cotton so will feel soft yet still be breathable.
Delivery Time: £4.99 for five day delivery
Sizing: US6-10
Pros & Cons: Wash these on a low heat. The design is only visible on the sole but this makes for a brilliant bridesmaid photo opportunity.
6. Bridesmaid Eye Mask – £14.99, Katie Loxton
Having a slumber party with your besties the night before the big day? You're going to need these sleep masks if anyone wants to get a wink of sleep! They can be personalised with up to three characters in a variety of thread colours.
"Katie Loxton provide affordable luxury which is just what you want when shopping for bridesmaid gifts ideas," says Zoe Burke, Editor of Hitched. "These gorgeous eye-masks can be used post-wedding too."
Delivery Time: £2.95 for three to six days delivery
Pros & Cons: These have a satin-like feel to them which is just like the real thing, without the expensive price tag.
7. Scented Candle in Glass Holder – £12.99, H&M Home
Who says scented candles need to be super pricey? Certainly not us! We're in love with the purse-friendly range from H&M Home and this stylish sandalwood candle is our top pick for your bridesmaids. It isn't specifically labelled with 'bridesmaid' making it perfect for a bridesmate.
It is also available in calming bergamot or a clean cotton scent. One review says that, "it smells lovely even before it is lit," so it will fill the room with fragrance when not in use. Discover more wedding candle ideas here.
Delivery Time: £3.99 for two to four days delivery
Pros & Cons: Although this candle won't last forever, the pretty jar can be re-used.
8. Thank You For Being My Bridesmaid Keyring – £14, Twenty-Seven
This gorgeous little engraved keyring can be personalised with each of your bridesmaids' names, and comes in either silver, rose gold, or gunmetal. The engraving can be done on both sides and it's the perfect keepsake that your pals will see every time they reach for their keys.
You can add a gift box for an additional fee and this will be finished with a white satin ribbon. "This is one of the most popular gifts in our bridesmaid thank you gift edit," says Rima Barakeh, Deputy Editor of Hitched, "and it's easy to see why! It's affordable, pretty, sentimental and easy to carry with you wherever you go. A great little gift."
Delivery Time: Free three day delivery
Pros & Cons: Due to the size of the keyring there is a maximum number of 10 characters on the front and 30 on the reverse.
9. Maid of Honour Waffle Spa Slipper – £17, Hitched Shop
Your maid of honour will really appreciate these soft spa slippers from the Hitched Shop as bridesmaid gifts for the wedding day if they are wearing high shoes. They can slip into them while getting ready and again at your reception when they want to dance the night away.
Available in white or blush pink, the Velcro strap is very convenient when painting toenails and waiting for the polish to dry. These would be the perfect addition for a spa hen party.
Delivery Time: £4.99 for five day delivery
Sizing: S-L
Pros & Cons: The foam sole is incredibly comfortable but the lining is breathable enough to be worn all-year round.
10. Engraved Bridesmaid Compact Mirror – from £20, Hitched Shop
We think a compact mirror is a bride and bridesmaid clutch bag essential. Treat them to this stylish rose gold mirror from the Hitched Shop and they'll be able to do on-the-go touch-ups. There a lots of different designs if you don't want one that says bridesmaid, including custom names, tropical leaves and stripes.
One side of the mirror is standard and the other is magnified.
Delivery Time: £4.99 for five day delivery
Pros & Cons: Engraving on the back is an extra £5.95 and is the perfect place to etch a sentimental message.
11. 'I Couldn't Tie The Knot Without You' Bridesmaid Bangle – £20, Junk Jewels
Available in rose gold, yellow gold or silver, Junk Jewels' knotted bangle is one of the most sophisticated and sweet presents out there for under £25. Every bracelet comes attached to a white organza ribbon and is enclosed in a white luxury matchbox style gift box.
"I adore the play on words this bangle represents," says Rima. "Give this gift to your bridesmaids on the morning of your wedding as a gorgeous piece of bridesmaid jewellery that they can rock on the big day. You can see why it's the most popular bridesmaid gift in this edit."
Delivery Time: £2.75 for eight days delivery
Pros & Cons: The bangle is adjustable in size so will fit everyone and you won't have to check wrist sizes before buying.
12. Wooden Personalised Bridesmaid Hanger – £16, Sophia Victoria Joy
A classic favourite for bridesmaids, these hangers add a touch of personality to your big day. Made from pine wood and specially engraved, they are both pretty and practical, plus can be kept forever. Remember to ask your photographer to snap a photo of the wedding hangers when the bridesmaid outfits are all hung up.
Available in a rustic brown or white wood finish, they come fitted with a bar so can be used to hang suits as well as dresses.
Delivery Time: £3.75 for two day delivery
Pros & Cons: These hangers will help everyone identify which bridesmaid dress is theirs. They'll look cute, especially in your photos, and can help relieve stress on your wedding day.
13. Personalised Bridesmaid Make Up Case – £23, Hitched Shop
Your pals are going to need somewhere to store all of their on-the-day makeup essentials, right? Where better than this gorgeous personalised case? We love the stylish lettering and the fact that you can choose your bridesmaid's favourite colour.
It is crafted from cotton canvas and one customer said, "it has a beautiful design and is made from great material."
Delivery Time: £4.99 for five day delivery
Pros & Cons: This medium sized bag is best suited for makeup rather than large toiletries.
14. Bridesmaid Photo Frame – from £22.99, Etsy
We love the idea of giving your bridesmaids this gorgeous engraved photo frame as a thank you for all their help. We're sure you'll have plenty of beautiful snapshots from the wedding that you can use - whether they be landscape or portrait, the choice is up to you. Find more ways to thank your wedding party here.
Delivery Time: £3.75 for three to four days delivery
Pros & Cons: It is available as a standard, large or extra large frame. The simple wood design means it'll fit into any home interiors.
Bridesmaid Gifts Under £50
For bridesmaids gifts ideas under £50, you'll find that you can get your hands on some gorgeous accessories, interiors and beauty products. These can be used on the wedding day itself, as well as prior and post your special day.
15. Personalised Bridesmaid Keepsake Box – £25.50, Kate Charlton Ceramics
Not only are the outside of these boxes super cute, but the inside is also even more adorable as you're able to have your very own message to each bridesmaid engraved within. Your bridesmaids can keep their jewellery or other personal belongings in here and think of you every time they open the box.
The box comes in a circle or a heart and with four colourway options. They are handmade from clay and glazed meaning the design won't scratch or fade over time.
Delivery Time: Free seven day delivery
Pros & Cons: As they are finished with high temperatures, the colour and tone may vary between boxes.
16. Semi Precious Crystal Cluster Bridesmaid Comb – £40, Silver Sixpence in her Shoe
How gorgeous is this beautiful hair comb, which can be worn on your special day by your bridesmaids? Emblazoned with pretty pink crystals, this would look stunning as the finishing piece in a stylish bridesmaid hairstyle.
If pink doesn't fit your wedding theme, this comb comes in other colourways such as amber and moonstone, or a bespoke choice. You can also add matching earrings for £10.
Delivery Time: Free two week delivery
Pros & Cons: This style is limited edition, so we recommend adding it to your basket as soon as possible. Rose quartz symbolises love and compassion - very fitting for a wedding.
17. Personalised Hip Flask – £35, Hitched Shop
A cheeky take on personalised wedding party gifts, these hip flasks are playful and great fun. They're made from stainless steel and can be customised with your chosen name and your favourite design. There is this lovely tropical leaf style, or more cheeky options such as 'drunk in love'. They hold 90ml of liquid.
Delivery Time: £4.99 for five day delivery
Pros & Cons: As there are so many designs to choose from, you can cater this gift to each bridesmaid's personality. Add her favourite drink to make it even more personalised.
18. Personalised Mini Message Necklace – £49, Posh Totty Designs
Jewellery is always a winner but for something truly timeless and personal we love these handcrafted personalised necklaces by Posh Totty. Choose a heart or ring-shaped design, and handstamp a unique message only your wedding bestie will appreciate.
Available with a 18, 24 or 30" chain, there is also the option of sterling silver, gold or rose gold.
Delivery Time: Free three days delivery
Pros & Cons: The gold plated design is suitable for those with nickel allergies.
19. Susanne Kaufmann Oil Bath for the Senses – £30, Cult Beauty
A bath oil always makes a lovely gift, and the ones by Susanne Kaufmann are the most decadent and luxurious out there. The 'Oil Bath for the Senses' version is a delightful blend of ylang ylang, patchouli and lavender.
"This present is perfect for post-wedding soaks for your hardworking team of bridesmaids," says Joanna Magill, writer at Hitched. "It's a pampering products that they might not typically treat themselves to which always makes the best kind of gift."
Delivery Time: £3.95 for two to three days delivery
Pros & Cons: The 30ml bottle will last them ages as only a small drop is needed per bath: "Such a luxurious feeling bath oil," explains one customer. "A few drops goes a long way and it has a gorgeous long-lasting scent."
20. Personalised Isla Cross Body Bag – £44.99, Katie Loxton
A personalised bag is a super chic option for your wedding squad, and this vegan leather design features top zip fastening and is a beautiful lilac shade. It's sizeable enough to fit in all your necessities, but won't be weighing you down.
It looks way more expensive than under £45 and we guarantee your bridesmaids will be happy when they open this beauty. It can even be personalised with their initials for £4.99.
Delivery Time: Free three to six days delivery
Pros & Cons: Avoid contact with water and wipe using a dry, soft cloth. If lilac isn't their colour, pick from a variety of colours including olive, off-white, blue, tan and coral.
Bridesmaid Gifts Under £75
A budget of under £75 allows you to buy a very special item for your bridesmaids - our edit includes bridesmaid dressing gowns, bridesmaid boxes and bridesmaid jewellery.
21. Luxe Personalised Bridesmaid Box – from £60, Etsy
How luxe does this bridesmaid box from Esty look? Well, the products inside are just as fancy too, featuring a golden bottle of Prosecco, a matching picture frame, candle and a satin robe. Oh, and you can upgrade to have a Mulberry silk sleep mask too.
You can personalise the front of the robe and candle with their names for a special finishing touch and choose from five different candle scents. Wild fig and grape is our fave!
"This is such a gorgeous gift," says Zoe, "and the fact it's all arranged for you means you can just order it and not worry about having to put it all together - after all, you've got enough on your plate with the wedding planning."
Delivery Time: £3.50 for seven days delivery
Sizing: M-L
Pros & Cons: Each candle is vegan and made from natural vegetable wax. The box is lined with gold flecked paper which looks super stylish.
22. Personalised Bridesmaid Dressing Gown – £74, Mini Lunn
Speaking of bridesmaid dressing gowns, this kimono is embroidered with delicate butterflies and is stunning. It is made from 100% silky satin but is still washable so you won't have to worry about getting any stains on it. It is only available in one size and one length but it could easily be altered and the tie waist makes for a comfortable fit.
Delivery Time: Free two days delivery
Sizing: One size
Pros & Cons: As this fabric is dyed, the pink colour may vary between batches.
23. Personalised Birthstone Bracelet – £55, Hurleyburley
This stunning sterling silver bracelet features a personalised heart or disc name tag with a sparkling stone reflecting your bridesmaid's birthday. There are two font choices and free gift wrapping available. The bracelet is made from strong elastic so can fit a variety of wrist sizes.
Delivery Time: Free three days delivery
Pros & Cons: Double-check your bridesmaid's birthday before you buy these to ensure you have the correct birthstone.
Bridesmaid Gifts £75 & Over
If you really want to treat your besties, these bridesmaid gifts that are worth £75 and over will do the job. Featuring the likes of luxury brands such as Jo Malone, Liberty and Tom Ford, these presents are certainly going to be appreciated.
24. Tiny Diamond Letter Bracelet – £79, Claudette Worters
We love this delicate bracelet from Claudette Worters at Not on the High Street. It comes in silver or gold and not only will it look gorgeous with your bridesmaid's outfits, but you can also personalise it with their first initial - the perfect keepsake.
It's an ideal stacking piece that they can easily add into their existing jewellery collection. It has glowing reviews, having been rated a 4.7/5 - it is made from real diamonds after all!
Delivery Time: Free three days delivery
Pros & Cons: This dainty bracelet is delicate so it won't take away from their outfit if they are wearing it on your wedding day. Be careful when taking it on and off so as not to damage the clasp.
25. £100 Gift Coin – Liberty London
Really can't make your mind up when it comes to the perfect present? Settle on a gift coin to one of the classiest retailers in the whole of the UK and let your bridesmaid pick their own treat. This fun present is a playful alternative to a classic voucher and will feel a lot more special. We love the idea of going on a group trip to Liberty so everyone can pick their chosen gift.
Delivery Time: Free three days delivery
Pros & Cons: This gift coin has no expiry date but it is only applicable for in-store purchases so is best suited for those who can easily travel to London.
26. Pure Silk Pillowcase – £85, Slip
A pure silk pillowcase is the ultimate luxury, and makes a great gift for a special friend. This one by Slip comes in a huge range of colours, from silver to pink, navy to a range of special prints. It might not be something that they've heard of before, but silk pillows are great for protecting your skin and hair while you sleep.
We reckon they won't have one of these already and will be seriously impressed as it has over 70 five-star reviews on Cult Beauty. Many say they are waking up without creases on their face and with sleek and shiny hair.
Delivery Time: £3.95 for two to three days delivery
Pros & Cons: This pillowcase remains cool to the touch so is ideal for warmer weather. It's a luxury that is totally worth it.
27. Tiny Heart Diamond Stud Earrings – £99, Claudette Worters
What's more special than diamonds? Pick up these cute little studs for your top tier team and they'll be grinning from ear to ear. They are very dainty and delicate so are easily wearable, whether it is the daytime or evening.
"As these earrings contain real diamonds, they are truly a luxurious gift to give your bridesmaids," says Zoe. "They'll be a special piece of jewellery that everyone will treasure for a lifetime."
Delivery Time: Free three days delivery
Pros & Cons: As these earrings are for pierced ears, check they will be suited to your bridesmaids. If one or two of them don't have their ears pierced, the bracelet above would be a lovely alternative.
28. Tom Ford Black Orchid Eau De Parfum – from £120, Selfridges
This iconic Tom Ford scent makes a great gift idea for those willing to splurge. The intoxicating fragrance is perfect for the big day and beyond - it would also make a great wedding day perfume if you're on the look-out for one. Available in a 50ml or 100ml bottle, the iconic bottle would look super sleek on their bathroom side
Delivery Time: £5 for three to five days delivery
Pros & Cons: If you aren't sure on your bridesmaid's scent preferences, this is described as a heady perfume with notes of blackcurrant, truffle and vanilla.
29. Pineapple Print Pyjama Set – £170, Desmond & Dempsey
For those who enjoy a cosy evening in, a pair of comfy pyjamas is the ultimate gift. These Desmond & Dempsey ones are super high quality made from 100% cotton and you have them personalised with your bridesmaids' initials.
The pineapple print is one of their best-selling designs, but there are tons on the website to choose from - we love the idea of mixing and matching them so everyone has a different set.
Delivery Time: Free three to five days delivery
Sizing: XS-XL
Pros & Cons: They will keep you cool during the night as the fabric is breathable, yet still warm enough thanks to the long trousers and sleeves.
30. Peony & Blush Suede Deluxe Candle – £144, Jo Malone London
Jo Malone candles are a beautiful gift for any occasion, but we think this Peony & Blush Suede scent is the perfect way to say 'thank you' to your bestie. One customer described the scent saying: "The smell itself is so divine, it's warm and floral but delicate at the same time."
If you're having wedding day candles, we say match it to these. You can add an engraving to your jar for £15 which is ideal if you want this present to be extra special. It has a burn time of 90 hours, so although this gift won't last forever, they'll get good use out of it!
Delivery Time: Free three to five days delivery
Pros & Cons: The glass jar is fragile so be mindful of this when travelling.
What is a Good Gift to Buy Your Bridesmaids?
"In my opinion, a good bridesmaid gift is something really personal," explains Martha Keith, founder of Martha Brook.
"The people you've selected to be your bridesmaids are probably family or very close friends that you've known for more of your life than not, so finding something special just for them will make them feel so appreciated. I also think it's a great idea to get something different or personalised for each bridesmaid to show you've really put some thought into it."
When Do You Give Bridesmaids Their Gifts?
When to give your bridesmaids their gifts is completely dependent on preference and what the gift is. If it is something that will help them plan the day, like a notebook, we think it is best to give it to them when you ask 'will you be my bridesmaid?'
If it is an item for them to use on your wedding day, the morning of this special celebration is a lovely time to gift and will make getting ready together even more memorable.
Now that you've found the perfect pressies for your bridesmaids, make sure you have a gift for the best man sorted too!