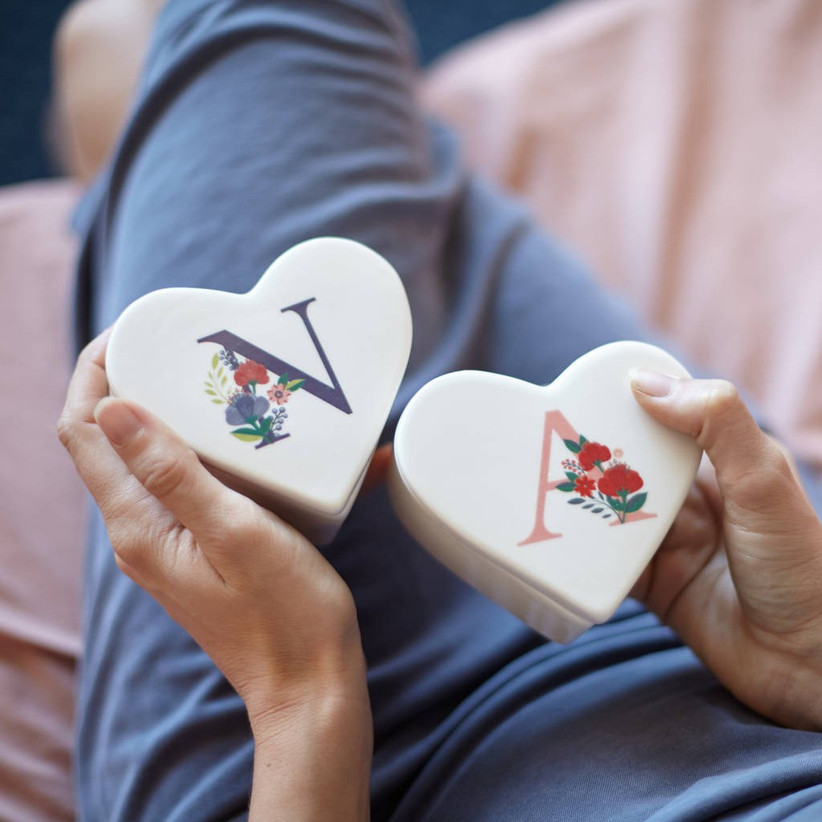 Bridesmaids: they're some of the most important people in your wedding. They're also perhaps the most hardworking, taking on extra jobs and ensuring everything goes swimmingly for you on your special day. So it goes without saying that picking them up a little something to say thank you is a lovely gesture.
The problem is there are so many wonderful little gifts out there, it can be tough to hone in on just one. There are plenty of presents you can pick up that may help with their planning for your special day, such as organisers, as well as on-the-day personalised takeaways and keepsakes like engraved hangers and dressing gowns. Then there are gift ideas to give them after your wedding, to really show your besties how much you appreciated everything they did for you.
Whatever avenue you decide to go down, there are many lovely bridesmaid gifts out there to work for all budgets. We've selected the very best bridesmaids gifts and maid of honour gifts and divided them into the following categories: under £15, under £25, under £50, under £80, under £100, and under £150.
Keep scrolling to pick out the gift you know your special squad will appreciate.
Bridesmaid Gifts Under £15
A5 Faux Leather Gold Bridesmaid Planner – £11.99, Amazon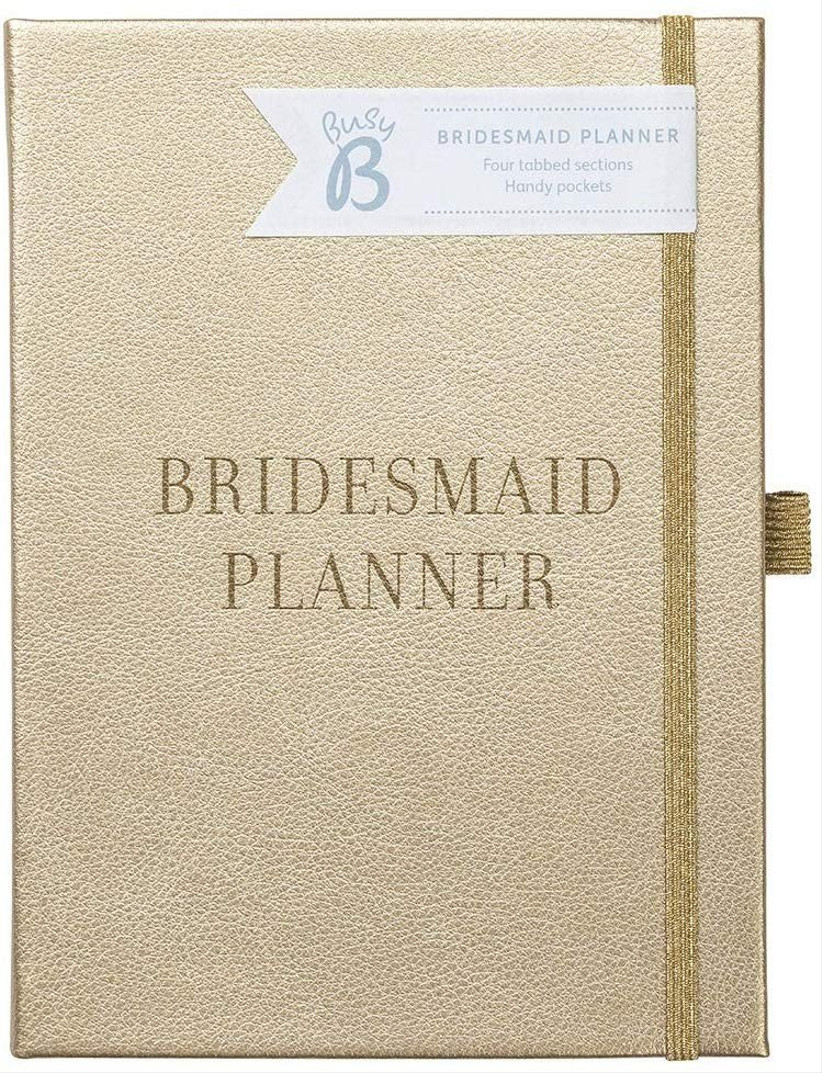 There's nothing better than getting a notebook for the bridesmaid who loves to plan. It also drops a subtle hint to those who need to be a bit more organised! This lovely book is something they can hold onto for years after their special role.
Pink Bridesmaid Badge – £2.99, Amazon
If picking up bridesmaids presents isn't really in your budget but you want to show your appreciation for your special crew, these badges will do the trick and act as a small token they can remember the day by.
'The One Where You're My Bridesmaid' Notebook – £5.99, Amazon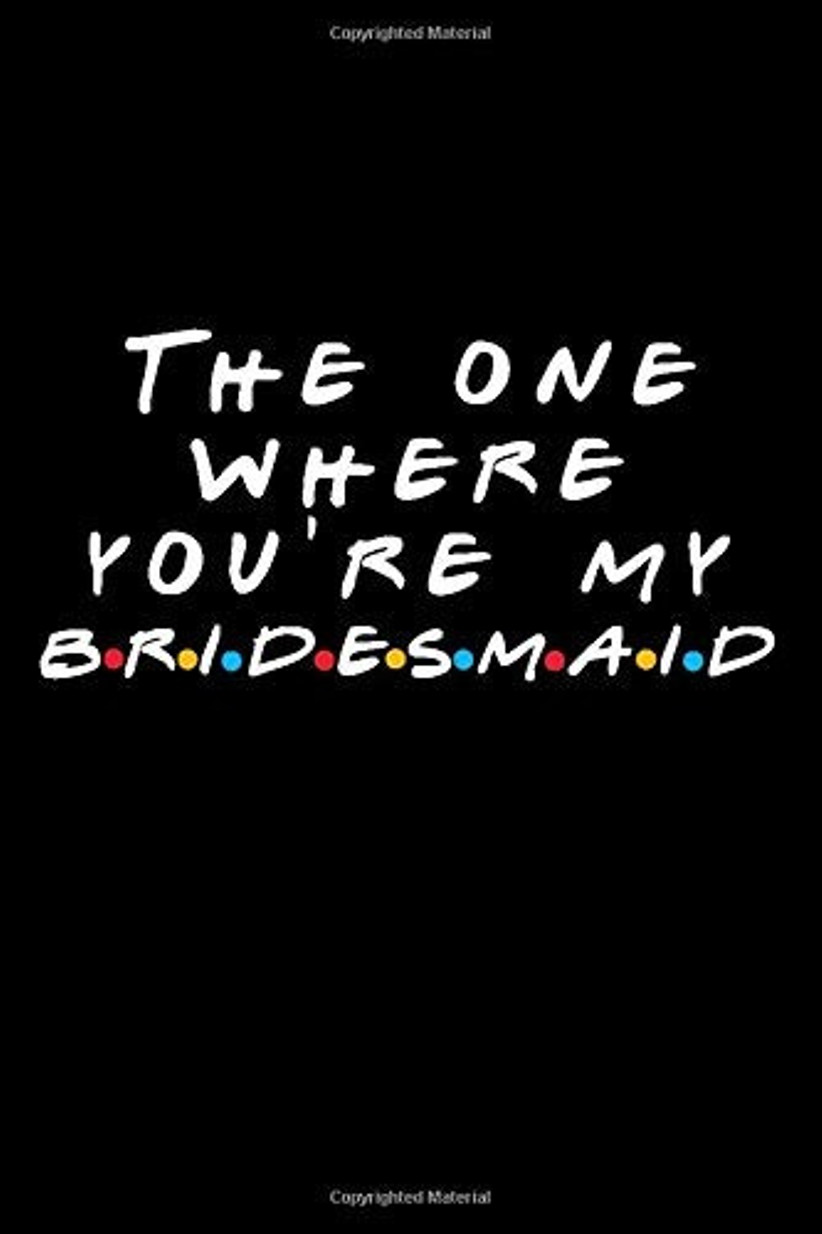 Big fan of Friends? This awesome poster will have your bridesmaids grinning from ear to ear. It's cute, affordable and can be kept forever. Pop it in a poster frame if you want to jazz it up a little.
Mini Preserved Floral Bouquet – £14, Anthropologie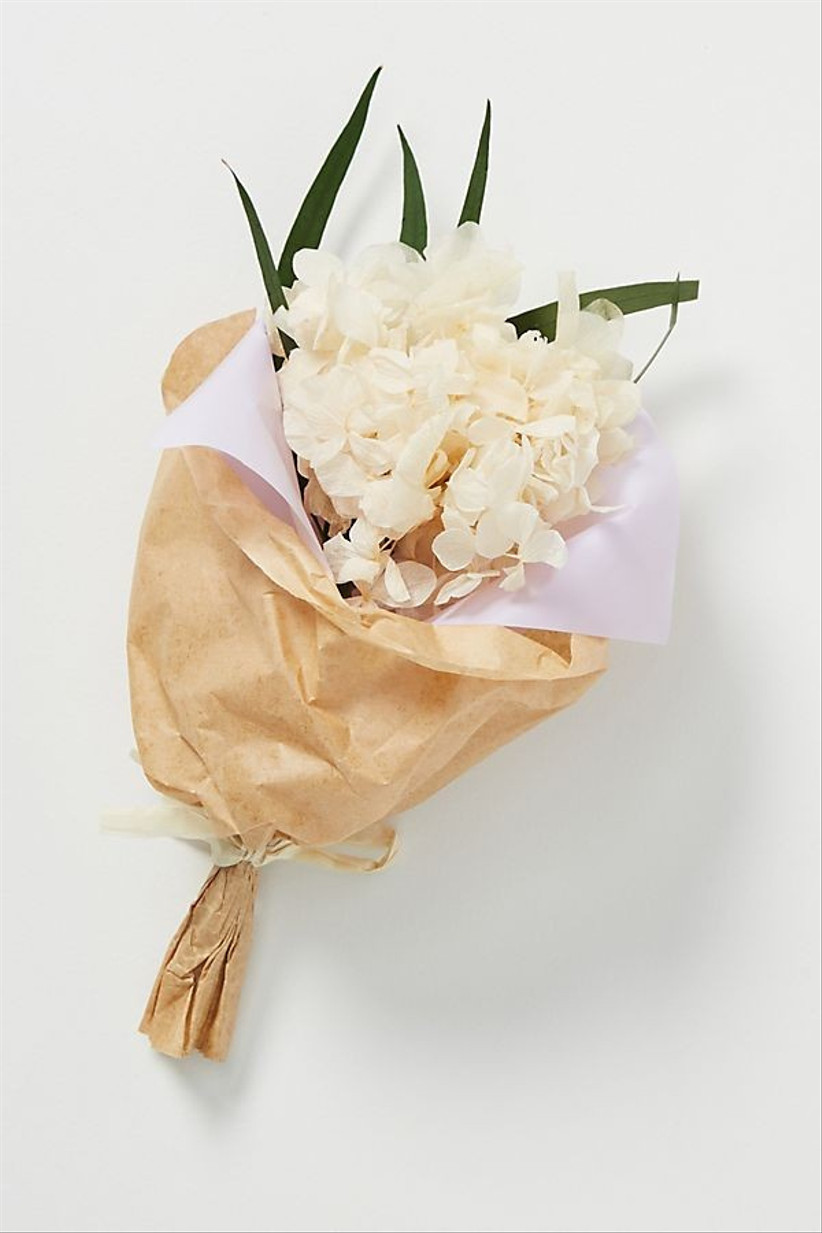 There's nothing quite like flowers as a special gift for a special friend, and these preserved flowers will not only be a nice initial gift, but will always stick around and never wither.
Floral Porcelain Plate – £3.99, H&M Home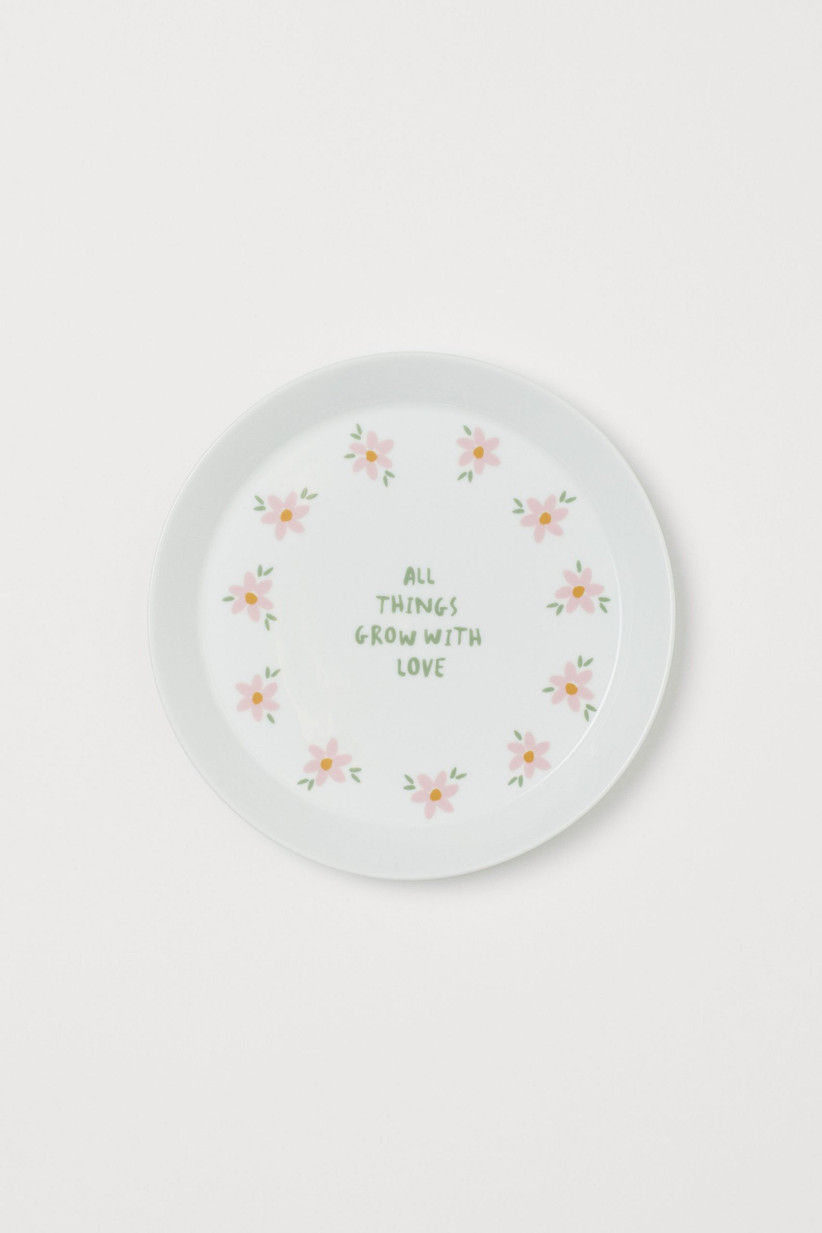 How completely adorable is this little plate? Carrying the perfect message about love, this will mean the world to your bridesmaids. It also comes with a matching cup if you want to pick up a little more.
Thank You For Being My Bridesmaid Keyring – £12, Not On The High Street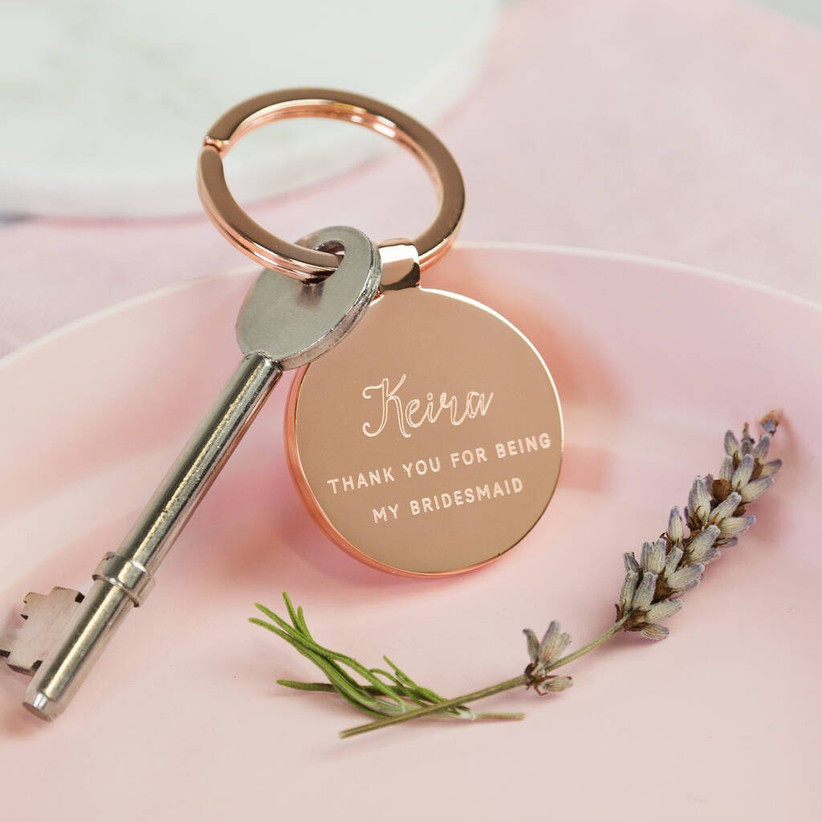 This gorgeous little engraved keyring can be personalised with each of your bridesmaids' names, and comes in either silver, rose gold, or gunmetal. It's the perfect keepsake that your pals will see every day!
Bridesmaid Gifts Under £25
'I Couldn't Tie The Knot Without You' Bridesmaid Bangle – £20, Not On The High Street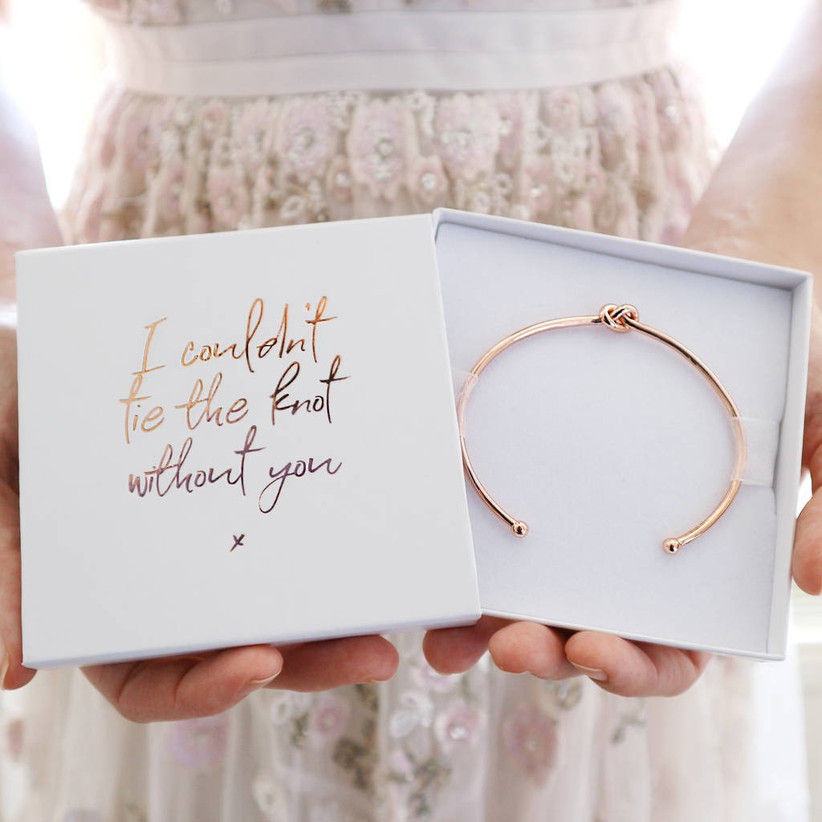 Available in rose gold, yellow gold or silver, Junk Jewels' knotted bangle – available from Not On The High Street – is one of the most sophisticated, classy and sweet presents out there for under £25. Every bracelet comes attached to a white organza ribbon and is enclosed in a white luxury matchbox style gift box.
'Spa Day in a Box' Gift Set for Her – £19.90, Amazon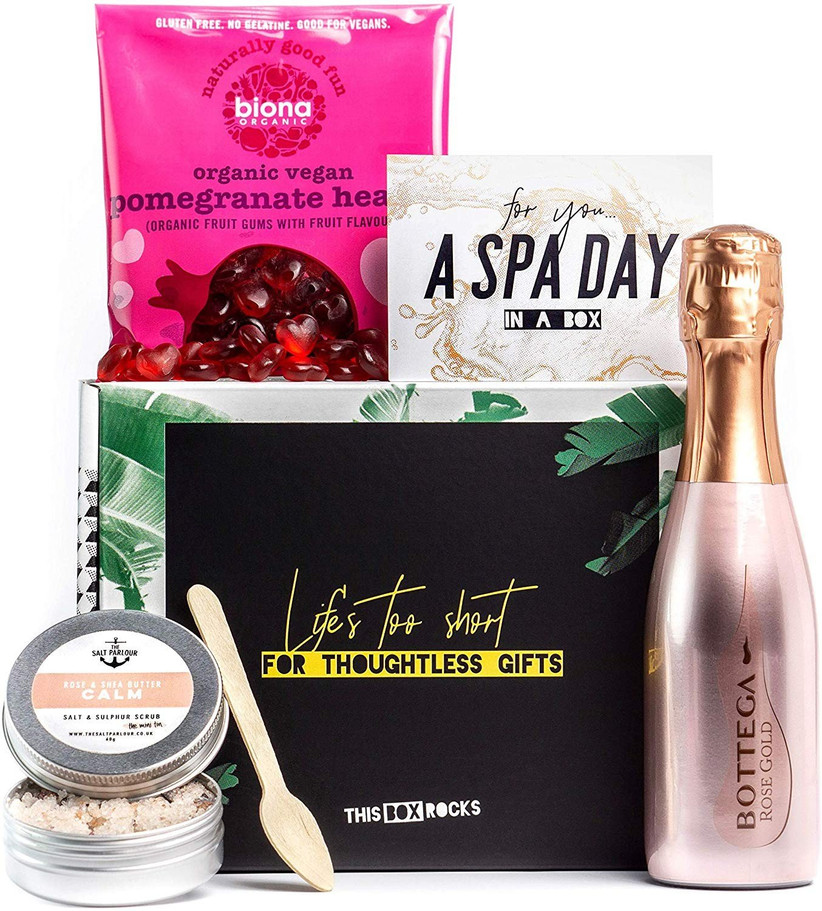 Featuring a bottle of rose sparkling wine, rose salt scrub and pomegranate heart sweets, this 'spa day in a box' is the ultimate treat to say thank you to your bridesmaids for doing such a solid job. And at under £20, it's a total bargain.
Wooden Personalised Bridesmaid Hanger – £16, Not On The High Street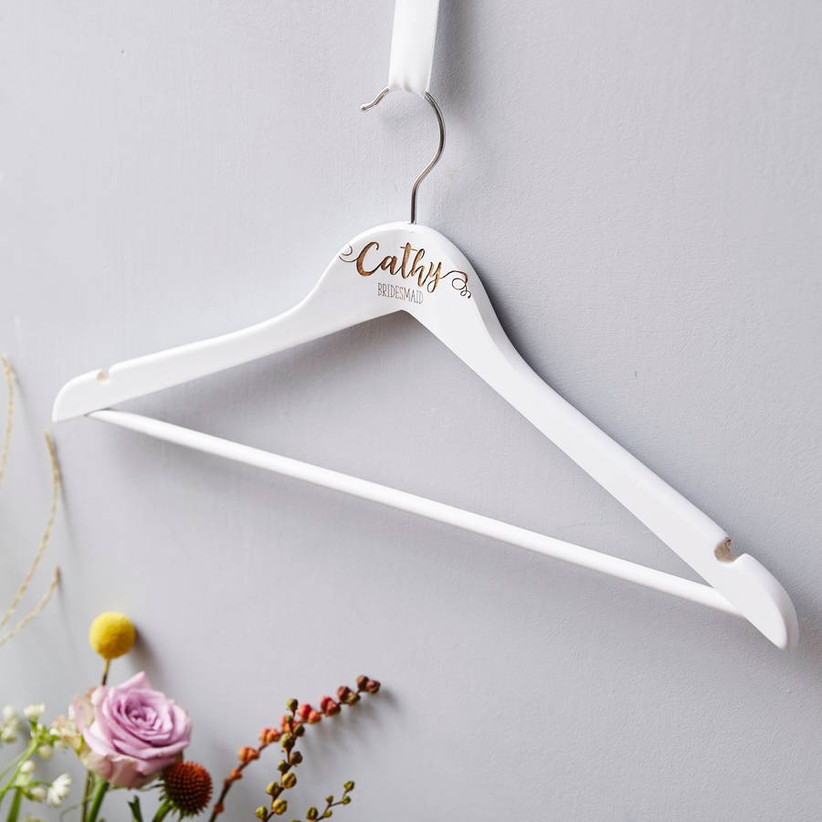 A classic favourite for bridesmaids and other members of the bridal party, these hangers add a touch of class and personality to your big day. Made from pine wood and specially engraved, they can be kept forever.
Personalised Bridal Party Hip Flask – £22, Not On The High Street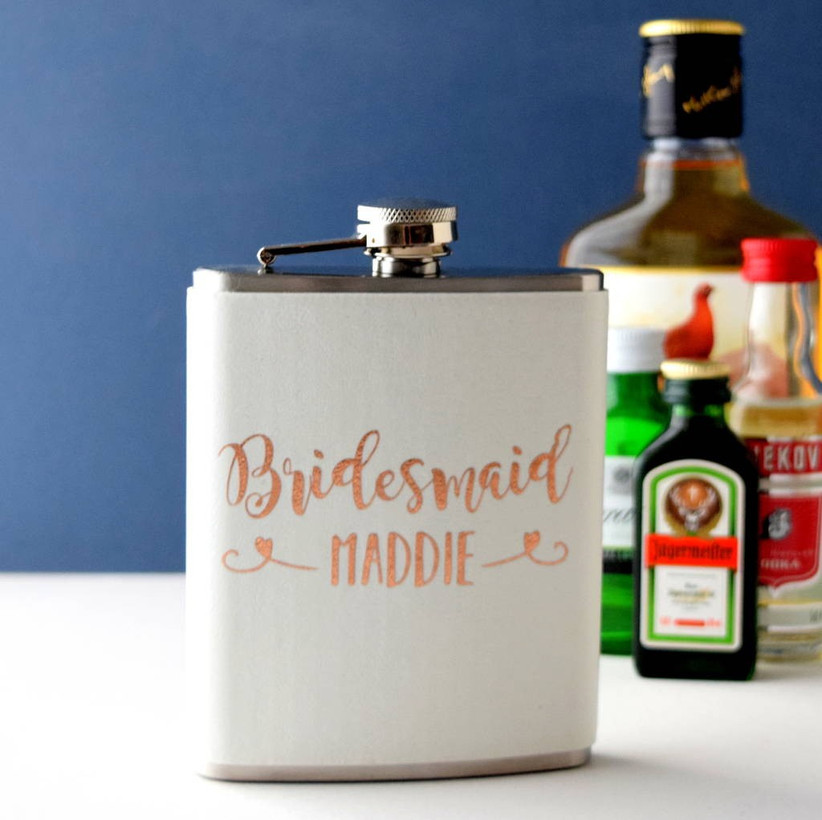 A cheeky take on personalised bridal party gifts, these hip flasks are playful and great fun. They're made from stainless steel, and can be personalised with your chosen name, role, and date. Bottoms up!
Personalised Bridesmaid Keepsake Box – £24.50, Not On The High Street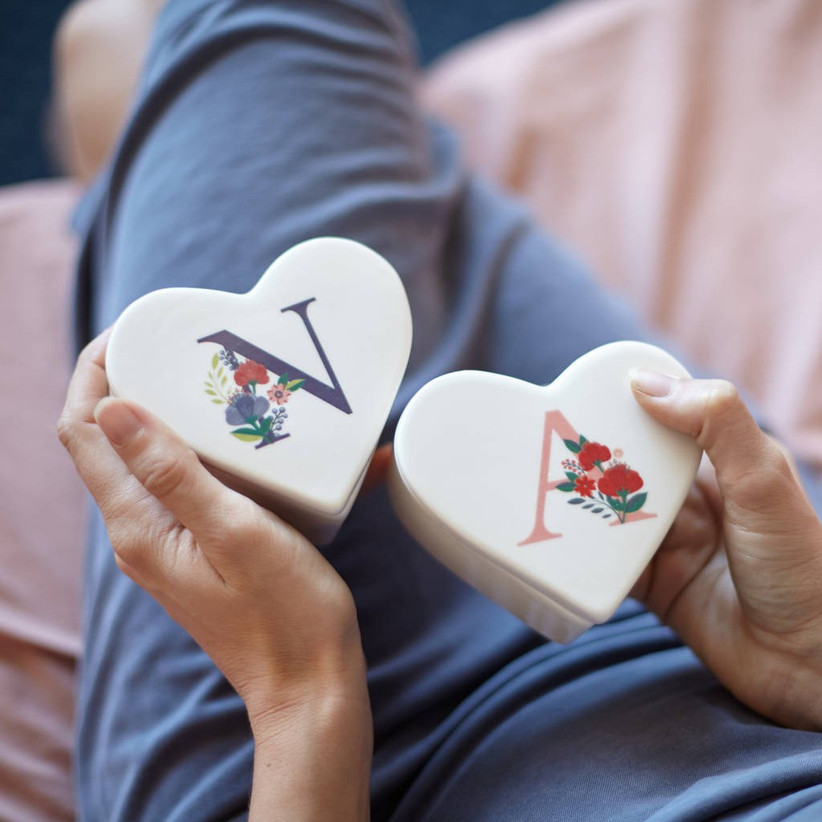 Not only is the outside of these boxes super cute, the inside is even more adorable as you're able to have your very own message to each bridesmaid engraved within. Your bridesmaids can keep their jewellery or other personal belongings in here and think of you every time they open the box.
Box of Poems – £20, The School Of Life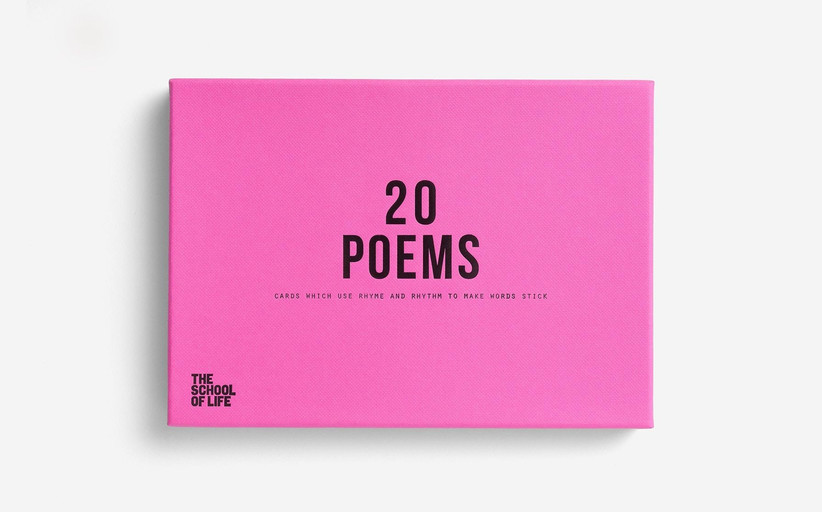 For the literary fans in your bridal party, this cute little box of joy from The School Of Life is a perfect alternative present. Quirky and cute, these poems are full of tongue in cheek musings.
Cora Clip in Pastel Marble – £22, Tort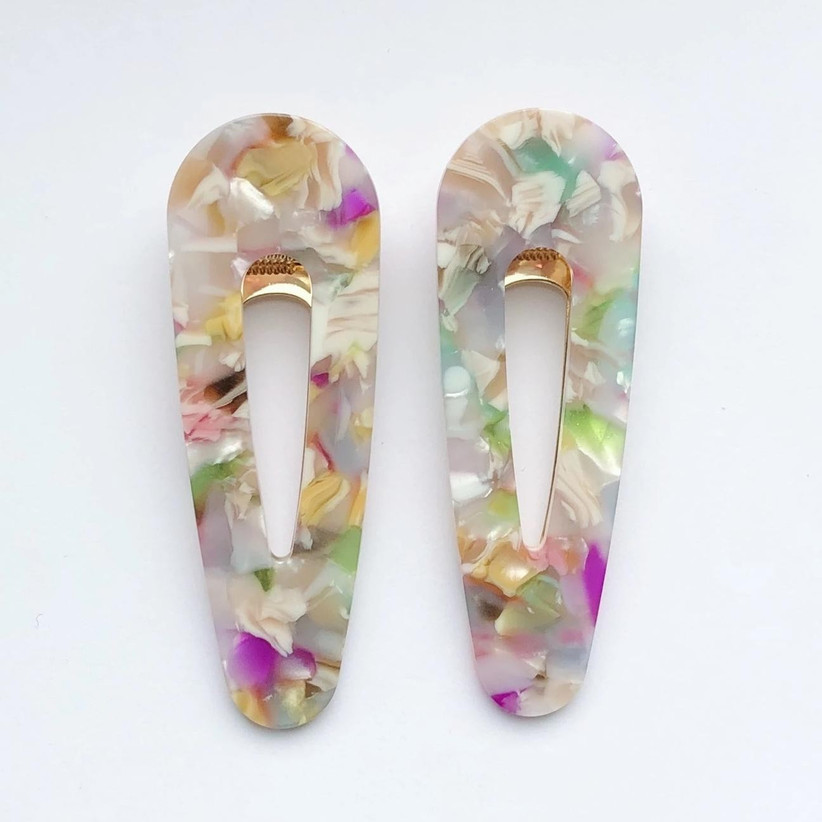 Want your bridesmaids to accessorise like a dream on your special day? Help them out by gifting them a pair of clips by Tort. They'll think of you any time they wear them.
Bridesmaid Gifts Under £50
Beaded Monogram Necklace – £40, Anthropologie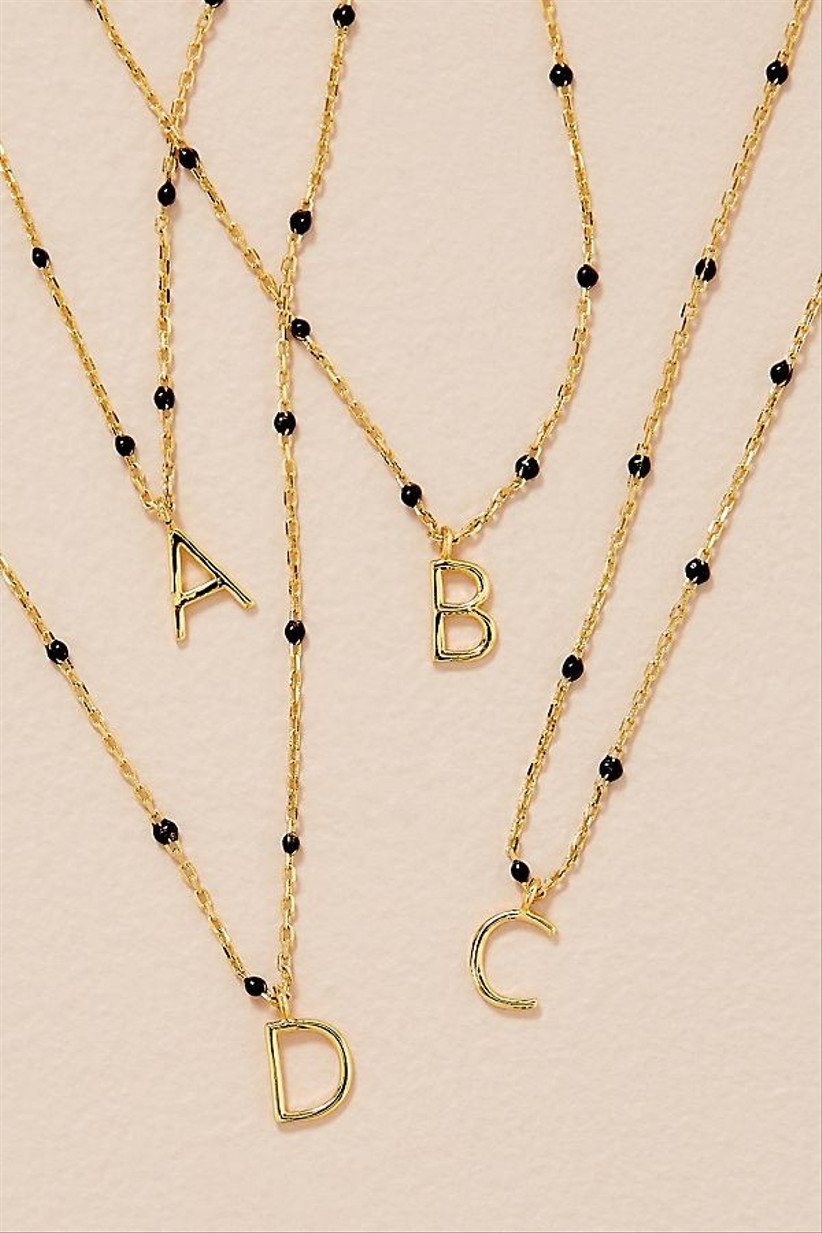 Don't fancy anything that mentions their bridesmaids duties but still want to give them something with a personalised edge? Pick up one of these for each of your special friends. Each one is gold plated and comes with a lobster clasp – so cute!
Loving Candle – £45, Bella Freud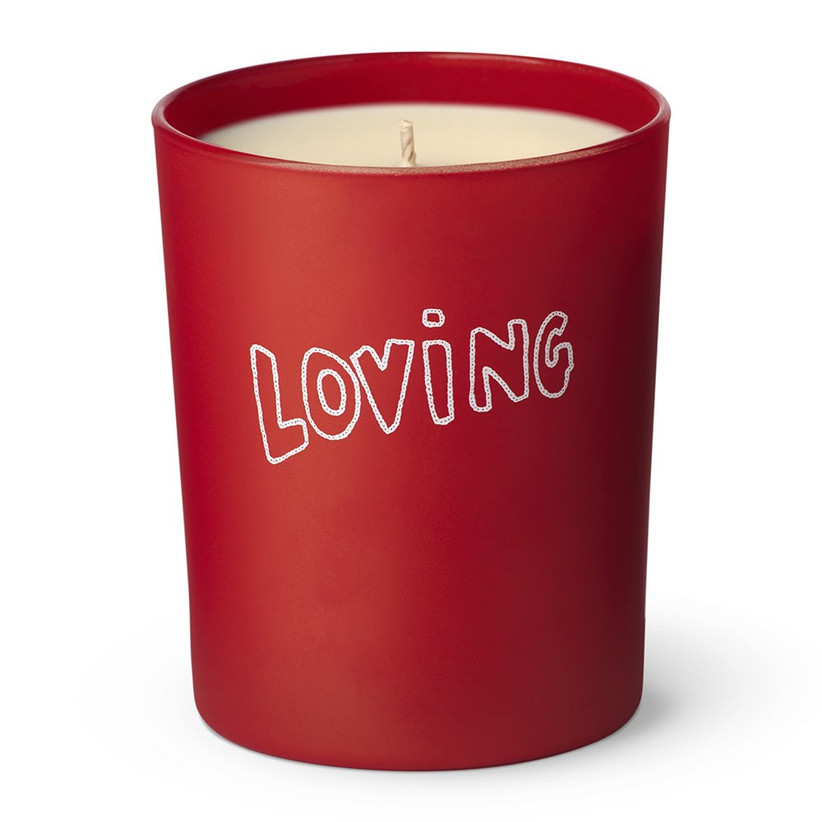 Can't think of anything you'd really like to get them? A candle is the perfect answer. Show them how much you love them with this sandalwood and tuberose offering from Bella Freud.
Butterfly Bridesmaid Hair Comb – £40, Not On The High Street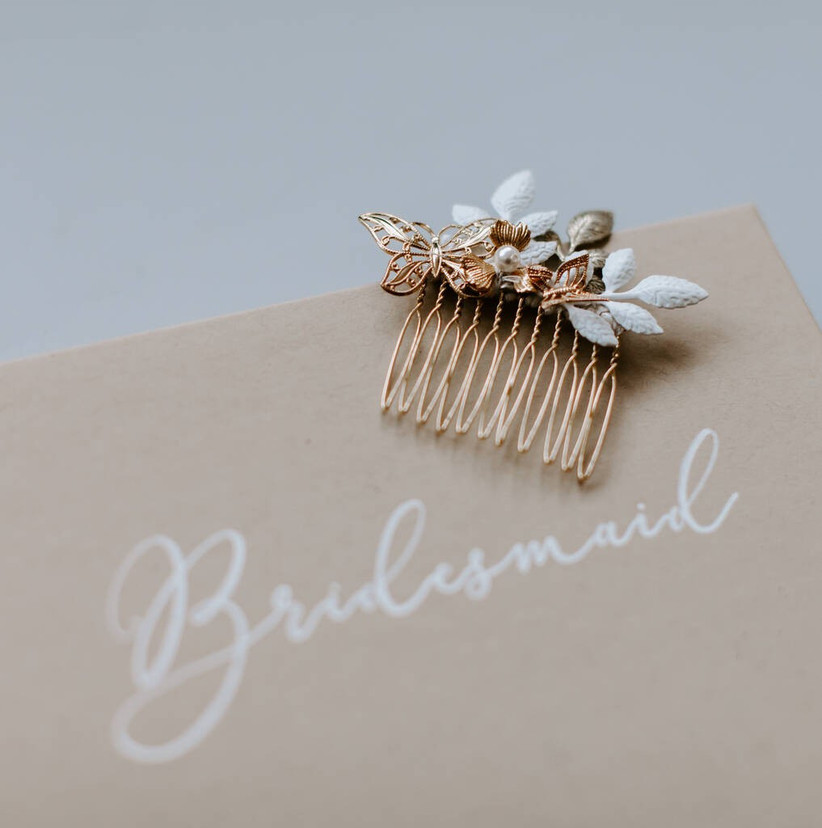 How gorgeous is this beautiful hair comb , which can be worn on your special day by your bridesmaids? Emblazoned with flowers, foliage and butterflies, this would look stunning as the finishing piece in a stylish updo.
Damson Vodka Liqueur – £28, Liberty London
Perfect for the adventurous group of bridesmaids, this lovely liqueur is a super special gift – particularly considering it's from Liberty London. Gift this during your hen do for some extra boozy fun!
Oil Bath for the Senses – £50, Susanne Kaufmann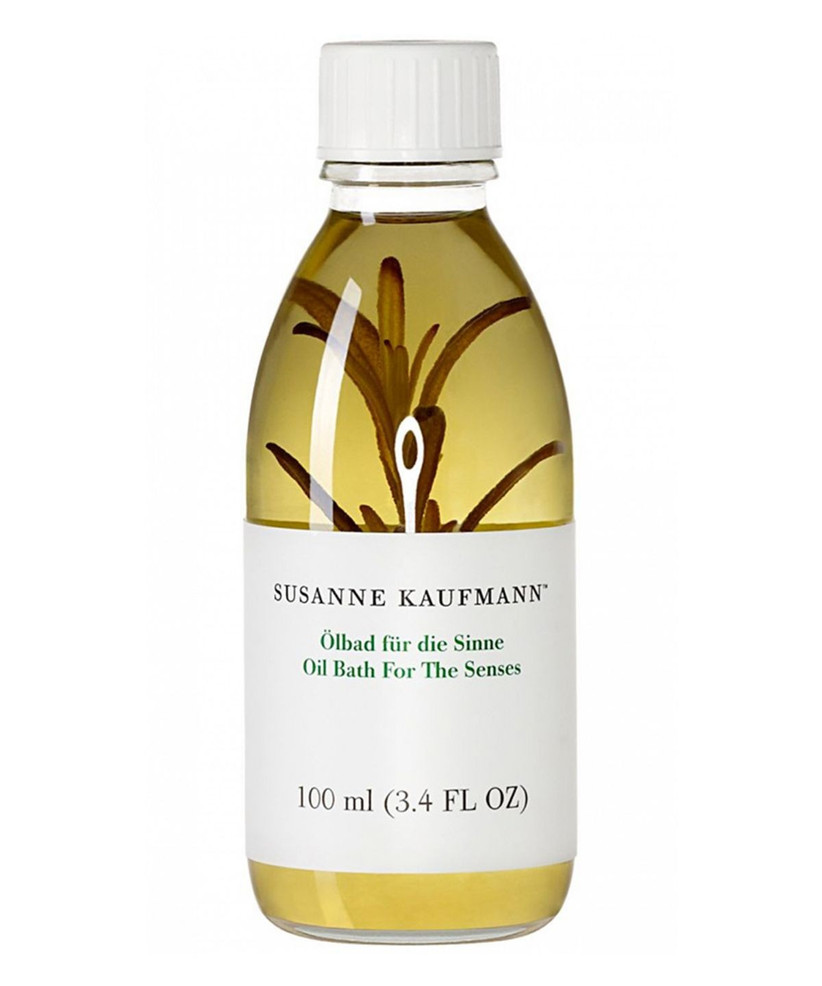 A bath oil always makes a lovely gift, and the ones by Susanne Kaufmann are the most decadent and luxurious out there. The 'Oil Bath for the Senses' version is a delightful blend of ylang ylang, patchouli and lavender. Perfect for post-wedding soaks for your hardworking team of bridesmaids.
Bridesmaid Gifts Under £80
Iris Earring Set – £58, Anthropologie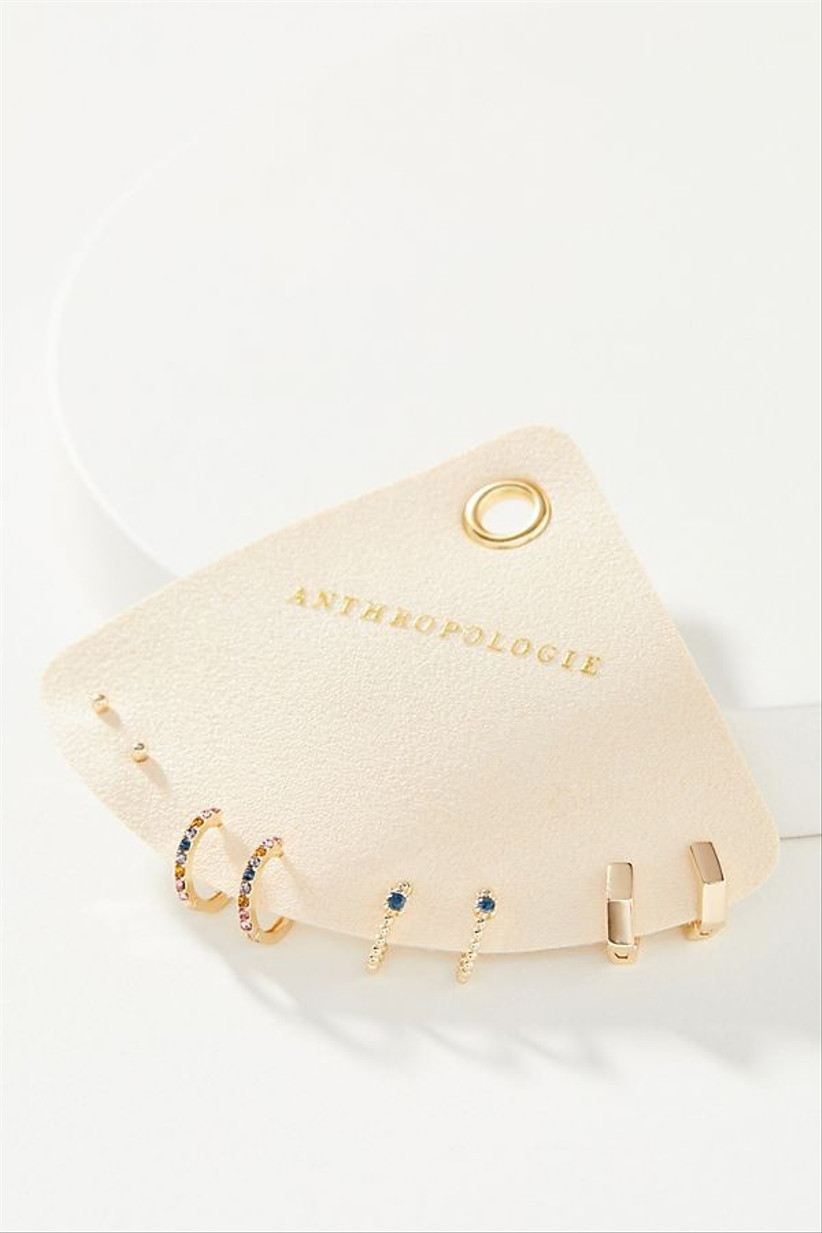 Pick up this lovely set of four pairs of earrings for the jewellery lovers amongst your bridesmaid group. Featuring metal materials and cubic zirconia, these gorgeous hoops and studs offer endless ear curation possibilities.
Zodiac Sleep Mask – £50, Slip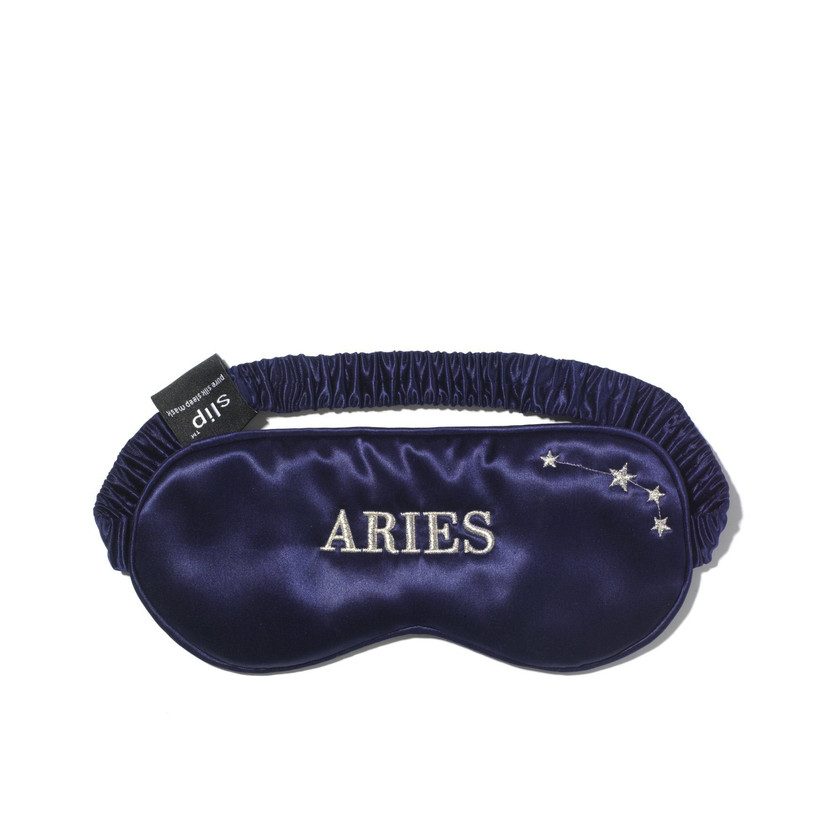 A silk eye mask is a luxuriously decadent present, and you can make it even more personal by picking out your bridesmaids' zodiac mask by brilliant brand Slip.
Personalised Bridesmaid Butterfly Short Dressing Gown – £74, Not On The High Street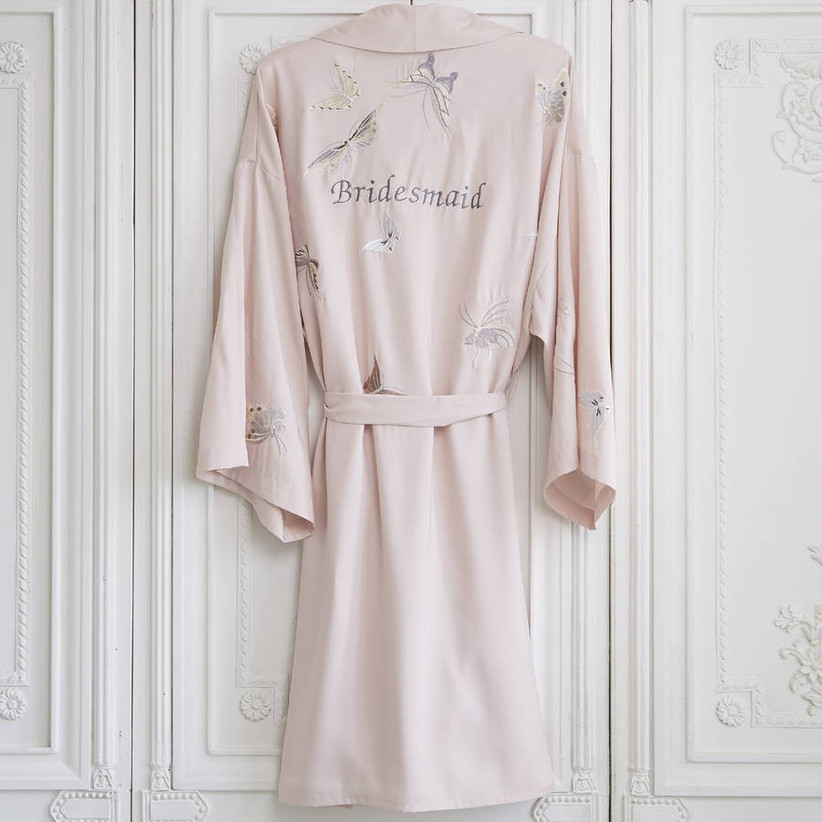 Along with bridal hangers, bridesmaid robes are another classic choice for gift ideas. They also make for brilliant wedding day photographs. This one features a gorgeous luxury fabric, embroidered butterflies, ¾ length sleeves and a tie belt.
Leather Personalised Cross Body Bag – £65, Not On The High Street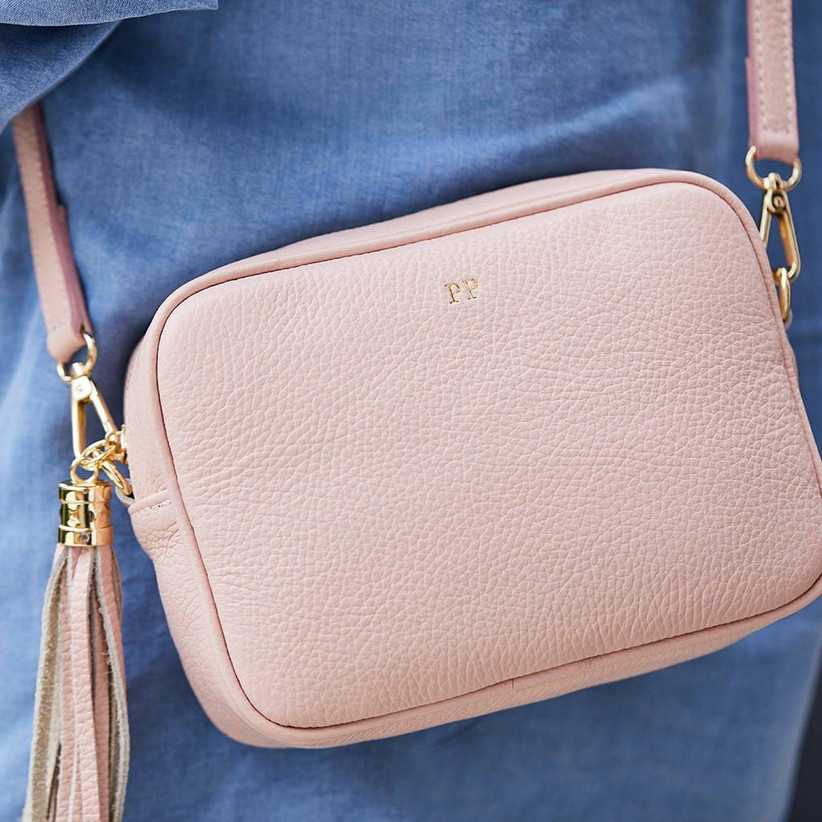 A personalised bag is a super chic option for your bride squad, and this 100% leather design features an internal pocket, top zip fastening and a detachable long strap. It's sizeable enough to fit in all your necessities, but won't be weighing you down.
Bridesmaid Gifts Under £100
£100 Gift Card – Liberty London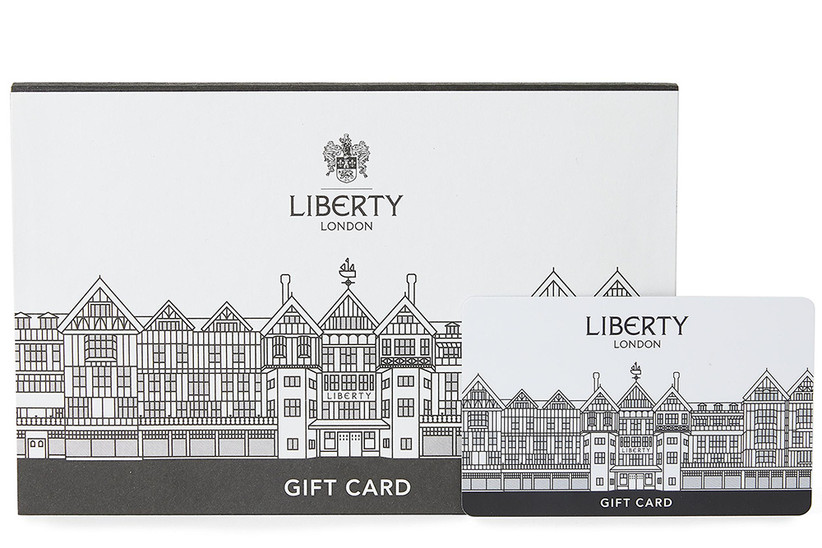 Really can't make your mind up when it comes to the perfect present? Settle on a gift card to one of the classiest retailers in the whole of the UK and let your bridesmaid pick their own treat.
Pure Silk Pillowcase – £85, Slip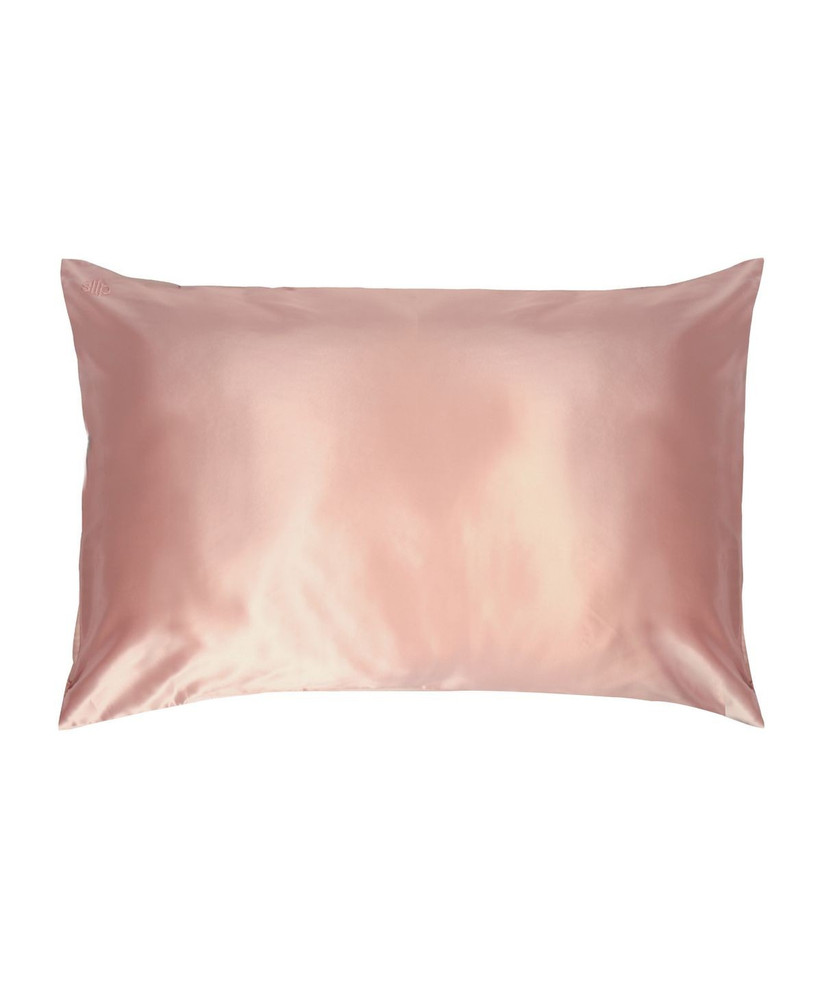 A pure silk pillowcase is the ultimate luxury, and makes a great gift for a special friend. This one by Slip comes in a huge range of colours, from silver to pink, navy to a range of special prints.
Tiny Heart Diamond Stud Earrings – £99, Claudette Worters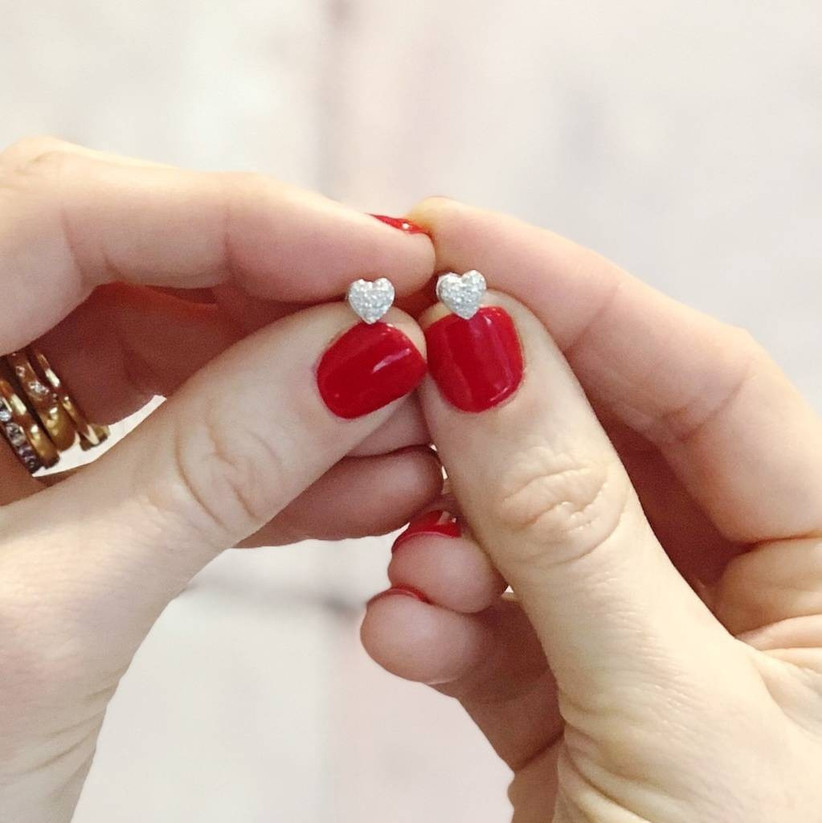 What's more special than diamonds? They really are a girl's best friend. Pick up these cute little studs for your top tier team.
Full Dose Petite Tray Set – £98, Jonathan Adler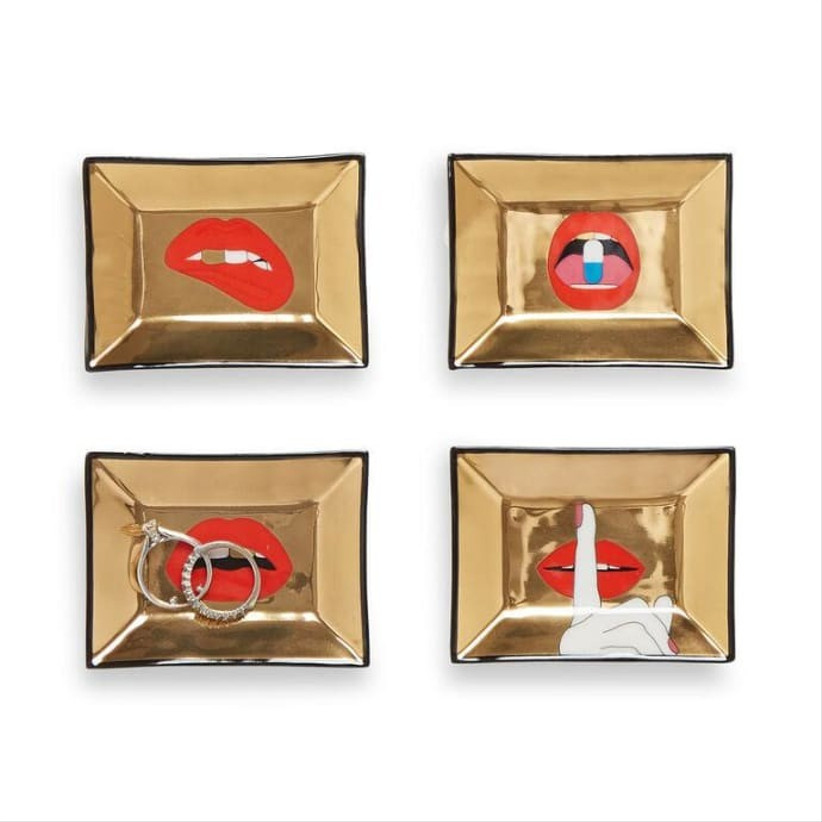 These gorgeous trinket trays by New York designer Jonathan Adler are the ideal luxury gift for the ones you really love. They feature on-glaze motif designs and real gold accent.
Bridesmaid Gifts Under £150
Pineapple Print Pyjama Set – £150, Desmond & Dempsey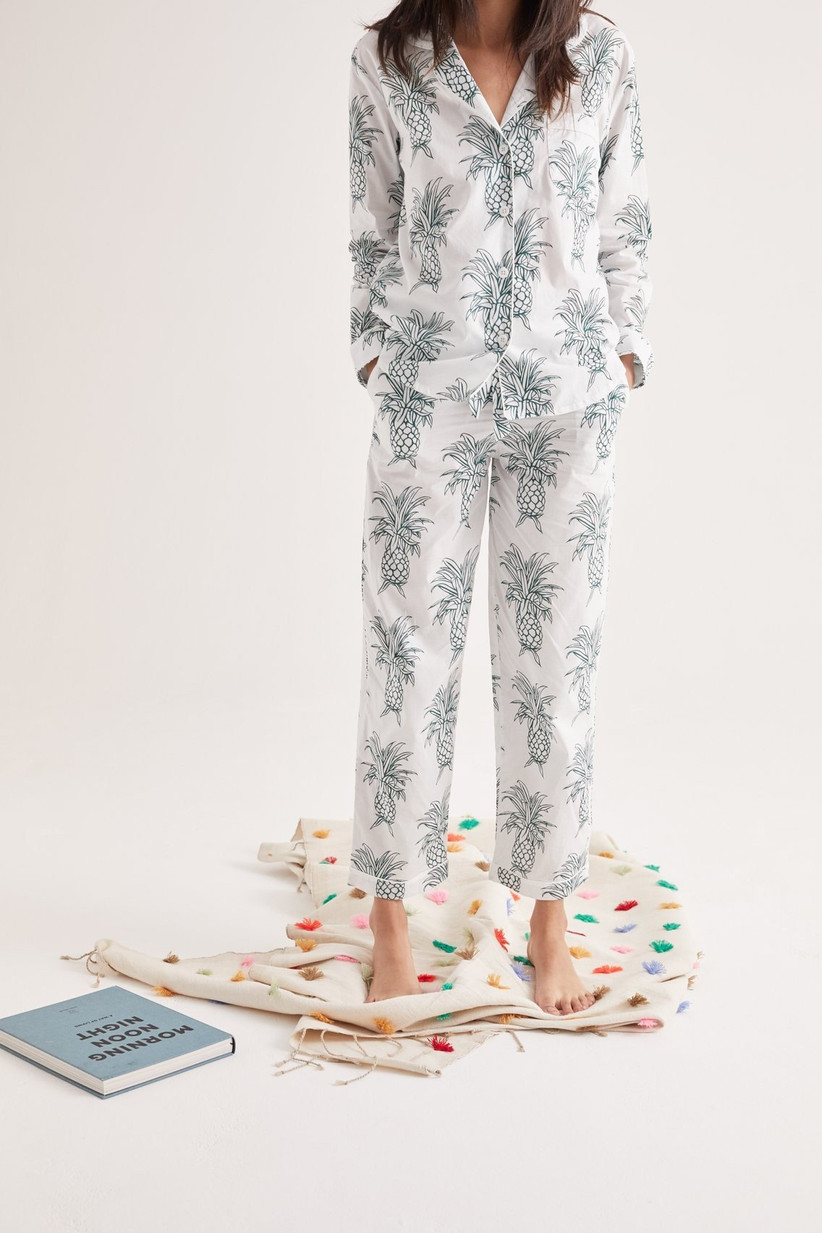 For those who enjoy a cosy evening in, a pair of comfy pyjamas is the ultimate gift. These Desmond & Dempsey ones are super high quality, and you have them personalised with your bridesmaids' initials.
The Adventures In Chocolate Hamper – £120, Hotel Chocolat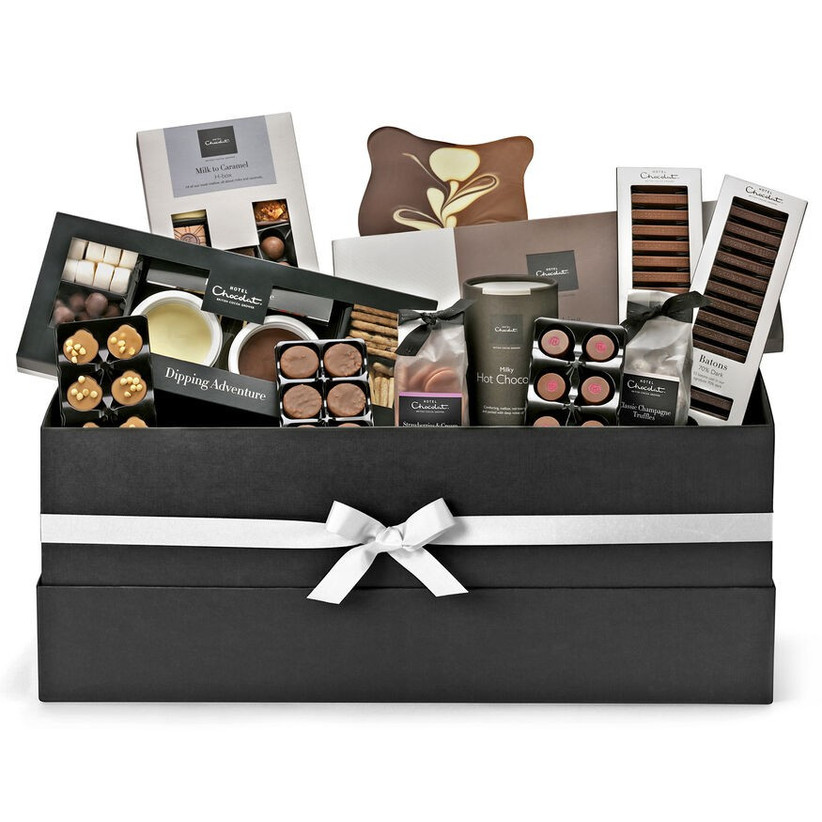 Is there a better present than a huge chocolate hamper? We don't think so! This collection includes lots of Hotel Chocolat favourites, from slabs to truffles, batons to puddles.
Peony & Blush Suede Deluxe Candle – £120, Jo Malone London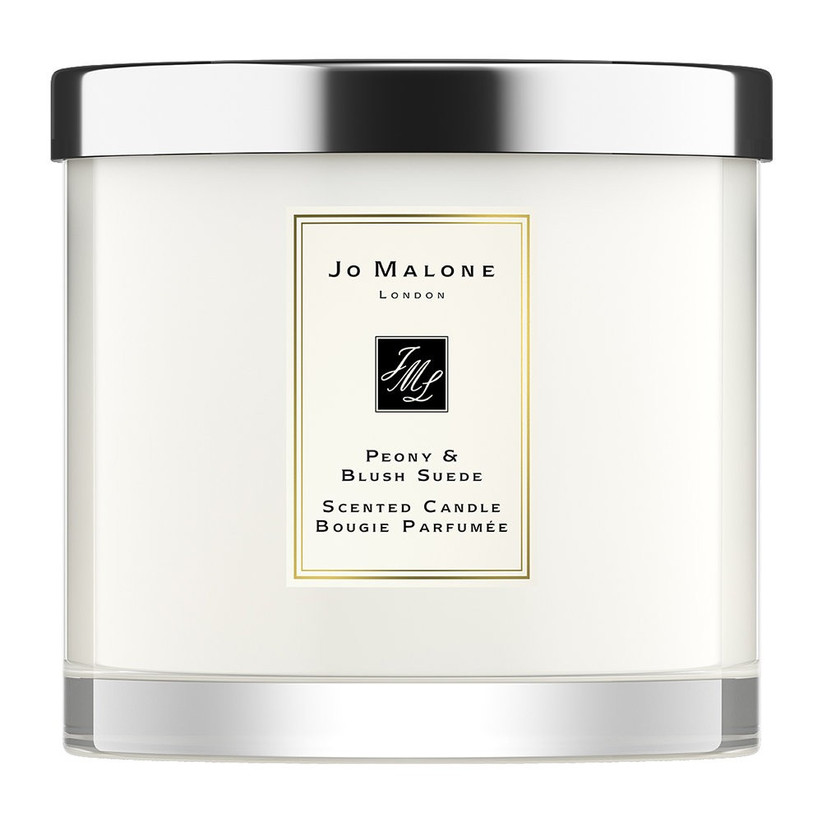 Jo Malone candles are a beautiful gift for any occasion, but we think this Peony & Blush Suede scent is the perfect way to say 'thank you' to your bestie.
Rose Gold, Mini Chubby Pink Sapphire Huggie Hoop – £135, Roxanne First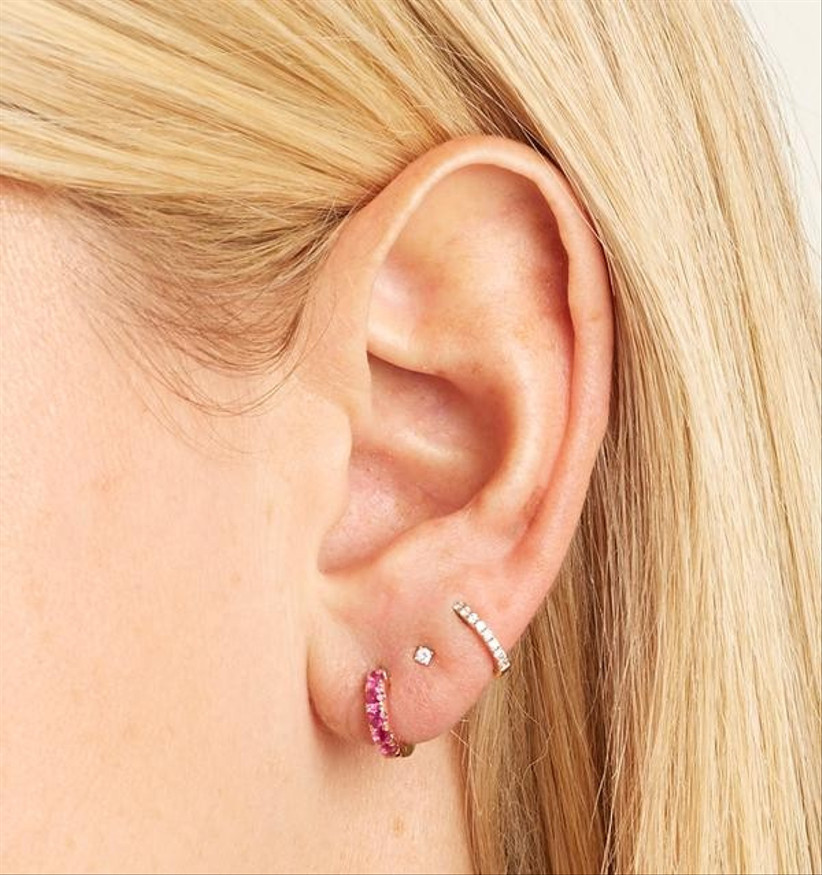 Roxanne First is one of the most covetable affordable diamond and precious stone brands of the moment, and this special sapphire huggie would no doubt leave your bridesmaids delighted.

Now that you've found the perfect pressies for your bridesmaids, make sure you have a gift for the best man sorted too!