65 Unusual Wedding Favours Your Guests Won't Have Received Before
Surprise your guests with a wedding favour that's a little bit different! We've rounded up 65 of the most unusual wedding favours around so you can find just the thing to suit your wedding day perfectly
We have included third party products to help you navigate and enjoy life's biggest moments. Purchases made through links on this page may earn us a commission.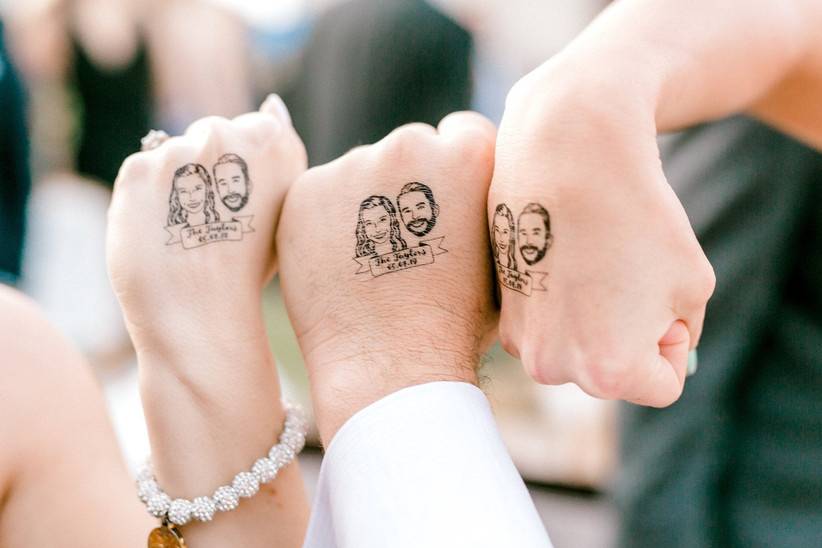 From personalised teabags to temporary tattoos and shot glasses that are guaranteed to get the party started, we've come up with 65 unusual wedding favour ideas that are sure to go down a treat with your wedding guests.
If you want to present your guests with some amazing wedding favours, then why not think outside the box and give them something that's a little bit different?
These alternative wedding favours include something different for every couple and suit a range of different budgets. So whether you're happy to splurge or are on the look out for some wedding budget friendly, low cost unusual wedding favours, we've got the perfect pick for you in our round-up below!
65 Unusual Favours for Weddings to Shop Now
1. Mini Vase Wedding Favour – £2.45, Sprinkle More Joy
Add your guests' initials to these beautiful mini vases and they'll act like a place setting that they can keep! They'll be the perfect way to add a floral touch to your wedding day. "I've never seen anything like this before at a wedding," says Zoe Burke, wedding expert and Editor of Hitched. "You could fill them with sweets, or add a simple flower. A lovely keepsake!"
Pros & Cons: On their own these bottle wedding favours might look rather simple but once you've popped a few blooms inside, they'll come to life and really elevate your wedding tables.
2. No Ugly Crying Handkerchief – £17, Mr Teacup
How adorable are these hand sewn handkerchiefs? Ideal if you know your guests will shed a few tears, you can choose from a number of embroidery colours to suit their taste.
Pros & Cons: The embroidery is sewn using a technique called free motion embroidery so no two handkerchiefs will be the same. We would recommend hand washing to ensure the stitching stays in place. They're a little pricey for everyone if you've got a big guest list, but would make a cute wedding thank you gift.
3. Wedding Favour Fancy Matches – £11, Lil' Something
Take the gift of matches up a level by giving your guests these colourful cuties from Lil' Something. They're stored in the most gorgeous bottles that will fit into any wedding theme and who doesn't appreciate a 'perfect match' pun?
Pros & Cons: If you're dotting wedding candles around your venue, you could even ask guests to light them! These won't be suitable for children but we have fun wedding favours for kids to help with that.
4. Rose Quartz Wedding Favour - £3.86, Etsy
Planning a celestial wedding? These crystal wedding favours will be the most magical finishing touch and are bound to bring good energy to your big day. Rose quartz is said to be the ultimate crystal of love making them totally wedding-appropriate.
Pros & Cons: Only the highest quality and ethically sourced crystals with low minimums are used. Due to the nature of their natural origin there may be a slight variance in shape and colour but that's what makes them such a different wedding favour.
5. Bespoke Macron Wedding Favour – £4.50, The English Rose Bakery
You can't beat a sweet treat so your guests are sure to adore these bespoke macrons. They've been given a gorgeous wedding-ready finish in pretty pink and rose gold - all you have to do is choose two flavours from pistachio, salted caramel, vanilla, lemon, rose, raspberry, chocolate, hazelnut and Nutella and chocolate orange...
Pros & Cons: There are so many flavours that you might have a hard time picking them - we say opt for one fruit and one chocolate per box. See more macaron wedding favour ideas here.
6. Personalised Vintage Silver Plated Wedding Favour Spoon – £20, Le de da Living!
These teaspoons are a little on the pricier side, but if you're having an intimate gathering they could be perfect! We can see them looking seriously sweet at a garden tea party and love the idea of your guests having them to treasure for years to come.
Pros & Cons: If you're using these as part of your wedding cutlery (which we think is a fabulous idea), make sure your guests are aware that these can be taken home as their favours.
7. Personalised Photo Wedding Favour Sweets – £16, Foo Digital
Your guests will be smiling from ear to ear if you go for these personalised photo printed sweets as wedding favours. They are really thoughtful and we bet they won't have seen (or eaten) anything like it before! "These delightful favours are almost too pretty to eat - note I said almost," says Rima Barakeh, Deputy Editor of Hitched. "They'd also make a lovely unusual wedding gift idea."
Pros & Cons: As the images are printed onto a square marshmallow, for best results, use portrait photos. Be mindful that these marshmallows are not suitable for vegetarians.
8. Personalised Chopstick Wedding Favours - from £56.11, Etsy
How about adding these gorgeous engraved chopstick wedding favours to your cutlery sets? They are crafted from high quality bamboo so your guests will be able to use them time and time again and you can choose from a number of different fonts.
Pros & Cons: There is a minimum order of 30 pairs - if you are having fewer guests than that, they make a great engagement gift too.
9. Botanical Copper Frame Wedding Favours - £9, Etsy
If you're having dried flower décor at your wedding, keep the theme throughout with these delicate copper frame floral wedding favours. They'll look lovely placed on the table as well as hanging up in your guests' homes.
Pros & Cons: The flowers included in these copper frames will be mixed which gives a beautiful rustic feel however if you want favours with all the same type of flower there may be some availability to do so.
10. Fortune Cookie Wedding Favour – £120 for 150, Bunting & Barrow
Fortune cookie wedding favours are a highly affordable option and such a great way to break the ice when your wedding guests sit down. It's a favour, table game and table decoration all in one! These cheap wedding favours come up at just 80p each!
Pros & Cons: You can pick the colour of the fortune cookie wrapper to fit in with your theme. If you want to write a custom message inside each cookie it might take a little longer but it'll be totally worth it when your guests open them up.
READ MORE: 22 Chocolate Wedding Favour Ideas
11. Vegan Classic American Pancake Mix – £4.95, The Little Pancake Company
We absolutely love this idea. Treat your guests to a top breakfast by giving out these packs of pancake mix from The Little Pancake Company. We like the sound of the banana and chocolate mix as well!
Pros & Cons: This is a very different wedding favour but is the perfect nod to you and your partner's personalities if you are budding bakers.
12. Origami Crane Wedding Favours – £15 for 10, Etsy
These elegant, floral origami cranes will look so sophisticated placed on your wedding tables and make a fun wedding favour for guests to take home. Dab hand at paper crafts? DIY your own with this beautiful origami paper.
Pros & Cons: If your wedding reception will be one big party you might want to make sure these favours get kept somewhere safe in case they get damaged.
13. Flower Seed Packets - £14.95 for 10, Wedding in a Teacup
Your guests will adore these packets of seeds from Wedding in a Teacup that grow into beautiful Forget Me Nots. The packets have a charming rustic design and your guests will be reminded of your wedding when their flowers start to grow.
"I love a wedding favour, but I love an eco-friendly wedding favour even more," says Zoe. "These favours are plastic-free and have a purpose beyond your wedding day, making them one of my favourite picks!"
Pros & Cons: These wedding favour packets are light and easy to transport. Your guests can simply pop them inside a pocket or bag and take them home.
14. White Wedding Favour Flip Flops - £7, Hitched Shop
Give your guests the gift of comfort on your wedding day with these wedding favour flip flops. Not only will they fit in any theme thanks to the white shade and subtle design, they'll also ensure everyone stays on the dance floor all night long!
Pros & Cons: These flip flops come in small, medium or large so we recommend ordering a few of each to ensure everyone can find the right fit. Be sure to donate any that don't get claimed.
15. Custom Frosted Shot Glasses - £2.70, Hitched Shop
All the adults can raise a shot to toast the happy couple with these personalised shot glasses. The glasses feature a logo (there's a huge choice!) and your names and wedding date. Choose your favourite spirits to share around.
"There's no better time for a cheeky shot than at a wedding," says Rima. "Pair these with alcohol wedding favours to get the party started."
Pros & Cons: These custom shot glasses are a popular choice with couples for a reason - they're affordable and stylish. If some of your guests don't drink, make sure you have a non-acholic option available.
16. Puzzle Pieces - £24.99 for 50, Etsy
These custom puzzle pieces from Manta Makes are a sweet way of thanking your guests for being a part of your celebration. You can choose to have a hole drilled in the corner - they'd make a lovely keyring or hanging decoration.
Pros & Cons: These puzzle pieces are on the smaller side so you can only customise them with a date, not a longer message. They can easily be tied to card though, if you did want to pen a few words to each guest.
17. Personalised Rock Candy - £13.50 for 75, Etsy
Give a subtle nod to the seaside at a coastal wedding by gifting everyone a slice of rock. Individually packaged with biodegradable and compostable plastic free wrappers, scatter them on your tables as a sweet treat.
Pros & Cons: These sweets are vegan so will be suitable for all. They are quite small, so you might want to give two or three to each guest.
18. Stacked Pineapple Salt and Pepper Shaker Set – from £4 each, Hitched Shop
Having a summer wedding? We love a tropical theme and reckon these pineapple salt and pepper shakers make for the perfect unusual wedding favour. Stick personalised labels on the top and lay them out across your tables for a look guests will adore.
Pros & Cons: One review stated that these fun wedding favours fit perfectly into their Hawaiian wedding - what a great idea! If you are travelling with them, make sure they are bubble wrapped as they are made from fragile porcelain.
19. Mini Olive Oil - £283.24 for 65, Etsy
Mini bottles of condiments, balsamic vinegar or infused olive oil make great take home treats. Every guest will appreciate one of these fine Greek olive oil favours, which is homegrown and bottled in the Peloponnese, Greece. They've got a huge number of fresh herbs and flavours they can infuse the oil with, from rosemary and oregano to chilli, lemon, garlic or sweet peppers.
Pros & Cons: If you're heading off on a Greek honeymoon, these would be a lovely nod to that. Make sure your guests don't open these at the table - we don't want any oil leaking out on their way home.
20. Matchbox Games – £3.95, Nest
With 15 different brain-teasing designs to pick from, you'll keep your guests entertained during any quieter moments of dinner (and little ones' hands busy during the speeches!) with these bestselling matchbox puzzles from Nest.
Pros & Cons: You can choose to have the same game for every favour but we recommend going for a mix so they can be passed around each table.
21. Boat Wheel Magnet – from £1.89, Hitched Shop
If you're having a seaside wedding why not incorporate the theme into your wedding favours? These adorable 'Our Course is Set' boat wheel magnets will remind your guests of your special day whenever they head to the fridge for a snack!
Pros & Cons: At first glance your guests might not know what these favours are but once they realise, they'll be pleased to add it to their fridge magnet collection.
22. Personalised Gin Wedding Favours – £5.99, Hearth & Heritage
If you are an avid gin lover then share your passion with your wedding guests – we adore these pretty little gin favours from Hearth & Heritage. They come filled with either gin, pink gin, whisky or vodka, are personalised with your wedding date and names, and come in various colourways.
Pros & Cons: Alcohol wedding favours are a popular choice as they typically go down well! Your guests might drink them at the table but they can still keep the bottle as a reminder of your special day.
23. Custom Portrait Temporary Tattoos - £127.60 for 50, Etsy
Who needs the pain of the real thing? Temporary tattoos are a great alternative wedding favour - these ones feature a custom portrait of you both with your name and wedding date. Your guests will absolutely adore you.
Pros & Cons: These cool wedding favours would suit a relaxed and fun celebration. They make for some awesome photo opportunities too - just make sure you have a damp sponge on hand for easy application.
24. Popcorn Boxes – £24.54 for 25, Etsy
Give your guests little boxes of this much loved treat for them to take away. If you're planning to have vintage décor, these personalised popcorn boxes would fit right in. Choose from cream. blush, pink or magenta.
Pros & Cons: No popcorn is included in the price of these wedding favours, but you can bulk buy this treat cheaply from any supermarket. Fill the boxes up last minute to ensure your popcorn tastes fresh.
25. Sunglasses – £4, Hitched Shop
We love the idea of giving your guests fun colourful sunglasses as a wedding favour. Whether it's a destination getaway or a night in the city, they look awesome in wedding photos.
"These are such a fun favour idea," says Rima. "Your guests will love posing with them - who doesn't love a good pair of wedding sunglasses? But they'd also be great in a hen party bag too!"
Pros & Cons: The design on these sunglasses does may it a little tricky to see out of but that won't be a problem if you're just posing for a few pictures.
26. Hangover Kits - from £23.76, Etsy
Some of your guests may be enjoying a tipple or two on your wedding day so make sure that there are no sore heads after by handing out hangover kits. How cute are these bags! Fill them with things like chocolate, paracetamol, mints and an eye mask. We have a complete guide on how to make a hangover kit.
Pros & Cons: These bags come in multiple sizes so you can pick one to fit your budget - remember it is better to go for a smaller sack than have empty space.
27. Lottery Tickets – £8 for 10 Holders + £2 a Ticket, Wedding in a Teacup
Feeling lucky? If you are, then share your luck with your guests by giving them a lottery ticket. This is both a fun wedding favour and a low cost unusual wedding favour idea that could lead to some big wins! Pop the tickets in these romantic 'lucky in love' ticket holders from Wedding in a Teacup. There's also a scratchcard version if you want to go for a slightly cheaper option!
Pros & Cons: If you go for the scratch card option, pop a penny into each of the holders so that your guests aren't trying to find loose change.
28. Personalised Succulents – £141.95 for 20, The Gluttonous Gardener
For a unique keepsake of your wedding day, choose one of these exotic succulents from The Gluttonous Gardener. They're simple enough for even the least green-fingered to grow and come in these cute terracotta pots. Each pot comes with a weatherproof label personalised with your names and the date of the big day.
Pros & Cons: A pop of green will add a fresh touch to your wedding tables so these are both favours and decoration for the day. Give them a quick spritz before giving to guests so they are looking their best.
READ MORE: 106 Amazing Wedding Favour Ideas
29. Wedding Sparklers – £8 for 12 Sparkler Covers, Sixpence Paperie
If your guests use their sparkler favours on the day itself then you can guarantee some amazing wedding photos. Sparklers give an amazing touch to an outdoor evening reception. These sparkler covers add a bit of fun and can be personalised with your names and wedding date.
Pros & Cons: The sparklers themselves only cost pennies when you bulk buy. Choose from gold, silver or rose gold foil.
30. Personalised Chocolate Favours – £1.99, Morse Toad
Offer your wedding guests a sweet treat with these chocolate initial wedding favours from Morse Toad. The milk chocolate sets can feature up to three initials or characters and are utterly delicious. You can be certain these will all find a home by the end of the night.
Pros & Cons: If your wedding is in the height of summer these wedding favours might not last long but we don't think they will anyway - they look so delicious! No one can resist a chocolate wedding favour.
31. Pick 'n' Mix Bags – £4.99 for 25, Amazon
If one of you has a serious sweet tooth, fill jars with your favourite sweets, and let your guests go wild packing cute foiled paper bags with a sugary assortment. You could even add a vintage touch by hiring a sweetie cart for guests to choose their own pick 'n' mix. See wedding sweet table ideas here.
Pros & Cons: These bags only come with rose gold foil but that is a seriously stylish colourway that will fit into most wedding themes and venues.
32. Wedding Luggage Tags Favours – £175 for 50, Etsy
If you're having a destination or travel themed wedding, these white, embossed, leather-look luggage tags are ideal. They'll come printed with each of your guests' names inside so you can use them as place cards too. We also love these personalised faux leather luggage tags that come in pink, navy or grey.
Pros & Cons: They're super chic and very high quality-looking for the price. They aren't made from real leather which makes them vegan friendly.
33. Grow Your Own Chilli Kit – £7, Beecycle
If you've got something on your menu that has a bit of a fiery kick to it, why not give out chilli-growing kits as wedding favours? They are small in size so will nestle into your table decorations perfectly and the hessian bag will add a rustic touch.
Pros & Cons: Be warned though, these favours might not be suitable for children or those with sensitive taste buds! Luckily Beecycle have loads of kits to choose from, including strawberries, basil, cherry tomatoes and more.
34. Personalised Christmas Mistletoe Crackers - £27 for 6, Postbox Party
If you're getting married in winter and are looking for Christmas wedding ideas to give a festive touch to proceedings, then why not hand out Christmas crackers as wedding favours? These crackers come with your guests' names written on wooden tags. The mistletoe design is ideal for a winter wedding - discover more Christmas wedding favours here.
Pros & Cons: They double as place cards so you'll save on those. They are filled with the traditional paper crown, joke and a tree decoration and while this is predictable, it's a classic that we all love!
35. Personalised Lollipops – from £1.25, The Little Lollipop Shop
These vegan and halal friendly lollipops from The Little Lollipop Shop are a cute and delicious favour idea for your guests and they can be personalised to include your initials. There's over 40 varieties to choose from including edible rose petals, lace, confetti and sparkles.
Pros & Cons: This fun wedding favour idea is a brilliant alternative to chocolate if you're more of a sweetie lover. They're so pretty your guests might not want to eat them!
36. Jam Pots with Personalised Guest Name Tags - from £4, Etsy
Whether it's homemade or shop-bought, jam is a perfect favour idea for a vintage style wedding - particularly if you are having afternoon tea in place of a traditional wedding breakfast. We adore these little fabric-covered jam pots from Susanne Oddy Design. You can pick from Tiptree marmalade, strawberry or blackcurrant jam, or salted caramel spread.
Pros & Cons: The personalised tags double up as place cards too! Make sure you have enough space in the fridge to store them if you are buying them weeks in advance.
37. Personalised Tea Packet Favours – £8 for 10, Wedding in a Teacup
Everyone loves a good brew. We adore these 'Love is Brewing' personalised teabags from Wedding in a Teacup that you can fill with loose leaf or a luxury tea bag. You could mix things up a bit by putting in unusual flavours, like English rose or toffee apple.
Pros & Cons: You can choose from a crisp white or a brown Kraft envelope to fit into your wedding theme. One review commented that to elevate this wedding favour, they included heart biscuit favours as well.
38. Wooden Laser Cut Place Names - from £30 for 20, Etsy
These personalised place names come in rustic wood and they can be finished with a ribbon hole. They're laser-cut with each guests' name so they can take them home and put them on display - the perfect desk accessory!
"These personalised wedding favours are SO chic," says Rima. "And they'll save you money as they'll double up as a wedding place card too."
Pros & Cons: They can be painted with gold, rose gold, copper or silver. Make sure you have every name spelt correctly before sending off to order as returns are not accepted.
39. Wedding Festival Wristbands – £1.25, Wedfest
If you're planning a 'wedfest' (a festival themed wedding), then make your friends and family feel like VIPs by handing out wristbands. We love these 'Our Wedding Day' ones from Not On The High Street. For more ideas, take a look at our ultimate festival wedding guide.
Pros & Cons: These wrist bands look super realistic and they're so fun! They'll have to be cut-off to be removed, but this only makes them feel even more like the real-deal.
40. Personalised Lip Balm – from £2, Hitched Shop
Your guests will love these cute lip balms from Hitched Shop. You can choose from a range of colours to suit your wedding theme and personalise with a message, your wedding date and family name or initials!
Pros & Cons: Reviews state that this balm is creamy and good quality. You have to attach the personalised labels yourself so ensure you have factored that time into account.
READ MORE: 21 Homemade DIY Wedding Favours
41. Name Badges – £1.30, Wedding in a Teacup
If you want to make sure your wedding favour isn't left on the table then a name badge will be perfect as every guest will love to wear one! We adore these pretty pastel badges from Wedding in a Teacup that easily double as a place card. There's a choice of colour and font, and a lovely rustic Kraft paper badge too that works so well for a barn wedding.
Pros & Cons: If you have guests that don't know each other well, these name badges will be very helpful. As they are handmade they might be all slightly different - we think this adds to their charm.
42. Adult Colouring Books – £4.99, Amazon
No longer just a fun activity for children, colouring for grown ups is now all the rage. We guarantee that everyone will be hooked once they start scribbling away! Insignia Coloring Books on Amazon have a fantastic range of designs.
Pros & Cons: If you have any down-time at your wedding between speeches or food, these are a great way to entertain your wedding guests. You might not need to buy one book per guest - save money by popping one or two on each table.
READ MORE: Charity Wedding Favours You Won't Have Considered
43. Wedding Candle – from £2.19, Hitched Shop
These custom printed candles from the Hitched Shop are tealight sized which makes them ideal candle wedding favours. This love wreath design is a bestseller and we can see why. The gold complements the green wonderfully!
Pros & Cons: Botanical wedding ideas are a trendy choice so these will look very stylish. You will need to spend a few minutes applying the stickers to each tin.
44. Personalised CD Sleeve Favours – £10 for 10
If you're giving your guests the soundtrack of your special day to take home or a CD filled with cute couple pictures, then you could consider popping the disks in these personalised CD sleeves from Sixpence Paperie. They come in a pack of 10 and we love the sleeve's bold font.
"This is a really cool idea," says Zoe. "You could make a CD of your wedding playlist and share it with your pals - the most popular wedding songs are a great place to start."
Pros & Cons: The CD isn't included in this wedding favour, but we reckon a trip to your local charity shops is a great idea! You can choose a song that reminds you of each guest for a sentimental touch.
45. Mulled Wine & Cider Spices – £9.95 for three, The Spice Kitchen
Leave little mulled wine and cider spices on your tables as a thoughtful favour idea. If you want to go DIY, source the spices from and pour them into little jars. Finish by attaching a pretty bow and a personalised label.
Pros & Cons: Naturally, these wedding favours are best suited for a Christmas themed or winter wedding. They'll make your wedding venue smell glorious!
46. Personalised Hand Fan – from £1.90 each, Hitched Shop
Having a summer or sunny destination wedding? The Hitched Shop has a range of personalised fan designs that guests will be very grateful of indeed in the hot weather! Include your names, wedding date, venue, wedding party details or just a message of thanks!
Pros & Cons: These fans don't fold up but they are super light-weight so will be easy for your guests to carry around on the day and take home.
47. Customised Bottle Openers – £3.20 each, Hitched Shop
A cute personalised bottle opener will be a fun wedding favour that your guests will use again and again. The rose gold and marble feels very chic but there are four other designs that you can choose from.
Pros & Cons: Bottle openers are a classic gift - they may not be the most unusual wedding favour in our edit but your guests are guaranteed to appreciate them.
48. Buttercup Bus VW Camper Photo Booth
Buttercup Bus Vintage Campers provide mobile campervan photobooths throughout London, Surrey, Sussex, and Kent. Grab your partner and get your pose on, then leave a silly picture of the two of you on everyone's seat. Guests can use some fab photo booth props and return the favour with a thoughtful, fun keepsake for themselves.
Pros & Cons: The photos are instantly printed out so your guests can take them home. Make sure everyone takes enough snaps so you can add them to your wedding photo album as well.
READ MORE: 36 Bridesmaid Gift Ideas For Every Budget
49. Personalised Drinks Coasters – from £2, Hitched Shop
If you like a good tipple then a drinks coaster with personalised initials, a message or humorous quote is a perfect favour idea. They're made from glass for a luxurious finish.
Pros & Cons: To make the most out of this wedding favour, we recommend taking some time to pick a special message - take a look at these funny love and marriage quotes for inspiration.
50. Coffee Stencil – £12.50, Sophia Victoria Joy
Go all fancy with your favours and present guests with a coffee stencil so that they can take their hot beverage to the next level. These wedding themed stencils from Sophia Victoria Joy can be personalised with both your names or your guests' names.
Pros & Cons: Make sure you place a little pot of chocolate or coffee powder on each wedding table so your guests can use the stencils on the day.
51. Krispy Kreme Doughnuts – from £2.55, Krispy Kreme
Unleash your inner Homer Simpson and give your guests a delicious doughnut. Pop them in individual boxes for a special touch – Krispy Kreme sell single boxes of doughnuts that would make amazing favours.
Pros & Cons: Check whether these Krispy Kreme's are available for delivery or collection - we recommend ordering them straight to your wedding venue if you are able to.
52. Scrabble Pieces Place Cards - £1.40, Jodie Gaul
Give a romantic nod to this board game favourite by handing out Scrabble pieces that spell out a cute message and combining them with these amazing Scrabble place cards. They're simple but very effective.
Pros & Cons: If over 40 are ordered, you can get a bulk discount price but even without the saving, they are less than £1.50 per favour. See more cheap wedding favours here.
53. Notebooks – from £2.60, Hitched Shop
A notebook is one of life's essentials, and these personalised ones are so affordable. There's lots of different designs to choose from, but we think this one would be ideal for a spring wedding. Discover more ways to personalise your wedding here.
Pros & Cons: Your guests could use these as mini wedding guest books by writing a special memory down. One review stated that these come up smaller than they expected - this will make them the perfect size to fit on a wedding table without looking cluttered.
54. Personalised Photo Message Bottle – £13.45, Edge Inspired
If your wedding has a nautical or travel theme, then a message in a bottle favour is an easy way to follow this. You can make them yourselves or, if you have a bit more budget, how gorgeous are these photo messages in a bottle with a picture of you both and a message on the back!
Pros & Cons: This will be a bit more expensive per wedding favour so we suggest this idea for an intimate celebration with fewer guests. They're quite fragile - be careful when transporting.
55. Mini Board Games – £28.50 for 30, Baker Ross
If your wedding guests have travelled from far and wide to be at your special day, then a retro game like Snakes and Ladders or Scrabble will keep them entertained on the journey back. Buy the games in a smaller, travel size to make them favour appropriate. This 4-in-a-row game is 95p a favour! Discover more wedding games for your reception.
Pros & Cons: There are so many games to choose from that you might have a hard time choosing! We recommend putting a few types of each on every table.
56. Personalised Wine Cork Stopper – £9.99, Natural Gift Store
For an eco-friendly wedding favour, consider these 100% natural wine stoppers, made from beech and cork. They're reusable, recyclable and super stylish looking. It'll remind every guest of your day when they pop open a bottle.
Pros & Cons: If your wedding guests don't drink, these can be popped inside their bag instead as wine corks are considered a symbol of good luck.
57. Organic Mini Handmade Soap – £1.50, Banks-Lyon Botanical
These cute soaps in gorgeous scents make a perfect finishing touch to your wedding tables. You'll get sent a random selection of scents, including honey & oatmeal, cocoa & shea butter, and almond oil.
Pros & Cons: Even before these wedding favours are opened, they'll emit a gorgeous scent that will fill your wedding venue. All soaps are suitable for vegans.
READ MORE: The 35 Best Groomsmen Gift Ideas
58. Diamond Bubble Blowers - £10.99 for 10, Hitched Shop
Hand these fun diamond bubble blowers out at your reception and wow your guests. They're a really fun and entertaining touch, plus can you imagine how good your wedding photographs will be with bubbles blowing around!
Pros & Cons: These wedding favours will be a big hit with any children attending your wedding - for more ideas see these fun wedding favours for kids. Make sure you keep these sealed before the big day to avoid any spillages.
59. Love Cake Pops - £25.55 for six, Etsy
If you're feeling creative, these treats on a stick can be made at home, or you can buy ones to fit your theme. We love these amazing love cake pops from Aunty Banty's Bakery - they'd look fabulous with a classic pastel pink colour scheme.
Pros & Cons: These will make a pretty (and delicious) addition to your wedding dessert table. They aren't vegan, but they do have an eggless chocolate flavour.
60. Personalised Wedding Coins - from £34 for 10, Etsy
We doubt any of your guests will have ever received a custom coin with your face on before! These are such an incredible keepsake. The coins are hand-crafted in lead-free pewter and given an antique finish that brings out the detail on the finished coin i.e. your faces.
Pros & Cons: You can choose from small, medium or large to fit within your budget. For best results, choose a photograph that is simple and doesn't have too many small details.
61. Tiny Bird's Nests - from 96p, Hitched Shop
How adorable are these mini bird's nests?! Perfect for an Easter wedding, pop a few mini eggs into the nest and leave on the placemats for an after dinner treat.
Pros & Cons: You can't give the nests out when they're empty, but once eggs are added they make perfect sense! Some reviews state that they are a little darker than pictured.
62. Personalised Mints - from £2.99, Etsy
You and your partner might not be the only ones puckering up on your wedding day. Make sure your guest's breath stays fresh with these cute personalised mints. With an adorable tag labelled 'mint to be' who could resist!
Pros & Cons: The tube isn't made from actual glass but it is very realistic! It means they'll be no risk of them falling off tables and smashing, plus it keeps the cost per favour down.
63. Minatare Watering Can - from £1.69, Hitched Shop
These cute watering cans add a touch of rustic charm to a summer wedding. You can fill them with fresh flowers, foliage, napkins or even cutlery. Go one step further and add a personalised sticker so they can double as wedding favours and table place names.
Pros & Cons: These mini watering cans certainly tick the box of unusual wedding favour! They might not fit into every theme, but they'd suit a garden wedding venue perfectly.
64. Wedding Favour Tissues – from £1.92 each, Hitched Shop
If your wedding speeches get emotional, your guests will be grateful of these wedding tissue favours. Each package contains five tissues which is more than enough to get them through the day!
Pros & Cons: There is a limited colour selection however the classic Tiffany blue design will look seriously classy on your tables.
65. Personalised Golf Balls - from £3.29, Hitched Shop
If you have a sporty crew joining you for you wedding day, they'll love these personalised golf balls. Better yet, if you're marrying at a wedding venue with a golf course they'll be able to test them out during the weekend. See sporting wedding venues here.
Pros & Cons: Even if your wedding guests don't typically play golf, they'll still make a lovely keepsake for them to have in their home.
Why Do You Have Wedding Favours at a Wedding?
The very first wedding favours date back centuries ago and were known as 'bonbonnieres'. Given as a symbol of good luck, guests could usually look forward to sugar cubes or sugared almonds! Today, you can really tailor them to your chosen wedding theme or preference.
Not only are they a fun way to show your guests gratitude and how much you love them, but they're also a sweet reminder of the most special day of your life.
Are Wedding Favours Necessary?
There is nothing to say that you have to hand out wedding favours at your wedding, but they are a lovely gesture! They can also double up as wedding table names, or entertainment for your guests during the reception so they are worth considering.
On a tight budget? Check out these cheap wedding favours - you'll be amazed at what you can get for less than £1!