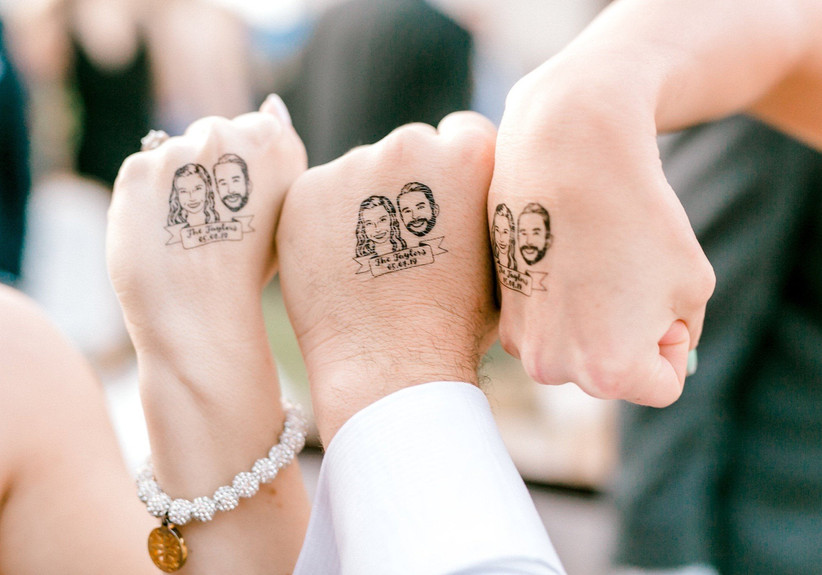 If you want to present your guests with some amazing wedding favours, then why not think outside the box and give them something that's a bit different?
From personalised teabags to temporary tattoos, we've come up with 50 unusual wedding favours which are sure to go down a treat with your wedding guests.
There's something here for every couple so keep scrolling – your perfect favours are here!
1. Harry Potter Potion Bottles – £1.99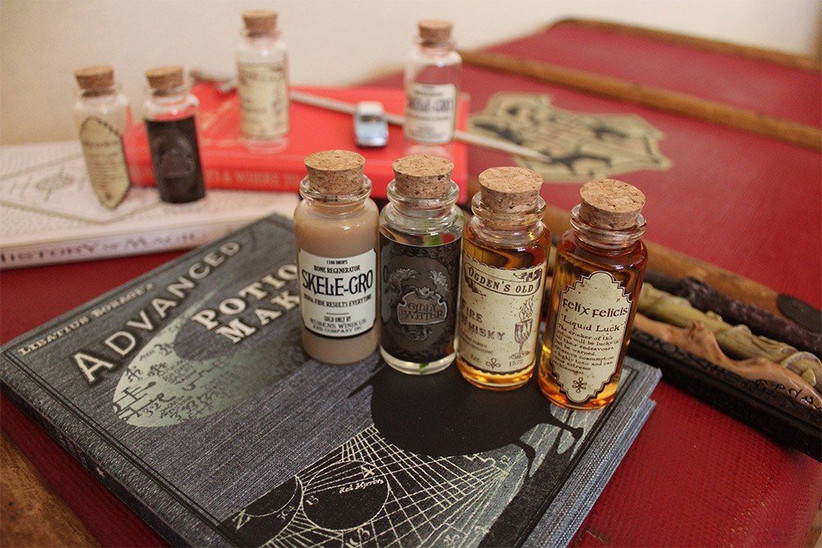 Harry Potter fans you are going to love this! These 30ml Harry Potter spell bottles from Mr Goods Emporium come empty so you can fill with whatever potion you desire. Add a little edible shimmer powder to gin or tequila for a gorgeous potion-like shot or fill with flavoured liqueurs or Baileys. For non-drinkers, put some cordial in them to take home.
2. Flower Seed Packets – £12 for 10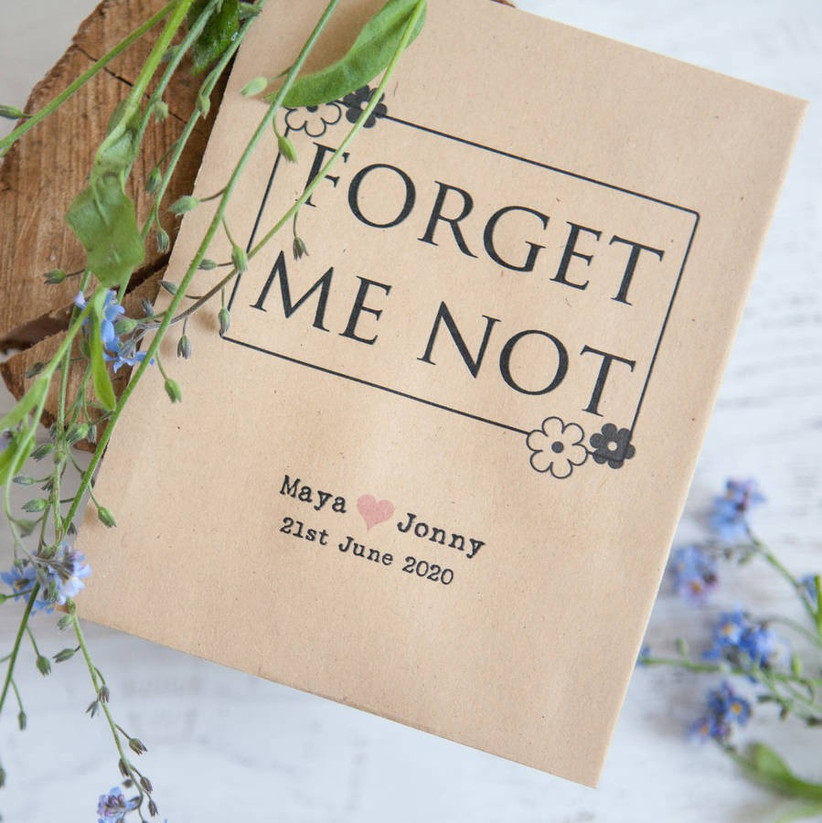 Your guests will adore these packets of seeds from Wedding in a Teacup that grow into beautiful Forget Me Nots. The packets have a charming rustic design and your guests will be reminded of your wedding when their flowers start to grow.
READ MORE: 3 Easy DIY Food Wedding Favours
3. Shot Glasses – 99p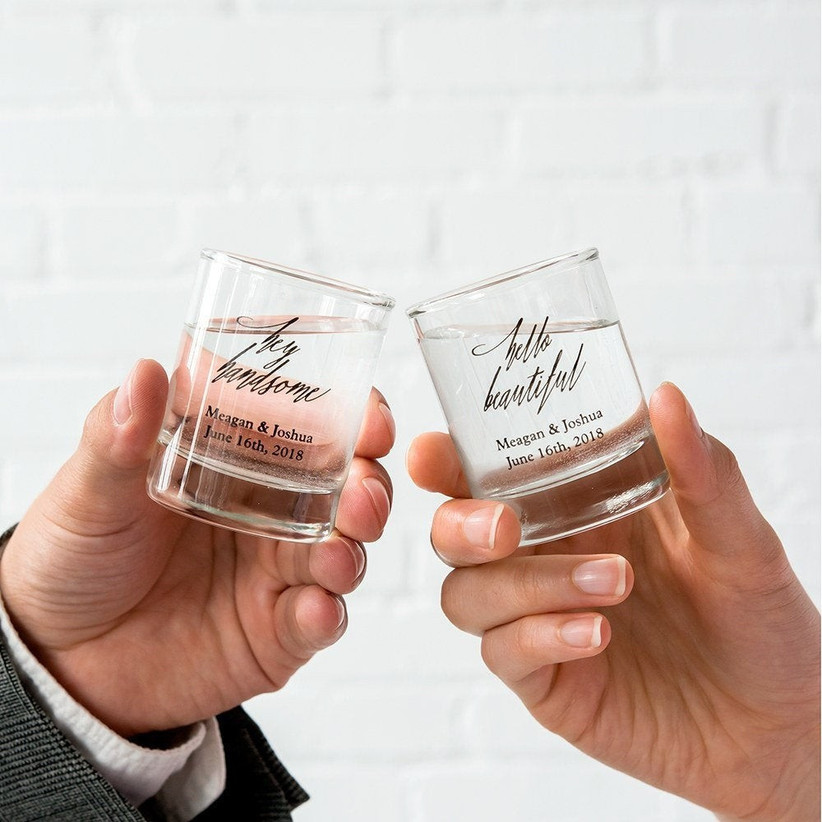 All the adults can raise a shot to toast the happy couple with these personalised shot glasses. The glasses feature a logo (there's a huge choice!) and up to two lines of text. Choose your favourite spirits to share around and have a non-alcoholic option available.
4. Puzzle Pieces – £2.99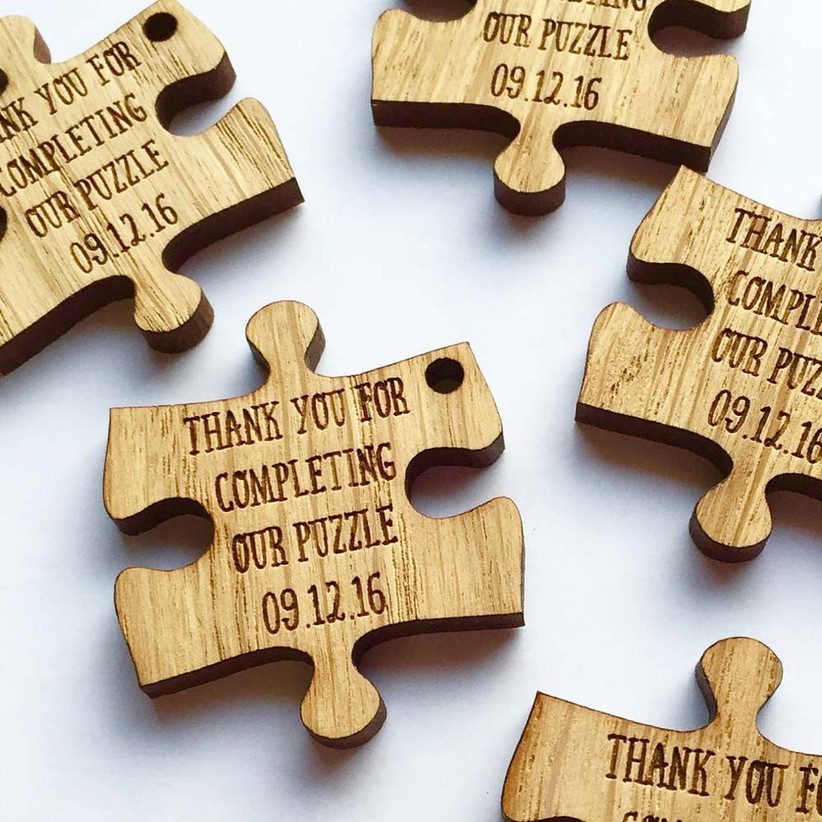 These custom puzzle pieces from Manta Makes are a sweet way of thanking your guests for being a part of your celebration.
5. Personalised Nutella Jars – £2.67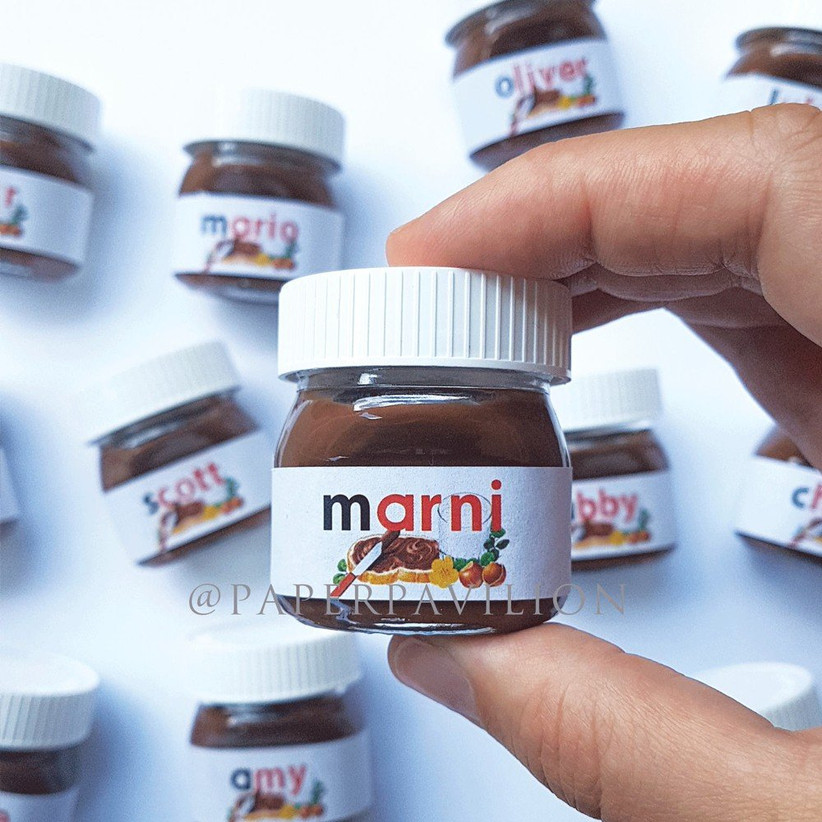 Yes, this is a thing! If you and your partner are self-confessed Nutella addicts, you can order these mini pots with personalised labels for each guest and a thank you message on the back.
6. Personalised Socks – £8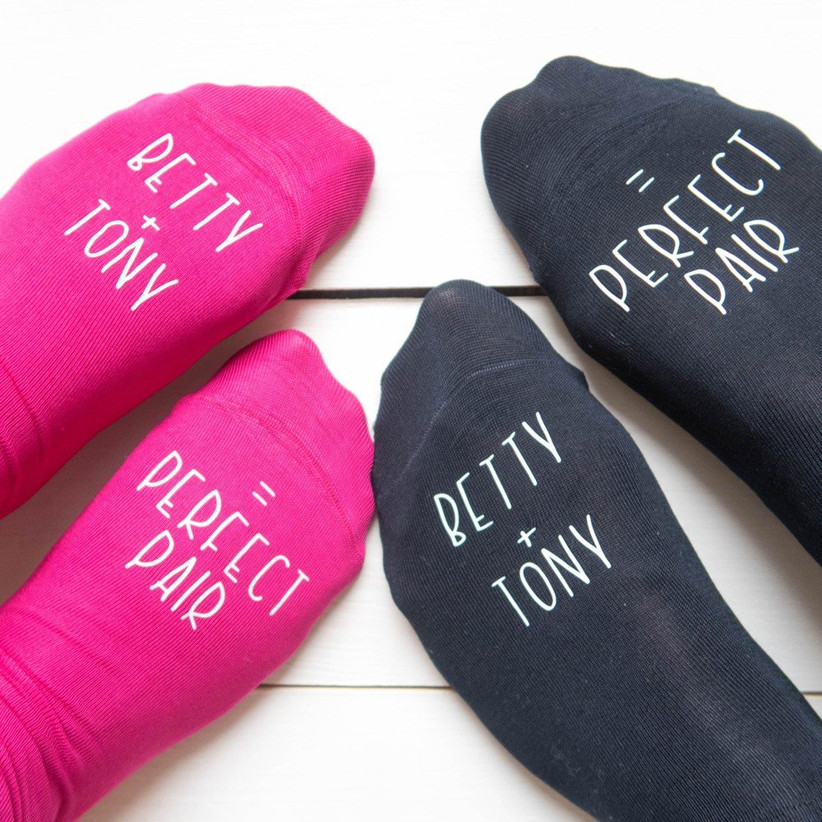 Yes, really! Make socks cool by choosing a quirky design or you could even have them personalised with your names and the date of the wedding. These colourful pairs from Etsy are fab and there's lots of choice at Not On The High Street too.
7. Mini Olive Oil – £257.41 for 65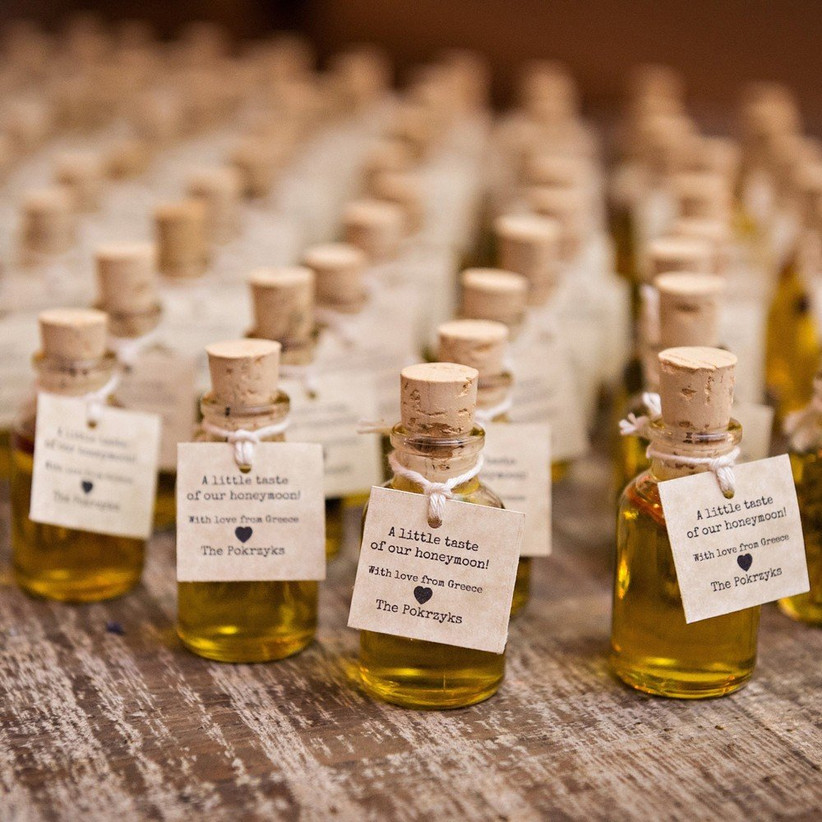 Mini bottles of condiments, balsamic vinegar or infused olive oil make great take home treats. Every guest will appreciate one of these fine Greek olive oil favours, which is homegrown and bottled in the Peloponnese, Greece. They've got a huge number of fresh herbs and flavours they can infuse the oil with, from rosemary and oregano to chilli, lemon, garlic or sweet peppers. If you're after something spicier, what about a mini bottle of sriracha? It's a perfect taste of your upcoming honeymoon!
8. Matchbox Games – £3.95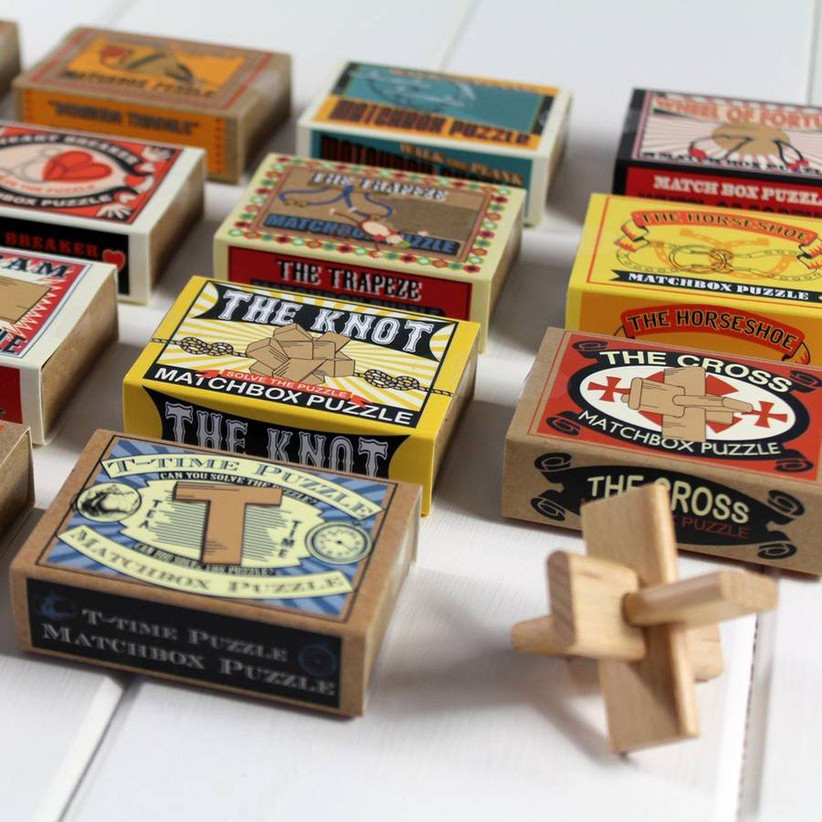 With 15 different brain-teasing designs to pick from, you'll keep your guests entertained during any quieter moments of dinner (and little ones' hands busy during the speeches!) with these bestselling matchbox puzzles from Nest.
9. Cake in a Jar – £18 for 6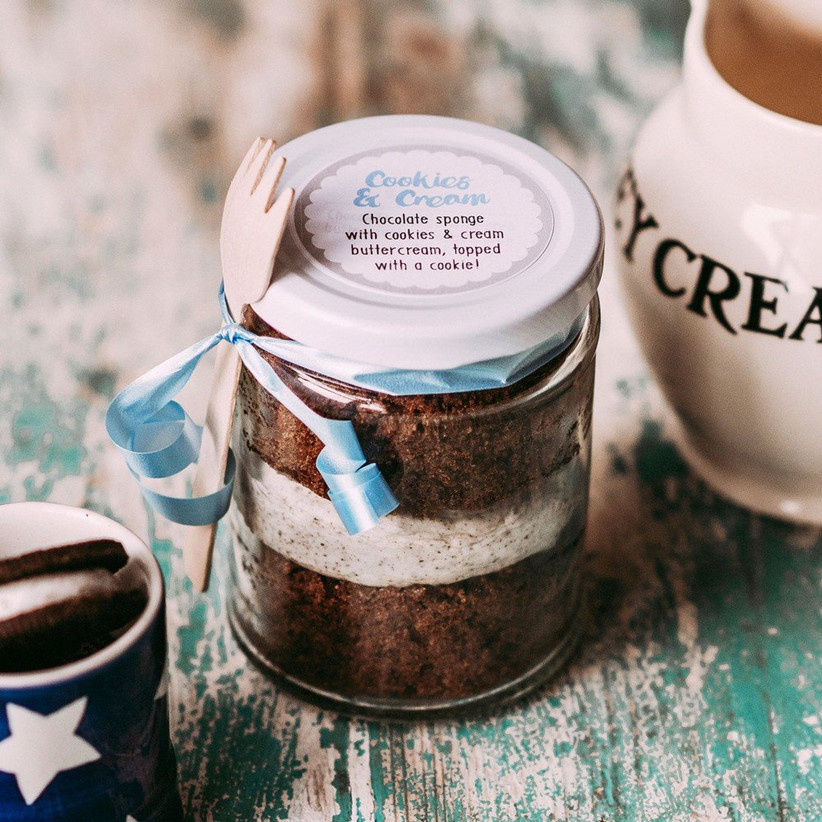 Chocolate wedding favours are always a winner, so why not get creative and serve your guests a cake in a jar? A big trend at the moment is making cakes that fit in mugs, so why not have a go at making these yourself. If you aren't at Mary Berry's level just yet, you can order them too, like this one from Frostbite Bakery. You can also get vegan ones!
10. Personalised Gin Wedding Favours – £4.99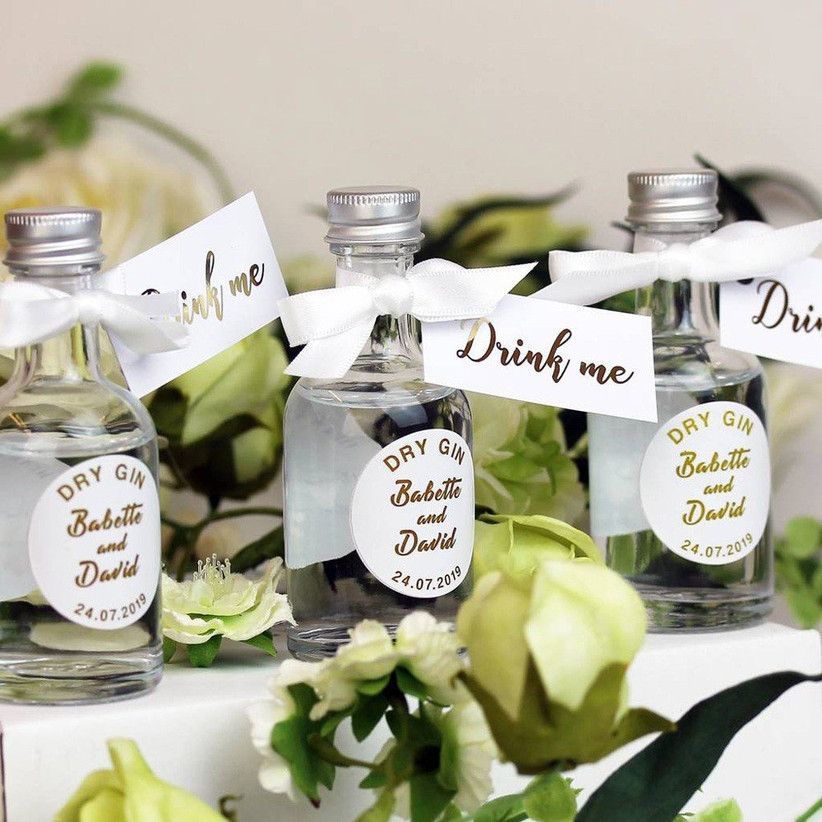 If you are an avid gin lover then share your passion with your wedding guests – we adore these pretty little gin favours from Hearth & Heritage. They come filled with either gin, pink gin, whisky or vodka, are personalised with your wedding date and names, and come in various colourways.
READ MORE: Ginspiration: 9 Ways to Have a Gin Themed Wedding
11. Custom Portrait Temporary Tattoos – £102.48 for £100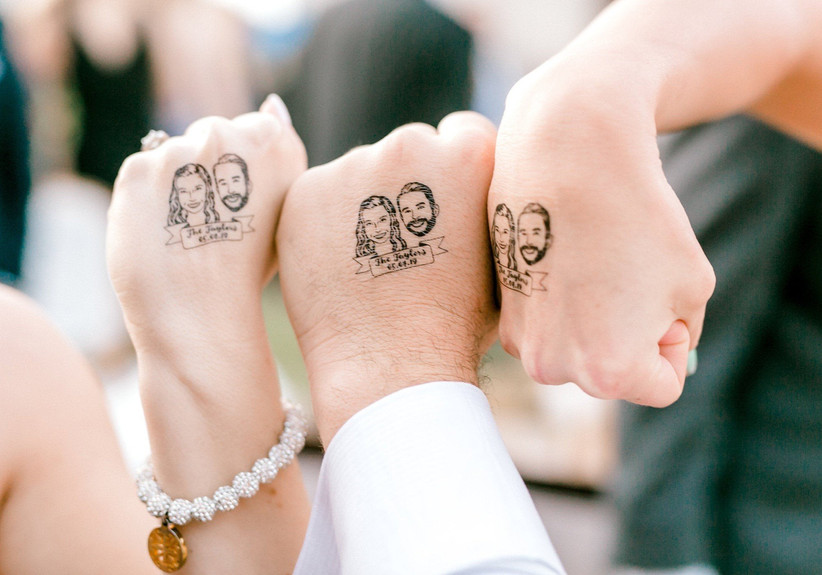 Who needs the pain of the real thing? Temporary tattoos are a great unusual wedding favour – these ones feature a custom portrait of you both with your name and wedding date. Your guests will absolutely adore them.
12. Popcorn Box Stickers – £1.80 for 35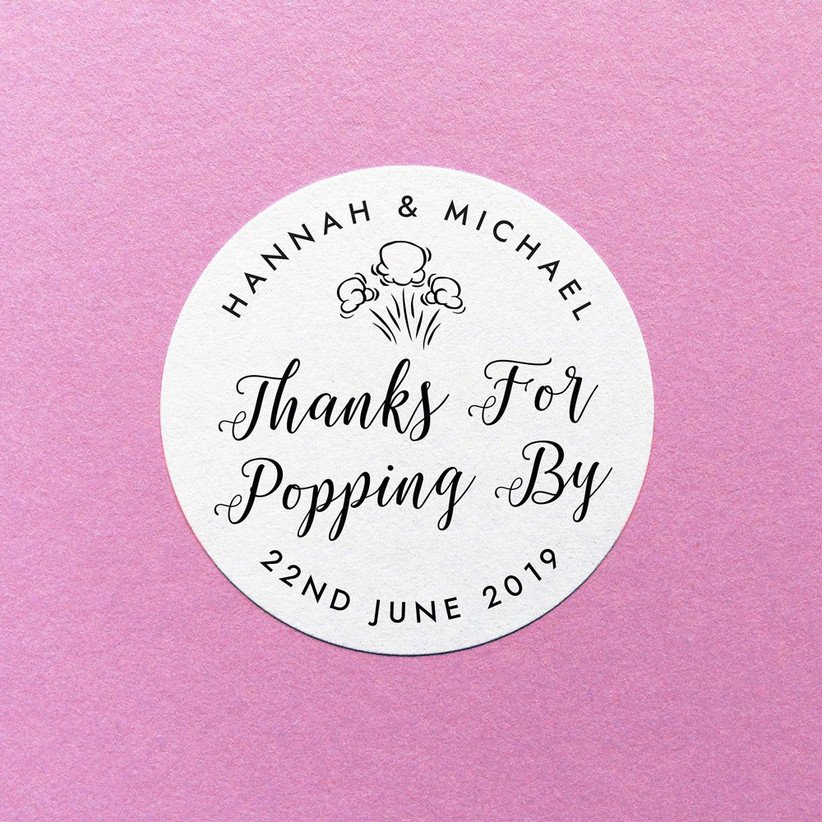 Give your guests little boxes of this much loved treat for them to take away. If you're planning to have vintage wedding décor, then you could buy some cheap mini striped popcorn boxes (£1.75 for 6) and finish them with these fab personalised stickers from Sarah Burns Prints.
13. Sunglasses – £5.53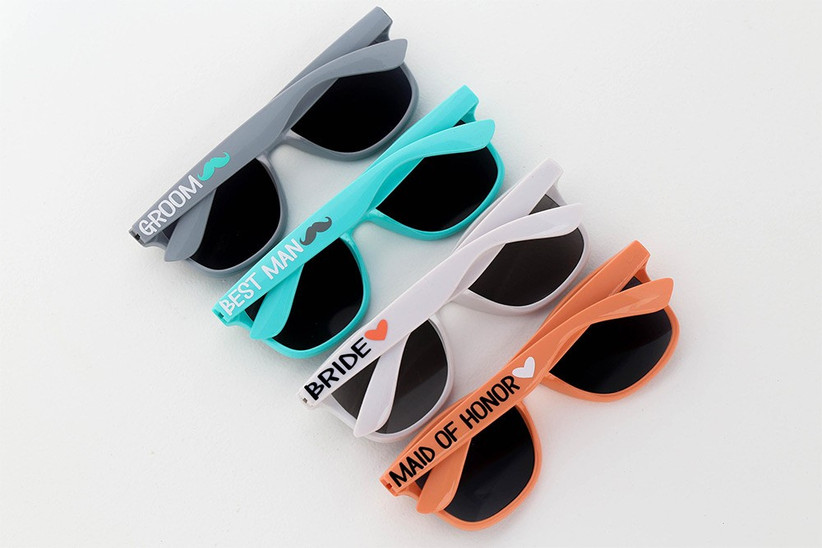 We love the idea of giving your guests fun colourful sunglasses as a wedding favour. They look awesome in wedding photos and these ones from JcDezigns can even be personalised with your very own message.
14. Hangover Kits – £18.30 for 30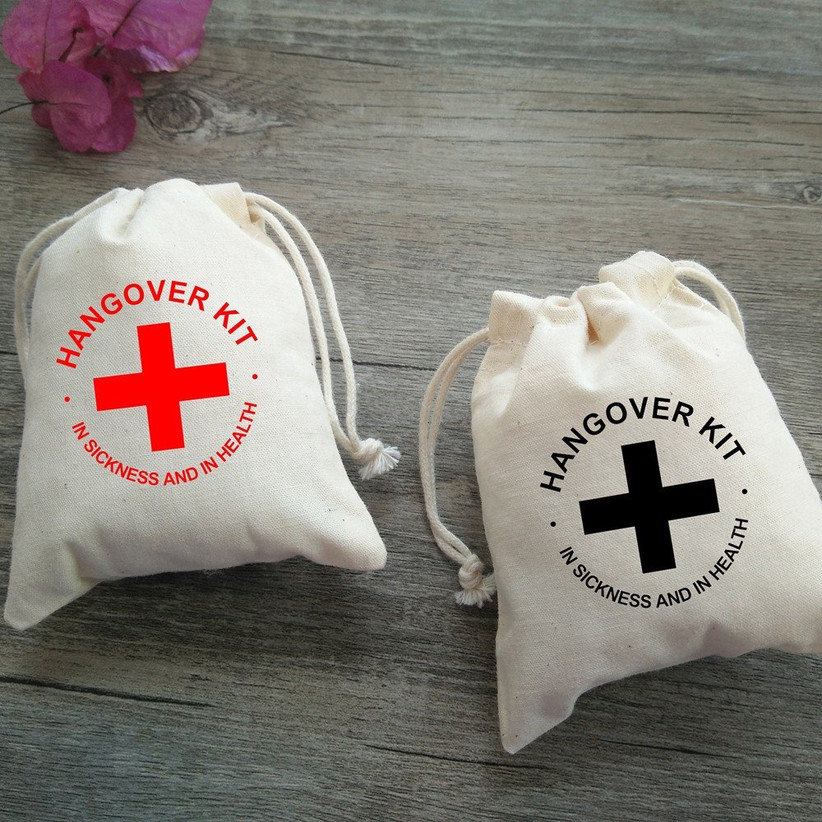 Everyone will be enjoying a tipple or two on your wedding day so make sure that there are no sore heads after by handing out hangover kits. How cute are these bags! Fill them with things like chocolate, paracetamol, mints and an eye mask.
15. Lottery Tickets – £6 for 10 + £2 a Ticket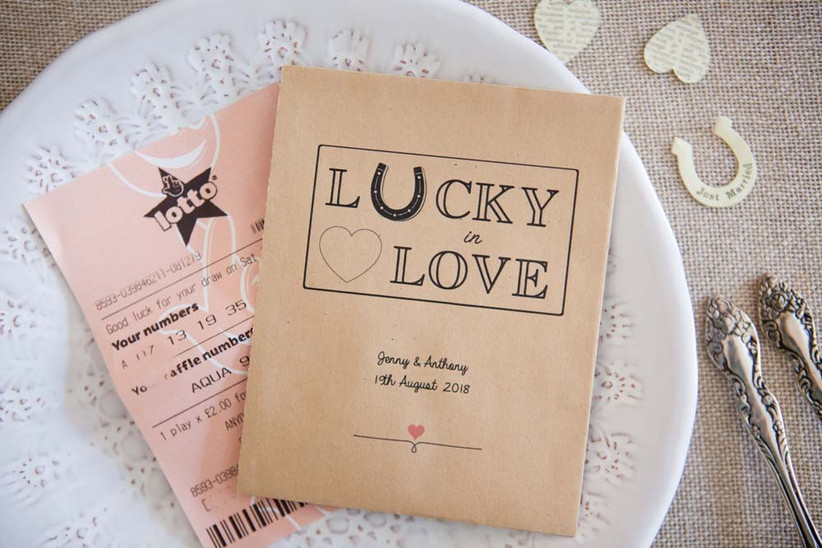 Feeling lucky? If you are, then share your luck with your guests by giving them a lottery ticket. This is a fun and affordable favour idea that could lead to some big wins! Pop the tickets in these romantic 'lucky in love' ticket holders from Wedding in a Teacup. There's also a scratchcard version if you want to go for a slightly cheaper option!
16. Personalised Succulents – £60 for 10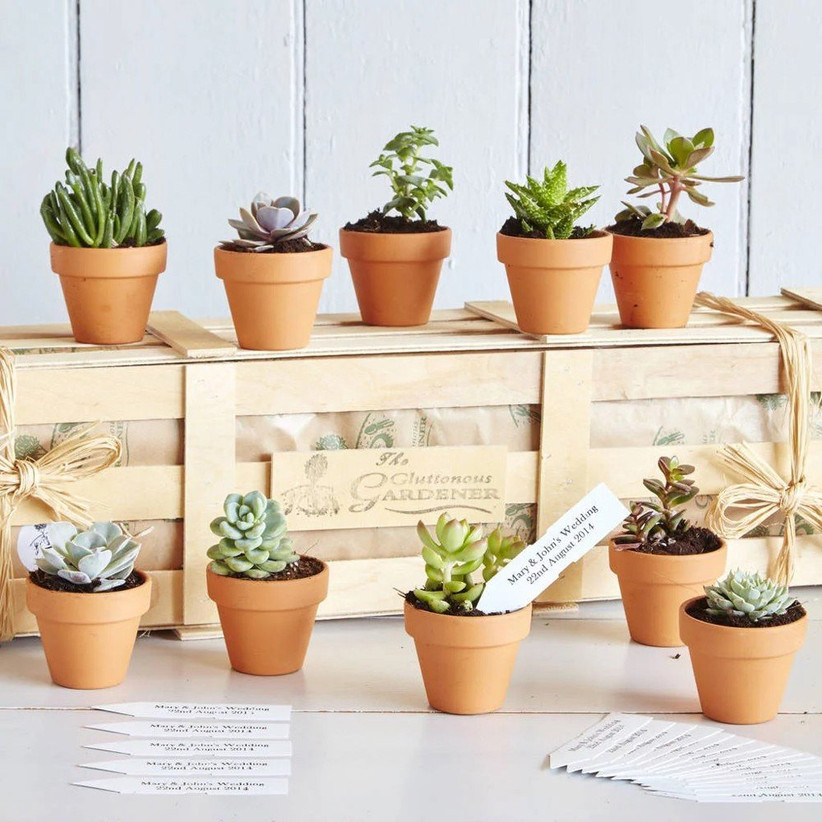 For a unique keepsake of your wedding day, choose one of these exotic succulents from The Gluttonous Gardener. They're simple enough for even the least green-fingered to grow and come in these cute terracotta pots. Each pot comes with a weatherproof label personalised with your names and the date of the big day.
READ MORE: Vintage Wedding Favours That Everyone Will Love
17. Sparklers – £8 for 12 Covers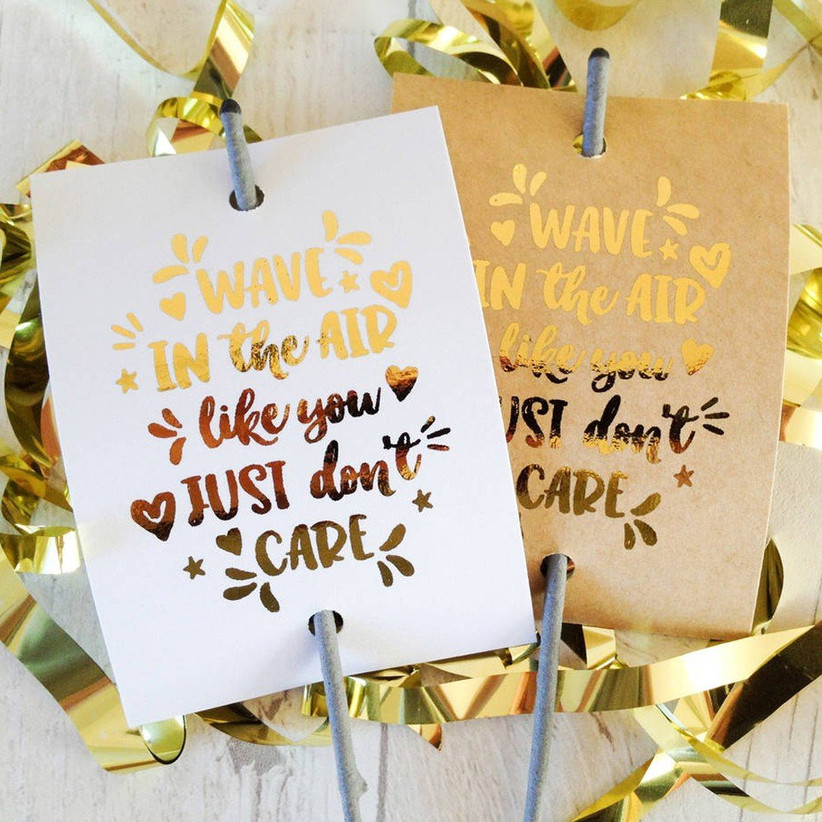 If your guests use their sparkler favours on the day itself then you can guarantee some amazing wedding photos. Sparklers give an amazing touch to an outdoor evening reception. These sparkler covers add a bit of fun and can be personalised with your names and wedding date. The sparklers themselves only cost pennies when you bulk buy.
18. Icebreaker Fortune Cookies – £35 for 50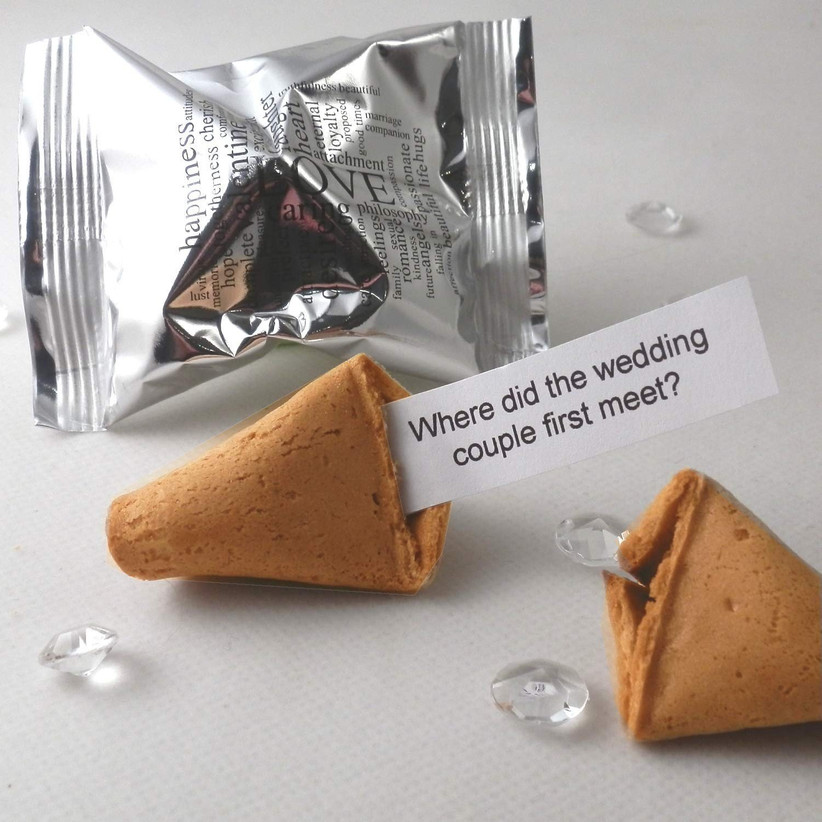 Fortune cookie wedding favours are a highly affordable option and such a great way to break the ice when your wedding guests sit down. It's a favour, table game and table decoration all in one! You could even get personalised ones with your own message inside, like these pink favours from Little Cupcake Boxes.
19. Personalised Chocolate Favours – £1.95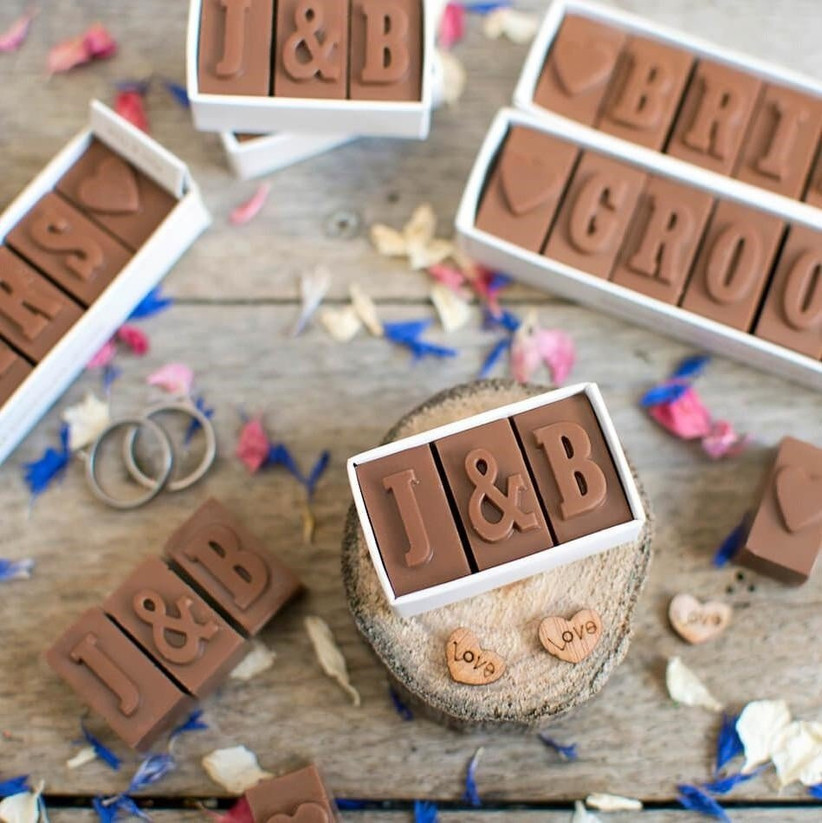 Offer your wedding guests a sweet treat with these chocolate initial wedding favours from Morse Toad. The milk chocolate sets can feature up to three initials or characters and are utterly delicious. You can be certain these will all find a home by the end of the night.
READ MORE: The Best Chocolate Wedding Favours
20. Pick 'n' Mix Bags – £4.99 for 25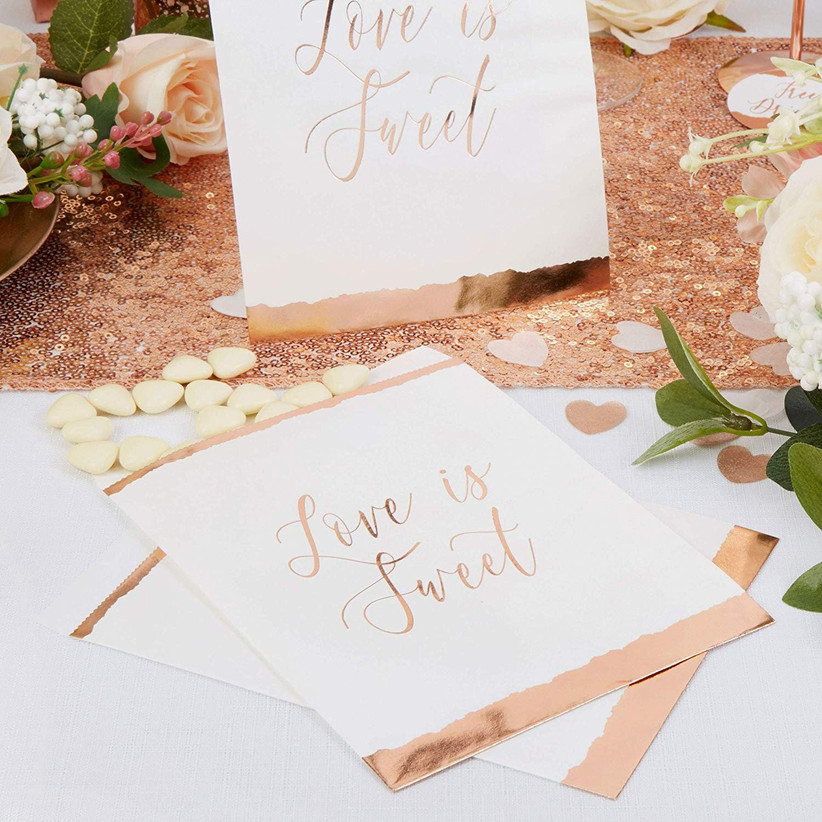 If one of you has a serious sweet tooth, fill Victorian sweet shop-style retro jars with your favourite sweets, and let your guests go wild packing cute foiled paper bags with a sugary assortment. You could even add a vintage touch by hiring a sweetie cart for guests to choose their own pick 'n' mix.
21. Luggage Tags – £125 for 50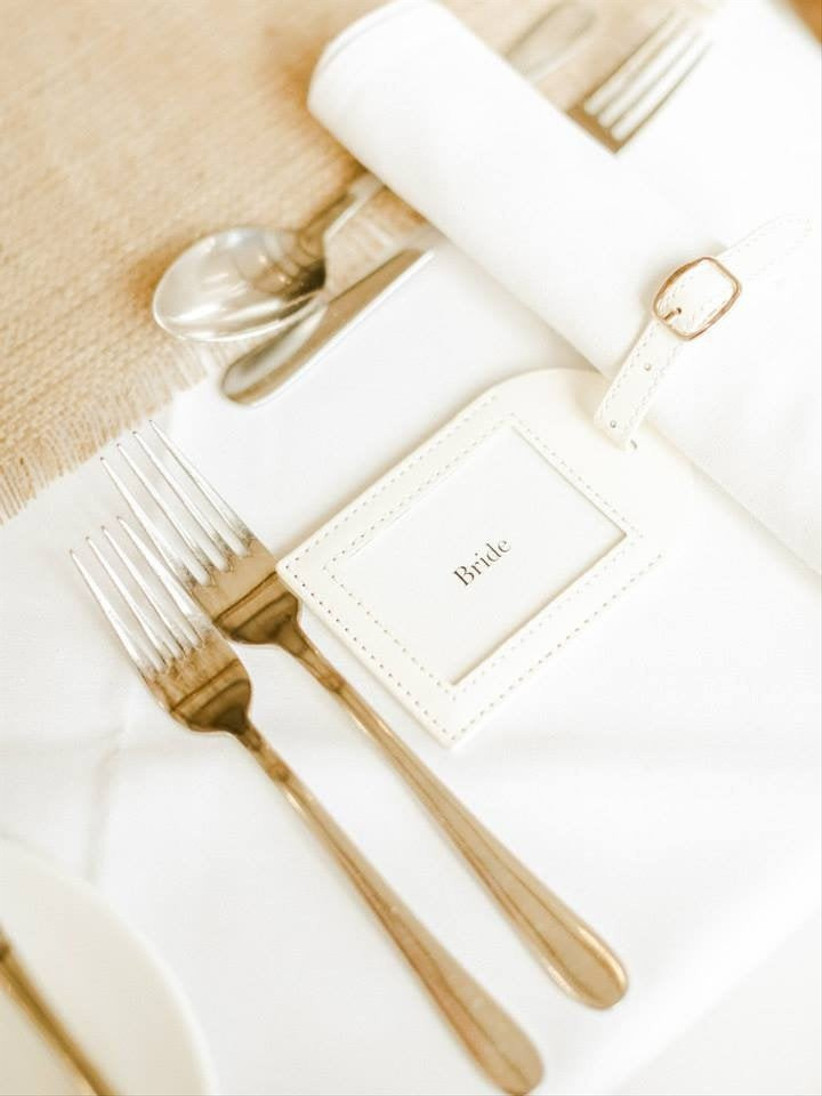 If you're having a destination or travel themed wedding, these white, embossed, leather-look luggage tags are ideal. They'll come printed with each of your guests' names inside so you can use them as place cards too. They're super chic and very high quality-looking for the price.
22. Grow Your Own Chilli Kit – £6.99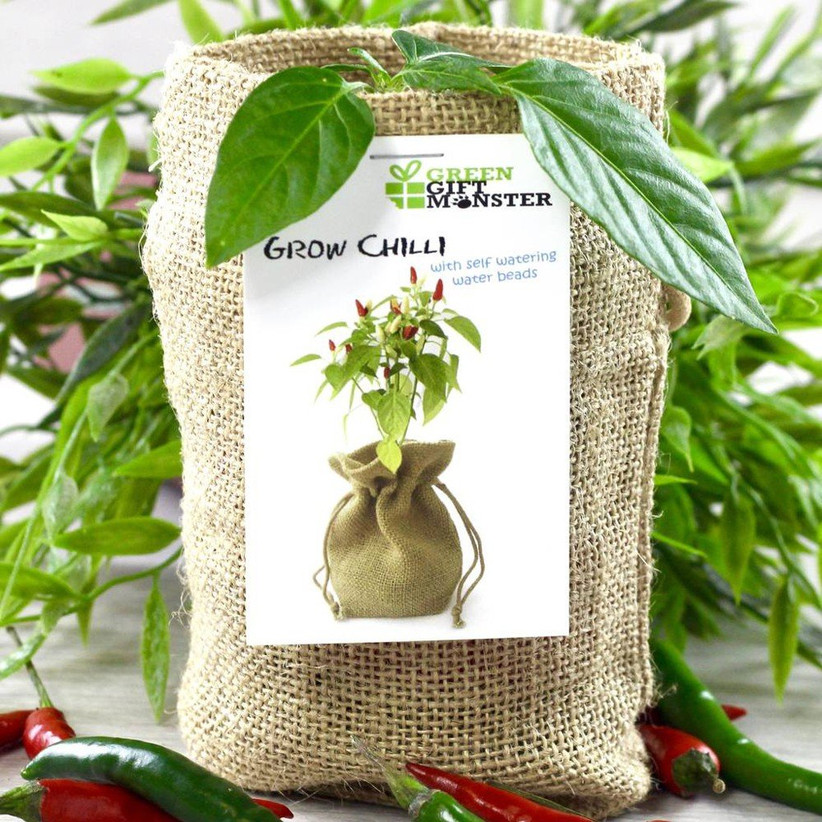 If you've got something on your menu that has a bit of a fiery kick to it, why not give out chilli-growing kits as wedding favours? Be warned though, these favours might not be suitable for children or those with sensitive taste buds! Luckily Beecycle have loads of kits to choose from, including strawberries, basil, cherry tomatoes and more.
23. Personalised Christmas Crackers – £50 for 10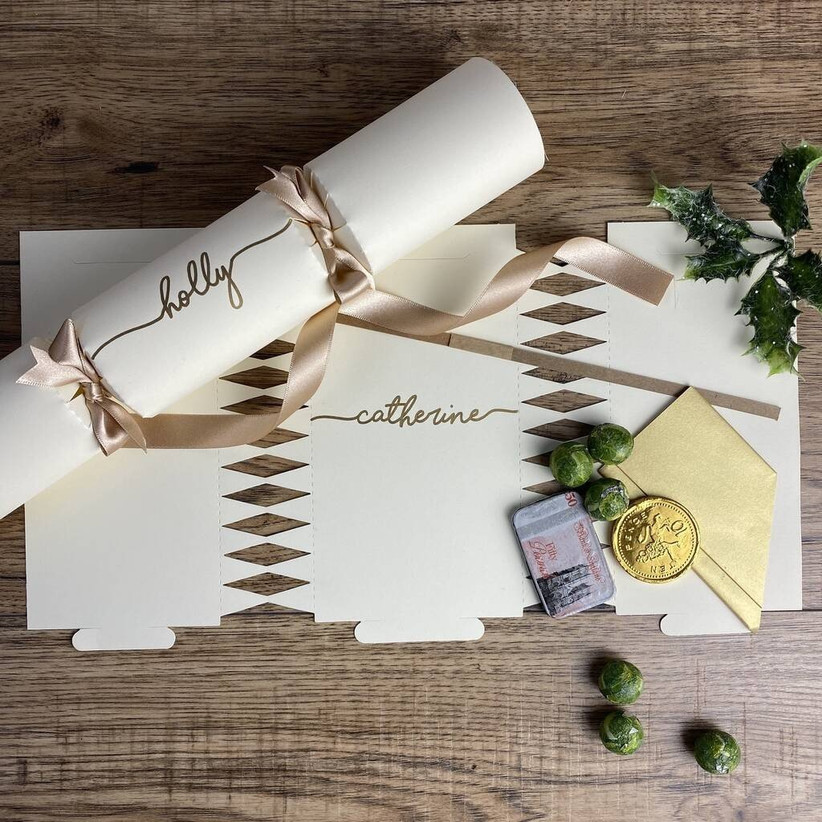 If you're getting married in winter and are looking for Christmas wedding ideas to give a festive touch to proceedings, then why not hand out Christmas crackers as wedding favours? These crackers come with your guests' names in handwritten calligraphy and can be bought ready made up or as a kit for you to fill with a variety of small gifts (we love those Brussels sprout chocolates!). They double as place cards so you'll save on those.
24. Personalised Lollipops – £34 for 20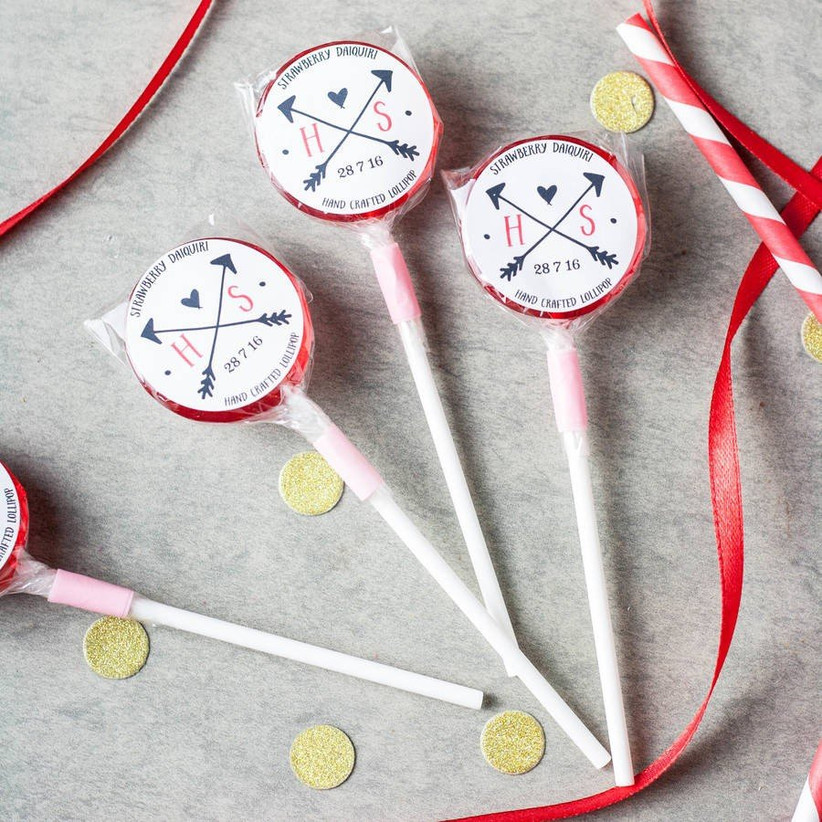 These lollipops from Holly's Lollies are a cute and delicious favour idea for your guests and they can be personalised to include your initials and wedding date. There's 17 alcoholic flavours to choose from, like raspberry prosecco and gin & elderflower, plus delicious non-alcoholic flavours like salted caramel and strawberries & cream.
25. Jam Pots with Personalised Guest Name Tags – £3.05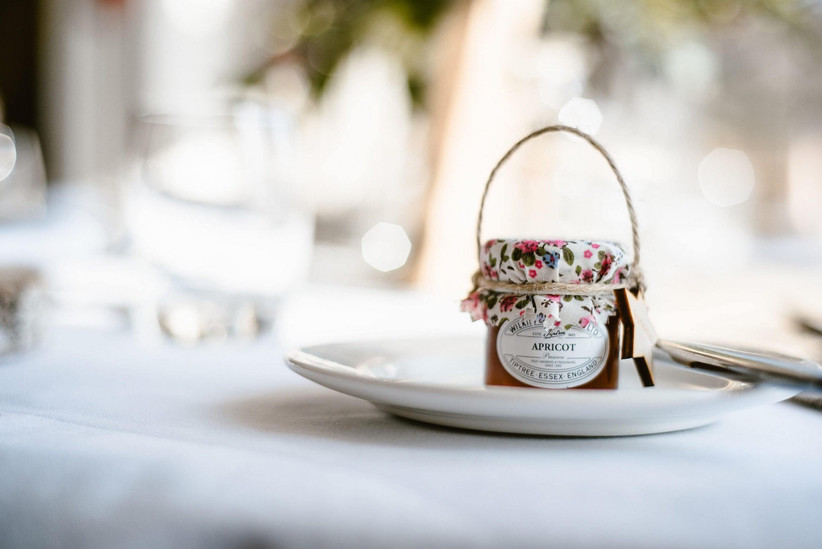 Whether it's homemade or shop-bought, jam is a perfect favour idea for a vintage style wedding – particularly if you are having afternoon tea in place of a traditional wedding breakfast. We adore these little fabric-covered jam pots from Suzanne Oddy Design. You can pick from Tiptree marmalade, strawberry or blackcurrant jam, or salted caramel spread. The personalised tags double as place cards too!
26. Tea Sachets – £6 for 10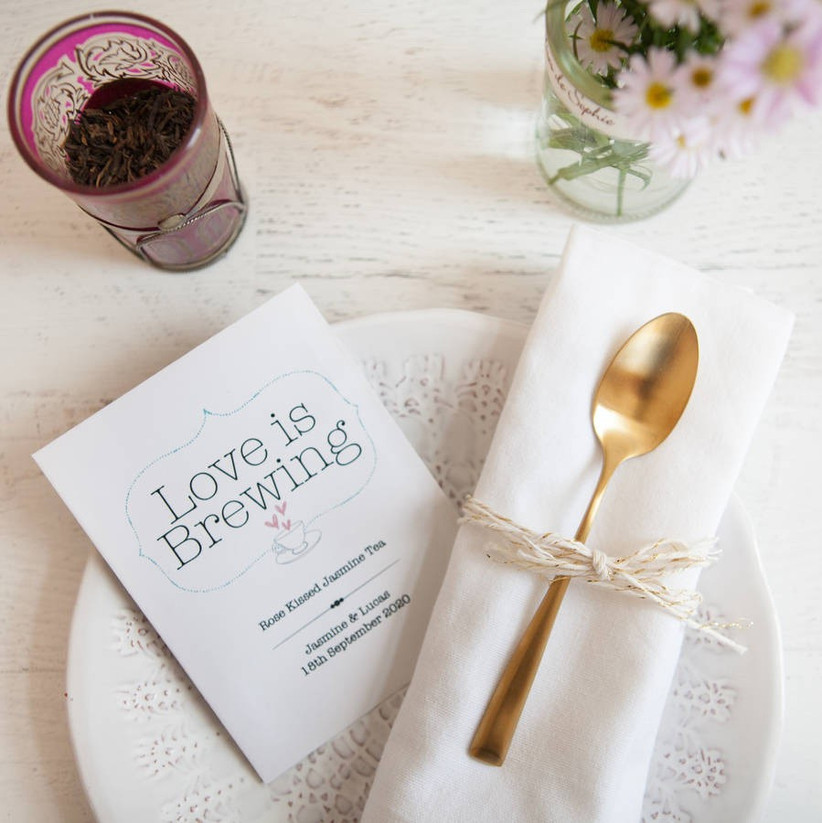 Everyone loves a good brew. We adore these 'Love is Brewing' personalised teabags from Wedding in a Teacup that you can fill with loose leaf or a luxury tea bag. You could mix things up a bit by putting in unusual flavours, like English rose or toffee apple.
27. Wooden Place Names – From £1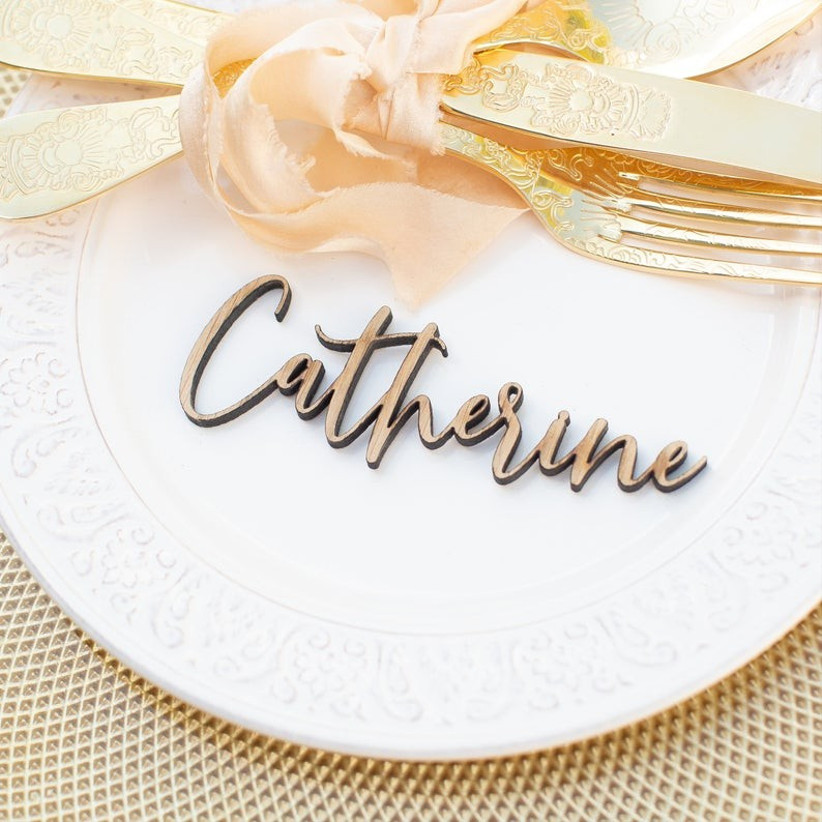 The personalised, calligraphy-font place names come in everything from rustic wood to clear acrylic and rose gold mirror. They're laser-cut with each guests' name so they can take them home and put them on display!
28. Festival Wristbands – £1.10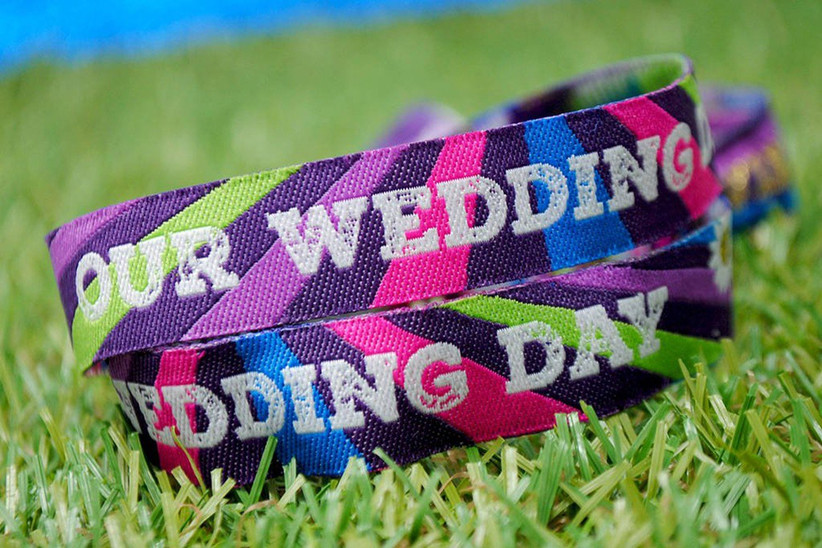 If you're planning a 'wedfest' (a festival themed wedding), then make your friends and family feel like VIPs by handing out wristbands. We love these 'Our Wedding Day' ones from Not On The High Street.
READ MORE: The Ultimate Festival Wedding Guide
29. Lip Balm – £173 for 35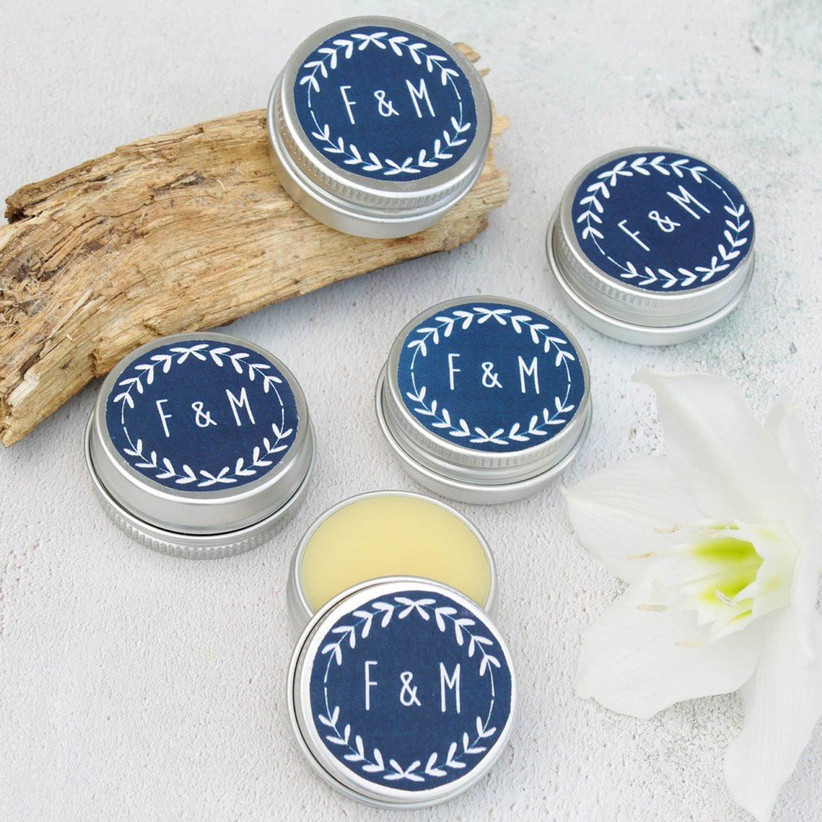 Your guests will love these cute lip balms from Hearth and Heritage. You can choose from flavours like Prosecco or strawberry, pick your packaging colour and personalise with your initials!
READ MORE: 21 Homemade DIY Wedding Favours
30. Rubik's Cube – 99p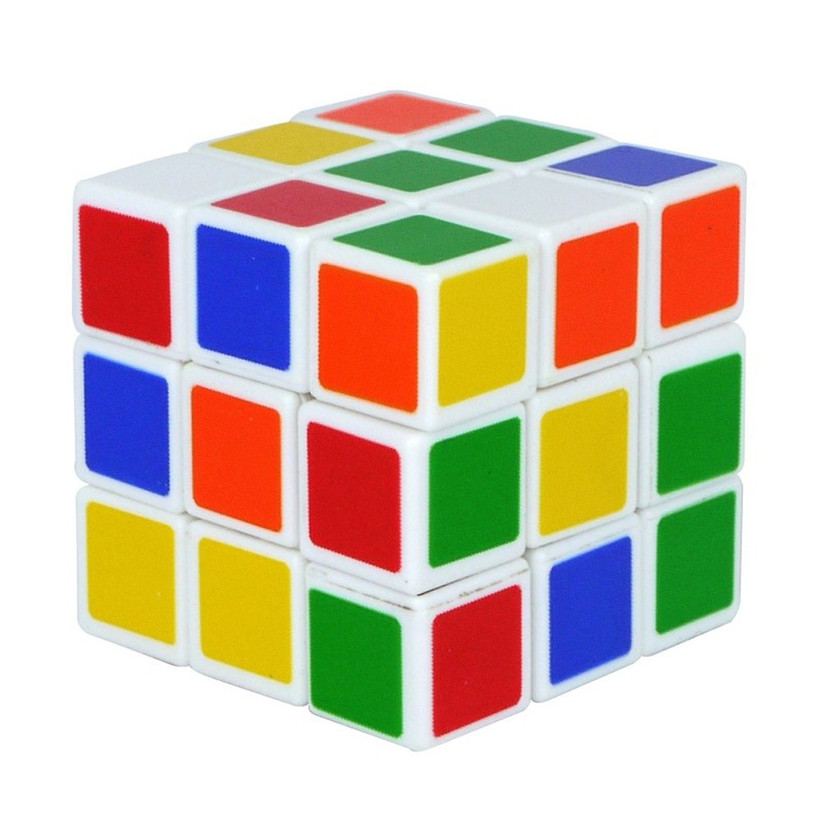 Give your guests a real brainteaser of a favour with a Rubik's Cube. This is a great favour idea for all ages and it will certainly keep little ones entertained if they have a long journey home. These mini cubes from Party Pieces are just 99p each!
31. Name Badges – £1.10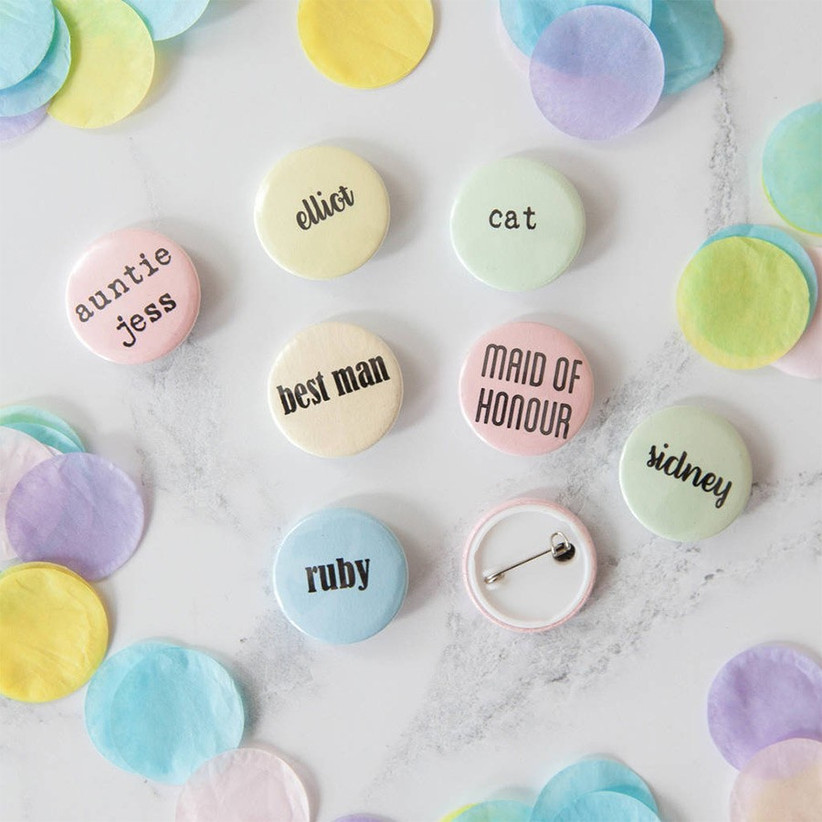 If you want to make sure your wedding favour isn't left on the table then a name badge will be perfect as every guest will love to wear one! We adore these pretty pastel badges from Wedding in a Teacup that easily double as a place card. There's a choice of colour and font, and a lovely rustic Kraft paper badge too that works so well for a barn wedding.
READ MORE: 19 Delicious Edible Wedding Favours
32. Adult Colouring Books – £4.99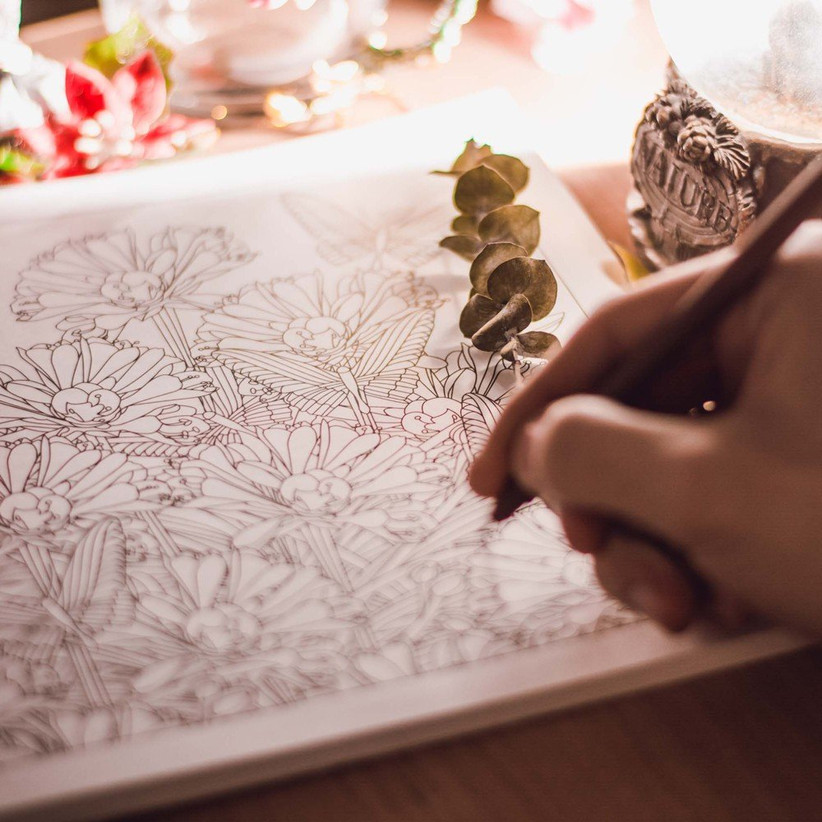 No longer just a fun activity for children, colouring for grown ups is now all the rage. We guarantee that everyone will be hooked once they start scribbling away! Insignia Coloring Books on Amazon have a fantastic range of designs.
READ MORE: Charity Wedding Favours You Won't Have Considered
33. Unusually Scented Candles – £1.99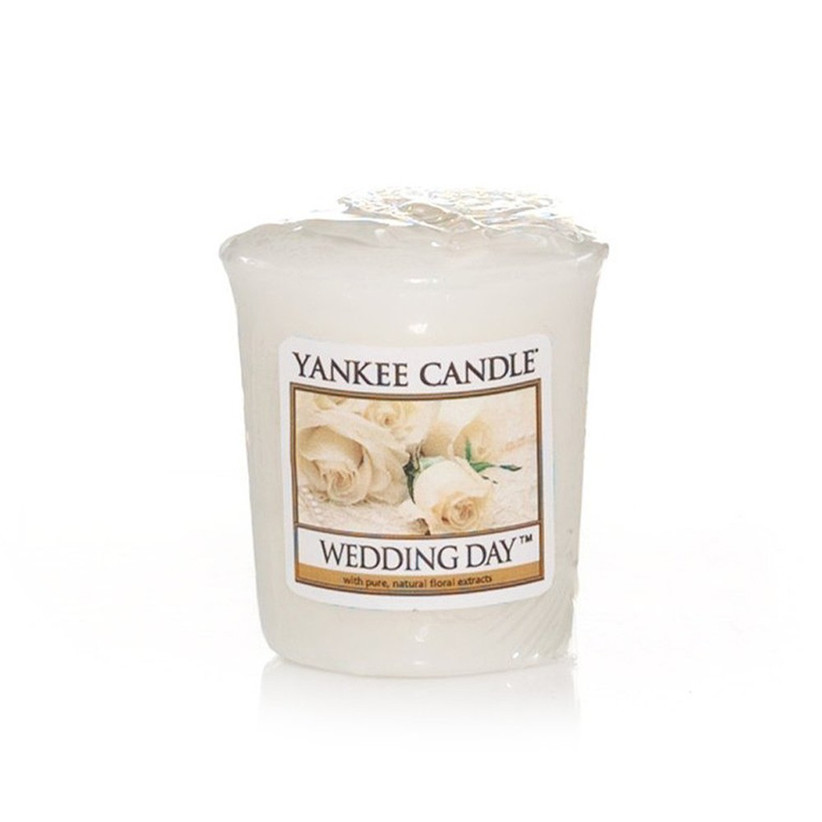 The votive candles from Yankee Candle are fairly small which makes them ideal candle wedding favours. Go for unexpected scents like their Sweet Nothings or Wedding Day candles for something a bit different. And if you're wondering what Wedding Day smells like, it has floral and fruity undertones.
34. Personalised CDs – £10 for 10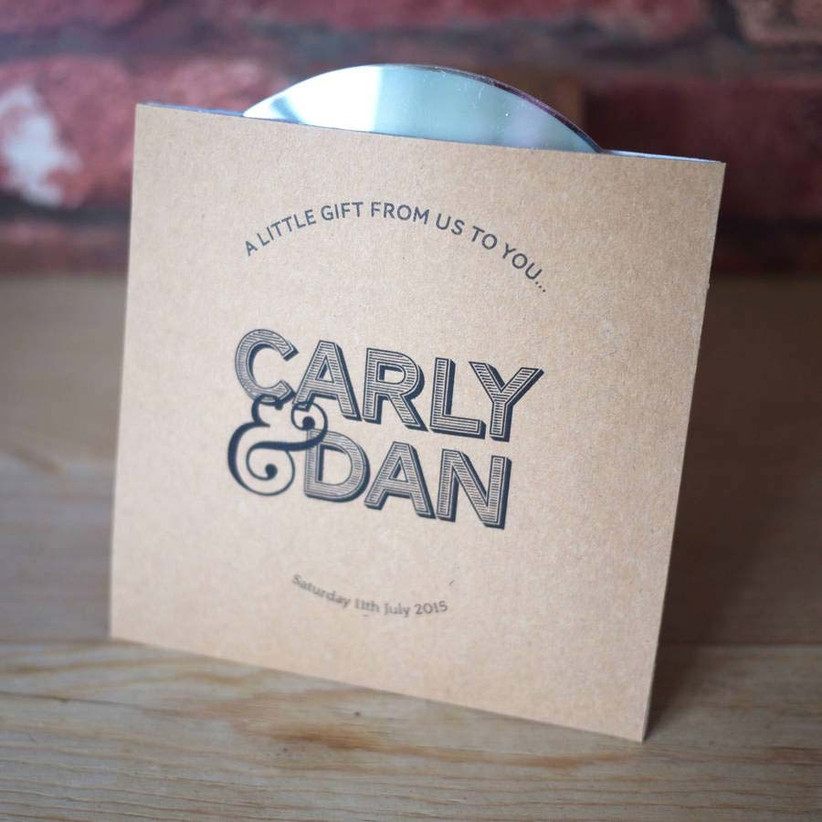 If you're giving your guests the soundtrack of your special day to take home or a CD filled with cute couple pictures, then you could consider popping the disks in these personalised CD sleeves from Sixpence Paperie. They come in a pack of 10 and we love the sleeve's bold font.
35. Spice Jars – £3.99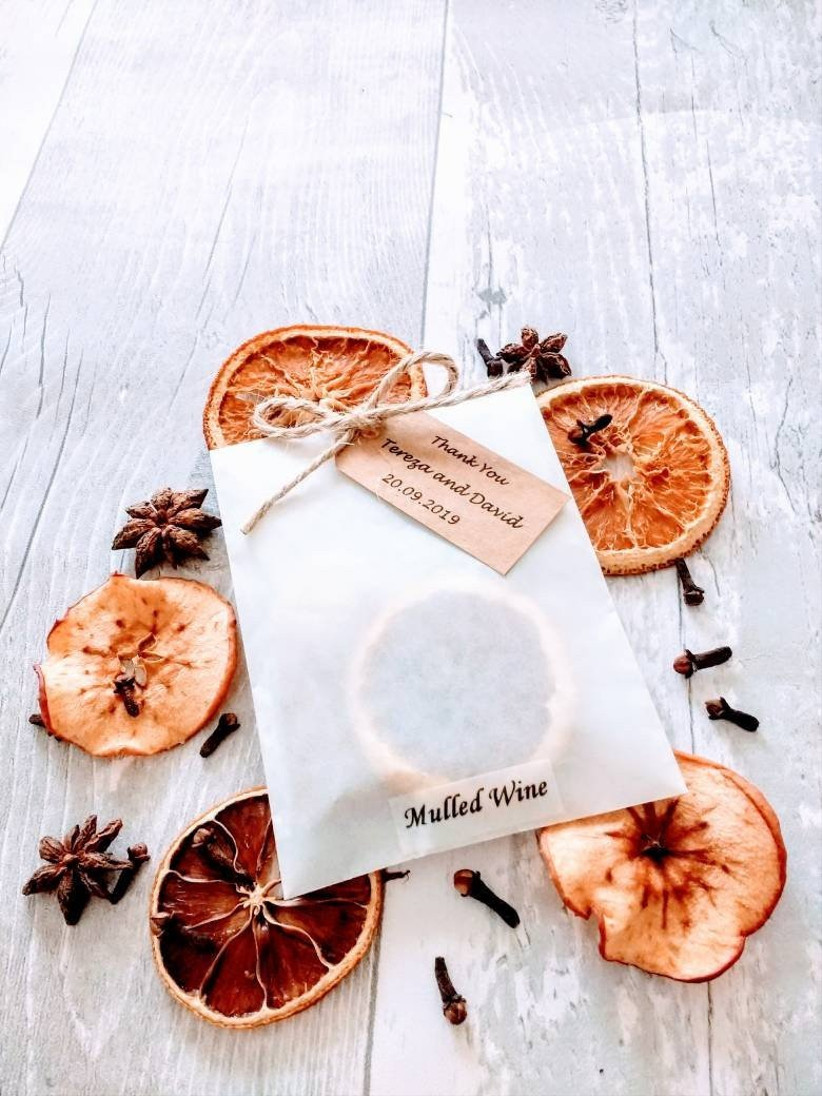 Leave little bottles of spices or mulled wine spices on your tables as a thoughtful favour idea. If you want to go DIY, source the spices from Asian supermarkets or food shops and pour them into little jars. Finish by attaching a pretty bow and a personalised label.
36. Personalised Lego Figures – From £6.50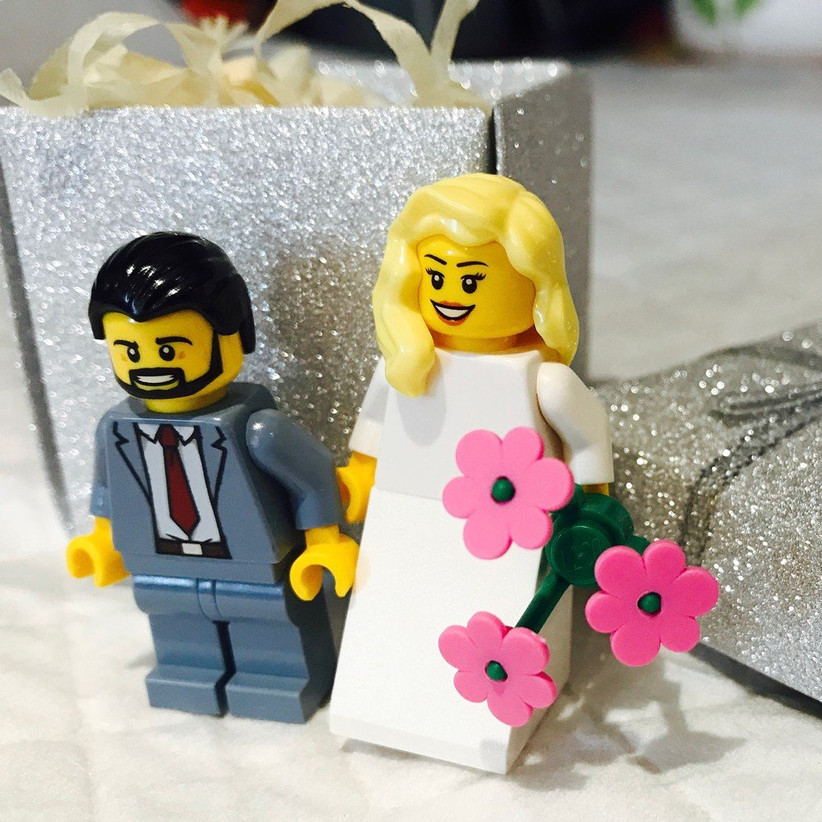 Lego wedding favours will be a big hit with all ages. Personalised figures of you and your partner are a nice touch. However, if you have a relatively small party and want to go the extra mile, go for personalised figures of each guest!
37. Customised Bottle Openers – £4.95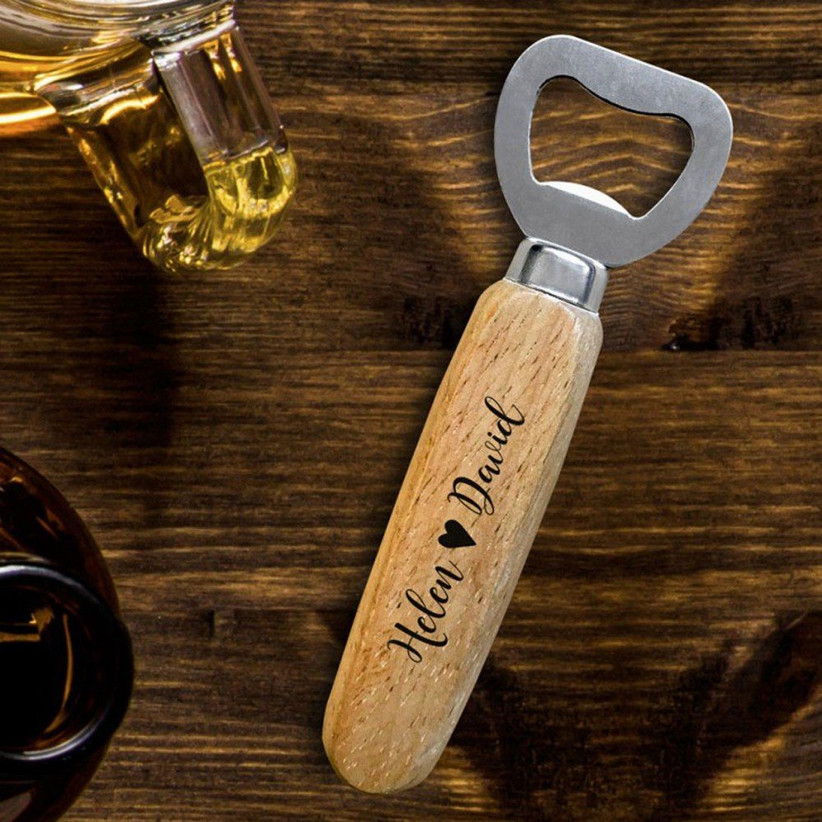 A cute personalised bottle opener will be a fun wedding favour that your guests will use again and again. The solid wood handle feels very luxury.
38. Funny Polaroids – £130.98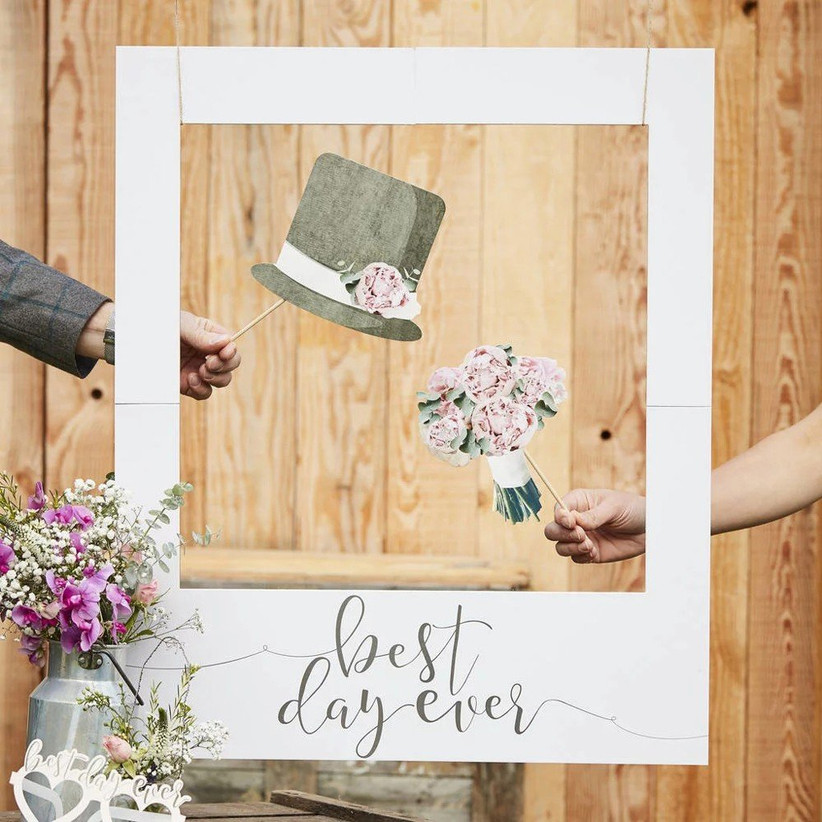 Grab your partner and get your pose on, then leave a silly picture of the two of you on everyone's seat. Instax have a wedding bundle where you get a mini Polaroid camera, three packs of mini film shot, photo frame, easel, scrapbook, gold and silver pens, photography props, tapes, stickers and cut-outs. Guests can grab some fab photo booth props and return the favour with a thoughtful, fun keepsake for themselves.
READ MORE: 29 Bridesmaid Gift Ideas For Every Budget
39. Personalised Drinks Coasters – £5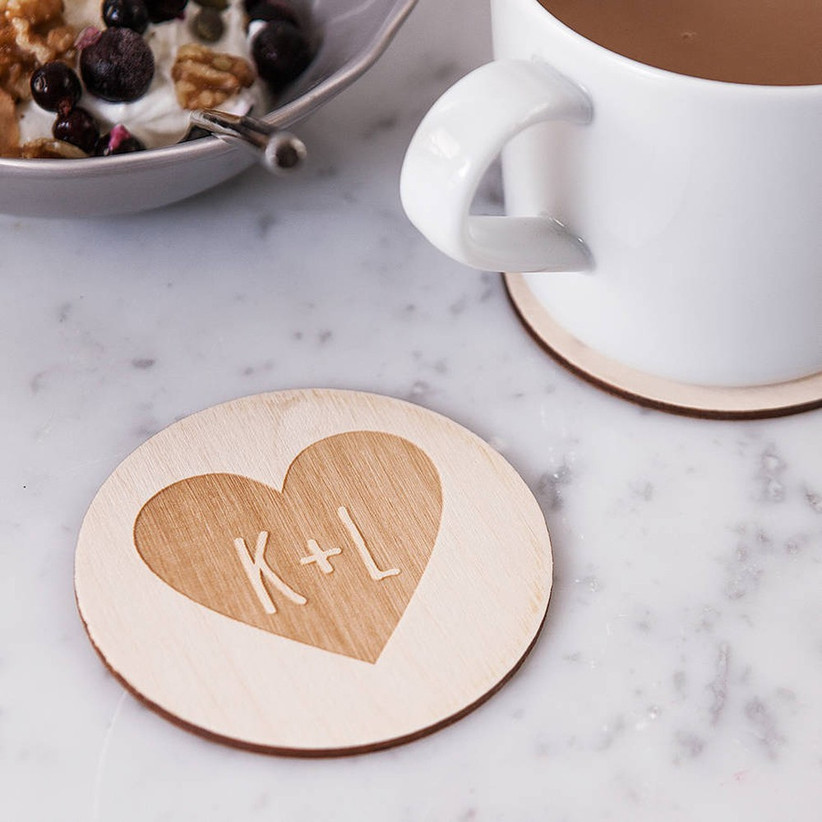 If you like a good tipple then a drinks coaster with personalised initials, a message or humorous quote is a perfect favour idea.
40. Coffee Stencil – £12.50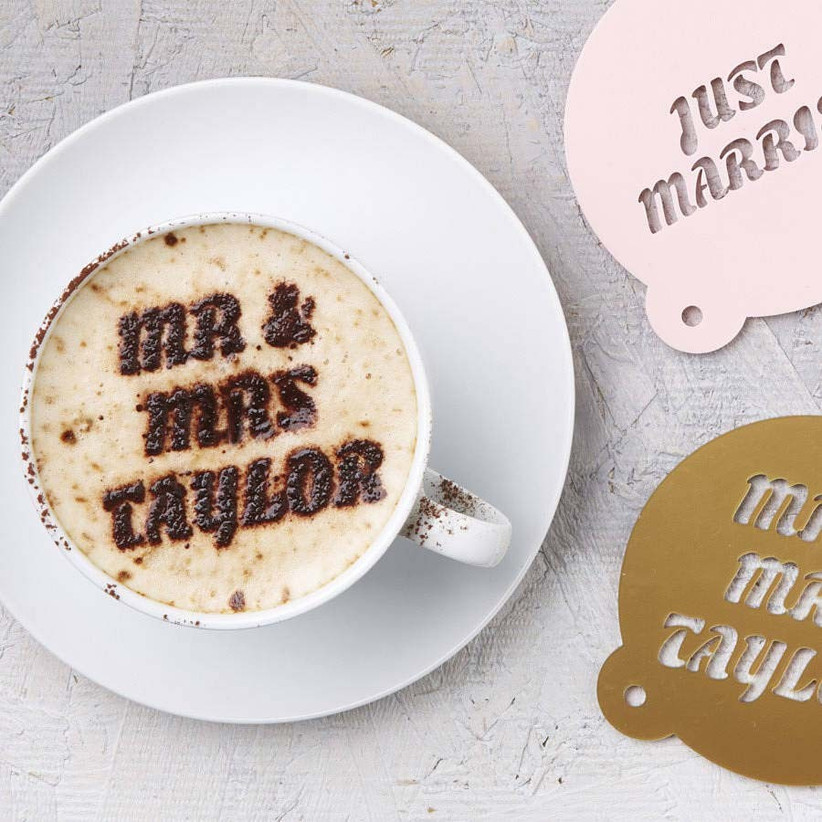 Go all fancy with your favours and present guests with a coffee stencil so that they can take their hot beverage to the next level. These wedding themed stencils from Sophia Victoria Joy can be personalised with both your names or your guests' names.
41. Pancake Mix – £8.50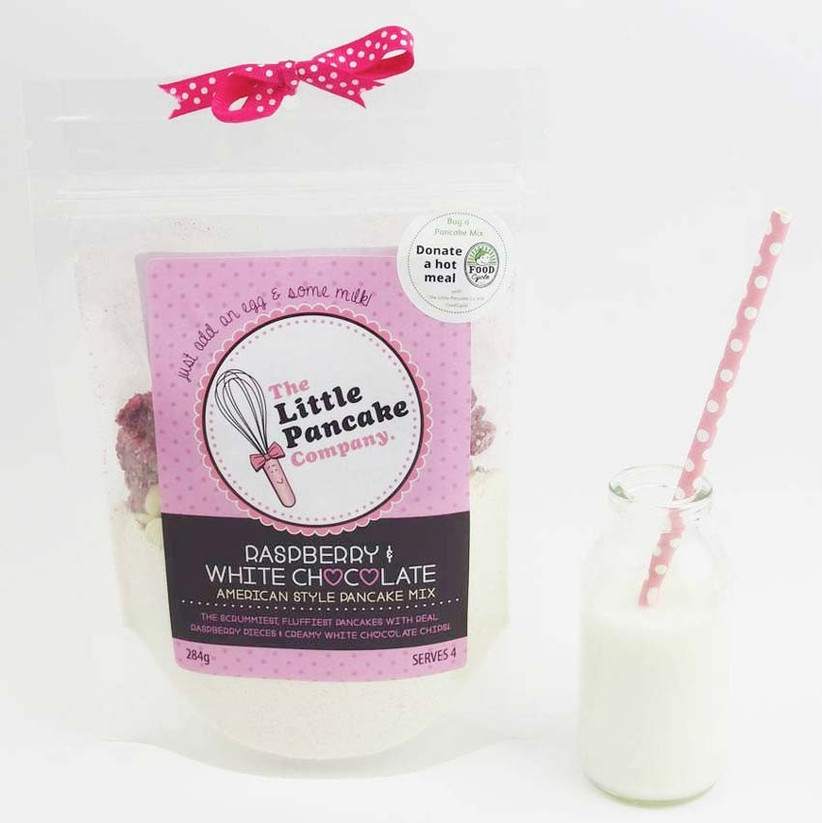 We absolutely love this idea. Treat your guests to a top breakfast by giving out these packs of pancake mix from The Little Pancake Company. We like the sound of the raspberry and white chocolate mix but there are other choices available, such as rocky road and apple crumble.
42. Krispy Kreme Doughnuts – From £1.85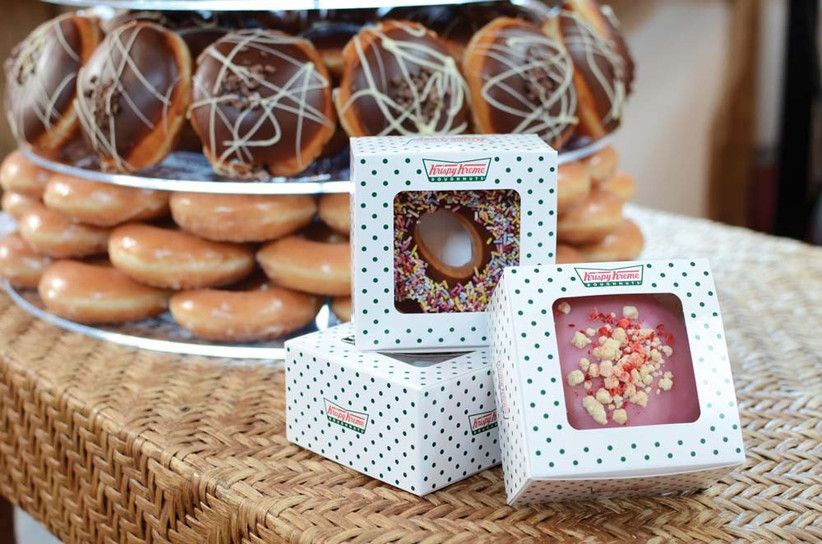 Unleash your inner Homer Simpson and give your guests a delicious doughnut. Pop them in individual boxes for a special touch – Krispy Kreme sell single boxes of doughnuts that would make amazing favours.
READ MORE: 11 Amazing Ways to Include Doughnuts in Your Wedding
43. Scrabble Pieces Place Cards – £1.20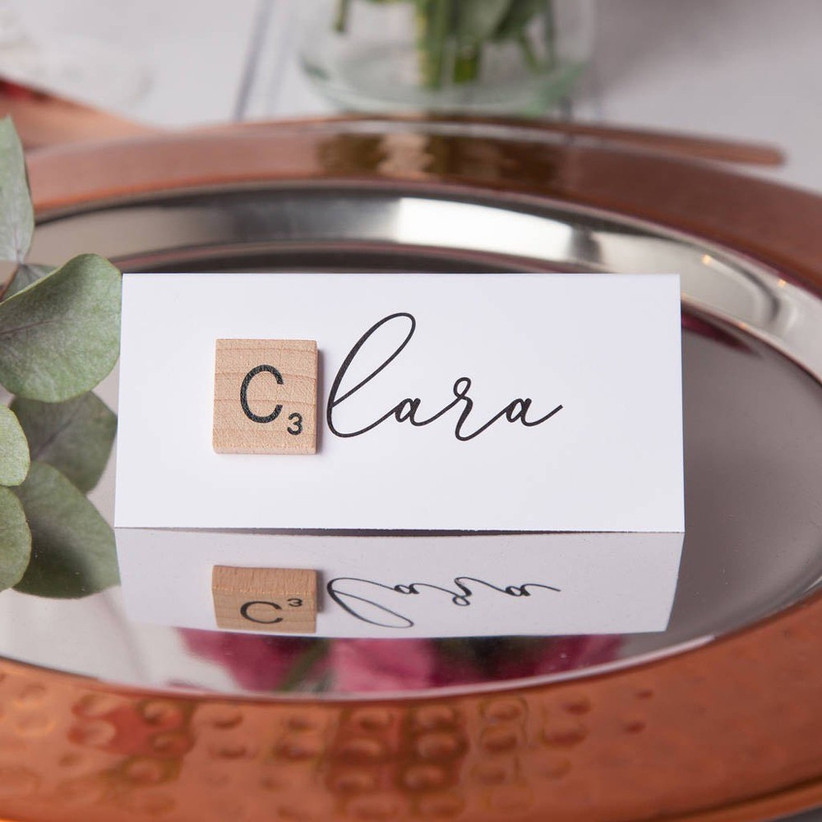 Give a romantic nod to this board game favourite by handing out Scrabble pieces that spell out a cute message and combining with these amazing Scrabble place cards.
44. Rustic Notebooks – £12.99 for 12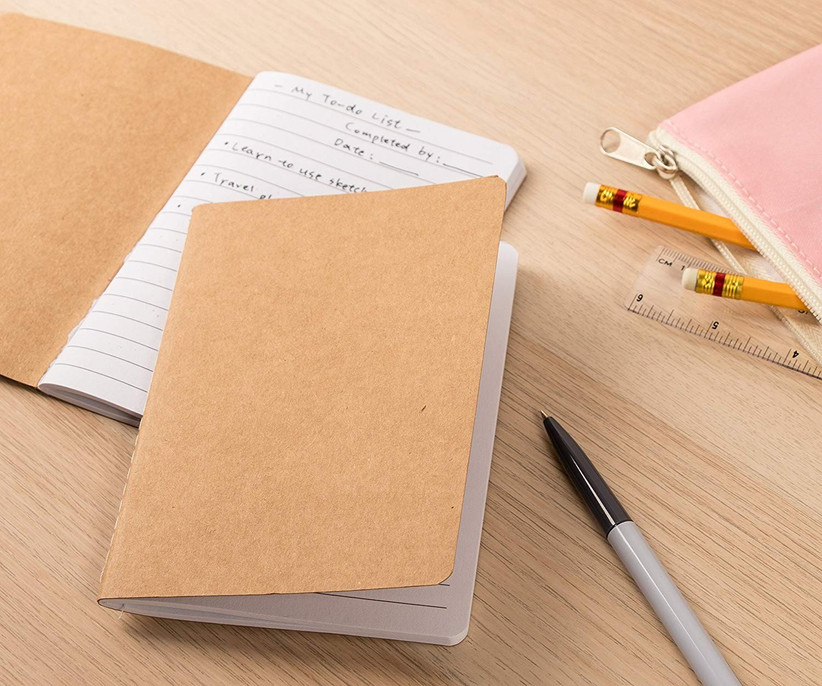 A notebook is one of life's essentials, and these Kraft paper ones are ideal for a rustic wedding. Add a unique and personal twist by stamping the front with a custom wedding stamp.
READ MORE: 37 Ways to Personalise Your Wedding
45. Message in a Bottle – £10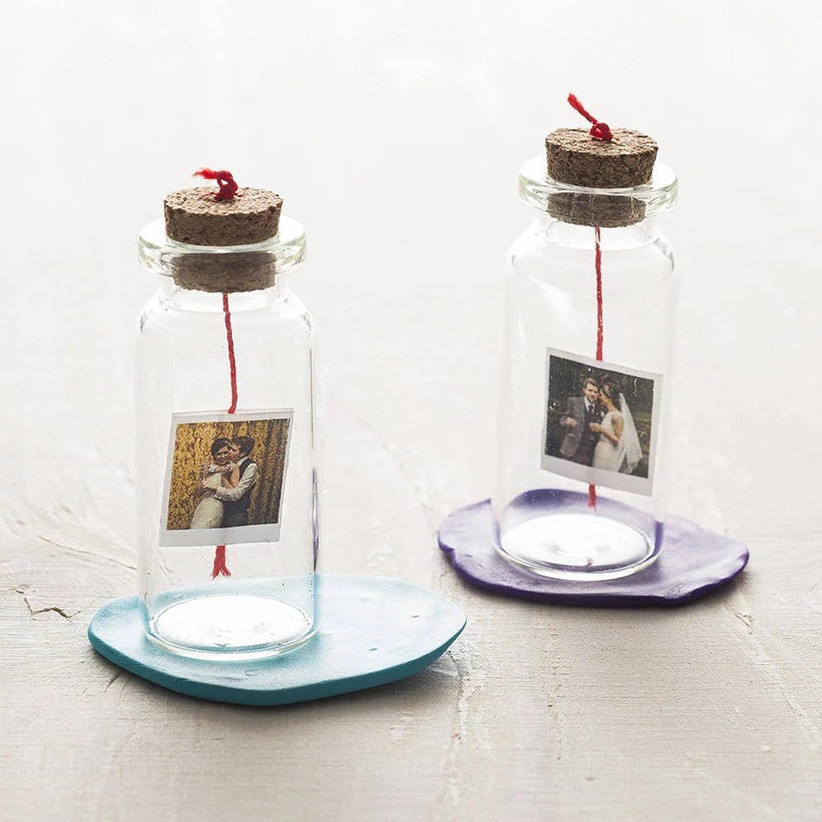 If your wedding has a nautical or travel theme, then a message in a bottle favour is an easy way to follow this. You can make them yourselves or, if you have a bit more budget, how gorgeous are these photo messages in a bottle with a picture of you both and a message on the back!
46. Mini Board Games – £18 for 30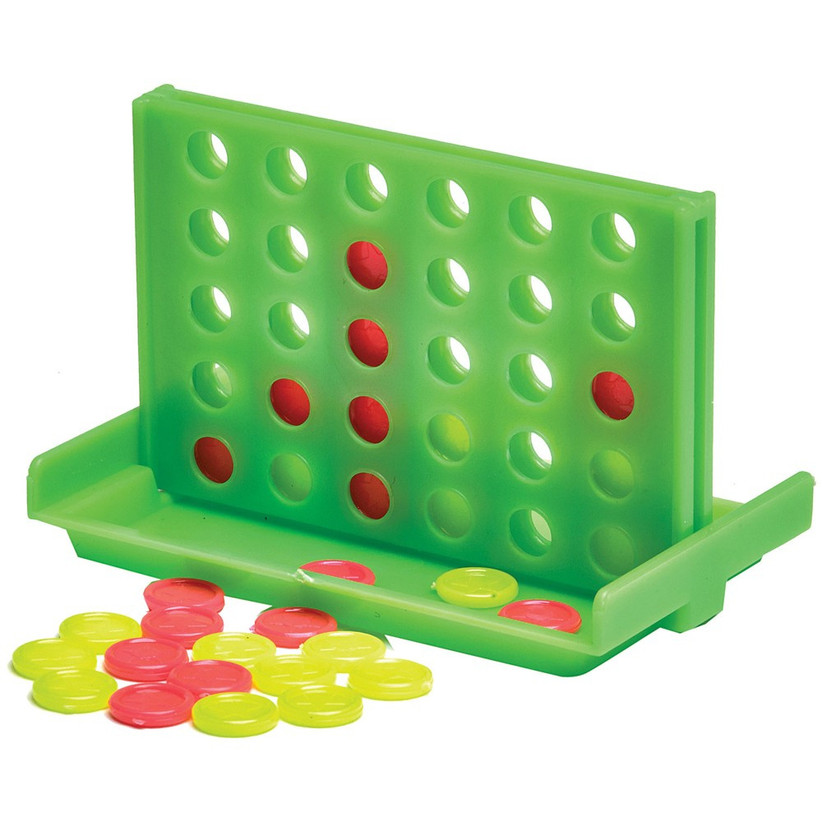 If your wedding guests have travelled from far and wide to be at your special day, then a retro game like Snakes and Ladders or Scrabble will keep them entertained on the journey back. Buy the games in a smaller, travel size to make them favour appropriate. This 4-in-a-row game is 60p a favour!
47. Personalised Wine Cork Stopper – £7.50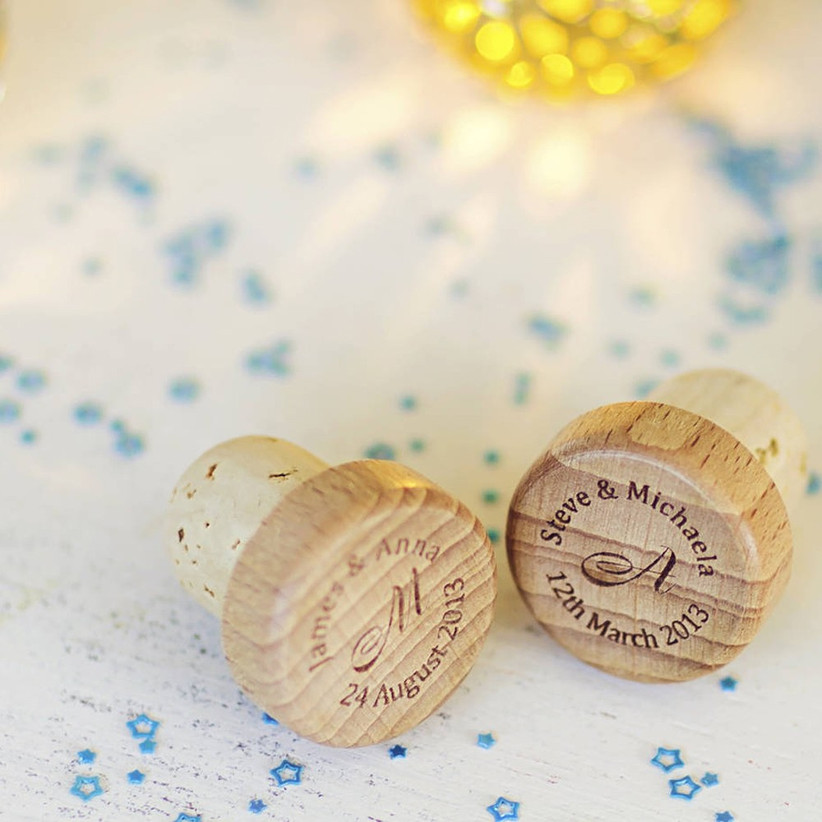 For an eco-friendly wedding favour, consider these 100% natural wine stoppers, made from beech and cork. They're reusable, recyclable and super stylish looking. It'll remind every guest of your day when they pop open a bottle.
48. Mini Handmade Soap – £1.50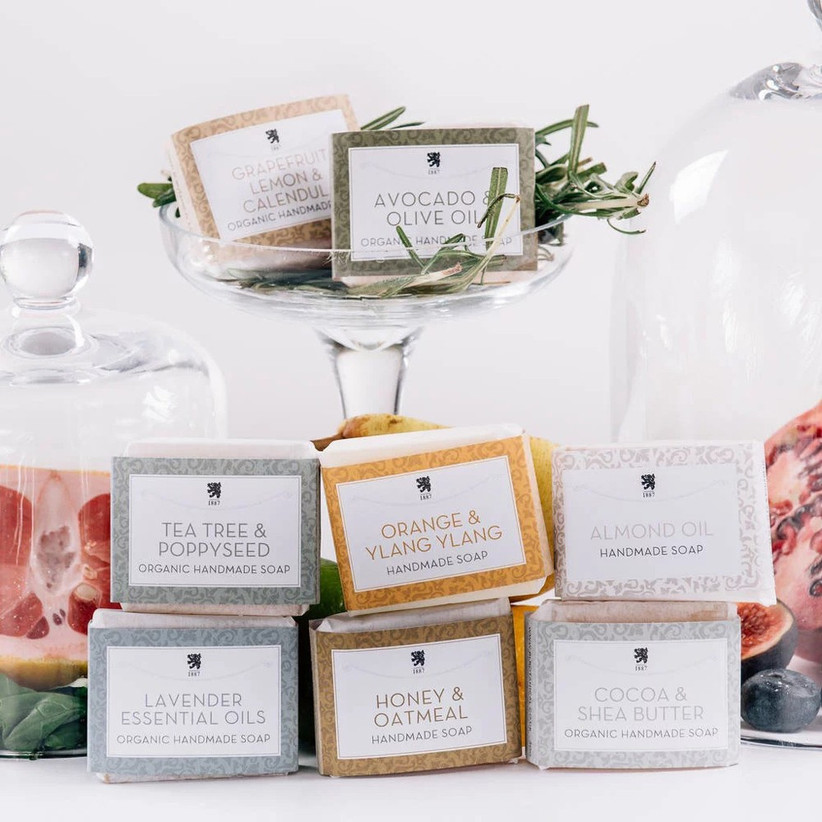 These cute soaps in gorgeous scents make a perfect finishing touch to your wedding tables. You'll get sent a random selection of scents, including honey & oatmeal, cocoa & shea butter, and almond oil.
READ MORE: The Best Groomsmen Gift Ideas
49. Cake Pops – £55.50 for 24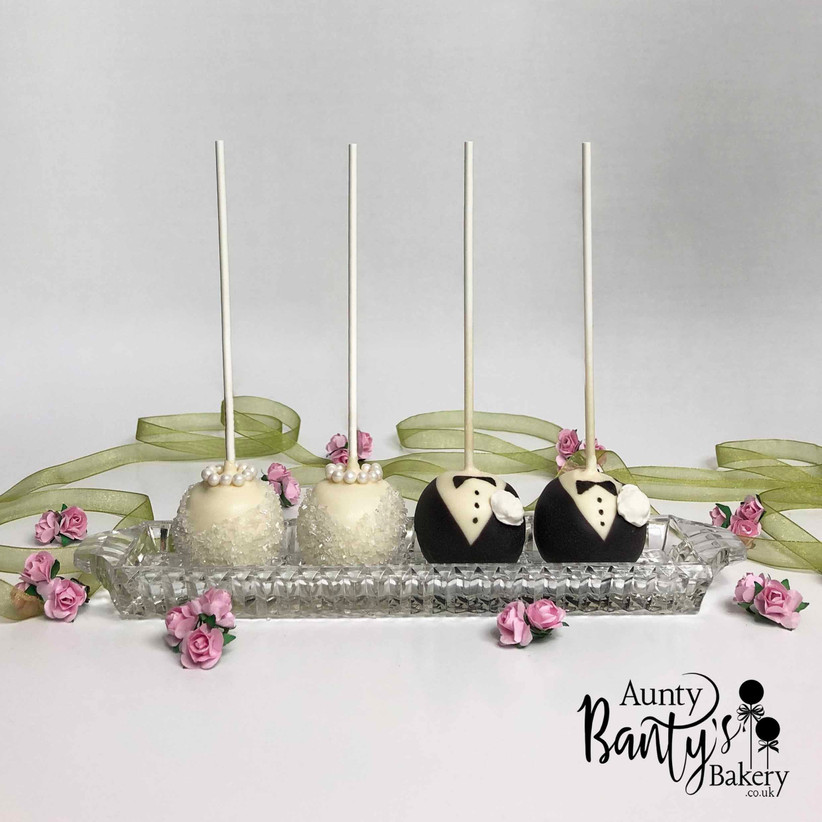 We know that you're busy planning and won't have time to give each guest an individual cake, so give them a cake pop instead! These treats on a stick can be made at home, or you can buy ones to fit your theme, like these amazing bride and groom cake pops that would work for a vintage wedding or black and white theme.
50. Personalised Wedding Coins – £97.40 for 100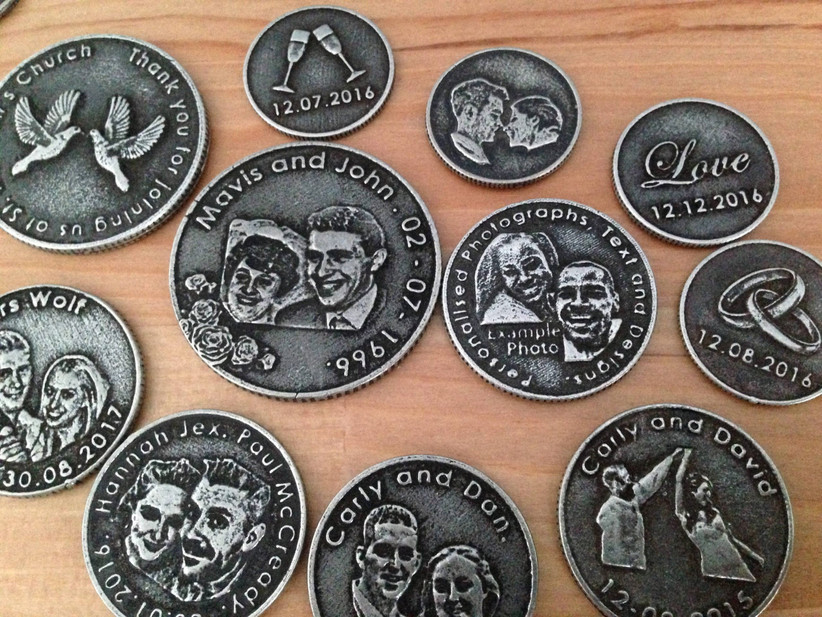 We doubt any of your guests will have ever received a custom coin with your face on before! These are such an incredible keepsake. The coins are hand-crafted in lead-free pewter and given an antique finish that brings out the detail on the finished coin i.e. your faces.
If you need something stylish to pop your unusual wedding favours in, then check out our pick of unique wedding favour boxes – we love the glittery gold one!