23 of the Prettiest Pearl Wedding Dresses & Accessories For an Elegant Bridal Look
Elevate your bridal look with the addition of pearls. Whether you opt for a pearl wedding dress or an embellished accessory, this timeless trend is here to stay
We have included third party products to help you navigate and enjoy life's biggest moments. Purchases made through links on this page may earn us a commission.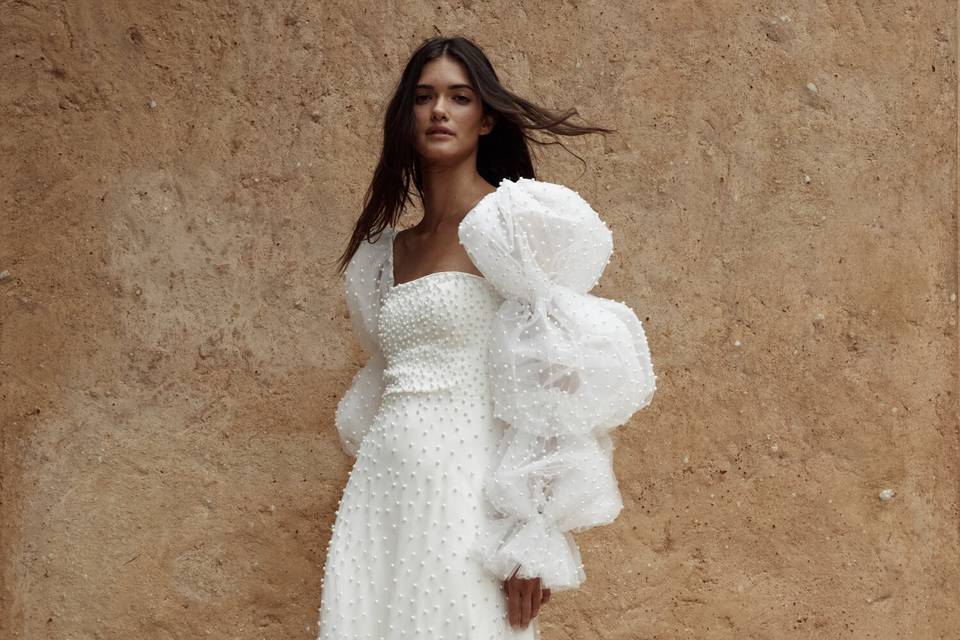 Pearls have been the accessory of choice at weddings for centuries - Ancient Greeks believed that pearls were tears shed by Aphrodite, the goddess of love, and so brides wore pearl wedding dresses and jewellery to celebrate marriage and a prosperous relationship.
Now, we're seeing this elegant embellishment a popular choice for contemporary couples too with Pinterest heralding 'pearlcore' as a key 2022 wedding trend to watch out for as people opt for pearly wedding gowns and décor.
Zoe Kozlik, bridal director at styling service P.S. Online Styling comments that: "The pearl wedding dress trend is a winner in my eyes - I particularly love dresses with pearls sewn into the neckline or the back seams. Bon Bride have some beautiful styles and here at P.S. Bridal we also love Christie Nicole and her modern take on pearl embellished gowns."
When it comes to pearl wedding dresses, the world is your oyster with lots of designers and high street brands releasing bridal collections featuring this timeless gem. To make choosing your dream pearl wedding dress a little easier, we've compiled 20 of the best available to buy now, plus styling tips from Zoe and matching pearl accessories to complete your wedding day look.
20 of the Best Pearl Wedding Dresses
1. Charlotte Bridal Dress - £210, Joanna Hope at J.D Williams
Available in sizes 10-32, we can't believe the Charlotte bridal dress by Joanna Hope is only £210 for the level of embellishments. From the sheer georgette balloon sleeves to the fishtail hemline finished with a light weight train, this dress is stunning. Browse more budget-friendly wedding dresses here.
2. Embellished Pearls Wedding Gown - £500, FabStylesCo at Etsy
Make a grand statement on your special day with this gorgeous, incredibly embellished pearl wedding dress from FabStylesCo on Etsy. Embroidered with small tender pearls and lace, it'll look gorgeous from all angles.
3. Aja Dress - £POA, Watters Designs
Another gorgeous tulle and pearl wedding dress - this time from Watters Designs. Aja is a princess wedding dress made from clouds of this frothy fabric and features a fully corseted scoop-neck bodice adorned with Honeysuckle embroidery and accented with pearls.
4. Style MJ671 - £POA, Allure Bridal
The ornate beadwork on this gown from Allure Bridals is seriously impressive! We adore the smattering of pearls across the full skirt, as well as the vintage inspired pearl shoulder strings.
5. Eileen - £POA, Christie Nicole Bridal
If pearls are what you are after, the Eileen dress by Christie Nicole Bridal delivers and some. The fashion-forward statement sleeves are heavenly and if you prefer short wedding dresses it's also available as a mini.
READ MORE: 60 Affordable High Street Wedding Dresses
6. Evadine Pearl Embellished Tulle Dress - £169, Phase Eight
Not a fan of a traditional white wedding dress? Consider Phase Eight's Evadine dress that comes in a soft blue-grey hue, delicately decorated with hand-placed pearls.
7. Pearl Bridal Crop Top - £160, The Boho Bride UK at Etsy
If you already have your wedding dress but want a pretty cover-up for an extra special touch, this pearl crop top from The Boho Bride UK is perfect. It would work wonderfully as a wedding reception dress as it can easily be added after the ceremony.
8. Rhiannon - £POA, Christie Nicole Bridal
Rhiannon by Christie Nicole Bridal has got to be one of the prettiest gowns we've ever seen. It's the perfect party wedding dress if your wedding is all about the fun factor but is also available as a full length gown for a more sophisticated look.
9. Sapphira Wedding Dress - £POA, Morilee Madeline Gardener
Feathered wedding dresses are a big trend - they're dramatic, chic and unique. The gorgeous Sapphira dress from Morilee is encrusted with pearls as well just in case the fabulous feather skirt wasn't enough to impress...
10. Kai - £POA, Watters Designs
Pearl wedding dresses don't always have to be out there. The subtle illusion pearl beading on the Kai dress by Watters Designs complements the chic and simple silhouette perfectly.
READ MORE: 50 of the Best Simple Wedding Dresses
11. Charlotte Blazers and Trousers - £295 & £180, Nadine Merabi
The Charlotte Suit by Nadine Merabi comes in sizes XS - XXL and is ideal for a modern bride. We can see it being worn at a chic city wedding venue!
12. Daisy - £POA, Christie Nicole Bridal
Daisy by Christie Nicole Bridal is contemporary and quirky with traditional features such a pearl beading and lace. The double layered tulle peplum skirt adds a fabulously flirty finish.
13. Style J33 - £POA, Allure Bridals
Pearls lend themselves perfectly to a vintage wedding dress and this gown from Allure Bridals has 1920s glamour written all over it. The detail on the back is simply spectacular! See our favourite 1920s wedding dresses here.
14. Black Pearled Wedding Dress - £339.64, StylishBrideAccs at Etsy
Go against the grain with this gorgeous black pearl wedding dress. Featuring long sheer sleeves and a plunging neckline dotted with pearls, this gown is a bohemian goth goddess' dream. Handcrafted from luxurious fabric, it would keep you warm and comfortable at a winter wedding.
15. Pearl and Crystal Beaded Sleeves - £POA, Morilee Madeline Gardener
The smallest extras can make a big difference to your finished wedding outfit - easily upgrade your wedding dress into a pearlescent dream by slipping on these sleeves from Morilee.
READ MORE: The Ultimate Wedding Hair Accessories Guide
16. Dana Wedding Dress - £835.19, Selfa Bridal at Etsy
Dana is a flattering wedding dress that will have you feeling like you're floating down the aisle. Decorated with hundreds of pearls and twinkling with glitter pieces, it'll catch the light beautifully.
17. Cinderella Wedding Dress - £POA, Morilee Madeline Gardener
Aptly named the Cinderella wedding dress, this beauty would look magical at a fairy tale wedding. The off-the-shoulder bodice is so pretty and it even comes with a detachable tulle overskirt with a pearl trim for added drama.
18. Style C632 - £POA, Allure Bridals
Another pearl wedding dress from Allure Bridals that we can't get enough of is this long sleeved wonder. Hundreds of pearl beads are strewn in a lovely gradient across the bodice, leading down to a breathtaking train.
19. Skellig - £POA, Pronovias
Planning an evening wedding? This ballgown will be the star of the show as your twirl around the dance floor. Pair with a pearl adorned veil like this model has done to complete the look.
20. Fairy Wedding Dress - £150.06, birdyfindsforyou at Etsy
If you're looking for a vintage fairytale wedding dress, it's safe to say we're obsessed with this gorgeous gown from Etsy. The chic and delicate pearl detailing at the front gives this dress an ethereal beauty your guests won't forget. The fabric is thick and durable, meaning you can let loose on the dance floor with no inhibitions.
How Can You Style a Pearl Wedding Dress?
Pearl wedding dresses often make a statement since they are typically heavy with embellishments - Zoe Kozlik, bridal director at styling service P.S. Online Styling suggests, "letting the pearl details on the dress do the talking, keeping accessories to a minimum, but continuing the pearl theme throughout. Adding a beautiful drop earring or pearl embellished bag will really compliment your dress, or if you're looking for a headpiece, there are some stunning pearl & diamanté headbands from Dolecka and Victoria Percival which work really well and highlight the pearl details on your dress."
You could also consider opting for a minimalistic wedding dress and adding a pearl accessory. "A simple veil with pearl embellishment is a really modern way to update a simple slip dress," says Zoe.
Eight Pearl Accessories For a Finishing Touch
1. Stellar Drop Earrings - £130, Olivia & Pearl
The Stellar Drop earrings by Olivia & Pearl are a modern take on a classic design that'll suit all kinds of bridal styles. Better yet, you can wear these time and time again long after your wedding day.
2. Fallon Headband - £355, Gigi & Olive
Yes, the Fallon headband from Gigi & Olive is an investment piece but it's worth every penny. It'll completely transform your bridal look and keep fly-aways at bay while it's at it - result!
3. Chara Anklets - £90, Grace Loves Lace
You might not have thought about adorning your ankles with pearls but as the Chara anklets from Grace Loves Lace show, they look amazing. Crafted from freshwater pearls, they'll complement a boho wedding dress perfectly.
4. Jackson Veil - £175, Gigi & Olive
As bridal styling expert Zoe suggested, a veil decorated with pearls will add interest to a simple wedding dress. The Jackson veil from Gigi & Olive is mesmerising.
5. Martine Wedding Shoes - £195, Dune
Dune's latest bridal shoe collection doesn't disappoint and one of favourites are the Martine wedding shoes. The pearl ankle strap will lengthen your legs in the most flattering way.
READ MORE: 38 Designer Wedding Shoes
6. Classic Pearl String Necklace and Earring Set - £30, Hitched Shop
You don't have to spend a fortune to get gorgeous pearl jewellery for your wedding day. This necklace and earring set from the Hitched Shop is a steal at just £30.
7. Pearla Clutch - £160, Grace Loves Lace
Grace Loves Lace pearla clutch is consciously created from offcuts of their bridal gowns and is pretty as it is practical. Keep your lipstick and a tissue in there for touch-ups throughout the day without sacrificing on style!
8. Penelope Pearl Tulle Bow - £75, Gigi & Olive
Style a ponytail, low bun, or a half up half down wedding hairstyle with the Penelope pearl tulle bow from Gigi & Olive. It works wonderfully as an alternative to a traditional veil.
If you love pearl embellishments, we reckon these celestial wedding dresses will take your breath away too!