Perfect Pearl Wedding Cakes and Accessories to Match
Let's celebrate the pearl! From beautiful pearl wedding cakes and pearl wedding cake stands, to 30th wedding anniversary cakes and pearl anniversary dinnerware, we've rounded up the best that pearls have to offer!
We have included third party products to help you navigate and enjoy life's biggest moments. Purchases made through links on this page may earn us a commission.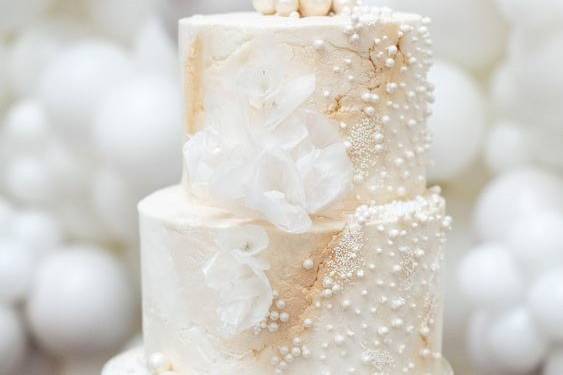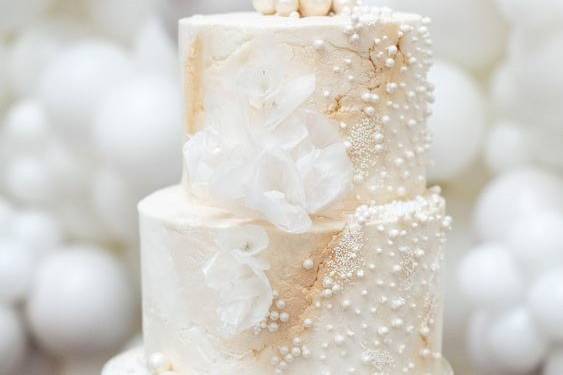 What comes after the pearl engagement ring? Pearl-themed wedding planning of course! If you're looking for an elegant addition to your wedding day edibles, then why not opt for a dazzling pearl wedding cake?
Whether you're planning a spectacular three-day celebration or an intimate party in a small wedding venue, pearl wedding cakes are the perfect accessory for a stylish wedding.
This modern wedding cake trend is versatile and can adorn a range of cake designs from simple wedding cakes to the most elaborate of designs.
Still unsure if pearls are the wedding trend for you? We've rounded the most alluring pearl wedding cakes along with pearl wedding cake toppers and pearl wedding anniversary cakes that are sure to win you over.
Pearl Wedding Cakes
Introducing, the most exquisite pearl wedding cakes that exude sophistication.
1. Pearl Wedding Cake With Marbled Texture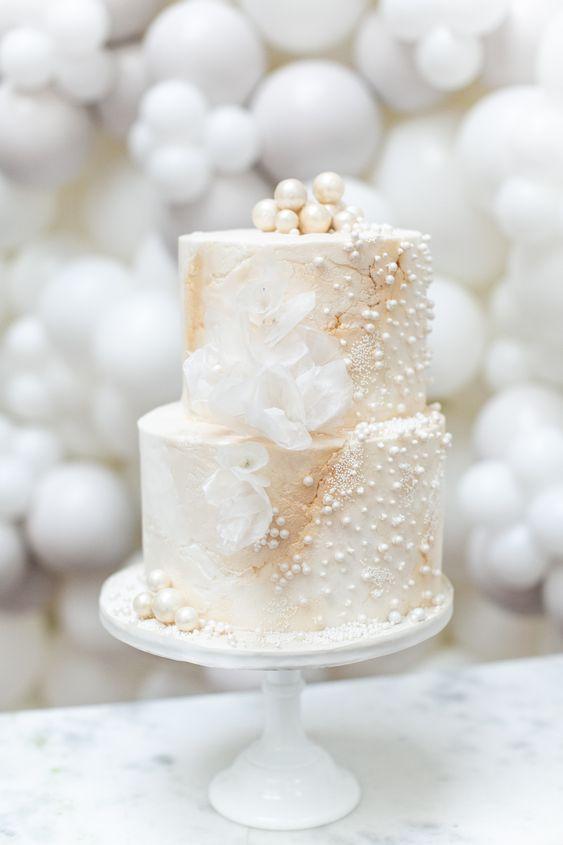 Wow your guests on your special day with this modern pearl wedding cake by Elizabeth's Cake Emporium. The combination of pearls, floral decoration and cracked marble texture is so chic and modern and we love the accents of subtle colour. Who doesn't love a pastel wedding cake?
2. Wedding Cake With Pearls and Flowers
Stylish couples can take the greenery trend one step further by incorporating the two-tone colour scheme into their wedding cake design. This wedding cake by Pretty Amazing Cakes is sleek, sophisticated and showcases just how beautiful pearls can look on a wedding cake. We love the necklace detail on the top tier - it's the perfect way to put a modern twist on vintage weddings.
3. Pearl Wedding Cake With Floral Topper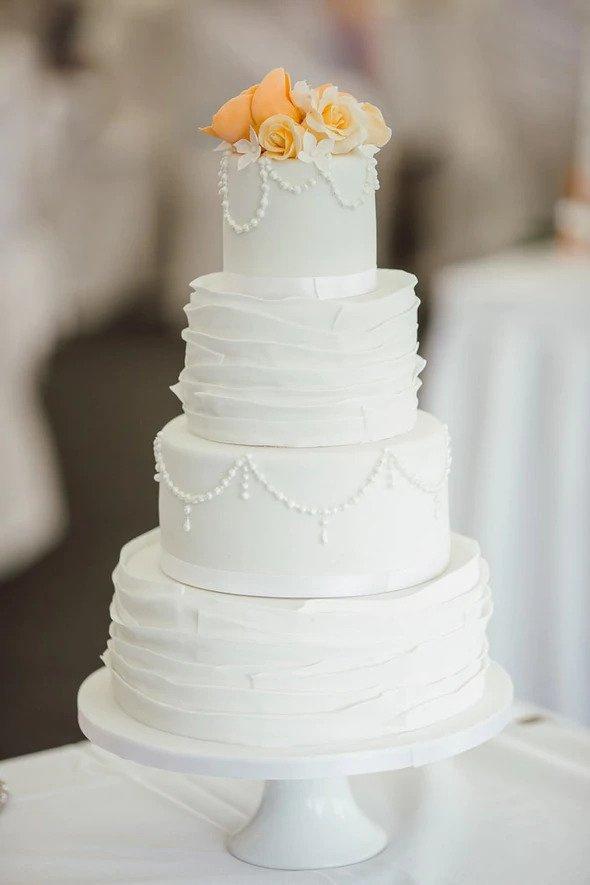 Simple yet stylish, this crisp white wedding cake design by Every Cake is perfect for an elegant, sophisticated wedding theme. Having a wedding cake with just one base colour, allows you to play around with textures, decorations and unique cake toppers without the design becoming too busy.
READ MORE: Spectacular Buttercream Wedding Cakes
4. Petal and Pearl Wedding Cake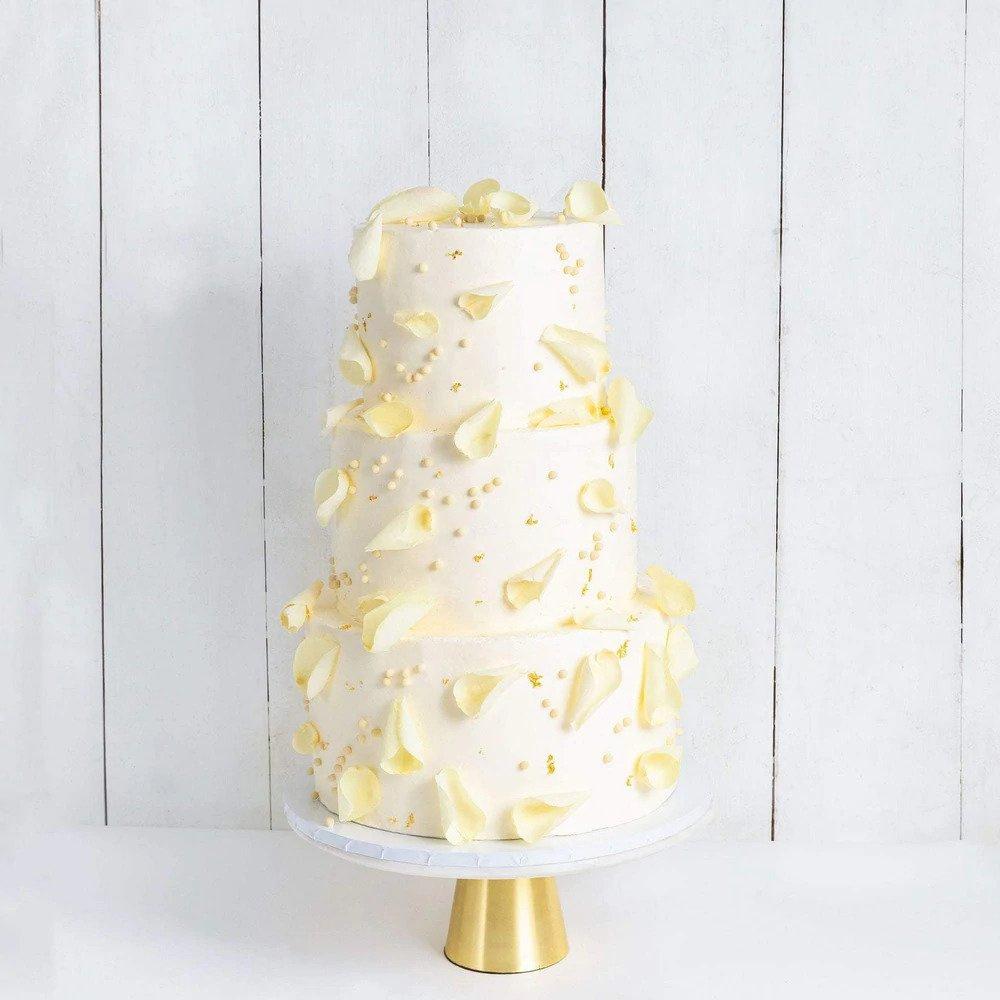 White rose petals, pearlescent white chocolate balls and accents of 24k gold leaf make this three-tier wedding cake by Cutter and Squidge a real show-stopper. The delicate petals give a dynamic three dimensional element to this design and really bring it to life. It's the perfect choice for couples who want more of a subtle gold wedding cake.
5. Pearl Encrusted Wedding Cake With Cake Pops
What better way to treat your wedding guests than with a delicious pearl wedding cake adorned with cake pops!? This clever edible design by Aunty Banty's Bakery doubles up as both a drip wedding cake and a dessert table with the removable cake pops. The pearl detailing is beautiful and adds such a unique, shimmery texture that will look amazing in your wedding photographs.
READ MORE: Essential Questions to Ask Your Wedding Photographer
6. Metallic Pearl Wedding Cake With Flowers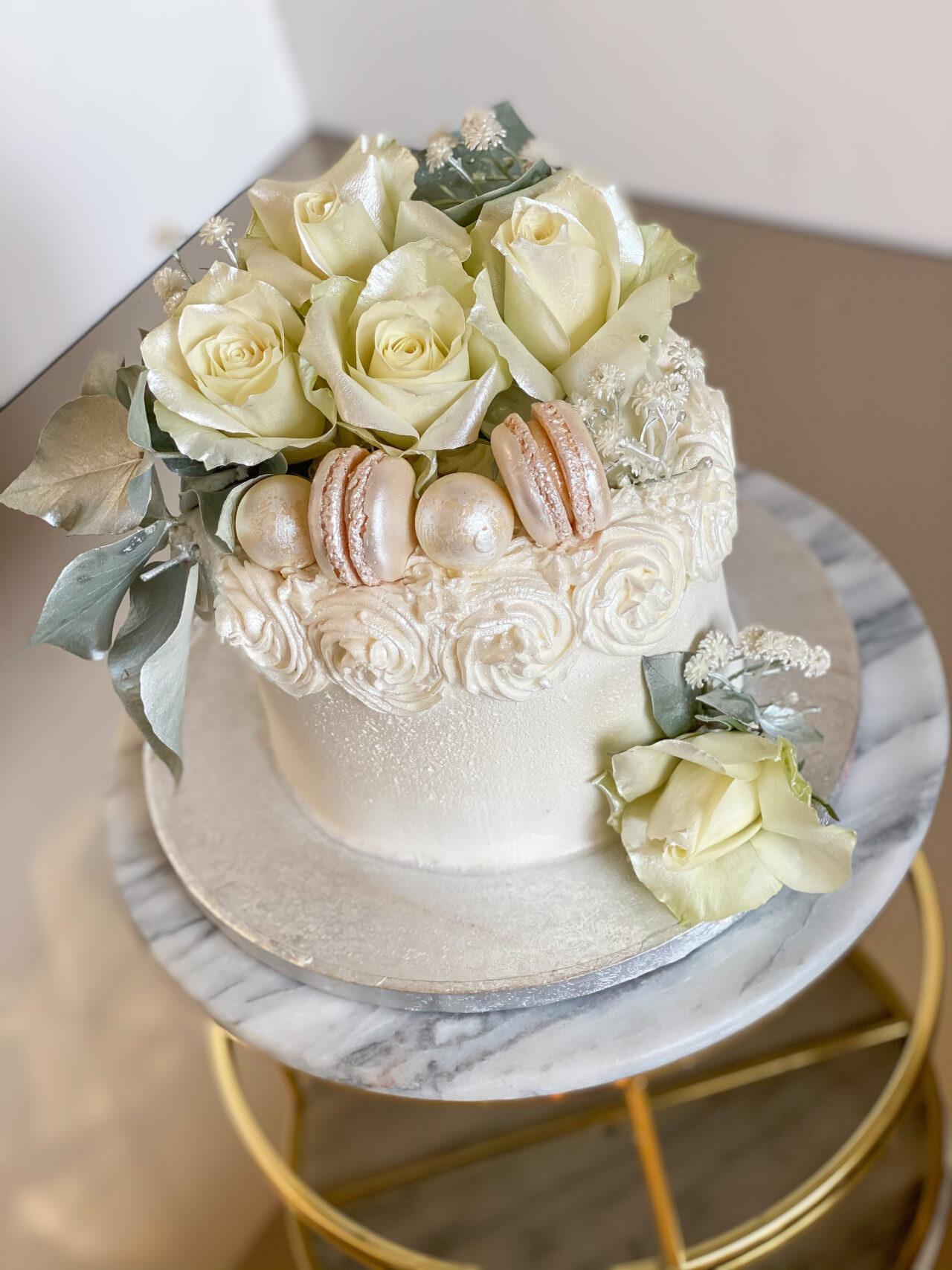 Proof that single tier wedding cakes can hold their own, this metallic dessert with delicious macarons is one of our favourite pearl wedding cakes right now. From the buttercream flowers to the giant pearls, the metallic sheen runs through every detail of this masterpiece. Thank you Outrageous Bakes, we're officially obsessed!
7. Two Tier Buttercream Pearl Wedding Cake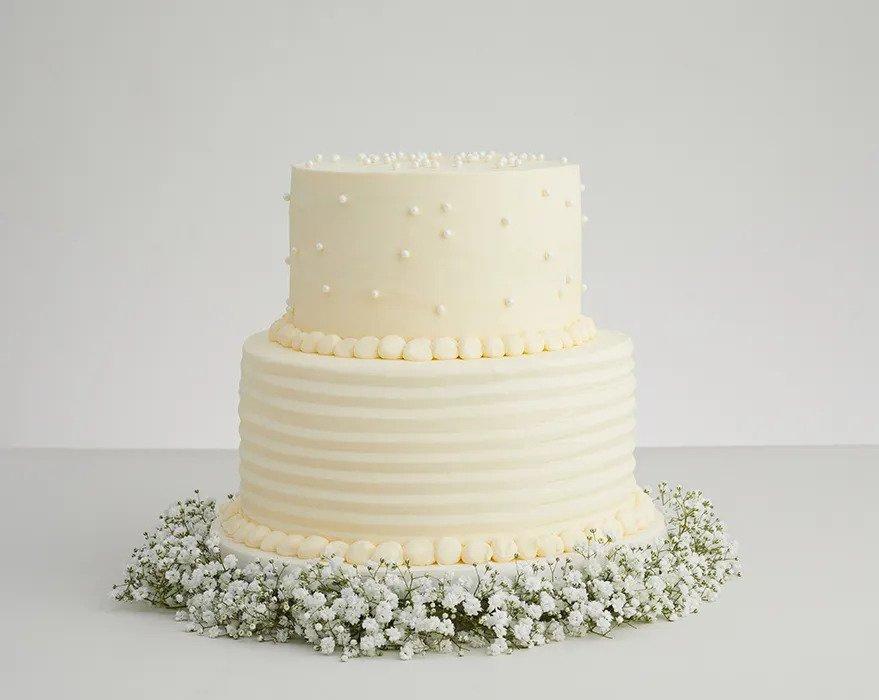 Couples who are after a less-is-more approach when it comes to their pearl wedding cake will adore this beautifully decorated design by Lola's Cupcakes. The loosely placed pearls add delicate detail and we love the texture of the piped buttercream at the base of both tiers.
8. Elegant Pearl Wedding Cake With Five Tiers
If you're after a show-stopper wedding cake, look no further than this magnificent five tier creation by Icing Elegance. The accuracy and precision of the placing of each pearl is utter pearl-fection. Paired with fresh flowers and carefully piped icing, this cake shows that, yet again, pearls and flowers are the ultimate wedding combo.
9. Floral Pearl Wedding Cake With Delicate Piping
Couples who are looking for a more traditional, simple wedding cake will adore this romantic three tier wedding cake by Pretty Amazing Cakes. The intricate piping is breath-taking and perfectly executed. We love the romance that exudes from this pearl wedding cake and the pearlescent colouring of the ribbon is a welcomed detail.
10. Pearlescent Wedding Cake With Four Tiers
For a more subtle nod to the pearl wedding trend, why not opt for pearlescent colours on your wedding cake in lieu of pearls themselves? This modern wedding cake by Cheryl Bottomley boasts a heavenly pearl coloured first tier. Just look at how the metallic sheen shines when it's photographed!
Pearl Wedding Anniversary Cakes and Toppers
Celebrating your pearl wedding anniversary or know someone who is? These pearl anniversary wedding cakes and wedding cake toppers will give any anniversary party that extra hint of glamour. They could even double up as a 30th wedding anniversary gift!
READ MORE: The Year-by-Year Wedding Anniversary Gift Guide
11. 30th Wedding Anniversary Cake Topper With Love Hearts - £7.90, Etsy
Celebrate 30 years of love with this chic wedding cake topper. The simple colour makes it versatile and it would sit beautifully on top of any wedding anniversary cake! The slight shimmer is a lovely touch and the love hearts give it a romantic feel.
12. Pearl 30th Wedding Anniversary Silver Cake Topper - £4.99, Etsy
This sparkling pearl anniversary wedding cake topper is the perfect way to jazz up a simple anniversary cake. The glittering silver colour is versatile and will complement most colour schemes and themes, specifically those on the more glamorous side.
READ MORE: 15 Beautiful Wedding Colour Schemes
13. Single Tier Pearl Wedding Anniversary Cake - Lola's Cupcakes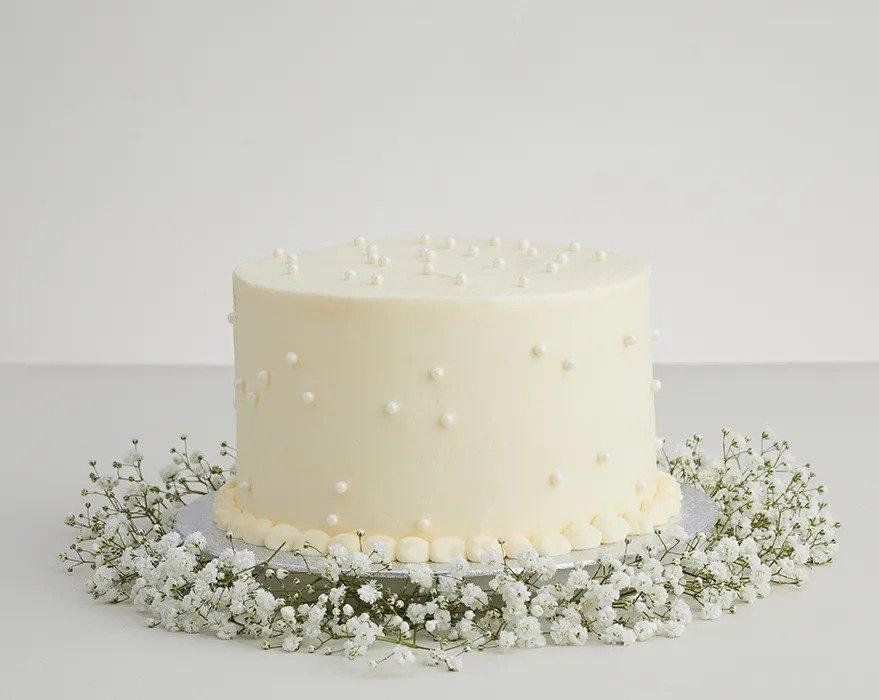 When celebrating a wedding anniversary, you may want to opt for a less extravagant cake. Anniversary parties tend to have less guests than the wedding had (although, we're totally here for extravagant anniversary parties!) so opting for a single tier cake is a great choice. This beautiful pearl wedding cake makes for the perfect pearl anniversary cake and for those who do want to go all-out, it is also available to buy in designs up to five tiers!
14. 30th Wedding Anniversary Cake With Scattered Pearls - Regency Cakes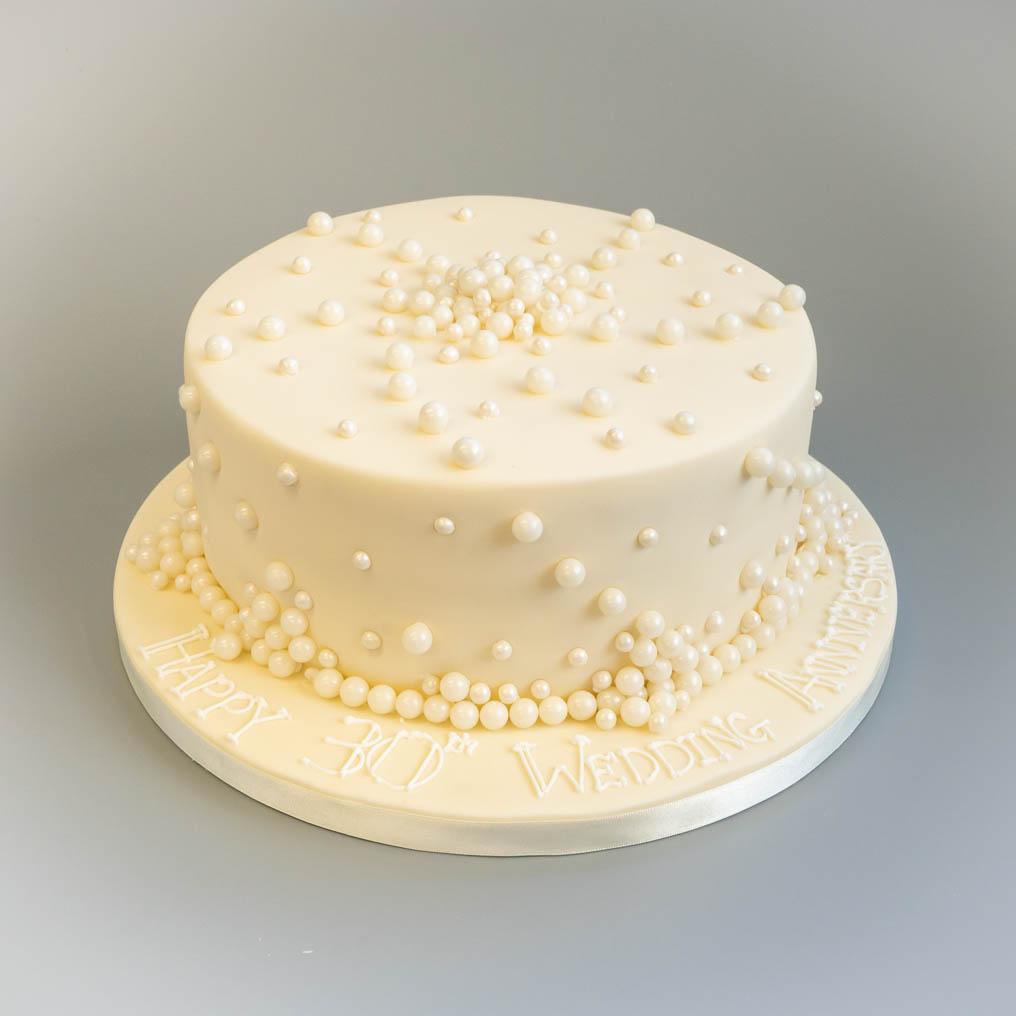 Bring any 30th wedding anniversary party to life with this single tier ivory cake. The scattered pearls on the top of the anniversary cake double up as a cake topper for those who prefer a more simplistic look. Saving money on having to buy a separate cake topper? That's a win-win in our opinion!
Pearl Wedding and Anniversary Party Accessories
Couples looking to amp up the pearl theme on their special day will love these top pearl picks. From incredible pearl cake toppers to fancy pearl-encrusted champagne flutes, these shimmering products are perfect for both a pearl themed wedding and a 30th pearl wedding anniversary celebration.
READ MORE: Everything You Need to Know About Wedding Anniversary Receptions
15. Pearl Necklace Cupcake Topper - £4.02, Etsy
Why limit this wedding theme to just wedding cakes when you can use these adorable cupcake toppers on your dessert table? The pearl necklace design offers a subtle nod to the theme and are a cute, playful way to incorporate pearls into your wedding or anniversary celebration.
16. Silver and Gold Pearl Cake Decorations - £1.50, Etsy
Couples who are planning on either making, or decorating their own wedding or anniversary cake can use these pearl cake decorations. It's also a great way to add a unique, memorable element to a simple wedding cake and avoid splashing out on an elaborate cake design. The combination of metallics works well for a glamorous wedding, but if you're after a more playful vibe, Candle Cake Party Shop also sell this product in a range of bright colours here.
READ MORE: 30 Ways to Decorate a Plain Wedding Cake
17. Mother of Pearl Wedding Cake Decorations - £3.55, Etsy
Continuing with the DIY pearl theme, these mother of pearl edible sprinkles are a great way to add detail to a wedding cake, anniversary cake or cupcakes at a pearl-themed celebration. The pearlescent colour will complement any colour scheme you have on your big day and they are super easy to use!
READ MORE: 31 DIY Wedding Decoration Ideas
18. Pearl Cake Stand With Beaded Edge - £54, Duchess & Butler
Pearls should not be limited to just the cake, why not incorporate it into your wedding cake stand as well? This pearl-embellished cake stand is inspired by old European ceramics. Each pearl is surrounded by soft grey tones to add a contemporary feel to a classic model.
19. Pearl Dinnerware - £40, Duchess & Butler
Completely in love? Duchess and Butler also sell this pearl dinnerware set which is perfect if you want everything to match. Who wouldn't want that?
20. The Ultimate Pearl Serving Set - £23.05, Etsy
Taking this theme to the next level… Why have just one pearl wedding accessory when you can have the full set? This cake cutting pearl set consists of ten pearl-themed wedding items including two champagne flutes, two forks and a plate, a cake server and knife, along with three candles - two thin and one large. What more could pearl-lovers want? The set is perfect for elaborate wedding celebrations as well as intimate 30th wedding anniversary parties.
Looking for more dreamy inspo? Complete the pearl look with our round up of the prettiest pearl wedding dresses and accessories or browse more of our latest wedding trends!