Eco-Friendly Wedding Favours: 18 Sustainable Ideas Your Guests (and Mother Nature) Will Love
Treat your guests and protect the planet with these eco-friendly wedding favour ideas - including everything from seed bombs to soy wax candles
We have included third party products to help you navigate and enjoy life's biggest moments. Purchases made through links on this page may earn us a commission.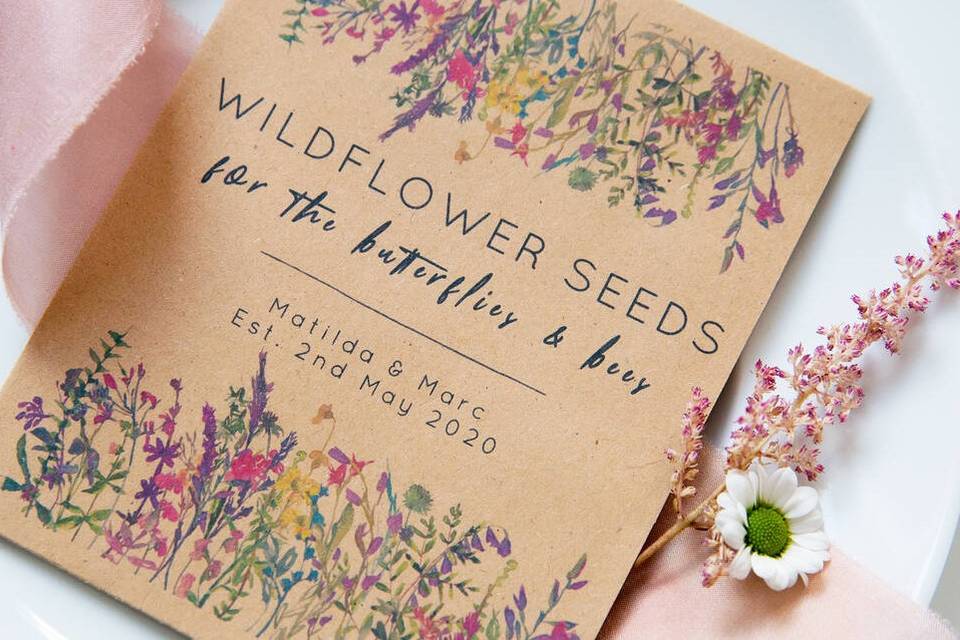 If you're planning an eco-friendly wedding, you might be torn between wanting to gift your guests a wedding favour as a token of your appreciation while also being conscious of minimising the environmental impact your celebration will have.
There are lots of ways to give your guests a token of your appreciation that will also have a positive effect on the environment, by choosing eco-friendly wedding favours. Kate Beavis, owner of the wedding blog Magpie Wedding and the ECO Wedding Shows, suggests considering practical presents your guests will love: "As a starting point, couples should ask themselves what would their guests actually use so they are not simply left on the table afterwards. Remember, just because an item is eco, if it is not used and thrown away, then this has impacted the planet negatively."
Thankfully, you won't have to worry about waste with our edit of 18 amazing eco-friendly wedding favour ideas! There's something that every guest can use, from succulents to spruce up their home, to vegan soaps and reusable tote bags.
18 Eco-Friendly Wedding Favour Ideas
1. Plantable Place Cards - £3.75, Etsy
These beautiful wildflower place cards are made from seed paper which will bloom when planted. They're a zero-waste product which is both a wedding place card and a favour to blossom after the big day.
2. Eco-friendly Wedding Favour Seed Bags - from £5, Etsy
These bags are made from thick eco-friendly glassine paper, which is 100% recyclable and biodegradable, and made with wood from sustainable forests. They won't crumple so look great on your tables, and your guests can simply plant the whole pouch in their flower beds.
3. Love Birds Personalised Seed Packet Favours - £13.95, Not On High Street
There are two ways to use this: one, as wedding favours on the table for the guests to take home, and two, as an alternative to confetti.
Bird seed is much better for the environment than traditional confetti. Each bag contains sunflower seeds that you can throw (perhaps not directly at the couple!) and will provide lots of delicious food for the birds and squirrels once your day is done.
4. 20 Personalised Wildflower Wedding Favours - £40, Not On High Street
Seed bombs are becoming a really popular choice with couples as they not only look cool, they're super simple to use. Each box is made from 100% recycled card and contains 6 seed balls that can be scattered in a window box or garden and left for nature to take care of the rest!
5. Personalised Succulents Wedding Favours - £135, Not On High Street
Even the least green-fingered guest can keep one of these succulents alive! Your guests will love a living wedding favour and none of these will end up in the bin. You could even propagate succulents from plants you own and all you'll need to DIY these is some potting soil and terracotta pots.
READ MORE: Sustainable Wedding Gifts & Gift Lists for Eco-Conscious Couples
6. 10 Wildflower Meadow Seed Packet Favours - £13.95, Not On High Street
Another wildflower seed wedding favour idea are these rustic packets. They'll look gorgeous as part of your wedding tablescape and will help bees and butterflies flourish - win, win!
7. Eco-Friendly Glassine Wedding Favour Cookie Bags - from £5, Etsy
Bake your own cookies and put them in these biodegradable glassine bags. They're super cute, and edible favours (especially chocolate wedding favours) rarely ever get wasted – just be aware of any allergies. Baking the favour yourself means you can make sure all the ingredients are up to your standards, for example, free range eggs and fair trade chocolate chips.
8. Wildflower Seed Bon Bons Wedding Favour - £70 for 30, Sow Many Seeds
An alternative and seriously cute way to gift wildflower seeds as wedding favours is in these delightful, plantable 'bon bons'. Each contains a mix of British wildflower seeds, all wrapped up in pretty dried petals. Your bon bon will come in its own individual kraft box, with planting instructions on the bottom.
Sow Many Seeds are an awesome company for eco-friendly wildflower seed favours - we're in love with their glass bottle seed favours too.
9. Personalised Metal Straw Wedding Favours - £120 for 100, The Metal Straw Co
A fabulous alternative to paper straws are these re-usable metal straws. You can have them engraved with your own logo - we love the idea of having your initials and wedding date etched in.
10. Tree Wedding Favours - £75.95 for 30, Alba Trees
Guests will love bringing home and planting these sapling wedding favours to remind them of your special day. These locally seed sourced, native trees are carefully selected and wrapped in organic jute bags - choose from tons of varieties, including blackthorn, crab apple and silver birch.
READ MORE: 20 Ideas for an Eco-Friendly Hen Do
11. Coffee Wedding Favours - from £2.50, Etsy
Natural hessian bags filled with a cup's worth of cafetiere coffee make brilliant wedding favours and there's no plastic involved. The beans come from trusted farms in Brazil and then are hand-roasted in Perkulatte's micro-roastery in the UK. They'll be grateful for these the morning after your celebrations!
12. Mini 15g Cold Pressed Vegan Soap Wedding Favours - From £1.20, MummyMrFox at Etsy
These handmade natural soaps contain high-quality butters and oils to help leave skin clean and moisturised. And with no animal ingredients used, you can feel good about them too!
13. Natural Reusable Beeswax Wraps - from £1.29, Eco Food Wraps at Etsy
Beeswax wrap is washable, reusable and biodegradable; it's a fantastic alternative to clingfilm. You can gift each of your guests with one of these and they'll be able to use them again and again. The natural anti-bacterial properties of beeswax help keep foods fresh. You could even wrap a slice of wedding cake in the wrap for each person!
14. Vanilla Scent Soy Wax Candles - £12.99 for 2, The Happy Place at Not On The High Street
These eco-friendly vegan vanilla scented soy wax candles are adorable! Set in glass jars with natural cork lids, they'll fit perfectly into a rustic wedding venue - you could even have your guests light them come evening for a warm ambience (just check with your venue first!).
15. Wedding Welcome Tote - from £13.60, Esty
If you're thinking of treating your guests to a few DIY wedding favours, why not pop them into these tote bags. They won't forget these on their next trip to the supermarket!
READ MORE: The Best Eco-Friendly Wedding Invitations
16. Seed Paper Bee Hexagons Wedding Favours - £19.99 for 50, Etsy
Charity wedding favours are a brilliant idea if you want to give back on your big day - these seed paper hexagons can be planted to grow poppies and daisies and a percentage of sales will be donated to Rewilding Britain via Work For Good.
17. Lotus Flower Wedding Favours - £14.50, Etsy
Your guests will be wowed when they see these pretty paper lotus flowers waiting for them at their table place - and that's before they realise they can be taken home and planted to sprout into a range of colourful blooms!
18. Eco Friendly Wedding Favour Crackers - £25 for 6, Etsy
Christmas wedding favours will spread festive cheer at a winter wedding and we love the idea of these crackers that are filled with lots of eco-friendly treats such as Fairtrade chocolates and wildflower balls.
Ensure your wedding beauty products are kind to the environment with our guide to the best vegan and cruelty-free makeup for your wedding