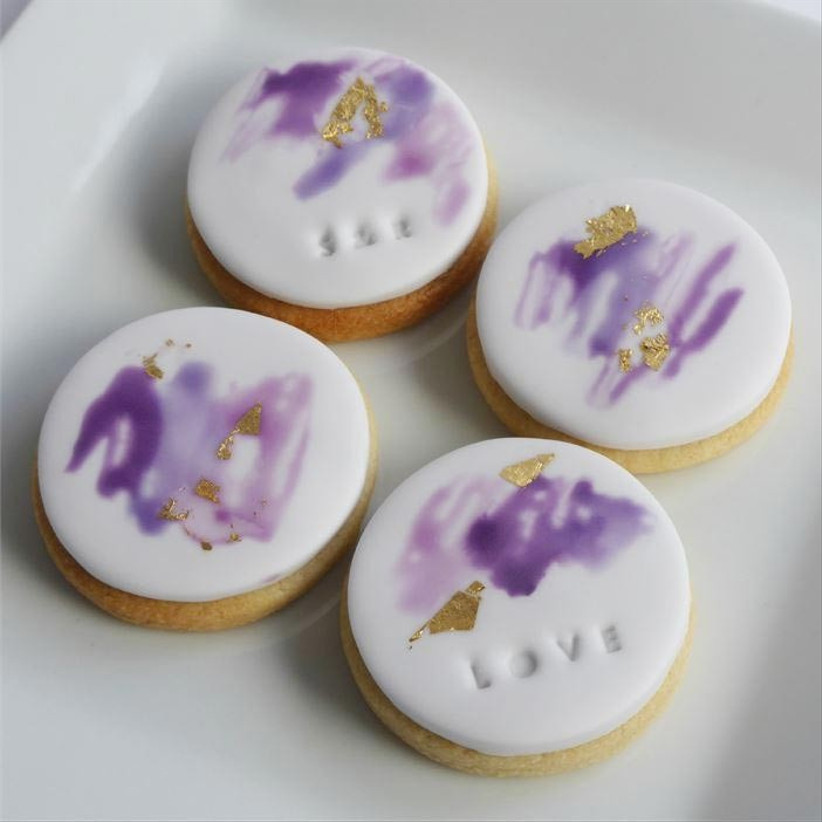 Thinking of giving out biscuits as wedding favours for your guests? We think biscuits are the perfect homemade wedding favour idea so we asked baking expert Amy Brown, owner of Cookie Delicious, to share her favourite fool proof biscuit recipe with us…
"Cookies make perfect wedding favours," Explains Amy, "These delicious little gifts will not get left behind on your tables! They are delicious sugary bites that can be easily personalised with your wedding details or even guests names."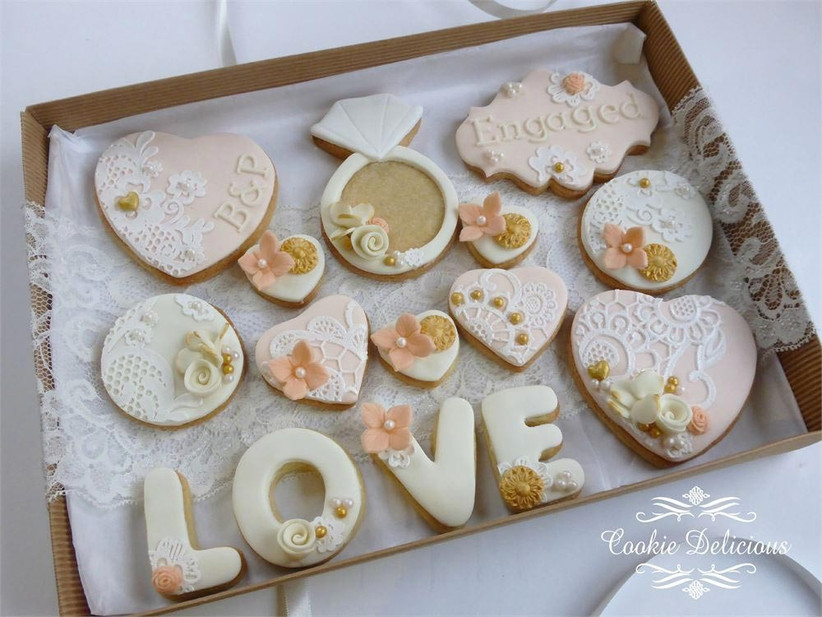 Recipe for Wedding Biscuits
This makes approximately 20 medium sized cookies.
You will need:
Biscuit dough:
190g Stork
240g Caster sugar
400g plain flour
1 egg
1 tsp vanilla extract
1 pinch of salt 
Buttercream:
40g unsalted butter
100g icing sugar 
Icing:
250g Sugar paste 
Equipment:
Grease proof baking paper
Baking tray
Rolling pin
Cookie cutter 
Step One
Cream together the sugar, vanilla extract & butter. Add half of the flour, a pinch of salt and 1 egg. Mix together in a stand mixer or by hand. When the flour has been incorporated add the remaining flour and knead by hand until you form a ball of dough. 
Step Two
Wrap dough in cling film & chill in the fridge for at least 2 hours.
Step Three
Preheat oven to 160°
Step Four
Sprinkle some flour into your clean work surface. Lightly knead the cookie dough into the flour. You may need to sprinkle some more flour on to the worktop throughout to stop the dough sticking to your work surface.
Step Five
Roll out your cookie dough using a piece of grease proof paper underneath your rolling pin. Cut out your cookies using a cutter of your choice. 
Step Six
Place your cookies onto a baking tray lined with grease proof baking paper and put in the fridge to chill for at least 15 minutes. 
Step Seven
Bake cookies for 9-15 minutes or until the edges begin to turn golden. Do not let them burn! 
Step Eight
Once your cookies have cooled, roll out some sugar paste (coloured if you wish – why not match it to your colour scheme?) to a thickness of approximately 3-4mm. Using your cookie cutter, cut out desired amount of icing. You may need to use some white vegetable fat (such as Trex) to stop the sugar paste sticking to your work surface.
Step Nine
Using some buttercream, apply a small amount to your cookies and lay icing on top. Smooth the icing with your thumb and run your finger around the edges to ensure a smooth finish. 
Step Ten
Decorate as you wish – why not make use of shop bought or handmade sugar flowers, letter stamps or sugar pearls to achieve your desired style! Present in clear cellophane treat bags and tie with twist ties & ribbon.
Wedding Cookie Inspiration
If you're not feeling too creative or are more disaster chef than MasterChef, we've rounded up some gorgeous wedding favour biscuits to inspire you…
We love this elegant watercolour style biscuit favour from Cookie Delicious – the gold detailing is so elegant.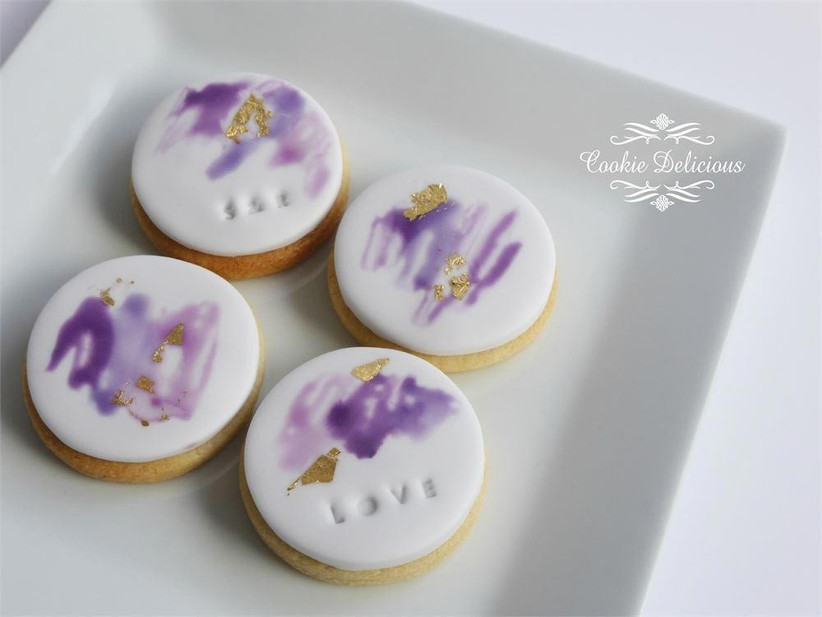 These heart shaped cookies from Cakes by Bethany are perfect for romantic couples who want to share the love with their guests.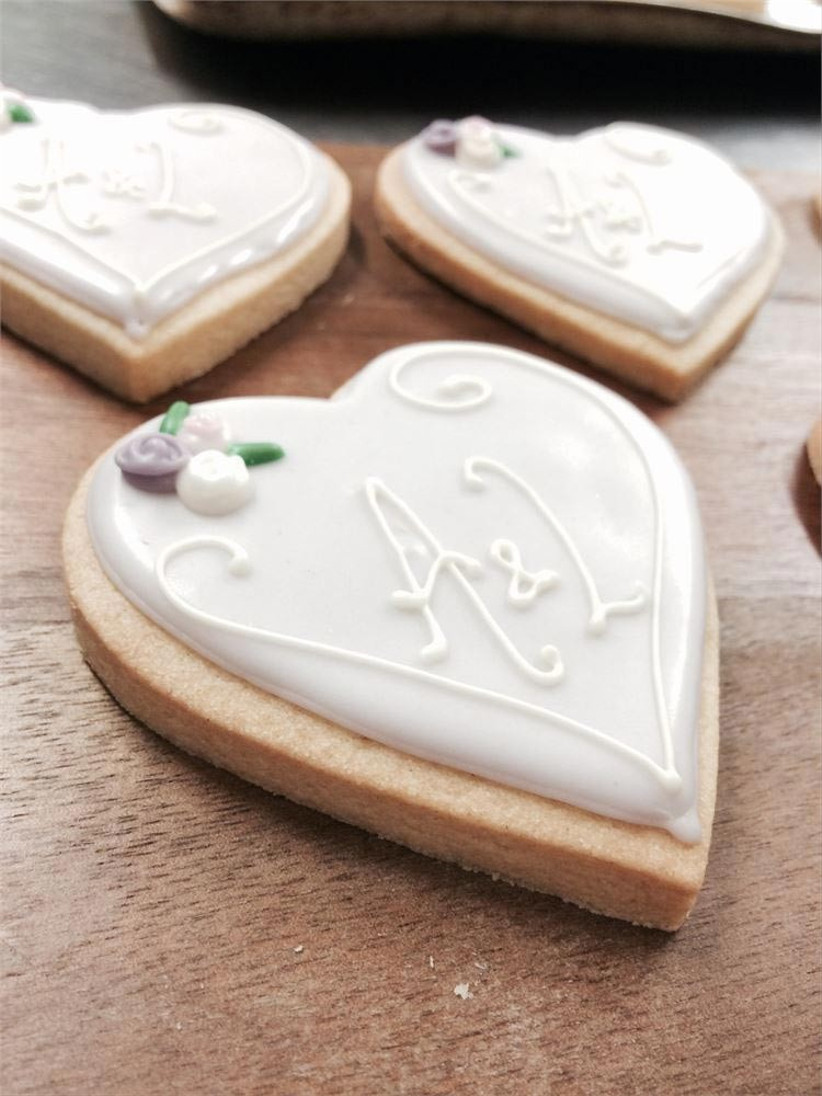 We think that the wedding cake is one of the highlights of your big day – if you agree why not get your guests excited for it too with these adorable mini wedding cake biscuits from Emerald City Cupcakes.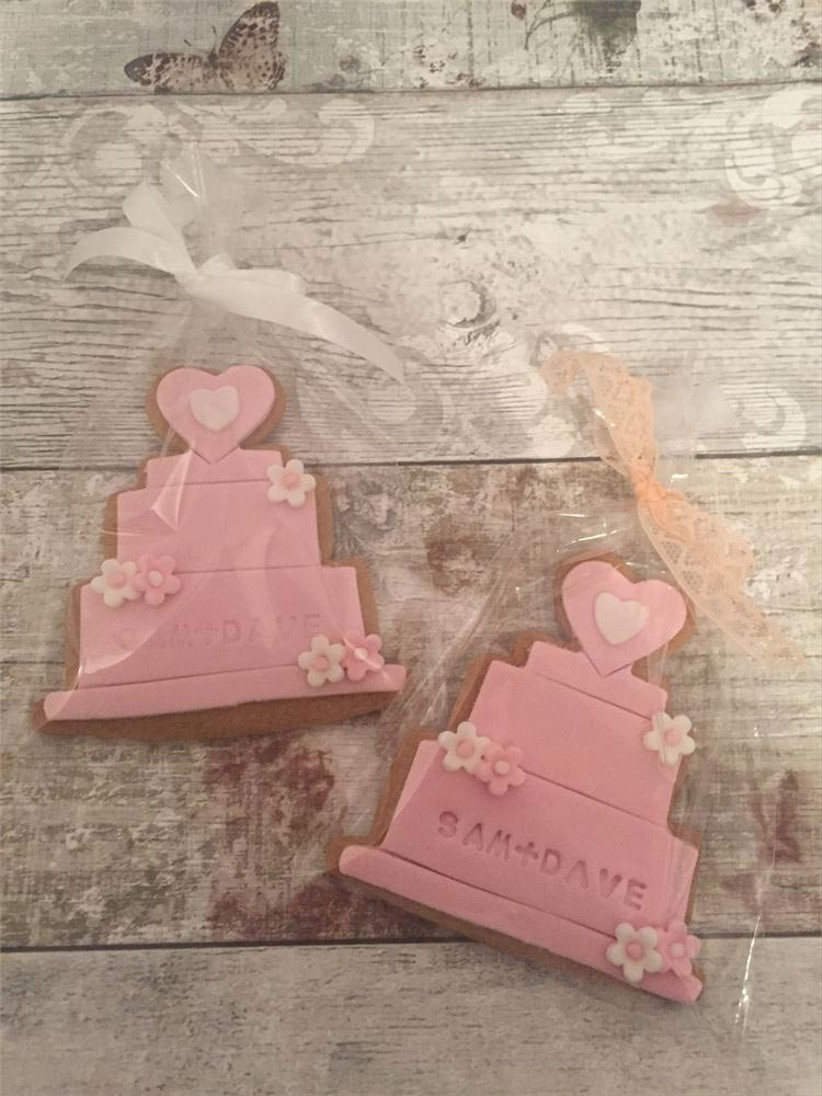 This floral adorned wedding cake biscuit from Cookie Delicious is so dainty. We definitely agree it looks good enough to be framed.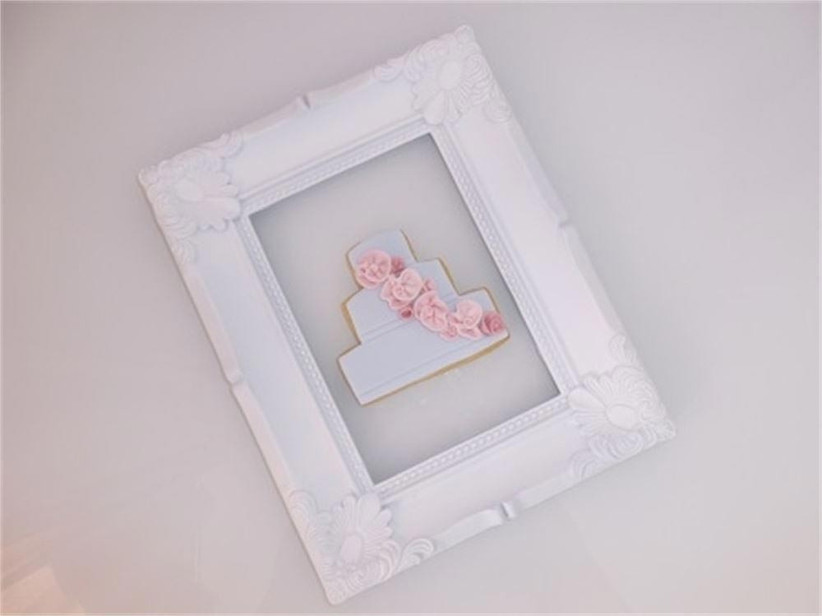 These dress shaped cookies from Cookie Delicious would make the perfect bridesmaid thank you gift for your girls – they're almost too pretty to eat.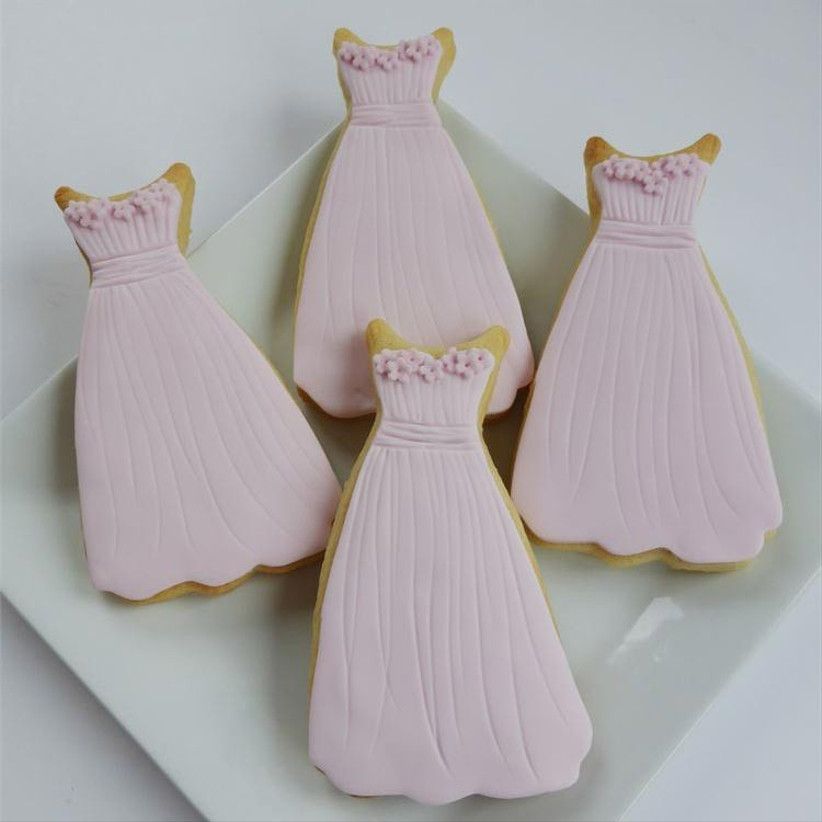 Want a more dramatic take on your biscuits? We love these dark and daring cookies from Fabulously Floral Cakes, which would make the perfect unusual wedding favour.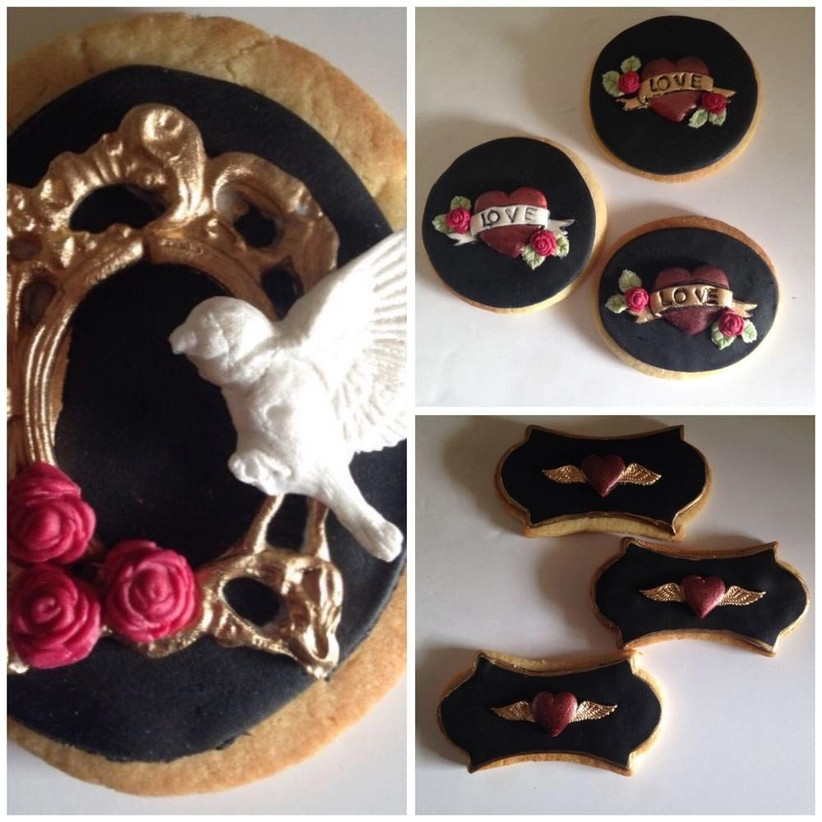 If you're after something a bit more girly, this biscuit bouquets from Fabulously Floral Cakes are super cute and are an amazing spring wedding idea.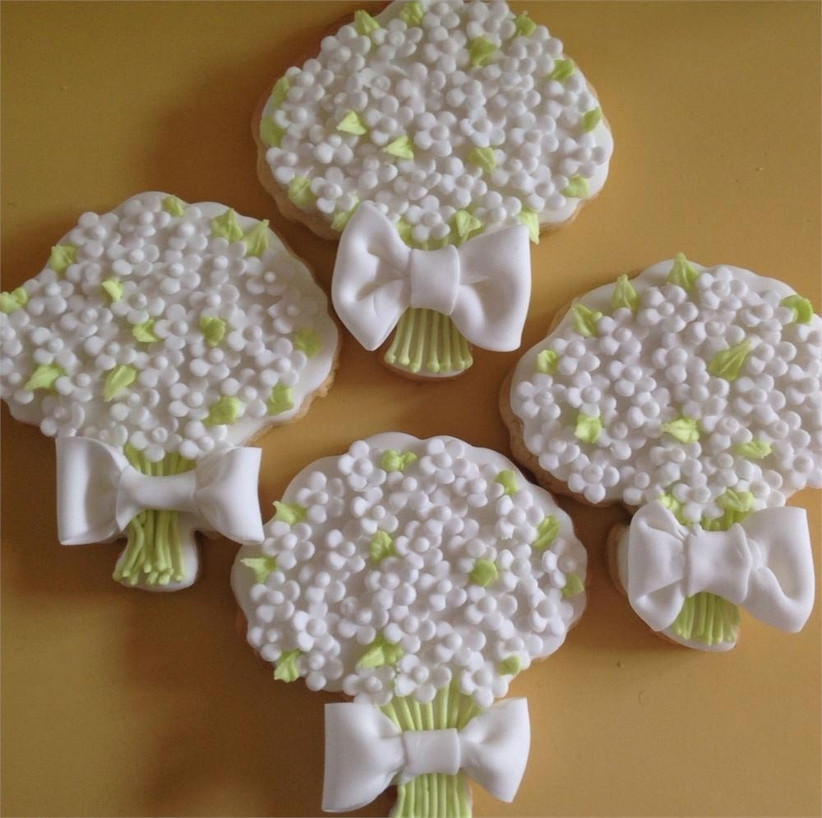 Quirky couples will adore these love bird biscuits by Cakes by Kit. We love how the heart shape has been used to show two little chicks snuggling together.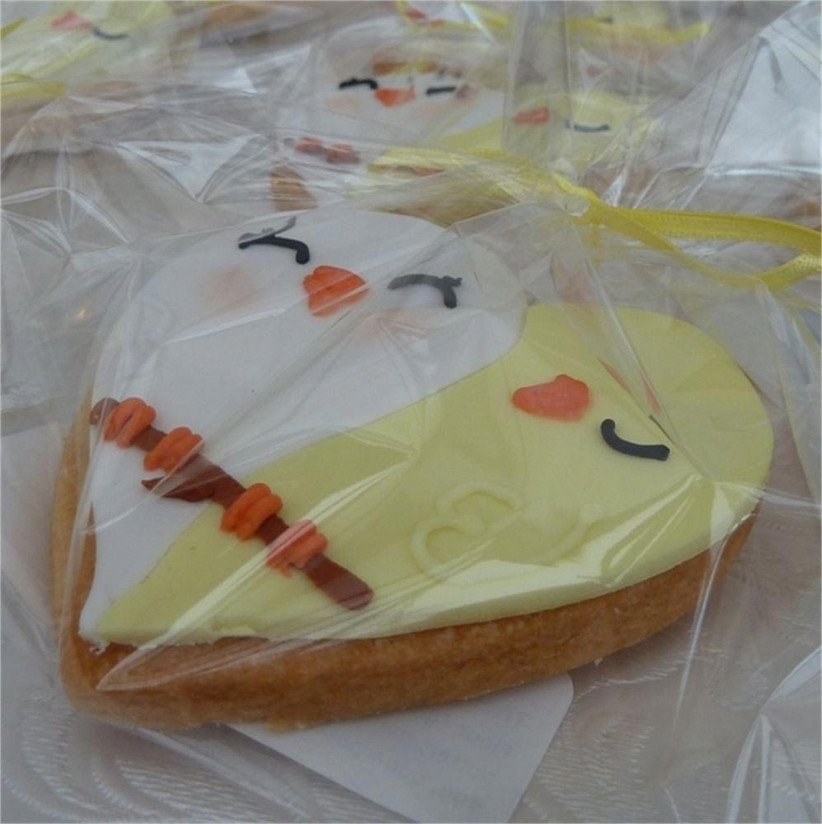 Give your guests personalised wedding favours by stamping your cookies with their names – or by ordering these delights from Cookie Delicious.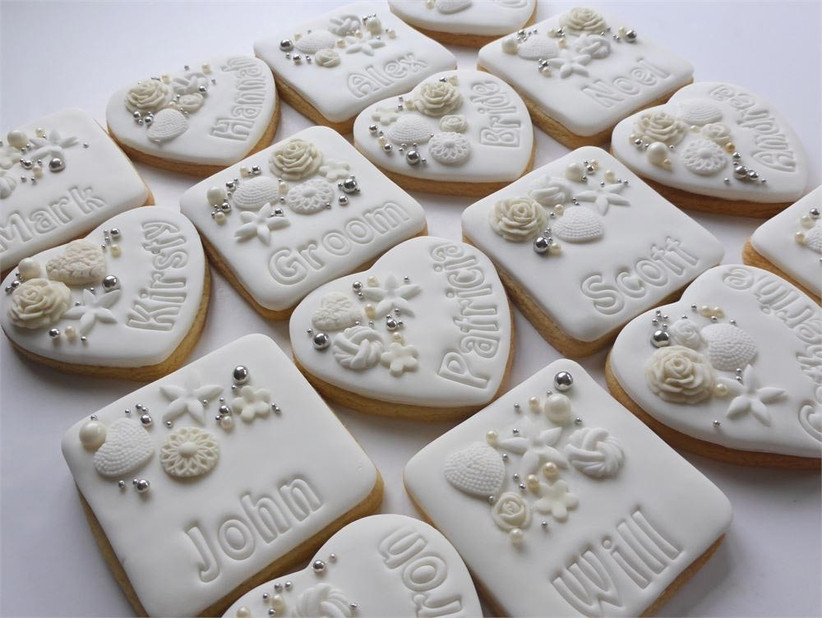 Who could resist these tempting treats from Emerald City Cupcakes? The cutaway detail in the icing is a simple but effective touch.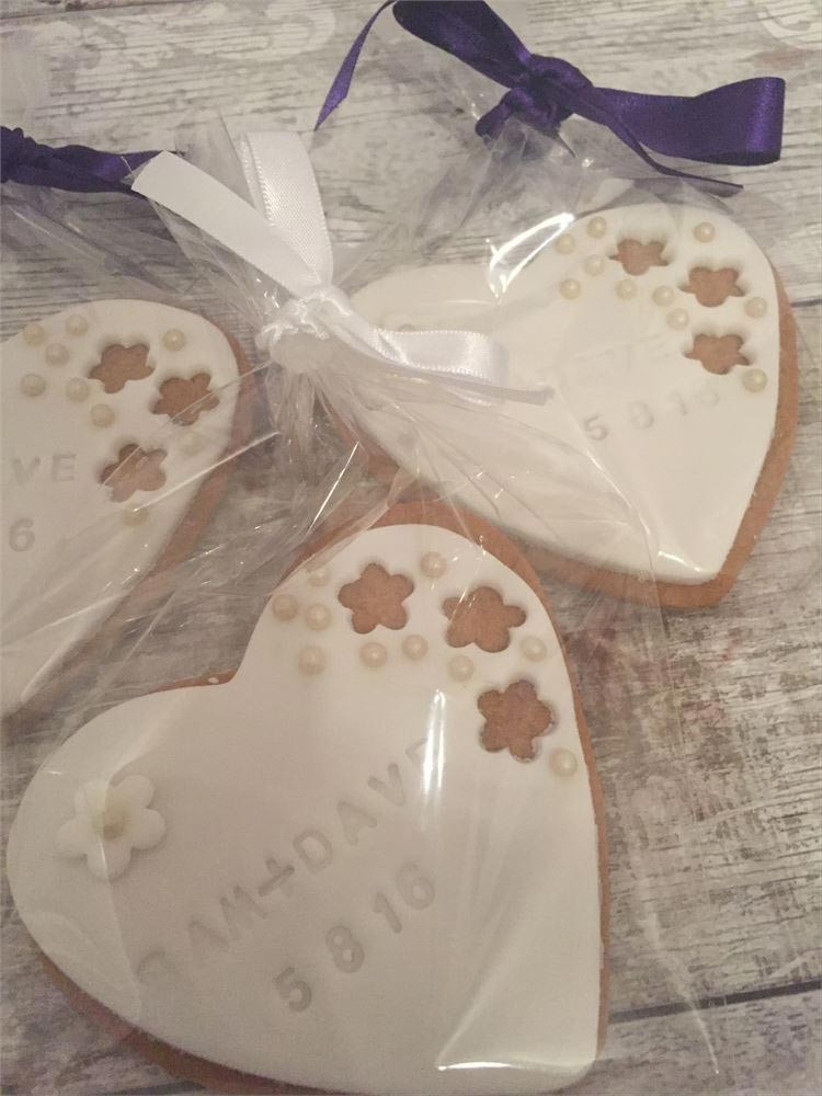 Want to wow your guests with elegant biscuit wedding favours? They won't want to bite into these vintage inspired cameo cookies from Fabulously Floral Cakes, but ultimately they won't be able to resist.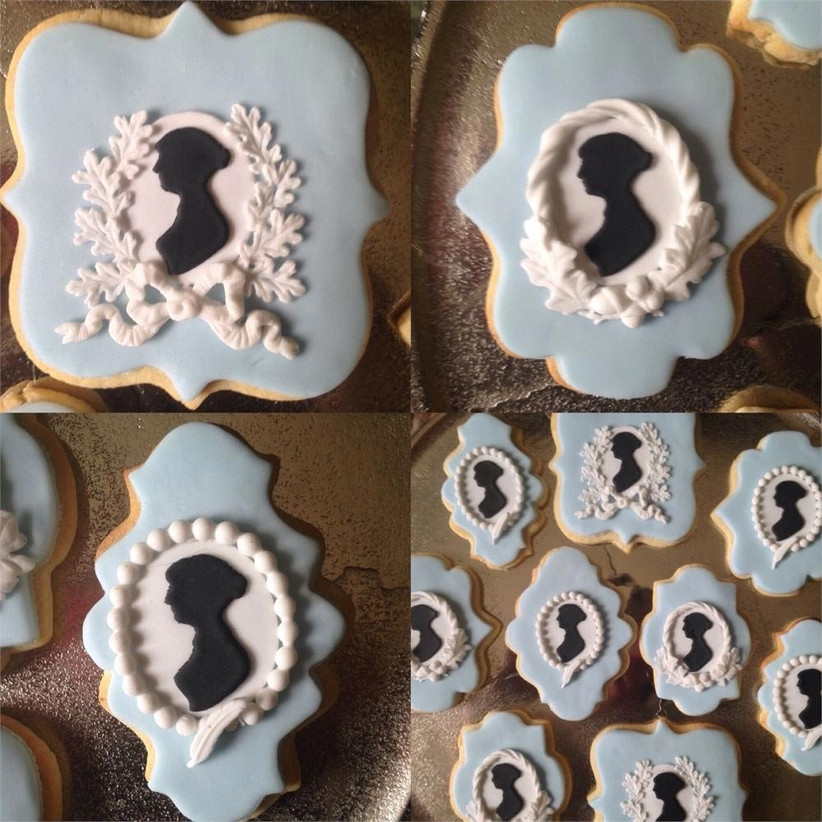 The pretty blue floral detail on these Cookie Delicious creations is a great way to delicately match your favours to your colour scheme. We love the pearly detail too – it looks so chic.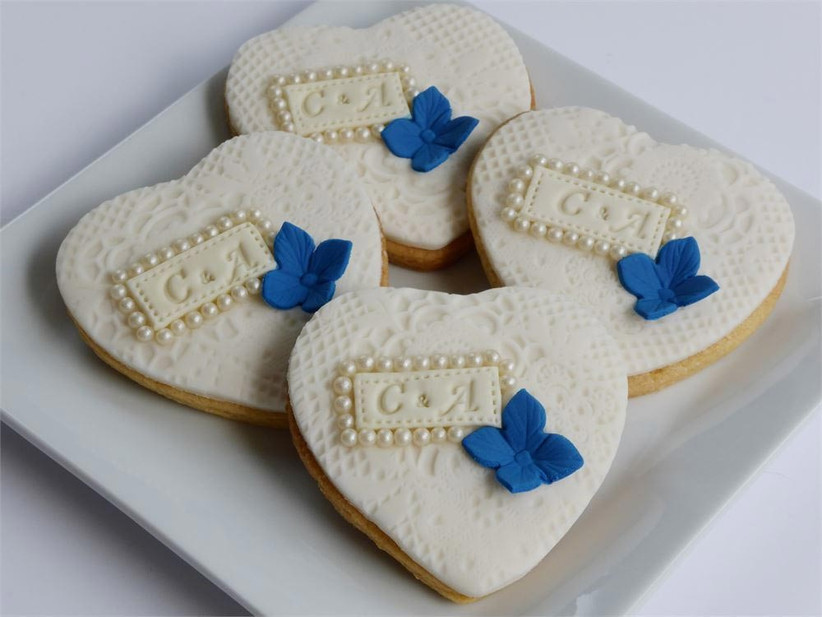 Why not use your wedding favours as place cards too? These iced cookies from Cakes by Kit feature your guests' names – it's a great wedding budget hack that'll save you money on your stationery.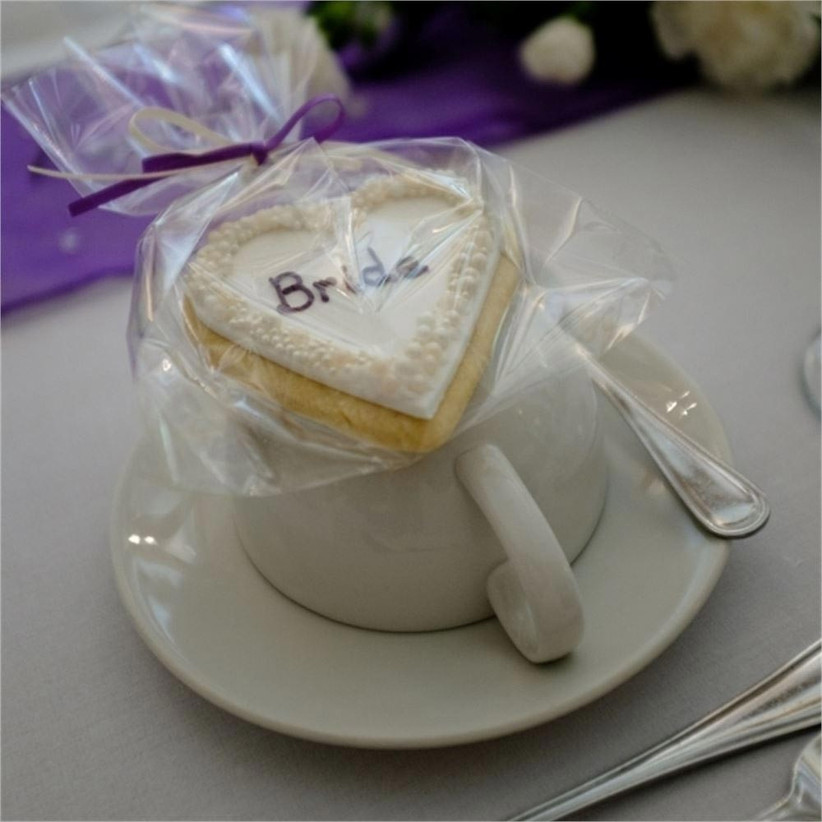 Glamorous couples will adore these gold adorned wedding biscuits from Cookie Delicious. They're actually perfect for adding some opulent Kanye West wedding style to your big day.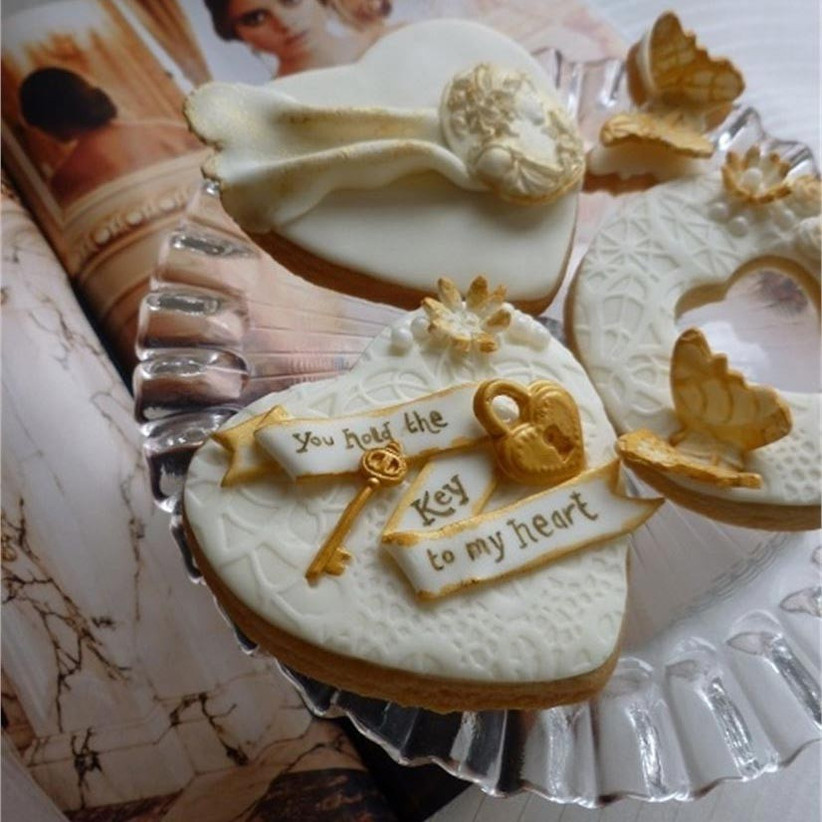 Mix up your favours around the tables with these cute bride, groom and wedding cake themed cookies from Cookie Delicious – or treat your guests to all three so they have a full set!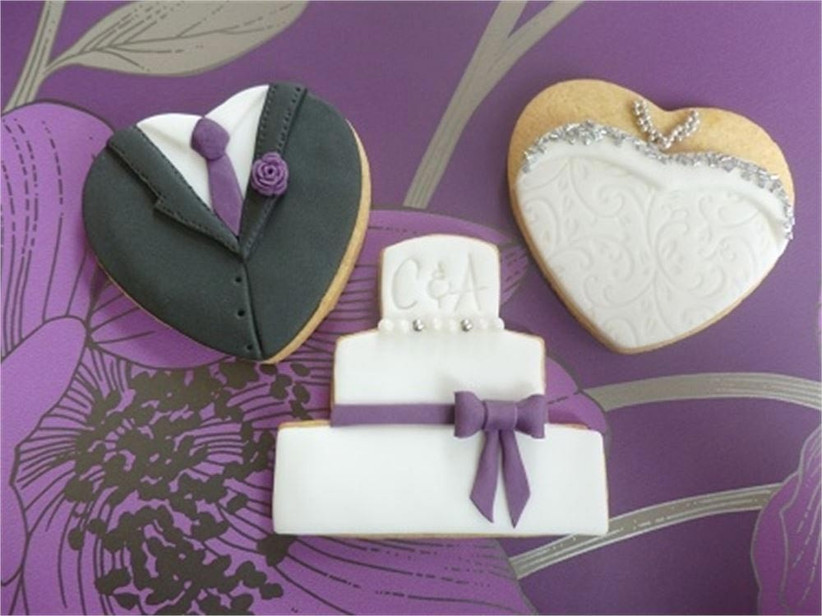 The 3D floral detailing on these bouquet inspired biscuits from Lindy's Cakes Ltd is simply irresistible. Why not commission a design that matches your own bridal bouquet?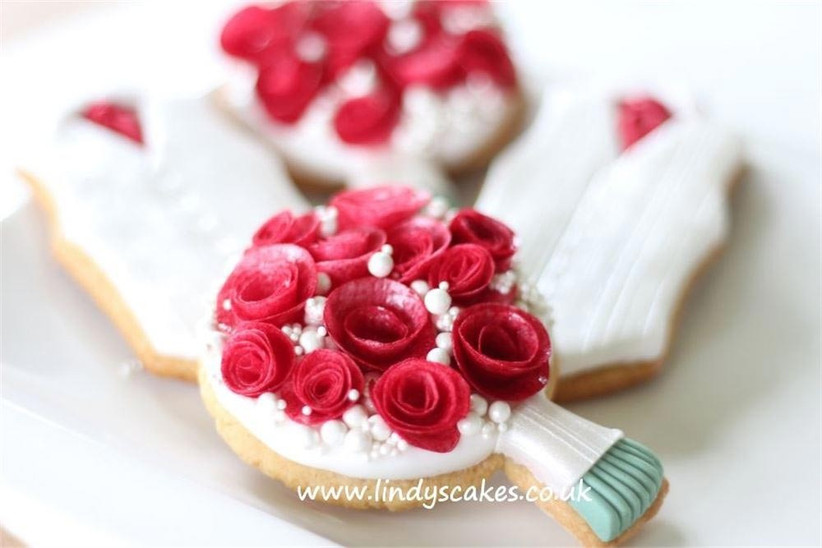 If you're still looking for edible wedding favour inspiration, why not check out our round up of chocolate wedding favours?