21 Alcohol Wedding Favour Ideas Your Guests Will Love
From miniature bottles to shot glasses and boozy lollipops, these are the best alcohol wedding favour ideas that will keep the celebrations going!
We have included third party products to help you navigate and enjoy life's biggest moments. Purchases made through links on this page may earn us a commission.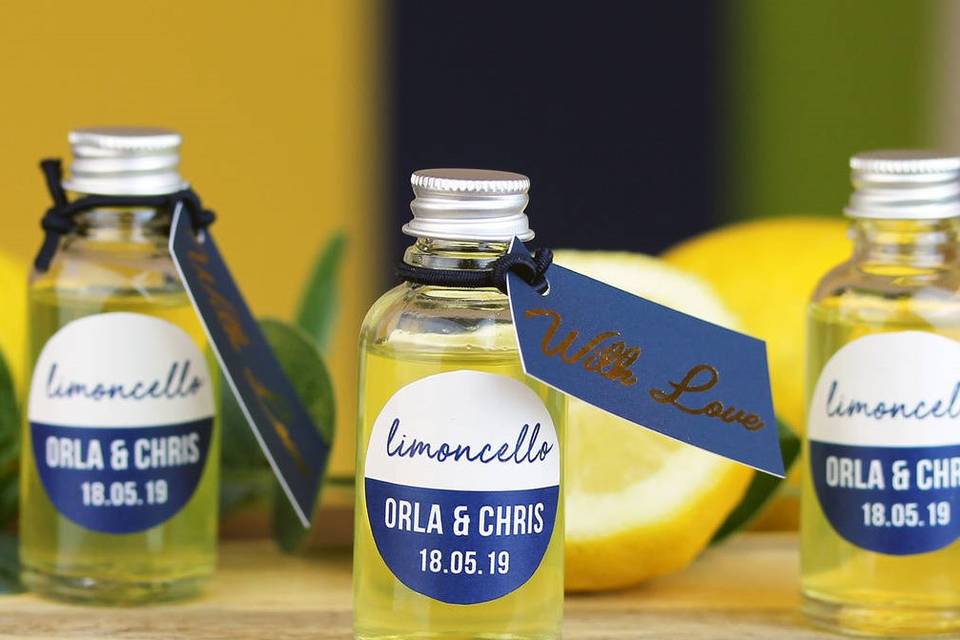 Wedding favours are a fun way to thank your guests for being part of your special day. If you're looking for an amazing wedding favour idea that will work for all kinds of wedding themes, consider giving alcohol wedding favours.
A modern upgrade from traditional sugared almonds, miniature alcohol bottle wedding favours will go down a storm with guests and look great as part of your wedding tablescape.
You can even make your own alcohol wedding favours by pouring your favourite tipple into a cute glass or bottle and labelling it with a personalised wedding favour tag. Or, how about leaving a custom shot glass and bottle opener on every place mat - just remember to check your wedding venues corkage rules.
Whatever tipsy treat you go for, one thing is for sure - drink wedding favours are a fail-safe gift that will not be left behind. Oh, and don't forget to leave a wedding hangover kit for your guest to take at your reception too!
21 of the Best Alcoholic Wedding Favour Ideas
Miniature Alcohol Bottle Wedding Favours
1. Gin Wedding Favours - from £3.50 each, Hensol Castle
Made in their very own distillery, Hensol Castle have a range of miniature sized gin bottles that will work perfectly as an alcoholic wedding favour. Choose from three different types - Welsh dry gin, wild strawberry and hibiscus gin or blood orange zest gin and personalise the bottles with your names and wedding date.
2. Infused Gin Wedding Favours - £79.50 for 15, Not On The High Street
Are you and your partner gin lovers? These infused gin bottle wedding favours taste delicious and will look gorgeous when laid out on your wedding tables thanks to their subtle colouring.
They only use fresh and natural ingredients to create five fabulous flavours - raspberry and mint, lemon and ginger, raspberry and rosemary, strawberry, rosemary and lime or lavender.
3. Personalised Limoncello Wedding Favours - £53.10 for 10, Not On The High Street
If you're getting married in Italy, or perhaps are heading off on a sun-drenched Italian honeymoon, a miniature alcohol bottle wedding favour filled with limoncello is a sweet idea. The favours are personalised with a navy and gold foiled sticker and tag so you can make them uniquely your own.
4. Mini Shot Bottle Wedding Favours - £88 for 78, Esty
Shots for wedding favours are a real crowd-pleaser and work wonderfully if you are having a large guest list and are looking for cheap wedding favours. Each shot glass will cost just over £1 each, which can then be filled with your and your partner's poison!
We adore the 'Take a shot we've tied the knot' tag included and we're sure your guests will too.
5. Citrus Infused Vodka Wedding Favours - £9.50 each, Not On The High Street
This citrus infused vodka won the Great Taste Awards so it's bound to be a winner! The mouth-watering lemon, lime and clementine fruit infused vodka can be served straight or mixed to make a delicious cocktail.
If you're having a wedding bar, your guests can take their favours over to make their own zesty cocktail.
READ MORE: 20 Signature Wedding Cocktail Ideas
6. Pink Gin Wedding Favours - £65 for 10, Not On The High Street
Pink gin is the perfect addition to a summer celebration - these Bloody Ben pink gin wedding favours are strawberries and cream flavour! Inspired by a summer in London, they are handcrafted on a small Copper Still in South West London.
7. Personalised Whisky Wedding Favours - £74.91 for 10, Not On The High Street
Whisky miniatures for wedding favours are a classic choice and these gorgeous glass bottles are really sophisticated. Each miniature wedding favour is decorated with stickers that are personalised with your details and are tied with a 'Drink Me' tag - ideal for an Alice in Wonderland themed wedding.
They also offer plain gin, pink gin or vodka.
8. Mini Shot Bottles With Rustic Labels - £20 for 10, Esty
Another lovely 'Drink Me' wedding favour idea are these cute double-shot spirit bottles that are ready to be filled with whatever alcohol you like. You can personalise them by having your guest's favourite drinks, or fill them up with you and your partner's drink of choice.
The personalised labels are available in white or rustic brown and are secured with a wooden cork.
9. Wedding Favour Prosecco & Cocktail Mixers - £25 for 9, Not On The High Street
These prosecco and cocktail mixer wedding favours are perfect for your wedding toast. Your guests can crack them open, add a dash to their fizz and cheers to the happy couple! Made in Sussex with fresh fruit, choose from raspberry and gin, summer berries and rum or blackberry and brandy.
10. Wedding Favour Cocktail Bottles - £28 for 10, Not On The High Street
Designed by Channel 4's Sunday Brunch cocktail expert Pritesh Mody, these cocktail wedding favours are a truly memorable gift. There are tons of tasty types to pick from including Persian lime margarita, passionfruit martini and yuzu sour.
You and your partner will have a great time deciding which wedding guest to give which flavour and they'll appreciate the thought behind it.
READ MORE: 18 Eco-Friendly Wedding Favour Ideas
Personalised Alcohol Wedding Favour Ideas
11. Custom Frosted Shot Glass Wedding Favour - from £1.39 each, Hitched Shop
These custom frosted shot glass wedding favours are a really popular choice with couples and guests. They are an affordable option and will be a lovely keepsake that your friends and family can use for years to come. Every time they take a shot, they'll think about your special day!
12. Take a Shot Wedding Favour Tags - from 60p each, Not On The High Street
If you are making your own alcohol wedding favours, attach these personalised tags to them and you'll be sure to put a smile on your guest's faces. Available for 60p each, choose from ivory, pink or blue ribbon.
13. Personalised Test Tube Shot Wedding Favours - from £3.25 each, Not On The High Street
We love this unique wedding favour idea - these personalised test tubes can arrive empty for you to fill yourself, or with your choice of alcohol (limoncello, pink gin, drink gin or whisky). They look fabulous and are the ideal size to be popped in a small bag or pocket.
14. Hashtag Bottle Opener Wedding Favour - £3 each, Hitched Shop
If you're incorporating a wedding hashtag into your big day (and we recommend that you do!), make sure everyone spreads the word by giving your guests these hashtag bottle opener wedding favours. Personalise the backer with your names, wedding date and chosen hashtag and wait for the adorable tags to come in.
15. Personalised Wedding Favour Alcoholic Lollipops - £34 for 20, Not On The High Street
For a fun twist on alcohol wedding favours, consider opting for these alcoholic lollipops. They're completely customisable with your name and wedding date, plus you can choose from over 20 flavours. Pina Colada is calling our name!
They're available in non-alcoholic flavours such as blueberry cheesecake should you need to cater for that too.
READ MORE: 22 Chocolate Wedding Favour Ideas
16. Dancing Juice Wedding Favour Tags - from £1.25 for 5 Esty
If your guests needs a little encouragement to bust some moves, put these tags on your drink wedding favours and they'll be up in no time. Choose from small, medium and large, and a variation of colours to match your wedding theme.
17. Peel and Stick Wedding Jagermeister Labels - £5 for 25, Esty
Did you meet your partner after one too many Jagerbombs? These stickers fit perfectly on a miniature bottle of Jagermeister and are so much fun! They can be made to match all kinds of different bottles such as Jack Daniels if that would suit you better.
18. Personalised Limoncello Wedding Favour Tags - £2.99 for 10, Esty

Dab hand in the kitchen? DIY your own batch of limoncello and label them with these gorgeous wedding favour tags. They are made from high quality card for a luxury finish and can be printed in any colour. We love the pale yellow and white colourway.
19. Custom Engraved Wooden Bottle Stopper - from £1.70 each, Hitched Shop
A decorative and personalised way to seal a bottle of wine, these wooden bottle top stoppers are a cool reminder of your wedding day. If you buy them in bulk they're less than £1.50 each and you can pick from a whole number of different words.
They even come with a striped gold backer so will look amazing when placed on your tables.
20. Drunk In Love Printable Wedding Favour Tag - £5.17, Esty
For just £5, you'll receive a downloadable template so that you can print and attached these wedding favour tags to miniature alcohol bottles. Chic yet playful, we adore the 'Drunk in Love' text.
Do Venues Charge Corkage on Alcohol Wedding Favours?
Your wedding venue will set their own corkage charge so it is important to check with them if you are considering having alcohol wedding favours. Take a look at these non-corkage wedding venues if you want to bring your own booze.
If you love the idea of alcohol wedding favours, Champagne towers are a trend you have to check out!