22 Fun and Affordable Hen Party Bag Ideas
Get the party started with a goodie bag full of these hen party treats! From fun straws to sugary snacks, the girls will be thrilled with these!
We have included third party products to help you navigate and enjoy life's biggest moments. Purchases made through links on this page may earn us a commission.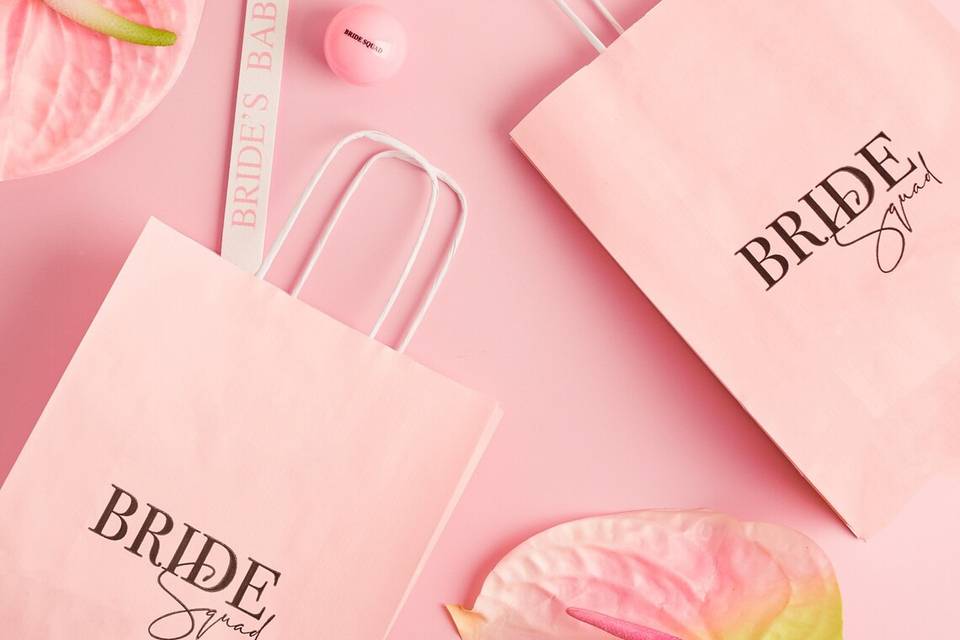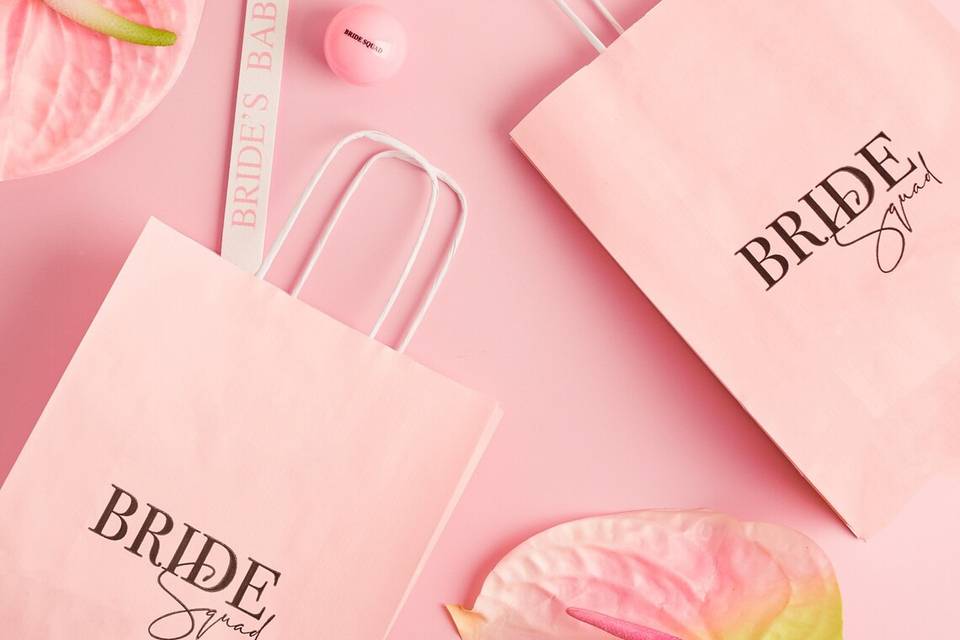 If you're planning a hen party then handing out party bags is a great way to get the celebrations started. Whether you need ice breakers to get the bridal party talking or a hefty hangover cure to ease sore heads the next day, a bag stuffed full of goodies will certainly go down well and will be appreciated by everyone.
It doesn't matter what hen party ideas you have planned, whether you're having a chilled pre-wedding break or a full on party weekend, we reckon everyone will love this pick of the best hen party bag fillers.
The Hen Party Bags
First things first, you need a stylish bag to keep all the goodies in, we've handpicked some of our favourite styles.
1. Bride Squad Bags – 99p each, Team Hen
These bride tribe bags from Team Hen are a bargain at 99p each and they look so stylish. They are printed on both sides and will look amazing in your hen party photos.
2. Personalised Brown Paper Bags – £1.25 each, Through Creation
These personalised brown paper bags from Through Creation are the perfect stylish addition to any hen party. You can choose from a range of colours for the names but we think classic black is the best one.
3. Team Bride Bags – £6.49 for a pack of 5, Ginger Ray
These pink team hen bags from Ginger Ray are so pretty and fun, they are also the perfect size for filling with an array of girlie goodies.
4. Canvas Hen Party Bags – £7.95, So Close
How gorgeous are these canvas bags from So Close, they are perfect for the bride and her hens. Choose which colour and text you would like the bag to have and fill with hen party goodies.
Hen Party Headwear
We can pretty much all agree that some form of novelty headwear is an essential if you're heading for a night on the town with all the hens. Get everyone giggling by providing hats, headbands, tiaras and wigs as hen party bag fillers and yes, wearing them is a must otherwise you must do a forfeit.
5. Flower Crowns – £6.50, Postbox Party
If you are planning a festival-style hen party then flower crowns are a must! These floral crowns from Postbox Party come in a range of colours and the hens will love them.
6. Star Halo Crown – £37, Crown and Glory
Save a little bit of your budget to get the bride an extra special hen party crown! We adore this starry style from Crown and Glory and the bride will love wearing it.
7. Rose Gold Mini Party Crowns – £5.45, Our Little Party
If you are looking for something fun and inexpensive then these rose gold party crowns from Etsy will be a fun addition to your hen party bags and they'll look fab in all your photos.
Fun and Games
No hen party bag would be complete without a few fun novelty items and games, take a look at a few of our favourites and start planning your hen party bag fillers.
8. Team Hen Bands – £2, Wedfest
If you know the bride would like more subtle attire at her hen party then these black and white hen party wristbands from Wedfest are a subtle way to add some hen party style to everyone's outfits and they will be perfect hen party bag fillers.
9. Bride to Be Glasses – £4.20, Tandem Green
If you want to stay well away from phallic-shaped paraphernalia for the hen party, then treat the bride to some outlandish novelty sunglasses instead! These cardboard bride glasses from Tandem Green would be perfect for the bride to be's hen party bag.
READ MORE: 23 Classy Hen Party Accessories for Stylish Brides
10. Rose Gold Hen Party Sashes – £18.99 for 6 sashes, Ginger Ray
Add some elegance to your hen party bags by adding in a rose gold sash from Ginger Ray to each bag. They come in packs of sick and you can also order sashes that say Bride, Maid of Honour, Bridesmaid, Mother of the Bride and Mother of the Groom.
11. Drink Shimmer – £7.49, Pop a Ball
Oh you're not still drinking plain old prosecco, are you? Give your bubbles a boost with colorful drink shimmer from Pop a Ball, all the hens will love it!
12. Hen Party Icebreaker Cards – £4.99, Team Hen
If the party includes a few hens that don't know each other then pop an icebreaker card into each party bag, it's a great way to get everyone talking and having fun – these cards from Team Hen would be ideal.
READ MORE: The Best Hen Party Games for You and Your Girls
13. Team Bride Hair Ties – £0.99, Team Hen
These fabric hair ties from Team Hen are not only extremely useful to have on hand as you celebrate your nuptials, but their delicate pink colour and rose gold lettering make them eye-catching accessories, too!
14. Novelty Straws – £4.50, Postbox Party
Yes we know what you're thinking, but rid your head of any genitalia-themed straw images (although you can use these as hen party bag fillers if you wish!) and think outside of the box. Go for paper straws to be kinder to the planet - if the bride is planning an eco-friendly wedding, she'll thank you. We have a little soft spot for these pretty chevron straws from Postbox Party.
15. Sweets – Amazon
Fun sweets that remind everyone of their childhood are the perfect budget-friendly hen party bag fillers. Buy them in bulk on Amazon and then fill old fashioned striped paper bags with them.
16. Sparkling Wine Cans – Most Wanted Wines
What better way to use your straws than in these cute and delicious cans of sparkling wine? Yep, wine in a can. The future is here and we are loving it, ladies! These ingenious cans from Most Wanted Wines are ideal for taking with you to a festival or whenever you need fizz on-the-go (when don't we?). They come in packs of four too so are ideal for sharing with the hens – or giving everyone a four-pack each…
17. The Bridesmaid Box – £24.99, The Tiger Box
If you've got a big hen do planned, you might have enough on your plate. This Bridesmaid Box from The Tiger Box is a ready-to-go, carefully curated gift that allows you to spoil your hens while focusing on your other plans.
Hen Party Badges
If some of the bridal party are only just getting to know each other, then a badge with the person's name and position (mother of the bride, bridesmaid, head bridesmaid etc) is a great way to break the ice and an easy way for everyone to remember names without awkwardly asking 100 times. If the bride isn't a huge fan of fancy dress then they are also a great way to add some hen party style to your outfits.
18. Personalised Hen Night Badges – £0.95, Pink Biscuits
These pretty pastel badges from All Tied Up will help all the hens get to know each other and they will look great when you all wear them together on your night out.
19. Team Bride Badges – £5.50, Tiger Feet Creations
These cute team bride cardboard badges from Tiger Feet Creations are so much more stylish than your average hen party badges – we are obsessed!
20. Team Bride Badges – £0.85, Make Loops
How stylish are these blue hen party badges from Make Loops? If you want to add some subtle hen party style then these pretty badges would be perfect.
Beauty Products
If the hen party is all about pre-wedding relaxation, then give the bridal party a goodie bag filled with things like face masks, bath creams and eye masks. A great budget-friendly option would be to host a girly sleepover for the hen do, where everyone can make use of their party bag treats.
21. Gin & Tonic Lip Balm – £6.50, Zivér Organiques
Dry, chapped lips will be banished from the hen party if you pop lip balm into the party bags. These are small and easy to fit into the bags and you could pick balms in everyone's favourite flavour to win extra friendship points. We absolutely love this gin and tonic lip balm from Zivér Organiques. Didn't think you'd ever need a gin flavoured lip balm? You do now.
22. Love Tattoos – £2, Emilie Rose
Gold temporary tattoos are a fun addition to any hen party – we love the unique script style of this Love tattoo from Emilie Rose but you can also choose more traditional ones that say things like Party and Bride Tribe.
If you are searching for more fun hen party ideas then don't miss our ultimate Mr and Mrs quiz.