21 of the Coolest Bridal Sunglasses for Stylish Celebrations
Bridal sunglasses are the ultimate accessory for chic weddings - our edit includes 21 fun frames to suit all faces, from bride-to-be and squad sunnies for hen, to chic styles for the big day itself
We have included third party products to help you navigate and enjoy life's biggest moments. Purchases made through links on this page may earn us a commission.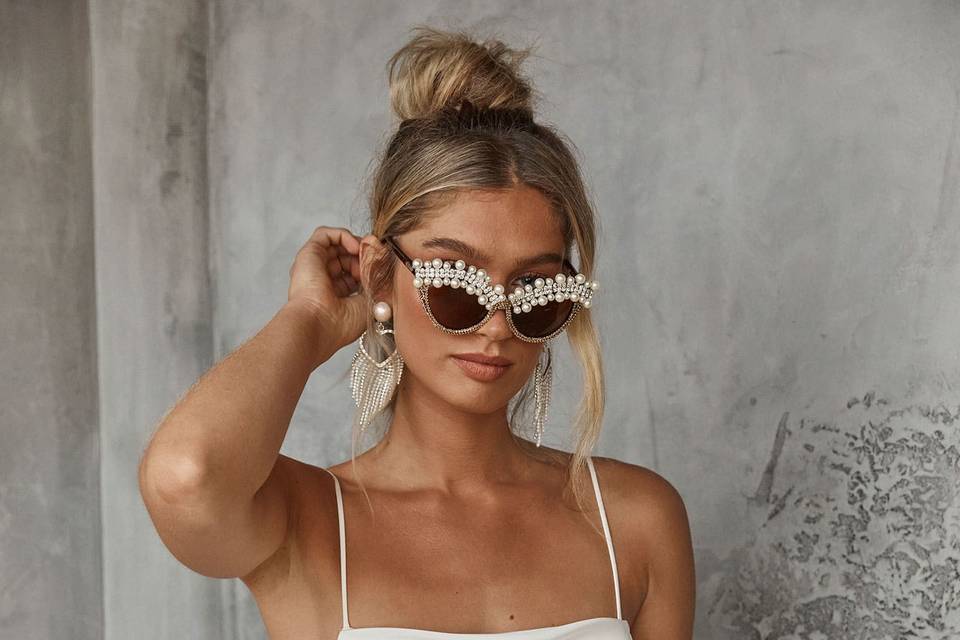 It's official, bridal sunglasses are the ultimate accessory to rock at your summer wedding and we're obsessed. Pretty and practical (they'll be no squinting in your photographs with these beauties), there are so many options to suit all kinds of celebrations.
Heading to a registry office for a relaxed ceremony? Consider a chic pair of cat-eye sunglasses. Or, how about a pearl encrusted pair for a fun festival wedding venue!
Better yet, stylish shades don't have to start on the wedding day - you can don some seriously cool bride to be sunglasses at your hen party and deck the whole crew out too with bridal party sunglasses. From heart shaped styles to classic Ray-Bans, here are 21 bridal sunglasses you'll want to wear long after your special day.
Bride Sunglasses
1. Heart Sunglasses - £59, Charles & Keith
Embrace romance on your wedding day with an adorable pair of heart-shaped bridal sunglasses. This Charles & Keith pair will add a fun pop of colour to your outfit and look amazing paired with a red wedding lipstick.
2. Crystal Pearl Embellished Round Sunglasses - £73, Charles & Keith
These pearl sunglasses from Charles & Keith are gorgeous - we adore the rose gold colouring almost and the unique cut-off frames. Why not match them to a pearl wedding dress?
3. Hexagonal Frame Sunglasses - £137, Ray-Ban at Selfridges
You can't go wrong with a classic pair of Ray-Bans and these hexagonal frames are one of our favourite designs. They'll add an edgy touch to your look and can be worn for seasons to come.
4. Cat Eye Embellished Sunglasses - £136, Miu Miu at Selfridges
If glamour and sophistication is part of your wedding day vision you need these Miu Miu sunnies in your life. The embellished corners take them to another level and will pair perfectly with a short wedding dress.
5. Blue Glitter Oversized Sunglasses - £16, River Island
Looking for ideas for your 'something blue'? We've just found these answer with River Island's blue ombre sunglasses. The frames have a subtle shimmer that'll catch the light beautifully.
READ MORE: The Ultimate Wedding Hair Accessories Guide
6. Hyped Up - £39, Quay Australia
Quay Australia are serving up some super chic sunglasses that look way more expensive than their price tag. Take the Hyped Up pair that are available in black or this pretty pink shade.
7. Cat Eye Sunglasses - £290, Celine at Net A Porter
Fashion-forward brides will love these retro sunglasses by Celine. They're on the pricier end of the scale but this designer pair is so timeless you'll wear them time and time again.
8. Lena - £291.20, A-Morir New York
Hailed as the ultimate bridal eyewear brand by Vogue, these statement shades by A-Morir will make such an impact you won't have to worry about other accessories.
Cheap Bridal Sunglasses
9. Bridal Heart Sunglasses - £5.99, Team Hen at Not On The High Street
Simple and sweet, these white heart sunglasses can be worn for your hen party, wedding day and on your honeymoon. They're less than £6 so you won't have to worry about losing them.
10. Angular Oversized Sunglasses - £10, Boohoo
This pair of sunglasses from Boohoo features angular legs and orange tinted frames for a trendy finish. We adore the cream colouring as it gives a softer look than bright white.
READ MORE: 38 Designer Wedding Shoes
11. Oversized Square Sunglasses - £8, Pretty Little Thing
The gold detailing on these Pretty Little Thing frames looks great with the oversized design - it's giving us chic city wedding vibes are we are totally here for it!
12. Diamante Cat Eye Sunglasses - £10, Pretty Little Thing
Bringing bling to your wedding accessories doesn't have to cost a fortune - these diamante cat eye sunglasses from Pretty Little Thing are just £10 and they are seriously sparkly.
13. Wedding Sunglasses - £4, Hitched Shop
For a bit of fun on your wedding day, whip out these bride sunglasses. They'll make for a great photograph if your partner wears matching ones too!
Bride To Be Sunglasses
14. Bride To Be Hen Party Sunglasses - £5.99, Ginger Ray at Not On The High Street
Let the whole world know you're a bride to be with these amazing sunglasses by Ginger Ray. They'll still look chic thanks to the pink and gold colourway but are undeniably playful.
15. Bride To Be Hen Diamante Sunglasses - £4.99, New Look
Or, how about this party-ready pair from New Look? You'll certainly stand out from the crowd with the pink bride to be slogan and glittery rhinestone studded frames.
READ MORE: The 30 Best Hen Party Games
16. Bride To Be Hen Sunglasses - £5, Matalan
For just £5 you can get your hands on these cream bride to be sunglasses from Matalan. If you're opting for an all-white hen do outfit, they'll pair perfectly.
17. Bride To Be Hen Sunglasses - £19.99, Alexis Exclusive at Etsy
Planning a hen party abroad? Pop these mirrored beauties on for the ultimate beach day outfit. They'd make a great present if you're looking for a gift to give the bride to be.
Bridal Party Sunglasses
18. Party Sunglasses - £5, Hitched Shop
These lip sunglasses from the Hitched Shop are fabulous. They're a unique twist on heart shaped frames and your besties will adore them.
19. Wedding Party Sunglasses - £4, Hitched Shop
We're also big fans of these gold squad sunglasses. If your friends are always up for a laugh, we reckon they'll be over the moon with them too.
20. Bride & Babe Sunglasses - from £13.91, Ott Craft Shop at Etsy
Personalise your pal's sunglasses by opting for these heart sunglasses - you can choose from tons of different colours as well as varying fonts.
21. Bride Tribe Sunglasses - £5, Matalan
If you prefer something a little more subtle, look to these heart shaped clear glitter sunglasses. They feature a little bride tribe logo in the corner which is a super cute touch.
Can You Wear Sunglasses on Your Wedding Day?
Absolutely! Wearing sunglasses on your wedding day can add a relaxed feel to your outfit and screams effortlessly cool. It's also a great idea if you are getting married at an outdoor wedding venue such as the beach, as it'll fit the setting perfectly. We would say to remove them for the ceremony itself though as your partner and guests will want to see your eyes.
How Do I Choose the Best Sunglasses?
The ideal sunglasses for your wedding day will depend on the overall look you are trying to achieve. If you prefer a laid-back feel, a round pair of black frames might be your preference but if you like glamorous designs, you could consider a cat eye style. If you are unsure, it is a great idea to head to the shops to try on frames and see what shape and style suits your face best.
For even more beautiful accessories to wear on your wedding day, take a look at our edit of the best wedding earrings.