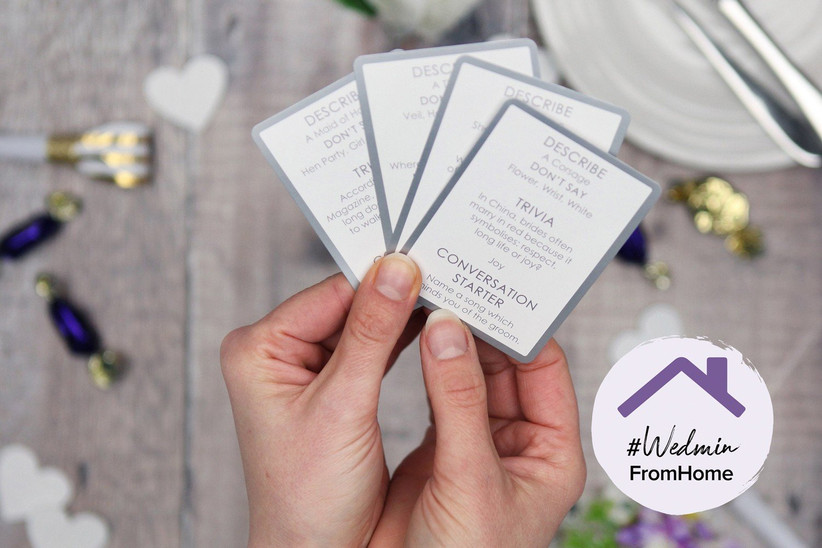 Weddings are the perfect place for the people you love to get to know each other a little better. But, Dutch courage from the open bar aside, sometimes you need to give them a nudge in the right direction – and that's where wedding icebreakers come in.
While they're not an obligatory part of your wedding table décor, more and more couples are leaving wedding table icebreakers scattered throughout their receptions to help their guests spark up great conversations without any initial awkwardness.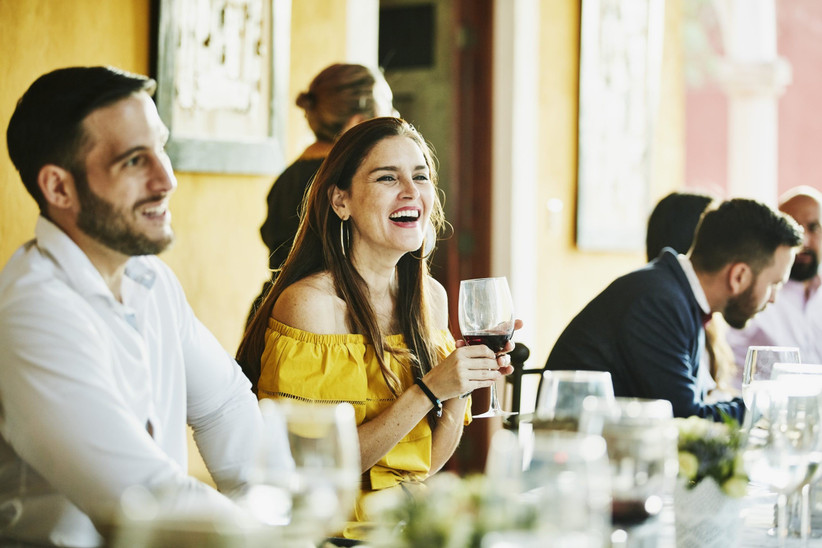 Whether you go for quirky, light-hearted questions or discussion points that will spark debate, not only do wedding icebreakers offer a lifeline for guests who don't know many of your other attendees, they also encourage those who've been in each other's lives for years to dig a little deeper. Hey, it could even be worth playing a few of them with your spouse-to-be…
We've got a list of 125 ice breaker questions you can pick and choose from to ask your guests. Spend an evening coming up with a list of these to print out for the table, add a card with your icebreaker questions on to each place setting or fill jars with strips of paper and invite everyone to draw a few as they mingle. Just (as with any of your wedding games) be sure to keep things appropriate for everyone you've invited, from your granny to your girlfriends.
Here are some of our favourites to get you started, plus some ideas for crafty ways to share them out. If you don't want to DIY your wedding table icebreakers, we've also included links to some handy pre-made sets you can order for delivery too. Happy quizzing!
Conversation Starters
Get the ball rolling with some easy questions that everyone can get involved with, and encourage people to reveal a little something extra about their personality.
1. What was the last country you visited?
2. How many languages can you speak?
3. What animal best describes your personality?
4. Who was your first celebrity crush?
5. What was the first album you ever bought?
6. If you were in the Olympics, what sport would you play?
7. What is your most-used emoji?
8. What's the background picture on your phone?
9. Which famous person do people say you look like?
10. Which famous person would you choose to narrate your life?
11. Who would play you in a movie of your life?
12. What is your ultimate dream job?
13. What's your favourite season?
14. What band or musician would you most love to see live?
15. What's your go-to karaoke song?
16. If you were to be born in a different decade, which one would you choose?
17. What is your favourite colour and why?
18. What would the title of your autobiography be?
19. Do you have a lucky number?
20. Do you have any tattoos?
21. What is your signature drink order?
22. What's your favourite film and why?
23. What's your favourite book and why?
24. Which fictional family would you like to be a part of?
25. What superpower would you pick and why?
26. What's your guilty pleasure?
27. Which TV show would you love to join the cast of?
28. What's the longest flight you've ever taken?
29. If you could instantly become an expert at anything, what would it be?
30. Who are your dream dinner party guests?
31. If you could visit any planet, which one would you choose?
32. What three items would you take to a desert island?
33. What's the first thing you would do if you won the lottery?
34. What is the weirdest thing you've ever eaten?
35. What is your worst habit?
36. What was your most embarrassing moment?
37. What's your party trick?
38. What is your favourite saying or motto?
READ MORE: 36 Unique Wedding Table Plan Ideas (And Tips For Creating Your Own)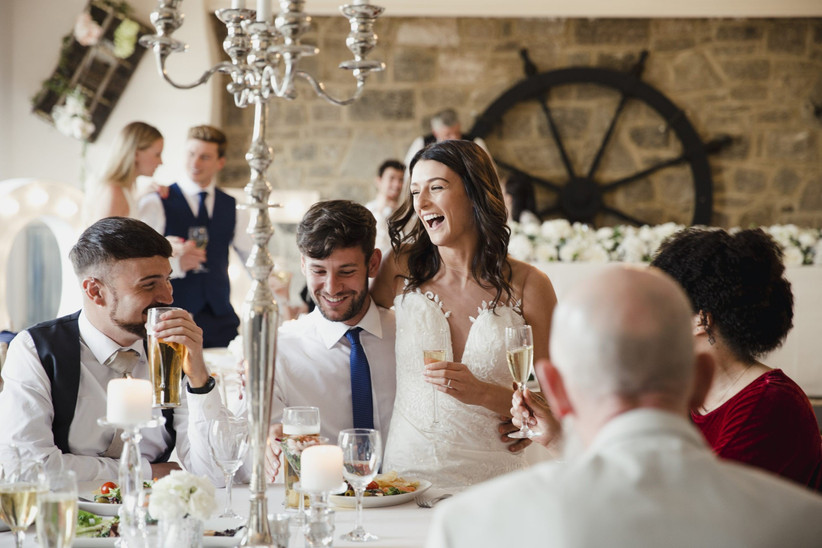 The Happy Couple
Everyone at your wedding has something in common: knowing the two of you. Ask them to share their histories and maybe they'll discover something new.
39. How did you meet the bride or groom?
40. What's your favourite story about the bride or groom?
41. Describe the bride or groom in one word
42. When did you know that the bride or groom was in love?
43. What's the best piece of gossip from the hen or stag do?
44. Do you have any nicknames for the bride or groom?
45. What's the best piece of marriage advice you've ever received?
46. Have you ever been to their honeymoon destination?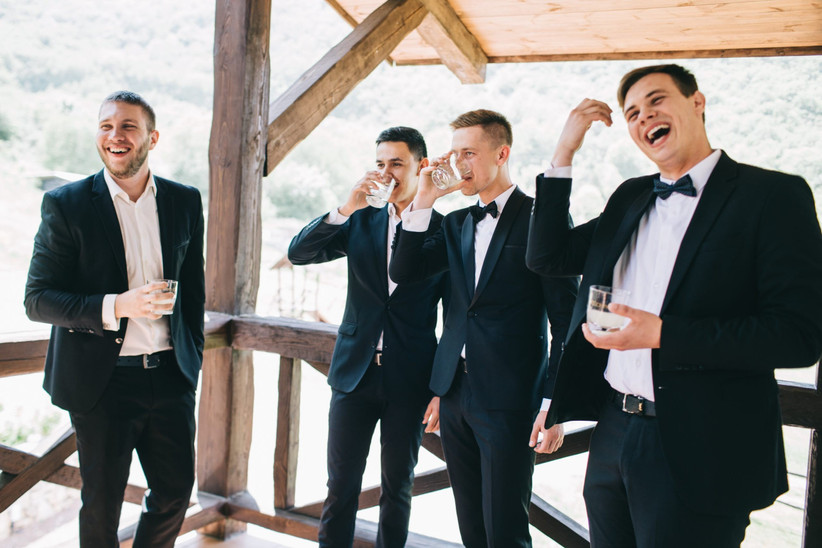 This Or That
Think of this as your quickfire round – it might look simple at first, but as soon as you hit a difference of opinion, there'll be lots to talk about…
47. Sweet or savoury?
48. Coffee or tea?
49. Crisps or chocolate?
50. Beer or wine?
51. Whiskey or gin?
52. Morning or night?
53. Hot weather or cold weather?
54. Thunderstorm or snow day?
55. Beach or city?
56. Airbnb or hotel?
57. Dogs or cats?
58. Music or podcasts?
59. Bath or shower?
60. Emails or letters?
61. Schedule or wing it?
62. Money or free time?
63. Films or books?
64. Mac or PC?
65. Glasses or contact lenses?
66. Singing or dancing?
67. Flowers or plants?
68. Takeaway or restaurant?
69. Eggs or bacon?
70. Cookies or cake?
71. Fruits or vegetables?
72. Pasta or pizza?
73. Breakfast or dinner?
74. Comedy or horror?
75. Monopoly or Cluedo?
76. Poker or chess?
77. Strength or cardio?
78. Guitar or piano?
79. Road or rail?
80. Gold or silver?
81. Theatre or cinema?
82. Talk or listen?
83. Love or money?
READ MORE: 47 Fun And Unique Wedding Table Name Ideas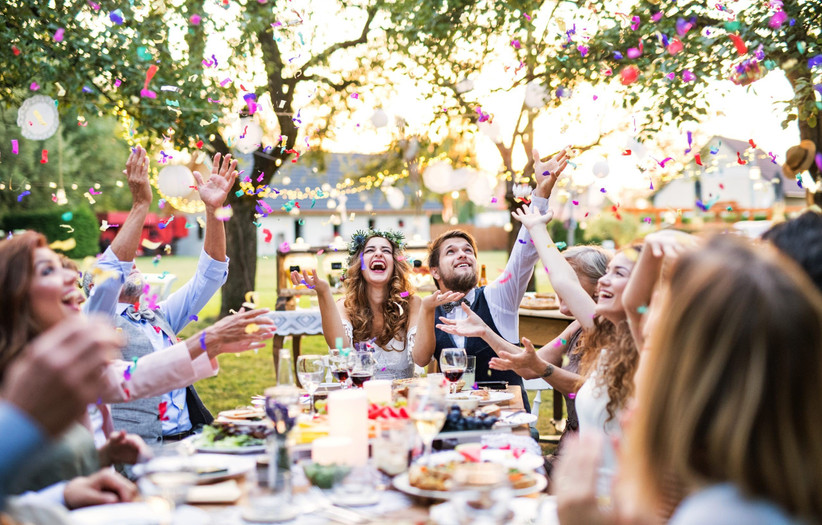 Bride vs Groom
We're not saying you should pit yourselves against each other in the name of entertainment, we're just pointing out that you can. People can also answer these about couples or friends at their own table, so it's double the fun.
84. Who has better fashion sense?
85. Who has better taste in music?
86. Who is the better cook?
87. Who takes longer to get ready?
88. Who is a better driver?
89. Who is more adventurous?
90. Who is more organised?
91. Who is the biggest spender?
92. Who is funnier?
93. Who has nicer handwriting?
94. Who spends the most time on social media?
95. Who likes shopping the most?
96. Who owns more pairs of shoes?
97. Who is the most creative?
98. Who has the best laugh?
99. Who is the better dancer?
100. Who is the clumsiest?
101. Who is more immature?
102. Who is the most honest?
103. Who is best with kids?
104. Who is the most competitive?
105. Who is more romantic?
106. Who mentioned marriage first?
107. Who gets the last word?
108. Who will be first to cry during the speeches?
109. Who is more likely to win in a fight?
The Deep Stuff
If your guests are already close-knit bunch, or comfortable with doing a little soul-searching amongst strangers, these questions could prompt some of the most profound conversations of the day.
110. What is your first memory?
111. What was the moment that made you feel like an adult?
112. What is your greatest achievement?
113. What is your biggest fear?
114. What's the bravest thing you've ever done?
115. What was the happiest day of your life?
116. What's the biggest challenge you've overcome?
117. What failure taught you the most about yourself?
118. What do you like most about yourself?
119. Who inspires you the most?
120. Do you believe in soulmates?
121. If you could trade lives with anyone, who would you pick?
122. If you could rid the world of one thing, what would it be?
123. What's the best gift you've ever been given?
124. What's the best piece of advice you've ever received?
125. What's at the top of your bucket list?
4 Ways to Display Your Wedding Ice Breakers
Use Blank Playing Cards or Index Cards
If you're naturally artistic or have lovely handwriting, making your own wedding icebreakers could be as simple as finding a blank slate and writing them out by hand. Amazon has packs of 200 cards for as little as £6.99 – when you're done, pop them into an ornate box, or use place name stands or freestanding photo clips to prop them up at each table setting.
Type It Up
For an option that's a little less time consuming, create an A4 sheet of questions that you print at home and display on each table (picture frames from IKEA, or the clear acrylic sign holders you often find in offices are ideal for this purpose). Sites like Canva have hundreds of lovely A4 designs you can use for free.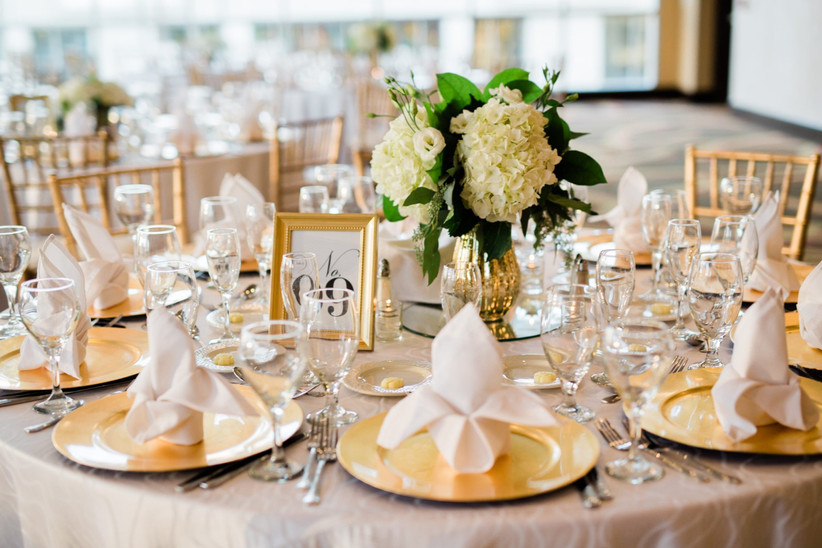 Find a Printable
If you want to DIY some elements but aren't au fait with graphic design, head to Etsy, where you'll find endless options for printable icebreakers you can use at your wedding, from conversation cards to speech bingo. Many of them allow you to customise your selection so you can make it more personal.
Fill a Mason Jar
All you really need for this is some empty jars and strips of paper or card, although you could use wooden lolly sticks for a sturdier alternative. Again, you can print out your questions or handwrite them – when you're done, add a label to the jar to explain the game to your guests, and customise it with stickers or ribbons to match your colour scheme.
8 Wedding Table Icebreakers You Can Buy
Ginger Ray Wedding Table Trivia Ice Breakers – £3.99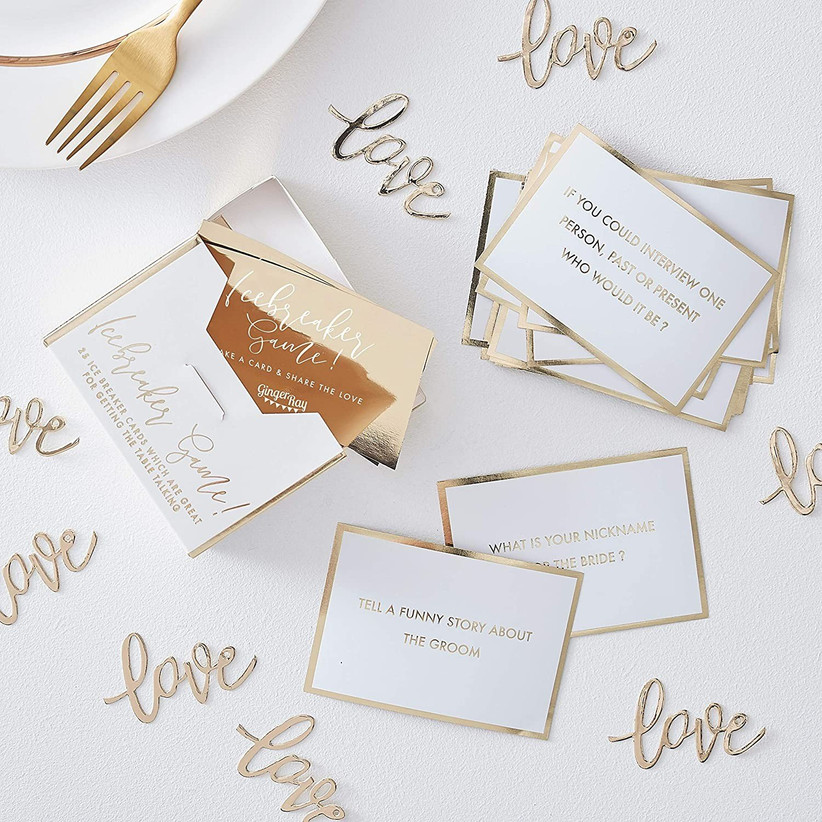 Ginger Ray's glamourous gold foil designs include 25 cards to kick off each table's chat for the night. Questions are fairly easy-going, like sharing a funny story about the bridal party, or picking your fantasy celebrity interviewee, making these a fab all-rounder than any guest can get stuck into.
PostboxParty Wedding Table Trivia Cards – £8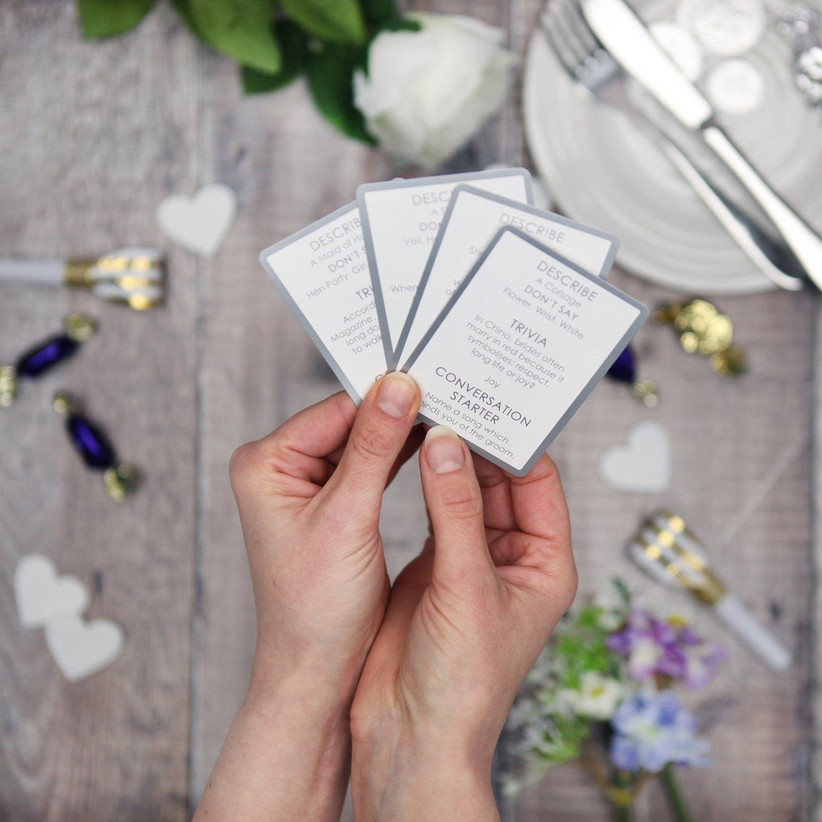 This wedding icebreaker game is a triple threat, with each card featuring a description challenge, a piece of wedding trivia and a conversation starter. Each box is a set of 52, so you could easily leave these on every place setting without breaking the bank.
Martha Brook Wedding Table Icebreaker Questions Box – £14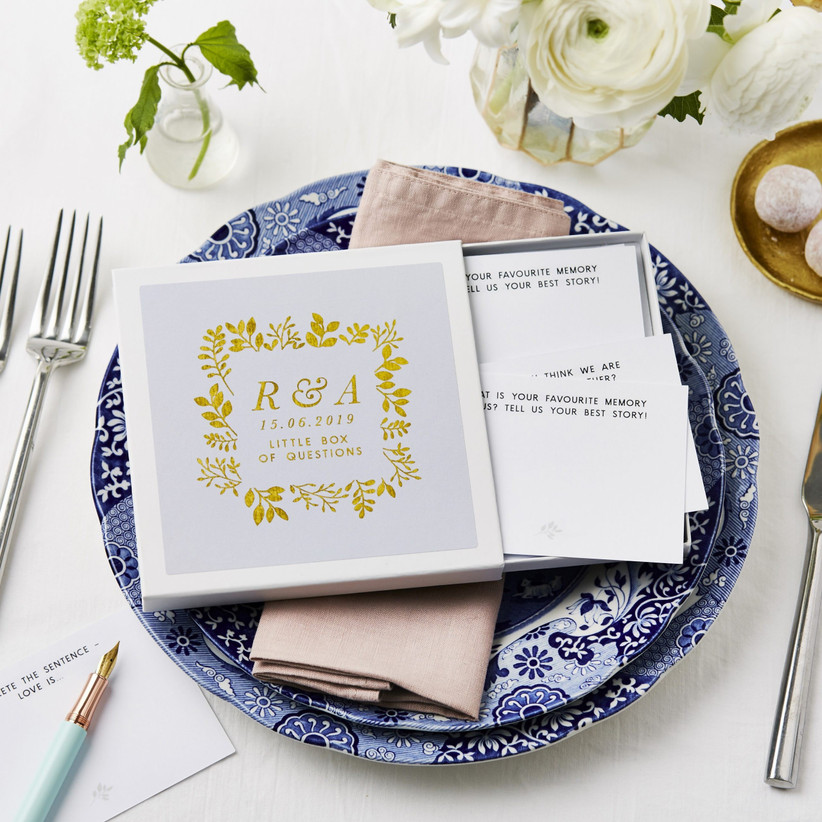 For couples in search of something a little more sentimental, we'd suggest Martha Brook. Her personalised sets, which come in multiple colours and feature your initials and the date of your wedding, contain 12 cards for your guests to fill out with their favourite memories and advice for you both. It's an icebreaker and a keepsake in one beautiful box.
Neviti Wedding Scratch Trivia Ice Breaker Table Game – £3.95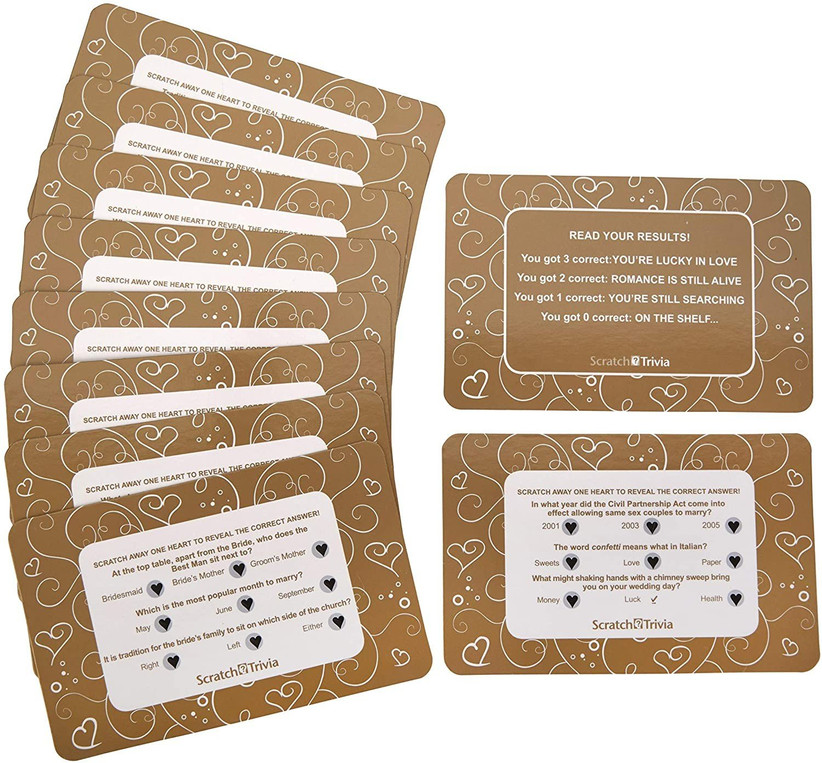 Want to keep things simple and give your guests a quiz to tackle together? Neviti's innovative scratchcard design is the icebreaker for you. Every set of 10 is packed with wedding trivia questions, from the origins of the word confetti to the traditional line-up on the top table – participants scratch off a heart to pick an answer and score each other as they go.
Perfect Day Conversation Starter Cards – £4.95
Small but perfectly formed, Perfect Day's icebreaker cards come in a decorative gold and white container that'll look great on any table. Designed to get the conversation flowing before even the drinks do, each one gives your guests 25 fun questions to work through in their groups.
READ MORE: The Ultimate Wedding DJ Song List
Imagine Delights Wedding Conversation Starter Cards – £6.60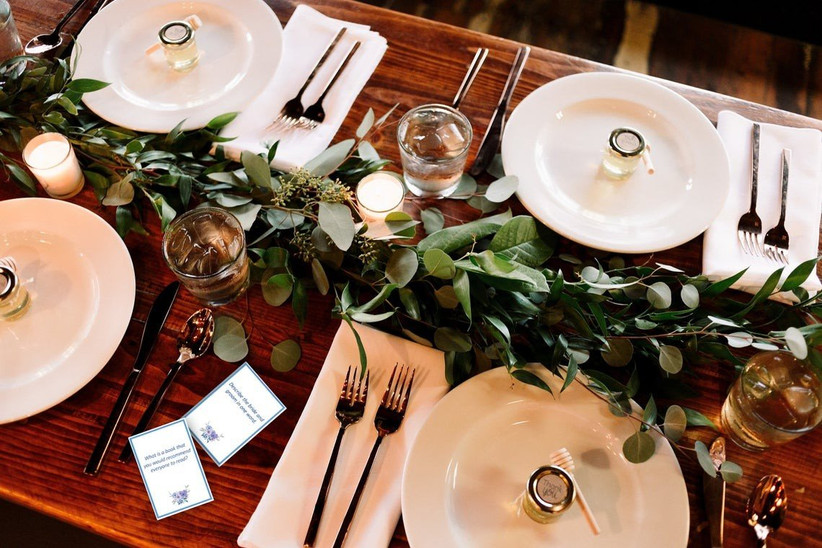 Remember those printables we mentioned in the DIY section? These cards are one of those, so even if you've left finding your wedding table icebreakers to the very last minutes, you can still download these in an instant! Your £6 spend gets you 100 creative questions, such as 'If you could invite anyone for dinner, who would it be?' The seller can change the colours for you too.
Holstee Reflection Cards – £15.32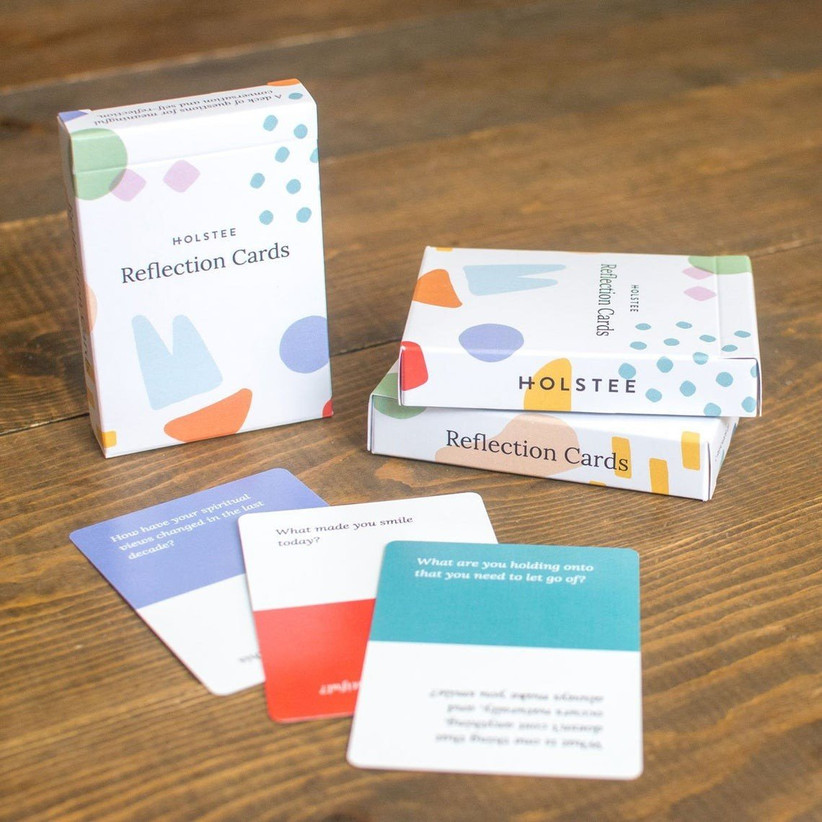 Although Holstee didn't specifically create its Reflection Cards for weddings, they still make a great prompt to help your guests beat the small talk and make their discussions more meaningful. Plus, the colourful, Instagram-friendly design means they look as smart as the queries inside.
Bunting & Barrow Wedding Icebreaker Fortune Cookies – £44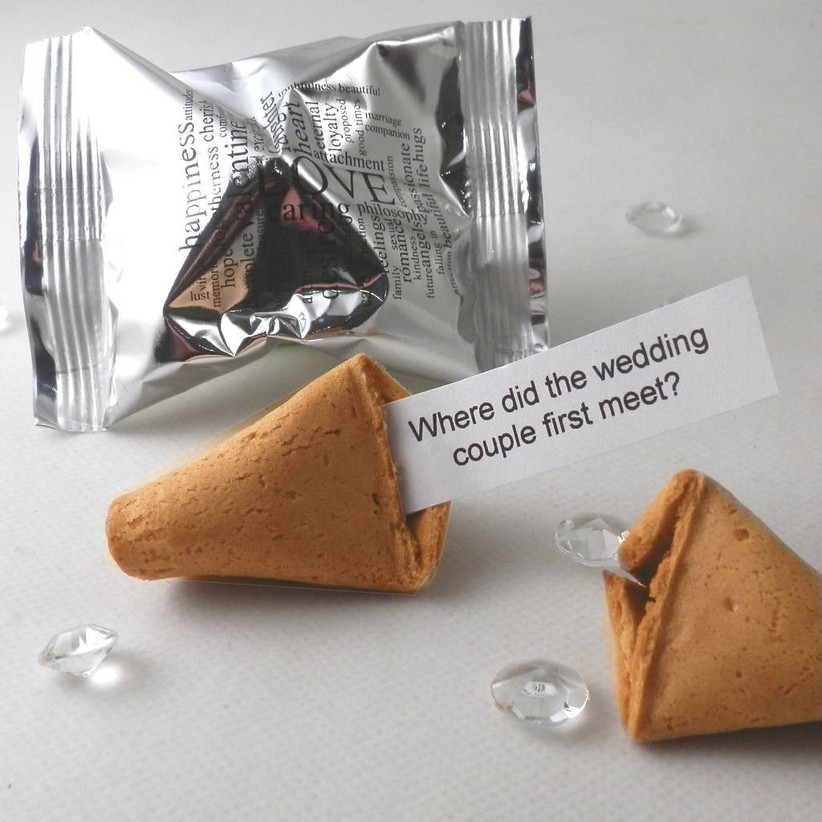 You know what's better than a wedding table icebreaker? A wedding table icebreaker that's also a snack! These genius foil-wrapped fortune cookies each contain a question about the couple or a challenge, like 'take a photo of two people holding hands' – if there's a sweeter (pun intended) way to get everyone involved, we haven't found it yet.
Looking for more entertainment? How about one of these 50 unusual wedding favours?