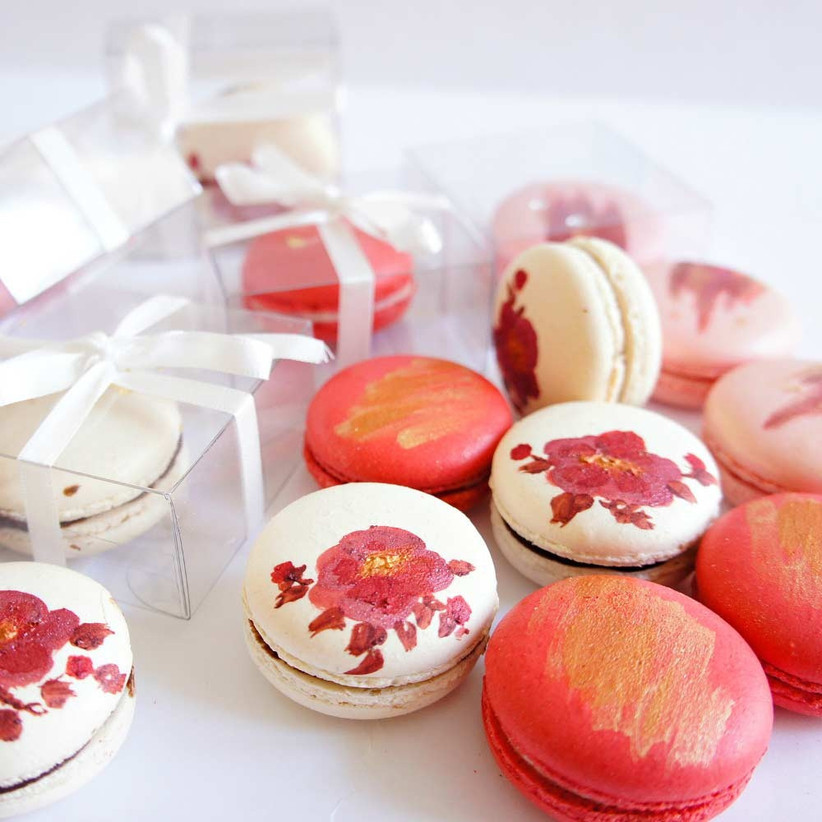 If you're filling your special day with vintage wedding ideas, then why not extend the theme to the favours? We've done the hard work for you and have found loads of awesome vintage wedding favours that your guests are sure to love. From edible treats to quirky keepsakes, get ready to add them all to your wedding wish list.
Edible Favours
Pick N Mix
Any guest with a sweet tooth will love a sugary wedding favour, so how about setting up a vintage sweetie cart at your reception? Make sure the cart includes classic treats such as white mice, bon bons, milk bottles and some stripy paper bags. Alternatively, you could also leave these personalised sweet jars from 3 Blonde Bears on each table and fill them with foam hearts for a romantic touch.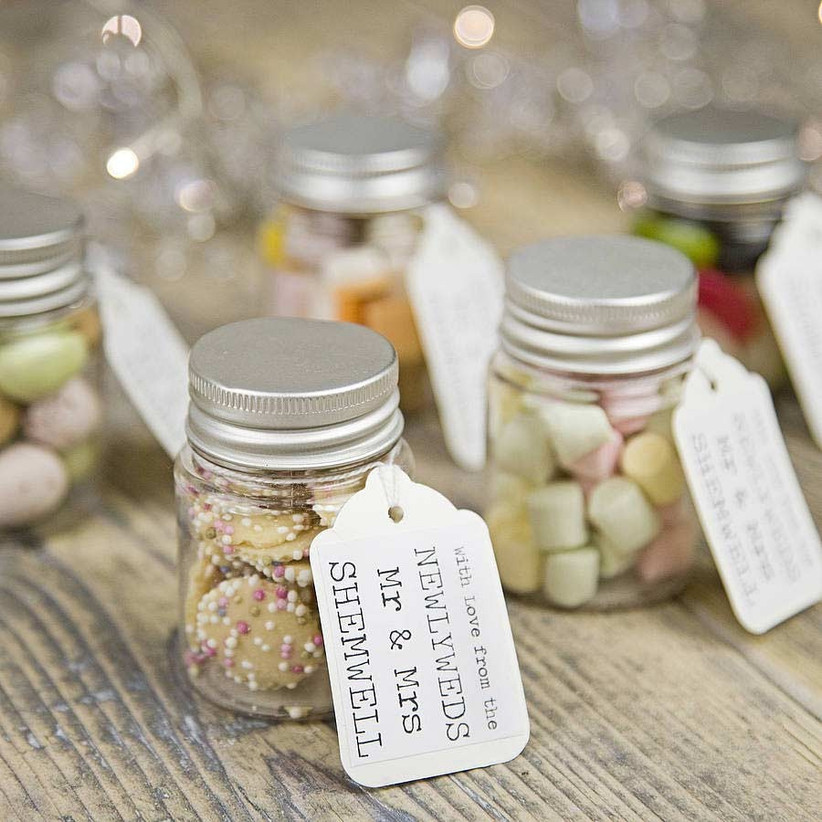 Image credit: 3 Blonde Bears at Not on the High Street
Cake Pops in Vintage Vases
Okay so cake pops aren't quite vintage wedding favours, but you can always nail the retro element by placing them in antique style vases on the tables. We're inspired by this delicious looking macaron pop selection, which was displayed in a distressed look vase at an RHS Garden Wisley wedding.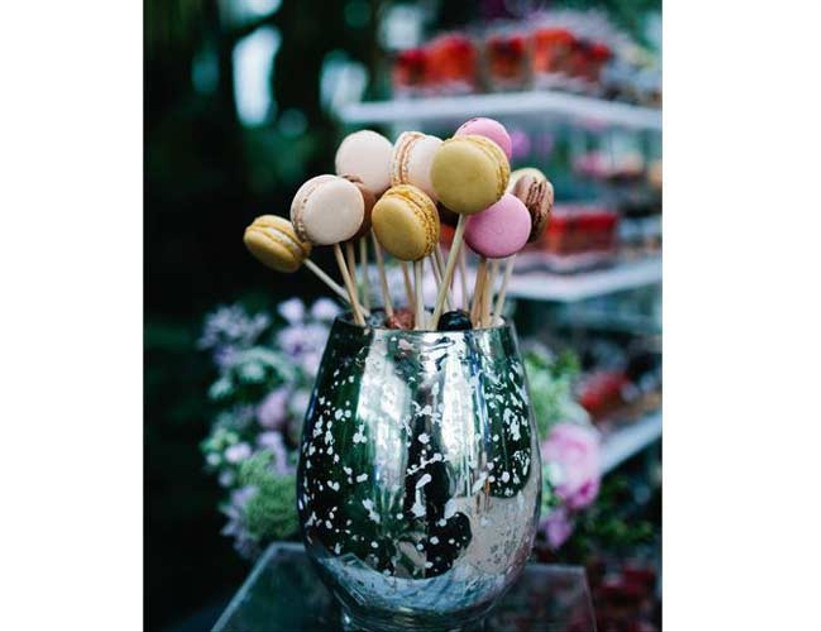 Lace Lollipops
Your guests are sure to be impressed by an unusual wedding favour and we bet they'd love to get their hands on these pretty lace lollipops from The Little Lollipop Shop. The lollipops come in a choice of colours so you can match them to your colour scheme.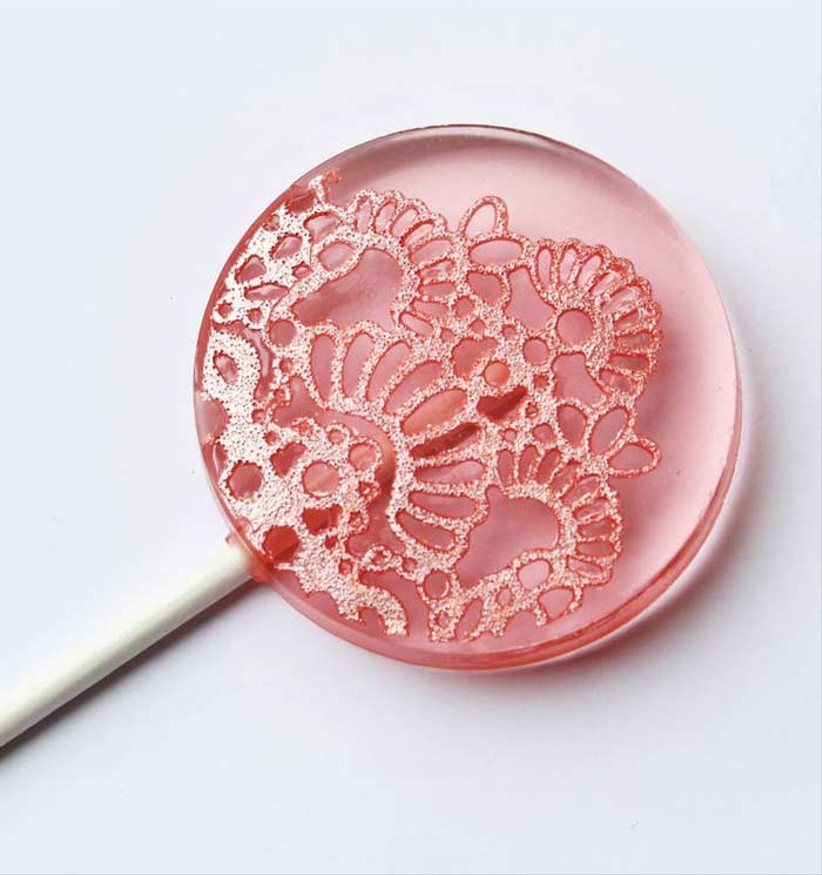 Image credit: Little Lollipop Shop at Not on the High Street
Popcorn
Give your guests a giant handful of this classic movie treat and serve it in retro, stripy popcorn boxes. This is a great wedding favour for children, but we're positive the adults will love it just as much.
Vintage Cupcakes
We have an unhealthy obsession with cupcakes at Hitched HQ, so these vintage themed cupcakes from Egg and Moos are a dream come true. Leave each cupcake in a retro cake box or display them on an antique tray for a decorative touch.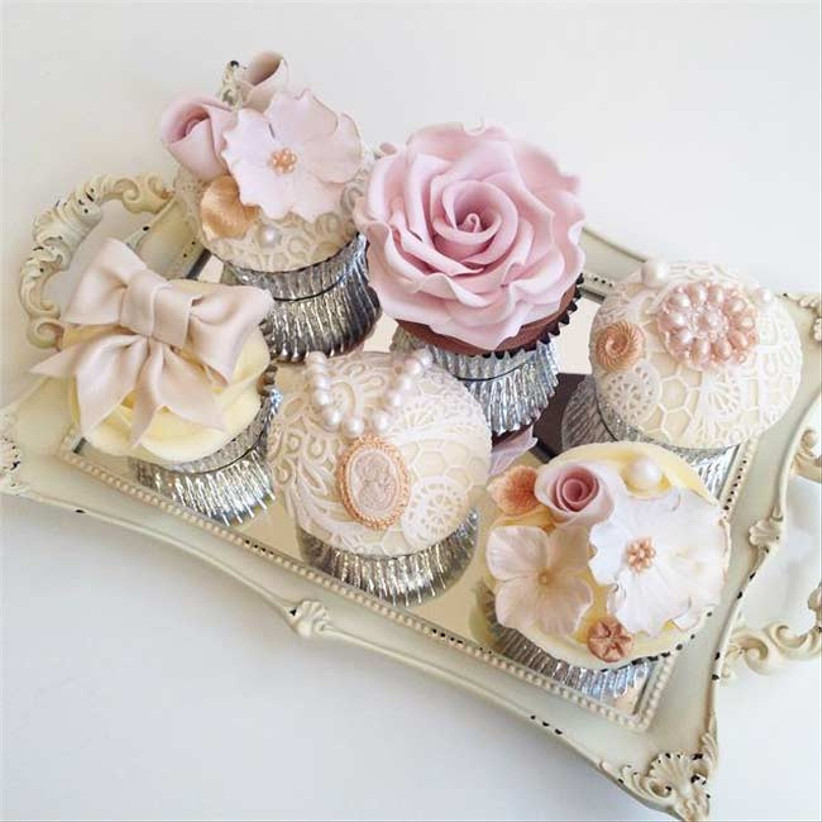 Jars of Jam
Get creative and have a go at making your own jam to give to your guests. Serve each portion in a jar with a shabby chic fabric lid and a personalised luggage tag – everyone will appreciate the effort you've put in.
Macarons
Eek, these macarons from Surrey based supplier Ginger & Cacao are just too pretty for words! If you're sold on giving your guests edible favours, then these French treats would be perfect for your retro themed celebration. 
Fun Favours
Confetti
If you want to provide your guests with wedding confetti that's got a vintage feel to it, then you'll love this gorgeous blossom and script confetti from All Things Brighton Beautiful. It's so pretty that your guests will be thrilled to take a bag of it home. 
Image credit: All Things Brighton Beautiful at Not on the High Street
Polaroid Snaps
If you're a snap-happy couple, highlight this by giving your guests old-school Polaroid picture wedding favours. If you want your guests to create their own Polaroids, provide a suitable camera or a retro photo booth so they can snap away to their hearts content.
Badges and Buttons
Give your reception a homemade vintage feel by providing guests with badges and buttons that have whimsical patterns. A cute little keepsake that they can treasure for ages.
A Rubiks Cube
Your guests will be baffled trying to figure out this classic puzzle and it would certainly keep younger guests quiet too! If your wedding has 1980s influences then this favour would take guests straight back to this funky era.
Retro Movie Tickets
If you're channelling timeless Hollywood glamour with a vintage wedding dress, then you could highlight this with these retro movie scratch card holders from Vintage Twee.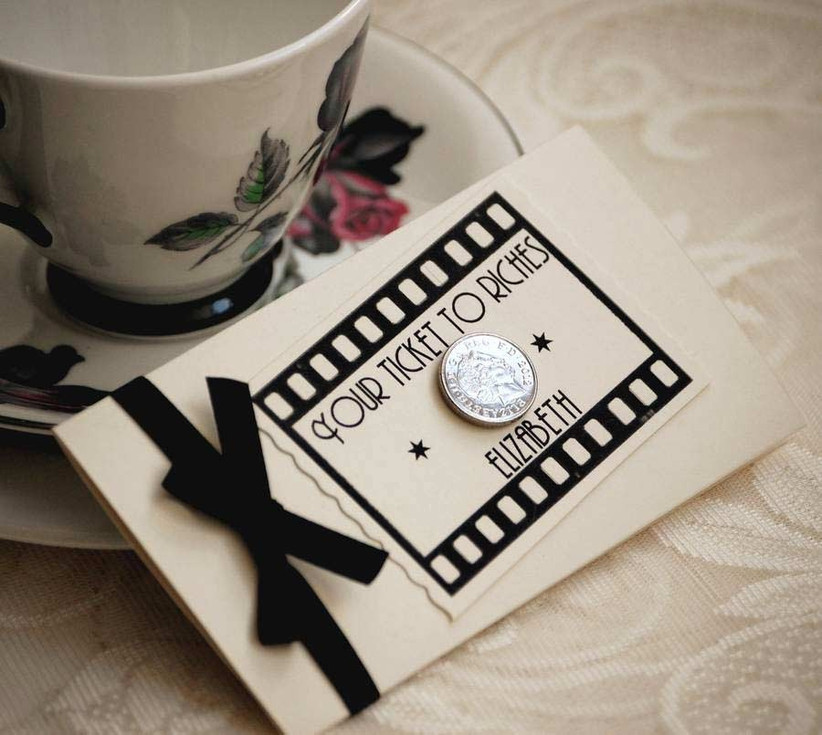 Image credit: Vintage Twee at Not on the High Street
Unusual Favours
Retro Food Tins
Those that have a big guest list may be conscious of the budget when it comes to the favours, but did you know that it's still possible to find amazing wedding favours for £1 or less? These retro, shabby chic tins from VintageFoodCans are a steal at just 50p each and they could even be filled with flowers or sweets.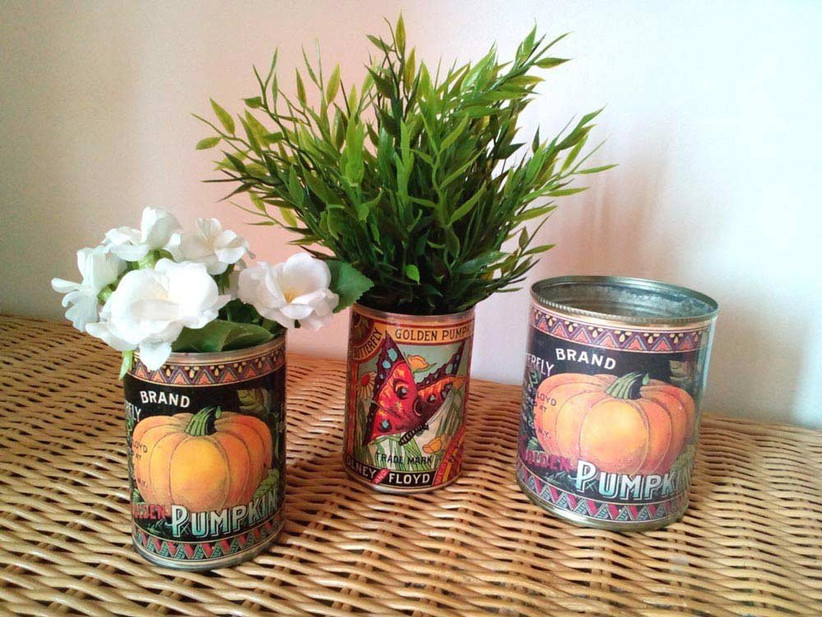 Lavender bags
These super cute lavender bag favours from Wedding in a Teacup not only look great with their assorted patterns, they also smell great too. The 'to have and to hold' ribbon is the sweetest touch.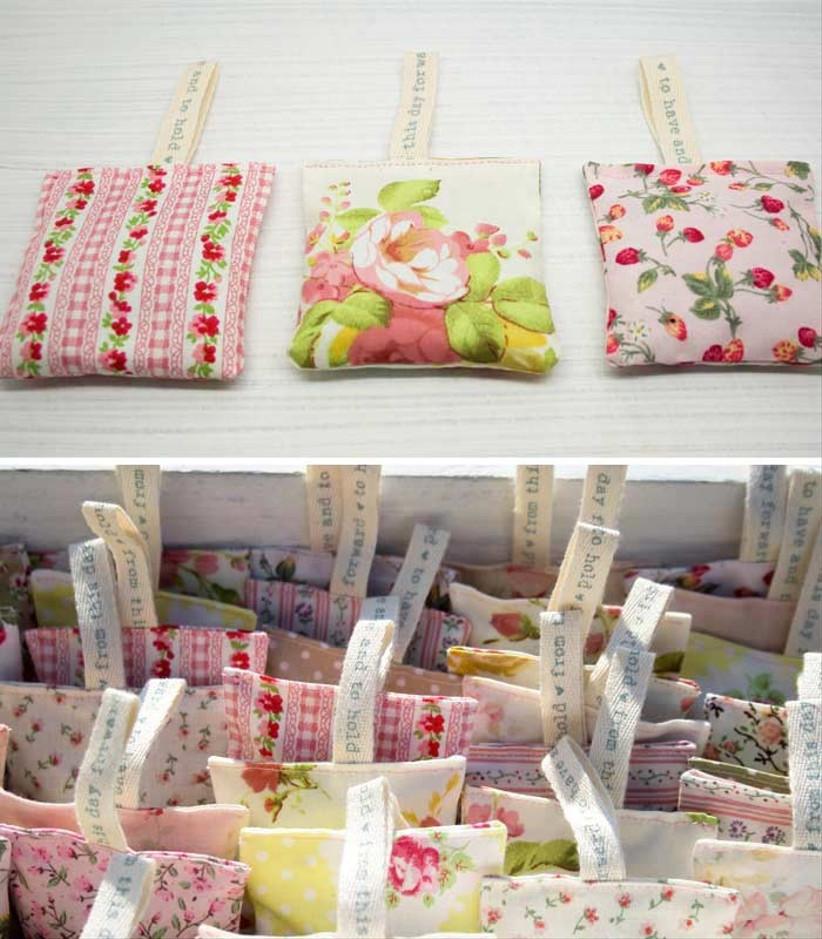 Fans
If it's forecasted to be a hot day at your summer wedding venue, then your guests will appreciate these vintage style fans from Hope and Willow. These elegant paddle fans are practical and unique, as they can be customised with your names and wedding date.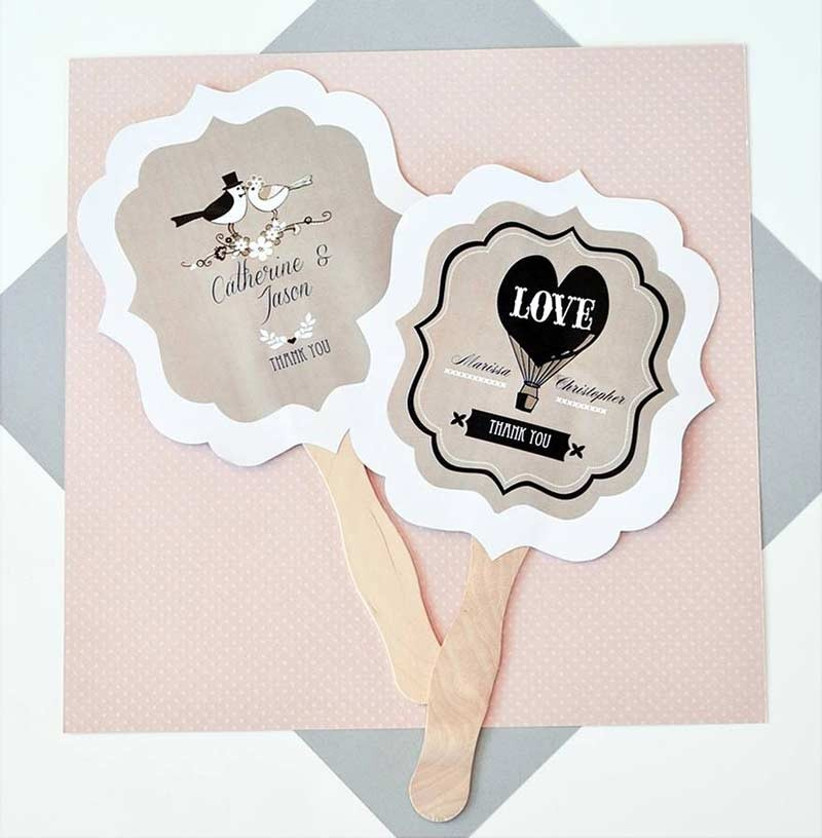 Image credit: Hope and Willow at Not on the High Street
Milk Bottles
Not just an amazing DIY décor idea, milk bottles would also make delightful vintage wedding favours for your guests. Fill these mini milk bottles from All Things Brighton Beautiful with stripy straws and retro-inspired wedding cocktails. 
Image credit: All Things Brighton Beautiful at Not on the High Street
Mini Birdcages
Okay so birdcages aren't exactly ground breaking when it comes to vintage wedding décor, but presenting them as wedding favours would be more unexpected. These elegant birdcages from Hope and Willow double up as place card and tealight holders.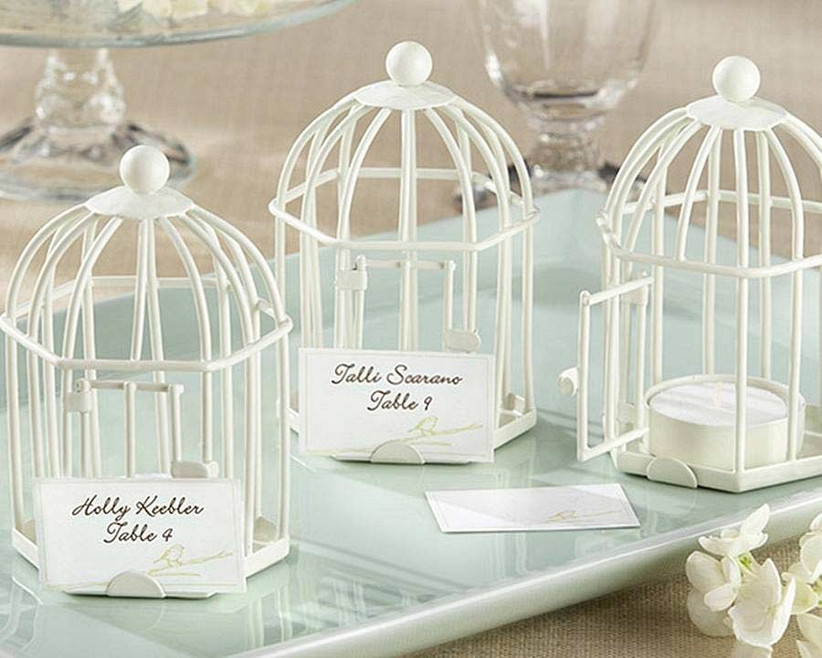 Image credit: Hope and Willow at Not on the High Street
Alternatively, If you're looking for something a bit more quirky and colourful then we love these birdcage tealight holders from Retreat Home which come in pink and lime.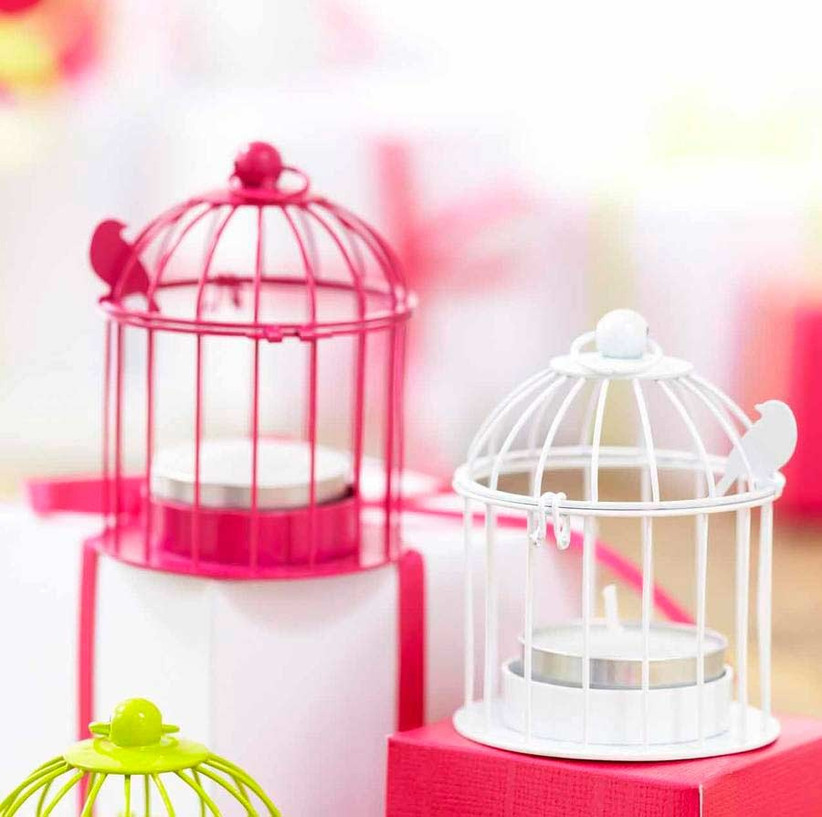 Image credit: Retreat Home at Not on the High Street
Thoughtful Favours
Vintage Teacups
Afternoon tea is only gaining in popularity for wedding receptions, and we think these patterned teacups would be the perfect favours for your guests if this is what you're planning. Hand out teacups in a variety of patterns and prints so your guests each have something different.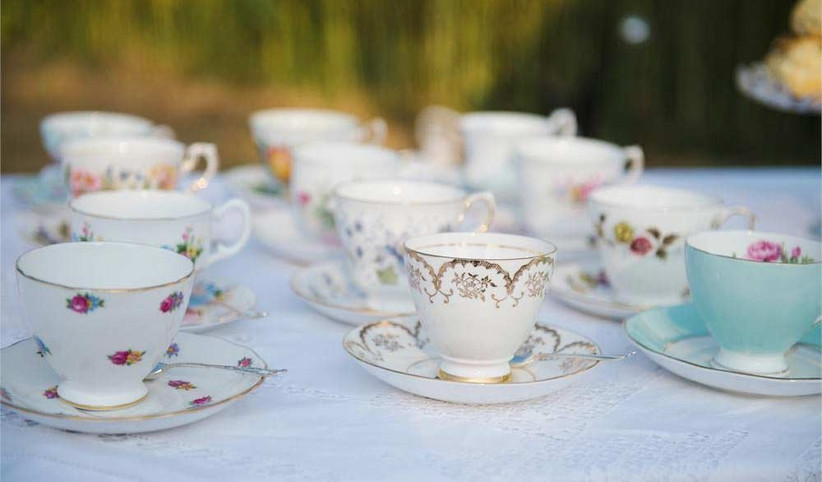 Of course, teacups don't just have to be used for pouring tea! These teacup tealight holders from Hope and Willow are an amazing wedding favour idea, plus they pander to our obsession with all things gold and shiny.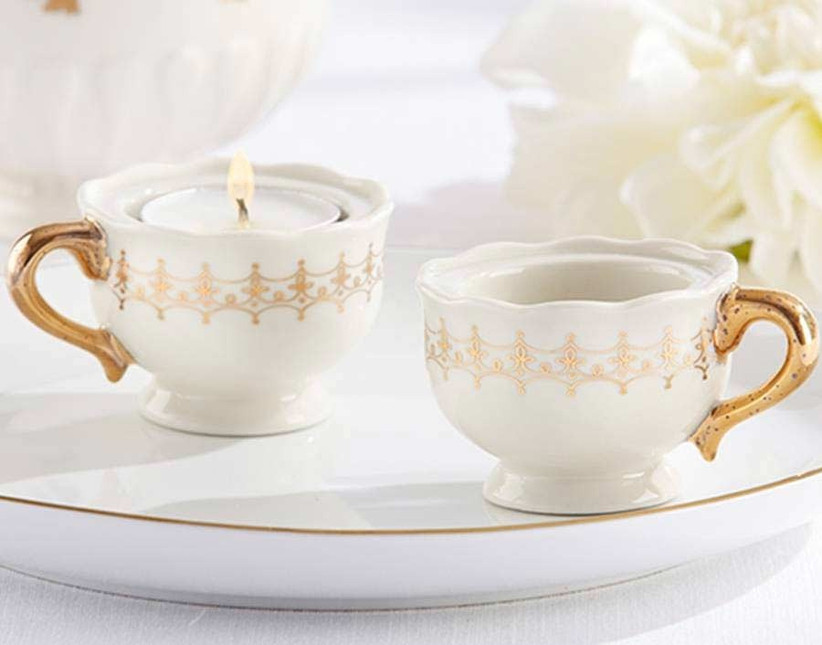 Image credit: Hope and Willow at Not on the High Street
Brooches
If you're willing to extend your budget a bit further for the favours, then a pretty brooch would be a very thoughtful and we'll received gift. If you don't think your male guests would be interested in a brooch favour, then take a look at our edit of alternative buttonholes which includes plenty of retro ideas.
Antique Look Photo Frames
A pretty vintage photo frame would look ever so pretty on the tables. You could fill each one with pictures of your guests or a romantic quote if you want to go the extra mile. Take a look at our favourite romantic quotes for ideas.
Image credit: Wedding Films 4K 
A Pocket Watch
A timeless looking pocket watch would make a beautiful favour or gift for the nearest and dearest members of your wedding party.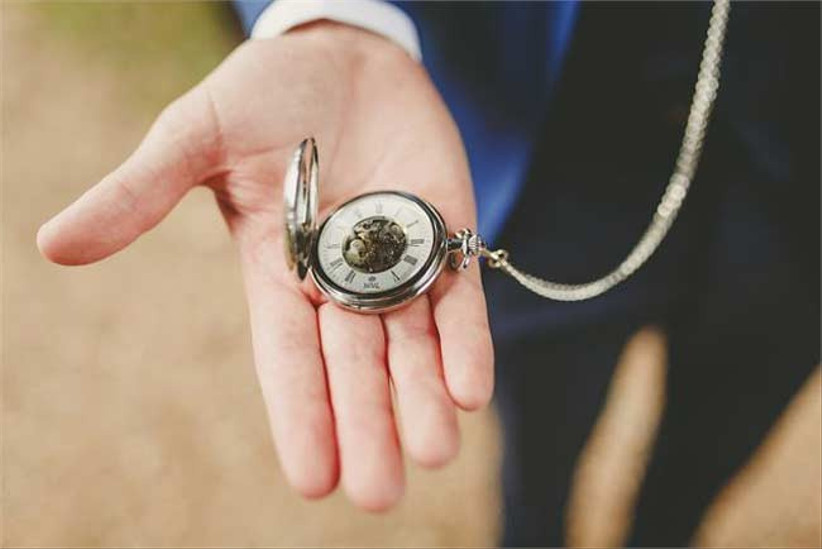 Image credit: Benjamin Stuart Photography
Antique Style Bottle Openers
A vintage wedding favour that is both pretty and able to open your drinks has got to be a winner in our books! This 'love' gold bottle opener from Hope and Willow has a romantic, antique style finish and would make a lovely addition to any drinks cabinet.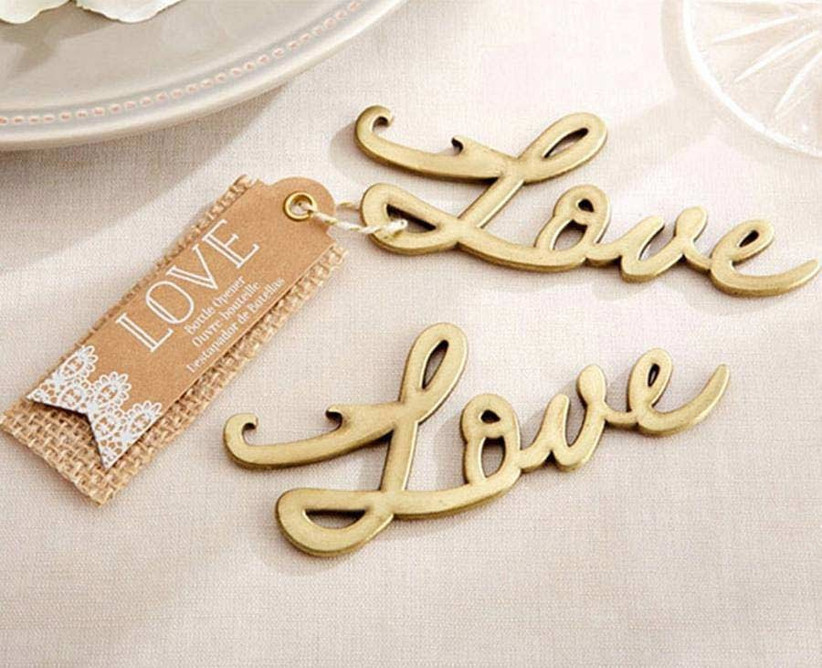 Image credit: Hope and Willow at Not on the High Street
Keys
These gorgeous vintage style keys from Hope and Willow can be used as unique place card holders and your guests can take them home as memorable keepsakes.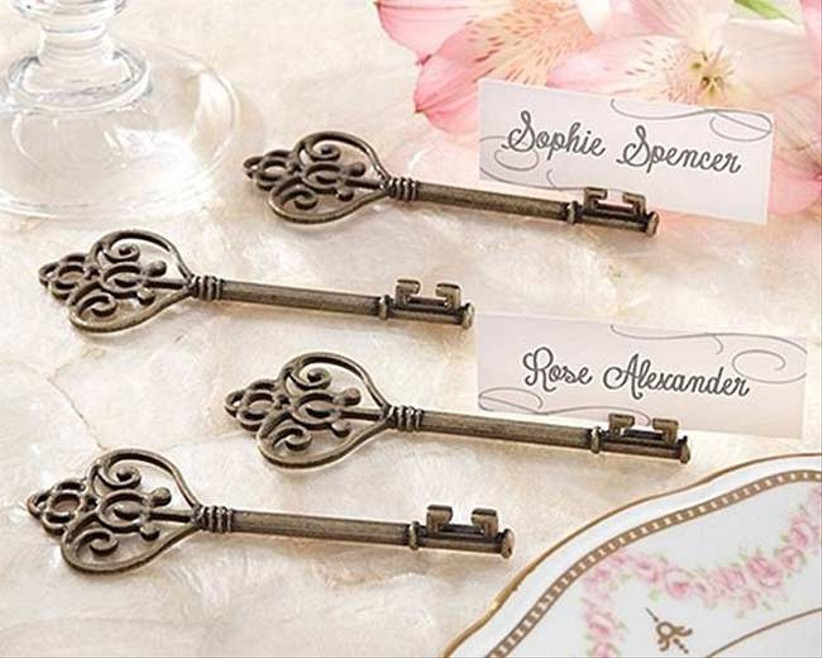 Image credit: Hope and Willow at Not on the High Street
Favour Bags and Boxes
As you can imagine, we're big fans of these 'Hitched' burlap favour bags from Hope and Willow. Intrigue your guests and keep them guessing by popping their favours in these rustic beauties.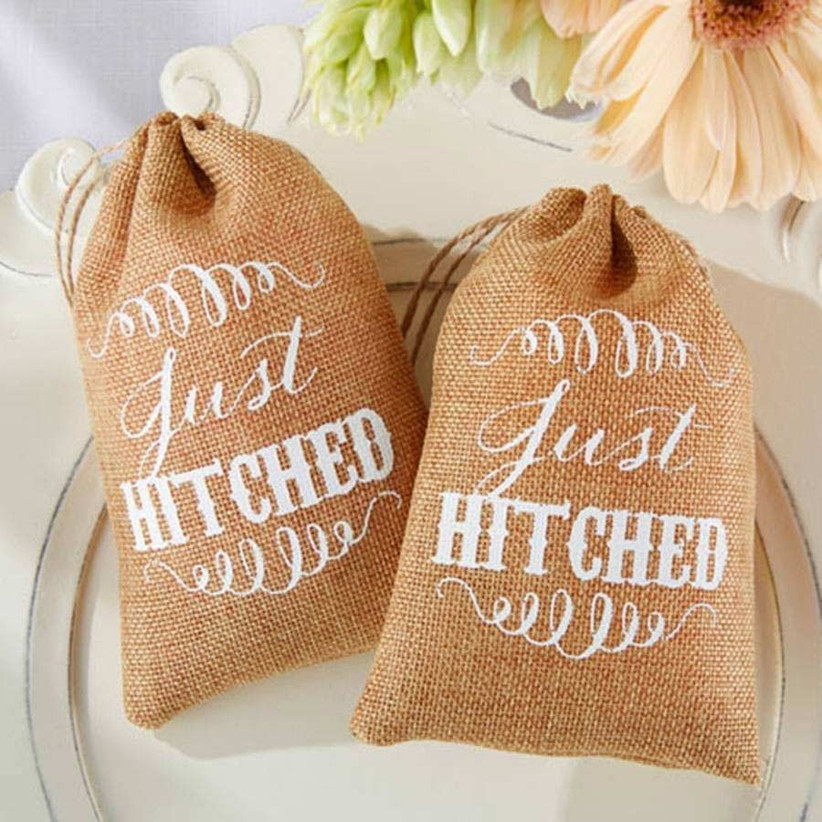 Image credit: Hope and Willow at Not on the High Street
These striped sweet bags from Creative and Contemporary Handmade would be perfect for the pick and mix favour idea we mentioned earlier – you can also choose to include a personalised tag as well.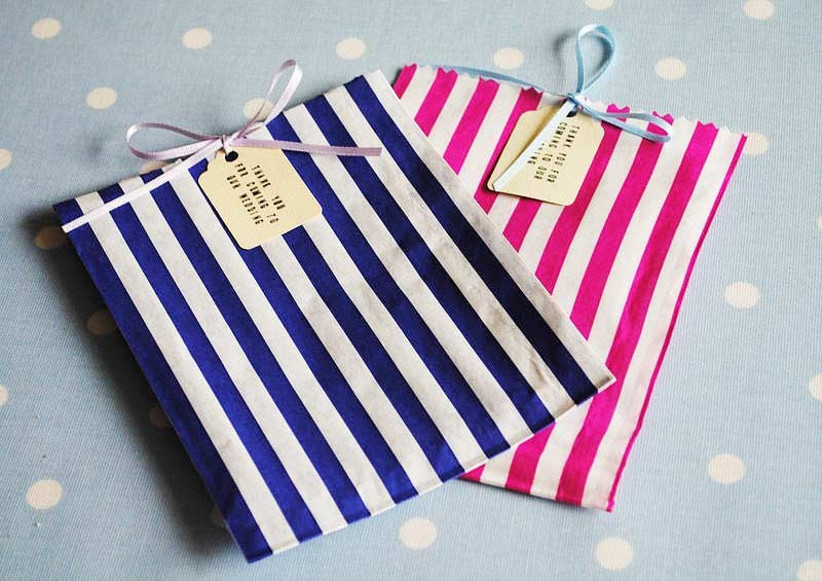 Image credit: Creative and Contemporary Handmade at Not on the High Street
The design of these lace inspired favour boxes from Hope and Willow would be just the thing for wrapping up your vintage wedding favours. To browse more stylish ways to package the favours, have a browse of our pick of wedding favour boxes.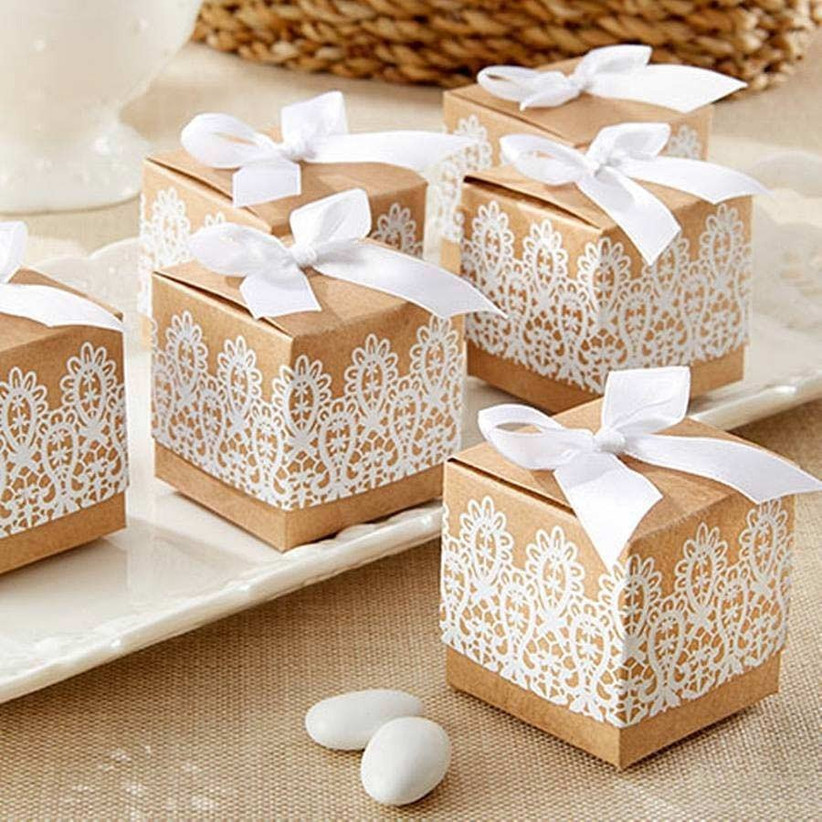 Image credit: Hope and Willow at Not on the High Street
We hope you love these favours just as much as we do! Don't forget to browse our round up of wedding gift bags for more amazing ways to present your favours to your guests.