23 Wedding Trends Set to Be Huge in 2023
From sustainability to stealing a glimpse of each other pre-ceremony, these are the 23 biggest trends for 2023, according to the Hitched Wedding Trends Report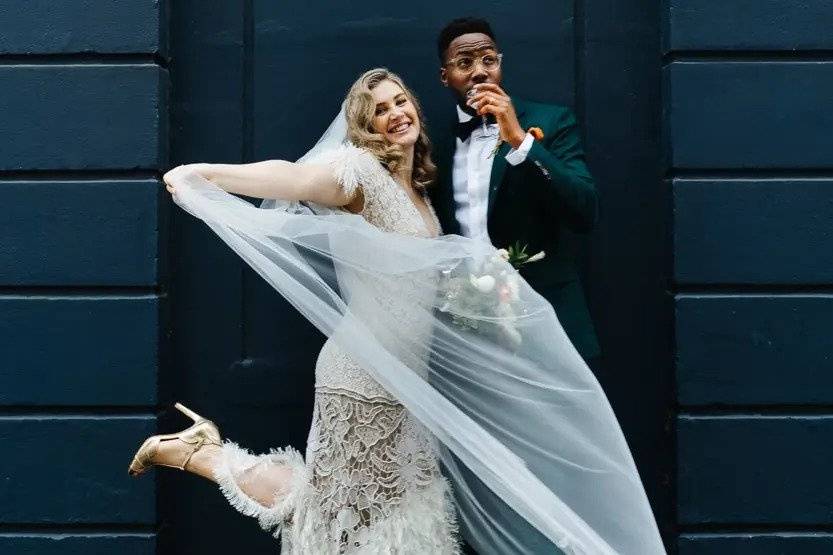 We'll all remember 2022 as the year of the post-pandemic wedding boom, but what does that mean for weddings in 2023? After so many weddings in such a short space of time, following a period of tight restrictions, we're about to see the biggest shift ever in the traditional UK wedding. 2023 wedding trends are all about re-inventing the wedding to suit your needs and making it a real experience for your guests.
From simple details like more tailored guest lists, to much bigger considerations, like sustainability, the wedding trends for 2023 are set to shake up weddings as we know them.
It's safe to say that we know weddings here at Hitched, so we looked at all our data, including what the average UK wedding looks like, and spoke to a team of wedding experts to determine which wedding trends are set to be huge in 2023, from wedding colour trends to the latest wedding dress trends. Read on to discover more!
Wedding Fashion Trends
There's no getting around it - wedding dress trends and the fashion surrounding weddings, from guest attire to suiting - forms a huge part of what each wedding will look and feel like. We attended key wedding fashion events such as London Bridal Week and Barcelona Bridal Fashion Week, and spoke to wedding dress designers to get the latest when it comes to wedding dress trends.
1. The 80s Are Back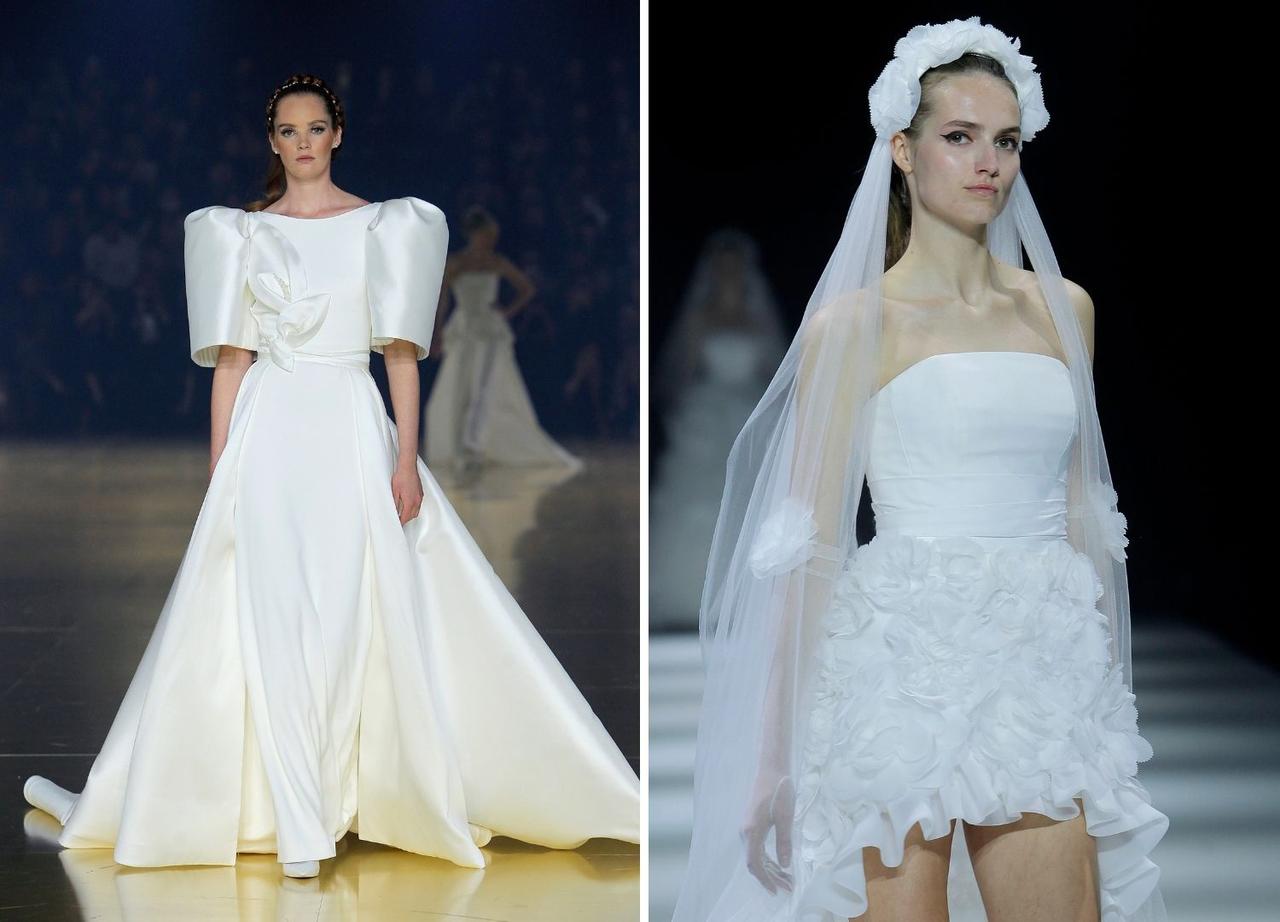 This news might make you think of Princess Diana's iconic, undeniably puffy wedding dress, but don't worry - the 80s have had a serious glow up.
The catwalks at Barcelona Bridal Fashion Week were overrun with puff sleeve wedding dresses, and UK searches have grown for the term by 39%¹. "Whilst 90s styling is still big news, the previous decade set the tone for some of the most head-turning bridal styles in Barcelona," says Anna-Marie DeSouza, Editor of the UK's leading bridal trade magazine, Bridal Buyer.
"The 80s are back, and with a level of finesse that makes the dramatic detailing have an elegant flow. Viktor & Rolf had lots of texture and movement in their new collection, with some rah-rah skirt inspired detailing on their shorter styles."
Wedding dress designer Kate Halfpenny has been creating wedding dresses with voluminous sleeves for some time now, and suggests an easy way for brides to adopt the trend in a more subtle manner: "We've had detachable sleeves in the collection for many years and supersized them with an epic pair of puff sleeves in the '3' collection. I love playing with accessories and changing up outfits on a whim and these sleeves allow you to update any dress and have fun! You can be traditional if you want to be, while also playing with the drama."
2. Wedding Suits for Women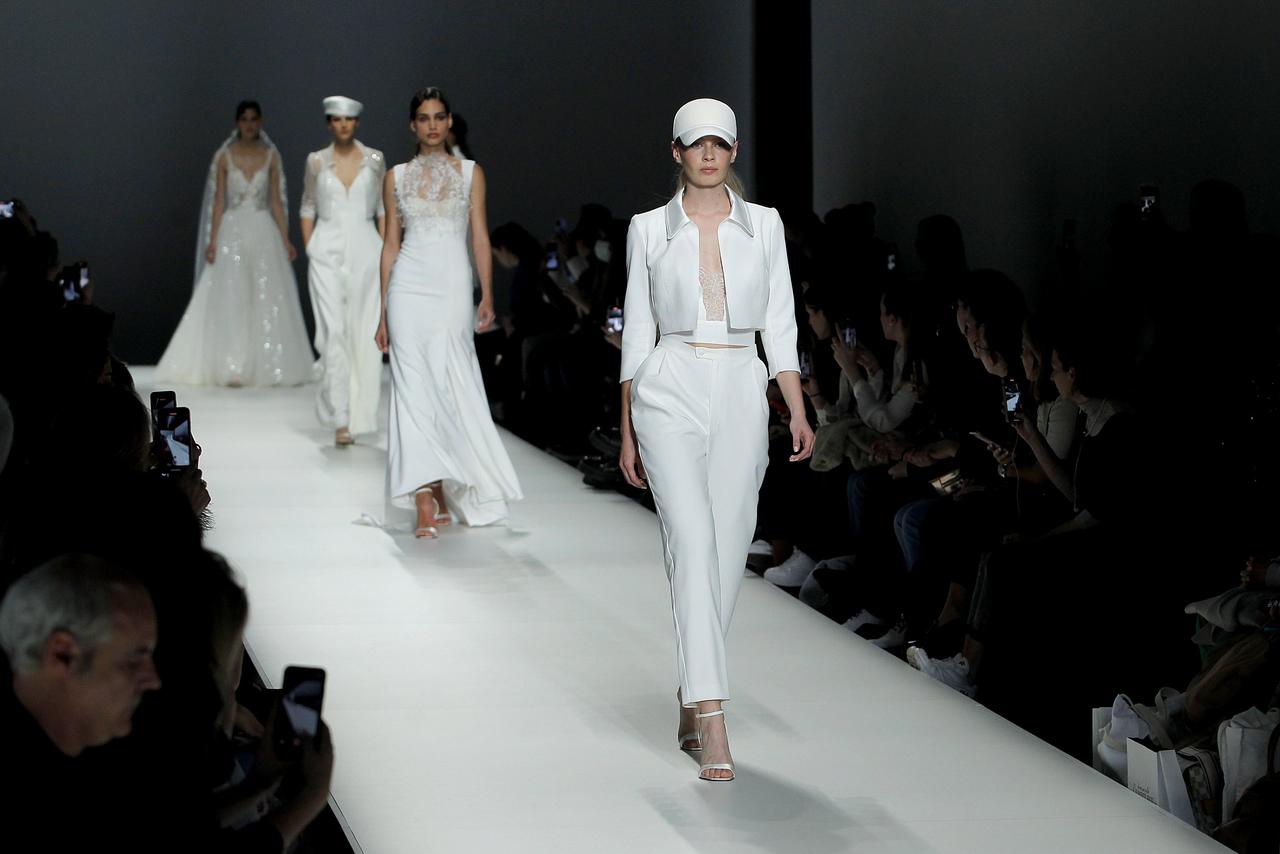 At the opposite end of the spectrum, brides who feel horrified at the thought of a cloud of organza will be delighted to learn that the bridal suit is rocketing in popularity.
As we emerge from a period where weddings were pared back and scaled down, it seems the desire to keep your wedding day look sleek and chic is sticking around - searches for 'wedding suits for women' have rocketed by 125%¹ with nearly 10,000 monthly searches for the term. We've also seen a 96% spike² in traffic to our own edit of stylish bridal suits in 2022.
3. Pearl Detailing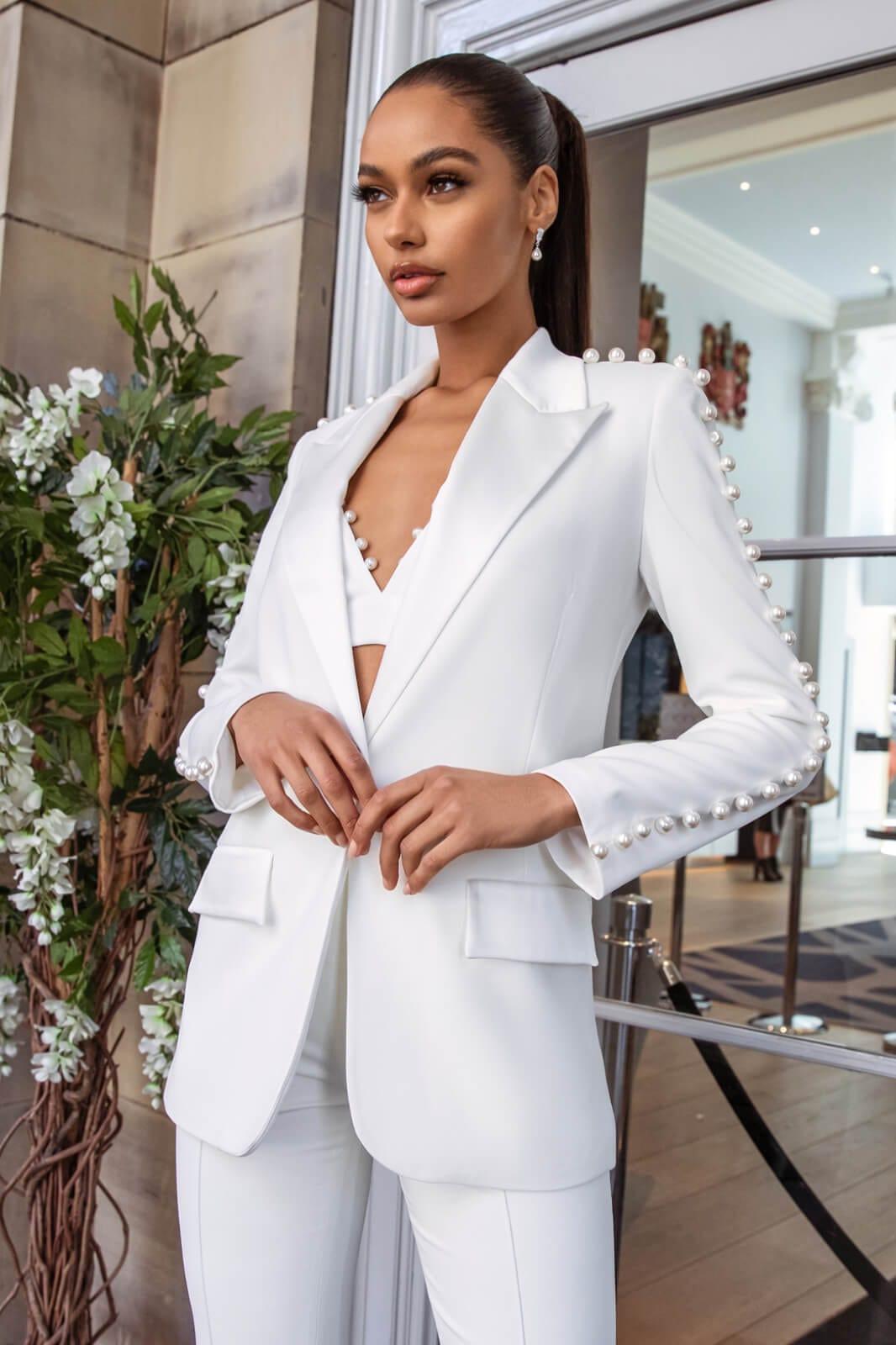 Pearls are set to be the breakout wedding star of 2023 - with searches for 'pearl wedding dress' climbing almost a quarter¹ (23%) in the past year, and Pinterest reporting that searches for the term have doubled on their website. If the idea of a full on pearl dress feels like a lot for you, there are lots of subtle ways to include the gem - from wedding earrings to the perfect pair of designer wedding shoes. Jimmy Choo's Sacaria shoe is completely studded with pearls!
4. Bring on the Bows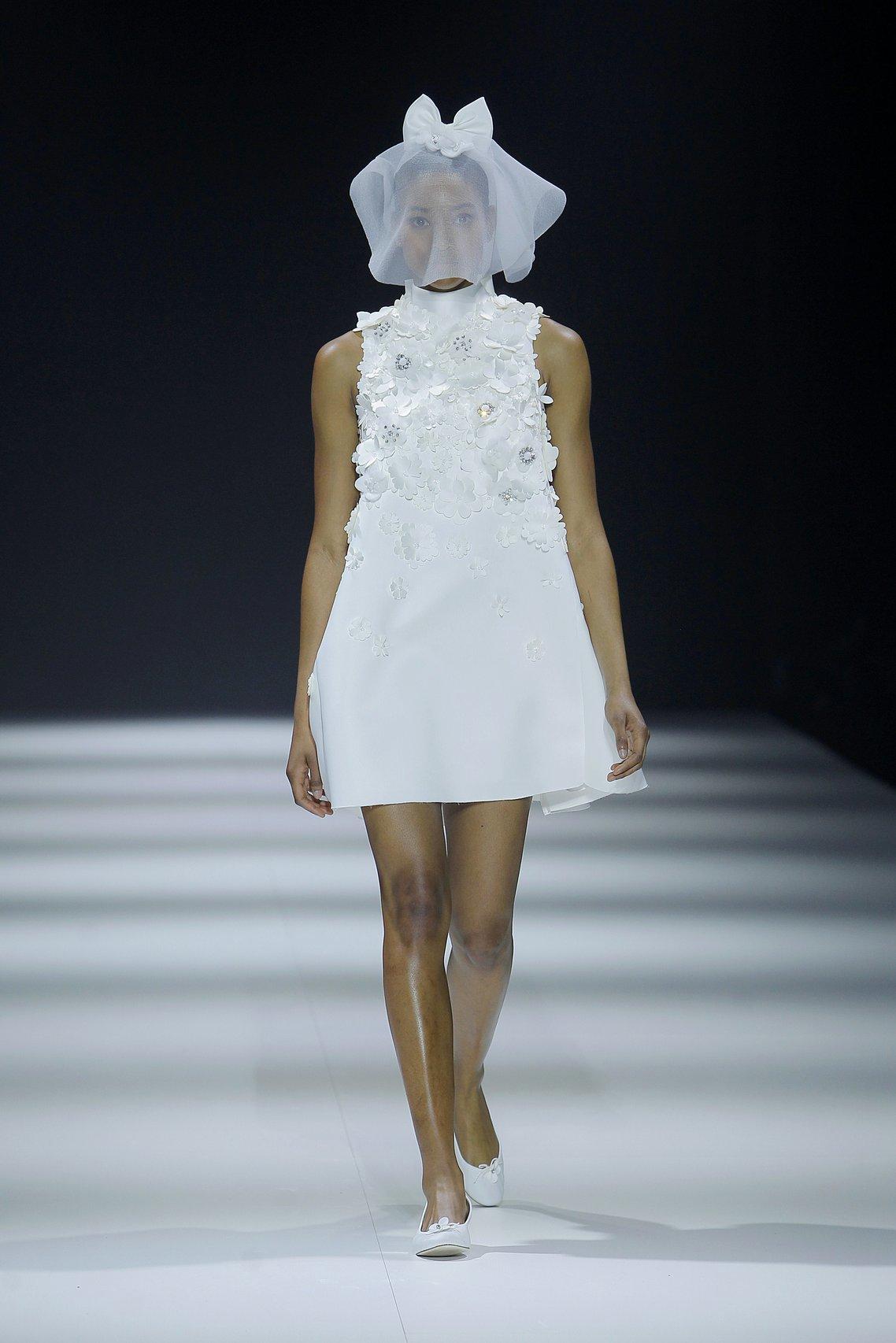 Inspired by the resurgence of 80s drama, the bow is also back. "As well as the 80s-inspired long, puff and bishop-inspired sleeves, larger and larger bows have been spotted on the bridal runways," says Anna-Marie.
"There were some truly great bows at Nicole Milano, as well as on the famous Pronovias catwalk too. Viktor & Rolf chose to give lots of their models delicate veils that only just covered the face, complete with a bow on top, showing that there are plenty of ways - from over the top to the simple cherry on top - to include a bow in your bridal look in 2023."
READ MORE: The Most Stylish Wedding Dresses With Bows
The Wedding Party
The couple's wedding party had to be re-invented in the pandemic, and that shake-up shows no sign of stopping in 2023. Adopting the term 'wedding party' as it is more representative and inclusive than the old-fashioned 'bridal party', we see couples moving away from gender focused roles in their wedding squad.
5. Mates of Honour, Groomsmaids & More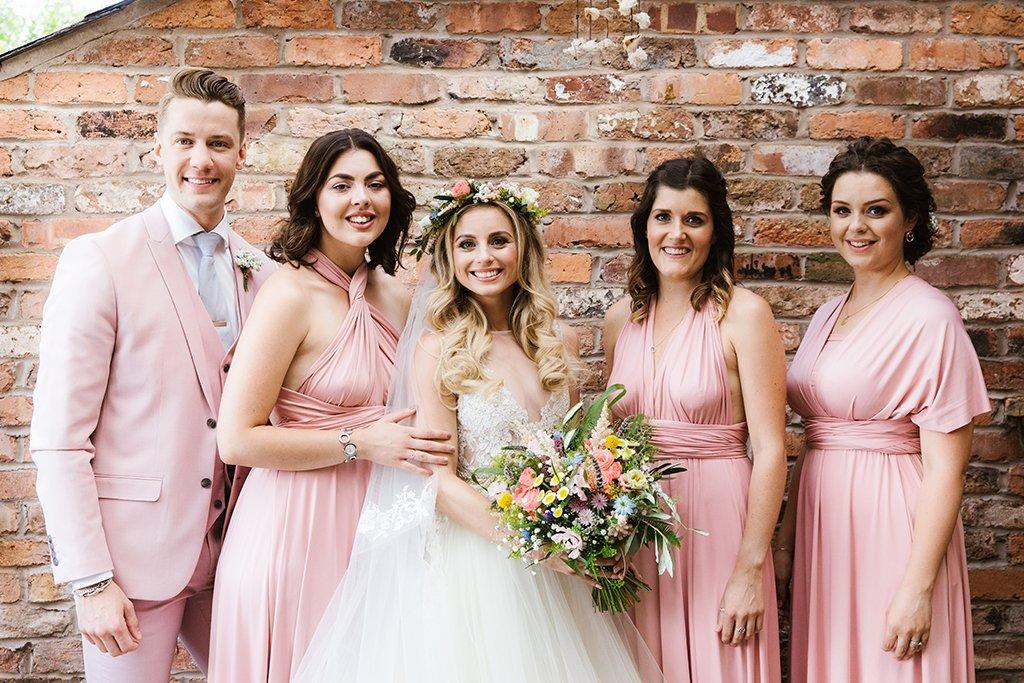 Searches for 'male bridesmaid' have increased by over a fifth¹ (23%) as couples move to create wedding parties that reflect their actual friendship groups, rather than the gender specific groups that are the archaic 'norm'. Searches for 'man of honour' hit 1,000 a month in 2022 and we don't see that slowing down anytime soon - 'bridesmates', 'wedding squad' and 'I do crew' are just some of the terms couples are adopting as inclusive names for their wedding party.
Couples are also pivoting away from single sex pre-wedding celebrations - searches for 'sten do' are up 100%¹ with nearlyweds choosing to party together or include their entire friendship group - regardless of gender - in the fun.
6. Something Blue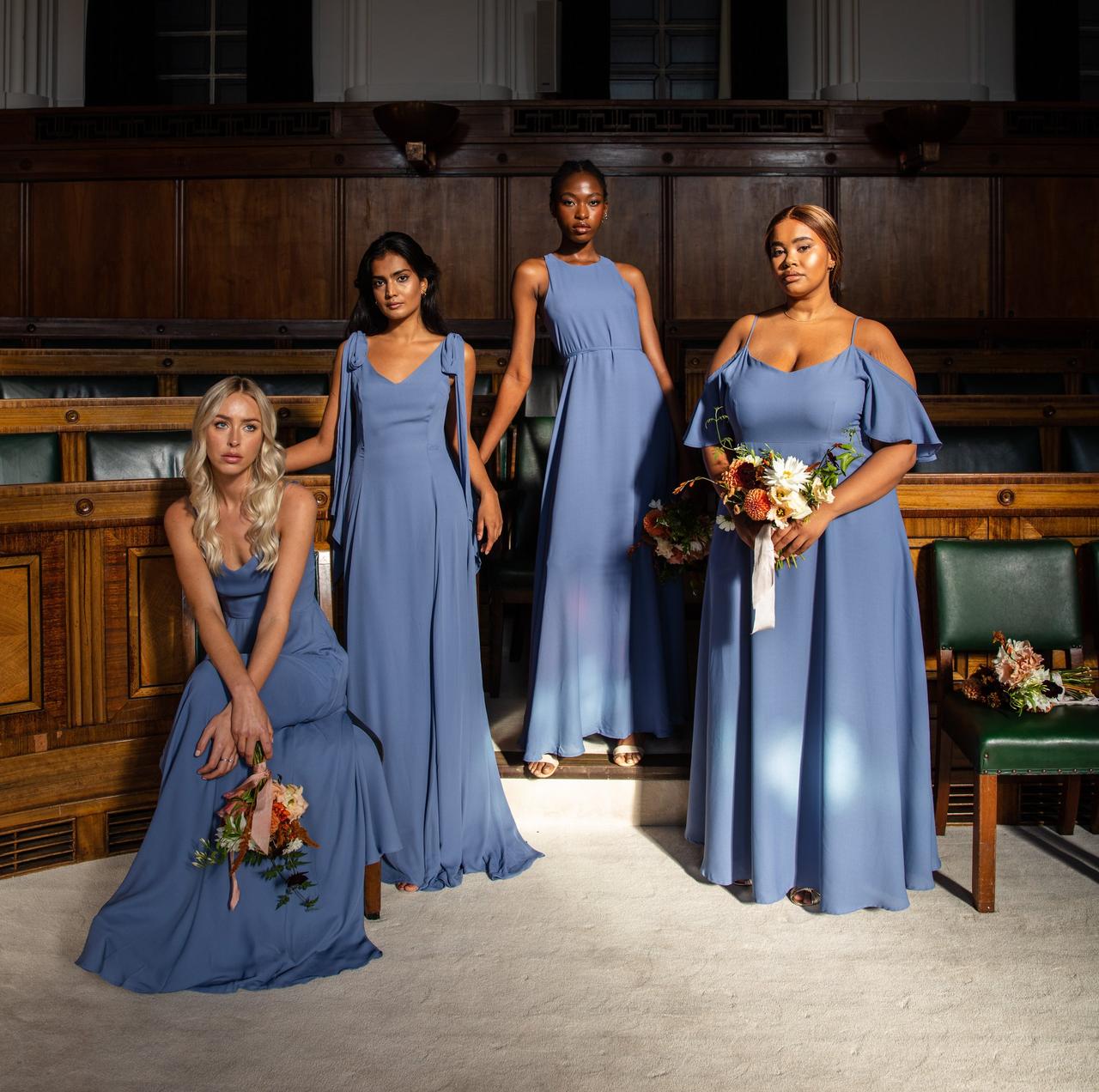 We all know that green bridesmaids dresses dominated Instagram in 2022 but blue and lavender hues are set to take over as a key wedding colour trend for 2023.
Bridgerton is still having a huge impact on weddings, with regency blue a popular choice for couples, but also WGSN and Coloro have reported that 'Digital Lavender' will be the colour of 2023.
"Everyone seems to love green - it's our best-selling colour," explains Ella Yeoman, Social Media & Marketing Executive at Rewritten Bridesmaids, "but our new ice cream colours, sky blue and rose pink, sold out within the first few weeks. That palette seems to be in!
"The Pantone Colour of the Year was a bluey/purple tone, and we feel our shades of blue are selling well because of this."
Whether you opt for a delicate periwinkle blue or go for a royal blue tone, it's safe to say that your bridesmaids will be totally on trend (and spoilt for choice) if you have them as your 'something blue'.
READ MORE: Our Interview with Bridgerton Star Charinthra Chandran
7. If Your Name's Not Down…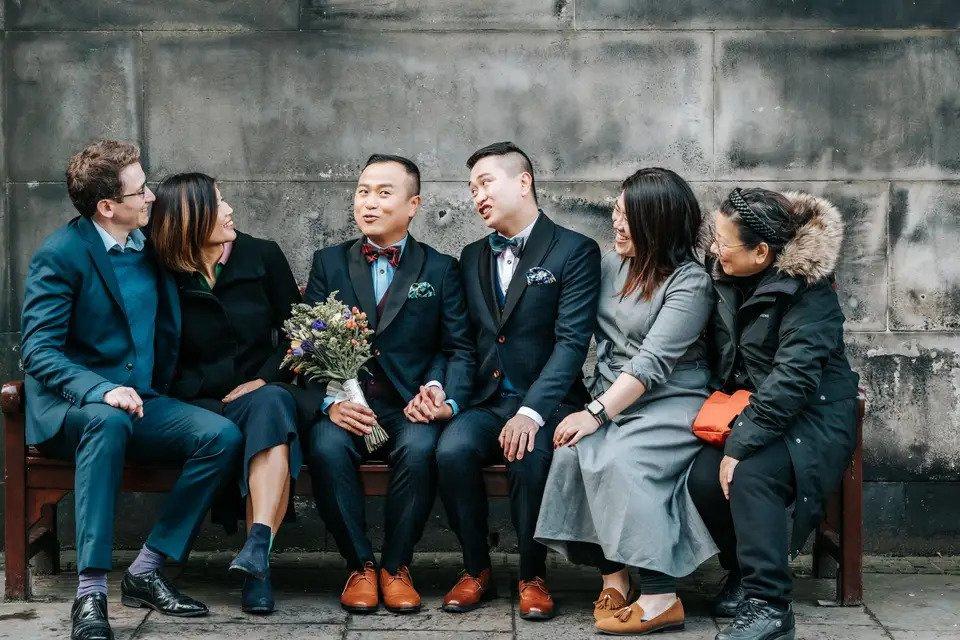 Whilst we've seen average wedding spend increase since the pandemic, one thing that's been a little slower to grow is the guest list. Pre-pandemic, guests were inviting an average of 102 guests in total to celebrate their day with them, but this has dipped to 72 on average³.
"Couples had to cut down their guest lists if they wanted to marry in the pandemic, and for some, this was a heart-breaking ordeal," says Zoe Burke, Editor of Hitched. "However, for some it opened up the opportunity to cut people who they were perhaps inviting out of pressure.
"We've seen people relish this opportunity even post-pandemic - if you wouldn't have a Zoom party with them during a global lockdown, why invite them to your big day? When we polled our Instagram followers, 71% told us they felt pressure to invite certain guests, and 95% said they wished there was a way to tell people they're not invited to the wedding.
"Whilst guest numbers have dropped by 29%, spend has not - couples are using the money they save to invest more in their wedding setting and catering."
We can expect this trend of more selective guest lists to continue as nearlyweds focus on creating a curated wedding experience with their absolute nearest and dearest and shun the pressure to invite anonymous +1s - sorry, cousin Herbert, but you just don't make the cut anymore.
READ MORE: How to Tell Someone They're Not Invited to Your Wedding
On The Big Day
We're emerging from the stress of the pandemic to witness some of the biggest ever changes with how weddings take place. From the new law passed in 2022 which allows licensed venues to host weddings outdoors, to the ongoing focus on humanist weddings potentially becoming legal in England and Wales (as they are in Scotland and Northern Ireland), we can expect weddings to continue to morph to become truly representative of each couple.
8. Outdoor Weddings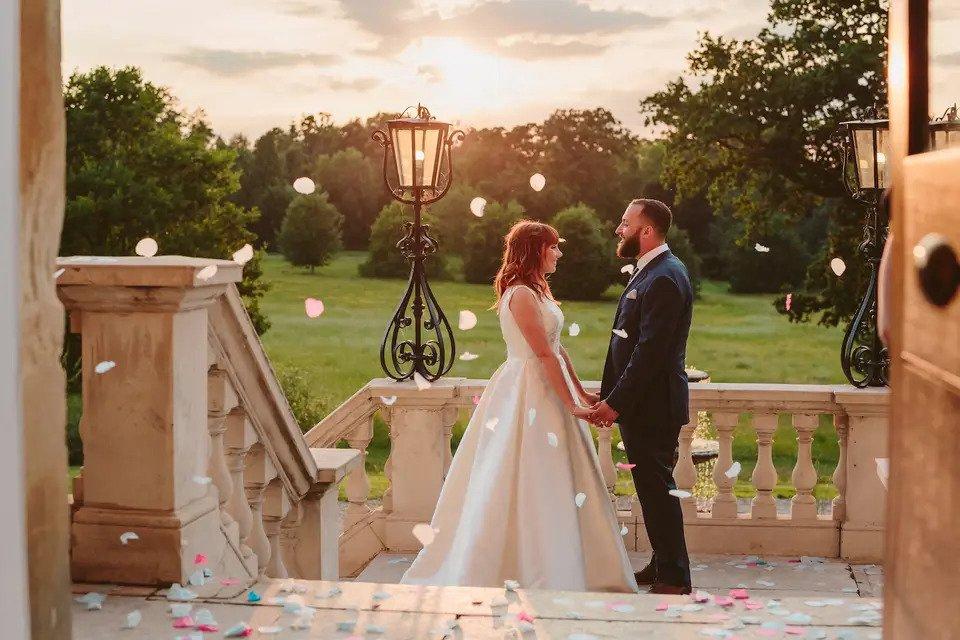 Prior to the pandemic, you could only get married outdoors in England and Wales if your wedding venue had a licensed structure, such as a pagoda or bandstand. However, the COVID-19 pandemic saw lots of couples opting for outdoor weddings for safety reasons so temporary permission was granted to allow licensed venues to host ceremonies outdoors - whether they had a structure outside or not.
This proved to be so popular that it became a permanent thing and now, providing your venue has a wedding licence, you can marry in any location outdoors!
"This was great news for us," says Lara Barnett, Group Branding and Marketing Strategy Manager at Bijou Wedding Venues. "It allows us to be creative and install new gazebos around the grounds and give couples a choice of more than one ceremony backdrop – something that has been very popular so far!"
The flexibility this offers is a huge bonus for couples, who can now marry amongst woodland or in front of beautiful water features, enabling them to tailor their day to their needs more than ever before.
9. Humanist Ceremonies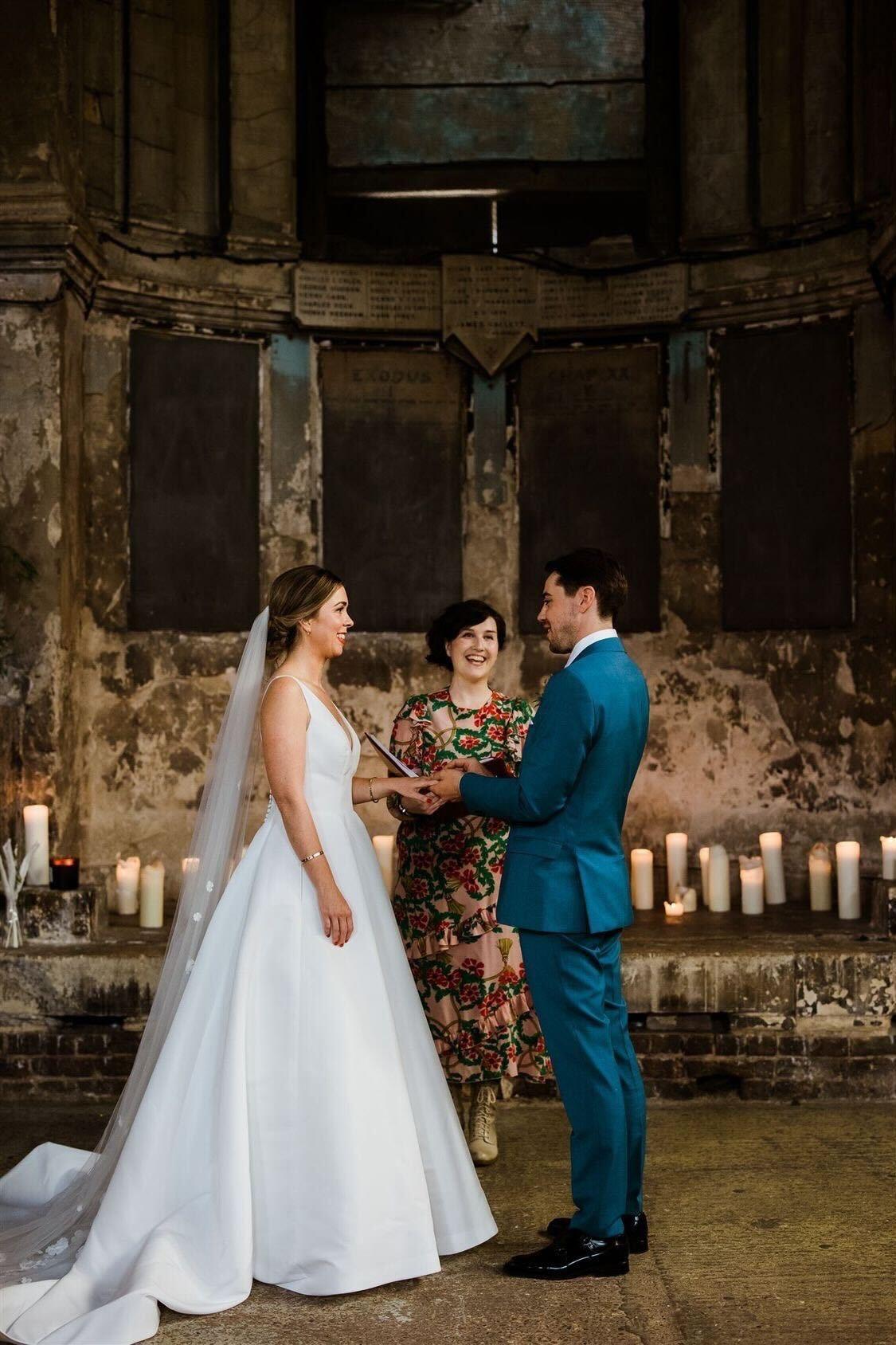 With a wedding boom taking place in 2022, couples have been looking for alternative options for their wedding ceremonies to ensure they could say their vows in a setting and style that suits them for their 2023 weddings.
"Couples are very clear about why they want a celebrant ceremony, and especially why they want to book with me," explains humanist wedding celebrant Nat Raybould. "They don't just want a convenient option for a building or place that doesn't have a civil licence. They are more informed than ever when it comes to their ceremonies."
The celebrant, who started officiating at humanist ceremonies before COVID-19 turned the world upside down, revealed that demand is exceptionally high for her style of celebration: "In 2023, my August is completely booked up, and I have a wedding booked every couple of weeks."
READ MORE: What is a Humanist Wedding Ceremony?
10. Alternative Entertainment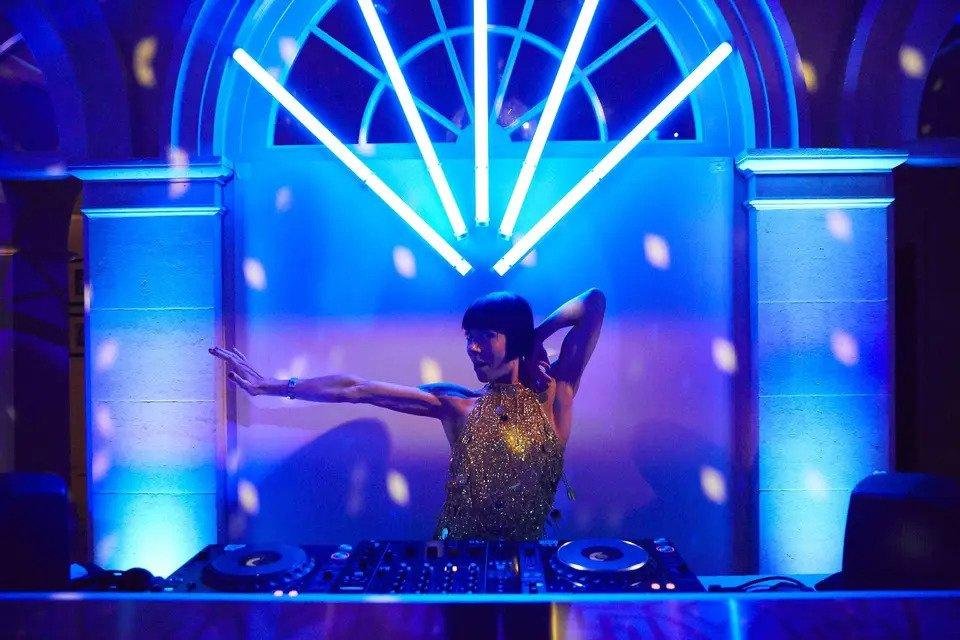 As well as making sure their wedding ceremony is truly personal to them, couples are looking for unusual wedding entertainment ideas that allow them to express themselves and let their guests let loose in unconventional ways.
Traffic to our edit of the best outdoor wedding games has rocketed by 118%², as couples look for unique ways to make sure their guests enjoy themselves, and this shows no sign of slowing down.
Increasingly, couples are looking to make sure their wedding party is as big as it can be: "Entertainment will grow to be a bigger experience," reveals celebrity wedding planner Mark Niemierko. "From larger musical ensembles to fill the dancefloor, to other acts thrown in for a memorable experience for guests, such as additional solo acts in the late hours."
"The wedding weekend is the trend for 2023," says Amy Thrush, Marketing Manager for Stockton House in Shropshire. "Couples are looking for experiences to entertain guests either side of their wedding day with champagne and wine tasting in the vaulted cellar the night before and then on the Sunday bringing everyone back for brunch on the lawn with Bloody Marys, BBQs and clay pigeon shooting."
11. Twilight Weddings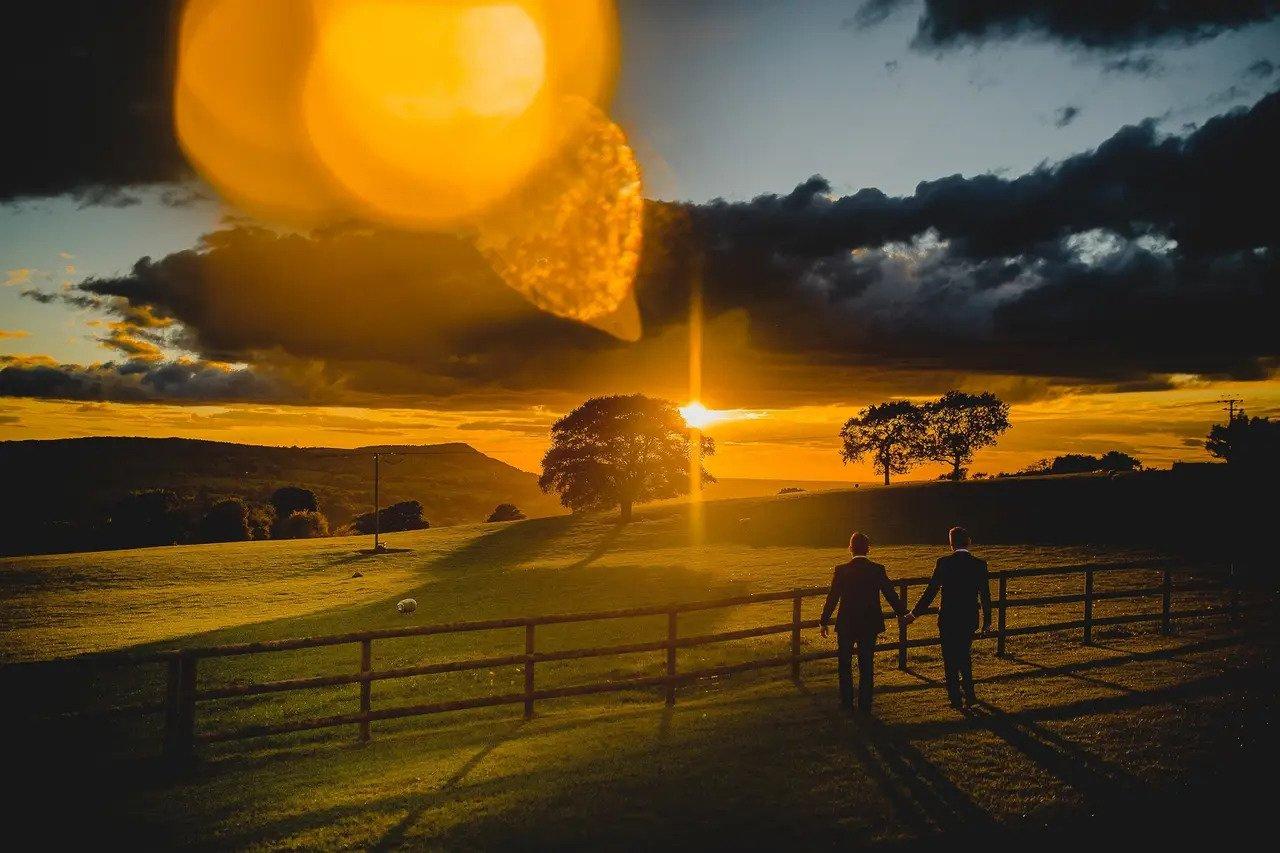 Personalising your wedding doesn't stop with how it's decorated and what you say in your ceremony - you control everything when it comes to your big day, and that includes your wedding day timings.
More and more couples are releasing they would prefer to have a 'twilight wedding', which is set to be one of the biggest wedding trends for 2023, with traffic to our twilight wedding feature rocketing by 324%².
The team at Heaton House told us: "A twilight wedding can be the perfect choice for couples who are looking to get married in autumn or winter and want to create something magical. The evenings get darker quicker, and this can provide the most beautiful backdrop for your special day."
12. Flowers
Scaled back style will be the order of the day in 2023: "Couples are growing tired of the overfilled place settings," says Mark Niemierko.
"Tablescapes will be cleaner, with a contemporary throwback. Think minimal lines and shapes, and neutral shades. Less is more will be the approach when it comes to florals."
Florist Stephanie Aitken from Dotty and Bramble agrees that couples are cutting clutter in 2023: "Couples are looking to have installations, rather than lots of smaller arrangements. Having one large flower cloud or floral arch makes for better photo opportunities than something smaller."
She's also seeing a bigger focus on sustainability when it comes to the types of wedding flowers couples opt for: "Seasonal flowers are coming up trumps. People are being much more sustainable when it comes to their weddings. This is so great for us as florists, as we can help you get the most from your wedding budget, while also doing our bit to be more eco-friendly where we can."
13. Elopements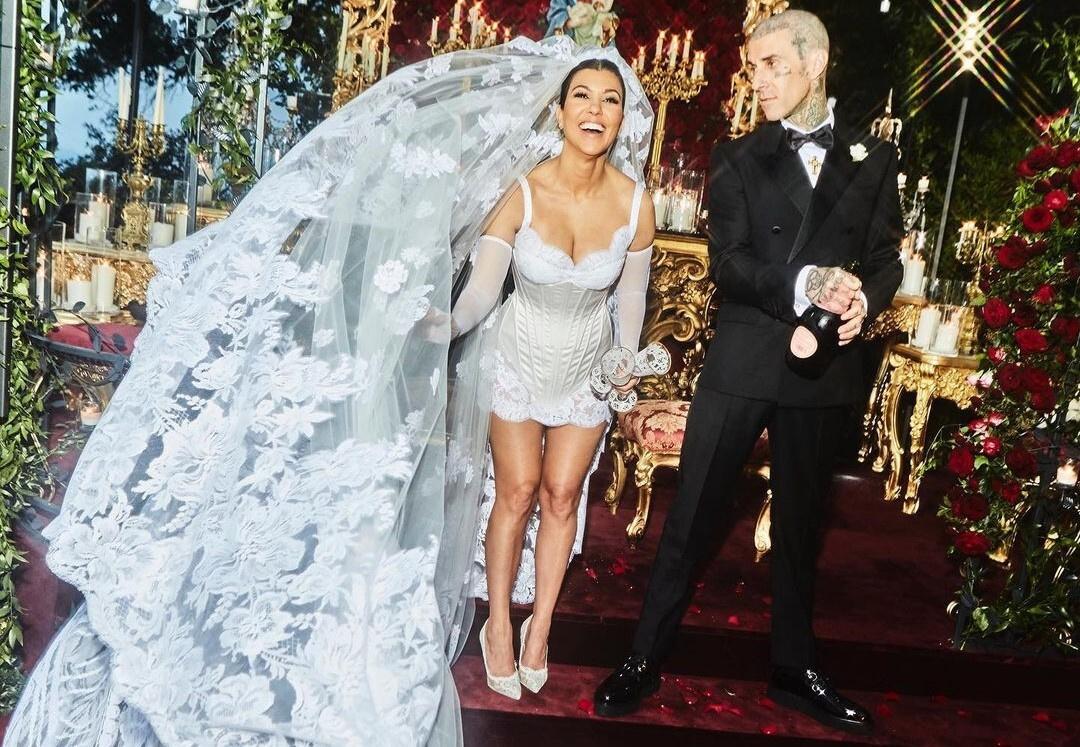 Newlyweds Kourtney Kardashian and Travis Barker are the latest celeb couple to put elopements back in the spotlight. Since their surprise Vegas ceremony in April, searches for 'destination weddings' and 'elopements' have soared, with interest in private ceremonies up more than 200%⁶ since before their (private) big day and 128.7k searches for the term globally in May 2022 alone
Kravis put eloping back on the map when they had a practise run in Las Vegas, before jetting off to Italy for a lavish wedding celebration with the whole Kardashian/Jenner/Barker clan.
Remember, an elopement doesn't always mean slinking off just the two of you - you can still have that once-in-a-lifetime party with all your loved ones too. Why not be inspired by Kravis with a wedding at home and away?
READ MORE: What is Eloping & How Do We Do It?
Going Green
Sustainability is becoming a bigger part of the conversation around weddings, with 22%³ of couples saying that it was a consideration in their wedding planning. This will undoubtedly continue throughout 2023 and beyond as couples explore creative ways to celebrate responsibly.
14. Upcycling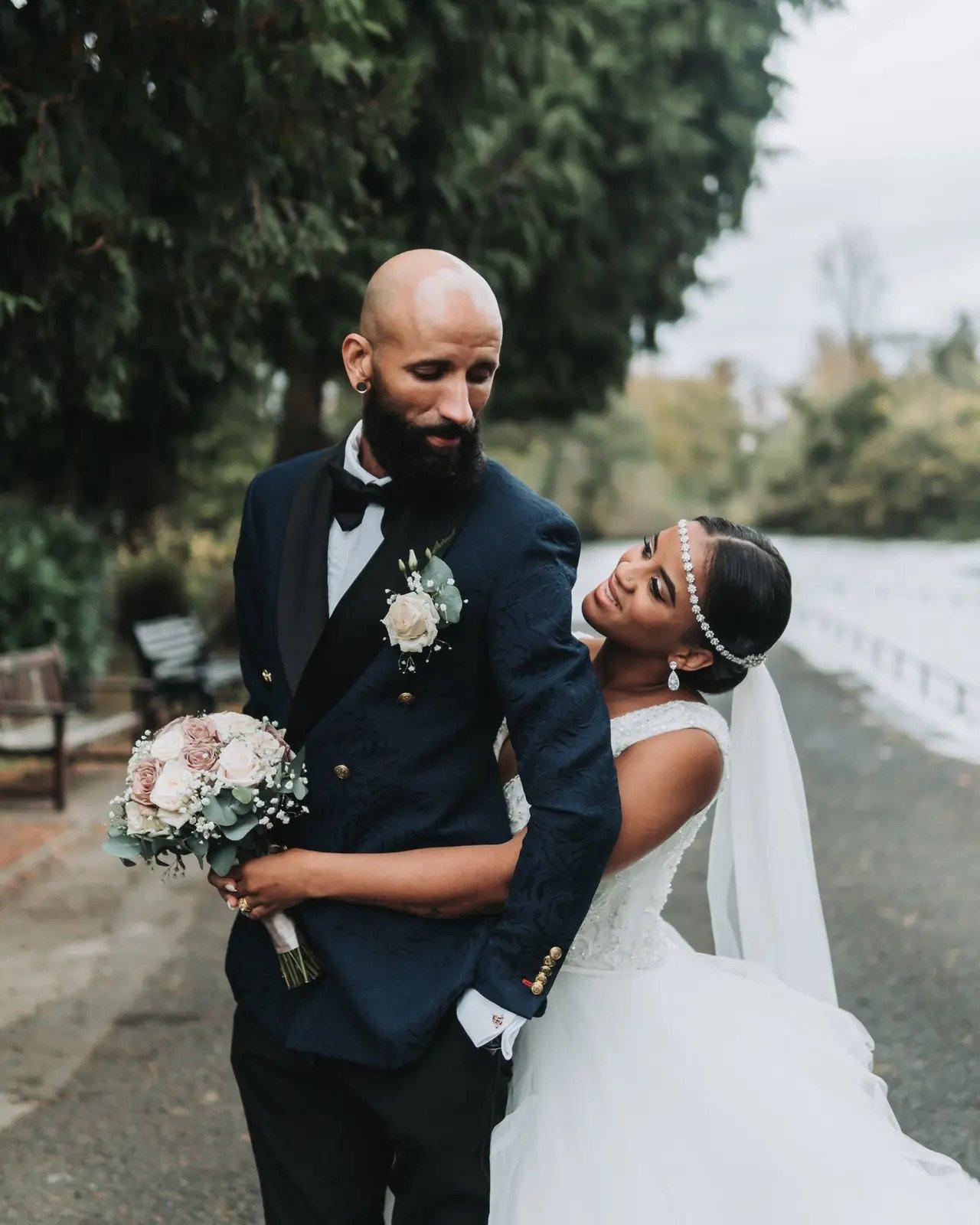 Couples are more conscious than ever when it comes to the impact their wedding will have on the environment, and handily, one of the most popular wedding traditions lends itself to this mindset pretty well.
Over half⁴ (52%) of those who will follow the 'something old' tradition plan to do so by upcycling their old item and including it in their wedding day look!
15. Eco-Friendly Favours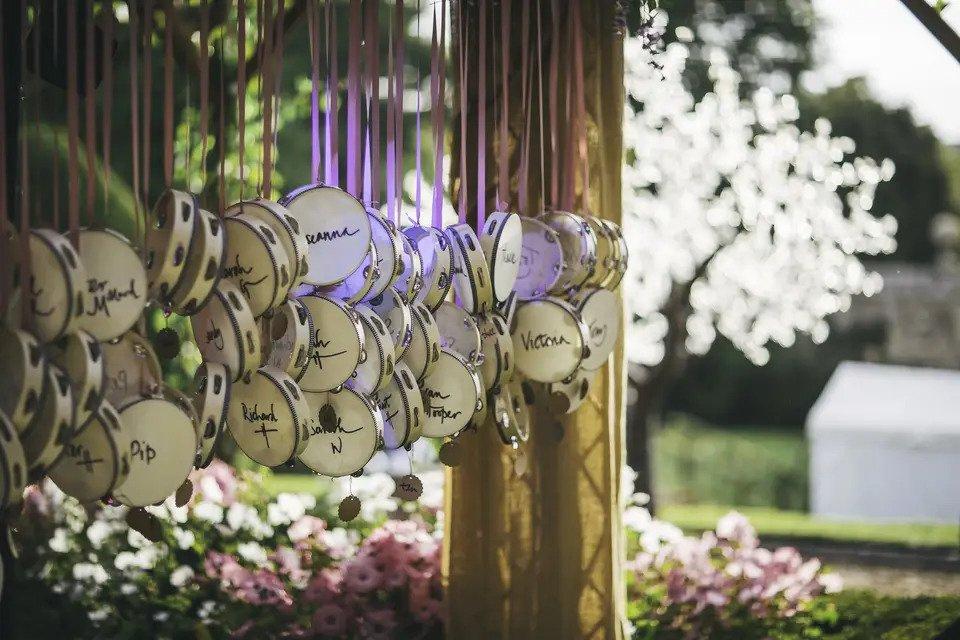 Wedding favours are the key area that couples are focusing on when it comes to making sustainable choices, with searches for 'eco friendly wedding favours' rising by 1,500%¹ in the past year.
Nearly three quarters of couples³ still want to give their guests a wedding favour, but they don't want it to be something that gets left behind at the end of the night. Seeds, potted plants, edible gifts and charity donations are all great options if you want to embrace this wedding trend in 2023.
"Consider thank you cards made from cardboard and seeds, so guests can plant them in their gardens and have a beautiful reminder of your wedding," suggests Hattie Creese from events company Marble Private. "Even simply avoiding paper in this way can help the environment massively. Or, instead of paper, why not get creative and use something like a tambourine to write guests names on? (They can later be used during the live music set so everybody feels involved!)"
16. Wedding Dress Rental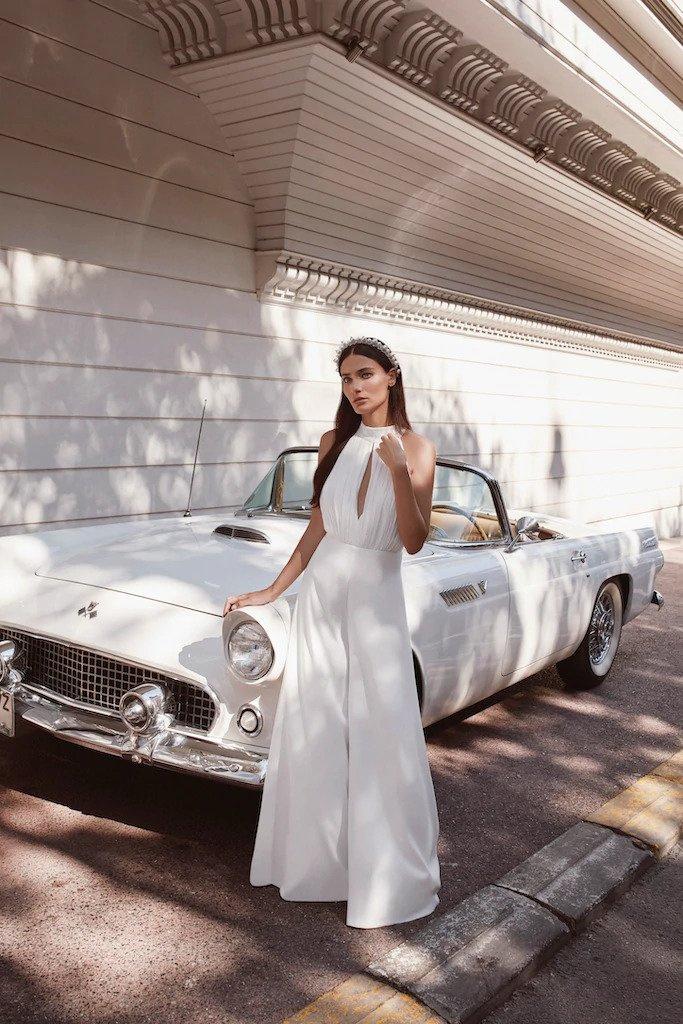 Searches for 'wedding dress hire' have gone up by 132%¹ as couples look for more sustainable ways to plan their wedding. Renting a wedding dress is also a way to get a gown that may have previously been beyond your budget - just be careful with the red wine!
"I think a lot of brides want to have a more sustainable approach to their wedding day outfit; for many brides their wedding day dress never leaves their closet after their big day so renting is a great solution to this," explain founders of Rowley Hesselballe, Rosie Rowley Poole and Canan Hesselballe, on their decision to partner with rental platform Hurr.
"At RHL providing garments in a more sustainable way is an important part of our brand which is why the versatility of our styles is important, and allowing brides to rent items is another great way to allow women to find the perfect outfit(s) for their big day without having to worry about the dreaded question 'when will I ever wear this again?'"
Cakes & Catering
17. Fusion & Theatre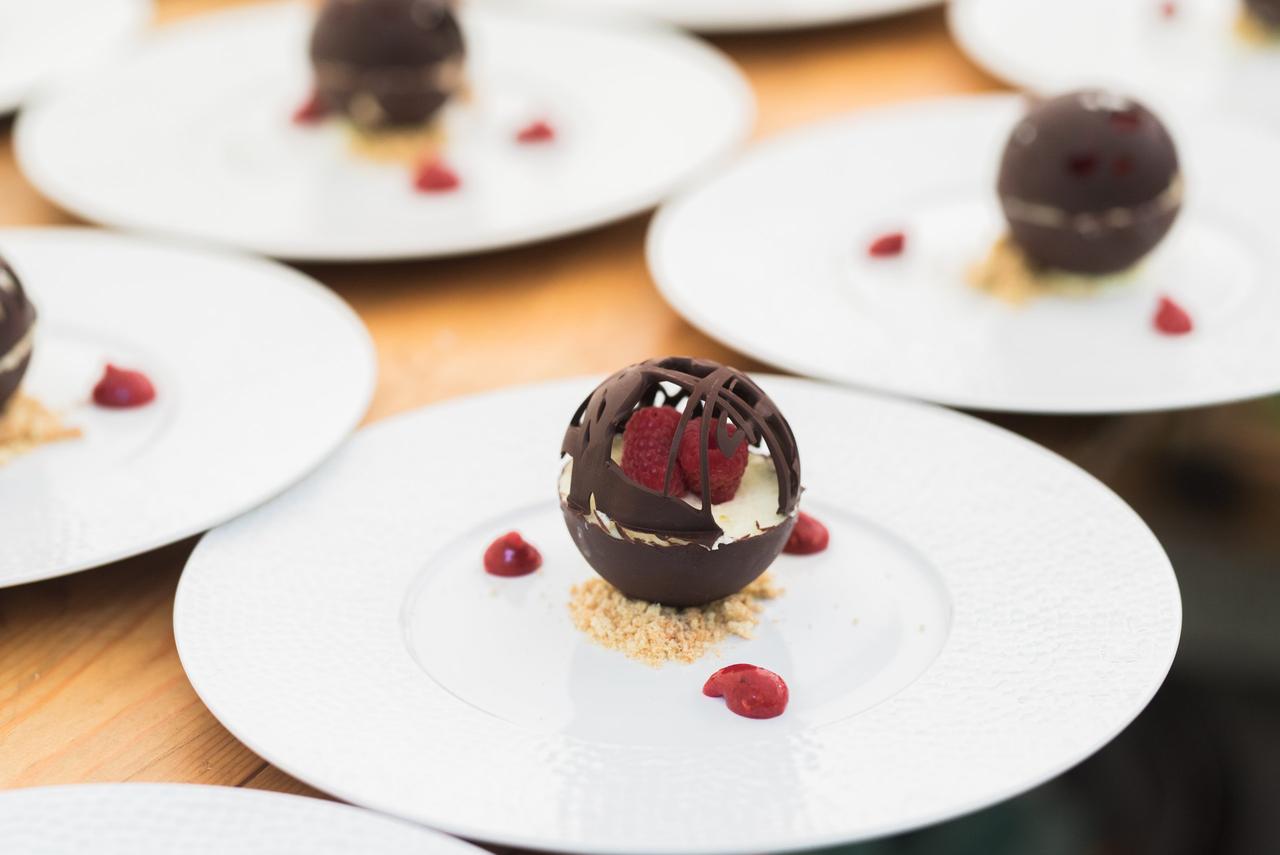 Couples are investing more in their wedding catering - spend on wedding catering has increased by 20%³, despite guest numbers being lower. As well as fresh, local produce, couples want their guests to be entertained whilst they eat: "We have had a lot of interest from couples for food to be cooked on show, outdoors with a chef hosting the area and theatre-style viewing around it," says Lara from Bijou.
"Because of this, all our venues are installing new fire pits, creating a cosy, interactive element for guests in the evening."
Nina Beer, founder of Occasion Queens, an on-the-day wedding coordination service, predicts fusion catering will be a huge trend in 2023: "It's a reflection on how the world and weddings are evolving and embracing all cultures, faiths and traditions.
"So far I've worked with a couple who are Turkish Cypriot and Italian, so we had Italian food and a Turkish Cypriot folk testi dance, another where one partner was from China so we incorporated a Chinese tea ceremony, and I've even got a wedding this year where half the guests are having a curry and the other half a roast dinner!"
That uplift in catering spend is going on impressive options, says Marc Hornby, co-founder of Caviar & Chips catering: "Our clients are looking for a menu that can often be three, four or five courses with an amuse bouche or pre-dessert thrown in to surprise guests with an extra treat. "We're often asked to create a menu that people just wouldn't be able to make at home - a classic Sunday roast, but with extra touches like a Duo of Beef or a Maple and Bourbon Glazed Whole Chicken, a hearty pie and mash, but with a drizzle of truffle oil and really more-ish red wine jus and desserts that impress like whole chocolate spheres with white chocolate cheesecake inside and smothered in salted caramel sauce."
18. Cocktail Hour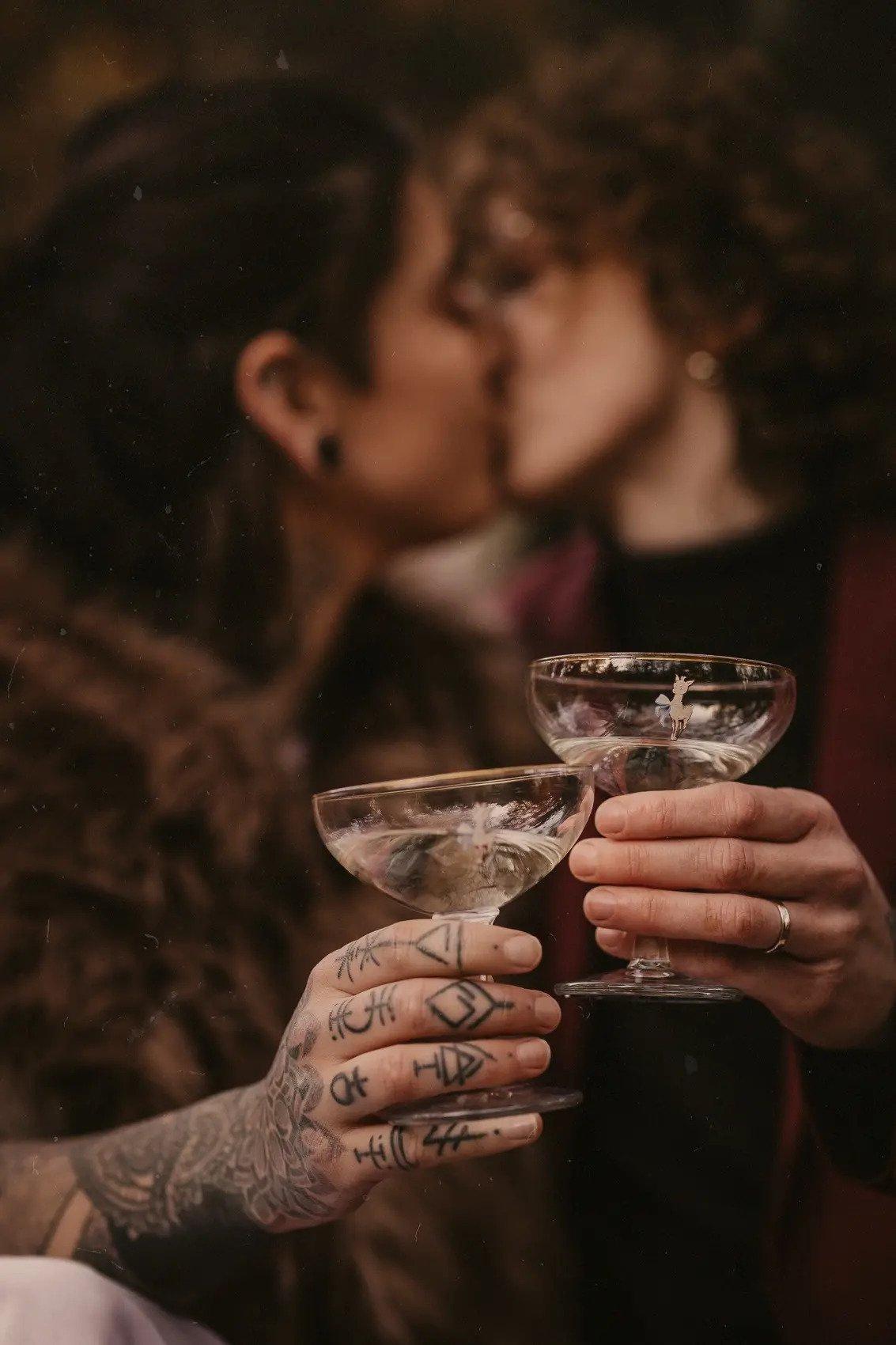 As couples focus more on putting creative spins on the typical wedding day structure, you can expect to experience more wedding cocktail hours in 2023.
"Something we are definitely seeing more of scheduled into the day is a cocktail hour," reveals Lara. "Couples will either choose one cocktail that's sentimental to them, or offer a small selection of their favourite cocktails, to be served after coffees. This is a really nice touch from the couples and aims to get guests in the mood for a session on the dance floor!"
19. Fruit Cake - But Not as You Know It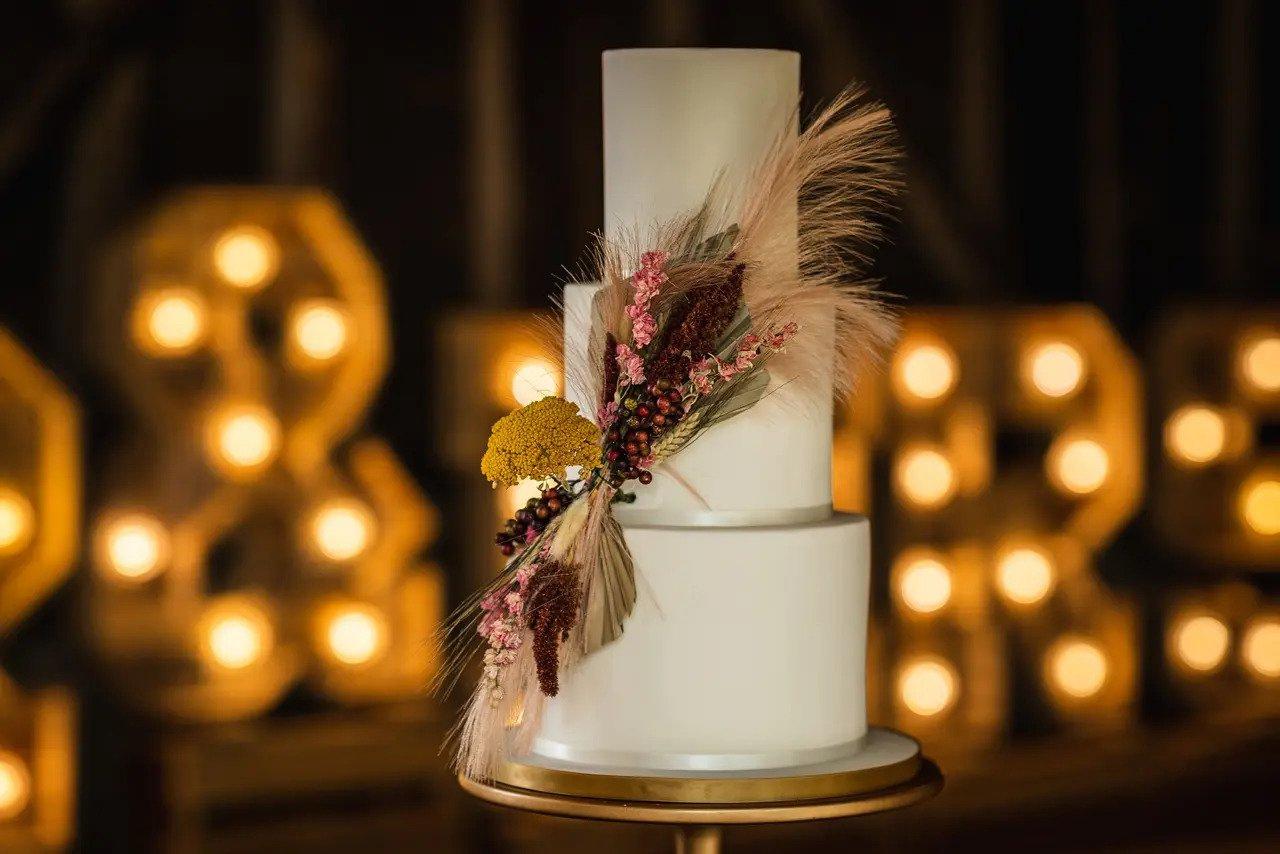 The much maligned fruit cake has had a serious revamp for 2023 - couples are choosing to incorporate fruit flavours in their wedding cakes in increasingly creative ways.
"My most chosen wedding cake flavours are raspberry and white chocolate cake, and lemon and elderflower cake," says Sue Pridie, owner of All Shapes & Slices.
Pippa Middlehurst at Sugar & Spiced Cakes has seen a similar trend develop, with both raspberry and white chocolate and lemon and elderflower - Meghan Markle's wedding cake flavour, FYI - in her top three choices with couples, but the most popular flavour is a really unique take on a fruit flavour.
"For us here, our most popular wedding cake flavour has been strawberry and rose. This has been a major surprise as rose can be a bit 'Marmite' - you either love it or you hate it!
"Raspberry and white chocolate is a close second with lemon and elderflower quietly taking up third place."
The award-winning cake maker has been inspired by these unusual takes on fruit flavours: "We have just created a wonderful peaches and cream version which is proving popular with the fruit lovers. Every year we revamp our flavours and with the trend heavily now into vegan, our vegan coconut and lime is hugely successful."
Honeymoons
Travel is back and it's bigger than ever in 2023! Travel experts Go2Africa analysed Google Trends data to discover that the next year will all be about travelling far and wide and ticking things off the couple's bucket list.
20. Unique Honeymoons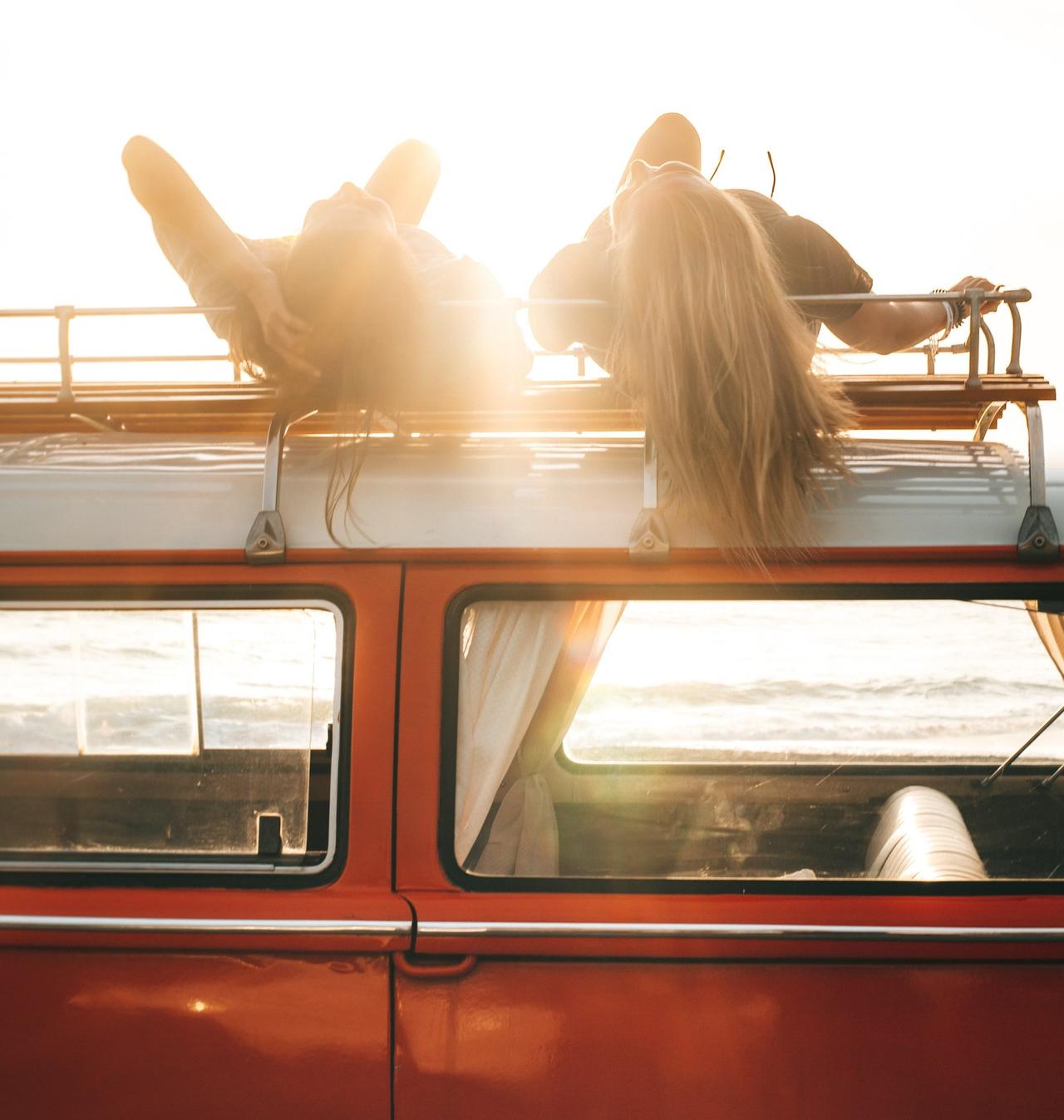 According to data from Go2Africa, searches for 'unique honeymoons' have risen by 3,900% since the beginning of 2022, as couples look to celebrate their marriage with a seriously special trip once again.
Safari honeymoons are proving to be popular, with the travel experts revealing that there has been a 236% uplift in Google searches for that term, as couples plan bucket list experiences for 2023.
21. Multi Destination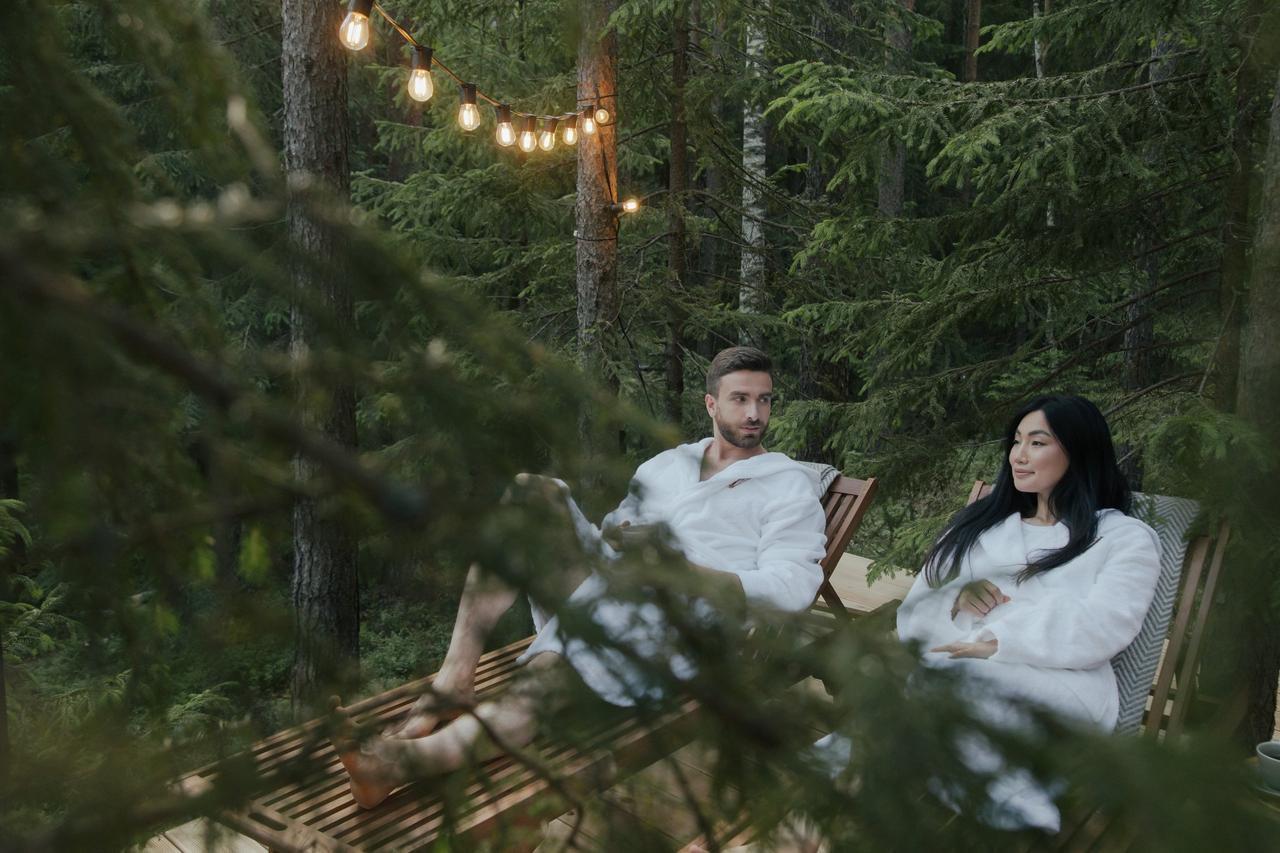 Go2Africa also shared that searches for 'multi-destination honeymoon' had risen by 9,900%: "As many couples have missed out on two years of holidays, the multi-destination honeymoon is all about making up for lost time," says the team.
New Traditions
It wouldn't be a wedding trend report if we didn't explore new traditions that we can expect to see in 2023! The 'first look' is only going to grow in popularity, and we for one are here for it.
22. First Look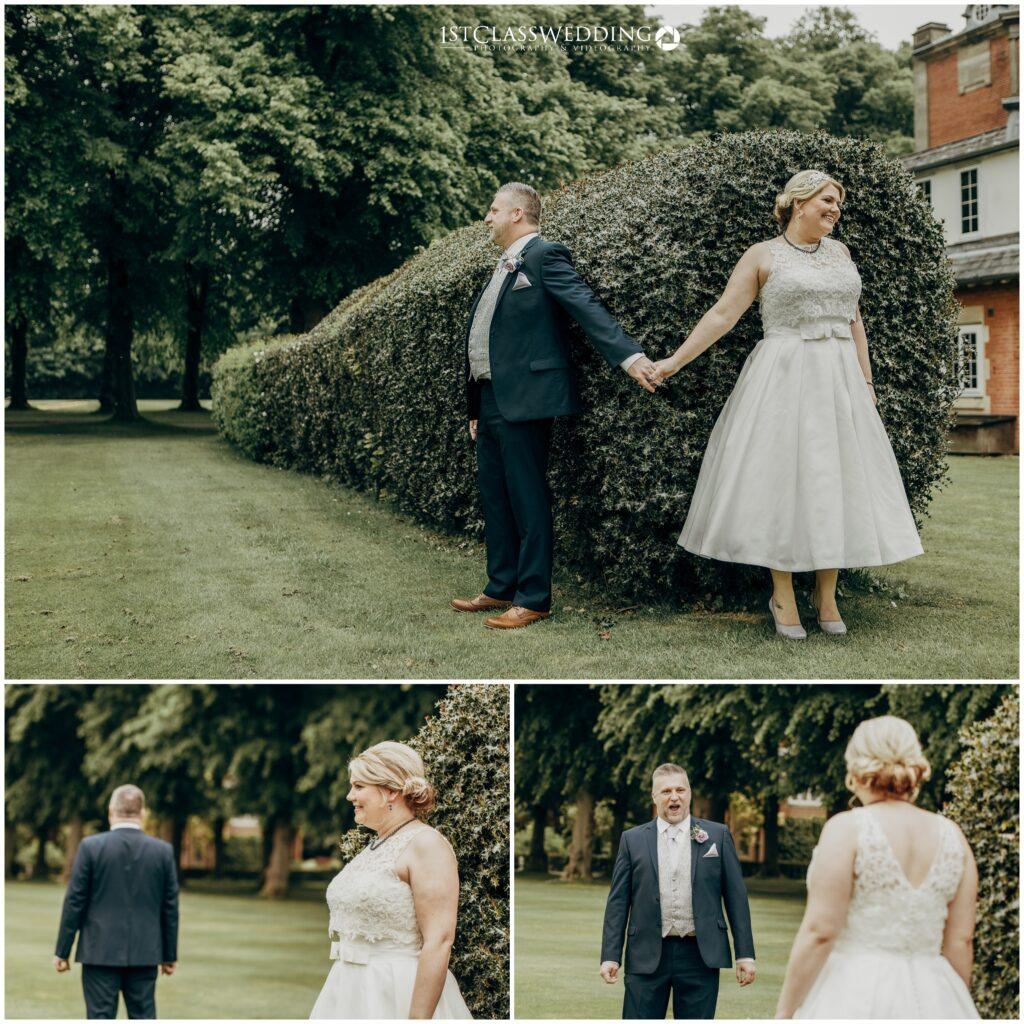 More than one in ten couples³ who married in 2021 adopted the American tradition of the 'first look'. This is where you eschew the tradition of not seeing each other ahead of the wedding ceremony, but instead plan a special moment with your wedding photographer where you get to take in how each other looks privately.
It allows you to really relish the moment without having to share it with anyone else, and you'll have some seriously emotional wedding photos to look back on. As couples rally against patriarchal wedding traditions, this idea of keeping apart pre-ceremony seems more and more dated by the minute.
We asked Esther Lee, Deputy Editor of American wedding planning platform The Knot, to explain the significance of the first look: "In the US, couples (and wedding professionals) are avid fans of the first look for a few reasons: the first being that it's a sentimental and private moment that the future spouses can have entirely to themselves—and it's one that's well documented to retain those memories for years to come.
"The first look also opens itself nicely for photos with the wedding party, family members and other key loved ones too. These raw reactions are priceless on the wedding day and tend to be framed for generations to come. Whether a couple chooses to see each other for the first time at the aisle or during the first look, both options can be personalised per couple."
23. First Dance Alternatives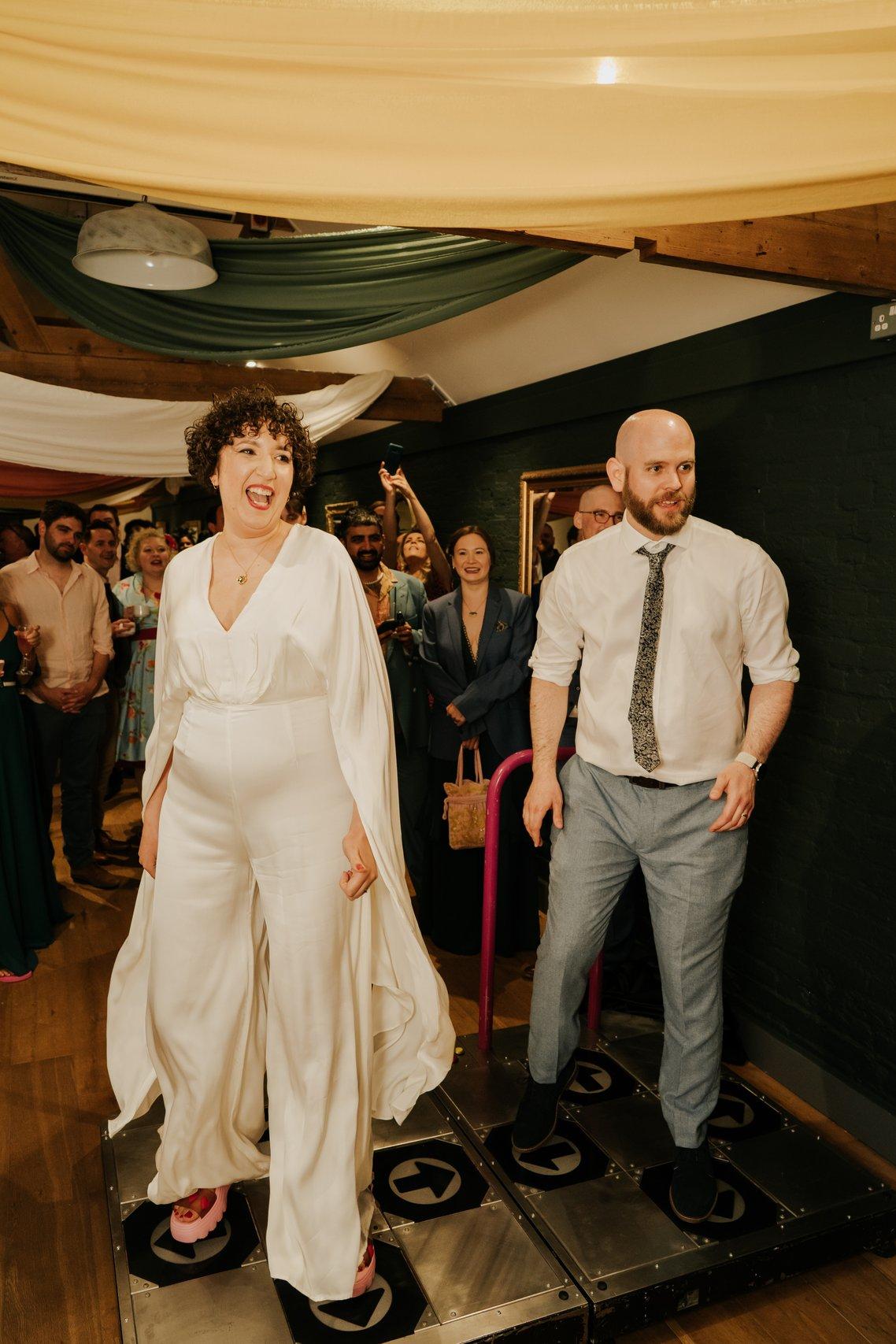 It used to be that the first dance - the couple romantically swaying around the dance floor as their guests looked on - was a key part of the wedding day.
Perhaps it's the impact of the coronavirus pandemic and the ensuing restrictions on dancing which allowed couples to realise that they don't have to do this anymore if they don't want to - half of couples⁵ say they are nervous about the first dance, with over a fifth (21%) revealing that they are 'dreading it'. More than one in ten couples (11%) are set to skip the ritual all together.
Newlywed and blogger Charlie Elliott went viral on TikTok with a video of her alternative first dance - she and her husband had a dance off using retro dance mats: "We were set to skip having a first dance entirely. The thought of slow dancing in front of everyone for three minutes sounded like torture!
"Steve had already said he'd like to rent some video games for the evening and I found Gaming4Weddings. When I saw they did dance mat rental I knew that it was the perfect first dance for us - I used to use the machines all the time as a teenager and it felt like it reflected us as a couple so much better. Our guests loved it and they all got to have a go throughout the evening too, so it was a massive success!"
Now you know what weddings will look like in 2023, how about exploring what the average wedding looks like right now?
¹SEMRush Data - April 2021 UK search vol compared to April 2022.
²Google Analytics Data - Jan - May 2022 compared to Aug - Dec 2021
³Hitched's National Wedding Survey data from 2019 and 2021
⁴Informal Instagram poll of 1,135 users on 14/05/2022
⁵Informal Instagram poll of 1,484 users on 14/05/2022
⁶SEMRush Data - May 2017 global search vol compared to May 2022