How to Write Your Own Wedding Vows: Real Traditional and Modern Wedding Vows
Whether you're writing your own unique wedding vows or want to know what the traditional wedding vows are, take a look at our ultimate guide to what to say during your wedding ceremony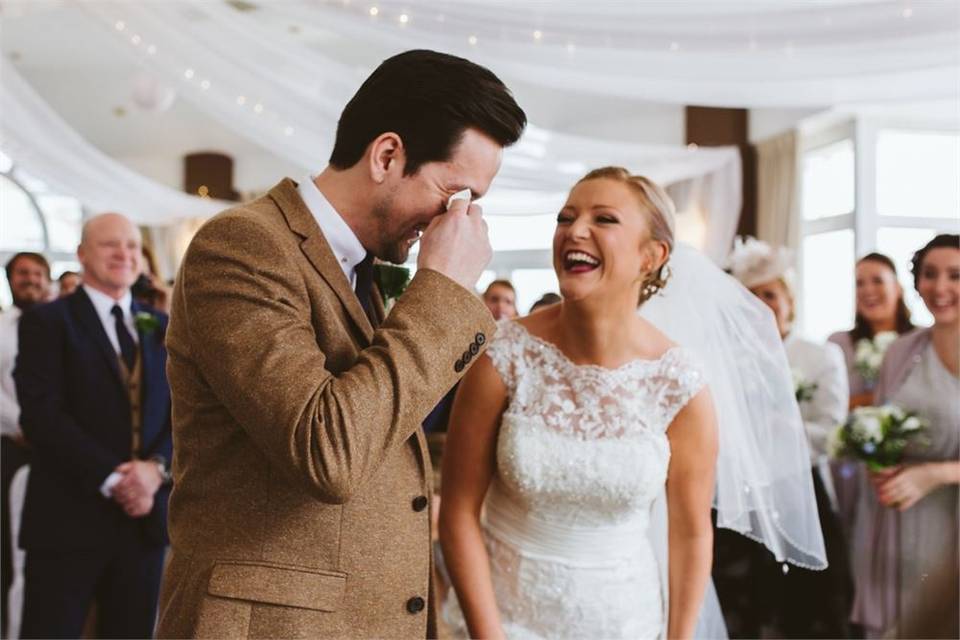 Wedding vows are the promises you make to your partner during your wedding ceremony. Naturally, every couple wants them to be heartfelt, romantic and meaningful, so there's a lot of pressure to get them right!
Do you go with tried and tested traditional wedding vows or choose something contemporary and modern? Should you write your own, or (*whisper*) get a professional to write them for you? If you write your own, where do you start? What do you say?
Don't panic! We've put together a complete guide to wedding vows for you.
Whether you're penning yours months in advance or furiously scribbling them hours before the ceremony (not advisable, FYI), here's how to write your wedding vows plus some great example wedding vows to inspire you. Plagiarism encouraged!
What Are the Traditional Wedding Vows?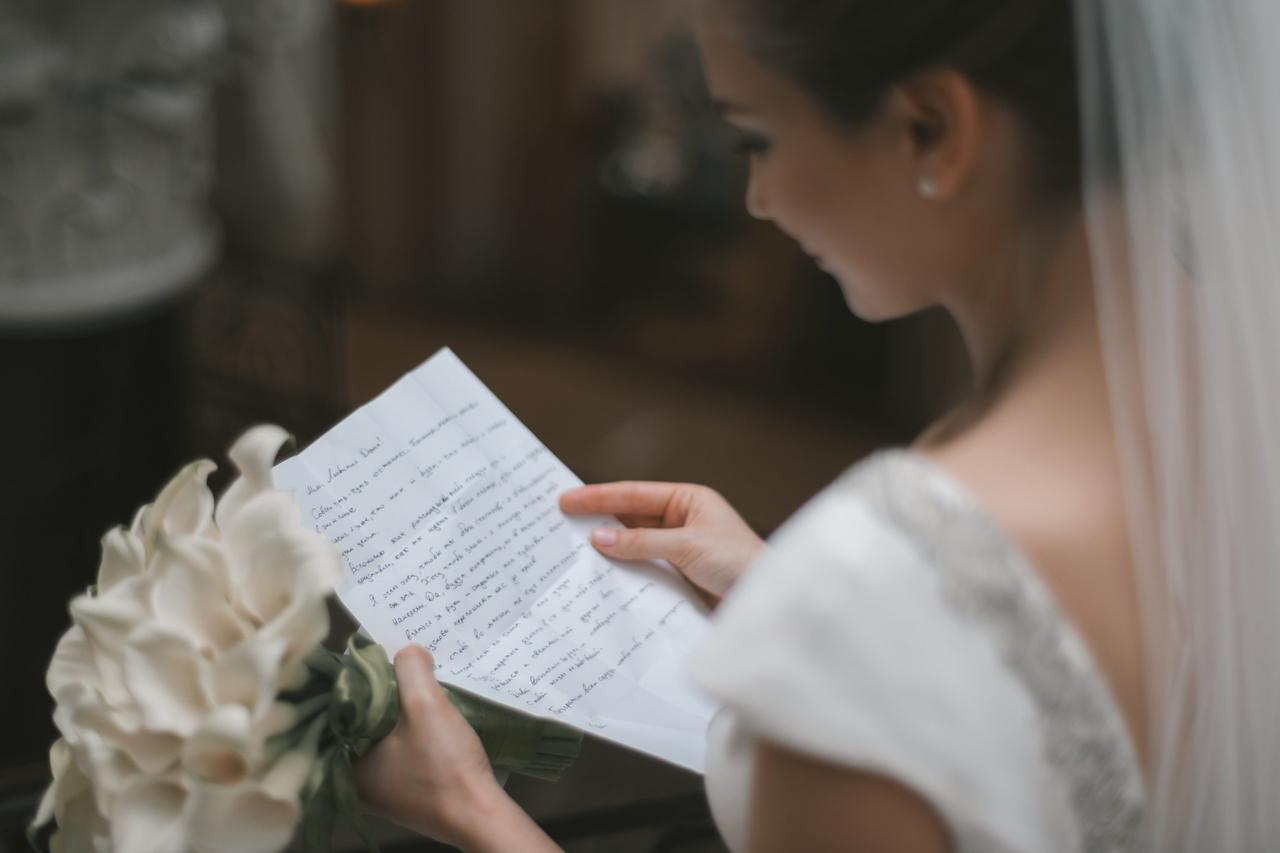 Remember, your vows aren't about impressing the congregation. It's about telling the person you love how you feel, truthfully, and promising that you'll stand with them, whatever life throws at you.
There's nothing wrong with choosing 'off-the-hanger' vows. After all, they've stood the test of time for a reason. There are plenty of other ways to personalise your wedding. So, here are some of the traditional wedding vows you can expect to be offered:
Church of England Wedding Vows
Vows: I [Name] take you [Name] to be my wife/husband, to have and to hold from this day forward, for better, for worse, for richer, for poorer, in sickness and in health, to love and to cherish, till death us do part, according to God's holy law. In the presence of God I make this vow.
Exchange of rings: [Name] I give you this ring as a sign of our marriage. With my body I honour you, all that I am I give to you, and all that I have I share with you, within the love of God, Father, Son and Holy Spirit.
Catholic Wedding Vows
Vows: I [Name] take you [Name] to be my wife/husband. I promise to be true to you in good times and in bad, in sickness and in health. I will love you and honour you all the days of my life.
Alternative: I [Name] take you [Name] for my lawful wife/husband, to have and to hold from this day forward, for better, for worse, for richer, for poorer, in sickness and in health, until death do us part.
Exchange of rings: In the name of the Father, the Son, and the Holy Spirit, take and wear this ring as a sign of my love and faithfulness.
READ MORE: Your Guide to Christian Wedding Vows
Civil Ceremony Wedding Vows
Traditional vows: I call upon these persons here present, to witness that I [Name] do take thee [Name] to be my lawful wedded wife/husband.
Modern vows: I [Name] take you [Name] to be my wedded wife/husband.
These may be slightly extended, eg: I call upon these persons here present, to witness that I [Name] do take thee [Name] to be my lawful wedded wife/husband, to be loving, faithful and loyal to thee in living our married life together.
Exchange of rings – traditional vows: I give you this ring as a symbol of our love. All that I am I give to you. All that I have I share with you. I promise to love you, to be faithful and loyal, in good times and bad. May this ring remind you always of the words we have spoken today.
Exchange of rings – modern vows: I give you this ring as a sign of our love, trust and marriage. I promise to care for you above all others, to give you my love, friendship and support, and to respect and cherish you throughout our life together.
Non-Denominational Wedding Vows
Some registrars will also have alternatives for you to choose from, such as these from Oxfordshire County Council:
Vows: I promise that I will respect you as an individual, support you through difficult times, rejoice with you through happy times, be loyal to you always and, above all, love you as my wife/husband and friend. I promise to love and respect you, helping our love grow, always being there to listen, comfort and support you, whatever our lives may bring.
Exchange of rings: I give you this ring as a sign of our love, trust and marriage. I promise to care for you above all others, to give you my love, friendship and support, and to respect and cherish you throughout our life together.
READ MORE: Everything You Need to Know About Booking Your Church Wedding
How Do You Write Your Own Wedding Vows? What Should You Say?
First, decide if this is something you both want to do. Writing your own wedding vows can add a lot of pressure and there's absolutely nothing wrong with using the traditional vows. If you're both committed to writing your own vows, then follow these four steps.
1. Get Some Ideas Down on Paper
Head somewhere it's quiet and you can think. You might find it easier to write your vows in stages so start by making some notes.
Here's a few questions you can think about to get you started and give you ideas on what to say:
When did you first meet?
How did you get together?
When did you realise she/he was the one?
What little details make you smile when you think of him/her?
How do you balance each other out? Is he super-organised, whereas you're more of the fly-by-the-seat-of-your-pants type?
Why are you getting married? What does it mean to you?
What promises do you want to make for a happy marriage?
Don't worry about constructing perfect sentences or how things sound to start with, just get your ideas down. You may well end up with pages and pages. Great! Once you have plenty of notes, you can choose the bits that really stand out to you, and then start polishing them up. The reason you're writing your own vows is to make them personal, so don't rush deciding what you want to say.
2. Research Other Wedding Vows
Read lots of examples of other people's wedding vows (handily, we've got lots below) and see if you prefer a more traditional or modern style. Do you want religious or secular wedding vows? Are they going to be funny or emotional? Will it be promises, or a speech or a poem?
Talk to your partner and set some basic ground rules, like length and tone. You might not want to hear each other's before the wedding day but you ought to be on the same page. You promising to love them on their deathbed versus them vowing not to binge-watch Netflix without you is a little incongruous. Similarly, are their any words you both disagree on, such as "to obey"? Ask a close friend to read both and see if the complement each other.
3. Whittle Down Your Notes Into Vows
Your vows should only be around a minute long per person. Pick out 5-7 of the most important things you want to say to your partner and use them as the foundation of your vows. You'll want a mix of the reasons you love them and some key promises you want to make to them for your life together.
Keep sentences fairly short, and avoid any words that could trip you up. You'll also want to keep your vows succinct enough for you to memorise them (though do have them printed out, just in case stage fright hits).
You can write a longer version of your vows in a letter to give to your partner on your wedding night if there's more to say.
4. Practise Saying Them
Practise saying them aloud in front of a mirror, or to a friend, and keep adjusting until you're happy. Your vows need to ring true to how you feel and how you'd speak. On the day, it's nice to have them memorised but absolutely not necessary. You'll find if you practise them enough, they'll stick in your head so you won't need a prompt. Here's some tips on how to deliver a speech which can help you out when giving your vows too.
READ MORE: This is How Much It Costs to Renew Your Vows
Who Says Wedding Vows First and How Long Should They Last?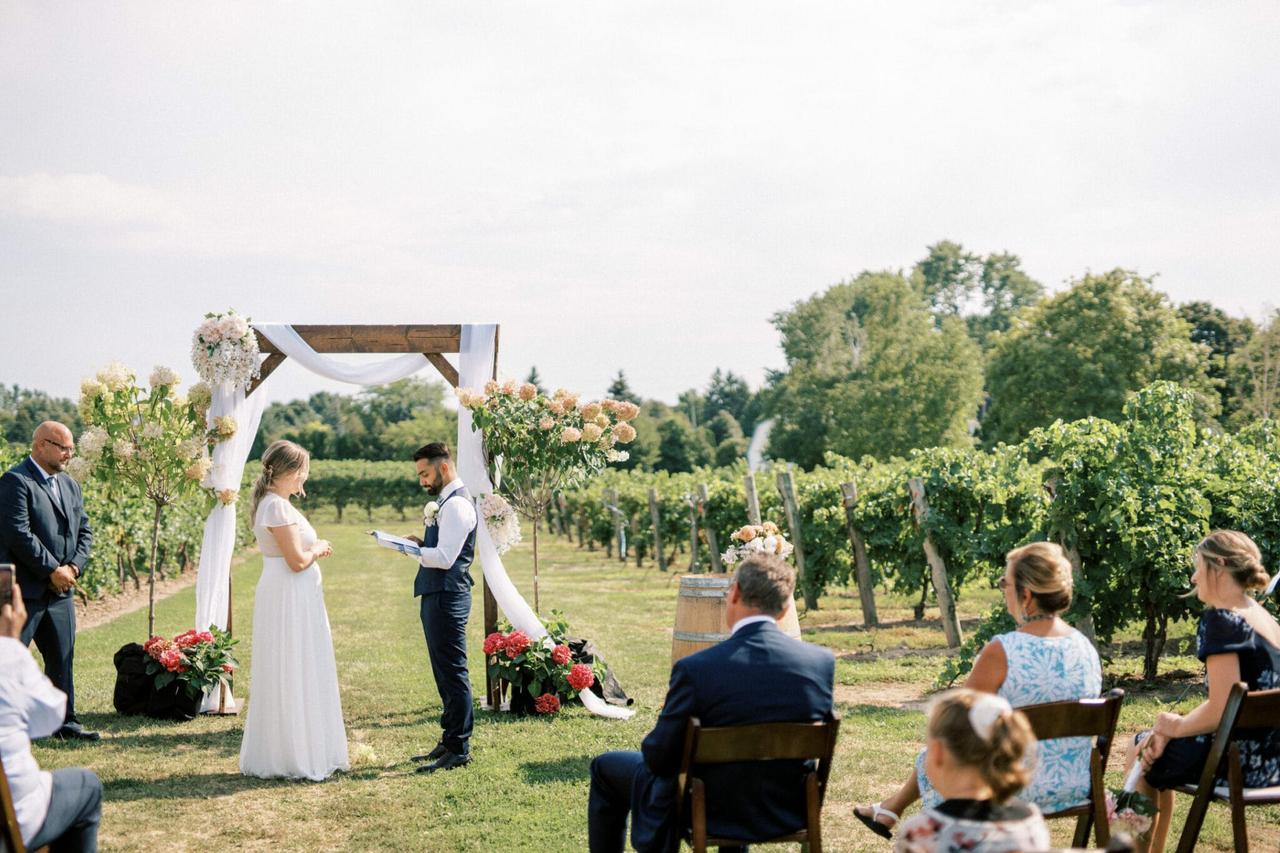 We've covered some of the most popular wedding vows FAQs below. Don't be afraid to ask your officiant for their recommendations if you're unsure; they'll have done this hundreds of times and have plenty of experience.
Who Says Their Wedding Vows First?
Traditionally, the groom says his vows first followed in turn by the bride. That said, some couples may choose to say them in unison to each other, and if you'd rather the bride go first, speak to your registrar or celebrant well in advance to see if it's something that can be arranged.
If you're having a same-sex wedding, it is totally up to you who goes first. Again, it's a case of deciding between yourselves in advance and letting your registrar know.
Whatever you choose, it is tradition for the couple to face each other and join hands as they say their vows.
How Long Should Wedding Vows Be?
Your wedding vows should be one minute in length maximum. You don't want your wedding ceremony to drag on and you'll have plenty of opportunity to talk about your love for each other during the speeches. Time yourself and if it's longer than a minute, cut it down.
Are You Always Allowed to Say Your Own Vows?
For some ceremonies, particularly religious ones, you may not have the option of writing your own vows. Civil ceremonies are usually a bit more fluid, but you will still need to let your officiant know that you're writing your own vows a few weeks beforehand, and discuss any practicalities, such as timing, with them.
For your marriage to be legal when you're getting married in the UK, you will need to both state certain phrases called 'declarations'.
For most services, these will include:
Traditional: "I do solemnly declare that I know not of any lawful impediment why I [Name] may not be joined in matrimony to [Name]."
Modern: "I declare that I know of no legal reason why I [Name] may not be joined in marriage to [Name]."
Alternative: "Are you [Name] free, lawfully, to marry [Name]?" for you to reply "I am".
Many officiants will be happy for you to say additional personal vows once the legal vows have been said.
READ MORE: What Happens During Humanist Wedding Vows
Should We Hear Each Other's Vows in Advance?
It's really up to the two of you whether you want to wait until your wedding day to hear each other's vows. Many people love the anticipation of not knowing what their partner is going to say, while for others, it would just be another thing to worry about.
Some partners write joint vows, which can be a lovely way to start your life together. It also means you can alternate lines, which can really help if you're feeling nervous about speaking in front of everyone.
Do I Include My Children in My Wedding Vows?
If you have children, either together, or from before you met, you'll likely want them to be a big part of your wedding, so it can be a lovely idea to include them in your vows. For example "I promise to love and care for you and Jacob."
READ MORE: 35 of the Most Romantic Quotes From Literature
15 Wedding Vow Examples to Inspire Your Own
Traditional or religious wedding vows aren't for everyone. Sometimes you want something that sounds more up-to-date and true to you as a couple. These example real wedding vows are modern, funny and heartfelt. Take a read through and see if they inspire you.
Real Wedding Vows
Here are extracts from a few real wedding vows that could prove a great starting point for writing your own.
"James, I feel like the most blessed woman in the world. I have not only found my life-long companion, the lover of my heart, but my soul mate. Thank you for standing by me and sticking with me through thick and thin; for seeing the person that's before you now. You believed in me when I didn't even believe in myself and for that I love you so much.
"Choosing to commit the rest of my life to you is the easiest thing I will ever do. You are my best friend and inspire my every single day. I promise to spend every day I have left on this earth looking after you, encouraging you, laughing with you and comforting you. I promise to do these things because I have been given the most amazing gift I could ever have: you. Know that I love you with all my heart. I'm so happy to call myself your wife!"
_______________________
"I vow to hold your hand in my hand and hold your heart in my heart as long as we live. I take you as my wife through the good times and the hard times, side by side. You are the most beautiful, generous, kind and clever person I know, and I will try my hardest every day to be the man you deserve. We will be each others' shoulders to stand on and to cry on; we will lift each other up and hold each other tight; we will be partners in adventure and allies in conflict.
"I promise to never stop making your love and happiness my priority, because your joy is my joy. In sickness and in health, in failure and triumph, I will walk beside you and I will love you, forever."
_______________________
"They say never date a co-worker. Well, I'm so glad I did. From the moment our paths crossed, you've captivated me, challenged me, frustrated me and improved me in ways no person has done before. And I have fallen in love with you again and again. I promise to be true to you, to support and encourage you, and to challenge and frustrate you. I believe we are truly good for each other and that we will continue to grow stronger together.
"Today, as we move from I to we, Sarah, take this ring as a symbol of my decision to join my life with yours until death should part us. I walked to this place to meet you today, we shall walk from it together."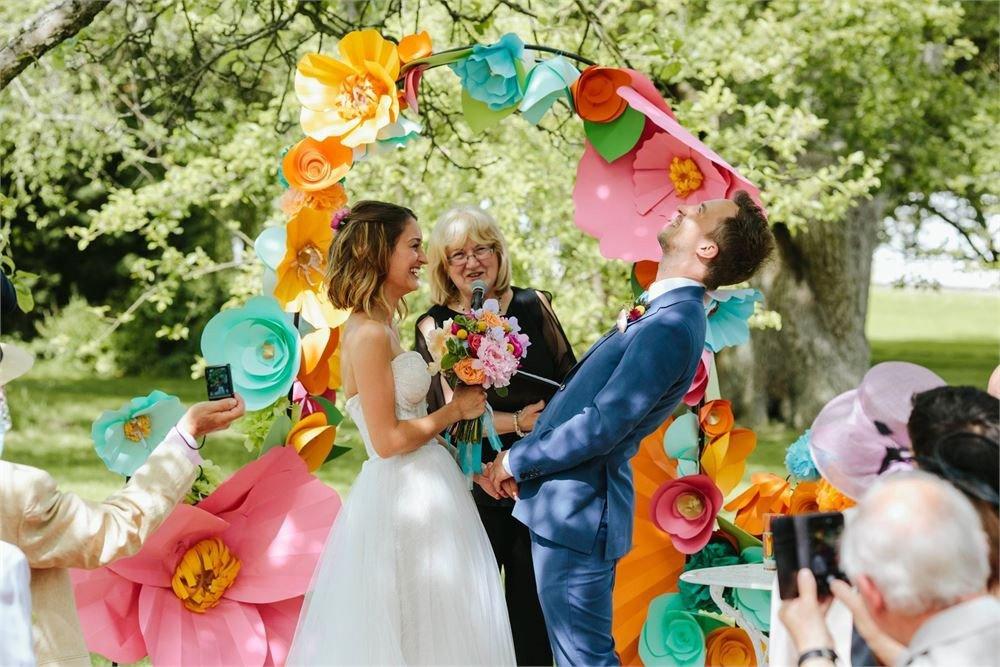 "From this day forward I promise to be worth it. Worth the time. Worth the trip. Worth the energy. Worth the embarrassment. Worth your love. I promise that you will always count. You will always come first, and of course, if you don't for whatever reason, I will buy you some shoes. From the moment you entered my world, you have filled it with life, colour and energy like never before … like kool-aid in a mud puddle … or a cupcake in a salad … or a rose garden in a junk yard. You are my rose, and I promise to devote my life to being your dirt." (From comedian John Caparulo)
_______________________
"Seven years ago, I had the unexpected joy of falling in love with my best friend. It took us three years to realise we were right for each other, but ever since that moment we drunkenly kissed at Anna's New Year's Eve party, I've never had a moment of doubt. You are my soul mate and the wait was so worth it.
"I wake up each morning excited to see you and know that feeling will never go away. I promise to make each day with you an adventure, to always make the best of every opportunity and disaster, to continue to make each other the best versions of ourselves we can be, and to take on all life throws at us together. I want to grow a family with you and to grow old with you. Because life is nothing without you by my side. Thank you for being my husband and my best friend."
_______________________
"Al, I love you with all my heart and I promise to try to make you happy every day of our lives together, but more importantly I promise to always order something you like so that we can share in the restaurant. I promise to always get rid of the spiders, even though I'm more scared than you. I promise to let you win the occasional argument, even if I'm right. I promise to unclog the shower drain, even though only one of us has any hair. I promise to never watch the next episode on Netflix without you, no matter how much I want to. I promise that every day we will laugh, when life seems easy and when it seems hard, when our love is simple and when it is an effort. I promise to cherish you, and to always love you. These promises I make to you today, and all the days of our life."
_______________________
"It is impossible to put into words how much I love you. You're my best friend and at last you're my wife! I promise as our everyday life begins, we will continue to be best friends, we will still be girl and boyfriend. I will never let our honeymoon period end. Kathryn, loving you is the easiest, most obvious thing I've ever done, and I will love you for an eternity."
READ MORE: 15 Vow Books to Write Down Your Special Words In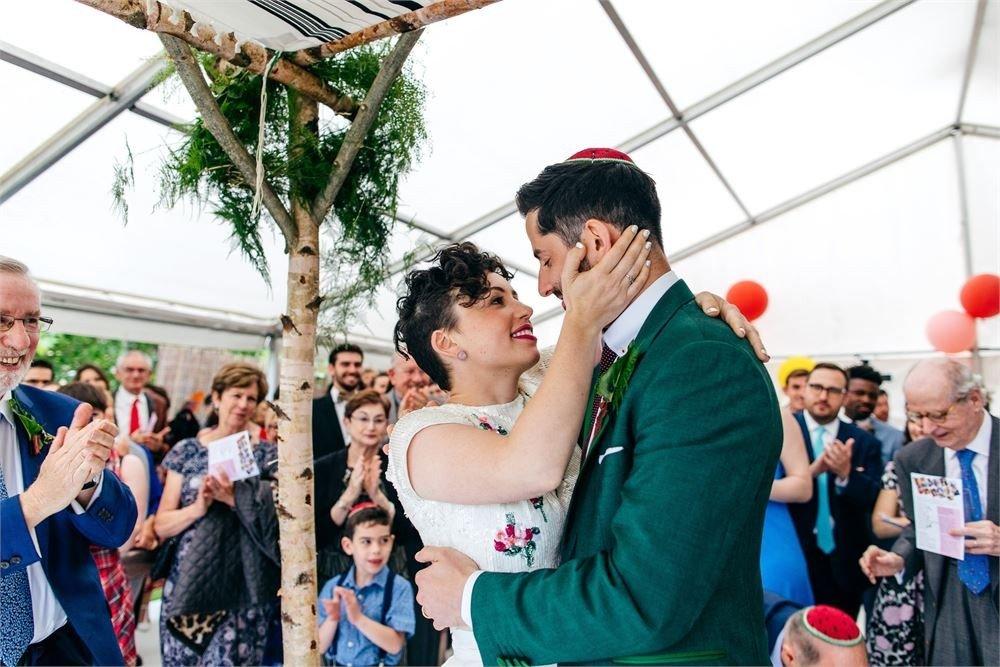 "Today, I join my life with yours. Wherever you go, I will go; whatever you face, I will face. For good or ill, in happiness or sadness, come riches or poverty, I take you as my husband, and will give myself to no other.
"May our days be long, and may they be seasoned with faith, love, understanding, and respect, forever and ever. Today is the beginning of the rest of our lives. I choose to spend today, and all of my tomorrows, with you."
_______________________
"As we start our married life together today, I make these promises before our families and friends:
I will continually challenge myself to become the best husband I can be; always looking to put you before myself and making your dreams our dreams.
I will love you; I will adore you; I will cherish you; I will be faithful to you.
I will be thoughtful and mindful in the way I act around other people, whether we are together or apart. I will always seek to give you no reason to be jealous over another person.
As much as music will always play an important part of my life, you come before my guitars! You will be the greatest song I could and would ever sing.
I will trust you in all things, never doubting you, or looking for reassurance of things you have already promised me.
I will help you discover your full potential, pushing you to become the best you can be, to support and ensure your hopes and dreams come to fruition.
I will stand by your side in all things, the highs and the lows, always finding agreement in everything that we do as husband and wife."
Wedding Vows for Him
"I promise to be your faithful husband. I promise to love you when the sun shines, when the rain falls, in sickness, and in health. When you look at this ring, think of me and remember that I love you always.
"You know me better than anyone in world and you still love me - for that I will never be able to thank you enough. I am a better person because of you and I will try to be worthy of your love. I promise to be the man that I see now in your eyes, today, tomorrow, and for the rest of our lives. I love you."
"I promise to try to be worthy of your love in every way, to climb mountains and swim oceans just to be by your side. I will be honest, caring, patient, forgiving and loyal. You fill my life with meaning. Thank you for taking me as I am, loving me, and welcoming me into your heart. I promise to always love you, respect you, and to be faithful to you forever. I can't wait to spend the rest of my life with you."
"When you met me, I was lost. I didn't know who I was or what I wanted, but you took my hand gently and made me the man I am today. I pledge to build the most beautiful future with you. I promise to love you, respect you, always be kind to you, and never give you any reason to doubt me. I will support you, be patient with you, and help you achieve your dreams - just as you've done for me. With this ring, I promise to share my life with you until the day we die. Whether times are good or hard, I'll be here. I will hold your hand gently and look forward to all the tomorrows ahead of us.
Wedding Vows for Her
"As your wife, I promise you this,
To love and fall more in love with you each day.
To cherish every moment we have together.
To respect and honour you for the rest of my life.
To be open and honest with you.
To support you in all your heart's desires.
To follow you wherever you may go.
To make God the centre of our marriage and to push us into the things he has for us.
To be faithful to you for the rest of my days."
_______________________
"You came into my life when I wasn't looking for anyone and opened my heart in ways I never expected. I was given a second chance at happiness with you and I am eternally grateful for your love. I vow to be your loving and devoted wife, without judgement, without scorn, but always with an open heart and mind.
"I vow to be patient and humble and try my best to let you win an argument sometimes. I will communicate with you fiercely and fully and let you know how much I love you every day. To me, you are a miracle and because of you, I laughed again. I can't wait to spend the rest of my life with you and stand by your side as we see what life has in store for you. You are my equal in all things, my partner-in-crime, and my entire future.
_______________________
"There hasn't been a day since we met where I didn't want to know everything about you. On our first date, I thought I'd nearly scared you away by interrogating you about your passions, your fears, what keeps you up at night, and what gets you up in the morning. You are eternally fascinating to me and I love everything I know about you now.
"As we become husband/wife and wife and take on everything that comes with it, we will continue to learn together and I know that will love you more and more. Your sense of humour, your compassion, your ability to see the good in every situation - that is what makes you unique and wonderful and I promise to never hold back your light.
"With love and trust and constant fascination, we will continue to make each other shine. One lifetime isn't enough for all the love I have for you, but I will do my best every single day."
READ MORE: 21 Romantic Ways to Surprise Your Partner on Your Wedding Day
Popular Poems for Wedding Vows
If you're writing your own vows, why not use a favourite poem? Sometimes you'll read or hear something and it will perfectly sum up exactly how you feel in even better words than you could ever find. We've got lots of romantic poems to choose from. Here are a few of our favourites to get you started:
Eskimo Love Song
"You are my husband/wife
My feet shall run because of you
My feet dance because of you
My heart shall beat because of you
My eyes see because of you
My mind thinks because of you
And I shall love because of you."
Anon
_______________________
'Grow Old With You' from The Wedding Singer
"I wanna make you smile whenever you're sad
Carry you around when your arthritis is bad
All I wanna do is grow old with you
I'll get your medicine when your tummy aches
Build you a fire if the furnace breaks
Oh, it could be so nice, growing old with you
I'll miss you
Kiss you
Give you my coat when you are cold
Need you
Feed you
Even let you hold the remote control
So let me do the dishes in our kitchen sink
Put you to bed when you've had too much to drink
Oh, I could be the man who grows old with you
I wanna grow old with you."
Robbie Hart (AKA Adam Sandler)
_______________________
Lover's Knot for Chloe and Malcolm
"From this day forwards
we'll push the boat out, let it body us,
take us to a place as much mine as yours,
past the double oxbow
where the blossoms fall, and together
we'll learn the ropes: how to pull you in,
how to let you go; let you be as you are,
and break the wave of my known world.
In a covenant of above and below,
may we be confluent with each changing tide;
our partnership both the anchor and the flow
for all the days of our lives."
Rachael Boast
_______________________
Vow: The Simplest, Hardest and the Truest Thing
"One: We live in love, so finally are come today
(beyond the gladrags and the sweet bouquet,
beyond cake or ring or all this fuss)
to this, the simplest and the truest thing for us.

Other: If you can say, my love – and hand on heart –
I will love you until death do us part –

One: – Hand on heart,
I will love you till death do us part.

Other: Then look me in my eyes – and now!
and here! – this kiss we kiss shall be our vow."
Liz Lochhead
_______________________
Vow
"I vow to honour the commitment made this day
Which, unlike the flowers and the cake,
Will not wither or decay. A promise, not to obey
But to respond joyfully, to forgive and to console,
For once incomplete, we now are whole.
I vow to bear in mind that if, at times
Things seem to go from bad to worse,
They also go from bad to better.
The lost purse is handed in, the letter
Contains wonderful news. Trains run on time,
Hurricanes run out of breath, floods subside,
And toast lands jam-side up.
And with this ring, my final vow:
To recall, whatever the future may bring,
The love I feel for you now."
Roger McGough
_______________________
A Vow
"I cannot promise never to be angry;
I cannot promise always to be kind.
You know what you are taking on, my darling –
It's only at the start that love is blind.
And yet I'm still the one you want to be with
And you're the one for me – of that I'm sure.
You are my closest friend, my favourite person,
The lover and the home I've waited for.
I cannot promise that I will deserve you
From this day on. I hope to pass that test.
I love you and I want to make you happy.
I promise I will do my very best."
Wendy Cope
_______________________
"Partner 1: In your eyes, I have found my home.
In your heart, I have found my love.
In your soul, I have found my mate.
With you, I am whole, full, alive.
You make me laugh.
You let me cry.
You are my breath, my every heartbeat.
I am yours.
You are mine.
Of this we are certain.
You are lodged in my heart.
The small key is lost.
You must stay there forever.
Partner 2: You are my inspiration and my soul's fire.
You are the magic of my days.
You help me laugh, you teach me love.
You provide a safe place for me, unlike I've ever known.
You free me to sing my own song.
You are more of an amazement to me, each day I rediscover you.
You are my greatest boon.
I am yours.
You are mine.
Of this we are certain.
You are lodged in my heart.
The small key is lost.
You must stay there forever."
(From Frau Ava, translated by Willis Barnstone)
READ MORE: Everything You Need to Know About Registry Office Weddings
Wedding Vow Advice From Professional Vow Writers
Eric Shapiro of Ghostwriters Central recommends not going too formal, "It's natural to make your vows elegant and classy, but it's better to speak in your own voice than to try for a Shakespearean approach.
"Remember that you're addressing your partner and guests at the same time. It's a public and private moment in one. So don't go too intimate, and avoid using too many inside jokes. At the same time, don't make it a performance for the audience. Speak mainly to your partner, but let the onlookers know that your vows are for real."
Angie and Alicia from vowmuse.com advise getting lots of ideas down to choose from, "Write down, in no particular order, reasons why she is great, the moment you knew he was the one, your first date on that Ferris wheel, that goofy story that she always tells about you, and that amazing casserole that he makes. Just write down things you love about your partner, which, summed up, are a good chunk of the reasons why you're getting married. After you have a whole list of stuff, start to organise it and flag things that are more important than others. Remember to also write down a variety of things you actually want to promise to your beloved – a few statements of heartfelt, loving promises is often what makes a set of wedding vows unique and special.
"If you can, try to coordinate with your beloved to ensure that you guys are creating vows of approximately the same length. Make sure to read the words out loud to yourself to see if there are any phrases you're stumbling over, or if there are any parts that could read better. Once you're reasonably happy with the draft, find a trusted friend to read the vows out loud to. This will help you practice the words, but also allow some relatively objective feedback that could help you further improve the text."
READ MORE: The Best Lines from Children's Books for Your Wedding
Want to run your own vows past a friendly audience? Why not post them in our forum and ask for people's opinions? If your vows are for a renewal then take a look at some advice for renewing your wedding vows.