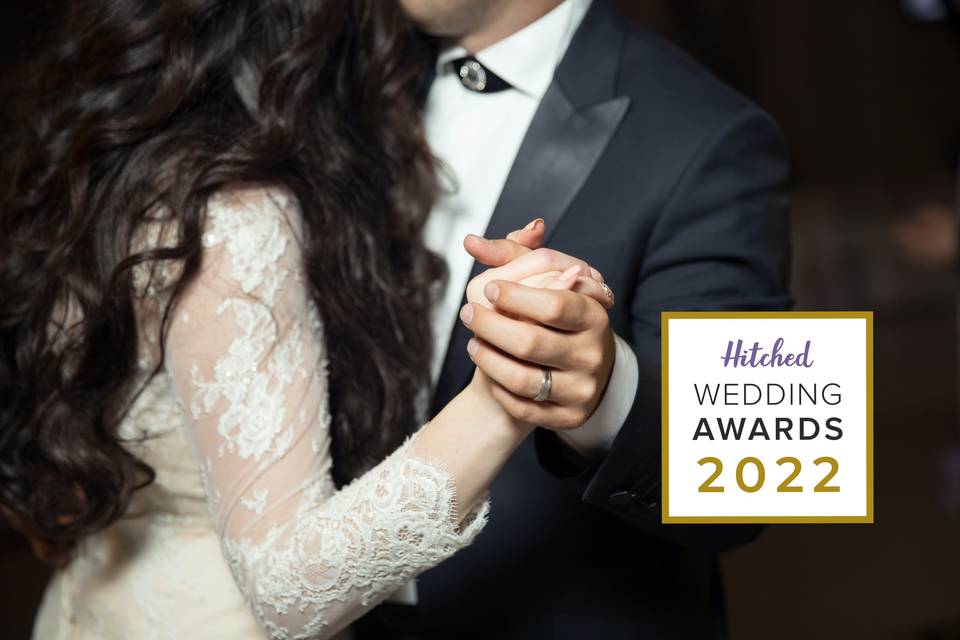 We're so excited to introduce to you the Hitched Wedding Awards!
Decided entirely by Hitched couples, the Hitched Wedding Awards recognises and rewards wedding businesses that have gone above and beyond to provide outstanding customer service during 2021.
The winners of the Hitched Wedding Awards will be decided by thousands of Hitched wedding planning couples. From talented wedding photographers and creative florists to stunning venues and brilliant DJs, the Wedding Awards is open to all Hitched vendors.
How Do the Wedding Awards Work?
The Hitched Wedding Awards will be based entirely on reviews left on your Hitched listing by your couples in 2021. To be eligible for the Hitched Wedding Awards 2022, vendors must have a minimum of three reviews left on their Hitched listing between 1st January 2021 and 31st December 2021.
Only those wedding businesses with the most reviews and best rated by couples will be crowned a winner in the Hitched Weddings Awards! Which is why now more than ever it is so important to encourage your couples to review your wedding business.
Start inviting your previous and present couples to review your wedding business now! Your clients can review your wedding businesses based on the customer service and experience they have received. You can still reach out to clients who have had a previous wedding date, or those with a future one, what's important is the year the review was left, not the wedding date.
Receiving reviews about your wedding business is becoming even more important as this is one of the first things potential couples will look at when searching for their dream wedding suppliers. We've got some handy tools to help you request reviews such as the Personalised Review URL and Review Widget Collect which can be accessed in your Admin area.
Why Should You Enter the Wedding Awards?
The Hitched Wedding Awards acknowledges the top wedding businesses across the country and represents those who have delivered the highest quality service, are trusted and dependable. All winners will be included on the Wedding Awards landing page, highlighting your wedding business to thousands of wedding planning couples. Plus, premium vendors will receive a prestigious Hitched Wedding Awards badge on your Hitched listing, making your business stand out to potential clients.
FAQs
How do I enter?
All Hitched vendors who have reviews on their listing will be automatically entered.
Who is eligible?
All Hitched vendors. To qualify for Hitched Wedding Awards, wedding professionals must have a minimum of 3 reviews on Hitched between 1st January 2021 - 31st December 2021 to be considered for the 2022 award. Collecting three reviews ensures you are eligible but does not guarantee you will win an award, as a number of other factors are considered such as quality and quantity.
I've had 3 reviews during 2021, does this mean I'm a winner?
Not necessarily. All vendors with a minimum of 3 reviews will qualify to be entered into the awards. However, only those with the most reviews and the best rated by couples will be crowned winners.
When is the closing date for review entries?
Entries close at 23:59pm on 31st December. Reviews submitted after this date will not be considered.
If I have a question regarding the awards, who should I contact?
Please contact the team at marketing@hitched.email
What happens if I win?
All Premium winners will be notified individually if they have won.
Premium winners will receive a Hitched Wedding Awards badge for their Hitched listing and marketing materials, a winners certificate along with a press release to issue to your local press. Winners will be featured on a winners landing page.
What happens if I don't win?
Only vendors who meet the scoring criteria will be crowned a winner in the Hitched Wedding Awards. These awards will be running annually, so continue collecting reviews to be in with a chance of winning next year.
When will I find out if I've won?
The winners will be announced via email in early 2022.
Are the UK Wedding Awards coming back?
The UK Wedding Awards were a collaboration between Hitched and You & Your Wedding, which has since closed. Moving forwards, we will solely be having Hitched Awards. Stay tuned for more awards to be announced throughout 2022 to celebrate the amazing work achieved across the wedding industry.
How can I get more reviews added to my listing?
There are lots of ways to maximise your listing reviews. Take a read through our top tips on how and when to ask your couples for reviews.
I didn't work on many weddings this year due to Covid, how can I get reviews?
The review must be left in 2021, however the wedding could have taken place in the previous years. We encourage you to reach out to all of your previous couples to leave you a review.
Top tip - use your personalised Hitched review collector
Do couples need to be a member of Hitched to leave me a review?
Yes! It's easy for couples to register if they aren't already a member.
What happens if I'm left a fraudulent review?
Hitched takes steps to ensure that there is a transparent process for posting and, if necessary, removing Reviews in accordance with applicable laws. For more information on our Review Policy, see our Terms of Use.
If you have questions about these policies or procedures, or believe that a review violates these policies, please contact feedback@hitched.email.
My reviews on my listing aren't in order, why is this?
Premium vendors are able to pin a review to the top of their reviews, to find out more about going premium contact emma.sedgwick@hitched.email