Hired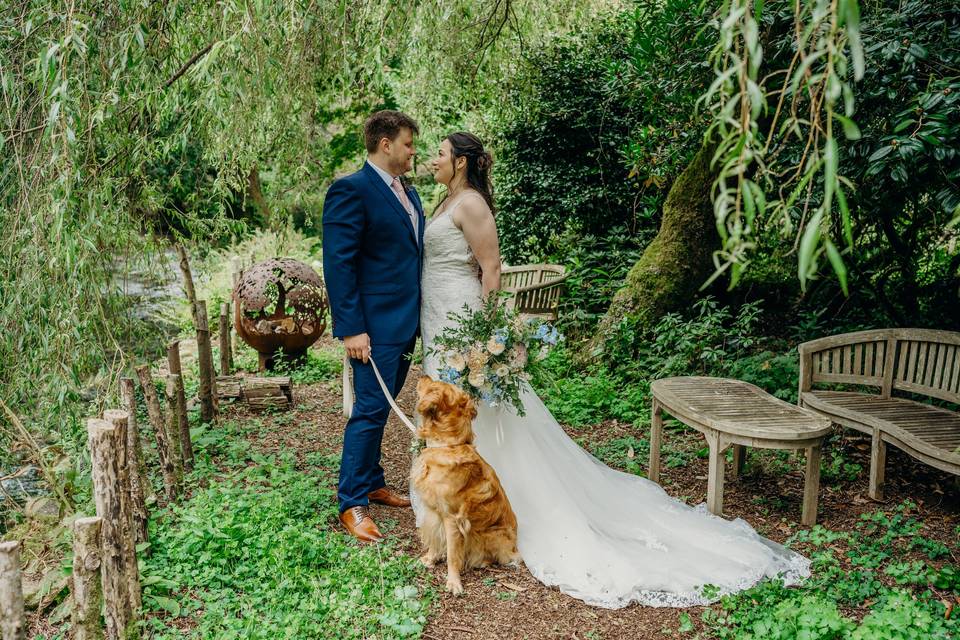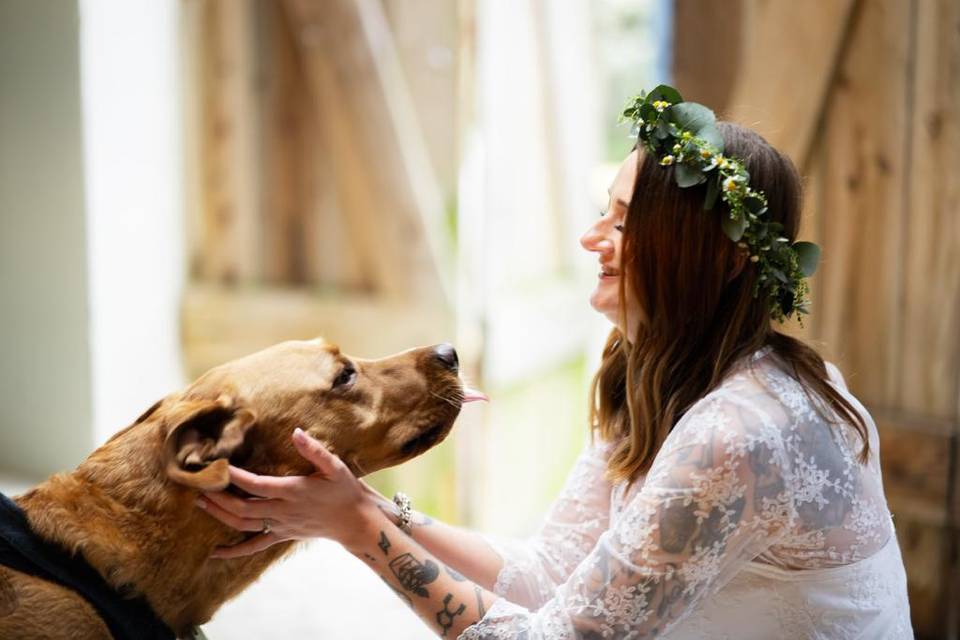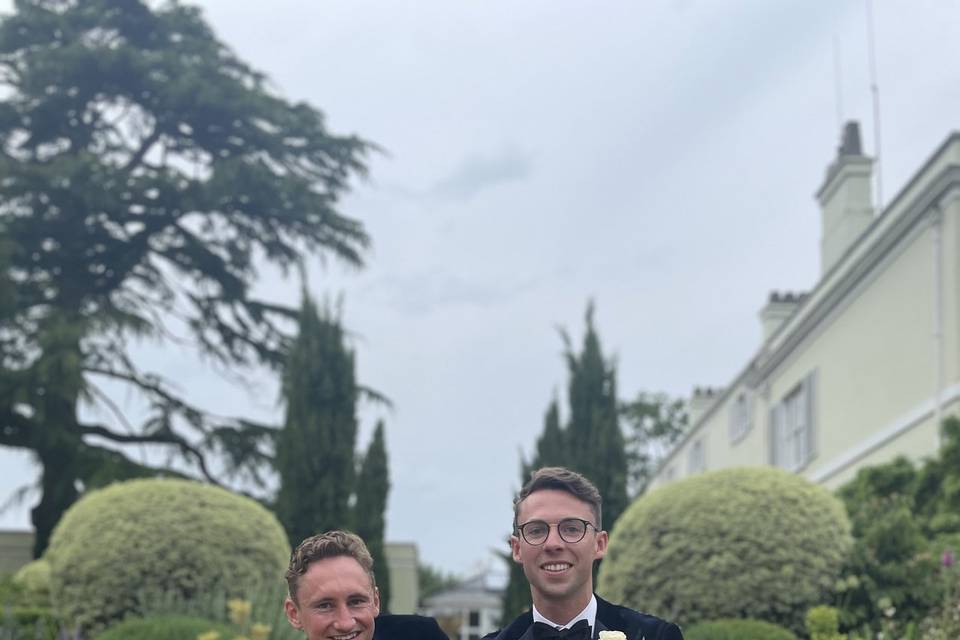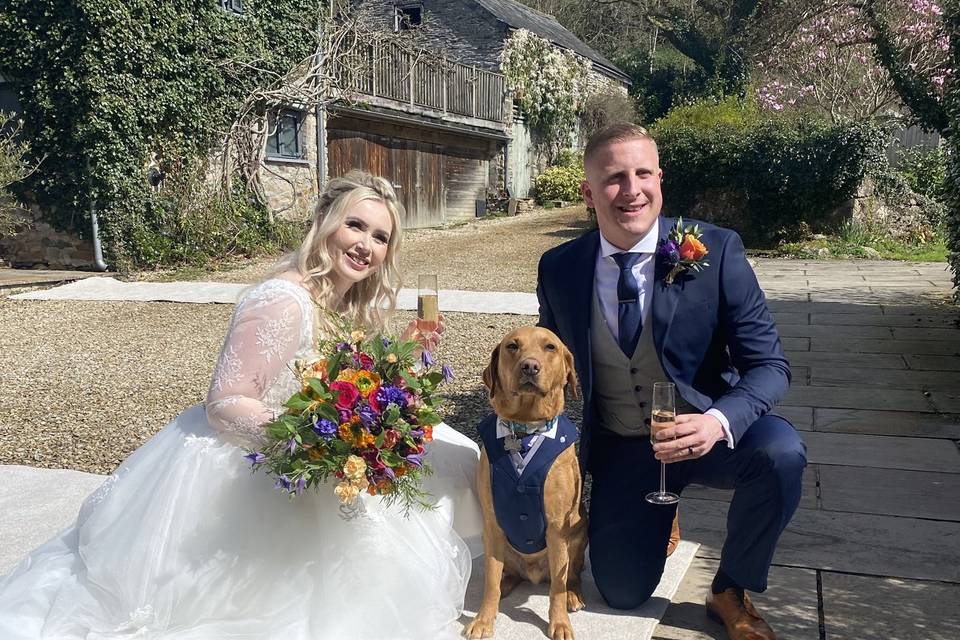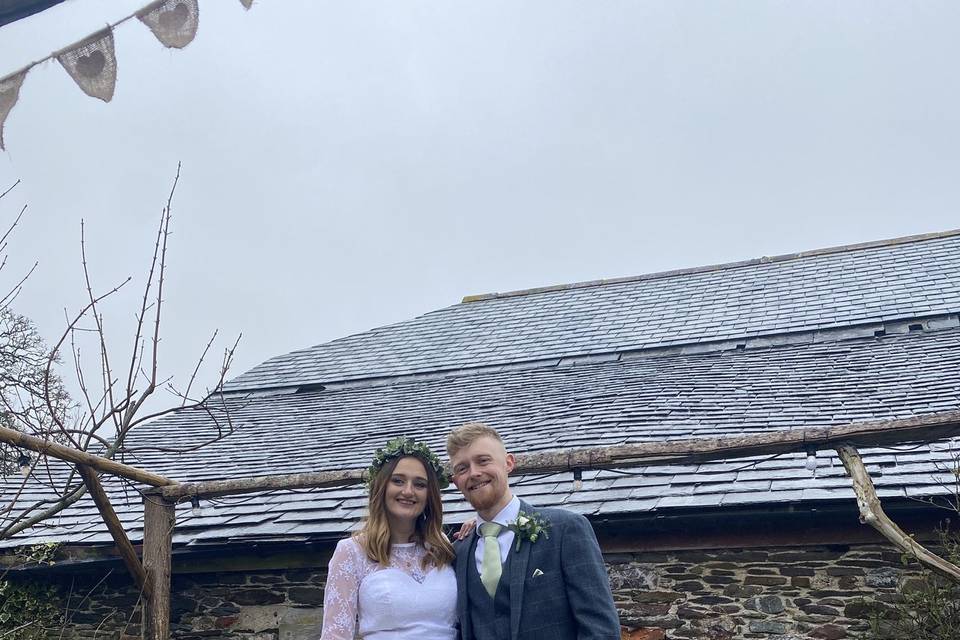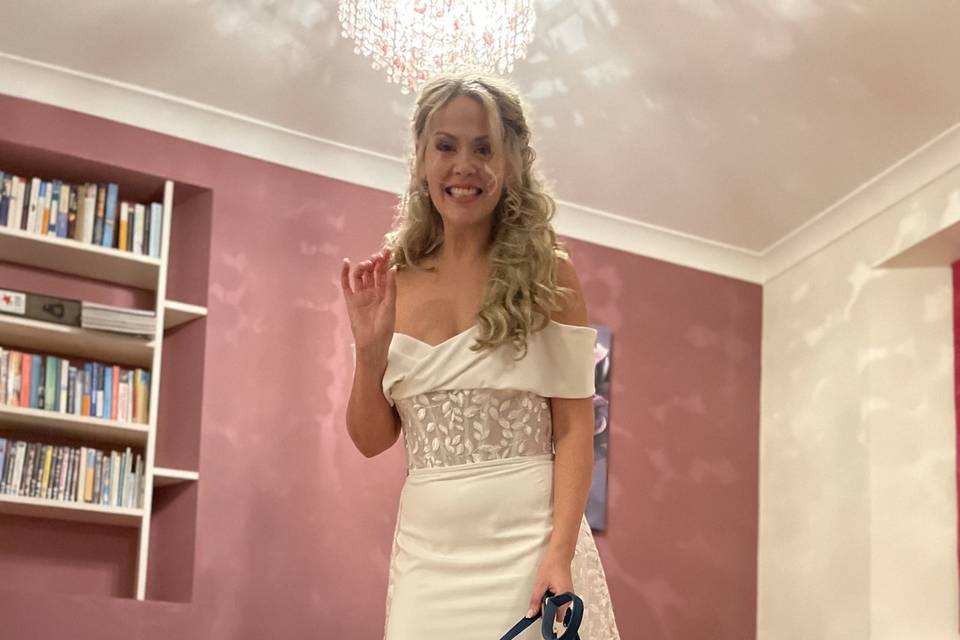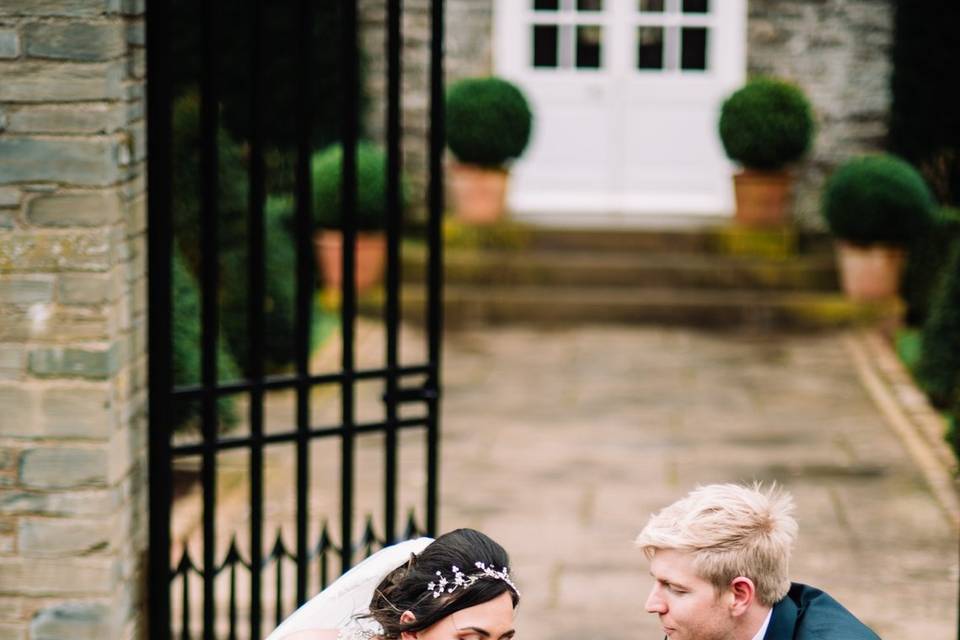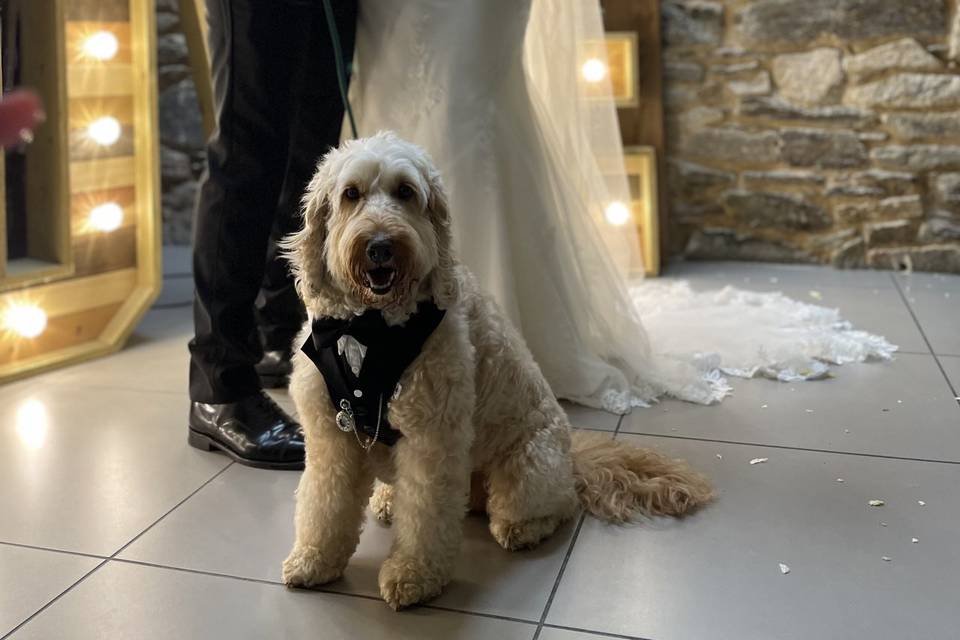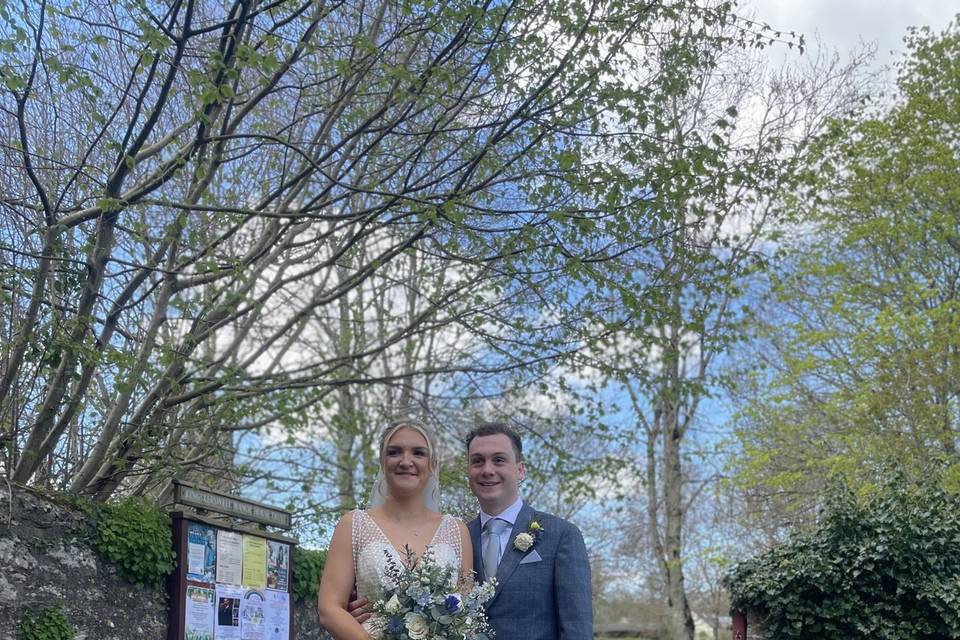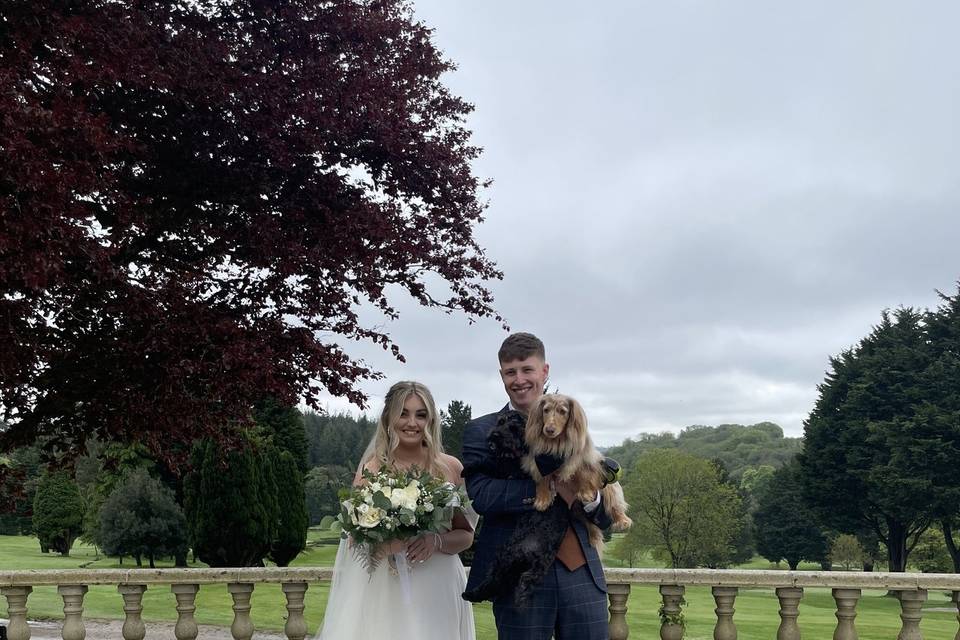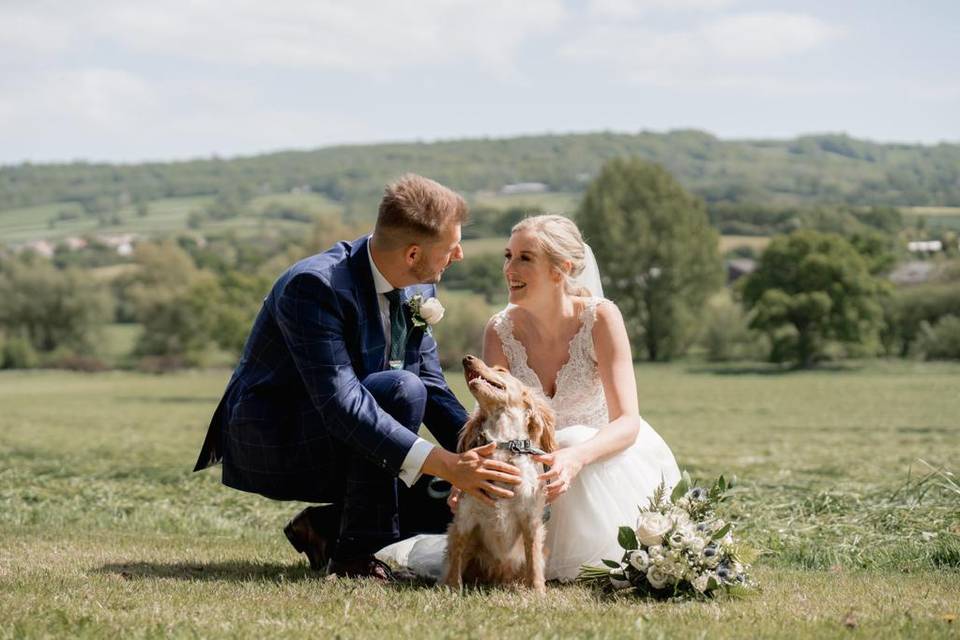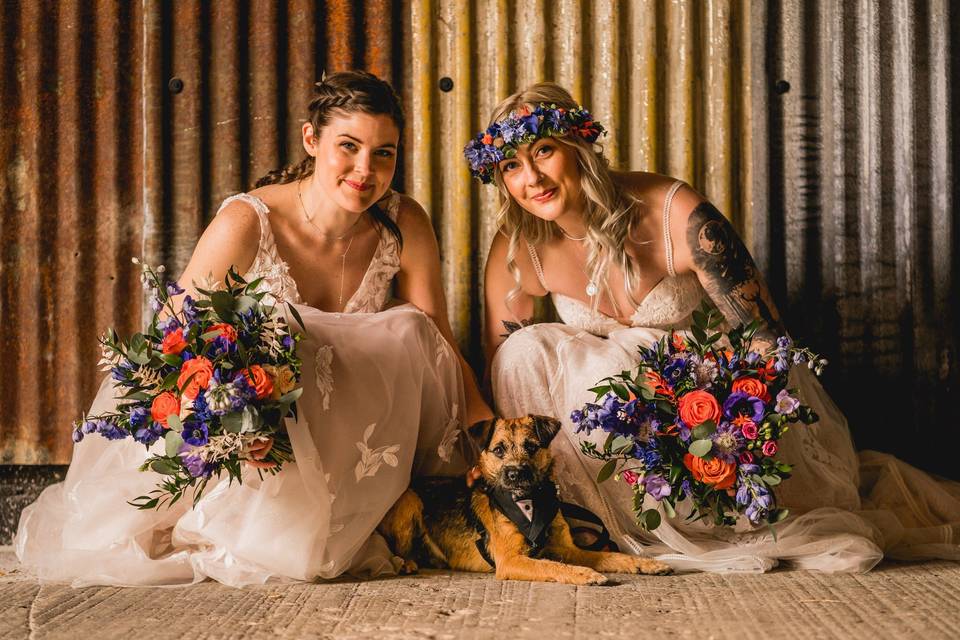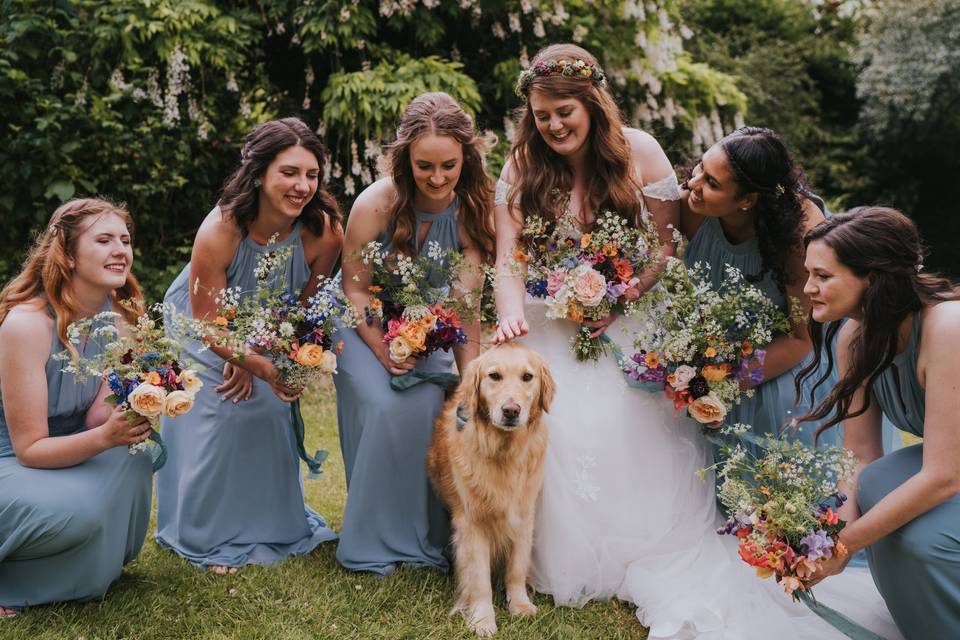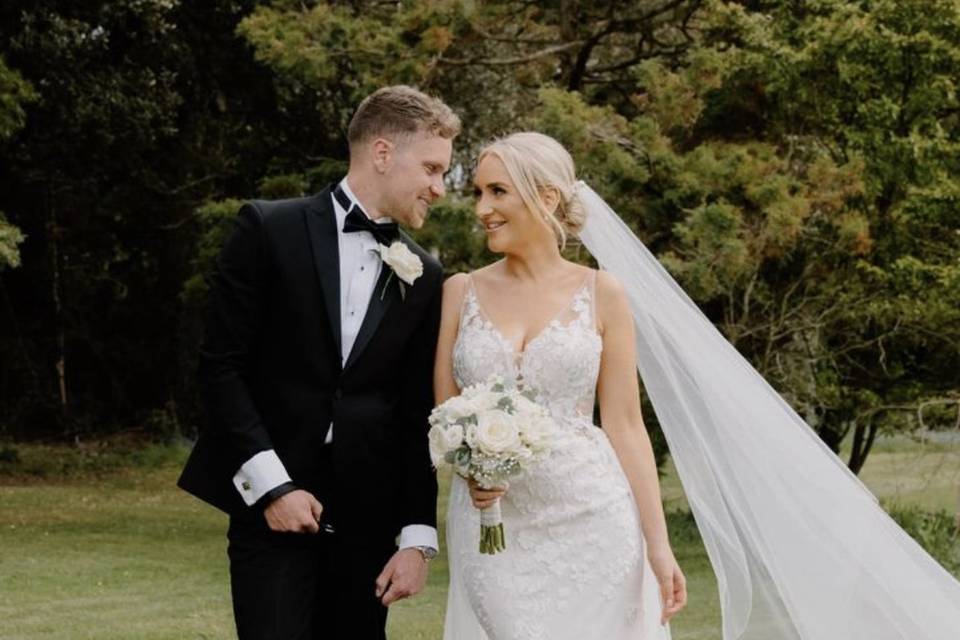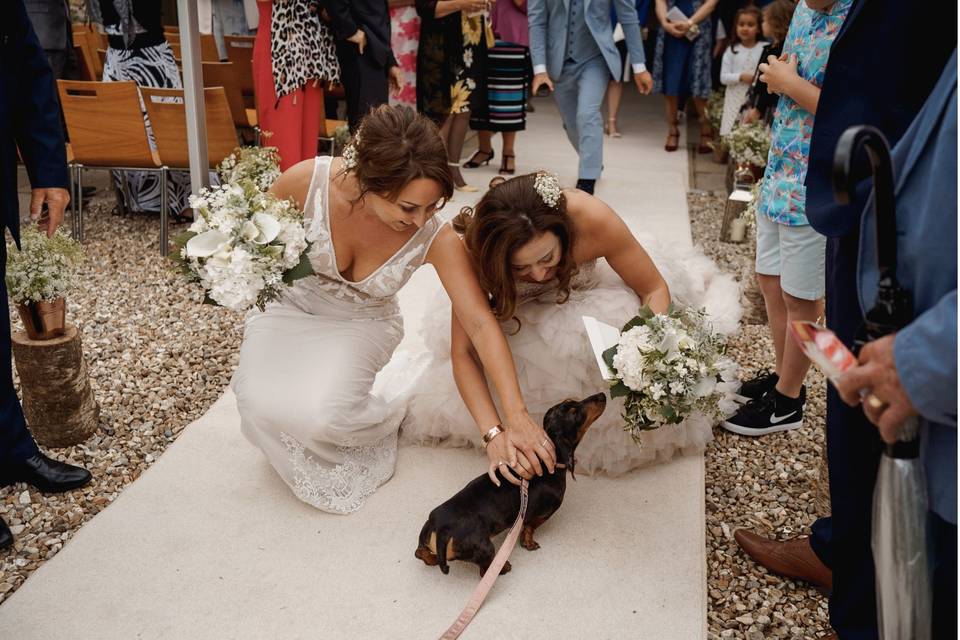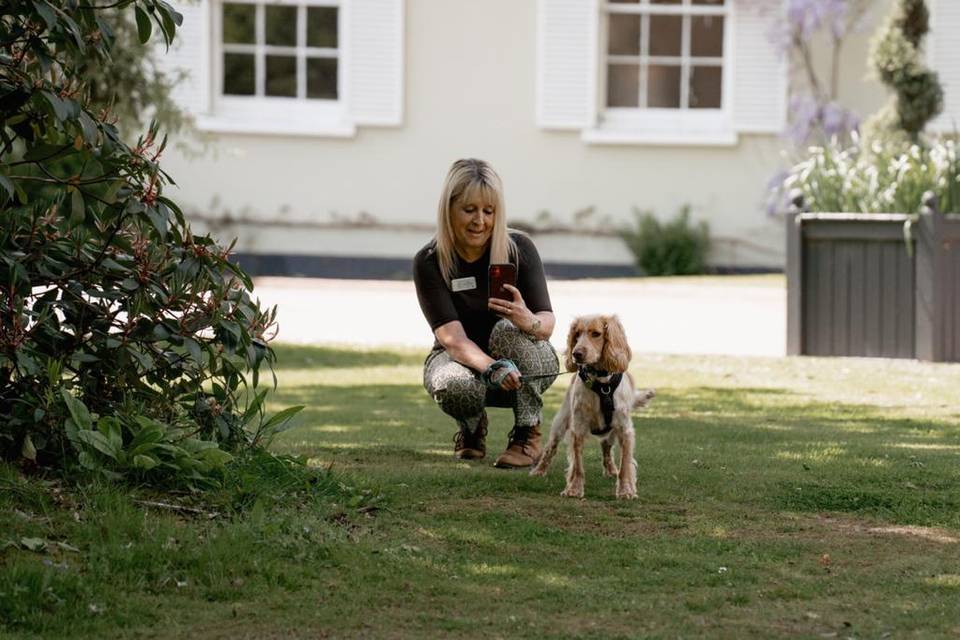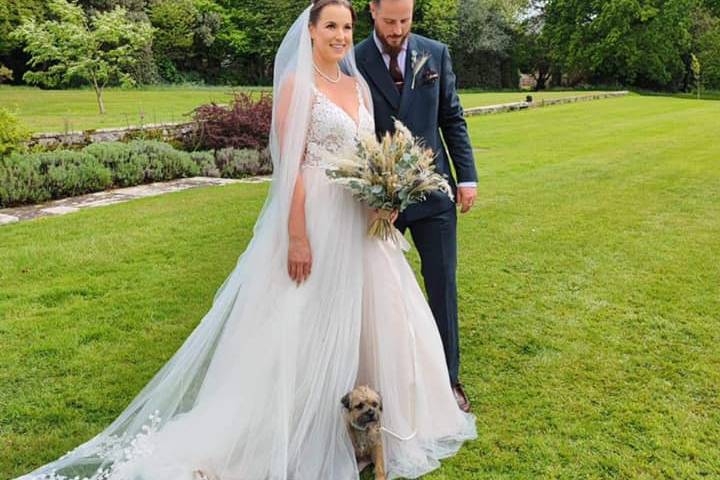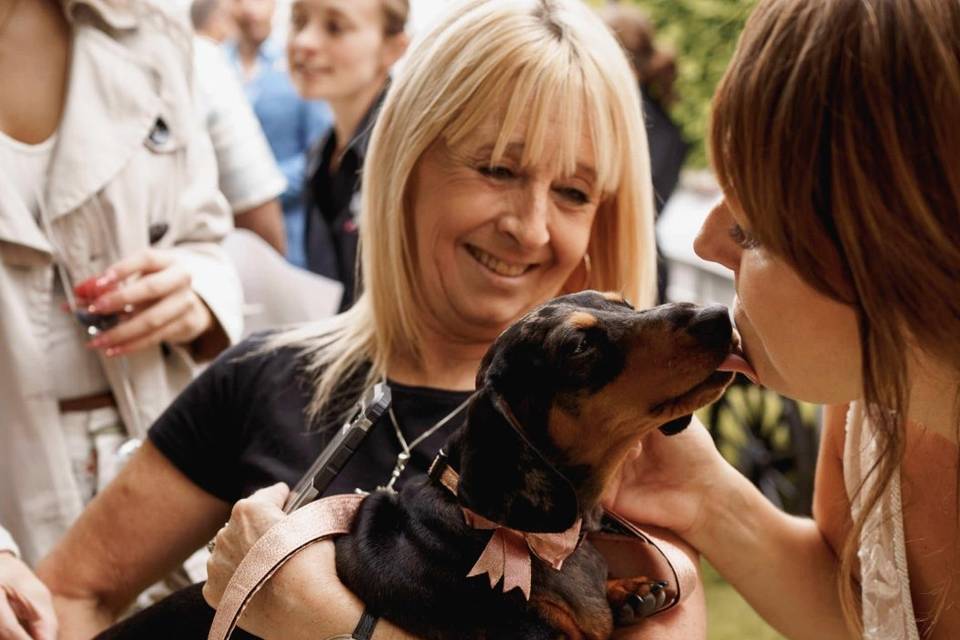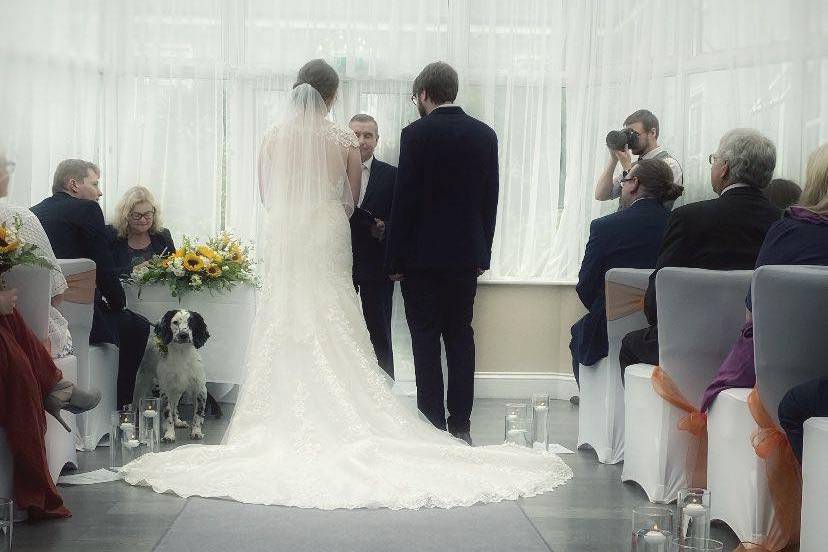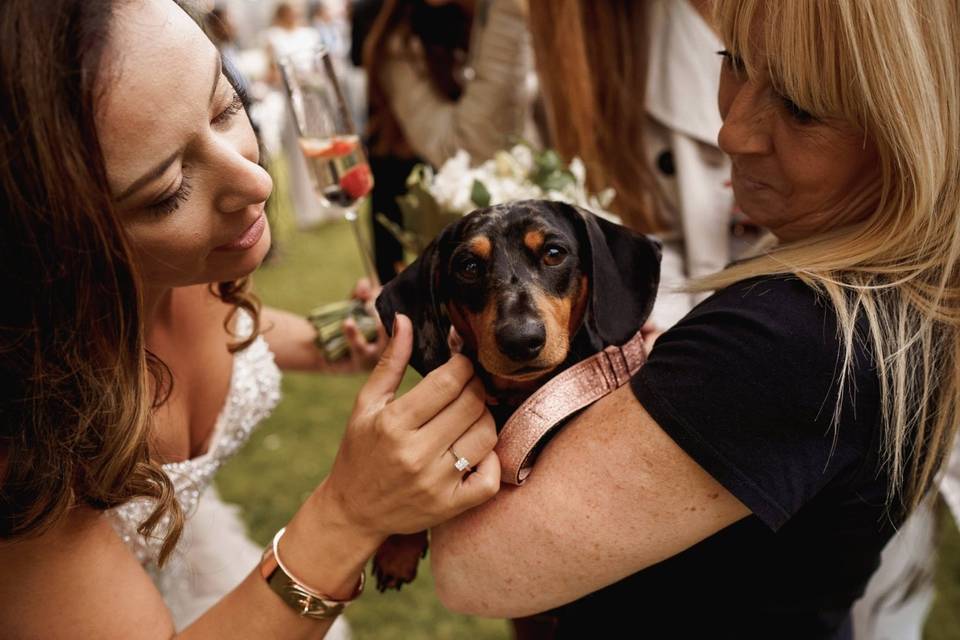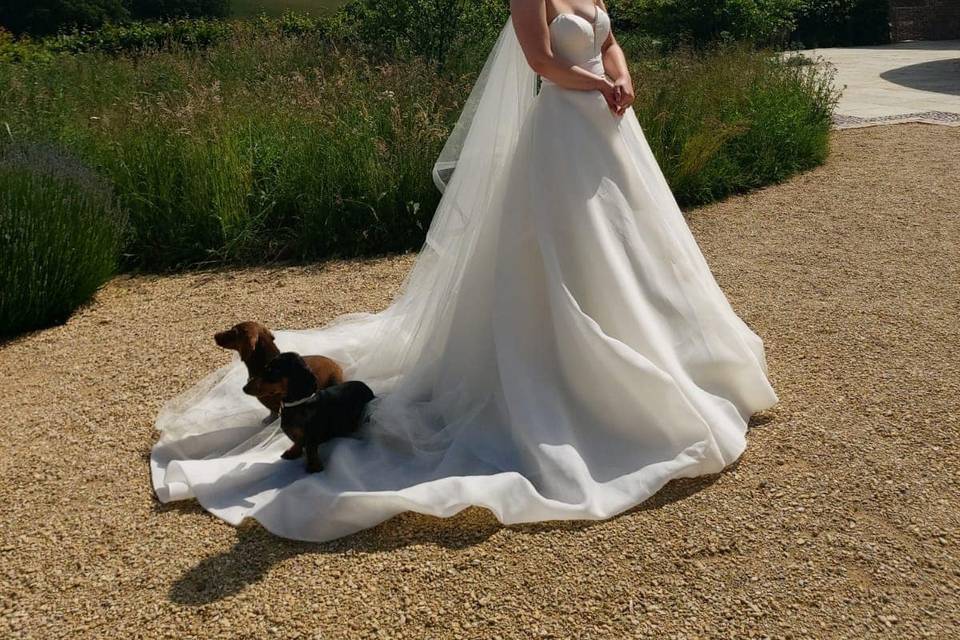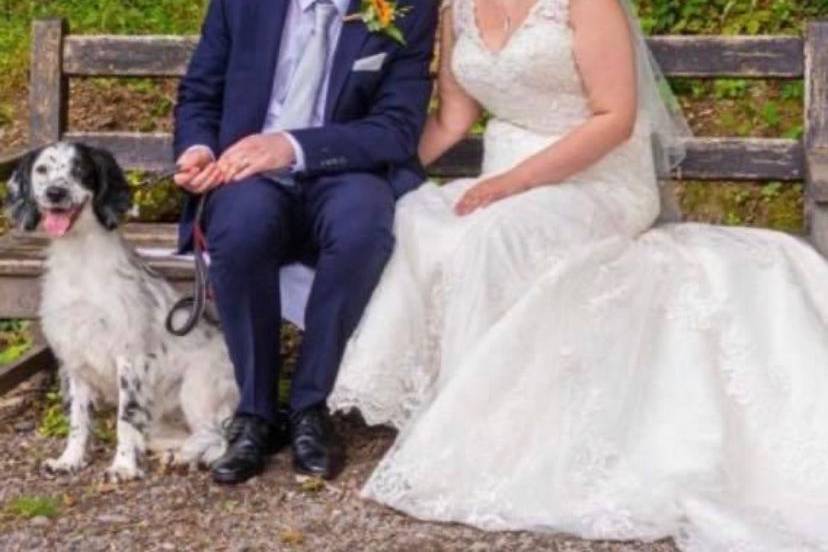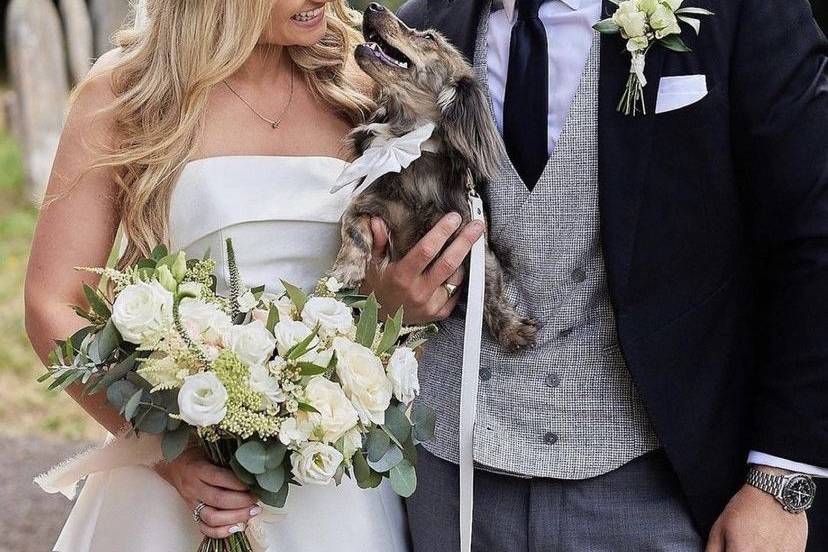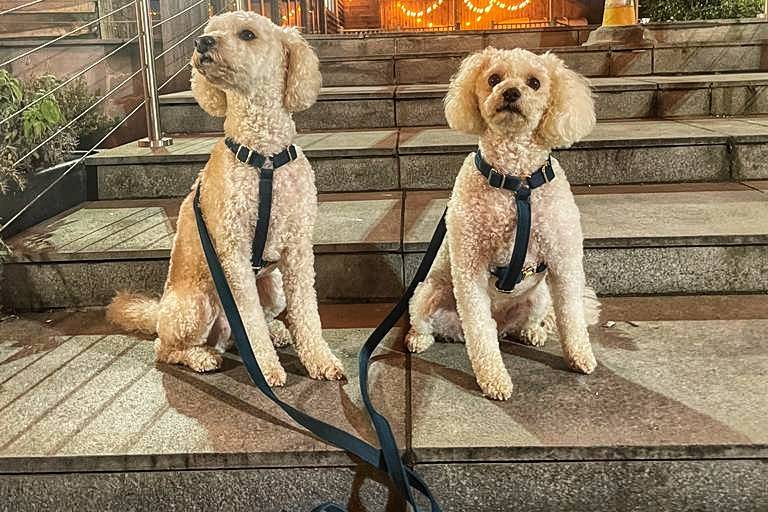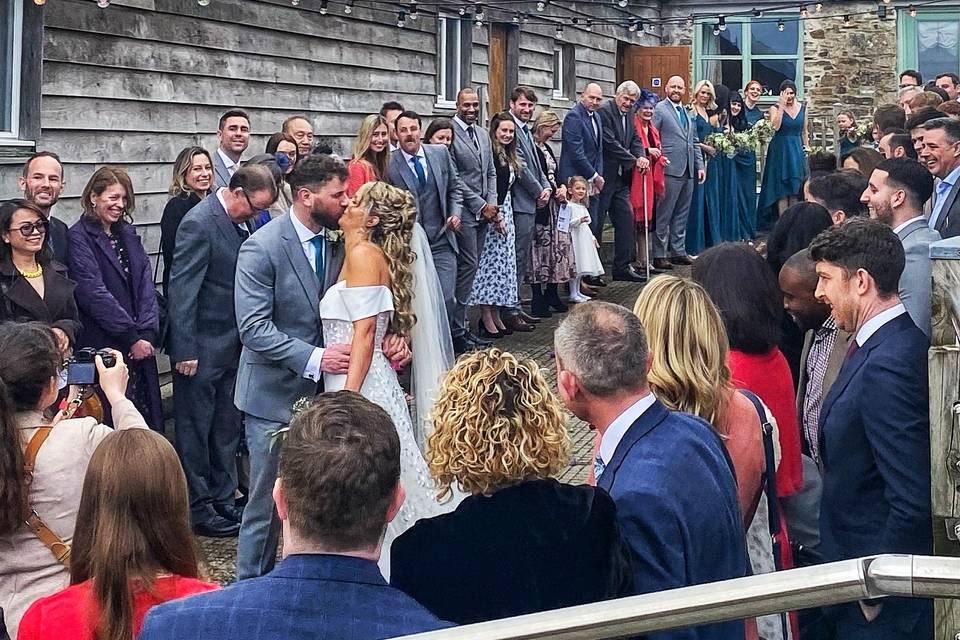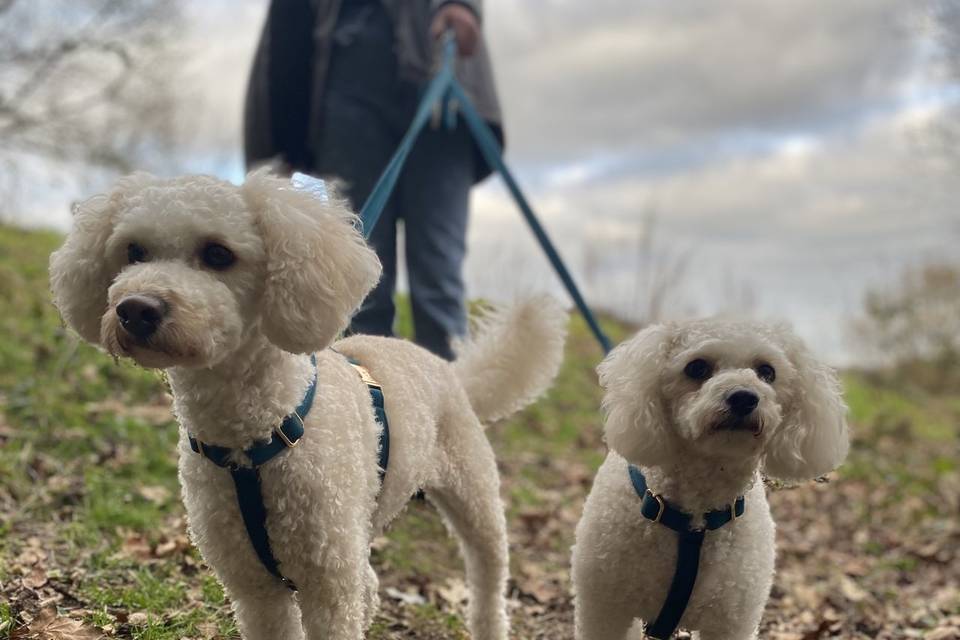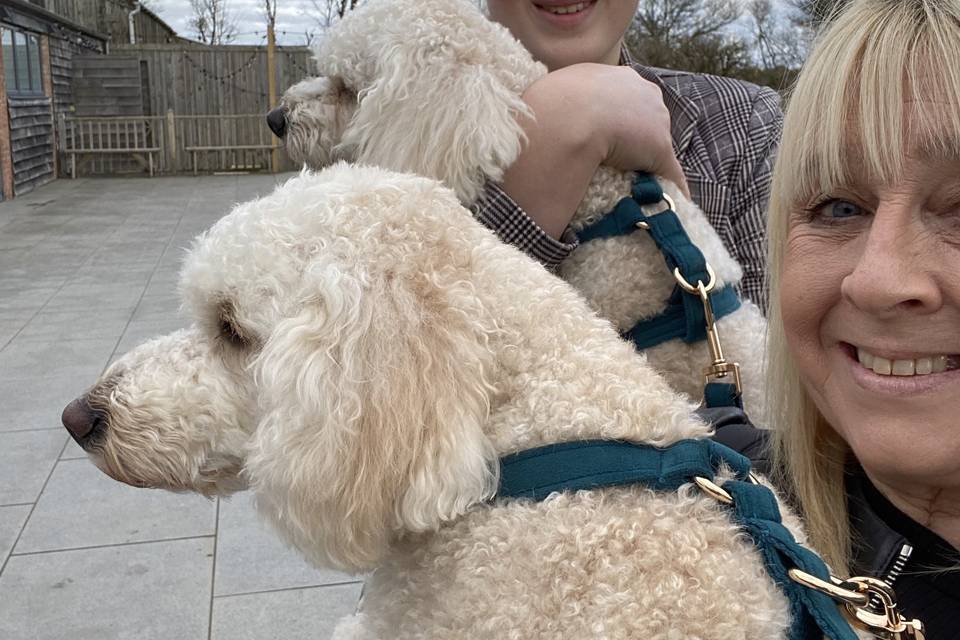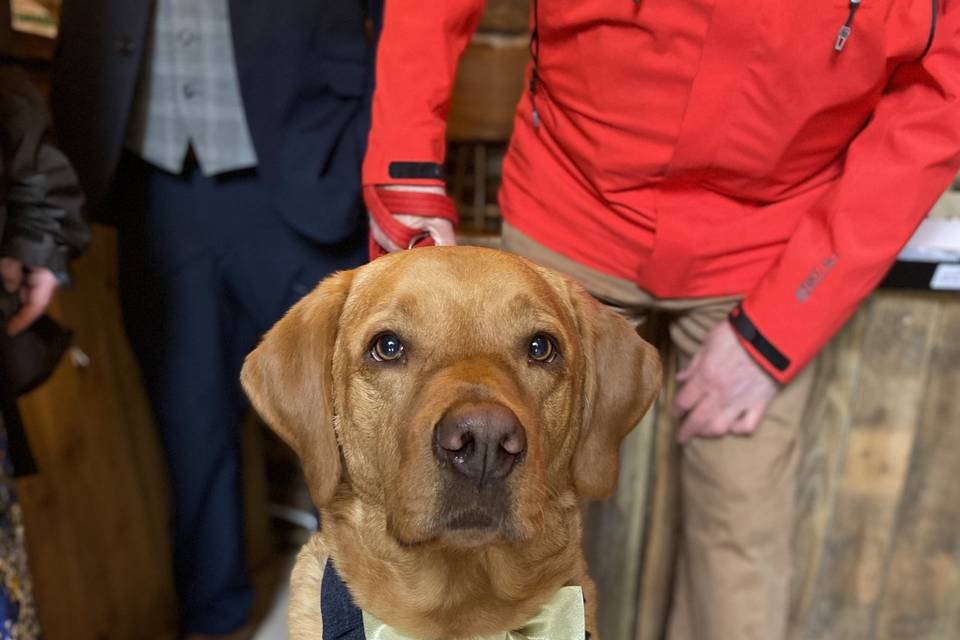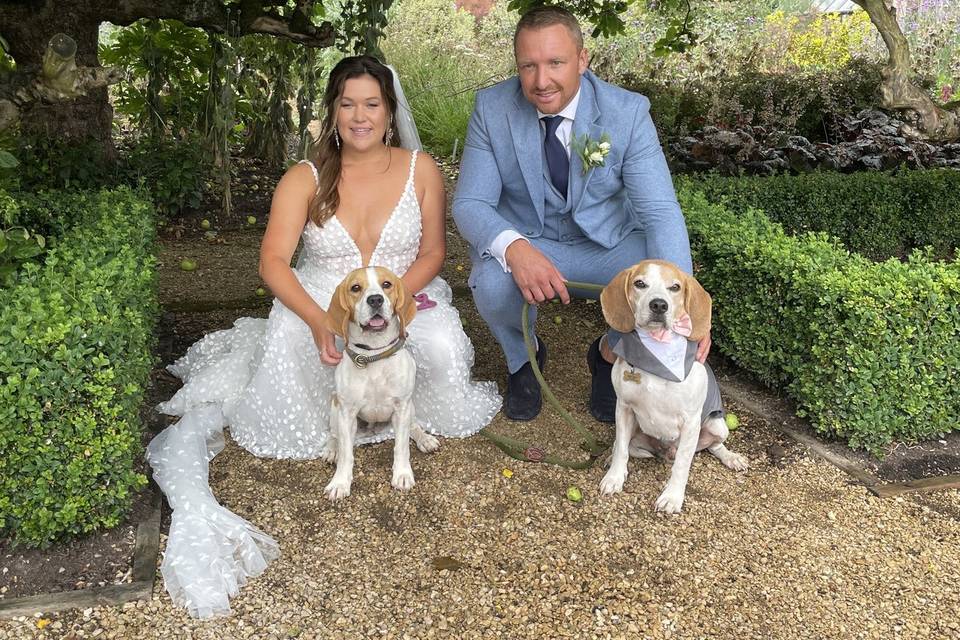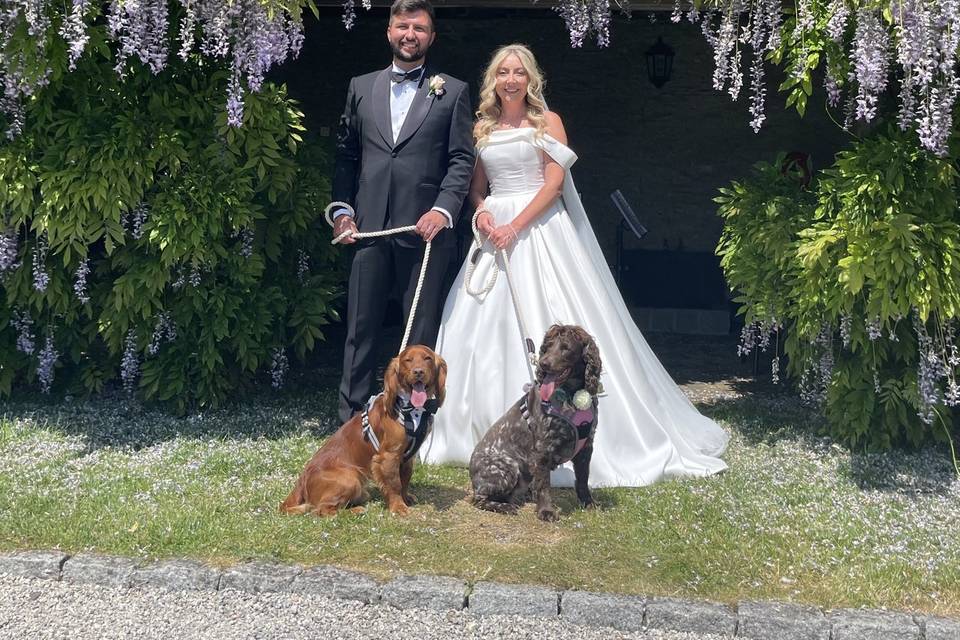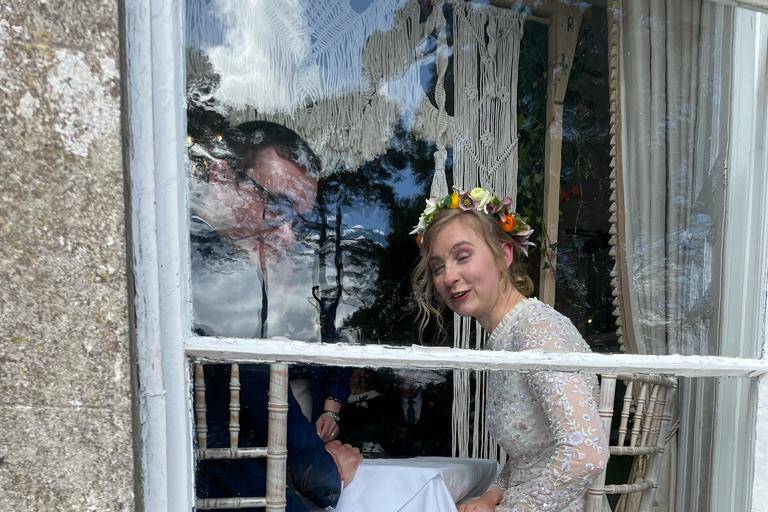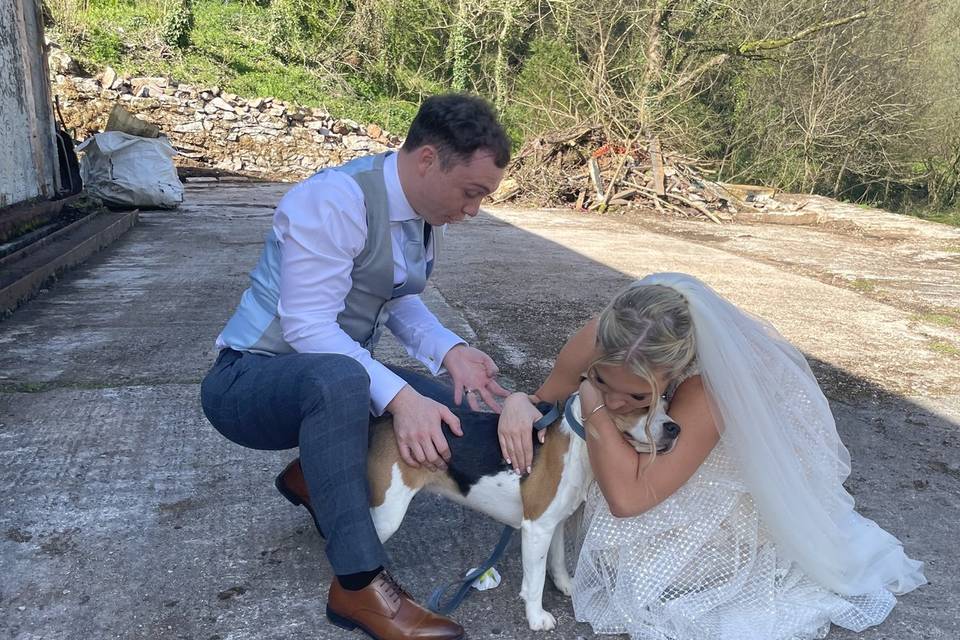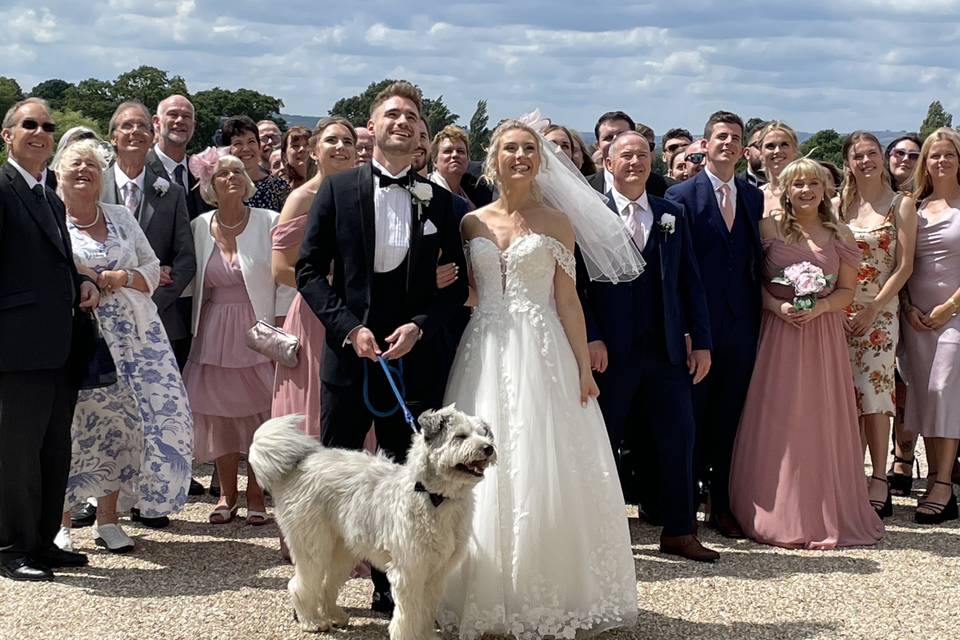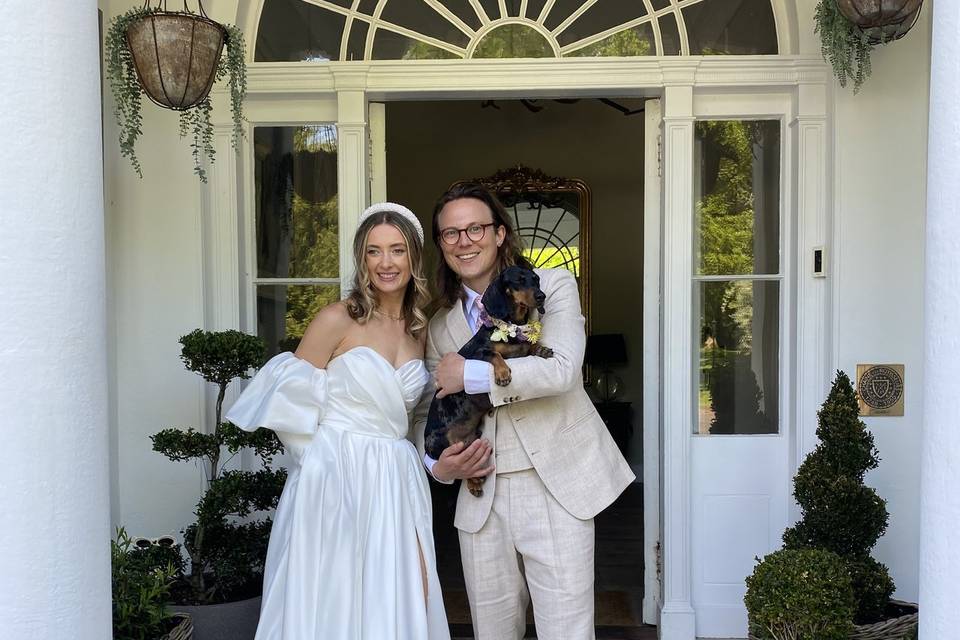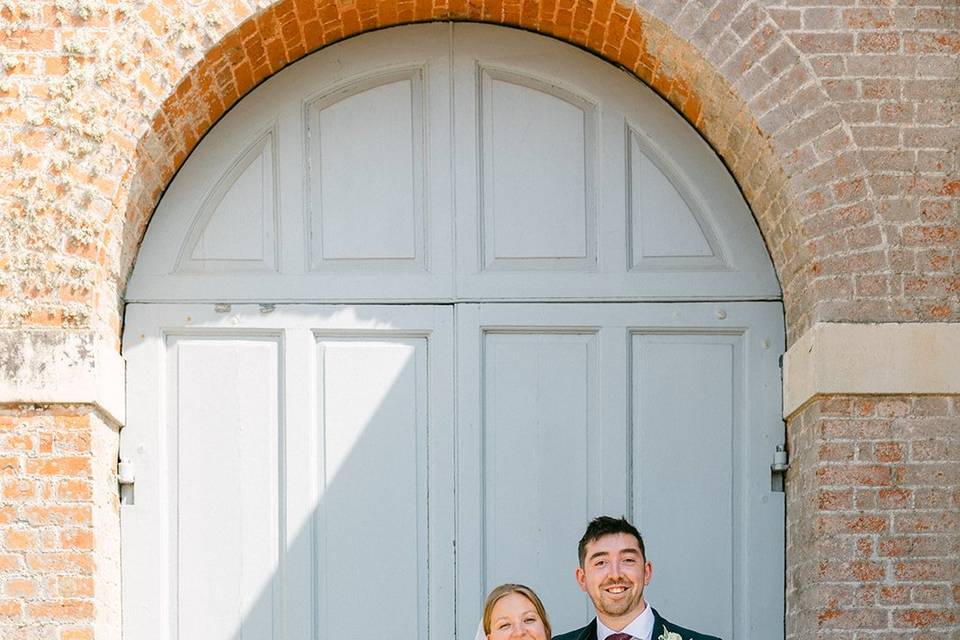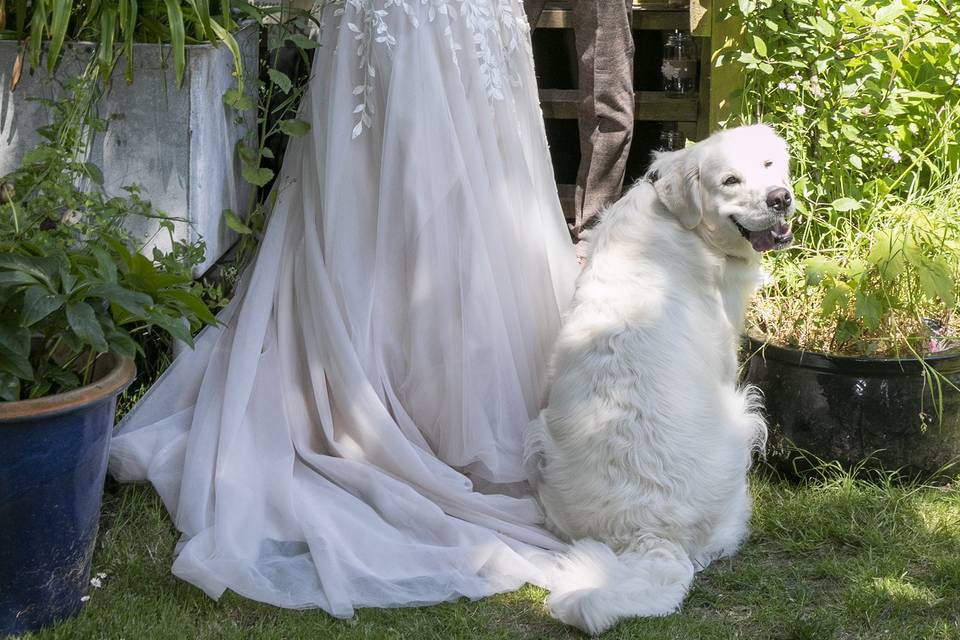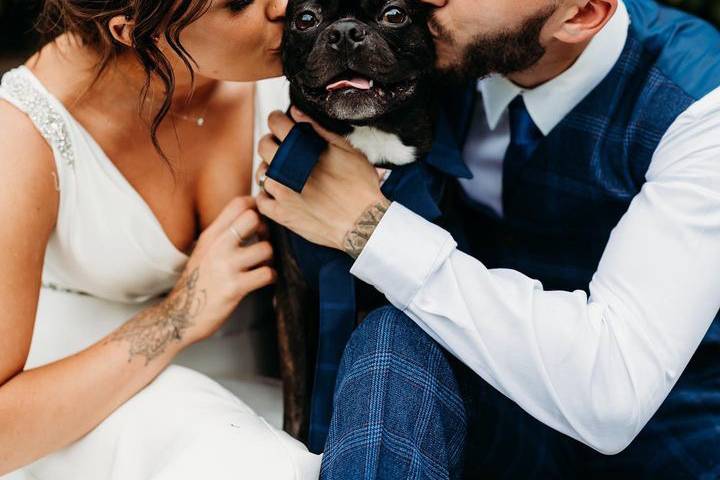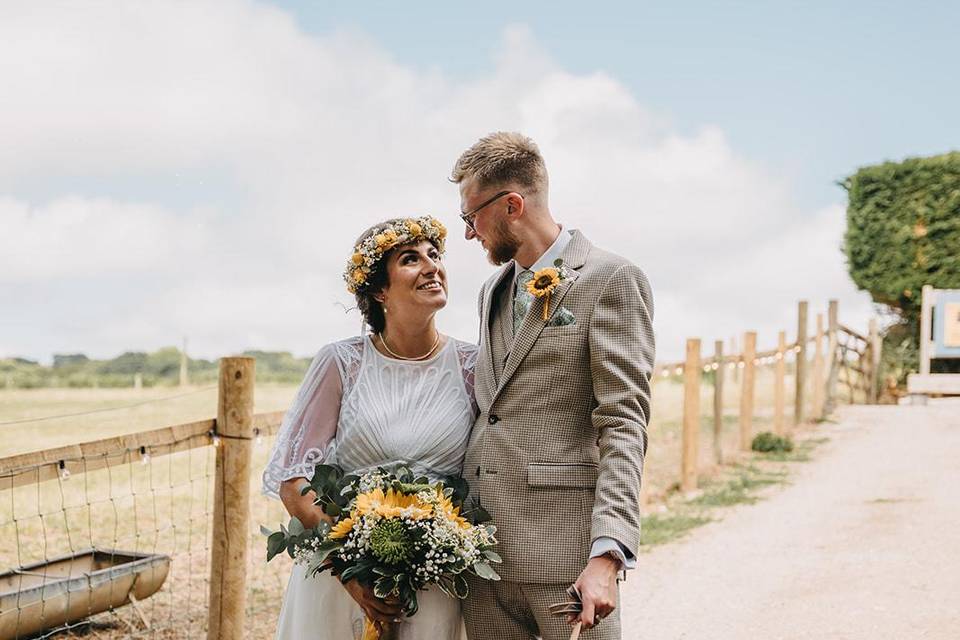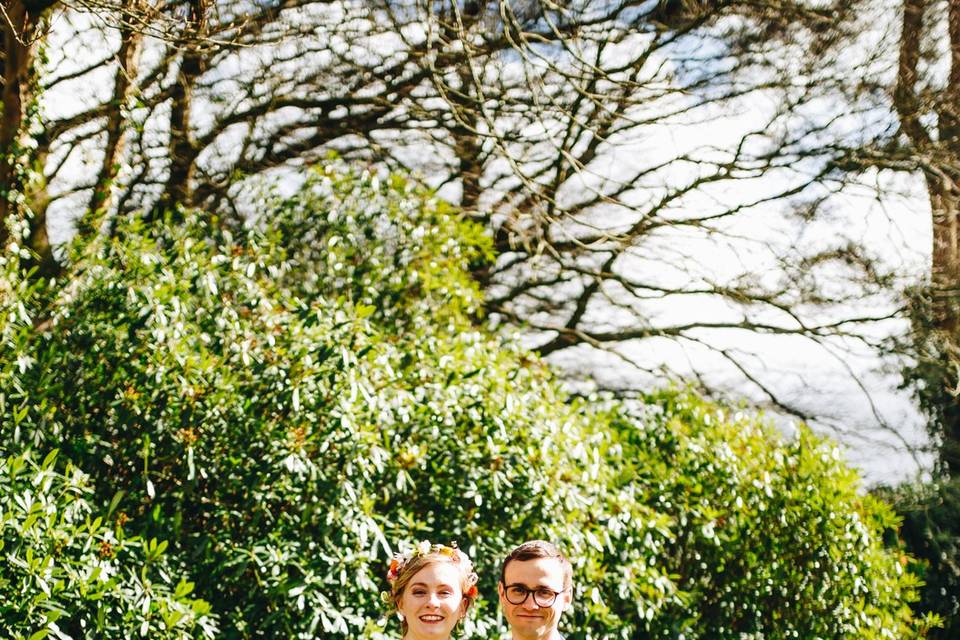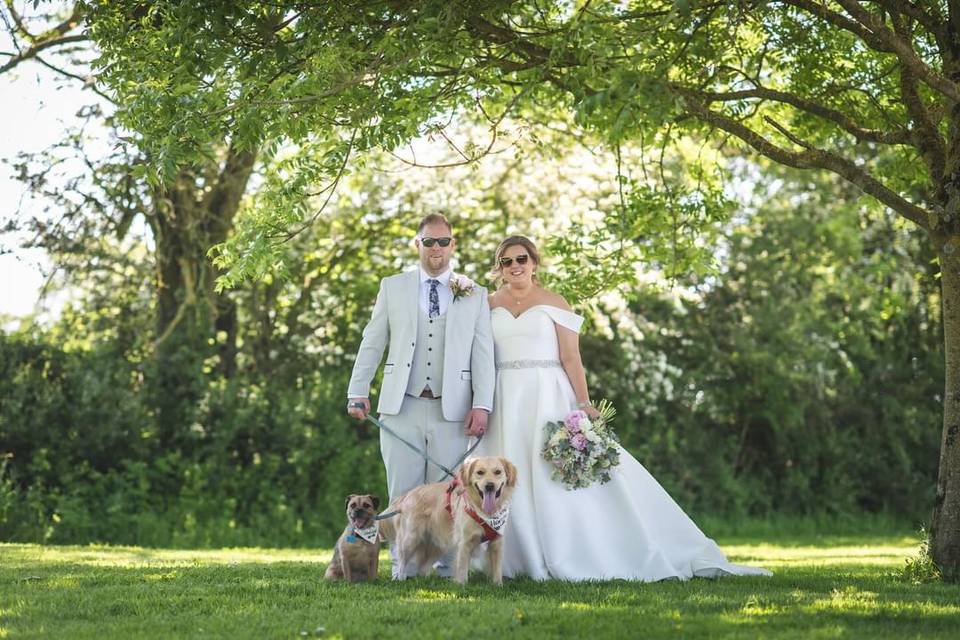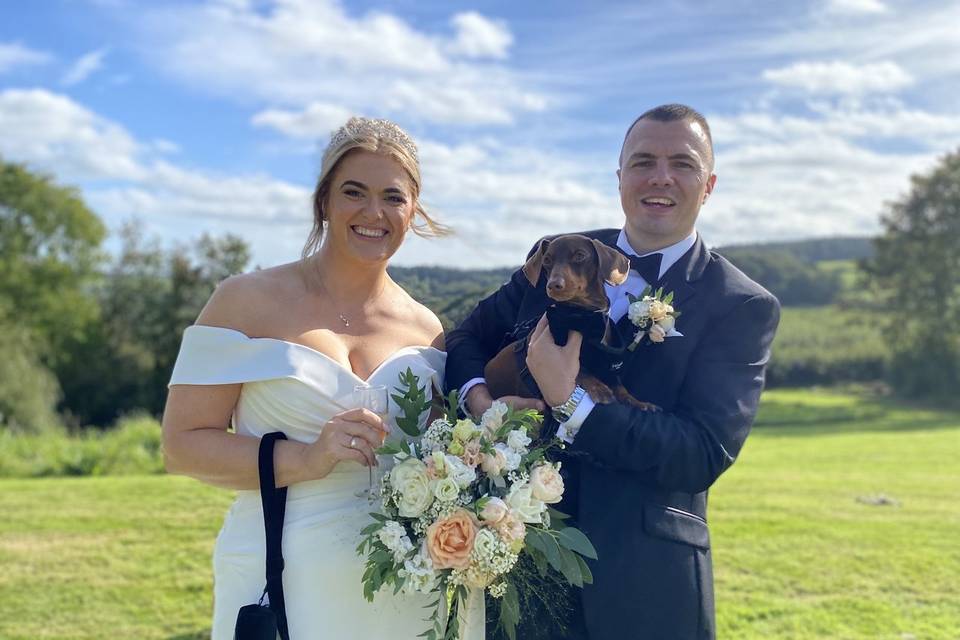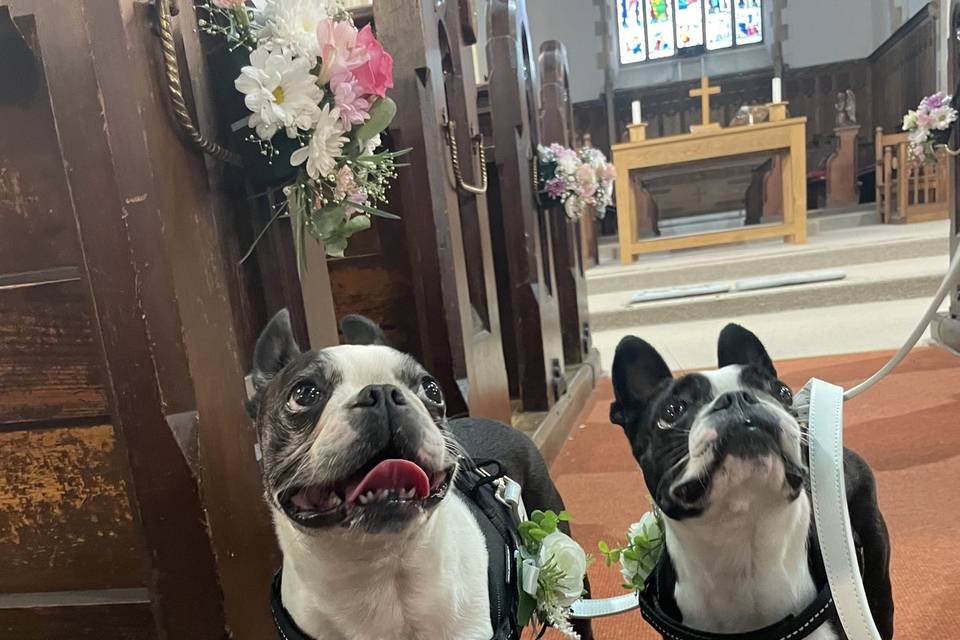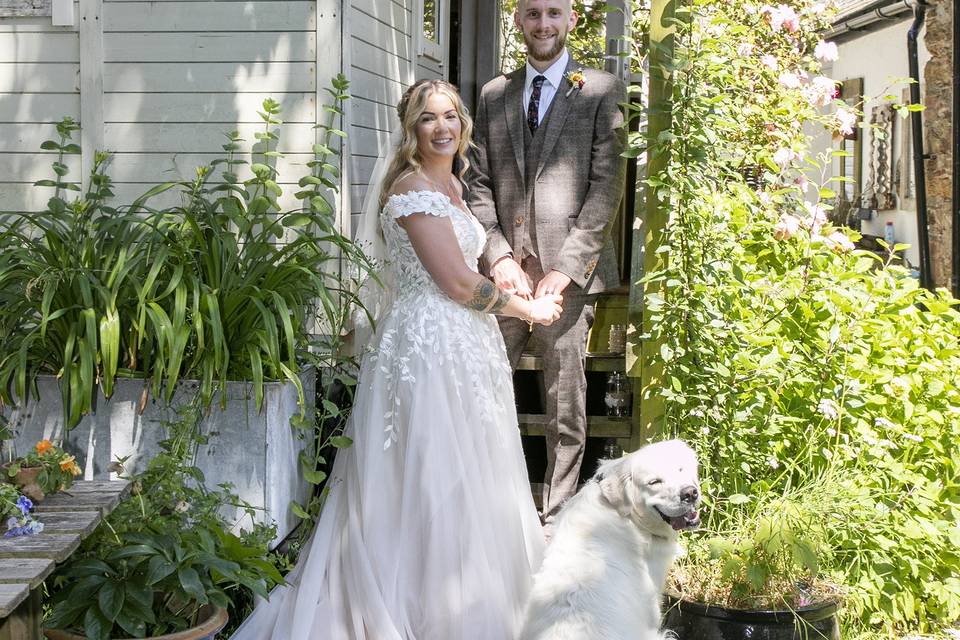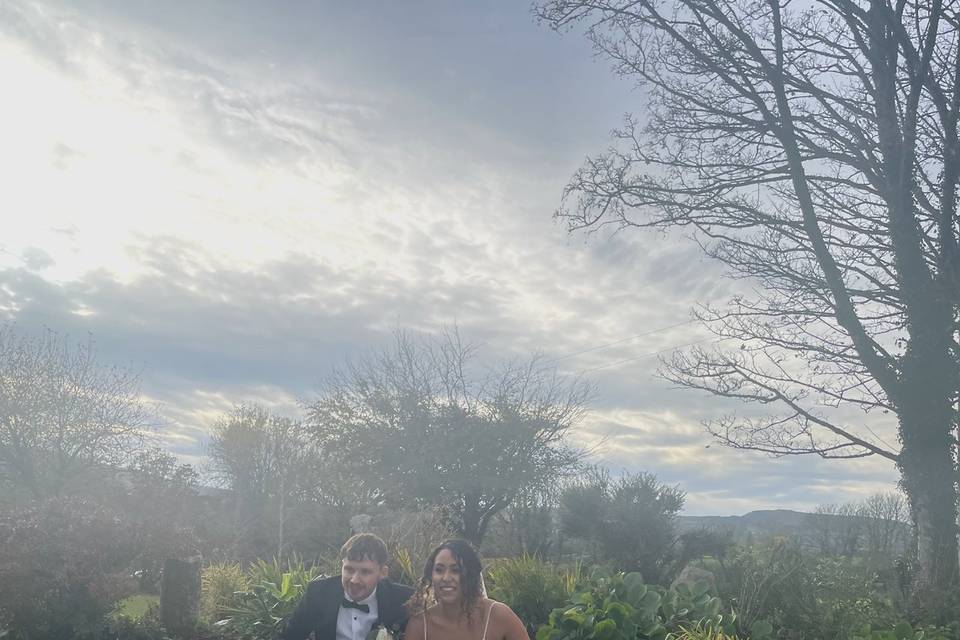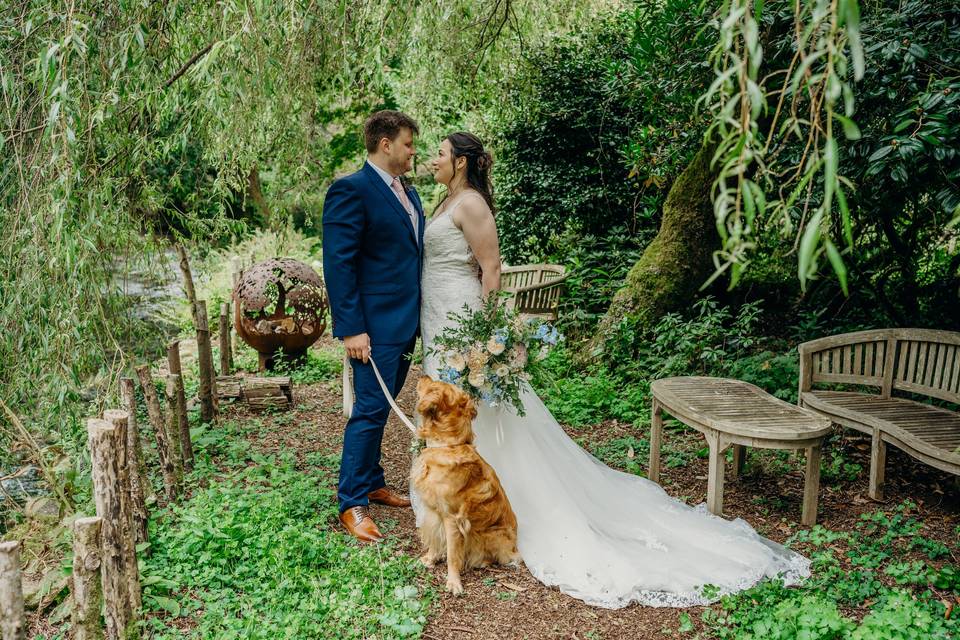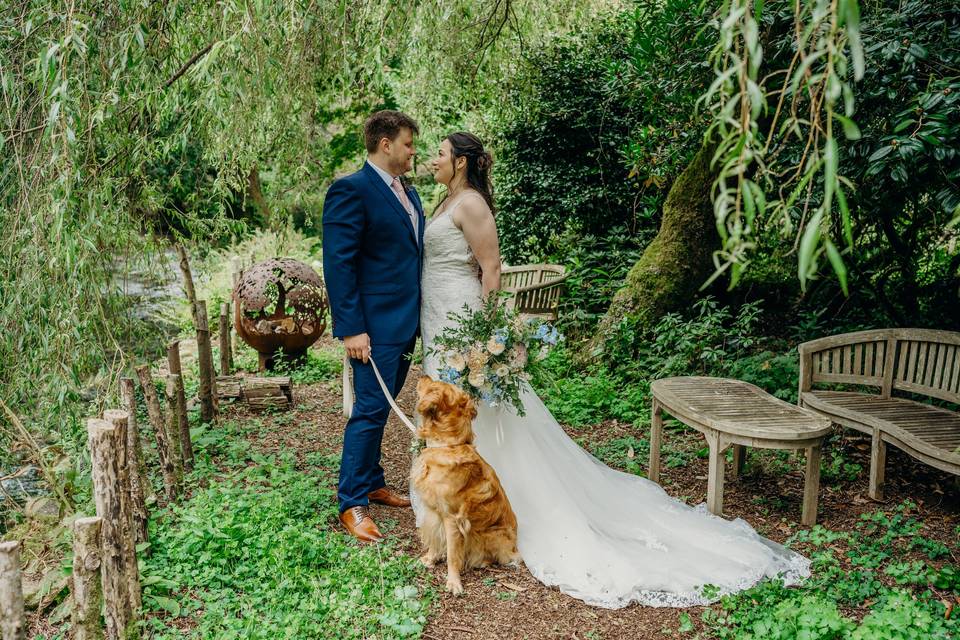 About
On Hitched.co.uk since 2020
Last update: November 2023
A Pad 4 Paws are a Devon-based Dog Chaperoning service and a Doggy Daycare/Dog Walking service that allows your special pet to become part of your wedding day. Your wedding day is one of the most important days of your life, and we understand that your four-legged friend should be there. Owners Sue and Pete offer a dedicated and individual service to each dog. By only taking in a small number of dogs, they can ensure that your dog receives the attention they deserve.
Services Offered
A Pad 4 Paws offer a BESPOKE service which includes your dog being collected and chaperoned throughout your wedding ceremony. They will ensure that your precious pooch is present for photos and will stay with them all day while you enjoy your wedding. Once your puppy is all tired out, they will take them back aPad4Paws (following a successful meet-up). This is where they will spend the night, socialising and playing with other dogs.
They also provide a pet sit after the chaperone for dog-friendly venues. This means that the dog may be staying at the venue, and therefore, they will hand the dog back to the couple/family member at the end of the wedding reception.
We take photos and videos of your dog/s during your day and then send them across to you as a personalised aspect of their day! At no extra charge.
We are looking forward to hearing from you soon!
NB: our 2024 and 2025 diaries are filling up fast so do get in touch soon to avoid disappointment.
5.0 out of 5 rating
Quality of the service

5 out of 5 rating

Response time

5 out of 5 rating

Professionalism

5 out of 5 rating

Value for money

5 out of 5 rating

Flexibility

5 out of 5 rating
100%
Recommended by couples
53 User photos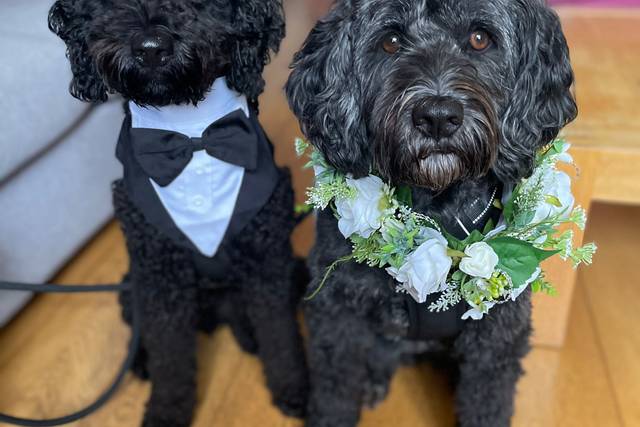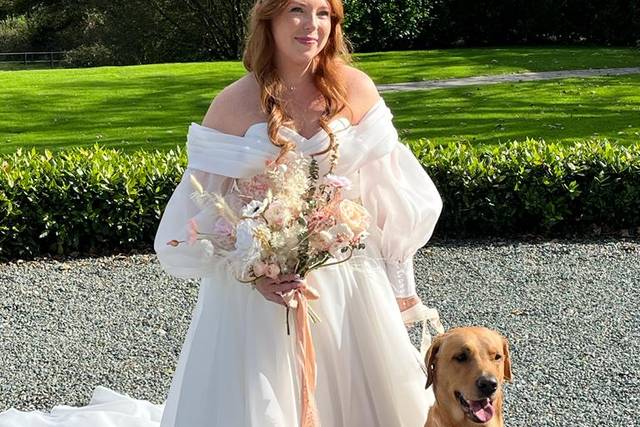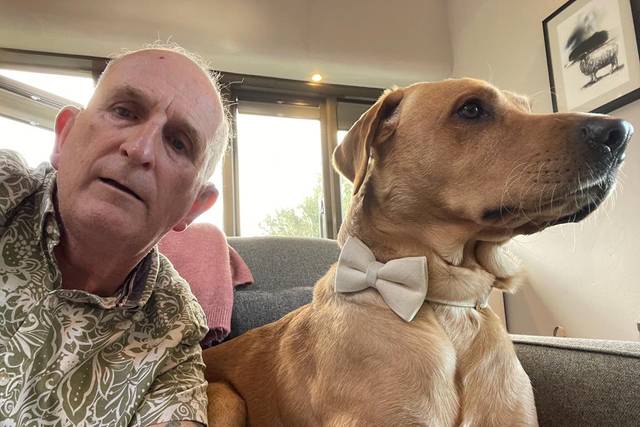 + 49

Photos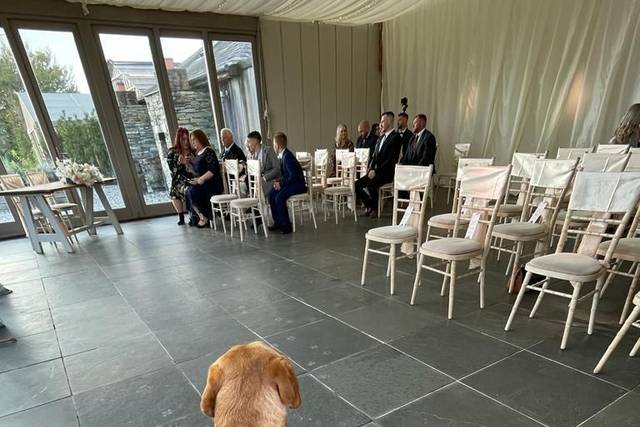 15 reviews

Rebecca
Married on 11/02/2023
Exemplary service! Such a brilliant idea and so glad we found them!
Could not praise Sue highly enough. She was an intrinsic part of making our day so special!! Our dogs were not just looked after, they were treated like family; treats, so many walks, exercises and rest time with cuddles.

The girls were never too far away for pictures and we were sent a doggy diary of pictures and updates throughout the day. Everyone complimented me on how good the doggy chaperones were and I agree!

Sue was the pinnacle of professionalism from start to finish. Her communication with us from initial booking through until the day was exemplary. She is so friendly and kind and an absolute credit to the industry.

Her price was incredibly reasonable too. I could not recommend her more and I'm so grateful we found her!
Codie M.
Married on 11/11/2023
A home from home for our pups!
Sue and Pete are superstars! My 2 pups stayed with them over the weekend for our weekend wedding and they visited us on the day to play a special part in the wedding. We were kept updated of their antics throughout their stay and they made themselves quite at home. Would recommend A Pad 4 Paws to anyone in a heartbeat! Thank you so much for taking the best care of our pups and allowing them to be present for our wedding day.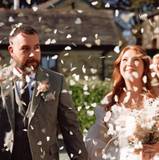 Laura M.
Married on 14/10/2023
Sue & Pete are absolute stars!
Sue and Pete are absolute stars! So extremely helpful and lovely and made us feel so relaxed and that everything was in hand for Archie on our wedding day.

Pete was so accommodating on the day and Archie loved spending time with his new bestie!
Pete was on hand when we needed Archie for photos and everything was seamless and stress free! We felt confident that he had Archie under control, Archie is very strong and can pull somewhat but Pete made it look easy which was really reassuring for me.

They went above and beyond and we are so extremely grateful for the wonderful pictures and videos Pete captured on the day, and was a really lovely surprise to have these sent over the day after our wedding and we loved seeing our day from Archie's point of view.

I really couldn't recommend these guys enough! Absolutely amazing!! Thank you so much for everything and bringing our dream of having Archie at our wedding, a reality.

All our love,
Laura, Sam & Archie xx

+ 11

Photos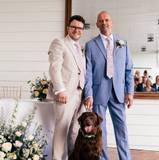 Carl T.
Married on 25/08/2023
An amazing bespoke service
From our initial Zoom call with Sue & Pete we both knew they were the perfect couple to take care of Poppy on our wedding day in St Ives.
It was such a comfort to know that on our special day that our beautiful girl was in such loving & caring hands. Sue & Pete's love of animals was so evident from the start and every little attention to detail was provided. Even on the day nothing was set in stone and their flexibility to our needs shone through.
Thank you for being there at just the right moment and allowing us to capture such perfect memories of all of us together.

With love from us both & lots of woofs and quite a few licks from Poppy.

Paul, Carl & Poppy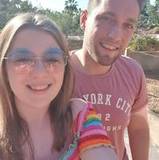 Rebecca J.
Married on 11/05/2023
Best thing we had for our wedding!
Sue and Pete looked after our fur babies as if they were part of their family.

We had a few hurdles to overcome when we got another puppy 9 months before the wedding and there was a risk she would be in season. There was no trouble at all for Sue and Pete to help us, of course they would take our new puppy and they worked out a plan with us in case she did come into season and she couldn't stay with them. I was so grateful for their help and support as I was so worried about what to do.

Both of our dogs could stay with Sue and Pete, we had our meet and greet at their home where Merlin and Morgana got settled and welcomed with open arms.

The day of the wedding... it was perfect to have Merlin and Morgana there, it just made everything that much more special to have our whole family there. I can't thank Sue and Pete enough for making it possible. Merlin and Morgana had the best time with Sue and Pete, and I got regular updates of how they were getting on and even some behind the scenes photos of the dogs on the wedding day.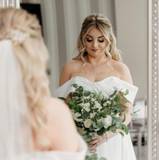 Natalie B.
Married on 06/05/2023
One in a Million
Sue & Pete are truly incredible people. They love dogs with their whole hearts and that much was obvious from our first zoom call with them, to the first meeting with our dogs and to drop off on the day before the wedding. The love they showed our babies was second to none. They took Bella and Milo in like they were their own and I had photos sent to me beginning just 20 minutes after we dropped them off right up until the morning of collection. We knew our babies were safe, loved and cared for the whole time. She brought the dogs to our wedding for photos and she kept them entertained and busy the whole time to ensure they didn't get bored or start acting up (we were shocked that they were even our dogs.. there's usually no calming them down!). Sue took her time and patience with them to settle them down when they started barking. They were so well looked after and cared for. We even found out Pete slept on the sofa with our dogs on the last night! Phenomenal service, we're now looking at getting Bella and Milo into doggy day care with them as soon as life returns to pre-wedding normality!
+ 7

Photos
Alice A.
Married on 04/05/2023
Perfect in every way!!!!!!
We came across APad4Paws dog chaperoning on instagram whilst looking for someone to look after our anxious dog Douglas for our wedding. We knew Sue and Pete would be the perfect match after reading they had looked after anxious dogs in the past. Sue was absolutely BRILLIANT on the day! Our boy is very nervous and shy's away from people he has not met but leading up to the wedding we had a few zoom calls and on the day he was not nervous around her at all! She came with treats to hand, walked him around the grounds so they got used to each other and was there for every photo moment and he even managed to be our ring bearer on the day with her keeping a close eye in case he needed any help. (We were not sure if he would be able to do this)
We are so grateful to have come across APad4Paws and highly recommend them to anyone. Our dog Douglas has found a new friend in Sue and we will always remember how smoothly our big day went thanks to her.

Thank you so much!
+ 2

Photos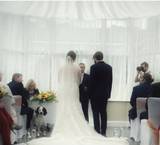 Sarah S.
Married on 14/08/2021
Sarah Sheppard
We cannot thank Sue and Pete enough!

From the first familiarisation to the excellent communication and venue visit right through to the day itself. They have been. I thing short of brilliant. Luna is a nervous dog but they made her feel so settled and comfortable with them.
Having Luna at our wedding was amazing and only made possible by A Pad 4 Paws, they kept Luna calm when we wanted her in the background but also had her on hand for when we needed her.
Sue was ever so friendly and helped to support us on our big day!
I would recommend A Pad 4 Paws to anyone without hesitation.

Jess
Married on 15/04/2023
A Pad For Paws were amazing!
We always wanted our dog, Nellie at our wedding. Sue & Pete made the process so easy and simple, we went to meet them and their dogs to check they got on well and after a success meet & greet, Sue chaperoned Nellie.
Sue was a huge part of our day even though she blended into the background and did as much or as little as possible, she was flexible, helpful and just simply wonderful. I would not hesitate to recommend you use them to chaperone your dog. They helped make our day even more special and Nellie absolutely LOVED Sue!
Jessica F.
Married on 06/04/2023
Thank You Sue & Pete!
Ever since we got engaged, we were so keen for our Labrador, Barney, to be involved in our Wedding, but we weren't sure how this would work. We booked our Venue and noticed that they recommended aPad4Paws as a Dog Chaperoning Service; all of a sudden, Barney attending our Wedding became entirely possible!
From the first point of communication, Sue & Pete have been extremely friendly, helpful and understanding. They were able to offer a number of options as to how Barney could be involved in the Wedding and their Service is truly bespoke; everything was tailored to us, with Barney being the main focus. After our initial Zoom Meeting, Barney attended Day Care as a Trial and this went well, Sue & Pete kept up updated with how Barney was settling in and it was so reassuring to hear from them! After this, Sue & Pete kept in touch and we had another Zoom Meeting just before our Wedding to iron out the final details.
We dropped Barney off the day before the Wedding and, again, we received lots of photos and videos to reassure us that he was settling in well. On the day of the Wedding, Sue brought Barney along and we cannot thank her enough for her hard work and professionalism. She made sure that Barney was calm and relaxed at the Venue and nothing was too much trouble for her! Not only did she make sure that Barney was around for all of the photo opportunities, she also snapped lots of photos of us all together and even photos and videos of the Wedding from Barney's perspective!!! Afterwards, Sue took Barney back to theirs and he stayed for another two nights; this included lots of nice naps on the sofa, play time with the other dogs and some good sniffy walks!
Again, we cannot thank Sue & Pete enough for caring for Barney like he was one of their own dogs and for allowing us to have him with us on our special day; it honestly would not have been possible without them!

Sam W.
Married on 11/03/2023
Fantastic day!
It was really nice having our family dog at our special day. Sue & Pete were so professional and did really well making sure that they kept Skarthi close by so that he wasn't running around everywhere. We managed to get some beautiful pictures from Sue and Pete getting Skarthi's attention and keeping it there. Sue and Pete are very flexible in terms of staying how little or long as you want them too, will spend as much or as little time with the dog or be as visible or invisible as you want them to be. They showed them up on time smartly dressed and were just all around very friendly people.
Having Peanut at our wedding, simply made our day!
Fantastic service from start to finish with Sue and her doggy chaperone service for our wedding in June. Peanut, our miniature Daschund is a massive part of our family, and it was an absolute MUST that he was at our wedding and taking part in all the photos. We didn't want to burden our family and friends with the responsibility of taking care of him on the big day, nor did we want him spending our wedding night with us as well!!

Sue's chaperone service was just perfect. She collected him the day before at the wedding venue and sent lots of reassuring photos and videos to show us how happy he had settled into the 'boutique hotel'.

The day of the wedding, she took him to a local groomer she recommended, to have a spritz up for his photos. She stayed with him the whole time at the wedding and made sure he was calm and happy as it was quite overwhelming (for him and us!!).

The photos we have of us with Peanut are something we will treasure forever and feel so thankful to Sue and Pete for making our day even more perfect by offering this excellent service. Don't think twice about having your dog and your wedding; it's worth every single penny and more! Thanks again Sue! Amanda, Mica & Peanut xx
Laura, Chris & Rolo - March 2019 - Shilstone Manor
Sue and Pete were brilliant with our cheeky sprocker Rolo. We had the wedding chaperone package and it was so special to have Rolo their with us on our wedding day. We also get regular photos and updates from them to let us know that he was ok and settled was so reassuring and just made everything so much easier and worry free. Highly recommend them. thanks again x

This review is available on our Facebook page @a Pad 4 Paws.
Natalie Maunder-Parkes with Anna Rockbeare Manor
July 2019:

We had always wanted our dogs at our wedding - we just didn't quite know how to go about it! Everybody we had ever trusted to look after our girls would all be dressed up and engrossed in the celebration throughout the day and night. Along came the very lovely Sue and Pete who took in our girls and treated them as their own on the run up to our big day, sending lots of lovely well received photos and videos. Pete accompanied our very excitable cocker spaniel and older black Labrador to the venue on what turned out to be the hottest day of the year so far! He went out of his way to ensure they were kept cool and hydrated and even managed to secure them front row seats at the ceremony - where they behaved impeccably!

We really can't thank them enough and being able to treasure photos with our two very special guests is something that we will be forever grateful for.

It goes without saying that come Highly recommended!

This has been posted from our @aPad4Paws Facebook Reviews page.
Charley & Matt with Bruce - June 2019 - Colehayes
We left our labradoodle Bruce with Sue and Pete the night before our wedding and then Pete brought Bruce over to our wedding venue on the day. He was happy to do whatever we wanted with Bruce. We decided not to have him present during the ceremony because he gets restless, so Pete took him off for a walk and then brought him to meet everyone after the ceremony. We took photos with Bruce and then Pete took him home. We are so thrilled that we were able to have Bruce at our wedding and Pete was absolutely brilliant. If you would like to have your dog at your wedding I would highly recommend getting in touch with Sue and Pete, they are absolutely amazing. We will treasure our photos with Bruce forever!
Did the reviews win you over?
Send a message
Badges