The 28 Best Wedding Games for Your Wedding Reception
From wedding table games to games for the kids, this selection of the best wedding games will leave you with plenty of ideas for breaking the ice between your guests...
We have included third party products to help you navigate and enjoy life's biggest moments. Purchases made through links on this page may earn us a commission.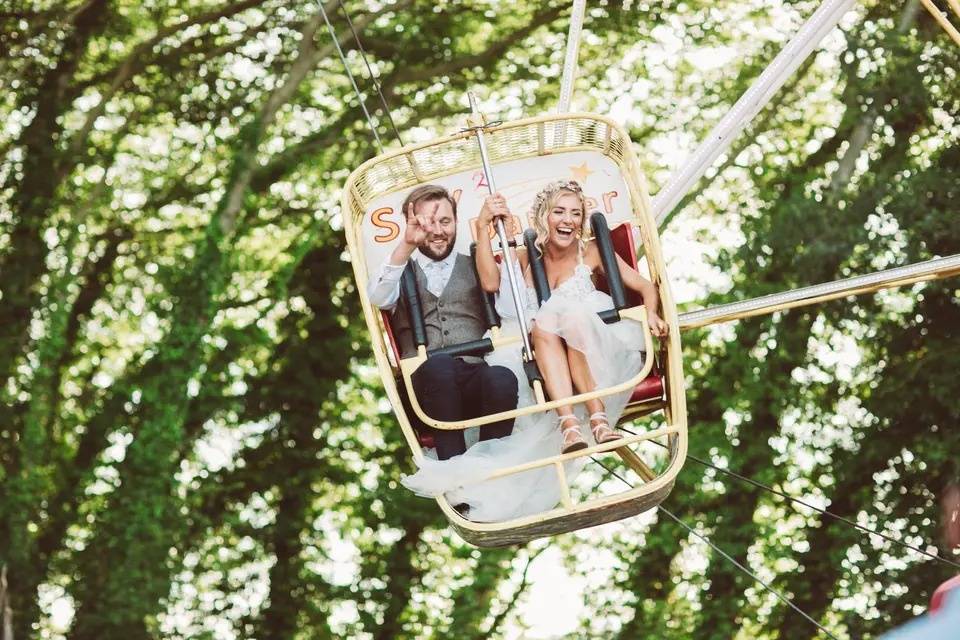 It can be tricky to know how to entertain your wedding guests, particularly if your big day starts early in the morning.
If you're looking for ways to make your wedding party unforgettable, you'll not only need a killer wedding playlist, fabulous décor and delicious food, but a couple of fun wedding games too.
Wedding games are becoming more and more popular, especially at outdoor weddings or weddings where lots of children are in attendance. What better than a giant game of Jenga to add to your festival wedding vibe? If your day is being held inside, you might like to play one or two of our favourite wedding table games instead – they're a great way to get everyone chatting.
You could even choose to marry at a wedding venue with its very own fairground! Yes, you read that right - Marleybrook House in Kent has the UK's largest private fairground on site, as well as offering vintage garden games for your drinks reception.
Here, we've rounded up 28 of the best wedding games for your wedding reception that your guests will absolutely love to get involved in. Cameras at the ready!
Wedding Table Games
You can't go wrong with a good old weddinng table game, so we've rounded up some of the best for breaking the ice. There are even a few downloadable games and PDFs thrown into the mix to make things super easy.
READ MORE: 45 of the Most Beautiful Table Decoration Ideas
1. Scavenger Hunt Game – £3.99, The Bride Tribe Co at Etsy
Treasure hunts are fantastic games to play, particularly if your reception space has lots of little nooks and crannies. Leave this scavenger hunt on each of the tables and see which team can complete the hunt first!
It not only looks super pretty, but it can be downloaded instantly making it super easy when you've got lots of other wedmin to be cracking on with…
READ MORE: 15 Things You Need to do After Getting Engaged
2. Wedding Ice Breaker Game – £12.75, Luck and Luck at Etsy
Couples who are concerned that their guests might not naturally spark up conversation should leave ice breakers on the table.
This fab set has a whole selection of cards - they're also super pretty and chic, making them perfect for a whole host of wedding themes.
3. Wedding Shoe Game – £4.16, Hey Lovely Co at Etsy
The Wedding Shoe game is one of our favourite games to play at wedding receptions because it gets everyone in the room involved.
When your guests sit down, hand them one of these wedding shoe game cards (or provide one per table). Everyone will need to guess the answers to each of the statements.
After the wedding speeches, the best man should get the happy couple to sit back to back in front of all their guests. Each partner holds one of their shoes and one of their other half's shoes. The best man acts as the host asking the questions and the couple answer simultaneously by holding up the shoe that corresponds with their answer. Who will guess the most correctly?
READ MORE: Our Top Tips for Writing a Short Best Man's Speech
4. Wedding Advice Cards – £8.75, HPDx at Etsy
This game is both simple and fun! Add one advice card to every place setting at your wedding breakfast and let the laughs commence.
Each advice card in this set comes complete with fun activities for guests to fill out including advice for the newlyweds and their future wishes.
5. Match the Love Songs Game – £2.52, Celebrate Boutique at Etsy
If you're hosting a Disney-themed wedding, your guests will love to match their favourite songs to the films they come from. We love that the kids will be able to get involved in this table game too!
This game is instantly downloadable meaning it won't steal any of your precious wedding planning time.
READ MORE: The Best Disney Quotes for Your Wedding Ceremony
6. Speech Bingo Game – £5.40, Print Go Go at Etsy
Add (even more) pressure to the speech makers by providing everyone with a copy of wedding speech bingo.
The first guest to shout out "bingo" (and totally throw off the best man just as he launches into a super embarrassing story) wins a prize!
7. Find the Guest Bingo – £3.22, Hello Rose Paperie at Etsy
A game of find the guest bingo is a great way to get everyone at your wedding mingling.
Give each guest one of these pretty cards (which are instantly downloadable for you to print yourself, FYI) and watch as they find a person to match each of the clues. The first guest to shout "bingo" wins!
8. Date Ideas Guest Cards – £7.36, Unmeasured Event at Etsy
Leave a jar or box out on your wedding reception tables labelled 'Date Night Ideas' and encourage your guests to add their own romantic, adventurous or exciting date night ideas for you to embark on.
It's up to you whether you commit to doing all of them, but it's a guaranteed way to make sure married life is full of fun.
READ MORE: 25 Unique Date Ideas for Newlyweds
9. Table Name Books Game – £12.95, Old English Co at Etsy
If you're opting for table numbers, leave pretty notebooks like these marked with the matching number on your tables.
Encourage your guests to write messages in them, and you can then read those messages on the anniversary that matches the number on the book. This is a great alternative to the traditional guest book!
READ MORE: 24 Unusual Guest Book Ideas
10. Guess Who
This is one for crafty couples who love a bit of DIY. Make your own Guess Who and replace the characters in the game with pictures of the wedding party or guests.
The game can get passed around the tables (if you don't have the time to make more than one board) during the wedding breakfast and guests can have fun playing your personalised Guess Who game!
11. Wedding Speech Sweepstake – £3.60, Print Go Go
Are your guests the gambling kind? Poke a little gentle fun by leaving out wedding speech sweepstakes for your guests to gamble with. They don't have to bet money – it could be sweets from their favour boxes or a drink at the bar.
Make sure the rules are clear though – no one is allowed to check with any of the speech givers to find out how long their speech will be, and there must be a designated time keeper on each table who decides the winner.
12. Place Card Find Your Match Game – 35p, Letter Studio Shop at Etsy
If you see a wedding as the perfect opportunity to matchmake, don't miss out on a chance to play Make Your Match.
On the back of each guests' place card (we love these rustic place cards!), write one half of a famous coupling. It could be celeb couples or just well-known pairings such as gin and tonic or salt and vinegar. Your guests must then visit each of the tables to find their perfect match – if you have always thought your work bestie would be perfect for your partner's football friend, now's the time to set the wheels in motion…
READ MORE: 45 Stunning Rustic Wedding Ideas for Your Big Day
13. Guess the Facts Game – £8.16, Happy Paper Moments at Etsy
Snap up these fabulous wedding table numbers and personalise them with two facts – one true and one false. The guests on the relevant table have to discuss which fact is fake before you reveal the answers during the speeches! This is a great way to get your guests chatting and laughing together.
If you don't want to reveal facts about yourselves, you could provide each of your guests with their own fact cards to fill in. They should write down two true facts and one false fact about themselves before getting the rest of the table to guess which they've been lying about…
14. Wedding Dares – £6.99, Belle Epoque Co at Etsy
Mischievous brides and grooms will love the idea of leaving dares out for their wedding guests. Have some fun writing truths and dares on these pretty cards, then cover your additions with the scratch-to-reveal stickers. Leave a card at everyone's place at the breakfast tables and watch as guests have fun adhering to them.
Dares can be as silly or as cheeky as you like – just make sure there's a suitable forfeit for those who bow out!
15. A Song and Dance
This is a great idea if you're on the hunt for creative wedding table name ideas! Name your tables after your favourite songs and put a notice on each table revealing that they have to get up and dance when their song is played.
This is a great way to make sure the dance floor is full when the evening party gets underway. You could even award prizes for the best dancer from each table and for the most keen to get on the dance floor!
READ MORE: 220 Best Wedding Songs of All Time
16. 'What's In Your Phone?' Game – £5.03, Tie The Knot Print Shop at Etsy
How addicted to their phones are your guests? Find out with a quick table game of What's In Your Phone?
Guests can add up their points, and the person on each table with the highest score gets awarded a prize during the speeches!
READ MORE: How to Have an Unplugged Wedding
17. Kissing Menu Game – £6.73, Wishful Paper Boutique at Etsy
The Kissing Menu Game is sure to crack a few laughs among your guests – particularly if they go for the conga line or Macarena options!
Pop one of these cute kissing menus on each table and watch as the requests roll in.
18. Mad Libs Game – £4.16, Hey Lovely Co at Etsy
Mad Libs will definitely give you a giggle after the wedding day, and will be sure to make your guests laugh between courses.
Give each guest a Mad Libs card complete with blank spaces for them to fill in – you may be surprised with what they come back with!
Wedding Reception Games for Adults
19. Prosecco Pong – £20, Hitched Shop
Beer pong has had a sophisticated new upgrade! Prosecco pong is the go-to drinking game now.
This fun game from the Hitched Shop can be set up in the grounds of your wedding venue. You're sure to get some amazing wedding photos of all your guests having fun playing it.
READ MORE: 22 Fabulous Ways to Include Prosecco in Your Wedding Day
20. Word Search
If you're all for a bit of wedding DIY, transform a chalk board into a word search that your guests can try their hand at all day long. Write the letters in permanent paint and provide chalks only for circling words on the day.
Include names of people in the wedding party, names of places you've travelled to together and details about yourselves for your guests to find. Top marks for whoever finds the most words in the quickest time!
21. Dirty Emoji Pictionary – £3.04, Oh Happy Printables at Etsy
Maybe not one if your grandma gets easily offended (or if there's children at your wedding), but this fun game of dirty emoji Pictionary brings things right up to the 21st century.
Guess the sex act from the emojis listed – whichever guest has the most correct answers is for sure the dirtiest…
READ MORE: Should I Invite Children to My Wedding?
Kids Wedding Games
If there are lots of children in your family and you've decided to avoid a "no kids" rule on your big day, chances are you're probably on the hunt for the best ways to keep them occupied.
Screaming, crying children do nothing for the chilled wedding vibes you've been dreaming of. Here are our favourite kids wedding games for your big day.
READ MORE: 27 Fun Children's Wedding Favour Ideas
22. Giant Bubble Party Kit – £112.50, Dr Zigs Extraordinary Bubbles at Not On The High Street
This might not technically be a game, but it's a great form of outdoor wedding entertainment which we thought necessary to include anyway.
Entertain the kids at your wedding with this giant bubble party kit – the photos you can capture with bubbles are beautiful!
23. Metallic Diamond Party Piñata – £35, Pinyatay at Etsy
They're fun to break, they're full of sweets and they also add a decorative touch – we can't see any downside to a game of 'break the piñata'!
This outdoor wedding game is perfect for giving your reception a summer party vibe. We adore this sparkly gold piñata!
24. Personalised Children's Colouring Books – £4.20, Paper Ballards at Etsy
Colouring can keep kids occupied for hours, so scatter a table with wedding-themed colouring books and boxes of crayons.
If you don't want a whole station dedicated to it, you could adorn the children's place settings with these cute personalised colouring books!
25. Beanbag Toss
Corn hole is the perfect vintage lawn game that the kids at your wedding will adore. It'll feel like a cohesive part of your wedding décor and won't stick out like a sore thumb, and it can also be made quite easily at home!
You'll need an old piece of board, some paints to jazz it up and beanbags.
26. "I Spy" Game – £1 each, Hitched Shop
This is a great way to keep children entertained at your wedding, but the young at heart adults might enjoy it too. We love these versions from the Hitched Shop and Modern Event Design Co.
Provide the children with disposable cameras as cheap wedding favours and get them to capture the "I Spy" moments on the cards.
READ MORE: How to Take Awesome Wedding Pictures Using Your Phone
27. Children's Books Emoji Pictionary – £1.97, Nordic Fleur at Etsy
A much more PG version of the previously featured dirty emoji Pictionary, this downloadable game of children's books emoji Pictionary is a great way to keep slightly older kids entertained.
Pop one of these sheets at each of their places at the table and watch as they try and figure out the names of their favourite story books.
READ MORE: 106 Amazing Wedding Favour Ideas
28. Children's Activity Books – £9 each, Hitched Shop
We don't think we've seen a prettier children's activity book!
Not only will it look stunning on your wedding table thanks to the gold foiling, it's packed with games to keep little ones entertained.
How Do I Make My Wedding Fun?
When it comes to your wedding day, there are plenty of moments that can be injecting with some good old fashioned fun! You can enquire with your wedding venue as to whether they permit firework displays, incorporate one of the wedding games above and outdoor wedding games, hire a photo booth, or get creative with some alternative food ideas.
Feeling adventurous? Tie the knot at Marleybrook House and after your wedding breakfast, guests will head down to their fairground to enjoy 2 hours of thrilling fun. Who else can say they whizzed around a rollercoaster at a wedding?
Check out these wedding entertainment ideas for even more inspiration.
What Games Can You Play at a Wedding Reception?
There are tons of games you can play at your wedding reception. Classic games such as Jenga and croquet are fail-safe crowd-pleasers and if you are having younger guests they can get involved too. It is also a great idea to lay out some ice breaker games at your wedding reception as this is when your guests will mingle - if they don't know each other well, they will do after a round of truth or dare!
At Marleybrook House they have 8 adult rides including dodgems, roller coaster and helter skelter, plus vintage stalls such as hoopla and hook-a-duck. There are also 4 children's rides to keep little ones entertained, as well as a candyfloss tricycle serving unlimited servings!
Where to Play Games at a Wedding Reception?
If your wedding venue has outdoor space, setting up garden games outside will ensure everyone has ample room to play. Your wedding table games should be laid out as part of your wedding tablescape so that guests can play as they wait to be served or after eating.
Now you've got your wedding games sorted, you'll need to decide on the rest of the entertainment. We have some amazing wedding entertainment vendors on our marketplace to check out!