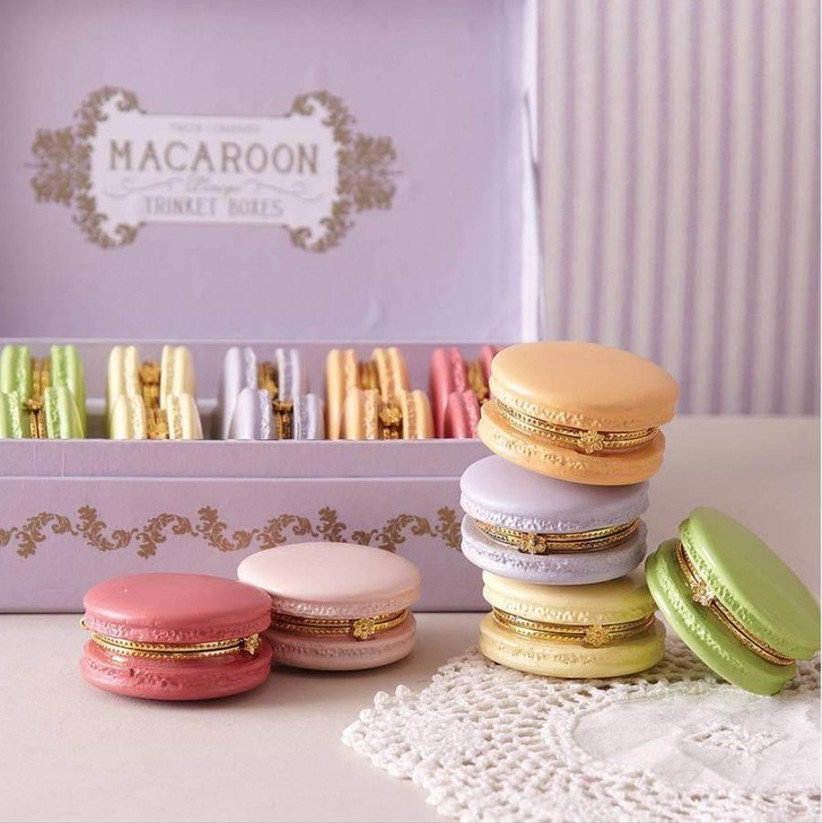 Macarons are a sweet treat that look seriously chic – making them an excellent choice when it comes to wedding favours.
If you're serving a wedding cake too, they're the perfect complement that'll prevent cake-overload (is that even possible?!)
We've rounded up the best macaron wedding favour ideas to delight your guests with – Blair Waldorf would approve (and if you love that reference, you'll love reading the wedding lessons we've learned from Gossip Girl!).
Macaron Cake Tower
A great wedding budget hack is to let your wedding cake double up as favours or dessert – you can do this with a fancy tower of macarons like this purple ombre one from Belinda's Kitchen. It's a great shout too if you're looking for a wedding cake alternative – everyone will be eager to tuck in!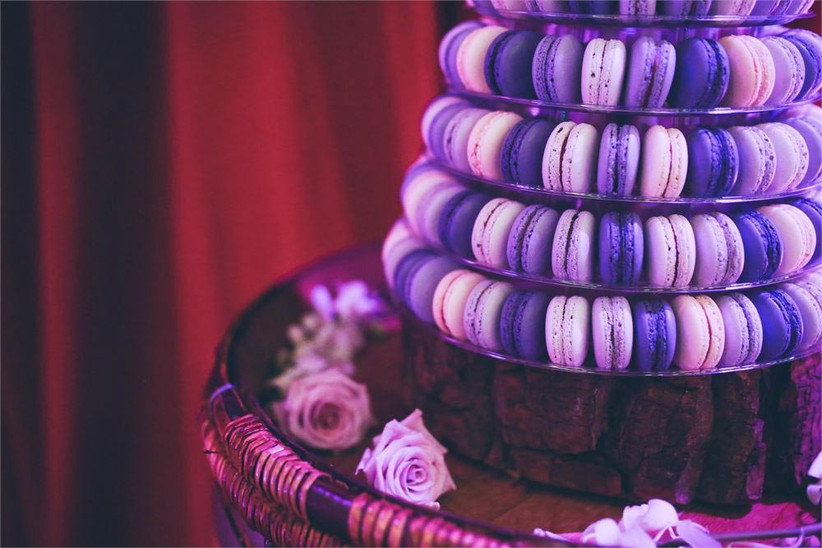 Individual Macarons
Treat your guests with a pretty boxed macaron for them to enjoy – we love these hand-painted macarons from Cordon Bleu trained pastry chef Jaime James of Ginger & Cacao – match them to your wedding colour scheme for an elegant finishing touch.
They'll definitely glam up your wedding place settings.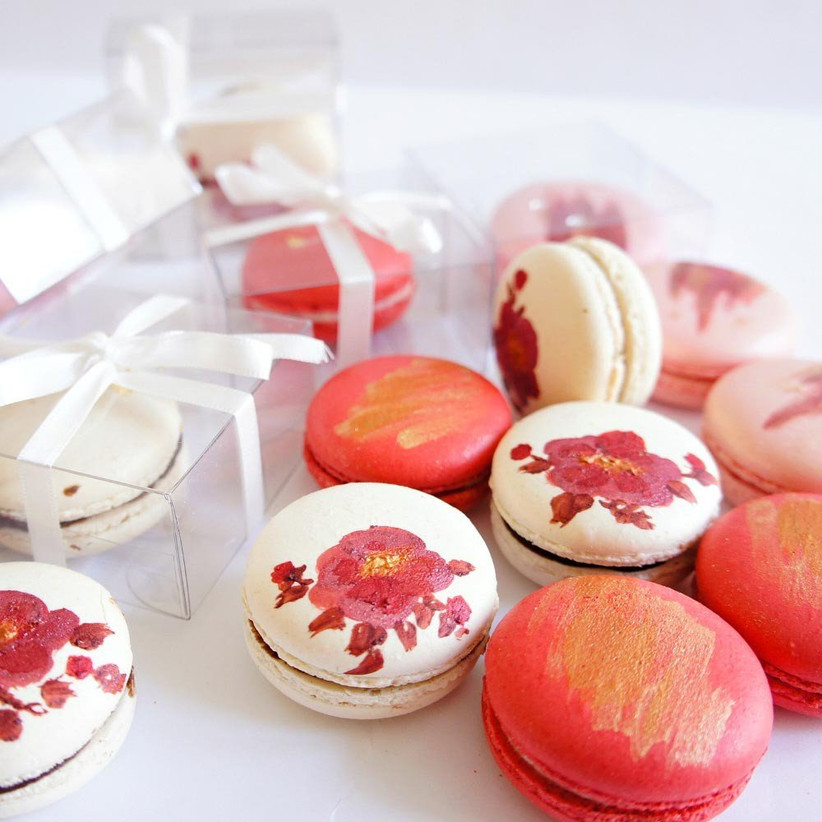 Macaron Ornaments
These gorgeous hanging ornaments from Posh Totty Designs Interiors would look especially beautiful at a festive wedding, but they don't just have to be for Christmas.
You can also use them to decorate your wedding chairs too. Just make sure your guests don't try to take a bite as they definitely look good enough to eat!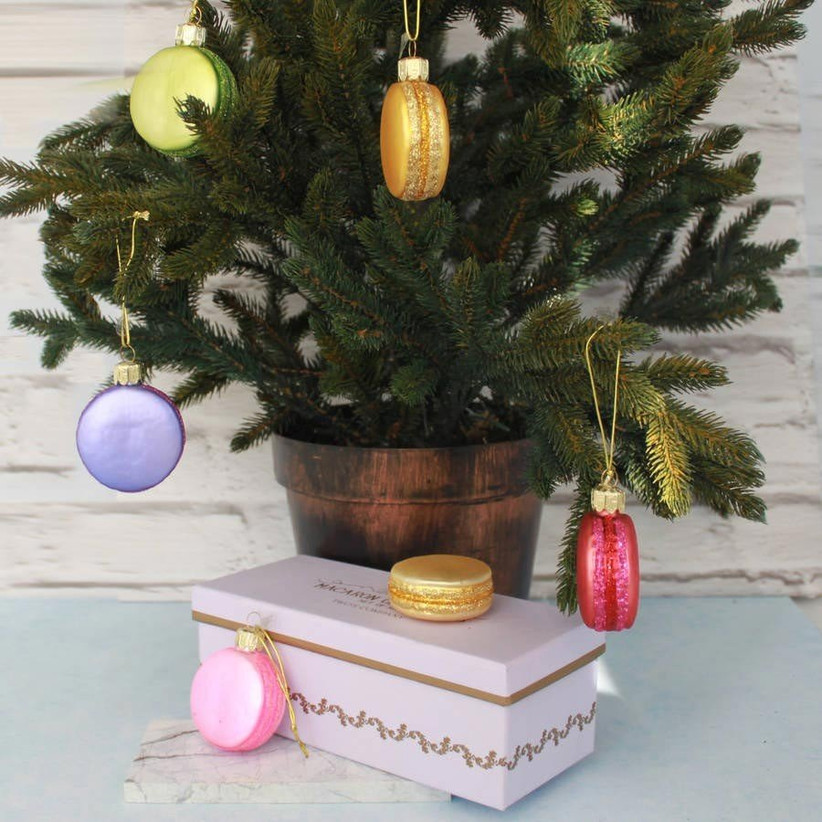 Emoji Macarons
We can't get enough of these super cute emoji macarons from Clares Squares!
They come in boxes of 12 and cost £12 making them a cost-effective choice of wedding favour, if you're looking for wedding favours for £1 or less. Your guests will be Snapchatting and Instagramming them from the minute they take their seats.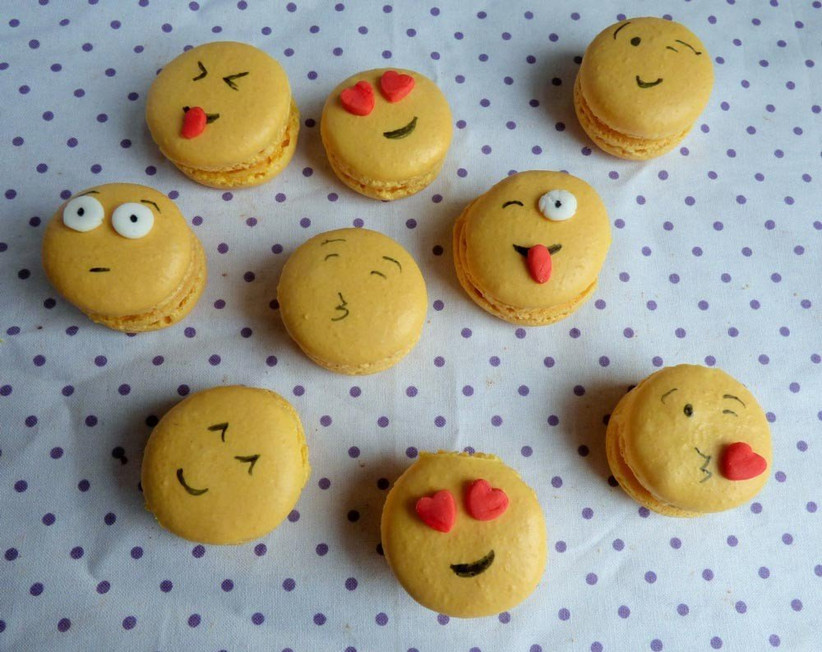 Macaron Trinket Boxes
These cute trinket boxes from Posh Totty Designs Interiors are super cute and they come in a range of colours.
You could put a personalised note in each one for your guests to find as a way to personalise your wedding favours.
They are a little on the expensive side so if you're having a large wedding why not limit these beauties to bridesmaid thank you gifts?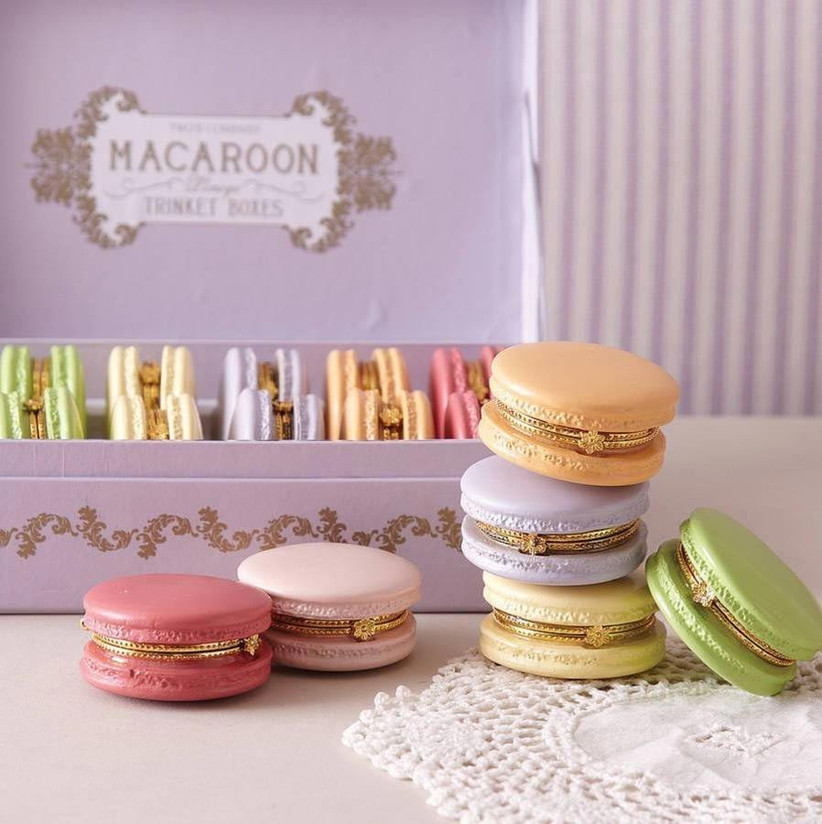 Macaron Cupcakes
Leave a super sweet treat at every guest's seat with these gorgeous macaron-topped cupcakes from Ginger & Cacao.
The elegant blue tones, complete with a pearly lustre, are just irresistible. Your guests will want to devour these edible wedding favours the minute they take their seats.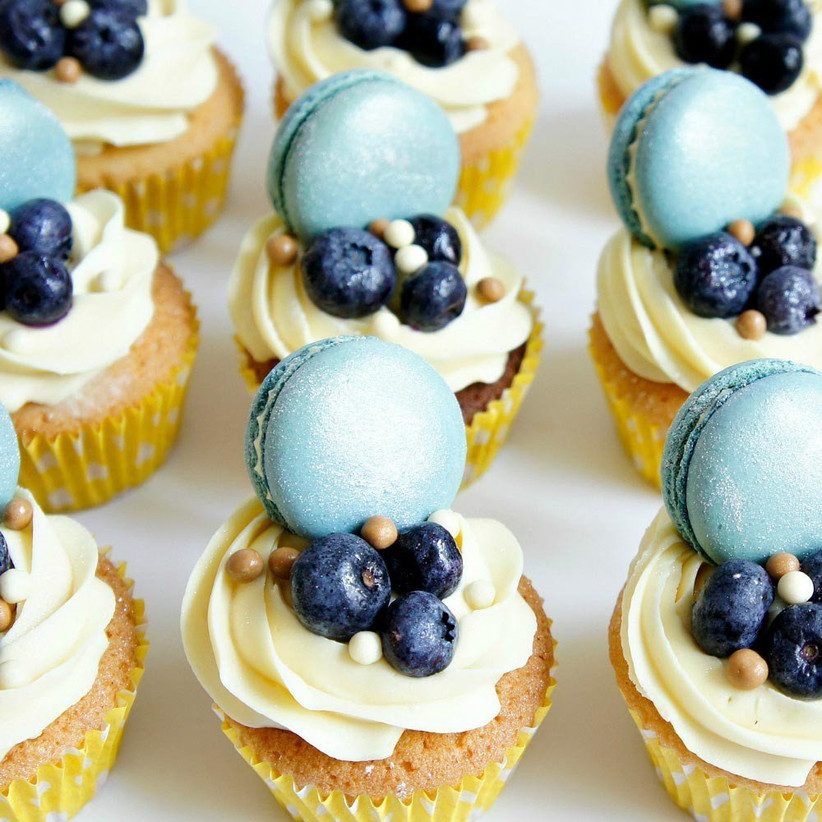 Macaron Bath Bombs
Who doesn't love a gorgeously relaxing bath? Treat your guests to some pamper time with these macaron fizz bombs from Soul and Soap.
They come in the following scents: red grape, blackcurrant, almond, passion fruit, rose, peach and raspberry so there's something for everyone and are made with sea salts and essential oils so they're super nourishing too.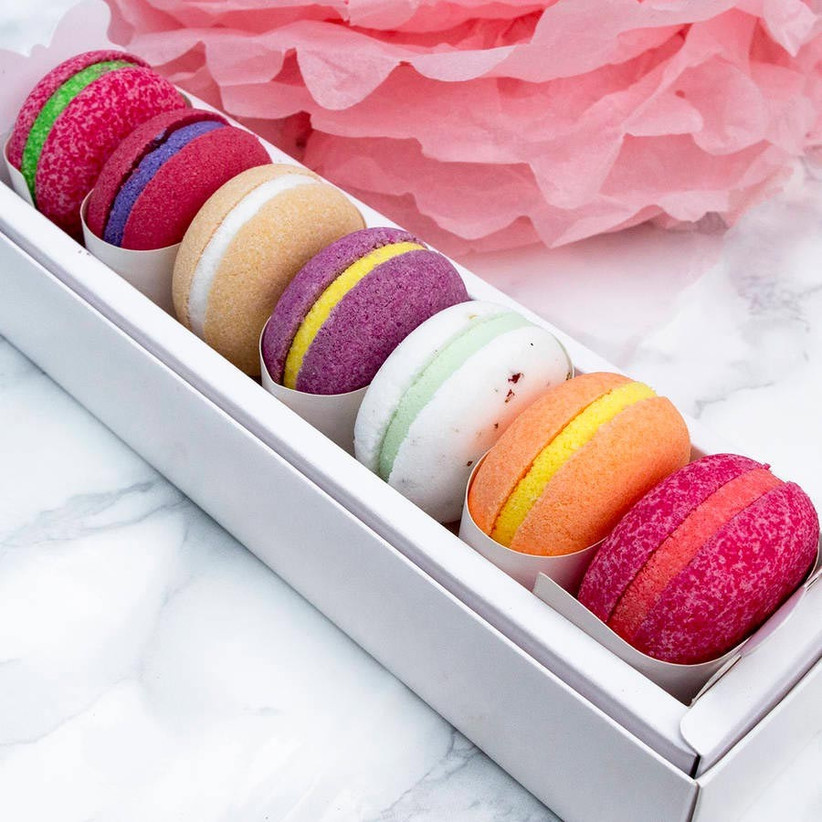 Macaron Pens
Make writing in your wedding guest book a breeze by giving each of your guests a pretty gel pen complete with a macaron themed lid.
They'd also make a super cute edition to a hen party gift bag, particularly if you're going on an afternoon tea themed hen party.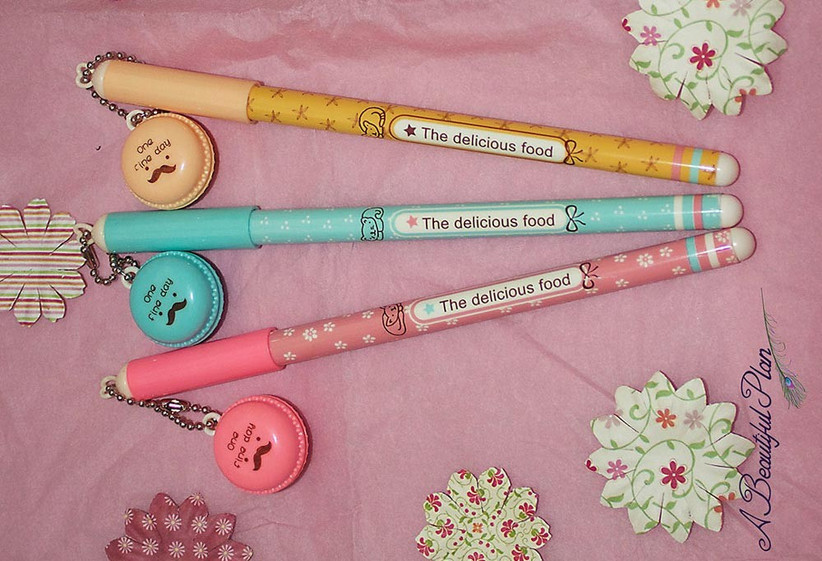 Image credit: A Beautiful Plan
Doughnut Macarons
Looking for ways to include doughnuts at your wedding? What about treating your guests to doughnut shaped macarons as wedding favours? These beauties from The English Rose Bakery look absolutely delicious and come in a seriously tempting range of flavours, including strawberries and cream and brownie batter.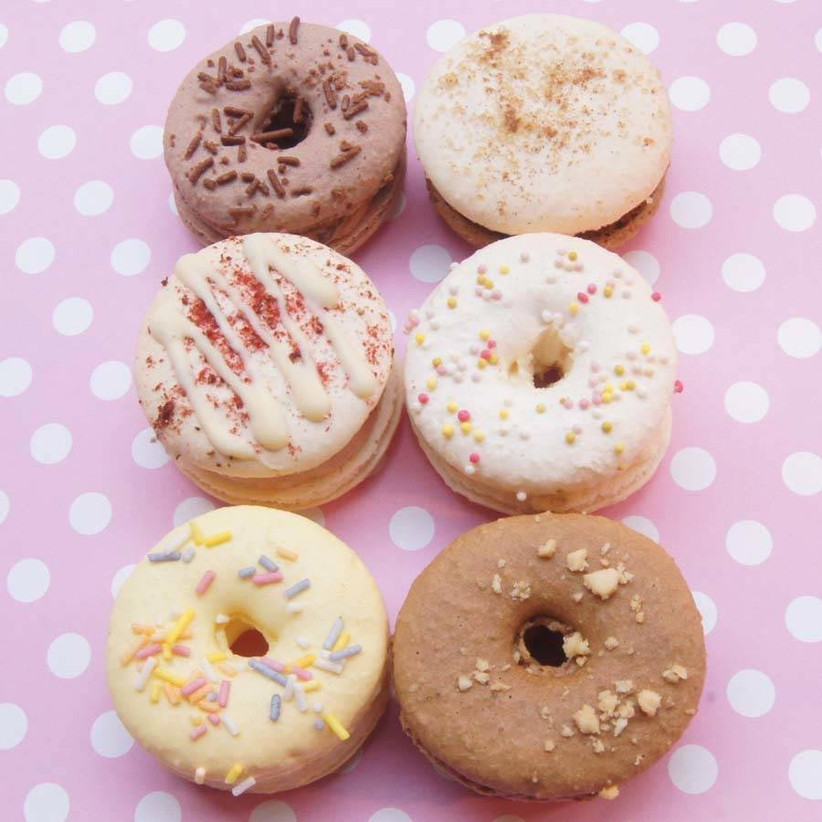 Macaron Bookmarks
If you've already planned out your perfect book themed wedding, but now want a way to include macarons too, we've got you covered.
Consider these amazing macaron inspired bookmarks from Dizzy Day Dreamz. They are made from polymer clay and come in a range of colours – your book loving guests will be delighted with them.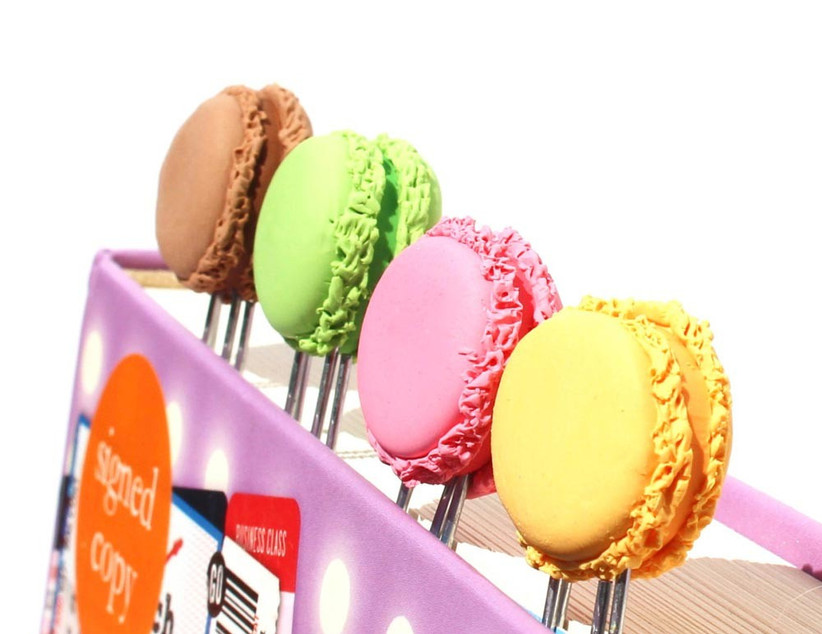 Heart Shaped Macarons
Make sure love in constantly in the air on your wedding day by treating your nearest and dearest to these gorgeous heart shaped macarons from The English Rose Bakery.
They're champagne and strawberry flavoured complete with a decadent white chocolate ganache – ideal if you're looking for a luxury wedding favour idea to show your guests how much you appreciate them.
We've got even more ways to include bubbly at your wedding if this is right up your street.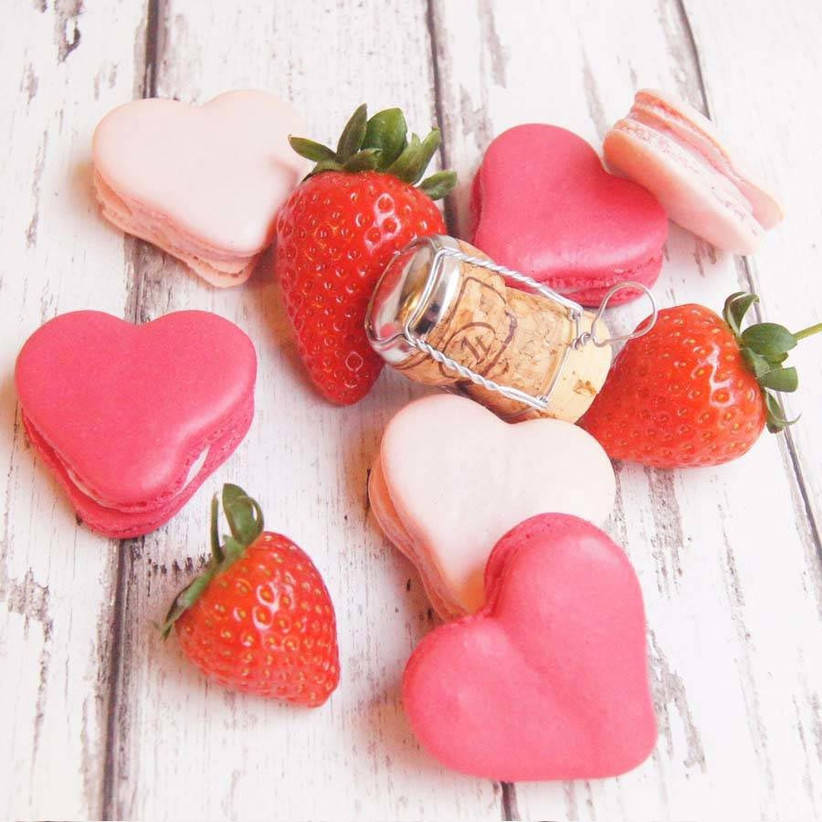 Macaron Pin Badge
These cute enamel badges from Punky Pins are a sugar-free way to share your love of macarons with your friends and family.
They're the perfect choice of wedding favour if you already have a sweet buffet full of treats for everyone to enjoy.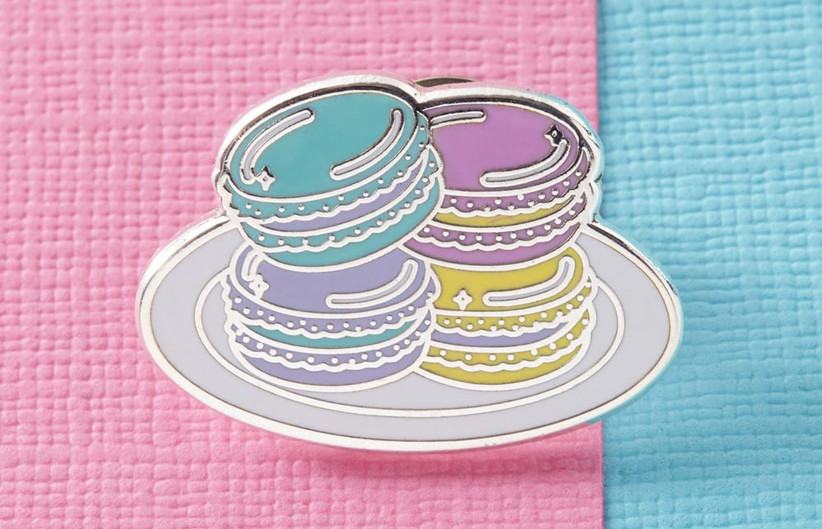 Macaron Key Ring
Get everyone to dress up their keys with these adorable crocheted macaron key rings from Clari Craft.
They come in a choice of colours so you can match them to your wedding colour scheme and are a super cute option if you want to share the macaron love without spoiling your guests' appetites.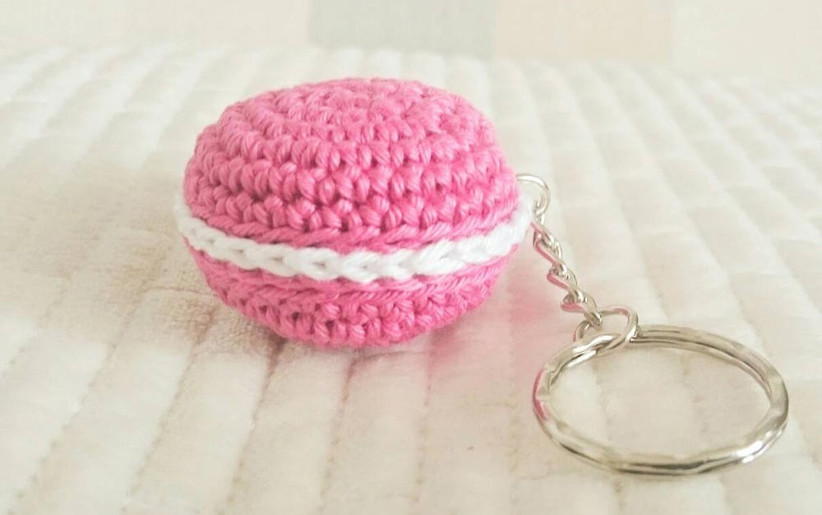 Macaron Charm
If you've got wedding budget to burn, check out these gorgeous macaron charms from Links of London.
They're not the most affordable option but they are totally adorable. Maybe they'd work as a bridesmaid gift – or leave this on your computer screen if you want your other half to surprise you on your wedding day with a macaron charm!
They come in shades such as lemon, pistachio and blueberry meaning they sound almost good enough to eat.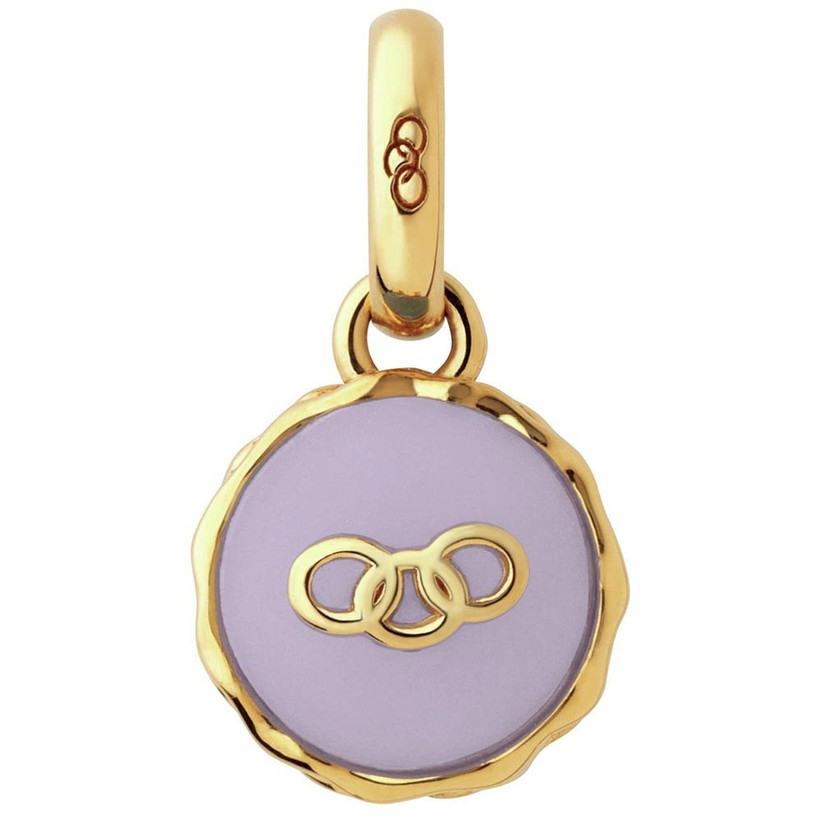 Alcoholic Macarons
Are you looking for the perfect alcoholic wedding favours? What about these amazing cocktail flavoured macarons from The English Rose Bakery? Flavours include white Russian, mojito, raspberry daiquiri, blue lagoon and old fashioned.
Your guests will adore the taste sensation and it's a seriously elegant way to present wedding cocktails to your friends and family.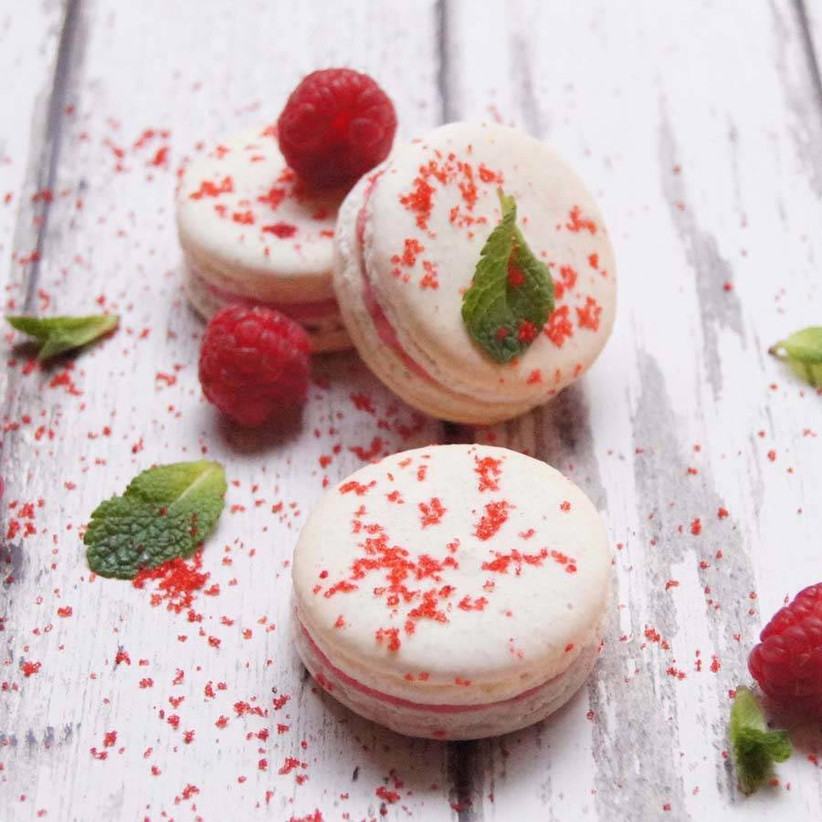 Still not found the perfect wedding favours for your big day? Why not check out our edit of the best unusual wedding favours – you're bound to find something to suit your style there.