18 Amazing Wedding Dessert Table Ideas (& How to Create Your Own)
Cake and dessert bars are certainly having a moment, and for good reason! Not only do they look great in your wedding snaps but they're a guaranteed guest-pleaser too.
We have included third party products to help you navigate and enjoy life's biggest moments. Purchases made through links on this page may earn us a commission.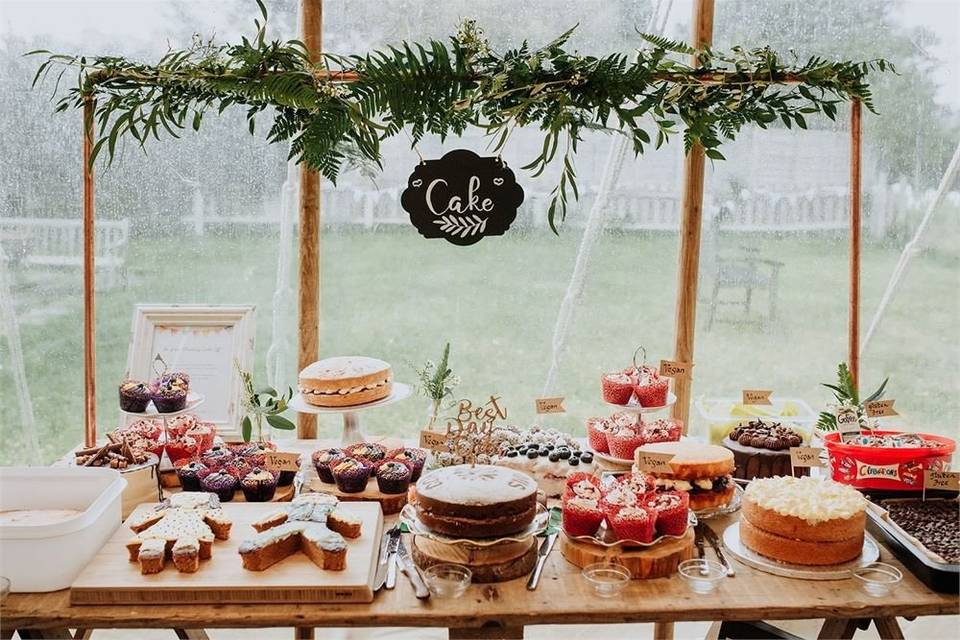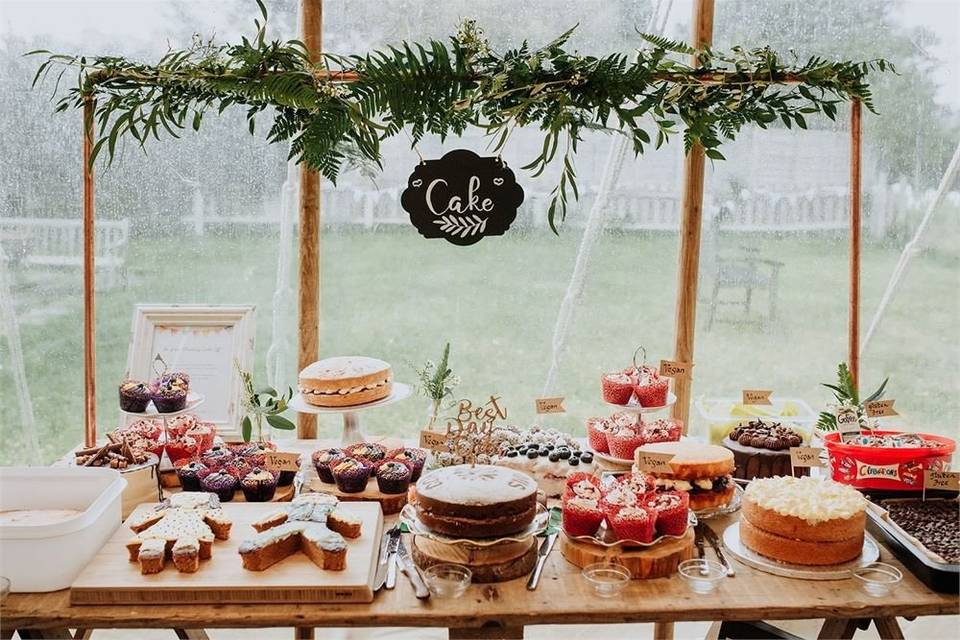 While a single beautiful wedding cake is still a very popular choice, more and more couples are opting to get creative with their wedding dessert offering.
No longer tied to the idea of a traditional bake, many couples are dishing out everything from donuts to candy floss at their wedding receptions and we are totally here for it.
Not only are the treats involved delicious but the decorative touches and stunning backdrops that are often incorporated help to create an Instagram-worthy centrepiece for a wedding reception.
To get you feeling inspired, we've gathered our favourite wedding dessert table ideas and chatted to an expert to find out exactly how you can go about crafting your very own show-stopping cake and dessert bar.
18 Cake and Dessert Bar Ideas
1. Classic with a Twist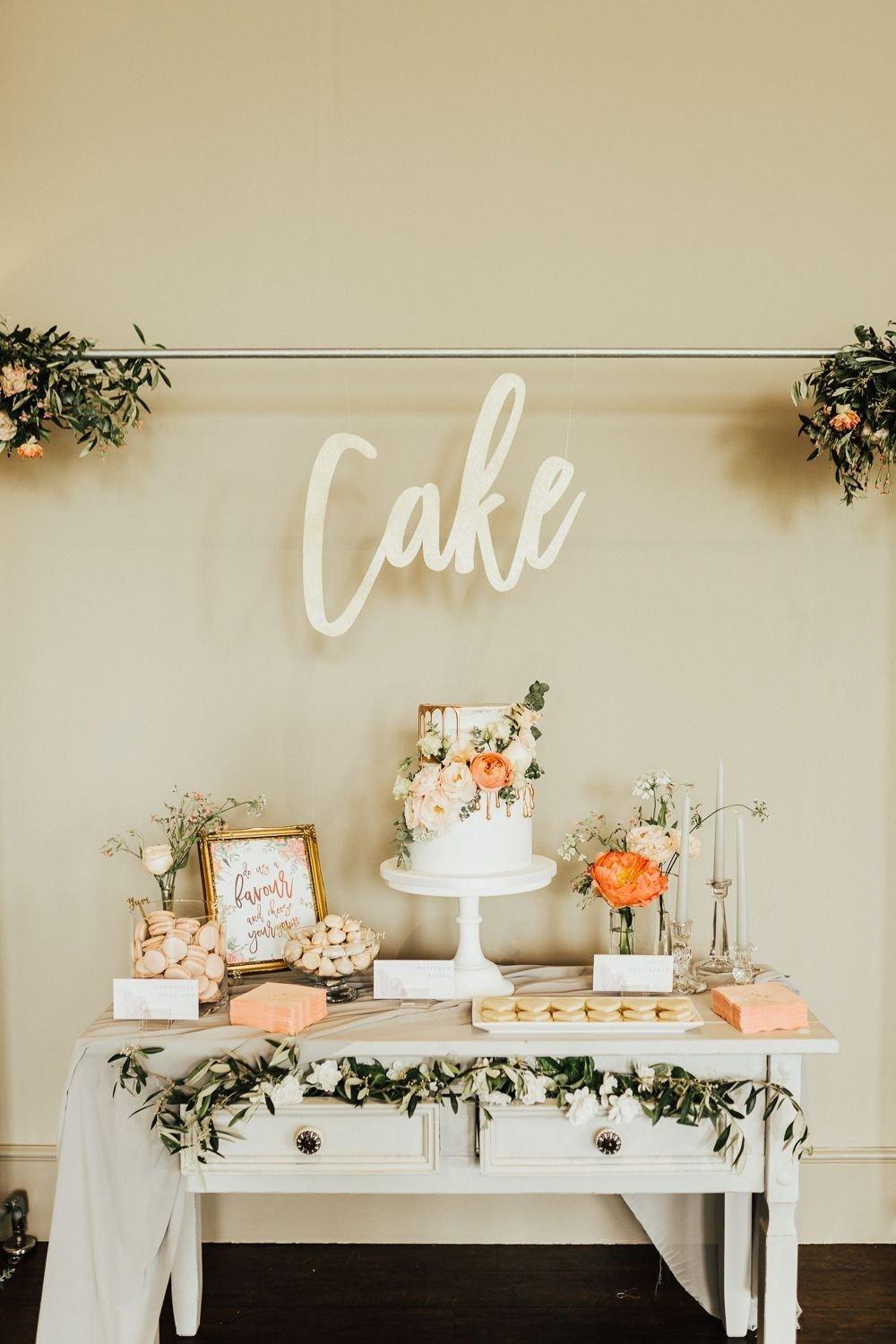 Image: Pinterest
Give the usual round dessert table a miss and source an old dresser or desk to display your wedding cake and desserts. Reclamation yards and boot sales are the perfect places to pick something up for under £20 and all you need to do once you've bought it is give it a lick of paint and add some quirky handles. Add some funky signage and ask your florist to create a floral wreath and you've got a very modern take on the traditional wedding cake table.
2. Homemade Bakes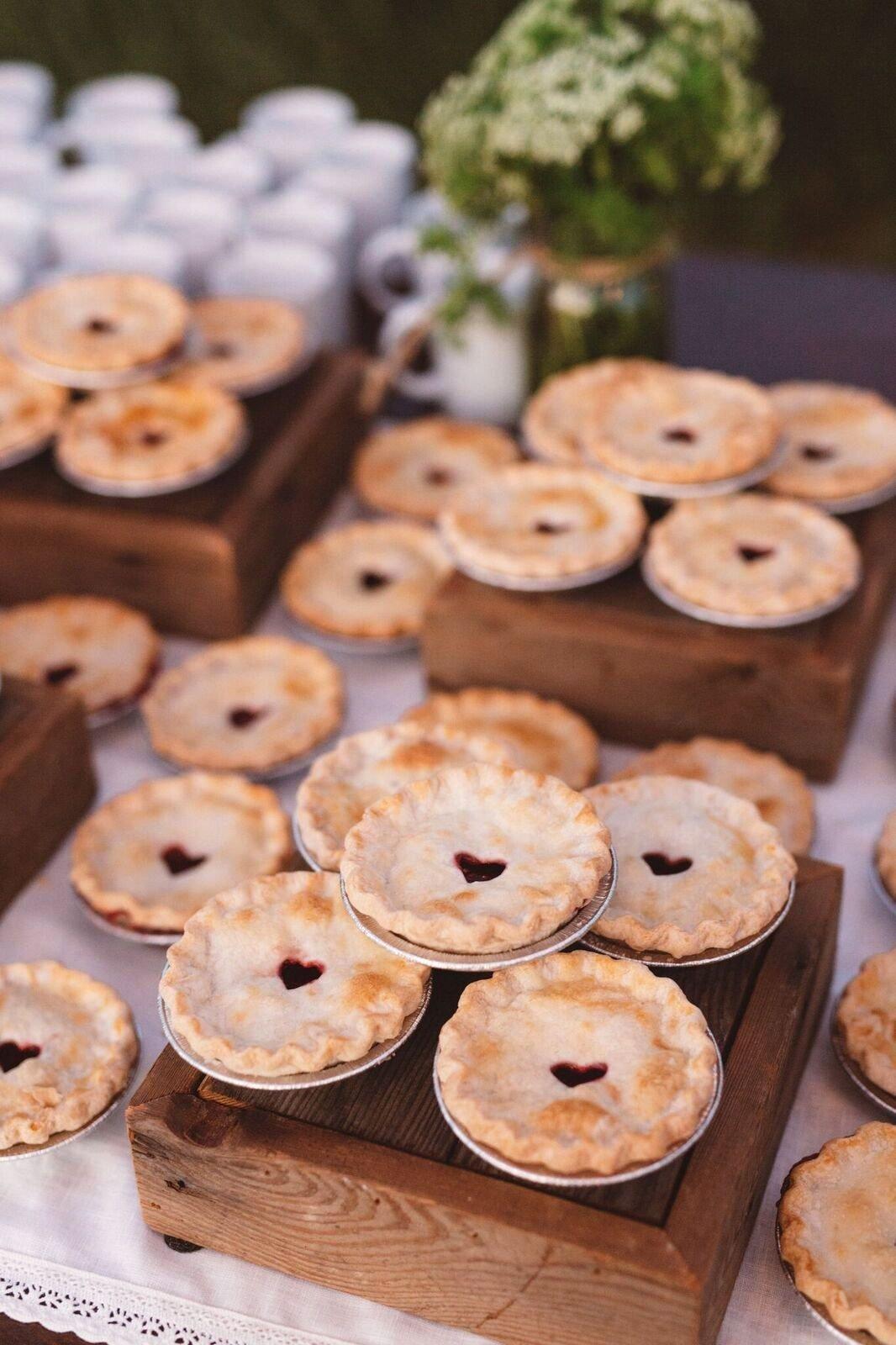 Image: Pinterest
If you're throwing a village hall or chilled-out tipi wedding, homemade cakes, pies and tarts will set your theme off perfectly. Ask any keen bakers in the family to whip up some of their specialities for an extra-personal touch and sit trays on white vintage-style table runners and cloths.
3. Colour Coordinated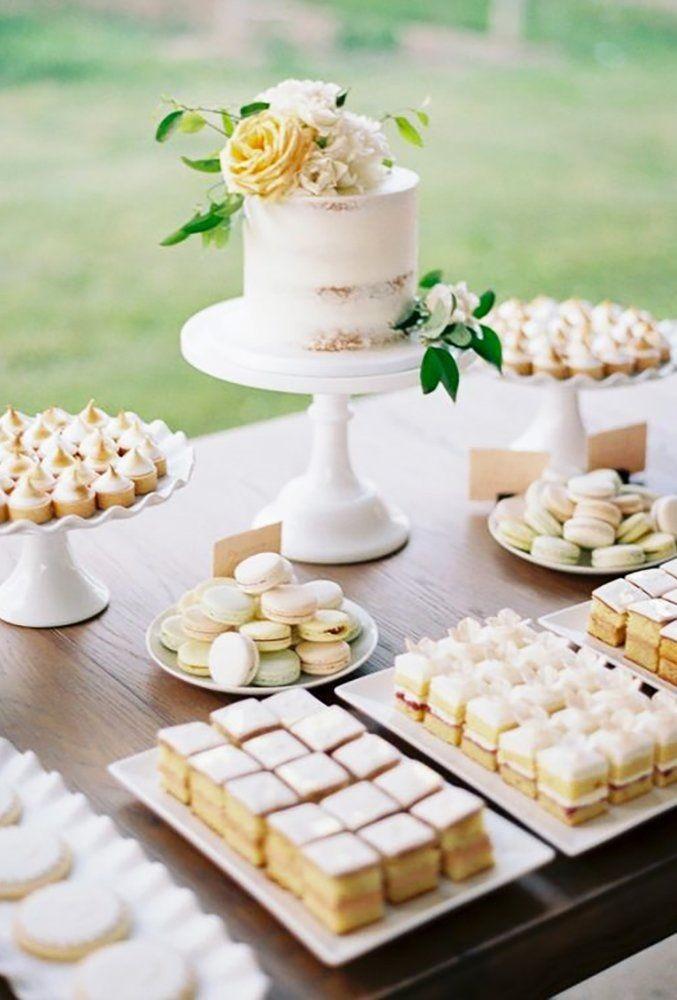 Image: Pinterest
An elegant and traditional wedding is the perfect setting for a colour coordinated wedding cake and dessert table. We love that the yellow of the blooms on this cake carries into the rest of the mini desserts, giving it a fresh and stylish look.
READ MORE: 63 Incredible Wedding Cake Ideas to Inspire You
4. Industrial Style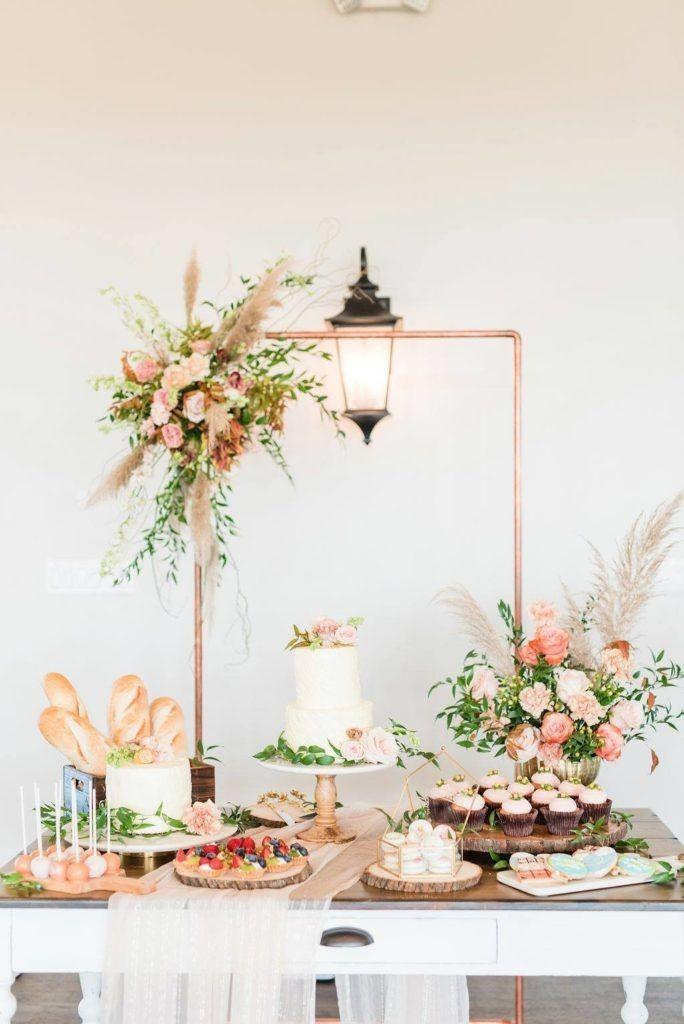 Image: Pinterest
Steel and copper pipes will inject instant industrial style into your wedding reception. Adding natural materials such as wooden trays, flowers and foliage will stop the display from looking too harsh and create the perfect blend of contemporary-cool and classic wedding prettiness.
5. Churro Bar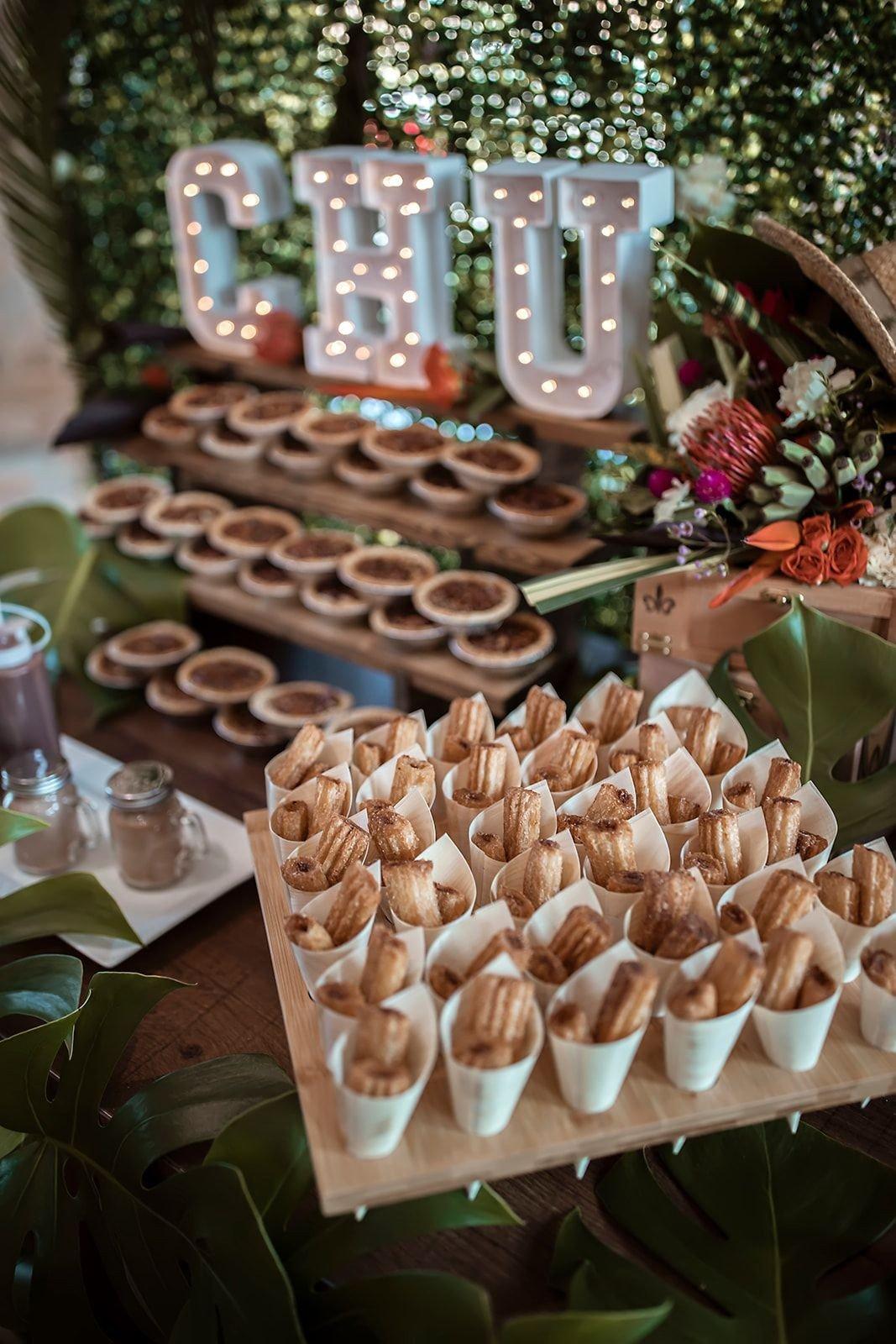 Image: Pinterest
It's totally cool if you're just not into cake and cookies. There are plenty of desserts out there and we think it's important that you choose something that you both genuinely love. At Hitched HQ, we love a churro or five and so we'd pick these churro cones to adorn your dessert table every time!
6. Doughnut Stack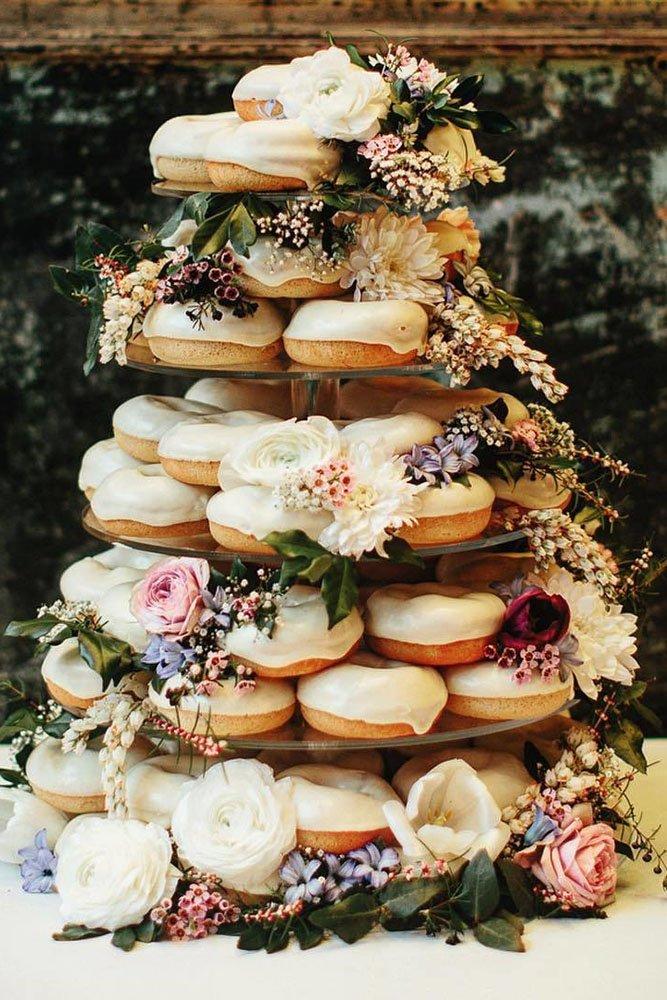 Image: Pinterest
If a wedding cake just isn't for you but you regularly find yourselves at the Krispy Kreme drive-through, switching a traditional bake for a doughnut stack makes total sense. Work with your florist on a design that will make your doughnut display look as good as it will taste.
7. Dessert Shelf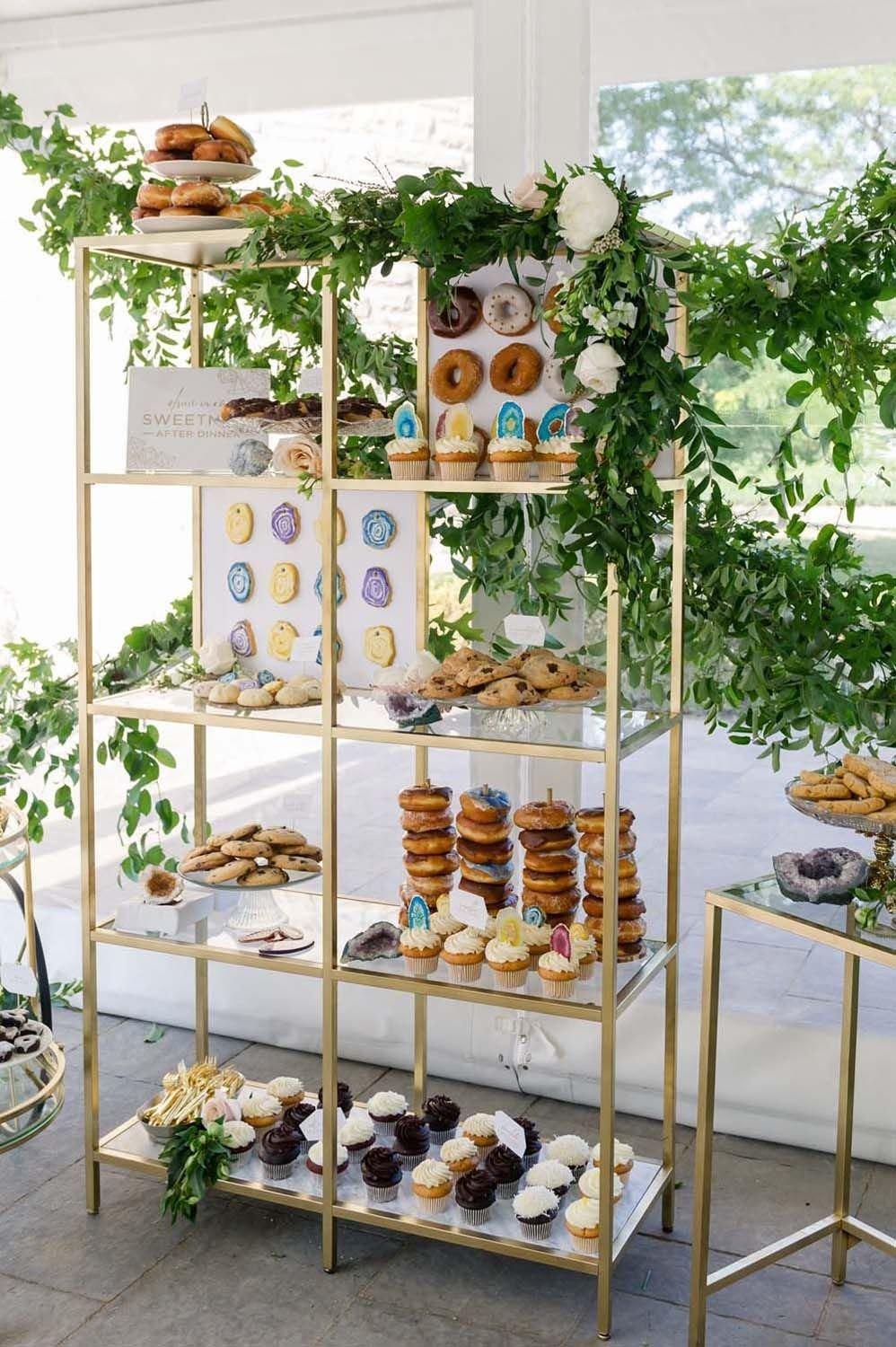 Image: Pinterest
Who says a dessert table needs to be an actual table? Not us! We love this chic gold and glass shelving unit entwined with foliage and flowers.
8. Floral Brights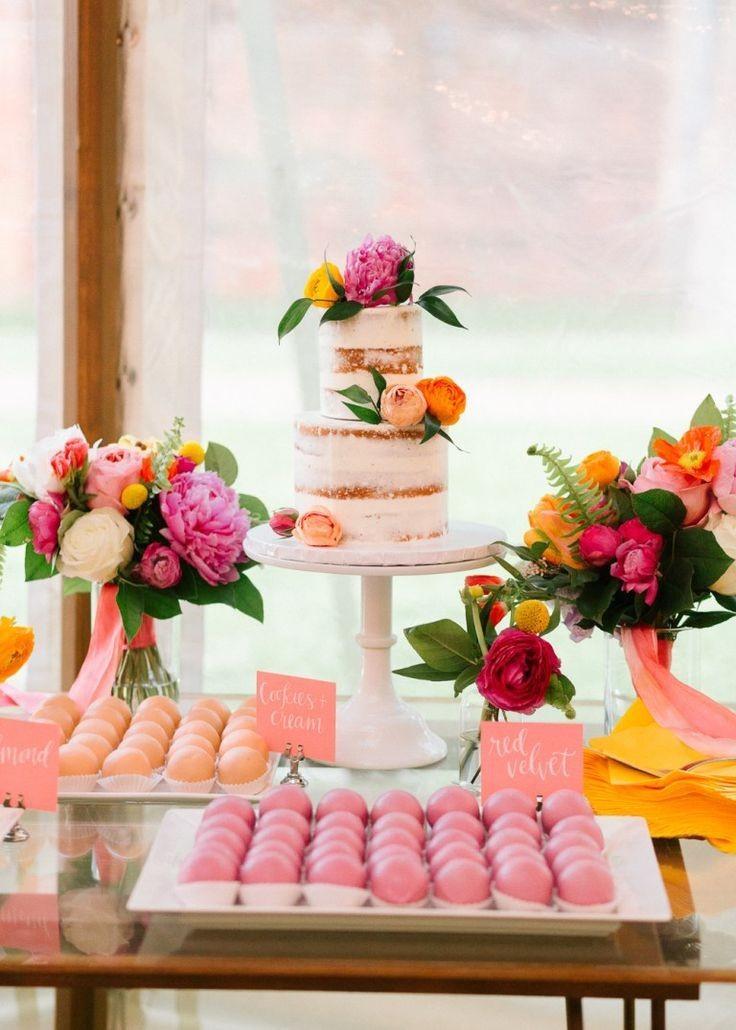 Image: Pinterest
After the ceremony, you and your 'maids won't need to hang onto your bouquets and so it makes sense to utilise them elsewhere. Ask your venue to have some vases ready on your dessert table and add your bouquets to them once you're done with them. The flowers will give your dessert table an extra pop of colour and prettiness for no extra cost.
READ MORE: 37 Wedding Cake Alternatives for Couples Who Are Over Tradition
9. Cactus Theme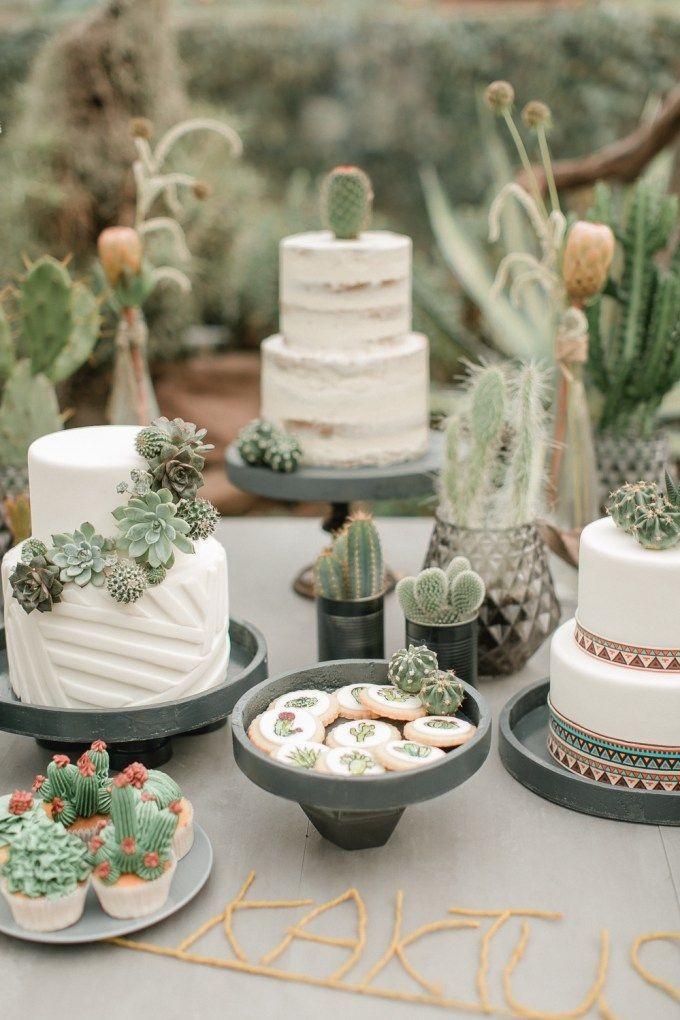 Image: Pinterest
While flowers might be the most popular wedding décor choice, cacti and succulents have been having a moment recently. We love the ikat-style cake ribbon combined with the plants made entirely of icing and the real deal dotted across the table too!
10. Stacked Crates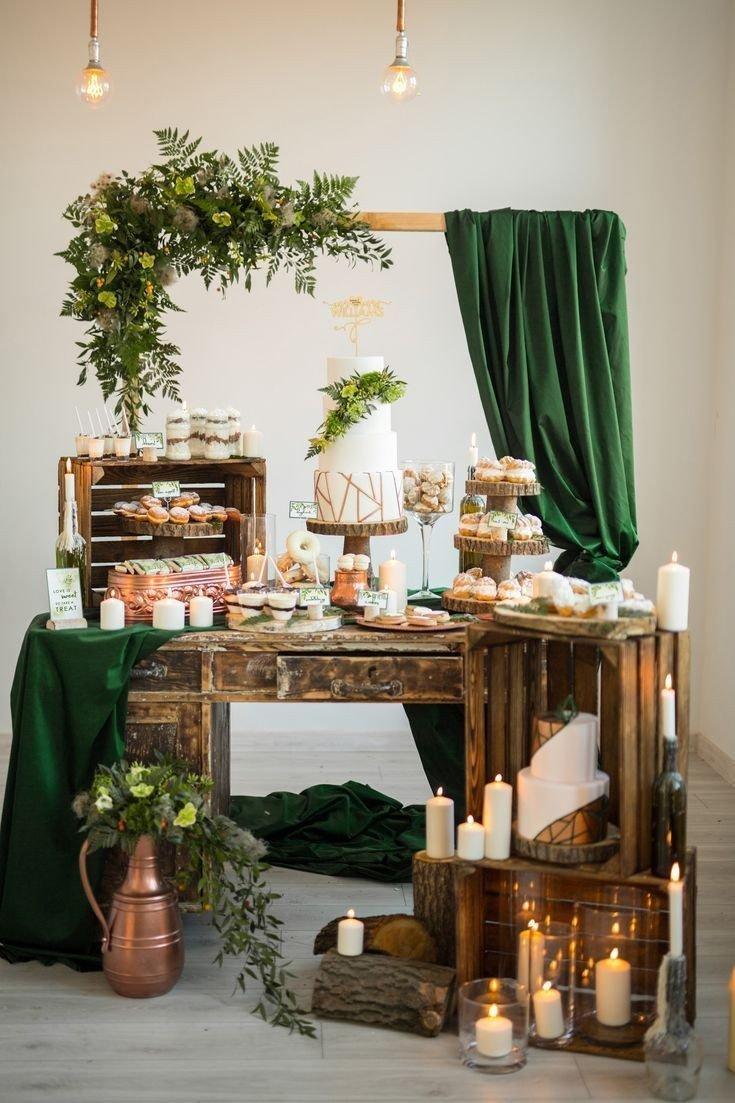 Image: Pinterest
Wooden crates are a cheap yet effective way of adding interest to your wedding dessert display. Stacking crates around the main dessert table allows you to showcase your desserts at different levels and incorporate props for added interest.
11. Macrame Accessories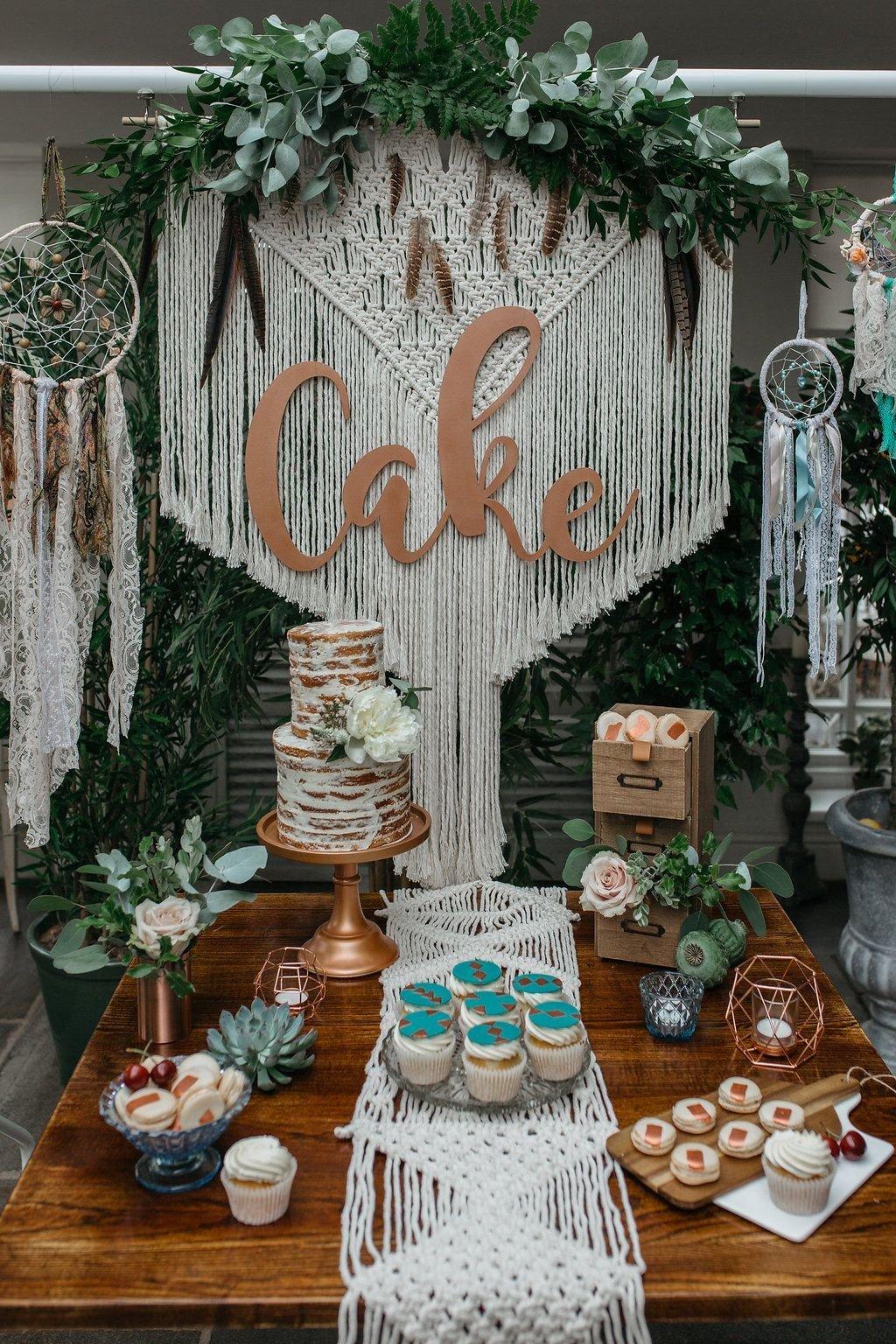 Image: Pinterest
From 70s-style boho wedding dresses and flower crowns, to macrame table runners, we just love a rustic theme. There are plenty of macrame kits out there if you fancy giving some wedding DIY a go and crafting some pieces of your own!
12. Rustic Cake Bar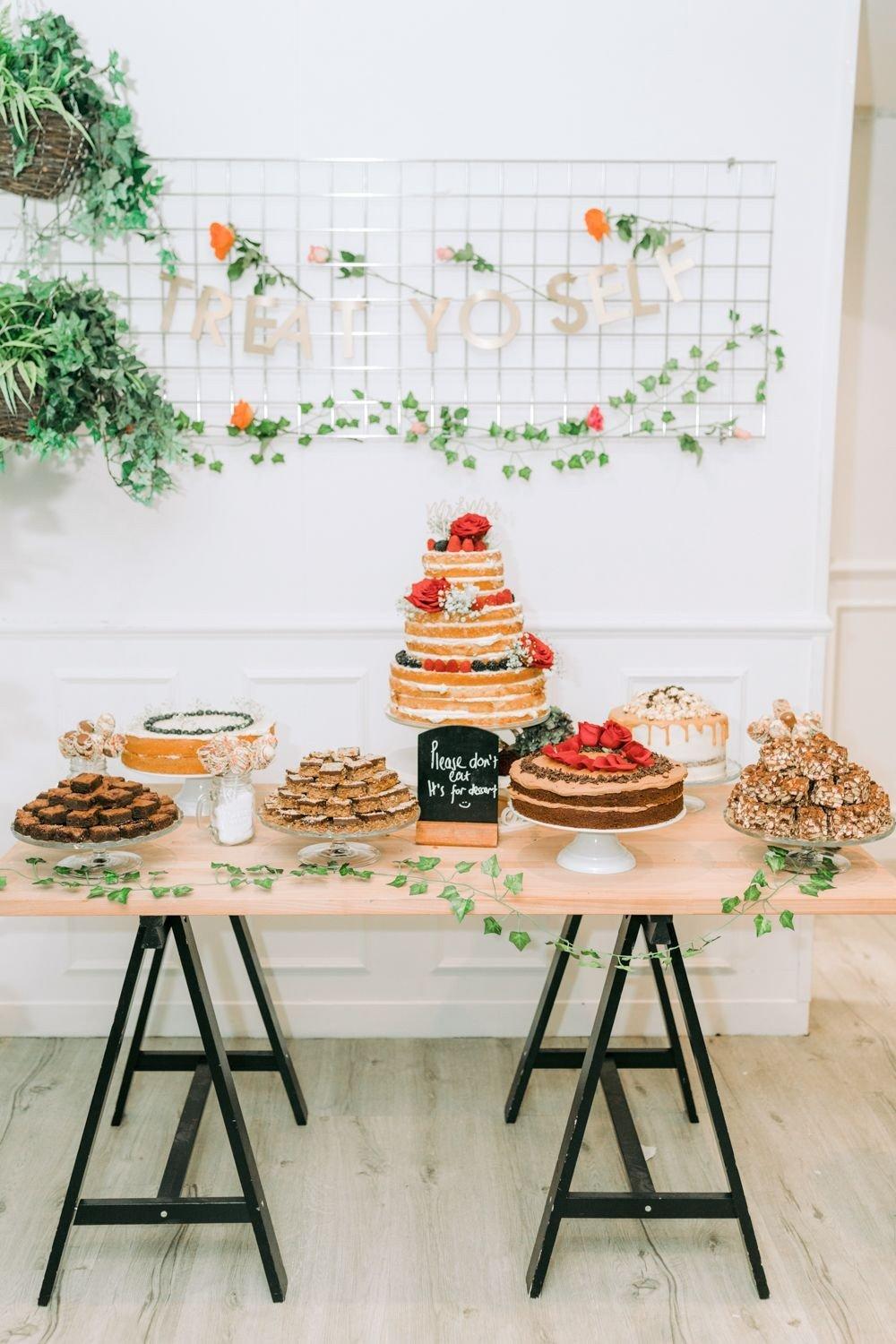 Image: Pinterest
Speaking of rustic, a pasting table display can give that laid back, homespun feel that so many couples love. Avoid overly polished and perfected bakes and instead pack your table with brownies, flapjacks and naked cakes to keep that homemade vibe.
13. Vintage-Style Display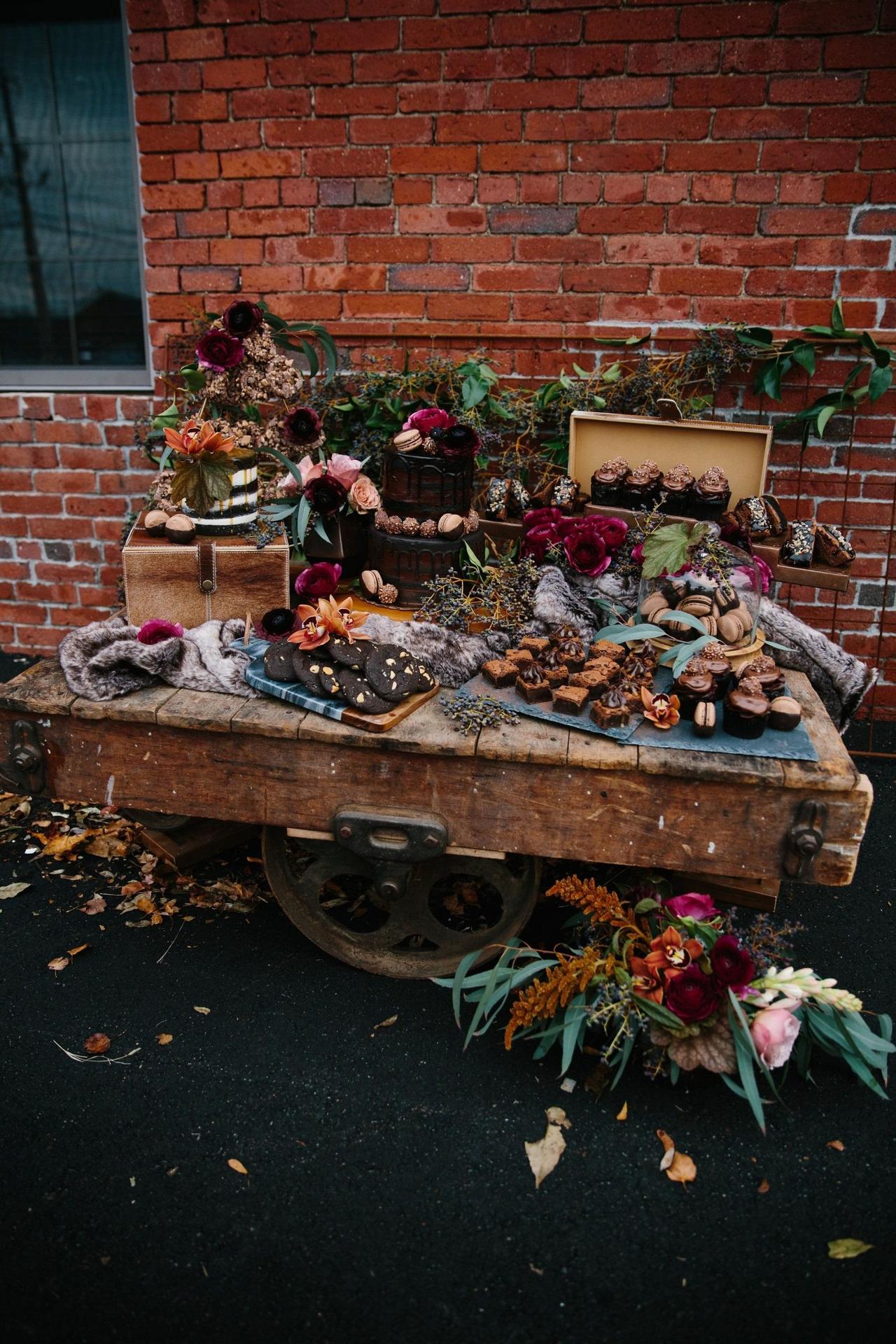 Image: Pinterest
We love the mix of colours and textures in this vintage-style display. The faux-fur runner contrasts beautifully with the old, textured wood and scattered foliage. Buy a mix of chopping boards, trays and chests to give your wedding dessert table that thrown together feel that is oh-so stylish.
14. Tiered Cake and Dessert Bar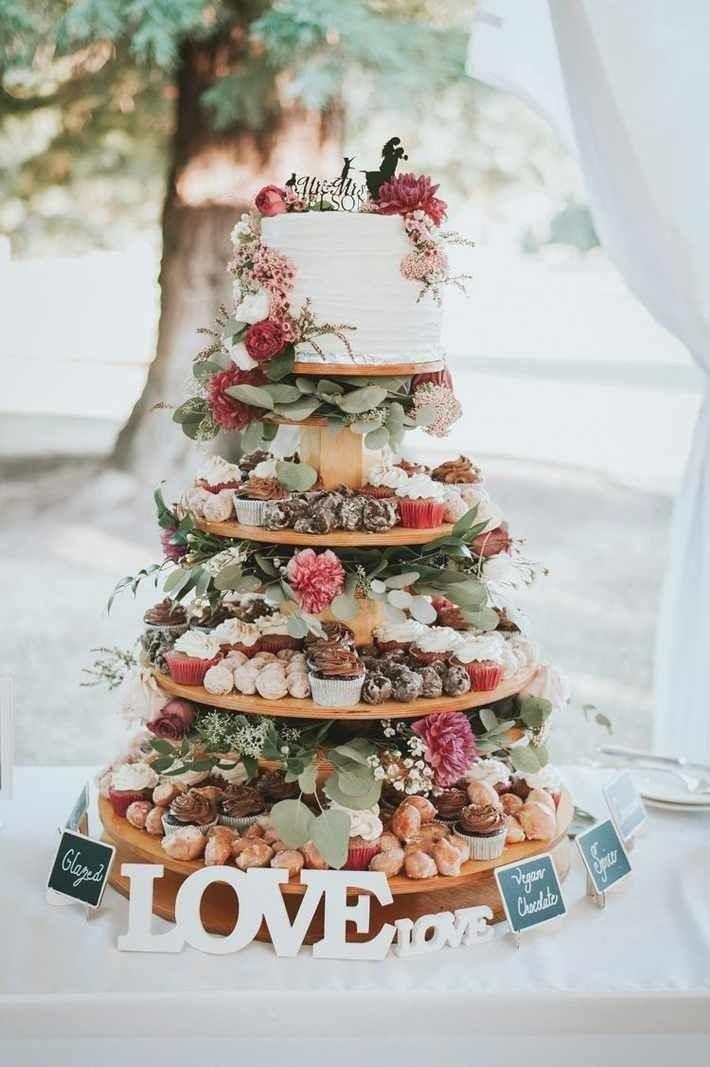 Image: Pinterest
If you're limited on space, you can still have a beautiful wedding cake and dessert bar by simply stacking sweet treats on a tiered cake stand. Place your wedding cake on the top tier and arrange different treats on the lower tiers along with handwritten labels telling guests what they are. Finally, finish with a few stems to add wow-factor.
15. Doughnut Wall Backdrop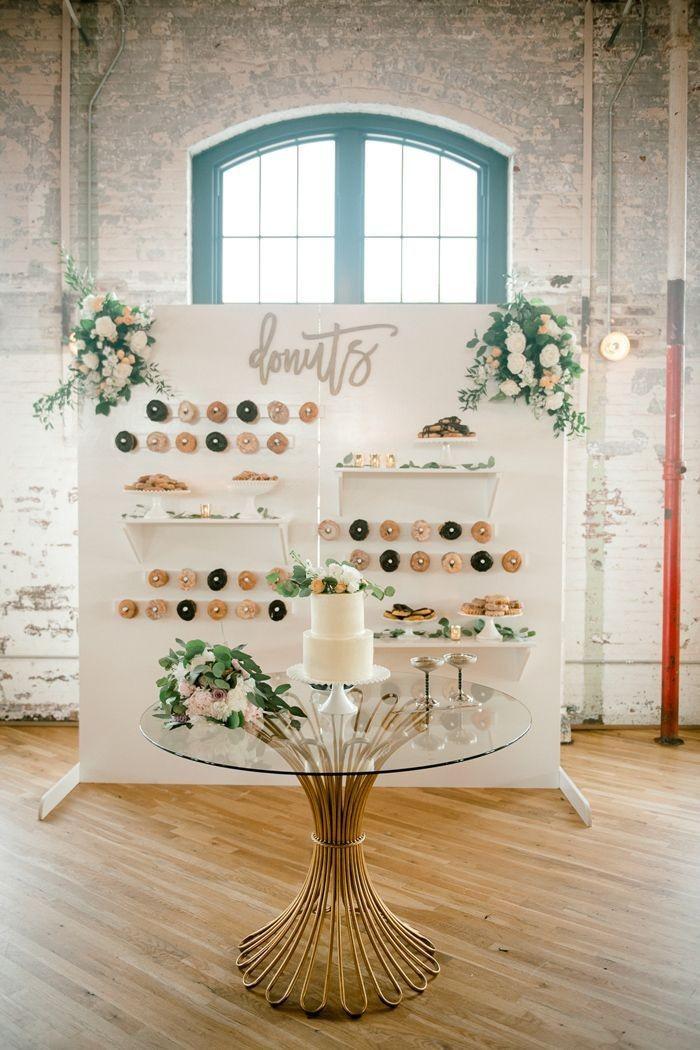 Image: Pinterest
Doughnut walls are hugely popular and it's no wonder – they're totally delicious and easy for guests to grab on the go. Draw attention to your wedding cake table by making your doughnut wall a backdrop complete with matching blooms.
16. Cookie Bar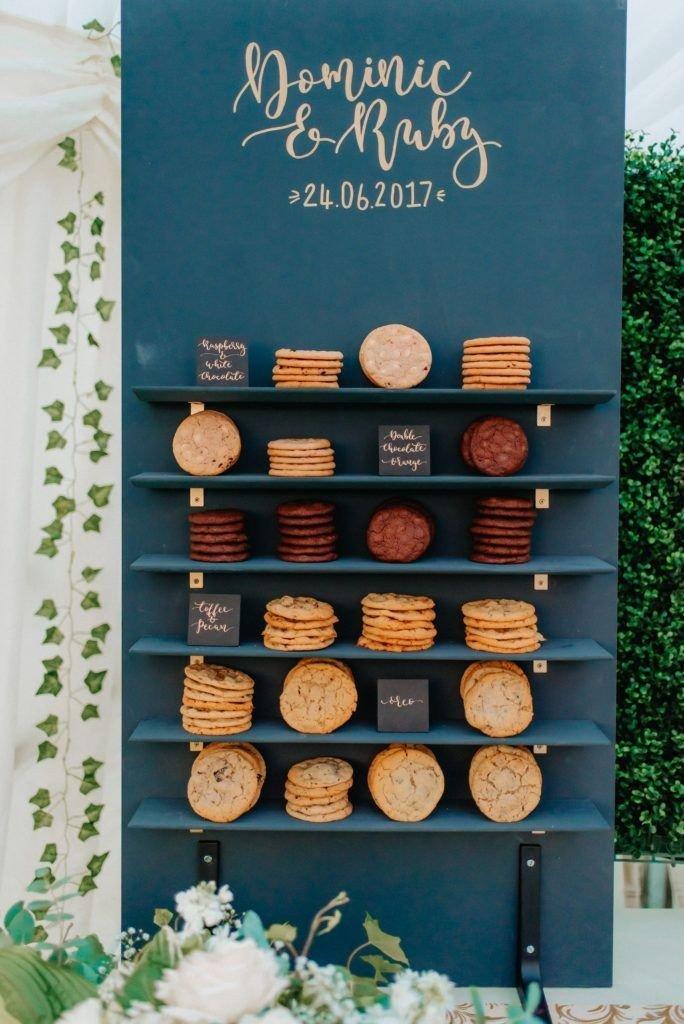 Image: Pinterest
Like doughnuts, cookies are a great wedding dessert table choice. Cookies can easily be grabbed on the way back from the dance floor and a range of different flavours will keep guests coming back for more all night long.
17. S'mores Bar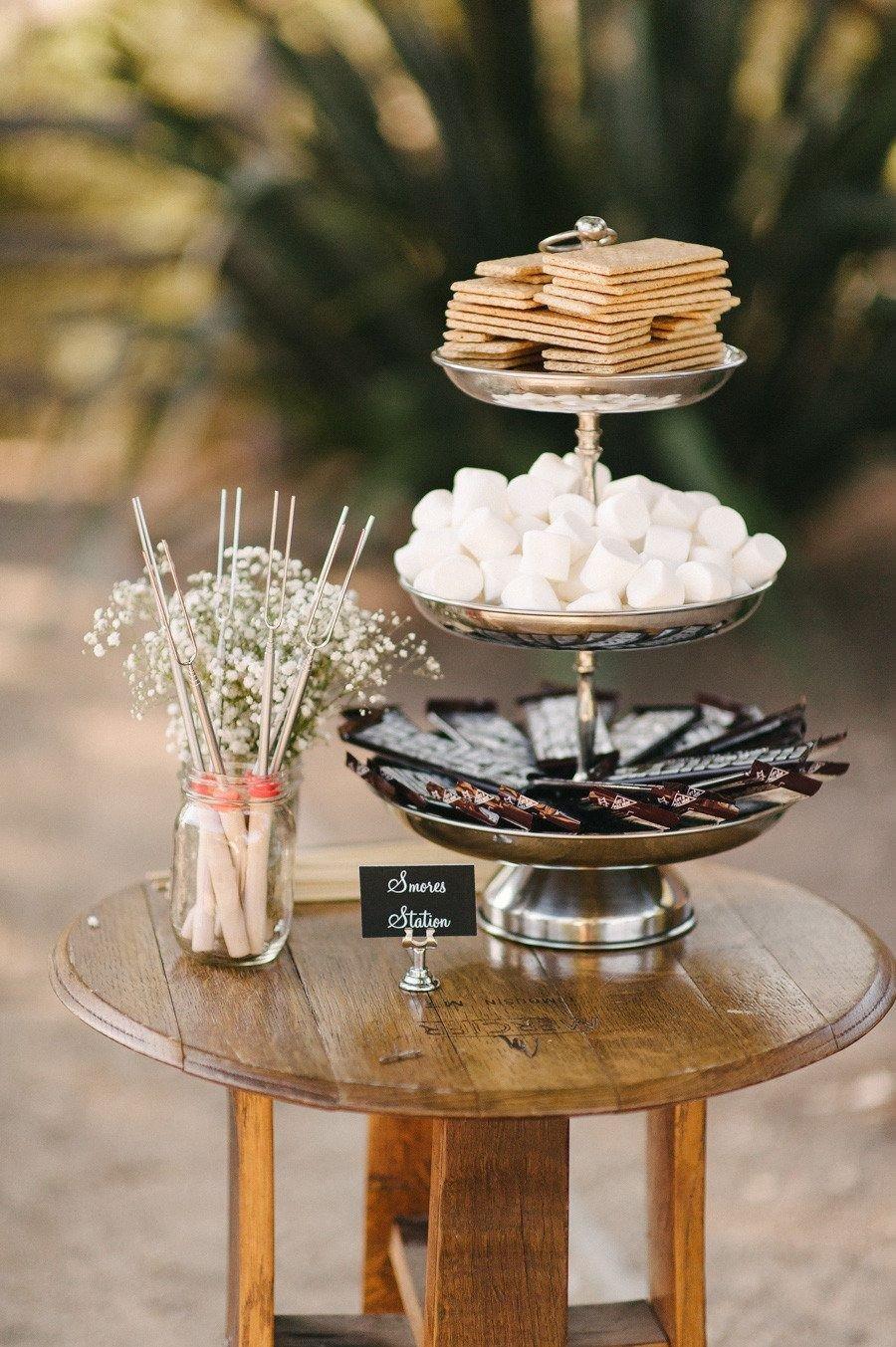 Image: Pinterest
An American wedding dessert trend that has recently found its way to British shores, s'mores are a delicious and cosy wedding snack. Ask your venue about setting up a fire pit and then invite guests to assemble and toast their very own sticky, sweet treat!
18. Candy Floss Cart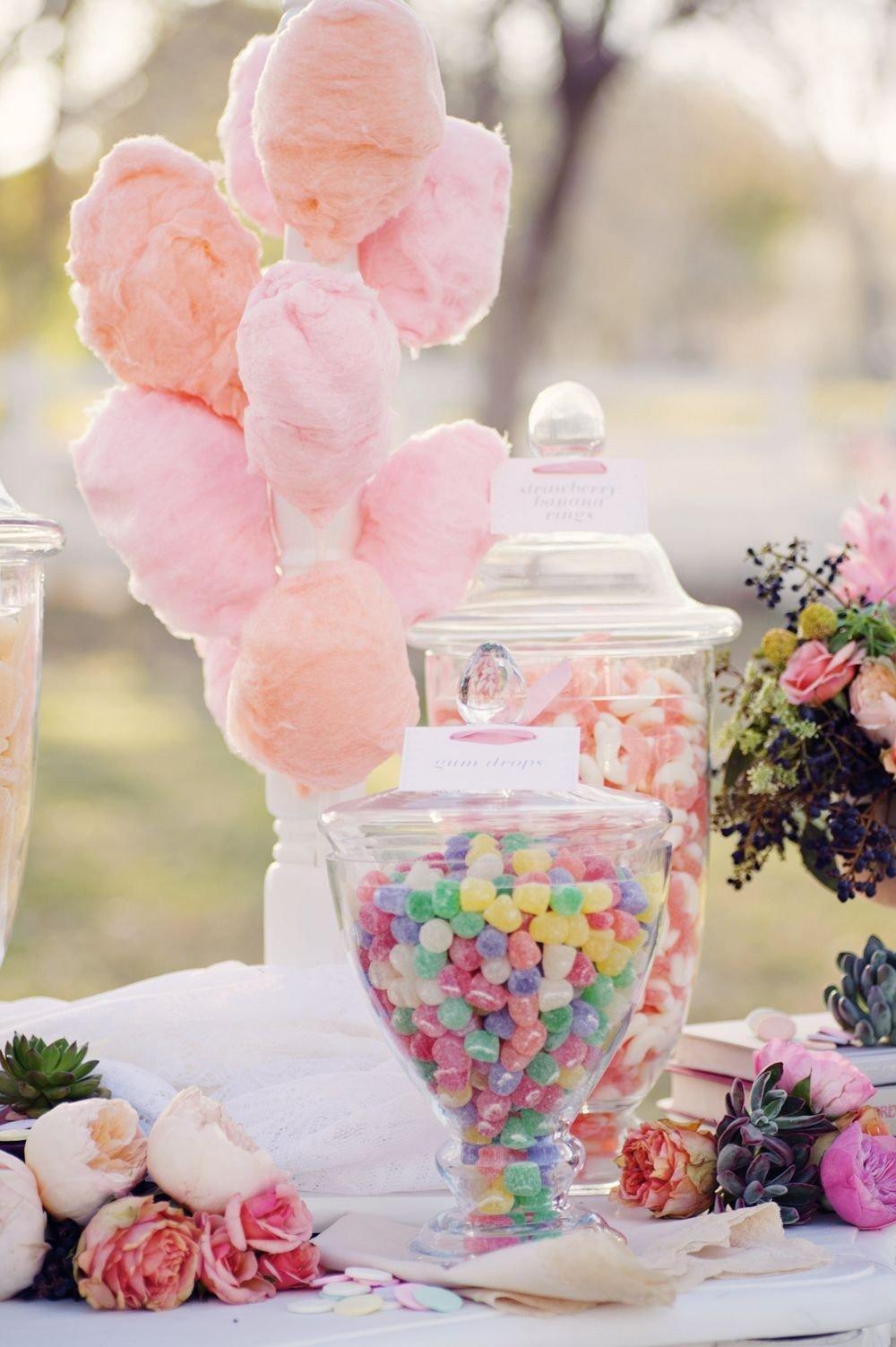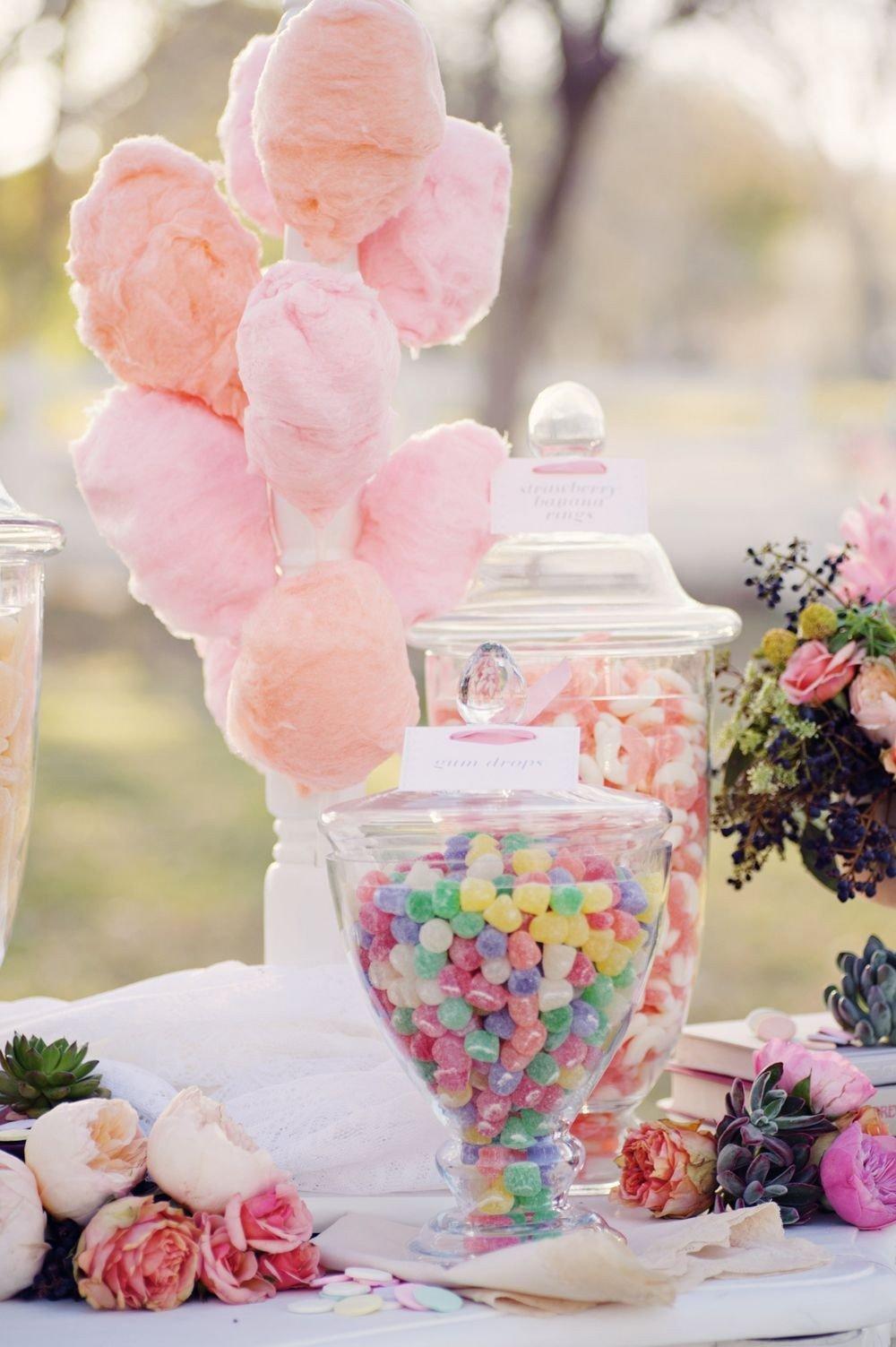 Image: Pinterest
Not only do these fluffy sticks of tastiness make for fab Instagram wedding snaps, they're also a total crowd pleaser. Most guests will appreciate a light sweet treat before hitting the dance floor to show off their best moves!
How to Make Your Own Dessert Table
1. Decide What to Serve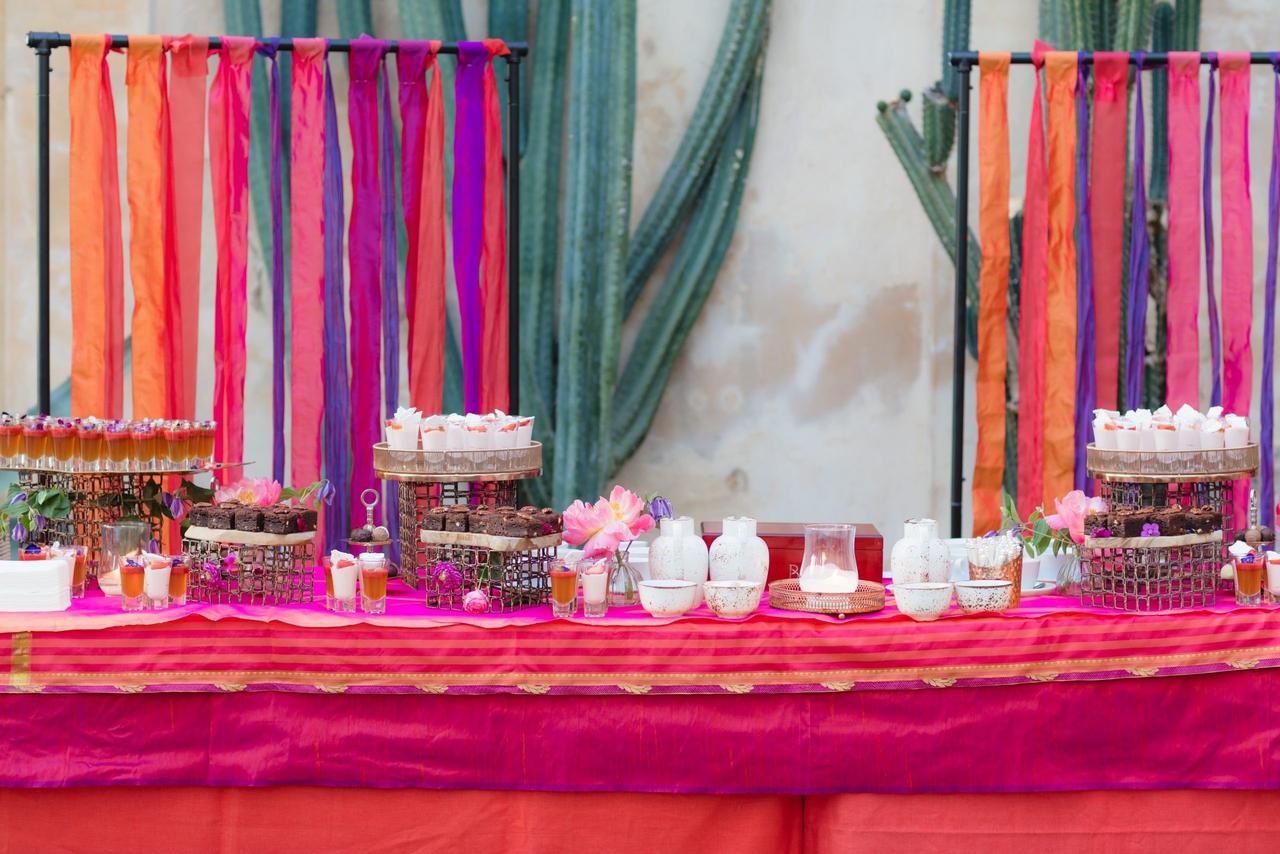 Image: Revelry Events
For the best advice on how to nail your wedding dessert table, we went to Holly Poulter, Creative Director at Revelry Events, who told us that the first thing you need to do is choose your sweet treat: "The main thing to think about when creating your own dessert table is, of course, what to serve. You want to ensure that you have something for everyone – and that sometimes includes savoury – you know, the people who order a cheese plate instead of tiramisu. Some people just don't have a sweet-tooth and you might want to add in some more savoury, fun options to make those people feel included. Think about cheese and crackers, fruit, nuts, and biscuits.
"For everyone else? Go to town on your favourites. Mix in your chocolate brownies with your cake slices, mini donuts with cola bottles – just make sure they are the perfect size for finger food / picking, if you're not providing proper plates and cutlery."
Make sure you create labels for each dessert if you're having many different types. Most people like to know exactly what they're tucking into and guests with allergies will need to know what's in each item.
2. Confirm How Much You Will Need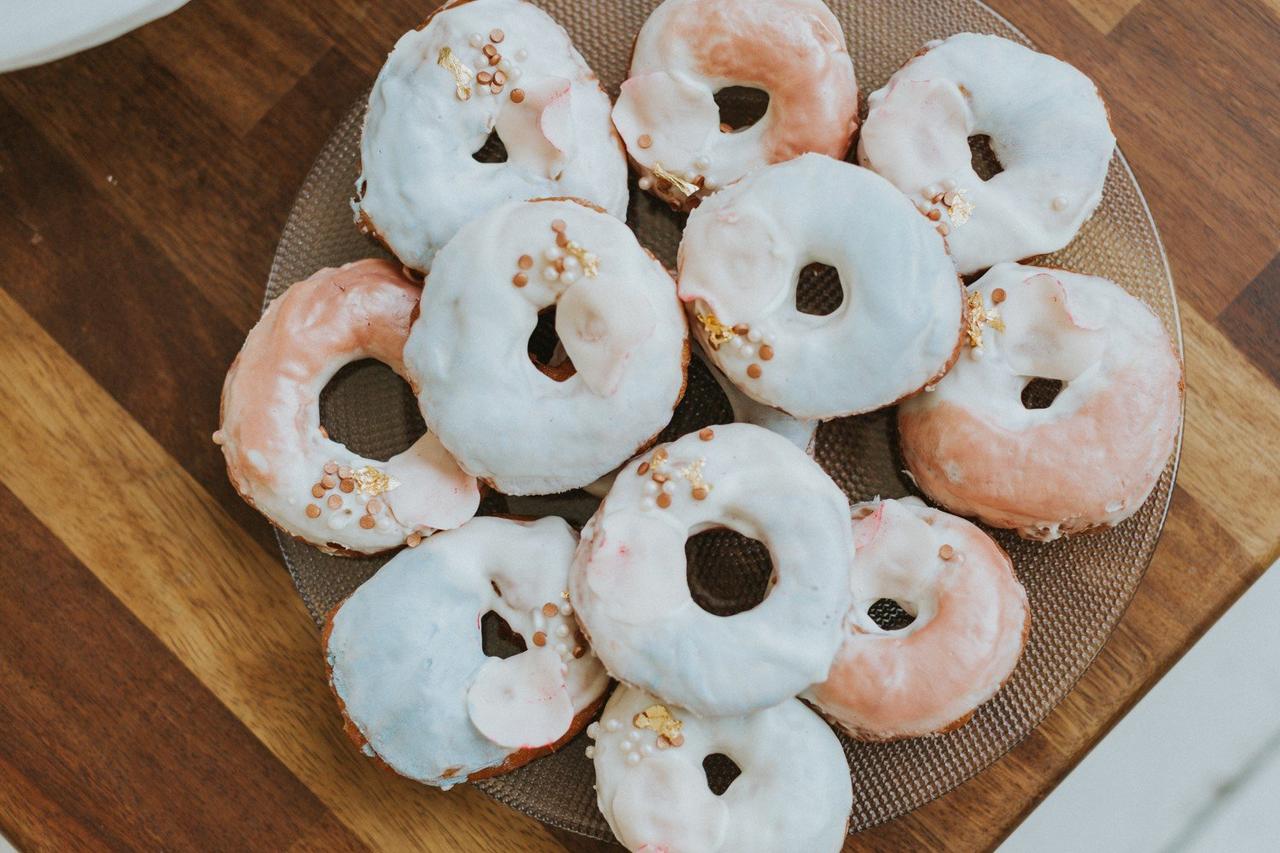 Image: Revelry Events
"Quantity is the next thing to consider, and as a rule of thumb it's better to over-cater than not enough (those brownie bites will get eaten eventually)," explains Holly. "Look to serve three to four portions per person (if you're not including a traditional cake in there) across five to six types of sweet treats."
If you are including a traditional wedding cake along with your desserts then make sure you ask your cake maker how many the cake will serve and subtract that amount from the number of desserts needed. You will need to order slightly more desserts than the number you're left with after you've taken the wedding cake into account to accommodate those wishing to sample both, but it will help you to get a rough idea.
If you're planning on baking anything yourself, we recommend following basic
Food Standards Agency
hygiene rules by wearing gloves, tying your hair back and making sure food is stored at the correct temperature before serving. It may be a pretty dull thing to focus on but trust us, it's way better than dealing with a bunch of upset stomachs at your wedding reception.
3. Consider How You Would Like to Style It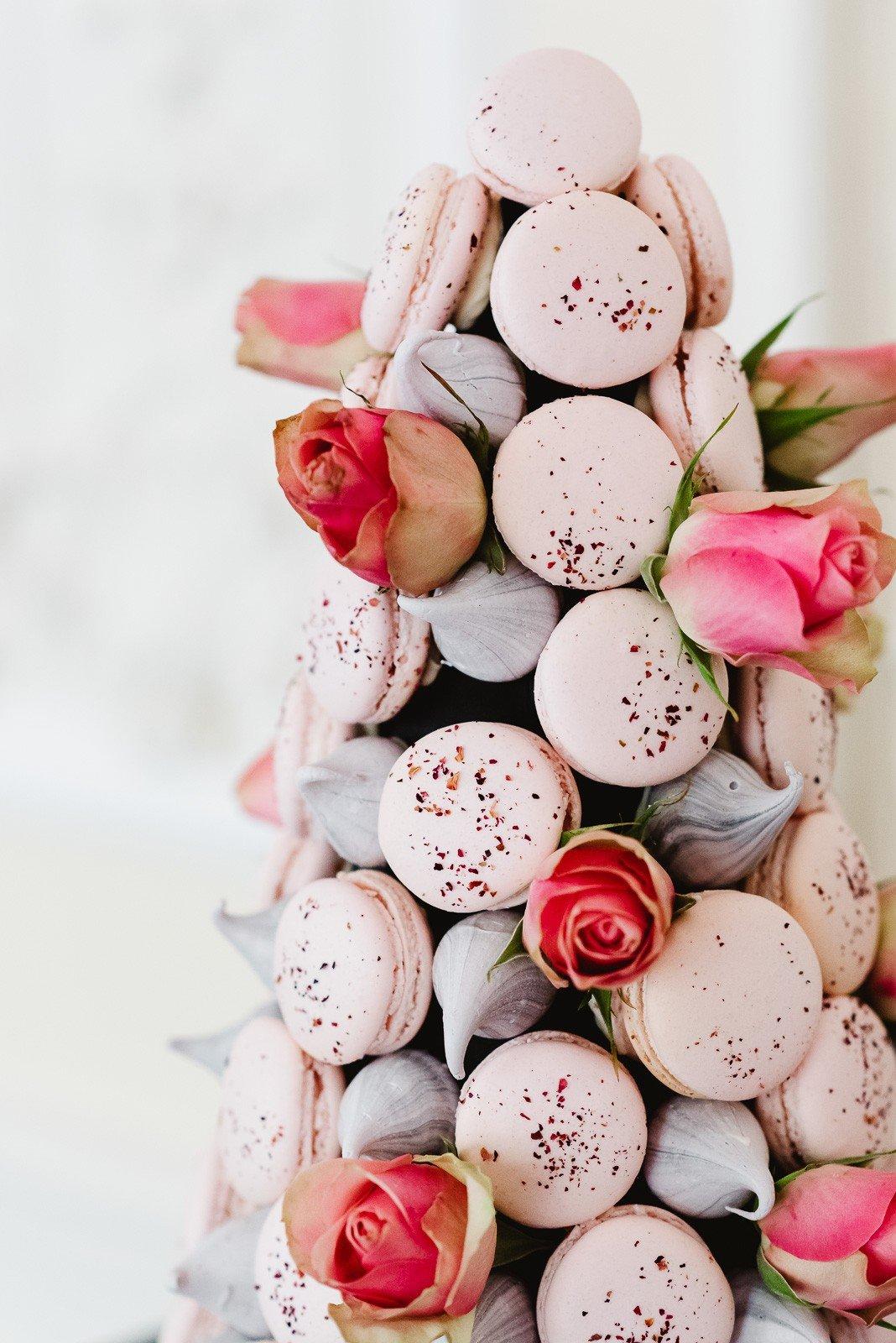 "It's also important to look at the visuals of your arrangement. Something that really makes an impact with a dessert table is height – bring in a few taller items like cake stands to place showpieces on, maybe risers for other finger foods, and layer the bottom with everything else" advises Holly. Items such as crates, chests and boxes that fit in with your wedding theme are also great for adding levels to your display.
When it comes to making it look pretty, Holly suggests drawing inspiration from Pinterest: "Mix in florals, foliage or candles and a colourful statement cloth to give the table depth and that overall Pinterest-worthy look."
We hate to be the fun police here, but if you plan on incorporating candles into a display involving florals, fabric and lots of wooden crates, make sure the flames are positioned safely. It's worth asking your venue about their safety procedure when it comes to candles and double checking that they even allow naked flames. If not, there are plenty of flame-free options, just make sure you ask well ahead of the day so you have plenty of time to order them.
4. Source Props and Accessories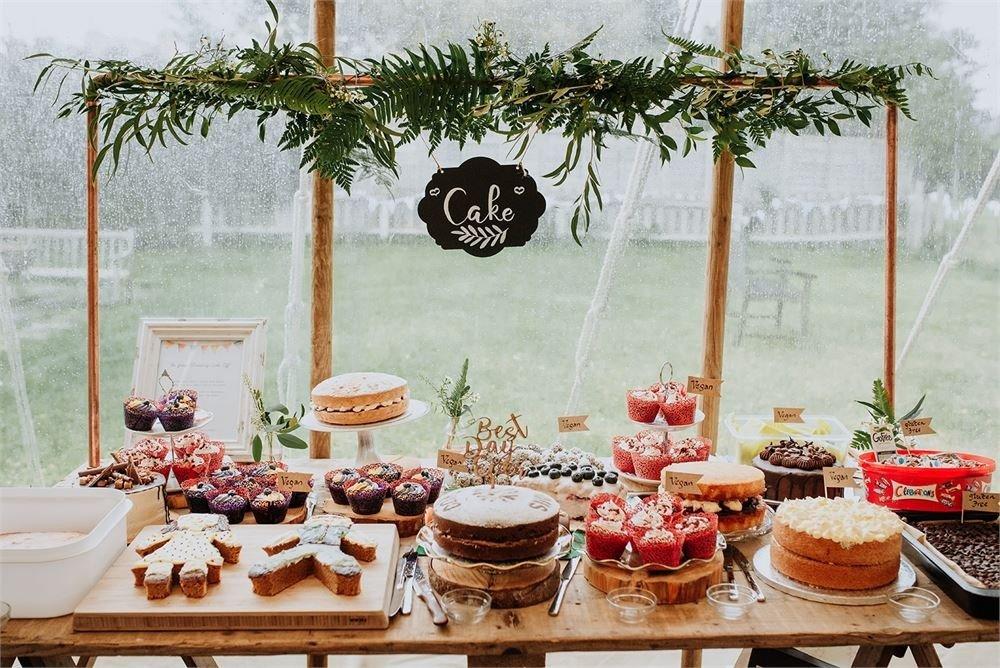 Holly suggests "signage with cute phrases, garlands, a faux greenery wall and anything that will really make a feature of your table" to finish off the look, and so it's worth shopping around for a few statement pieces.
Stores such as
Ginger Ray
and
The Wedding of My Dreams
stock plenty of props and accessories that can turn a standard dessert table from drab to fab. You can also get crafty and make anything from greenery garlands,
balloon walls
and paper chains yourself.
5. Involve Your Suppliers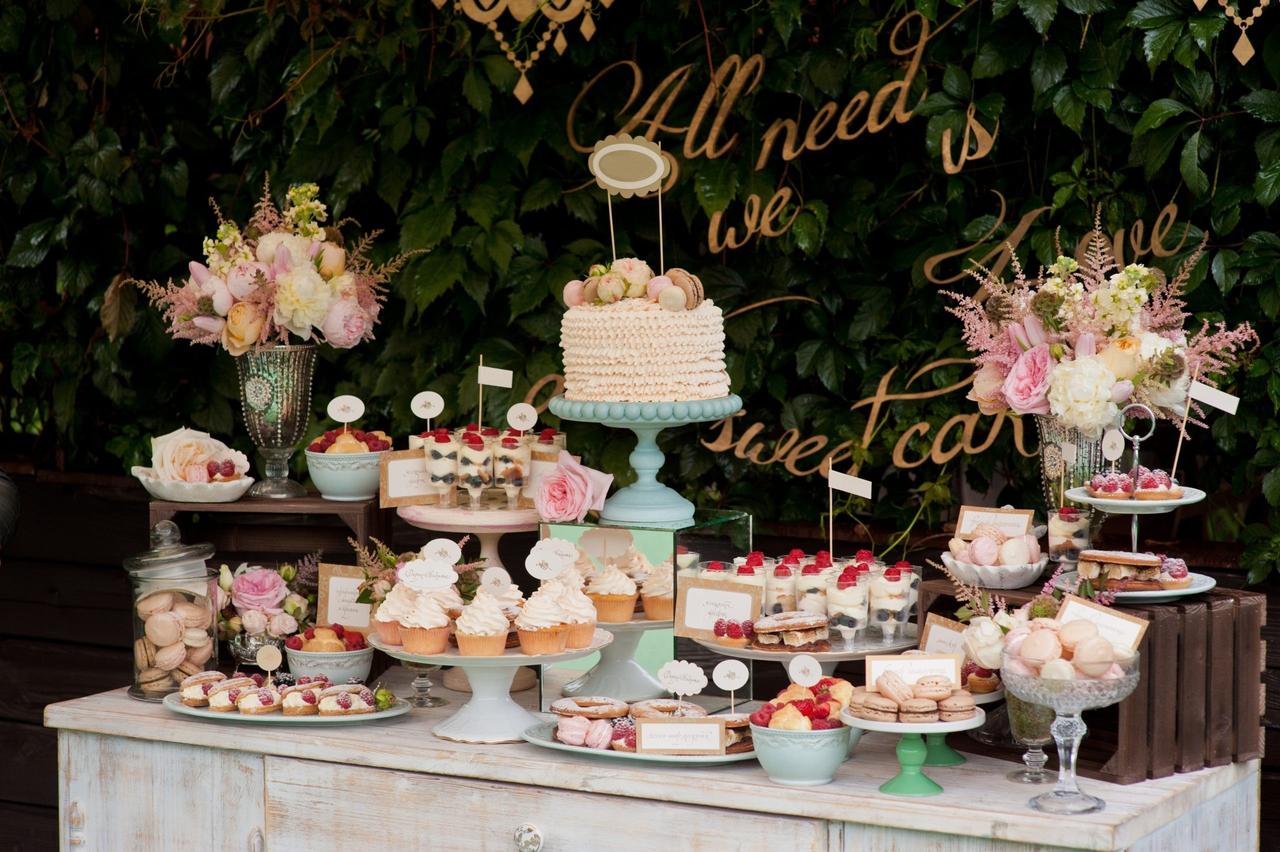 Many of the most effective wedding dessert and cake table ideas involve flowers and so teaming up with your
wedding florist
and getting their input is a really good idea. Your florist may be able to craft a garland to hang across the front of the table or simply provide a selection of the blooms featured in the rest of your wedding flowers than can be dotted amongst the dessert trays.
If you want your florist to actually place the flowers onto the table themselves, make sure you have provided clear instructions and an inspiration picture to avoid getting a result that's not quite what you imagined.
If your dessert table will be placed in a marquee or other room with artificial light, discuss the possibility of lighting it with your venue or even your wedding DJ – they're bound to have lighting equipment you can hire. Some mood lighting or backlights could help to set off your carefully chosen décor and ensure that no one can possibly miss your sweet selection!
Feeling creative? Check out our best
wedding DIY
ideas.