The 50 Best Wedding Gifts for 2023
From pottery classes and mini breaks to custom watercolours, honeymoon luggage and luxury bedding, we've got all the best wedding gifts you can shop right now!
We have included third party products to help you navigate and enjoy life's biggest moments. Purchases made through links on this page may earn us a commission.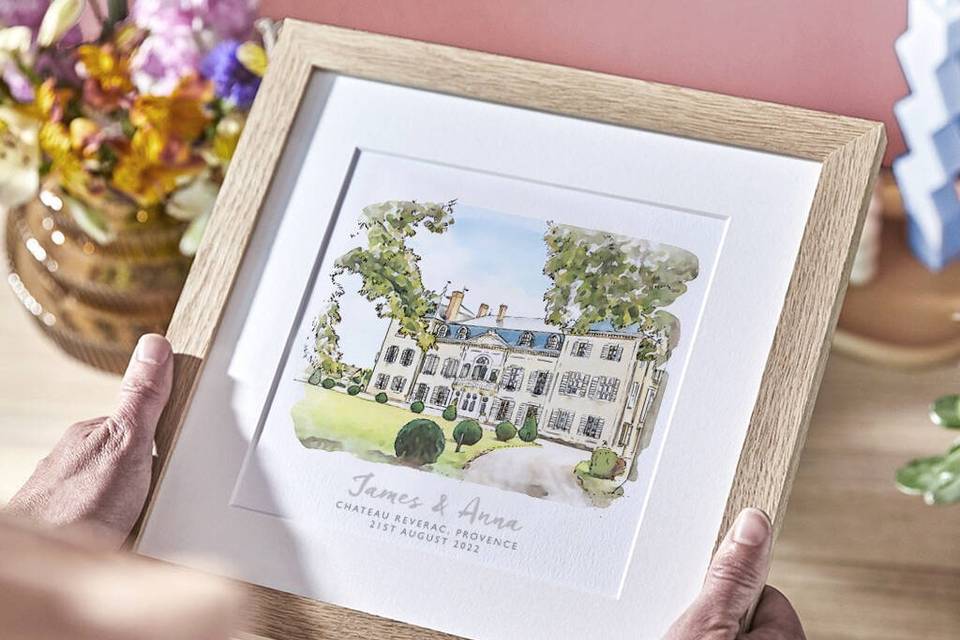 If the happy couple haven't included details of a wedding gift list in their invitations or you want to come up with a wedding gift that will be fun and unexpected for them, take a look at some of our favourite wedding gifts of 2023.
The great thing about going 'off list' is that you can be much more creative and choose something personal to the couple that will bring a smile to their face when they open it.
We've got wedding present ideas for gift experiences, awesome personalised presents, and lots of gifts for foodies, homebodies and art lovers. If you're after wedding gift ideas for couples that'll be truly appreciated, we've found them, and we've got the expert input of our team, who have years of experience working in weddings, to recommend their favourite wedding gift ideas too.
P.S. if you're an engaged couple looking for cool ideas for your gift list, you're welcome here too!
50 Best Wedding Gift Ideas to Suit All Couples & Budgets
We've rounded up 50 amazing wedding present ideas to inspire you, but if you're in a hurry, here are the top three most popular wedding gift ideas people love to shop in this edit!
Wedding Gifts for the Home
Even if the couple have lived together for a few years, a wedding present for the home is a perfect wedding gift as it will be used or seen every day as a happy reminder of the wedding.
1. Personalised Wool Throw – £87.50, Jonny's Sister
Give a gift that will last a lifetime with a soft, duck egg blue, wool herringbone throw that you can personalise with the couple's name. You can get the blanket in various colours, but we love this shade, and it's the cosiest material to curl up together under. You can also add a luxury gift box to this wedding present so that it can be safely stored, plus, it makes it a lot easier to wrap.
This product has an overall four out of five star rating, with two glowing reviews reading: "this is a wonderful gift for a wedding present" and "the colour was exactly what I wanted."
Delivery: Free five day delivery
Pros & Cons: One review stated to be mindful that the stitching is a sticker and not embroidery, however this gives it a contemporary feel that you don't often find with woollen throws.
2. Wedding Venue Print – £57, Letterfest
If you have already received your wedding invitation, then you will know the wedding venue the couple have chosen. Letterfest can create a gorgeous personalised watercolour sketch print of the wedding venue to give on the big day or after. You can choose to have it framed with small or large options so it can fit into different budgets and personalise it with text of your choice.
"This is a really popular wedding gift and for good reason," says Zoe Burke, Editor of Hitched. "It's a beautiful and thoughtful gift that the couple really won't be expecting. They'll especially love it if they've chosen illustrated wedding invitations."
Delivery: £2.75 for seven day delivery
Pros & Cons: In order to get the most out of this wedding gift, ensure that you upload a high quality image of the couple's wedding venue. If you don't have one, you can send them to the wedding venue's website instead.
3. Personalised Wooden Chopping Board - £32, Hitched Shop
How gorgeous is this chopping board, which doubles up with a serving board! It works excellently as a cheese board as reviews state that it is the perfect size, so send it over as a wedding gift along with a few of the couple's favourite cheeses and you'll win all the best guest awards.
You can have it personalised with their names and wedding date and as it is made from natural acacia wood, it'll be both durable as well as beautiful.
Delivery Time: £4.99 for five day delivery
Pros & Cons: Even if the couple are only using this as a decorative piece, it will still need to have mineral oil applied every few weeks in order to keep the wood in the best condition. If this is done, it'll last them a lifetime.
4. Le Creuset Round Casserole Dish – from £150.50, John Lewis
If they've just paid for a wedding and are saving for a honeymoon or mortgage, it's unlikely they're going to shell out on a Le Creuset dish. But these amazing pieces of cookware will last a lifetime and are ideal for all those post-wedding dinner parties we bet they'll be wanting to plan.
There's very little you can't make in these, from soups and stews to one-pot pasta dishes, roasts and even baking bread. A fantastic, lasting gift for the home – and it comes in lots of colours.
Customers confirm that a Le Creuset dish is a great investment by saying, "I used mine regularly for over 45 years!" and "I got one of these as a wedding gift almost 20 years ago and although the price seems a lot for a casserole dish, the quality of these pots is incredible."
Delivery Time: Free five day delivery
Pros & Cons: It comes in a range of colours, so you can match it to their kitchen style or go for a timeless neutral shade. This pot is rather heavy so we recommend instead of bringing it to the wedding day itself, giving it to the couple pre- or post-wedding.
5. Personalised Doormat – £34.95, That's Nice That
Newlyweds who've got a new home need a welcome mat. This personalised doormat is the perfect way to celebrate the big milestones they've just taken in life – plus it looks pretty darn stylish! It is available in small or large, and you can customise it with Mr & Mr, Mrs & Mrs or Mr & Mrs. You can also include a gold foiled gift card for an extra special touch.
It also makes a great wedding gift as it is unlikely anyone else will have given them one before - one reviewer said that it was "very quirky and something different. I knew they wouldn't get another one!"
Delivery Time: Free five day delivery
Pros & Cons: The print on this doormat is hardwearing, so although it will inevitably get dirty, it won't show signs of fading. We do recommend it is kept under a porch or sheltered if there is heavy rain. They'll think of you and their wedding day every time they arrive or leave home, which is super cute.
6. Fortnum's Celebration Hamper - £160, Fortnum & Mason
What better way for the couple to kick off married life than a delicious basket of treats waiting for them? Brimming with goodies like Champagne truffles and pistachio and clotted cream biscuits, this hamper is a lovely gift of pure luxury. And it wouldn't be complete without bubbles so there's a bottle of that too.
"If you're struggling to decide on wedding gift, this is a fail-safe option," explains Rima Barakeh, Deputy Editor of Hitched. "You can't go wrong with a bottle of bubbles and some chocolate!"
Delivery Time: £3.95 for five day delivery
Pros & Cons: Once the goodies inside have been finished, the couple can re-use the hamper as a picnic basket, storage hamper or decorative piece in their home. It's a more expensive pick for sure, but Fortum & Mason is an iconic brand that will be very appreciated.
8. Sunflower Growing Competition Kit - £12.95, Glenstocken Herb and Plant Co.
Competitive couple? You could get this little kit as a cheap wedding gift idea, or as extra to go with a bigger present and start a fun green-fingered war! Each competitor will get a packet of sunflower seeds, biodegradable seed pots and a full guide to planting and the rules.
You can include a gift card with a message to let them know your idea and perhaps you can gift a trophy on their first anniversary for the winner of the tallest sunflower!
Delivery Time: Free three day delivery
Pros & Cons: One review said that "it was delivered quickly and beautifully presented." This gift is best suited for those with a garden as you'll need space for the sunflowers to grow, however they can also thrive on a balcony.
8. Green Tweed Picnic Hamper For Two - £112.35, Heather and Bale
Let the happy couple serve up supper in the great outdoors with this gorgeous natural wicker picnic basket from Heather and Bale. Featuring a fabric lining and leather straps, they'll be the chicest couple in the park.
It comes with plates, wine glasses, cutlery and a bottle opener, plus a cool bag which is vital for summer outings.
Delivery Time: Free three day delivery
Pros & Cons: This picnic hamper has a twist lock so it won't pop open when travelling. As it contains glass, porcelain and metal, it will be slightly heavier than a less luxurious option.
9. Wooden Pot Planter – £23.99, Warner's End
This rustic wooden planter has a stamped aluminium strip along the front that can display your happy wishes for the new couple. It's meant for indoor use so it's ideal if a couple doesn't have much outdoor space. They can keep it in the kitchen or on a bedroom windowsill and bring a little nature (or just fresh herbs) inside.
You can pick from a white grain or a dark wood finish depending on their interiors. It has over 600 five-star reviews with one person saying: "this is a gorgeous newlywed present with a great personalisation option."
Delivery Time: £3.75 for four day delivery
Pros & Cons: As this planter is hand-stamped and made from wood, it will have an aged and worn appearance which is just what you want from a rustic buy. It would also make an excellent wooden wedding anniversary gift to mark five years of marriage.
10. LED Love Lamp – £60, Steepletone
If you want a unique wedding gift idea, get the couple this seriously cool LED bulb lamp to decorate their home. You can get it saying lots of different words, like happy, home, laugh, even beer and gin (!) but we adore the 'Love' version.
You can either buy the bulb alone, or add a copper, silver or gold stand to go with it for an additional cost.
Delivery Time: Free next day delivery
Pros & Cons: With speedy and cheap delivery, if you've left buying a wedding gift until the last minute, this is a brilliant option. Reviews state it is excellent quality and good value for money.
11. Single Row Cord Egyptian Cotton Duvet Cover – from £50, The White Company
Like a Le Creuset, fancy Egyptian cotton bedding is something that will fall down the priority list when you're saving up. That's why it's such a lovely wedding gift idea to treat the newlyweds to a luxury duvet set that'll make them feel like they're snuggled back up in their five-star honeymoon hotel.
There are lots of different options to choose from on The White Company, but we think you can't go wrong with some classic white sheets if you don't know the colour of their bedroom.
Delivery Time: £3.50 for three to five days delivery
Pros & Cons: If you're feeling generous, we would recommend gifting the pillow cases and sheet too so they have the complete set. One review recommended that it will need ironing, as the 200 thread count is susceptible to creasing, but that's a small price to pay for such lovely bedding. It would also make a perfect cotton wedding anniversary present.
12. Nespresso Creatista Plus Coffee Machine – £329.95, John Lewis
No home is complete without a coffee machine. This sleek and chic Italian-inspired Nespresso machine from Sage will let you make barista-style coffee at home. It's an investment to buy as a gift for a couple, but they'll be eternally grateful (especially if they currently spend a fortune on take out coffee!).
Not a coffee connoisseur? "I've had a number of coffee machines and as a coffee snob this is one of the best yet," says one customer. Sold!
Delivery Time: Free five day delivery
Pros & Cons: If this gift is a little out of your budget, you could chip in with a few of the other guests so that you can still get the couple something that they really want. For an additional fee, you can add two year damage cover.
13. The Large Suitcase – £335, Away
This incredible suitcase brand makes bags that last for a lifetime. Away suitcases are ideal for a couple to get for honeymoon and then they'll have a special bag to take away on every holiday together. Their carry-on bags are a little cheaper and contain a battery so you can charge your phone on the go, but we love their largest size which is ideal for a few weeks away in the sun (and comes in 13 shades and patterns).
With nearly 1,000 five star reviews, this is a really impressive purchase.
Delivery Time: Free two to four days delivery
Pros & Cons: There are so many features on this case that make it amazing - from the premium wheels that smoothly roll on any surface, to the durable and lightweight shell and the interior compression (an over-packers' dream). It has an 100 day warranty, but that is only available if you don't opt for personalisation.
14. Karu 12 Home Pizza Oven - £299, Ooni
Ooni are the leaders in pizza ovens for your home: you can make fresh wood-fired pizza in your garden, on the beach, out camping. Whatever the couple love doing, they can have amazing fresh pizza while doing it! This oven can be fuelled by wood, charcoal or a gas burner so it's really flexible. Delicious hot pizza can be theirs in just 60 seconds!
"This unique gift will be loved by foodie couples," says Joanna Magill, digital writer at Hitched. "It's the ideal wedding present if they're always hosting as you can make a really fun evening out of cooking pizza with friends and family."
Delivery Time: Free tracked delivery
Pros & Cons: If they plan on using gas, the burner is sold separately, but wood or charcoal will work just as well. It is one of the more expensive options, but Trust Pilot reviews state that "it is leagues above the competition" so worth every penny.
15. Picture Gallery Wall Set – £195, The White Company
Wedding photos deserve to be shown off. This set of six white wooden photo frames along with a template to help you hang them perfectly means they'll be pride of place in the couple's home. If you want to make the gift extra special, offer to get six of their favourite pictures from their day printed to put in the frames.
We love how the frames come in varying sizes that will work with a selection of portrait and landscape pictures.
Delivery Time: Free three to five days delivery
Pros & Cons: These frames are simple and minimalistic which will really allow the photo to take centre stage. A little more planning is required to make the most out of this gift, but it will be worth it to see their happy reaction.
16. Crosley Cruiser Voyage Record Player - £109, Urban Outfitters
A classic record player is the ultimate luxury for any avid music lover. Whether they're just starting off their vinyl collection or looking for an upgrade, this Crosley System is the perfect choice. Its Bluetooth technology brings this vintage machine into the 21st century and allows couples to enjoy their favourite tracks however they please.
One customer commented that "it works really well, the sound quality is good and the Bluetooth connection is easy to connect to."
Delivery Time: Free three to five days delivery
Pros & Cons: The Bluetooth technology allows couples to use this gift straight away, even if they don't own any records, but we think it's a lovely idea to get them a vinyl to go with. How about a track of their first dance song?
17. Aura Carver Digital Photo Frame - £149, Amazon
This Carver Digital Photo Frame allows couples to display a multitude of happy memories at once! Friends and family can add to the collection by uploading their own images over WiFi connection. What better way to share the love than this forward-thinking gift?
It is available in black or white and is compatible with iPhones or Androids.
Delivery Time: Free next day delivery
Pros & Cons: Choosing only a few wedding photos to frame is tricky, but this gift allows them to display over 10,000! It comes in a gift box so no wrapping is required.
18. Hooded Ribbed Hydrocotton Robe – £85 each, The White Company
Nothing says luxury quite like a warm and cosy bathrobe. Once the wedding festivities have died down, the newlyweds will appreciate the gift of Hooded Ribbed Hydrocotton Robes from The White Company. Why not add in some luxe matching towels, too?
Some reviews state that the material isn't heavy which means this dressing gown can be suitable for all seasons.
Delivery Time: Free three to five days delivery
Sizing: XS-XL
Pros & Cons: These iconic dressing gowns are incredibly popular so we recommend adding them to your basket ASAP if you want to ensure you can get the right size. Sizing up is also an option if you know they would prefer a snuggly fit.
19. Kodak Smart Projector - £399, Urban Outfitters
A projector is a brilliant gift for newlyweds! Let them enjoy a cosy movie night for two in their living room with wine and snacks, or set up a back garden cinema with friends in the summer. It's pocket-sized for easy travel and is compatible with a smart phone, computer, games console and more.
"Elevate their date nights with this projector," says Zoe. "It's a great way for the happy couple to save money on going out if they're looking to cut back after their wedding day. It's also perfect for viewing your wedding photos or video too!"
Delivery Time: Free three to five days delivery
Pros & Cons: This projector has HD video and imaging for a crisp image. It also features a 16.7 million colour display which means it's well worth the money.
20. Set of Two Pink Stem Etched Champagne Coupes - £34, The Forest & Co
If the newlyweds had a Champagne tower on the big day, they might have a couple of bottles of fizz left over - what better way to use them up than by gifting them these stylish glass coupes. They're a timeless gift that the couple will be able to keep forever. Cheers!
Delivery Time: Free two week delivery
Pros & Cons: Be mindful that the delivery time for this gift is a little longer. Ensure they are wrapped up safely before transporting to the wedding venue as they are made from fragile glass.
21. Vaisselle Salt & Pepper Shakers - £32, Anthropologie
Upgrade their salt and pepper shakers with this delightful duo from Anthropologie. Designed with a retro tile print, their dining table will have never of looked so good. It's a great pick if you're looking for a cheap wedding gift idea that still looks stylish.
Delivery Time: £3.95 for three to seven days delivery
Pros & Cons: This bright pair might not be to every couple's taste but they sure are quirky and will brighten up any kitchen or table.
22. Lonely Planet's Where To Go When Europe - £19.99, Oliver Bonas
Lonely Planet's Where To Go When Europe is bound to give them inspiration for the best honeymoon destinations. Including expert advice and guidance, the stunning visuals make it a great coffee table book too.
"This superb book has so much information and lovely photographs," says one reviewer who purchased this as a gift. "It's a must for anyone who enjoys travelling in Europe."
Delivery Time: £3.95 for two to three days delivery
Pros & Cons: If the happy couple haven't managed to get away recently, this book is bound to inspire them. As it focuses on European destinations, it is accessible for a wide range of budgets.
23. No Mess Electric Waffle Maker - £59.99, Lakeland
Waking up as newlyweds is pure bliss - made even better by the tempting aroma of waffles cooking. Lakeland's electric waffle maker is less than £60 and includes a recipe book with delicious sweet and savoury dishes.
The waffles take just three minutes to cook and whipping up a batter is super simple too! "Great little waffle maker. Used the recipe in the box and perfect fluffy waffles first time. Easy to clean and literally no mess. What's not to love?" says one happy customer.
Delivery Time: Free three to five days delivery
Pros & Cons: This waffle machine can make up to four waffles at once, so they won't be going cold while you cook the others.
24. Majolica Salsa Turtles - £59, Uncommon Goods
How adorable are these turtle bowls? Unique and quirky, they can fill them with salsa, guacamole and sour cream for their next Mexican themed date night, or pile them high with popcorn and sweets for a movie marathon.
They're an unusual and quirky pick, plus they are as pretty as they are practical.
Delivery Time: Varied
Pros & Cons: Due to the handmade nature of this gift, each turtle will be completely unique. They are not dishwasher safe and as this item is shipped from America, they may take a little longer to arrive.
Personalised Wedding Gifts
If you are looking for thoughtful ideas for wedding gifts, consider going for a personalised wedding gift. The happy couple are bound to appreciate a lovely keepsake that will remind them of each other and their special day every time they use or see it.
24. Custom Couples Comic Book - from £38.20, Etsy
Looking for a thoughtful wedding gift? Well, we've found the perfect present with this personalised comic book by A&J Comics - it has plenty of rave reviews from customers such as "their customer service is out of this world and the quality of the comic is amazing and honestly better than I could've imagined."
Simply upload your photos (and write a story if you like), and you'll receive an unforgettable comic that documents the newlywed's journey so far in a fun and unique way. It would make an amazing paper first anniversary gift too...
Delivery Time: Free three to five days delivery
Pros & Cons: In order to make this gift super special, you'll have to put some time into uploading photos and writing a story. Trust us, it'll be well worth it!
26. Leather Jackets Biscuit Gift Set – £29, Honeywell Bakes
Not only do these playful biscuits from Honeywell Bakes look great, they taste amazing too (if the happy couple can bear to eat them). If they wore an awesome wedding jacket on the big day, this one's for them. All packaging is compostable and recyclable and this gift can fit through a letterbox which is ideal if you won't be able to give this to the couple in person.
Delivery Time: £2.59 for five day delivery
Pros & Cons: These biscuits will last up to two months if they are unopened so while they won't be around forever, you can still buy them in advance. They aren't suitable for vegans.
27. Personalised Wooden Wine Box – £25, Hitched Shop
Fill this box with a special bottle of Champagne or wine and give it to the couple on their wedding day. Each year you can gift them a new bottle as an anniversary gift for them to store in their personalised wine box. It looks lots more expensive than its price tag and is an ideal gift for wine lovers.
Delivery Time: £4.99 for five day delivery
Pros & Cons: It has a metal clasp to keep it closed but once it has a bottle inside, we wouldn't tip it upside down just in case. As it is personalised it has an extra lead time of seven days. This gift is just the wine box, you'll need to buy a bottle separately
28. Personalised Couples Keyring Set – £29, Create Gift Love
If they are moving into a new home together, these personalised keyrings will be truly appreciated and be a lovely reminder of each other wherever they go. Available in dark or light tan, you can also opt for a luxury gift tag. We love this idea if the couple often have to spend time apart!
Delivery Time: Free five day delivery
Pros & Cons: Handmade to order in their New Forest workshop from sustainably sourced leather and personalised with a traditional stamping press. As the leather is natural, its colour may vary from the picture shown.
29. Personalised Mr and Mrs Mug Set – £46.75, Becky Broome
Each mug is hand-etched to order with your new married name. You can choose from Mr or Mrs on both mugs, the outside has a beautiful reactive glaze and you can choose from three colours for the inside glaze on the mug. Couples who like breakfast in bed or can't survive without their morning cuppa will love waking up to these.
Delivery Time: Free next day delivery
Pros & Cons: You can only enter up to ten characters for the surname, including punctuation and spacing. If their name is longer than that, initials would work just as well.
30. Personalised Keepsake Box – £36, Sunday's Daughter
This wooden personalised keepsake box from Owl and Otter is a beautiful sentimental wedding gift. Engraved with the names of the couple and their wedding date, it's the perfect place for them to store their wedding cards, jewellery or stationery so they can remember their special day. It'll make a fantastic addition to their bedroom.
"This is a gift that the couple probably won't have thought of themselves, which is what makes it so special," says Rima. "Their wedding will be a day they won't want to forget so they'll be very grateful to have a beautiful box to store all their amazing memories in."
Delivery Time: £2.75 for next day delivery
Pros & Cons: This box won't fit larger items but it is perfect for any small bits and bobs the couple have that they don't want to lose and keep all in one place.
31. Personalised Kissing Lovers Wedding Print – £24, Keren Parmley
Another beautiful addition to their bedroom is this playful personalised print, aptly named 'Kissing Lovers'. We adore the colour clashing combo of pink and red and can see cool couples being obsessed with it too. Available in A4 or A3, it is printed on high quality satin feel paper for a luxury look.
Delivery Time: Free two week delivery
Pros & Cons: This print comes unframed but it would be affordable and easy to get it framed yourself. One review stated that it arrived well wrapped up, so you won't have to worry about it being damaged in transit. Bear in mind that it has a long delivery time - be organised!
32. Personalised 35mm Reel Photo Print – £25, The Portland Co
Turn their beautiful wedding photos (or a couple/engagement shot) into this wonderful keepsake gift. The chosen photos are printed onto film in either black and white or colour and then sandwiched between two panes of glass so it creates a projection effect when the light hits it. It makes for a stunning piece of art for the home that every visitor will comment on.
Delivery Time: Free next day delivery
Pros & Cons: It will cost an extra £75 to have the image framed but it'll look spectacular and mean the couple can hang the pictures up straight away in their home.
33. Custom Watercolour Painting – from £71.31, Etsy
Buy the couple an original hand-painted watercolour based on a photo you provide. If you want to give the gift to the couple on their big day, you could choose an engagement photo or couple portrait, but it's great gift to receive after the wedding using one of your favourite shots from the day.
The reviews were seriously impressed by Anna the painter's work with many stating that the picture came back accurate, detailed and beautiful.
Delivery Time: £2.56 for three weeks delivery
Pros & Cons: Be mindful that as this gift is hand-painted, there may be a long waiting list, especially during wedding season - order with plenty of time to spare!
34. Bespoke Wedding Venue Clock – £59, Adam Regester Design
Every house needs a clock. This one is incredibly special as it features a laser-etched version of the couple's wedding venue with their names and wedding date. The background sky area can be painted one of 16 colours to match their interior décor, making a completely unique gift.
Delivery Time: Free two weeks delivery
Pros & Cons: Its neutral style means it'll fit into any room in their home that they choose. The battery is not included.
35. Foil Map Print – £35, Coral & Moss
A map print of a special place will be a thoughtful gift for the happy couple. This gold foil design from Coral & Moss is stunning. Why not choose a map print of where the couple live, their wedding venue or where they plan on going for their honeymoon?
Delivery Time: £2.75 for three day delivery
Pros & Cons: This wedding present is an excellent price for such a gorgeous item. It is only available in A4 but this means there is enough room to include detailing.
36. Personalised Family Name Sign – £7.50, Greyfox Design
This surname sign will be a meaningful gift for the newlyweds and a piece of art for their home. If you're after something a bit more dramatic, how about this neon name sign? It's an affordable wedding gift that still shows you've put a lot of thought into picking something special.
"A wedding present certainly doesn't have to cost a fortune," says Zoe. "I love this gift as it is simple, yet effective, and can be kept by the couple for a lifetime. I actually have one in my own home and I think it's really cool, it's a great talking point with visitors."
Delivery Time: £6.95 for two weeks delivery
Pros & Cons: It is available with or without the leaf design but we think this adds a beautiful touch. Reviews comment that it makes a gorgeous statement on wall - especially a hallway.
37. Personalised Year of Dates - £28, A Year of Dates
For the couple that have all the physical things they need, how about helping them make memories? This personalised box comes with 52 surprise activities to do together. Many can be done at home so they're not expensive, but they will help them spend quality time together by using a date night box - and it's a great affordable wedding gift idea too.
"We all know we should commit to regular date nights," says Rima. "But honestly, how many of us are like, 'I don't mind, you choose' when it comes to the planning? This is such a great gift idea as it gets rid of the pressure to make the plan - you simply need to do what you're told. It can help keep the romance alive and make you try things outside of your comfort zone."
It also has five blank cards for you to fill with our own ideas. You'll find tons of inspiration in our date night ideas guide.
Delivery Time: Free two day delivery
Pros & Cons: This is the gift that keeps on giving as they can use it all year. You can add little extras onto the gift, such as journal for them to jot their memories down into.
38. Personalised Couples Wedding Coaster Set - £12, Sophia Victoria Joy
Add a stylish splash to their home with these personalised handmade coasters. They are etched with their names and are crafted from slate for a rustic finish. This means that they'll be very durable and they won't have to worry about any drinks marking them as they can be wiped clean.
Delivery Time: £3.75 for next day delivery
Pros & Cons: This is the ideal wedding gift for a couple who love personalised items and have plenty of them - we bet they won't have these!
Wedding Gift Experiences
Most couples have been living together for a few years when they said 'I do'. If you think the couple have all the material possessions they need, then a couples' gift experience is a great alternative wedding gift and will leave them with some fantastic memories. Alternatively, what about a subscription box so they can enjoy the gift for months to come?
39. Private Couples Stargazing Experience in Wales – £225, Dark Sky Wales
What could be more romantic than a night spent gazing at the starry sky together? This experience will be truly unforgettable as they take a tour of the sky and learn how to set up a telescope, plus navigate star maps. No prior knowledge is needed so star-gazing novices can get involved.
One review who gifted this said that the couple were so surprised with this original idea, which is just the reaction we are looking for, right?!
Delivery Time: Free next day delivery
Pros & Cons: This experience is only available in Wales but the couple will have twelve months to organise the trip.
40. Charming Escape for Two – £69.99, Buyagift.co.uk
A relaxing break in the country could be the perfect thing to help the couple let go of the stresses of wedding planning. Buyagift offer tonnes of smart boxes with different experiences, but we love this charming escape smart box which gives the couple a romantic break for two with a number of locations across the UK to choose from.
This is an ideal gift for almost any couple as it gives them the opportunity to pick a stay they really enjoy.
Delivery Time: Same day via email
Pros & Cons: If you're buying a wedding present for a couple you don't know that well, this is excellent. It arrives by email but you could print the voucher and pop it in a card for a more personal feel.
41. Zoo Experience Day - Varied
Do the couple love animals? Help them make memories of a lifetime with an amazing zoo experience. They're offered at zoos across the country: meet giraffes at Chester Zoo, be at keeper for the day at Bristol Zoo, feed gorillas or penguins at London Zoo, take an off road adventure at Woburn Safari Park. The list is endless.
"One incredibly special thing you can do is book the couple a short break in one of the wildlife lodges at Port Lympne in Kent," recommend Zoe. "Their neighbours for the night can be anything from wolves and tigers to lions and rhinos. It's a once-in-a-lifetime experience. I was lucky enough to visit there recently and was amazed at how special it is, plus how much there is to see and do."
Delivery Time: Varied
Pros & Cons: We recommend you do some research into this gift before buying so that you can pick the best location for the couple. It is best suited as a present to be used in summer when the weather is better, but there's lots to see in the winter months too.
42. Gin Making Experience for Two – £160, Not On The High Street
A gin-making experience will be a dream gift for a gin-loving couple. This gin making experience day at Salcombe Distilling Company by the seaside teaches you all about how gin is made and you get to create your very own bottle of gin to take home.
There's loads of places you can go gin-making. Try it in Staffordshire at Nelson's Gin and Vodka School or combine with sightseeing at the City of London Distillery near St Paul's Cathedral.
Delivery Time: Free five day delivery
Pros & Cons: This is best suited for couples who drink - make sure they like gin before you treat them to this cool couple's experience.
43. The Sharing Box - from £29.99, Etsy
Cake maker extraordinaire Vikki and her chief baker Donna whip them up a selection box of the fluffiest cakes, gooiest brownies, and butteriest cookies. Order them delivered free to the newlyweds' door and each month they'll get different bakes to devour. A perfect gift for couples with a sweet tooth; you could be providing date night dessert!
Delivery Time: Free varied delivery
Pros & Cons: All boxes also include a hot drink sachet, tasting notes and a recipe card. Reviews comment that the recipients love how there is a varied selection of cakes.
44. Personalised Book Subscription – £39.99, The Beautiful Book Company
Each month, the couple will be sent a new book, handpicked for them according to their preference. They'll be sent a welcome pack where they can pick from different genres like current reads, classics, crime and romance. You can buy two book subscriptions and they can each choose what they'd like to read, or order one and they can both read and discuss.
You choose whether you want it for three, six or 12 months. This will go down a storm if they've chosen a library wedding venue.
"I received a book subscription as a gift and loved it," says Jo. "As someone who is always reading, to have something new to dive into every month is amazing! If the couple are book worms, they'll adore this gift too and can compare notes on the books after they've read them."
Delivery Time: Free next day delivery
Pros & Cons: As the books are different every time you can't guarantee that it will be to their taste but as you have picked their preferences it is likely to be an interesting read.
45. Hot Air Ballooning for Two – from £139, Virgin Experience Days
Are the newlyweds thrill seekers? Club together with friends or splash out on an extra special gift of a 60 minute adventure in the sky! This hot air ballooning experience will give you spectacular 360 degree panoramas for miles around over the English countryside. When you touch down, you'll be treated to prosecco and a gift hamper, as well as a flight certificate.
There are tons of different sites to choose from, so there is bound to be one near where the couple live.
Delivery Time: Varied
Pros & Cons: Naturally, this wedding gift isn't ideal for those who are scared of heights but if they like challenging themselves, it's a great way to do so.
46. Gin Subscription Box - from £40 a Month, Craft Gin Club
Give the couple the gift of something to look forward to each month, this time a bottle of craft gin with all the trimmings! They'll get tonics, garnishes, sweet and savoury treats, and ingredients to make the cocktail of the month. It'll be a surprise to see what's inside their gin subscription each month and they'll always be looking forward to their next box.
Delivery Time: Varied
Pros & Cons: You can have a peek at boxes from previous months so you can see what the couple can expect. Their members say that it is such a lovely surprise each month.
47. Plant Subscription Box – £128 for Three Months, Bloombox Club
What better way to decorate a home than have a surprise plant delivered each month? Choose from gift subscriptions of three, six and 12 months from Bloombox Club. Each statement green plant comes in a beautiful ceramic pot and care instruction so all the couple have to do is decide on a spot to display them.
Not only do they brighten up a home, but most absorb nasties in the air, making their home healthier too!
Delivery Time: Varied
Pros & Cons: You can choose from classic, or pet-friendly. Reviews state that the plants arrive looking healthy and are high quality. Now, it's up to the couple to to keep them alive!
48. Spa Day for Two – £99.99, Buyagift.co.uk
Release some of that wedding planning tension by getting the couple a relaxing spa day. They'll be grateful for a treatment like a massage or facial, and a few hours recharging with a book by a pool or sweating it out in a sauna and Jacuzzi. Even better if you can afford a spa break with an overnight stay so they can make a weekend of it!
If you buy this voucher they can choose from hundreds of locations across the country, like Rowhill Grange Spa, above.
Delivery Time: Same day via email
Pros & Cons: There are over 600 experiences to choose from so they'll be a location to suit all couples.
49. Cookery Course Voucher – from £55, Waitrose
There's loads of great cookery schools across the country that are ideal for foodie couples. Our personal favourites are Rick Stein's Cookery School in Padstow where you'll whip up the freshest fish dishes, and Waitrose Cookery School, which has classes from French comfort food to a bao bun masterclass.
Delivery Time: Same day via email
Pros & Cons: This gift is suitable for both budding chefs and those who have lots of experience.
50. Private Ceramics Workshop for Two – £149, Virgin Experience Days
We love this private ceramics workshop for two with Katherine Fortnum, where you'll learn tips and tricks while making your own piece of ceramic art. The two of you will put your skills to the test and be able to display one-of-a-kind ceramic once it's been bisque fired in the studio.
"This is a fabulous wedding gift idea for a crafty, creative couple," says Rima. "It'll be a fun day out and they might even end up taking it forward as a hobby to do together."
Delivery Time: Varied
Pros & Cons: Reviews gave this experience five stars, stating "Katherine is an amazing teacher, we were helped at every stage to produce our pots." This experience is in Leicestershire, but Virgin Experiences has lots of pottery workshops across the country so there's likely one near the couple.
What Are Good Wedding Gifts?
If you are struggling to think of gift ideas for weddings, think about the intended couple's interests and lifestyle - from there, you can start narrowing down your options to something that they will love. Tapping into their hobbies, or purchasing an item for their home is typically a fail-safe option.
"If the couple don't have a gift list, I always recommend thinking about their hobbies and interests," says Zoe Burke, wedding expert and Editor of Hitched. "Making it personal will mean it has so much more value to them. I once knew a couple had a specific wedding theme, so I got them personalised champagne flutes to match that - every year I'm tagged in their anniversary celebration posts on social media as they use them to toast each other."
Need a little more help with ideas for wedding gifts? A personalised wedding present with their initials and wedding date is a thoughtful option that will double up as a keepsake reminding them of their special day. We have tons of ideas above that cater to all couples and budgets.
How to Ask for Wedding Money Gift Ideas
Asking for money as an idea for your wedding present is a pretty common request, however many couples still feel awkward when it comes to telling their guests. A great idea is to ask for contributions to a specific item or experience, such as money towards your honeymoon or a house deposit. That way everyone will know where their money is going!
We recommend using a wedding money poem card as it is a much softer approach. You could also add a link to a honey contribution or charitable organisation on your wedding website.
What is the Going Rate for a Wedding Gift in the UK?
"It's so hard to determine a going rate for a wedding gift in the UK," says Zoe, "As it depends on so many factors - are you going alone? Are you great friends? How much has it cost you to get to and stay at the wedding? And how much do you earn, what are your living expenses like? All these factors will impact how much you give as a wedding gift.
"At Hitched, we typically recommend around £50 if you are attending alone and know the couple well, but you should only give what you can afford to give. Remember, whilst an expensive gift certainly will leave an impact and be appreciated, a simple, thoughtful gift that doesn't cost a fortune can also be just as cherished if it's personal to the couple."
If you're still unsure, think that the typical going rate if you are a single guest is around £50 but if you are in the wedding party or a member of the immediate family it is more like £100+ as a general rule of thumb. If the couple have a wedding gift list, this should give you some idea on the going rate, but remember that this is just a rough guide and the point of a wedding gift is to give them something thoughtful, regardless of cost.
How Much to Spend on a Wedding Gift?
If you are wondering how much money you should spend on a wedding gift, the simple answer is whatever feels right to you. This will depend on your relationship with the couple and your budget. Try out our wedding gift calculator which will tell you how much to spend, based on their style of wedding and more.
After something even more unusual than what's on this list? Try our edit of the most unique wedding gifts