Wedding Candles: Tea Lights, Pillar Candles and Wedding Favours
We have rounded up our favourite wedding candles, from decorative tea lights to flameless LED candles
We have included third party products to help you navigate and enjoy life's biggest moments. Purchases made through links on this page may earn us a commission.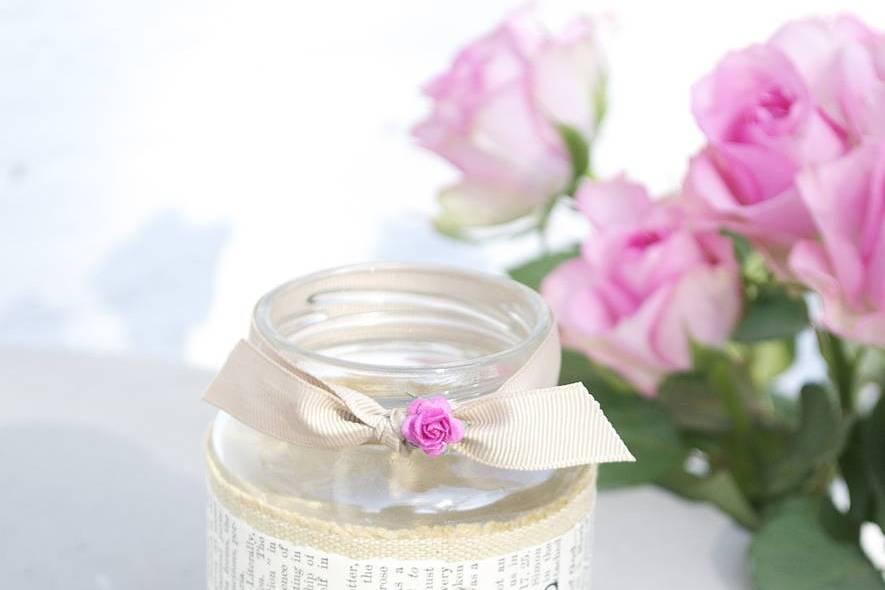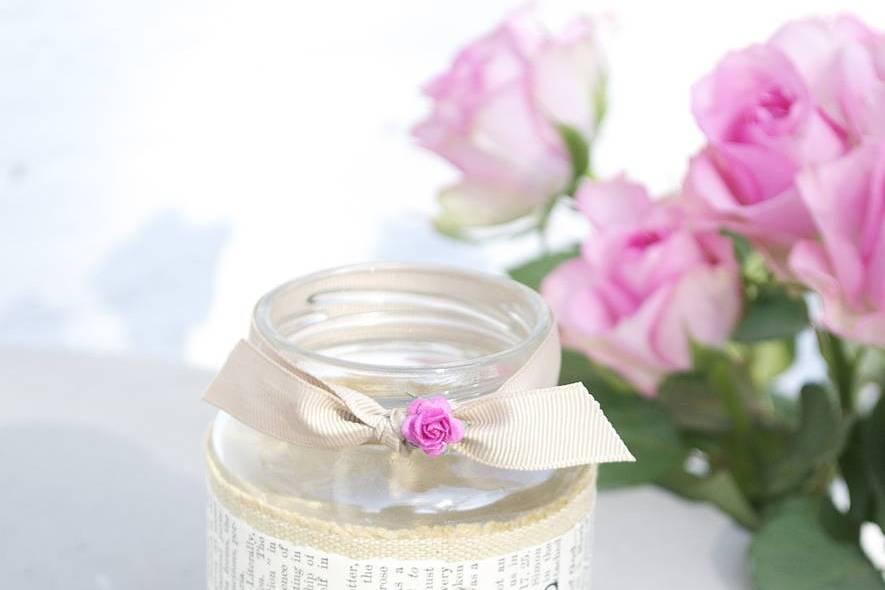 If your venue allows then it's likely that candles will play a big part in your wedding day. Pillar candles can be perfect for setting the ambience at your wedding ceremony, while tea lights can add a warm glow to your reception and scented candles can be perfect for create your wedding own wedding day fragrance. Candles also make a cute wedding favour that your guests can take home with them or excellent choice of bridesmaid thank you gift too.
We have handpicked some of the best wedding candles – whether you are looking for where to bulk buy tealights, where to find flameless LED candles and the perfect wedding candle gifts for the bridal party.
Candle Wedding Favours
Wedding candle favours are a lovely way to give your guests a token gift to take home from the wedding and they can also be used to decorate your tables. If you are planning on giving candles as wedding favours then you probably want to go for something for fun or personal than just a standard white tea light.
READ MORE: 101 Amazing Wedding Favour Ideas
Personalised Wedding Favour Candle – Flamingo Candles
We adore these personalised wedding favour candles from Flamingo Candles. They are available in a range of colours and scents so you could choose one uniform style or order a mixture of shades to give your reception tables a wash of pastels. The personalised wooden heart is a beautiful finishing touch.
Wedding Day Votive – Yankee Candle
What better scent to give your your big day than Yankee Candle's wedding scented candle? This scent comes as a votive, a tealight or as a jar candle so you can find one to suit your budget.
Wedding Candle Favours – Heart and Heritage
These silver wedding candle favours from Heart & Heritage come in a range of gorgeous flavours – including gin & tonic and prosecco & strawberry. You can add your names, wedding date and location to the top of the tin, making them a perfect personalised wedding favour.
Church and Pillar Wedding Candles
Church and pillar candles can be a beautiful (and affordable) way to enhance your wedding decor. Tall glowing pillar candles can transform the feel of a room and you may find that providing your own pillar candles is cheaper than having your venue or florist provide them for you.
Charles Farris Altar Pillar Candle – John Lewis
If you are looking for authentic church inspired pillar candles then this style from Charles Farris – available at John Lewis – is perfect. They come in small and large so you can add a mix of sizes and create a pretty glowing ambience.
Pillar Candles – Amazon
If you plan on using a lot of pillar candles then buying them in bulk may be the more affordable option. This pack of six ivory pillar candle from Amazon works out at less than £2 per candle.
Rustic Pillar Candle – John Lewis
If you want your pillar candles to add to your colour scheme then this stylish candle from John Lewis comes in copper, silver, red and ivory, so you can choose something to blend with your colour scheme – we particularly love the copper version!
Wedding Tea Lights and Votives
Having wedding tea lights in your ceremony and on your reception tables can really enhance the room, add a glowing feel and some soft flattering lighting. If your venue allows tealights on your wedding reception tables then it's also a great way to add to your decor without blowing your budget.
Seychelles Tea Lights – The White Company
If you are looking for a tea light with a luxury feel and a gorgeous scent then the Seychelles tealights from The White Company will be perfect for you. You can also buy the same scent in larger candles and a room fragrance.
Long Burn Tealights – eBay
If you are looking for affordable tea lights you can buy in bulk then head to eBay! Available in packs of 50, 100 and 400 and they start at just £6.40 – perfect if you are planning a wedding on a budget.
READ MORE: How to Plan a Wedding on a £5,000 Budget
Pomegranate and Cashmere Candle – Matalan
For candles that look great but are affordable then head to Matalan. We love these glass votive candles in a pomegranate and cashmere scent.
Flameless Wedding Candles
If your wedding venue doesn't allow candles then don't despair! You can still create that glowing ambience by using LED candles. Fake candles have really improved in style over time, you can even buy ones that look as though they have melting wax and from a distance your guests will never know the difference.
Flameless Tea Lights – Amazon
These flameless tealights from Amazon offer 60 hours of flickering candlelight so you can feel confident they will be twinkling all day and they would fit perfectly into tealight holders.
LED Flame Candle – John Lewis
If you are searching fake candles to use in your wedding ceremony then this LED flame candle from John Lewis is about as close to the real thing as you can get. The flickering light gives the appearance of a real candle and your guests will never know.
Battery Operated Pillar Candle – Amazon
For an LED candle that looks just like the real thing, this flame effect style from Amazon is ideal – it even gives the appearance of wax dripping down as it has melted.
Personalised Wedding Candles
Whether you are looking for a candle to give as a gift or a personalised candle to feature in your wedding day, our pick of personalised wedding candles would be perfect.
Personalised Candle – Lollyrocket Candle Co
We think this candle from Lollyrocket Candle Co would be a beautiful gift for a couple getting married or for your head table on the big day. Personalise the label with the name of the couple and the wedding date.
READ MORE: Amazing Ways to Personalise Your Wedding
Personalised Arrow Scented Candle – Tillie Mint Loves
We adore this romantic scented candle from Tillie Mint Loves – it can be personalised with the couple's names and wedding date then you can also add gift wrapping and a tag to make it extra special.
Scented Wedding Candles
Are you using candles to create a beautiful scent on your wedding day? Scented candles will subtly fill the room and you will be reminded of your wedding day whenever you relight them.
Jo Malone London Pomegranate Noir Scented Candle – John Lewis
If you are looking for a scented wedding candle that will hold its fragrance all day then a Jo Malone candle from John Lewis will be exactly what you have been looking for. You can then enhance the scent even further by also using the matching room spray.
Blush Bouquet Scented Candle – Yankee Candle
The blush bouquet candle from Yankee Candle offers a beautiful floral scent and we think it#s a great choice if you are having a summer wedding.
READ MORE: Summer Weddings – 31 Inspiring Ideas
Wild Rhubarb Botanical Candle – The White Company
If you are looking for a wedding candle with a sweet scent then this wild rhubarb botanical candle from The White Company will be perfect.
Wedding Candle Gifts
Whether it's a gift for the happy couple or a gift for your wedding party, a candle is a lovely present idea and you can have it personalised or scented to suit the recipient.
Personalised Wedding Candle – Norma and Dorothy
This elegant engraved candle from Norma and Dorothy is a beautiful gift idea for a couple saying 'I do'. It includes their names, wedding date and comes presented in a beautiful ivory box.
Mother of the Bride Candle Holder – Mirrorin
If you are a couple looking for gifts for the bridal party then these engraved candle holders from Mirrorin are a lovely reminder of your special day.
Jo Malone London White Moss Snowdrop Deluxe Scented – John Lewis
This elegant candle from Jo Malone would be a perfect gift for the couple who have everything and in this deluxe size it will last.
If you are looking for more ideas for your wedding day then don't miss our edit of the best DIY wedding centrepieces.