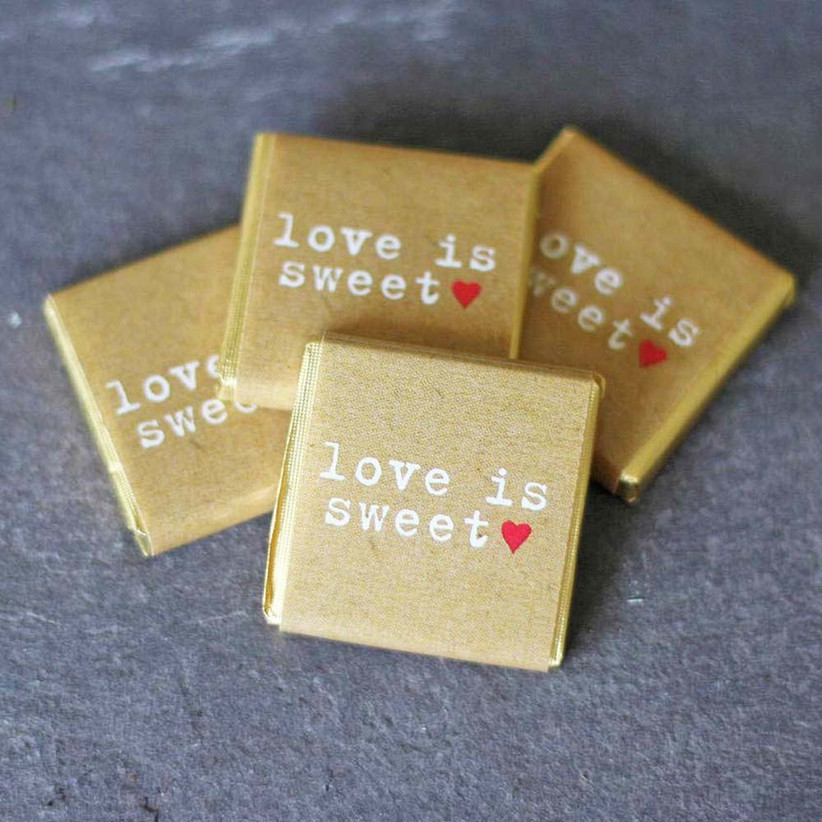 If you're scratching your head over what to give your guests at your wedding then consider presenting them with delicious chocolate wedding favours. Think about it, chocolate is loved by almost everyone and you can now find an endless offering of flavours, shapes and sizes that would be perfect for any style of wedding.
You'll certainly satisfy a sweet tooth if you choose one of these amazing wedding favours for your guests. We've rounded up some mouth-watering chocolate wedding favours for you to drool over, just try to resist eating them before you actually give them to your guests!
Hot Chocolate
You can't go wrong with a good old mug of hot chocolate, especially to keep you and your guests warm at your winter wedding. As well as being a comforting choice of beverage for a chilly wedding reception, a sachet of luxury hot chocolate would also make a great winter wedding favour.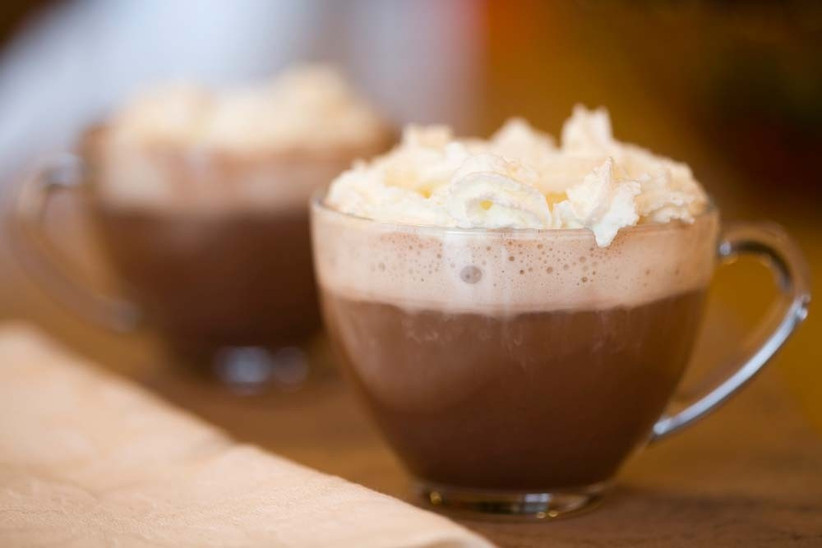 If you've never tried a hot chocolate stirrer before then trust us when we say your guests will love them. Stirrers like these Belgian chocolate ones from Not on the High Street are so easy to make – simply add one to a mug of hot milk and (you guessed it) stir. If you want to treat your guests even further you could also give them a bag of marshmallows and sprinkles to add to their finished drink.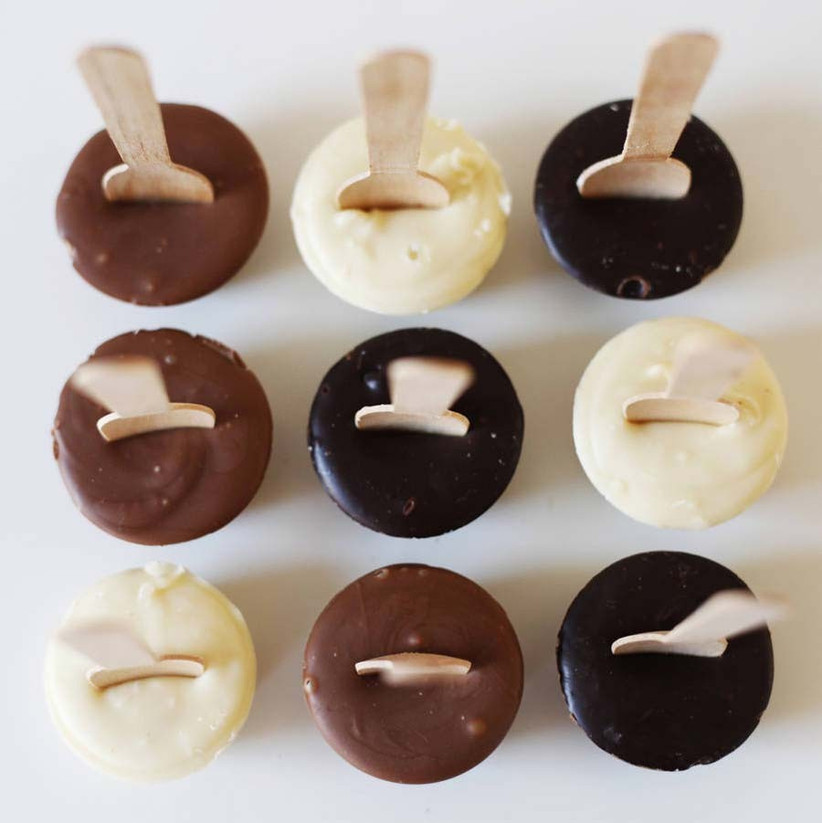 Image Credit: Mello Mallo at Not on the High Street
Chocolate Gems
For a pretty way to present your guests with chocolate wedding favours, consider these hand-crafted chocolate gems from Lena Rose Bakery. There's even an Oreo flavoured gem which received rave reviews from our editor Caroline!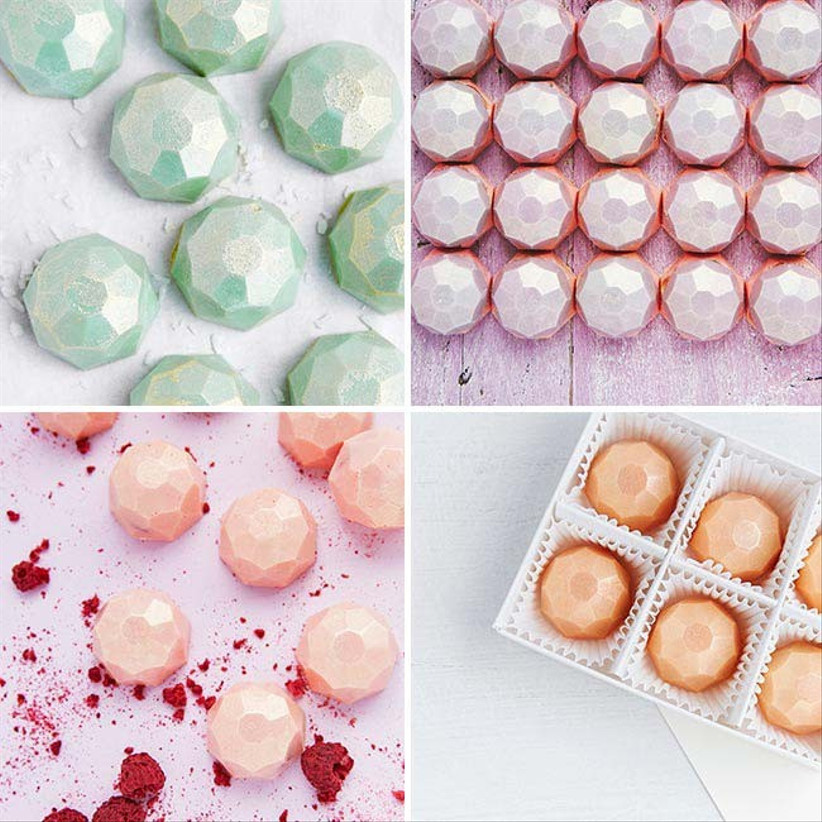 Mini Cakes
Giving your guests some mini chocolate cakes is sure to go down a storm. If you fancy yourself as a bit of a Mary Berry then you could even whip up a few of these yourself. We love these mini creations that have been romantically finished off with red ribbon and a rose. Just be wary of your guest numbers as making 100 cakes might prove to be a mammoth task.
You could present these next to a dreamy chocolate wedding cake if you're having one. Total indulgence!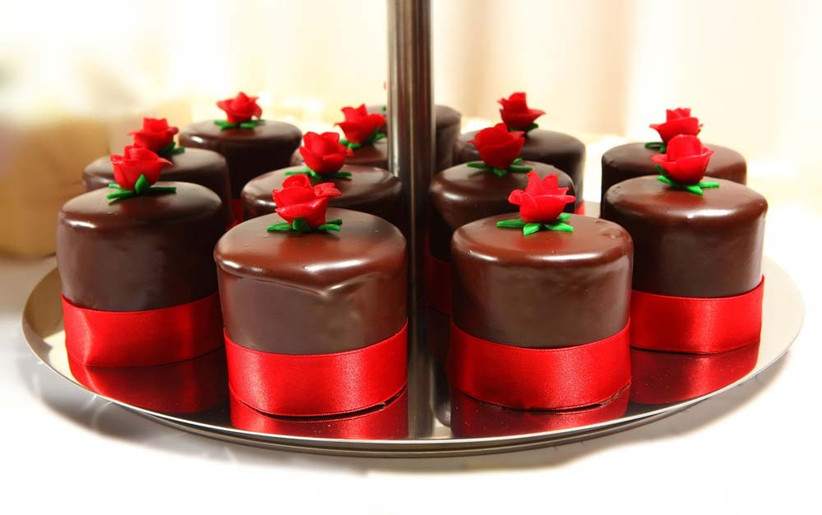 Chocolate Mendiants
Choccywoccydoodah are renowned for their edible artsy fartsy creations, so as you can expect, their chocolate wedding favours are delightfully different.
We adore these chocolate love buttons which are utterly romantic and the ideal treat for your friends and family to take away with them. Choose from strawberry chocolate disks with jelly love hearts or the caramel chocolate mendiant.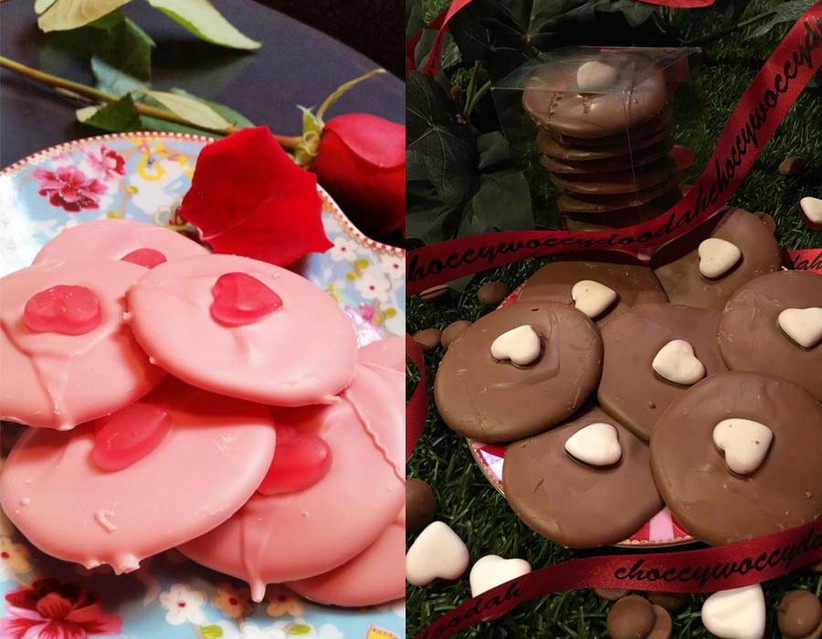 Lovebirds
These white chocolate Lovebirds are adorable chocolate wedding favours and are beautifully crafted. They are decorated by hand and you can choose from either a baby bird, a mummy bird or a daddy bird depending how much you want to save on your wedding budget.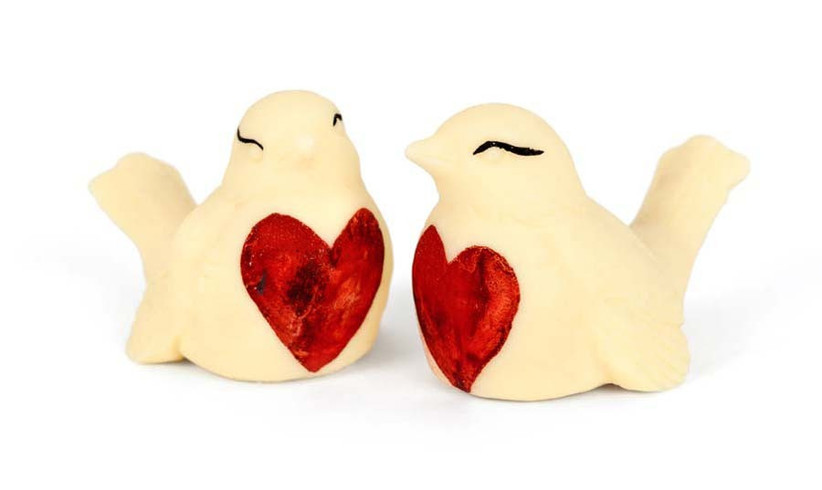 Chocolate Lollies
If you're a longstanding fan of Choccywoccydoodah then let your guests know it with these love heart lollies which bear the brand's crest. You could even mix and match these lollies with other chocolate wedding favours if you don't want all your guests to have the same thing.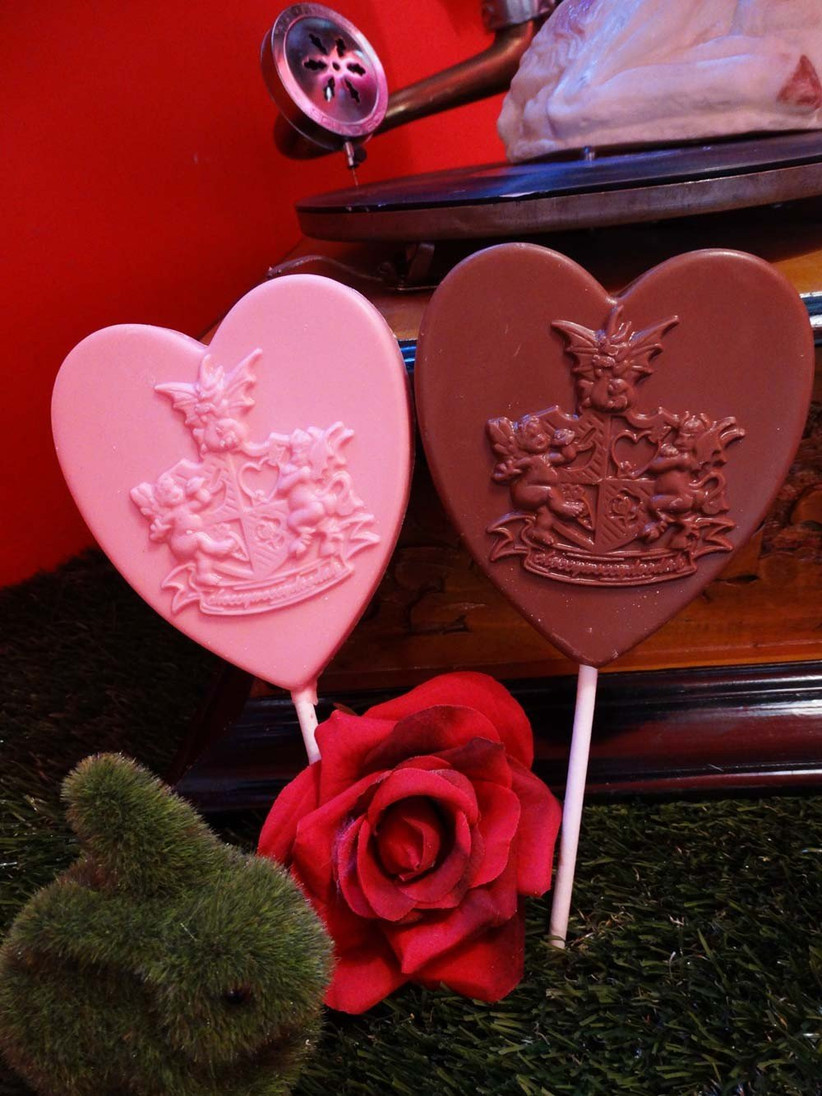 Chocolate Frogs
We're a big fan of these chocolate 'kissing frogs'! These figures would make wonderfully quirky wedding favours and would add a traditional fairy tale touch to proceedings. The moulds can even be reused so your guests can make their own chocolate frogs.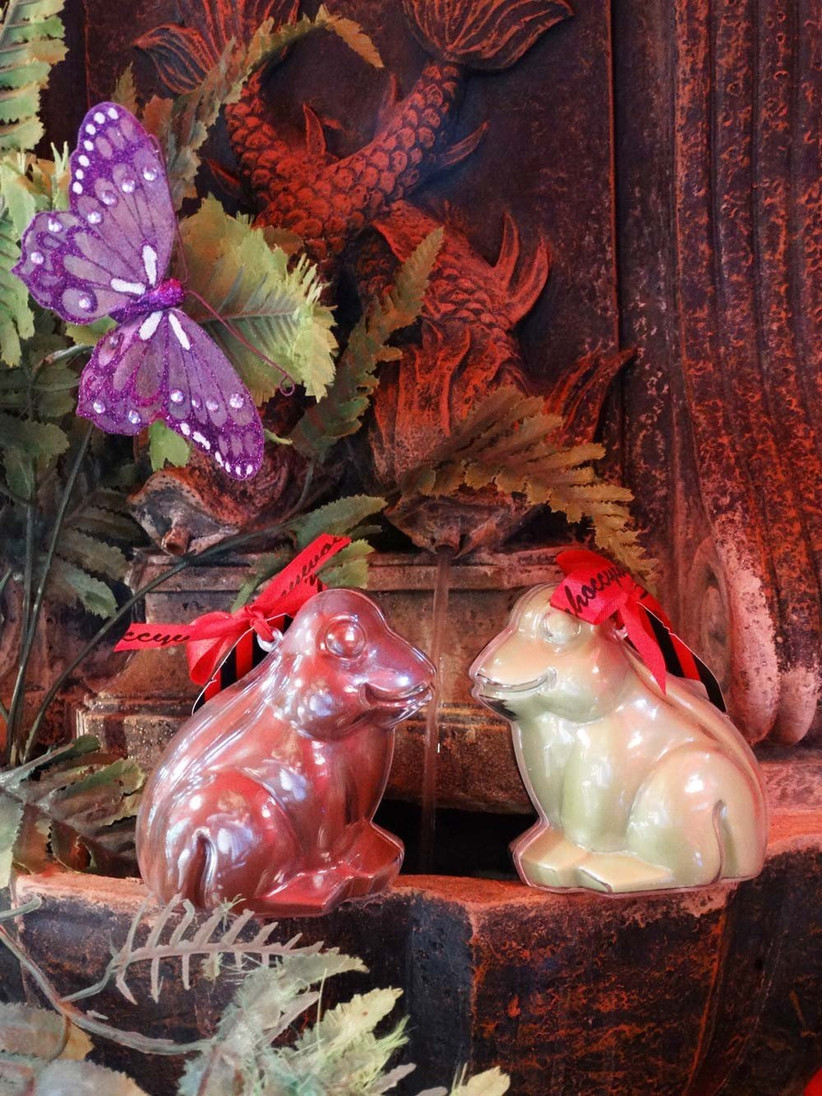 Personalised Chocolates
Chocolates that are personalised with each person's name are a very thoughtful idea and they show your guests that you appreciate them being there for your special day. Personalised chocolates would also make a great groomsmen or bridesmaid gift for every budget. 
Cake Pops
For a unique twist on a chocolate wedding favour of the cake variety, cake pops are a small but sweet treat that can be decorated with any colour you want. Opt for cake pops that follow your wedding theme or colour scheme for a flow of continuity. Pastel pops would be ideal for a vintage style wedding.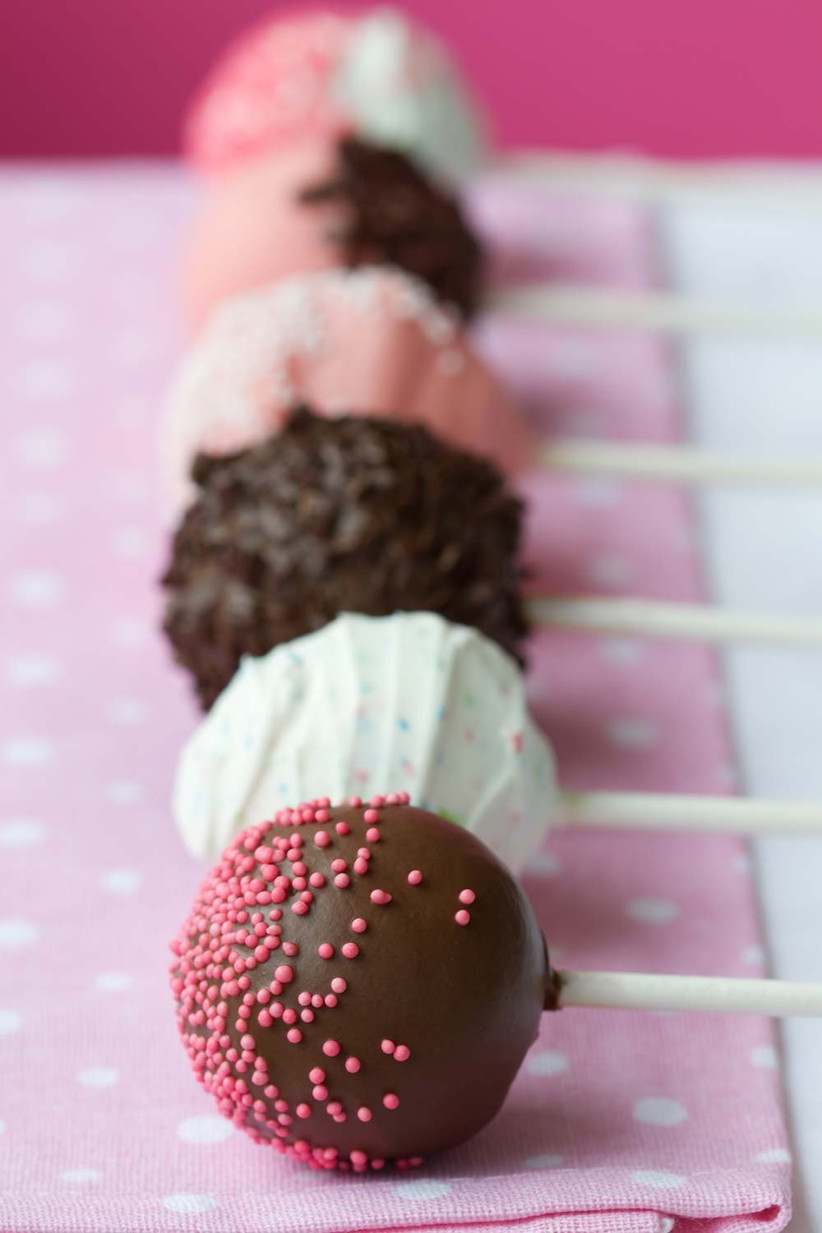 Truffles
The problem with an edible wedding favour is that they don't leave a lasting souvenir of your wedding because they get gobbled up. However, these pink champagne truffles from Hotel Chocolat come in a pretty tin for your guests to cherish long after the truffles have been devoured (we suspect that won't take long).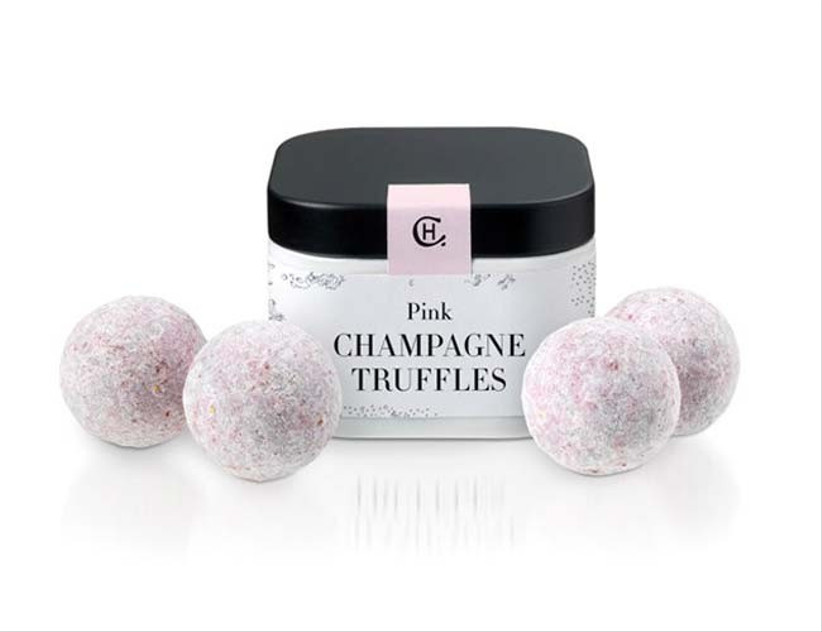 Chocolate truffles are the epitome of indulgence and would make a luxurious wedding favour. These truffles from Not on the High Street come in a huge variety of flavours, from classics such as white chocolate vanilla to more offbeat flavours such as gingerbread or orange and champagne.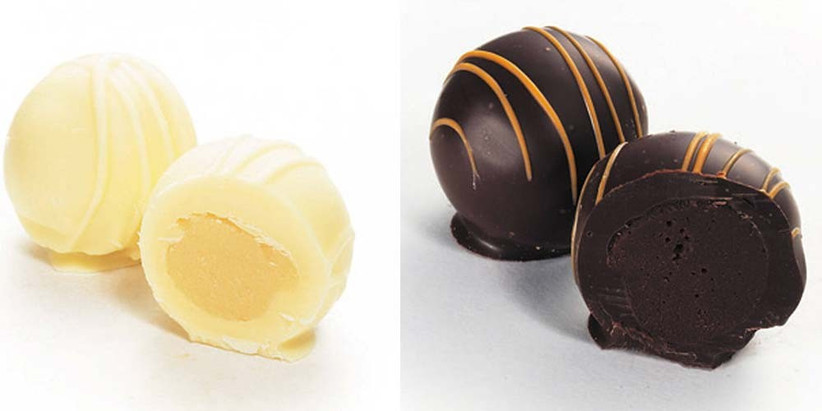 Image Credit: Martin's Chocolatier at Not on the High Street
Bags of Chocolate
No fuss and no frills here – these 40% milk puddles from Hotel Chocolat are just pure chocolatey goodness, plus they come in a sophisticated hand tied bag.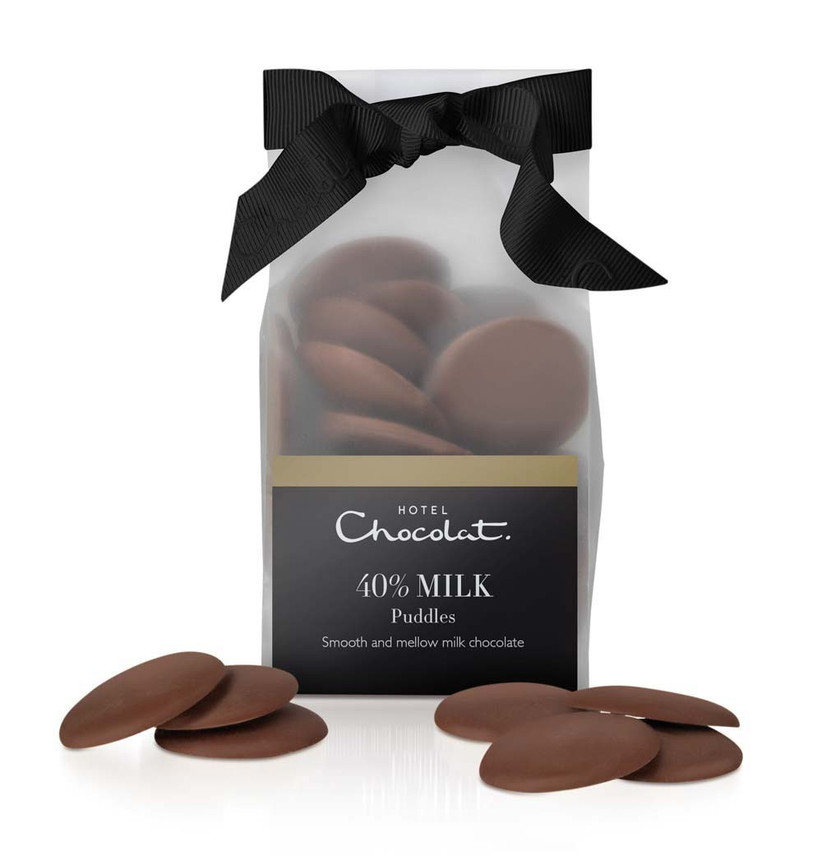 These strawberry chocolate hearts will make your guests go 'aww' in appreciation when they clap eyes on them. The most romantic way to give a token of your affection – plus these Hotel Chocolat hearts have a heavenly, melt in the mouth texture.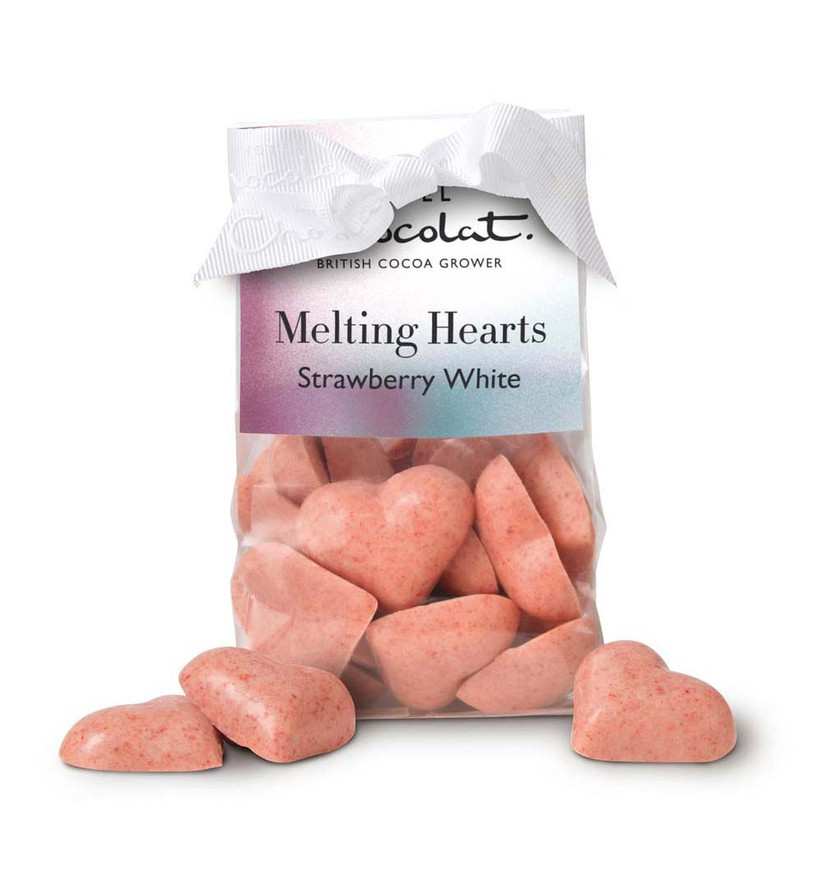 Your guests will admire these delicate organza truffle heart bags from Thorntons, which are made even more appealing by the fact they come in a range of colours. Your guests will really appreciate these plus your budget won't be dented too much. These wedding favours come as a 1kg tray of hearts and 20 little organza bags so that you can assemble them yourself for a personal touch.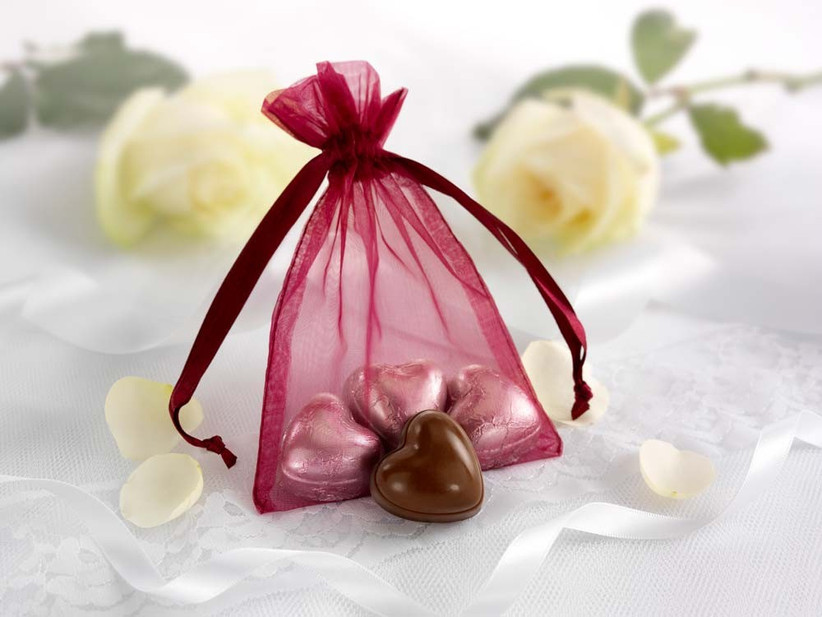 Biscuits
You can't go wrong with a delicious selection of biscuits when it comes to chocolate wedding favours. Whether you're buying them premade or are making the biscuits yourself, make sure they are tailored accordingly to your guests dietary requirements. Double check if there is anybody with a nut allergy or wheat intolerance.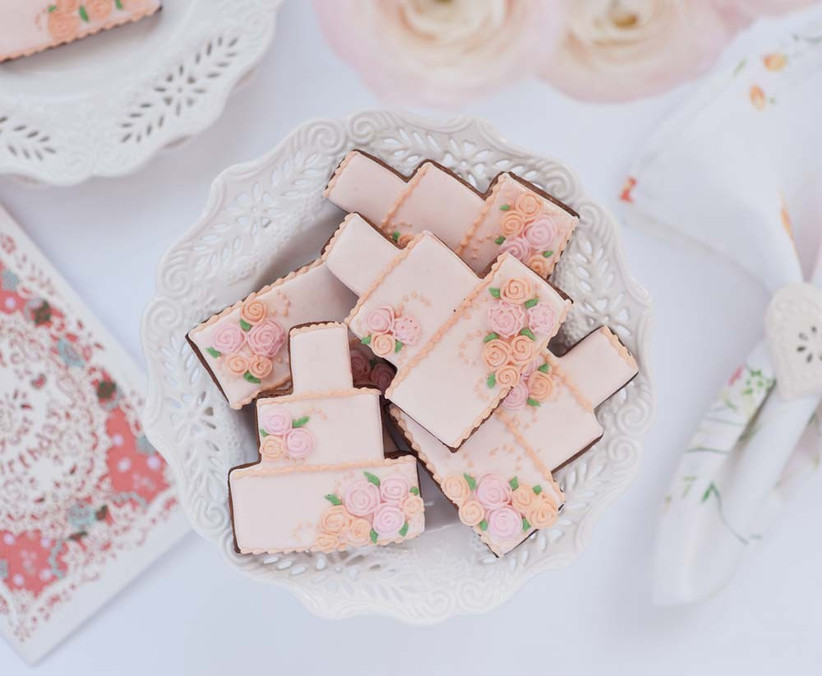 Chocolate Boxes
These cute chocolate boxes from Lily O'Brien's Chocolates can be personalised with anything you fancy, such as your guests names, your wedding date or even a special message. Choose from boxes of either two or four chocolates depending on the number of guests and your budget.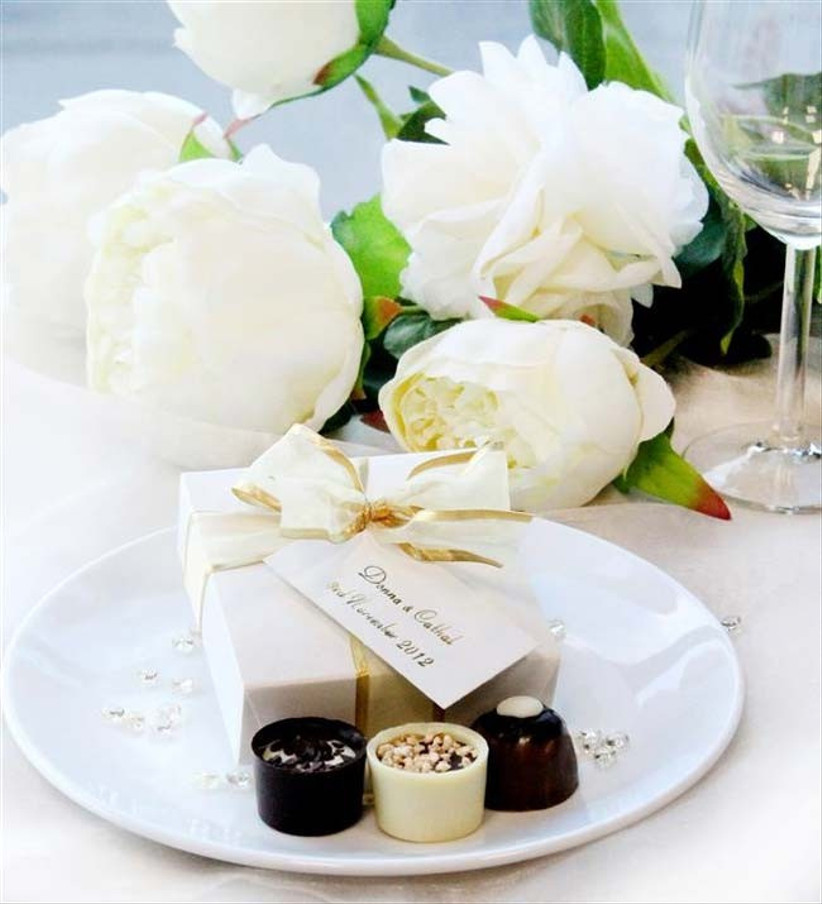 These boxes from Thorntons are the perfect gift for guests and they open up to reveal four scrumptious chocolates from the bestselling Continental range. Thorntons can even personalise the box for you – it does take 21 days but the wait will be worth it when everybody appreciates the extra effort you've put in.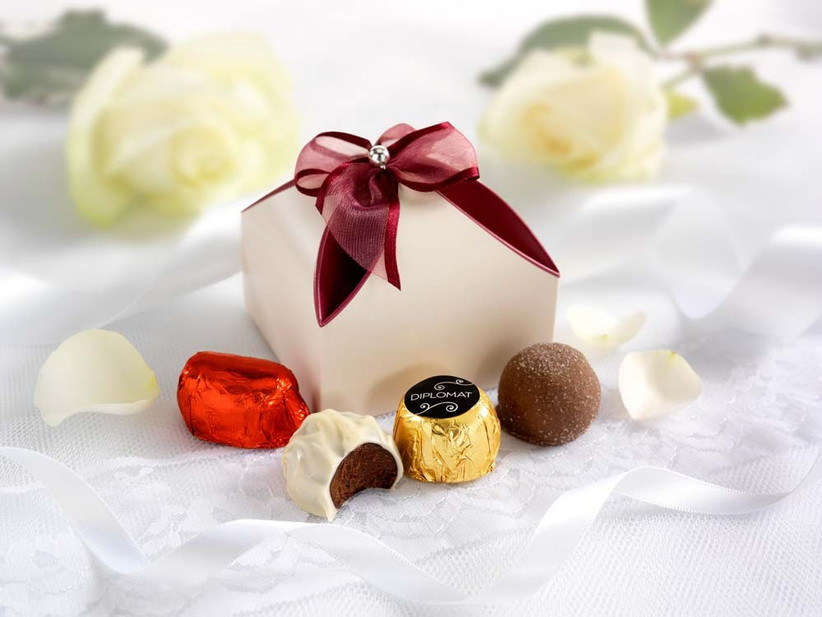 These dotty boxes from Thorntons are just divine and are suitable for any style of wedding. Choose from a range of colours and opt for boxes with four chocolates or a single chocolate if your budget is limited.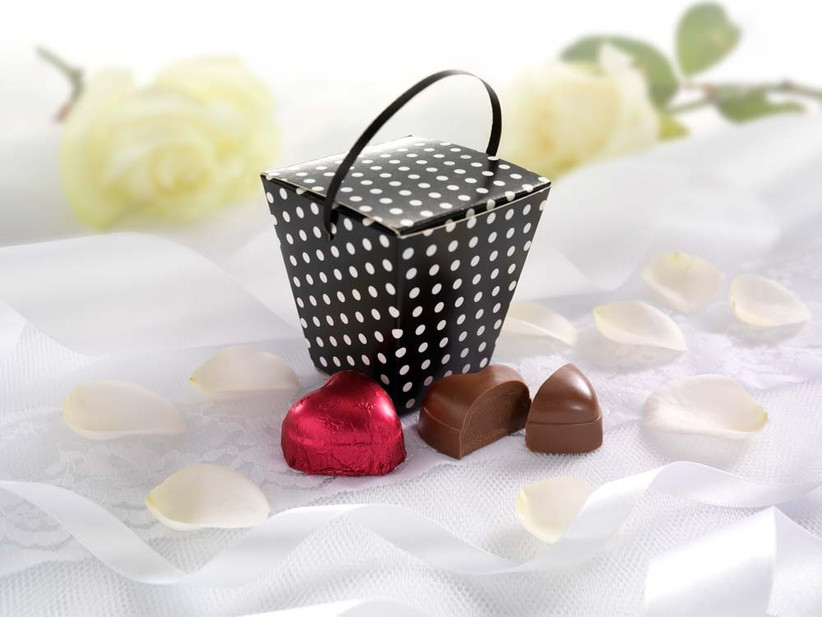 Cupcakes
If you have a large wedding party then there's a danger that your wedding cake might not last very long if you're handing a piece to every guest! Solve this problem by providing chocolate cupcake favours to accompany the cake so that nobody gets left out. Complement an unusual wedding cake by having the cupcakes decorated with a similar design. 
Chocolate Squares
Keep it simple with these small but yummy squares of chocolate from The Wedding Of My Dreams. Emblazoned with the cute slogan 'love is sweet', the gold and brown wrapping would be suitable for a rustic wedding or as a glitter wedding idea.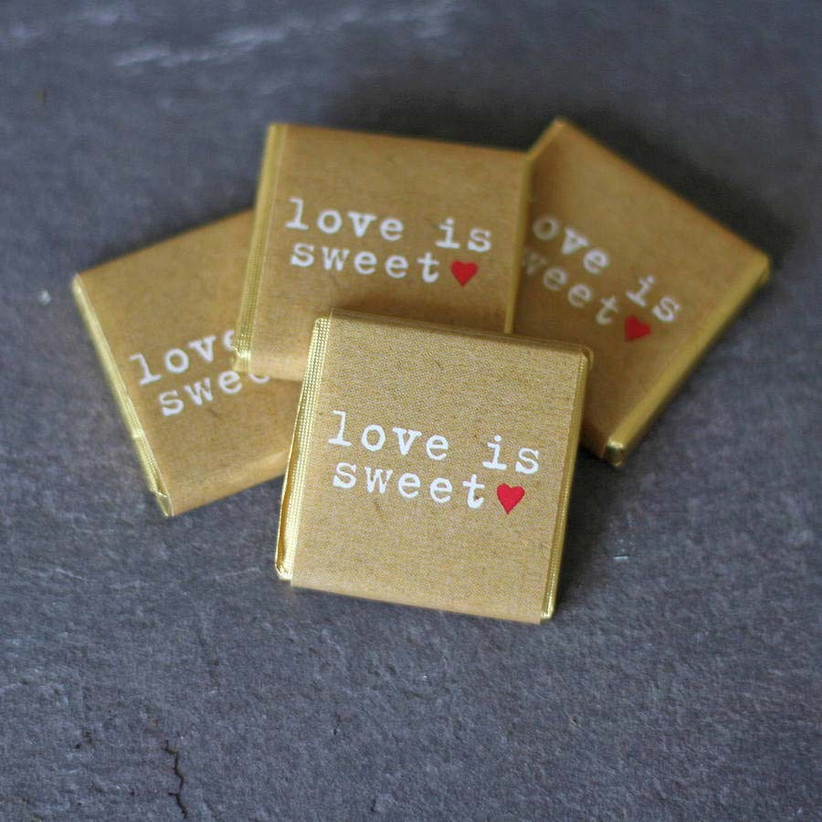 Image Credit: The Wedding Of My Dreams at Not on the High Street
Chocolate Coins
Okay so your guests may be disappointed that it's not real money but that disappointment will turn to delight when they find out there's chocolate inside that gold coin. Chocolate coins would make ideal wedding favours for children, especially if you turn it into a fun game and scatter the coins around your venue for them to find!
Chocolate Bar
An Alice in Wonderland theme is a great idea for weddings – it also gives you the chance to have some fun with your wedding favours! We love these tempting 'eat me' chocolate bars from WrapperStar which come in an attractive monochrome packaging.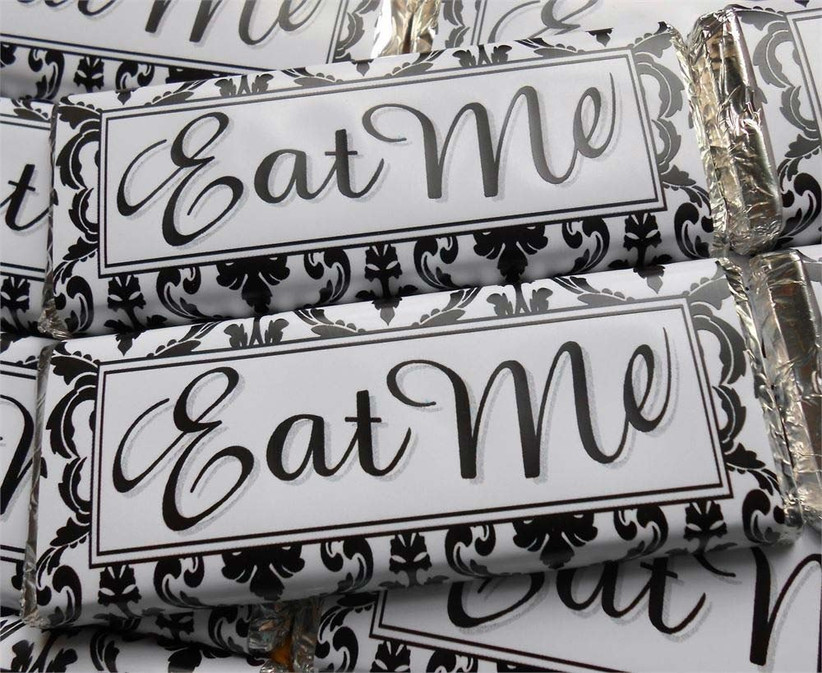 Whilst we're on the subject of sweet treats, take a look at our pick of the most amazing wedding cakes if you're yet to find the perfect one.