On your big day, you are absolutely bound to have hundreds of wedding photos taken. Whether you're sticking to a professional wedding photographer, getting a friend or family member on board or simply popping disposables onto your guests' tables, there are sure to be so many amazing shots.
So where to store them all? Well, we suggest picking up a wedding photo album after your special day, which will give you a lovely keepsake, a great way to safely store your pictures, and a fun project too!
There are so many lovely wedding photo albums out there for all budgets and tastes. Many are customisable and can be personalised, while others are simple, classic photo albums that can be used for wedding photos.
Whatever your style, we've found some of the most amazing wedding photo album options from all over the internet, which will store all of those magical moments and give you something to hold on to.
NB: We have included third party products to help you navigate and enjoy life's biggest moments. Purchases made through links on this page may earn us a commission.
1. Personalised High Quality Linen Photograph Album - £35, Etsy

This album, complete with a grown-ip linen cover, comes with 50 pages for 100 beautiful photographs from your special day.
2. Medium Wedding Photo Album - £15, Paperchase

Paperchase's option uses self-adhesive pages, and can house a total of 60 pictures. We love the pretty, understated cover with pops of colour.
3. White Cranes Large Square Photo Album - £55, Liberty London

Wedding photo albums don't necessarily have to be engraved or specifically mention your wedding if they're not your style. This one by Liberty London is so classy and elegant.
READ MORE: 10 Creative and Gorgeous DIY Wedding Invitation Ideas
4. Customisable Wedding Photo Album - £79.99, PikPerfect

PikPerfect allows you to really adapt your photo album to everything from your price point to your desired size and page length. It's a great option for building bespoke.
5. Donna Leigh Print Cotton Square Photo Album - £60, Liberty London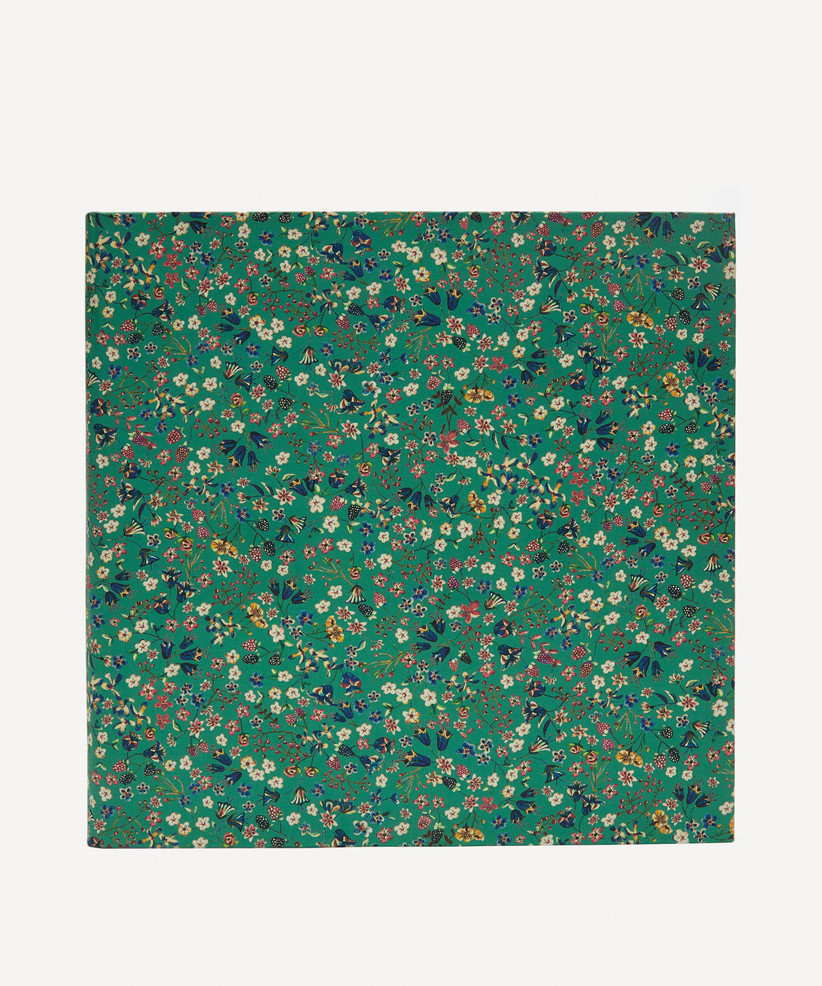 Another gorgeous Liberty London option, this time with teensy flowers in a range of vibrant hues.
6. Smythson Bijou Leather Photo Album - £97, Selfridges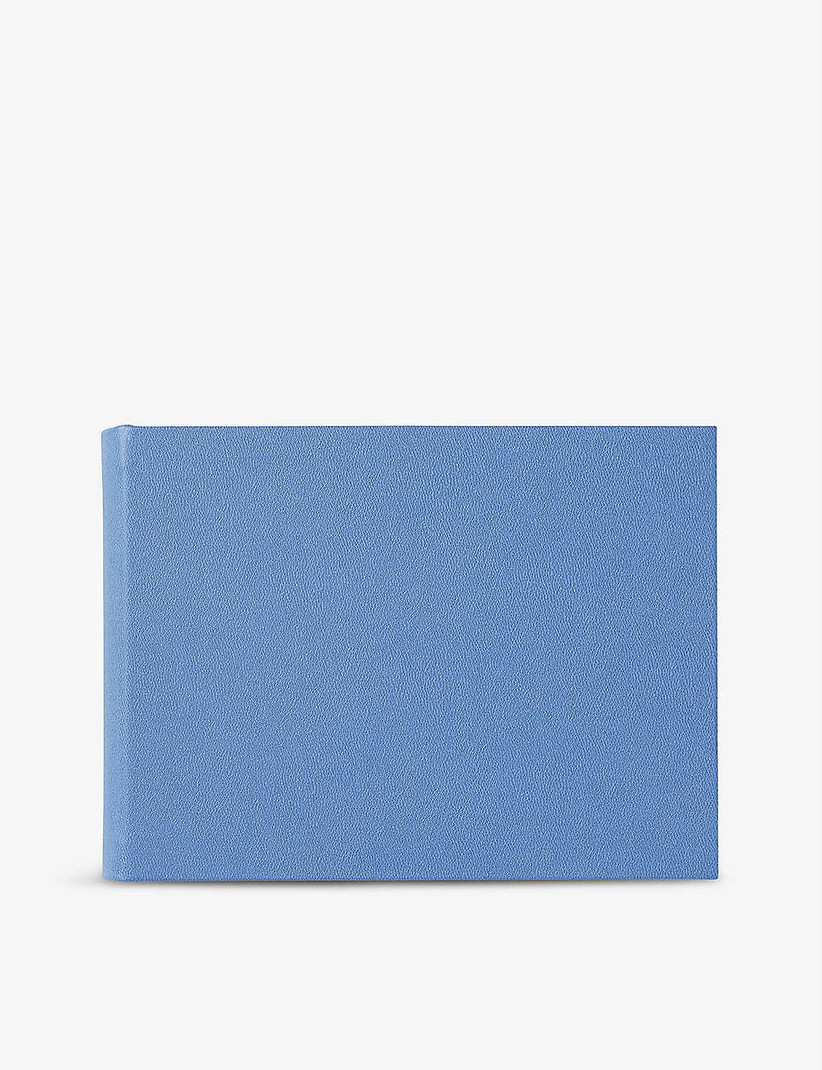 You can't go wrong with a Smythson design; they come in a bunch of colours and are made from the highest quality leather for longevity.
READ MORE: Wedding Card Quotes: 45 Funny, Wise and Romantic Quotes
7. Katie Loxton Magical Moments Large Photo Album - £34.99, John Lewis

As your wedding day will no doubt be full of dozens of magical moments, we can't think of a better fit than this sleek design.
8. Wedding Day Photo Album - £34.99, Katie Loxton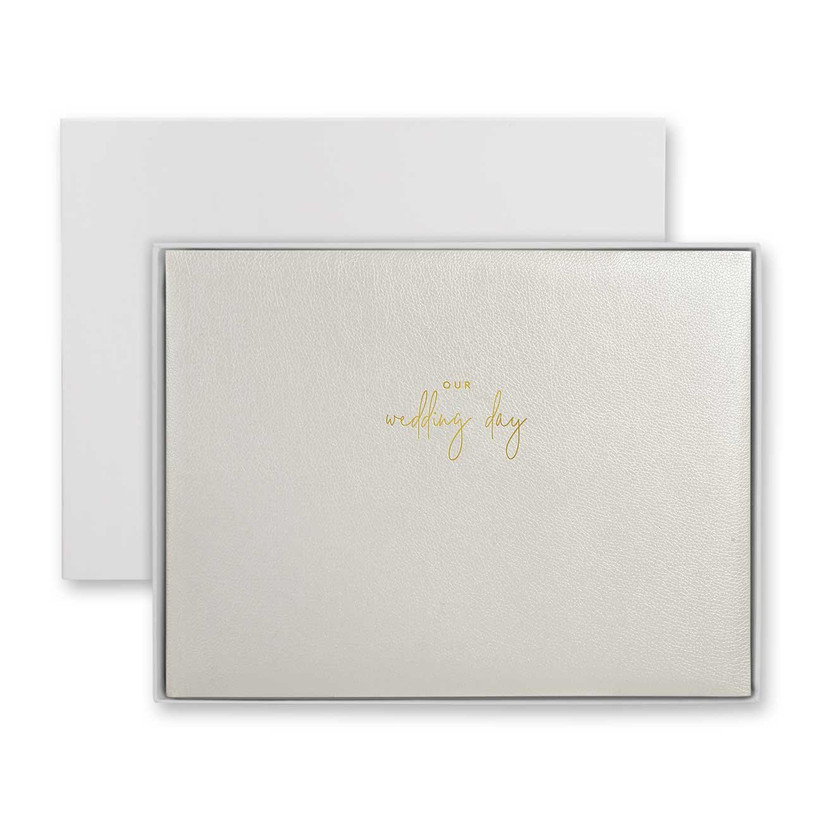 With 30 pages and made from PU, this pearlescent white album is the perfect mid-range option.
9. DIY Album Blush: Essentials - £24.99, Kikki K

Keep it simple with this lovely little album, which also comes in other colours if a feminine blush isn't quite your style.
READ MORE: 9 Ways to Save Money on Your Wedding Stationery
10. Printed Hardcover Photo Books - from £36, Rosemood

Another great customisable option, Rosemood's books are of the highest quality, and perfect for your digital pictures to be displayed.
11. Martha Brook Personalised Extra Large Wedding Photo Album - £45, Not On The High Street

Personalise this supersized album with your names, dates, and play with the colours for your taste.
12. Letterfest Personalised Wedding Photo Album - £20, Not On The High Street

We love this quirky design, which celebrates your love in a stylish and romantic way. It also comes with a protective presentation box.
13. Clouds and Currents Photo Printed Personalised Photo Album - £40, Not On The High Street

This lovely hand carved book has a distinct rustic feel, and comes in both A4 and A5 depending on your needs.
14. Oh So Cherished Leather Wedding Photo Album - £98, Not On The High Street

Keep it sleek, keep it simple, and keep it classy with this classic design.
READ MORE: Glittery Wedding Stationery: 19 Sparkling Designs
15. Made By Ellis Personalised Hand Foiled Hearts Wedding Photo Album - £37, Not On The High Street

With this divine handmade choice, you can pick from two colours and two sizes. We love the cute etched hearts.
16. Dreams To Reality Personalised Hessian Lace Wedding Photo Album - £29.50, Not On The High Street

Want something with a super homemade, rustic feel? This hessian and lace album is ideal.
17. Begolden Rose Gold Wedding Album - £50, Not On The High Street

Rose gold will never go out of style, and we're sure fans of the millennial colour of choice will love this wedding photo album.
18. Personalised Linen Photograph Album - £36.99, Etsy

Linen is a great fabric option for your wedding photo album, as it has a very elegant, sophisticated feel. This one looks lovely in grey.
19. Large Personalised Wedding Photograph Album - £40, Etsy

With 100 sides, this delicately decorated album will fit all your special memories from the day.
20. Wedding Day Gift Photo Memory Album - £26, Etsy

This book boasts super high quality paper, and the front etchings can be made in rose gold, gold, silver, or copper.
21. The Minimalist Hardback Photo Book - £35, Papier

Papier's minimalist design comes in both medium and large sizes, and the pages are made with Mohawk Superfine paper, meaning a slightly texture effect.
22. The Wedding Of Hardback Photo Book - £60, Papier

Got lots of digital pictures to organise into an album? These photo books are ideal, and are easy to organise.
23. Mr & Mrs Hardback Photo Book - £35, Papier

Another lovely photo book option for your digi snaps that have been perhaps neglected a little more.
24. Personalised Acrylic Wedding photo album - £130, Etsy

You can house up to 130 photos in this lovely, super high quality design. Also choose from a range of dimensions.
25. Beach-Themed Shells & Starfish Wedding Honeymoon Photo Album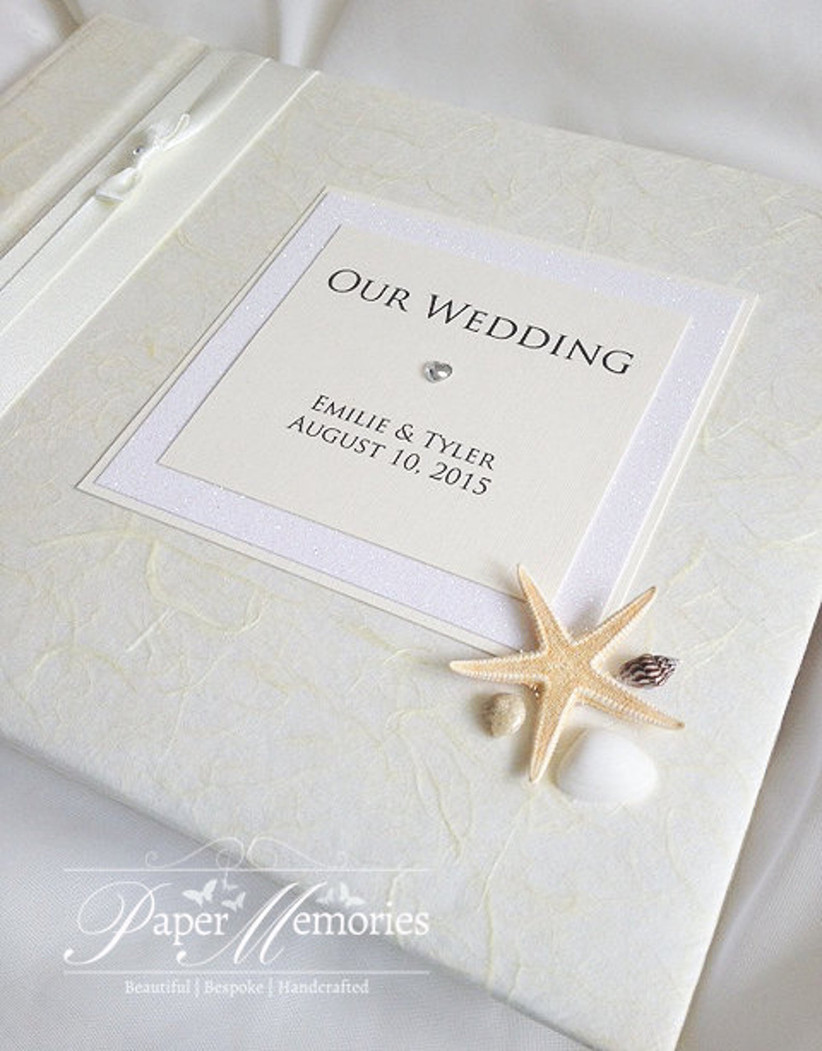 Got married on a beach or just love travel? We think you might fall in love with this seashell design.
Now you've ticked off the wedding photo album, don't forget to thank the people that made your big day so special with our roundup of the best wedding thank you gifts.