The 25 Best Wedding Photo Albums for Storing Your Special Memories
Do you have a range of special moments from your big day, captured in photographs? These albums will house them beautifully. Choose from personalised photo books, luxury bound designs and lots more!
We have included third party products to help you navigate and enjoy life's biggest moments. Purchases made through links on this page may earn us a commission.
On your big day, you are absolutely bound to have hundreds of wedding photos taken. Whether you're sticking to a professional wedding photographer, getting a friend or family member on board or simply popping disposables onto your guests' tables, there are sure to be so many amazing shots.
So where to store them all? Well, we suggest picking up a wedding photo album after your special day, which will give you a lovely keepsake, a great way to safely store your pictures, and a fun project too!
There are so many lovely wedding photo albums out there for all budgets and tastes. Many are customisable and can be personalised, while others are simple, classic photo albums that can be used for wedding photos.
Whatever your style, we've found some of the most amazing wedding photo album options from all over the internet, which will store all of those magical moments and give you something to hold on to.
1.
Customisable Wedding Photo Album - £79.90, PikPerfect

PikPerfect allows you to really adapt your photo album to everything from your price point to your desired size and page length. It's a great option for building bespoke.
2.
Wedding Photo Album - from £36.95, Heritage Photo Albums
Handmade in the UK, Heritage Photo Albums offers a variety of covers including leather, silk effect, and linen. They also use card weight acid-free pages and glassine tissue interleaves between the pages to protect your photos.
3. Personalised High Quality Linen Photograph Album - £38, Stori UK

This album, complete with a grown-up linen cover, comes with 50 pages for 100 beautiful photographs from your special day and is available in grey, blue or beige. So chic!
4. Pampas Traditional Wedding Photo Album - £30, Paperchase

Paperchase's option uses self-adhesive pages, and can house a total of 60 pictures. We love the pretty, understated cover with pops of colour and the pretty ribbon tie.
5. Wiltshire Print Cotton Square Photo Album - £60, Liberty London

Wedding photo albums don't necessarily have to be engraved or specifically mention your wedding if they're not your style. This one by Liberty London is so classy and elegant.
READ MORE: 10 Creative and Gorgeous DIY Wedding Invitation Ideas
6. Gold Peacocks Sougara Paper Photo Album - £225, Liberty London
Another gorgeous Liberty London option, this time adorned with gorgeous golden peacocks. Crafted from traditional Japanese Sougara paper and designed and produced in Kyoto it may be a little pricey but it's worth every penny.
7. Panama Bijou Leather Photo Album - £185, Smythson
You can't go wrong with a Smythson design; they come in a bunch of colours and are made from the highest quality leather for longevity.
8. Wedding Day Photo Album - £29.99, Katie Loxton
With 30 pages and made from PU, this pearlescent white album is the perfect mid-range option for couples who want to store their wedding photos in a sleek album that has a touch of glitz.
9. Printed Hardcover Photo Books - from £40, Rosemood

Another great customisable option, Rosemood's books are of the highest quality, and perfect for your digital pictures to be displayed. You can choose from a square, portrait or landscape format to suit your taste.
10. Photo Printed Personalised Photo Album - £40, Clouds And Currents

This lovely hand carved book has a distinct rustic feel, and comes in both A4 and A5 depending on your needs. If you're giving this as a gift they also offer luxury gift wrap that is finished off with ribbon and a handwritten tag with your own special message.
READ MORE: Glittery Wedding Stationery: 19 Sparkling Designs
11. Personalised Hand Foiled Hearts Wedding Photo Album - £37, Made By Ellis

With this divine handmade choice, you can pick from two colours and two sizes. We love the cute etched hearts that can be crafted from metallic red, gold, silver or holographic card.
12. Rose Gold Wedding Album - £50, Be Golden

Rose gold will never go out of style, and we're sure fans of the millennial colour of choice will love this wedding photo album, especially if that was your chosen theme on the big day.
13. Personalised Linen Photograph Album - £39, Stori UK

Linen is a great fabric option for your wedding photo album, as it has a very elegant, sophisticated feel. This one looks lovely in grey with a soft pink ribbon and 3D rose.
14. Wedding Day Gift Photo Memory Album - from £26, Norma Dorothy

This book boasts super high quality paper, and the front etchings can be made in rose gold, gold, silver, or copper. The sturdy ring binder will ensure the pages never fall out or get damaged.
15. The Minimalist Hardback Photo Book - £35, Papier

Papier's minimalist design comes in both medium and large sizes, and the pages are made with Mohawk Superfine paper, meaning a slightly texture effect. You'll be able to customise your creation with captions and your chosen layout and cover.
READ MORE: 37 Unique Wedding Gift Ideas They'll Love
16. Bespoke Hand Bound Photo Album - from £45, The Eloise Bindery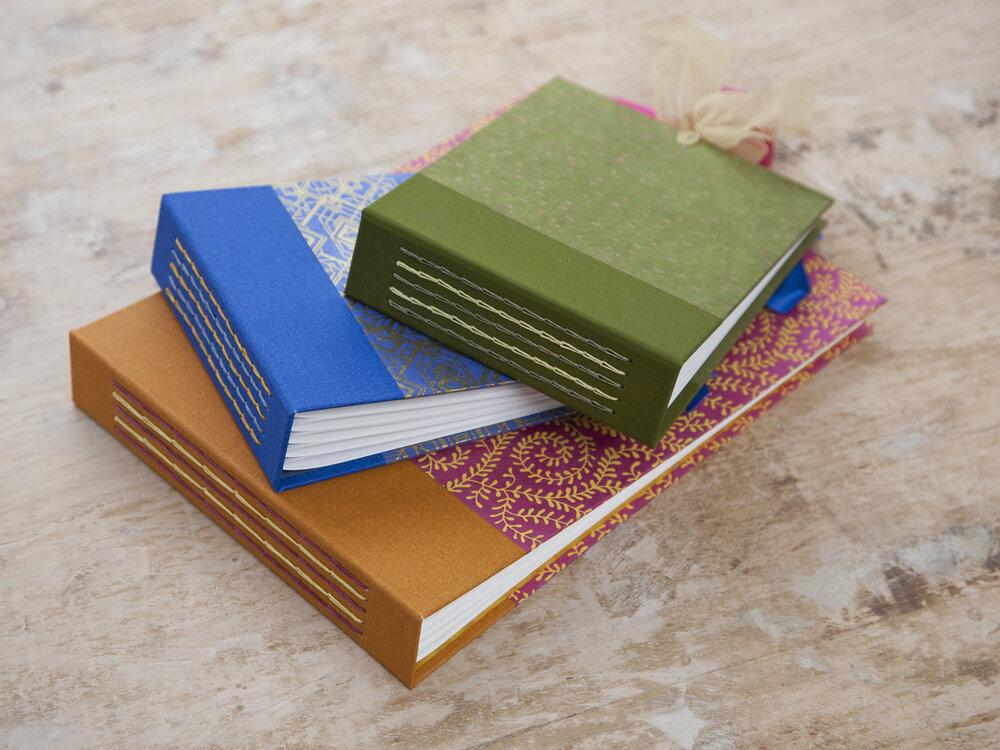 These gorgeous photo albums from The Eloise Bindery are completely bespoke. Cut, folded, glued and sewn by hand, you can choose from a whole range of colour ways and designs to make a unique book.
17. Premium Photo Album - from £120, Milk Books
Your wedding photos are a precious memory you'll want to keep safe forever so we think it's worth spending that bit extra to get a premium photo album. Milk photo books will give your snaps a professional finish with a luxury cover.
18. Personalised Wedding Photo Booth Album - £26, Natalie Ryan Designs
If you had a fun photo booth at your wedding or you're thinking about having one this personalised wedding photo booth album is just the thing you'll need to store the pictures your loved ones took. We adore the sophisticated monochrome design.
19. Personalised Photo Album Locket With Pictures - £39, Silk Pure Sow's Ear
For a fun twist on a traditional photo album, look to this beautiful locket that holds up to 20 tiny vintage style Polaroid photos inside. The inside of the locket can also be engraved with a personal inscription making this the most wonderful post-wedding present for your other half.
20. Personalised Always Wedding Photo Album - £32, Martha Brook
The simplicity of this 'Always' wedding photo album is what makes it so lovely. Available in 11 different colours, if you had a Harry Potter themed wedding day, this photo album is so fitting thanks to the iconic quote.
READ MORE: 7 Creative Photography Ideas for Smaller Weddings
21. Vintage Photo Printed Album - £70, Atlas & I
Vintage style photographs take your fancy? This gorgeous Italian leather covered photo album holds up to 50 pages of digitally printed wedding photographs and would make an ideal 9th wedding anniversary gift to nod to leather.
22. Personalised Perfect Match Wedding Album - £25, Posh Totty Design Creates
This beautiful personalised photo album features an adorable hand drawn illustration of a box of matches. It's totally appropriate to hold your wedding photos inside as you and your partner are the 'perfect match'!
23. Personalised Calligraphy Wedding Album - £40, Clouds And Currents
Another stunning design by Clouds and Currents is this birch wood beauty. Pick from A4 or A5 sizes, off-white or black paper, and the number of sheets your require.
24. Wanderlust Personalised Photo Album - from £21, Ophelia Designs Gifts

Adventurous couples will adore this photo album to treasure their wedding photos, honeymoon snaps and future holidays in. You can choose to have up to 60 pages so they'll be more than enough room to fit all of your memories.
25. Personalised Photo Book - from £5.99, Cewe
Cewe's wedding photo books give you the option cater your photo album to suit your budget and taste as they have a number of sizes and prices available. More over, you can even bring your book to life with video by having a unique QR code printed in the album you can link to your phone or tablet.
Now you've ticked off the wedding photo album, don't forget to thank the people that made your big day so special with our roundup of the best wedding thank you gifts.