The Best Celestial Wedding Dresses: 24 Starry Designs You'll Love
Considering adding a celestial theme to your wedding? For starry wedding dresses sure to take your breath away (and how to style them), look no further…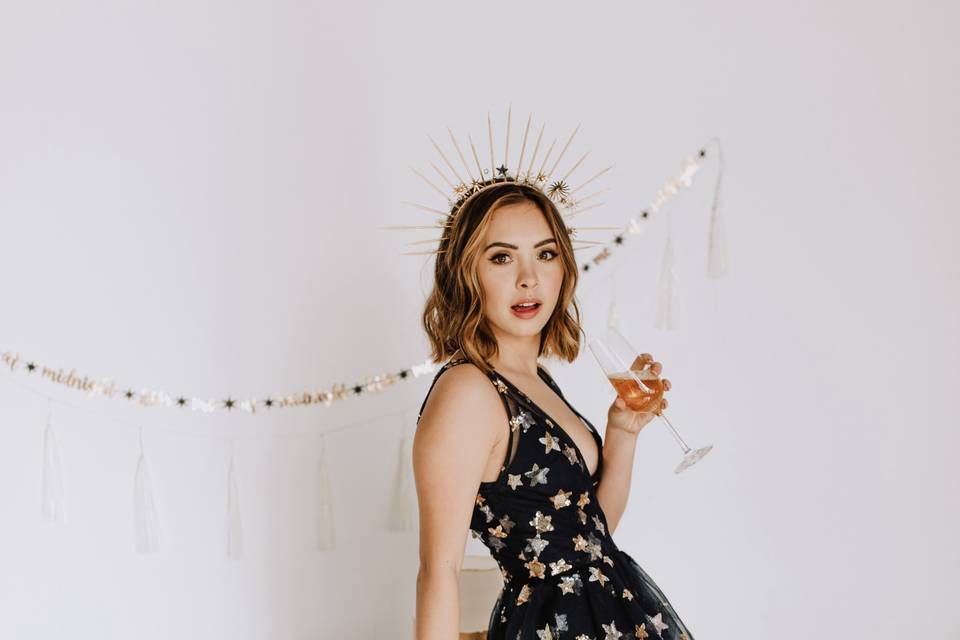 Whether scattered with moons and stars, embroidered with magical beading or dusted with shimmer that can be seen from another galaxy, celestial wedding dresses aren't just having a moment: they're a 'forever' wedding fashion trend with eternal ethereal appeal. If you're wondering what makes a celestial wedding dress such a beautiful 'suits all' option, and where to find the perfect starry wedding dress during your wedding gown search, look no further.
We asked co-founder of preloved, restored and upcycled bridalwear studio Flamingo Bridal, Steph Vassallo, for her expert tips on creating a dreamy celestial wedding day look for every kind of bride, and rounded up 24 of our favourite celestial wedding dresses guaranteed to leave you starry-eyed.
24 of Our Favourite Celestial Wedding Dresses
1. Stars Align Dress – £POA, Willow by Watters
A starry wedding dress that's light as air to wear, this dreamy gown features teeny beads, a sprinkling of translucent sequins for a glittering night sky effect and shooting star embroidery in either silver or gold. The low-V front and back also create an elegant Grecian feel – just add a bridal jacket if you're planning a winter wedding.
2. Cardell Top and Audre Dress – £POA, Charlie Brear
From UK bridal designer Charlie Brear's 2022 Liberty in Love collection, this sleek, straight skirted wedding dress and sheer star embroidered long sleeve bridal top perfectly encapsulate modern bridalwear. Add stars as and when you want them and wear the top again and again with everything from jeans to formal suiting.
3. Starstruck Dress – £POA, Natalie Wynn
This A-line wedding gown features floaty bishop sleeves (a major 2022 wedding dress trend), sequined blue, silver and gold stars and can be made in off-white, a pale blue-grey or champagne to suit your vibe. In short, the dream dress.
4. Strapless Ivory and Nude Beaded Sequin Dress – £POA, Berta Collection Privée No.7
Berta dresses almost always have a touch of the celestial about them but the 2022 Collection Privée No.7 designs take otherworldly details to fresh heights. Ivory based dresses allow galactic sequins and scattered beading to shine all the brighter, as is the case with this structured strapless wedding gown. The statement tulle bow at the waist will make you look like you're gliding down the aisle on a cloud *sighs*.
READ MORE: Sexy Wedding Dresses That Will Get Pulses Racing
5. Scotty Dress – £POA, Halfpenny London
From the aptly named Fly Me To The Moon collection, Scotty is a romantic off the shoulder wedding gown with an outer layer of dotted tulle that creates a gorgeous falling star effect. Designer Kate Halpenny calls Scotty "ethereal" – beam us up.
6. Embellished Square Neck Ivory Bridal Dress – £499, Monsoon
A square neck and back make this celestial wedding dress all the more contemporary while the all-over sequins bring star power. The sheer skirt overlay adds a whimsical touch.
7. Aquarius Dress – £POA, Willow by Watters
The designers were going for a dress that creates the effect of being "wrapped in a rainbow", and it's accurate to say that Aquarius nails the nature-inspired brief. The strapless wedding gown shimmers with multicoloured sequins and the iridescent impact will be all the more spellbinding when the lights go down for your evening reception.
8. Sia Gown – £3,100, Rue de Seine
A boho celestial dream, Sia's embroidered stars are just the thing if you prefer crochet over glitz. A sheer off-white dress and intricate overlay look even more heavenly with a low back, train and dramatic draped bell sleeves. This dress would look divine for an outdoor summer wedding. Braided hair optional.
READ MORE: 36 Best Boho Wedding Dresses for Free-Spirited Brides
9. Albiorix Dress – £POA, Pronovias
Speaking of starry wedding dress embroidery, the sparkling star motifs on this spaghetti strap mermaid dress look like joyful fireworks. The close fit and low neck and back give it a sexy vibe too.
10. Lola Dress – £POA, Made With Love Bridal
On an equally sensual note, Lola's designers have declared her to be "the sexiest dress of all time" and she happens to be pretty celestial to boot. Cosmic all-over beadwork (including delicate beaded straps that glow on every skin tone) and a train that looks like a pool of stars add to the magic.
11. Marie Scatter Sequin Crop Top Wedding Dress – £180, ASOS Edition
Silver sequins as big as planets, sheer long sleeves and a crew neck crop top overlay – this affordable wedding dress ticks all of the boxes for a heavenly winter wedding look.
READ MORE: 60 Affordable High Street Wedding Dresses That Look Anything But Budget
12. Calypso Dress – £POA, Natalie Wynn
Featuring a constellation of star embroidery and a statement cape train, this made-to-order celestial wedding dress is fresh and modern. You can opt for a slit at the front of the dress or embrace the trumpet skirt to the full.
13. Amalfi Sequin Gown – £1,150, Galvan
Conjuring up the glamour of a starry evening on the chi chi Italian coast, this gilded pearl white sequin wedding dress has a simple cut to let the spangle take centre stage. Team it with a red lip for classic Hollywood razzle dazzle.
14. Bluebell Dress – £POA, Jenny Packham
Cloud-like tulle, a 'belt' of silver sequins at the waist and dispersed sparkle from the knees upwards, Bluebell is a bewitching design from Queen of glitz Jenny Packham's newest bridal collection. The softly draped neck and cap sleeves are especially romantic.
15. Jane Dress – £POA, Muse by Berta
Embroidered with starbursts and with a delicate line of gems tracing the sheer back of this strapless effect design, you'll look every inch the celestial goddess in this beautiful wedding gown. An updo will enhance that twinkling back detail.
READ MORE: 38 Wedding Hair Updo Ideas for Every Bride
16. Aria Dress – £POA, Sassi Holford

From UK bridal designer Sassi's Love Conquers All collection, Aria is resplendent – she shimmers in pearls and sequins. The sheer back and side panelling streamlines the cut of the dress while making the glinting embellishment look as if it's floating. Celestial, and clever too.
17. Embellished Tea-Length Tulle Dress – £4,525, Monique Lhuillier
Love 50s style princess dresses and starry styles? This tulle tea-length wedding dress brings the best of both to the ball. A frilled strapless neckline and airy layered skirt are made striking with the addition of glittering black stars. Monochrome fans take note.
18. Kai Dress – £POA, Watters
Beading, pearls and crystal buttons adorn the sheer sleeves and V-illusion back of this polished celestial wedding dress. The square neckline and clean sweep train keep things sleek.
19. Seraphine Strapless Dress with Mauda Overskirt and Serena Midi Sleeves – £POA, Charlie Brear
More starry separates from Charlie Brear, this deep v strapless dress is transformed from classic to galactic with the addition of whimsical star embroidered midi sleeves and a sheer skirt. Incorporate one or both for an exquisite end result.
20. Sequin Dress – £POA, Bowen Dryden
This space age wedding dress is a departure from traditional wedding style – apt given that it forms part of Bowen Dryden's 2021 Rebel Rose collection. If a coloured wedding dress with breath-taking bling is your thing, this eye-catching maxi slip dress will shoot to the top of your 'try-on' list.
21. Nyx Dress – £POA, Rime Arodaky
A fairy tale couture creation that forms part of Parisian born Syrian designer Rime Arodaky's Iconics collection, Nyx has something of the divine about it. Delicate sequin ruched sleeves, larger sequin detailing on the semi sheer bodice and whispers of shimmer that flow down the low back to the long train give it angelic appeal. Starry earrings optional.
22. Strapless Tulle Gown With Beaded Panel Embroidery – £POA, Paolo Sebastian
And now for something completely different. This regal dress forms part of Australian designer Paul Vasileff's East of the Sun and West of Moon collection, inspired by Nordic folklore and bygone eras. The dramatic celestial wedding gown encapsulates those olde-worlde aesthetics, with intricate corsetry, beaded panelling and sun and moon embroidery that wouldn't look out of place in a medieval courtroom. One for an opulent winter wedding.
23. Orion Dress – £POA, Willow by Watters
A dancefloor ready wedding dress if we ever saw one, Orion brings stars, sequins and gold and silver glimmer in spades. We can see this shimmying down the aisle at an industrial city wedding.
24. Virgo Dress – £POA, Natalie Wynn
We'll end on a real party number – Virgo's voluminous tiered skirt and gold, silver and rose gold star motifs are as effervescent as the fizz you'll be clinking. A V-necked front and back and wide nipped-in waistband provide contrast to the full skirt. Choose from champagne, off-white, midnight blue or silver for a wedding dress that no guest will ever forget.
Considering a celestial wedding dress but just have a few more questions to ask? Steph Vassallo, co-founder of preloved, restored and upcycled bridalwear studio Flamingo Bridal, answers your FAQs relating to starry wedding dresses...
What is a Celestial Themed Wedding Dress?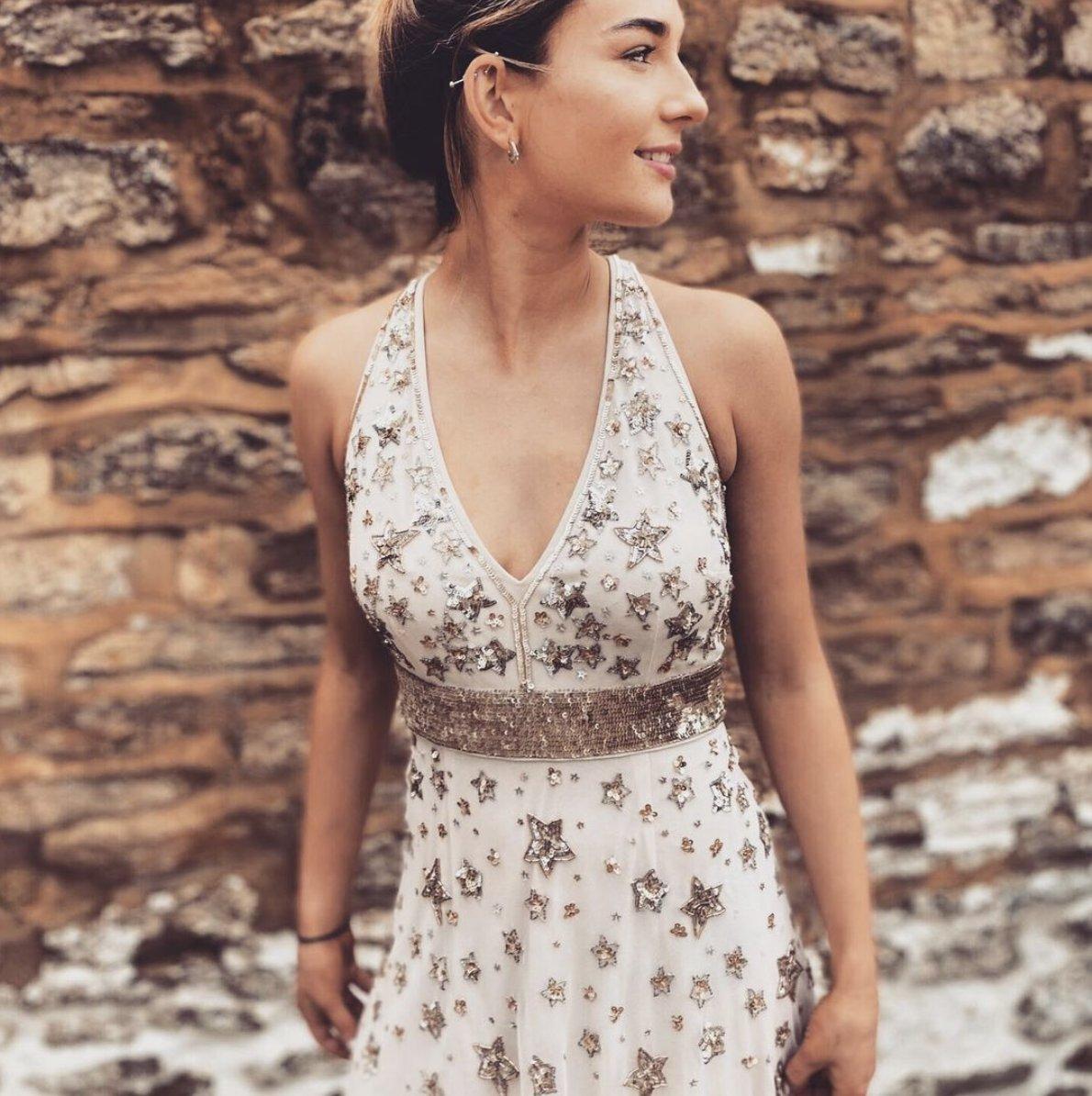 As bridal styles go, starry wedding dresses are seriously versatile according to Steph. "One of the great things about a celestial themed wedding dress is that it isn't defined by just one or two design features," she says. "Celestial themed wedding dresses encompass a dazzlingly array of options: a subtle scattering of stars on a veil; a full length dress brought to life with a gold and silver sparkling overlay; a fully stylized outfit of dramatic moon and stars fabric; gleaming metallic sequins; a celestial crown or a gold star embossed cape."
It's not simply the adaptability of starry wedding dresses that has a hold on modern brides either – Steph thinks that comfort plays a quite literally starring role in their allure. "I think that the enduring popularity of the celestial bridal theme is how easy it is to wear," she says. "Celestial styles perfectly lend themselves to soft, feminine silhouettes made from layers of lighter fabrics. It's the antithesis to heavily structured, tailored designs that are often made with huge quantities of stiff fabric."
In essence, a celestial-themed wedding outfit can suit minimalist brides and those seeking a showstopper alike. "Celestial themed wedding dresses can be as subtle as a single, sparkling star or make as much of a statement as a full-on interstellar meteor shower!" Spangle can be dialled up or down exactly as you see fit.
How Should I Style My Starry Wedding Dress?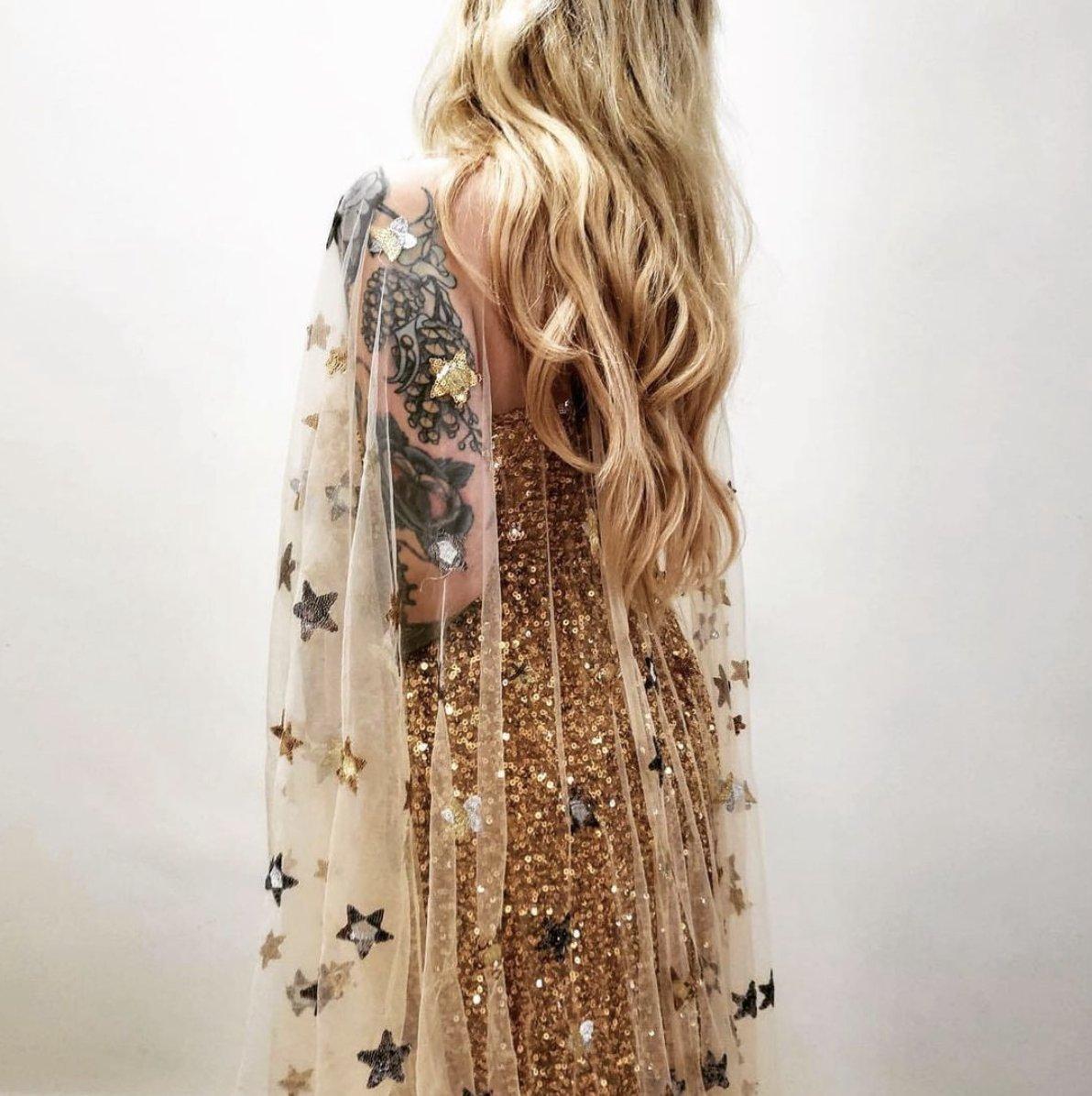 First off, rest assured that starry wedding dresses aren't just handy for catching the light in the winter months. "We've seen a huge increase in demand for celestial style wedding dresses over the last two years. There is no particularly marked seasonal bias as the ethereal nature of many of the dresses means that they work equally well for a summer festival wedding, a sparkly winter wonderland wedding or a boho-inspired celebration."
Just try not to get stuck in a starry Pinterest scroll hole – always bring your focus back to what's important to you as an individual when it comes to ways to wear the celestial wedding dress trend. "Our key piece of advice for styling a starry wedding dress is to make the style work for you, as with any wedding dress. Consider what it is about celestial styles that you are especially drawn to. What kinds of colours, textures and patterns appeal?"
"From there, make sure that you try on different styles, shapes and colours to really hone in on which aspects of the celestial theme complement your body shape and skin tone while reflecting how you want to feel on the day. How you feel is as (if not more) important as how you look."
How Can I Add a Celestial Theme to my Wedding Outfit?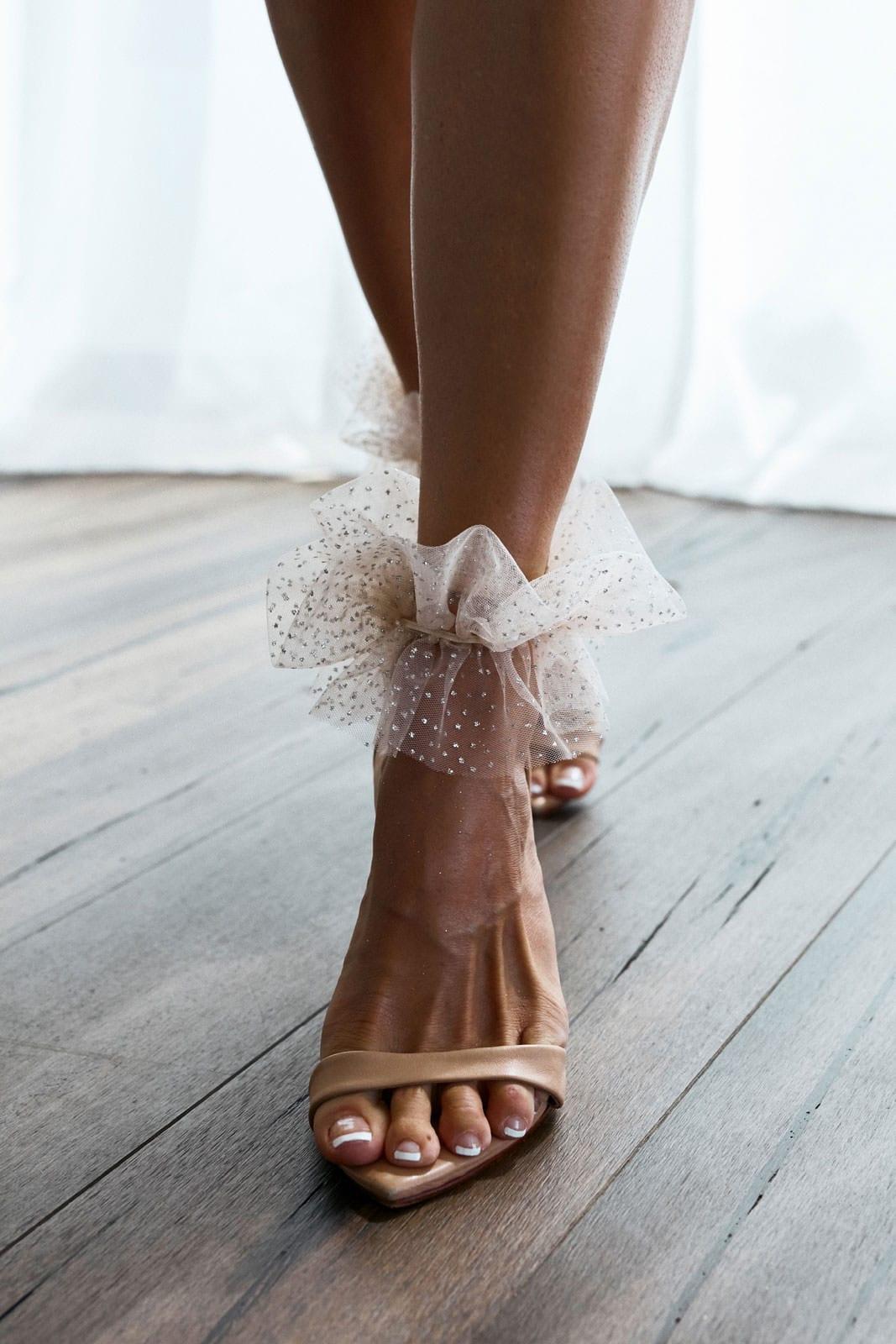 Perhaps you want to add some stardust to a low key wedding dress at sunset or make a registry office wedding dress pop – everything from a starry hair accessory to zodiac themed jewellery can create a celestial feel. "One of our favourite ways to add a celestial edge to a simple wedding dress is with the addition of pale gold starry chiffon fabric," comments Steph. "It can work brilliantly as a veil, cape or detachable skirt,"
Where Can I Get a Celestial Themed Wedding Dress?
Wedding dress designers such as Berta, Jenny Packham, Temperley London and Natalie Wynn are renowned for their scintillating starry wedding dresses, incorporating delicate beading, sequins and celestial references. On the high street, look to Monsoon and ASOS for affordable starry wedding dresses, or consider renting a designer celestial wedding gown through a platform such as Hurr. The likes of Flamingo Bridal, Brides Do Good and Bridal Reloved all stock magical second-hand and restored gowns too.
Tempted by a dark hued wedding dress? Check our edit of 23 chic black wedding dresses for non-traditional brides.