Maid of Honour Duties: 21 Tasks for the Maid of Honour
Being a maid of honour is both a privilege and a responsibility. Here's everything you'll need to know to be the best support the couple could ask for...
Congratulations! Having the chance to be your bestie's maid of honour is so exciting – you've probably been by their side for years and now you're about to play a leading role in one of the biggest days in their life! But what are the maid of honour duties?
Sometimes referred to as 'chief bridesmaid', 'matron of honour' or 'best woman', the maid of honour has various duties and ways they must help the couple. Planning a wedding can be so fun and exciting, but it can also be stressful at times, so your partner in crime will want all the help they can get along the way, with everything from wedding planning to organising the jobs for the bridesmaids.
Maid of Honour Duties: The Ultimate Maid of Honour Checklist
From organising the bridesmaids and advising on the best wedding dress, to giving a maid of honour speech and being armed with tissues at all times, your friend or relative is going to need your support both in the run up to the wedding and on the special day itself – there's much more to it than just planning the hen party, y'know!
Ready and armed with a notepad, pen and corkscrew? Check out our handy FAQ below which will answer any burning questions you have and get the low-down on how to be the best maid of honour with our go-to guide and tips on everything you need to know.
What is a Maid of Honour?
Today, a maid of honour is traditionally the closest friend or family member to the couple - often a childhood friend or sister.
The maid of honour role is typically assigned to one person, chosen by the bride, who then acts as their right hand woman throughout the wedding planning process. Some couples choose to have more than one maids of honour, some decide to abandon tradition and have a man or mate of honour!
The term 'maid of honour' comes from the tradition of a maiden, a woman who has never been married, whose duty or 'honour' was to attend to a Queen or Princess. Traditionally, if the maid of honour is unmarried, they are called 'chief bridesmaid' or 'maid of honour'. If they are married then they go by 'matron of honour'.
The role can also be traced back to the Ancient Romans who believed that evil spirits haunted weddings. In order to protect the couple, 10 witnesses - including the maid of honour - were required to dress in the same clothing as the couple to confuse the spirits. The maid of honour was to stick by the bride and protect her from any spirits who might steal her away before the ceremony.
And to think you thought today's maid of honour role was stressful!
READ MORE: Gender Neutral Wedding Party Roles
What are the Duties of a Maid of Honour?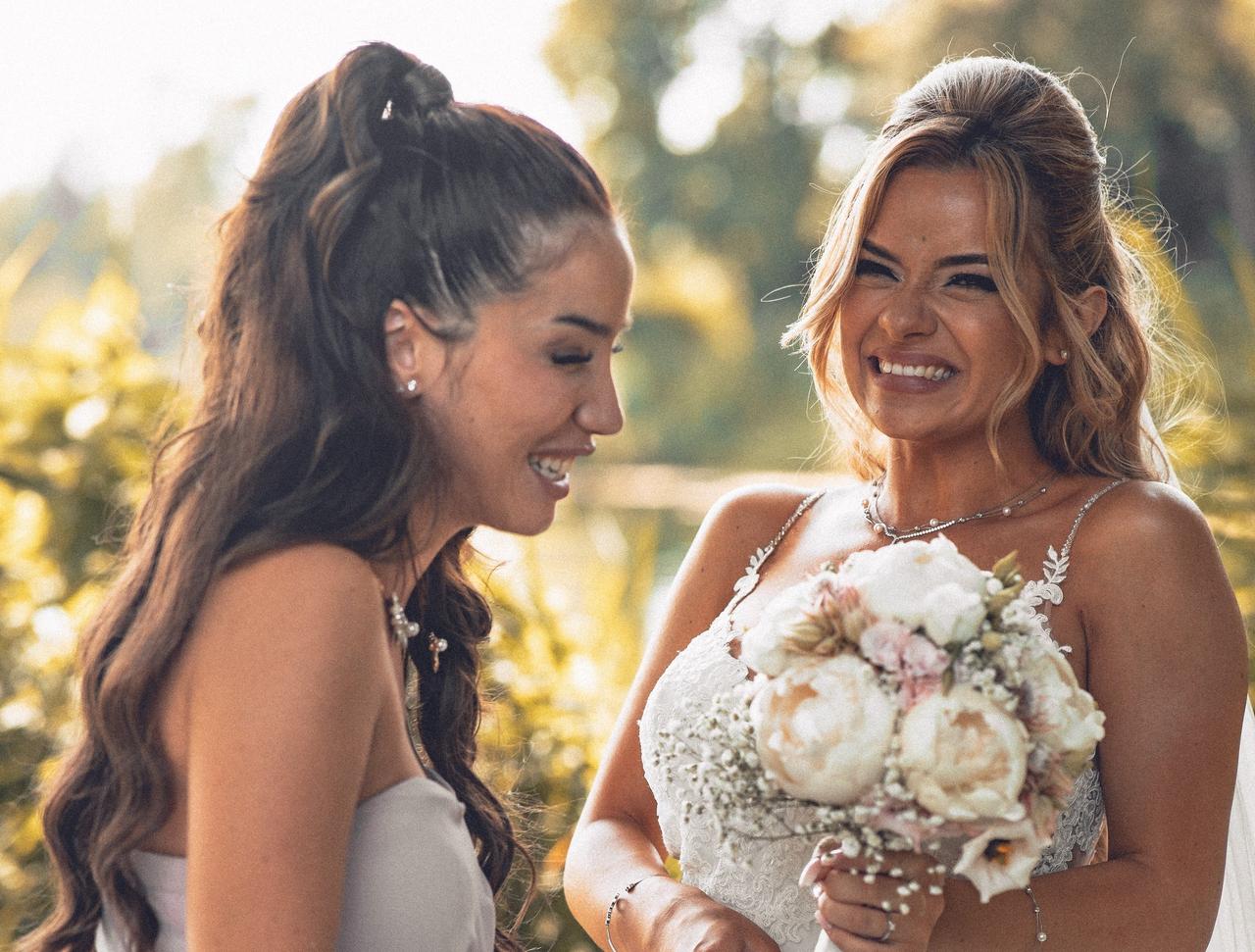 Maid of honour duties and roles vary from case to case - it all depends on what the couple need. Some will want their maid of honour to be super hands-on and be involved in plenty of wedding planning duties, others will just want you there for the big moments that matter.
Your duties as maid of honour will also likely depend on the size of the rest of the wedding party - if it's just you, there'll be more to do, but if you are one of multiple maids of honour, or there are a number of bridesmaids in the crew, jobs may be shared out between you.
A maid of honour and bridesmaid are both important roles, but typically the maid of honour has more responsibilities than a bridesmaid. A bridesmaid is only expected to attend the wedding and assist on the big day, whereas the maid of honour is an integral part in the lead up to and planning of the wedding day as well.
To help you determine which maid of honour duties you need to remember, we have a full maid of honour checklist including duties before the wedding, on the day and post wedding, too.
Maid of Honour Duties Before the Wedding
1. Organise the Engagement Party
You have been officially chosen as the couple's right hand person, so when it comes to celebrating the engagement, you of all people need to be on hand to help with organising whatever it is the couple want. It could be planning an engagement party with them, helping them with wedding supplier enquiries and finishing touches, or a more casual drinks reception at a close family member's home.
Whatever it is, this is your chance to show the couple you are more than ready to get stuck in with planning.
2. Go Dress Shopping
Shopping for a wedding dress or outfit is perhaps one of the most exciting events in the wedding planning journey but it can also be an anxious time for the bride. Pre-wedding body insecurities and the pressure to find 'the one' can feel overwhelming and as their closest friend and maid of honour, it's your job to help alleviate these worries.
When we took Vicky Pattison wedding dress shopping, one of her biggest bits of advice was to take 'positive pigeons only' when shopping - and we couldn't agree more. Be that beacon of positivity and calmness for the couple as you go to one or one hundred wedding dress shops.
3. Help Choose the Bridesmaid Dresses
As well as wedding dress shopping, the couple may also want you to help choose the all-important bridesmaid dresses. Sometimes, bridesmaids and the maid of honour wear different dress styles (we love the mismatched bridesmaids trend!), other times the couple chooses for you all to wear the same dress. Having too many opinions in this process can be challenging, so you will act as the voice of reason and likely represent the other girls.
As the maid of honour, you're leading the rest of the bridesmaids so make sure they're all organised. Help to round everyone up for bridesmaid dress shopping sessions and for fittings.
Take some stress off your friend by planning the itinerary for any dress shopping days out – look for a fun place to go for lunch and if you need to book appointments at any of the shops and make sure you've left enough time to navigate from place to place.
It's traditional for the couple to pay for the bridesmaid dresses, however this isn't always the case. As the maid of honour, encourage the couple to communicate with the bridesmaids so that everyone knows who is paying for what, and that includes accessories, professional hair and makeup – to save any awkwardness.
4. Organise the Bridesmaids
As the wedding date approaches, make sure the bridesmaids know what time they need to arrive, where everyone is getting ready and if there's anything they need to bring.
If the bridesmaids don't all know each other it's a great idea to connect everyone on a group chat. That way everyone will be on friendly terms by the time the hen party comes around. We don't want a scene from Bridesmaids unfolding!
Think about useful things to have to hand – such as large umbrellas to help in case of bad weather. It's also a nice idea to put together a wedding emergency kit for your bestie. You never know when you might need tissues or plasters!
5. Plan the Hen Party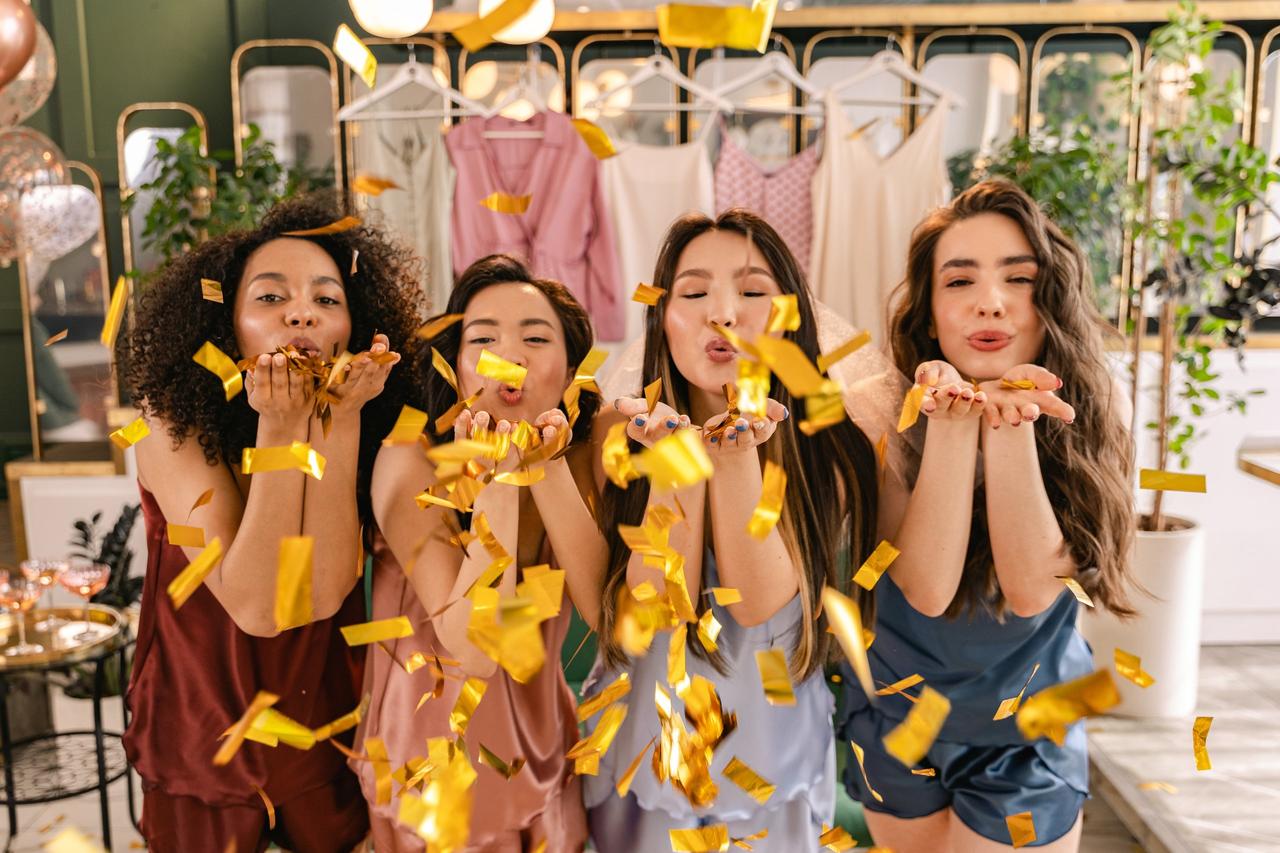 The maid of honour's real moment to shine is planning the hen party. You will take the lead in organising this so make sure you put a lot of thought into it. Consult all the bridesmaids for ideas and ask your friend who they'd like to attend.
It might be that you need to arrange two celebrations: a hen party for the party gang and a more subdued celebration that parents and older relatives can attend. Rather than asking people what dates they can do, pick two or three and ask who can make which date. This is a slightly harsher approach but it'll make it easier to narrow it down to just one weekend.
Make sure you're also aware of everyone's budget – there's not much point organising your bestie's dream party weekend in Marbella when their friends don't have the funds.
The hen party should take place up to three months before the wedding – this gives time for any bruises to fade if it's a particularly active hen party, or for people to recover from their hangovers! With three months to go, the maid of honour should be thinking about little details to make the hen party extra special.
6. Get Hands On With Wedding Planning
You may be the couple's sounding board for lots of ideas – be prepared to consult on everything from wedding colour schemes to the wedding cake flavour.
The maid of honour duties also entail more hands on wedding tasks like writing or addressing wedding invitations, making DIY confetti cones or assembling homemade favours. Organise a DIY craft night complete with their favourite snacks and drinks to turn wedding planning tasks into a fun girls night.
Once the invitations are out, you might be required to help organise the RSVPs or filter through the menu choices if the couple have a lot to look at.
READ MORE: 50 DIY Wedding Centrepieces You Can Easily Copy
7. Provide Emotional Support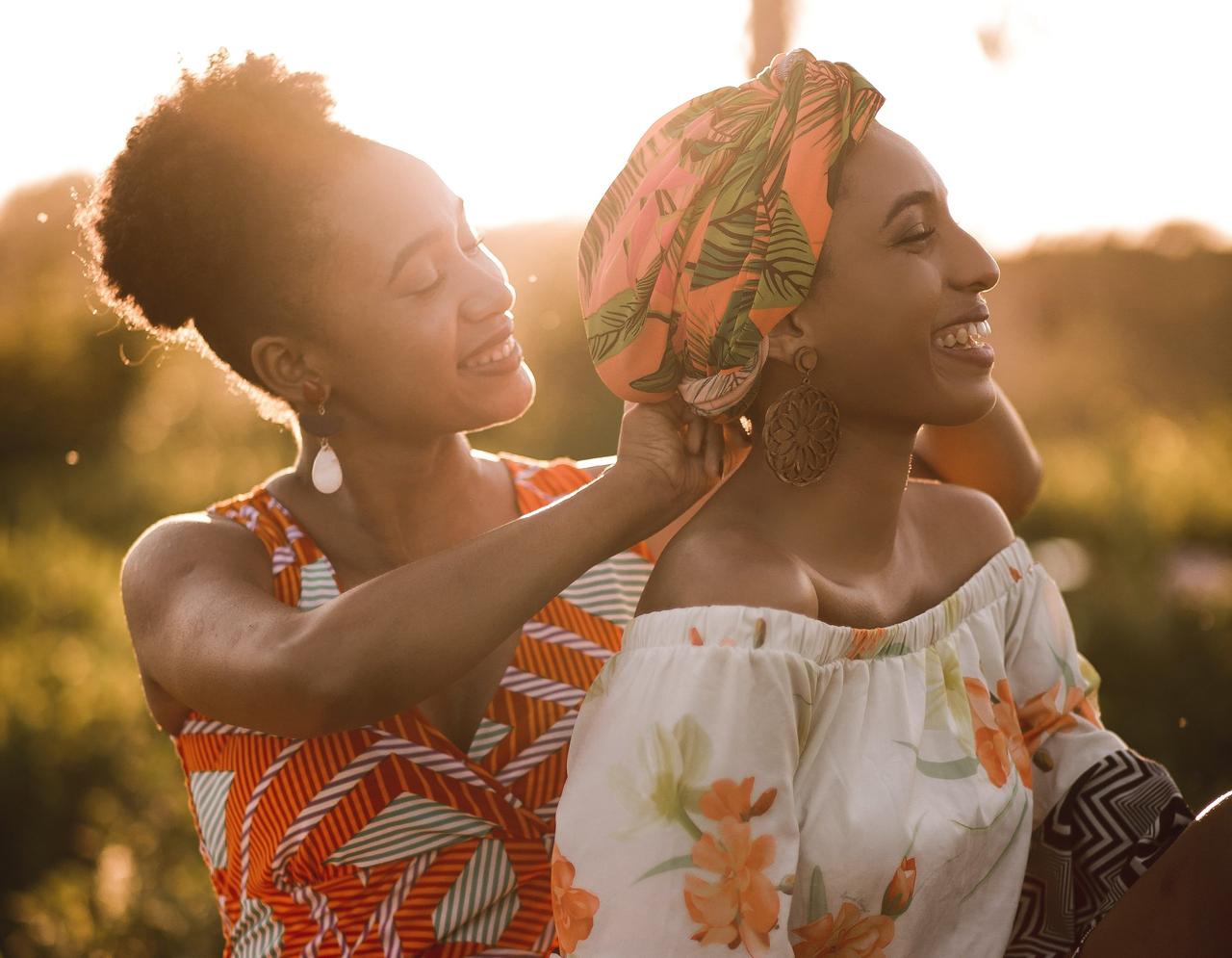 As you know your friend better than anyone else, the maid of honour should be there for them every step of the way. Remember to be supportive without being overbearing, you might want to have a conversation with the bride to discuss what level of involvement they want you to have.
While your main responsibility is to help with the planning, ensure you're still pencilling in some fun too. A relaxing afternoon getting your nails done, or a de-stressing night out will be just what the bride-to-be needs!
8. Plan Non-Wedding Time
The couple will have lived and breathed wedding planning for a long time now, so if schedules permit, try and organise some non-wedding time with them. It's not only important for them to have some time away from wedding favours and wedding place names, but it's also important for you to have time together as friends outside of wedding planning.
9. Finalise Details With Vendors and Guests
If there are any hired items that need collecting, you can help out by offering to pick them up so the couple aren't stressing about these things the day before their wedding.
The maid of honour might be needed to help set up the reception room the night before, if the venue allows this, and you might attend last minute beauty appointments, such as a manicure and pedicure.
If you're staying with the wedding party the night before, it's a great idea to put together a sleepover kit – think hot chocolate, Champagne, sweets and some classic wedding-themed films, as well as some beauty treatments (but avoid anything new – you don't want to risk a breakout the day before the wedding).
READ MORE: The Ultimate Pre-Wedding Skincare Routine for a Bridal Glow
Maid of Honour Duties On the Wedding Day
10. Help Get Ready
The big day has finally arrived, and the thing you'll need to prioritise is to help your friend get ready.
They might need assistance with hair and makeup, or help getting into a wedding dress. You should also make sure they've had a good breakfast – we've got breakfast ideas for the morning of your wedding to inspire you.
The maid of honour, bridesmaids and mum traditionally travel to the ceremony together and leave ten minutes before the nearlywed so they're there to see them arrive.
Before they goes into the wedding ceremony, make sure they looks picture-perfect by helping to arrange their hair and veil and then walk down the aisle. Whether the bridesmaids go before or after them depends on the style of entrance you opt for – it's a British tradition for a bride to go first, but many prefer the American format of the bridesmaids leading the way – saving the nearlywed 'til last.
READ MORE: The Best Bride & Bridesmaid Dressing Gowns & Pyjamas
11. Be a Point of Contact
There are always little bits of organisation that need to happen on the day of the wedding - deliveries and slight timing changes are unavoidable, but what you can avoid is the couple being aware of any of it. Before the wedding, ensure they give vendors and key guests your number so you can be the point of contact for any last minute changes or conversations with on-the-day vendors.
If the flowers are being delivered, make sure they're all present and correct, and hand out everyone's bouquet before you head to the ceremony.
12. Hold the Bride's Bouquet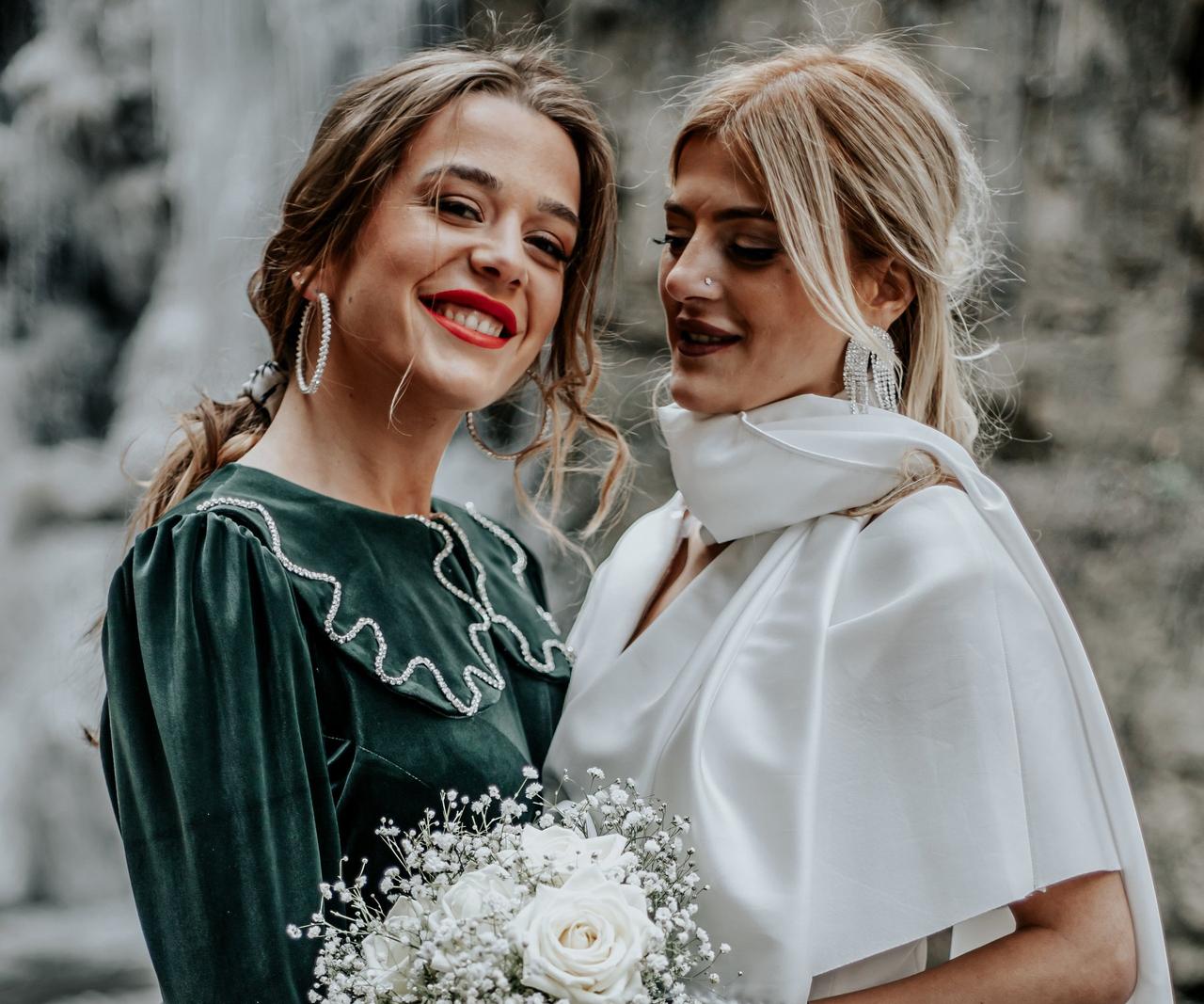 During the wedding ceremony, you will need to hold the bouquet – you may also be asked to give a reading or to be a witness whilst the newlyweds sign the register.
After the ceremony, the happy couple will leave first and the maid of honour and best man will follow together.
READ MORE: The Complete Wedding Ceremony Guide
13. Stand in the Receiving Line
At the reception, if there is a receiving line, you will need to join the newlyweds to greet the guests as they arrive for the wedding breakfast. You may also help by pointing people in the direction of the table plan.
14. Ensure the Gift Table is Organised
If there is a gift table, help by taking the presents and displaying them. Not everyone notices gift tables and many people will forget to pop cards in the post box or leave their gifts there so having someone like you on hand to ensure people are pointed in the right direction is very helpful.
15. Sit at the Top Table
The maid of honour is traditionally seated on the top table along with the happy couple, their parents and the best man. If there's a different line up on the top table, it may be that you are seated among the guests, 'hosting' a table of your own.
READ MORE: Check Out Our Digital Table Planner!
16. Give a Speech or a Reading
Depending on what the couple decide, you may be required to give a reading during the ceremony. The couple might also want you to give a maid of honour speech at the reception. Either way, you want to be prepared for whatever it is you are saying. Ensure you have it printed out or memorised.
READ MORE: The Traditional Wedding Speech Order Explained
17. Keep Your Friend Looking Fabulous!
As the day goes on, the maid of honour might need to help them if they needs to go to the bathroom – it can be tricky in a wedding dress! It also helps to be on makeup duty – be ready to correct smudges if needed and keep that wedding foundation looking flawless.
18. Clear the Wedding Suite
If you and the rest of the wedding party enjoyed getting ready for the big day in the wedding suite, it might have been left a bit of a mess.
So that the room is clean and tidy for the happy couple on their first married night together, it's a nice idea to head up there during the reception and have a quick tidy up. We're sure the couple will really appreciate it.
Maid of Honour Duties After the Wedding
19. Return Hired Clothes
If the newlyweds jet off on a honeymoon straight away, you might be asked to help out by returning any hired clothes or accessories and by storing the dress until they're back and ready to collect it.
20. Tidy the Venue
You may also be needed to help remove decorations and gifts from the wedding venue and transport these for the couple. Even if the couple haven't jetted off or asked you to do this, it's a really nice thing to offer to do. Everyone's heads will be sore so it's time to club together for a big old clean-up - that's if the venue requires you to.
21. Help With Thank You Notes
With all the gifts and cards received, the couple may want help with organising their thank you notes and cards. They may want to do these themselves and make them personal, but you could always offer a hand with posting or sealing.
Remember an excellent maid of honour can make the world of difference when it comes to wedding planning – find out what type of bridesmaid you'll be ahead of the big day.