How to Write a Maid of Honour Speech: A Wedding Editor's Guide
Been asked to give a maid of honour speech? Our Editor explains how to give the perfect speech as a bridesmaid, with expert tips from speech writing pros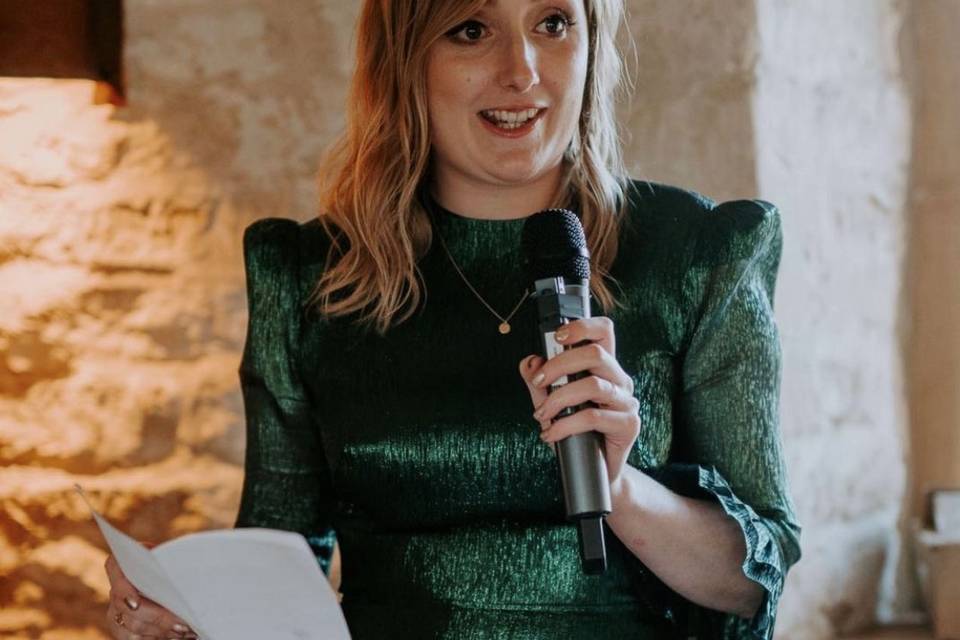 I've been working in weddings now for over 10 years, and in that time, I've read more wedding speeches than I dare to count. I'm fluent in cheesy puns, sentimental toasts and eye-roll inducing anecdotes, but I don't get to see many maid of honour speeches.
I love everything about weddings - except for how silent women usually are during them. Give me bride speeches, give me maid of honour speeches and a tribute from the mother of the bride! So when my sister asked me to give a maid of honour speech at her wedding, I was delighted.
Just one problem - I didn't know where to start. How do you write a maid of honour speech? I'm going to tell you everything I learned about giving a maid of honour speech, including expert tips from pro speech writer Heidi Ellert-McDermott from Speechy.
Does the Maid of Honour Give a Speech?
Traditionally, the maid of honour doesn't give a speech at a wedding - but what is tradition, really? Just peer pressure from dead old guys - the kind of dead old guys who didn't like it when women spoke up.
So you can absolutely give a maid of honour speech! And you should, even if it's just to annoy the dead old guys.
How to Write a Maid of Honour Speech?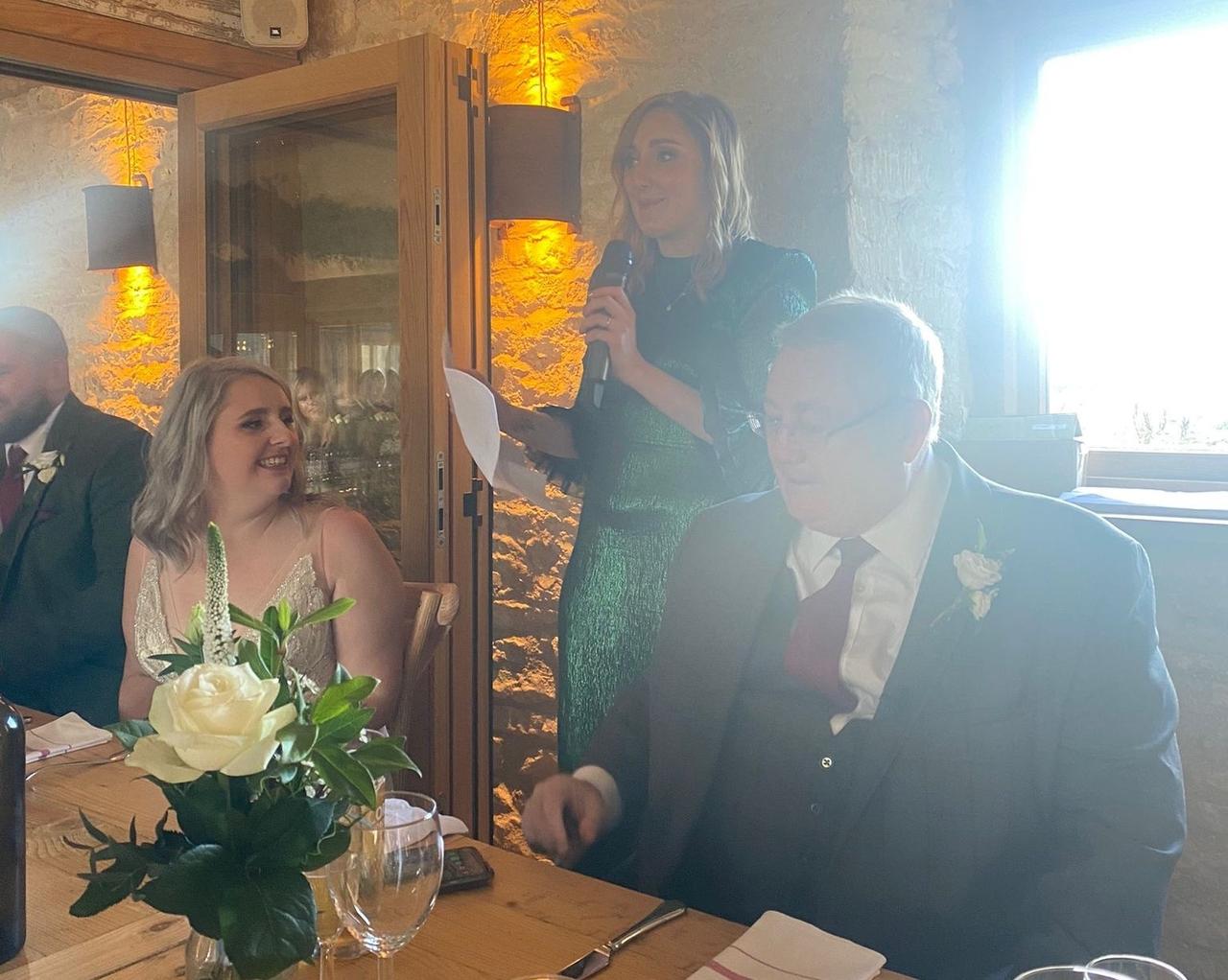 The hardest thing I found about writing a speech as a bridesmaid was that there wasn't a template. Don't get me wrong, we have lots of lovely maid of honour speech examples to inspire you, but unlike the speeches for the best man, the groom etc., there's no formula in place for who you thank, or who you're supposed to toast.
In fact, it's all so neatly divided up in the order of wedding speeches for the men, that actually if you go into that territory, you're probably stepping on someone's toes and usurping their speech.
So, with that in mind, I asked to go first - that allowed the traditional wedding speech order to remain mostly unchanged, and it meant that I got the floor first for all the jokes. Sneaky, I know.
Wedding speech expert Heidi advises: "Discuss the length of your speech with the nearlyweds before you start writing it. You never want to go over ten minutes (about 1,300 words including room for laughter) but you may want to go significantly shorter if there are more than the usual three speakers at the wedding and the speeches are scheduled one after the other.
"Of course, while you always want to leave people wanting more, you're probably short-changing the bride if your speech is less than 750 words. You need enough time to be sentimental, humorous and tell a few classic anecdotes."
How to Start a Bridesmaid or Maid of Honour Speech
"Don't get sucked into thinking you need to go overly formal. No need for a 'Good evening, ladies and gentlemen'; a 'hello everyone' sets a friendlier tone," recommends Heidi.
I did introduce myself as the sister of the bride when giving my speech, but actually as I looked around the room I realised I probably didn't need to as I knew everyone there - if it's a smaller, intimate setting or there's an MC, you don't need to waste your word count on this.
I followed Heidi's advice to not bother "mentioning the lovely venue, or any other wedding-waffle," as I knew that would come in the later speeches.
What to Include in a Maid of Honour Speech
Heidi recommends that a good maid of honour or bridesmaid speech should include the following:
Stories: Think about a couple of classic anecdotes that illustrate the bride's funniest and best qualities and quirks in action.
Humour: You might not think you're a naturally funny person but that's still no excuse for not trying to get some giggles. While you don't have the pressure of the best man, having a few funny lines in your speech makes it more entertaining and memorable. Humour also makes people like you more – especially self-deprecating humour.
Meaningful Tributes: Observe your friend in action and spot the behaviours that make you love her as much as you do. As well as paying tribute to your friend, make sure you also pay tribute to their spouse. Talk about why they make the perfect couple and your hopes for their future together.
Making Your Maid of Honour Speech Funny
I started my maid of honour speech for my sister with a funny but sentimental tribute to her and her partner - I talked about how much I'd enjoyed my experience in a jokey, light-hearted way (saying I got to walk down the aisle with a nice dress and flowers, but no wedding planning stress or financial burdens), and led into how I'd finally got the brother I'd always wished for in my new brother-in-law, which resulted in a surprise round of applause breaking out.
As I knew going too sentimental would make me well up - and I had expensive false lashes to think of - I very quickly pivoted into a funny story from our childhood, complete with a retro 90s prop I'd sourced from eBay to lean into the gag.
I made sure the anecdote had a purpose though - as well as making everyone laugh, it did demonstrate some of my sister's character traits, and I was able to link them to her relationship, and use it as a basis for some marriage advice.
Don't believe the rumour that only the best man can have a funny speech - people at weddings want to have a laugh, so you can put some wedding jokes in there, or hilarious personal anecdotes, as your audience will be keen to laugh with you.
How to End a Maid of Honour Speech
It's traditional to end your maid of honour speech with a toast - obviously all wedding speeches have set people you're meant to toast, but I didn't really mind if I stepped on anyone's toes here, after all, the newlyweds can't be toasted too much on their wedding day!
I couldn't resist a little cheesy gag (they're for everyone, not just best men!) so I urged everyone to stand, 'for my standing ovation,' before asking them to raise their glasses to the bride and groom.
I tied the toast into my anecdote to make it more personal, choosing to say: "May you always admit when you are wrong, and may you never share a bath. To Sops and Sam!" You'll have to read my maid of honour speech to get that joke…
Personalising the toast and bringing it back to something you've spoken about it your speech is a great way to set it apart from all the toasts that will follow, or have come before.
Reflecting on my experience of giving a speech as a bridesmaid, I'd say the part I thought would be the hardest - not having a template - actually turned out to be the most liberating bit.
You don't have to get tied up in thank yous and compliments, instead, you can speak from the heart. And let's face it, for all the funny stories a best man can tell, we just know the female best friend or sister of the bride is sitting on an absolute goldmine.
Discover the absolute best wedding toasts here, now you know how to write your speech!