15 Wedding Vow Books to Write Down Your Special Words In
Wedding vow books are the perfect buy to make sure your personal wedding words come from the heart, plus they can be kept as a forever keepsake.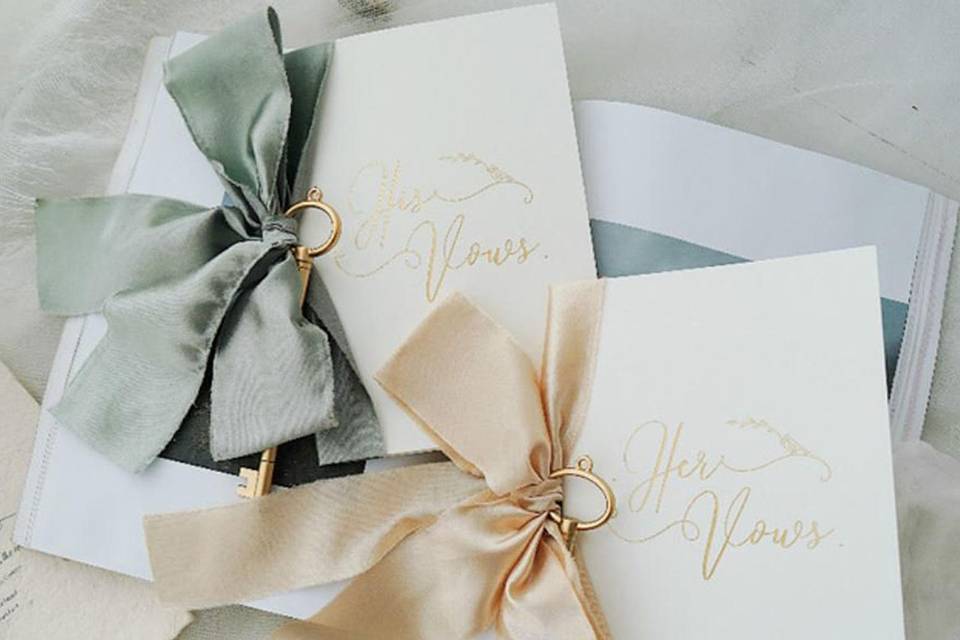 There's all sorts of stationery a wedding may require, from the initial invitations to the place setting cards. But one of the sweetest things you can buy — and perhaps one that's not the most obvious — is a pair of wedding vow books, so that you and your partner can get down those vows in a special way.
Wedding vow books are a great buy if you're both looking to write your own vows. Rather than simply noting down everything from initial ideas to the final edit on random pieces of paper, having a book will ensure things are kept neat and tidy, and all in one place.
They also look lovely, with plenty of chic designs on offer these days, whether you're having a traditional, rustic, or more casual wedding. And the best bit is that they act as excellent keepsakes for years to come after your big day, which is the ultimate win.
We've selected 15 of the loveliest wedding vow books to pick up now in time for your wedding day.
1. Personalised Star Wedding Vow Book — £30, Not On The High Street
Choose from a striking grey or black Moleskine vow book, personalised with your names and this gorgeous design of hands full of stars reaching for each other.
2. Pair of Bespoke Wedding Vow Books — £35, Eloise Bindery
Available in two sizes, these lovely handmade books are available to personalise in any way you choose. Select the colour of your cover, stitching, inside cover and text, along with of course the names and any additional info. The biggest pull has to be the chic exposed chain stitch on the spine, which looks particularly good in bold shades.
READ MORE: How to Write Your Own Wedding Vows
3. Calculs Wedding Vow Book His & Her Vows — £6.99, Amazon
With one black and one white, these monochrome books are the epitome of chic. Available in this plain version with gold writing, they also come in marble and rose gold.
4. Paper Peach Shop Wedding Vow Books — £15.89, Etsy
This duo is perfect for the alternative couple who want something a little bolder and brighter. The lovely floral decoration is fun and cute, while the 'Best Day Ever' quote brings its own touch of magic. These can be personalised too for an extra special finish.
5. Velvet Vow Keeper — from £100, Studio Oudizo
Each vow keeper is handbound in silk velvet and finished with a laser-engraved mirrored plaque. You can write your own vows on the blank luxury paper inside or designer Ofe can also calligraphy your vows for you. It's the perfect thing to read your vows from at the altar and then treasure as a keepsake.
6. Amore By Juliana His & Hers Wedding Vows Book — £10.75, The Home Of Gifts
Simple, chic, and classy, these white and rose gold books are great all-rounders. The books contain 20 lined pages, which are on luxury textured grey paper bound.
7. Custom Venue Illustration Vow Books — £79.99, Etsy
Artist Daria does a wide range of vow books at all price points. If you want to feature your venue on the front of your vow books, she creates these wonderful sets with custom venue illustrations and finished with gold paint and soft ribbon. We adore them.
READ MORE: 17 Templates for How to Word Your Wedding Invites
8. Eliza May Prints His And Her Gold Foil Vow Books, £26 — £26, Not On The High Street
These books come in a range of colours: grey, white, black or blush pink. They contain eight lined pages, and are finished off with a pretty delicate bow, which are wedding-perfect.
9. Ox And Pine Personalised Leather Wedding Vow Books — £16.20, Etsy
Keep it sophisticated with these grown-up leather books, which are embossed with chosen names and dates for that extra personal feel.
10. Velvet Wedding Vow Book with Tassel — £28, Etsy
Coming in velvet-suede material, these pretty 'Our Vows' books are available in five different colours: blush pink, lilac, rich burgundy, powder blue and dusty teal. Whatever your colour scheme, there's one that'll match. The vow books are hand finished with matching tassels and the pages are blank inside with just the words 'declaration of love' printed at the top.
11. Ineses Wedding Gallery His Hers Wedding Vow Books — £18.54, Etsy
After something a little rustic and vintage? These lovely books are super different from most options, and the intricate layer of lace adds a touch of texture. Perfect for a wedding in an old barn or cottage.
12. Key Pen Wedding Vow Book — £28, Etsy
A pair of lovely gold-foiled vow books that comes with rough cut rustic ribbon in your choice of six colours. The selling point for us is the lovely golden key attached to it which is actually a pen so you can write your vows with it and keep it on there as beautiful adornment.
READ MORE: 10 Creative DIY Wedding Invite Ideas
13. Amosfun 2Pcs His and Her Vow Books — £6.59, Amazon
Continuing on with the rustic theme, we love these adorable hand tied books, which are made from wood and fixed with jute twine. They're great value at under £7!
14. Burgundy Calligraphy Wedding Vow Books — £19.99, Etsy
These chic books come in a rich burgundy shade which looks particularly good paired with the gold calligraphy and wax seal. So simple yet so stylish.
15. His & Hers Personalised Vow Books, £14 — Etsy
The gorgeous hand-dyed silk ribbon (which comes in blush, khaki, and ivory) is the obvious starring element of this design, but the hand-drawn floral design is also a major pull.
Still looking for stationery inspiration? Here's the 11 biggest wedding stationery trends for 2021.