19 Non-Binary Wedding Outfits For Stylish Nearly-Weds
Gone are the days where wedding fashion consisted of just white ballgowns and black suits. Pick the perfect style that represents you with our round-up of the most modern and trendy non-binary wedding outfits.
We have included third party products to help you navigate and enjoy life's biggest moments. Purchases made through links on this page may earn us a commission.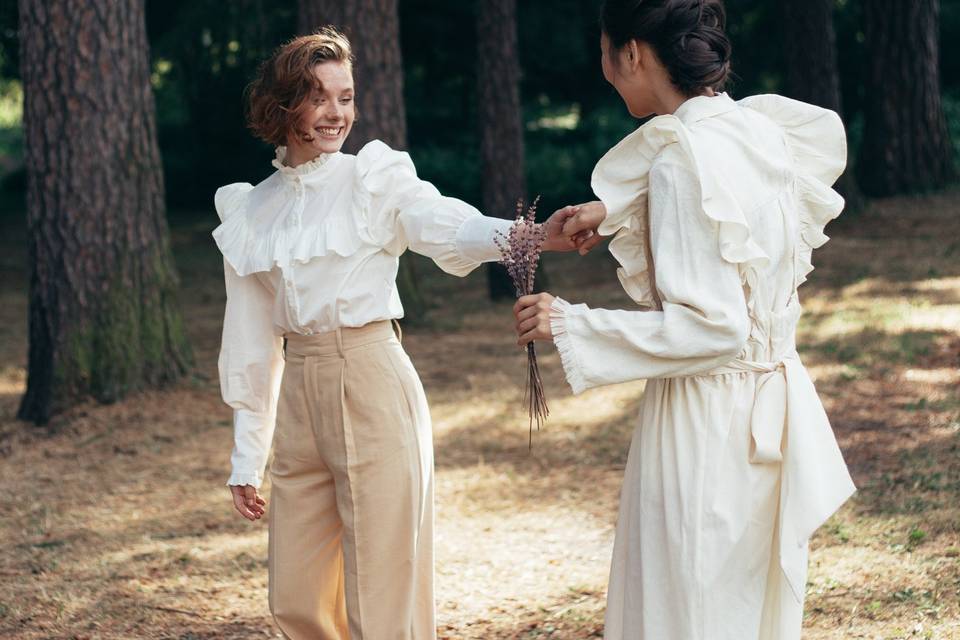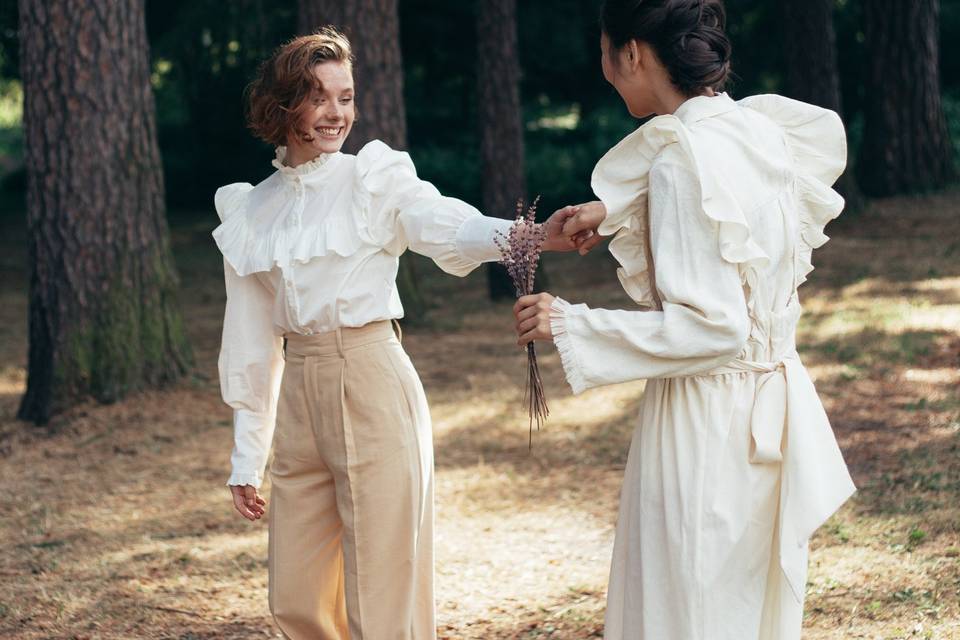 Searching for the perfect non-binary wedding outfit can be difficult, with so few brands marketing clothes as gender fluid or non-gender specific.
One of the most personal ways you can express yourself on your wedding day is through fashion - it's the armour used to tell the world who you are. Wedding fashion isn't, and should never be a 'one size fits all'. Ultimately, there are no rules for what you can and can't, should or shouldn't wear to your own wedding.
Dressing to fit society's depiction of a wedding couple is not a stereotype that we support here at Hitched. At the very least, your wedding outfit should feel like a representation of who you are. If you identify as non-binary, gender non-conforming, or fluid on the gender spectrum, it can be difficult to pin down a wedding day look that is representative of you - which is why we've rounded up some non-binary wedding outfits for you to swoon over.
Prepare for stylish looks, dramatic silhouettes, modern styling and a lot of colour!
READ MORE: Gender Neutral Wedding Terms and Why It's So Important
How to Style a Non-Binary Wedding Look: 5 Expert Tips
As well as scouring high and low for the best non-binary wedding outfits, we've also enlisted the expert advice of Suzanne Bernie, a personal stylist who has worked within the LGBTQ+ communities for a number of years. With a focus on styling that is 'less mainstream, more you', her take on non-binary wedding styling should help anyone who us insure of what their W-day style could be.
Think about the kind of look you want before looking for the clothing to match. For those who want to be a little adventurous with their style, think theatrical and seek out brands that match that. Those who would prefer more subtle styling, think muted colours and simple tailoring.
Accessories are a great way to accentuate a non-binary outfit. Be it a pocket square, brooch, cravat or jewellery in the form of cufflinks or a necklace - using those finishing touches and accessories can really complete a look and instantly make it dressier. You could even express your personal style through your choice of socks or belts - the options are endless.
Don't forget the shoes! Shoes are the icing on top of any outfit, and there are a number of styles out there that can really complement a non-binary look no matter what your style taste is. Opt for a slip on shoe or lace up brogues for a smarter look, or cool wedding trainers or a funky boot for something alternative.
Focus on the fit. Especially if you are the one getting married, you want to ensure that above all else, your outfit fits you properly. If an off-the-rack doesn't sit quite right, consider getting a seamstress or tailor to fit it properly. If your top and bottom half are different sizes and you're after a suit, seek out shops that sell pieces in separates to save on buying more than one size.
Don't be afraid to step a little out of your comfort zone. This is a time to 'go for it'. Consider interesting colours, patterned shirts, prints you wouldn't usually consider and maybe even a bow tie. It's important that you feel completely comfortable, but shop around and try different things. You may surprise yourself at what suits you.
The Most Fashion-Forward Non-Binary Wedding Outfits
These modern and chic non-binary outfits are perfect for all kinds of wedding celebrations. Whether you're attending a wedding, hosting an engagement party or walking down the aisle yourself, our round-up of non-binary and non-gender conforming looks will ensure you feel your absolute best. We just know you're going to love these fashion-forward looks.
1. Wide Leg Yellow Suit Trousers, £109 - Karen Millen
Make a statement on the big day in a bright and vivacious yellow suit. The wide leg fit of the trousers is very on trend and the tailored pleats at the front are a welcomed detail. Style with a fitted shirt or fancy crop top to complete the look.
READ MORE: Be Inspired by These Non-Traditional Celebrity Wedding Outfits
2. Sleeveless Yellow Tailored Suit Jacket - £149, Karen Millen
For a summer wedding look, pair your wide fit yellow trousers with this chic sleeveless blazer. The anti-fit design lends itself to a genderless silhouette and the colour is just so eye-catching - you'll stand out from the crowd for all the right reasons.
3. Bright Yellow Suit Shorts - £89, Karen Millen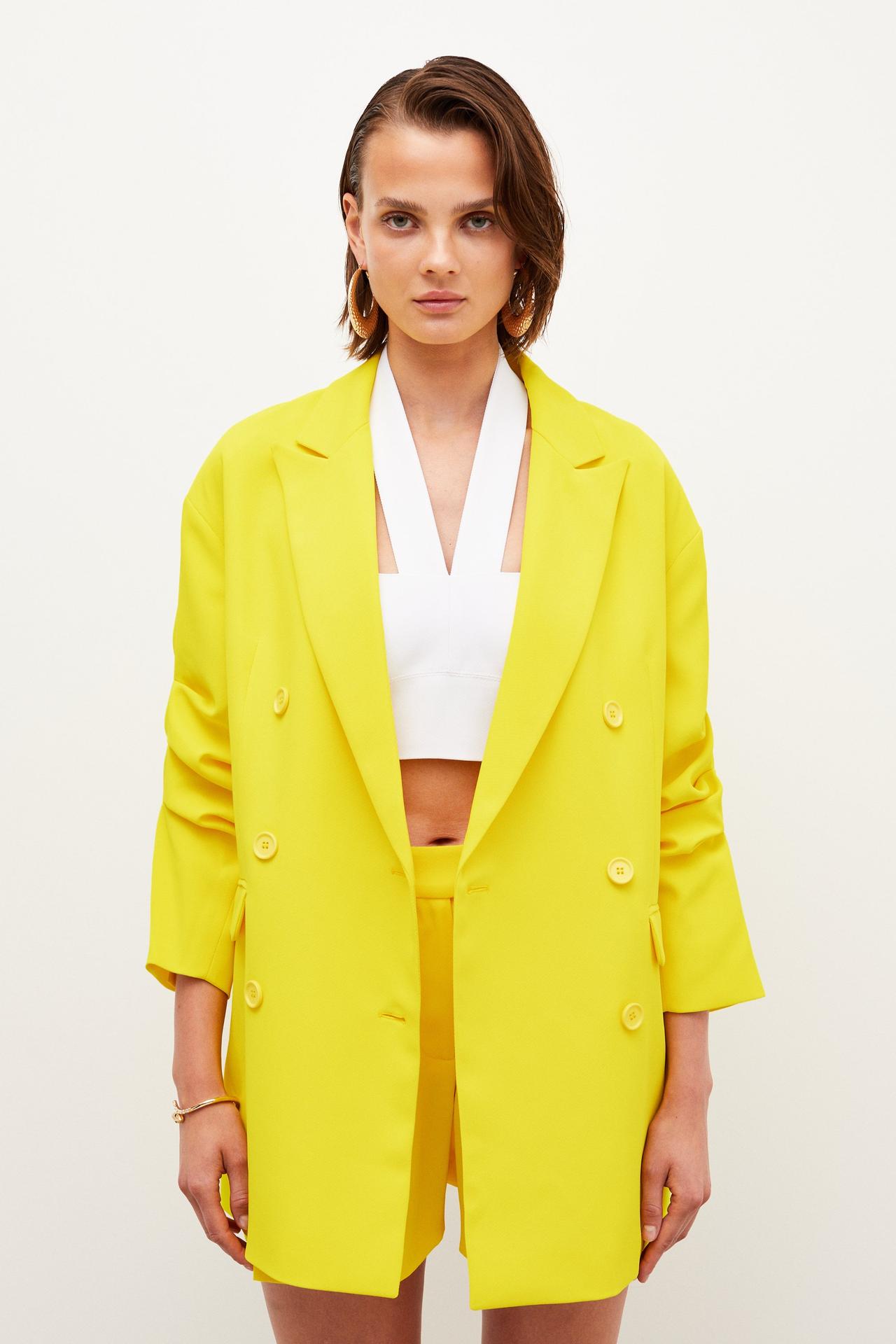 For a shorts look, swap the yellow tailored trousers for their short counterpart. These striking yellow shorts have the same flattering pleats and you can have them tailored if you prefer a shorter look. You could even opt for two looks and wear the trousers during the ceremony, then swap to shorts when it's time to party.
4. Yellow Tailored Tuxedo Dress - £169, Karen Millen
For a more fitted look, consider this yellow tuxedo dress. Combining the structure of a tuxedo top, with the tailoring of a midi dress offers a unique and more modern take on a traditional silhouette. Style with boots and stylish sunglasses for a cool, edgy look.
5. Pink Tailored Tuxedo Dress - £169, Karen Millen
If you and your partner want to match on the big day, or if yellow simply isn't your vibe, this bright pink tuxedo dress could be the one. The illusion of it being two pieces is so unique and the leg slit allows you to show more skin than a traditional midi would. Being sleeveless means you can accessorise to the max - we're thinking chunky bangles or an arm cuff for a unique and memorable look.
6. Pink Wide Leg Tailored Suit - Jacket £159 / Trousers £109 - Karen Millen
Make a statement on your wedding day in this to-die-for pink suit made up of wide leg trousers and a fabulous sleeveless jacket. The oversized silhouette is very fashion forward and can be worn with a fitted tee, shirt or crop top underneath. Black or white would look super smart, or you could go for a clash of colours and choose a bright orange for a bold, unforgettable look.
7. Pink Sleeveless Short Suit - Jacket £149 / Shorts £89, Karen Millen
Love the colour? Why not treat yourself to the shorts version as well? You and your partner could match at the end of the aisle with one of you wearing the wide leg trousers, and the other in the shorts. The Karen Millen Anti Fit collection is a pick for couples who want mix-and-match outfits. The sleeveless jacket is bold with exaggerated shoulders, and the shorts have that classic pleating detail.
8. Beige Pleated Suit Shorts - £89, Karen Millen
If you're looking for a more traditional wedding colour palette, consider muted tones like these pleated suit shorts in stone. The shade will suit any wedding theme or colour palette and if you did want to add a pop of colour, you could always mix and match it with the yellow or pink sleeveless blazers. Stone goes really well with white or brown, so consider those colours for a more toned down look.
9. Gabi Vest Suit Set in White - £298, Free People
Inspired by the classic tuxedo, this white vest suit is a two-piece well worth considering for your wedding day look. The cropped vest sits comfortably at the waistline and the mid-rise trousers have modern pleating and four pockets - four! The simple design and colour make this non-binary look so versatile. Style with trainers, boots, heels or sandals - it'd suit almost anything.
10. Gabi Vest Suit Set in Black - £298, Free People
If we've said it once, we've said it 100 times - yes, you can wear black to a wedding. Whether it's your own, or you're a guest - there's nothing more chic than a black wedding outfit. This two piece Gabi vest suit is so stylish and very wedding-appropriate.
11. Boyfriend Blazer and Hi Heights Pant set - £298, Free People
This stone wide leg suit is giving us 70s chic vibes. The muted colours are great for those who prefer to make more subtle fashion statements. If, on the other hand, you're looking to turn heads - why not pair this sophisticated two-piece with a bold, printed shirt for a look that is totally loud and proud.
12. Ellen Two Piece White Wedding Suit - £158, Free People
We can picture it now. A sandy beach ceremony at sunset, with you at the end of the aisle in this boho-yet-contemporary co-ord. The open back design lends itself to warmer weather and we love the buttoned-up shirt. This masculine-inspired design is the perfect done-in-one look that can see you straight through from the vows to the last dance.
13. White Wide Leg Wedding Suit - Blazer £299 / Trousers £229
What's more chic than a white wedding suit, tailored to perfection? The simplicity and minimalism of this wedding blazer and wide leg trouser set makes it one of the most stylish and sleek wedding outfits in this round-up. Dress it up or down with your choice of top or shirt. Discover more wedding suits here.
14. Caruso Skinny Fit Suit in Blue - Jacket £145 / Trousers £65, Twisted Tailor
This show-stopping wedding suit is a real eye-catcher. The glorious print is perfectly suited to a spring or summer wedding. Accessorise with a bright block-coloured pocket square and neutral tie to complete this compelling look.
15. Orchid White and Pink Floral Suit - Jacket £145 / Trousers £65 / Waistcoat £55, Twisted Tailor
Perfect for a glamorous affair, this sleek orchid printed suit is so unique. Because of its simple colour palette, this design allows you to wear a unique print without feeling like it's 'too much'. The lightweight cotton fabric ensures a comfortable, breathable wear making it a great choice for weddings in the warmer months.
16. Mesh and Leopard Print Dress With Puff Sleeves - £125.04, Cherry Blossoms Dress
Those looking for a more avant-garde wedding look will swoon over this unique design by Cherry Blossoms Dress. The combination of mesh and leopard print is striking and is sure to make a statement on your big day. If you aren't comfortable showing this much skin, you can easily pop a slip dress or bandeau style top underneath - it will still look amazing. Style with black biker boots to complete this look.
17. Black Feathered Neopreme Dress - £136.34, Cherry Blossoms Dress
For a shorter, edgier look, consider this feathered neoprene dress. The minimalist silhouette is striking and we just love the feathered detail. With a focus on extravagant, gender-fluid styles. Cherry Blossoms Dress designs offer inclusive sizes from XS to 5X.
19. White Tulle and Neopreme Dress - £160.27, Cherry Blossom Dress
If a classic white is what you're after, but you don't want anything too traditional, this neoprene and tulle dress could be the pick for you. The oval silhouette is striking and fashion-forward and we love the addition of tulle in the skirt - it really makes it known that this is an occasion dress.
Non Binary Wedding Outfits: FAQs Answered.
Suzanne Bernie, personal stylist and fashion expert answers our non-binary wedding outfit FAQs on what to wear to a wedding as a non-binary guest, and as a non-binary person who is walking down the aisle.
I'm Non-Binary - What Can I Wear On My Wedding Day?
When a couple are getting married it's always nice for you to dress differently. If both of you identify as non-binary and want to wear something different to one another, one of you could be in a fabulous ivory two or three piece suit which you can accessorise in any way you like. Think patterned satin cravats, bold pocket squares and the addition of a cool brooch.
To differ slightly, the other could don a cream or white jumpsuit. The style of wedding jumpsuit will depend on your taste and body shape, but there are so many options from wide-leg jumpsuits and cropped leg ones, to tailored jumpsuits and two-piece co-ords that look like one.
Of course, your outfits don't need to be cream. If you choose to wear colours, ensure that both yours and your partner's outfits match tonally and have a similar or complementary colour palette.
What Do I Wear To A Wedding if I'm Non-Binary?
As a non-binary person going to a wedding, consider opting for a cool trouser suit - but add your own twist - potentially an interesting colour. Depending on the season, this could be pale blue or pale yellow for summer or burgundy or dark green for winter. If opting for a more formal look, a three piece suit immediately 'dresses up' your look.
You could choose a printed waistcoat to go under your suit for a pop of vibrancy. If you're planning on buying the pieces separately, ensure you choose the colours carefully so that each piece complements the others. Adding cool funky accessories, shoes and belts will make you stand out during the celebrations, but if you want to be more reserved go for more subdued colours and non shiny metals for the brooch or belt buckles.
Now you've got the outfit down, it must be time to start thinking about the pre-wedding celebrations. Before you start planning, read up on our ultimate guide to sten-dos, the gender-neutral pre-wedding party!