The Best Engagement Announcement Ideas: 21 Ways to Break the News
Getting engaged is incredibly exciting, so use one of these creative engagement announcement ideas which are just as special as the news itself!
We have included third party products to help you navigate and enjoy life's biggest moments. Purchases made through links on this page may earn us a commission.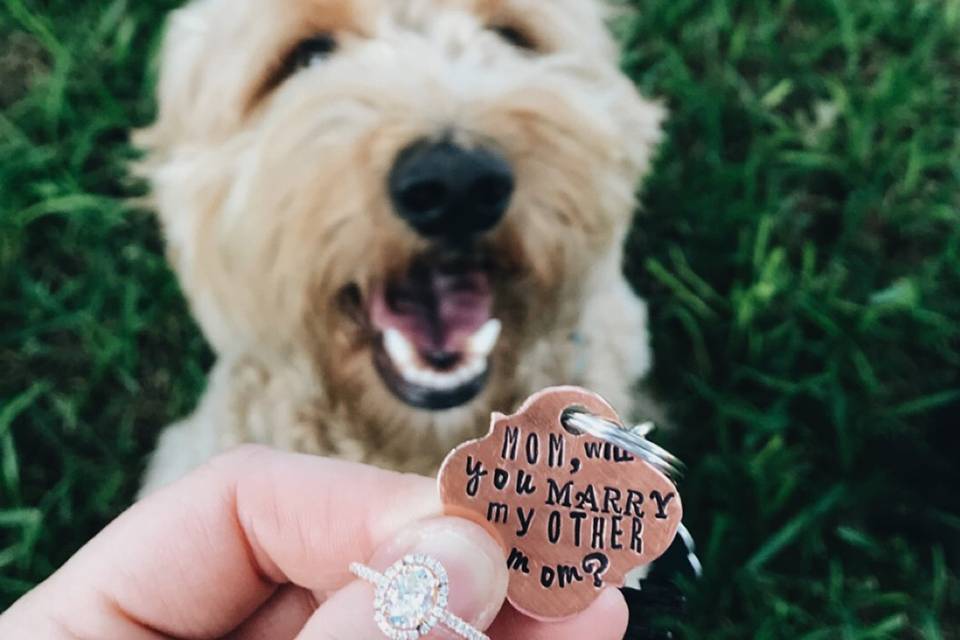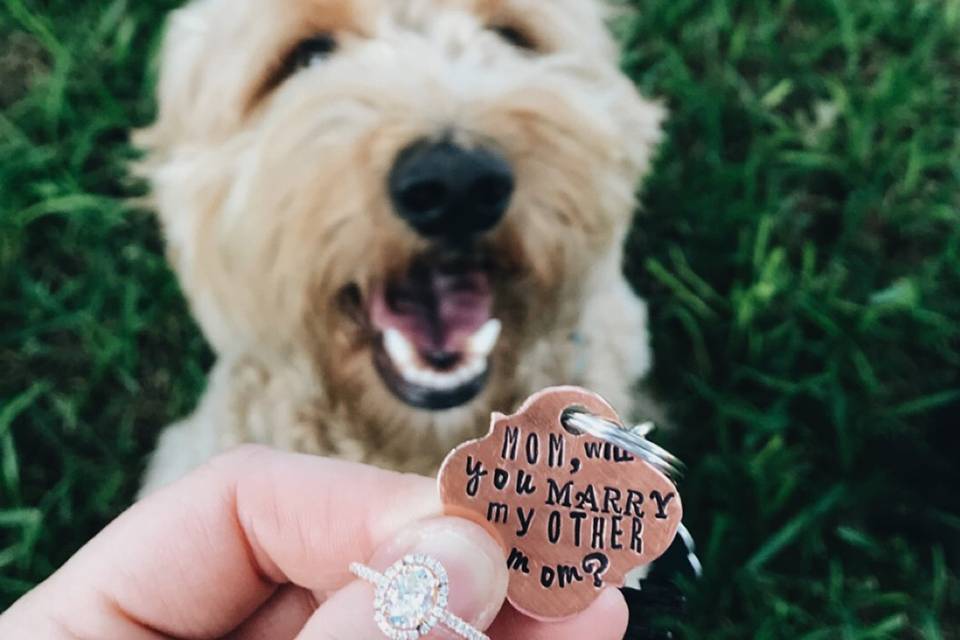 Once you've (just about) stopped your flow of happy tears following your spectacular proposal, it's time to share the exciting news with your friends and family.
You'll probably want to shout it from the rooftops, update your Facebook relationship status and WhatsApp anyone who will listen. Getting engaged is one of the most exciting moments of your life, after all!
Of course, these are all valid ways to break your exciting news… but how about opting for something a little different? We've pulled together some of the cutest, funniest and most creative ways to announce your engagement. With engagement parties off the cards for a little while to come, you can adopt of these great ideas below or check out our cute online engagement announcement ideas.
NB: We have included third party products to help you navigate and enjoy life's biggest moments. Purchases made through links on this page may earn us a commission.
1. Take a Selfie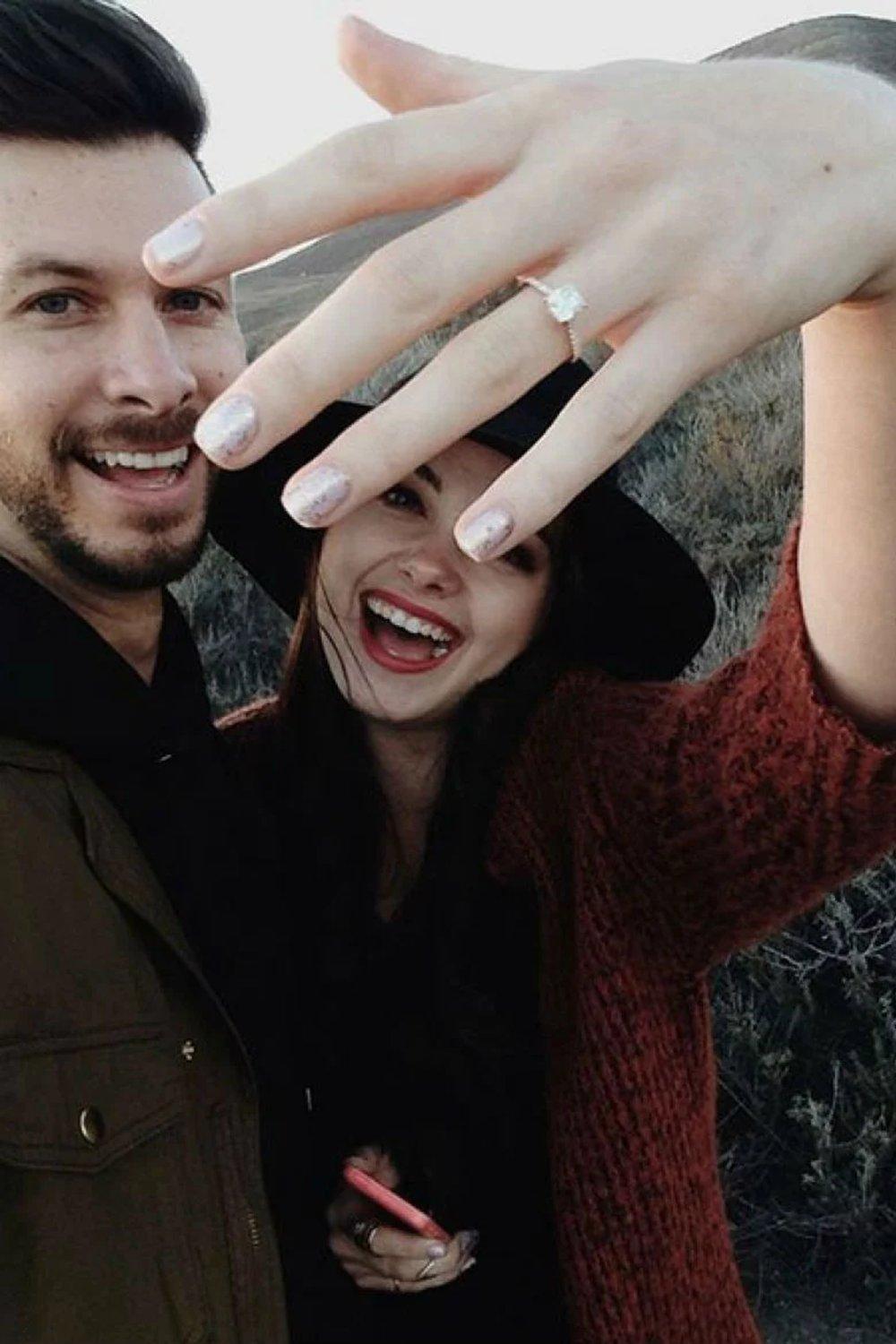 This selfie is so cute. You can see how utterly in love they are and how excited they are to be engaged!
Keep your engagement announcement simple and share a loved-up selfie to your social media. You'll rake in the likes (trust us), and a selfie taken just moments after the question was popped is a lovely thing to be able to look back on.
2. Share a Snap of Your Ring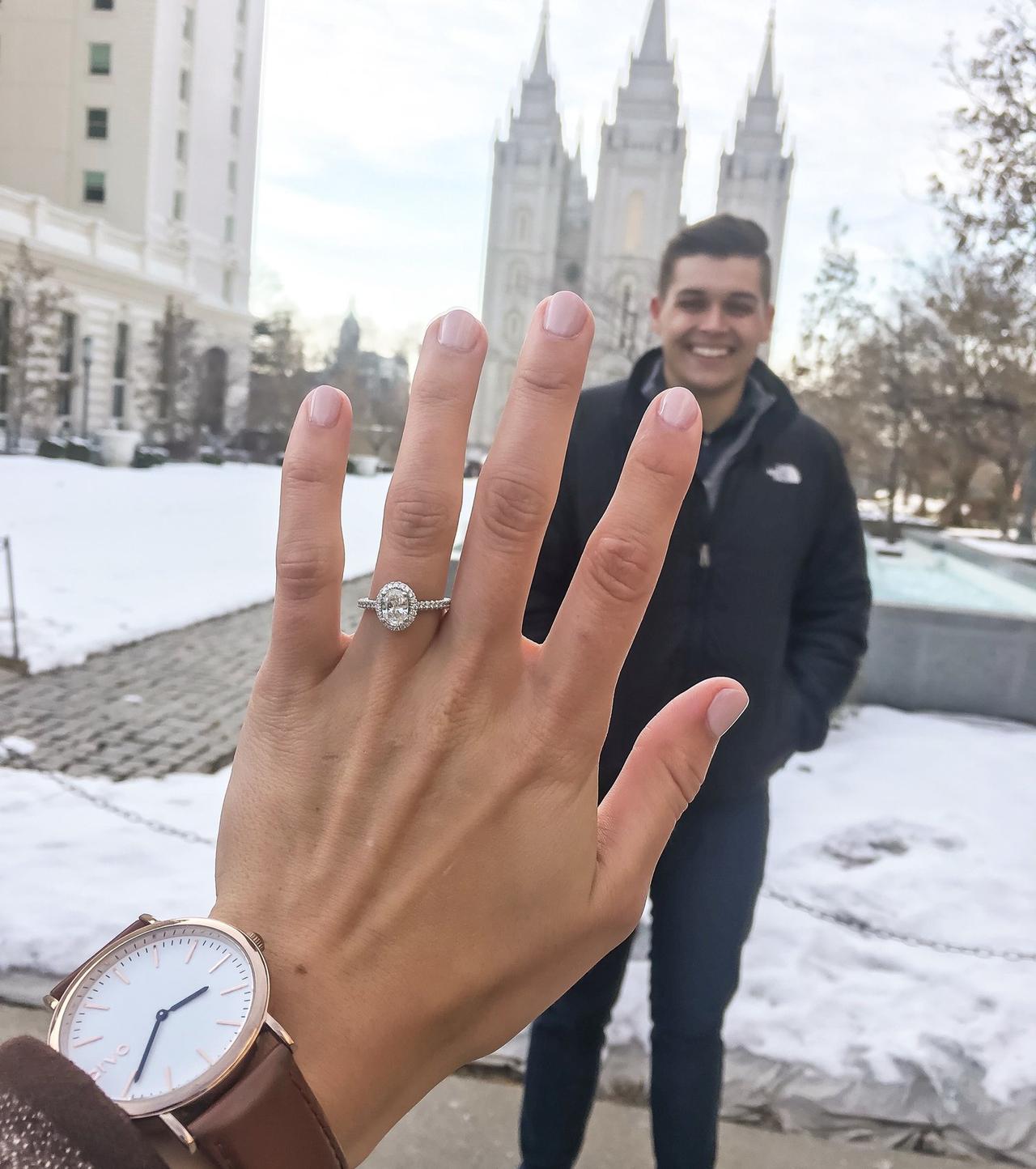 A great way to announce your engagement is to take a photo of the star of the show: your glittering engagement ring!
This option is a bit of a life-saver if your eyes are looking a bit puffy after all the tears of joy, since only your hand will need to feature in the snap.
A ring photo like this is also a lovely idea if you got engaged against an impressive backdrop as you'll be able to show it off!
READ MORE: 5 of the Best Techniques for Fixing a Broken Nail
3. Pose with a Quote Board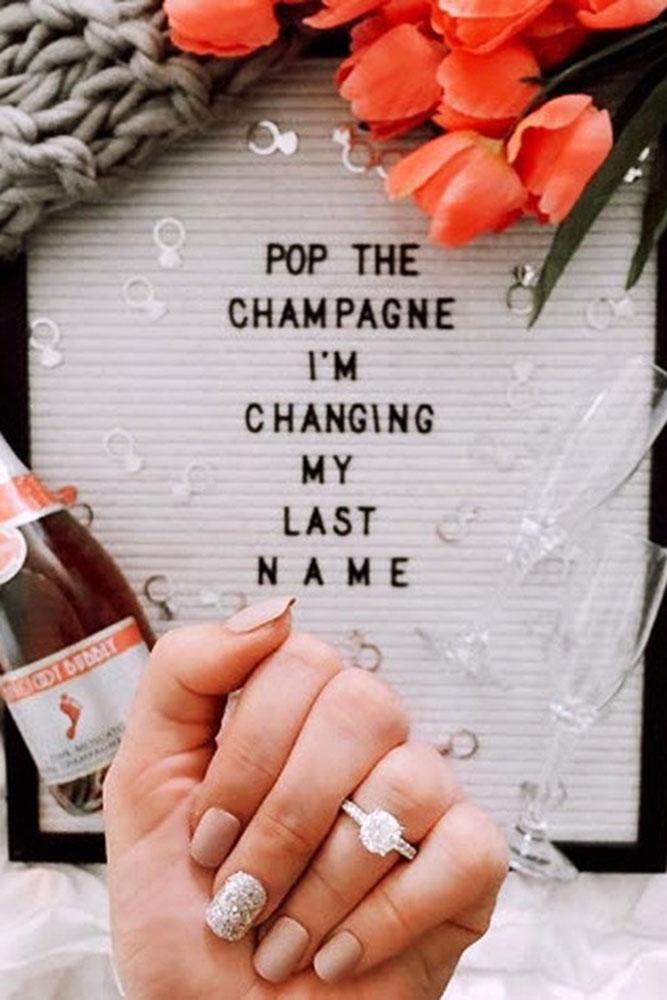 We're obsessed with this portrait of the ring along with a cute quote in the background. A board like this or a lightbox is a great staging idea. How about some other quotes like, 'Goodbye Miss, Hello Mrs' or 'Yaaaas - that's what she said!'
4. Use Your Pet to Break the News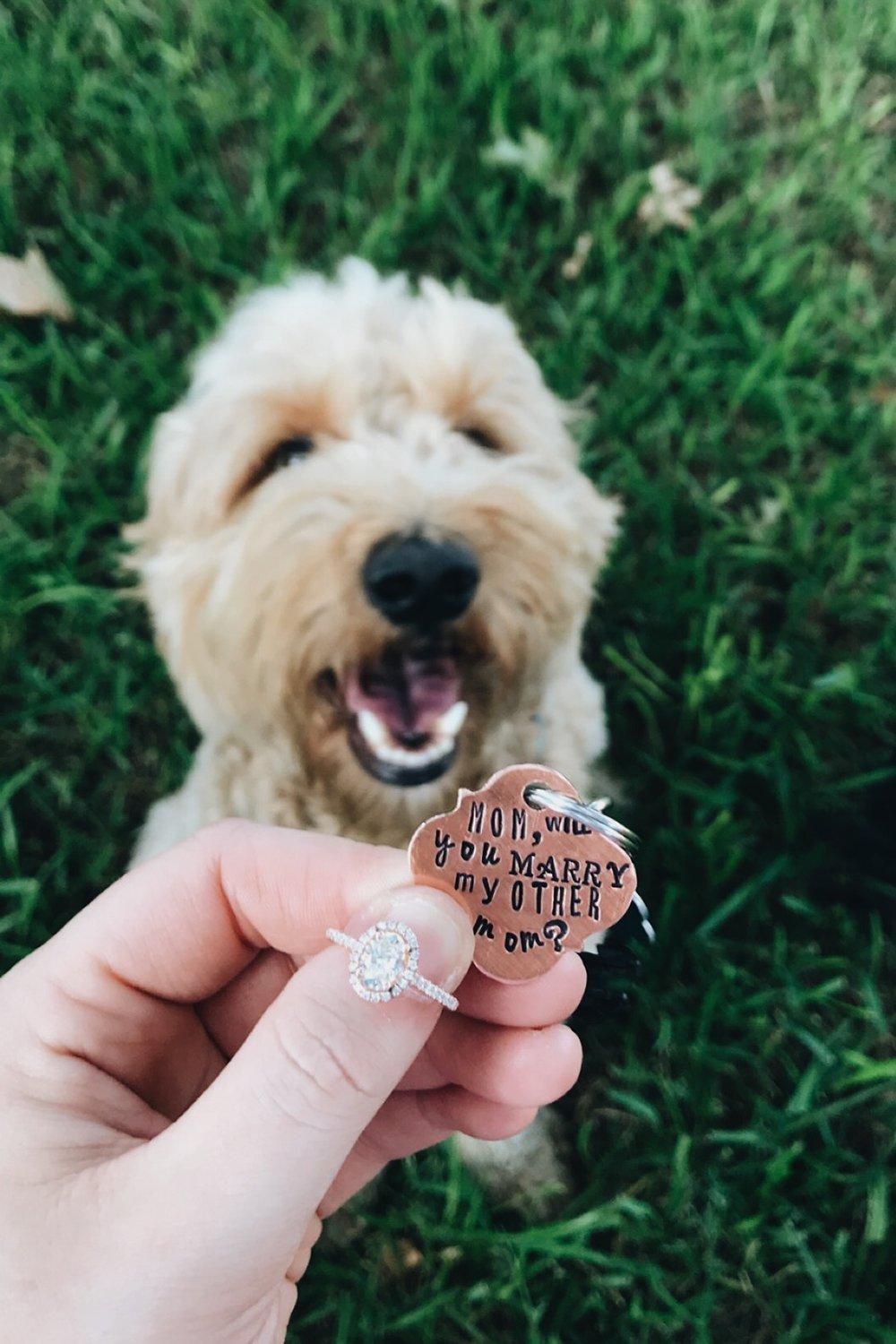 It's one thing getting your pets in on your engagement selfie, but getting your pets involved in the actual proposal (a 'pawposal'?) is a whole different ball game.
If your pet proposed with a collar tag like this, you'll be left with a snap that is screaming to be 'grammed. It's the perfect engagement announcement!
5. Hang a Bauble on Your Christmas Tree
Did you got engaged at Christmas? Share a photo of your personalised Christmas bauble to announce your engagement.
This one from Not On The High Street is made from glass and shaped like a heart. You can also change the colour of the text on the front!
READ MORE: 23 of the Most Romantic Christmas Proposal Ideas
6. Get Inked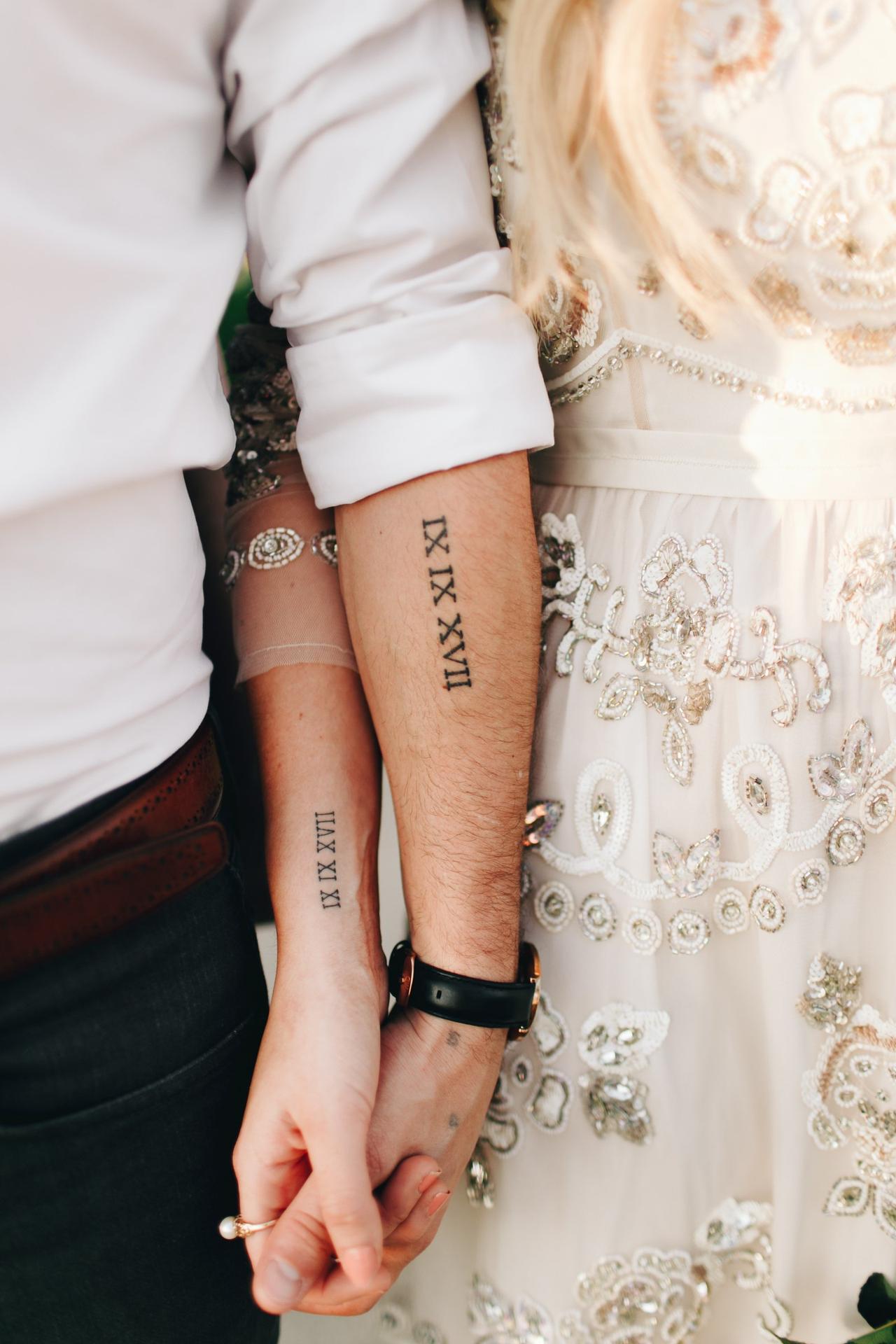 If you're a bride-to-be who already knows they'll be breaking all kinds of wedding rules, start early and announce your engagement in an unconventional way!
Be bold and get the date of your engagement tattooed on your body in numbers or Roman numerals, then post a picture for all your friends to see. Fairly cryptic, but cute all the same.
Oh, and when you get married, you can add your wedding date to the collection. There's no better way to say 'forever'!
If you're not the tattoo type, what about a temporary tattoo? You can get them printed with just about anything and it can be a funny prank to play on friends if you're definitely not the tattoo type - except the engagement will be real!
READ MORE: 21 Annoying Things People Say During Wedding Planning
7. Share a Shot of The Moment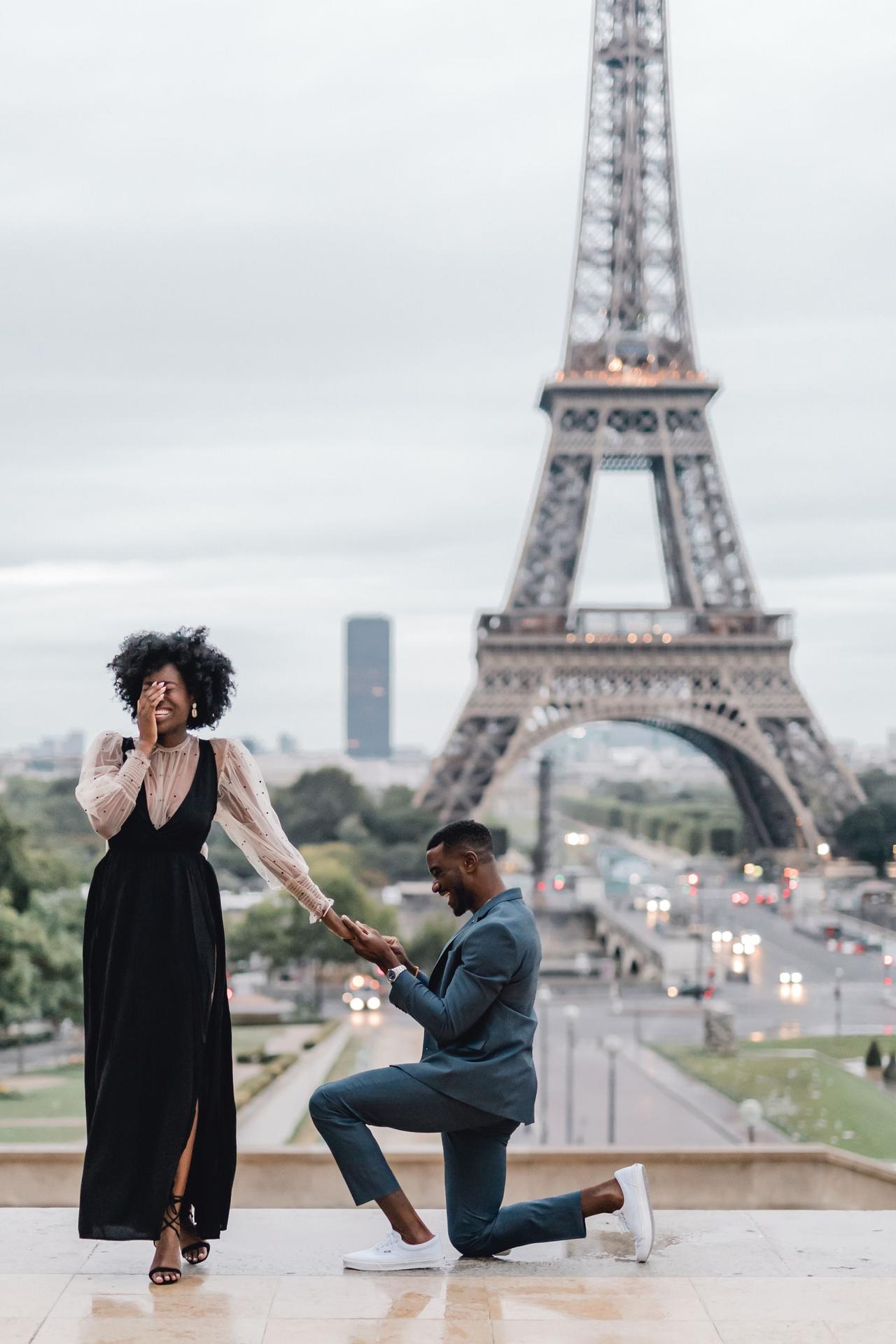 If your proposal is set to be pretty spectacular and you're the one proposing, why don't you make sure you're all set up to get a shot of the special moment unfold? It'll leave you with the perfect snap to share your engagement news.
How gorgeous is this Eiffel Tower proposal, where a camera's been set up to capture the moment he proposed. You can do this easily will self-timer, or you could hire a photographer to do the work for you!
8. Have a Professional Engagement Shoot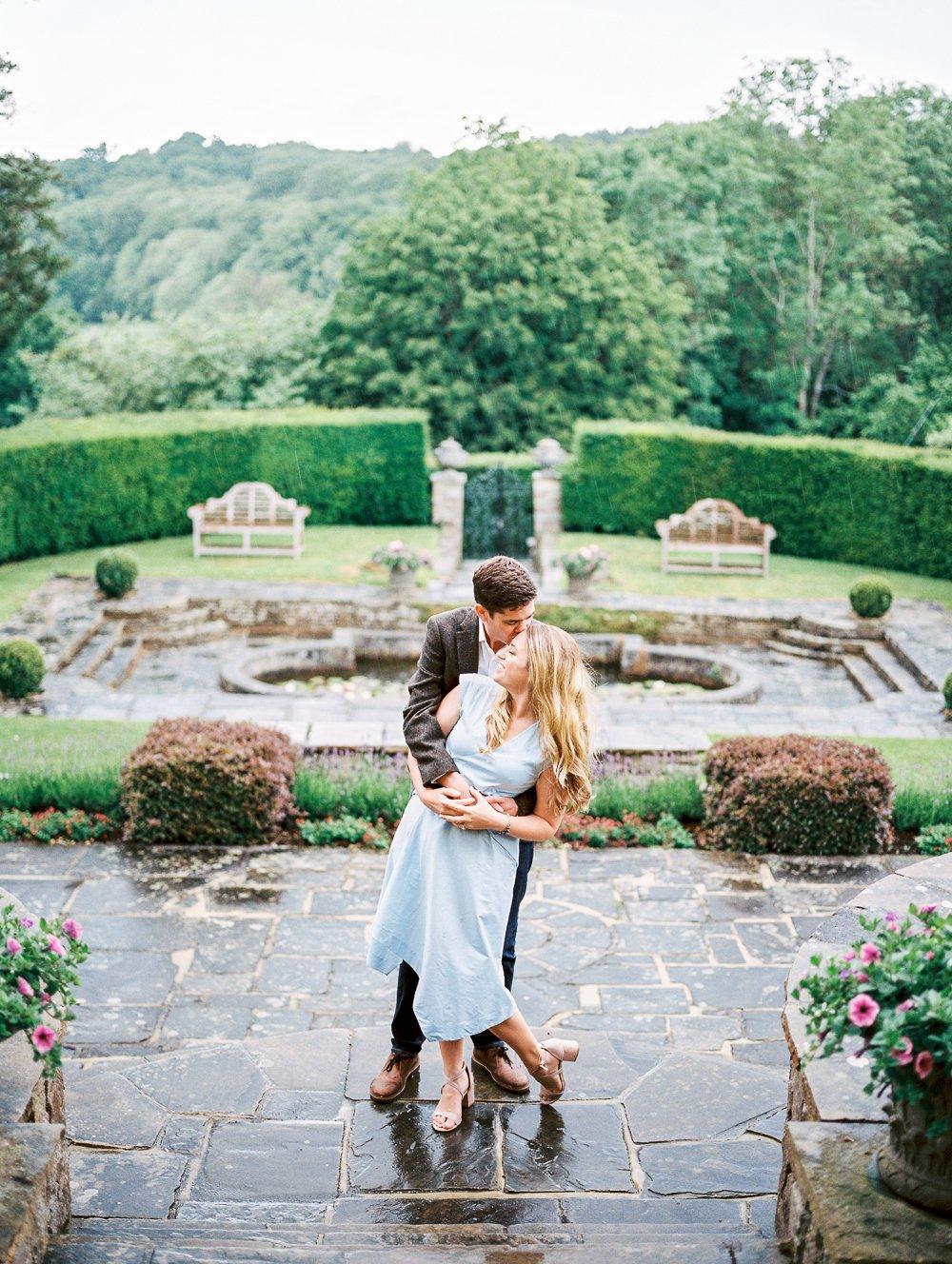 If you want to bask in newly-engaged bliss for a little while before you share the news, wait until you've had your engagement shoot to make your announcement.
An engagement shoot is the perfect opportunity to work with your photographer for the first time, and it's also a fantastic way to capture that elated glow you have in the lead up to your big day.
When your share your photo to Instagram, you can post it alongside a throwback caption which lets your followers know you've been engaged for a little while in secret…
READ MORE: The Best Wedding Instagram Accounts to Follow
9. Buy a Mug
Show off your ring and your exciting news with a fabulous engagement mug! This simple design from the Hitched Shop (and, FYI, the text comes in a range of colours including a serious cute rose gold) makes it a perfect mug for couples who don't want to share too much information about the proposal.
10. Incorporate Your Daily Coffee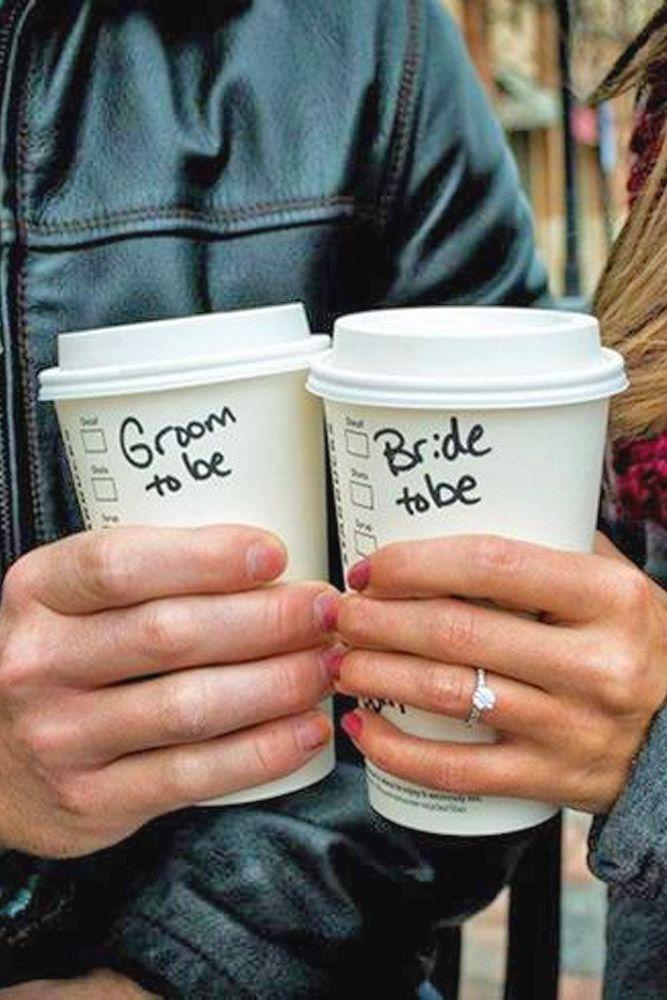 Have you got a favourite local coffee shop (or in this case your local Starbucks)? Get them to write about your happy news on the cups - whether that's your new 'to-be' status or the cute 'I asked' and 'he/she said yes!'.
11. Get the Family Involved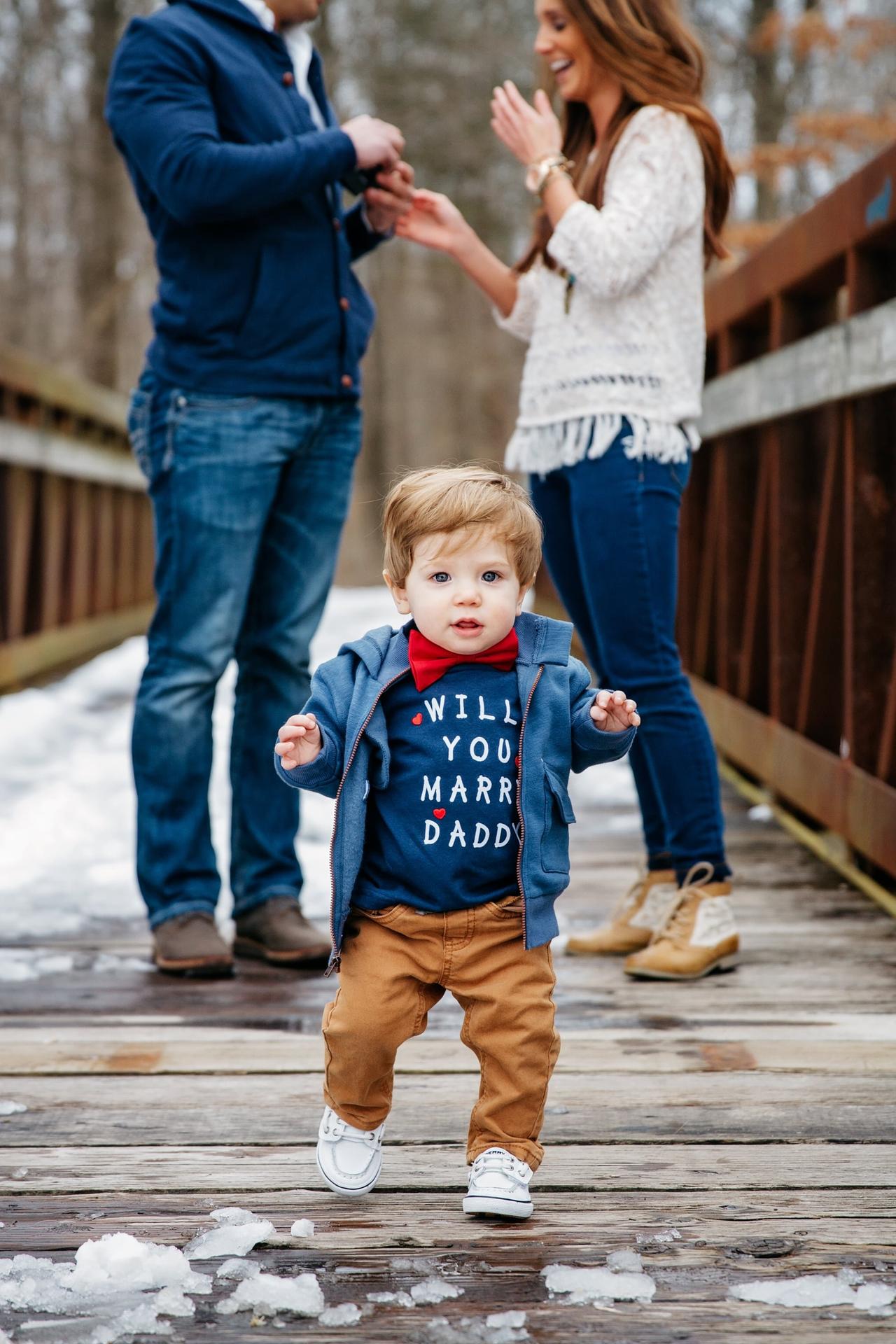 Not all engagements are just between two people, so if you want to make your family part of the news, why not include them in your engagement announcement?
Take your children on your engagement shoot, or DIY your own family portrait and get your children to hold up signs to announce the news!
READ MORE: Should I Invite Children to My Wedding?
12. Snap a Sunset Ring Shot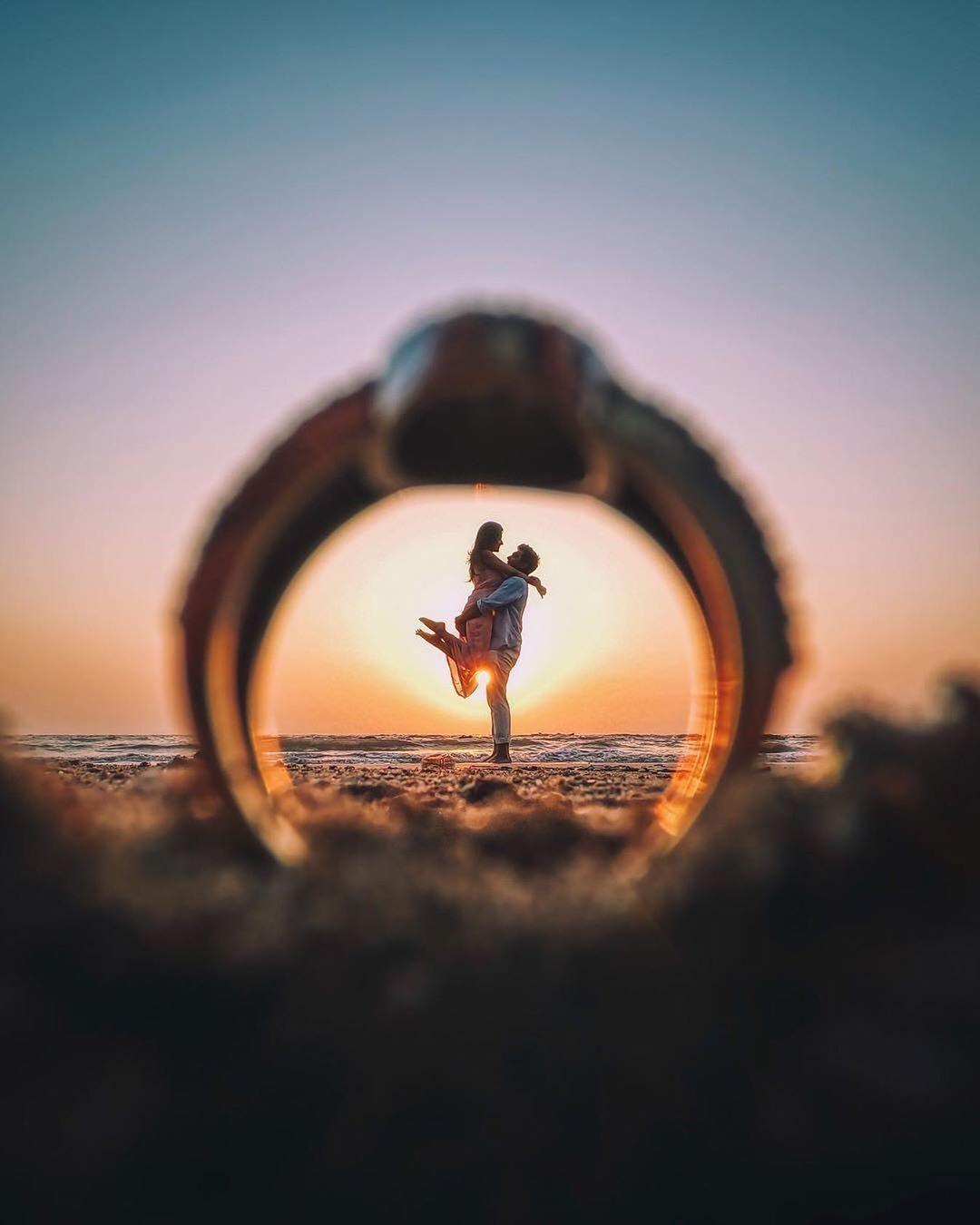 If you got engaged on holiday, then you need to include a beach sunset picture. We love using your ring as a prop and lining up you both inside it. You can either do this on timer mode - but, as it isn't the most sensible thing to leave your new ring unattended, see if you can get one of the staff at your resort to stand on watch while you snap or hire a local photographer to do a shoot with you.
This sunset photograph is stunning!
13. ...Or Just an Artistic Shot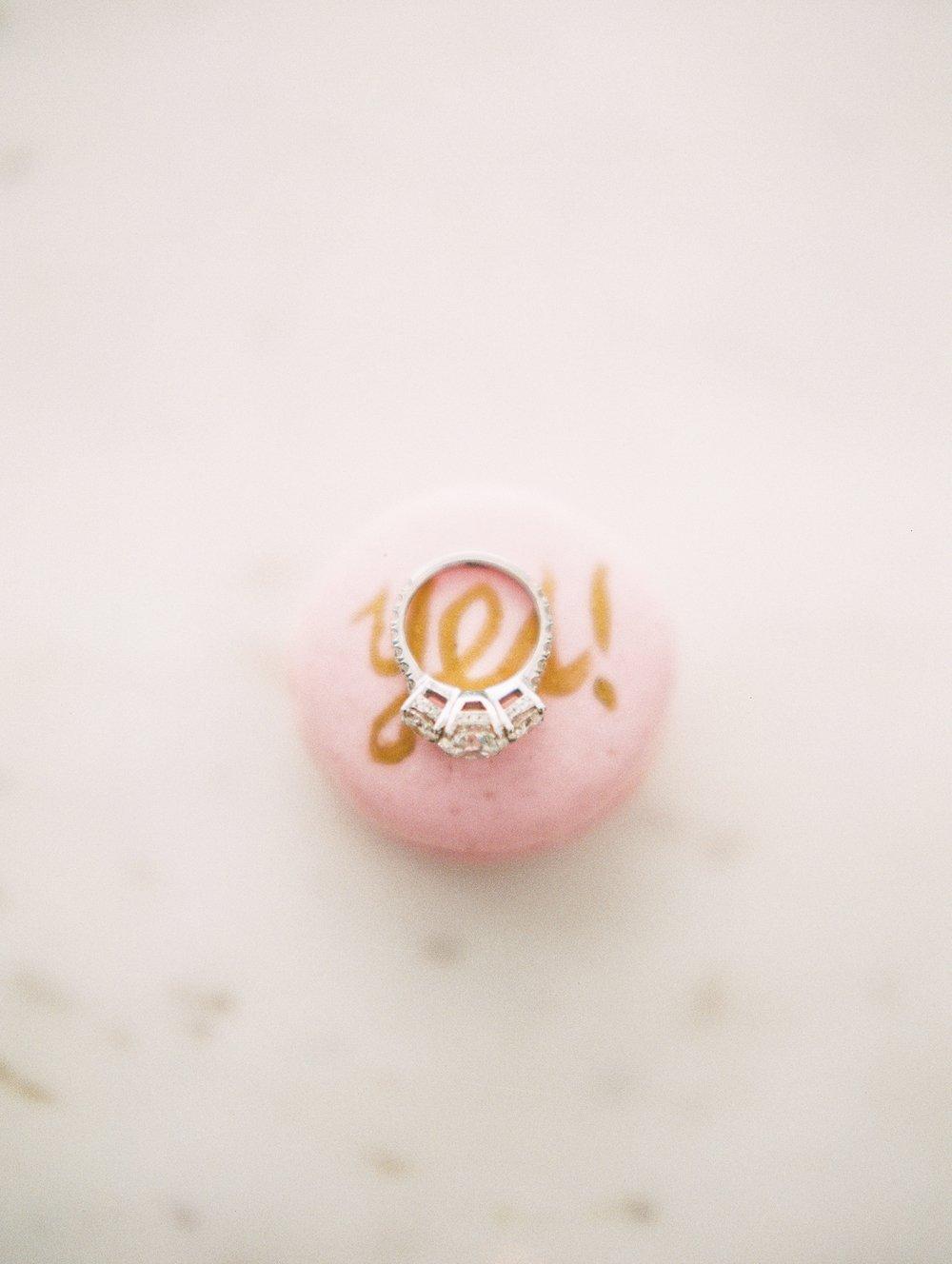 Don't fancy posing in front of the camera? Take an artistic shot of your engagement ring on top of something like your favourite book, a seasonal flower or autumn leaf or even, like this, a delicious macaron.
This idea makes for such a sweet and understated announcement. It's a great idea if you want to do an announcement before a proper engagement shoot is revealed.
14. Keep It Casual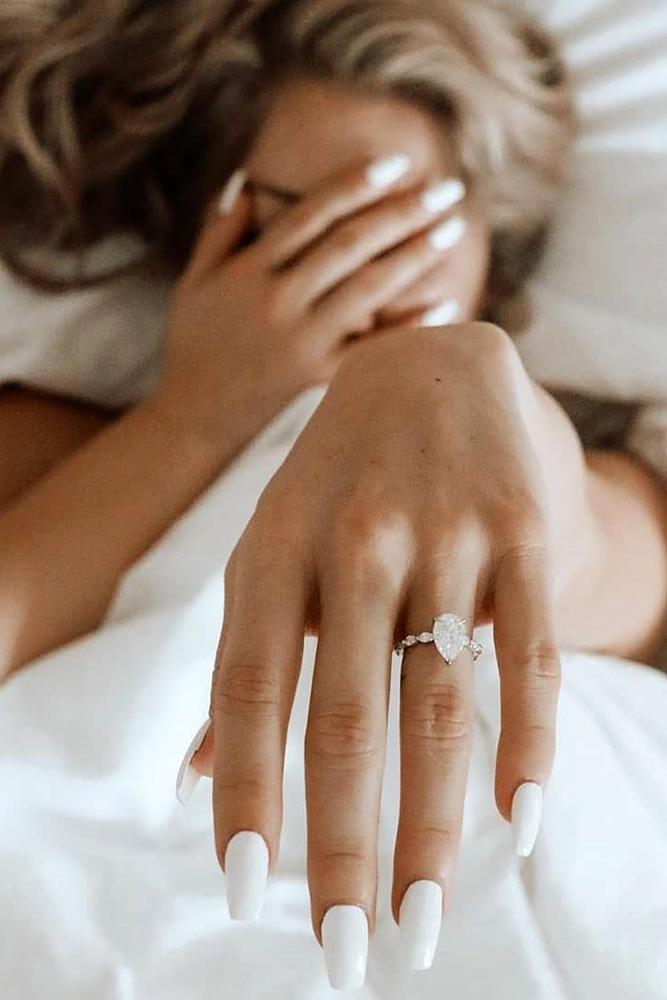 If you're a low-key couple, then a shot like this from bed is perfect to capture your relationship. All you need is a nice manicure and you're good to go. Bed head is encouraged!
READ MORE: The Best Budget-Friendly Engagement Rings
15. Throw a (Virtual) Party
Why not avoid a social media engagement announcement altogether? Instead, wait until your nearest and dearest are surprised with a beautiful invite to your engagement party in the post. At the moment, you're looking at having a virtual engagement party over something like Zoom, where you can show off your ring and mail little bottles of Champagne out to your guests so they can toast with you.
Your loved ones will be over the moon for you and love that they got a chance to celebrate (kinda) face-to-face with you before you share a social media post which can be seen by everyone.

Of course, once parties are allowed again, you can throw an IRL engagement party and hug everyone!
16. Wear Your News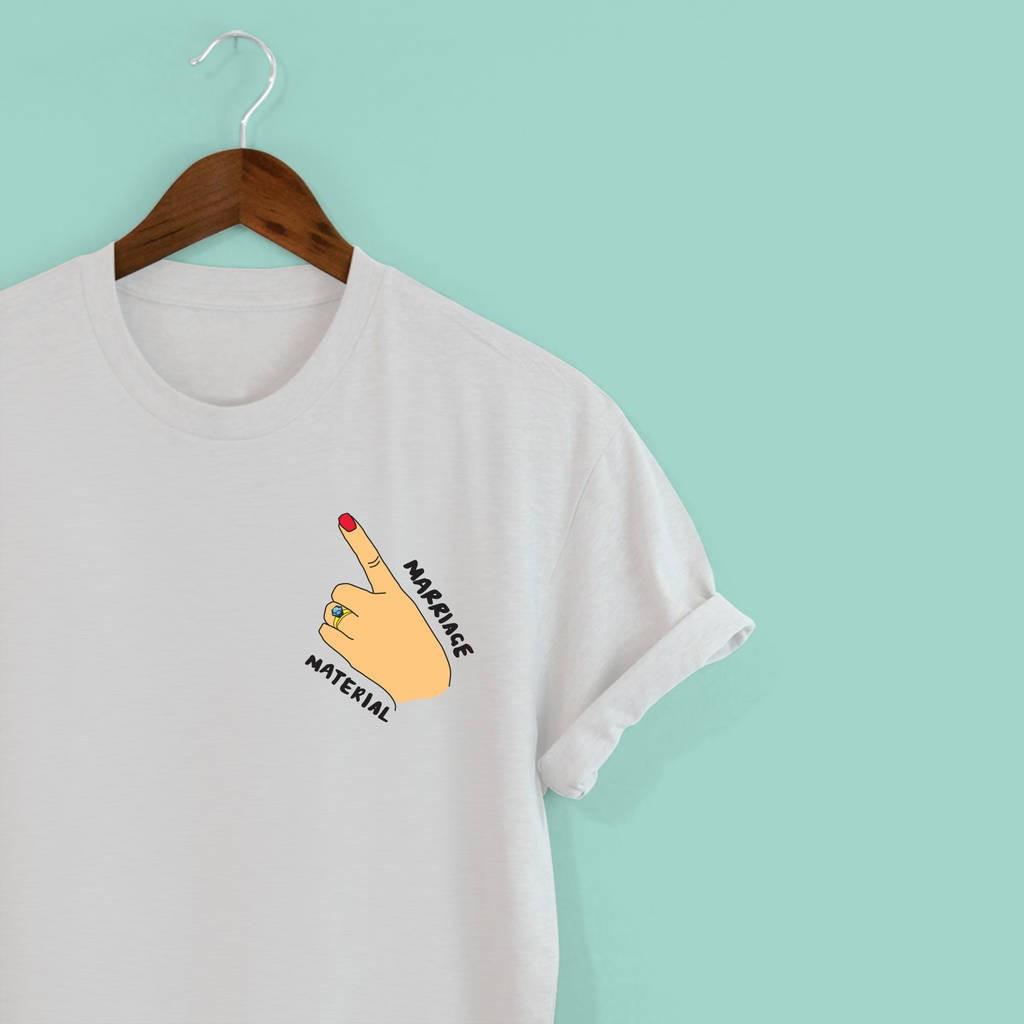 Surprise your friends and family by wearing your engagement announcement.
There are plenty of different t-shirts and jumpers available on Not On The High Street, including this subtle and funny design by Squiffy Print.
It doesn't outright say that you're engaged, so it'd be fun to see how long it takes for your friends and family to cotton on…
17. Light a Candle
How stunning is this chic, modern candle? It can be personalised with your names and the date of your engagement! It comes in three delicious scents and we love the idea of sharing a photo of it on social media.
These candles would also make a lovely engagement gift idea for your BFF who is getting hitched!
18. Buy a Tote Bag
We love this cute tote bag from the Hitched Shop and it means you can carry your engagement announcement proudly on your arm! Not a person will go untold, and you'll be able to keep your special memento forever.
We love this white and gold tote bag because it's adorned in sparkly text. So glam!
19. Top Your Cake
Another super cute way of telling your friends you're engaged is to invite them all over for dinner and bring out a cake with this amazing cake topper.
There's loads of styles you can choose from, from 'She Said Yes!' to 'We're So Engaged' to 'He Popped the Question'.
You can then share your proposal story while tucking into a slice of Victoria Sponge. Or lemon drizzle. Or whatever flavour your heart so desires. Pretty perfect if you ask us!
READ MORE: 18 Funny Wedding Cake Toppers That Will Have Your Guests Giggling
20. Share a Meme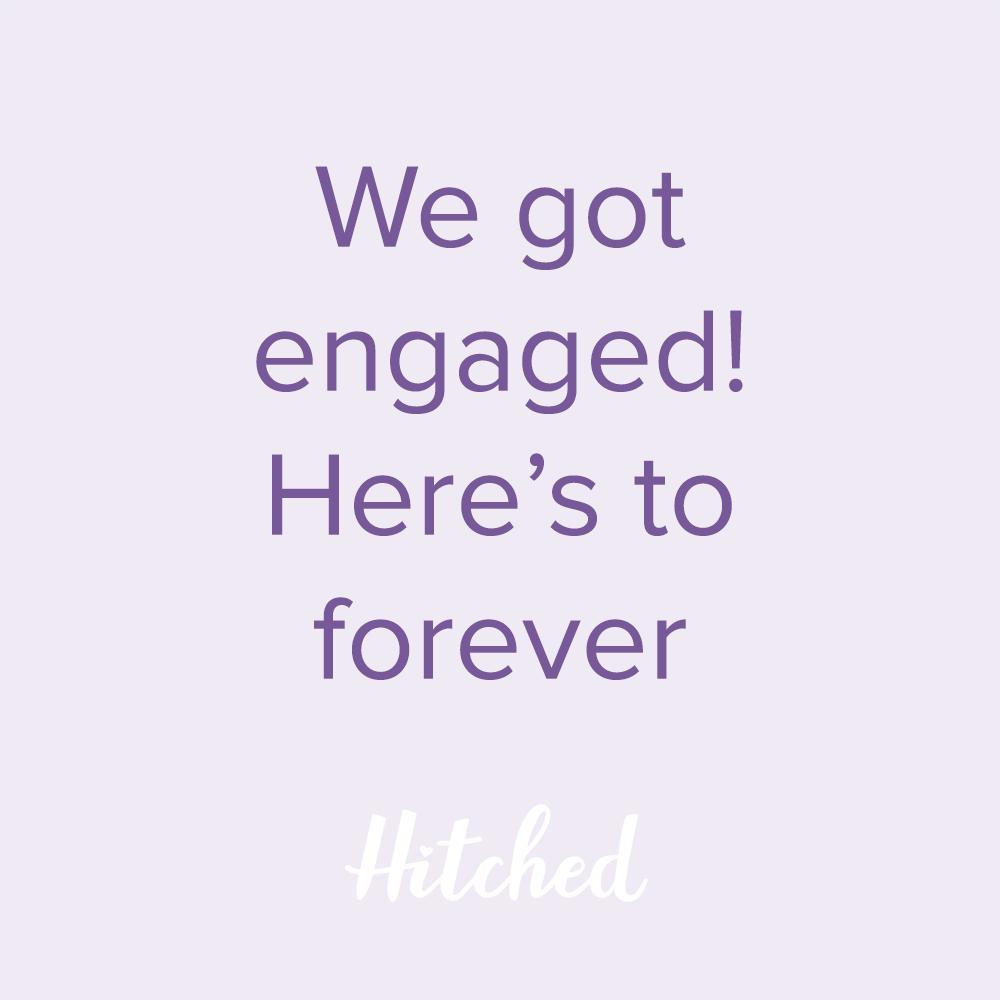 Not everyone likes to pose in front of a camera, and if you're a bit too busy with your new found hobby of wedding planning to do anything ultra-creative, why not post a pretty meme instead?
Save this official Hitched design and share it across your social media platforms. The notifications of congratulations will soon come rolling in!
21. Blow Up a Balloon
We love this confetti balloon by Bubblegum Balloons! It's the perfect way to announce your engagement. You can personalise it to say "she put a ring on it", too!
You and your partner could pose for a snap with it, or you could take a photo of the balloon without featuring in the picture at all.
The Best Engagement Announcement Props
If you really want to share the best photo, you'll need a few cute props to go with it!
Glass Geometric Terrarium Ring Box - Hitched Shop, £29.99
How about sharing a photo of your new ring sitting in a cute ring box? We love this one that you can get engaged with your engagement date.
Engagement Balloons - Etsy, £35.05
How cute are these balloons as a backdrop to a shot of you kissing, showing off your ring, or even just on their own as your announcement? They come in silver, gold or rose.
I Asked, I Said Yes Face Mask - Etsy, from £11.99
How 2020! You can't get more pandemic chic than a face mask that shouts about your engagement. We love this pair for you to wear together, but you can choose to buy just one too. It'll look so good in a funny engagement shoot.
Personalised Scratch Card Reveal - Etsy, from £3.45
Honestly, we can't imagine a more exciting way to tell your loved one you're engaged than this mystery reveal. You could fill in the scratch card gaps with something like, 'X and X have got engaged!' or 'Guess what! X and X are engaged!'.
'I Said Yes' Wine Bottle Label - Etsy, £7.76
This wine label is such a cute thing to include in a social media post where you're both clinking glasses. Alternatively, put it onto a bottle of your favourite wine and take it with you to your friends or family's house and let them put two and two together when you present it.
Personalised Friends Mug - Etsy, £18.71
If you're both fans of Friends, get yourself one of these great mugs that you can use in an engagement announcement. Pretend your sofa is Central Perk and set yourself up a cute, cosy engagement shoot.
Mr and Mrs Disney Themed Mouse Ears - Etsy, £18.99
Disney fans? Or did you get engaged at Disneyland? These ears are perfect for topping off your outfit in your engagement shoot! You can change the wording and the colour of the bow.
We Decided on Forever Printable Art - Etsy, £4.57
A cute, low-key announcement from bed would be double as sweet with a lovely framed print like this behind it, right?
READ MORE: 39 Emotional Stages of Planning a Wedding
However you decide to share your engagement news, make sure you enjoy the special moment! And now that your engagement announcement is out of the way, it's time to get planning for the big day. Our ultimate wedding planning checklist is the perfect place to start.