23 of the UK's Most Beautiful Bridal Suites
Start married life in style in one of the UK's most beautiful bridal suites. Whether you're looking for a luxury hotel for your first night as newlyweds or for a romantic getaway after the wedding, these are the best places to stay.
We have included third party products to help you navigate and enjoy life's biggest moments. Purchases made through links on this page may earn us a commission.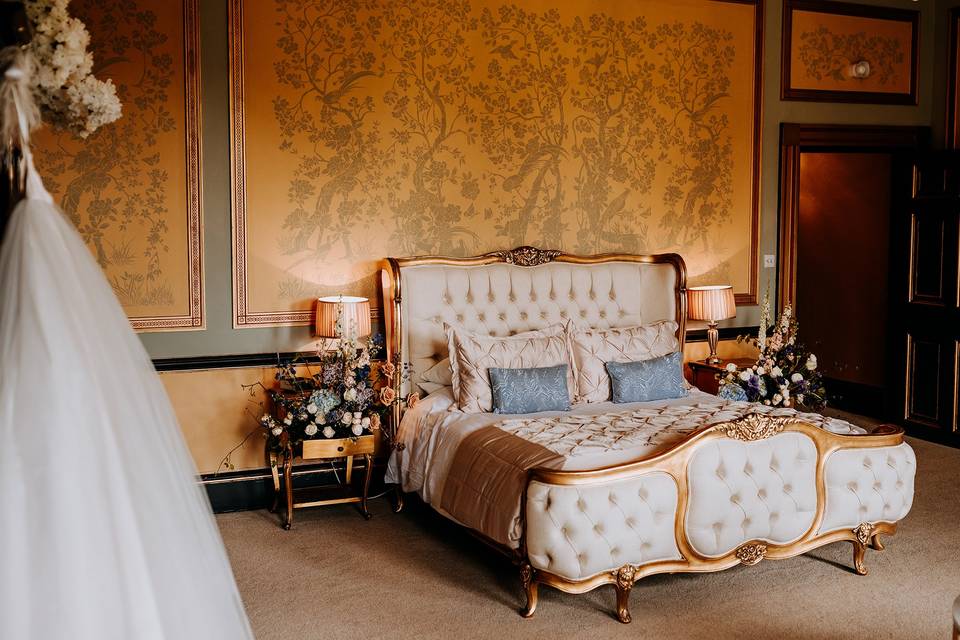 We'll be honest: putting together an edit of the UK's best bridal suites was no easy task. That's because there are some seriously magical places to spend your first night as newlyweds - narrowing down the list was far from straightforward.
But narrow it down we did, selecting each suite based on the quality of everything from décor to facilities. A bridal suite is also sometimes where one half of the couple will get ready on the morning of the wedding, so we gave bonus points for space.
We're confident that our edit contains only the crème de la crème of bridal suites.
Some of these amazing spaces are part of wedding venues, which means you'll need to be getting married there in order to use the suite.
Others are in hotels, so they're available for anyone to book. While bridal suites are often associated with the first night of married life, there's nothing to say you can't book one of these beauties to make a romantic break extra special - for a wedding anniversary, for example, or for a just-because getaway.
Bridal suites come in all shapes and sizes. Whether you want to spend your first night of married life surrounded by historic splendour, contemporary glamour or boho luxury, there's a suite in our edit for you.
READ MORE
1. The NoMad, London
The NoMad is one of London's most hotly anticipated hotel openings of 2021 - and it's easy to see why. With a New-York-meets-English-history aesthetic and some cool drinking and dining spaces, it's a fresh take on the urban boutique experience. If you're dreaming of a stylish city wedding, this needs to go on your venue shortlist. The accommodation is beautifully designed, and we're particularly taken with the Magistrate's Suites.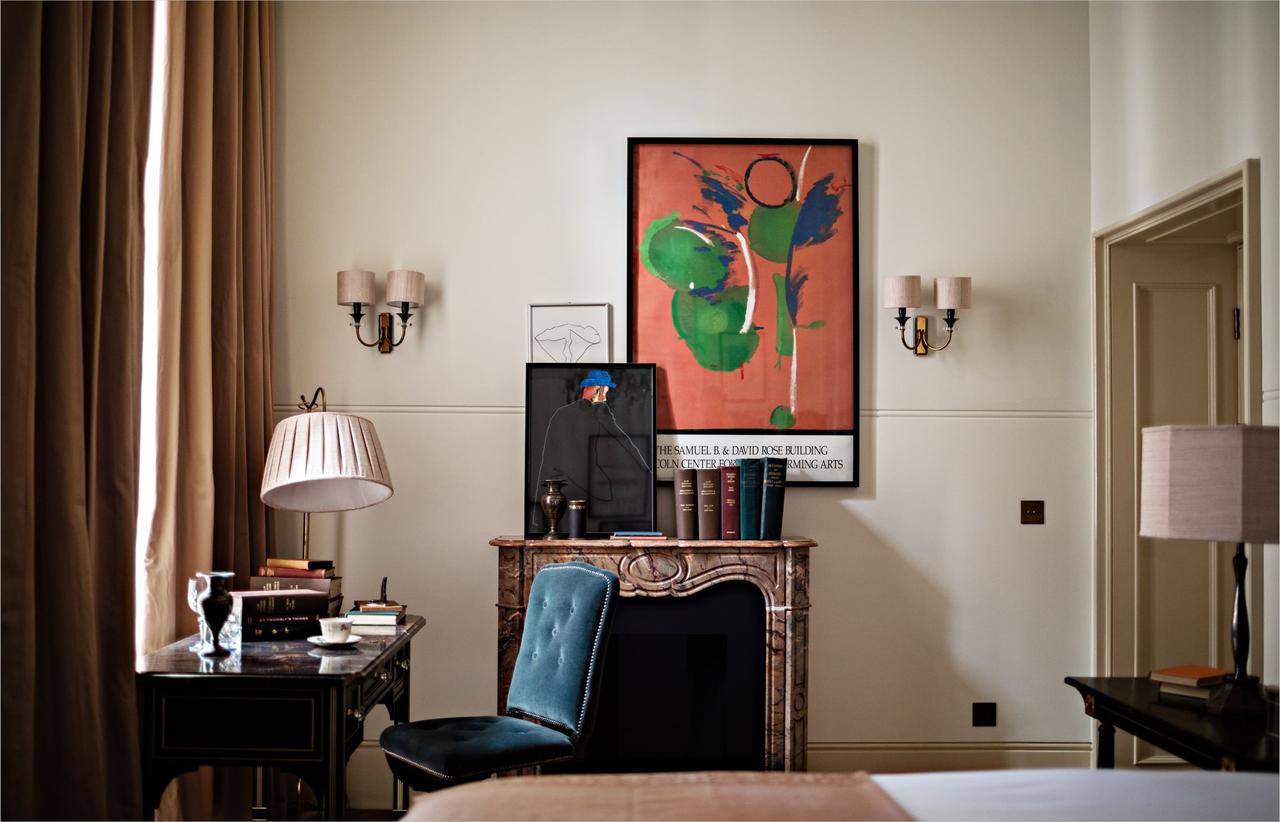 These suites feature king-size beds, separate sitting rooms and the kind of design you want for your own home while knowing you'll never get it looking quite as effortlessly chic.
2. Gosfield Hall, Essex
We challenge anyone not to fall in love with Gosfield Hall's Rococco Bridal Suite, which features beautiful white and gold detailing, and has a four poster bed and a spa bath. And you'll have so much space!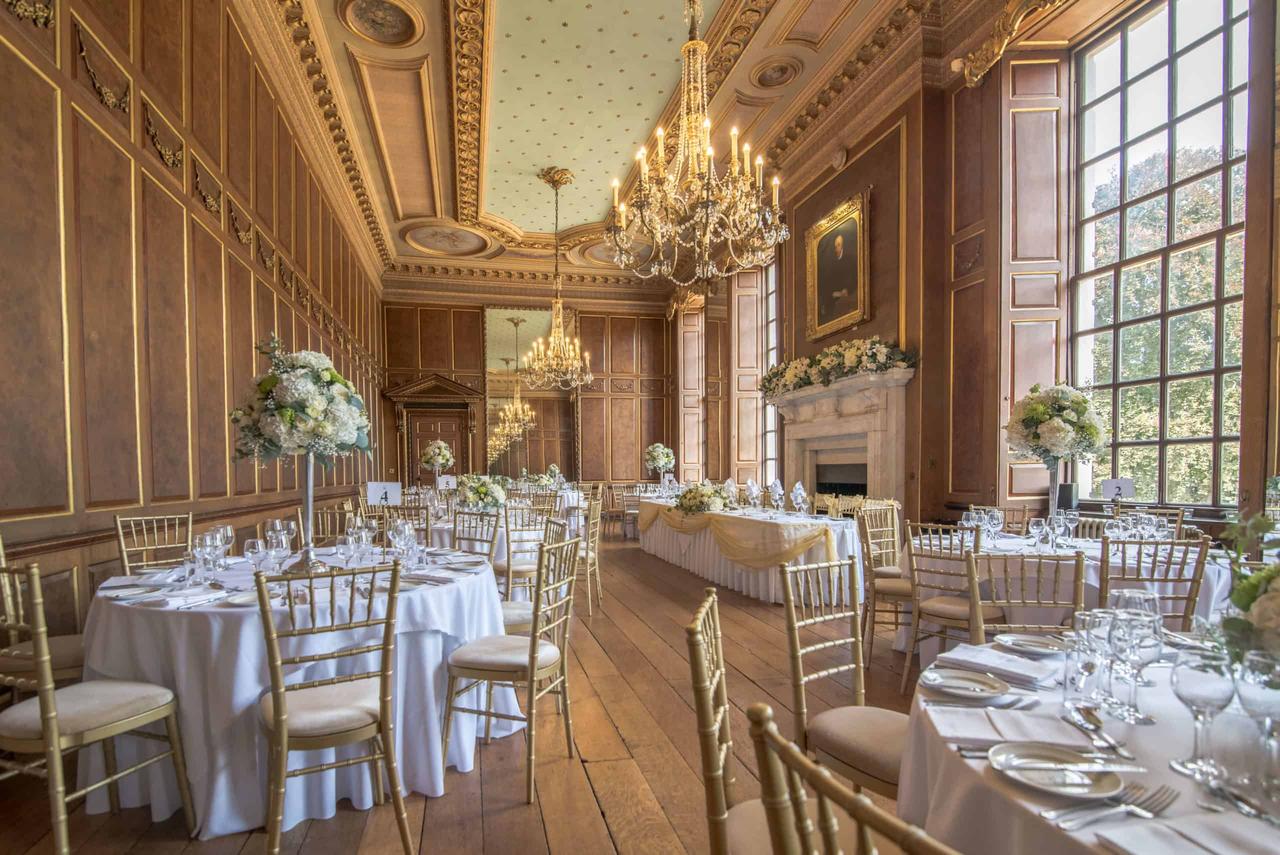 The rest of the venue follows a similarly opulent style. Gosfield Hall is stunning Georgian manor house in Essex which can host up to 250 evening guests.
3. Lympstone Manor, Devon
Lympstone Manor has some glorious rooms to lay your head, including the Heron's Suite, which has two side-by-side baths with a view. However, we've fallen hard for the charms of the hotel's new Shepherd's Huts. These individually designed huts are surrounded by woodland, for an experience that blends a back-to-nature vibe with real luxury.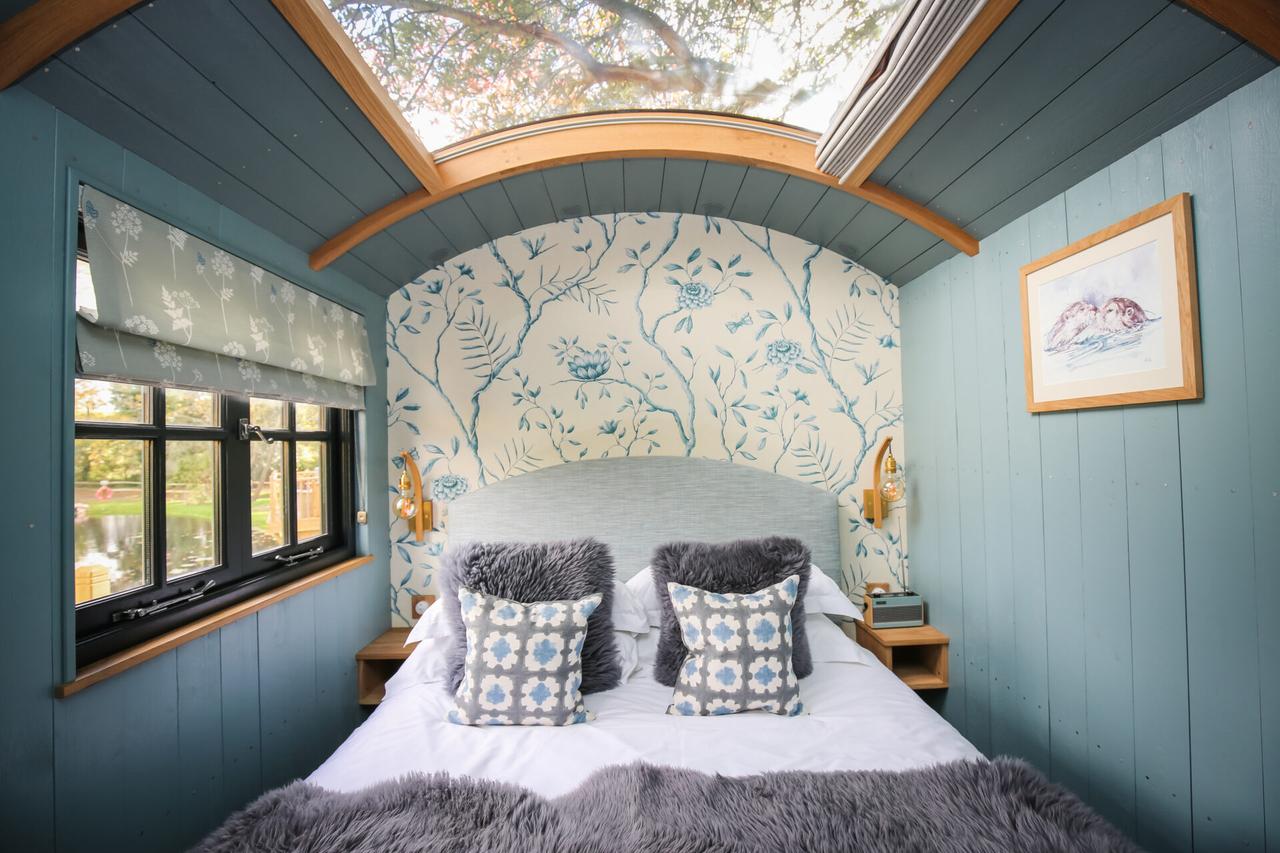 The huts are all delightful, but we're drawn to the delicate colour palette of Otter's Holt - each hut is named after a woodland creature - which has a decked area with outdoor bath.
4. fforest, Pembrokeshire
Cardigan's fforest is a magical wedding venue for nature lovers, designed to work in harmony with the surrounding countryside. There's a range of accommodation on site, but for a bridal suite with a difference, it has to be one of the Onsen Domes.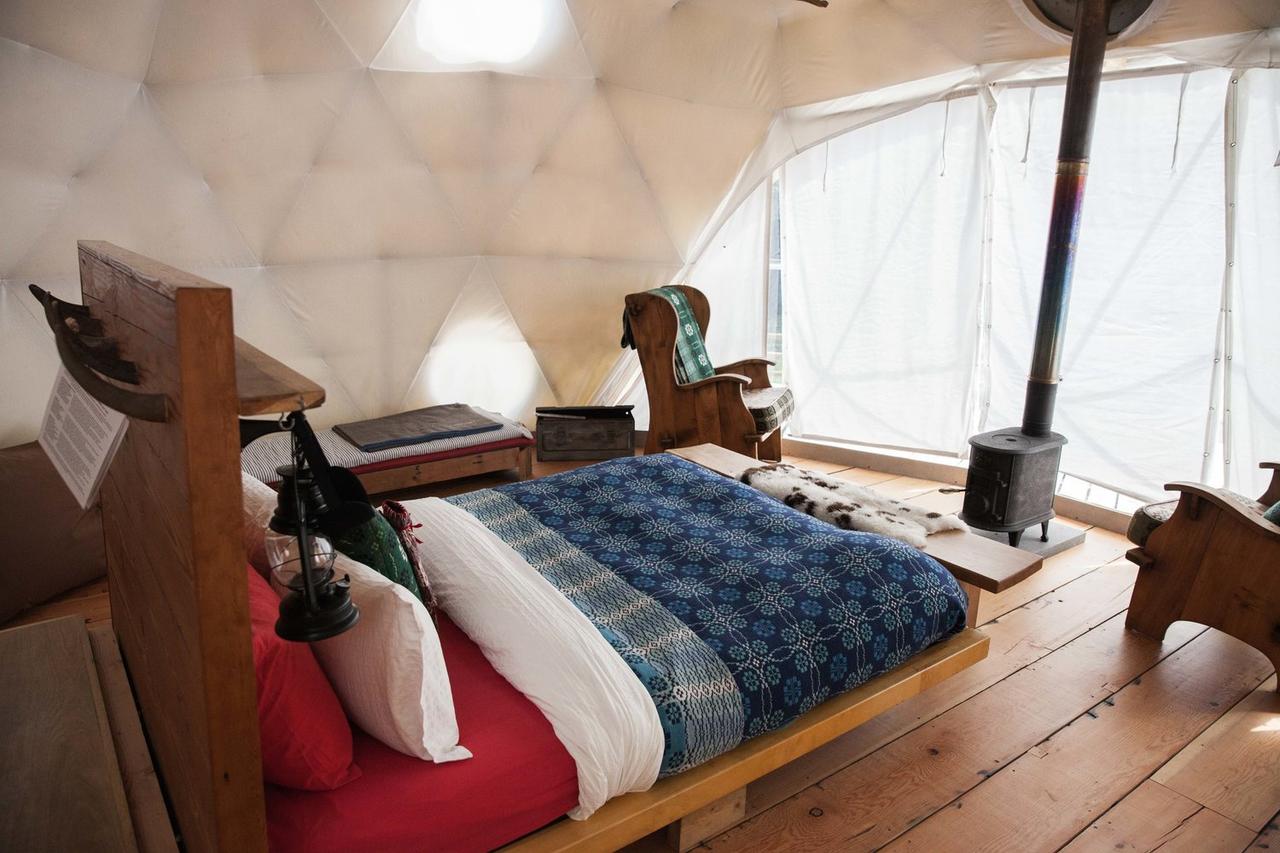 Carefully placed to allow for extra privacy, each dome has its own Japanese-style bath house, outdoor kitchen and dining area, and a decked area for relaxing.
READ MORE: Outdoor Wedding Venues: Our Favourite Outdoor Spots to Say 'I Do'
5. Manor by the Lake, Gloucestershire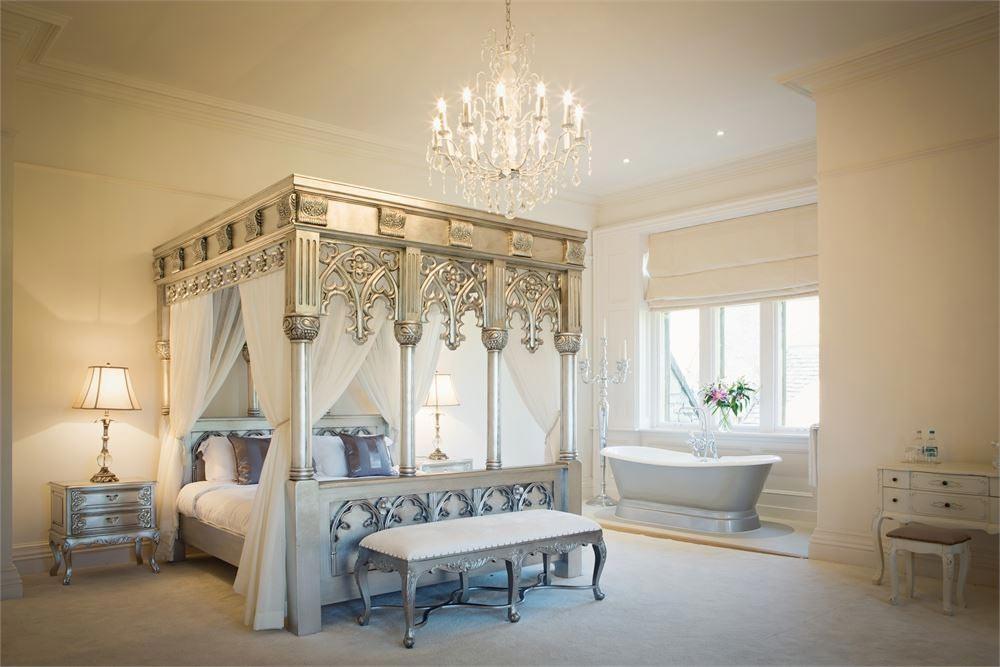 Cotswolds wedding venue Manor by the Lake has a lavish bridal suite with a seriously stylish silver four poster bed and a freestanding in-room bath. If you want to use it for getting ready, the suite will be a stunning background to your wedding morning photos.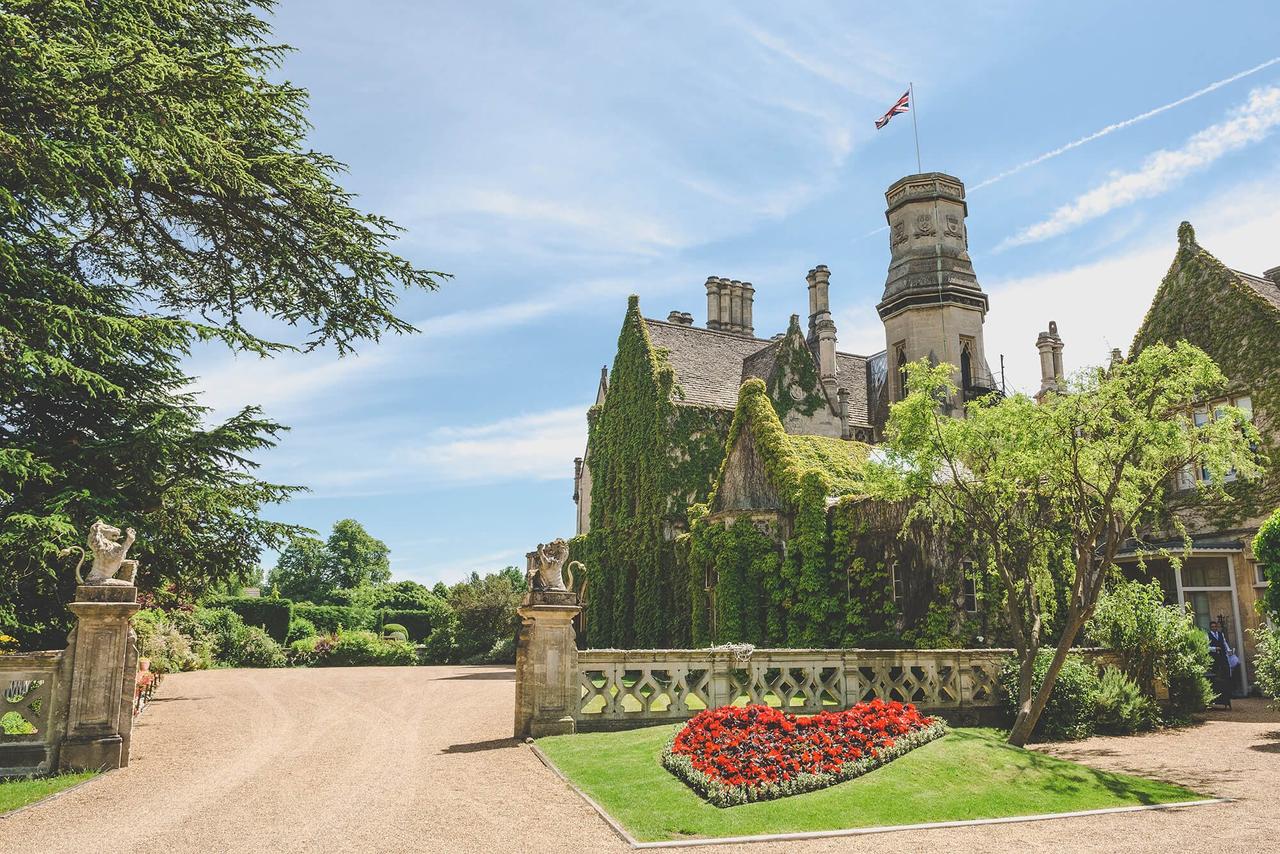 It's a very flexible venue, with spaces indoor and out where you can you build the country house celebration of your dreams. Aside from the dreamy bridal suite, there are 11 other bedrooms, so your loved ones can stay over and make a weekend of it.
6. Rise Hall, East Yorkshire
Country house wedding venue Rise Hall has 31 individually designed bedrooms - including the sumptuous bridal suite, which features a bed that's straight out of a fairy tale.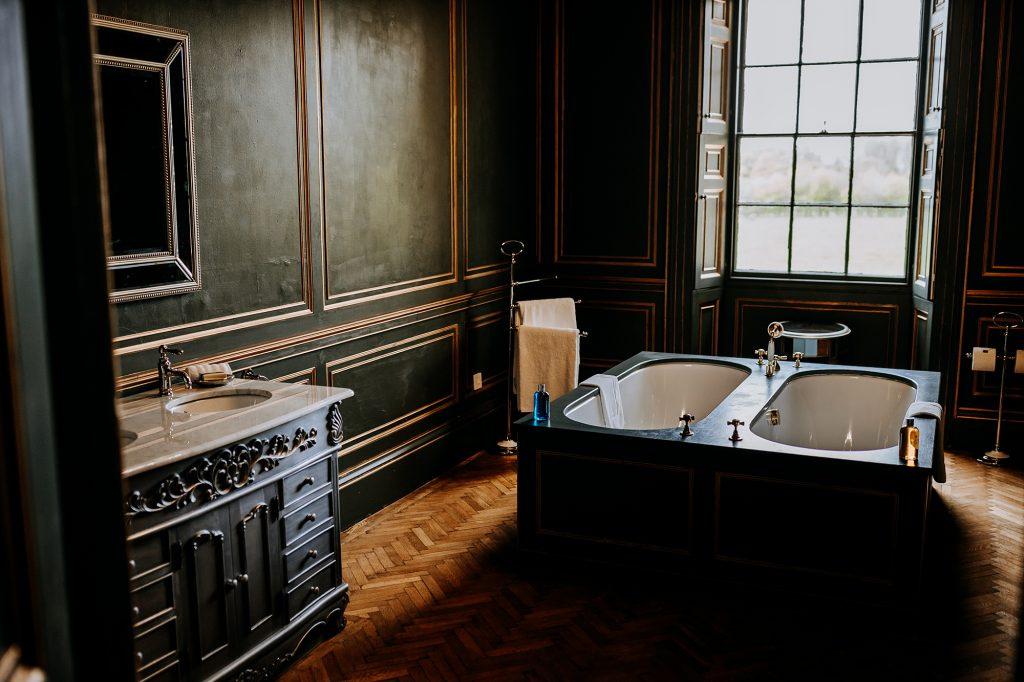 It's a wonderful place to repair to after an evening of partying - and you can expect plenty of partying at your wedding, as there's no curfew or restrictions on music.
7. Pennyhill Park, Surrey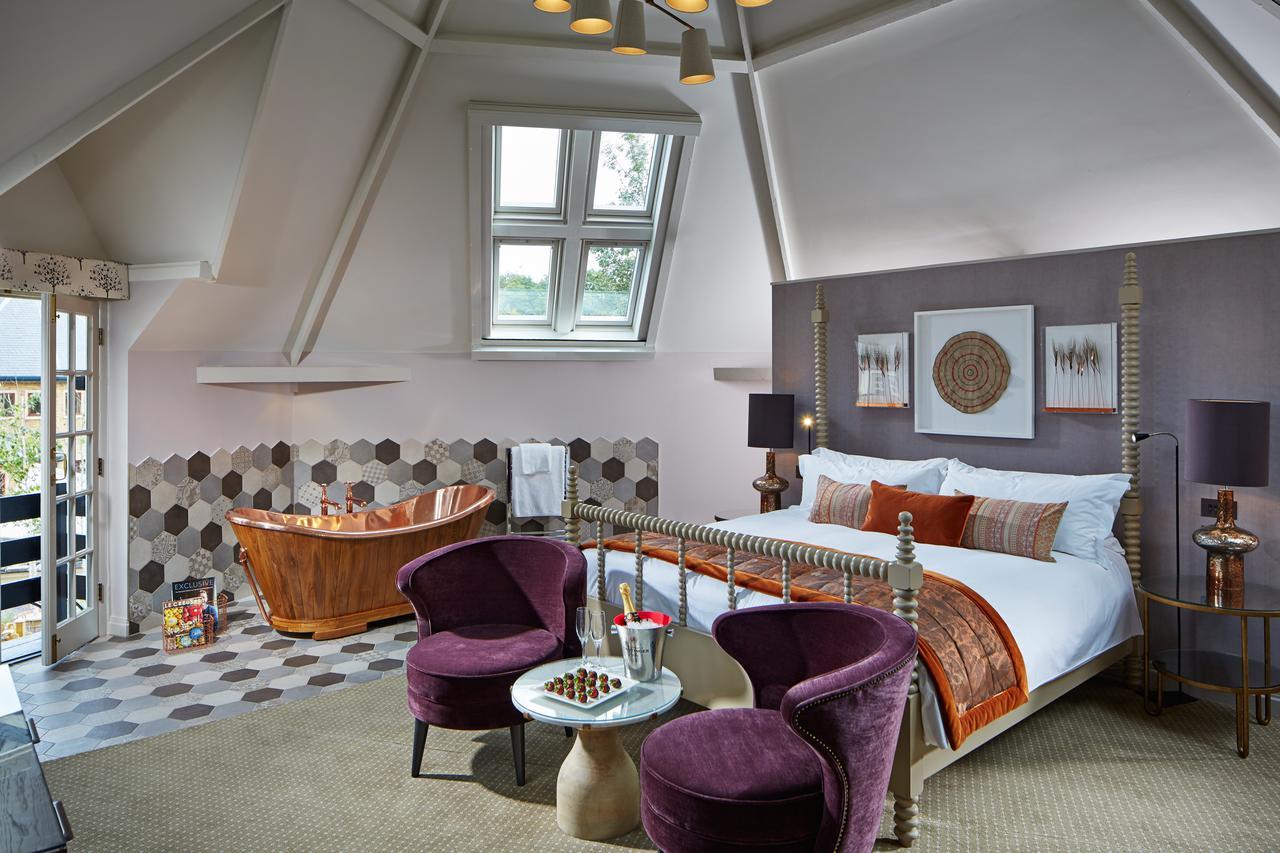 Surrey hotel Pennyhill Park justly renowned for its spa facilities, and the accommodation is pretty special, too.
If you're looking for luxury, book The Granary, a stand-alone suite that's set over two floors.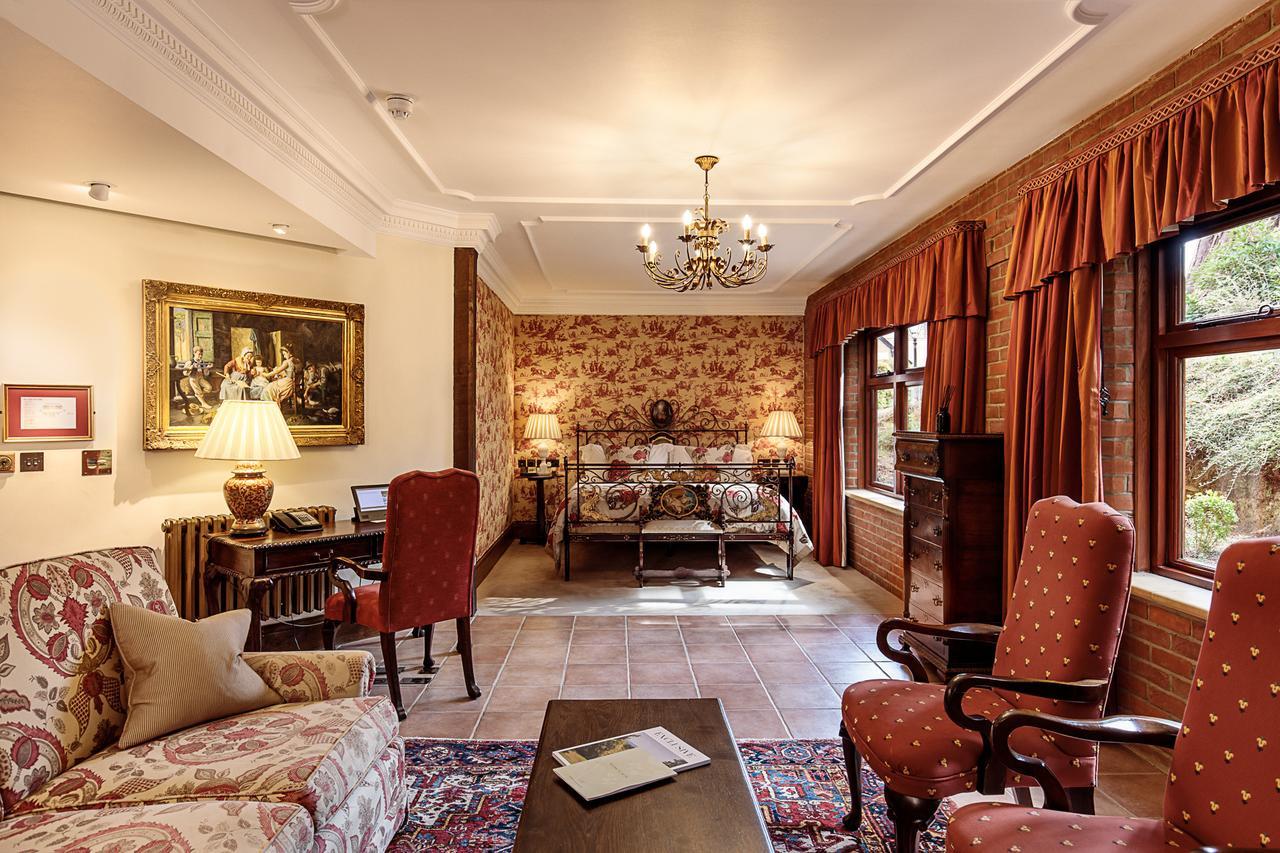 Of course, as this is a 124-room hotel, you'll find suites to suit different budgets, from classic junior suites through to the Twickenham suite, which comes with an eight-person Jacuzzi.
8. Carberry Tower, Lothian & Borders
Luxury castle venue Carberry Tower has some truly indulgent accommodation. Our pick for a first night as newlyweds is a Grandé suite.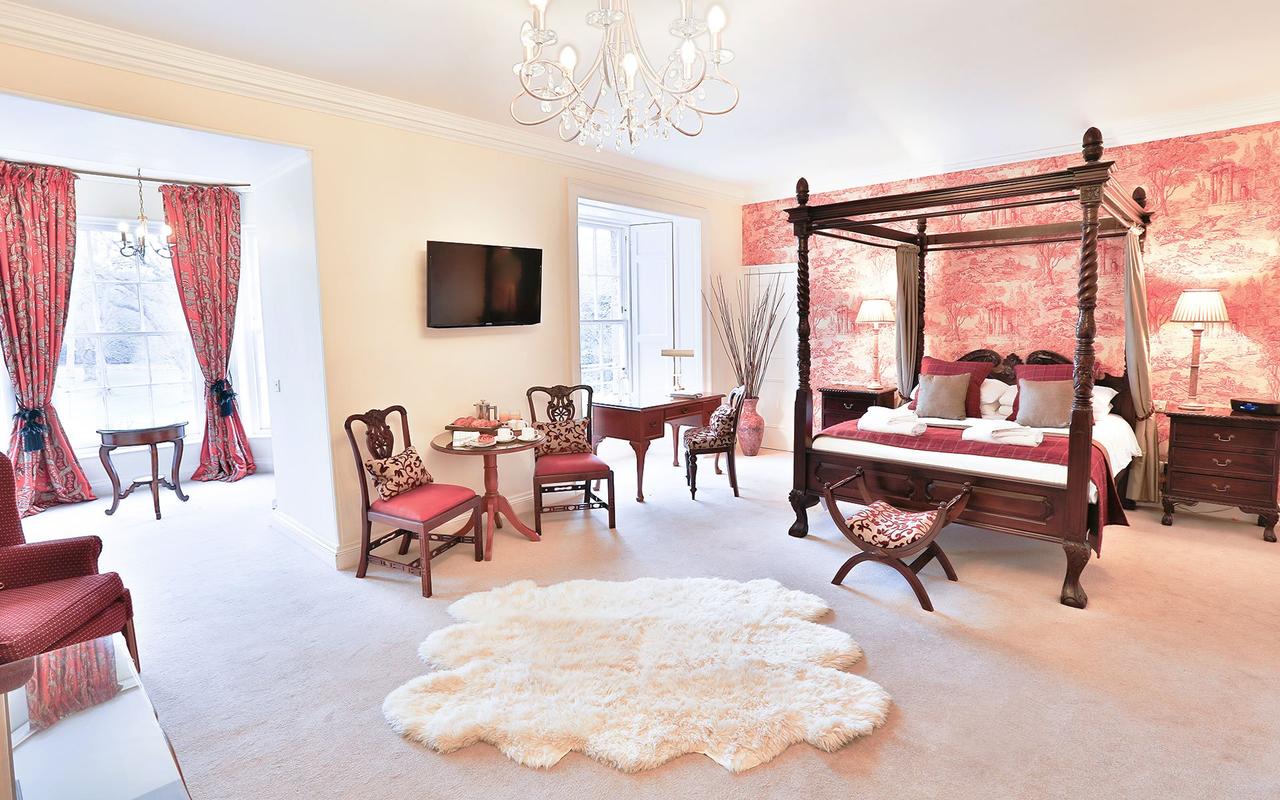 You'll have plenty of space to play with for getting ready, including generous en-suite, and after the wedding you can luxuriate in a magnificent four-poster bed.
READ MORE: 21 Romantic Getaways in Scotland to Book Now
9. The Zetter Townhouse, London
The Zetter Townhouse is a characterful venue with bags of eclectic charm - ideal for a city wedding with a difference.
At the end of the celebrations, there are 13 bedrooms to repair to; of course, the happy couple will be taking The Apartment, the hotel's spacious suite.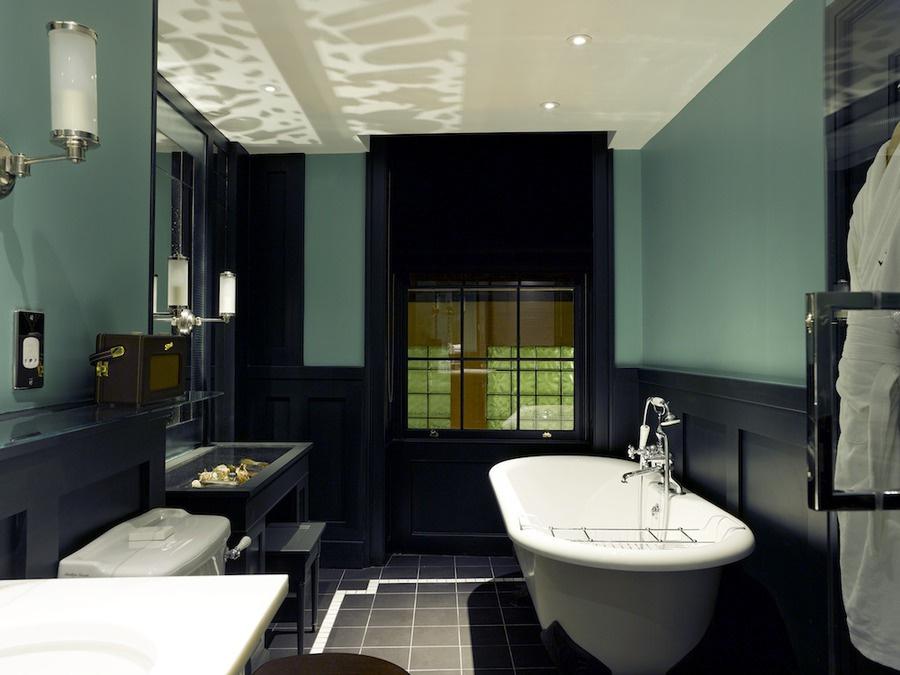 It's a stylish space, with antique furnishings and a richly inviting colour palette. The facilities are spot on: the bed is super-king size, there's a freestanding bath and you can set the mood through the SONOS sound system.
10. Newton Hall, Northumberland
Newton Hall is a country house wedding venue like no other - every space is so imaginative, from the enchanted chapel complete with waterfall to the terrace with retractable roof.
The bridal suite, Beadnell Bay, is as special as these celebration spaces.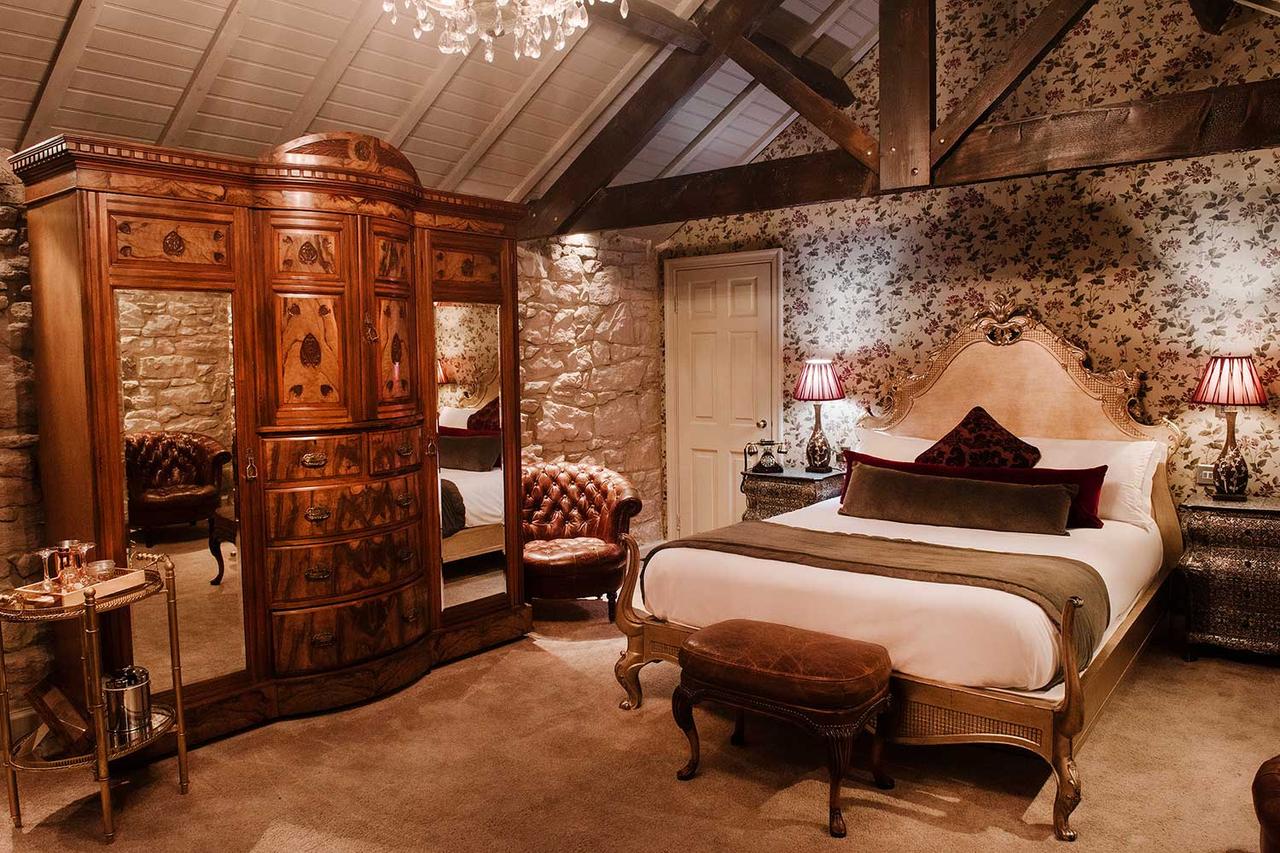 Exposed brick meets floral wallpaper meets wooden and leather furnishings - and somehow it all works, coming together to create a seductive vibe.
11. Wasing Park, Berkshire
If you're looking for a wedding venue with accommodation so all your guests can stay in style, Wasing Park should be on your must-view list.
This Berkshire wedding venue has gorgeous on-site options, from an idyllic farmhouse to a characterful former granary. And for the newlyweds? A honeymoon suite with a bed that can conservatively be described as vast.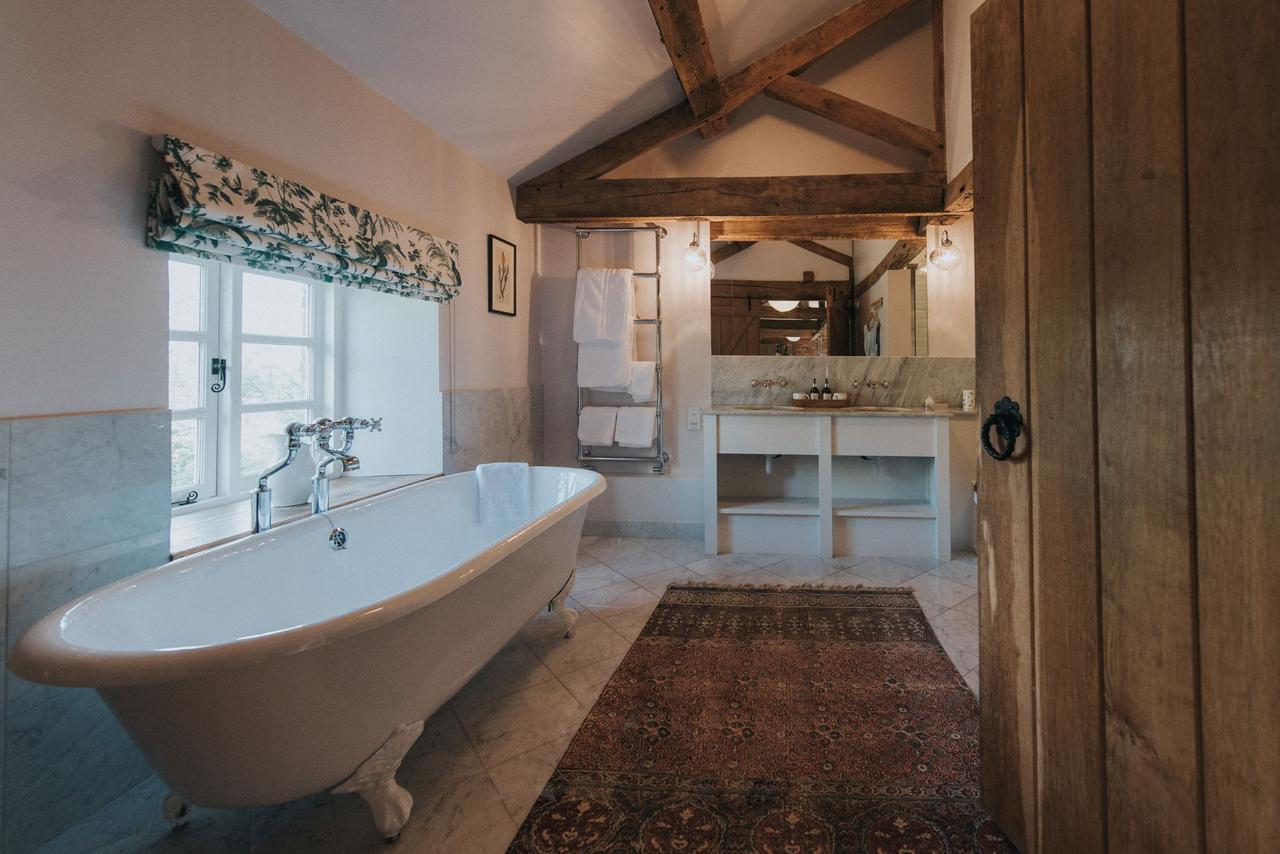 Located in what was once a hayloft, you'll have plenty of space - and privacy - for the wedding morning and the wedding night.
12.The Langham, London
There are some truly indulgent suites at luxury London hotel The Langham, but our favourite is The Terrace Suite - after all, outside space is a rarity in a London hotel bedroom!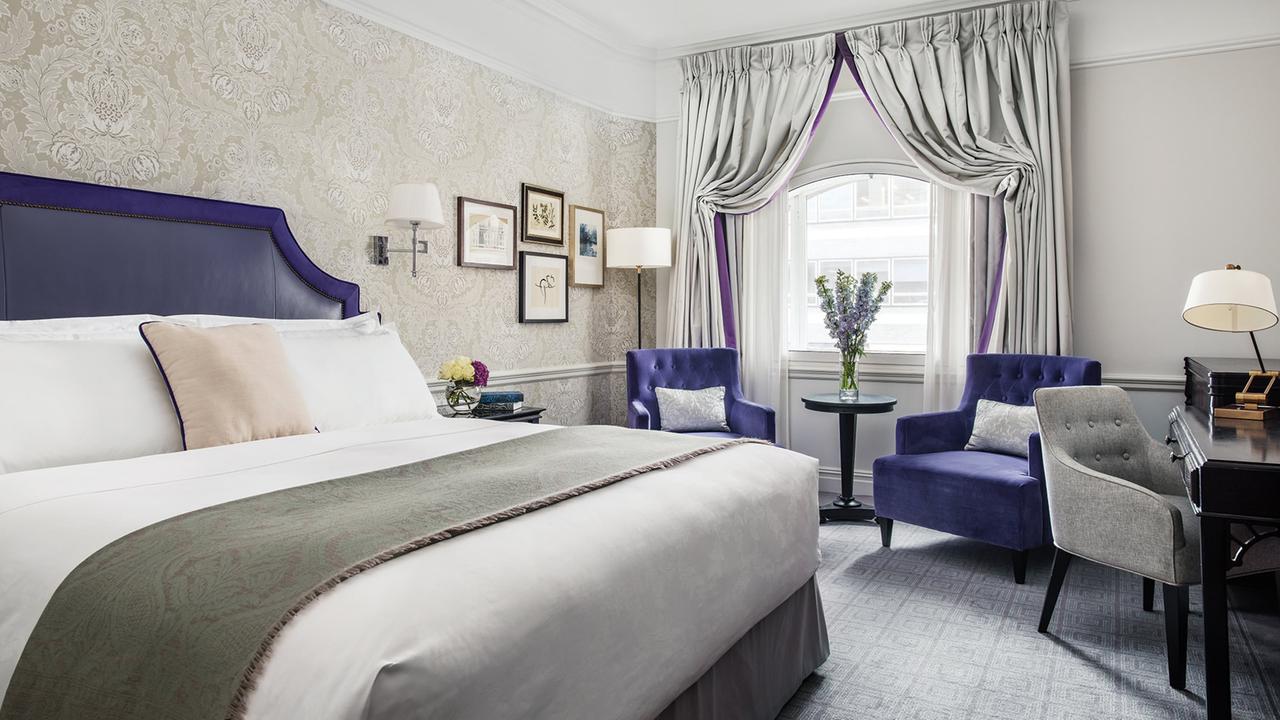 As well as a private terrace, the suite has a lounge and a kitchenette, making it a spacious option if you want to stay on for a mini moon after the wedding.
READ MORE: 21 Most Romantic Hotels in London for 2021
13. Combermere Abbey, Cheshire
If a bridal suite isn't enough for you, what about an entire wing? The honeymoon suite at Combermere Abbey occupies the north wing, and has its own private entrance.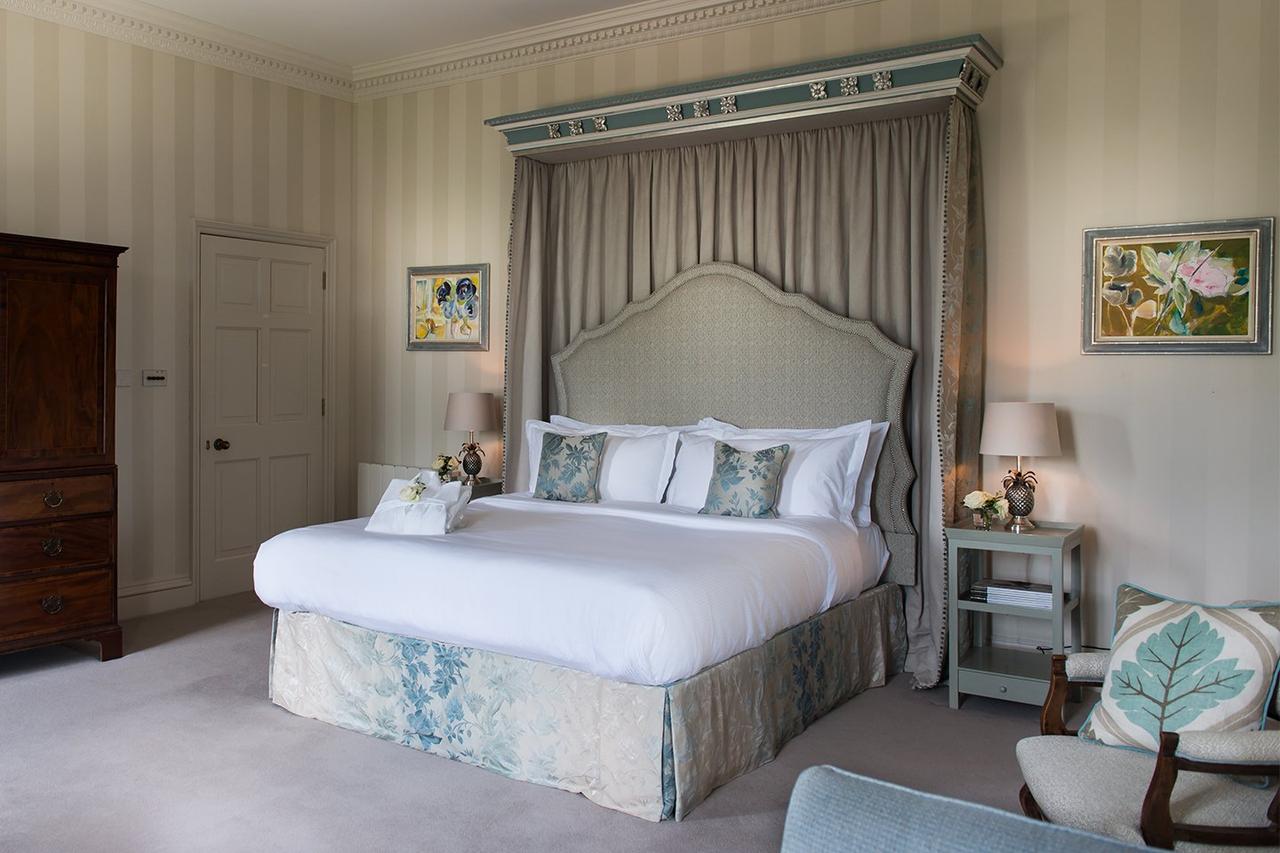 Inside, you'll find a bedroom with strokeable fabrics and a huge bathroom with country views.
You also get champagne on arrival and butler service - now that's a luxury bridal suite!
14. Shangri-La Hotel at the Shard, South East London
The stunning Shangri-La Hotel at the Shard soars above the London skyline, with incredible views at every turn.
Whether you marry here or at another London venue, after the festivities you can relax in a luxurious suite with that amazing panorama as the backdrop.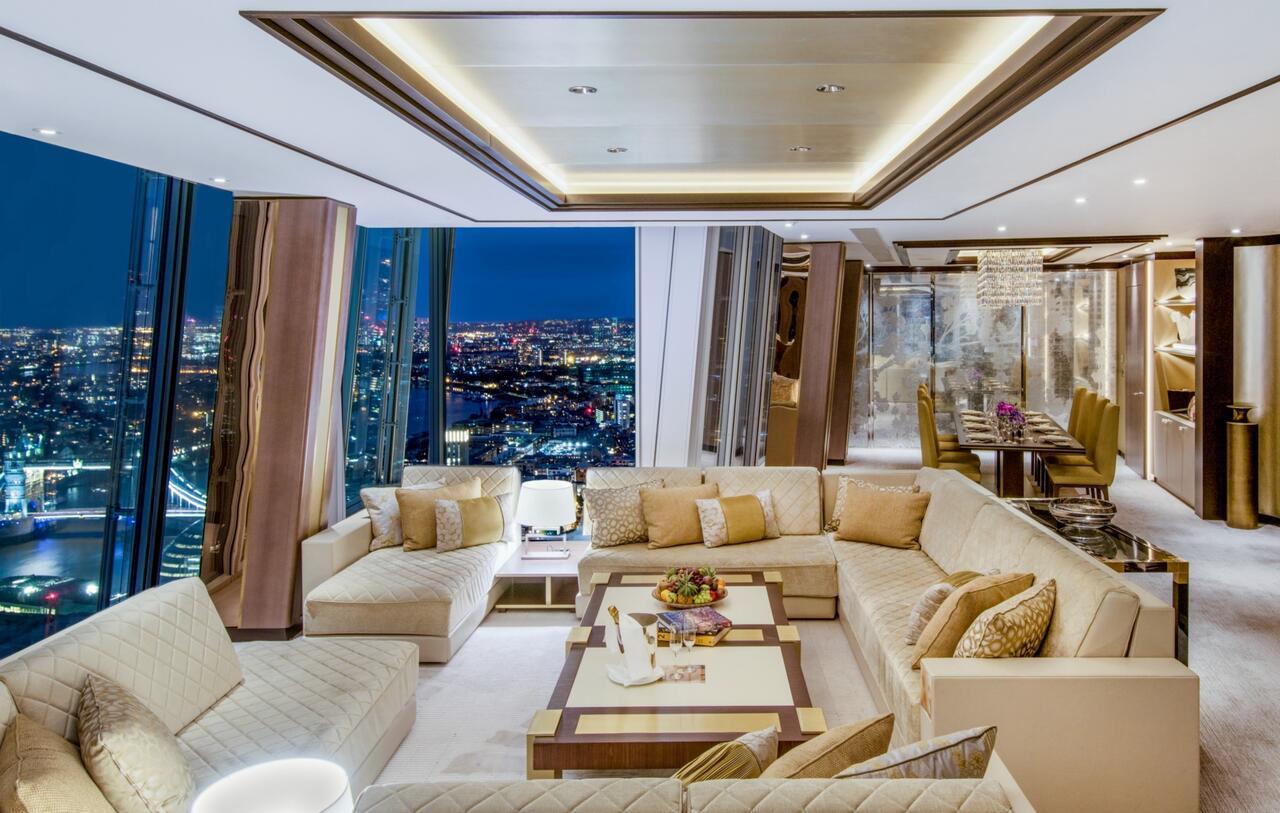 If you're looking to splash out, we suggest the signature Shangri-La Suite. From the 1,000 thread count bed linen to the super-king bed - not to mention that VIP-worthy living area - you'll never want to leave.
15. Iscoyd Park, Shropshire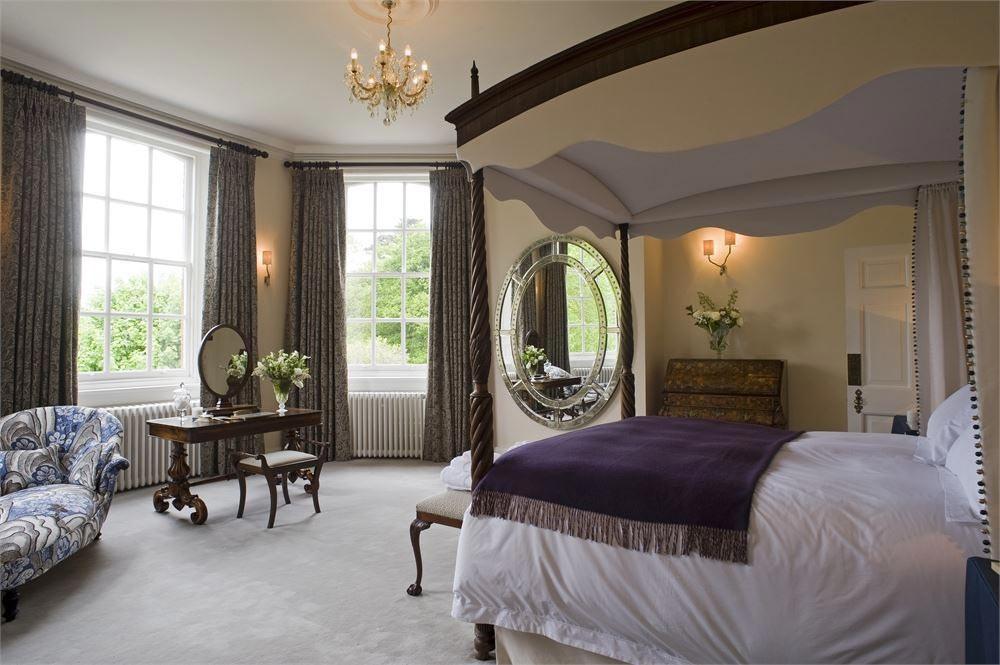 This Grade II-listed wedding venue is a picture-perfect setting for your wedding. You can hire Iscoyd Park for up to three days, meaning you could have a family BBQ the night before and brunch for your wedding party the day after.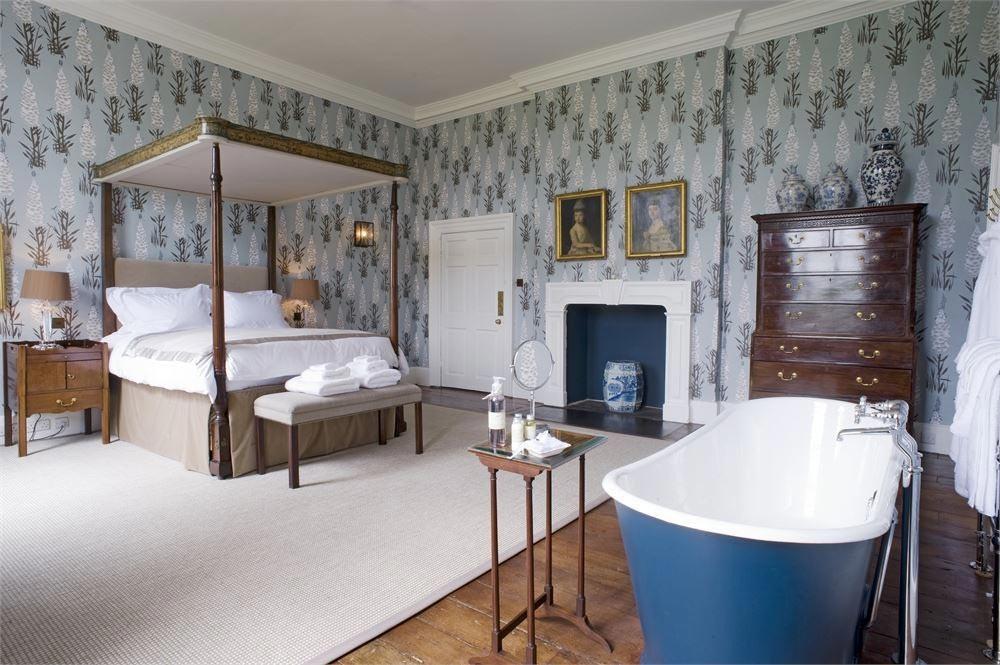 All of the bedrooms at this Shropshire wedding venue are stunning but we especially love the four poster bed and the vintage-style bath in The Park Room.
16. Clearwell Castle, Gloucestershire
Have you always dreamed about tying the knot in a castle? Clearwell Castle, which is set within the tranquil Forest of Dean, could be the one for you.
We love the grand exterior of the building - and the bridal suite certainly lives up to the regal first impression the venue gives.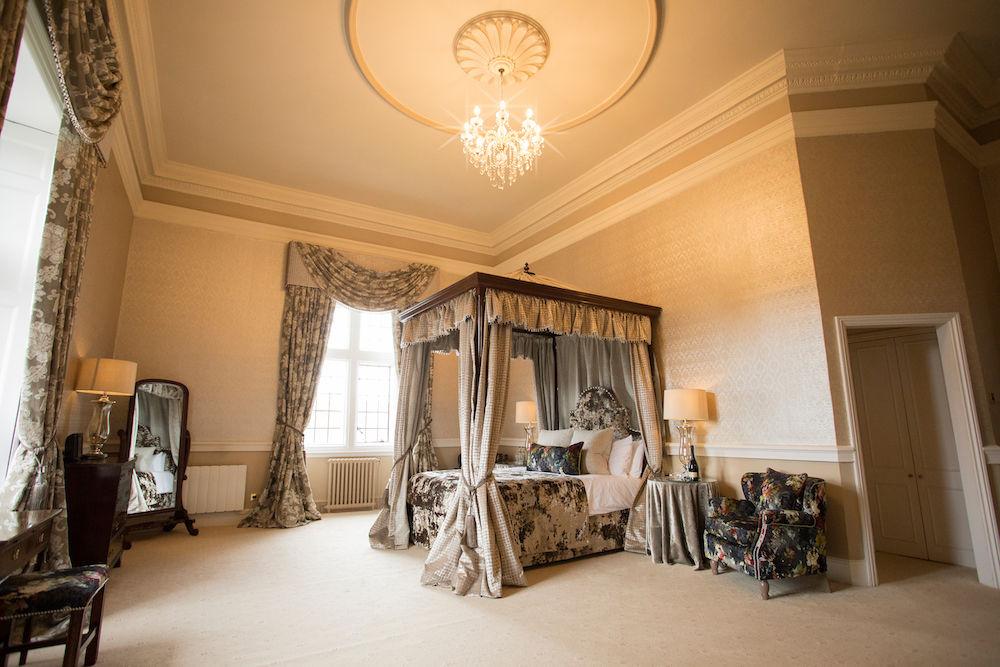 It has an elegance that's straight out of Bridgerton, with a swagged four-poster bed and beautiful furnishings.
READ MORE: The Ultimate Guide to Castle Wedding Venues: 34 of the Best
17. Stanbrook Abbey, Worcestershire
If you're looking for a large-capacity wedding venue, Stanbrook Abbey could be the one, as it can host up to 400 guests. There are two bridal suites to choose from.
The Manor House is beautifully decorated and is ideal for staying with your loved ones the night before the wedding – it has five bedrooms, a kitchen, a private garden and a dressing room.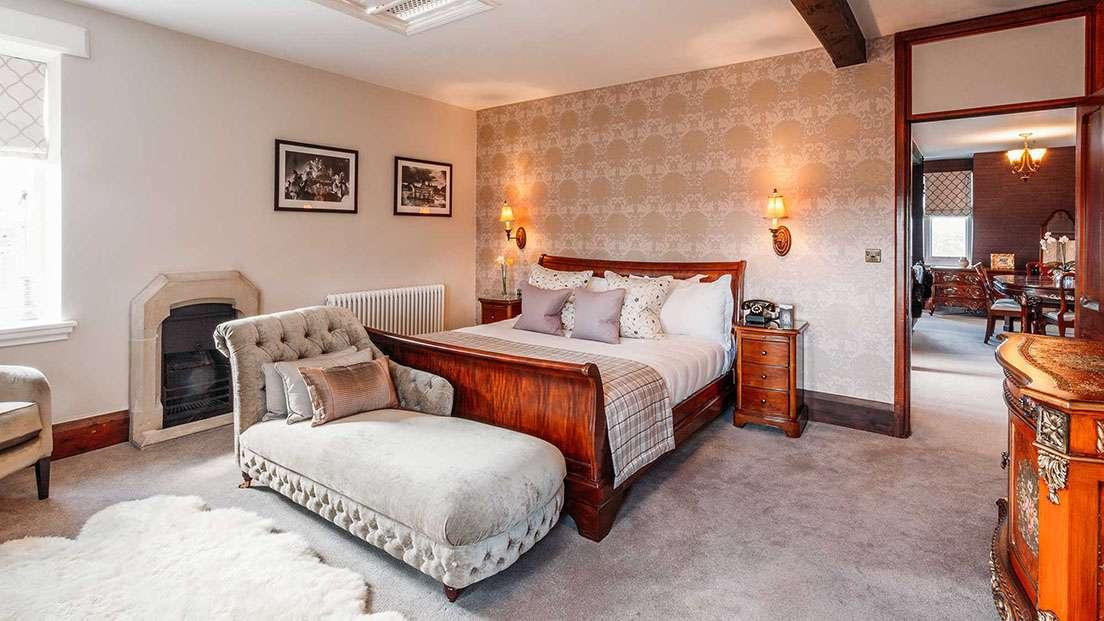 You could of course stay on in the Manor House for the wedding night. However, for more privacy, you could also move to the Master Suite, with bedroom, living room and private balcony.
18. Market Street Hotel, Edinburgh
Couples searching for the perfect Scottish wedding venue are spoilt for choice in vibrant Edinburgh. The same goes for choosing your first-night suite.
If your style is on the sleek and contemporary side, check out Market Street Hotel. It's a hymn to fine design in building form.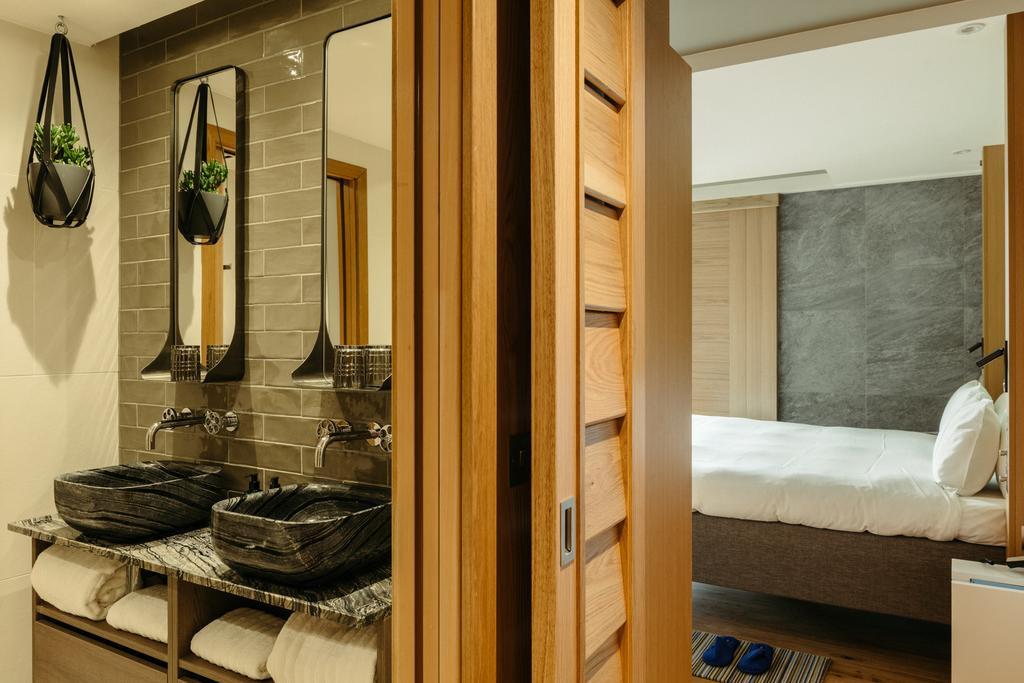 All of the bedrooms are stylish and inviting. For a special treat, try the Alba Suite, which is full of contemporary comforts, from Apple TV to GHD hair straighteners.
You'll even find binoculars and a telescope for exploring the fabulous view over the city from your private terrace.
19. Marleybrook House, Kent
Marleybrook House is a storybook-pretty venue, with beautiful gardens and an enchanting thatched house.
It's also a great place for a wedding with a difference, offering fairground attractions, street food and a starlit dance floor.
The bridal suite is pretty special, too.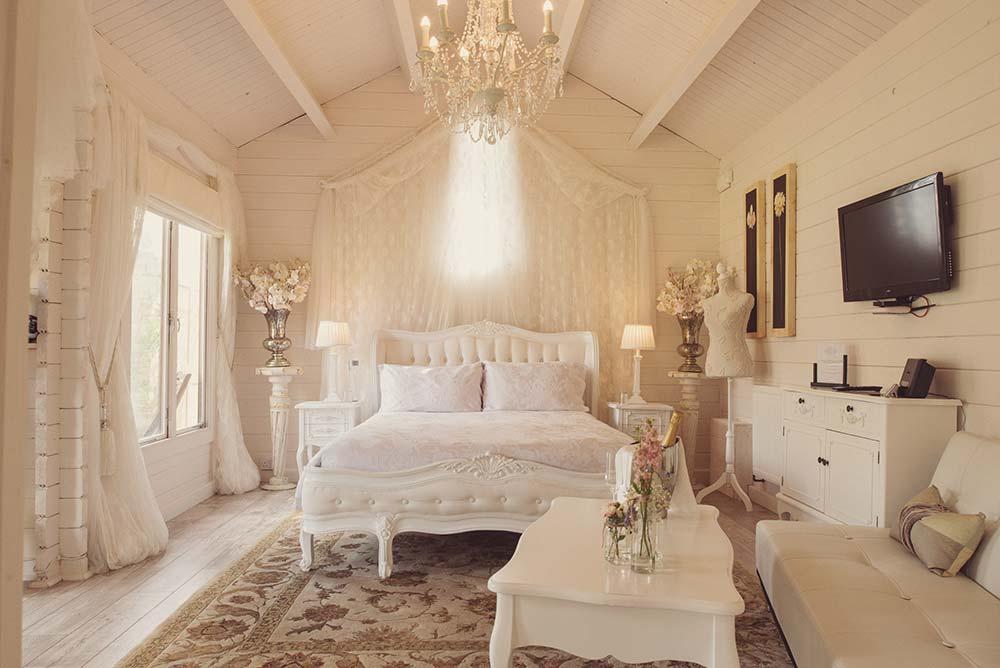 The white-painted wood panels give the space a light and airy feel, while luxurious rugs and a chandelier add a note of glamour.
The best bit? There's a hot tub on the terrace!
20. Fennes, Braintree
Country house Fennes is an idyllic spot for an elegant wedding. Whether you choose to hold your celebration in a marquee in the glorious grounds or in the chandelier-lit pavilion, once the festivities are over you have another treat awaiting you: the honeymoon cottage.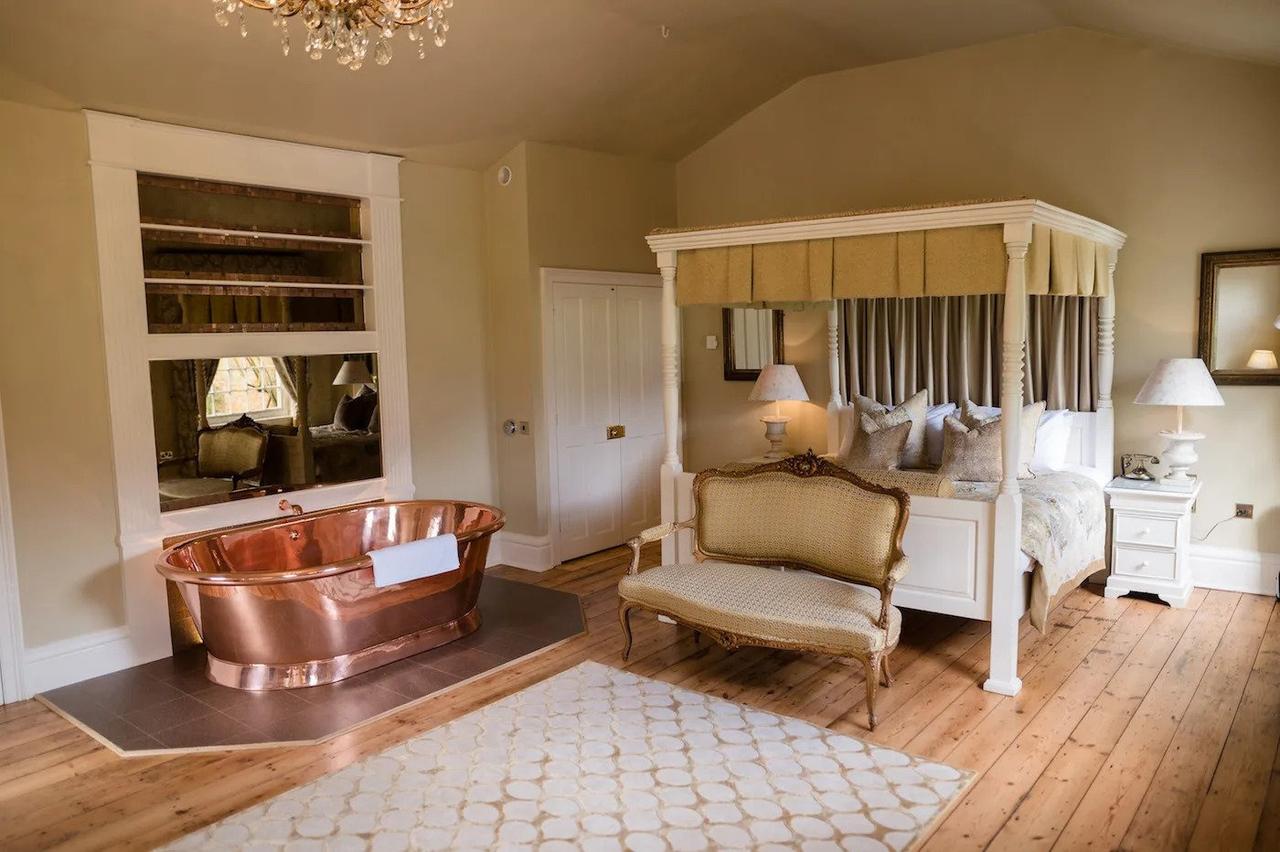 It's seriously stunning - just imagine waking up in that amazing four-poster. You don't have to get married here to enjoy the bridal suite, however, as it can be booked separately.
READ MORE: The UK's Most Impressive Country House Wedding Venues
21. Elmore Court, Gloucestershire
Elmore Court has such beautiful accommodation that you may find it difficult to decide which to use as the bridal suite.
Our suggestion: the Master Suite for space and character - not only can you easily roam around the main room, but there's also a private dressing room. The 8ft-wide bed is most indulgent.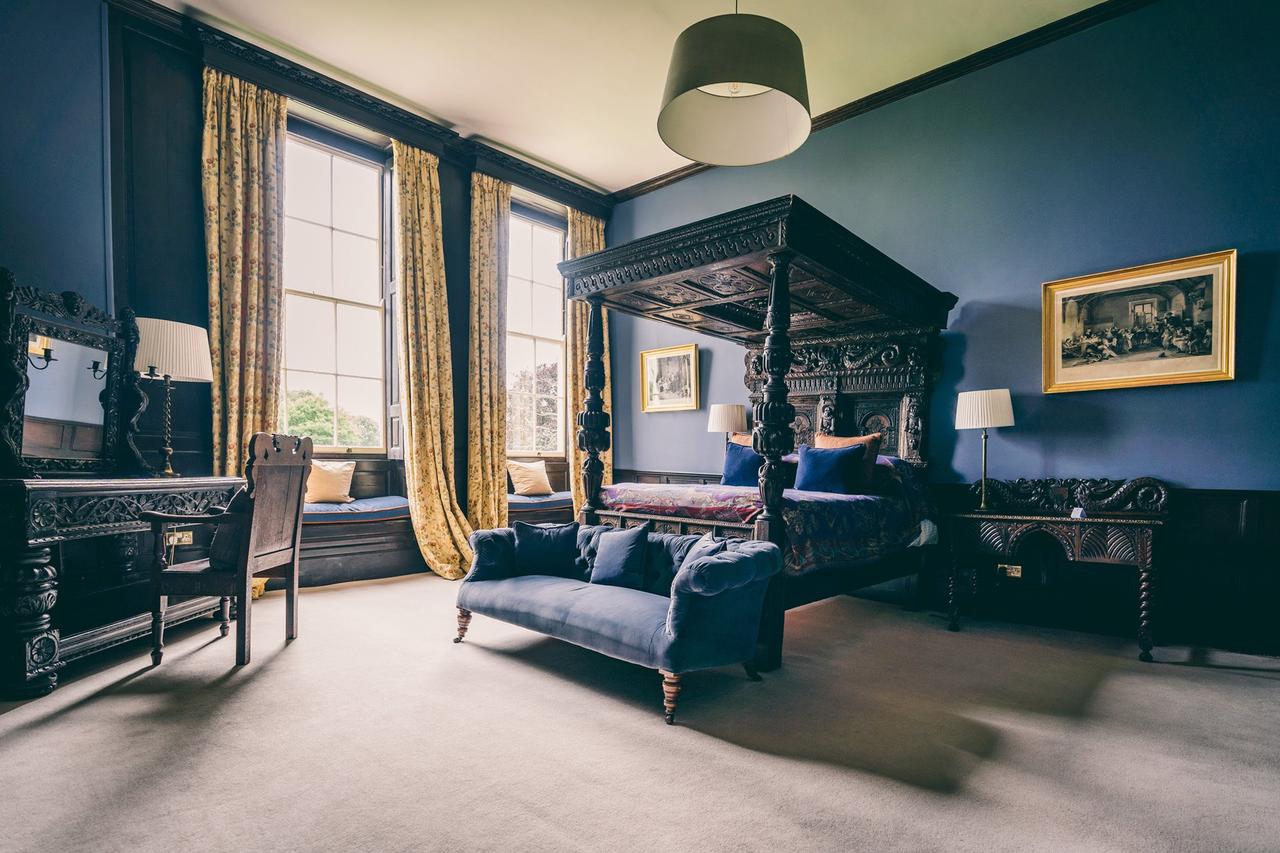 For something smaller but packed with personality, check out the Oak Room, which has a bed that dates back to the seventeenth century.
22. Kippilaw House, Lothian and Borders
Kippilaw House is a very special mansion within easy reach of Edinburgh that manages the tricky balancing act between grand and welcoming. The Napier Suite is a case in point.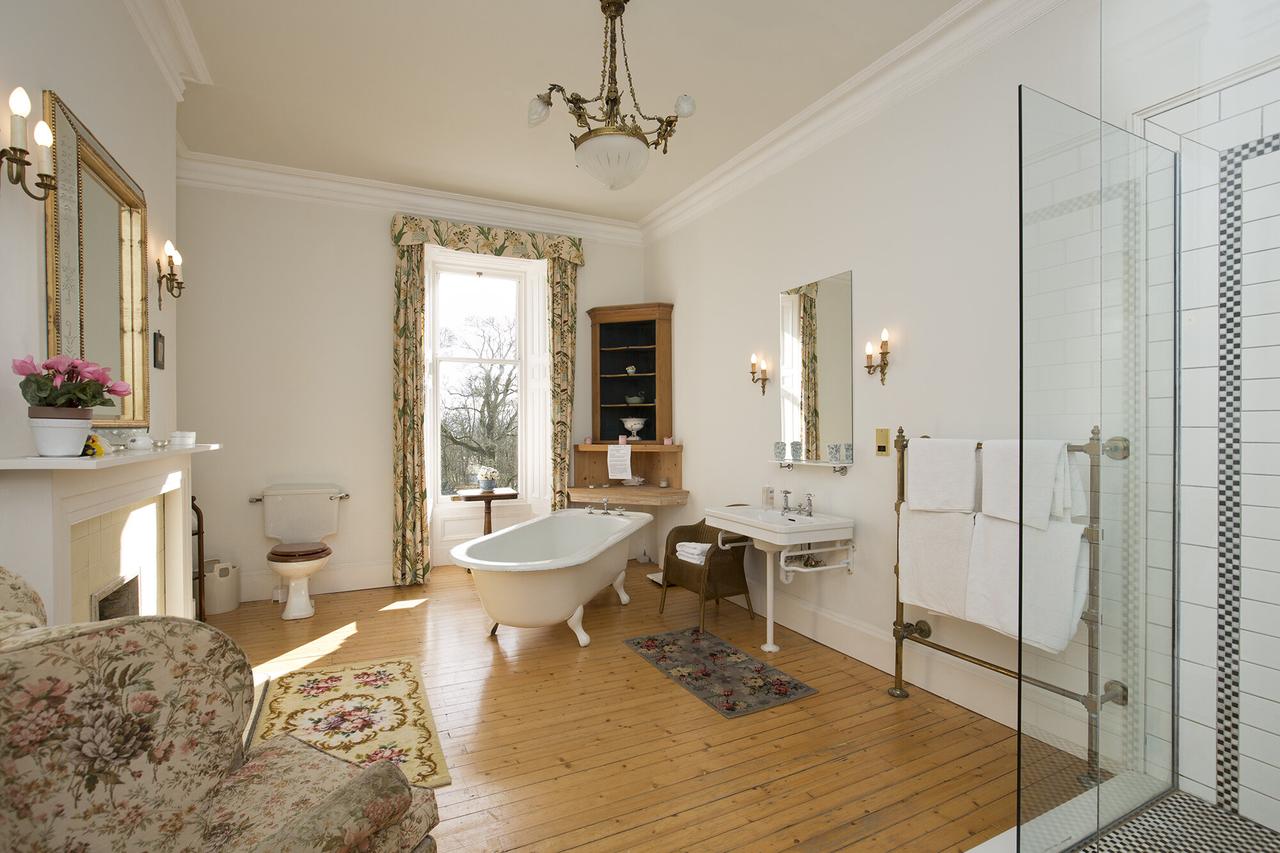 Undeniably regal, it still feels inviting rather than intimidating - we just love the book-lined bedroom and the wooden floor of the spacious bathroom.
23. Gileston Manor, Vale of Glamorgan
You'll find some gorgeous accommodation at Grade II-listed Gileston Manor - and the bridal suite is particularly pleasing. The Apple Store is beautifully decorated, and has a bathroom on a mezzanine floor, plus kitchen, dining and seating area.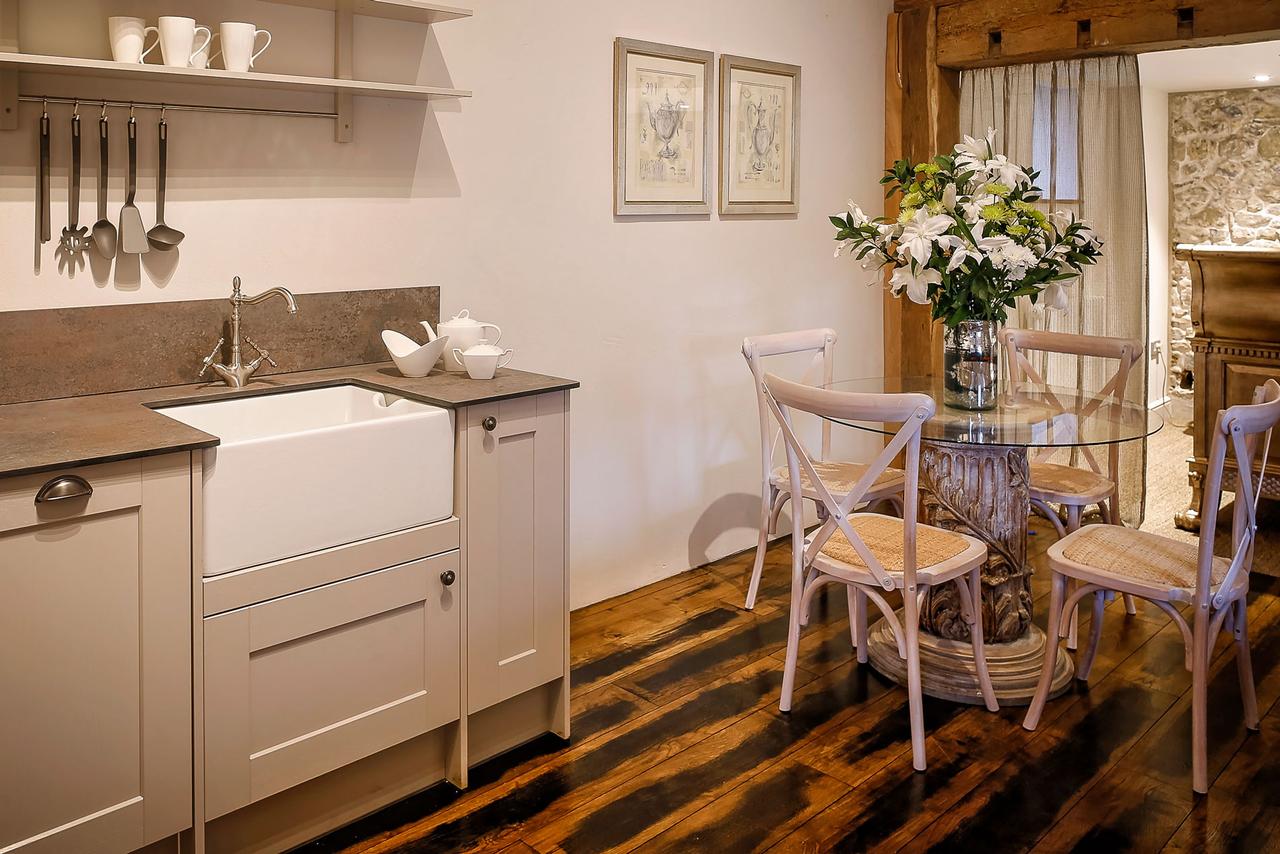 It's ideal if you want to stay on after the wedding for a mini moon. The Coach House next door sleeps six, and could house your wedding party for the night before.
Can't get enough of beautiful bedrooms? Check out the world's best honeymoon suites.