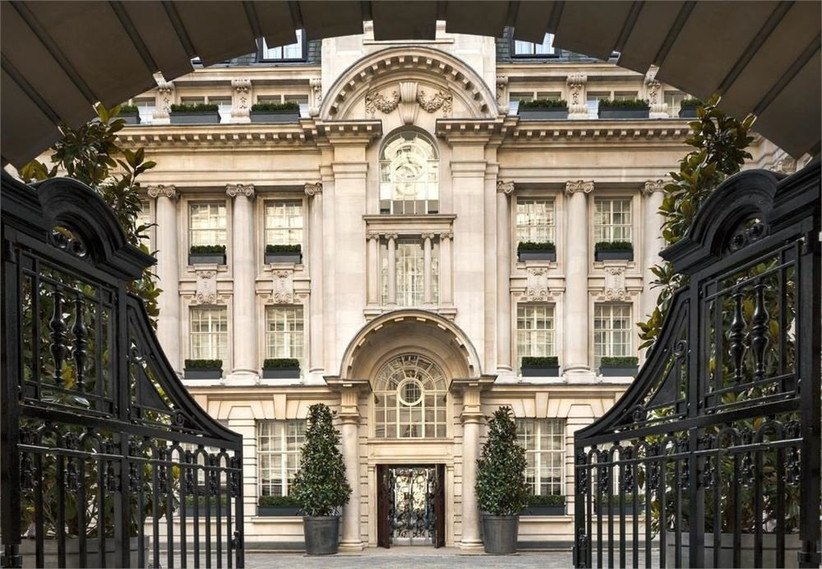 When it comes to choosing a wedding venue, there are many things to consider. Firstly, you need to decide on the style of wedding you'd like to have as your wedding venue will need to complement your chosen theme.
Next, you need to think about the practicalities of the venue: does it have enough space for your guest list and does it have accommodation for guests travelling from afar? If the latter is an absolute must, you might want to consider wedding venues with accommodation, like a hotel.
Hotel wedding venues take the stress out of arranging evening transport and make things super easy for guests travelling to your wedding. They're not just convenient though; hotel venues are also glamorous, stylish and seriously impressive – and nowhere does amazing hotels quite like London.
To find your dream hotel wedding venue in London, read on for our pick of the very best.
1. The Town Hall Hotel – Cambridge Heath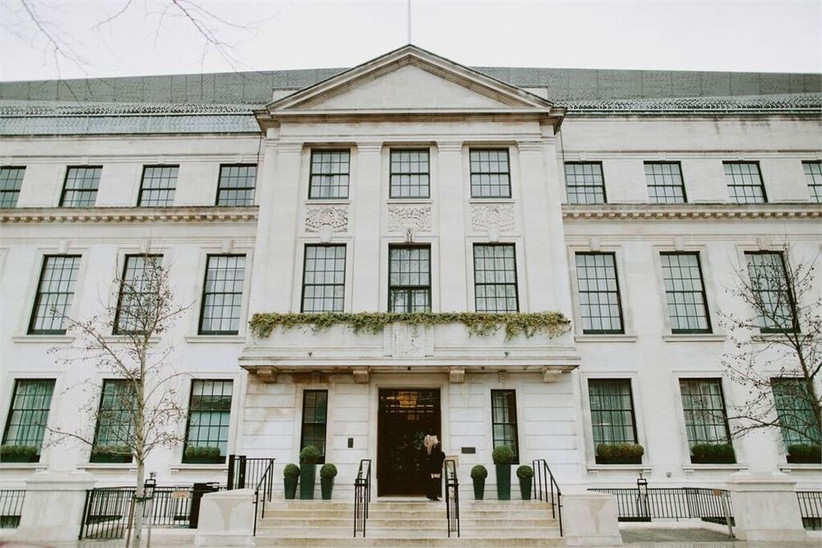 The Town Hall Hotel has a cosy, homely feel that guests will warm to instantly. The wood panelled rooms and Art Deco touches have been lovingly restored to create a decidedly vintage vibe that doesn't feel dated. Small, intimate weddings feel just as at home here as large affairs involving up to 120 dining guests.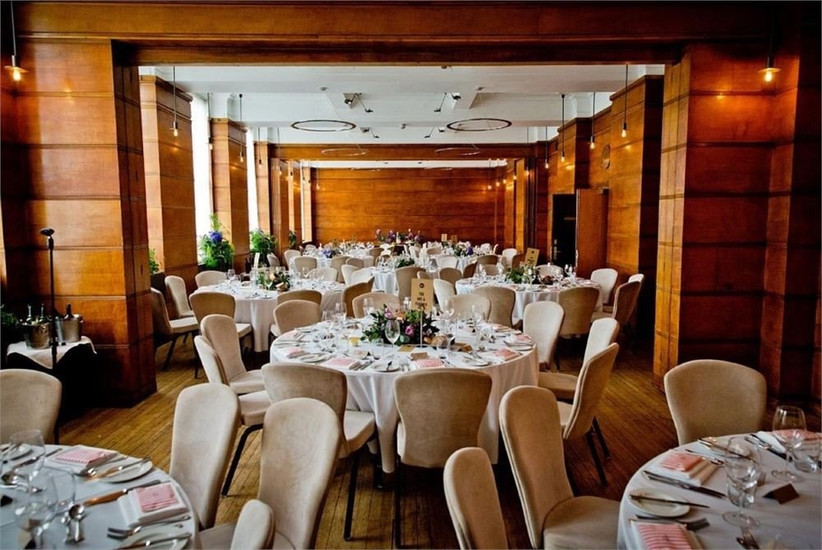 A dedicated wedding planner will be on-hand to guide you through the planning process at The Town Hall Hotel, from first visits to on-the-day coordination and even an anniversary visit! The focus here is on having fun, so the team are happy to help make sure that's exactly what you do on your big day.
The rooms combine traditional features with modern touches such as free-standing baths and glass platforms, making this hotel a unique place to stay as well as say 'I do'.
2. The Ned – Bank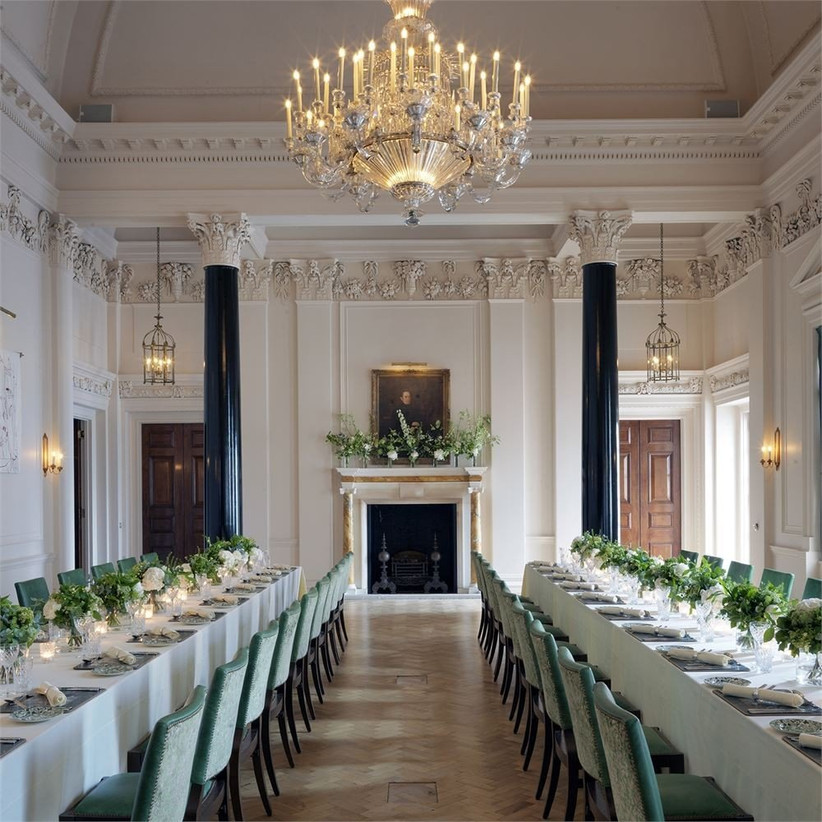 London's Soho House and New York's Sydell Group joined forces to create some of the city's most opulent venues, the most impressive being The Ned. Set in the iconic former Midland Bank building, this stylish hotel holds onto its original 1920s heritage while introducing the very best the 21st century has to offer in the form of a world-class spa and unbeatable dining experiences.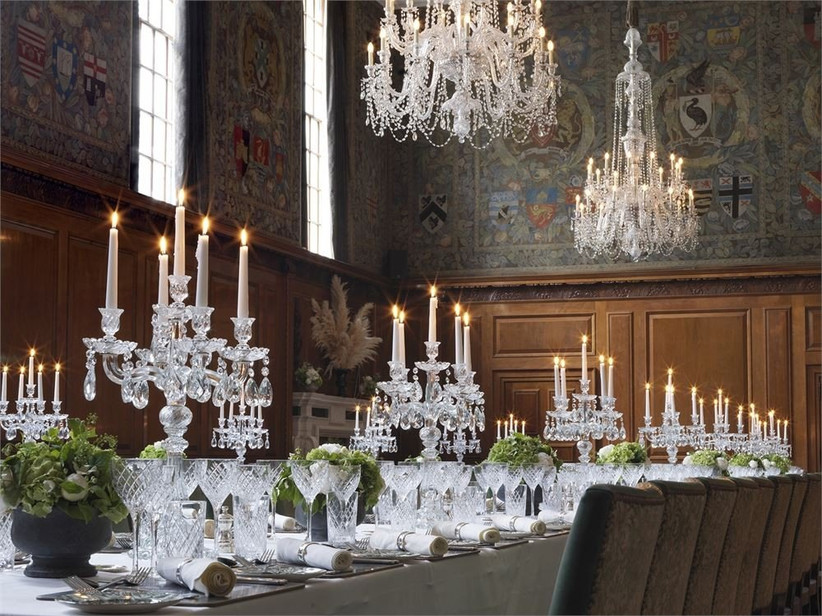 A wedding here is guaranteed to impress even the most discerning guests thanks to the six magnificent private-hire rooms and terraces ranging in size to suit weddings of 10 to 200 guests. Food at The Ned spans the globe and offers couples the chance to get creative with their menus. Dishes created in the restaurants originate anywhere from Britain to Italy and North America to Asia.
The 252 rooms at The Ned channel 1920s style and feature chandeliers, rich textures and patterned furniture. Each room also benefits from a rainforest shower and access to the exclusive Ned's Club Spa.
3. South Place Hotel – Finsbury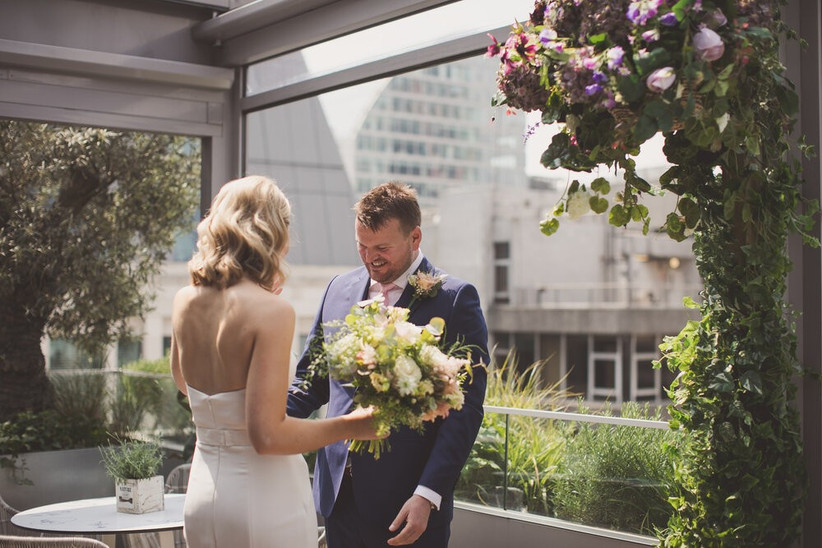 Whether your style is modern or traditional, South Place Hotel can make it work. The contemporary hotel's ceremony and reception rooms have a neutral colour palette, meaning couples can transform the rooms to suit their own themes, especially with the help of the state-of-the-art mood lighting.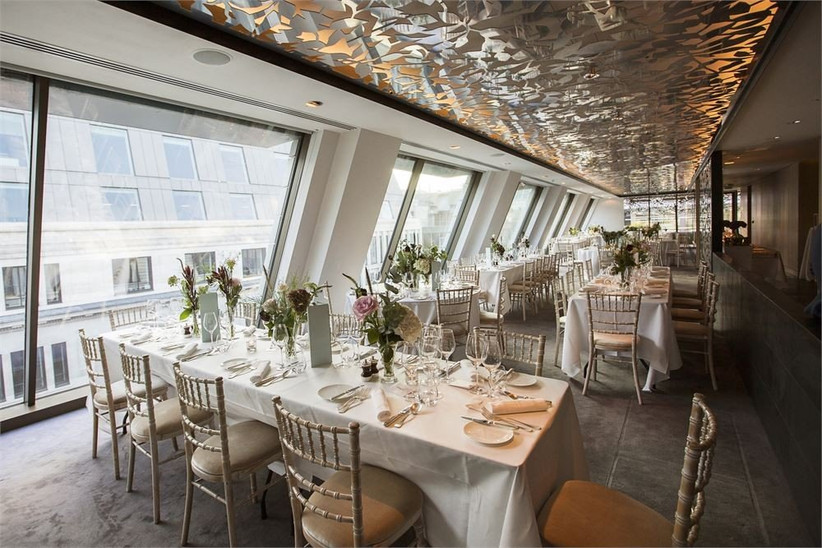 The venue may be situated close to the excellent transport links of Liverpool Street Station but it also offers plenty of outdoor space. It's perfect for couples looking to enjoy an al fresco drinks reception while still enjoying the benefits of a chic city hotel. The hotel is happy to host intimate weddings of fewer than 30 guests or celebrations with up to 200 standing guests in attendance.
Accommodation here comes in the form of dazzlingly modern and stylish bedrooms for single guests to families, and spa facilities are available onsite if any guests wish to indulge in a little pre or post-wedding pampering. Bliss.
4. The Berkeley – Knightsbridge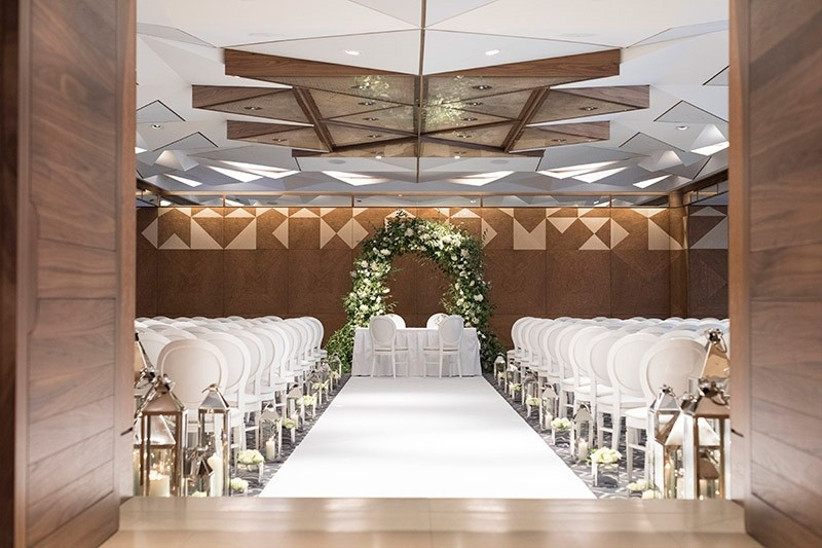 Located in beautiful Belgravia and within walking distance of Hyde Park – the perfect wedding photo spot – is The Berkeley. Situated in one of London's most well-connected areas, this hotel has the very best florists, musicians and stylists right at its fingertips and a wedding day here is guaranteed to be memorable for all the right reasons.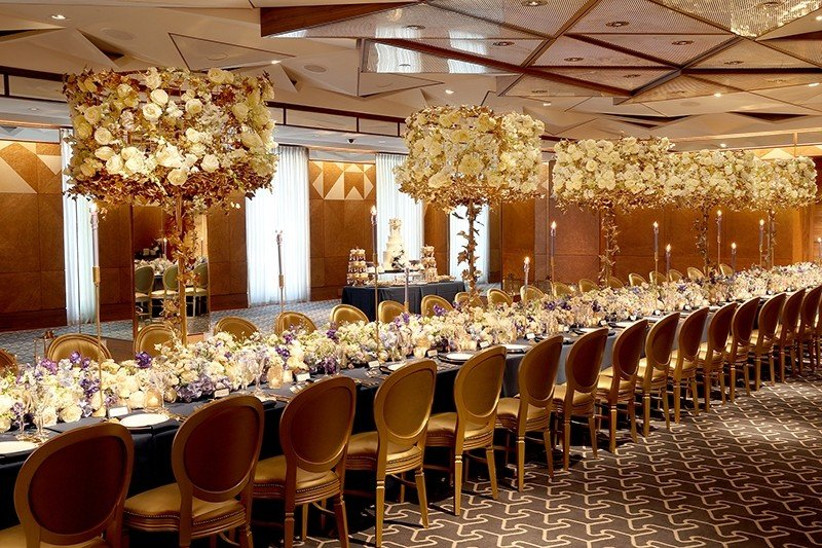 The Berkeley offers the Wilton Room for more intimate weddings and the Ballroom for larger parties. Food is very much a key focus here and the catering team are keen to work with you to create your dream wedding food, whether that be bowl food on the terrace or a five-course formal meal.
The Berkeley's rooms and suites are minimalist and modern with a generous dose of luxury, thanks to the marble bathrooms and individually selected artworks adorning the walls. Suites come with champagne and fresh flowers on arrival – a must for all newlyweds, we think!
5. Sofitel London St James – St James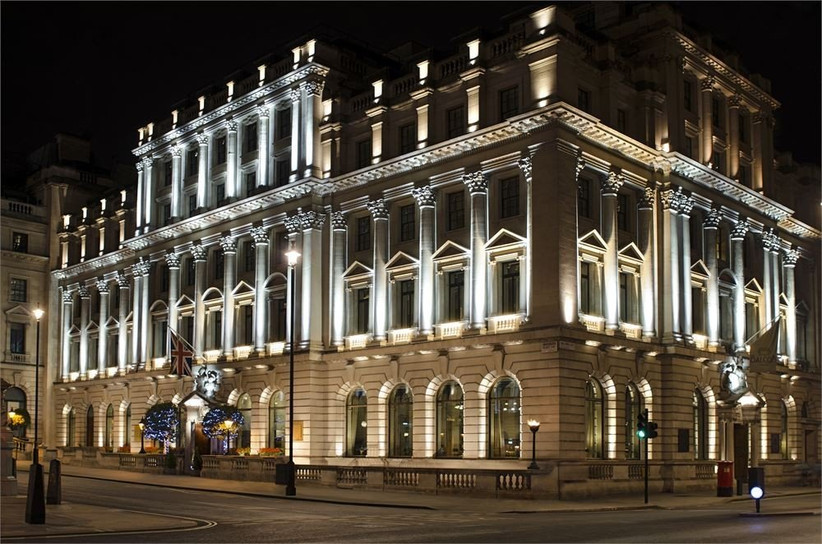 Situated near to lively Piccadilly Circus, Sofitel St James is an impressive and imposing London hotel wedding venue. Combining French modernism and British elegance, Sofitel is unique in its style and level of sophistication. So, if you fancy a little of that je ne sais quoi from our friends across the channel, this is the place for you.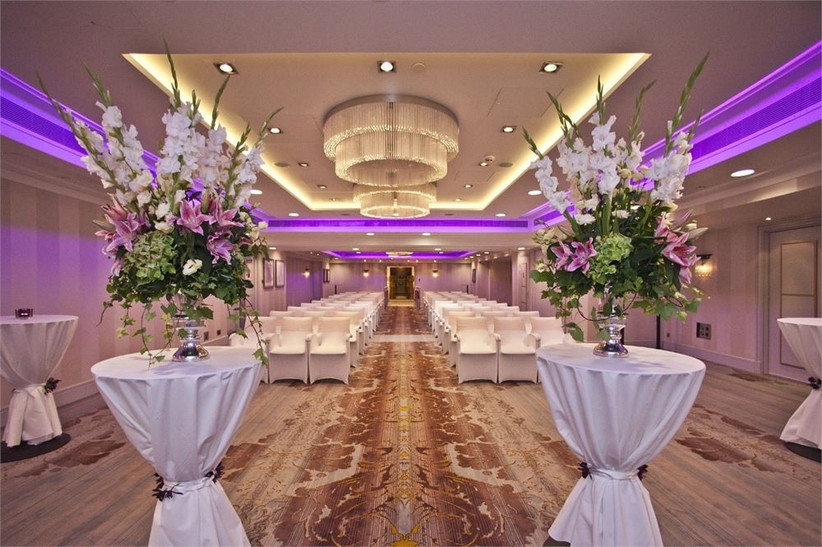 The wedding team at Sofitel St James will be on-hand to help with every detail, from on-the-day stationery to an LED dance floor and a wedding band, making planning your celebration here straightforward and stress-free.
Modern minimalism meets bold colour in the rooms and suites of the Sofitel St James. From rich greens to electric blues, guests will love the artistic take on hotel accommodation – the Hermès toiletries and fluffy bathrobes are sure to be a hit too!
6. Ham Yard Hotel – Soho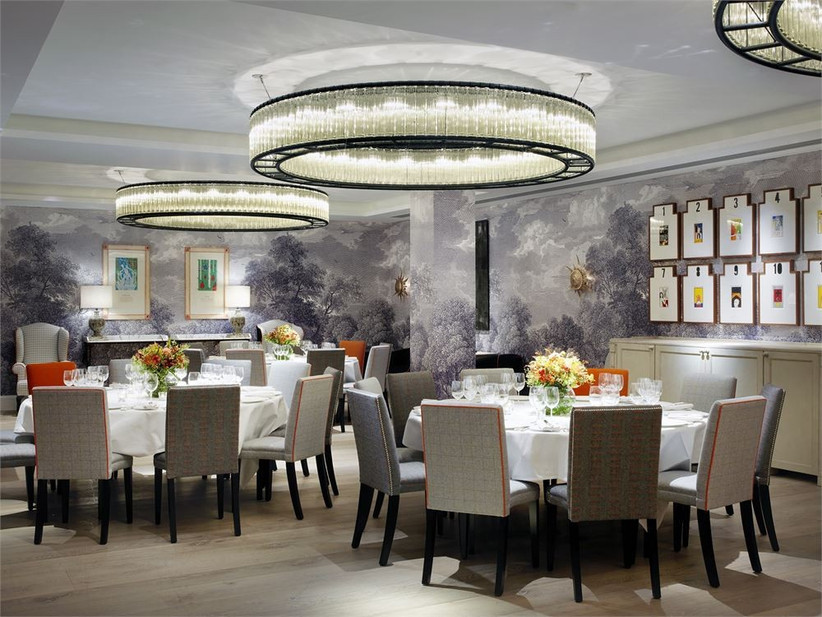 Nestled in the heart of vibrant Soho, the Ham Yard Hotel's quirky décor and fairylight-filled courtyard fit right in among the exciting theatre shows and nightlife that surround it. The urban hotel hosts weddings for between 24 and 300 guests and there's a vast array of spaces on offer, including a roof terrace and a 1950s-style bowling alley!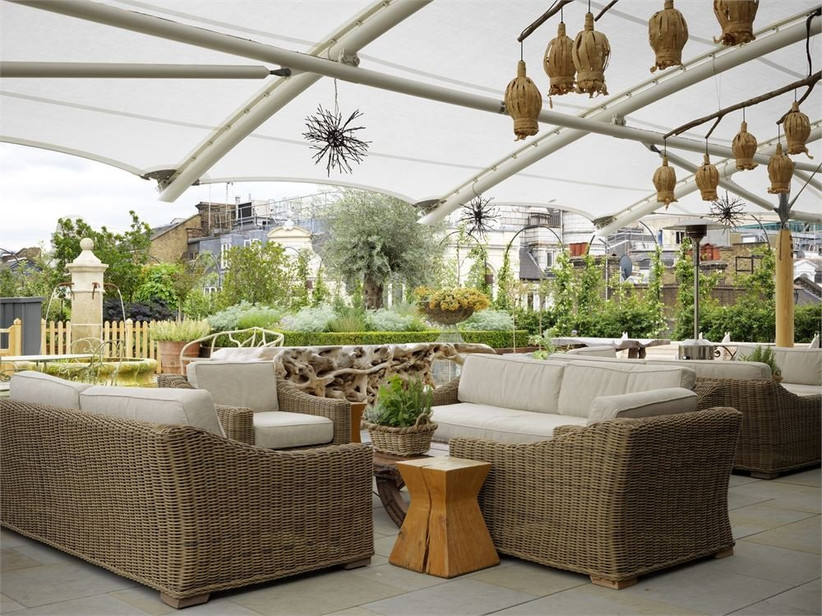 With plenty of entertainment within the hotel and on the doorstep, Ham Yard Hotel is a great choice if you fancy extending celebrations over a weekend and really making the most of having all of your loved ones in the city.
The hotel has 91 rooms and suites, each individually designed to incorporate plenty of colour, pattern and artwork. From rooms to suites and even apartments, there's a space for every guest here.
READ MORE: The 30 Most Unusual Wedding Venues in London
7. Corinthia Hotel London – Westminster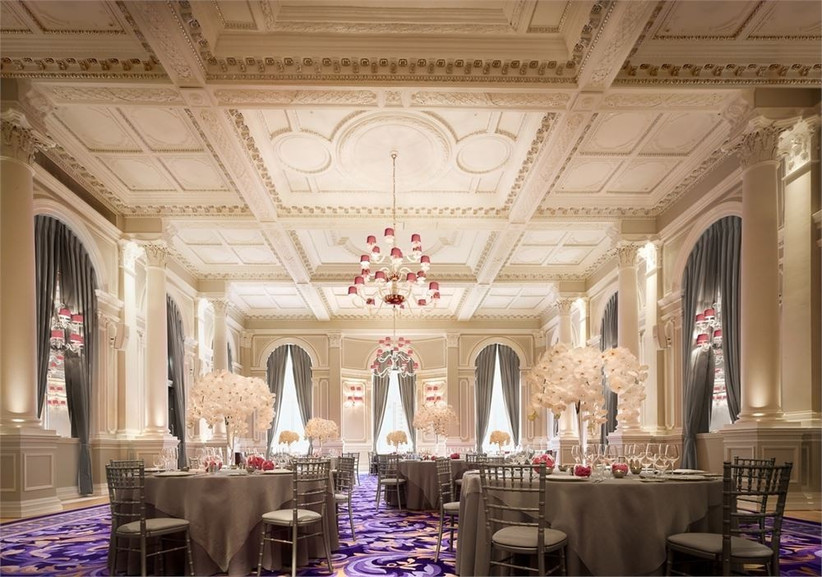 Corinthia Hotel London combines the grandeur of one of London's iconic buildings with the modern sophistication the Corinthia brand is so well-known for. The hotel is situated in the cultural heart of the capital and faces onto the Thames, making it a magnificent, impressive backdrop for a wedding celebration.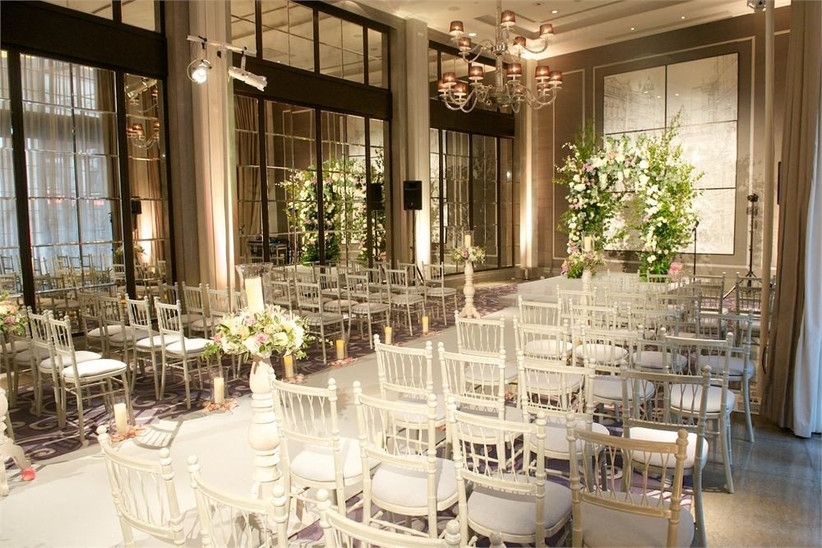 The Corinthia is licensed for civil wedding and partnership ceremonies and can host intimate weddings as well as large parties of up 250 guests. However big your wedding, the team at Corinthia will use their close attention to detail and ensure the very best for every couple.
This hotel has 294 rooms and suites, making it one of the largest on our list. Rooms are classically stylish and feature bathtubs as well as walk-in showers, king size beds, fluffy robes and even child-size robes in the family suite!
8. The Langham Hotel – Marylebone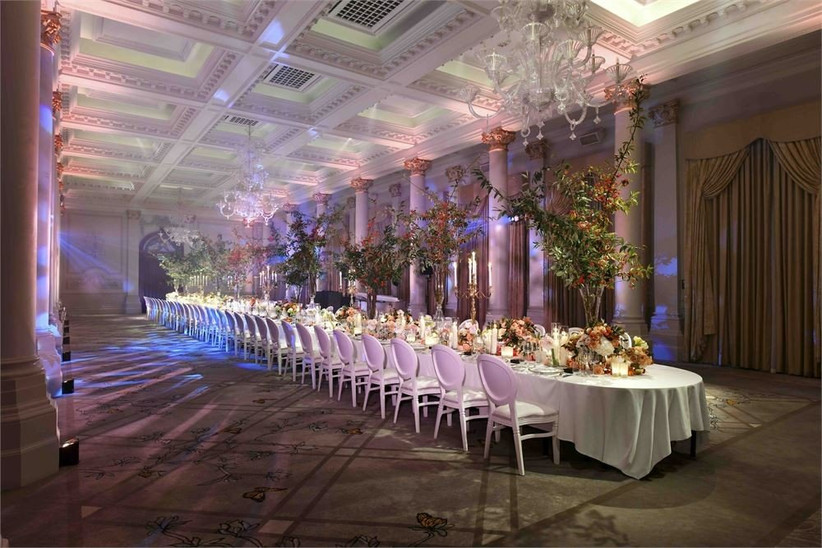 Built in 1865, The Langham has enjoyed a rich history as the go-to venue for members of high society. Its reputation as a party and occasion venue means that it's a natural wedding choice and the dedicated team, including an individual wedding specialist just for you, make planning a big day here effortless.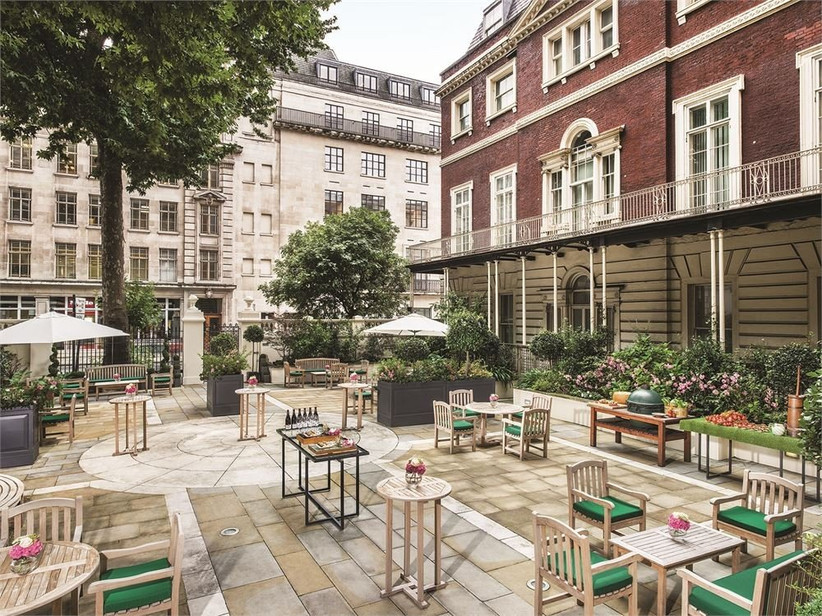 The Grand Ballroom, with capacity for up to 220 guests, is the main function space at The Langham and hire of the space includes use of the courtyard and a pre-ceremony area. For more intimate weddings the hotel has a range of luxurious rooms and suites for couples to choose from.
The Langham aims to give hotel guests the quintessential London experience and its rooms certainly deliver. Finished with charming, period details but featuring discreet modern must-haves, this hotel combines the very best of tradition and innovation.
9. The Soho Hotel – Soho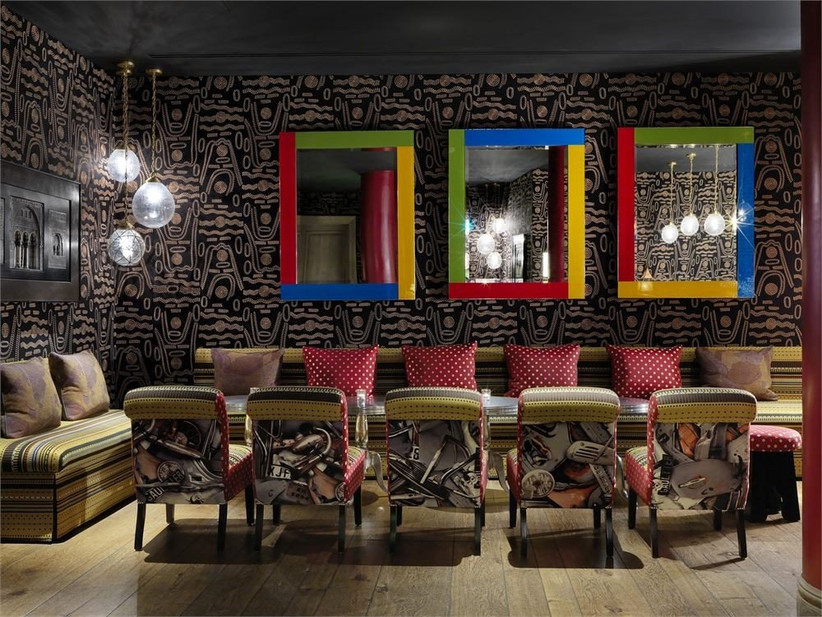 If you're looking for a hotel with quirky charm and artistic flair, look no further than The Soho Hotel. Surrounded by the city's art, entertainment and cultural influences, the hotel is the perfect spot for creative couples looking to host a modern wedding.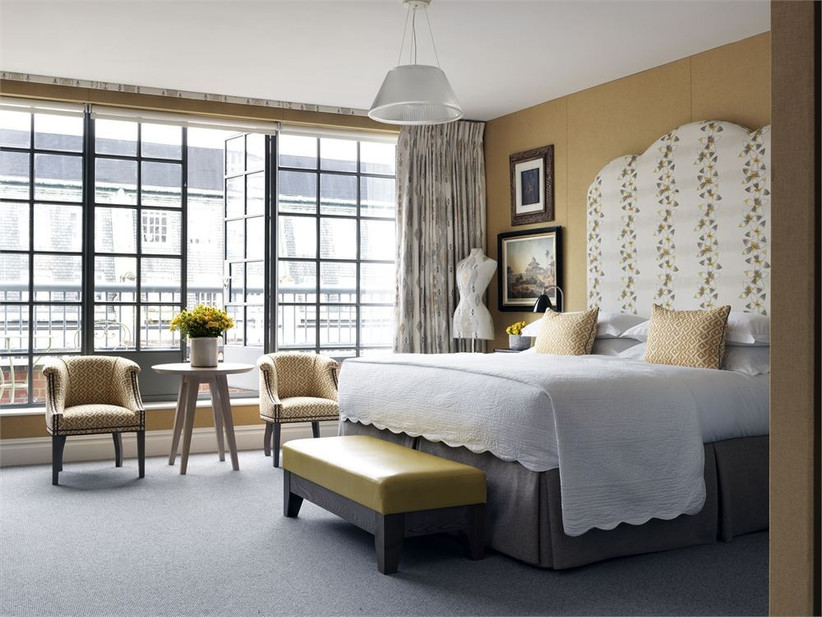 This hotel is happy to accommodate anywhere between 10 and 300 guests, so smaller parties can still enjoy the lively surroundings of this central London gem. The event spaces can be used in isolation or combined to create a larger, more flexible area and screening rooms are also available to use for speeches.
There are 91 rooms at The Soho Hotel, each individually designed by acclaimed interior designer, Kit Kemp. Think patterned statement headboards, splashes of bold colour and interesting works of art and you've got the vibe here.
10. The Clarendon – Blackheath Village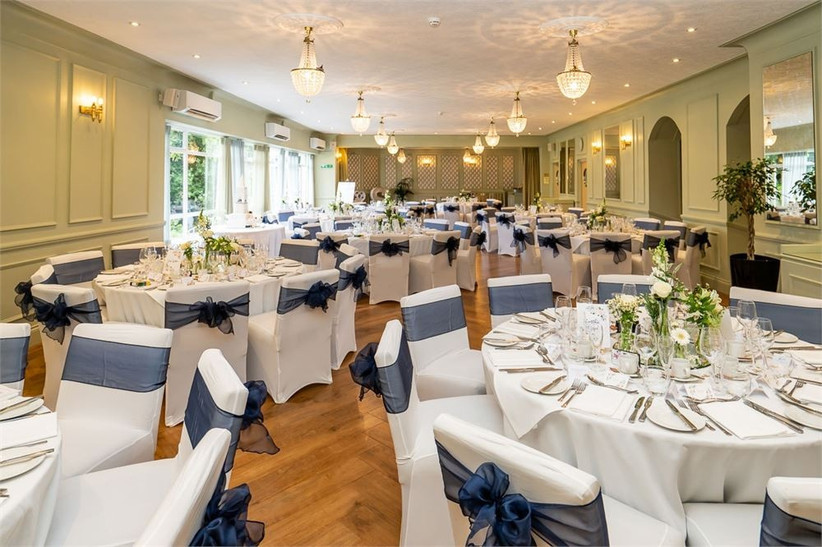 Sitting in the heart of Blackheath Village with views of Royal Greenwich Park, The Clarendon is a London hotel wedding venue with a country feel. The venue is just as happy hosting large, lavish weddings of up to 150 guests as it is helping to pull together an intimate dinner party for close friends and family only.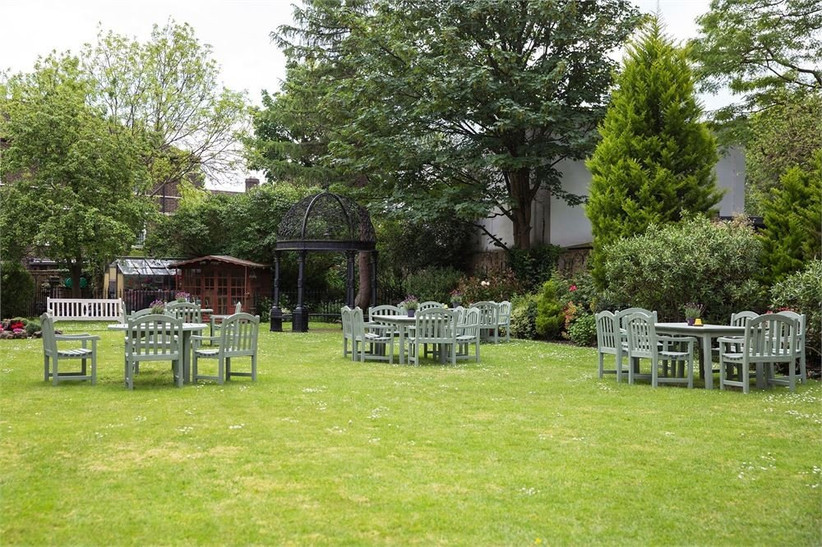 This venue manages to be both grand and welcoming, giving couples the chance to host an informal celebration in impressive surroundings. With wines specially selected by a renowned wine connoisseur and gins curated by the manager with the help of several local distilleries, as well as a focus on exciting, seasonal dishes, the catering here is also first class.
Simply elegant, the rooms at The Clarendon are offered at a discounted rate to wedding guests and, as an added bonus, the happy couple and their guests are also welcome to bring their dogs along for their stay!
11. Hilton London Tower Bridge – Southwark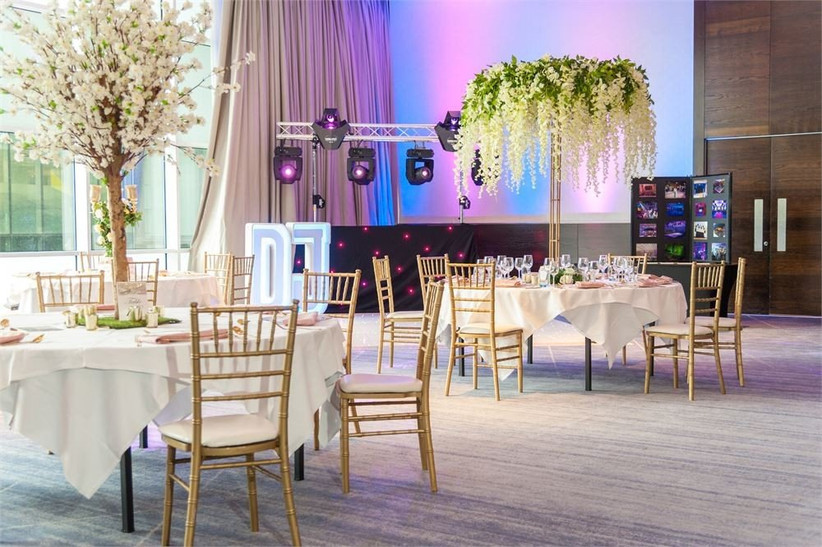 If modern style, fine dining and panoramic views of some of London's most iconic landmarks sound like the perfect additions to your big day, Hilton London Tower Bridge might just be the venue for you. Minutes away from Tower Bridge and looking out onto The Shard, this venue is perfect for London lovers who want to treat their guests to a true taste of the capital.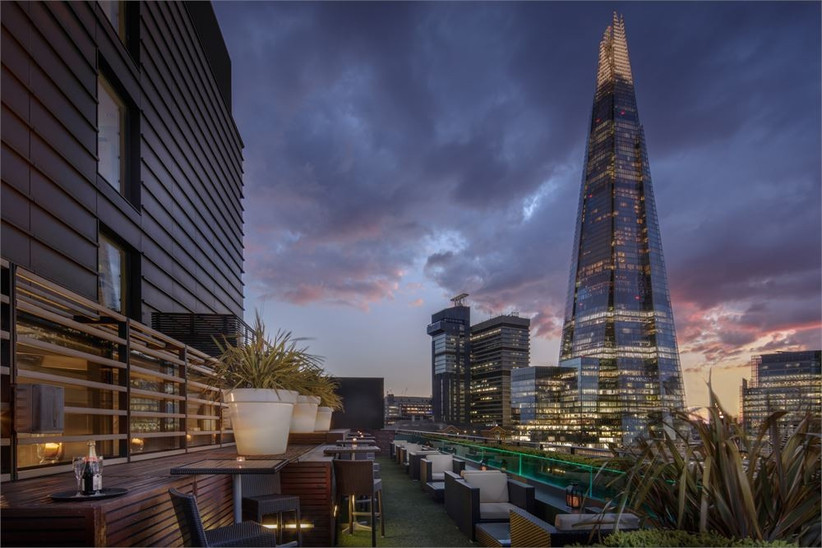 Hilton London Tower Bridge offers plenty of flexibility with its three licensed wedding suites and additional wedding reception spaces. The hotel offers stylish celebrations for anywhere between two and 450 people and so you can certainly make the day you're dreaming of work here.
The rooms at this hotel are modern and minimal in style with everything you need to get ready for a party to remember – including a large back-lit bathroom mirror – and chill out afterwards. Added luxuries include bathrobe and slippers in the deluxe rooms.
READ MORE: 25 of the Best Hotel Wedding Venues for Every Budget
12. St. Pancras Renaissance Hotel London – King's Cross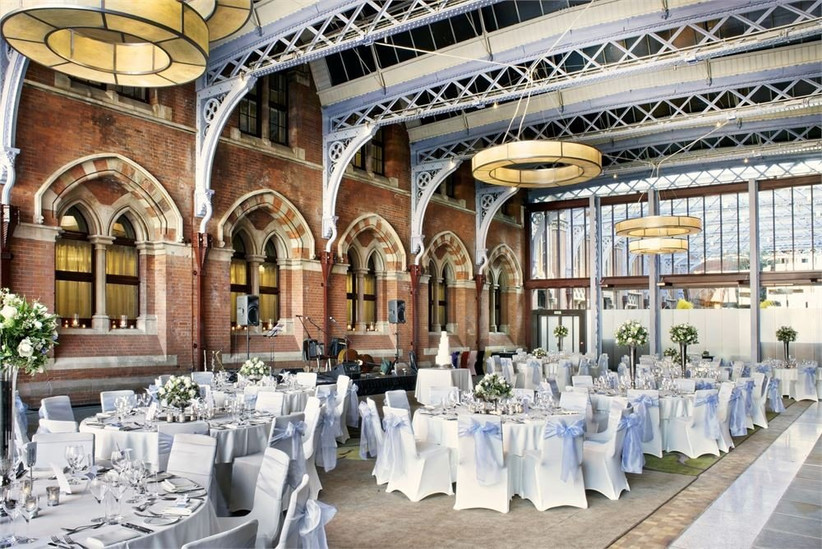 This iconic Victorian building is a truly magnificent backdrop for your big day. The Gothic St. Pancras Renaissance Hotel has been carefully restored to create a venue that is as spectacular as it is romantic and is now considered to be one of the most beautiful buildings in London. Beauty isn't all it has to offer, though; the hotel also boasts 10 distinct and historic spaces for your wedding celebrations.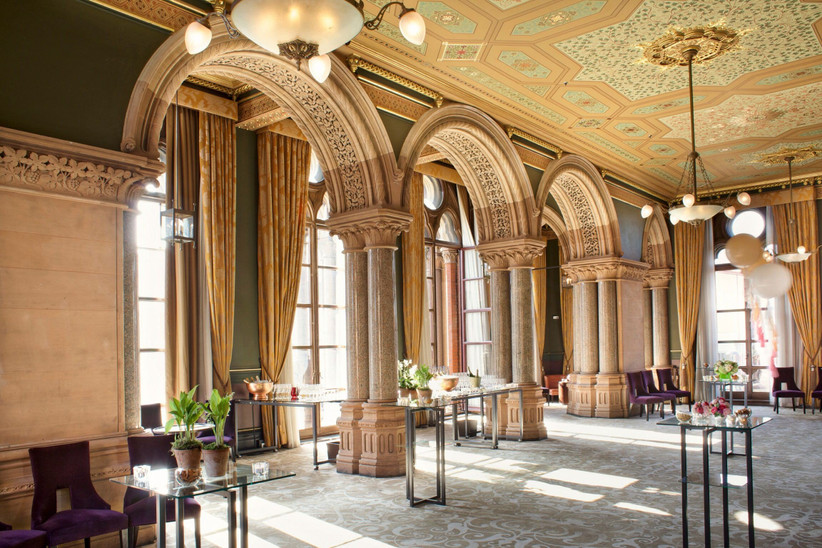 The largest room of all, Hansome Hall, can accommodate 475 guests while more intimate spaces for fewer than 30 guests are also available. When you book your big day here you will also benefit from the services of a wedding planner and a first-class catering team.
Bedrooms here make the most of the original Victorian features, such as the Gothic arched windows, while providing modern style worthy of Instagram. The luxury suites feature striking artwork, large feature windows and a range of additional services and extras that will have you feeling like royalty.
13. London Marriott Maida Vale – Maida Vale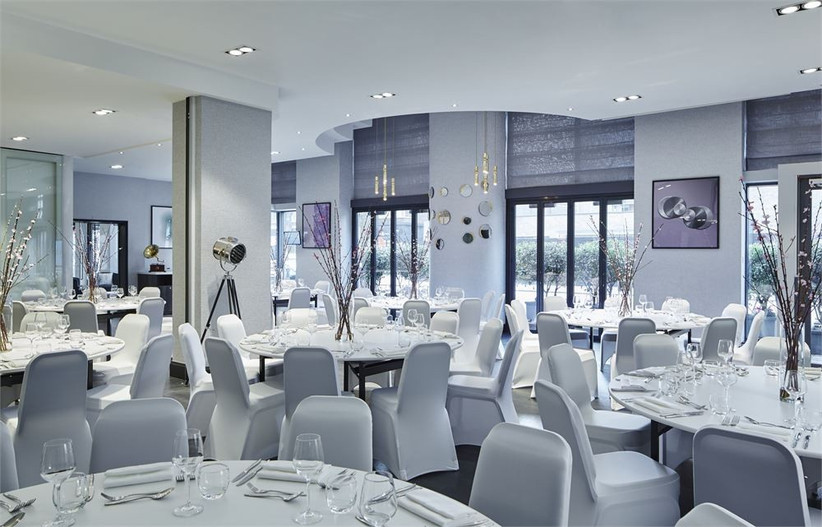 Ultra-modern and decorated in neutral and monochrome tones, the London Marriott Maida Vale would suit minimalist couples looking for a fuss-free, sophisticated celebration in this leafy and quiet corner of London. The hotel offers you the chance to marry in their stunning, licensed banqueting suite before sipping on a glass of fizz in one of their many other stylish spaces.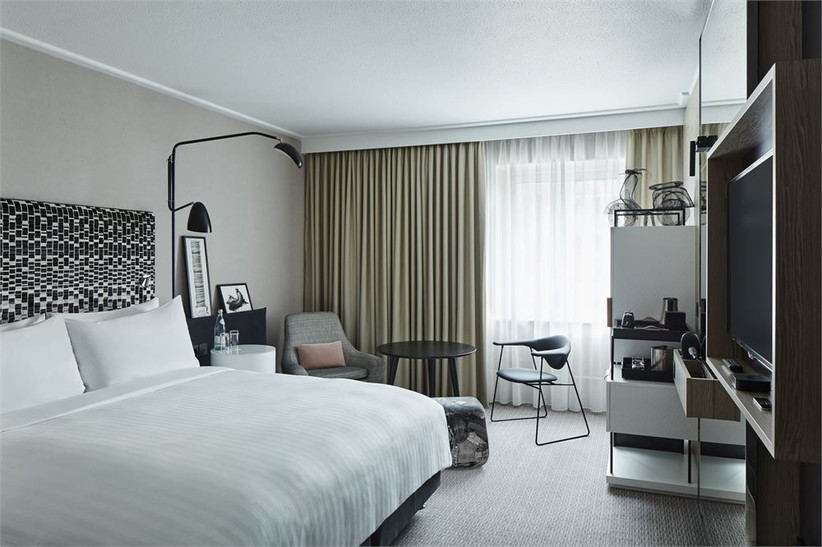 When it comes to planning your big day, you're in great hands here. The hotel has a Marriott-certified wedding planner who will use their skills and experience to pull together your dream wedding day, whether that be a large scale Asian wedding or a small, intimate party.
Just like the rest of the hotel building, the rooms here are minimal and thoroughly modern. Newly refurbished, all rooms feature king size beds, spacious bathrooms and widescreen TVs for the ultimate post-wedding chill out session.
14. Crowne Plaza London – Battersea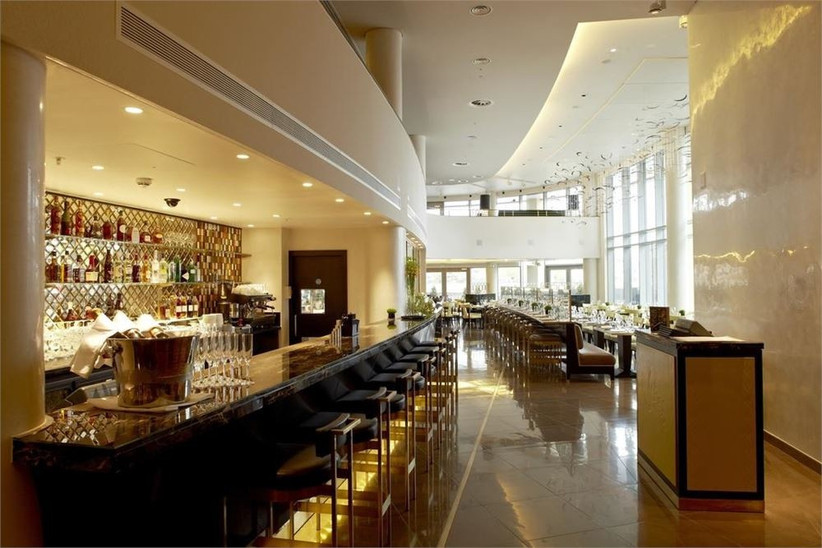 Overlooking the River Thames, this luxury spa hotel is a fantastic hotel wedding venue choice that's guaranteed to impress your guests. Crowne Plaza London is a great place to spend an entire weekend, so it's a good choice if you're hoping to extend your celebrations. The award-winning spa, fitness centre and Jospa restaurant, with it's unrivalled views of the Thames, will make it so you never want to leave!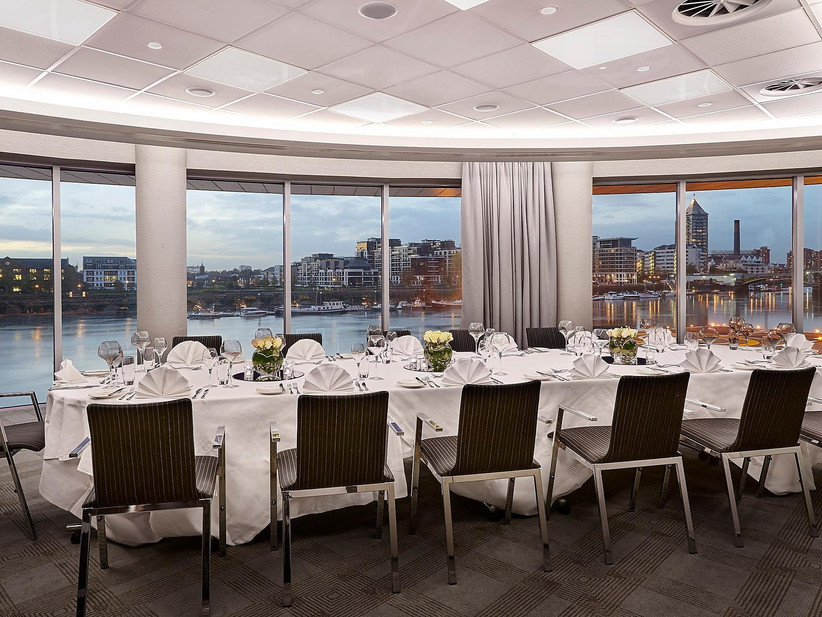 When you book a date to say 'I do' here you'll be given the services of the Meeting Director who will be your dedicated point of contact when it comes to bringing together all the details of your day. The aim of the team at Crowne Plaza London is to take the stress out of planning so that you can enjoy your day.
Rooms here are modern and mood-lit, giving them a feel of luxury. Bright, sumptuous fabrics are a regular feature as are walk-in showers and floor to ceiling windows that show off the unbeatable city views.
15. Bromley Court Hotel – Bromley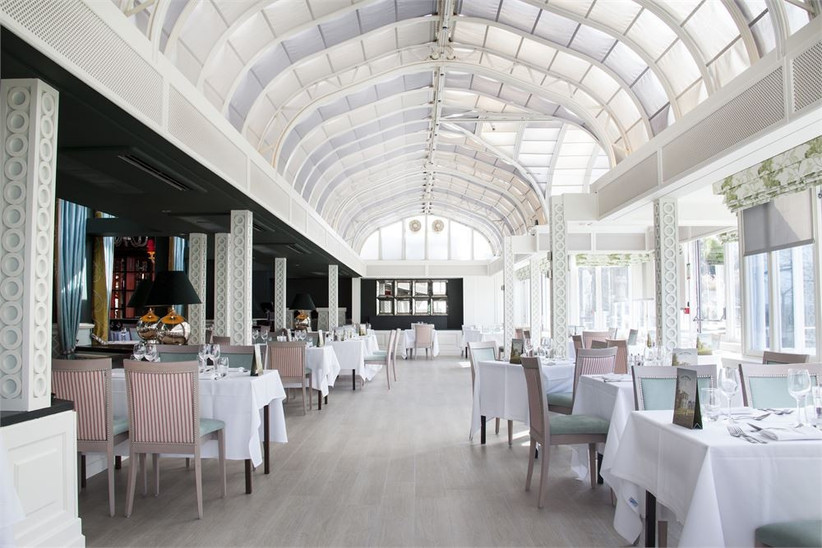 Situated on the South East edge of the city, yet within easy reach of the bustling centre, is Bromley Court Hotel. This stunning wedding venue is situated within two acres of manicured grounds – a rarity in London – and features four light-filled celebration spaces, including the newly renovated Garden Restaurant Suite.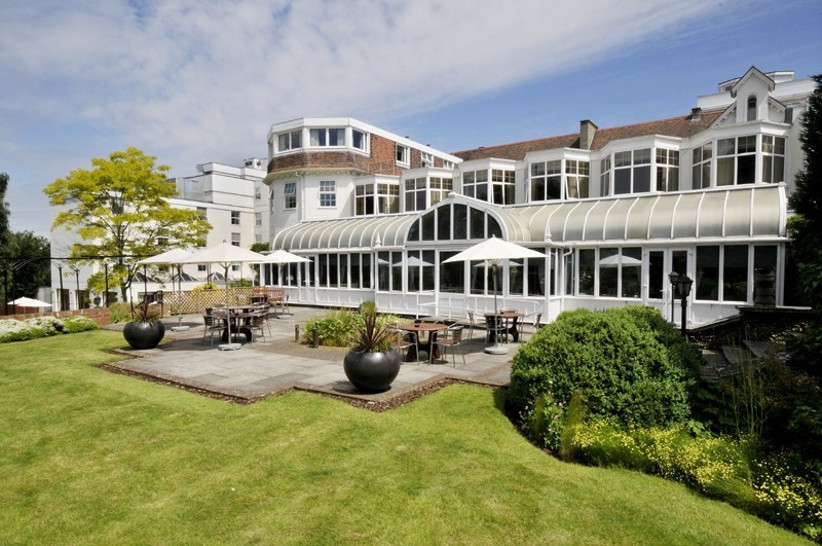 With plenty of outdoor space, including a terrace area with seating, this is a great summer wedding venue choice. Your dedicated wedding coordinator will be happy to help you make the most of the space and point you in the direction of the most beautiful wedding photo spots.
The newlyweds are offered a complimentary executive double bedroom for their wedding night. The room comes with luxuries such as a bathrobe and slippers, Nespresso machine and and high-speed internet so you can start sharing your wedding snaps right away!
16. Radisson Blu Edwardian, New Providence Wharf – Poplar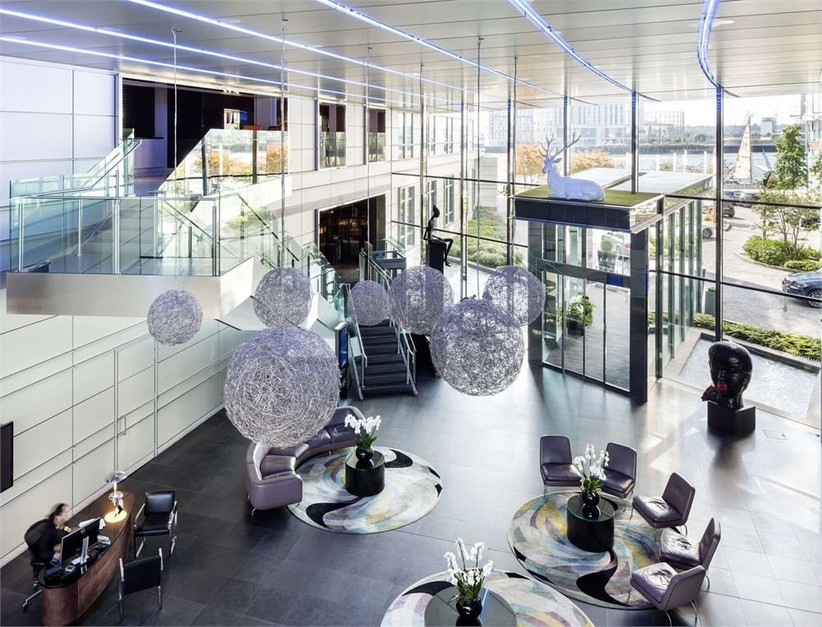 If modern simplicity is the vibe you're going for then you can't go wrong with the Radisson Blu Edwardian. This chic hotel is centrally located on a quiet bend of the River Thames, overlooking the iconic O2 Arena. With 169 bedrooms and capacity for weddings of up to 150 guests, the hotel is certainly spacious but prides itself on its boutique service, giving every guest the attention they deserve.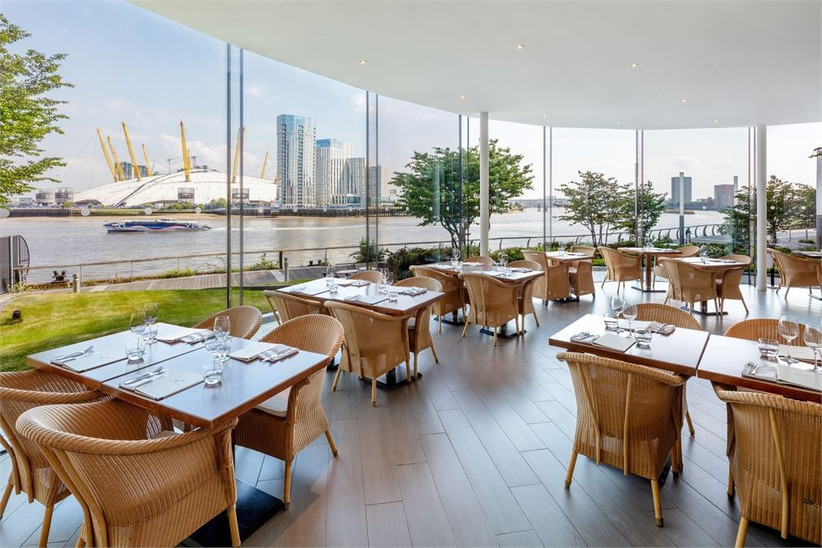 When it comes to designing your day, the team are happy to work with your wishes and create anything from a formal wedding breakfast to cocktails and canapés on the river terrace. Whether you're hiring a small space for an intimate gathering or booking out the entire hotel, the Radisson Blu Edwardian will create a day that's completely bespoke – no restrictive packages here.
In-keeping with the slick contemporary styling of the rest of the hotel, the bedrooms and suites here are all about clean lines and soft tones, making them a relaxing space to retreat to after the festivities. Highlights include complimentary REN skincare products and the amazing views in the 10 river rooms.
17. The Lampery at Apex City of London – East Central London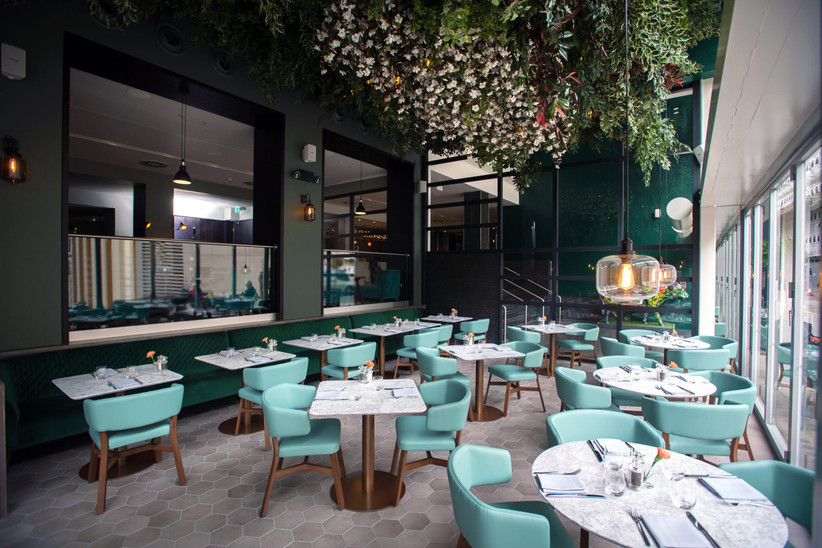 If you've always imagined saying 'I do' in the heart of the city, The Lampery at Apex City of London is certainly worth a look. The Instagram-worthy Lampery is situated at the Apex City of London Hotel, allowing you to host your wedding reception at one of London's foodie hotspots while still having the convenience of hotel accommodation just a few steps away.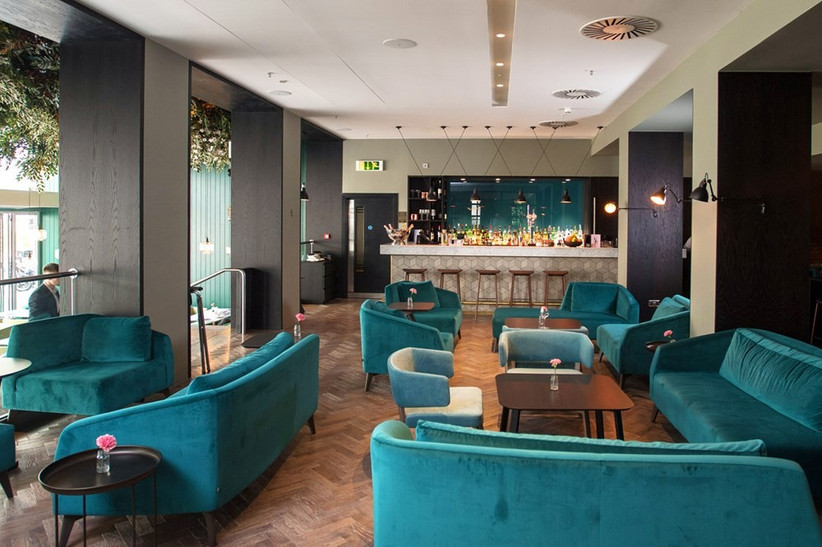 The Lampery prides itself on its good, honest, British fare made with locally-sourced ingredients. The dishes are lovingly prepared and packed with flavour but are free from fuss and pretension, making the menu a hit with guests of all ages.
With complimentary Elemis spa products and sumptuous king size beds, stays at The Apex City of London are all about comfort. Special touches such as fluffy bathrobes and a walk-in shower and separate bath set the Junior Suite apart from the rest and we reckon a stay here is a must for the happy couple.
18. Crowne Plaza London Docklands – Royal Victoria Dock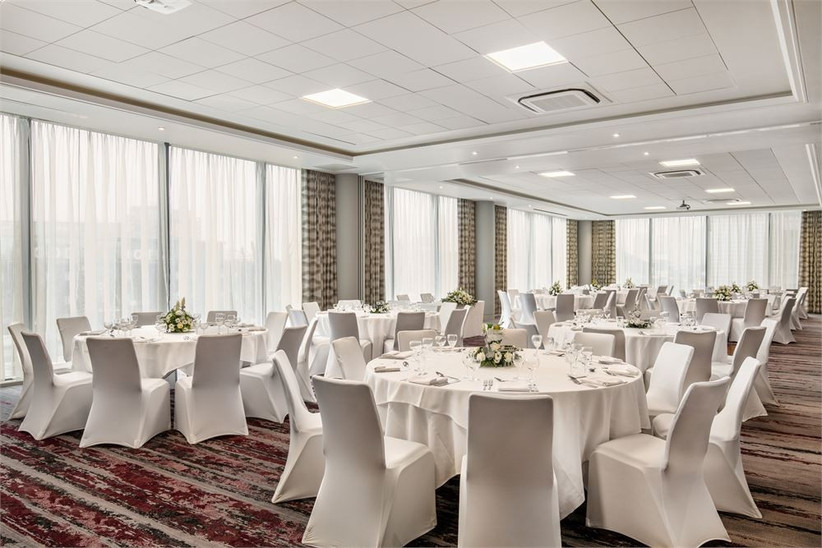 If you love the buzz of the docklands and Canary Wharf, you'll adore the Crowne Plaza London Docklands. This exciting area of the city is the perfect place to host a luxe celebration that guests will remember for years to come. Even with its fantastic location and facilities, this venue is offered at a surprisingly purse-friendly price with inclusive packages starting at a thrifty £79 per person.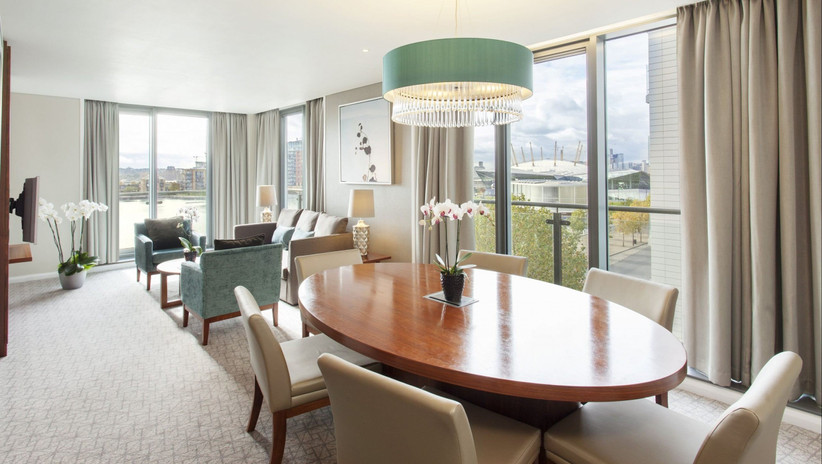 When you book a wedding package at the Crowne Plaza London Docklands, the friendly wedding team will be on-hand to help you plan the details of your day from your romantic ceremony in one of their licensed suites through to your evening celebration.
Wedding packages come with a complimentary night in the Junior Suite for the happy couple, a real treat considering each suite comes with french doors opening out onto a private balcony, a luxury en-suite bathroom and free designer toiletries!
19. The Connaught – Mayfair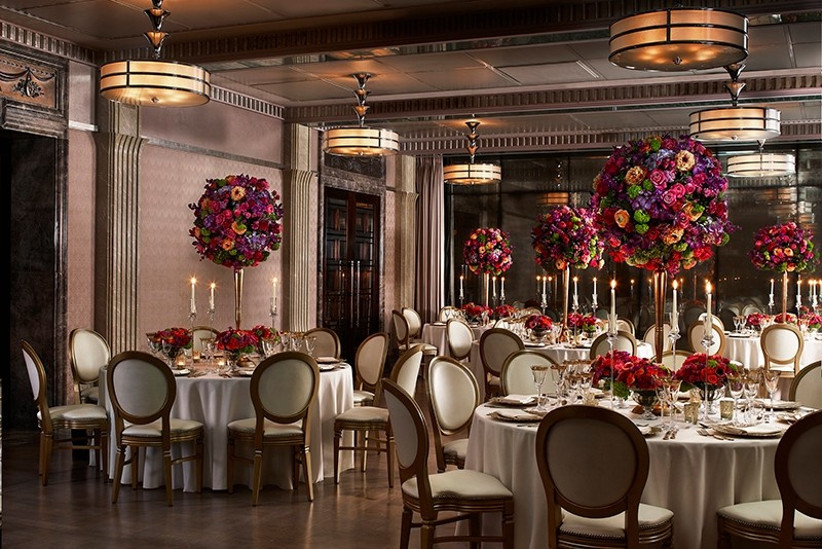 Located in the heart of the city's affluent Mayfair, The Connaught is the ultimate in London glamour. Licensed for civil ceremonies and boasting plenty of space to throw the ultimate celebration after your 'I dos', this is a great venue choice if you fancy spending the entire day under one roof.
You can also plan every detail in one place with the help of an experienced wedding planner who can pull together everything from your bouquet to your place settings.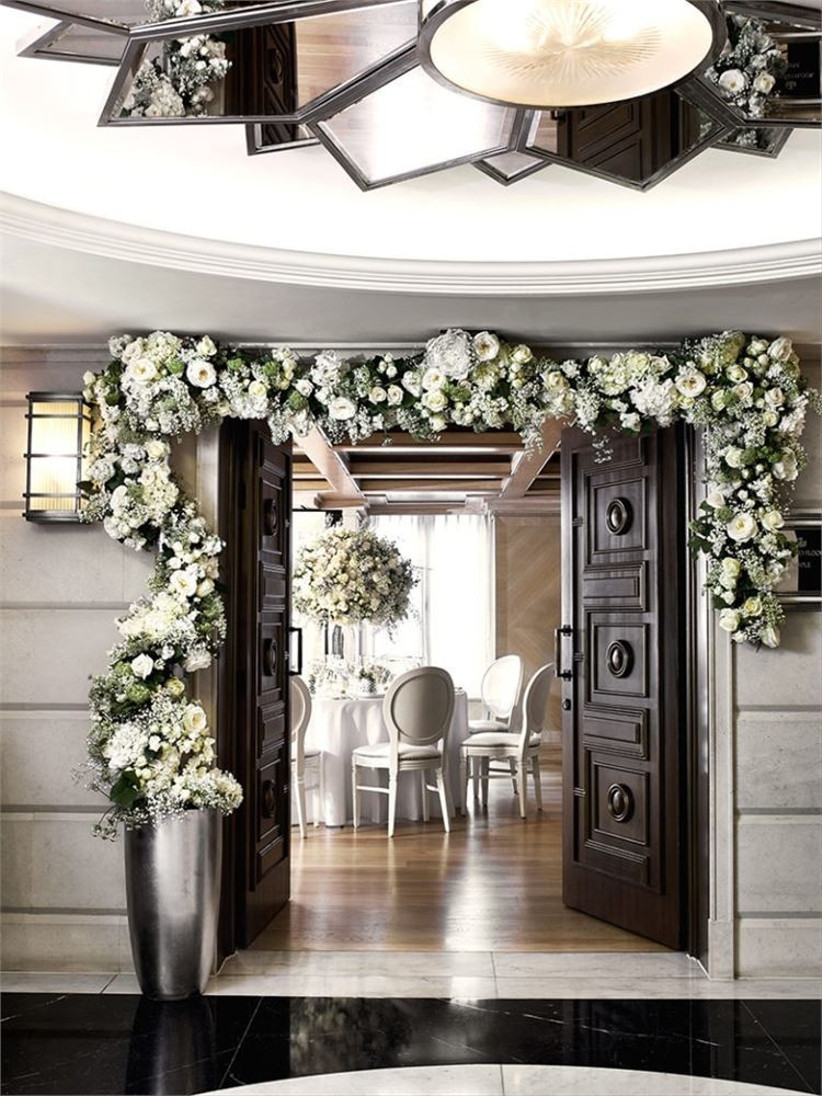 Wedding celebrations for as little as 12 guests can be hosted at The Connaught as well as lavish parties of up to 200. Big or small, each and every wedding will be treated with the same attention to detail and personal service that the hotel is well-known for.
The Connaught's rooms and suites are effortlessly elegant and a dream place to spend your first night as a married couple. The rooms retain the character and charm of the classical building while ensuring the comfort of guests with ultra-modern touches such as Bose speakers and marble bathrooms.
READ MORE: 32 Questions to Ask Your Wedding Venue
20. Rosewood London – Holborn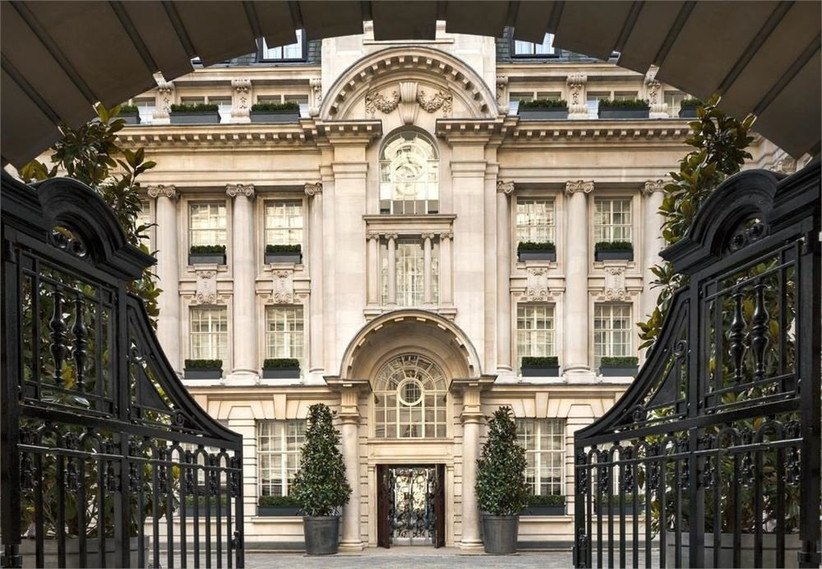 This stunning Grade II-listed building makes for the dreamiest of wedding day backdrops. Located amongst the buzz of Holborn but enclosed in its own elegant courtyard, couples really can get the best of both worlds here. Sweeping marble staircases, a grand ballroom and breath-taking suites are all what sets the fabulous Rosewood London apart from the rest.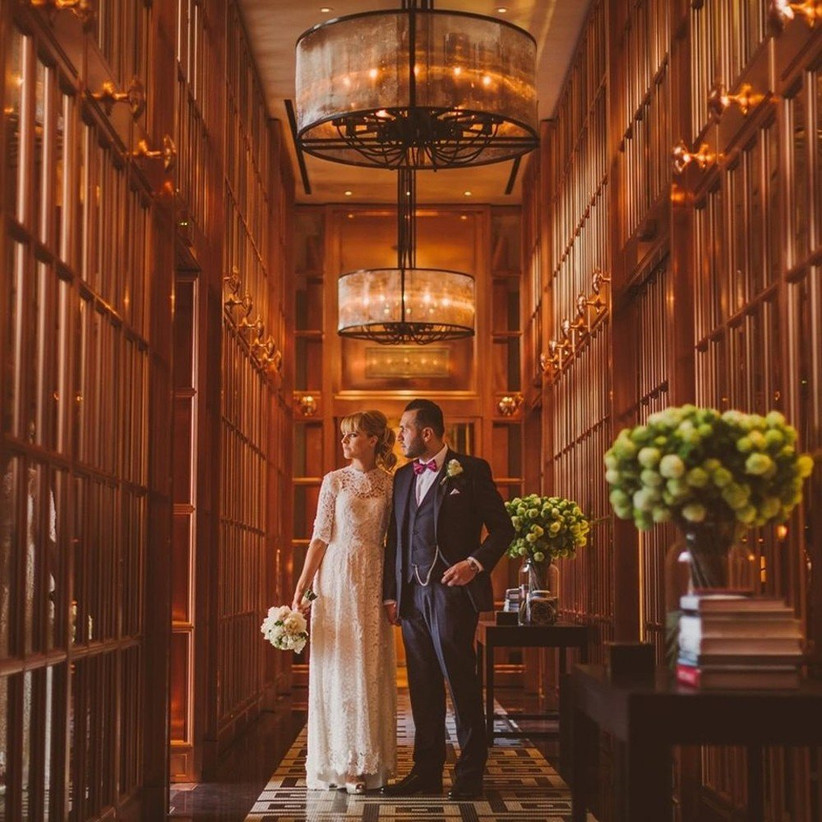 Rosewood's wedding specialists are well-versed in wedding traditions but also pride themselves on their up-to-the-minute understanding of contemporary trends and ideas, guaranteeing a wedding day that hits all the right notes.
After a day of excitement (and a night of dancing!), peace and serenity is usually just what newlyweds crave and the rooms at Rosewood London certainly deliver. Each room comes with an extensive pillow collection, luxury toiletries, bathrobes and a marble bathroom that you won't want to leave behind.
21. Hyatt Regency London, The Churchill – Marylebone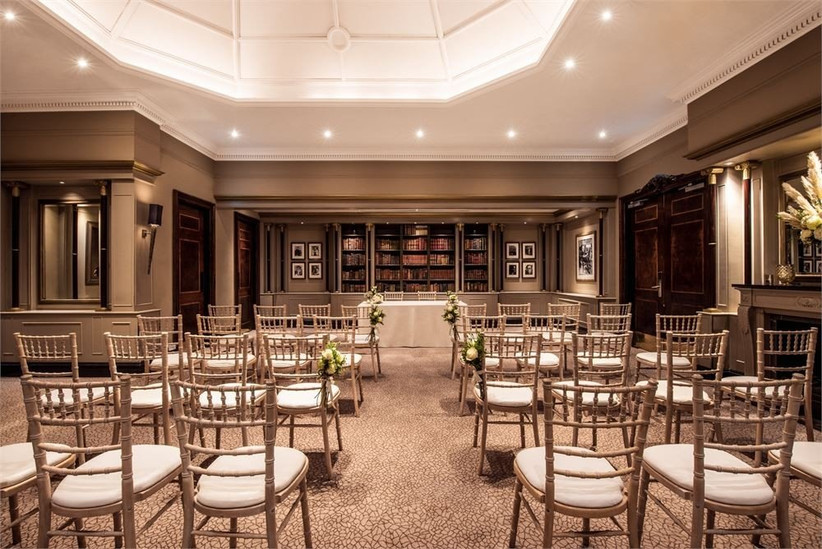 Located next door to the picturesque gardens of Portman Square, Hyatt Regency London – The Churchill offers open spaces and stunning photo opportunities as well as inner city sophistication and grandeur. You can say 'I do' in one of two licensed spaces, The Library or the grand Chartwell Ballroom, before enjoying a bespoke celebration.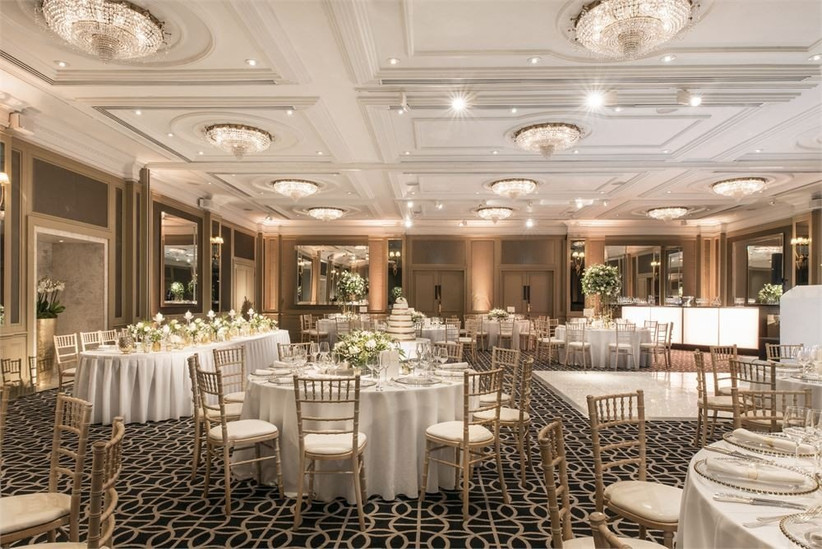 The expert wedding planning team at Hyatt Regency London – The Churchill will help to plan a day that is completely unique, everything from the menu to the décor will be created especially to your tastes.
A complimentary night's stay is offered to the happy couple here along with preferential room rates for wedding guests. Pre-wedding dinners and post-wedding brunches can also be easily arranged during your stay.
22. The London EDITION – Fitzrovia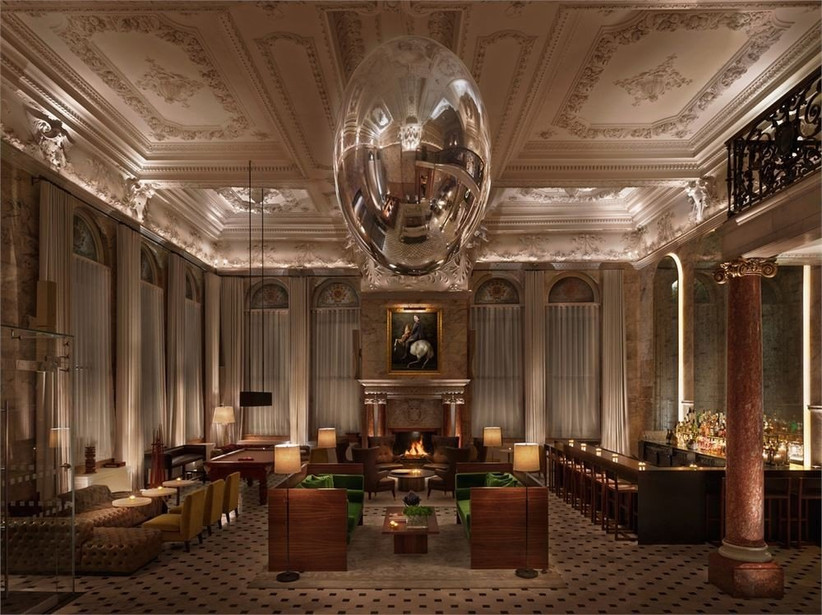 The London EDITION offers something truly unique in the heart of the capital. Rooms have been expertly designed to showcase the grand heritage of the building while injecting a decidedly modern feel. Despite the extravagant surroundings, you can host informal receptions, dinners and drinks here and, with the help of the Michelin-star chef, you're free to create a bespoke food and drink menu.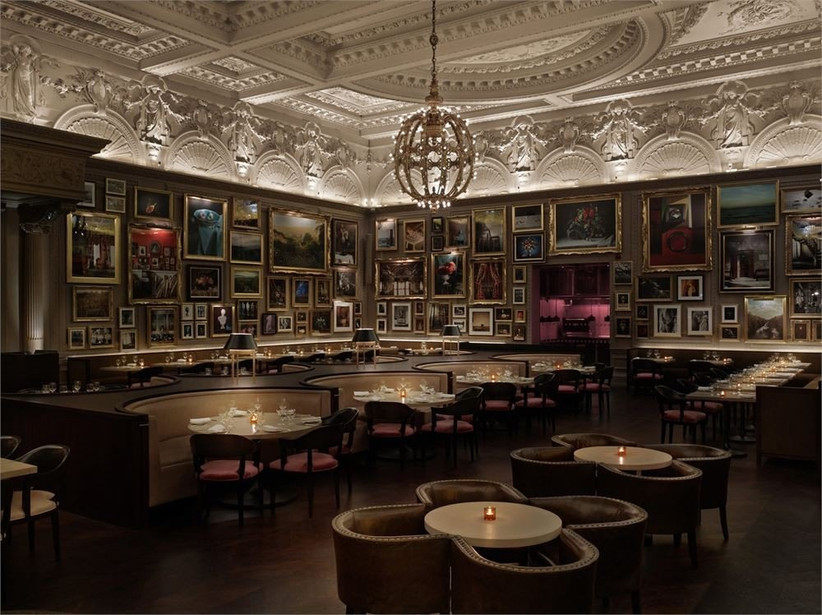 The venue offers a Penthouse Suite, two studio rooms and a glamorous private dining space for weddings. An atmospheric basement for more informal celebrations is also available to hire. The Berners Tavern and Punch Room bar are also available for pre-wedding dinners and nightcaps.
Based on the interior of luxury yachts, the bedrooms here feature a cosy, wood-panelled design with ambient lighting. The statement pieces of artwork and luxury blankets are an added bonus.
23. Haymarket Hotel – West Central London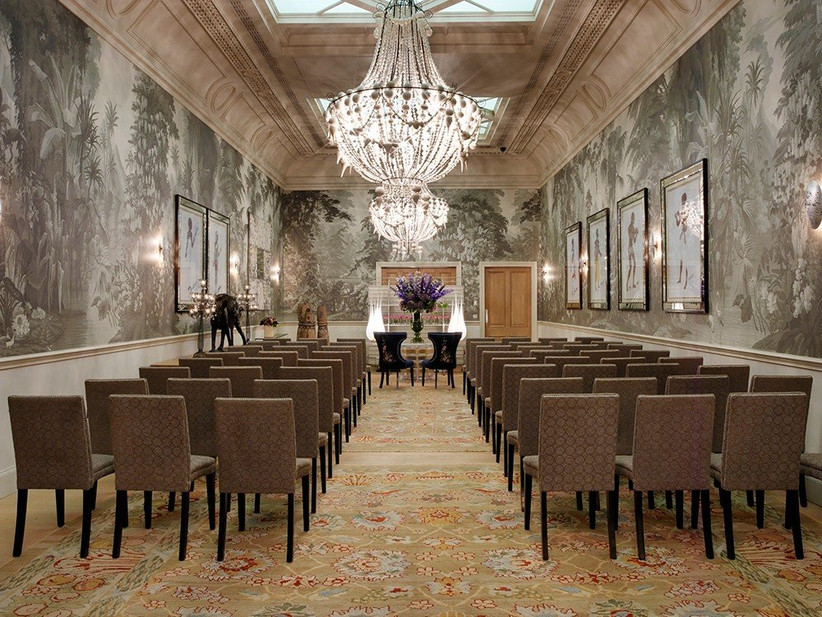 This venue certainly gives off a theatrical vibe, so it's no surprise that its set amongst some of London's most iconic stages. One of the few venues in London that offer couples a pool-side reception space, Haymarket Hotel is the place to go if you're looking for something truly unique.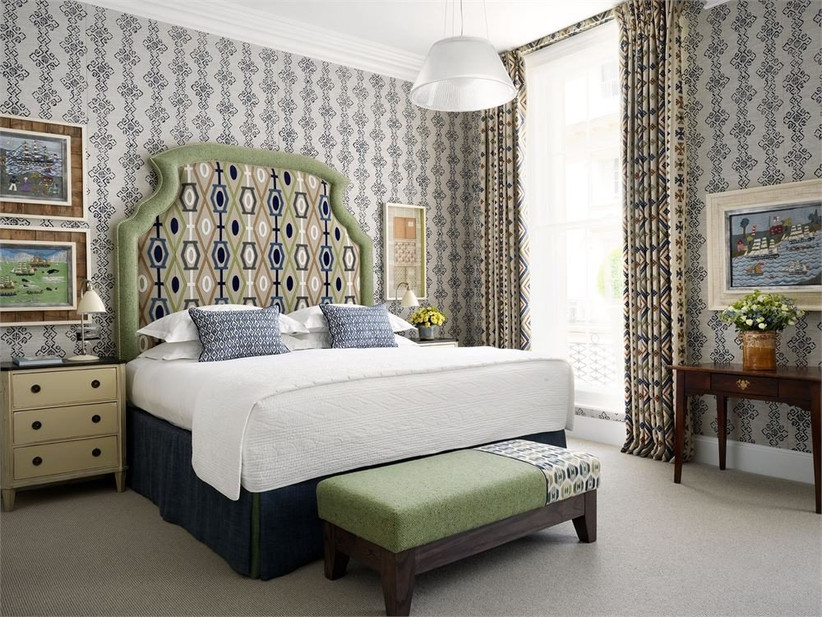 Ceremonies with up to 70 guests in attendance are licensed in the spectacular shooting gallery with its dramatic, hand-painted jungle wallpaper and parties of up to 220 are most welcome at the chic pool area. The pool can be lit with candles or covered over entirely to make more dancing space!
Each of the 50 bedrooms at Haymarket Hotel have been individually designed by renowned interior designer Kit Kemp and feature striking, clashing patterns as well as a quirky mix of antique pieces and modern touches.
Just starting wedding planning? Here's your step-by-step guide to how to get married.