How to Choose a Wedding Venue: Everything You Need to Know
Before you sign on the dotted line, here's everything you need to know about how to choose a wedding venue from the season and décor to the capacity and supplier rules...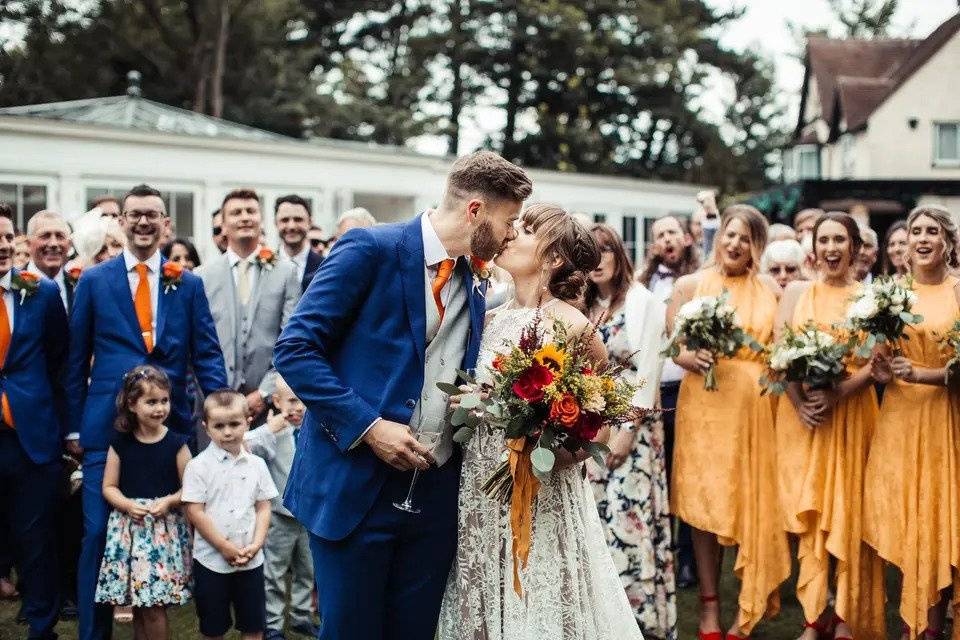 Deciding how to choose a venue for a wedding plays a vital role in the success of your day, and is undoubtedly one of the biggest wedding planning decisions you'll make. Finding a wedding venue is likely to be at the top of any newly engaged couple's wedding planning checklist and with so much choice out there - how can you possibly narrow it down?
Just like viewing property, it's easy to become overexcited and fall in love with a place without thinking about the practicalities. Planning a wedding is an emotional process, but it's important to think with your head just as much as you do with your heart.
In terms of logistics, the wedding venue you pick will determine the number of guests you can invite, your décor options, your vendors, your wedding date and it will also have a big impact on your wedding budget, so it's important to get it right!
The Ultimate Guide on How to Choose and Book a Wedding Venue
But before you get overwhelmed with the pressure, take a deep breath because your wedding fairy godparents (that's us, by the way!) are here to help. How to pick a wedding venue? We've got you covered. Whether you have a dream venue in mind or are at the start of your wedding venue search, we have the tips and questions to ask your venue that are essential to nailing this process.
It's true for some couples that when you find the one, you'll just know it - you'll be able to picture yourself there on the day saying your vows and celebrating with your friends and family. However, there are still some very important criteria that you must keep in mind when looking around wedding venues.
Here, we have expert advice on how to choose a UK wedding venue, along with tips and tricks that will ensure you choose the wedding venue that's right for you!
How to Choose a Wedding Venue: 9 Expert Tips
1. Check the Capacity
Deciding whether you want a large capacity wedding venue or you'd prefer a smaller wedding venue is the first step to narrowing down your choice of wedding venue. The size of the venue is incredibly important and will impact on budget and the enjoyment of your guests. Too small and the room will feel stuffy and overcrowded, but too big and guests will feel lost and the space will feel cold.
Make a rough guest list so you can immediately get rid of options that are too small or big. With that in mind, it's easy to underestimate how many people you want to invite and you could suddenly find you've got too many RSVPs for your space, something which is especially important when thinking about how to choose a wedding reception venue. Always choose a venue that allows for a few extra people.
When a venue is empty it is hard to imagine how it will look when filled with tables. For this reason we would always advise viewing a venue when it is set up for a wedding. If this isn't possible, ask to see photographs; most venues should have a photo book or slideshow that will illustrate what their spaces look like when set up for a wedding.
Another tip is to ask for a seating plan of the room at capacity, this will give you a good idea of how much space there is and how comfortably your guests numbers will fit.
Aly Claydon-Mills from Somerset wedding venue St Audries Park says the following, "The trend we are finding appears to be slightly smaller daytime guest numbers – say 80, and then more evening guests for the party. Here at St Audries Park our maximum capacity for the ceremony and banqueting hall is 130 and for the evening party 250."
Checking the capacity for both daytime and evening events is so important - most wedding venues will be able to cater to much larger numbers in the evening than during the day.
2. Location, Location, Location
When it comes to choosing your wedding venue, imagine you have Kirsty and Phil on your shoulders - reinforcing the importance of location! Where will your guests be coming from? If they are not local, choosing a venue that is easily accessible, has accommodation on site or hotels in close proximity is desirable. If you have guests coming from abroad, how far is the closest international airport?
These factors should play a role in your decision making; your guests' comfort and experience is important. A remote location may mean a smaller guest list - bear this in mind when thinking about how to pick a wedding venue.
It's also worth considering travel time for evening-only guests. Is a four hour drive really suitable for guests who are only invited to the reception?
3. Know Your Budget
Planning a wedding on a budget is no mean feat - even the most organised among us can end up underestimating hidden wedding costs! It can be very easy to be carried away with choosing venues and suppliers without doing the proper planning. Before you start looking, create a wedding budget with your partner so that you know exactly how much you can afford to splash out on your venue.
Aly advises, "We always try to guide our couples to set a realistic budget for their wedding day and remember to include 'all the extras.' Not only will the list of extras grow, we feel that it is also important to sit down and draw up a realistic list of 'must haves' and really try to stick to their original ideas.
"As time goes by with social media, wedding fairs and talking to friends and work colleagues, it's easy to end up with a spiralling list of ideas to make the wedding the most perfect day. I always try to advise couples that the day is about the two of them and not an event to try and please everyone."
There are a number of straightforward ways to save on your wedding budget. Aly names a few, "Midweek weddings are growing in popularity (helped by the covid lockdown) as choosing to hold your special day Monday to Thursday will make a huge difference to your venue spend.
"To make the budget go further, seek help from family and friends to see if there are hidden talents amongst your guest lists. Delegate as much as you can to make your day as stress free as possible."
We have a guide on planning a wedding budget as well as wedding dates to avoid and a guide to high and low wedding season which will both help if you want to secure yourself a deal.
4. Pick a Season
Are you planning a fabulous outdoor spring wedding or summer do? If so, make sure that your wedding venue has a beautiful outdoor ceremony space, whether that be a garden venue, a beautiful terrace or even a marquee wedding venue. If you want some wedding photographs to remember, a venue with beautiful floral gardens or a lake will be a fabulous backdrop for all your fun snaps.
Or perhaps a cosy winter wedding is more your style. There are plenty of UK winter wedding venues which lend themselves well to this, as well as being a blank canvas venue ideal for a winter wonderland themed wedding. Rustic barn wedding venues are a great way to achieve a ski chalet vibe - and somewhere with a roaring fire is always a plus!
Aly explains the importance of your season, and the impact this choice can have on your budget, "The pricing of a wedding venue will very much depend on the time of year you choose to marry."
Prices during low season are often much less expensive, while booking a venue in a high season month (between May and September) will cost more.
5. Decide on a Theme
Think about whether the venue works with your desired wedding aesthetic. If you want glamorous, an impressive country house or a stately home might work - you want a luxurious wedding venue if glam is your goal. For a chic, modern feel, a warehouse wedding venue could be perfect. Do you and your partner love the outdoors? Think about a garden marquee, or a castle wedding venue with large grounds.
The venue can even influence your choice of wedding dress. Consider the formality of the venue, how the weather will affect it, and the facilities. If you're in a festival wedding venue for your festival-themed wedding then squeezing into portaloos in huge, voluminous dress or dragging it through mud might not be sensible!
6. Discuss Catering Options
We all know that the way to any person's heart is through their stomach, so the importance of wedding food can't be emphasised enough! Firstly, think about whether you want internal or external caterers - not all venues provide internal caterers, so if this is what you're after be sure to ask this question. Equally, not all venues accept external caterers, so it's important to check this early on.
Also consider what type of cuisine you would like to have on your big day. If you're going for a venue with catering included, make sure that the type of food you want is available.
As we've said before, making sure your guests have a good experience is of paramount importance. Check with them to see if anyone has any dietary requirements, whether they're vegetarian, vegan, gluten-free etc. Ensure that the caterer you decide to go with can cater for any and all requirements.
Aly explains that most wedding venues will take catering very seriously, "We take any food intolerances and allergies very seriously and the chef will tailor make guests meals to accommodate their dietary needs. We have separate toaster, fryers, and preparation areas to prepare such dishes."
Most venues will have a similar take as this is a really important issue, but do check before booking anything!
7. Confirm Supplier Rules
Everyone wants to be able to put their unique creative stamp on their wedding ceremony, and a great way of doing this is exercising creative control over your suppliers, whether this is wedding flowers, wedding photography or your wedding cake. This is especially true if you have artistic friends who want to help make your day special by contributing.
But be aware, not all venues allow couples to select their own suppliers, as they require them to choose from a list of in-house recommended suppliers. Check if this is the case to avoid any unwanted surprises when your friend turns up with a beautiful handcrafted wedding cake that isn't allowed.
8. Check Entertainment Options
There are plenty of ways to get crazy when it comes to wedding entertainment. Perhaps you're planning to go all out with circus performers, sparklers, fireworks - if so, definitely check if your venue will allow this, especially when it comes to fire-based entertainment!
Even if you're opting for more traditional entertainment options like a wedding band or DJ, it's still important to check whether or not your venue has the space and the facilities to support your entertainment. If you're planning a summer wedding, you should also check to see if the venue allows music outdoors and what the cut-off time is for loud noise.
9. Browse All Wedding Packages
Many venues will offer wedding packages, offering various wedding services such as venue hire, catering, entertainment etc grouped together for a lower price. If you're planning a wedding on a budget, opting for a wedding package could be a great way to save some money, as well as taking some of the stress out of the wedding planning process.
When choosing a wedding package, it's important to be absolutely clear on what the package includes to avoid any surprise hidden costs - for example, some venues will charge for chairs and crockery, which can allow you to bring in your own suppliers. Be sure to know exactly what you'll need so you can accommodate for this in your planning and budget.
How to Find and Book a Wedding Venue
When it comes to finding a wedding venue, there's no better resource than the Hitched directory. We have thousands of wedding venues which you can filter by style we're talking castles, barns, vineyards, beaches, hotels, pubs and even woodland wedding venues! You can also filter by capacity, price, location and a number other deciding factors.
Once you've narrowed down some wedding venues , it's really important for couples to visit the venue before booking (if possible!) so that you and your partner can get a real feel for the place, as well as meeting the staff that will be taking care of you on your big day.
There are several different ways to book, depending on the venue. Aly says "At St Audries Park and all our other venues, some couples will visit the venue for a show round, and many book their wedding date there and then.
"However, some of our couples live overseas and will have a virtual tour and then book. If this is the case, they may then send parents to view the venue on their behalf. If couples are unable to visit the venue during the planning process, then we communicate via Microsoft Teams, email, phone, Facebook etc…
"Couples are encouraged to visit the venue as many times as they wish prior to their wedding, provided we don't have a wedding taking place. They can also meet their suppliers at the venue and discuss their wedding plans."
What Do Couples Want in a Wedding Venue?
Couples are like snowflakes; every single one is different. A couple planning a grand stately home wedding will want very different things from a wedding venue than a couple planning an outdoor festival wedding.
Couples should decide on their wedding venue based on a number of factors, including all those listed above. Not only that, but their experience of the viewing day and the customer service of the staff will also have a huge impact on their decision.
Aly adds, "Couples want the best customer service that our team offer to all our weddings. The couple also want a venue that is spotlessly clean and decorated to the highest standard with snags repaired should they occur."
Finding a venue is a milestone in your wedding planning process that will impact a lot of your other decisions. Check out our full step-by-step guide to wedding planning to help planning go as smoothly as possible.