40 Gorgeous Rustic Wedding Cake Ideas
From bakes adorned with blooms and berries to tiers garnished with greenery and bark, rustic wedding cakes are the perfect addition to a relaxed and laid-back wedding day.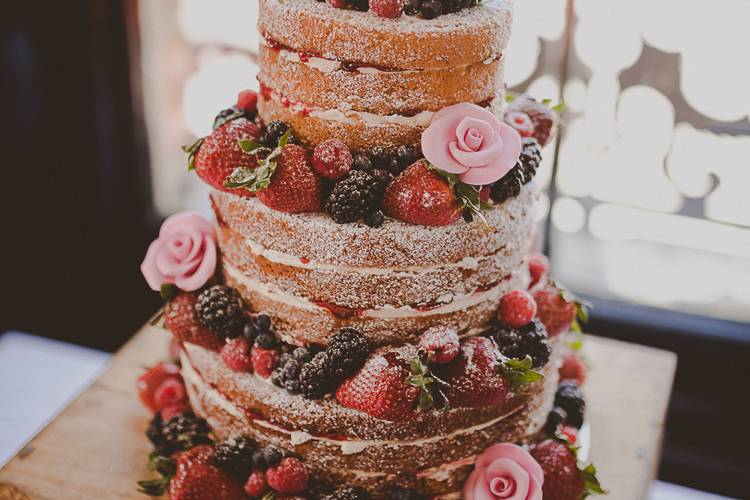 Whether you're planning a countryside chic celebration or a boho barn wedding, a rustic wedding cake is the centrepiece everyone will want a slice of. Garnished with fruits, flowers and foliage not only do they taste delicious, they're seriously Instagram-worthy too.
No matter what your budget, there's sure to be a rustic wedding cake for you. You can go all out with elaborate nature-inspired details or keep your rustic wedding cake easy and old-school with a traditional naked Victoria sponge - great if you want to DIY.
Sound like your dream design? We've got you covered with all the rustic wedding cake inspo you'll need.
READ MORE
1. Birch-Effect Rustic Wedding Cake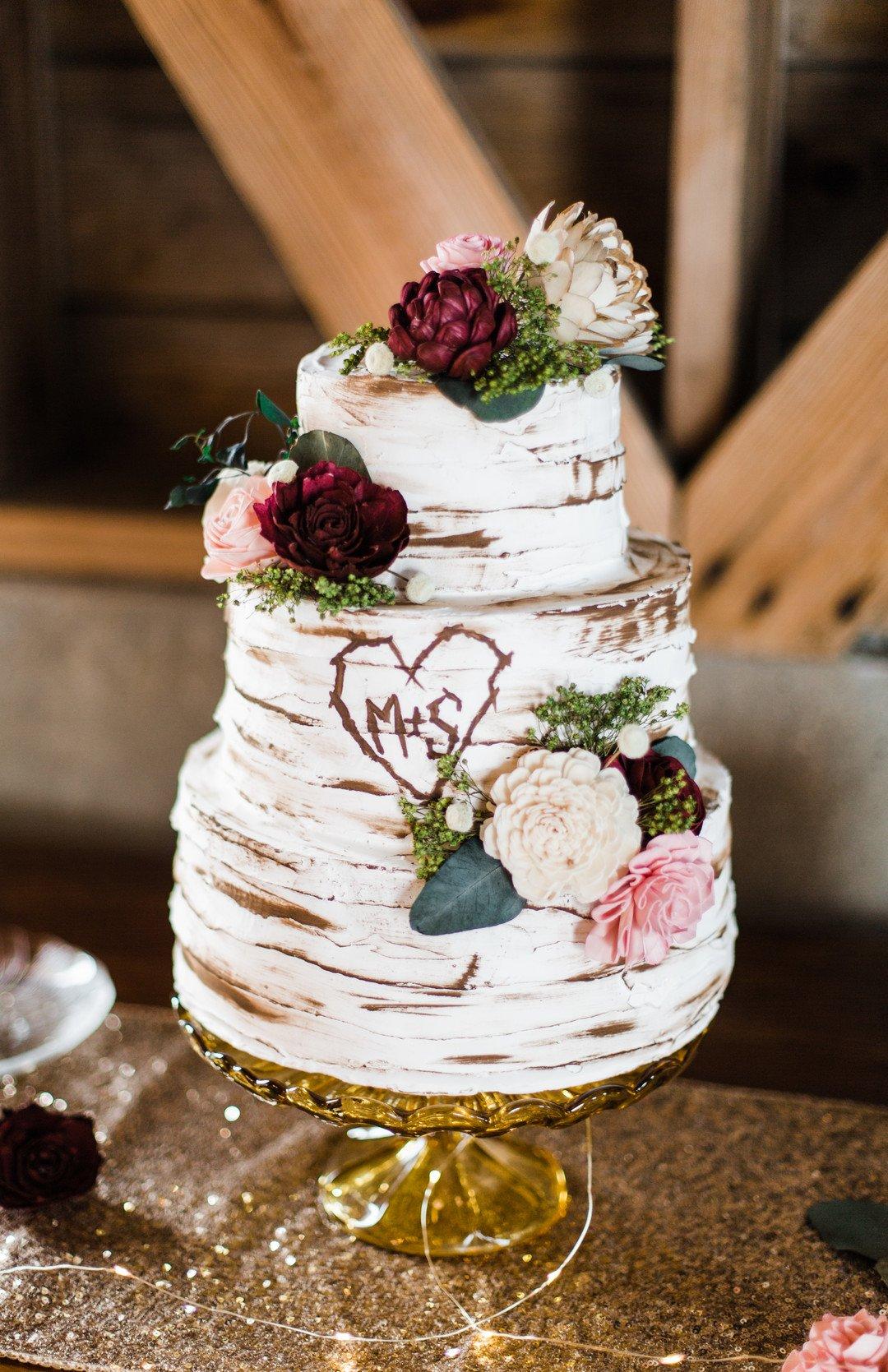 Woodgrain textured buttercream adds an instant natural feel to any dessert table. Our favourite bit? The playfully romantic tree trunk carved initials.
2. Rustic Wedding Cake with Bunting Topper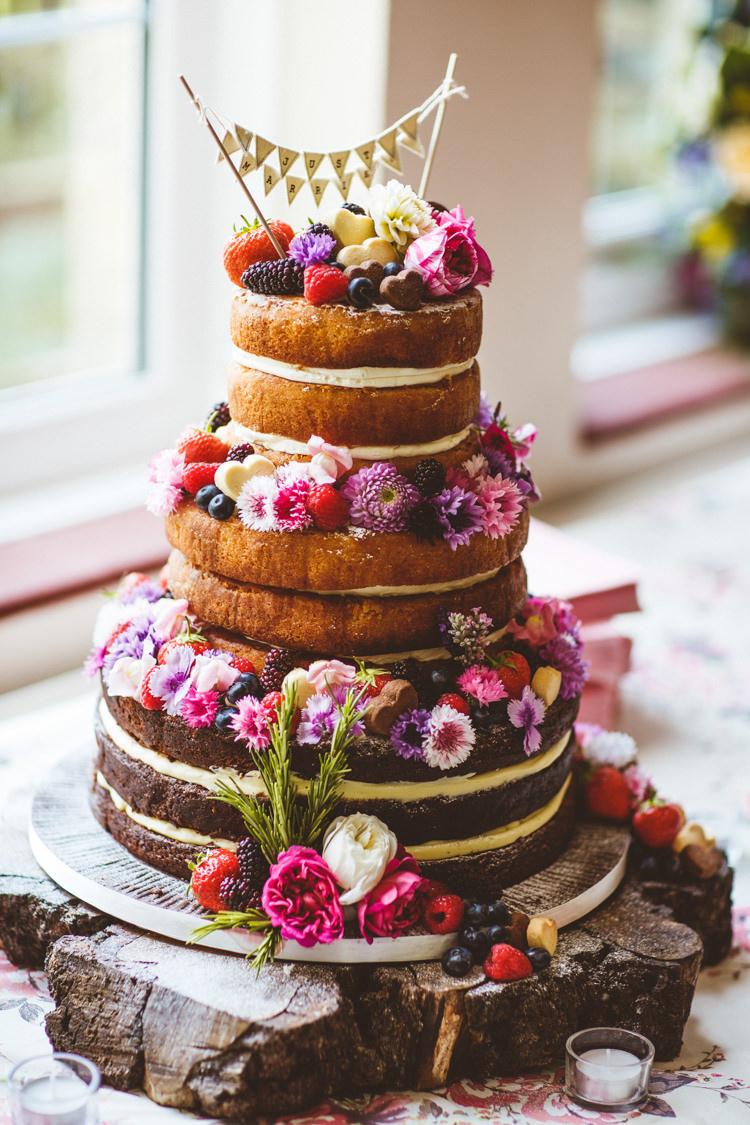 A sweet finishing touch to a simple naked bake, it wouldn't be a country-chic wedding without bunting so why not top the cake with it too?
3. Rustic Wedding Cake with Dried Flowers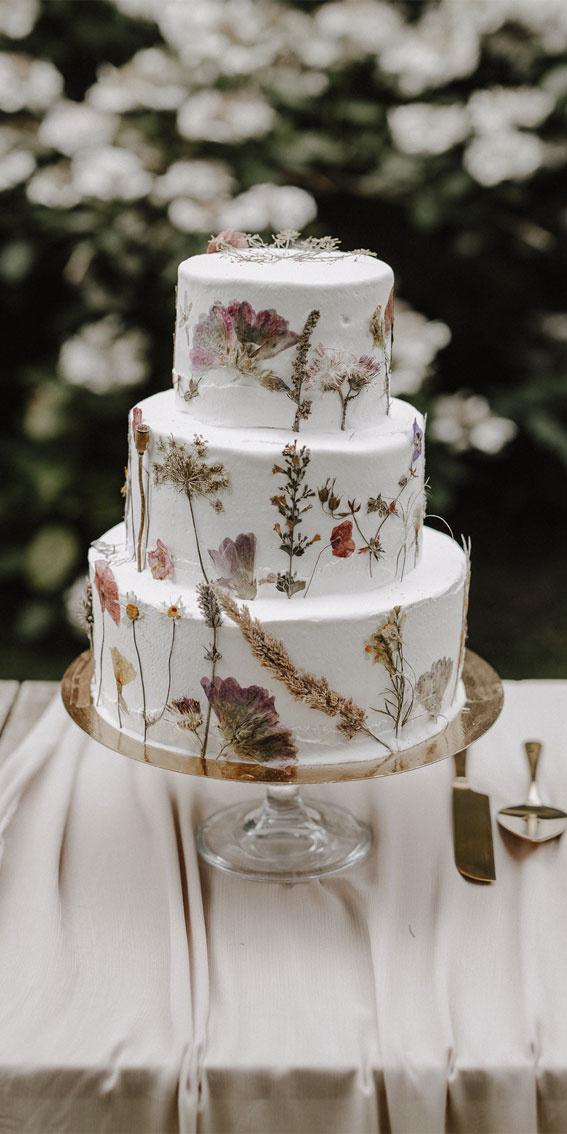 Swap out fresh floral designs in favour of dried grasses and wildflowers for a stylish take on a classic white fondant wedding cake.
READ MORE: 21 Perfect Small Wedding Cakes for Intimate Receptions
4. Banoffee Rustic Wedding Cake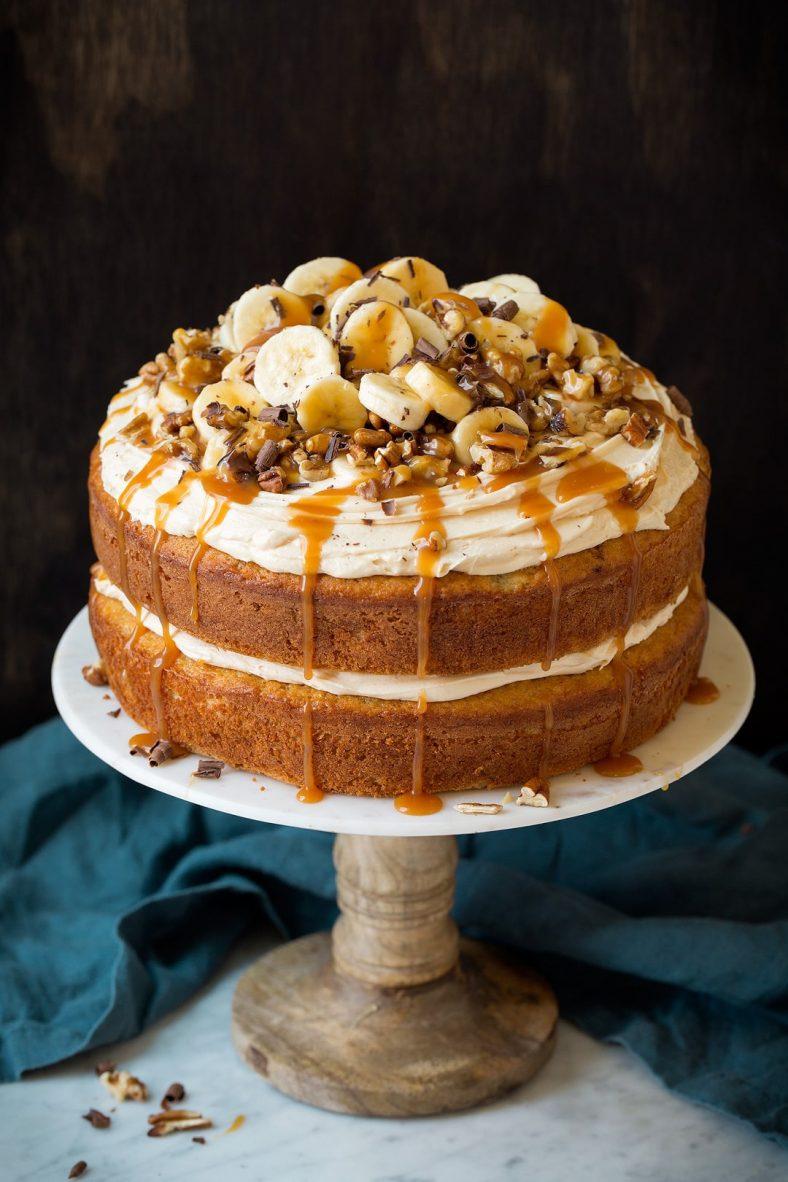 Banana cake sandwiched with salted caramel buttercream, topped with fresh fruit, crunchy walnuts and drizzled in oozy toffee sauce? Need we say more?
5. Rustic Wedding Cake with Colourful Flowers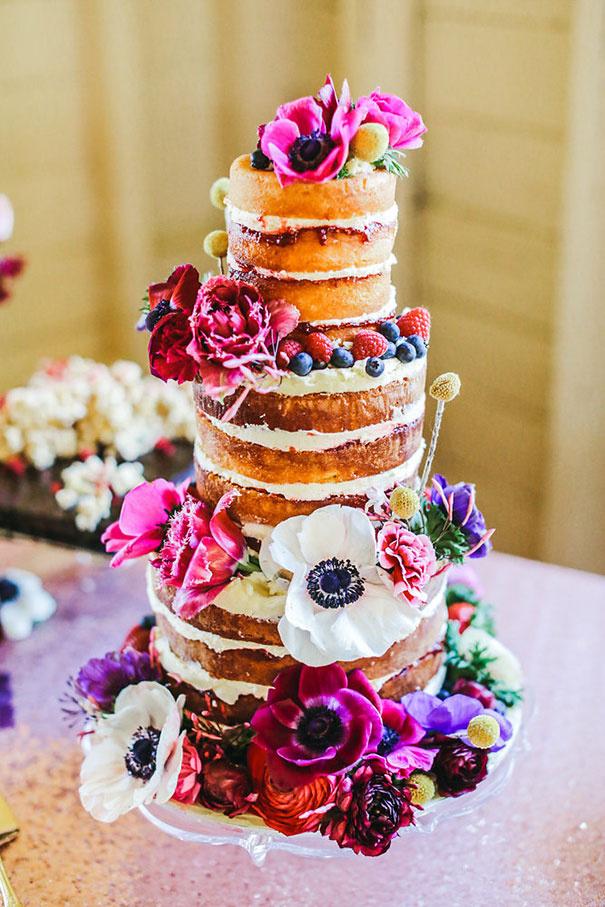 Rustic wedding cakes don't mean you have to stick to neutral and muted colour palettes. These bold blooms will brighten up any dessert table.
6. Rustic Wedding Cake with Ivy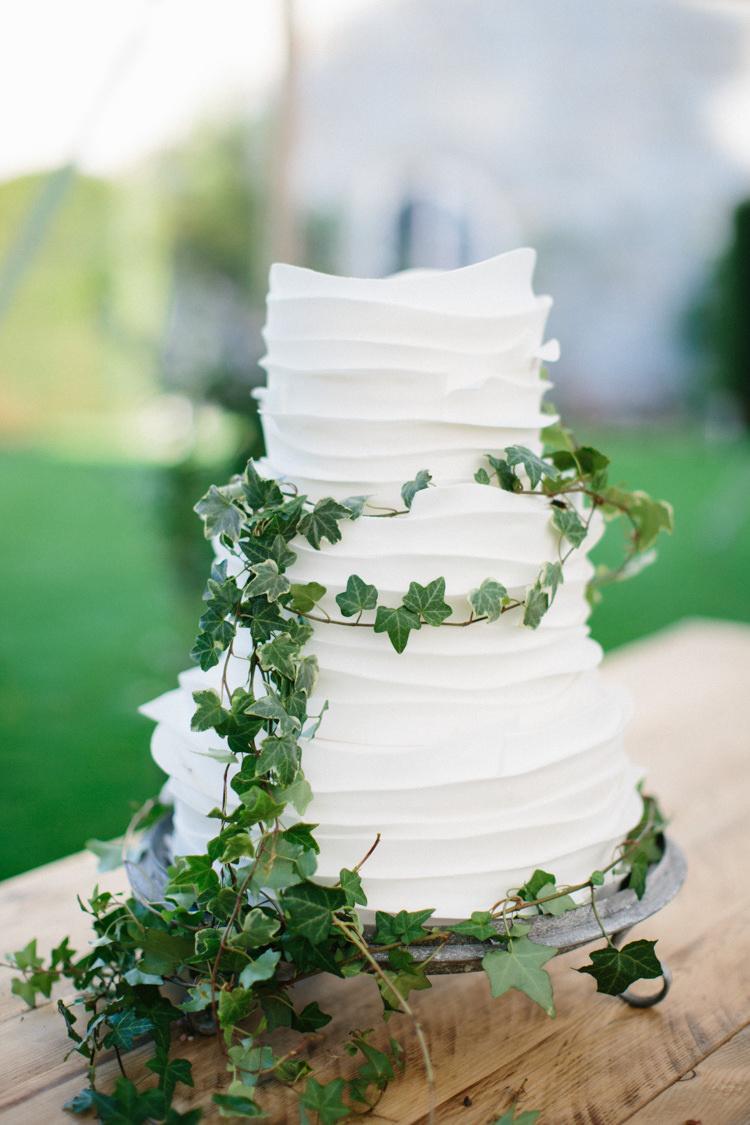 A simple ivy-covered rustic wedding cake will work well with any décor, especially if you're planning a whimsical woodland wedding.
7. Black Rustic Wedding Cake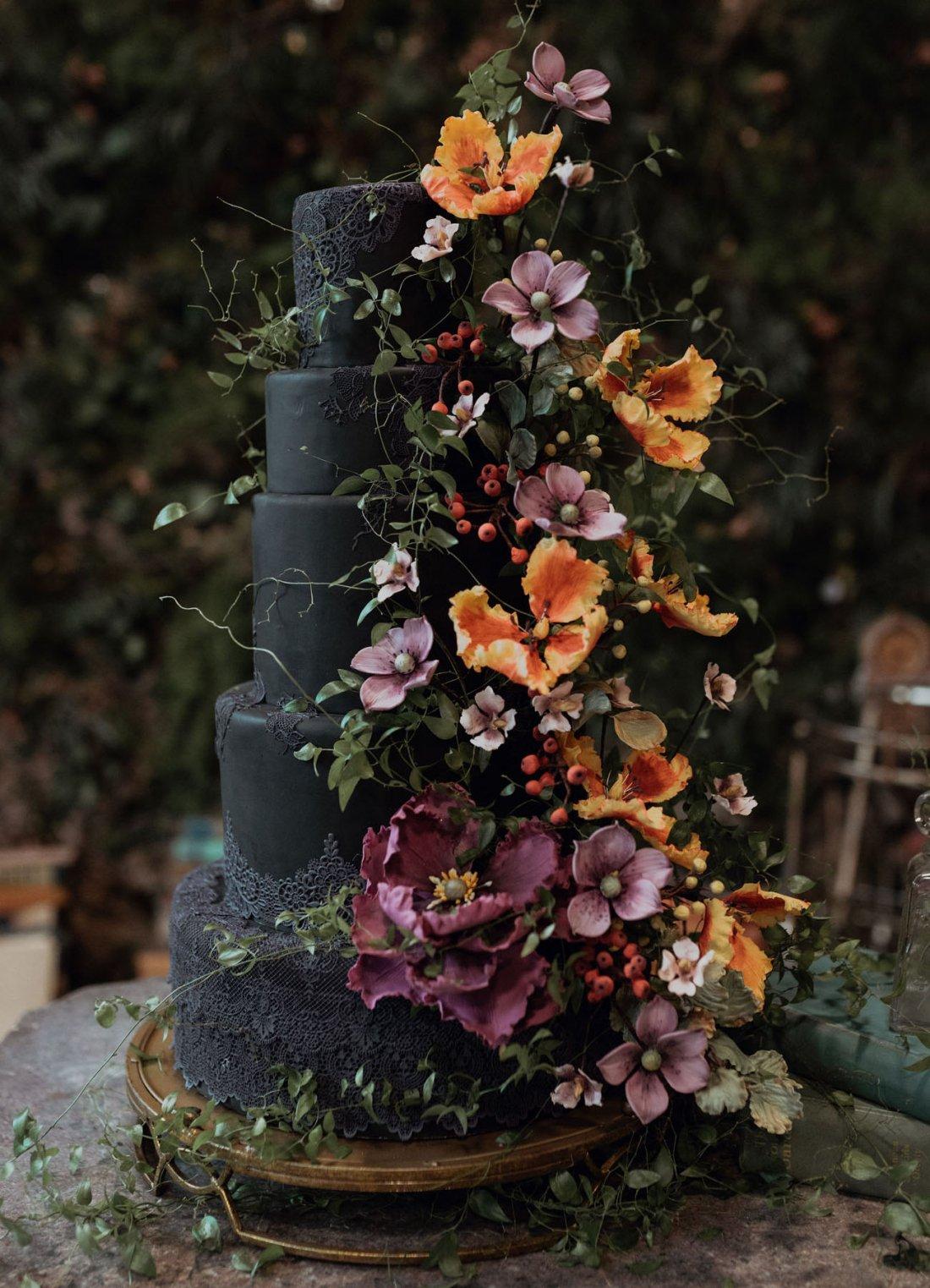 As this cake shows a gothic, dark-hued bake can definitely make a statement. Paired with intricate and striking flowers, it's sure to be a talking point with guests.
READ MORE: The Spookiest Gothic Wedding Cakes That Will Blow Your Mind
8. Doughnut Rustic Wedding Cake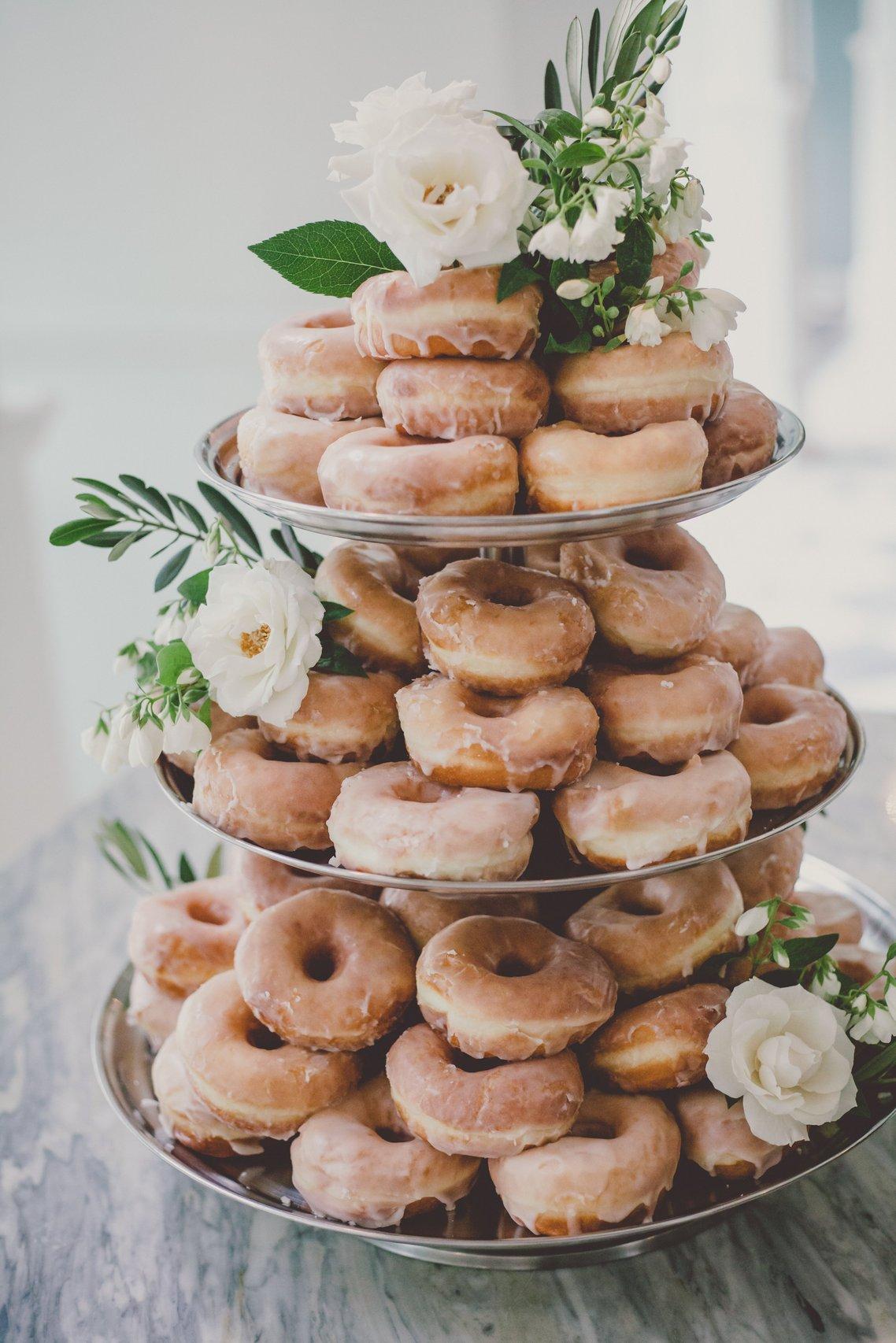 A doughnut tower is an easy way to enjoy a sweet treat after the main course. Nestle some greenery or flowers in-between the rings for a rustically romantic finish.
9. Rustic Wedding Cake with Pinecones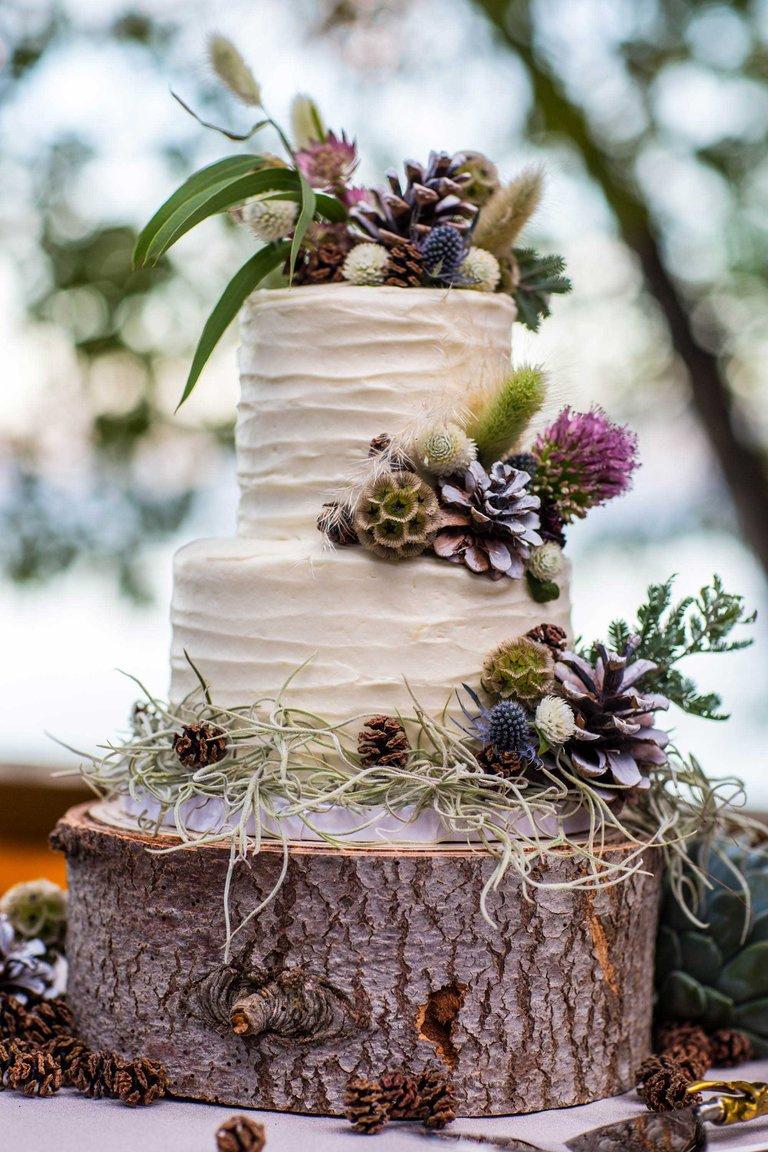 Pinecones perfectly complement a textured buttercream rustic wedding cake. Place on a tree log slice like this cake for added effect.
10. Rustic Wedding Cake with Berries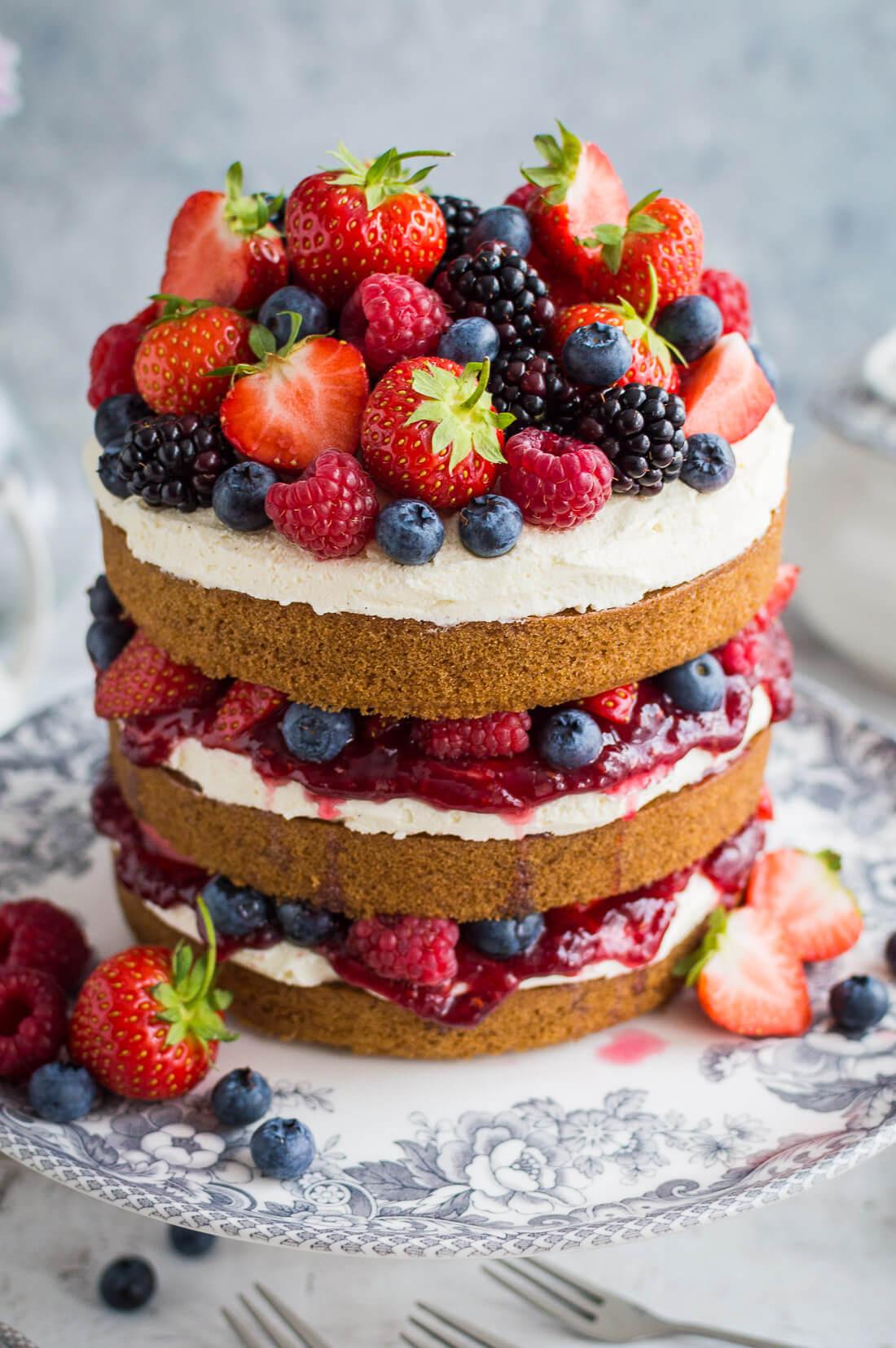 The berries on this triple layered jam and cream sponge look beautiful. These juicy jewels are the perfect pick to decorate a summer garden-themed rustic wedding cake.
READ MORE: 55 Unique Wedding Cake Flavours Your Guests Will Never Forget
11. Cheese Rustic Wedding Cake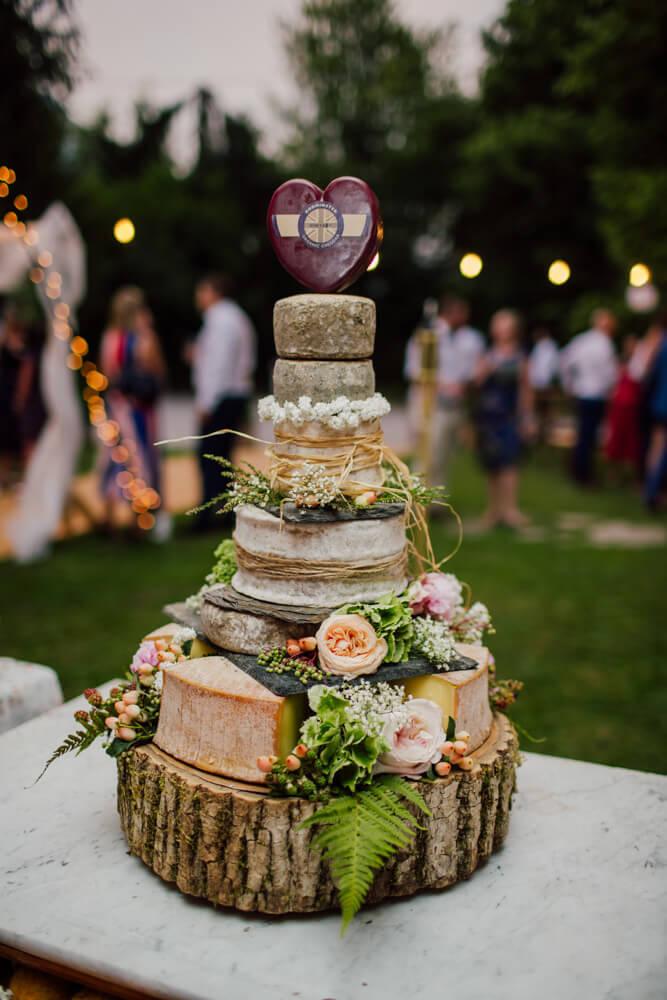 Haven't got a sweet tooth? A rustic cheese wheel tower adds a unique focal point to your wedding food table. As well as foliage, you can also decorate with edible nibbles like fruit, nuts and honey.
12. Winter Rustic Wedding Cake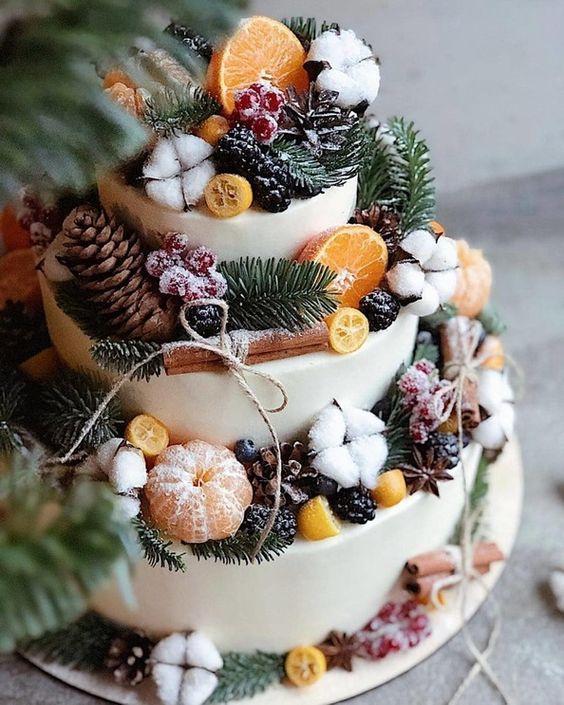 A candied orange, frosted berry, pine sprig and cinnamon stick adorned rustic wedding cake is a match made in heaven for a cosy winter wedding.
13. Rustic Wedding Cake with Metallic Gold Leaf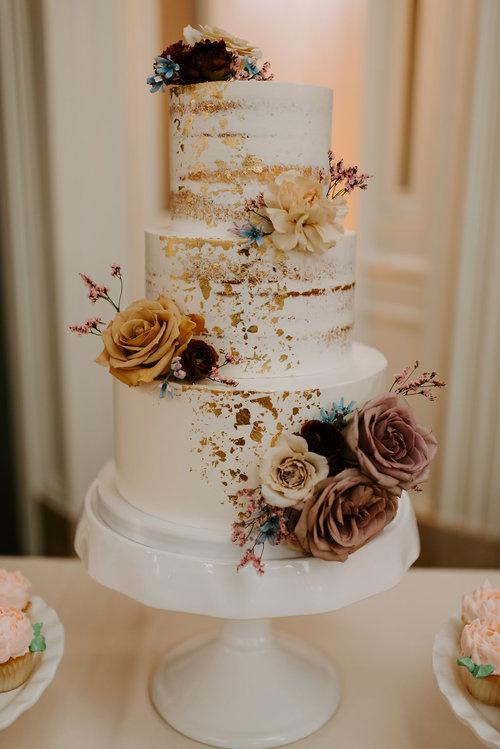 Add a luxe touch to a cake with rustic florals by pairing them with gorgeous metallic gold leaf. How spectacular would this look in your wedding day snaps?
14. Chocolate Rustic Wedding Cake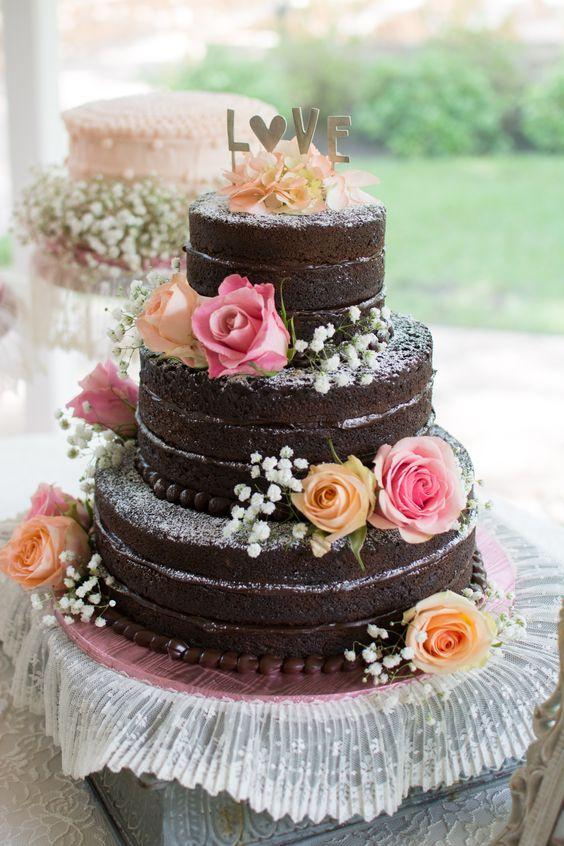 This three tiered naked chocolate rustic wedding cake is a guaranteed crowd-pleaser, even more so if you have little ones in attendance.
READ MORE: 22 Cute Wedding Sweet Table Ideas (& How To Create Your Own)
15. Woodland Rustic Wedding Cake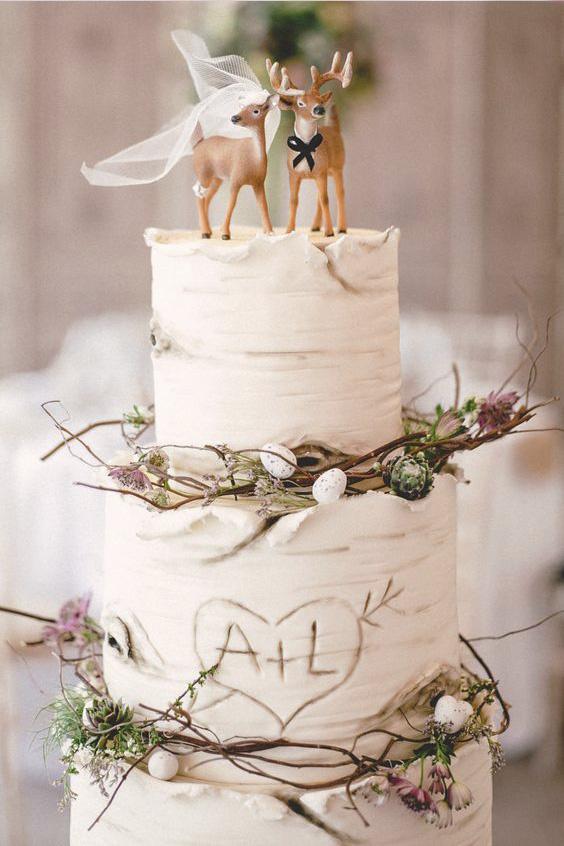 A whimsical woodland design is such a lovely theme for a rustic wedding cake. You can make it as playful as you want by using a sweet deer topper or fun mini eggs.
16. Rustic Wedding Cake with Sunflowers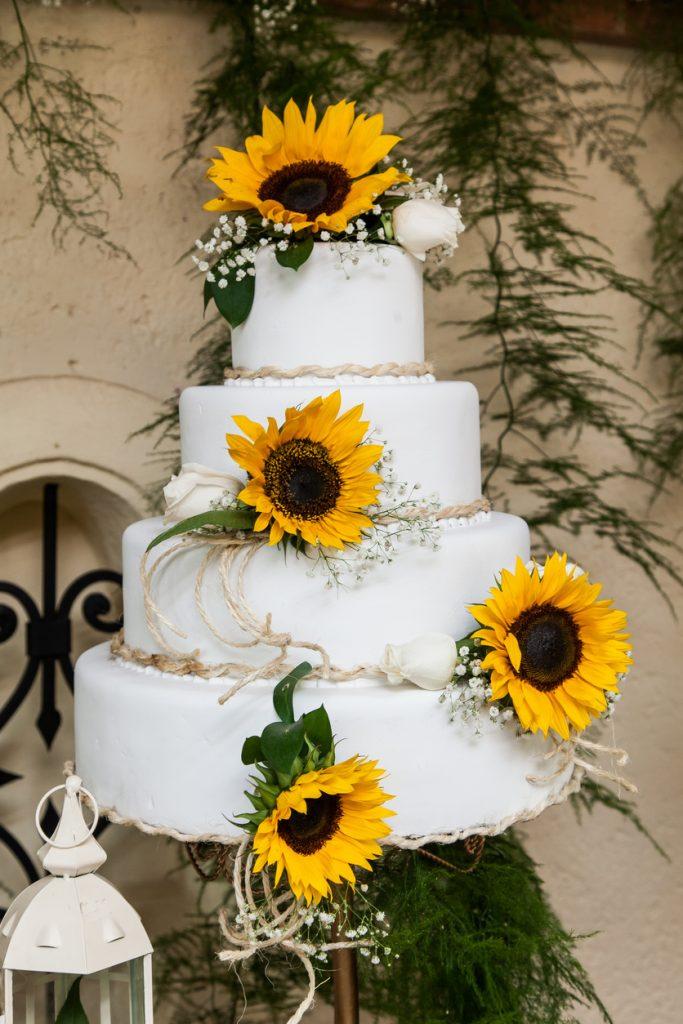 Tying the knot with a rustic barn or farm wedding? Sunflowers and twine can really elevate a simple white wedding cake.
17. Rustic Wedding Cake with Chocolate Drips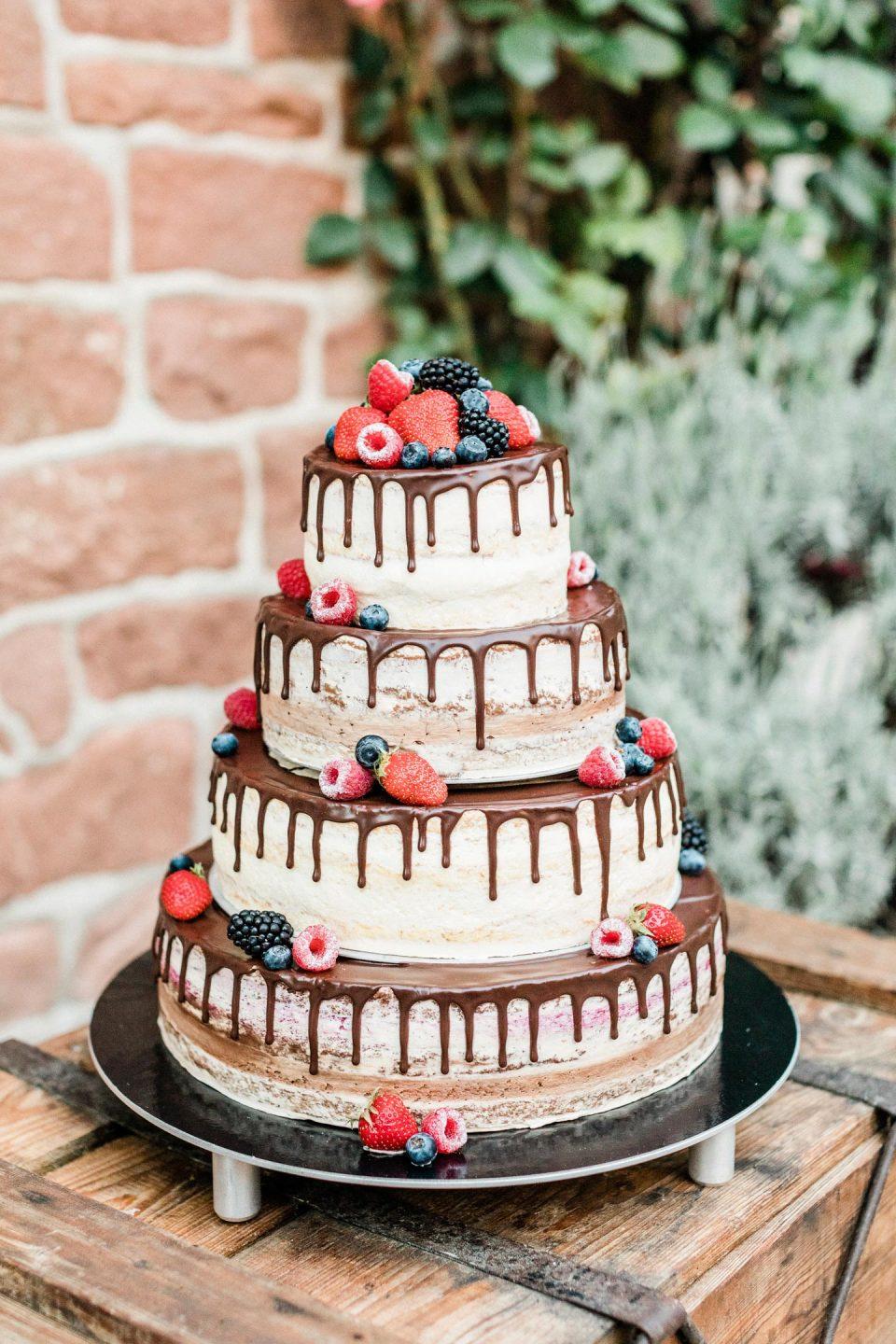 This semi-naked rustic wedding cake with delicious chocolate drips is seriously indulgent. It'll make such a statement with no extravagant décor needed, just pop on a few berries and it's good to go.
READ MORE: 33 Questions You Need To Ask Your Cake Maker
18. Rustic Wedding Cake with Mini Cupcakes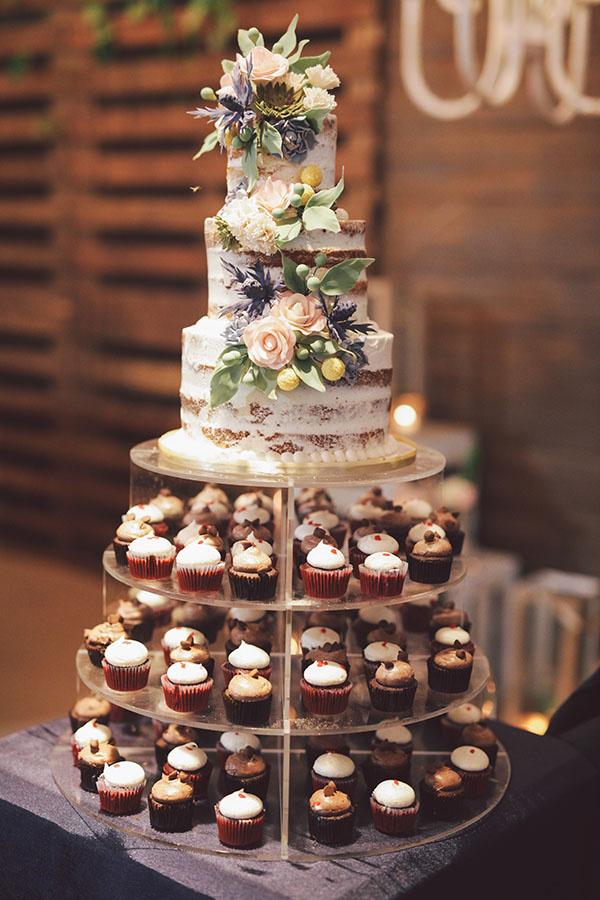 Take a pretty three tiered rustic wedding cake to the next level with an array of mini cupcakes. This display has vanilla, red velvet and double chocolate to suit everyone's taste.
19. Black Forest Rustic Wedding Cake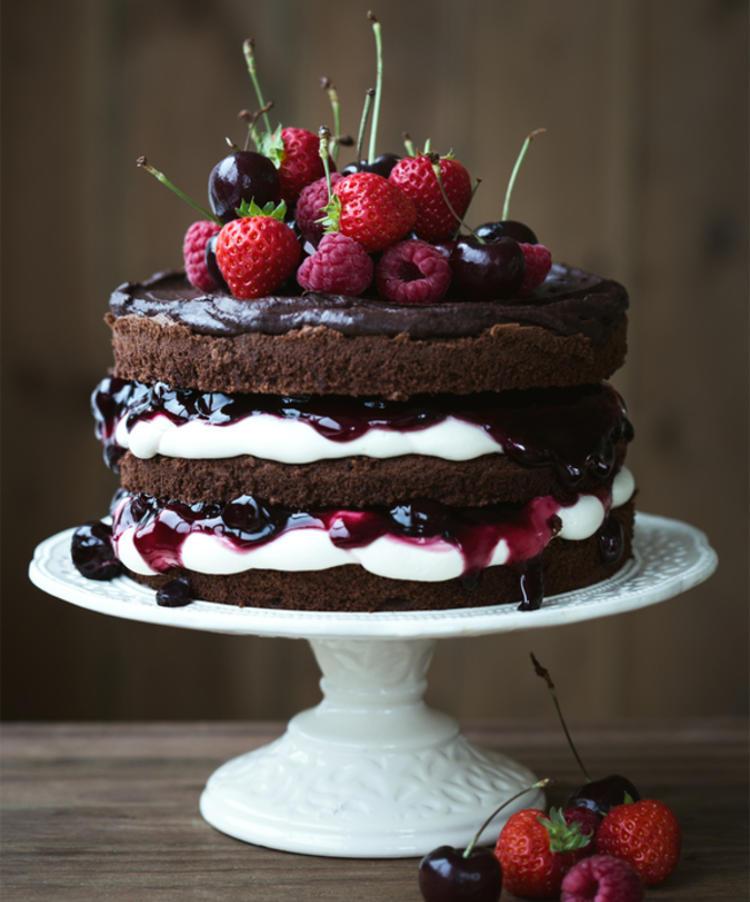 This black forest flavoured rustic wedding cake will be the cherry on top of an elegant, sophisticated wedding day.
20. Rustic Wedding Cake with Figs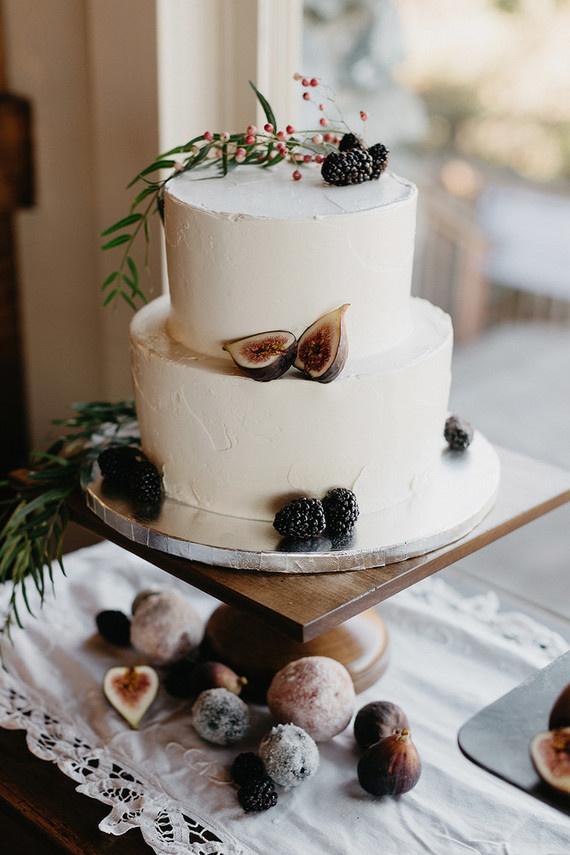 Dark figs and blackberries look stunning next to the fresh white finish of this two tiered rustic wedding cake. Ideal if you're looking for something simple and chic.
21. Victoria Sponge Rustic Wedding Cake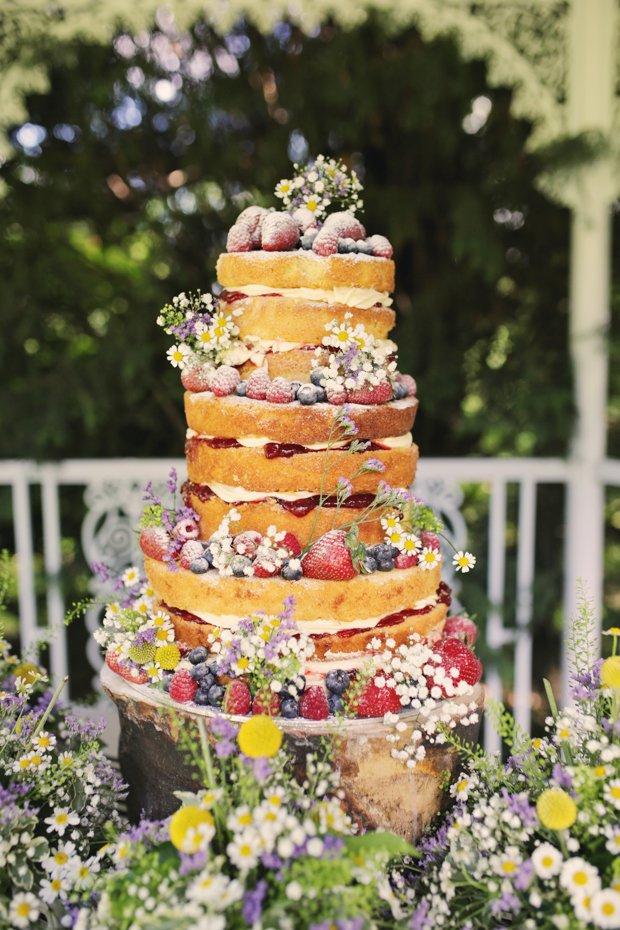 We love the homemade feel of this Victoria sponge rustic wedding cake, complete with lush strawberries, daisies and a dusting of icing sugar. It's easy to recreate if you're planning a DIY wedding cake.
READ MORE: Mary Berry's Victoria Sponge: The Easiest Wedding Cake Recipe
22. Autumnal Rustic Wedding Cake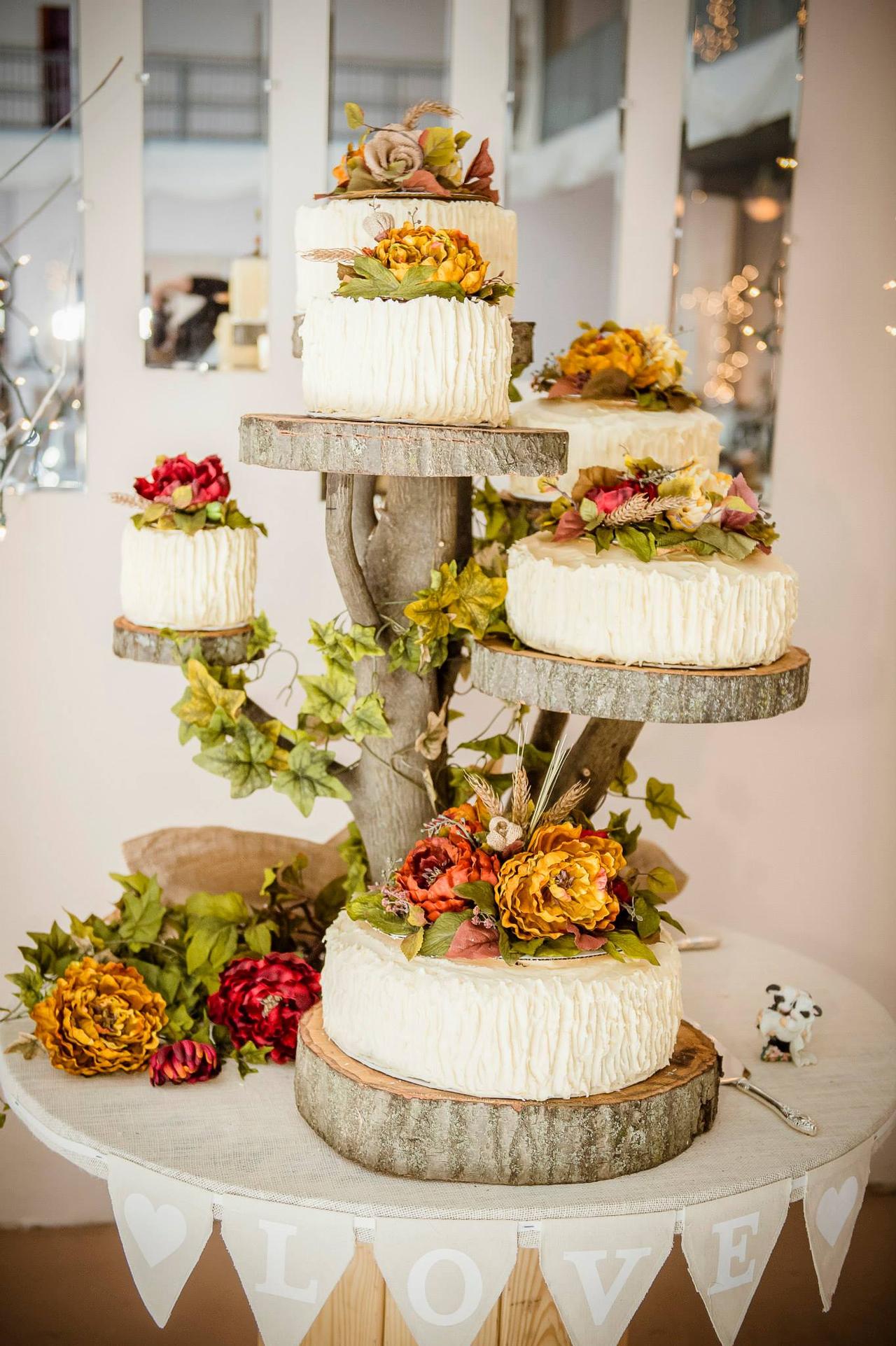 If your dream wedding cake design is the bigger the better then look no further than this six-part Autumn-ready masterpiece. Mix it up with individual flavours in each cake or stick to your favourite.
23. Rustic Wedding Cake with Roses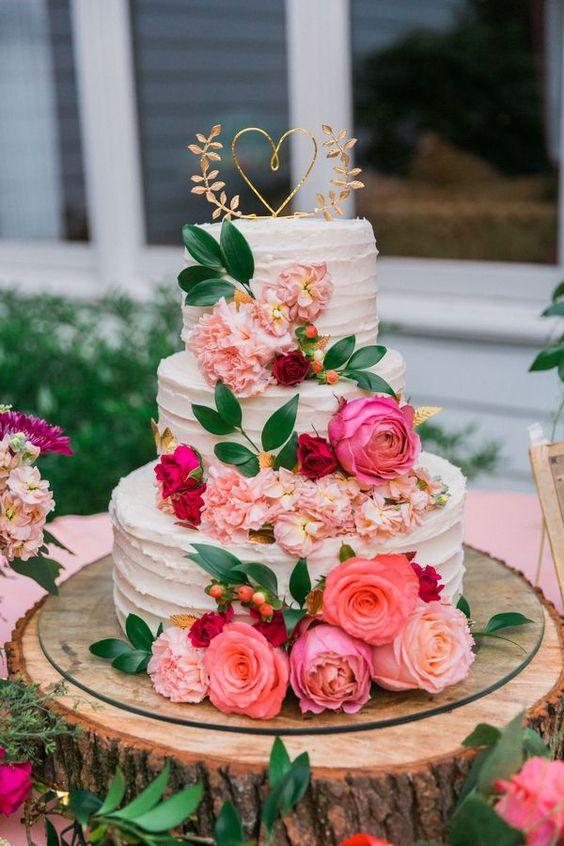 Nothing says romance more than red and pink roses. This cake beautifully combines whole fresh flowers with a scattering of confetti-like dried petals.
24. Citrus Rustic Wedding Cake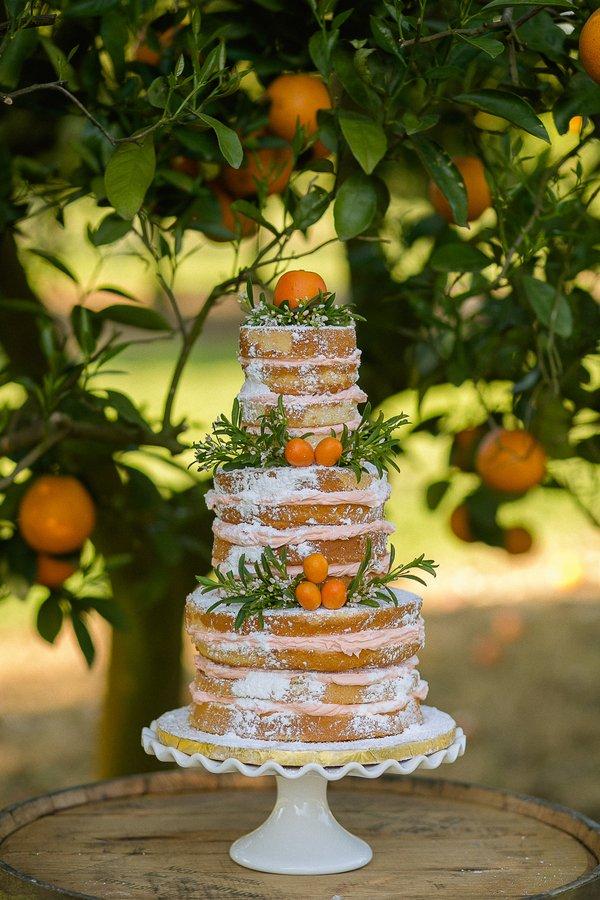 Dreaming of a wedding day in sunnier climes? Ice cold glasses of Aperol Spritz and a citrus rustic wedding cake will be the perfect fit.
25. Neutral Rustic Wedding Cake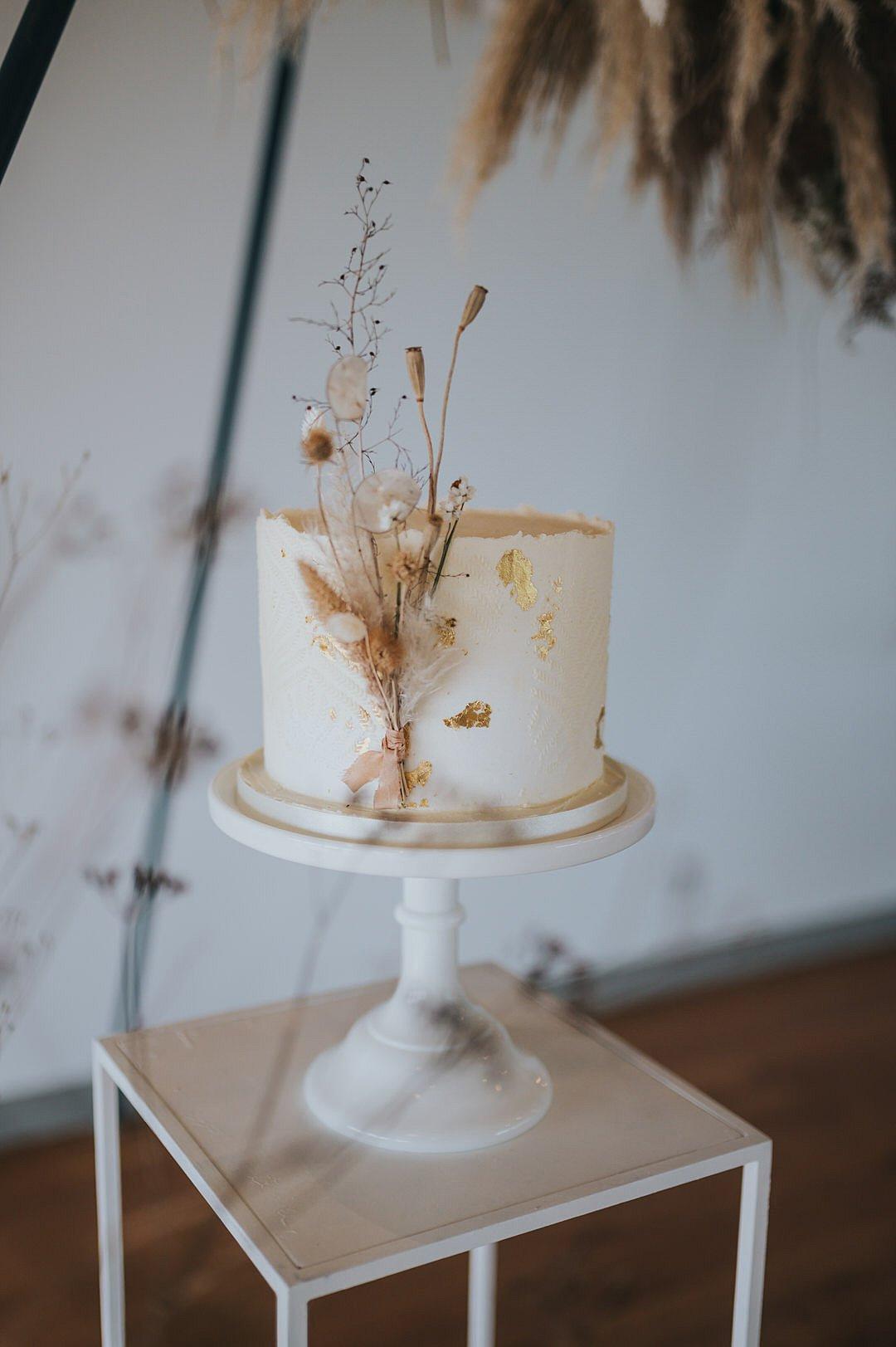 As this bake shows, a single tiered, minimalist rustic wedding cake can still have plenty of impact. The neutral tones create a lovely, laid-back vibe.
READ MORE: 21 of the Best Casual Wedding Dresses for Laid-back Brides
26. Quadruple Flavour Rustic Wedding Cake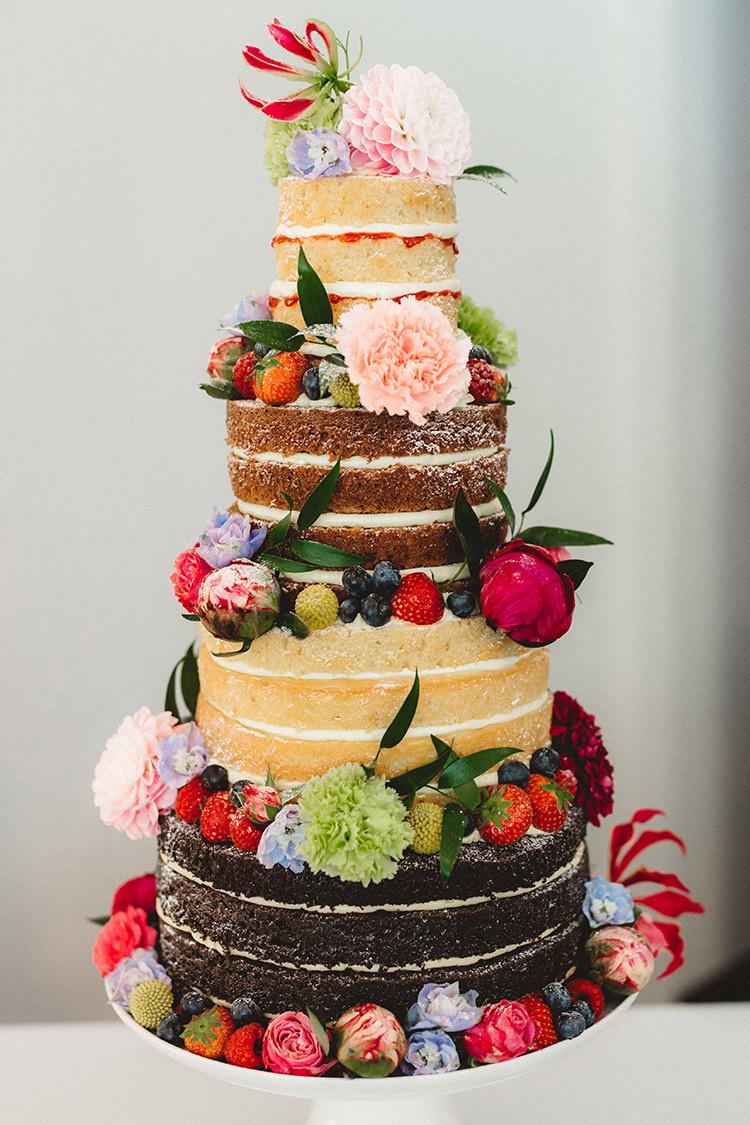 What's better than one deliciously flavoured bake? Four! The contrasting cakes combined with the rainbow of rustic decorations will make a glorious statement.
27. Individual Rustic Wedding Cakes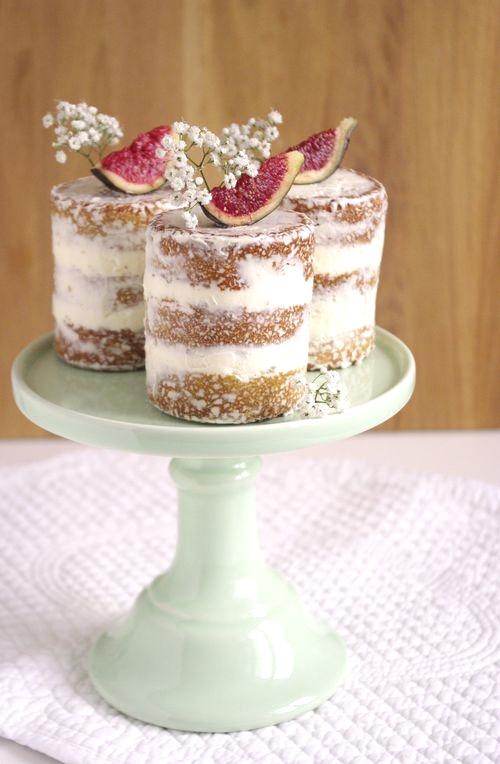 Individual rustic wedding cakes are perfect to serve at a small, intimate celebration. Topped with a single slice of fruit and a flower sprig, they'll look seriously sweet.
28. Rustic Wedding Cake with Greenery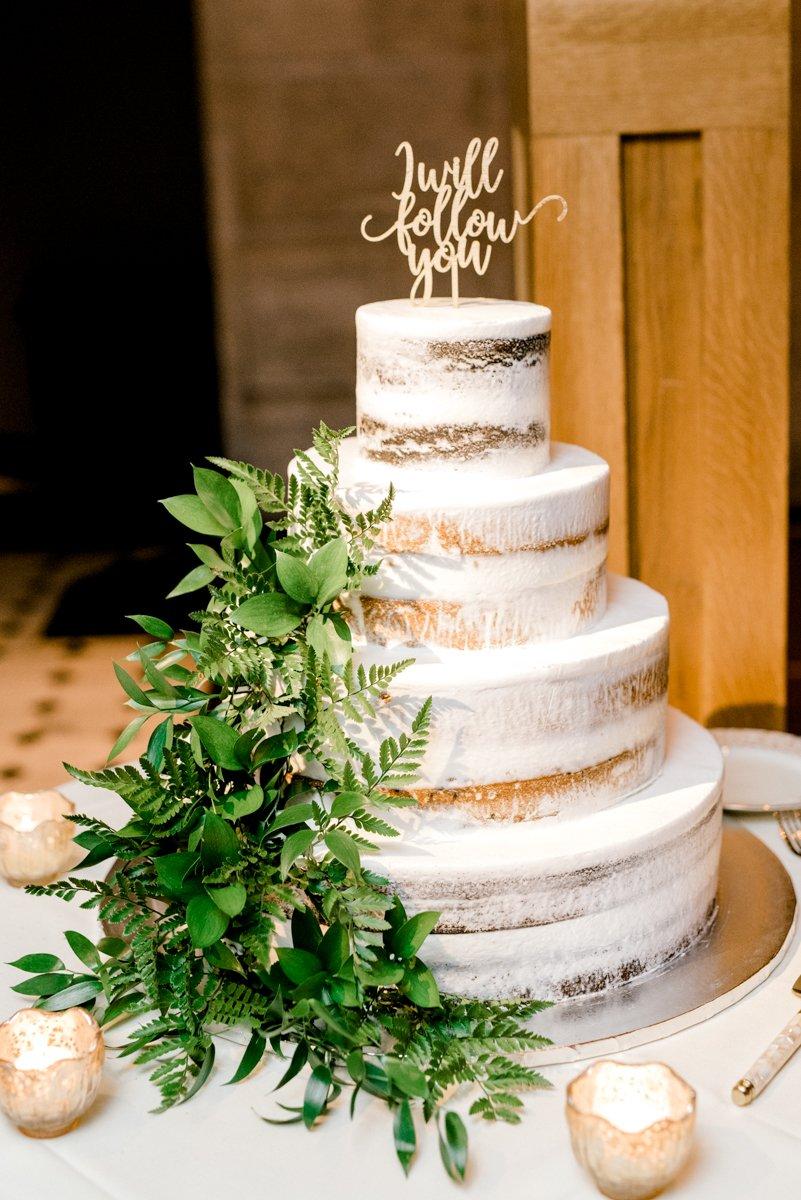 This rustic wedding cake adorned with lush greenery is a look that will suit all kinds of wedding venues and bring a fresh botanical feel to your day.
29. Lilac Rustic Wedding Cake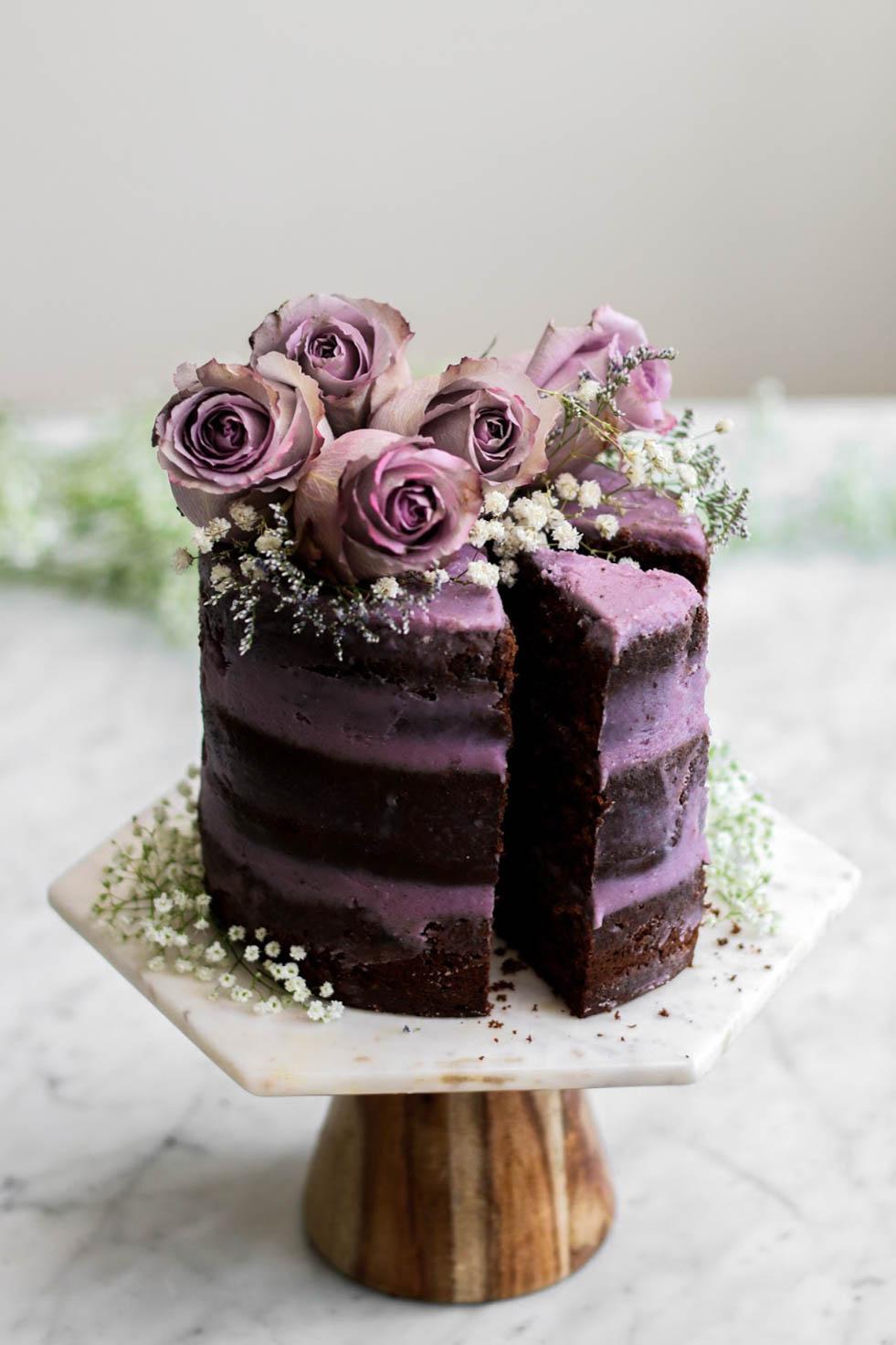 Don't be afraid to switch up a traditional white rustic wedding cake with a pop of colour. This lovely lilac option will look amazing in photos.
READ MORE: The 14 Best Vegan Wedding Cakes in London
30. Waffle Rustic Wedding Cake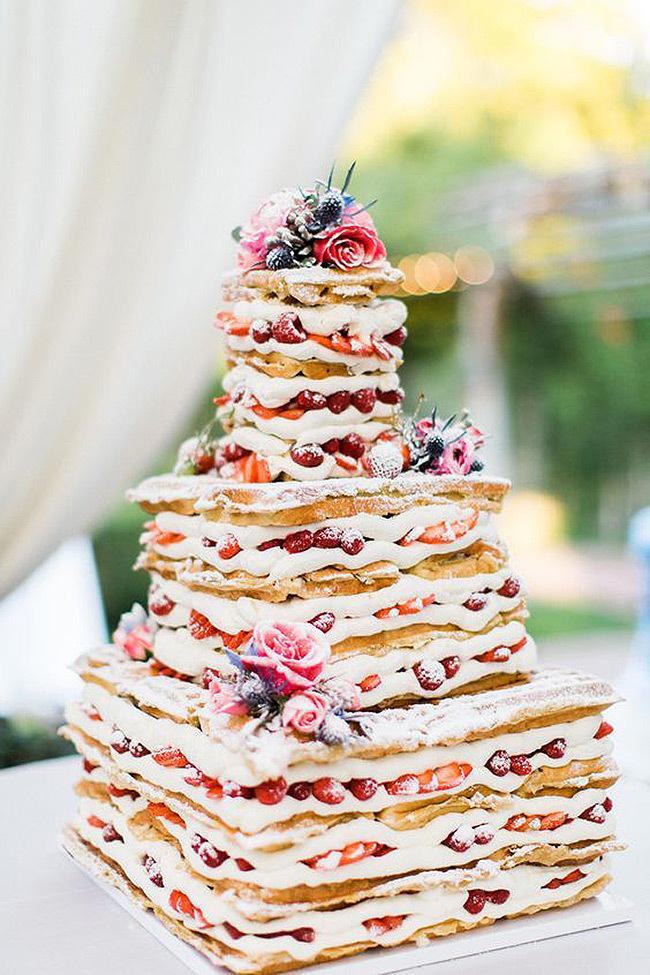 Ditch the classic sponge cake for this fun stack of tempting waffles packed with buttercream and strawberries. Don't forget the maple syrup for serving!
31. Coastal Rustic Wedding Cake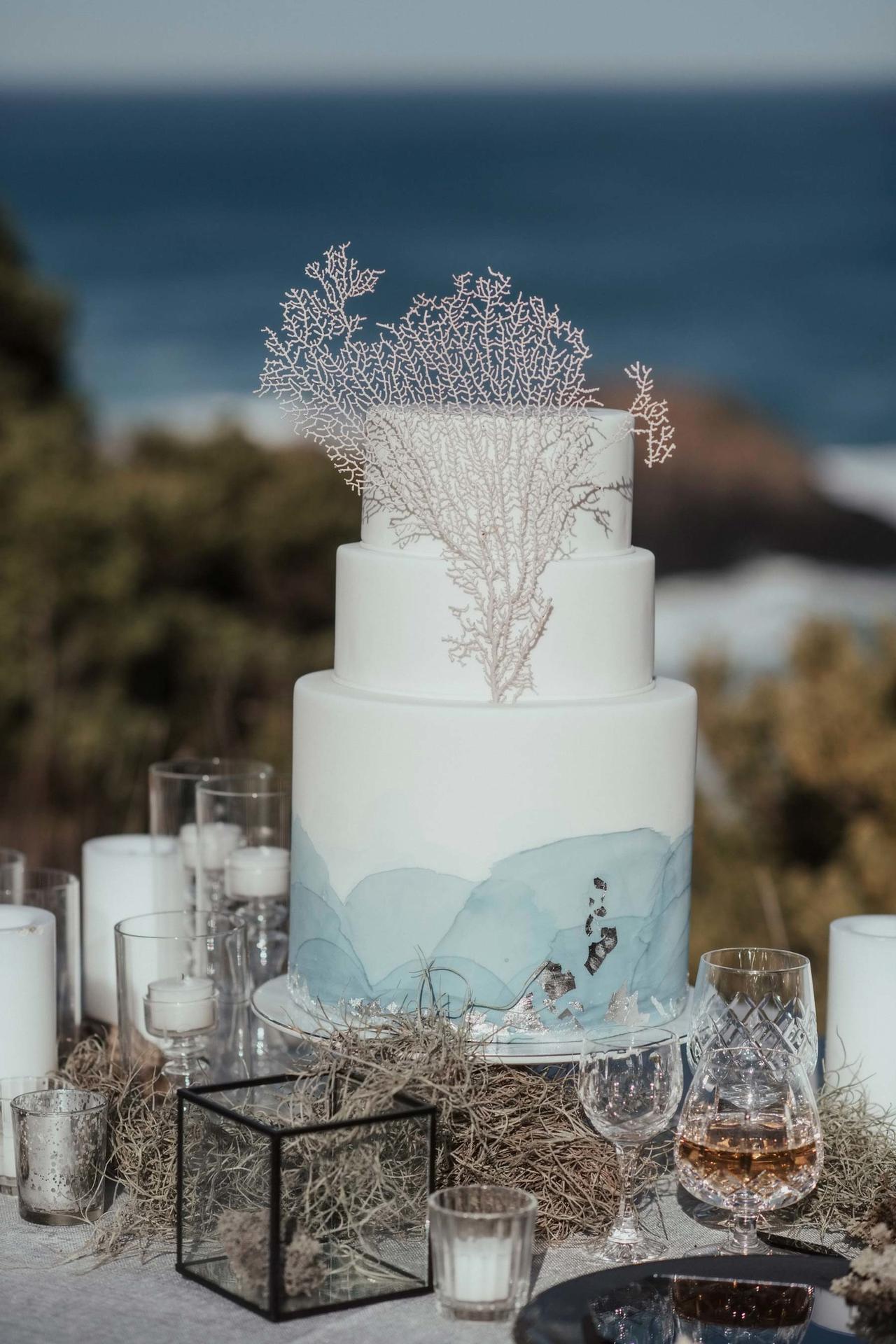 No casual and cool coastal wedding day would be complete without a gorgeous rustic white fondant wedding cake, splashed with sparkling sea-blue and topped with striking coral.
32. Rustic Wedding Cake with Edible Flower

This naked Victoria sponge rustic wedding cake with dainty edible flowers reminds us of spring tea party weddings.
33. Hand Painted Rustic Wedding Cake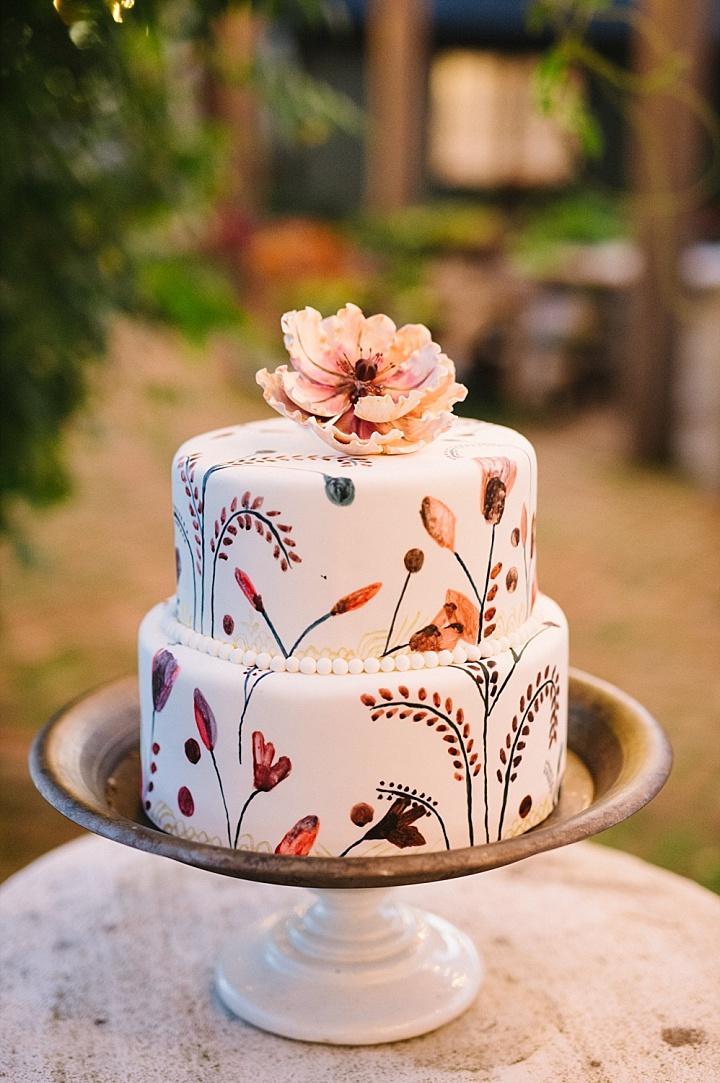 With intricately hand painted flowers, this white fondant, two tiered rustic wedding cake looks almost too good to eat.
34. Modern Rustic Wedding Cake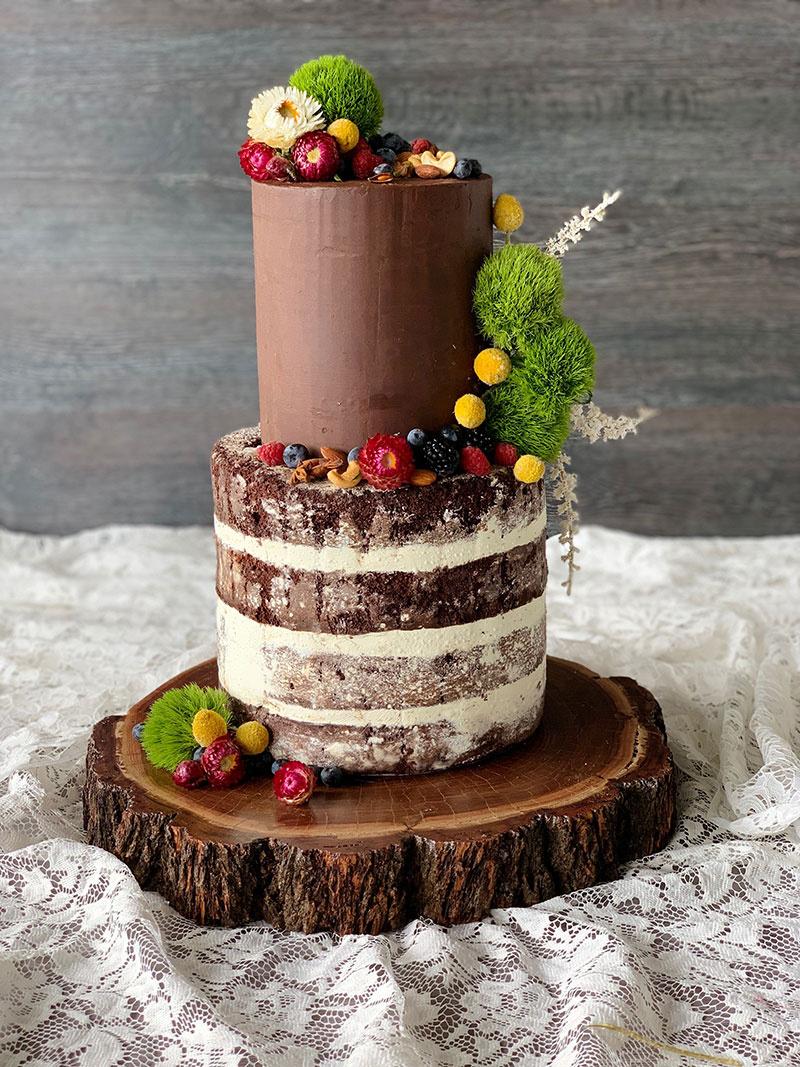 Although towering tiers of white will never go out of style, contemporary confections are perfect for uber-cool couples.
35. Rustic Wedding Cake with Lavender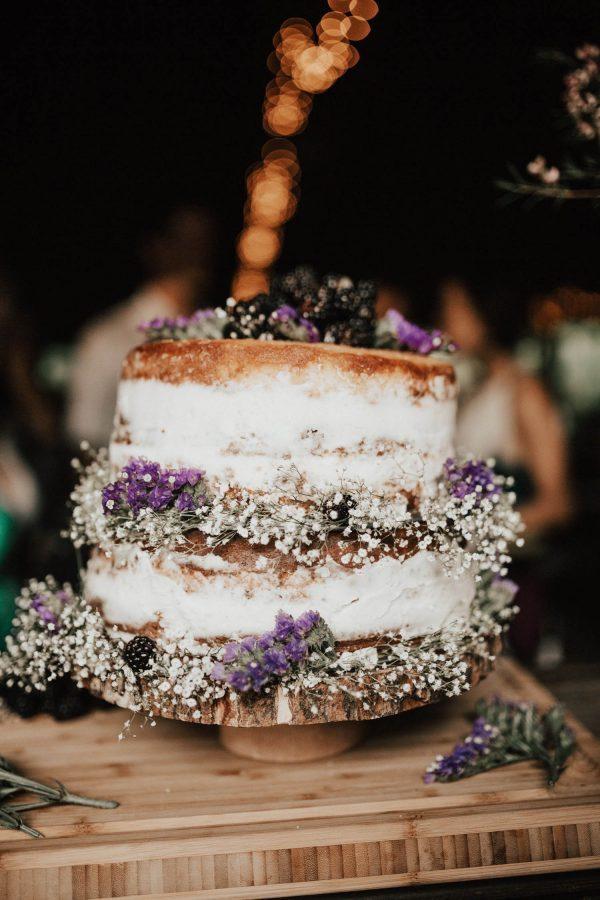 Not only will this lavender-infused, semi-naked rustic wedding cake taste deliciously sweet, it'll fill the room with a fabulous floral fragrance too.
36. Textured Rustic Wedding Cake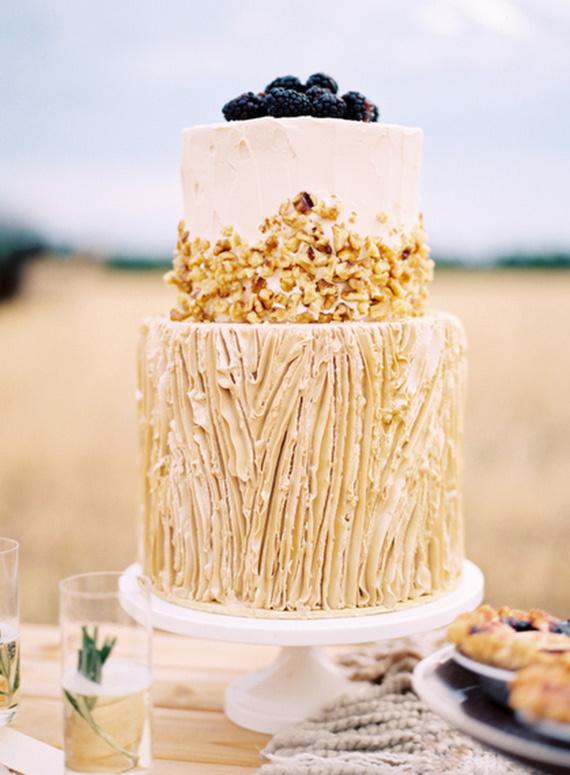 You don't have to stick to just florals and foliage to create a gorgeous rustic wedding cake. Textured buttercream and chopped nuts add interest to this chic bake.
READ MORE: 18 Funny Wedding Cake Toppers That Will Have Your Guests Giggling
37. Rustic Wedding Cake with Blackberries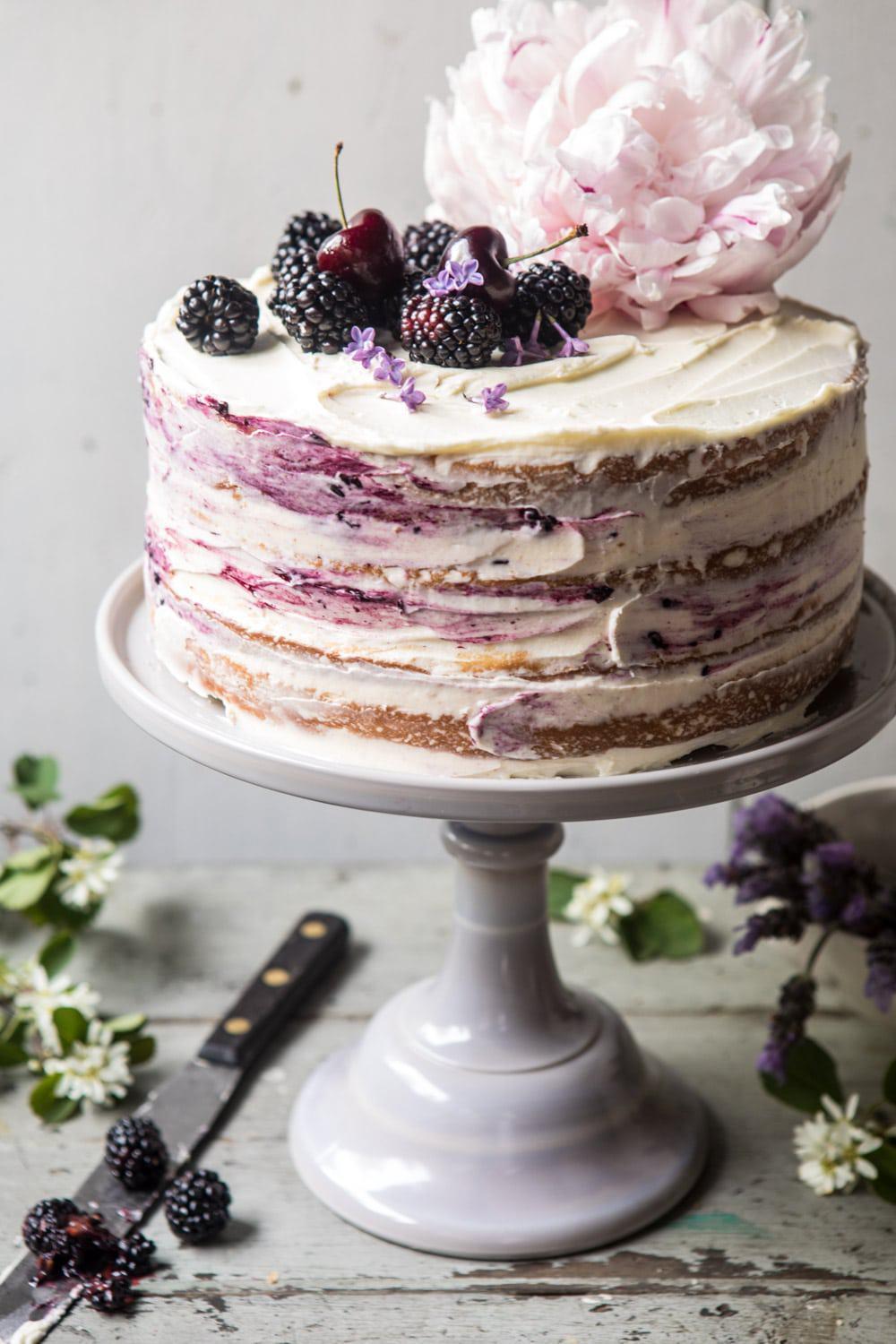 This semi-naked layered sponge cake, smeared with white chocolate buttercream and bursting with fresh blackberries, will be a sure winner at autumn or winter weddings. We love the look of the jam blurring with the icing.
38. Rustic Wedding Cake with Bird's Nest Topper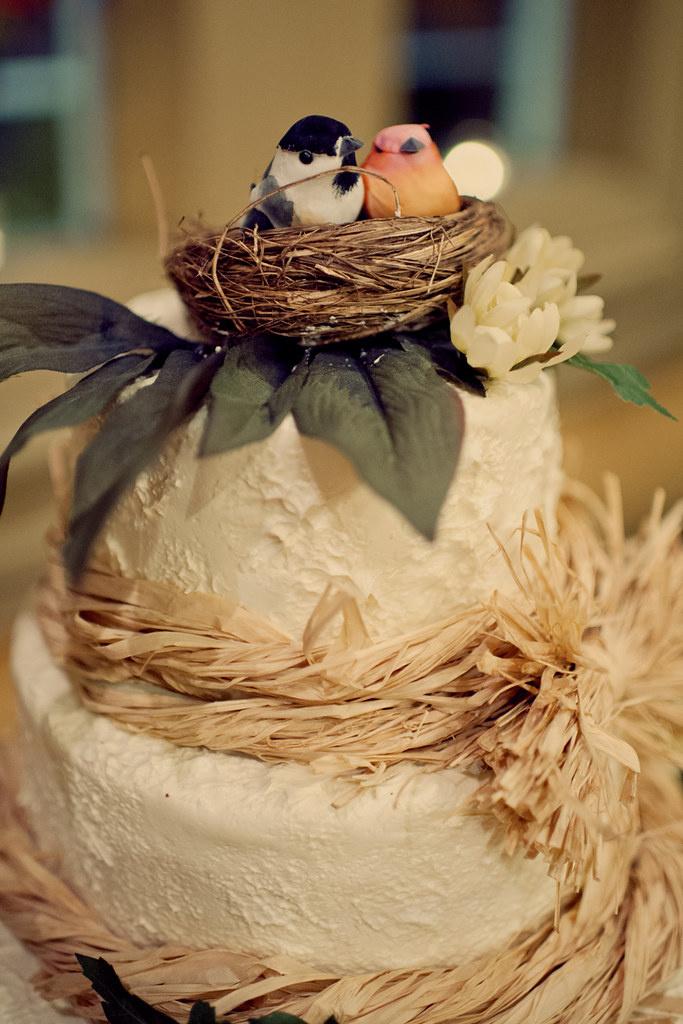 It doesn't get more rustic than a bird's nest topper. This straw embellished wedding cake looks like it was foraged straight from a woodland tree.
39. Rustic Wedding Cake with Baby's-Breath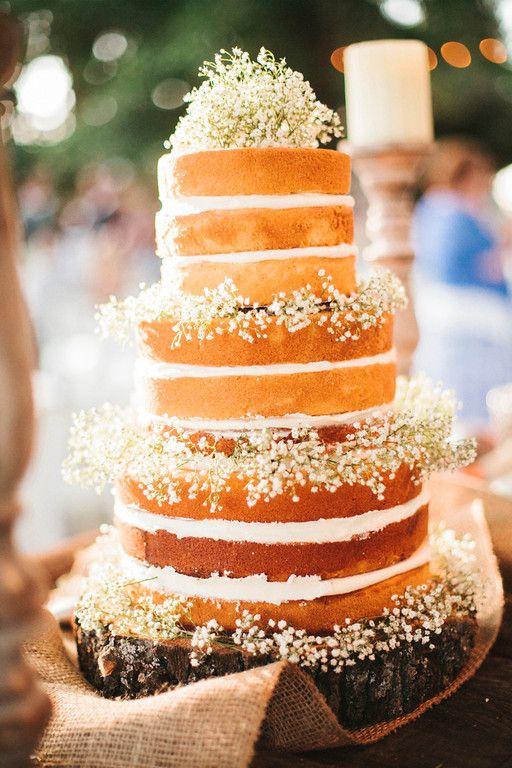 Baby's breath is a classic, beautiful bloom to incorporate into your wedding. Decorate your dining area with it and then adorn the cake as well for a matching elegant finishing touch.
40. Embroidery-Inspired Rustic Wedding Cake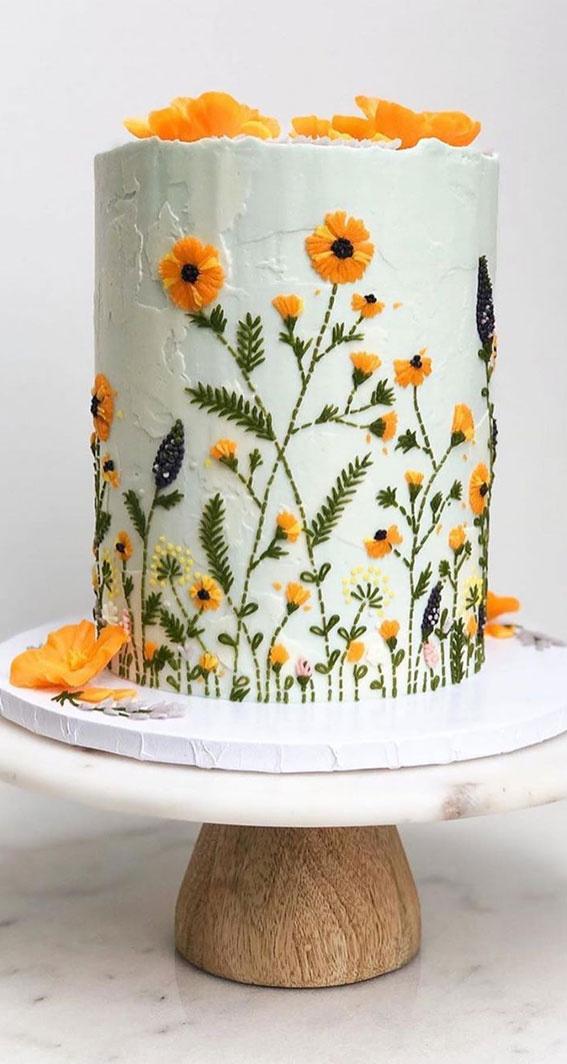 Cleverly piped icing mimics the effect of intricately stitched wildflowers. We love the way this design brightens a room with sunny yellow.
Decided which style of rustic wedding cake you and your guests will want a second slice of? Now it's time to create the perfect wedding cake display.