20 of the Best Barn Wedding Venues in the Cotswolds
Planning a rustic celebration? Consider a barn wedding venue in the Cotswolds - trust us, you won't regret it once you take a look at our round-up of 20 of the best to book now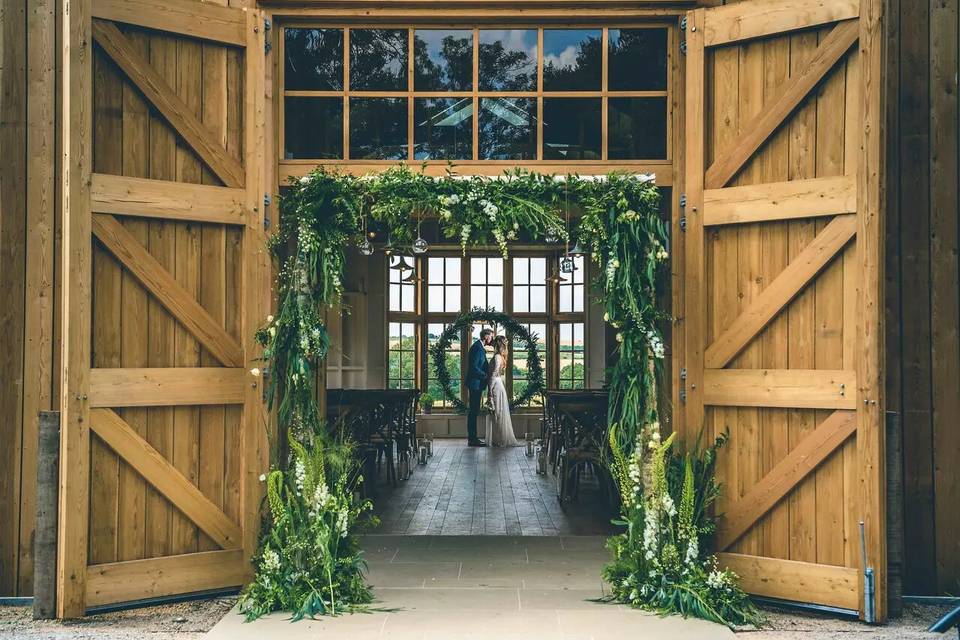 Famed for its glorious countryside and picture-perfect villages, the Cotswolds is a hot spot for amazing wedding venues in the UK. As one of England's largest Areas of Outstanding Natural Beauty -the Cotswolds covers six counties including Gloucestershire, Oxfordshire, Worcestershire and Wiltshire - there's plenty of scope for some stunning settings to say 'I do'.
No matter what county you're based in, expect to find a real mix of rustically romantic barn wedding venues and more modern properties, all packed with character and charm. We're talking wooden beams whimsical brick or stone features, and lots of twinkling fairy lights.
Barn wedding venues aren't just for summer celebrations either (although the natural surroundings do make them a lovely option at this time of year), with many venues now boasting heating and firepits allowing couples to enjoy a cosy winter wedding there too.
Here's our pick of the best barn wedding venues in the Cotswolds - there's a beautiful barn out there to suit every kind of wedding theme!
READ MORE
1. Stone Barn - Gloucestershire
Located on the Gloucestershire-Oxfordshire border lies the Stone Barn - a historic wedding venue with picturesque views across glorious Cotswold countryside.
Able to hold up to 120 guests for a ceremony and 250 for an evening reception, your wedding party will be greeted by flagstone floors, a huge open fireplace and wooden beams.
Alongside the main barn are adjoining Dutch barns which serve as the ideal space for post-ceremony drinks at the gallery bar and wedding feasts for up to 194 guests on the lower floor. The venue's in-house chefs will design a personal menu just for you and flame-grill the food on a giant indoor BBQ!
As for the interior? Expect elegant arched ceilings, industrial style corrugated iron roofs and an open terrace complete with roaring fire pits to keep everyone cosy while the celebrations continue.
2. Merriscourt - Oxfordshire
What's better than one beautiful barn for your wedding venue? Three! Merriscourt consists of three interlinking Cotswold barns that surround a romantic courtyard with breathtaking views across the rolling landscape.
You and your guests are more than welcome to explore the 500 acres of gorgeous countryside, stopping to take wedding photographs against the beautiful backdrop or for just a few minutes alone as a newly married couple.
Each barn is just as charming as the next and ideal for hosting all kinds of weddings. There's the gorgeous Gallery Barn for a drinks reception, the rustic Stone Barn for your ceremony and the light and airy White Barn to enjoy your wedding breakfast in. You can then head back to the Stone Barn for an evening of dancing.
Merriscourt also offers luxury on-site accommodation, including The Old House which sleeps 11, The Cottage which sleeps six and the renovated pumphouse for two.
3. Hyde House - Gloucstershire
Not all barn wedding venues have a rustic feel to them - Hyde House in Gloucestershire boasts a wedding ceremony barn, The Grange, which is a chic and modern space perfect for couples who prefer a contemporary look.
That's not to say this wedding venue isn't packed full of character - you'll still enjoy everything you'd expect from a romantic barn setting, including stunning wooden beams, high ceilings and gorgeous gardens.
This wedding venue is able to host between 75 and 175 guests and if you're getting married during the warmer months they even have an outdoor ceremony space where you can exchange your vows under the Arbor.
After a day full of celebrations, Hyde House also provides 20 on-site bedrooms for you and your guests to stay overnight in with freestanding copper bathtubs, four-poster beds and more!
4. The Kingscote Barn - Gloucestershire
The Kingscote Barn is set in a prime Cotswold countryside location with spectacular views across the valley - so you can guarantee a wedding here will be tranquil and truly relaxing.
The Barn is able to accommodate 150 seated day guests and up to 200 for the evening, plus offering space for 50 guests to sleep on-site in unique and luxurious bedrooms.
After a fabulous ceremony in the stone-walled barn or outside under the oak framed linhay, kick off your evening celebrations with street food cooked straight in front of you by their talented chefs.
If the wood fired pizzas and American sliders don't fill you up, gather around the fire pits and indulge in toasted marshmallows - all while watching an unforgettable firework display.
5. Cripps Barn - Gloucestershire
For a rustically romantic barn wedding venue in the Cotswolds, look to Cripps Barn - an 18th century building with flagstone floors, wooden beams and a roaring open fire.
Ceremonies are held in the main barn where you'll say 'I do' beneath a majestic medieval chandelier, surrounded by 120 guests in this room and a further 30 guests in the adjoining Oak Room. Alternatively, you can head outdoors for a whimsical woodland ceremony in their Oak Pavilion.
There is ample accommodation available at the nearby pubs and inns but we think it's a lovely idea to stay on-site and make the most of free camping.
The venue has a special 1am late license so after partying into the early hours it's seriously convenient not having to travel far to rest your head for the night.
READ MORE: 27 of the Best Barn Wedding Venues
6. Mickleton Hills Farm - Gloucestershire
If you want to eek out your wedding celebrations for as long as possible (and we don't blame you if you do!), Mickleton Hills Farm offer a unique 4 day wedding package that allows you to enjoy a long wedding weekend with several days of pre-wedding excitement with your guests.
On the wedding day itself, this venue can accommodate between 80 to 150 of your family and friends in the 18th century Grain Barn for your ceremony and in the interconnecting oak framed Dining Barn for a delicious wedding breakfast.
Later on in the evening, head back to the Grain Barn for a night of partying with a fully stocked bar, Yamaha sound system and adaptable lighting set-up.
You won't believe that this space has been transformed from your romantic ceremony setting just hours before into a fully equipped party barn!
7. The Great Tythe Barn - Gloucestershire
For the perfect combination of traditional features and modern comforts, consider getting hitched at The Great Tythe Barn in Gloucestershire.
The grade II listed wedding venue offers a number of unique settings for you to host your big day in, including stunning indoor and outdoor areas. For an alfresco ceremony we adore the idea of an open-air exchange in the gazebo with breathtaking views across the countryside.
The elegant cobblestone barn is a beautiful place to have your wedding breakfast with 200 seated guests and it can later be transformed into a lively evening reception area where 250 of your loved ones can celebrate.
Better yet, up to 90 people can stay overnight in luxurious accommodation so if you're having a larger guest list that's nearly half of them sorted!
8. The Tythe Barn Launton - Oxfordshire
The Tythe Barn Launton is a stunning barn wedding venue that consists of three delightfully restored barns on a family farm ready for your special day.
We adore all the extra details that are included with this space, such as The Nook - it's the perfect space to get ready with your family and friends just a few steps away from the barn. So, you won't have to worry about being late to the ceremony!
From June 2022 The Tythe Barn Launton is offering farmhouse accommodation with seven double bedrooms, two large reception rooms, a dining room, country kitchen, tennis court, Shepherd's Hut and a wood-fuelled hot tub.
With this dreamy space all yours, you won't want to leave!
9. The Barn at Upcote - Gloucestershire
The Barn at Upcote has more than enough room to host weddings of up to 110 people for your ceremony and 150 for the evening reception but unlike many wedding venues there are no minimum guest number requirements so if you're planning an intimate celebration this space will be ideal for you too.
As you make your way down a long winding drive to this wedding venue, you'll be met with a spectacular setting boasting a Threshing Barn, Grain Store, Sheep Shed and Cart Lodge.
What's more, if the weather isn't quite going your way you won't have to worry about you or your guests getting cold, the barn has state-of-the-art underfloor heating to ensure everyone stays toasty and comfortable.
10. Milton End Farm - Gloucestershire
Keep your day casual when choosing your barn wedding venue by getting married at Milton End Farm - an idyllic dairy farm that has been in the same family for 5 generations.
Ideal for relaxed couples, it doesn't get more authentic than getting hitched here, nestled among peaceful fields, woodlands and the River Severn. Oh, and don't forget the addition of friendly ducks, goats and sheep that'll greet you throughout the day.
Whether you're planning a micro wedding with 25 guests or a large celebration with 200 people, this beautiful barn provides a rustic dream featuring exposed red-brick, wooden accents and natural greenery.
Twenty three of your nearest and dearest can also shelter there for the night in luxury holiday barns, or there is plenty of space for your wedding party to camp in neighbouring fields.
READ MORE: 21 of the Best Farm Wedding Venues in the UK
11. Old Gore Barn - Gloucestershire
Foodie couples on the hunt for a barn wedding venue in the Cotswolds look no further than Old Gore Barn.
You'll be spoilt for choice when it comes to tucking in, with their spectacular team serving mouthwatering street food and creative cuisine. Need more convincing? Just take a look at their gallery and we bet you'll be hungry!
The event spaces are super versatile, allowing couples to transform the space depending on their personal style, taste and wedding theme.
You can exchange your vows in front of the wood burning stove, before enjoying an informal wedding breakfast while overlooking the outdoor kitchen and Argentine fire pit.
12. Old Luxters Barn - Oxfordshire
We love how homely Old Luxters Barn in Oxfordshire feels despite being an airy and spacious barn wedding venue.
The 17th century converted barn can hold ceremonies of up to 100 seated day guests with the addition of 50 extra people for your evening celebration. You can expect classic barn features throughout, including wooden beams which are simply asking to be adorned with twinkling fairy lights.
This wedding venue also boasts a beautiful vineyard, available for ceremonies in April-October, which is a lovely choice if you're planning a warm weather wedding.
They're also located within a short distance of over 10 gorgeous churches, should you wish to have a religious ceremony before heading back the barn to celebrate.
13. Lains Barn - Oxfordshire
Lains Barn in Oxfordshire is a seriously spectacular barn wedding venue that'll impress from the moment you step through the doors.
You'll have the option to use the main barn for your ceremony and reception, the covered outdoor byre and an indoor byre with its own bar and large lawned courtyard.
Despite boasting modern amenities such as heating and large glass doors, Lains Barns has still retained rustic and original features - we're talking a unique wood tiled floor, beams and even an adorable manger.
14. The Great Barn - Oxfordshire
Surrounded by tranquil lakes, whimsical woodland and 250 acres of gorgeous grounds, The Great Barn in Oxfordshire feels like a fairy tale barn wedding venue.
Ideal for couples looking to experience a rural and natural atmosphere on their special day, the 18th century barns have been fully converted to keep you cool during the summer and cosy in the winter.
There are so many fabulous spaces to make use of, including The Croughton Room which can seat up to 140 guests for a formal meal or your ceremony and the Aynho Room which is a relaxed setting ideal for receptions with up to 175 standing guests.
15. Stratton Court Barn - Oxfordshire
Set within 50 acres of stunning private land and gardens is Stratton Court Barn. Dating back to 1872, this barn wedding venue is made from traditional Cotswold stone so it looks just as spectacular from the outside as it does on the inside.
When you do head on in you'll be greeted by a vaulted ceiling with oak beams, flagstone flooring and impressive floor-to-ceiling windows with amazing views of the countryside.
The venue has space for 80 seated day guests and an additional 70 guests for the evening reception and you'll be guaranteed a friendly and relaxed atmosphere.
This family-run business has a really friendly approach to planning weddings, plus you'll have a experienced and dedicated wedding coordinator on-site to help you every step of the way.
READ MORE: 40 Gorgeous Rustic Wedding Cake Ideas
16. Dovecote Barn - Oxfordshire
Barn wedding venues lend themselves perfectly to a relaxed day and Dovecote Barn takes this to the next level by providing the ideal setting for a festival style wedding.
As the proud owners of a giant tipi, you can host a ceremony of up to 120 seated guests and up to 150 for your evening reception in this unique space. For 2022, they're also making some exciting additions to the tipi so watch this space!
As for the barn, it can cater up to 100 seated guests for your wedding breakfast and it even boasts an adjoining marquee where guests can mingle and relax with drinks and canapes.
17. Redhouse Barn - Worcestershire
Redhouse Barn is a stylish wedding venue in the heart of the Worcestershire countryside that has everything you'll need for your special day.
Nestled within 5 acres of stunning grounds, the traditional barns have been specially designed and built using environmentally friendly technology and fitted with state-of-the-art Bose sound and special-effect lighting equipment.
Your ceremony can take place in the Rebrick Barn with up to 105 guests, or in the Timbered Barn with up to 160.
More over, if you'd prefer a religious ceremony there are 3 churches within a mile of this wedding venue.
18. Bowerchalke Barn - Wiltshire
Bowerchalke Barn in Wiltshire is an incredible 16th century thatched threshing barn set in 1,200 acres of tranquil countryside.
This rustic wedding barn can accommodate up to 150 guests for the wedding breakfast and evening party, plus you can even hire a marquee in the neighbouring field for extra space.
We adore the idea of having an outdoor ceremony with your guests all seated on hay bales - you'll have glorious views of the rolling hills and woodland as your backdrop.
19. Bake Barn - Wiltshire
Wedding barn venues don't get much more aesthetic than Bake Barn in the West Wilshire Downs! Originally a shooting lodge, this property sits in a secluded space with no neighbouring properties - guaranteeing a peaceful day away from any hustle and bustle.
One of our favourite features is the private courtyard - it's the most beautiful space to exchange your vows with a warming and romantic firepit located nearby.
The barn has 2 floors which you can make use of - the lower for entertaining and the upper as a bar area, get-ready room or a relaxation space away from the main event.
Bake Barn is also a dry-hire property so you can completely take control of your special day and create a celebration that is unique to you as a couple.
20. Chalk Barn - Wiltshire
Set atop a Wiltshire valley with wall-to-wall windows lies Chalk Barn - an idyllic barn wedding venue perfect for boho-chic couples.
Exclusively yours for 2 days, you can say 'I do' in the beautiful barn, or head outside with the countryside and fresh air as your backdrop.
Despite its tranquil location, Chalk Barn is easily accessible for your guests from London and further afield.
They have parking for up to 100 cars and even space for a helicopter landing should you wish to arrive in style!
Add some charm to your barn wedding venue with these rustic wedding ideas.