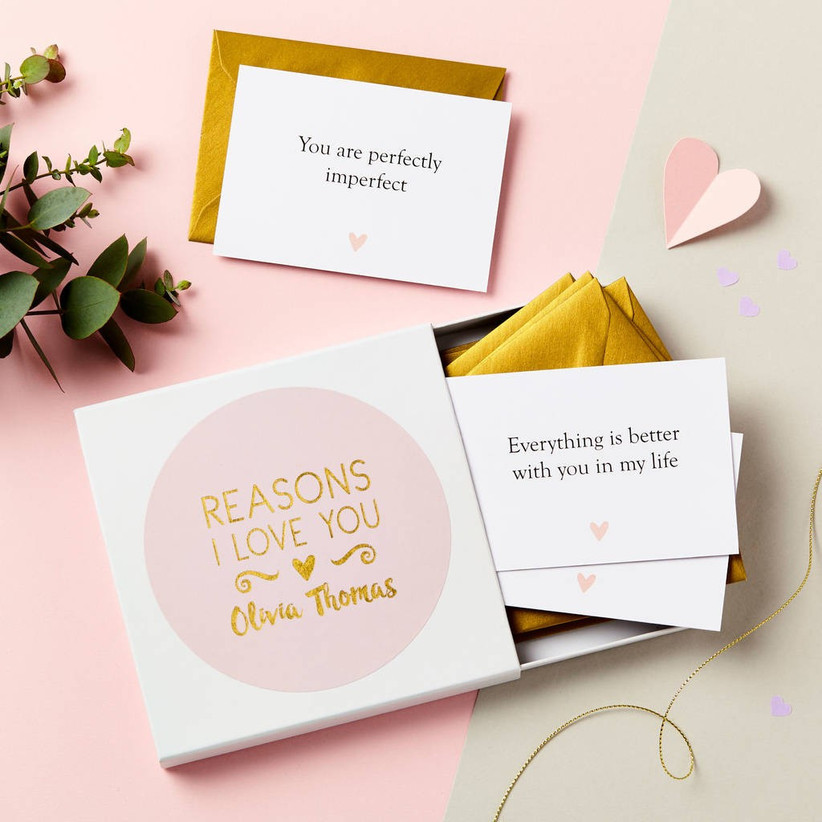 If you're about to celebrate your first wedding anniversary, congratulations!
Your first year of marriage is so exciting – getting used to referring to your partner as your husband or wife, and reminiscing about the best day of your life. Naturally, you want to celebrate with the perfect first wedding anniversary gift that your partner will love. You have to set the bar high for your future wedding anniversaries, after all!
We've found the best first wedding anniversary gifts on the market for both the traditional paper theme and the modern alternative of clocks, with lots of unusual ideas and personalised gift inspiration so you can find that special present.
We have included third party products to help you navigate and enjoy life's biggest moments. Purchases made through links on this page may earn us a commission.
Paper Anniversary Gifts
Your first wedding anniversary is traditionally celebrated with paper, so we've rounded up some of the best paper anniversary gifts your partner will cherish forever.
1. Custom Wedding Venue Portrait – from £48, Etsy
If you're looking for meaningful paper anniversary gifts that your partner will love forever, this beautiful and contemporary personalised wedding venue portrait could be just the ticket!
Hand-drawn from a photo of your wedding venue and with a colour of your choice as the background, it will be a special reminder of the best day of your lives which you can hang in your home for years to come.
2. Date Night Cards – £24.95, Not On the High Street
One of our favourite first wedding anniversary gifts that'll just keep on giving is this box of 52 date night idea cards. 52 cards means you're committing to one date a week for the rest of the year, but when the ideas are as good as they are, that won't be a struggle!
The cards vary from trips away through to making breakfast in bed. We think they're perfect for keeping the romance alive!
3. Reasons I Love You Notes – £22, Not On the High Street
How cute are these Reasons I Love You Cards? They won't break the bank, but will be special reminders to your other half which they can keep forever.
Each card comes in a gold envelope, and the box can be personalised with your partner's name. Who said paper anniversary gifts had to be boring?
READ MORE: Wedding Anniversaries: Your Year-by-Year Wedding Anniversary Gift Guide
4. Paper Plane First Wedding Anniversary Card – £6.25, Not On the High Street
This isn't just any card – this is a paper plane first anniversary card, which doubles as a small gift.
Featuring your choice of design on the wings, your choice of paper and foil colour and your own personalisation, it really is a special addition to any other gift you choose to buy.
You can even add a little wooden cube holder, so your loved one will be able to display the card on their desk or bedside table!
5. Personalised Framed Family Photo Print – £89, Not On the High Street
We adore this unique way of displaying your photographs. With this gorgeous personalised photo frame, you can choose the background colour, photos and wooden plaque colour and words. It'll look glorious on the wall in your first home together!
Buy where is the paper, we hear you say? The printed photos that you'll add!
6. Personalised Poem Framed Book – £53, Not On the High Street
Does your other half love books? Display their favourite poem or book quoter with this personalised framed book.
The words you choose will be printed onto white paper then be sewn into a little book, housed in an acrylic frame. What a special first wedding anniversary gift idea!
READ MORE: Anniversary Gifts for Her: 50 Romantic Ideas Your Wife Will Love
7. The Library Scented Candle – £34, Chase & Wonder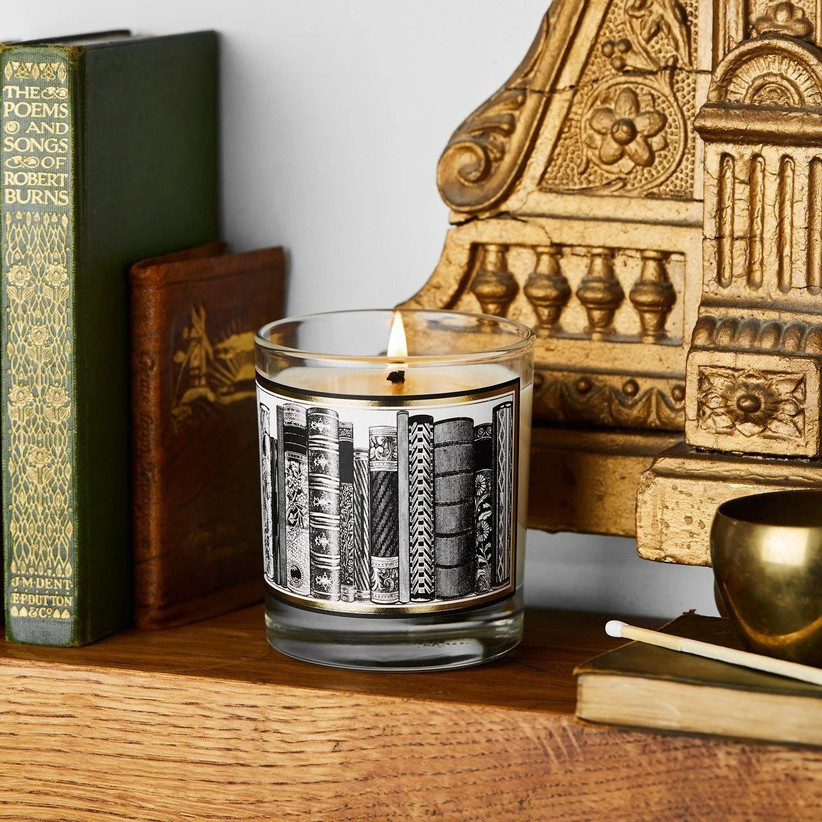 Sometimes the best gift ideas come when you think outside the box - like this scented candle. Yes, it's made of wax and glass rather than paper, but the warming fragrance is designed to evoke books in a library, so technically it's paper-related.
8. Wedding Reading Print – £35, Not On the High Street
Have one of the poems, songs or readings from your wedding day printed to hang in your home – it will be a lovely reminder of your wedding day every time you walk past it!
We adore this elegant style from Bespoke Verse.
9. Personalised Pull-Out Photo Album – £16, Sophia Victoria Joy
If you're not one for huge gestures but still want to treat your other half to one of our special first wedding anniversary gifts, this cute little photo album would be the perfect choice.
Choose either five or seven snaps of your favourite memories together along with a personalised message, and they'll be folded together into a little manila or black box with a personalised outer sleeve.
READ MORE: Anniversary Gifts for Him: 50 Unique Ideas Your Husband Will Love
10. Coloured Leather Photo Album – £32, Not On the High Street
If you've got far too many photos just to choose seven, why not collect your favourites and display them in this recycled leather photo album? You don't have to use shots from the past year - pick a year of your relationship to celebrate and have fun deciding on the best photos from that time.
You can choose from two sizes and many colours, and personalise the bottom right hand corner with text of your choice. Now to whittle down all those memories…
11. Personalised Constellation Notebook – from £16.99, Papier
If your partner loves to write (or make lists), this beautiful notebook is a gorgeous idea.
It comes with a hard or soft cover and lined, plain or dotted paper inside.
12. Hardback Composition Ledger Notebook – £30, Choosing Keeping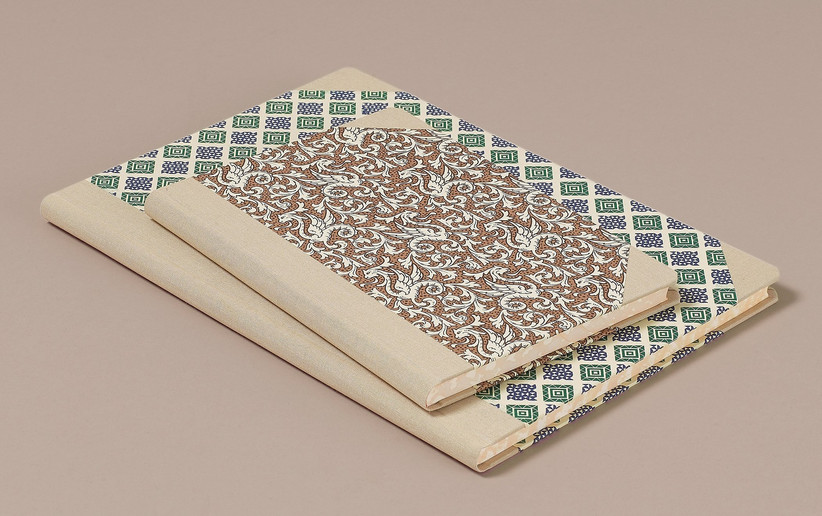 Sticking with the notebook theme, what makes these Keeping Choosing composition ledgers so special is that each one is unique. You choose the colour of the spine and corners (pictured is cream), but the first time you'll see the pattern is when it arrives at your door, as they're made from the company's stock of fine papers.
READ MORE: 45 Thoughtful Gifts for Your Wife for Absolutely Any Occasion
13. Good Vibes Kit Inspirational Prints – £18, Not On the High Street
If your partner's (very Instagrammable) home office is their pride and joy, treat them to these adorable, inspirational prints to stick up on the wall.
The set of paper anniversary gifts comes with a mix of uplifting quotes and photos from pretty places which will add character any space. We love them!
14. Personalised Creative Colouring Book – £24.95, Not On the High Street
Colouring books aren't just for children anymore, and colour therapy has been shown to be a great way to calm the mind.
If you think your partner could do with some de-stressing, a grown-up colouring book like this lovely mindfulness design from The Letteroom could be just what they need!
15. Travel Guide Book – from £17.99, Lonely Planet
Book a romantic getaway and give them a travel guide when you reveal where you're going. It's two anniversary presents in one!
If you're both dreaming of a holiday of a lifetime but you haven't quite got the funds saved yet, you could still treat them to the travel guide so that you can start your planning. Lonely Planet never fail to disappoint on the travel guide front, and they have books for every destination you could ever dream of visiting. Take a look…
READ MORE: 37 of the Most Romantic Hotels in the UK
16. Tickets for a Special Experience – from £49, Virgin Experiences
Whether it's for a mini-break or a night at the theatre, tickets are a great idea when it comes to first wedding anniversary gifts.
Browse Virgin Experience Days where you could book a weekend away, afternoon tea, cooking classes and more! They even have a first anniversary gift section if the choice is a bit overwhelming.
We'd be choosing the a three-course lunch with champagne, we think…
17. A Special Edition Book – from £18.99, Waterstones
Book-lovers will always take pleasure receiving books as gift, so seek out a special or signed edition of your loved one's favourite book.
Waterstones have a beautiful collection of special edition and signed books that would make a lovely first wedding anniversary paper gift.
18. Personalised Scratch The World Travel Map – £15.75, Not On the High Street
If you and your partner love to travel, there's no first wedding anniversary gift more perfect than a scratch the world travel map which you can hang up in your office.
You scratch off all the places you've already visited together, then make plans for the countries which are next on your list.
READ MORE: The 50 Best Honeymoon Destinations Around the World
19. Modern Calligraphy Starter Kit – £35, Etsy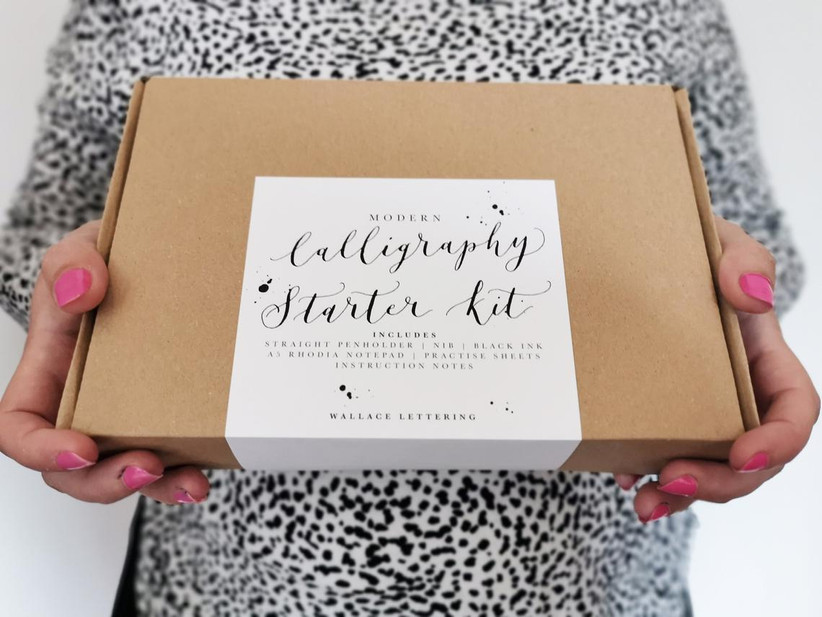 20. Humpback Whale DIY Pendant Paperlamp – from £43.71, Etsy
A paper lampshade is an imaginative take on the paper gift theme, particularly when it's in the form of a diving whale!
Unusual as it is, we love this design, which you assemble at home, and which comes in different colours.
21. Reading Subscription – £45 for 3 Months, Mr B's Emporium of Reading Delights
Of all the book subscriptions, we particularly like the service offered by Bath bookshop Mr B's Emporium of Reading Delights. Your partner fills out a questionnaire about their reading tastes, and they're then assigned their very own 'bibliotherapist' to choose the perfect title for them to try each month.
READ MORE: The 30 Best Subscription Boxes for Couples
22. Personalised Our Story Timeline Print – from £10, Etsy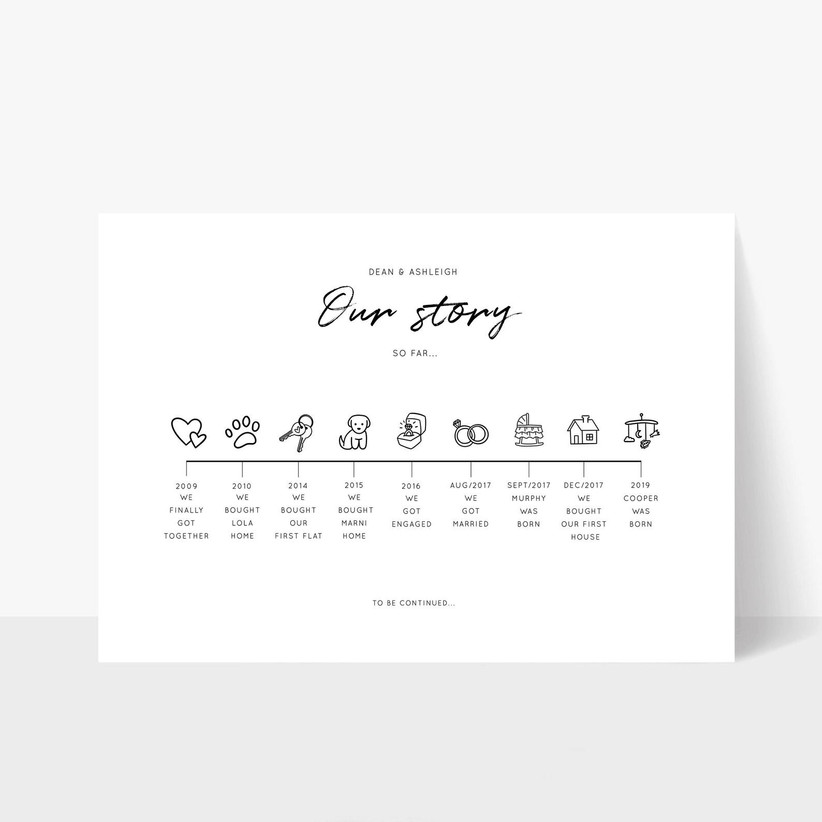 This simple yet heartfelt print celebrates memorable moments in your relationship, such as getting engaged, buying a home, career highlights and special holidays. There are lots of different icons to choose from to help you tell your story.
Modern First Wedding Anniversary Gifts – Clocks
If a traditional first anniversary wedding gift isn't for you, the modern alternative to paper is clocks. They're said to represent that precious newlywed time you've just experienced. Here are just a few of our favourite wedding anniversary clock-related gifts.
23. Nixie Tube Clock – £171.67, Etsy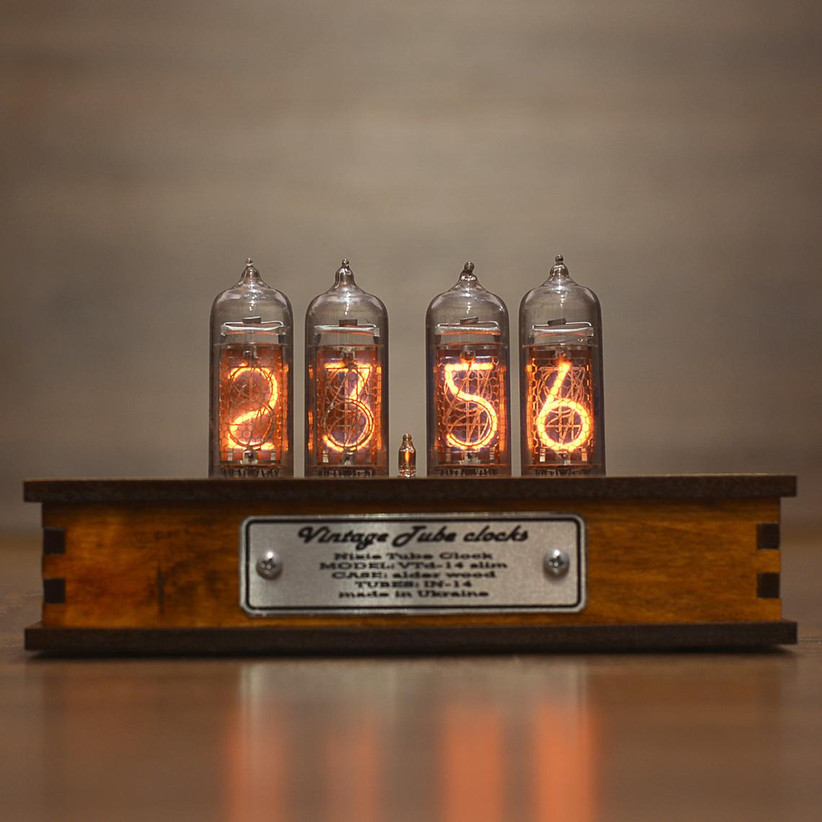 This gorgeous Nixie Tube clock may look vintage, but is features some clever contemporary tech - a motion sensor means it'll only turn on when someone is near it, which greatly prolongs the life of the tubes (although you can turn off this feature if you prefer). An absolute star buy.
24. Lumie Bodyclock Shine 300 – £99, Amazon
If your other half suffers from SAD or just struggles to get up in the morning, a sunrise alarm is a very thoughtful first wedding anniversary gift. Lumie are the market leaders, with a range of different models. We like the mid-range Bodyclock Shine 300. You can spend more for some extra features, but this has sunrise and sunset modes, 15 sounds and a radio - what more could you need?
READ MORE: Date Ideas for Newlyweds: 25 Unique Plans
25. Garmin Vivoactive 4 – £219, Currys
Whether your partner's into running or prefers to get their fitness kick with some Pilates, they'll love this good-looking Garmin fitness watch as a clock-related 1st wedding anniversary gift. As well as the usual fitness tracking, it has guided strength workouts, displays phone notifications and plays music. Prepare never to see this leave your other half's wrist.
26. Personalised Slate Mr & Mrs Clock – £36.99, Not On the High Street
This stylish clock is perfect for your first wedding anniversary gift because it is personalised with your name and wedding date. You can also have Mr & Mr and Mrs & Mrs.
27. Wedding Venue Wall Clock – £55, Not On the High Street
This wooden wall clock is perfect for your first wedding anniversary, it ticks the box of a clock-themed gift and it features a stunning etching of your wedding venue.
READ MORE: The 15 Best Wedding Keepsakes to Remember Your Special Day
28. Astoria Grand 181cm Grandfather Clock – £246.99, Wayfair
You can easily spend a couple of thousand on a Grandfather clock, so this Astoria Grand design is excellent value. It comes in either cherry (pictured) or oak, and adds a note of country-house elegant to any home.
29. Seksy Ladies' Crystal-Set Bracelet Watch – £49.99, H Samuel
Watches are great first wedding anniversary gifts. If the woman in your life loves a bit of wrist bling, this crystal-set watch, from Sekonda's jewellery-inspired Seksy line, should satisfy her desire for sparkle.
30. Karlsson Mini Flip Clock – £140, Red Candy
Does your partner love retro design? The Karlsson flip clock would be a stylish choice of first anniversary gift, perfect for a home office or on display in your living room.
READ MORE: 85 Wedding Anniversary Wishes to Write in an Anniversary Card
31. Gucci-G Timeless 38mm Unisex Watch – £750, Goldsmiths
Gender-neutral watches are on the rise, like this rather glorious unisex watch from Gucci. Yes, it's on the spendier side, but it's a chic investment watch if you want to splash out.
32. Personalised Sterling Silver Clock Necklace – £44, Not On the High Street
This clock necklace can be personalised with a time that's special to your partner - the time they were born, for example, or the time your wedding ceremony started. You can also have a message engraved on the back.
33. Rainbow Glitter Dial & Gold Bracelet Watch – £139, Olivia Burton
Bring joy to your partner's wrist with this vibrant rainbow watch from Olivia Burton. It's an unusual style that's ideal if your other half likes to stand out.
34. Coastline Wooden & Acrylic Clock – £80, Not On the High Street
Love or live near the sea? You can have your favourite coastline painted across this unique clock in matte acrylics. You can also add a line of engraved text such as place names or dates to the base layer.
READ MORE: 30 Mother of the Groom Gifts That Will Melt Her Heart
35. Refillable Wine O'Clock Countdown Clock – £89.95, Not On the High Street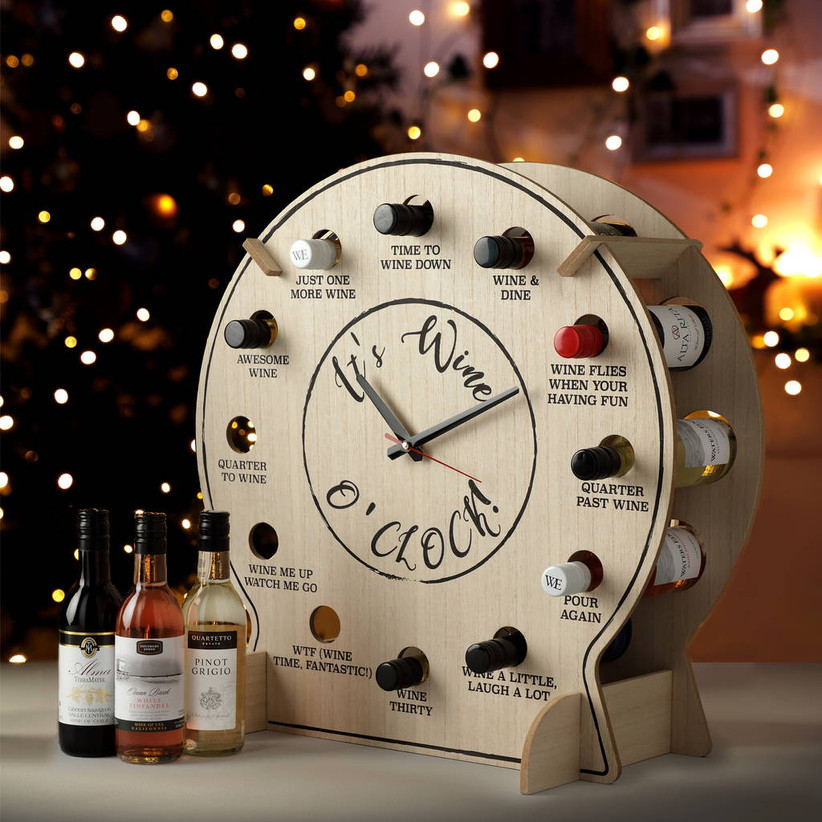 This wine clock is a twist on the modern first wedding anniversary gift theme. It is in fact a working clock, so does count - it just happens to include some wine as well!
36. Personalised Map Wall Clock – £45, Not On the High Street
If you want to remember somewhere special, this map-style wall clock will be a perfect first wedding anniversary gift. You could use the location you met, got married or even where you went on your honeymoon.
37. Paper Clock – £25, Trouva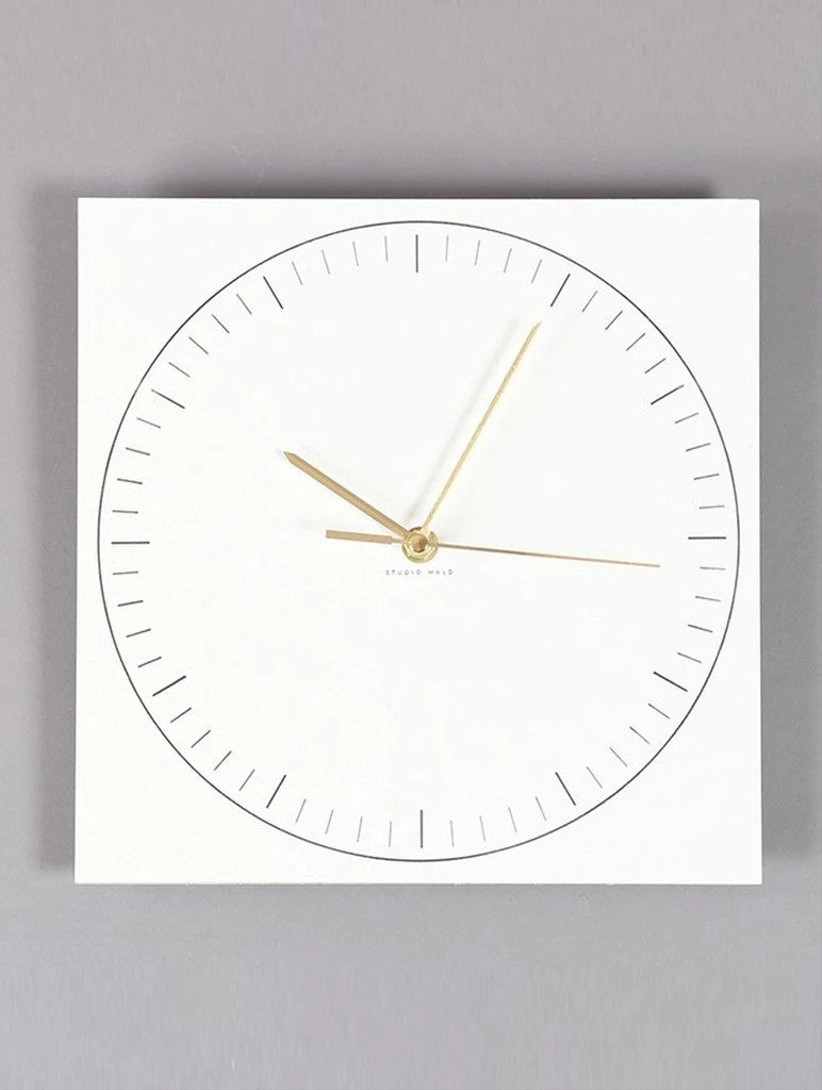 A clock made from paper? This has to be the ultimate first wedding anniversary gift! It also happens to be very chic, and the design is minimalist enough to fit with most home interior styles.
Just remember: however amazing the gift is for your first wedding anniversary, you'll have to out-do it for your second! Luckily we also have a selection of gift ideas for your second wedding anniversary.