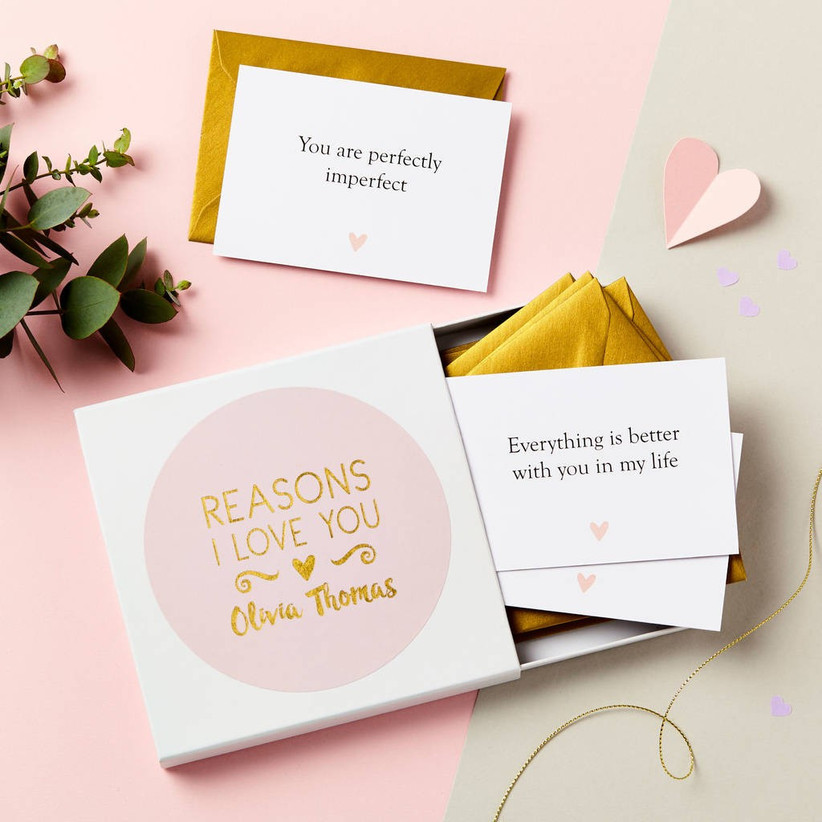 If you're about to celebrate your first wedding anniversary, congratulations!
Your first year of marriage is so exciting – getting used to referring to your partner as your husband or wife and reminiscing about the best day of your life. Naturally, you want to celebrate with the perfect first wedding anniversary gift that your partner will love. You have to set the bar high for your future wedding anniversaries, after all!
We've found the best first wedding anniversary gifts on the market for both the traditional paper theme and the modern alternative of clocks, with lots of unusual ideas and personalised gift inspiration so you can find that special present.
NB: We have included third party products to help you navigate and enjoy life's biggest moments. Purchases made through links on this page may earn us a commission.
Paper Anniversary Gifts
Your first wedding anniversary is traditionally celebrated with paper so we've rounded up some of the best paper anniversary gifts your partner will cherish forever.
1. Custom Wedding Venue Portrait – From £45, BB Illustration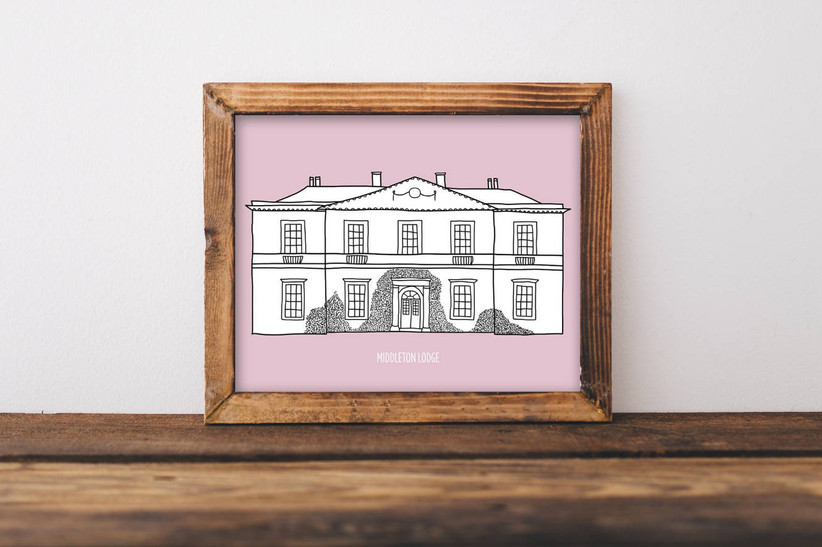 If you're looking for meaningful paper anniversary gifts that your partner will love forever, then this beautiful and contemporary personalised wedding venue portrait could be just the ticket!
Hand drawn from a photo of your wedding venue and with a colour of your choice as the background, it will be a special reminder of the best day of your lives which you can hang in your home for years to come.
2. Date Night Cards – £14.95, This Paper Book
One of our favourite first wedding anniversary gifts that'll just keep on giving is this box of 52 date night idea cards. 52 cards means you're committing to one date a week for the rest of the year, but when the ideas are as good as they are, that won't be a struggle!
The cards vary from romantic trips away through to making breakfast in bed. We think they're perfect for keeping the romance alive!
3. Reasons I Love You Notes – £14, Martha Brook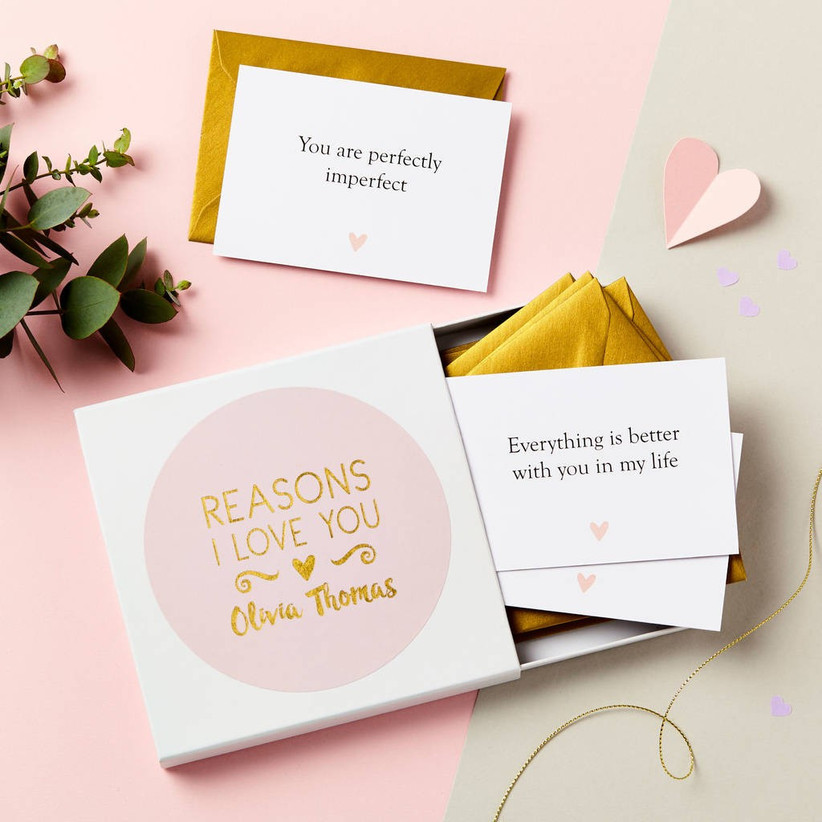 How cute are these Reasons I Love You Cards? At only £14, they won't break the bank, but will be special reminders to your other half which they can keep forever.
Each card comes in a gold envelope, and the box can be personalised with your partner's name. Who said paper anniversary gifts had to be boring?
4. Paper Plane First Wedding Anniversary Card – £6.25, Mock up Designs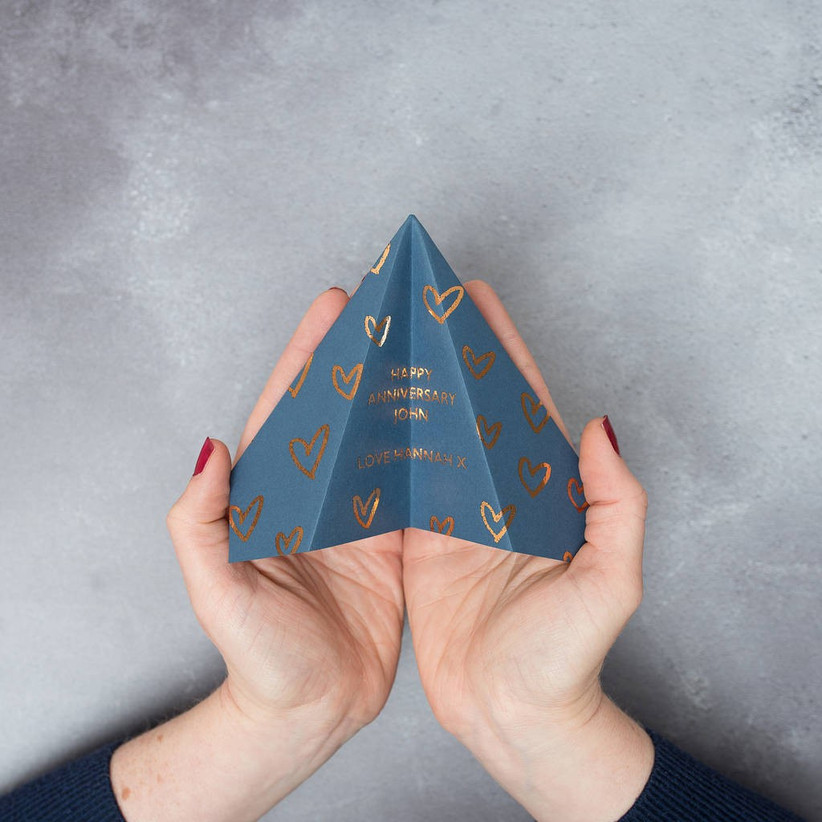 This isn't just any card – this is a paper plane first anniversary card which takes the whole paper anniversary gifts thing very seriously.
Featuring your choice of design on the wings, your choice of paper and foil colour and your own personalisation, it really is a special addition to any gift you choose to buy.
You'll even be able to add a little wooden cube holder, so your loved one will be able to display the card on their desk or bedside table!
5. Personalised Framed Family Photo Print – £89, Sophia Victoria Joy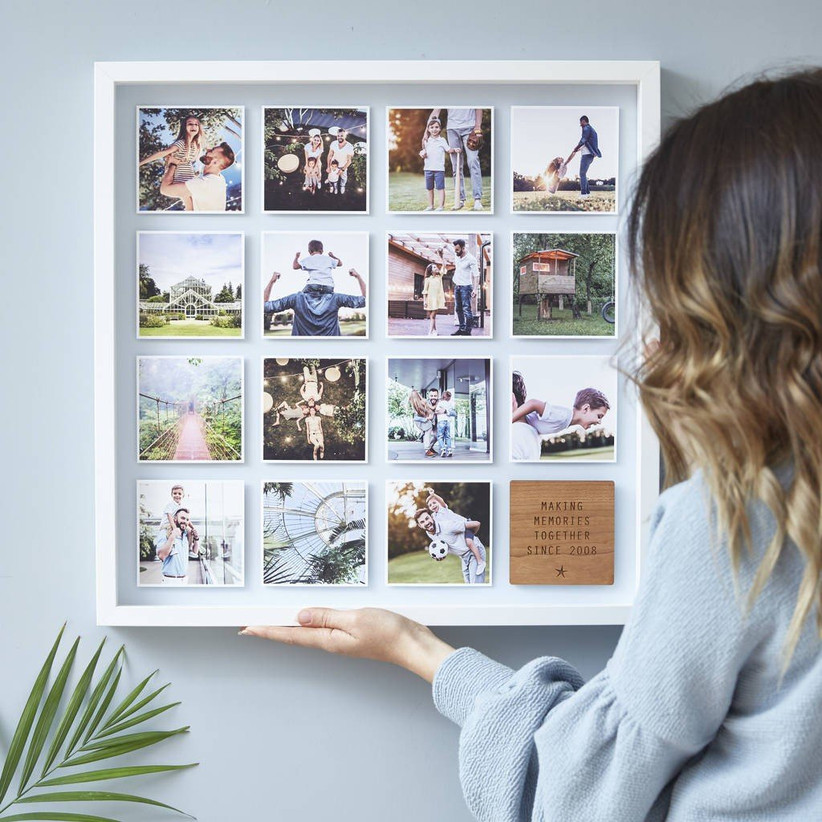 We adore this unique way of displaying your photographs. With this gorgeous personalised photo frame, you can choose the background colour, photos and wooden plaque colour and words. It'll look glorious on the wall in your first home together!
How about using it to display your favourite, unseen wedding photographs as a reminder of your special day?
6. Poem Personalised Framed Book – £55, S&B Handmade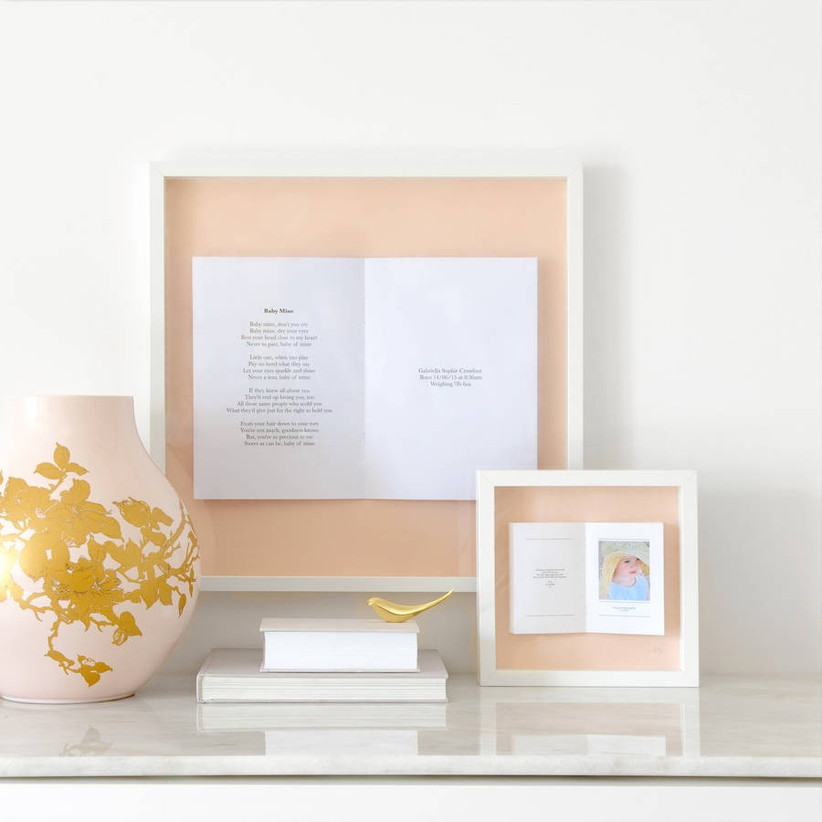 Is your other half a bit of a book worm? Print your wedding reading or your partner's favourite poem or book quote onto these sheets of white paper with this personalised framed book.
They'll then be sewn into a little book and the pages will be displayed in an acrylic frame. What a special first wedding anniversary gift idea!
7. First Wedding Anniversary Telegram Keepsake – £13, Imperial Telegrams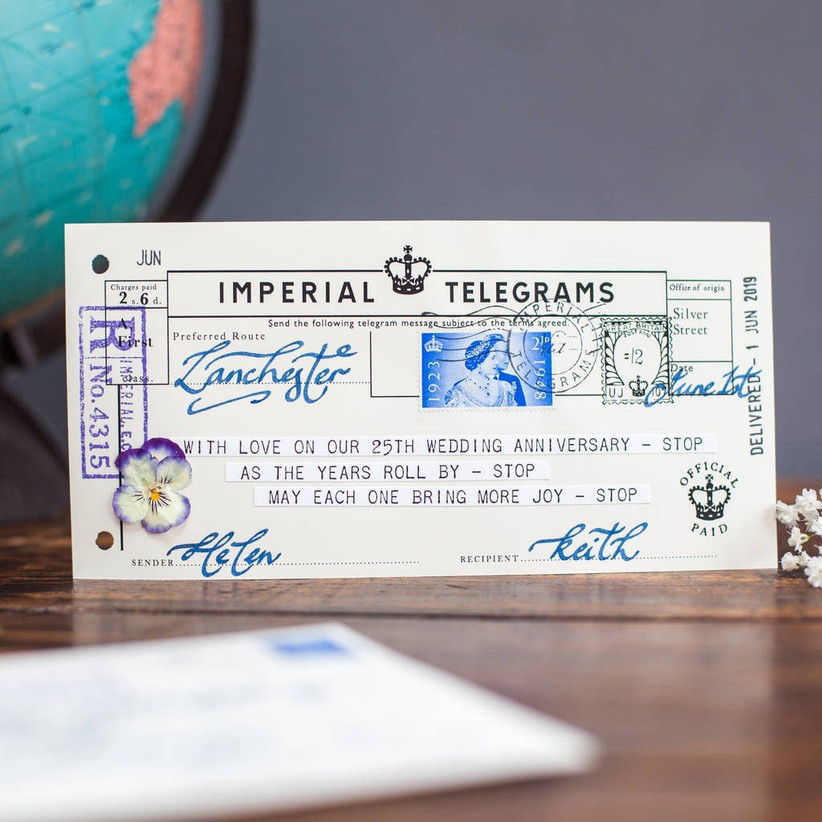 If you're looking for a romantic keepsake to remind your partner of your paper wedding anniversary then this personalised telegram from Imperial Telegrams will be an ideal choice.
The telegram includes a special note and your partner's name – we think it's so romantic!
8. Wedding Reading Print – £35, Bespoke Verse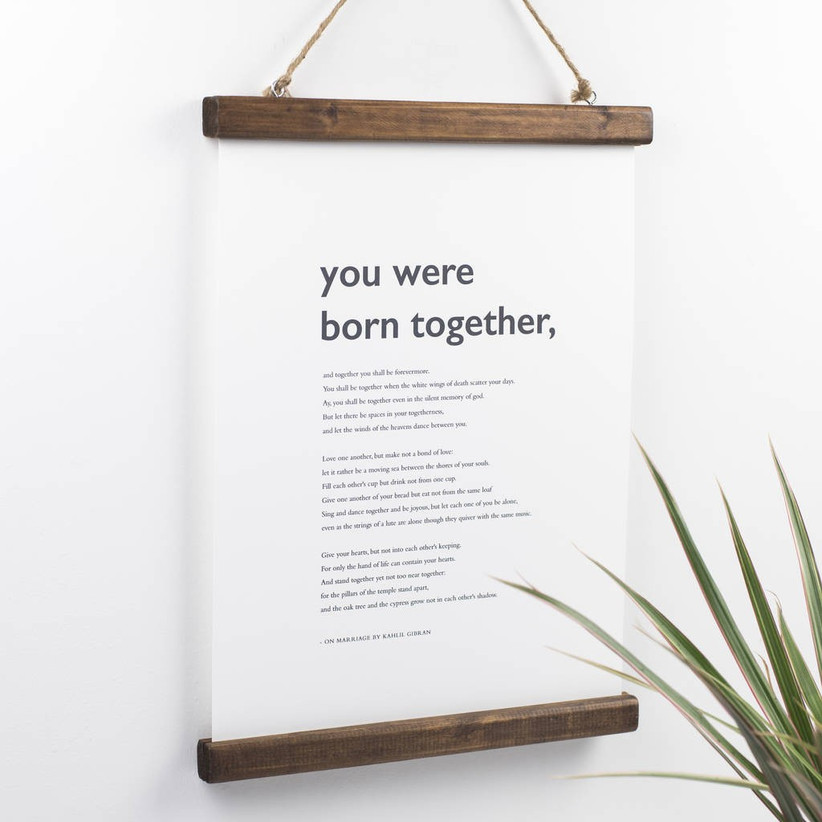 Have one of the poems, songs or readings from your wedding day printed to hang in your home – it will be a lovely reminder of your wedding day every time you walk past it!
We adore this style from Bespoke Verse.
9. Personalised Pull-Out Photo Album – £16, Sophia Victoria Joy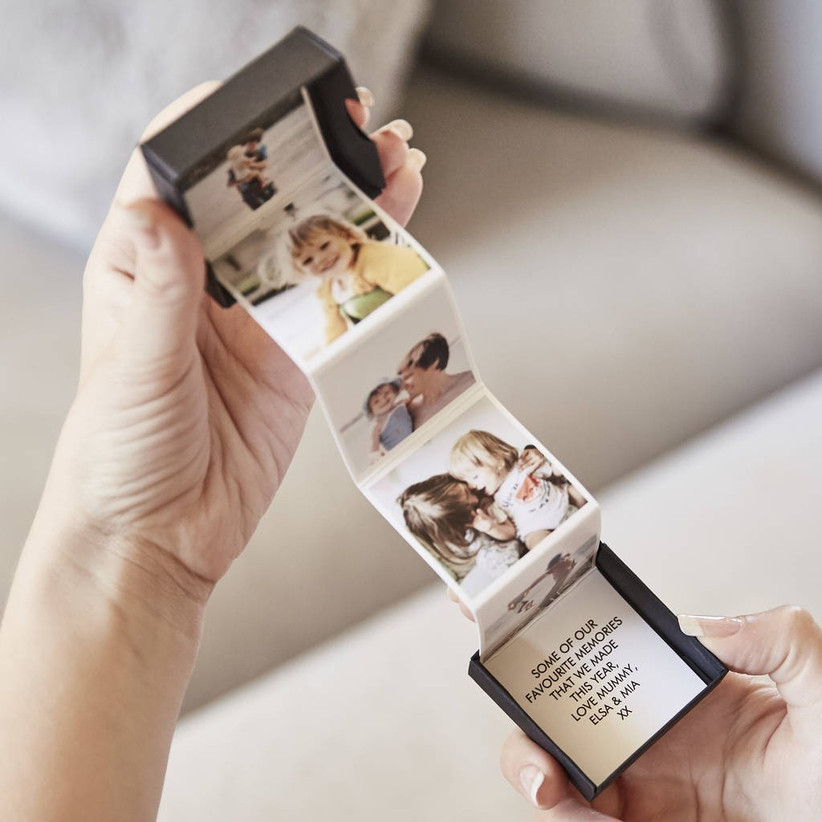 If you're not one for huge gestures but still want to treat your other half to one of our special first wedding anniversary gifts, this cute little photo album would be the perfect choice.
Choose either five or seven snaps of your favourite memories together along with a personalised message, and they'll be folded together into a little manila or black box with a personalised outer sleeve.
10. Coloured Leather Photo Album – £32, Bee Golden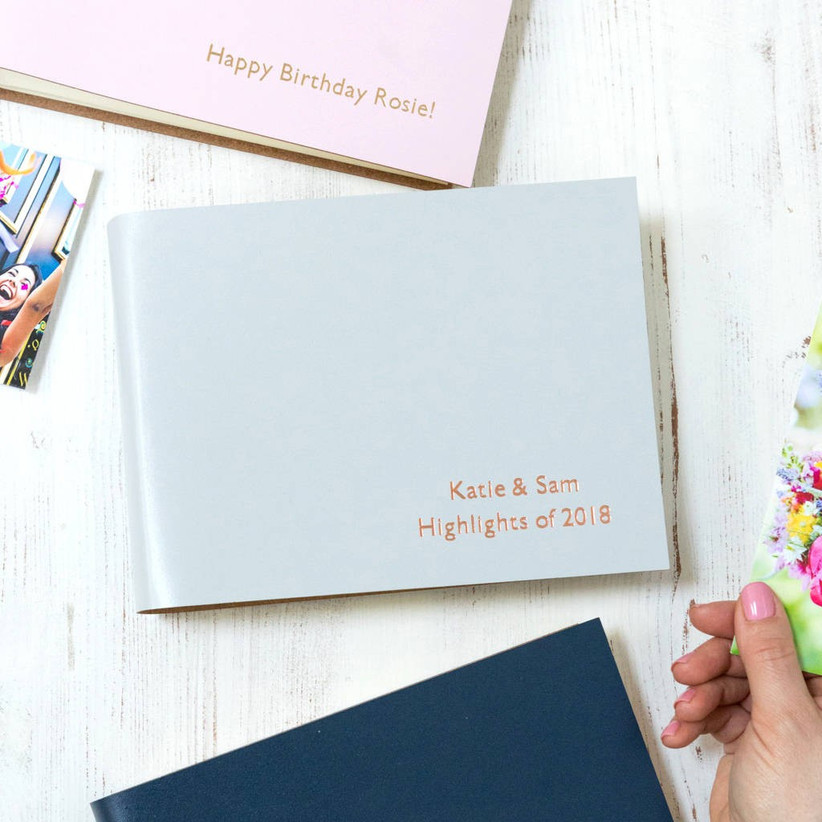 If you've got far too many photos just to choose seven, why not collect your favourite photos from your first year of marriage and display them in this gorgeous leather photo album?
You can choose from two sizes and many colours, and personalise the bottom right hand corner with text of your choice. Now to whittle down all those newlywed memories…
11. Personalised "You Got This" Foiled Notebook – £12.95, Martha Book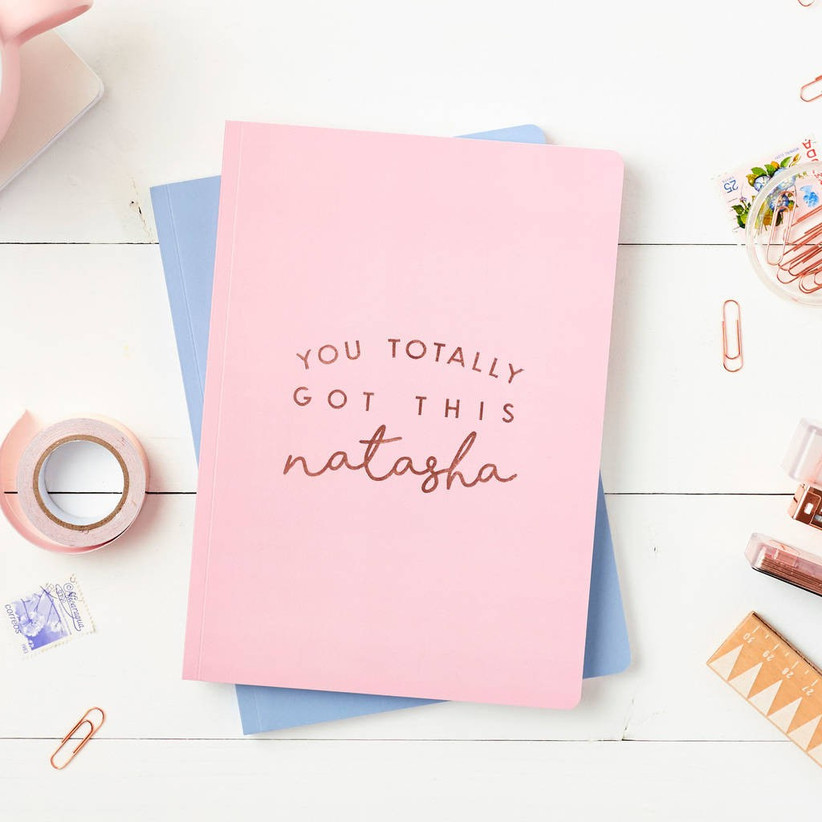 If your partner loves to write (or make lists), this beautiful notebook is a gorgeous idea.
Why not secretly fill in a journal from the day of your wedding right up to your first anniversary and give that to your other half to read?
12. Personalised Cover & Spine Foil Notebook – £15.95, And So They Made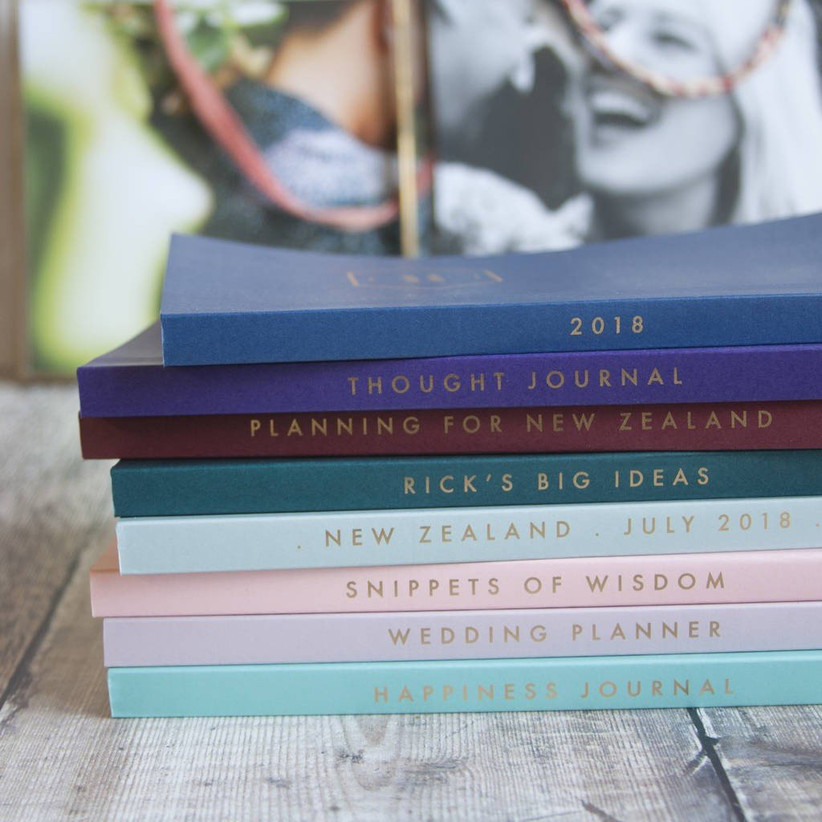 Up next is another notebook, and how cute are these personalised beauties?
Whether you fill this with memories or give it to your other half empty to fill with their hopes, dreams and travel plans, we're pretty sure they'll love it.
There are 20 colours to pick from and you can choose what you'd like the text on the spine and the front cover to say!
13. Good Vibes Kit Inspirational Prints – £18, The Inspired Stories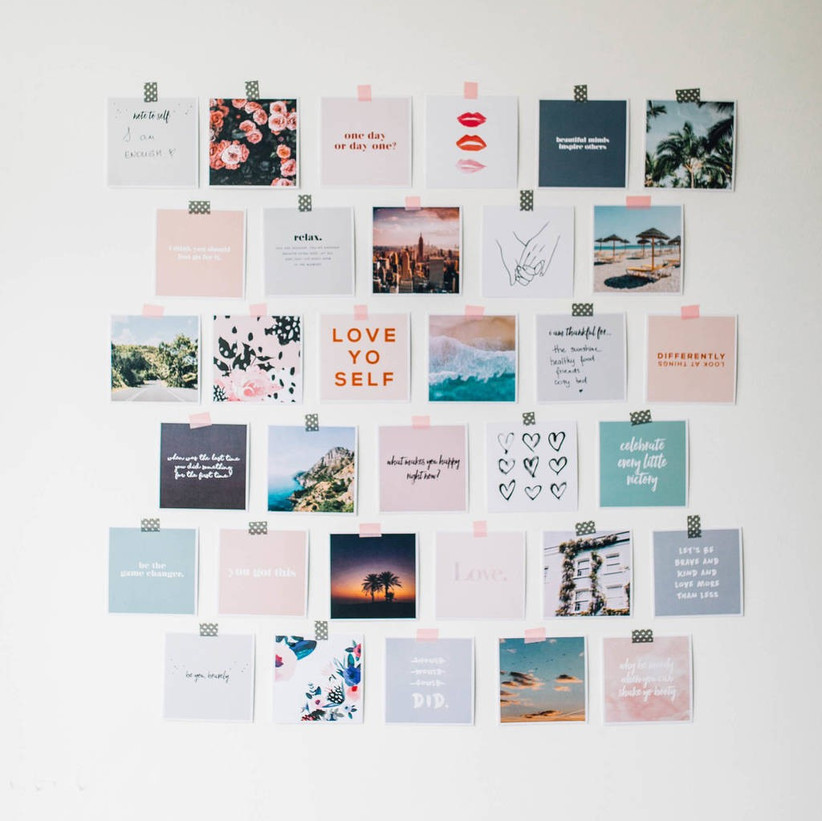 If your partner's (very Instagrammable) office is their pride and joy, why not treat them to these adorable, inspirational prints to stick up on the wall?
The set of paper anniversary gifts comes with a mix of uplifting quotes and photos from pretty places which will really jazz up any space, plus three cards which you can add your own message to. We love them!
14. Personalised Creative Colouring Book – £24.95, The Letteroom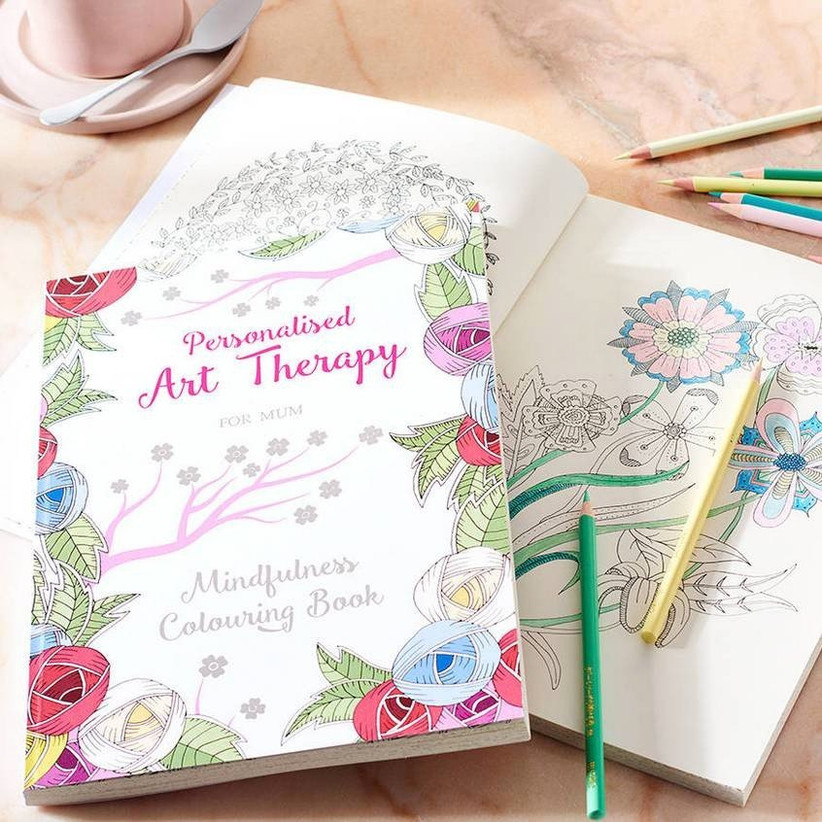 Colouring books aren't just for children anymore, and colour therapy has been shown to be a great way to calm the mind.
If you think your partner could do with some de-stressing, then a grown-up colouring book like this lovely mindfulness one from The Letteroom could be just what they need!
15. Travel Guide Book – From £17.99, Lonely Planet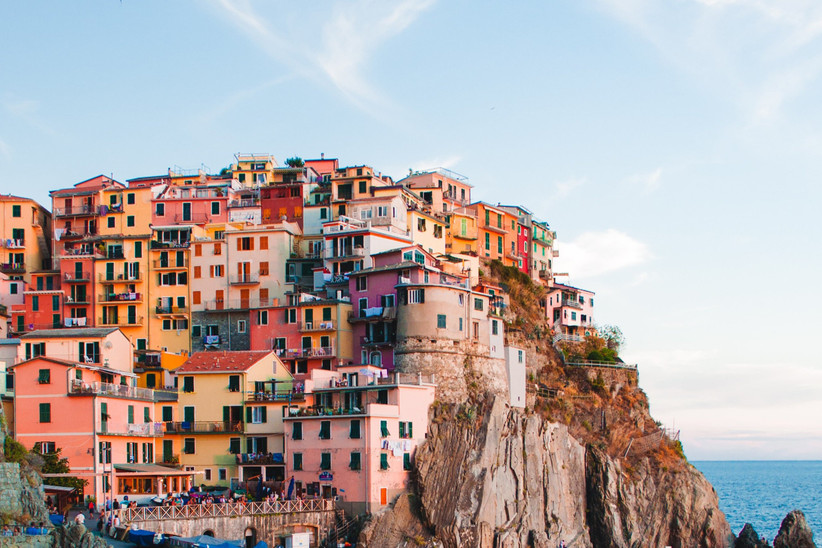 Why not book a romantic night away and then give them a travel guide as a hint to where you're going? It's like two anniversary presents in one – a paper book and paper plane tickets!
If you're both dreaming of a holiday of a lifetime but you haven't quite got the funds saved yet, you could still treat them to the travel guide so that you can start your planning. Lonely Planet never fail to disappoint on the travel guide front, and they have books for every destination you could ever dream of visiting. Take a look…
16. Tickets for a Day Out – From £49, Virgin Experiences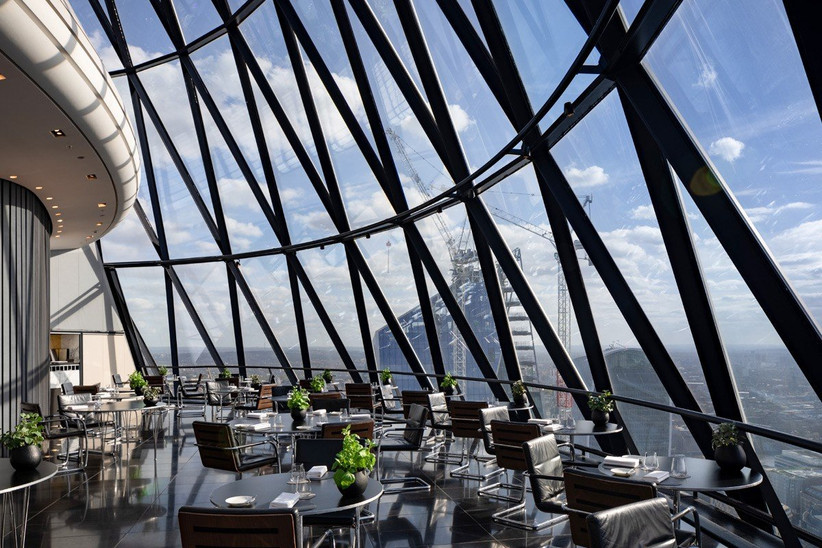 Whether it's for a mini-break or a night at the theatre, tickets are a great idea when it comes to first wedding anniversary gifts.
Browse Virgin Experience Days where you could book a weekend away, a trip up the Shard, afternoon tea and more! They even have a first anniversary gift section if the choice is a bit overwhelming.
We'd be choosing the four course Sunday brunch with Champagne at the Gherkin, we think…
17. A First Edition Book – From £18.99, Waterstones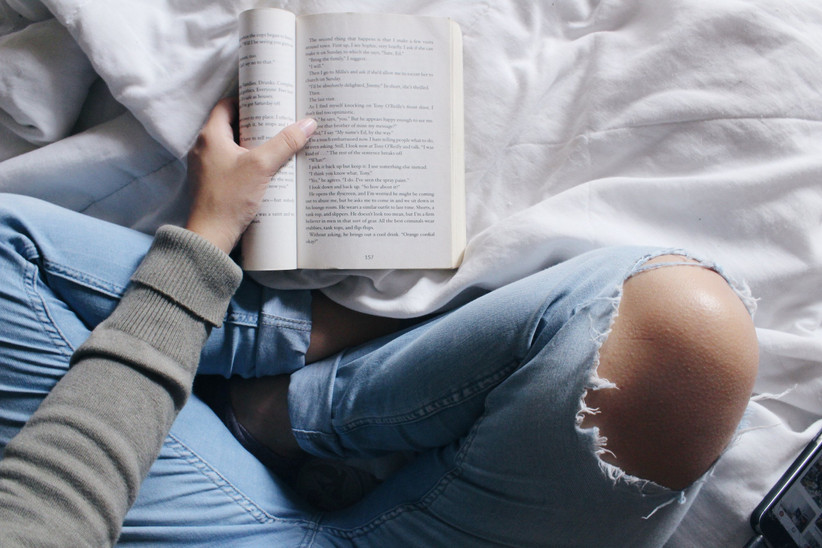 Bookworms will always love receiving books as gift, so why not seek out a rare first edition of your loved one's favourite book, or buy a new one for them to read?
Waterstones have a beautiful collection of special edition and signed books that would make a lovely first wedding anniversary gift for a book lover.
18. Personalised Scratch The World Travel Map – £15.75, Maps International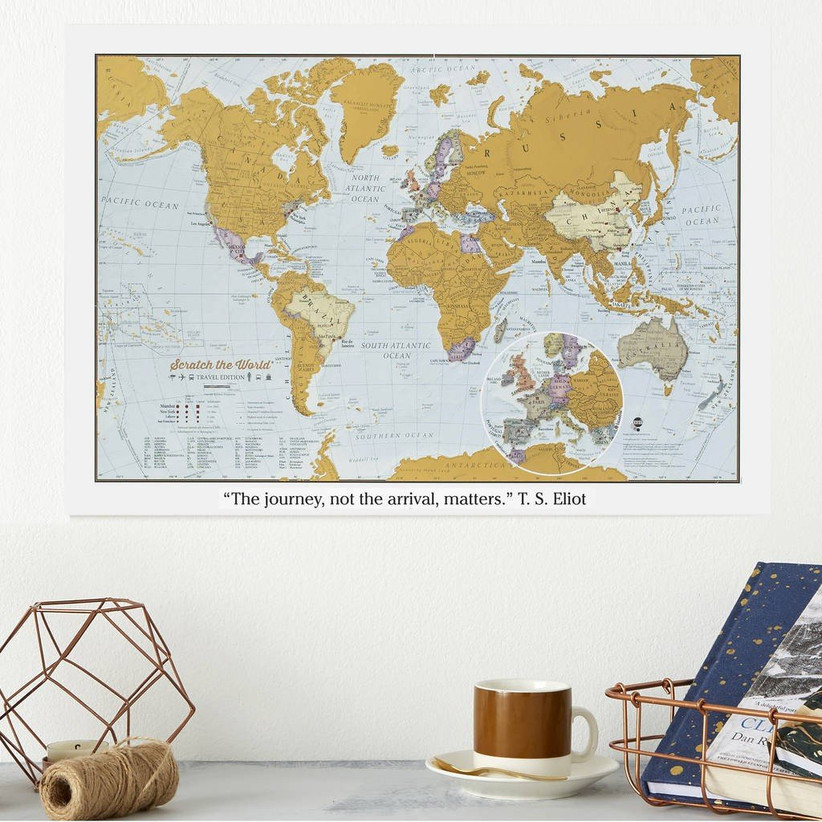 If you and your partner love to travel, there is no gift more perfect than a scratch the world travel map which you can hang up in your office.
You can scratch off all the places you've already visited together, then make some plans for the other countries which are next on your list.
19. Personalised 1st Wedding Anniversary Toilet Roll – £9.99, The Alphabet Shop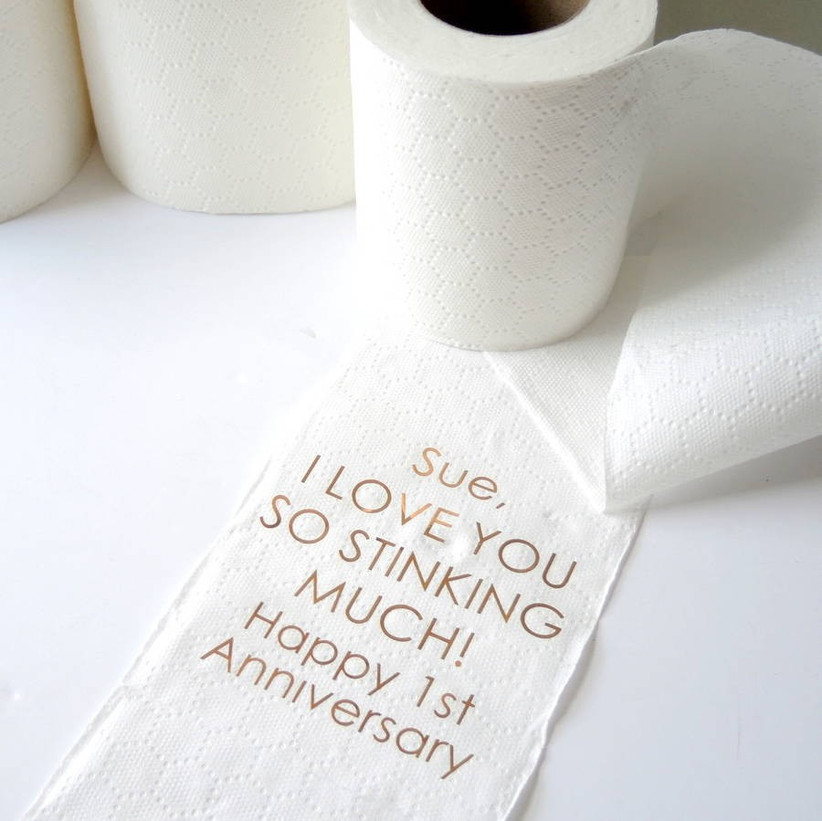 Maybe not the most romantic of first wedding anniversary gifts, but if you're a bit of a joker and really can't bring yourself to buy your other half anything soppy and romantic, this personalised toilet roll is guaranteed to raise a laugh.
The toilet roll can be personalised with the recipient's name and a personal message, which will be printed in metallic gold… just don't blame us if you get told off for not taking your anniversary seriously!
20. Paper Origami Style Lampshade – £44.95, The Best Room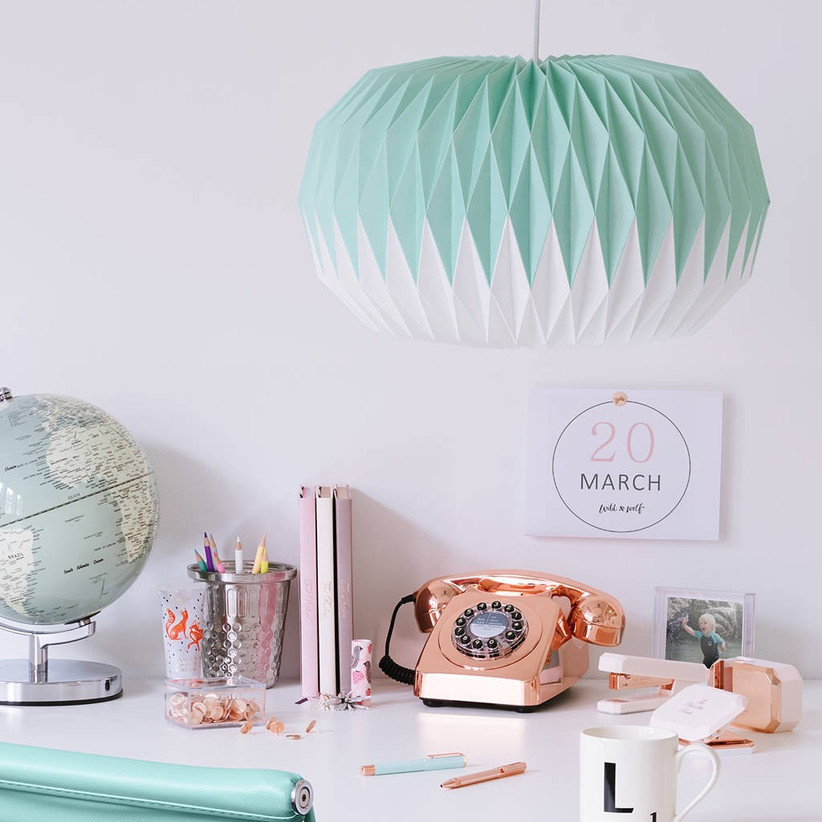 A paper lampshade is an imaginative take on the paper gift theme and will be a stylish addition to your home.
We love this design by The Best Room, which is so easy to assemble and comes in a gorgeous mint shade.
21. Our Story Personalised Memory Book – £19, HobbyNoo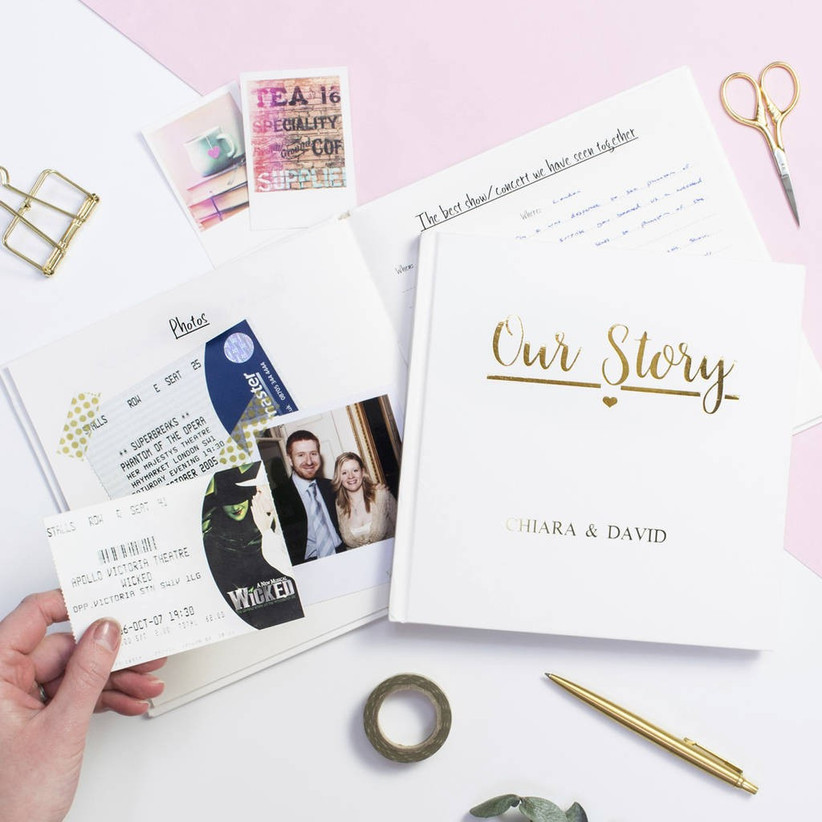 If you've done lots of exciting things in your first year of marriage, like going on honeymoon and moving house, why not tell your story in this gorgeous memory book?
Your partner will be lost for words when they open the book, filled with your photos, tickets and mementos. Oh, and don't worry if you're not entirely creative, because each page has a header like "A moment you made me feel amazing" or "The best show we've seen together" to give you a helping hand!
22. Personalised Paper Anniversary Foliage Wreath – £31, Delightful Living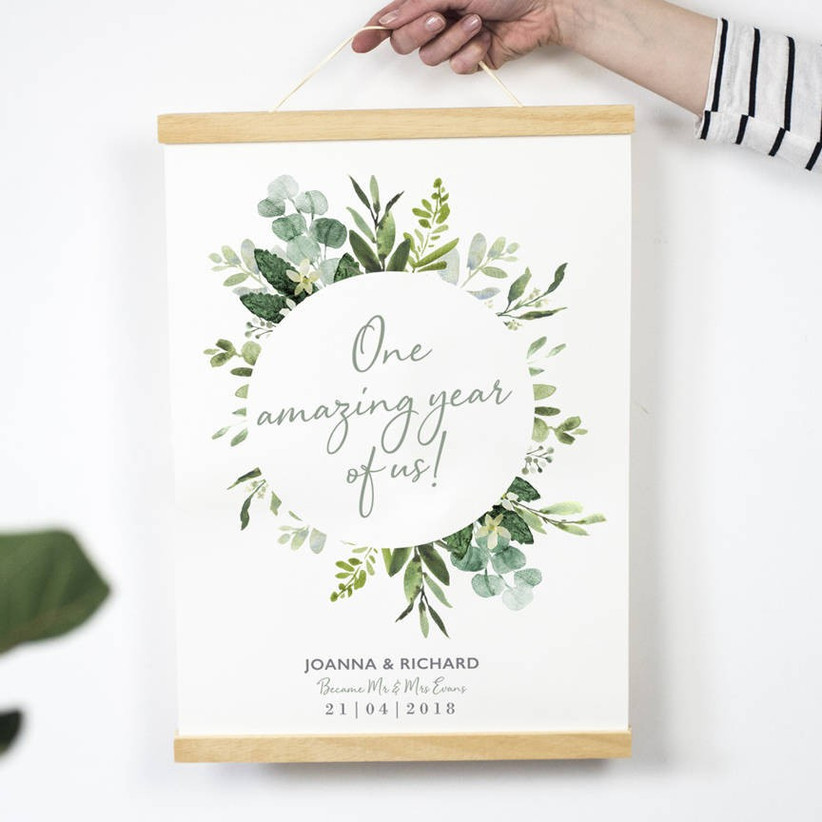 This delightful first wedding anniversary gift is a print on heavy-weight paper with a contemporary magnetic frame.
It reads, "One Amazing Year of Us!", which is a proud sentiment to display on your bedroom wall after passing your first year of marriage with flying colours. You can even add your own personalised message and wedding date!
Modern First Wedding Anniversary Gifts – Clocks
If traditional first anniversary wedding gifts just aren't for you, then the modern alternative to paper is clocks. They're said to represent that precious newlywed time you have just experienced. Here are just a few of our favourite wedding anniversary clock gifts.
23. Mix & Match Miniature Weather Dials – £18, Climemet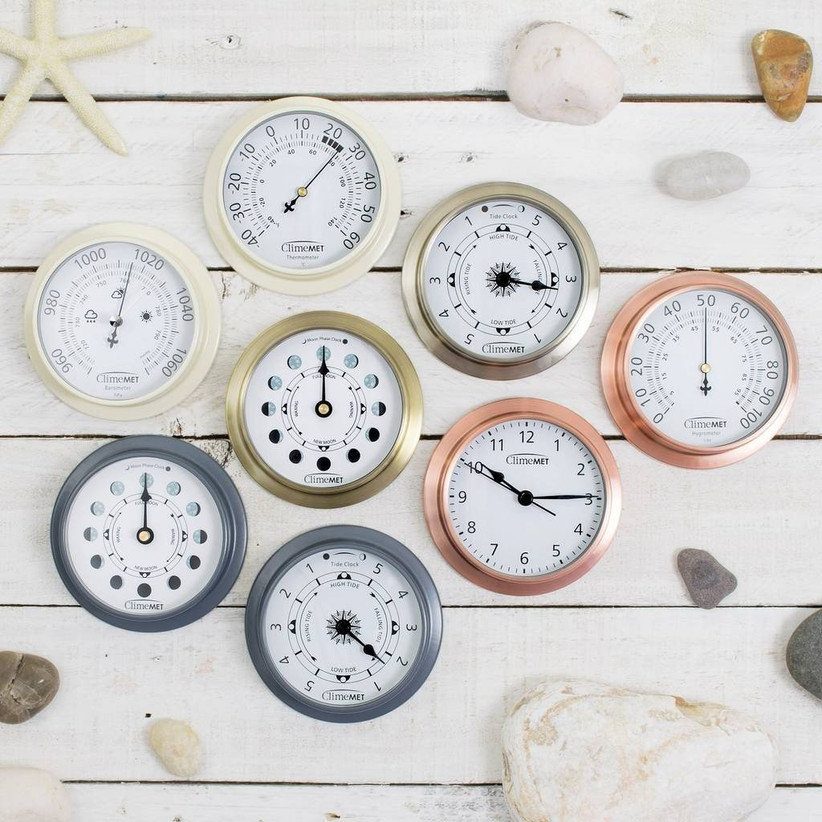 If your other half is a passionate gardener or just loves the great outdoors, be creative with the idea of buying clocks and mix and match some of these stylish clocks, tide clocks, thermometers and barometers.
All are available in four beautiful colours to mix and match for your home and garden, and they look so contemporary! We're huge fans.
24. Oak Clock – £35, James Design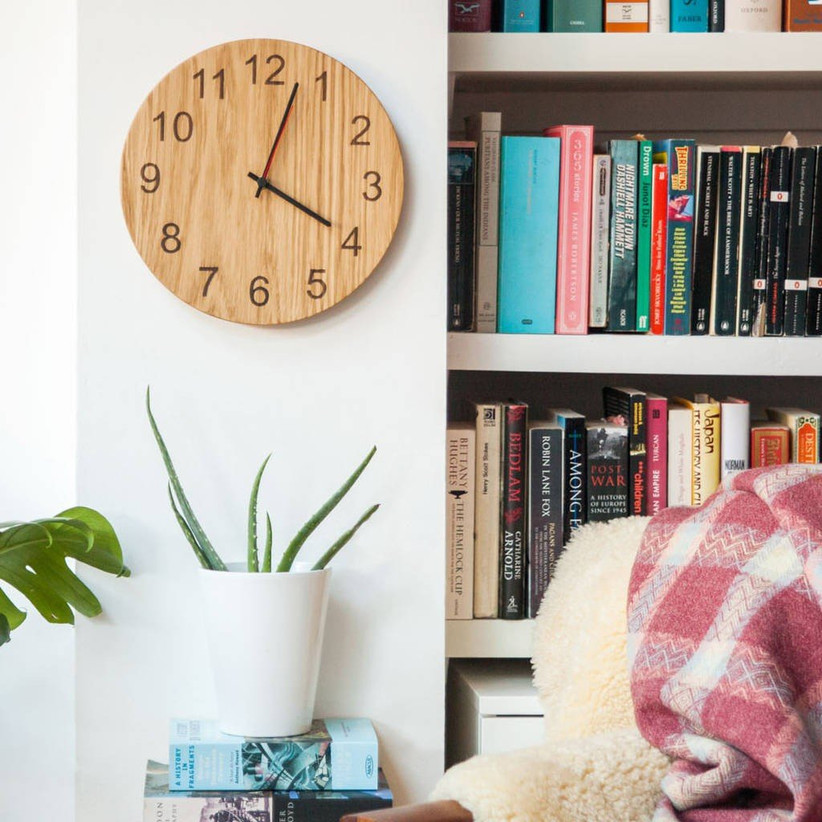 We think this oak clock by James Design would look perfect on the wall of your living room or kitchen. It's beautifully crafted in the UK and is available in three sizes.
25. Honor MagicWatch 2 – £149.99, John Lewis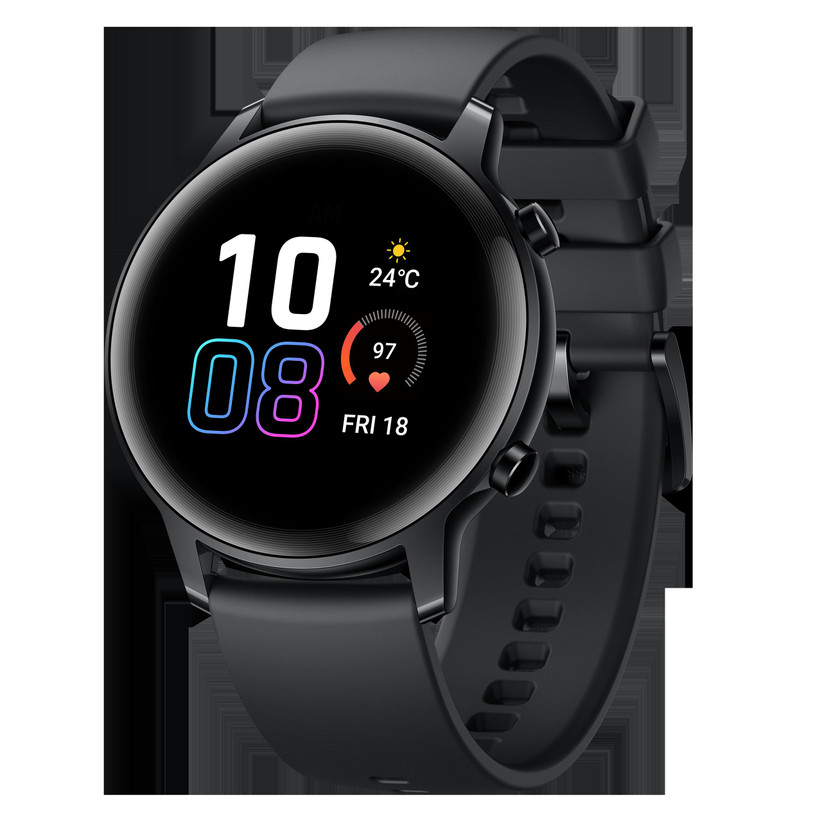 If your partner is sporty they'll love this new watch by Huawei, which has a built-in running app. It can even track your sleep patterns and your heart rate. Prepare to never see this leave your other half's wrist.
26. Personalised Slate Mr & Mrs Clock – £36.99, Perfect Personalised Gifts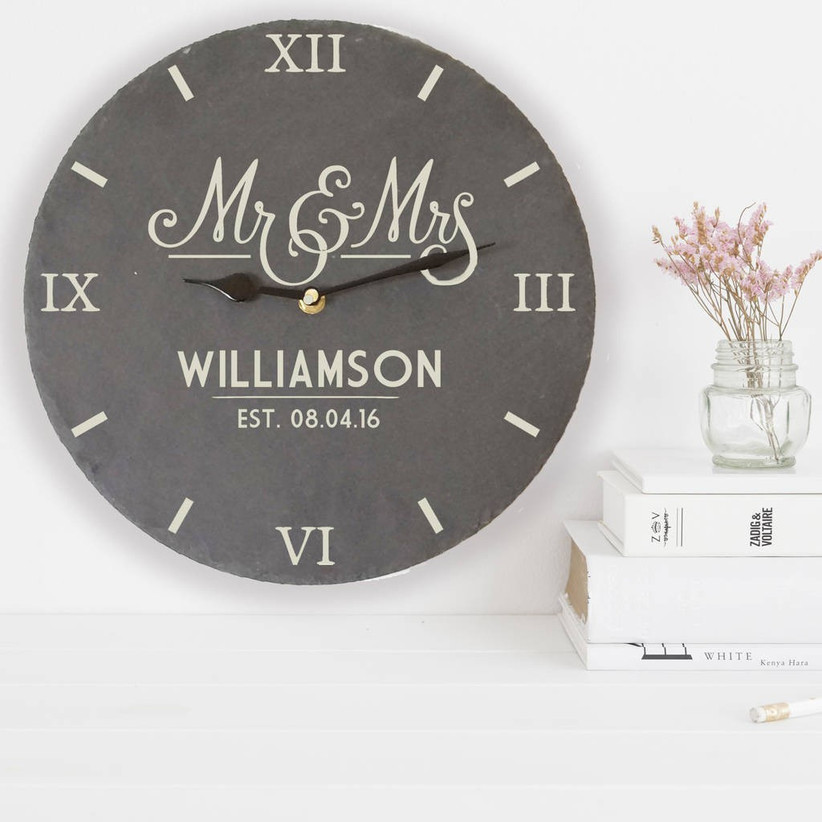 This stylish clock is perfect for your first wedding anniversary gift because it is personalised with your name and wedding date. What a beautiful reminder of your big day!
27. Wedding Venue Wall Clock – £55, Adam Regester Design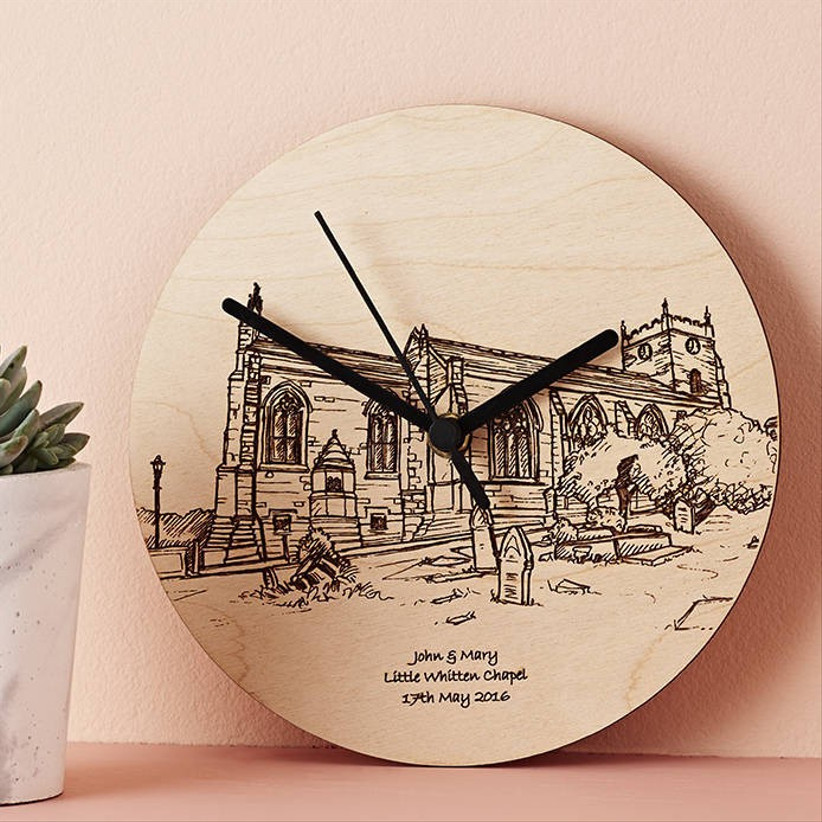 This wooden wall clock is perfect for your first wedding anniversary, it ticks the box of a clock-themed gift and it features a stunning etching of your wedding venue.
28. Gold & Marble Wall Clock – £50, Forest & Co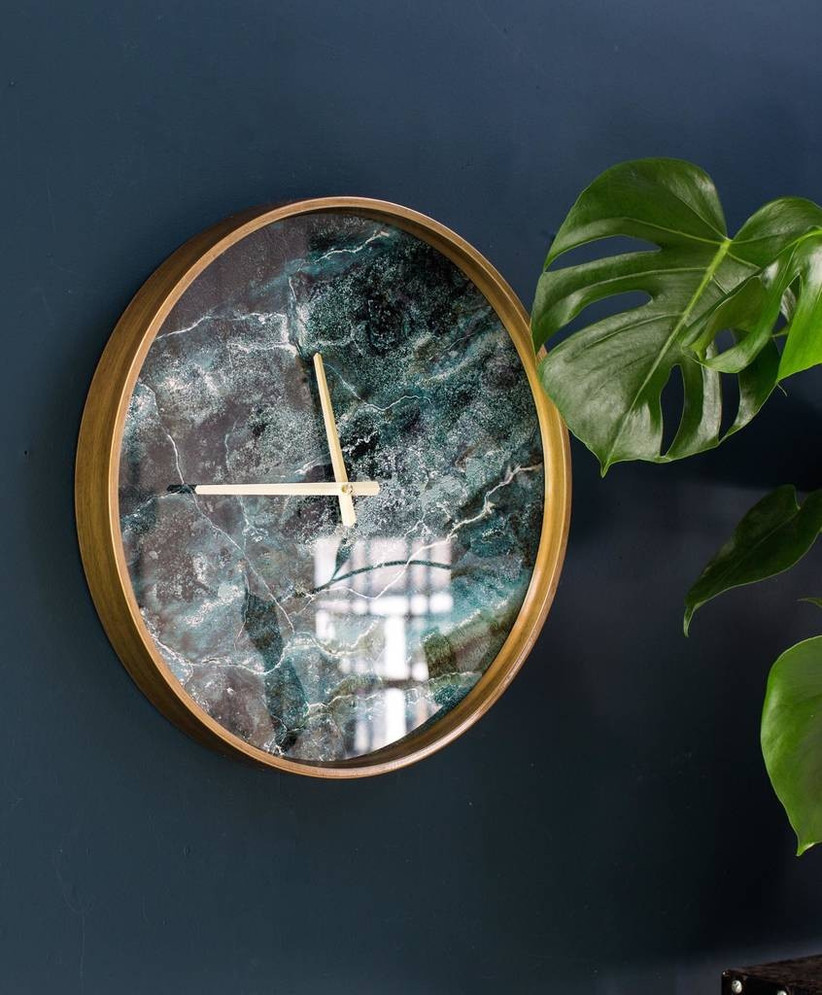 This clock by The Forest & Co might just be our favourite – it's a stunning wall clock with a gold trim and marble effect face. It'd look great against white or dark walls and adored by your stylish other half.
29. Rose Gold Women's Watch – £120, Ellington Time Piece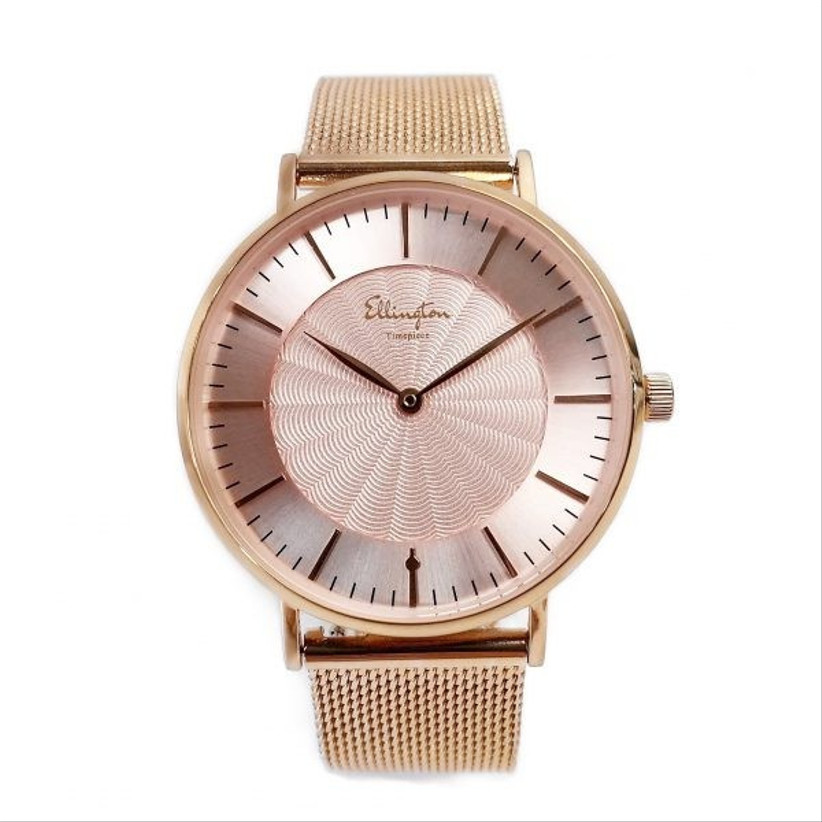 You don't have to stick to the traditional wall clock for this anniversary. This gorgeous rose gold watch, from Ellington Time Piece, is so glam and will look great on your other half.
30. Personalised Wedding Date Clock – £60, Amazon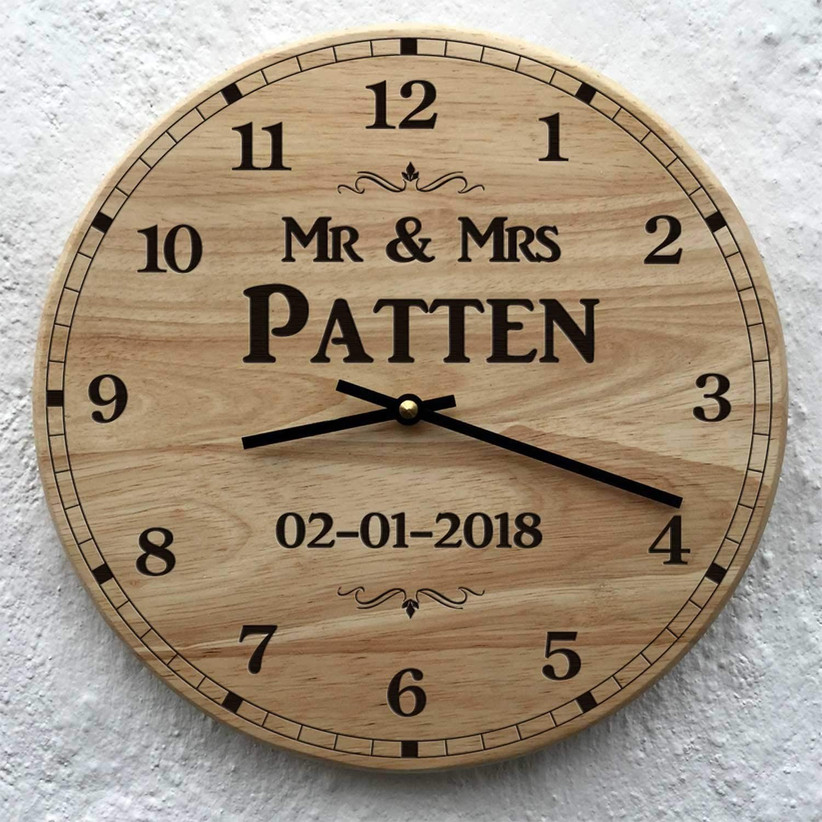 There's something so lovely about this personalised wooden clock by Looney Creations. It's engraved with your surname and wedding date, making it a truly unique first wedding anniversary gift.
31. Gold and Black Mesh Watch – £130, Votch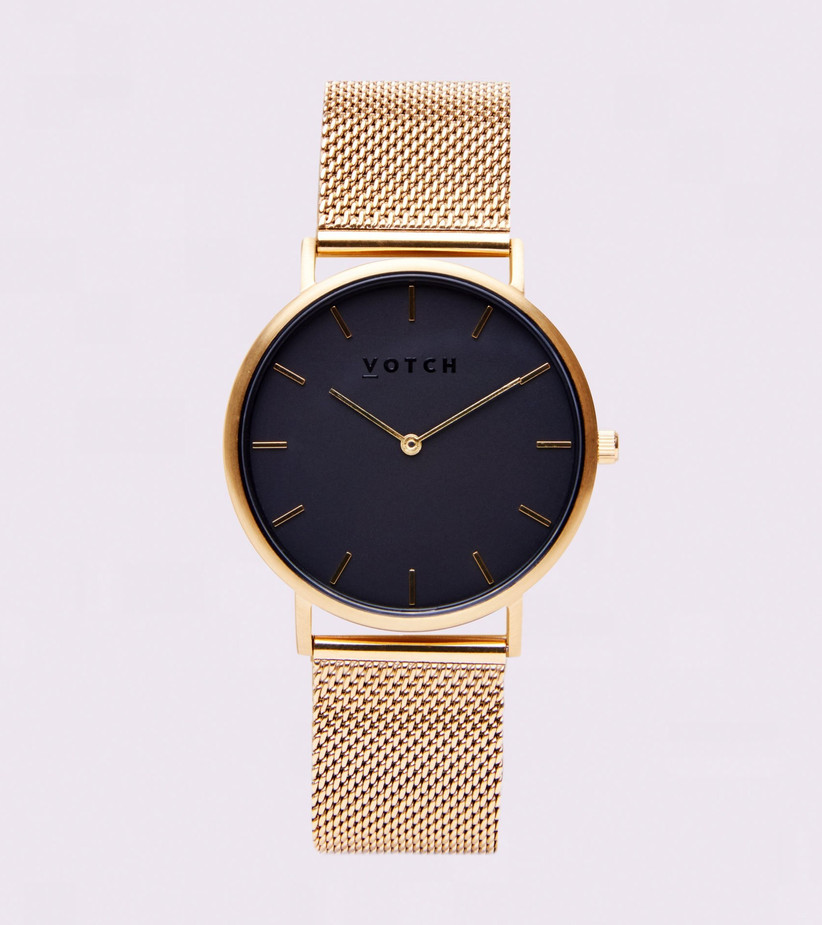 We love this on-trend design by Votch – which isn't gender-specific. The dark watch face really accentuates the gold mesh strap, which can also be swapped for other straps. A watch is a daily reminder of a great anniversary gift!
32. Personalised Floral Glass Clock – £19.99, Amazon
This shabby-chic wall clock would make a great addition to any new marital home. The floral glass clock can also be personalised with your surname to make it all the more special when you gift it for your anniversary.
33. Rainbow Glitter Dial & Gold Bracelet Watch – £139, Olivia Burton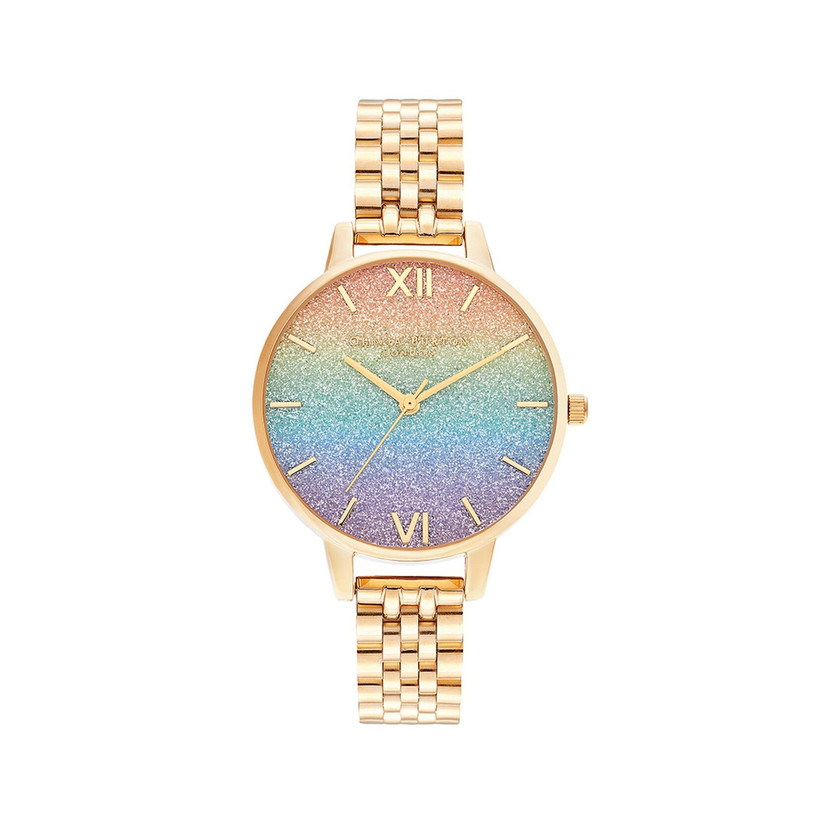 If your partner loves glitter and rainbows then they'll go mad for this vibrant rainbow watch from Olivia Burton.
34. Coastline Wooden & Acrylic Clock – £80, Betsy Benn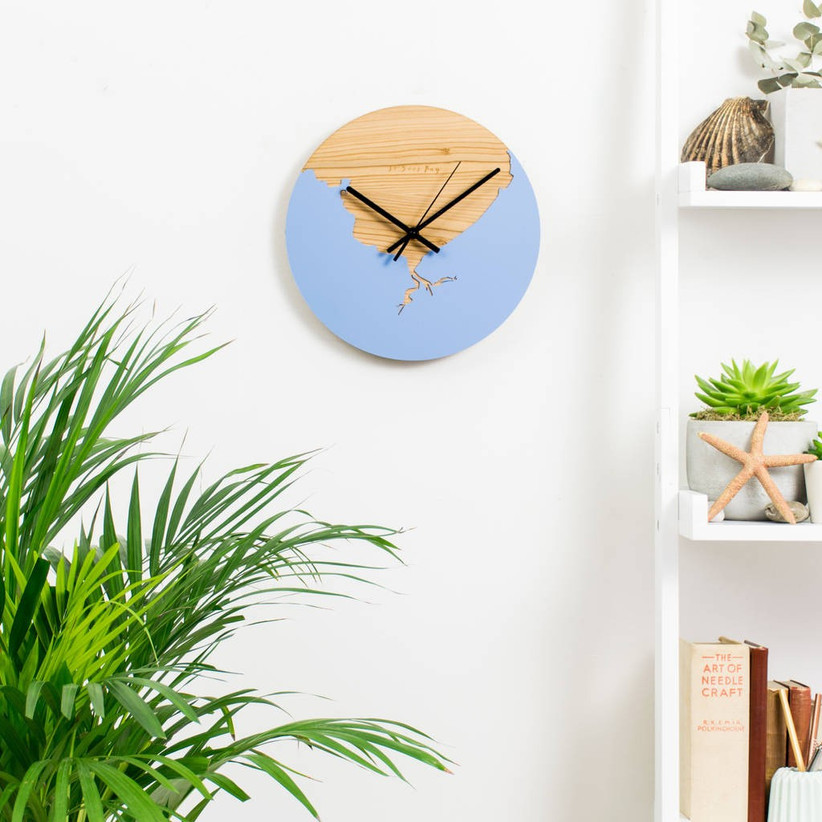 If you and your partner are lovers of (or live near) the sea, this coastline-inspired wooden clock will be the perfect addition to your home.
To make this gift even more special, you can choose your favourite coastline to be painted across the clock in matte acrylics. If you got engaged or married by the sea, why not have that coastline painted? You can also add a line of engraved text such as place names or dates to the base layer.
35. Reclaimed French Oak Wall Clock – £98, Jam Furniture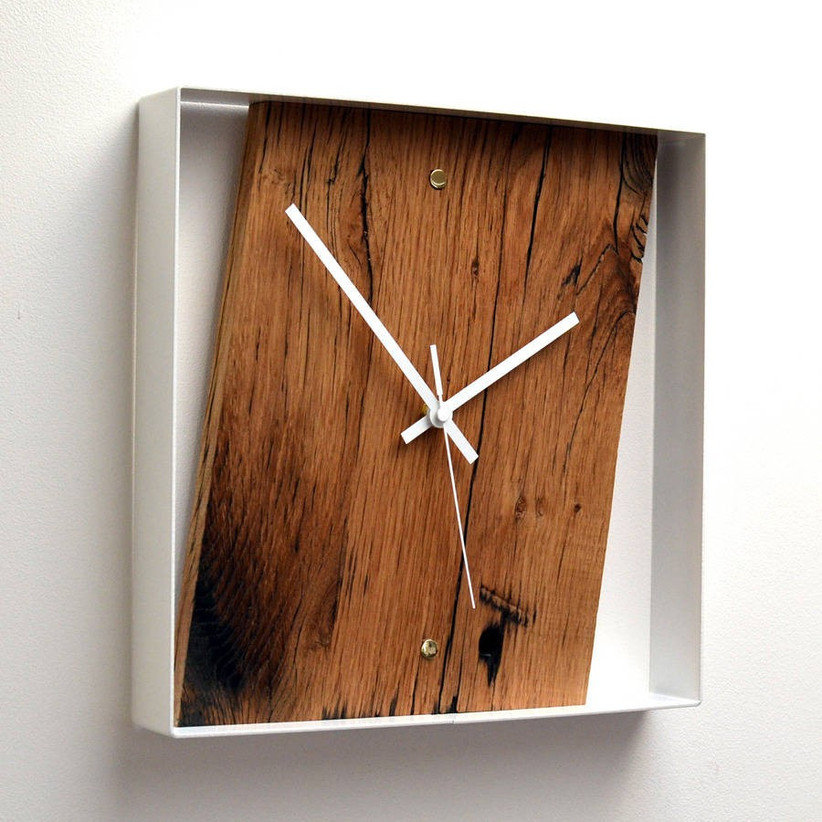 If you both love a quirky piece of wall art, then this reclaimed french oak wall clock is a great gift. The wood also comes with a story behind it – having first served as flooring on french railway wagons.
36. Personalised Map Wall Clock – £45, Bombus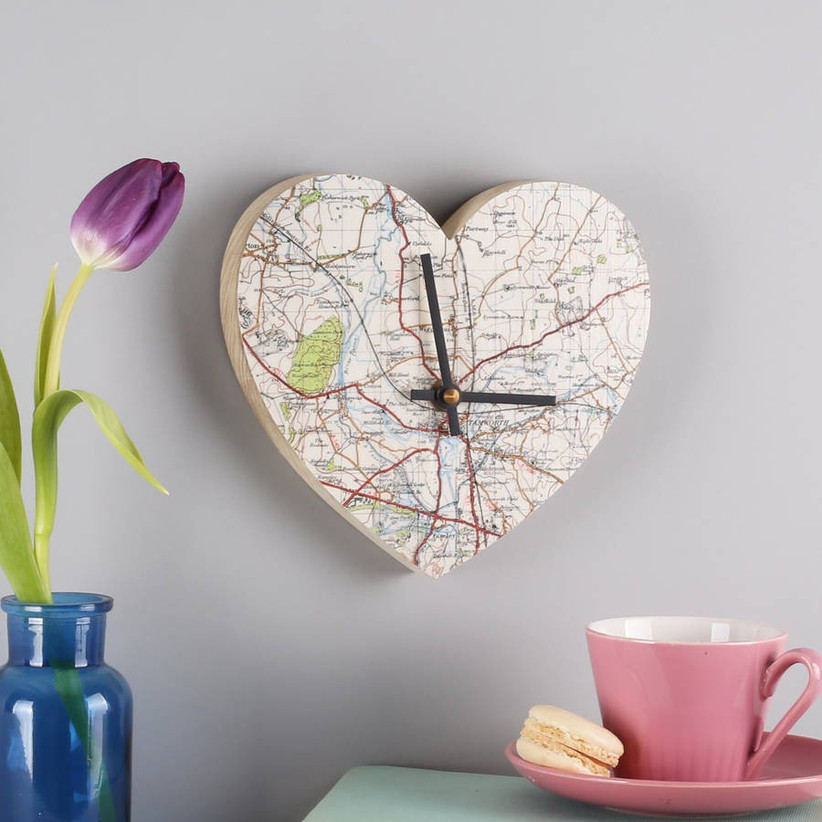 If you want to remember somewhere special then this map-style wall clock will be a perfect first wedding anniversary gift. You could use the location you met, got married or even where you went on your honeymoon.
37. Rose Gold and Brown Leather Watch – £109, Camden Watch Company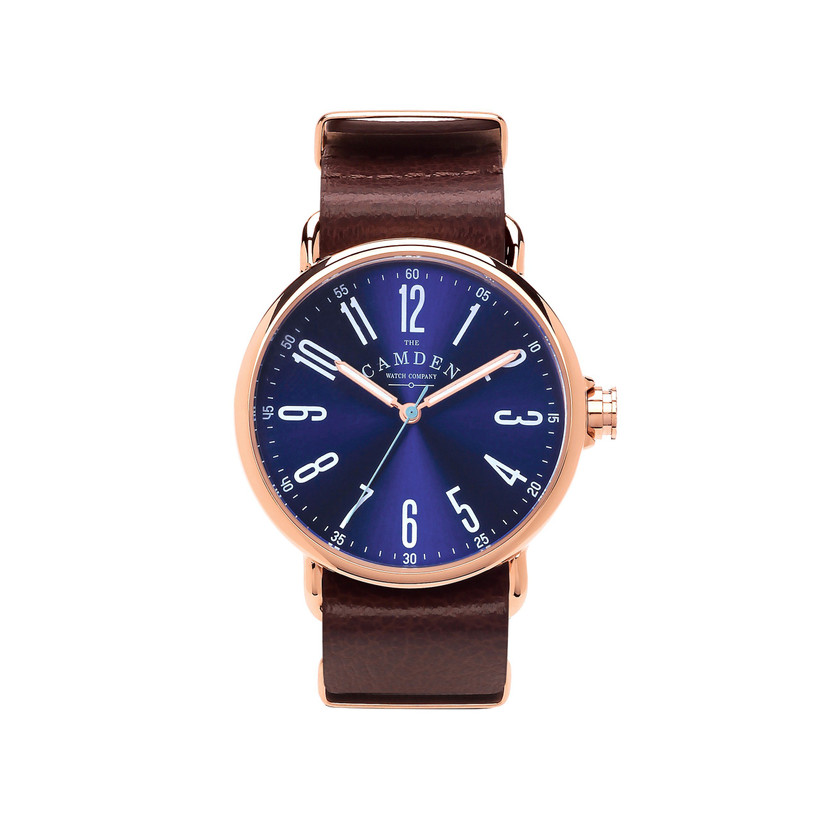 This gorgeous watch, with a leather strap, is perfect for your first wedding anniversary. The striking blue clock face is surrounded by rose gold and finished off with brown leather making it a chic addition to your other half's outfits!
Just remember – however amazing the gift is for your first wedding anniversary, you'll have to out-do it for your second!
Luckily we also have a selection of gift ideas for your second wedding anniversary. You can also browse even more wedding anniversary ideas in our wedding shop.