32 Drip Wedding Cakes You're Going to Love
The drip wedding cake trend takes fun dessert designs to the next level and our round up has something to suit every style of wedding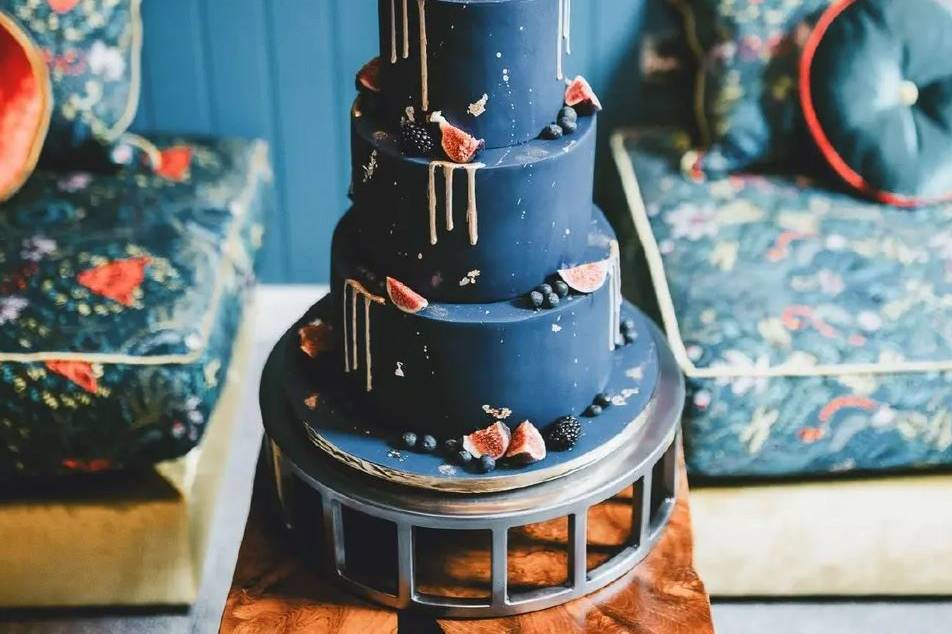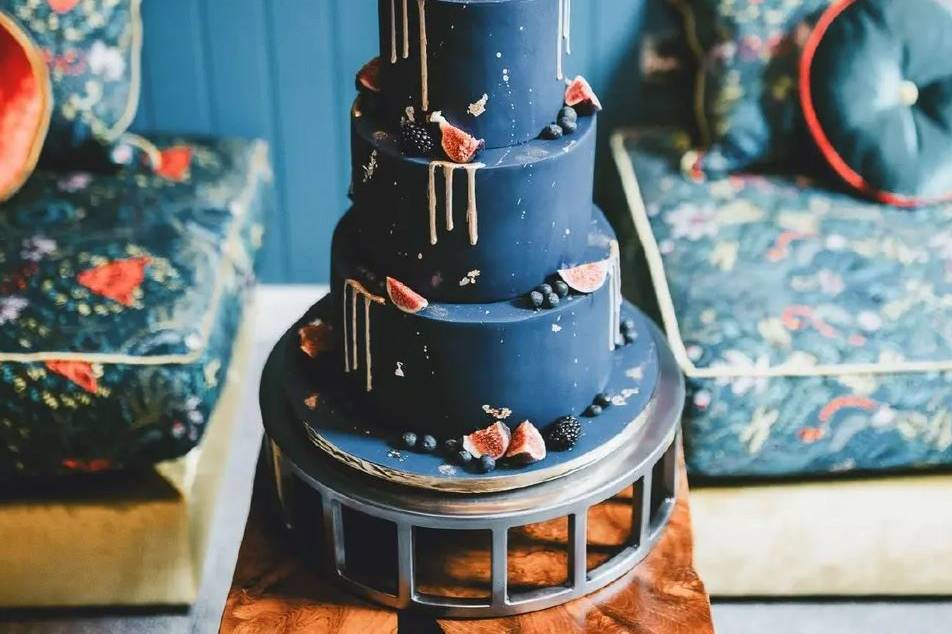 Drip wedding cakes are a unique and stylish cake trend, perfect for those who want to add a playful element to their W-day dessert. Choosing a wedding cake is one of the most enjoyable parts of the wedding planning process - from discovering unique cake flavours to meeting with your wedding cake supplier - the fun never stops.
The great thing about drip wedding cake designs is that they are so versatile! Whether it's a pretty pastel wedding cake, a wedding cake alternative or a rustic naked drip cake - the trend can be tailored to suit your wedding day theme.
32 Drip Wedding Cake Designs You'll Want at Your Wedding
1. Peach Floral Wedding Cake With Caramel Drips - Birch House Bakery
Bursting with style, this white and caramel drip floral wedding cake from Birch House Bakery is bang on trend for modern weddings. The pastel florals would complement a spring or summer wedding and we love the hint of foliage - perfect for a botanical wedding theme.
READ MORE: The Prettiest Pastel Wedding Cakes
2. Rainbow and White Drip Wedding Cake - Patacake
Add a splash of colour to your dreamy drip wedding cake with some rainbow hues. This bright coloured drip cake from Patacake is a great example of how a small injection of colour can make a big statement. Pairing the four tier cake with fresh, bright florals is the perfect way to complement this bold design.
3. Winter Themed Navy and Gold Drip Wedding Cake - Cakes by Mrs F
If you and your partner are on the hunt for the perfect winter wedding cake, this navy beauty from Cakes by Mrs F could be the pick for you. This navy and gold drip wedding cake is adorned with elegant icing drips and dainty bits of gold leaf. The addition of fresh figs, blackberries and blueberries add to the winter feel
READ MORE: Perfect Pearl Wedding Cakes
4. Single Tier Semi Naked Drip Wedding Cake - Tortology
For smaller weddings, a single tier wedding cake is a great option and this design from Tortology is one of our favourites. This semi naked wedding cake with drip detailing is adorned with buttercream, piped icing and geometric shards of delicious chocolate.
5. Pastel Ombre Drip Wedding Cake With Fresh Flowers - Cakes by Ashleigh
The beauty of pastel wedding cakes is showcased beautifully in this pretty drip wedding cake from Cakes by Ashleigh. The green, purple and pink pastel hues all complement the base ivory colour, as do the muted tones on the fresh flowers and foliage. If you're dreaming of a mint green drip wedding cake but don't want anything too extravagant, consider using the colour only for the drip.
6. Sparkly White and Gold Drip Wedding Cake - Cakes by Mrs F
Have you ever seen a gold drip wedding cake as glamorous as this? We definitely haven't. The various tiers and range of detail on this glamorous wedding cake are a feast for the eyes! Cakes by Mrs F certainly know what they're doing - we're mesmerised by this design.
READ MORE: Sensational Sparkly Wedding Cakes
7. One Tier Pastel and Gold Drip Wedding Cake - Fuchsia Blooms Bakes
Proving that small wedding cakes can still make a statement is this pastel drip cake from Fuchsia Blooms Bakes. The drip detail is subtle and dainty and we just love the combination of meringues, metallic icing and dress flowers used to decorate it. If you're considering decorating your own wedding cake, faux blooms and miniature deserts work very well.
8. Botanical Drip Wedding Cake With White Macarons - Delicious Pink Cakery
Here we have another single tier drip wedding cake, and what a pretty one it is. Embracing the botanical wedding theme, this simple wedding cake from Delicious Pink Cakery has a subtle semi-naked buttercream finish and a range of macaron, meringue and floral décor in lieu of a cake topper.
9. Ivory and Gold Floral Drip Wedding Cake - Coco & Whey Cakes
For those who want more tiers, consider a three tier drip wedding cake like this one from Coco & Whey Cakes. Adopting more of a rustic finish, this semi-naked wedding cake is adorned with gold drip icing, fresh flowers and botanical foliage, proving that gold dip cakes aren't just for overtly glamorous events.
10. All White Drip Wedding Cake With Silver Leaf - Flour and Fold
Another example of botanical wedding styling, this all white drip wedding cake from Flour and Fold is simple in style, but full of elegance. The slight semi-naked buttercream finish is modern and we love the silver metallic shimmers scattered around the bottom tier. Adorned with crisp white flowers and a hint of greenery - here's a cake that would have perfectly suited Stacey Solomon's wedding!
READ MORE: Rose Gold Wedding Cakes for Glam Couples
11. White and Gold Drip Wedding Cake With Floral Decor - Dadya Cake
Adopting a more dramatic drip is this glamorous gold floral wedding cake from Dadya Cake. The elegant design has been decorated with metallic macarons, delicious cake pops and rose blooms in a range of pretty shades. The gold drip wedding cake that tops the rest, it's finished perfectly with a glamorous metallic cake topper.
12. Silver and White Metallic Drip Wedding Cake - Iced Delights Cakes
Perfect for a winter wedding, this silver and white drip wedding cake from Iced Delights Cakes is so stylish. The three tier wedding cake has a fondant icing finish and a sparkly bottom tier. Finished with a side cake topper and a very delicate silver drip, this unique drip cake design is one that's bound to impress your guests.
READ MORE: The Most Perfect Winter Wedding Cakes
13. Gold Drip Wedding Cake With Chocolate Icing - Oh My Cakery!
Colour blocking is a wedding cake trend perfect for those who want to make a statement with their W-day edibles. Gold and white are a tried-and-tested wedding colour scheme - but we love the way this unique design has paired the classic colour combo with striking brown icing and bright floral arrangements. Go big or go home with a bold drip cake design like this one from Oh My Cakery!
14. White Semi Naked Drip Wedding Cake With Disney Topper - Patacake
Disney fans will swoon over this adorable naked drip wedding cake design. Made up of three different flavours (toffee, chocolate and Prosecco and raspberry), this design from Patacake combines so many of our favourite wedding cake trends; drips, fresh flowers, a semi-naked finish, metallic leaf decoration and of course, Disney!
READ MORE: The Most Magical Disney Wedding Cakes
15. Three Tier Chocolate and Berries Drip Wedding Cake - Sarah's Cakes and Bakes
Those after a more classic design will love this chocolate wedding cake from Sarah's Cakes and Bakes. The contrast between the buttercream finish and the chocolate icing is so eye-catching and we love the addition of fresh berries and foliage.
16. Semi Naked Wedding Cake With Silver Drip Detail - The Reading Cake Co
Combining the rustic charm of a naked wedding cake, with the modern touch of metallic icing, this silver drip cake design from The Reading Cake Co is a real show-stopper. The winter blooms are a pretty finishing touch and if you don't have enough guests to devour all four of the tiers, check out our guide on how to freeze your wedding cake.
READ MORE: Rustic Wedding Cakes That Are Full of Charm
17. Pastel Pink and Gold Drip Wedding Cake - Sweet Alchemy Wedding Cakes
It's time for another pastel design - this time from the team over at Sweet Alchemy Wedding Cakes. As far as drip cake designs go, this is one of the prettiest. The romantic, whimsical colour scheme works perfectly for a drip wedding cake and we love the way the colour intensifies slightly as the tiers get bigger.
18. Gold Leaf Drip Wedding Cake With Three Tiers - The Whitstable Cake Company
Glamorous and bold, this gold themed drip wedding cake from The Whitstable Cake Company has so much to offer. From the rich colour palette and gold leaf detail, to the metallic pink icing drips and the floral decorations - what's not to love?
19. Summer Themed White Floral Drip Wedding Cake - Flour and Fold
The best way to dress up a plain white drip wedding cake is by adding bright florals and rich botanical greenery - as demonstrated perfectly by cake suppliers Flour and Fold. Each drip of white icing is perfectly placed and we love the idea of having a single-colour wedding cake - especially if you're planning to add other finishing touches.
READ MORE: Simple Wedding Cakes That Will Still Steal the Show
20. Chocolate Macaron Drip Wedding Cake - Bluebirds Bakehouse
A chocolate-lovers' dream, this decadent drip wedding cake is sure to satisfy hungry guests at your wedding. Adorned with chocolate macarons and sprinkles of popcorn, this drip cake design from Bluebirds Bakehouse is the perfect way to add an element of fun to your wedding day.
21. Caramel and White Chocolate Drip Wedding Cake - Cakes by Ashleigh
The team at Cakes by Ashley have created this super pretty drip wedding cake - and what a beauty it is. Set over three tiers, this chocolate wedding cake combines the modern touches of metallic decoration with the rustic charm of fresh foliage. The statement chocolate cake topper is unique and who doesn't love a macaron at a wedding?
READ MORE: The Most Delicious Chocolate Wedding Cakes
22. Semi Naked Three Tier Drip Wedding Cake - Joanna Pyda Cake Studio
Both elegant and sophisticated, this gold drip wedding cake from Joanna Pyda Cake Studio is perfect for a botanical wedding theme. The gold, ivory and green colour palette is very on-trend right now and perfect for couples who want a stylish and modern wedding cake.
23. Gold Drip Wedding Cake With White Roses - The Reading Cake Co
How pretty is this naked drip wedding cake from The Reading Cake Co? Gold dripping icing runs down all four tiers of this magnificent wedding cake. The semi-naked finish gives your wedding guests a teaser of what's to come and the addition of white ribbons really ties the design together.
24. Floral Macaron Drip Wedding Cake - Cakes by Mrs F
For summer garden weddings, consider a romantic drip wedding cake like this design from Cakes by Mrs F. Pairing pastel pink macarons with fresh foliage and florals is a great way to pay homage to your summer wedding theme and the rustic cake stand ties in perfectly too.
READ MORE: Wedding Cake Stand Inspiration
25. Buttercream Drip Wedding Cake With Bright Flowers - Cakes by Zoe
Bright and bold, this gold drip wedding cake from Cakes by Zoe is sure to catch people's eye at your wedding reception. If neutral florals aren't your thing, consider super bright and colourful flowers like these pink and blue blooms to decorate your wedding cake with. The gold drips stand out against the plain buttercream finish and tie in well with the bold decorations.
26. Turquoise and Gold Drip Wedding Cake - Claire's Sweet Temptations
Speaking of bright and bold, not all drip wedding cakes need a simple icing colour. If you want something with more of an edge to it, consider a mint green drip cake or a turquoise design like this one from Claire's Sweet Temptations. The gold drip icing paired with the rich turquoise background are a match made in heaven and we love the sparkly gold cake topper.
27. Rose Gold Semi Naked Drip Wedding Cake - Patacake
If bold and bright aren't your vibe, opt for a glamorous rose gold wedding cake like this design from Patacake. This stunning rose gold drip cake is one of our favourite drip designs. The warm metallic shade really pops against the white buttercream icing and we love the contrast between the two semi-naked tiers and the base cake which is adorned with solid fondant florals.
28. Gold Drip Wedding Cake With Ombre Pink Icing - Faye Cahill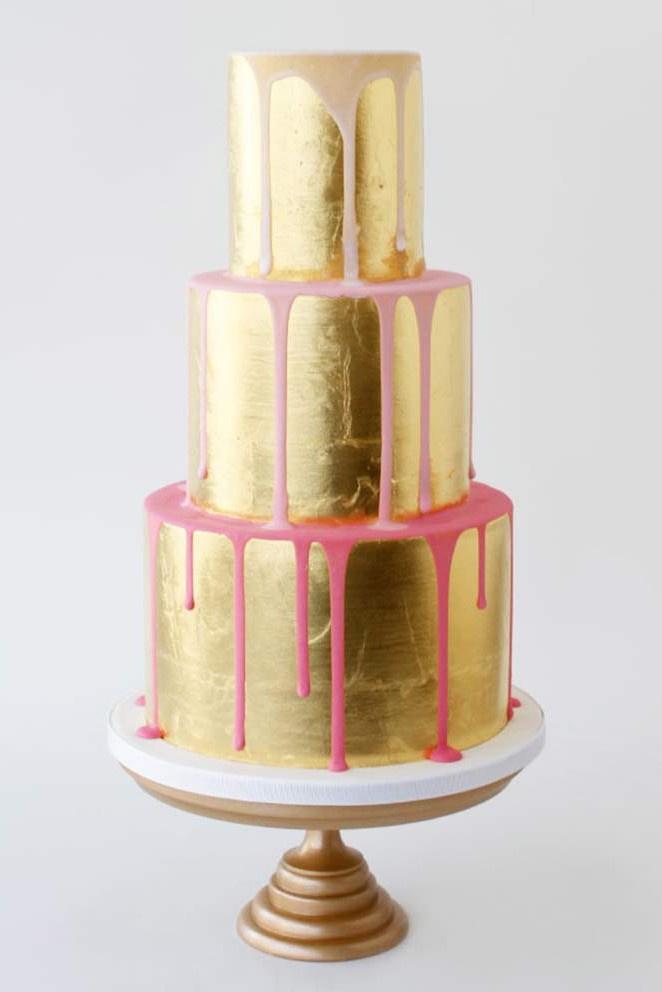 The super talented Faye Cahill has done a magnificent job with this metallic drip wedding cake. The three stunning tiers are all adorned with a shiny gold colour finish and we love the way the drips increase in pink pigment – so chic.
29. Unicorn and Doughnut Drip Wedding Cake - Anges De Sucre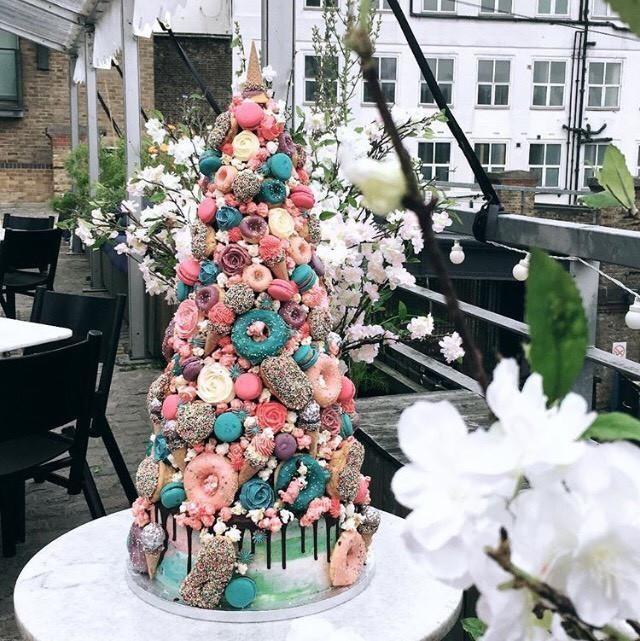 If there was an award for the best cake name ever, it would go to the magical 'Horn of the Unicorn', created by the wonderfully brilliant Anges De Sucre. After already bringing you unicorn wedding ideas, there was no way we could deprive Hitched couples of this crazily cool cake. It's adorned with popcorn, donuts, ice-cream cones and everything else you could dream of in dessert heaven.
30. Black, White and Gold Drip Wedding Cake With Flowers - Sweet Bloom Cakes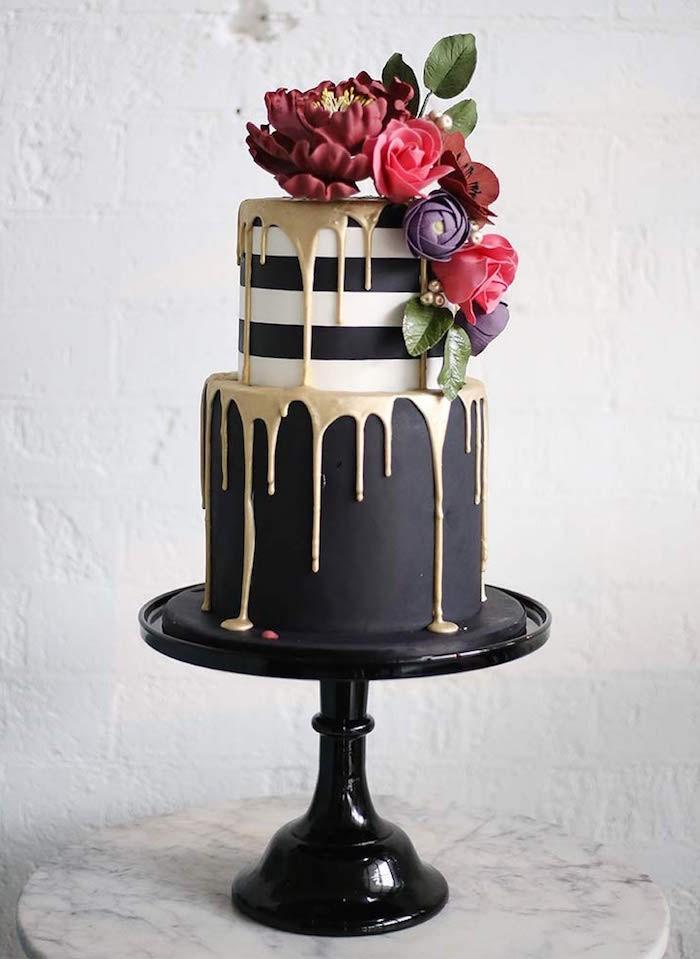 Winter weddings need a cake with real drama, something to make a statement. If that is what you're looking for Sweet Bloom Cakes' black, gold and white creation ticks all of those boxes and more. The monochrome top tier is super stylish and the combination of black and gold really makes it stand out.
31. Christmas Themed Winter Drip Wedding Cake - Anges De Sucre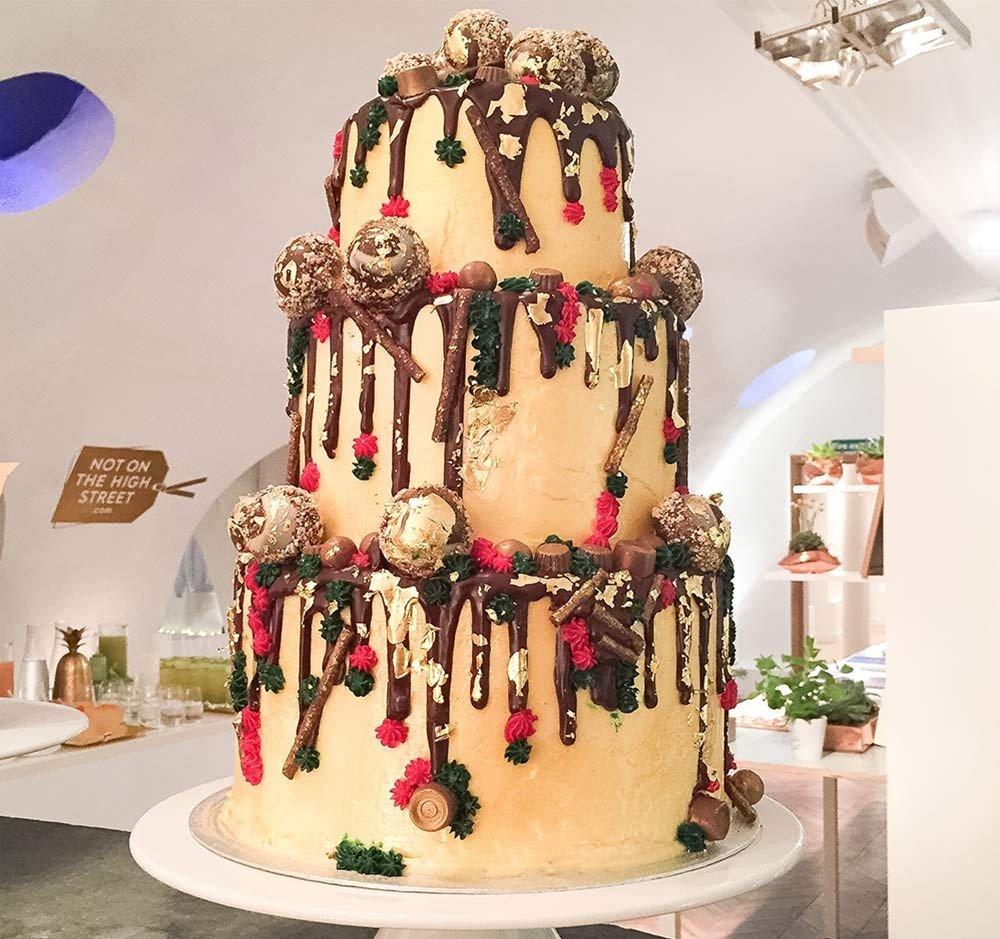 Anges De Sucre made the perfect winter wedding cake and we love the Christmassy theme. The gold adornment, chocolate drips and metallic baubles are perfect for Christmas-loving couples who want to bring the festivities into their wedding celebrations.
32. Las Vegas Themed Gold and White Drip Wedding Cake - Sugared Saffron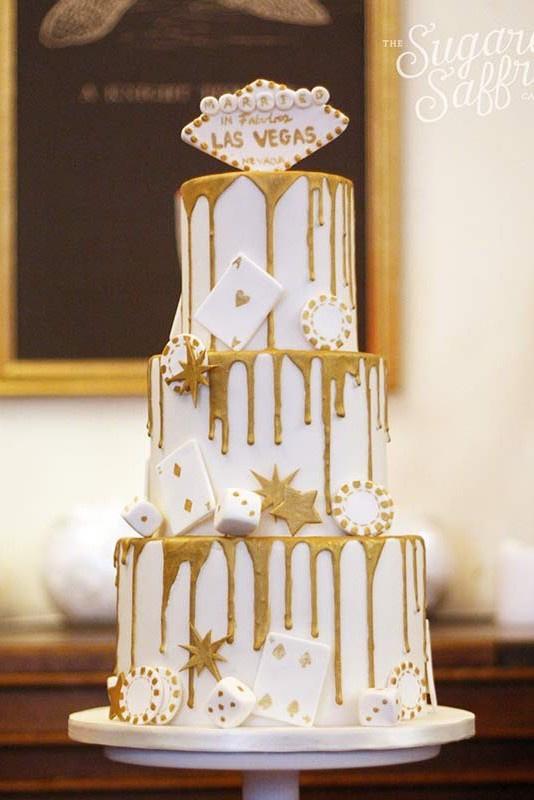 Las Vegas is such a popular destination for weddings, and even if you don't make it all the way across the water, there is nothing stopping you from incorporating the City of Lights into your wedding cake.
This Sugared Saffron golden drip wedding cake is the ideal way to bring Vegas to your wedding. Its simple colour scheme and clever Vegas décor make it an all-round dazzling design.
What is the Drip Made of on a Drip Cake?
In most cases, the drip element of a drip wedding cake is made using a ganache icing as it has the right consistency to create the perfect 'drip' effect on the side of a cake. For a thicker and more established drip, some wedding cake suppliers will use a thicker icing or even make faux drip details from fondant, but this is not the traditional technique that is commonly used.
Are Drip Cakes Popular?
Drip cakes are very popular with people ordering celebration cake such as birthday and anniversary cakes. They have since become more popular amongst wedding couples and it is much more common to see drip wedding cakes than it was before. The drip effect can be used on wedding cakes made from buttercream or fondant - the technique works well on both.
READ MORE The Extremely Important Questions You Need to Ask Your Cake Supplier
How to Decorate a Drip Wedding Cake
To create a drip wedding cake effect, your cake needs to be completely cool and the icing (whichever finish you are using) needs to be completed and set. You then need to put your cake onto a turntable and begin to add the ganache along the edge of you cake. You gently drizzle it so it teeters over the edge and the drip effect will begin to form.
You can have the drip effect on just one part of your cake, or around the entire edge. Here are five different techniques to help you create the perfect drip cake design.
READ MORE: How to Decorate Your Own Wedding Cake
If you want to keep in with wedding cake trends, why not check out our glamorous selection of geode wedding cakes – they are out of this world!