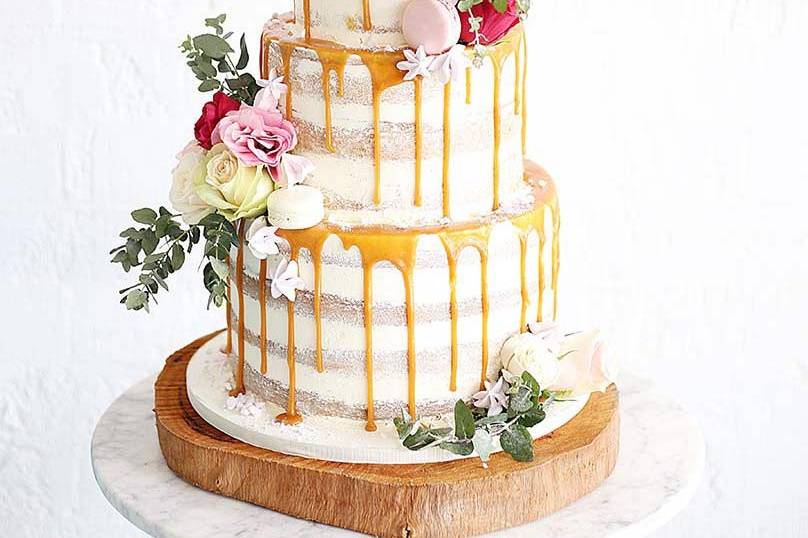 Having a gorgeous wedding cake is essential to impressing your guests and one trend which is taking the world by storm is the drip wedding cake.
The technique and style used to create these delectable designs is one which modern cake makers are embracing to the fullest.
Here at Hitched we love sharing new trends and perfected creations with you and our selection of drip wedding cakes does just that… Get ready to work up an appetite brides!
Marvellously Metallic
The super talented Faye Cahill has done a magnificent job with this metallic drip wedding cake – hence why we've chosen it to kick this article off.
The three stunning tiers are all blessed with a shiny gold colour and we love the way the drips increase in pink pigment – so chic.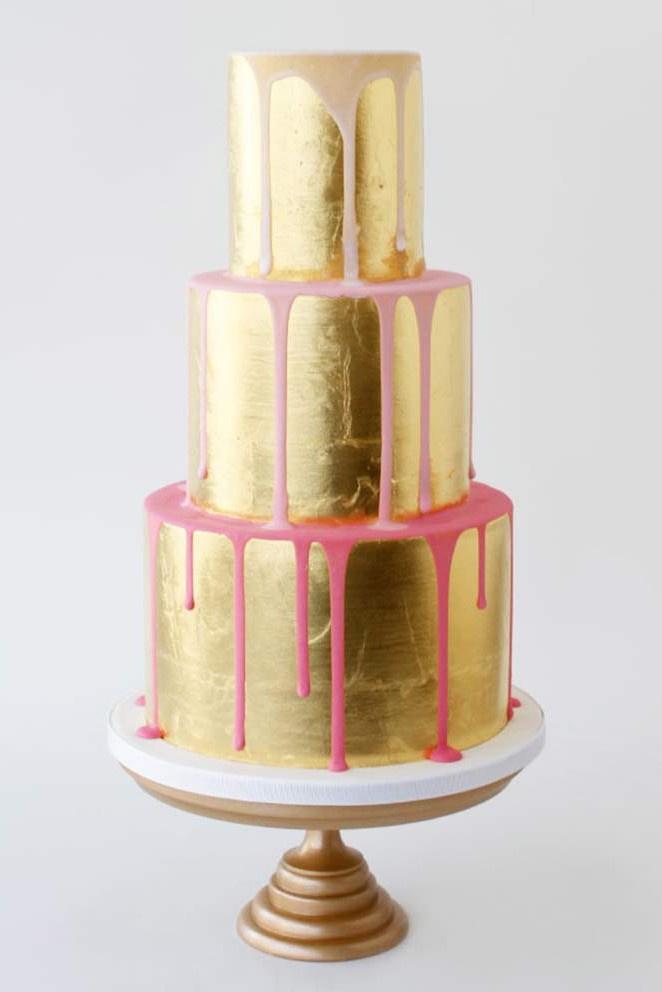 Seaside Treats
Taking the tiers down to one, but losing nothing in style and attention to detail – we introduce you to Katherine Sabbath.
Her seaside themed drip wedding cake is full of colour and life.
If you and your better half are planning a crazy themed wedding and want a classy cake to top it off, Katherine is your girl.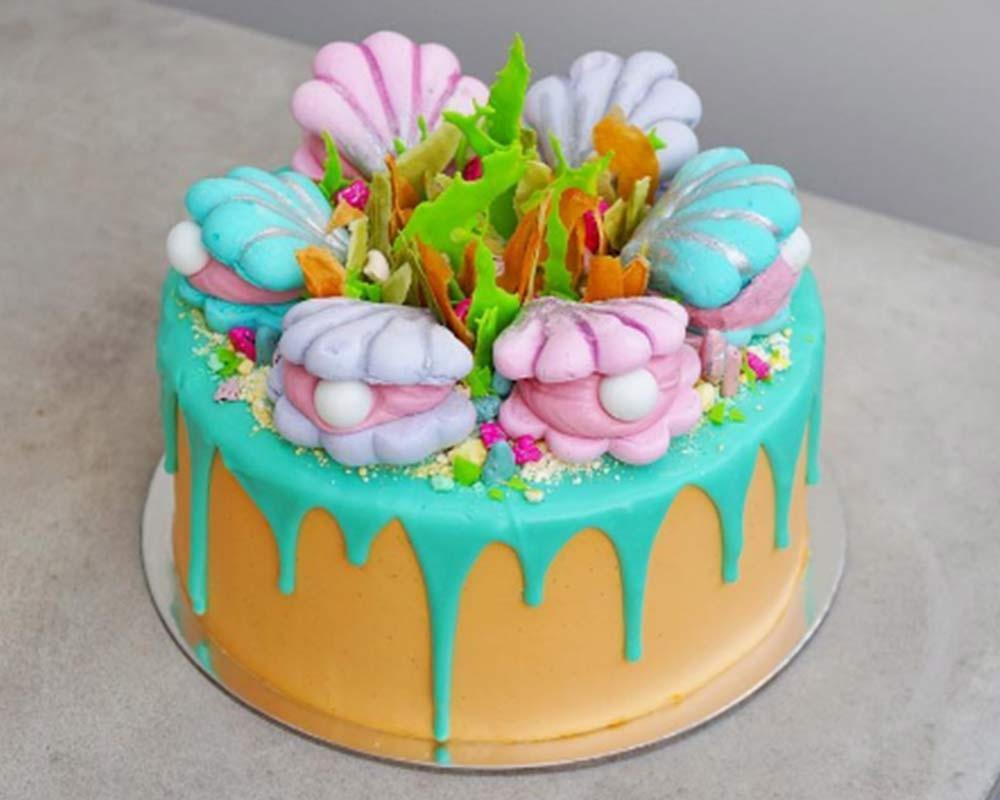 'Horn of the Unicorn'
If there was an award for the best cake name ever, it would go to the magical 'Horn of the Unicorn', created by the wonderfully brilliant Anges De Sucre. After already bringing you unicorn wedding ideas, there was no way we could deprive Hitched brides from this crazily cool cake.
Adorned with popcorn, donuts, ice-cream cones and everything else you could dream of in calorie heaven – it caught our hearts straight away.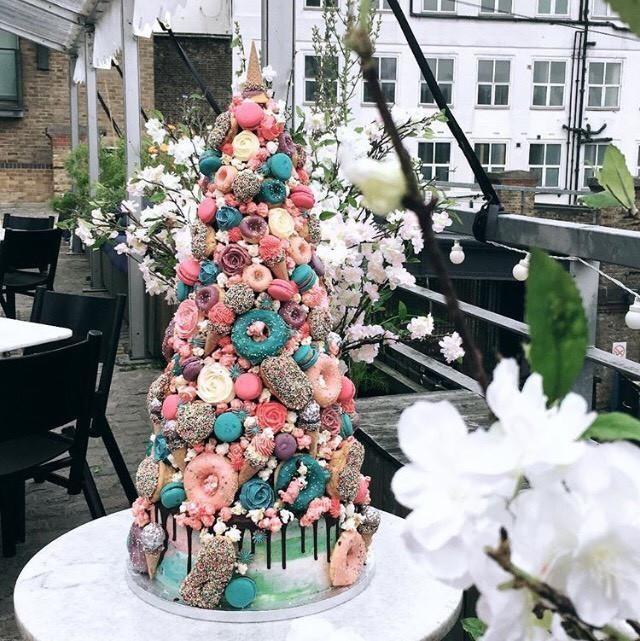 Deliciously Dramatic
Winter weddings need a cake with real drama, something to make a statement… If that is what you're looking for, please let us introduce you to Sweet Bloom Cakes' black, gold and white creation.
The monochrome top tier is super stylish and the combination of black and gold makes it really stand out.
The red and mauve flowers on top are the perfect finishing touch as the give the cake the feminine touch it needs to be totally wedding worthy.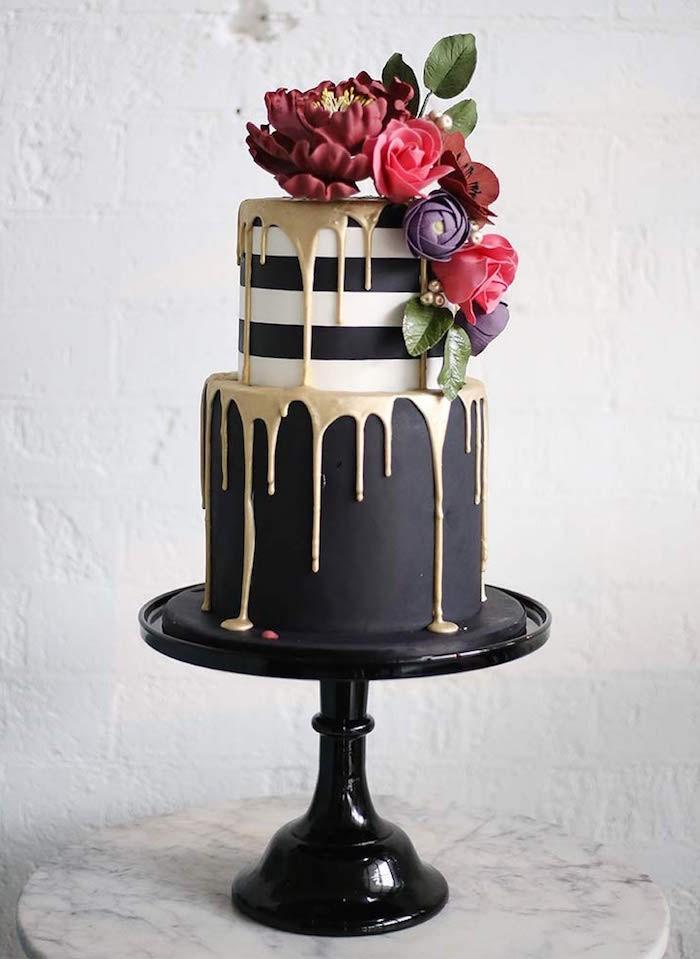 Less is More
Not all wedding cakes have to be three-tiers of décor and fussiness, some couples prefer a more discreet dessert on their special day and this beautiful naked wedding cake is more than appropriate. It lacks nothing in style, beauty or detail and we would love to see couples embrace this understated look.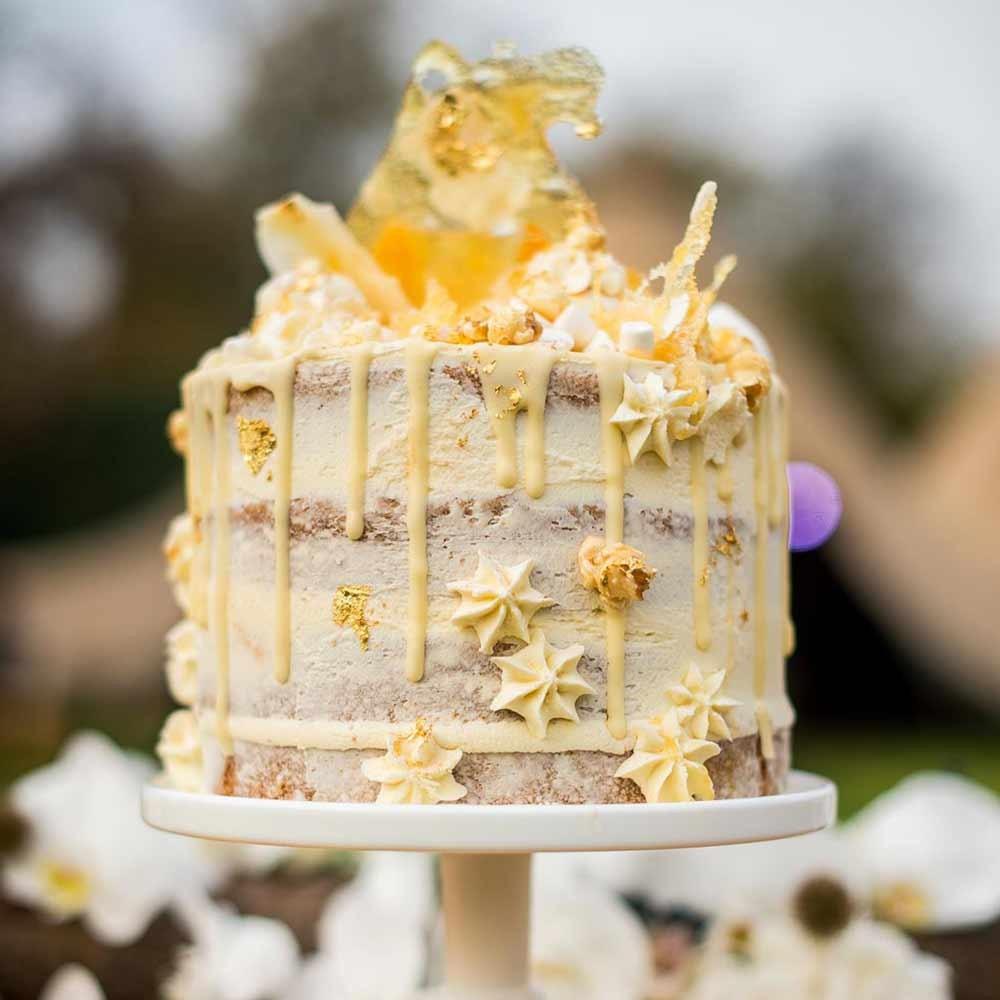 Image Credit: Joe Dodsworth Photography
Candy Cake
If your wedding is full of fun, vibrant colours and up-beat vibes, you need a wedding cake like this.
Another Katherine Sabbath design and boy is it a beauty. It is oozing with character and personality – perfect for lively couples.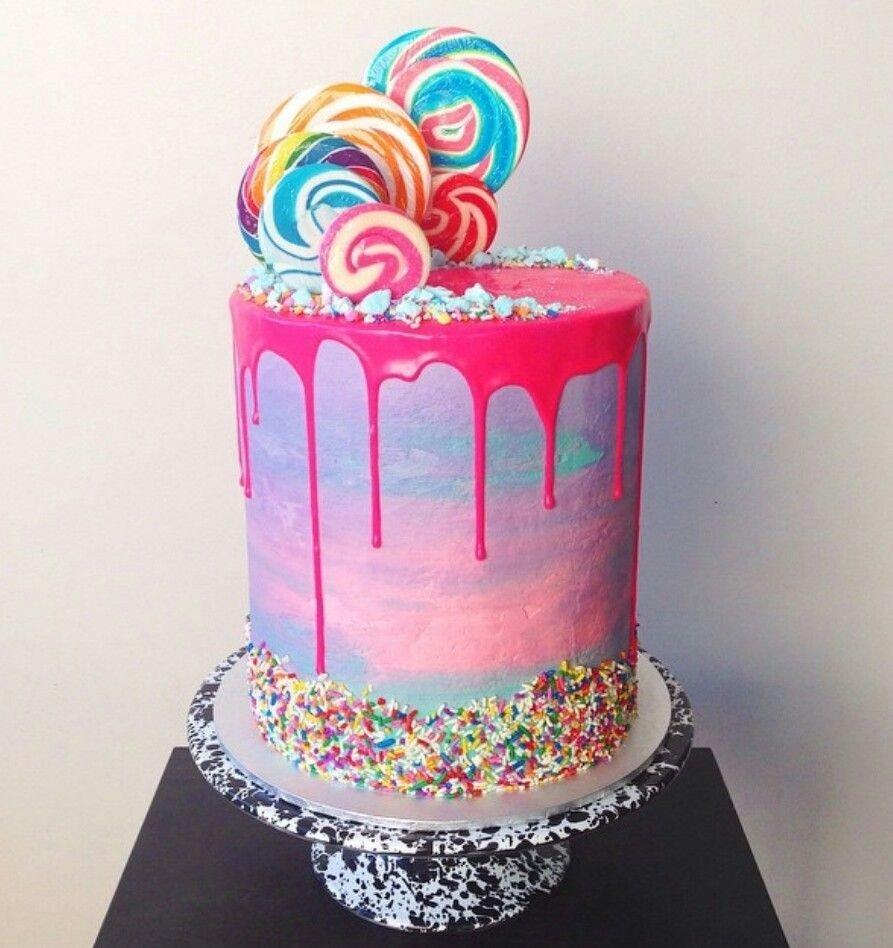 Rustic and Glamorous
Having a drip wedding cake isn't always about the crazy colours and designs, sometimes the classics trump all and that couldn't be truer in this case.
Sweet Bloom Cakes have outdone themselves with another delicious design.
The mix of floral embellishment, gold drips and a naked cake body give it everything it needs to win our hearts – and bellies!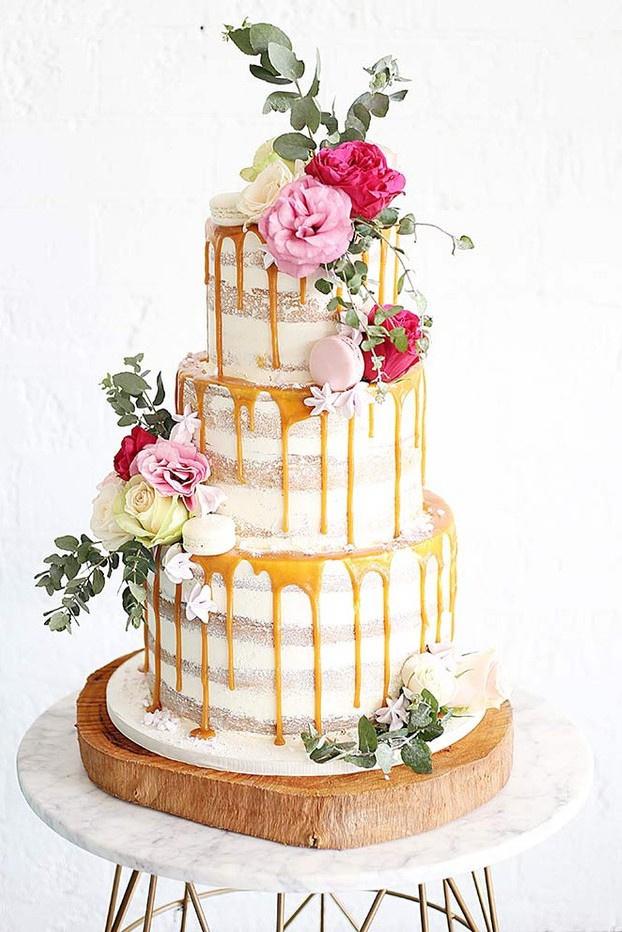 Fancy Festiveness
Anges De Sucre made the perfect winter wedding cake – as you can all see.
The gold adornment, chocolate drips and metallic baubles put one thing in our heads, Christmas!
What better way to celebrate a festive wedding than to tuck into such a magnificent construction.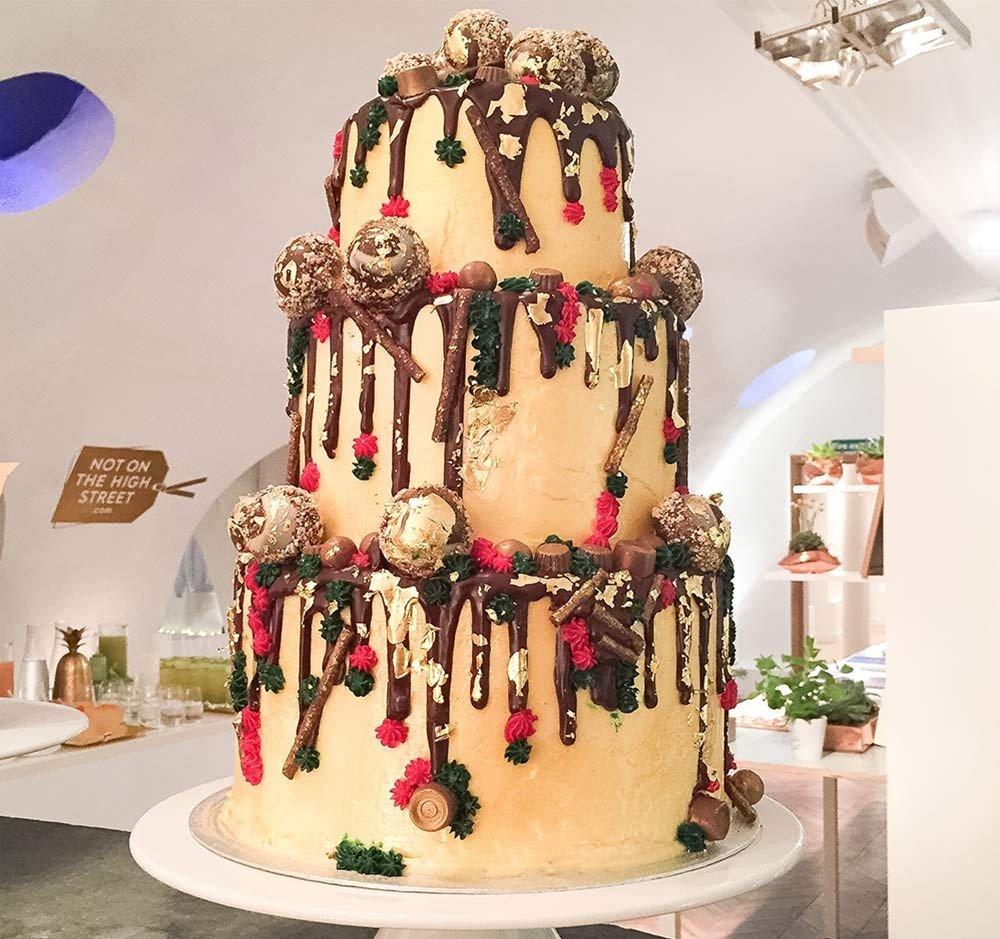 Winter's Edible Dream
Cakes By Cliff wowed us all in the Hitched office with their gorgeous wedding cake that is again, perfect for a winter wedding.
The crisp and cool shade of blue paired with whites and lilacs make for a gorgeous contrast and we love the floral cake décor. It couldn't be more perfect if it tried.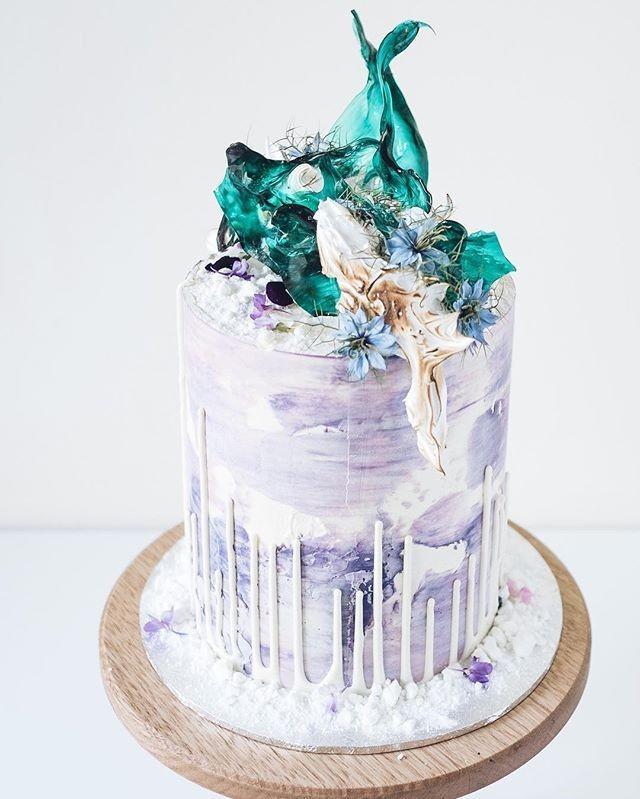 Perfect Pastels
Everything about this Sweet Bloom Cakes design is perfection, from the colour combinations to the detailed adornments.
Neutral colours are always popular with weddings and the baby blue topper is a perfect and completely unique way to finish off such an attractive wedding cake.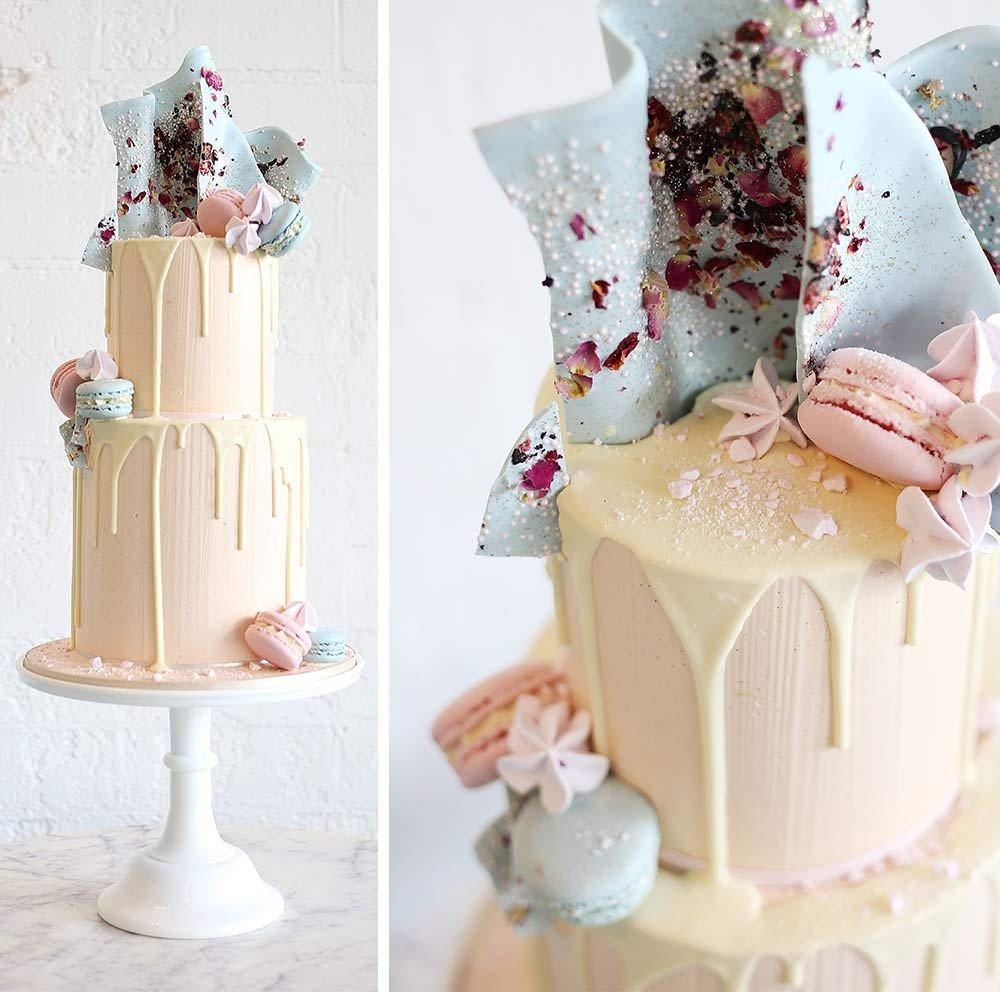 Bright and Bold
Anyone looking to add a splash of colour to their drip wedding cake will get so much inspiration from the Unbirthday Bakery Team's wedding cake. The simple base and structure is given a complete boost with the bright coloured décor – we are totally in love.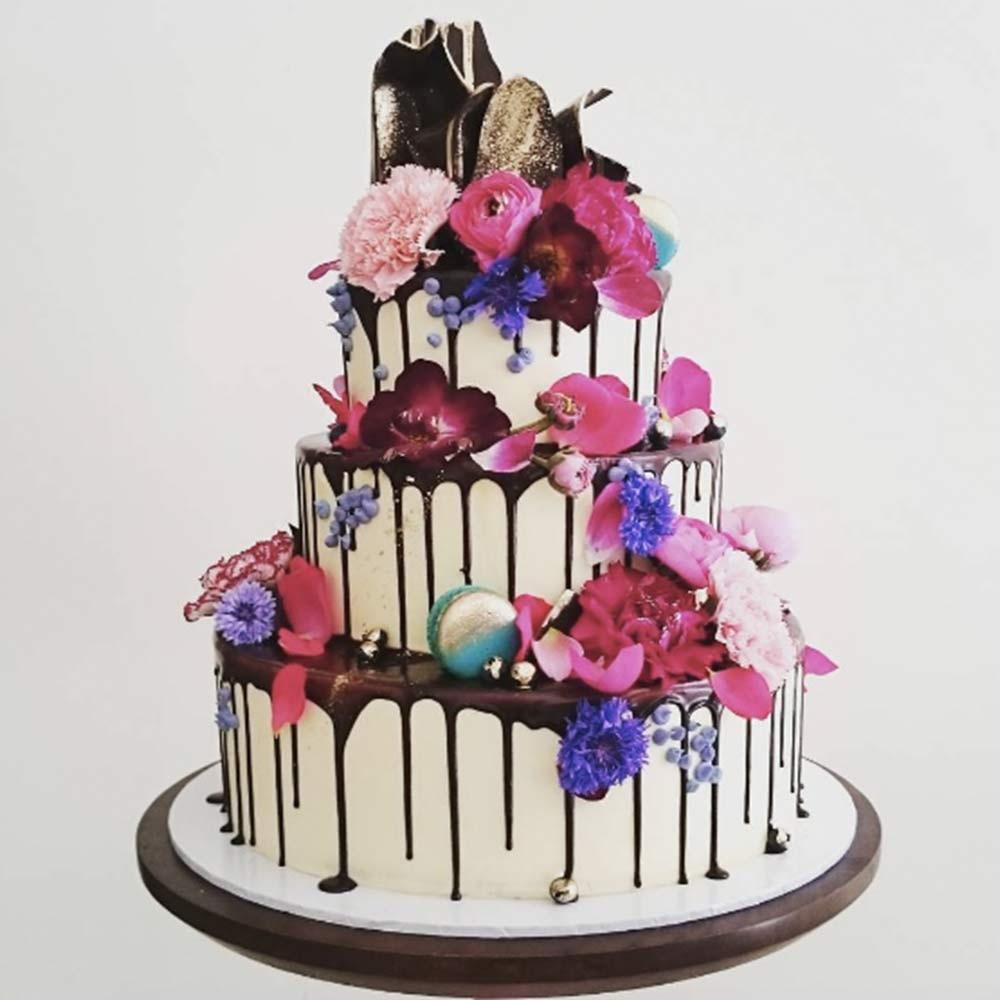 www.instagram.com/unbirthdaybakery/
Ice Cream Cakes
Both of these playful designs by Katherine Sabbath are the perfect summer wedding cake. The amount of colour in each style is such a breath of fresh air when it comes to a wedding cake and the ice cream top detail is out of this world. We are huge fans of these designs – which one would you pick?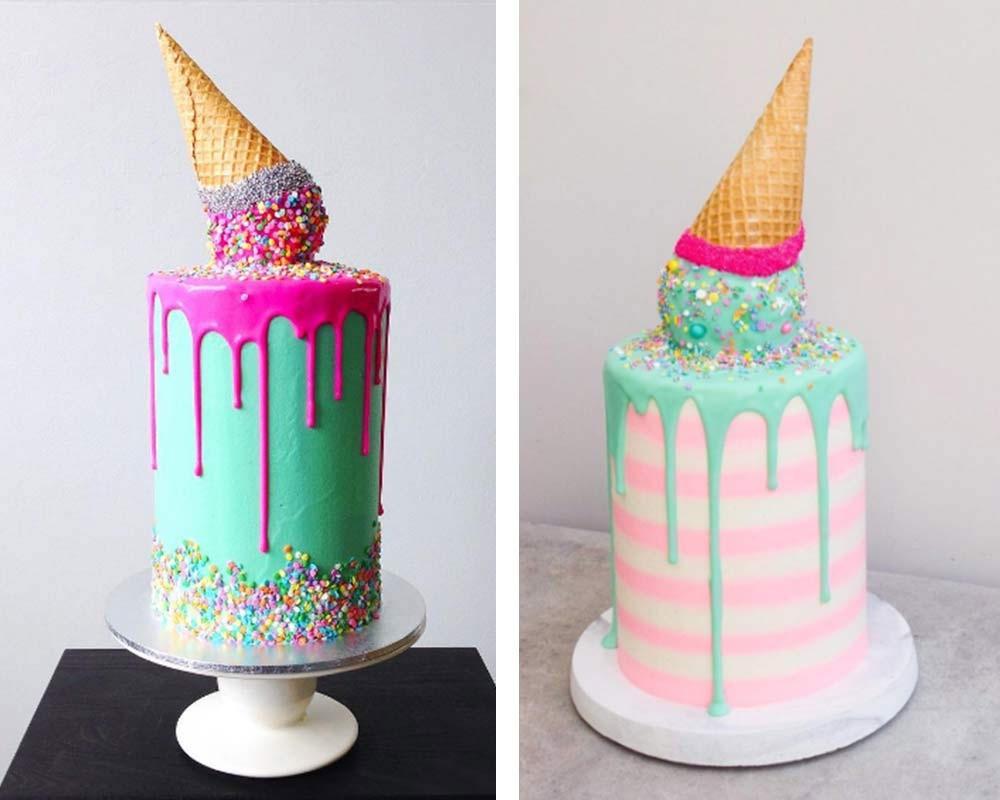 Chocolate Heaven
Weddings with warm colour schemes are the ideal home for a cake like this Katherine Sabbath one.
Chocolate is a human's best friend and that is why this cake is such heaven. The combination of colours is so appropriate and all we want to do is grab a slice now!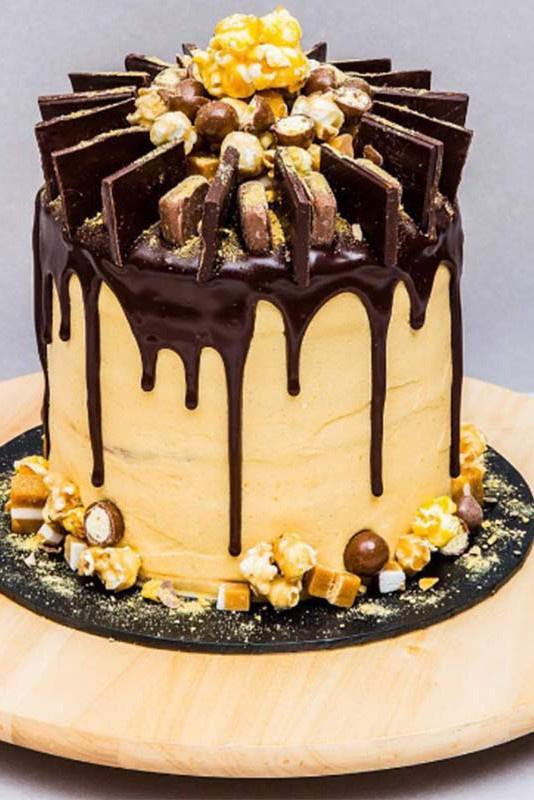 Blue and Beautiful
Fancy some bold colours at your wedding? This cake by Don't Tell Charles is full of colour and the magnificent size of it alone makes it a statement piece, never mind the actual design.
We love the candy cane lollipops and sugar sweets that are scattered around it – such a nice touch.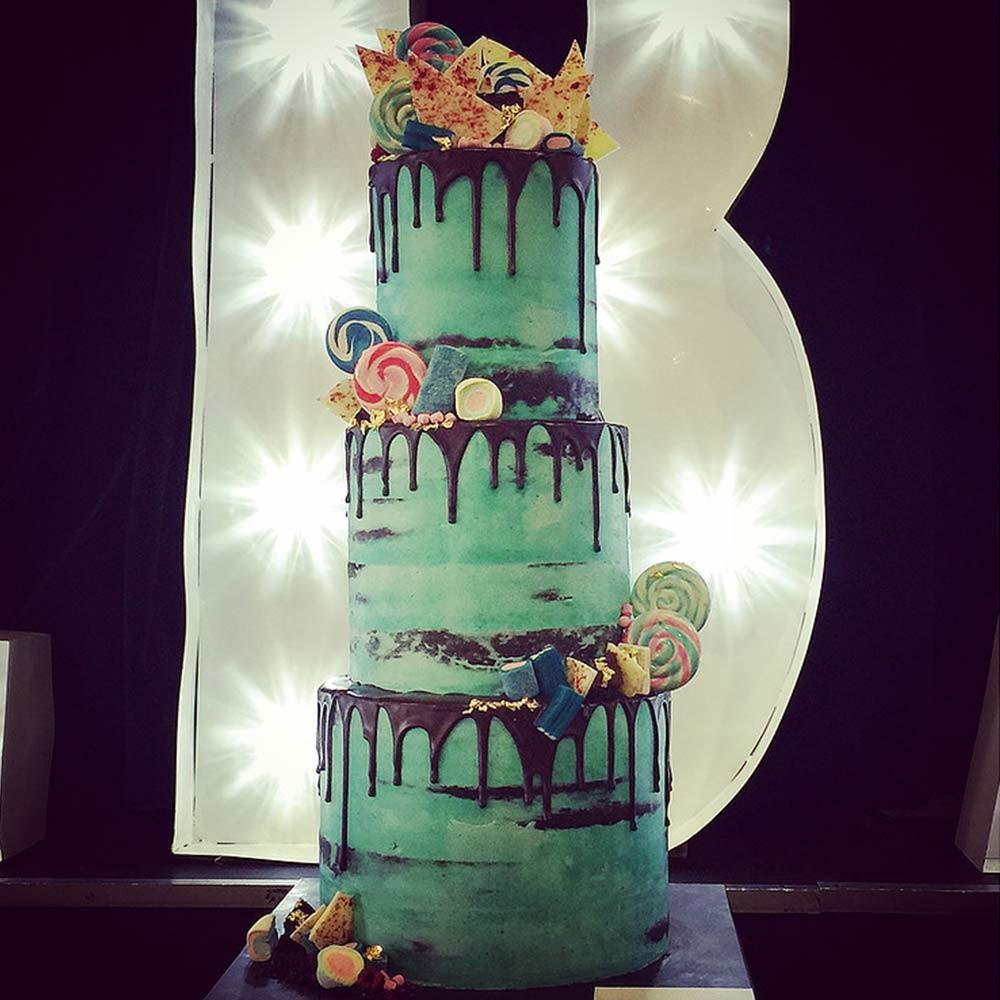 Drip Trio
Why have one wedding cake when you could have three? Two simply stunning drip designs are paired with an understated buttercream tier.
These Faye Cahill cakes can be presented separately as seen in the picture, or alternatively, you could put them together to make three tiers of edible beauty.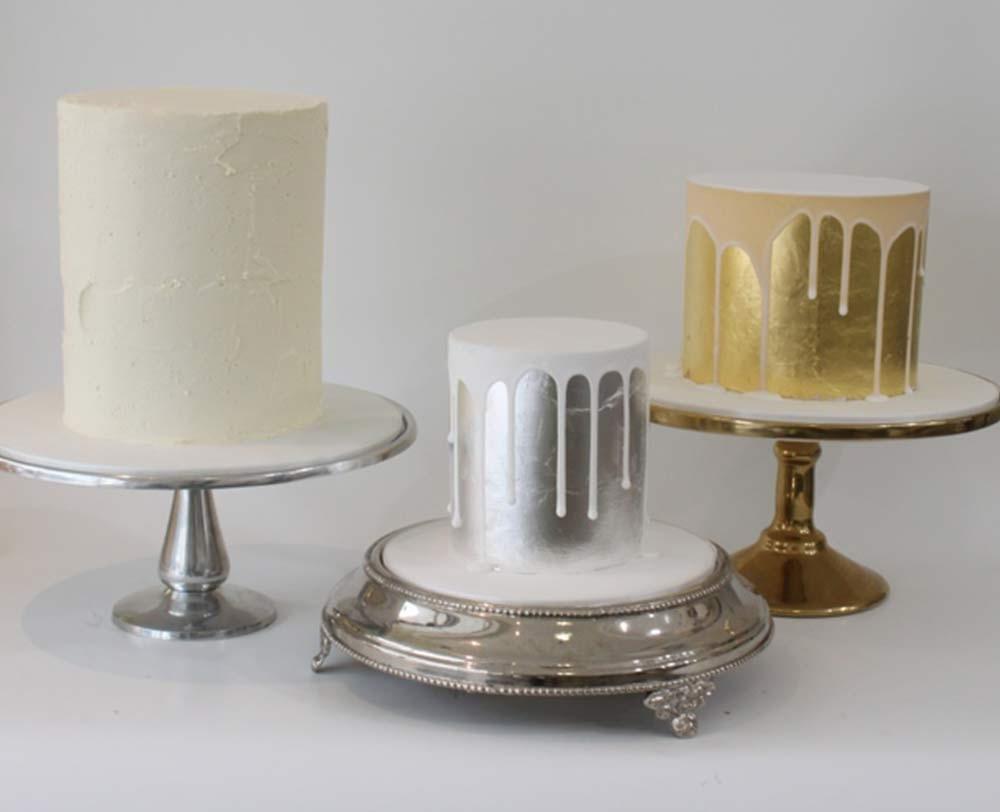 Multi-coloured Magic
The base of this cake is a combination of so many different bright and pastel colours which go together so fabulously.
It makes the perfect backdrop for such a majestic and cheerful wedding cake design.
The asymmetric macaroon and floral pattern is super pretty, we just can't take our eyes off this Anges De Sucre cake.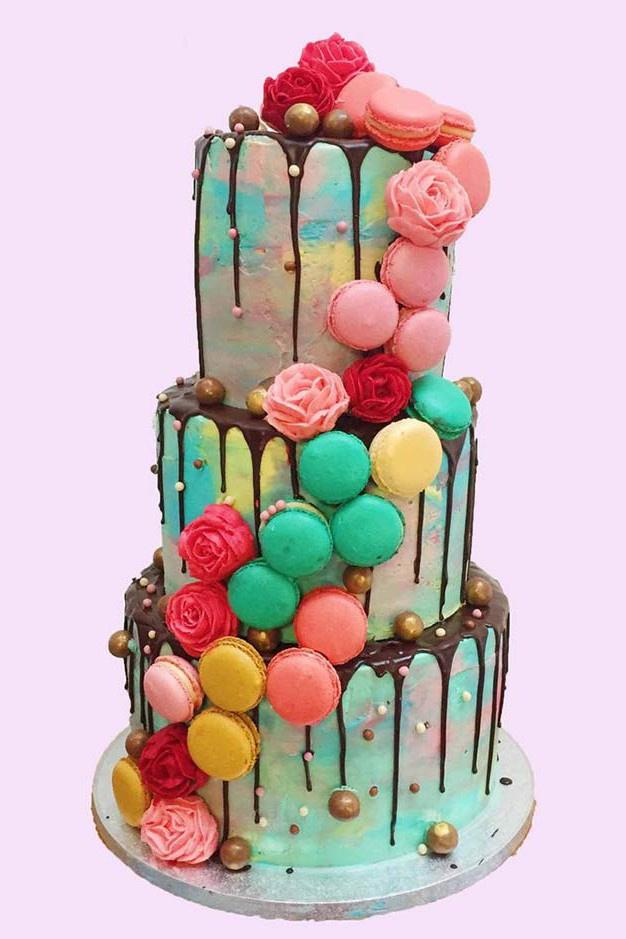 Pink Geometrics
Seeing such a pretty pink wedding cake is always a lovely sight.
The gold-leaf style geometric shapes are a modern detail which really stands out on the design and the white drips are another beautiful addition too.
There is not one thing we would change about this wedding cake by Don't Tell Charles.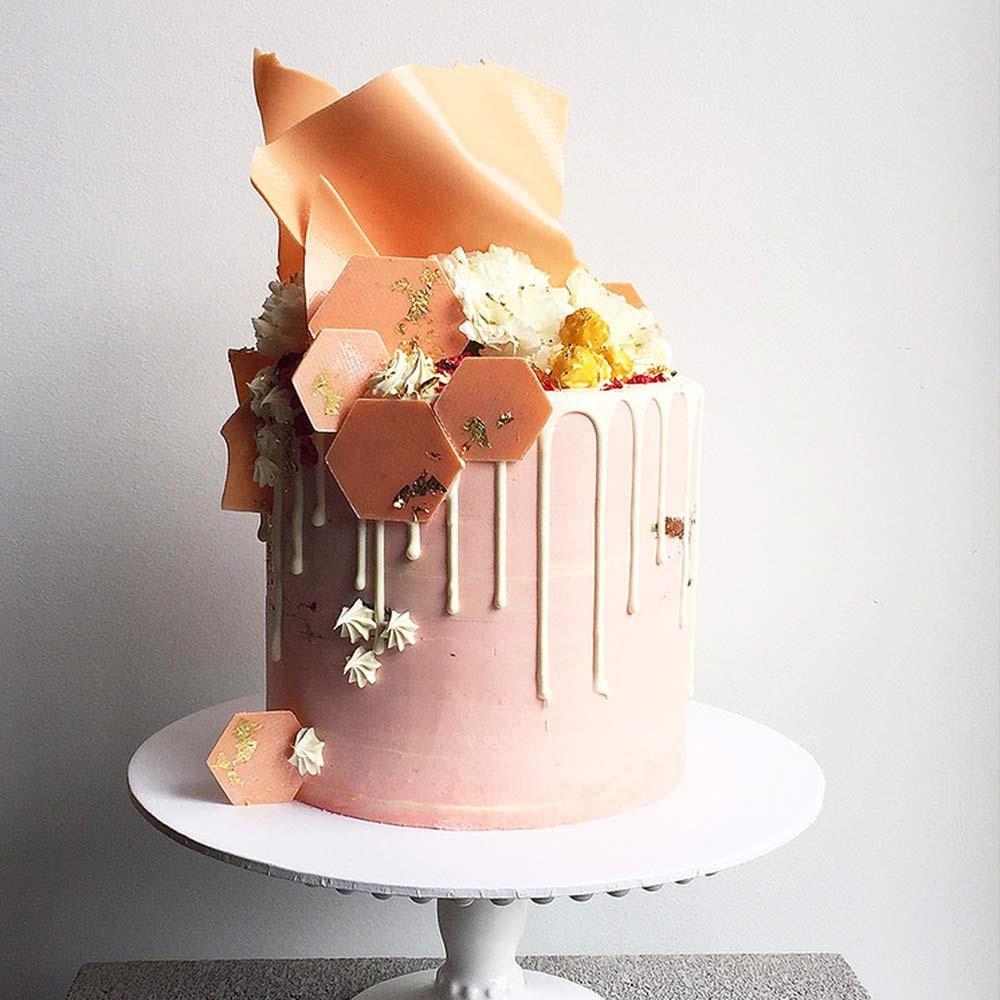 Viva Las Vegas
Las Vegas is such a popular destination for weddings, and even if you don't make it all the way across the water, there is nothing stopping you from incorporating the City of Lights into your wedding.
This Sugared Saffron drip wedding cake is the ideal way to bring Vegas to your wedding. Its simple colour scheme and clever Vegas décor make it an all-round dazzling design.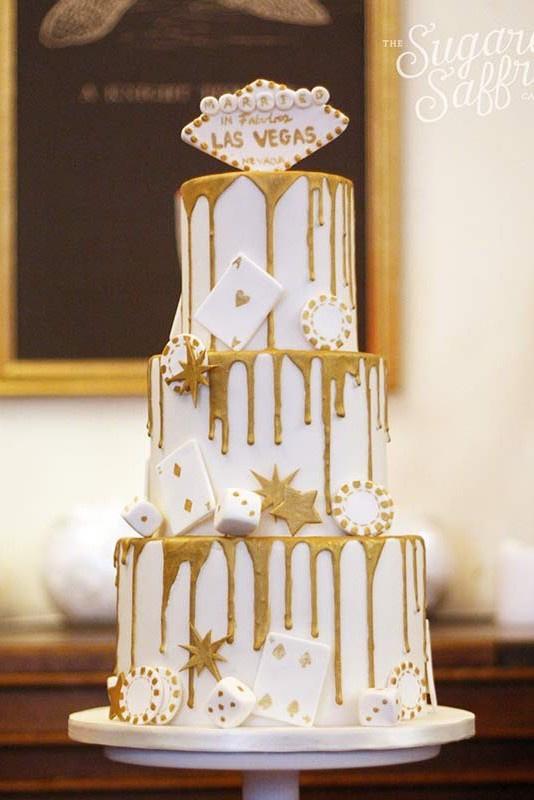 Turquoise Treats
What a delectable chocolate haven this wedding cake is. It is bursting with colour and flavour that is unbeatable.
There is so much going on with this Unbirthday Bakery Team cake, your guests won't know where to start.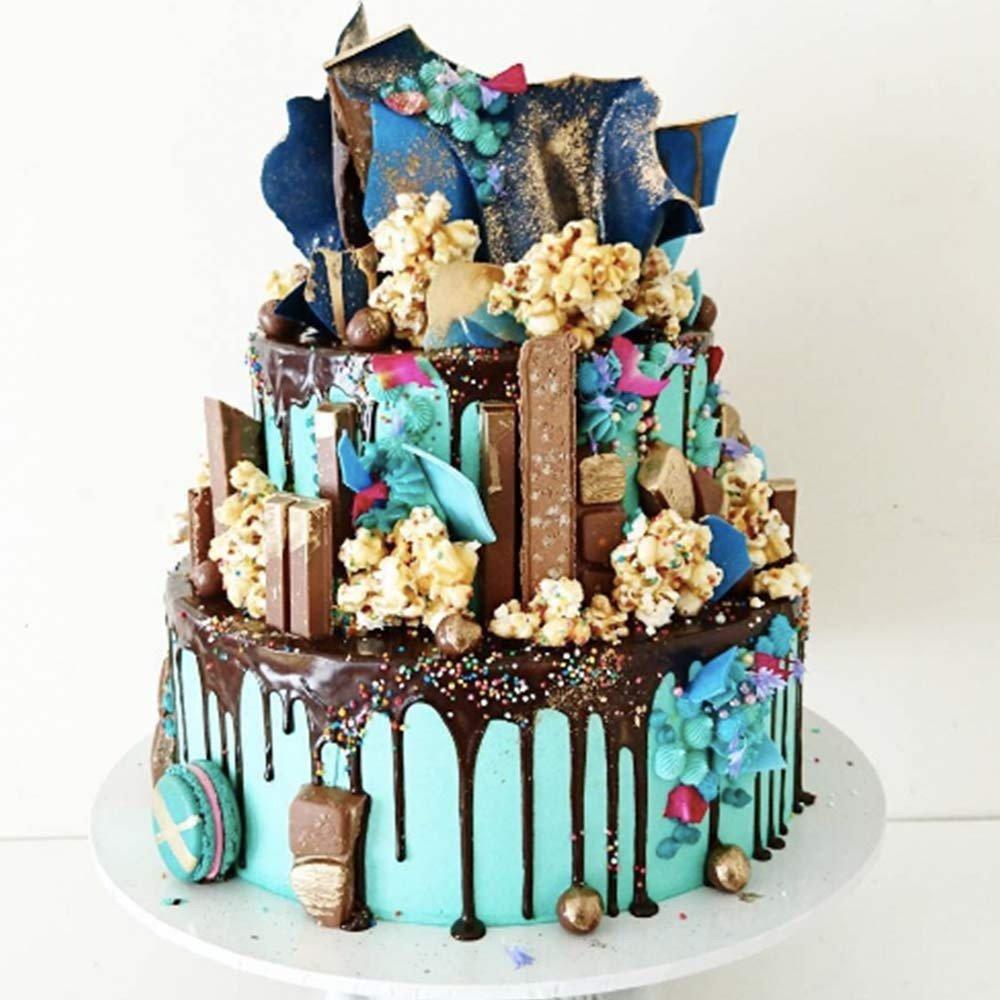 Image: Instagram
Gorgeously Gold
Keeping it simple is sometimes the key to wedding cakes and Faye Cahill has proven just how stunning that can turn out.
The gold leaf and drip detail complement each other in the most exquisite of ways. This is a classy design made especially for classy couples.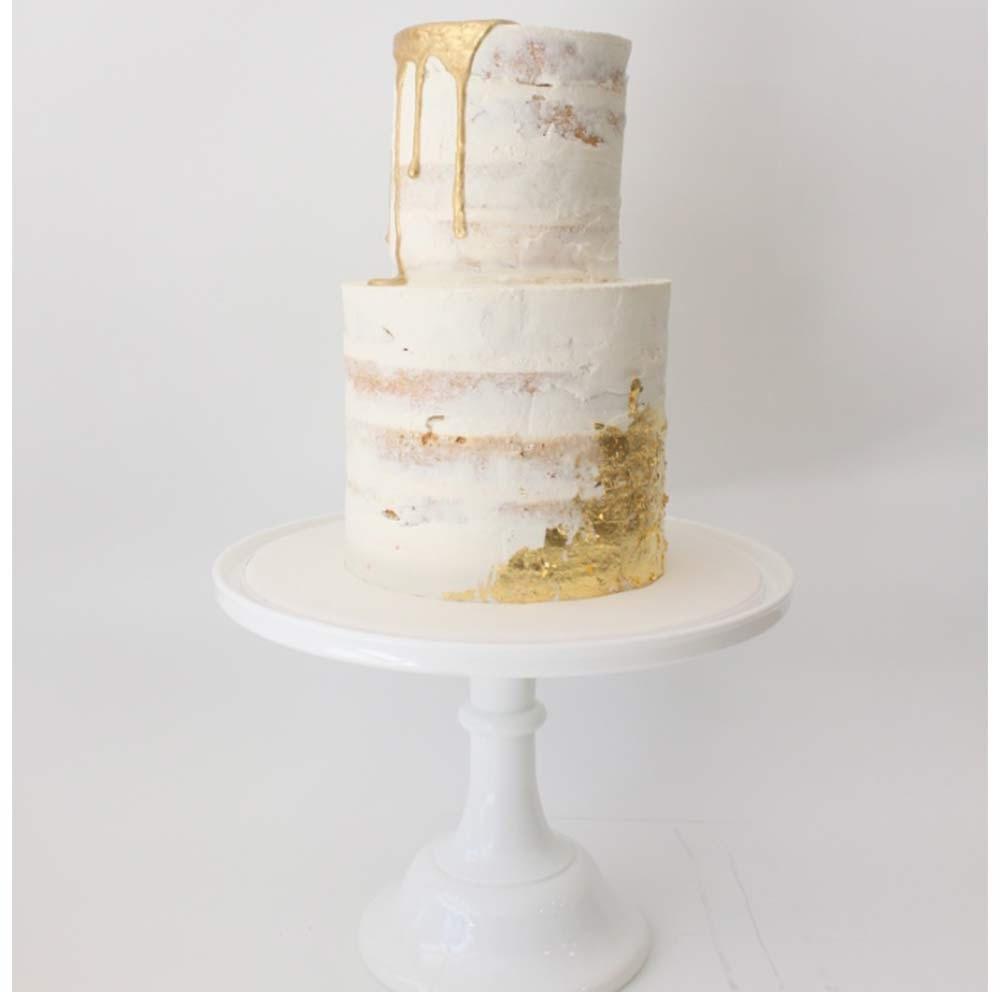 If you want to keep in with wedding cake trends, why not check out our glamorous selection of geode wedding cakes – they are out of this world!