3rd Wedding Anniversary Gifts: 30 Leather & Crystal Ideas They'll Love
Is your third wedding anniversary coming up? If so, you're probably on the hunt for the perfect symbol of your love. Browse our leather and crystal third wedding anniversary gift ideas, from the traditional to the contemporary, for your partner.
We have included third party products to help you navigate and enjoy life's biggest moments. Purchases made through links on this page may earn us a commission.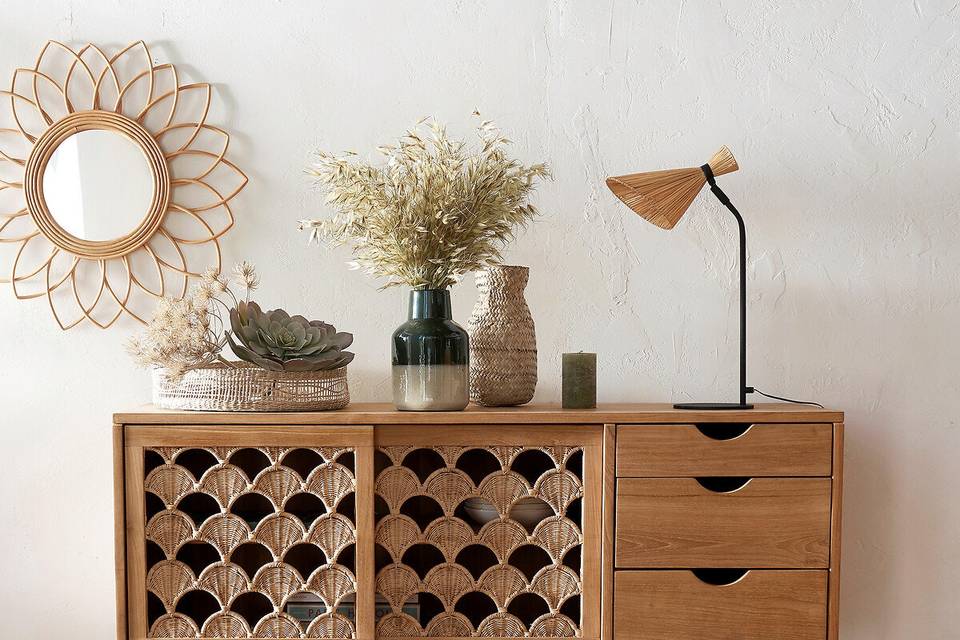 After three years of marriage, your relationship will be strong and durable. That's why third wedding anniversary gifts are traditionally made from leather - it's a symbol of the resilience of your love. It's the perfect way to show your lasting commitment while also giving your partner something they can treasure.
Luckily, leather lends itself to some fabulous wedding anniversary gift ideas, from purses and phone accessories to luggage and even homewares. However, if leather isn't really your partner's thing and you want something a little different, you could opt for the modern third wedding anniversary gift: crystal and glass, as a symbol of radiant beauty. From jewellery to home decor, the possibilities feel endless.
To help you plan the perfect present, we've picked some of our favourite third wedding anniversary gift ideas to inspire you. Take a peek through these options and we're sure you'll soon be getting out the wrapping paper.
Leather 3rd Wedding Anniversary Gifts
The traditional third wedding anniversary gift is leather. If you like the idea, take a look at some of our favourite leather gift ideas.
1. Personalised Lifetime Memory Suitcase Box – £155, Not On The High Street
Gift your partner one of these beautifully crafted memory suitcases boxes from Meminio for storing their favourite keepsakes. The boxes are made of bonded leather, so ideal for a third anniversary. Choose from a range of gorgeous colours and have a luggage tag monogrammed with your loved one's initials.
2. Leather iPhone Case – £29.95, Not On The High Street
Is your other half obsessed with their phone? This personalised leather phone case can be embossed with their initials, and handily doubles up as a wallet!
3. Leather Purse – from £195, Mulberry
For a classic leather gift that will last for years to come and be used almost every day, a purse or wallet is a great option. If you're looking for something extra special, Mulberry have a gorgeous range of leather accessories in different shapes, sizes and colours.
4. Classic Men's Leather Belt – from £95, Aspinal of London
Invest in a quality leather belt your partner can wear time and time again. You can even get it stamped with a message on the inside to personalise it or get the buckle engraved – we love this belt from Aspinal of London.
READ MORE: 45 Best Gift Ideas for Husbands
5. The Medium Boxed Leather Photo Frame – £49, Osprey London
Pick out a photo that means a lot to your partner and have it printed - you can order prints online to be delivered to your home. Put it in this beautiful leather frame, and voilà! The perfect thoughtful gift for your leather wedding anniversary.
6. Leather Loop Keyring in Tobacco Pebble – from £40, Aspinal of London
A good quality leather keyring is such a smart accessory, and we love how this timeless design from Aspinal of London can be monogrammed with your other half's initials.
7. Personalised Leather Memories Photo Album – £75, Not On The High Street
Put together a leather-bound photo album like this chic design full of happy memories from the first three years of your marriage together. Leave some pages blank for the next year too!
8. Annex Backpack – £105, Matt & Nat
If your partner is vegan, leather will be a problematic material for them. Step forward hero brand Matt & Nat, with their range of vegan leather accessories - like this backpack, which is as stylish as it is practical. It converts into a shoulder or crossbody bag, too.
READ MORE:
Wedding Anniversaries: Your Year-by-Year Wedding Anniversary Gift Guide
9. Double Black Leather Bracelet – £45, Pandora
If your partner isn't keen on metallic jewellery, why not buy them a stylish leather bracelet? We adore this woven leather bracelet from Pandora – it'd make the perfect third anniversary gift.
10. Cuir/Leather Candle – £49, Diptyque
Are we cheating with this one? Maybe a little one - but Diptyque's Cuir 'Leather' candle is a lovely third anniversary gift if your partner isn't particularly keen on actual leather goods.
11. Yellow Meadow Leather Notebook – £34.99, Papier
With an on-trend design and in an on-trend colour, this leather notebook is a fashionable gift for the stationery lover in your life on your third anniversary.
12. Leather Smart Book Light – from £40, Graham & Green
With its leather cover, this book lamp is a stylish and unusual third anniversary gift - close the lamp and it'll look like a regular notebook. The best bit? It has a rechargeable battery, so can be used anywhere and there are no unsightly wires.
READ MORE: The 35 Best Gifts for Your Wife That She'll Actually Love
13. Moroccan Leather Pouffe – £59.99, Etsy
Does your partner love boho homewares? We think they'll appreciate this Moroccan leather pouffe, which can be used as a footstool or simply as a design accent in your home.
14. HUGO by Hugo Boss Men's Smash Leather Strap Watch – £99, John Lewis
A leather strap watch is an excellent gift for a third anniversary as it's something they can treasure (and use!) for years. This Hugo Boss watch is chic and simple enough for everyday wear, but still feels special.
15. Gucci Grip Gold PVD Watch – £1,150, Beaverbrooks
If you're looking for a designer watch for your third anniversary, we have to steer you towards Gucci's statement Grip watch. This unisex design brings together '70s references with a style that's all its own.
Crystal & Glass 3rd Wedding Anniversary Gifts
If the traditional material doesn't work for you, crystal and glass are the modern alternatives for your third wedding anniversary. Take a look at some of our favourite gift ideas.
16. Infinity Bangle – £85, Swarovski
This gorgeous infinity bangle is a romantic gift for an anniversary. The sparkling style features a rose gold-plated chain with a single crystal alongside an infinity symbol.
READ MORE: Anniversary Gifts for Her: 50 Romantic Ideas Your Wife Will Love
17. Grosseto Cut Crystal Glass Champagne Flutes – £40 for Two, John Lewis
You can't go wrong with beautiful Champagne flutes. If you include a bottle of the Champagne or prosecco you had at your wedding, it would make this anniversary gift even more thoughtful.
18. Garden Tales Rose – £95, Swarovski
Flowers are a popular gift to show your partner affection, but why not take it a step further? With this crystal rose, you can demonstrate your love in a lasting way.
19. Aur Gold Gin Glasses – £22.50 for Two, Oliver Bonas
If you and your partner enjoy a G&T, these chic gold-toned glasses will be an elegant addition to your glass collection.
20. Sunday Rain Watermelon & Mint Bath Crystals – £6, Beauty Bay
Looking for a third anniversary gift on a strict budget? Two words: bath crystals. There's nothing quite like giving the gift of relaxation, after all.
READ MORE: Anniversary Poems: The Best Poems to Write in Anniversary Cards
21. Nogu Mirror with Floral Rattan Frame – £60, La Redoute
Chic mirrors can cost a small fortune - but at £60, this La Redoute rattan design is a real find. It would look gorgeous in any room of the house.
22. Rose Bouquet – £135, Swarovski
Does your other half love Disney? There's something very Beauty and the Beast about this crystal rose home decoration. It'll certainly last longer than a bunch of flowers!
23. Green & Gold Ribbed Glass Vase – £20, Dunelm
On the other hand, if you do want to buy flowers for your third anniversary, add a timeless element by making this wonderfully elegant vase part of the gift. It will look totally Instagramable when it's filled with flowers.
24. Harmonie Classique Perfume – from £25, Valeur Absolue
Looking for a perfume for your third anniversary gift? Make it crystal-themed! Valeur Absolue is one of a new breed of perfume houses that focuses on wellbeing as much as beautiful scents. Their Harmonie fragrance, blending orange neroli and Earl Grey tea, is meant to release feel-good endorphins, and comes in a bottle filled with amethyst crystals.
READ MORE: 85 Wedding Anniversary Wishes to Write in an Anniversary Card
25. Sekonda Editions Ladies' Crystal Silver-Tone Bracelet Watch – £49.99, H. Samuel
Who doesn't want crystals on their wrist? This gorgeous crystal-studded watch from Sekonda will give your partner's wrist some serious sparkle.
26.
Crystal USB Table Lamp – £22.99, Amazon
If your other half is glued to their phone, this USB charger and crystal table lamp could be just the right present for them. The lamp, which has 130 pieces of K9 crystals, will also decorate the room, giving it a romantic atmosphere.
27. Moon Cufflinks – £20.75, Etsy
These glass moon cufflinks would be a stylish third anniversary keepsake. The unusual design makes them feel extra-special.
28. Double-Sided LED Wall Mirror – £22, Dunelm
Want to go down the practical route with your third anniversary gift this year? Choose something you can both use - like this double-sided mirror, which has an LED light to help with shaving and applying makeup. You'll be fighting over it in the bathroom.
29. Large Metal Candle Holder – £19.99, H&M
Want to add some romance to your home for your third anniversary? Filled with pillar candles, a few of these metal and glass candle holders around a room will really set a seductive, intimate mood.
30. Flower Tea Cup – £14.99, Amazon
If your other half is a tea drinker then this hand-painted glass tea cup is a great anniversary gift for them. Each piece is hand painted, making them totally unique.
Will you go for a leather anniversary gift or keep things modern with glass or crystal? Whatever gift you choose to give for your third wedding anniversary, your partner is sure to love it.
Make sure you know what to give in the years to come by checking out our complete wedding anniversary guide, which has everything from your first to your 70th wedding anniversary covered. You can find even more wedding anniversary gift ideas in our wedding shop.