Half Up Half Down Wedding Hairstyles: 43 Inspirational Ideas
Half up half down hair is a gorgeous wedding look that can work for every bride! Find your inspiration here
We have included third party products to help you navigate and enjoy life's biggest moments. Purchases made through links on this page may earn us a commission.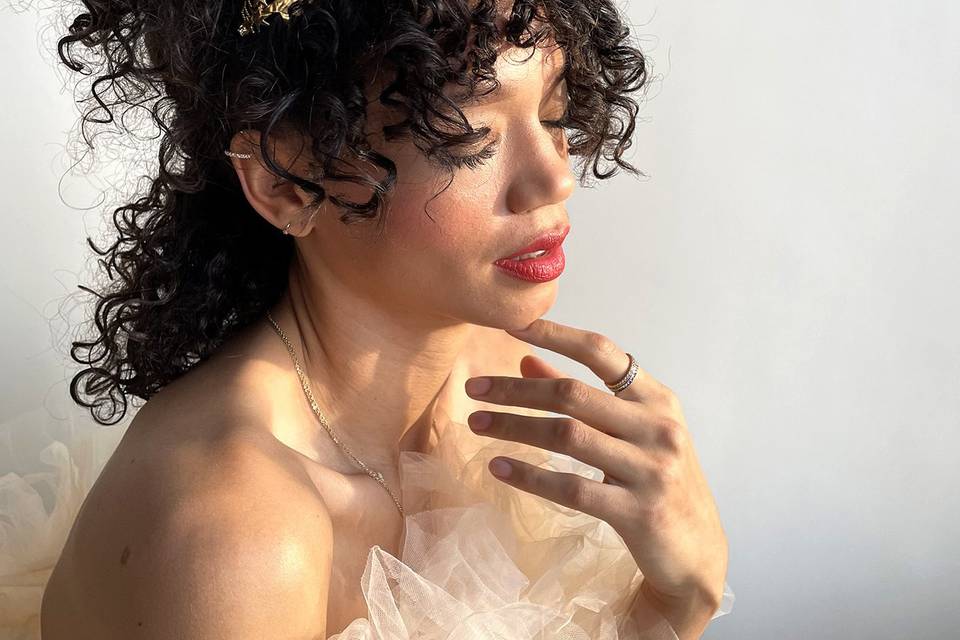 Half up half down hair is a timeless wedding look and one of the most popular wedding hairstyles for brides on their big day.
The Duchess of Cambridge chose a half up half down hairstyle when she tied the knot with Prince William in 2011, so it even has the royal seal of approval.
This style works on every length hair from long hair to a short bob so don't be afraid to ask your wedding hair stylist to try a half updo in your hair and makeup trial. It's also great with lots of wedding dress styles so there's no reason to dismiss it!
With the growing trend for bridal braids and hair accessories, this classic look has been completely updated and we've rounded up 43 of the best half up half down wedding hair examples for inspiration, plus some brilliant tips from industry experts to get you started.
READ MORE:
Why You Should Choose a Half Up Half Down Hairstyle
Bridal beauty experts Lipstick & Curls explain, "The obvious choice for most brides would be to wear their hair up on their wedding day so the hair will be nice and secure for the duration of the day. In reality most of my brides never actually wear their hair up as doing so makes them feel uncomfortable and uneasy about their appearance.
"It is so important that we achieve a style that is the 'best of you' for your wedding day so my advice is usually to go for a down style and then try something a little different by pinning up the front of the hair.
"There are so many styles to choose from when looking at a half up half down hairstyle. The most popular are soft tousled curls with plaits or twists around the crown. Think lovely waves with a soft beehive or twist and rolls at the front of the hair with a cascade of curls at the back.
"All those styles are wonderfully soft around the face and work great with a variety of accessories such as flower crowns, headbands, hair combs, hair pins and nearly all veils including bird cages."
READ MORE: 53 Gorgeous Wedding Hair Accessories Ideas
How To Prep for a Half Up Half Down Hairstyle
Award-winning hairdresser Lee Stafford says, "The one thing that brides need on their big day is confidence that their hair will last all day without any major adjustments. To ensure the style is kept in place all day, hair needs to be prepped."
Leading up to the day he recommends using a nourishing mask, such as CoCo LoCo with Agave Shine Mask or For The Love of Curls Mask, a week leading up to the wedding day to make sure hair is well conditioned and full of shine.
One of the most important things to remember is to use heat protection, no matter what your hair type! "Heat protection is vital for keeping hair hydrated, healthy and nourished," says Lee. His favourite? This Original Heat Protection Mist as it is lightweight, non-greasy and gives incredible shine.
Which Products to Use for a Half Up Half Down Hairstyle
Lee Stafford gives us the low down on which hair products you should be using depending on your hair type if you want your half up half down hairstyle to turn heads.
Straight Hair
"To add texture and bounce to straight hair, the Beach Babe Sea Salt Spray and CoCo Loco Volumising Mousse are the perfect pair. Add the mousse to roots and mid-lengths when hair is wet and watch that volume grow when you blow-dry. On dry hair, spritz the salt spray around the hair and gently scrunch."
Curly Hair
"The most important thing curls need is hydration. If curls are packed full of moisture, they will keep their pattern all day," he says. For The Love of Curls Custard Cream will not only enhance your natural curl pattern but protect it from humidity too. Ideal if you're having a destination wedding!
Braids
"This is dependent on how you want your braids to look on your wedding day; either natural and fluffy or smooth and glossy. If you're opting for the fluffy look use this dry shampoo on the braids so the hair looks natural and beautiful throughout the whole day." Going smooth? "This Shine Head Spray is the perfect go-to for making any hairstyle look super glossy."
READ MORE: The 28 Best Wedding Guest Hair Accessories
Bridal Hair Inspiration: Our Favourite Half Up Half Down Hairstyles
1. Baby's-breath Twisted Curls
The ends of this hairstyle have been curled to add texture and body to the look and we love it. Curls are known to fall out, but even if you're looking at a long day, the updo part of this design decorated with gypsophila will still keep its shape.
2. Side Up with Alphabet Clips
If you don't to commit to a full half up half down hairstyle, why not clip one side of your locks up to create a similar effect? We love the idea of using alphabet letters - if you're changing your surname it could be a really romantic touch to use your new initials.
3. Messy Bun Half Up Half Down
You don't have to go for an elaborate hairstyle on your big day, a simple style can look just as good! This half up half down messy bun is effortless, cool and relaxed making it perfect if you're doing your own wedding day hair.
4. Wavy Plaits with Floral Headband
Boho brides should definitely add flowers to their hairstyle. This look shows how flower crowns are the perfect addition to wavy hair with multiple plaits. Find out how to make your own flower crown to complete the look.
5. Halo Half Up with Starry Head Band
Adding tons of volume at the crown of your head with a halo half up creates a gorgeous shape. An embellished head band like this star one finishes the look off beautifully ensuring your wedding photographs will look anything but boring.
6. Fishtail Plait Half Up Half Down
Fishtail plaits are a great way to put a twist on the classic braid. Place a couple of sprigs from your bouquet into the start of the braid to hide any bobbles. We think green foliage complements these red locks brilliantly.
7. Braided Top Knot
If you're a bride with braids, pinning them up into a gorgeous top knot will allow your face to take centre stage. You won't have to worry about how your hair looks during the day as this style is as functional as it is fabulous.
8. Tousled Waves with White Bow
It's important to remember how your hairstyle will look from the back as well as the front. After all, it is what your guests will see when you're standing at the aisle! This white bow with net detailing from Jennifer Behr is a modern twist on a veil and will photograph beautifully from behind.
9. Top Knot Half Up Half Down with Volume
Don't be afraid to go big on volume! There's so much body in this messy top knot which is a great idea if you have lots of thick hair you want to keep out of your face during the day. Achieve a similar look by backcombing your roots and using lots of texturising spray.
10. Braids with Gold Hoops
Instead of simply pinning back her tresses, this bride has had her hair braided into a seriously cool do. The best bit? The gorgeous gold embellishments which match her earrings and gilded eyeshadow perfectly.
11. Simple Half Up with Gold Ring Clip
Brides with short hair shouldn't feel scared of going for half up half down hairstyles, as this elegant look shows. The gold clip really sets the style off and would look lovely if you're thinking of accessorising with gold jewellery.
12. Tousled Waves with Snowflake Crystal Clip
A sparkly hair clip cans stop a simple take on the half up half down style from looking plain and makes it really occasion worthy. This crystal snowflake clip looks fabulous on light hair and would fit in perfectly if you are having a winter wedding.
13. Textured Half Up with Winter Berries
This half up half down hairstyle is blooming with beautiful winter berries. The berries and foliage are nestled right into the twisted hair practically hiding it which creates a lovely illusion. Add some loose waves for volume and texture.
14. Side Parting Sweep with Floral Hair Vine
A delicate hair vine really sets off this look and is ideal if you choose to have volume in the crown. Flatter and frame your face with a gorgeous side fringe and cascading curls below. As this bride shows, soft romantic makeup is a beautiful pair.
15. Side Plait with Pearl Details
Your half up half down hair doesn't need to be symmetrical. Add an interesting clip to just one side of your hair and feel free to build up the braids too. This gorgeous, vintage-style design is by Lelet NY.
16. Half Up Plaited Braids
This intricate half up half down hair style looks like a work of art! As you can see, it'll photograph beautifully from all angles and ensure you're the star of the show. You can keep it simple and classic, or elevate the look like this bride has done with an embellished ear cuff.
17. Loose Waves with Tendrils and Veil
You don't need to go wild with braids and flower designs for a gorgeous half up half down wedding hairstyle, especially if you are opting for a veil. These sides are very simply pinned up and we love how smooth, clean and effortless the end result is.
18. Plaited Half Up with Star Clips
It's an Irish wedding tradition to braid your hair, so if you want to include some of your Irish heritage on your wedding day this is a great way to do it. The star clips add an extra wow factor and would look gorgeous at an evening ceremony.
19. Beachy Waves with Trailing Dried Flowers
Don't stop at just having trendy dried flowers as your bouquet, trail them through your tresses as well. If you have a low-backed dress like this model it'll draw the eye down and create an even bigger statement.
20. Backcombed Waves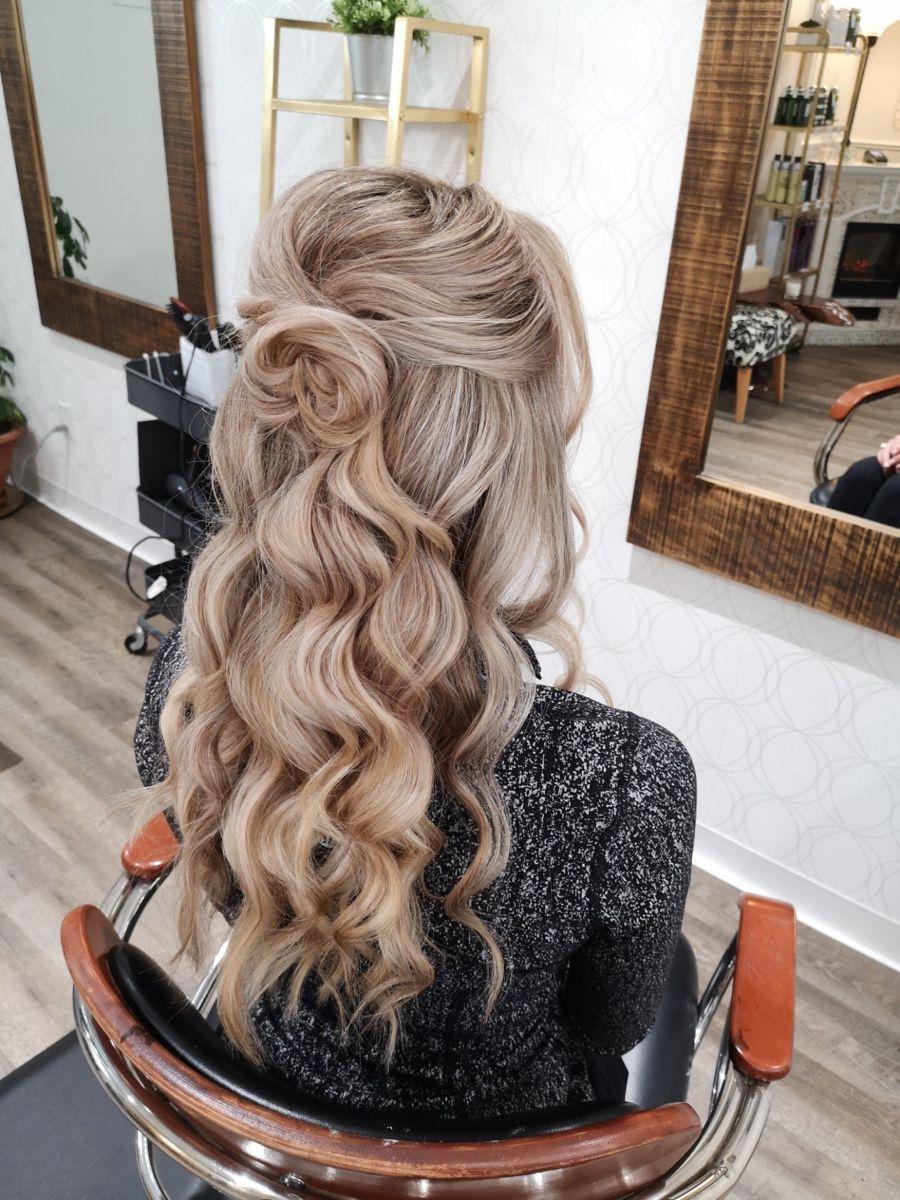 This chic half up half down hair has volume at the crown and structured waves cascading down the bride's back for a look that's relaxed yet elegant. Your hair stylist will be able to advise you how to make your curls last, but usually they say don't have just-washed hair and this look is perfect for utilising dry shampoo for hold and texture.
21. Straight Cross Over with Embellished Halo
Cool and contemporary brides will adore this modern take on the half up half down hairstyle. Instead of any braiding or twists, this model has simply swept her side pieces of hair together and secured with a pin. Top it off with a crystal halo for a heavenly vibe.
22. Waterfall Braid with Foliage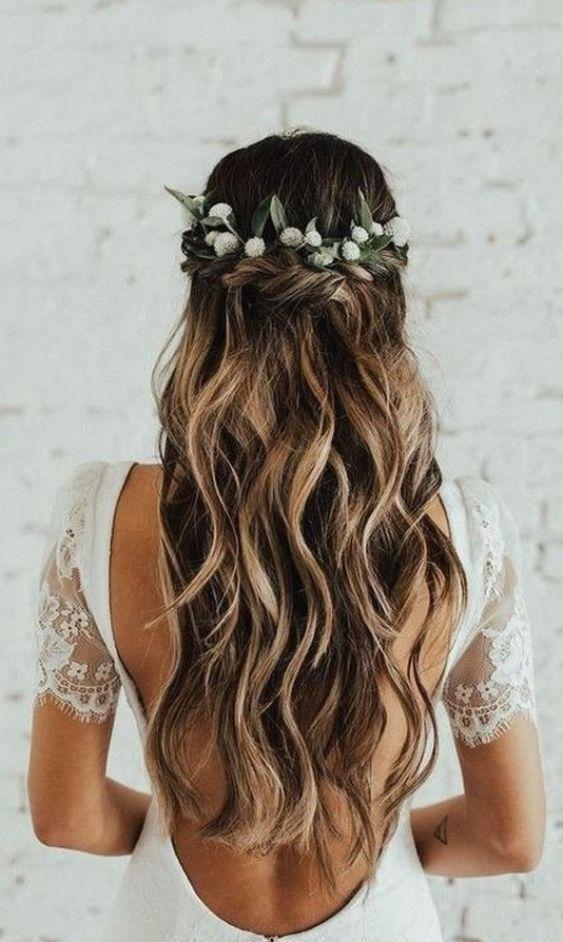 Half up half down hairstyles work incredibly well on balayage coloured hair. This romantic look accompanied by rustic greenery has been created by styling the bride's brunette to honey blonde tresses with a twisted plait and soft curls. It looks totally effortless but really shows off her style.
23. Waterfall Braid with Butterflies
A summer garden wedding wouldn't be complete without butterflies and fresh flowers adorning your hair, would it?! We love these gold and silver clips from Claire's.
24. Double Plait Half Up with Crystal Slides
If you love the look of plaits but want to mix things up a little, placing one down your head and another underneath your crown is an easy way to do this. You won't have seen many brides with a style like it which is what we love about the hairstyle.
25. Curled Rose with Real Flowers
This intricate rose bun has been achieved by curling a plait around itself and pinning it in the middle. It can be done as a full up do but we think the soft curls below really suit a wedding style. Especially with a smattering of real flowers scattered amongst the strands.
26. Triple Rose with Real Flowers
What's better than one rose bun? Three of them! If you'd love to go for flowers in your hair, but aren't a fan of a flower crown, these delicate real flowers add a fresh but subtle twist to your hairstyle. We love how this bride has matched them to the colour of her dress.
27. Twisted Pearl Half Up
According to Greek mythology, pearls are said to represent tears so if you wear them on your wedding day you won't shed any during your marriage. This bride has incorporated them into her wedding day look by placing them among her twisted half up half down hairstyle.
28. Sweeping Fringe with Tiara
The classic half up half down hairstyle. Stunning white veil, long cascading locks, gorgeous sweeping fringe all topped off with an elegant tiara. Simply dreamy!
29. Beachy Half Up Ponytail
Thinking of wearing hair extensions on the day? This ponytail half up hairstyle is a brilliant way to hide any pesky clip in bands - you don't want them appearing in your wedding photographs! The bouncy waves will also add volume to your locks making them look healthy and full.
30. Twisted Lengths
Embrace long, natural curls with a chic twisted half up half down hairstyle. Similar to how you would create a French braid, start from the top of your head, twisting and pinning side pieces of hair in until you reach the nape of your neck.
31. Side Sweep with Heart Clips
If you can't wear rhinestone heart clips on your wedding day, when can you?! You'll fall in love with this sweet look as it's so quick and easy to achieve. Trust us, you'll be grateful for this on the morning of your big day!
32. Knotted Plaits with Moon Jewels
If you're looking for a festival-style hairdo with plenty of playfulness, this mix of curls, braids and knots is a really flattering boho look. Brides with a floaty wedding dress, this will work perfectly with that romantic, relaxed style.
33. Barely There Half Up with Star Hair Piece
This bride pulled just a few strands of her hair back, creating a barely-there effect. It's almost as if the wind is effortlessly blowing it behind her. If you want to add some interest a star hair piece is a lovely touch but it'll look just as beautiful without.
34. Sleek Half Up with Head Band
You'll want to feel as comfortable and as much yourself as possible on your wedding day so if you don't usually have curly or braided hair you don't have to. You can still achieve a lovely half up half down hairstyle that meets in the middle by wearing a gorgeous head band over sleek, straight locks.
35. Simplistic Tousled Half Up Half Down
Half up half down hairstyles really lend themselves to a small beehive. Add some loose curls to the front to relax the look.
36. Embellished Half Up
Top off your half up half down style with a gorgeous hair piece like this bride has done with a shell inspired arrangement. We love how it mimics the way the hair flows.
37. Twisted Half Up with Gold Chain
Less is sometimes more, and this glowing bride shows this off perfectly. The front pieces of her hair are elegantly twisted up giving volume and also creating an anchoring point for you to place your veil in.
38. Autumnal French Braid
This autumnal bride finished off her French braid with a sparkling veil instead of plaiting it all the way until the end. The pièce de résistance? Her autumn-themed flower crown which ties the whole look together beautifully.
39. Tight Curl Half Up with Ribbon
This is a similar half up half down hairstyle but the bride has opted for tight curls with a cascade of ribbon instead. It's a lovely, elegant alternative to a veil and it'll feel comfortable throughout the entire day.
40. Double Twist with Crystal Clips
Instead of directly pinning back your hair, gently twist it together before letting it sweep down into the rest of your tresses. This bride matched her silvery strands with some elegantly placed crystal clips.
41. Long Lengths with Tiara
Feeling glam? Leave a few tendrils to fall freely around your face as it will frame your features and create a gorgeous set up for a crown or tiara to sit upon. We love how this looks on long locks but it'll work wonderfully with shorter lengths too.
42. Natural Curls with Embroidered Hair Piece
If you have naturally wavy/curly hair, then an elegant embroidered clip is a great way to enhance your hair. We love how it matches with the lace on this bride's dress.
43. Bridesmaids Half Up Half Down
Don't forget about your bridesmaid's hairstyles too. You can all have the same fringed half up half down look like this trio have done, or opt for a subtle change with the bridal hair with some braids or clips.
For those who are still debating which hairstyle to go for still, we have a complete guide to wedding hairstyles – you're sure to find the one for you there.