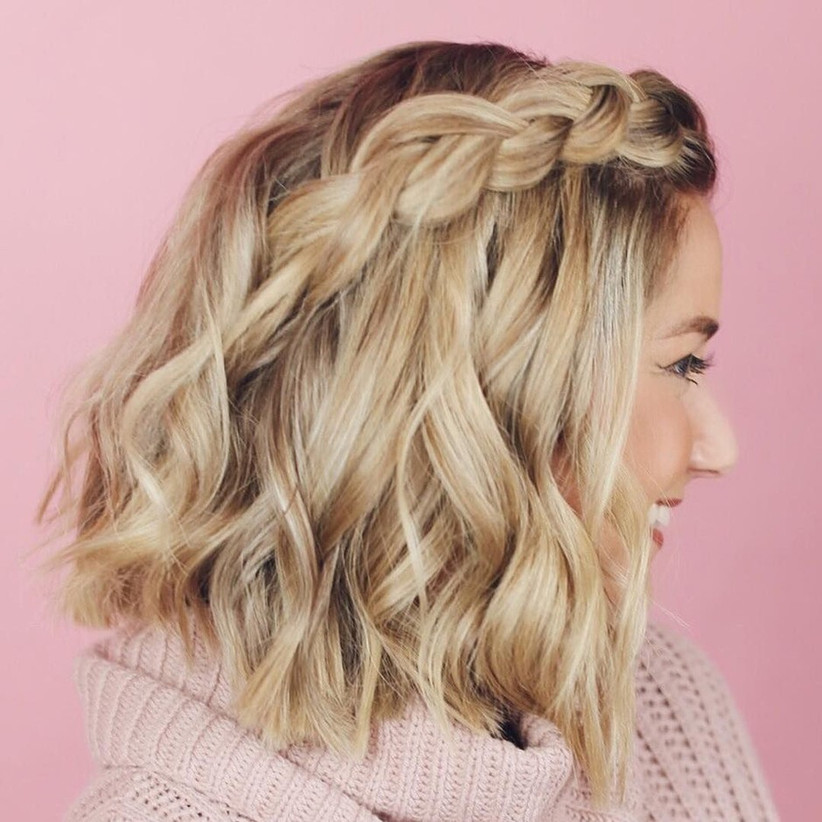 Half up half down hair is a timeless wedding look and one of the most popular wedding hairstyles for brides on their big day.
The Duchess of Cambridge chose a half up half down hairstyle when she tied the knot with Prince William in 2011, so it even has the royal seal of approval.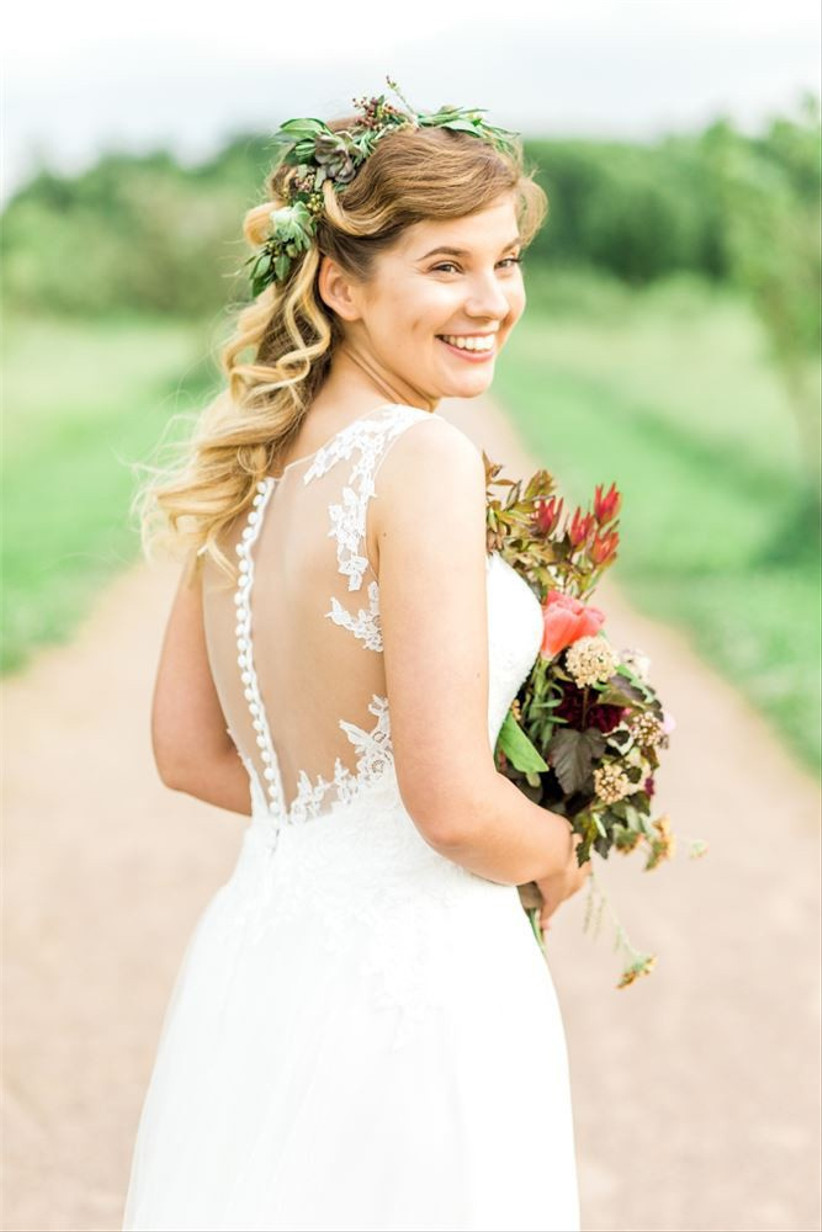 Image: Gurung Gyan Photography
With the growing trend for bridal braids and hair accessories, this classic look has been completely updated and we've rounded up some of the best half up half down wedding hair examples to inspire you.
This style works on every length hair from long hair to a short bob so don't be afraid to ask your wedding hair stylist to try a half updo in your hair and make-up trial. It's also great with lots of wedding dress styles so there's no reason to dismiss it!
Why You Should Choose A Half Up Half Down Hairstyle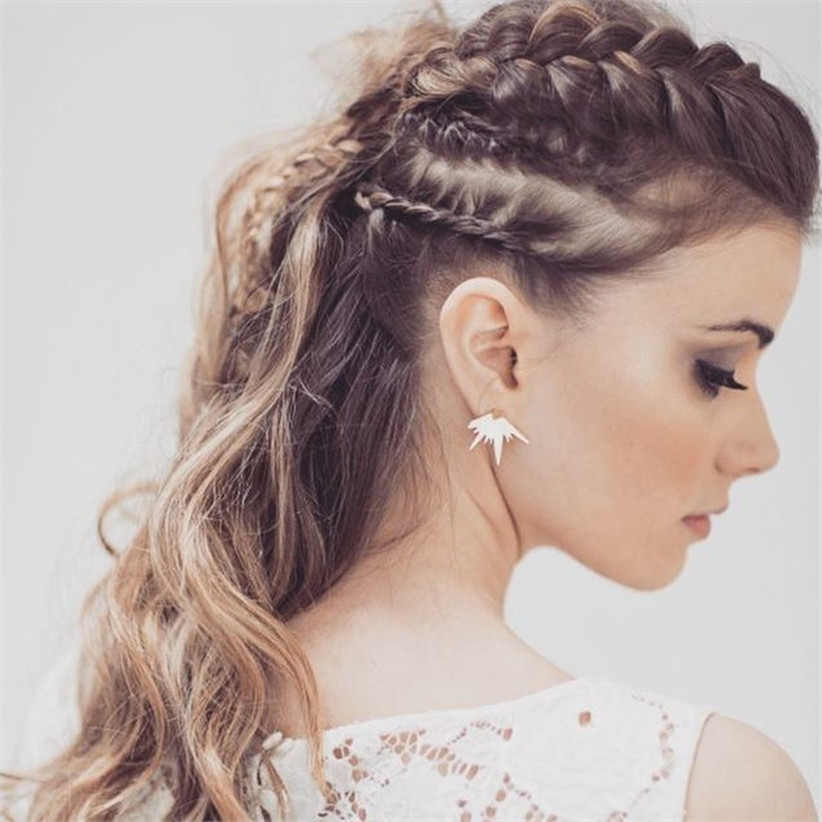 Image: Make Me Bridal
Bridal beauty experts Lipstick & Curls explain, "The obvious choice for most brides would be to wear their hair up on their wedding day so the hair will be nice and secure for the duration of the day. In reality most of my brides never actually wear their hair up as doing so makes them feel uncomfortable and uneasy about their appearance.
"It is so important that we achieve a style that is the 'best of you' for your wedding day so my advice is usually to go for a down style and then try something a little different by pinning up the front of the hair.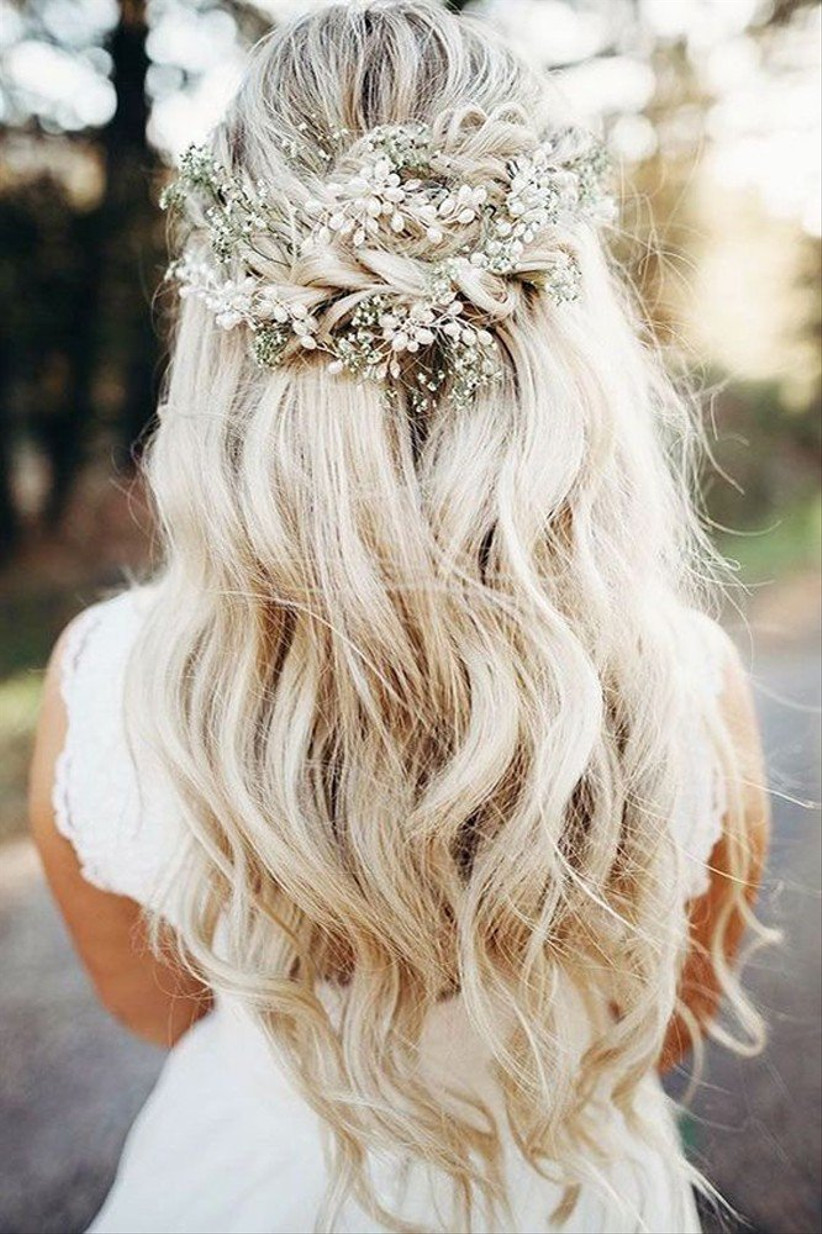 Image: Pinterest
READ MORE: 45 Gorgeous Wedding Hair Accesories Ideas
"There are so many styles to choose from when looking at a half up half down hairstyle. The most popular are soft tousled curls with plaits or twists around the crown. Think lovely waves with a soft beehive or twist and rolls at the front of the hair with a cascade of curls at the back.
"All those styles are wonderfully soft around the face and work great with a variety of accessories such as flower crowns, headbands, hair combs, hair pins and nearly all veils including bird cages."
Bridal Hair Inspiration: Our Favourite Half Up Half Down Hairstyles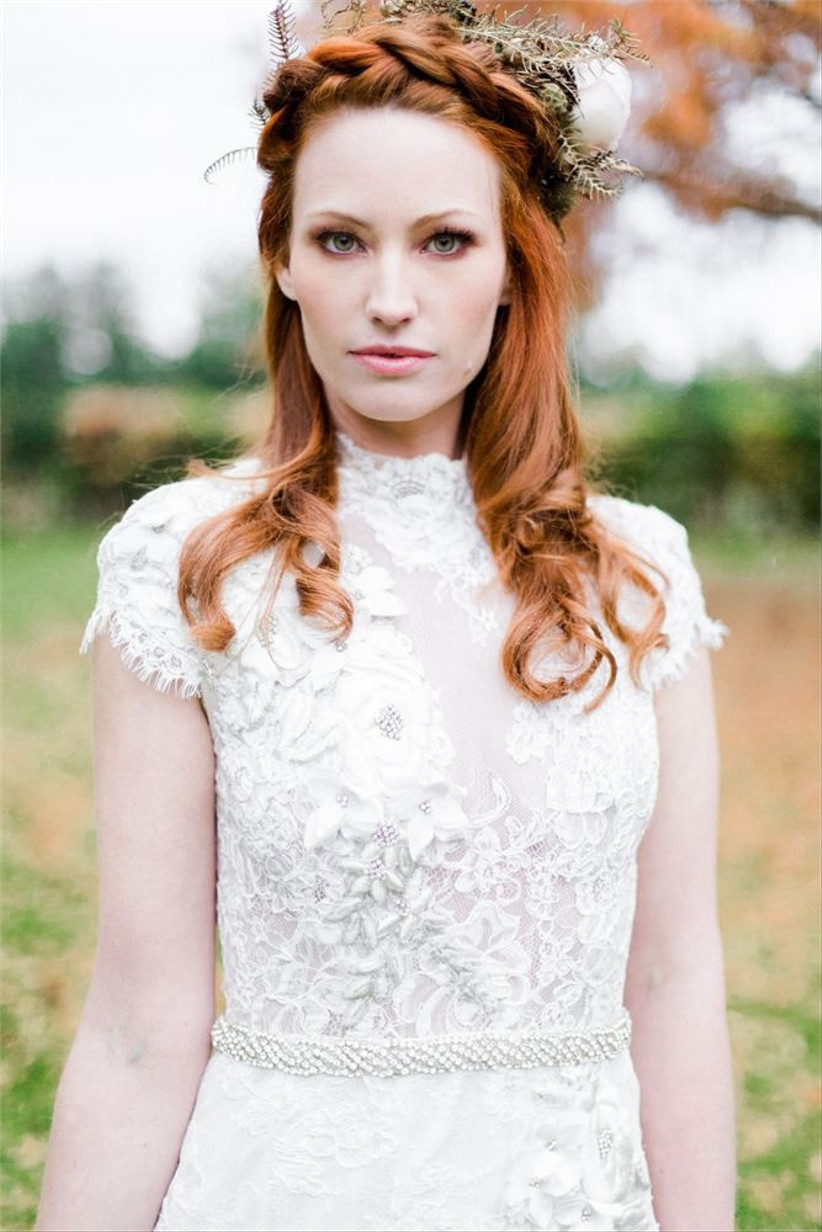 This half up half down hairstyle from Izzy Wild mixes a romantic milkmaid braid with soft curls and wild foliage for a modern take on a Pre-Raphelite look. Perfect for any boho bride.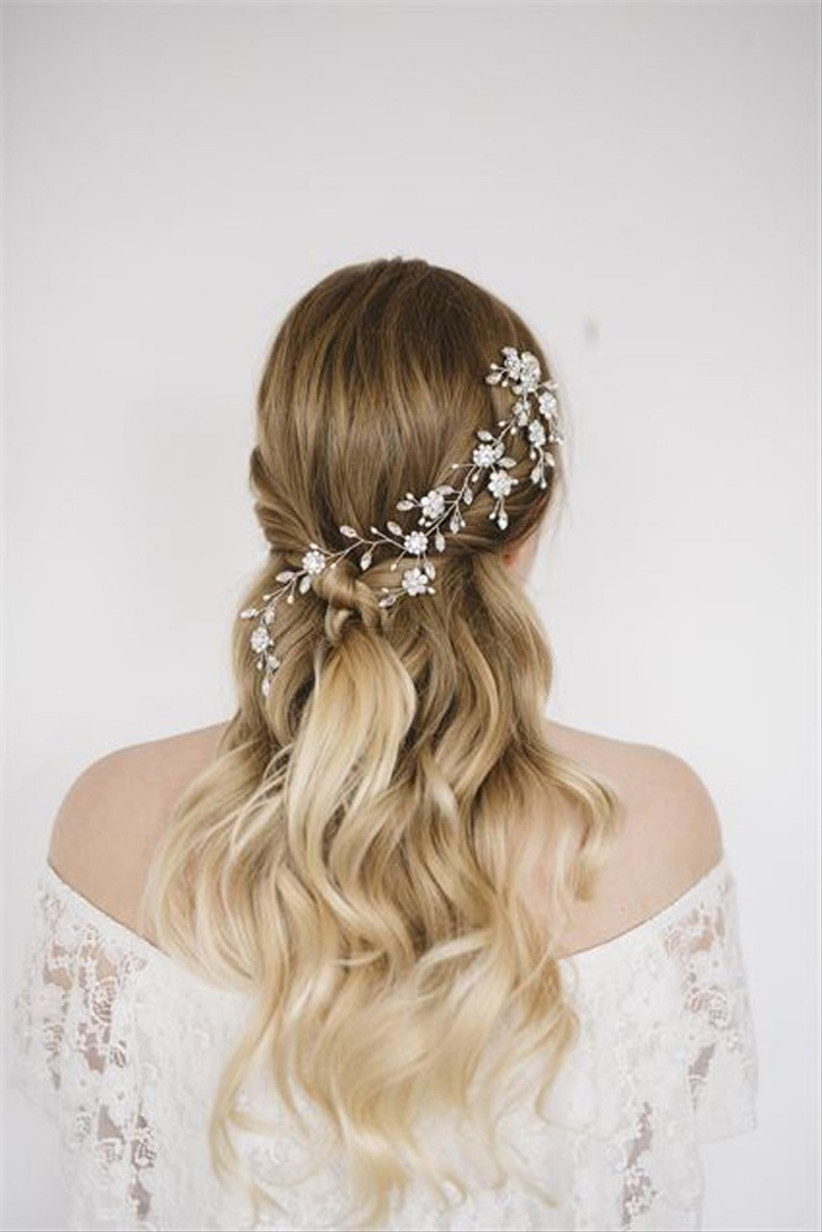 Hair and make-up team Jenn Edwards & Co have put together this stunning vintage-inspired half up half down wedding hair look using a statement hair accessory and gently tousled hair.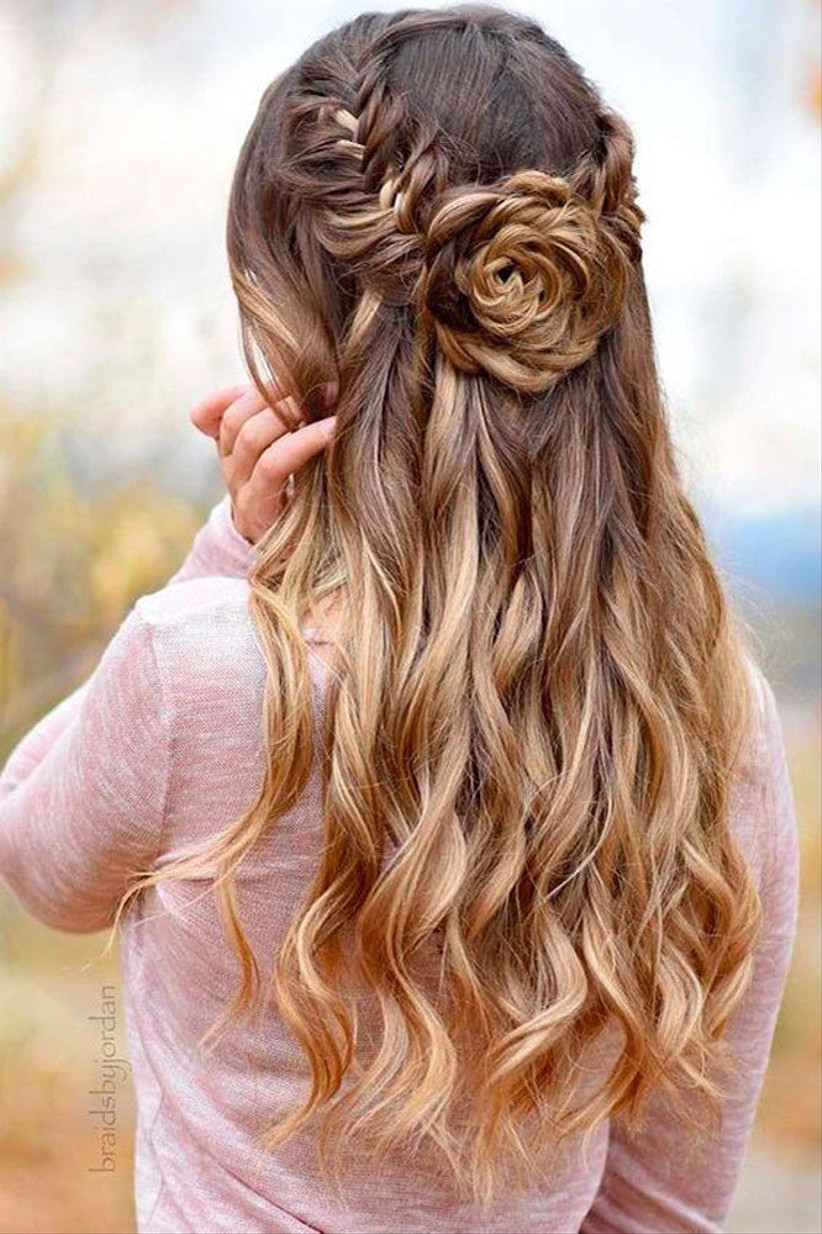 This intricate rose bun by Braids by Jordan is an incredibly romantic addition to your half up half down hairstyle. It can be done as a full updo, but the soft curls below really suit a wedding style, especially with the balayage colouring.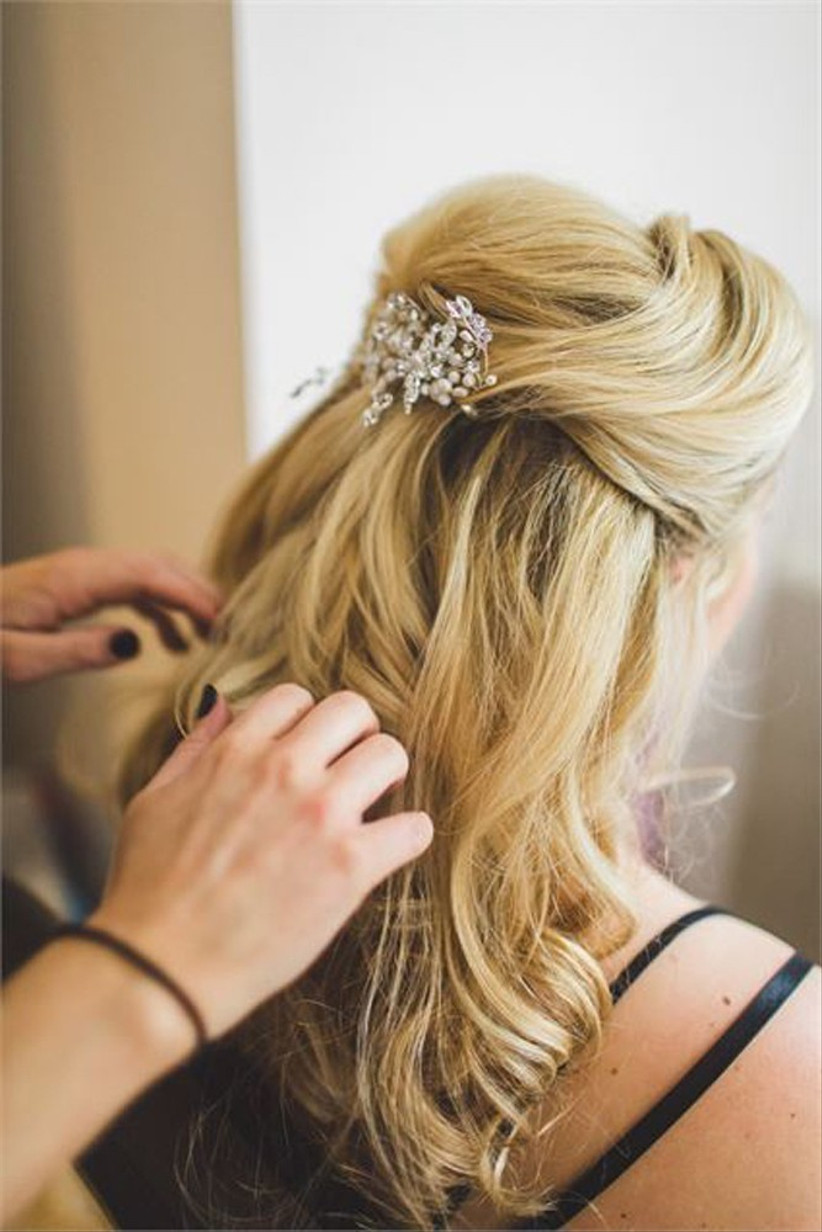 A sparkly hair clip can stop a simple take on the half updo from looking plain and makes it worthy of the occasion of a wedding. Emma Dallimore has also backcombed the crown of our bride's hair slightly for some gorgeous, lasting volume.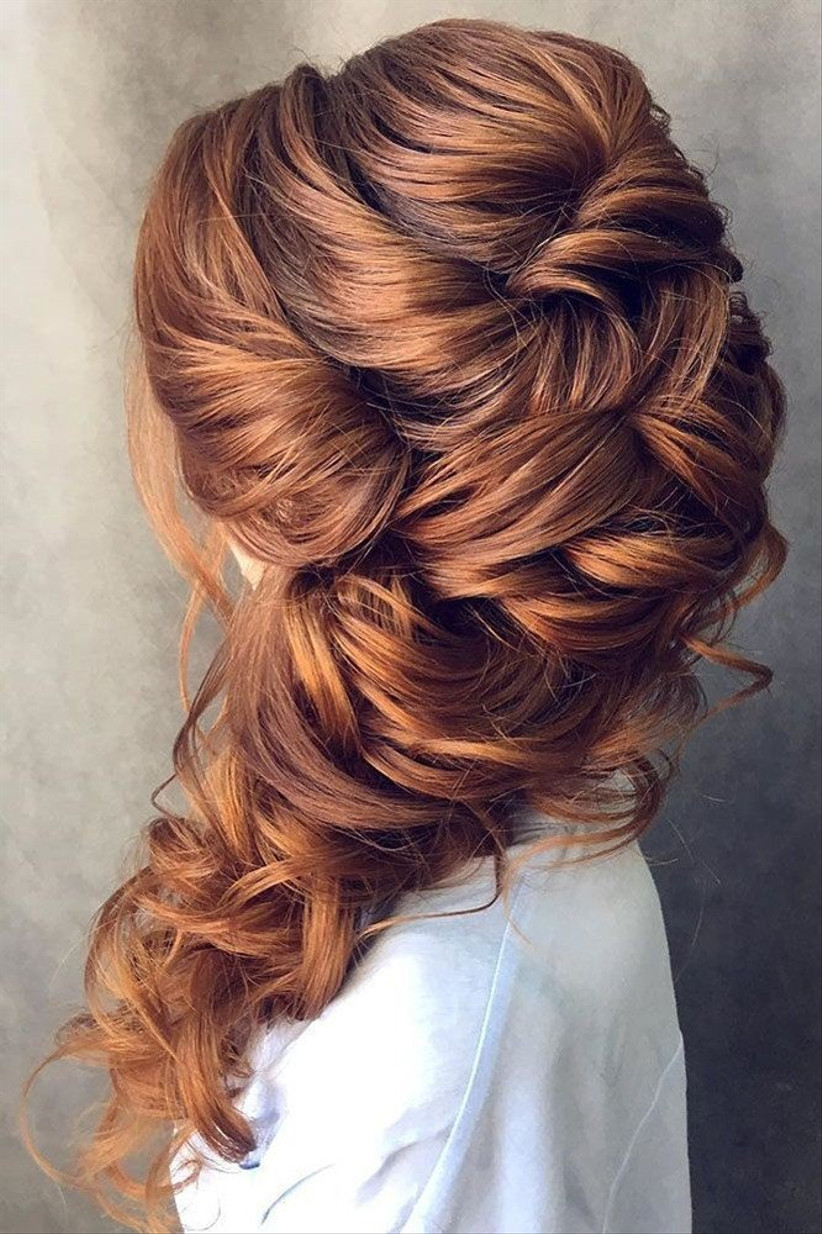 Don't be afraid to go big on volume! There's so much body in this thickly braided do by Instagram stylist Oksana Sergeeva, which is a great idea if you have lots of thick hair to keep lasting texture in your wedding hairstyle.
READ MORE: Stunning Bridesmaid Hairstyles Your Girls Will Love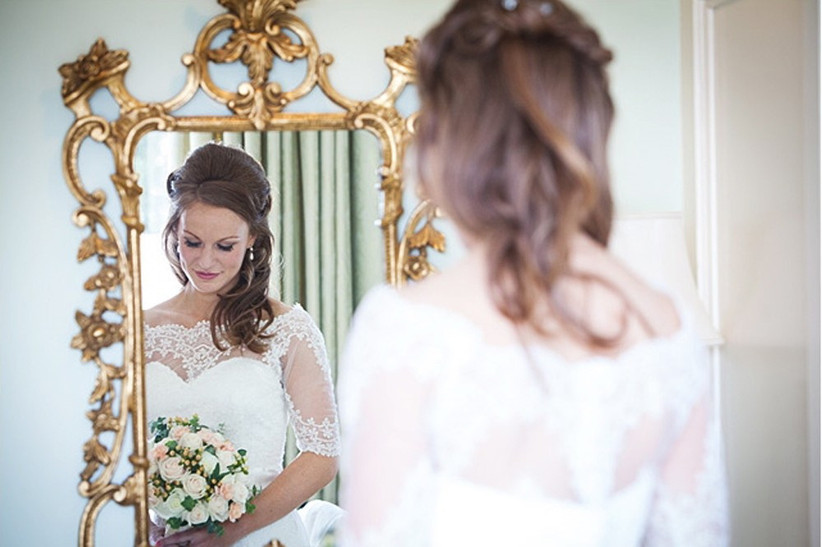 Half up half down hairstyles really lend themselves to a small beehive like this creation by Camilla J Collins. Add some loose curls at the front to relax the look.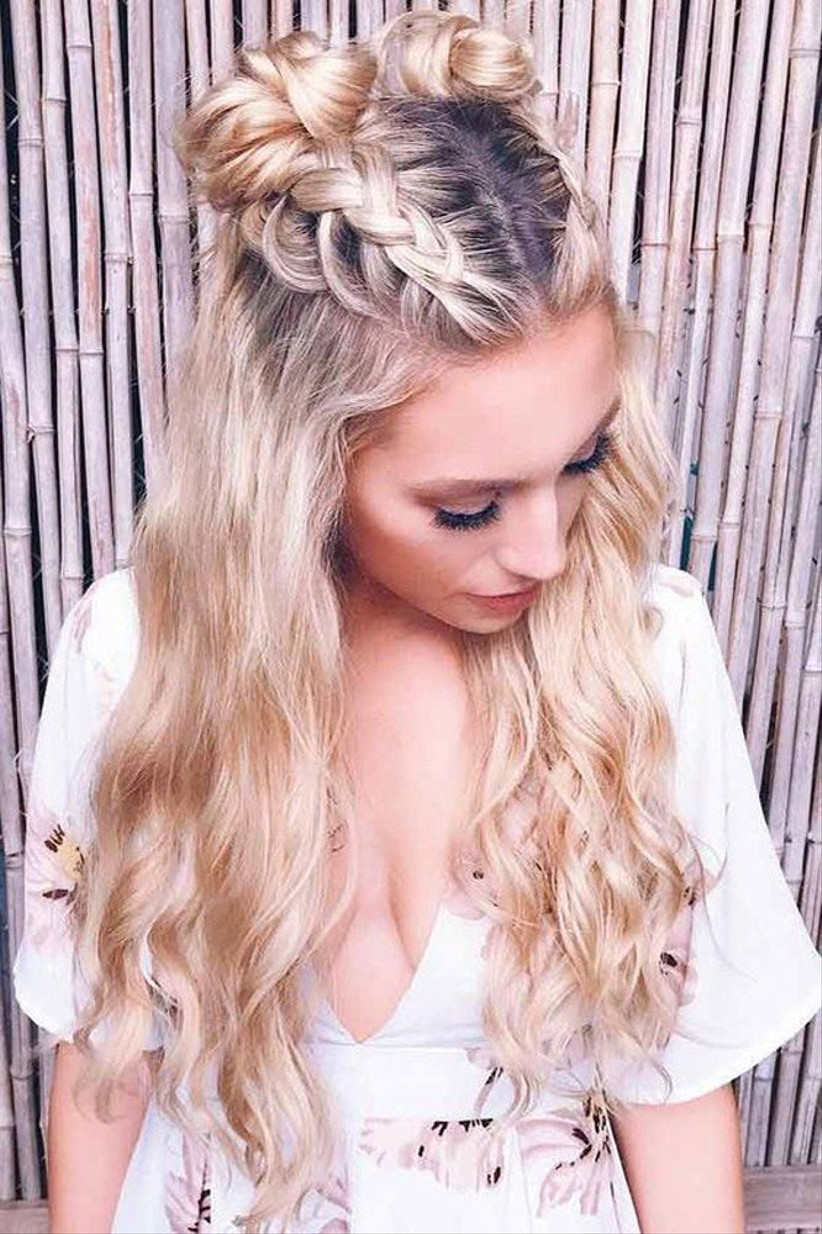 If you're looking for a festival-style hairdo with plenty of playfulness, this mix of braids and buns by The Beachwaver is a really flattering boho look. If you've got a boho wedding dress, then this will work perfectly with that romantic, relaxed style.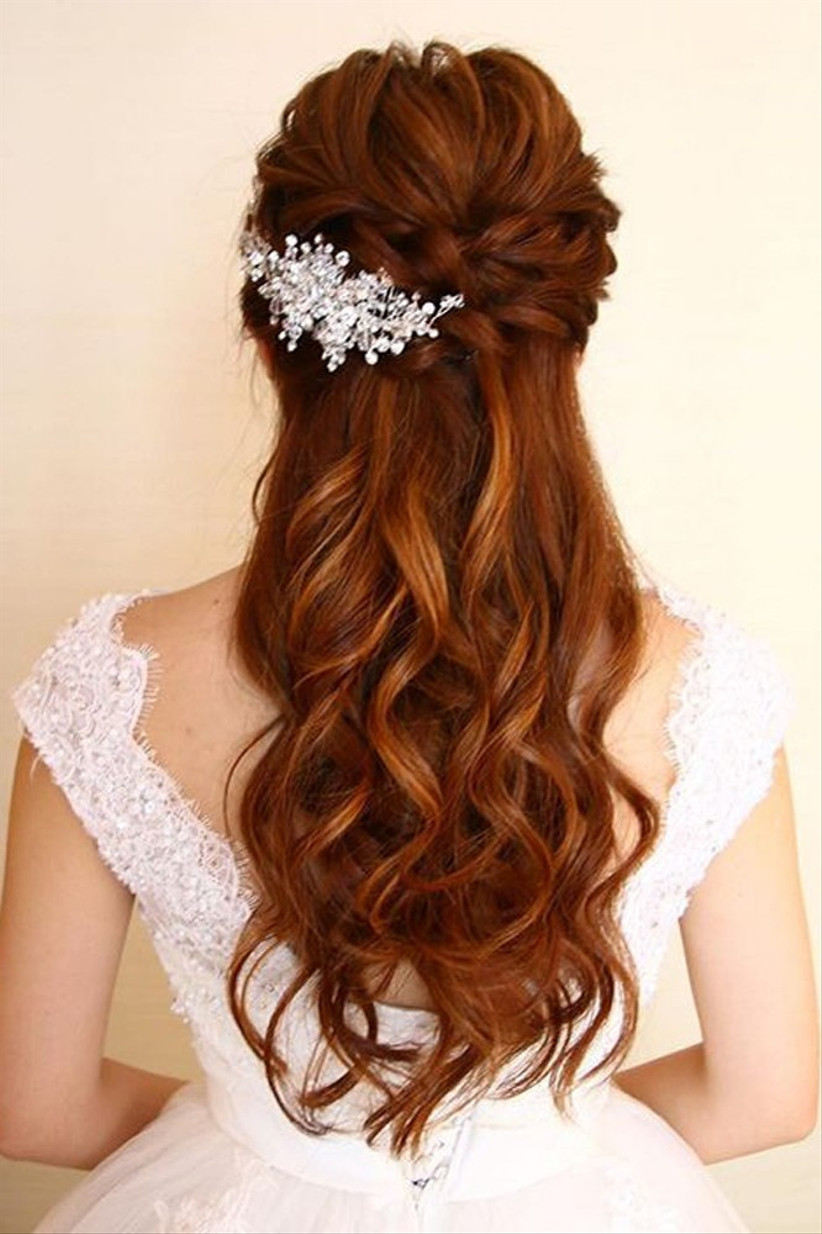 Your half up half down hair doesn't need to be symmetrical. Add a glittering clip to just one side of your hair and feel free to build up the braids on the other side. This gorgeous, vintage-style design is by Christine Chia.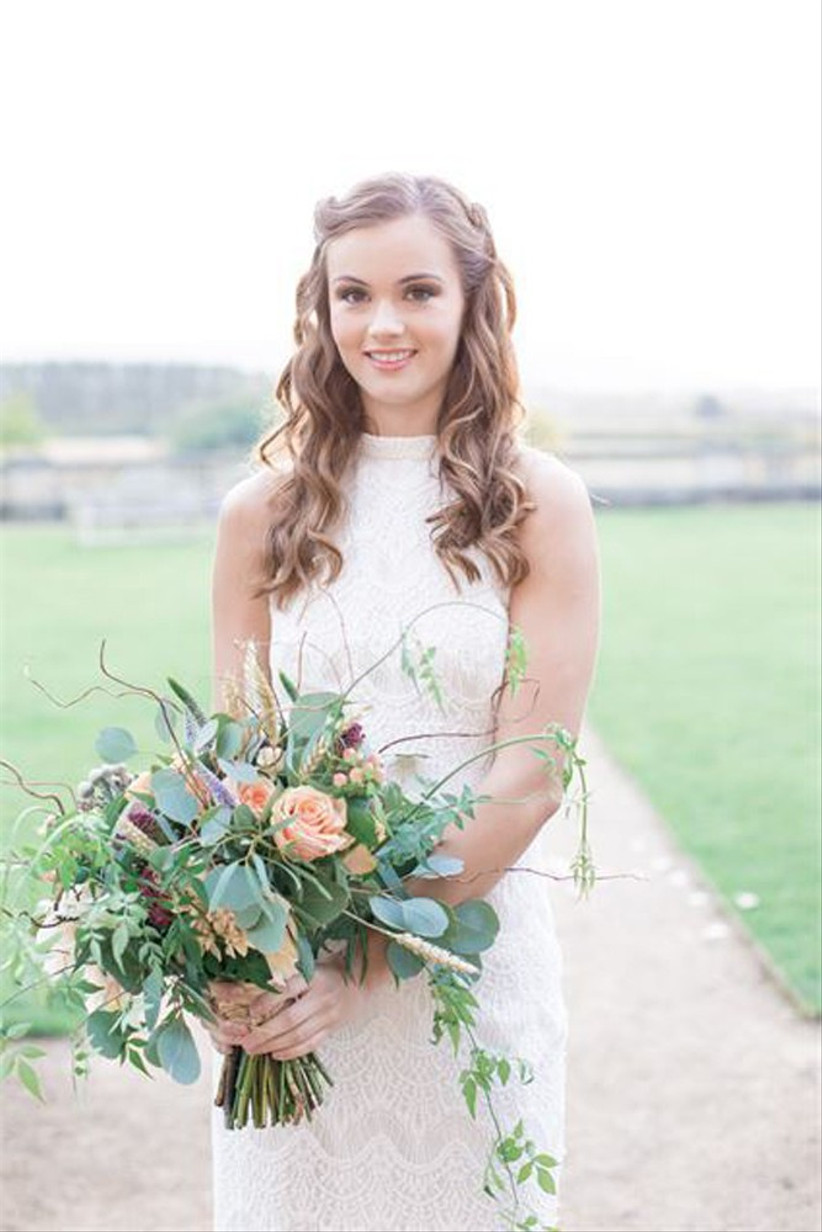 You don't need to go wild with braids and flower designs for a gorgeous wedding hairstyle. These curls are accentuated by thick sections at the side very simply pinned up. We love how smooth, clean and effortless this elegant design by Kay Louise is.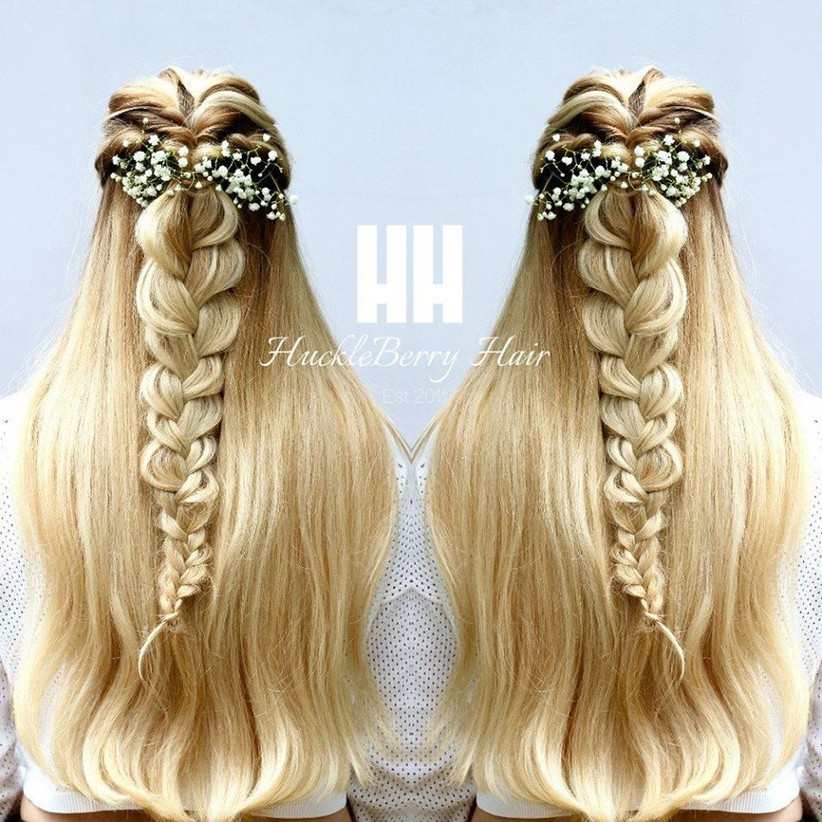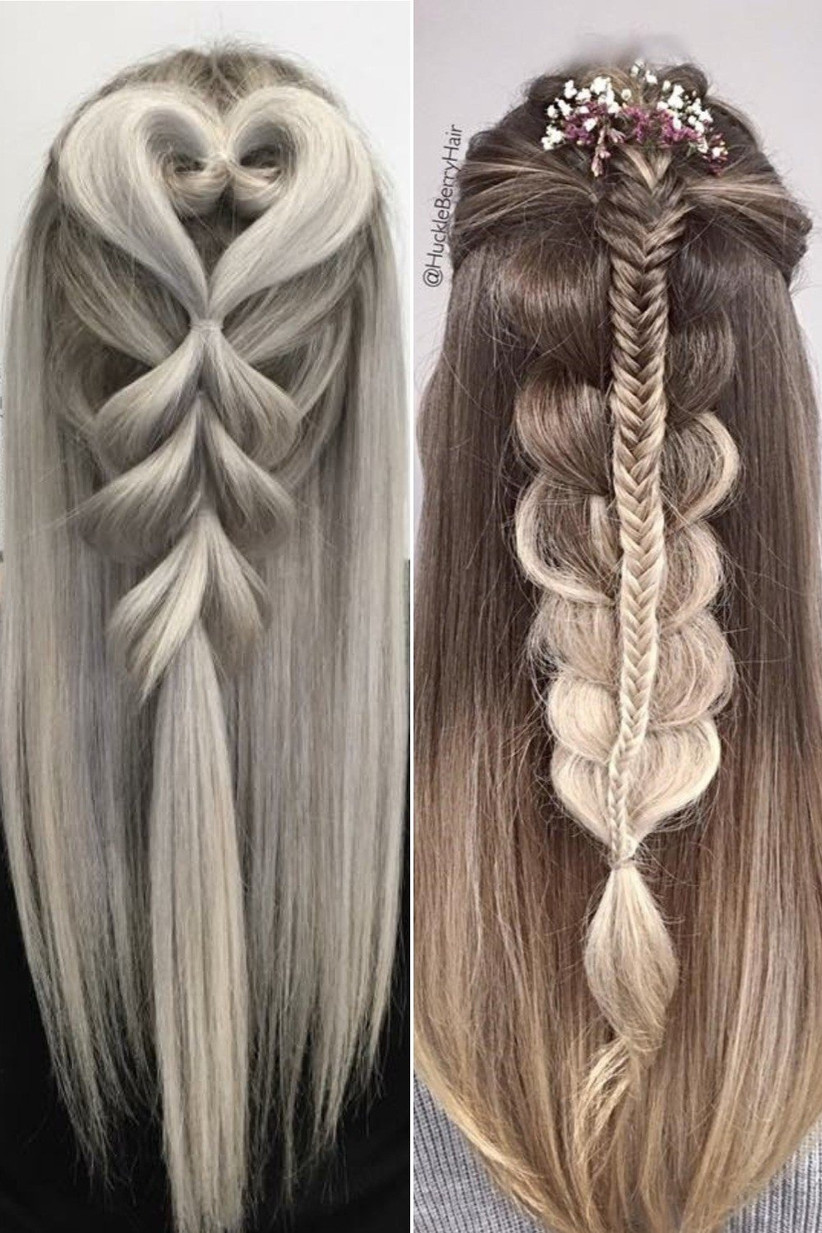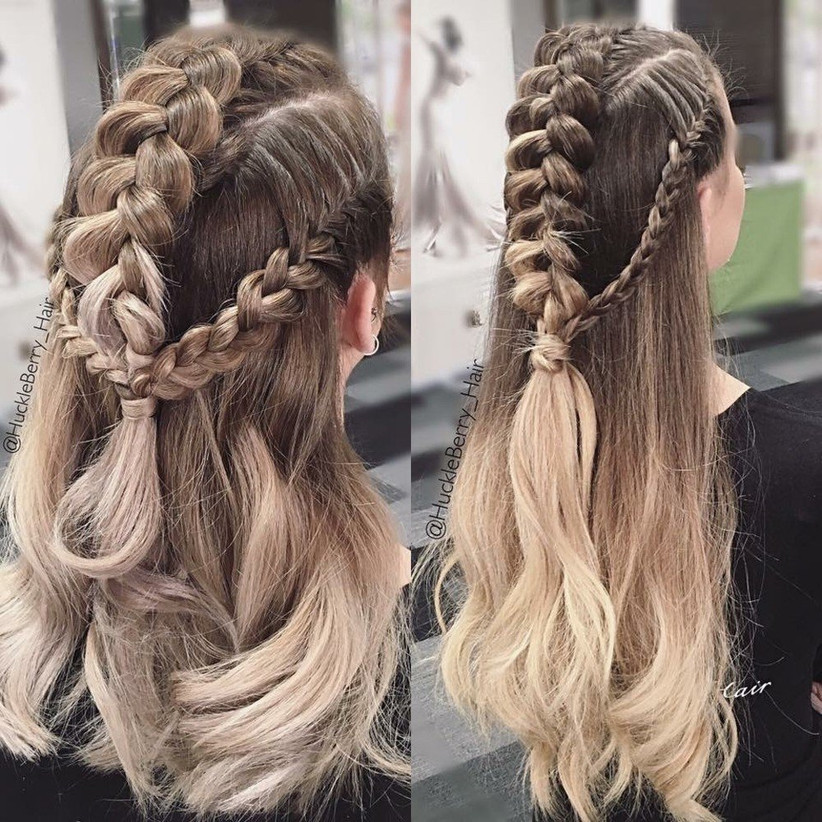 If you want a really unique look, then you can go wild with you braid designs, like these looks from Alex Anderson, Bridal Hair Specialist. From a romantic heart to an intricate teased-out fishtail and the cool triple french braid at the bottom, these half up half down hairstyles with boho braids will be a huge talking point.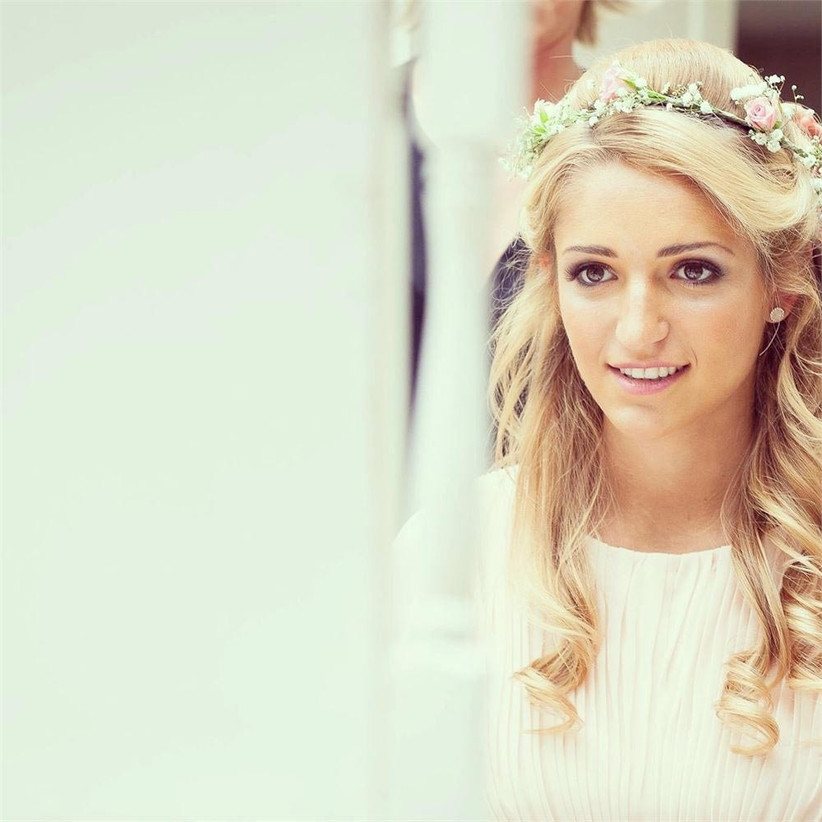 Boho brides should definitely add flowers to their hairstyle. This look, put together by Camilla J Collins, shows flower crowns are the perfect addition. Find out how to make your own flower crown to complete the look.
READ MORE: The Best Hen Party Games To Get The Fun Going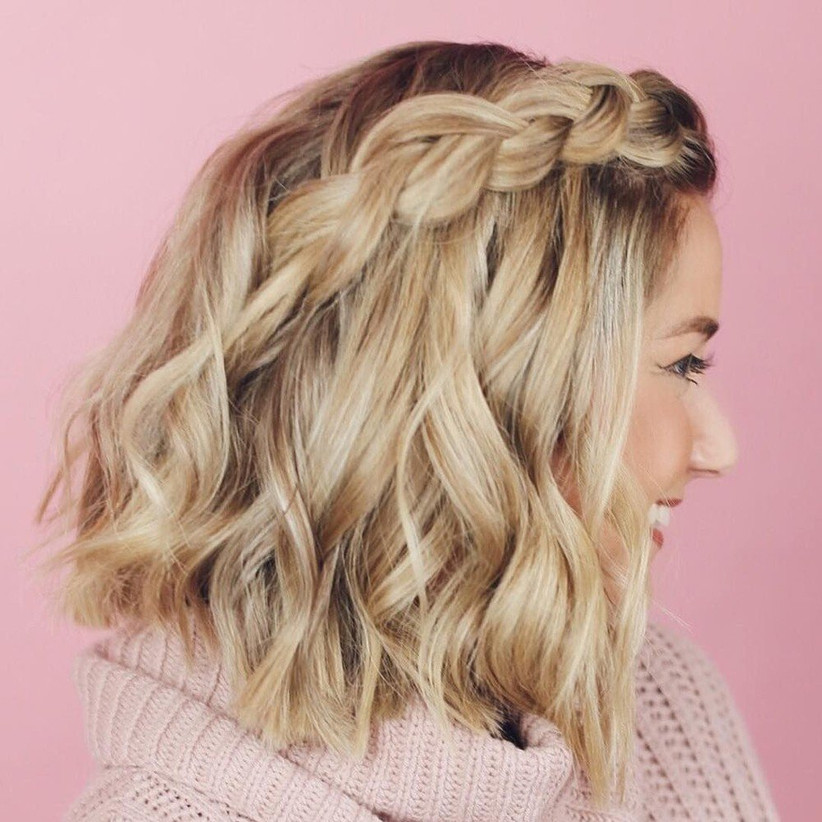 Brides with short hair shouldn't feel scared of going for half up half down hairstyles, as this braided example by The Beachwaver shows. This braid is only one one side for a cool asymmetric look.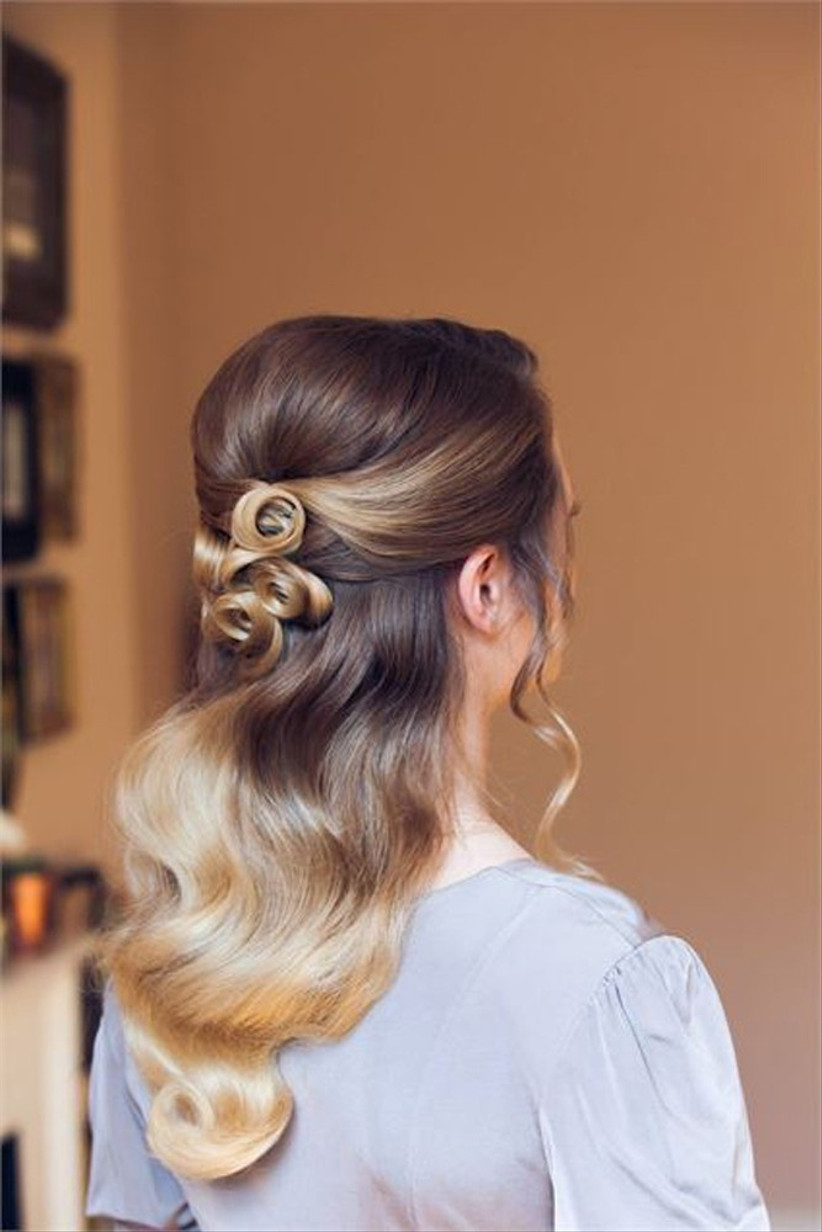 Half up half down hair can be super sleek, like this Kirsten Hair and Make-Up design inspired by old Hollywood waves. If you're going for va-va-voom then choose a style like this, with a gorgeous spiral design where the updo finishes. Team this with a bold lip for a show-stopping look.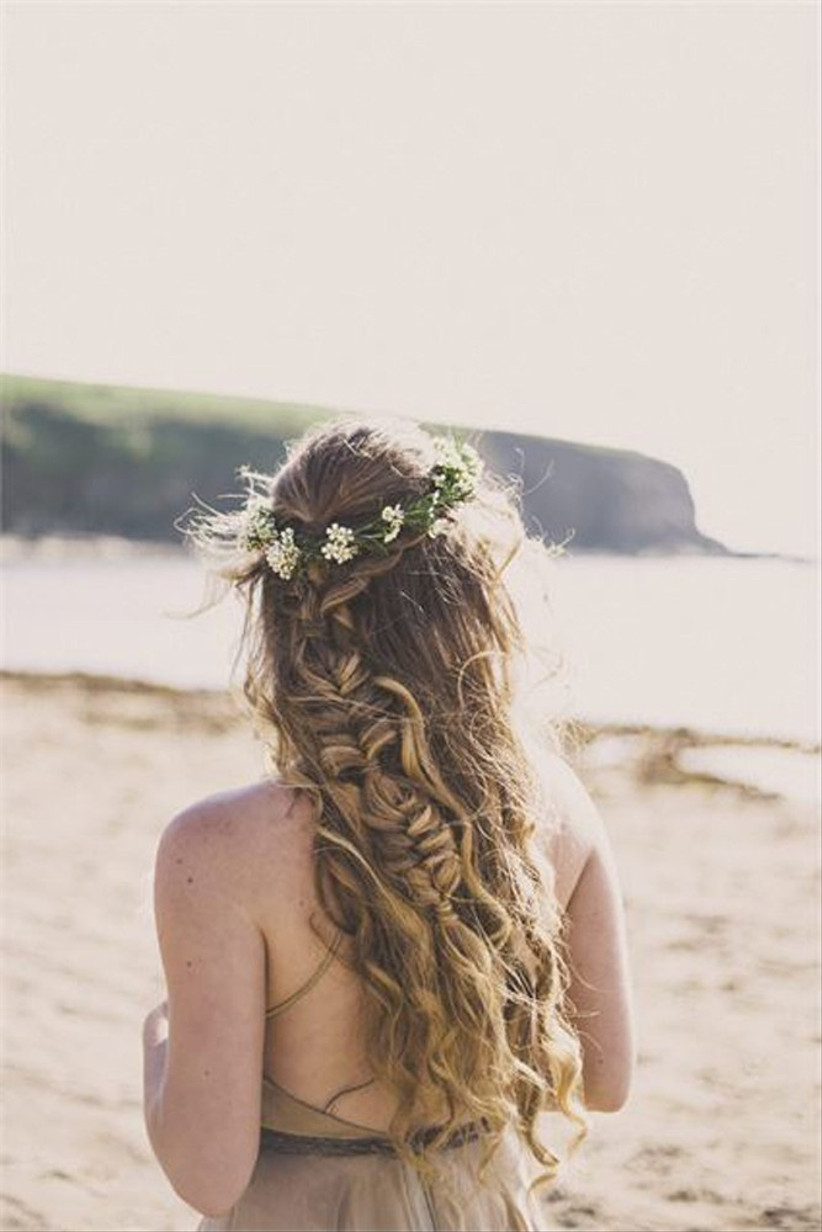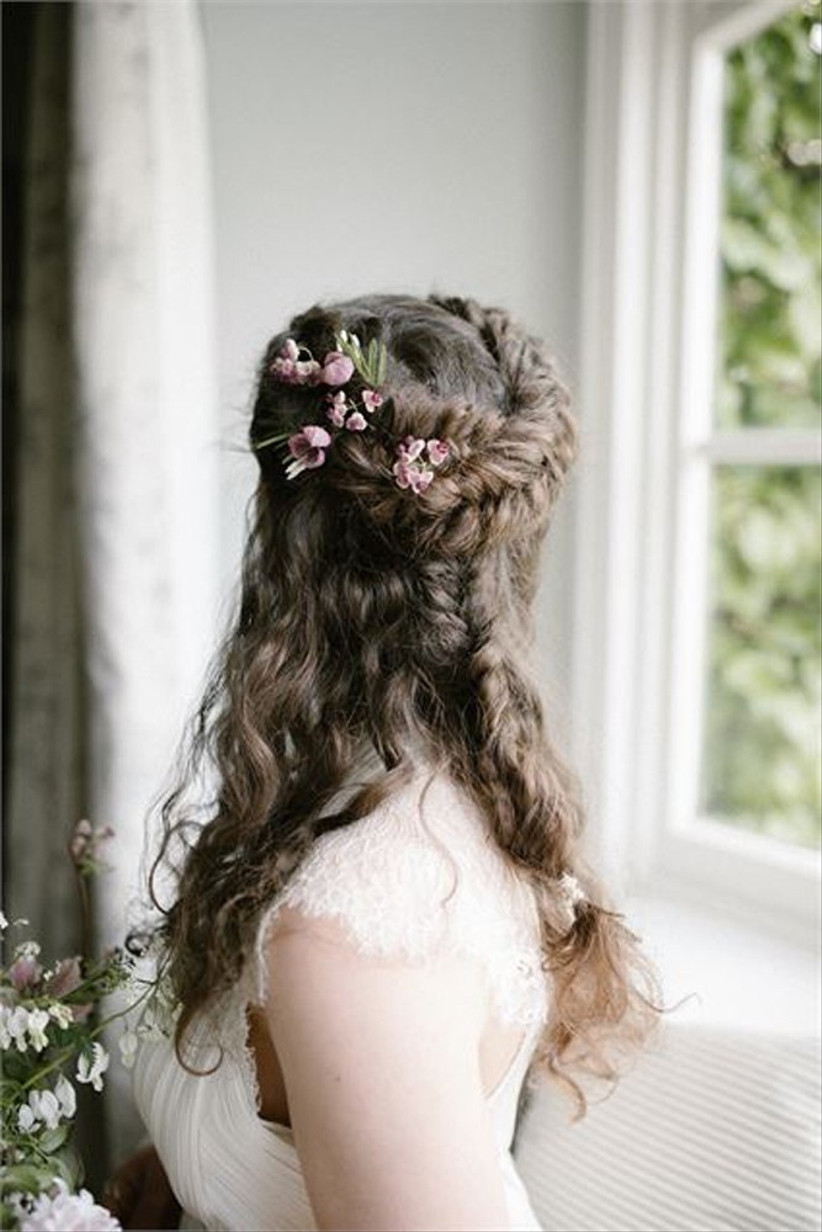 If you have naturally wavy/curly hair, then these beachy styles from Brigette Fisher are a great way to enhance your natural hair. Combine with delicate flowers and a long central braid, these would really suit a festival or beach wedding where the vibe is bohemian, rustic and free-spirited.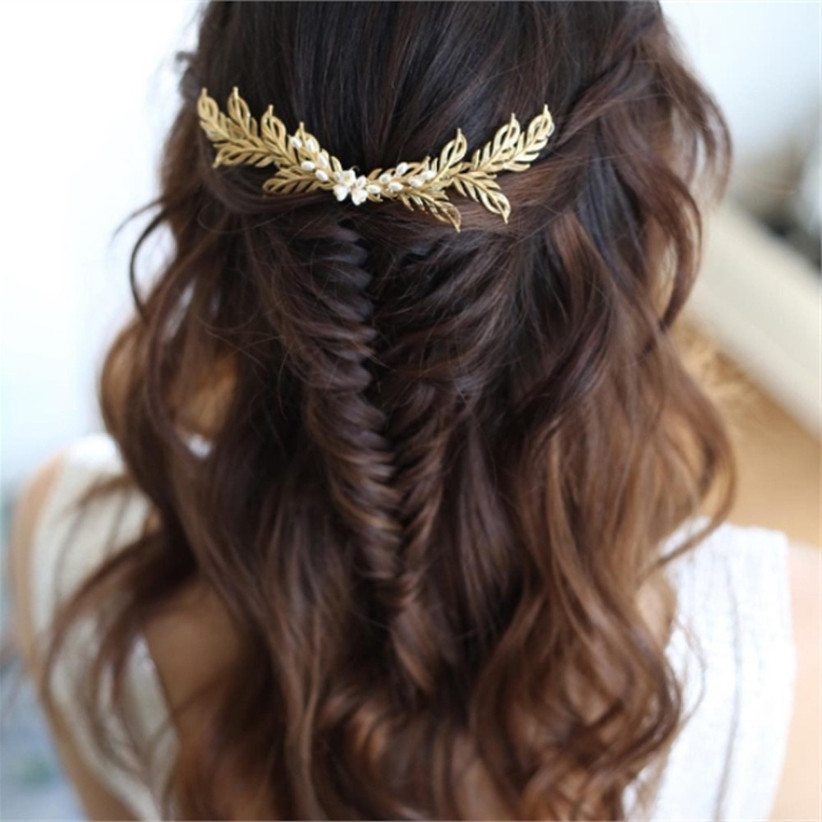 A bridal hair accessory like this this Grecian-inspired leaf design is a great way to add interest to your hair if you're not wearing a veil. Here Katy Djokic has teamed it with a thick fishtail plait, which is an ideal braid to choose if want a half up half down hairstyle and you have thick hair. You can have both a chunky braid on top and lots of hair left to curl beneath.
READ MORE: How To Get Perfect Wedding Hair and Nails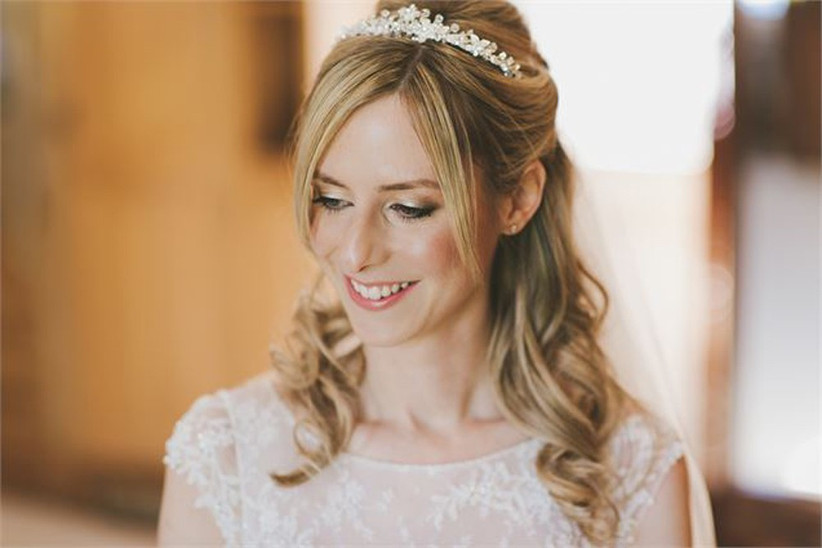 A small tiara really sets off this look by Caroline Kent and is perfect if you choose to have volume in the crown. Flatter and frame your face with a gorgeous side fringe and then curls below.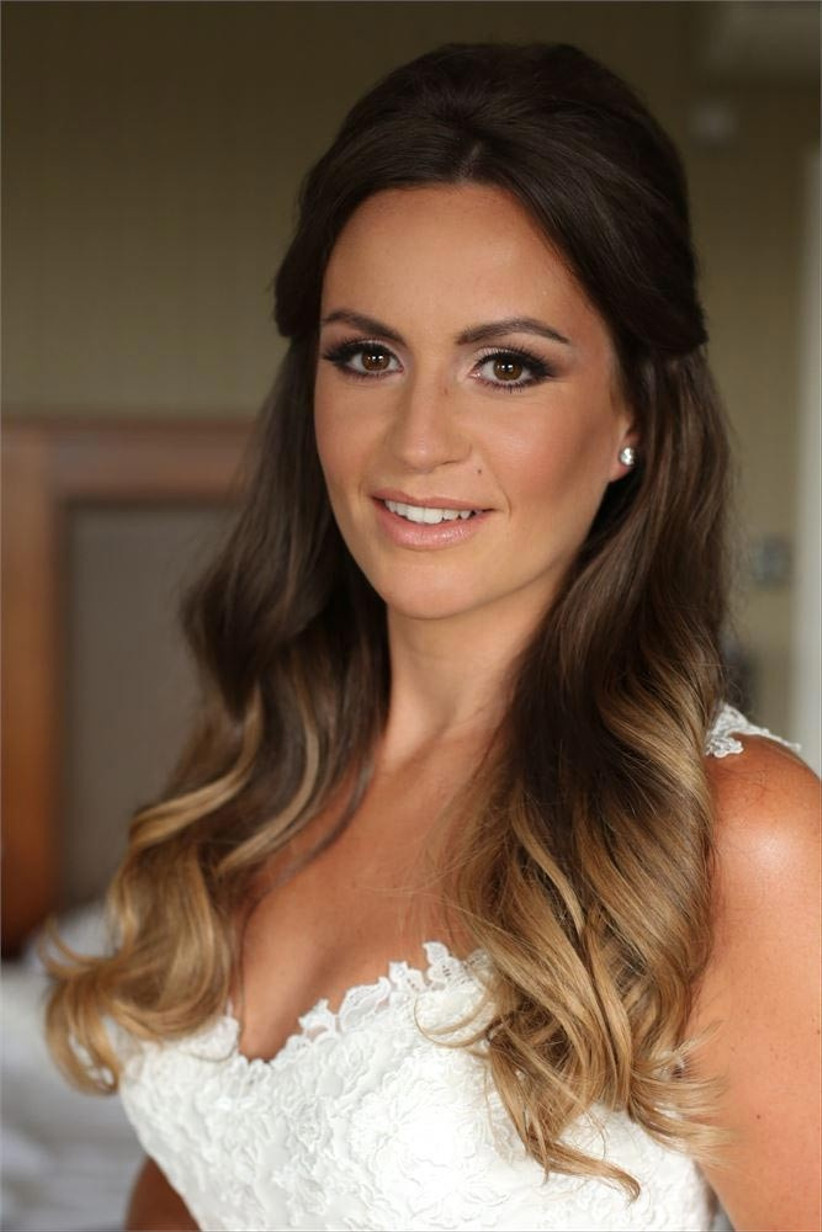 Half up half down hairstyles work incredibly well on ombre hair. Here wedding stylist Kristina Gasperas has created a romantic look here by styling the bride's brunette to honey blonde tresses with a slight beehive to add volume, and soft curls. It looks totally effortless but really shows off her style. A veil attached to the back of the head would be the perfect accompaniment.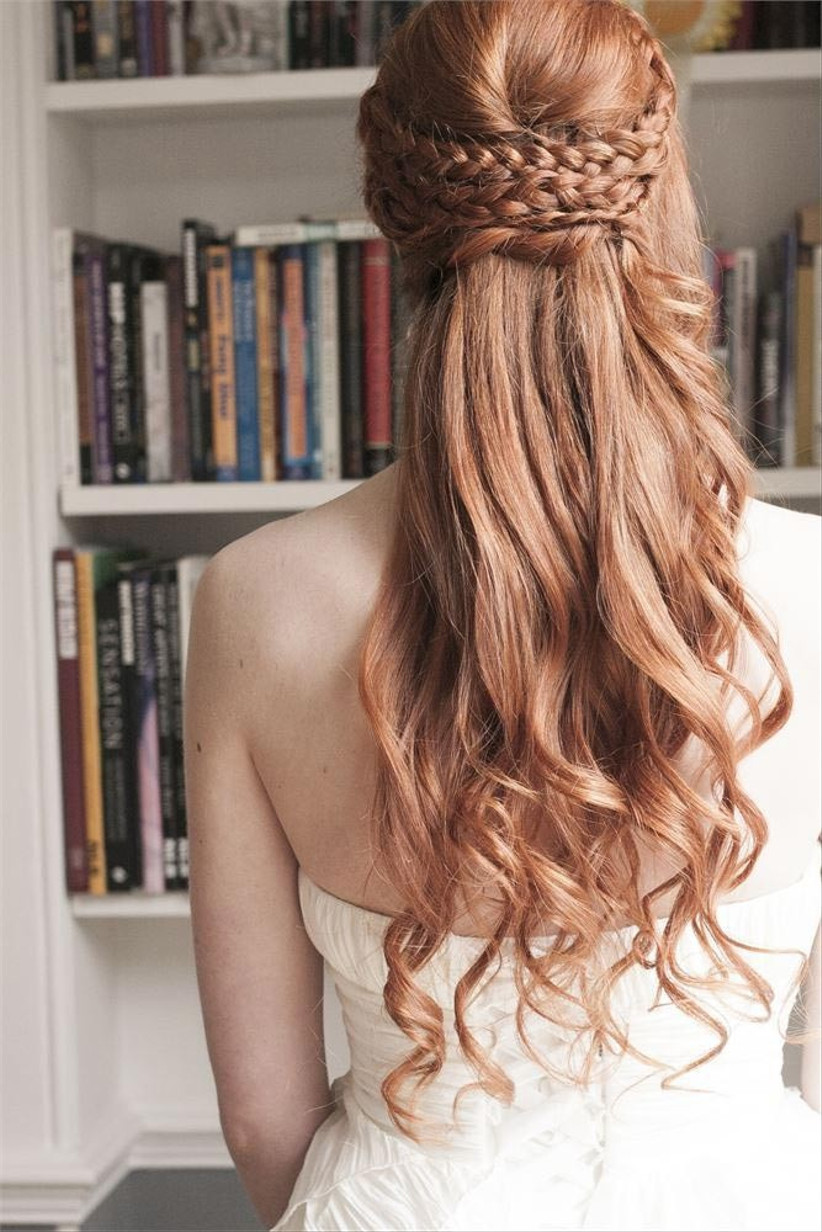 If you want something different, be inspired by this style from Naomi Benjamin Bridal Hair & Makeup. Multiple rows of braids give a twist to the look – and it's also an Irish wedding tradition to braid your hair, so if you want to include some of your Irish heritage on your wedding day this is a great way to do it.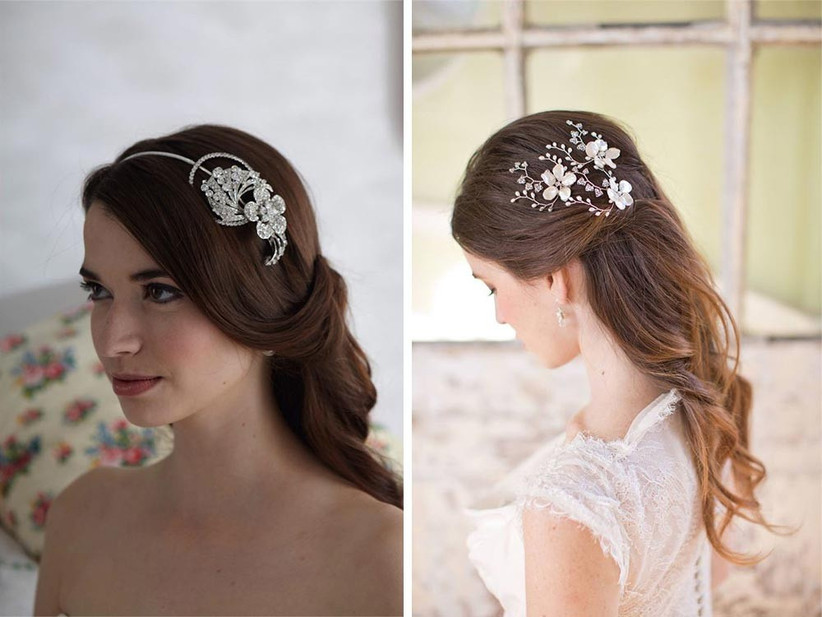 Wedding stylists Thairapy show just how to accessorise the classic style. Sparkling headbands and glittering hair clips add real elegance and glamour to this style – it's a great idea if you're not opting for a wedding veil.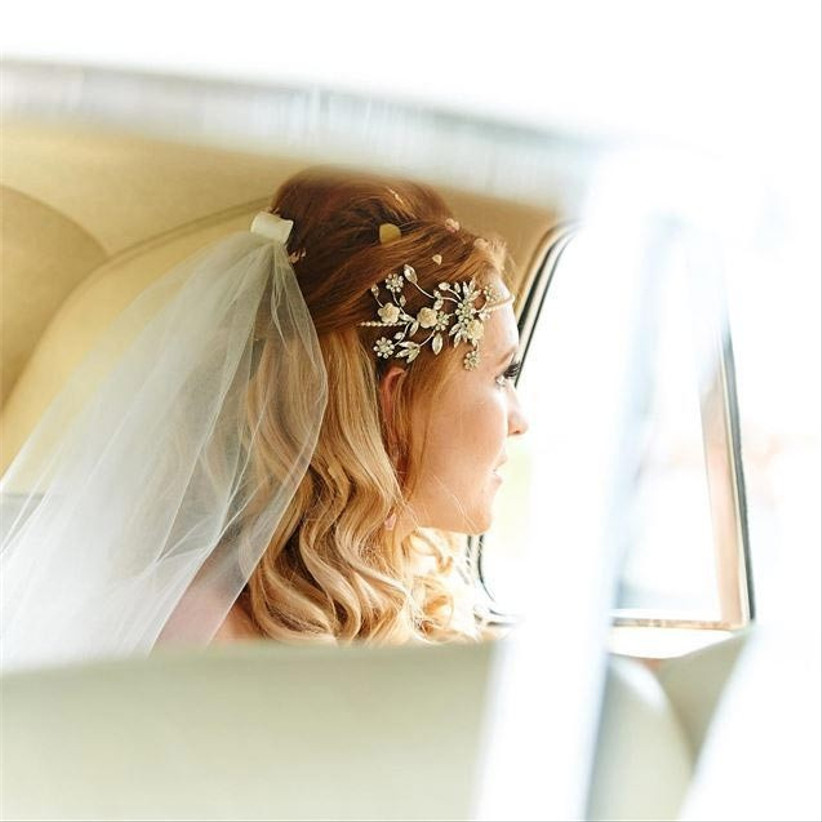 Real wedding bride Emma gave her wedding hairstyle a retro '20s twist with a headband worn across the forehead. Clip-in extensions were used to add volume and body and can be a lifesave for fair hair. It's a great example of how a veil can work with a classic half up half down hairtstyle.
READ MORE: Amazing Wedding Dresses Under £1,000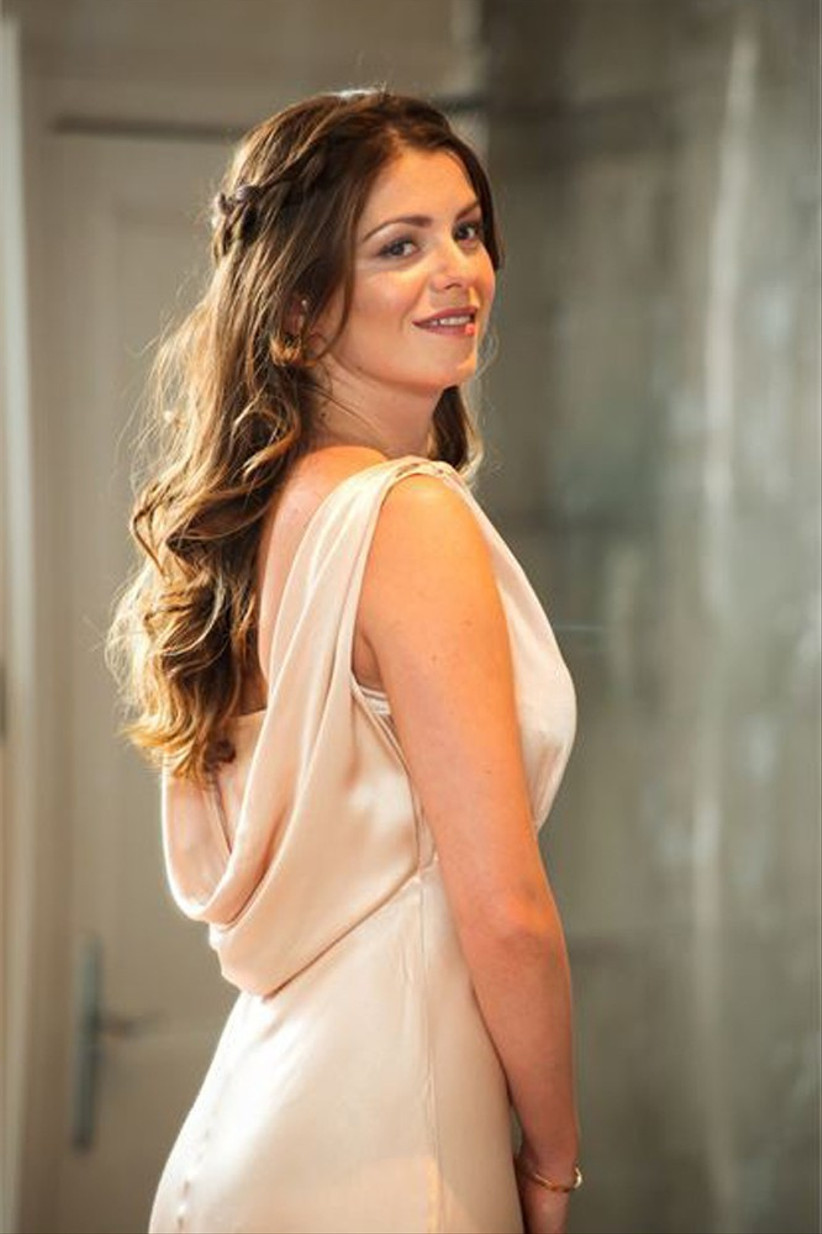 You don't always need an updo if you've got a statment back to your wedding dress that you want to show off. Kent Bridal Hair have kept the gorgeous cowl-back on the dress visible by keeping this bride's hair off the shoulders and drawing your eye down her back.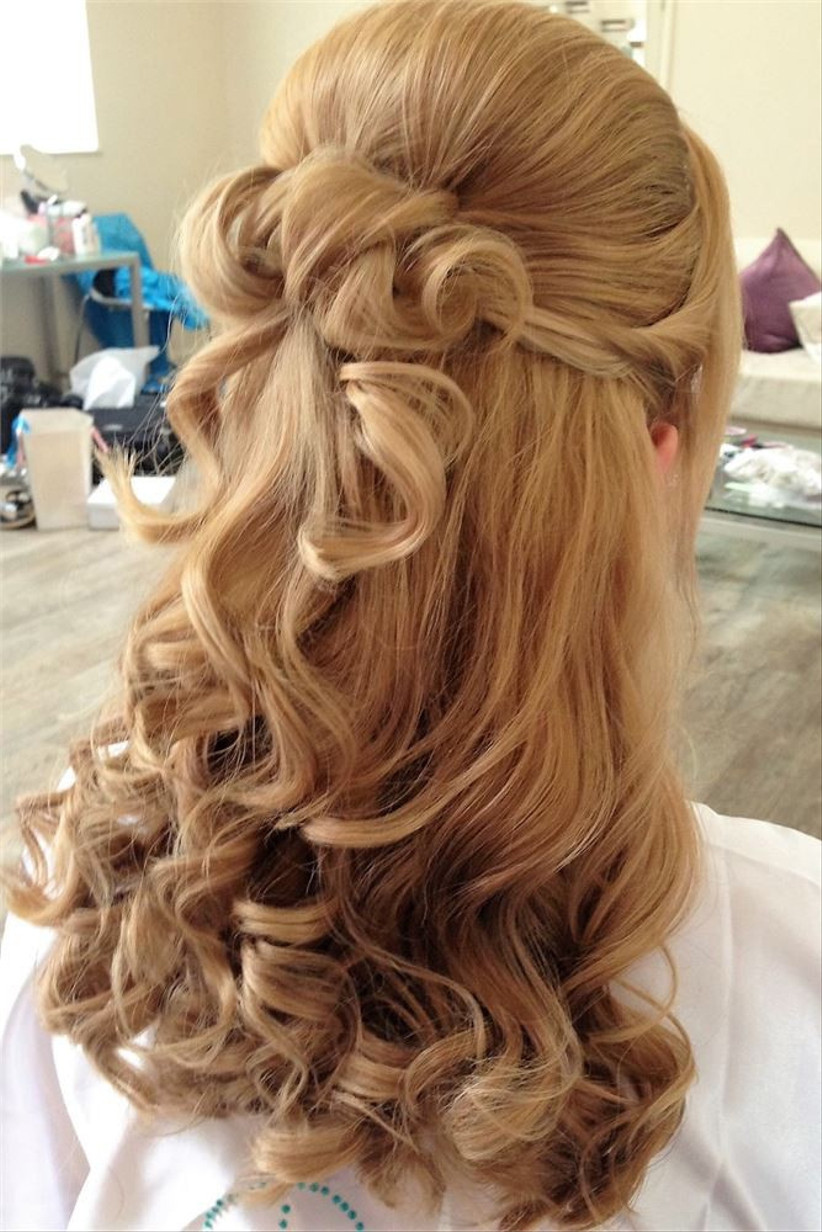 The ends of this hairstyle have been curled to add texture and body to the look and we love it. Curls are known to fall out, but even if you're looking at a long day, the updo part of this design by Perfect Wedding Hair Kent will still keep its shape.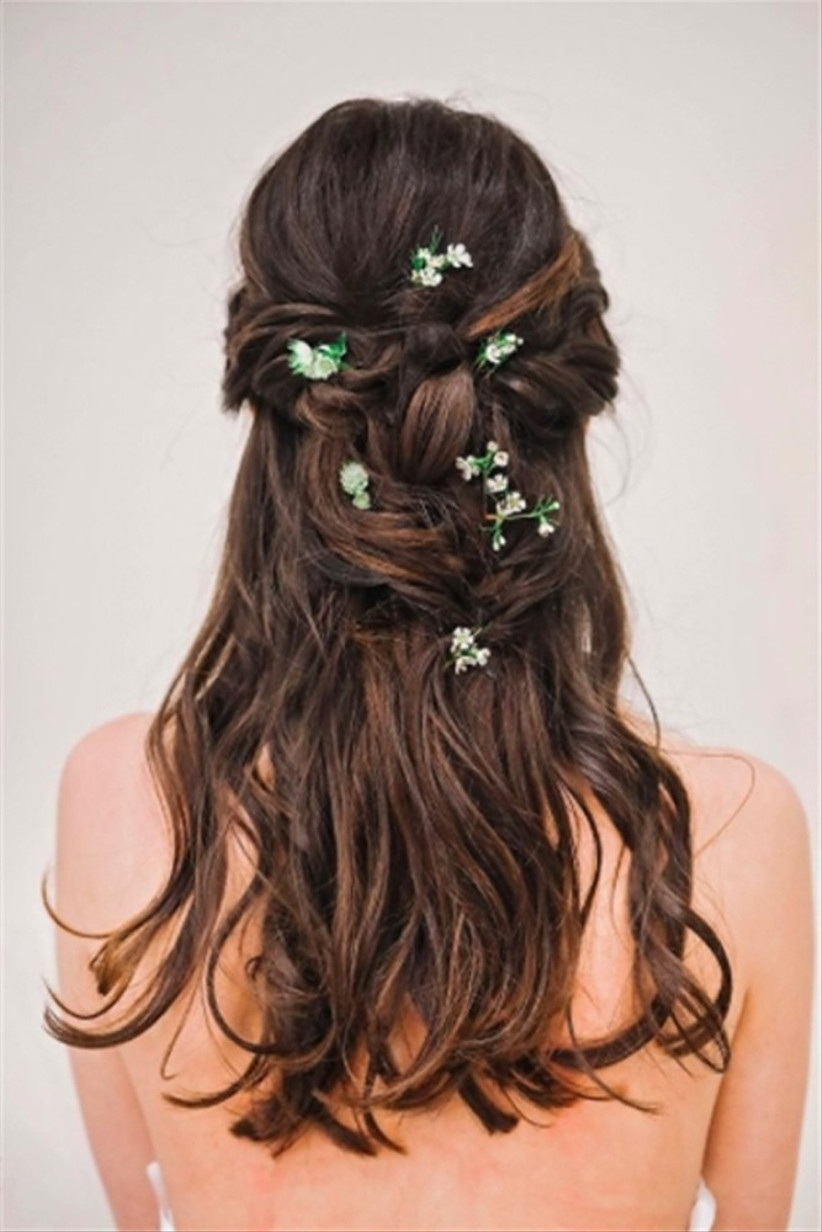 If you'd love to go for flowers in your hair, but aren't a fan of a flower crown, these delicate real flowers add a fresh but subtle twist to your hairstyle, courtesy of The Bridal Stylists.
READ MORE: 47 Easy-To-Master Wedding Hairstyles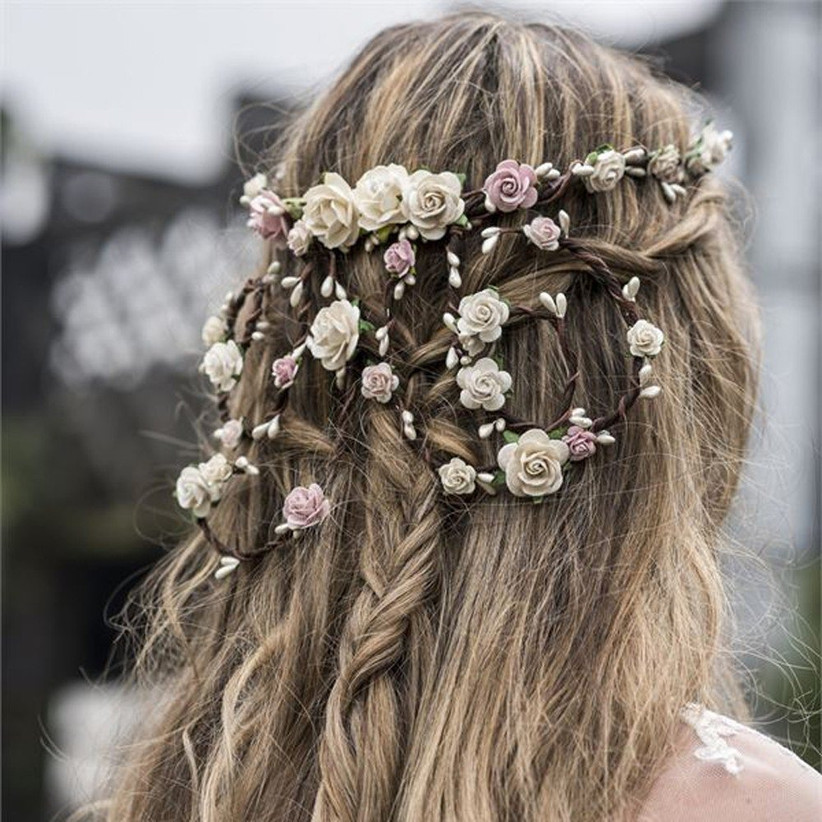 Real flowers may not be practical on your big day so accessory brand Flash Floozy have these fab enamel rose hairclips that instantly add romance and whimsy. This is a really cute and feminine way to add flowers to your half up half down hairstyle.
Half Up Half Down Hairstyles For Your Bridal Party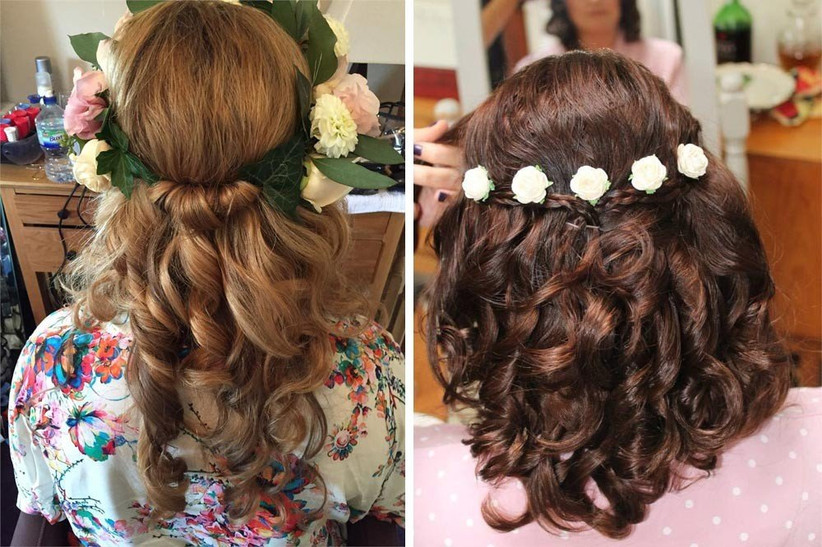 These looks from Izzy Wild show how the bride and bridesmaid can have coordinated hairstyles. We love the bold summery flower crown worn by the bride, and how the bridesmaid has smaller flowers in her hair to tie in with the look.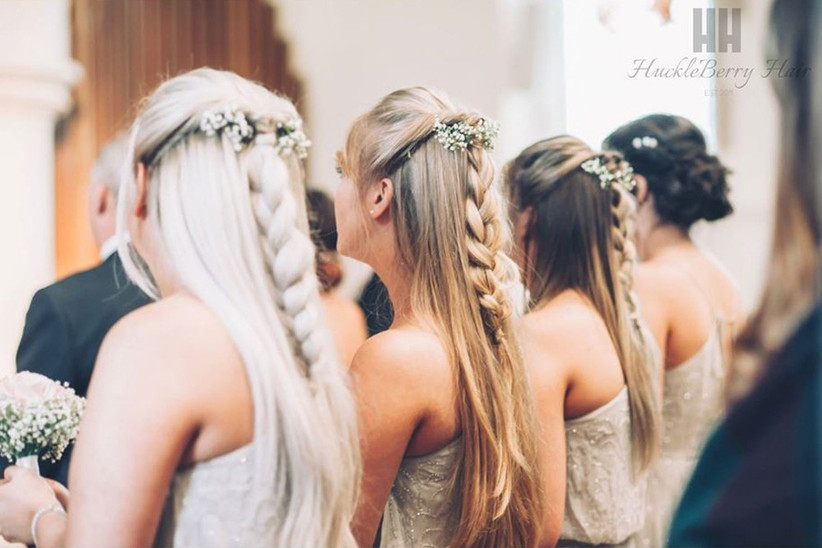 Alex Anderson Bridal Hair Specialist has used a simple three-strand braid in these bridesmaids hair, accessorised with gentle baby's-breath flowers for a romantic twist. As you can see, the Maid of Honour at the end has been given a full updo so this hairstyle can be used as a way to differentiate between the bridal party roles. Half up half down hairstyles are so versatile that you won't find a bridesmaid they don't work on.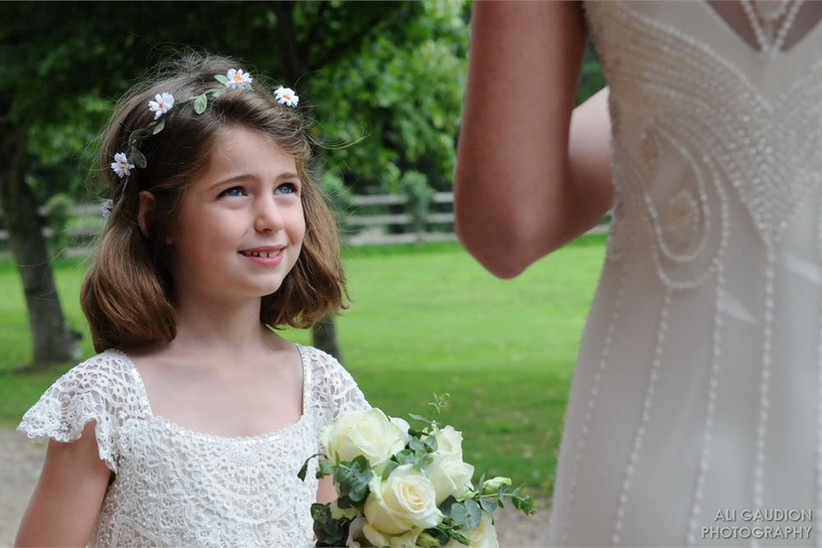 As photographer Alison Gaudion captures, this style can look great on flower girls too with the addition of simple of a delicate daisy flower crown. This little member of the bridal party is an excellent example of how half up half down can work on short hair too, so don't discount it!
For those who are still debating which hairstyle to go for still, we have a complete guide to wedding hairstyles – you're sure to find the one for you there.