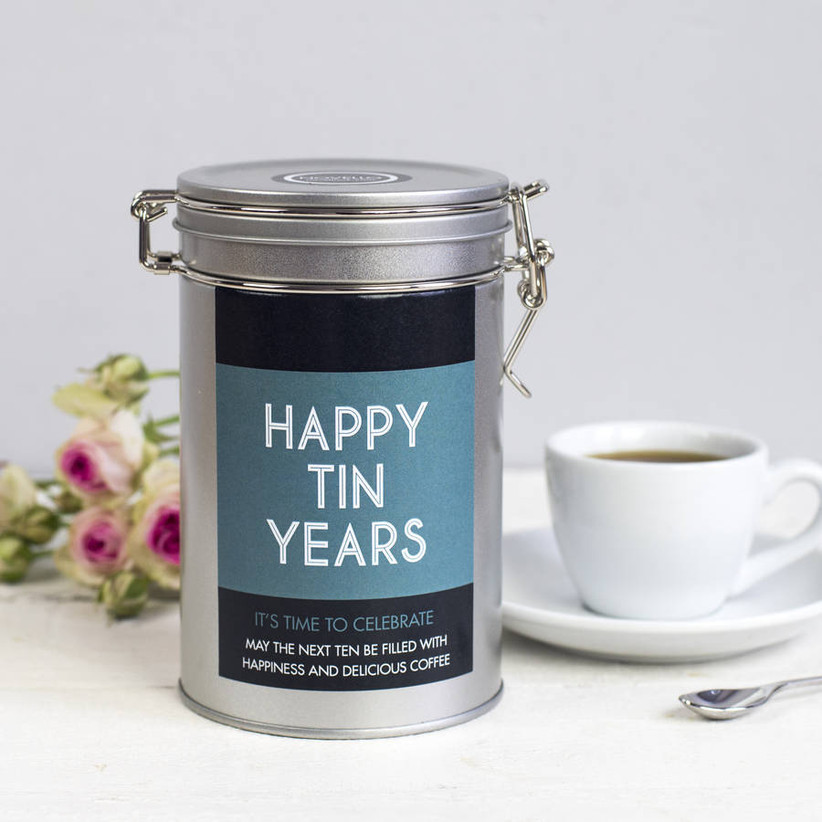 If you are celebrating 10 years of married life, then a big congratulations goes out to you! After a decade of marriage, you are sure to have been through some challenges and also have some great memories. Despite knowing each other so well, it's sometimes difficult to know what to buy each other for your 10 year wedding anniversary.
The traditional gift for a 10 year wedding anniversary is tin. Tin has traditionally been used to store and preserve things, which is why it makes a great pick to honour a decade of love. Luckily, it's also a fairly easy theme to get on board with; whether you want to pick up a little candle in a tin or buy a sentimental keepsake made from the metal, we have found some of the most inspired options.
If tin isn't your thing, why not opt for diamond, which is the modern alternative for 10 years? Nobody could say no to a diamond, and these days, the variety in diamond jewellery is expanding so much so that you can buy all sorts of diamonds for different price points and in different sizes and cuts.
Take a look at some of our favourite 10th wedding anniversary gift ideas right here.
NB: We have included third party products to help you navigate and enjoy life's biggest moments. Purchases made through links on this page may earn us a commission.
READ MORE
Tin Wedding Anniversary Gifts
Keep things traditional for your 10th wedding anniversary by choosing a tin-inspired gift. Tin is both strong and flexible – two qualities that will be very important after 10 years of marriage.
10-Year Anniversary Tin Print – The Drifting Bear, £49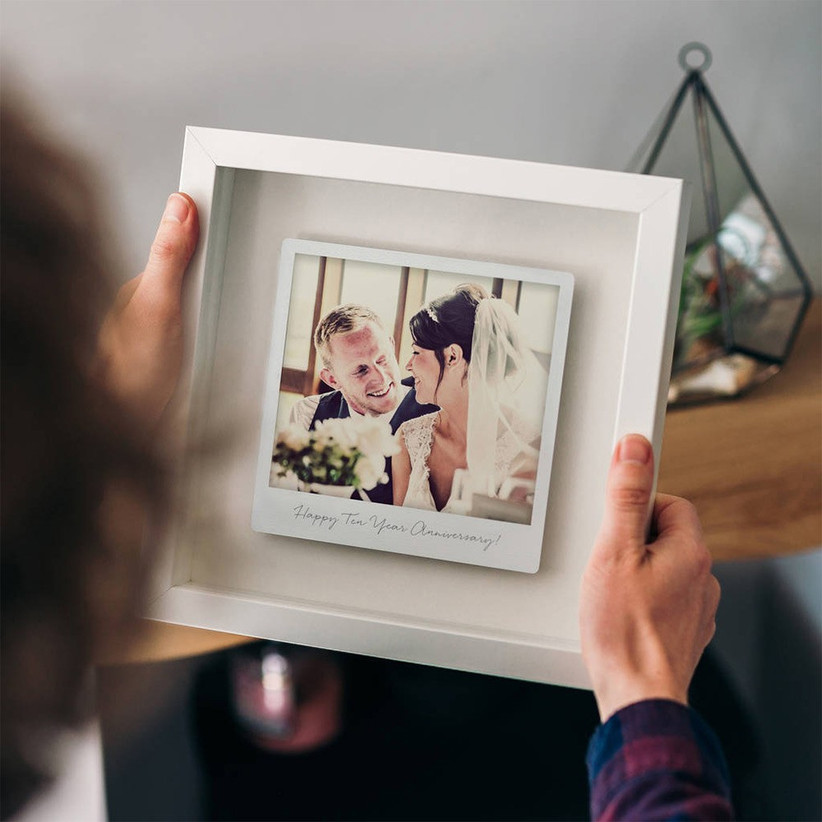 Celebrate 10 years of marriage by having one of your favourite wedding photographs printed onto aluminium by The Drifting Bear and framed, your other half will love the sentiment and it fits the tin theme perfectly.
Metal Planters – Letteroom, £29.95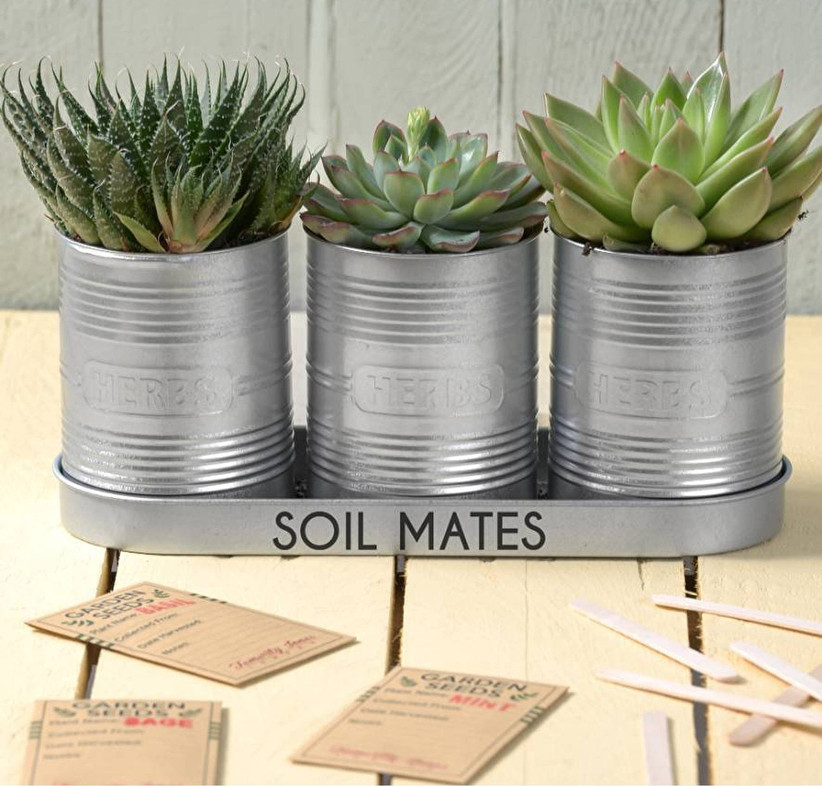 These metal planters from Letteroom would be a pretty addition to your garden or your home. If you and your partner are "soilmates" then this makes the ideal gift.
Silver Tin Candle - Crafty As They Come, £9.50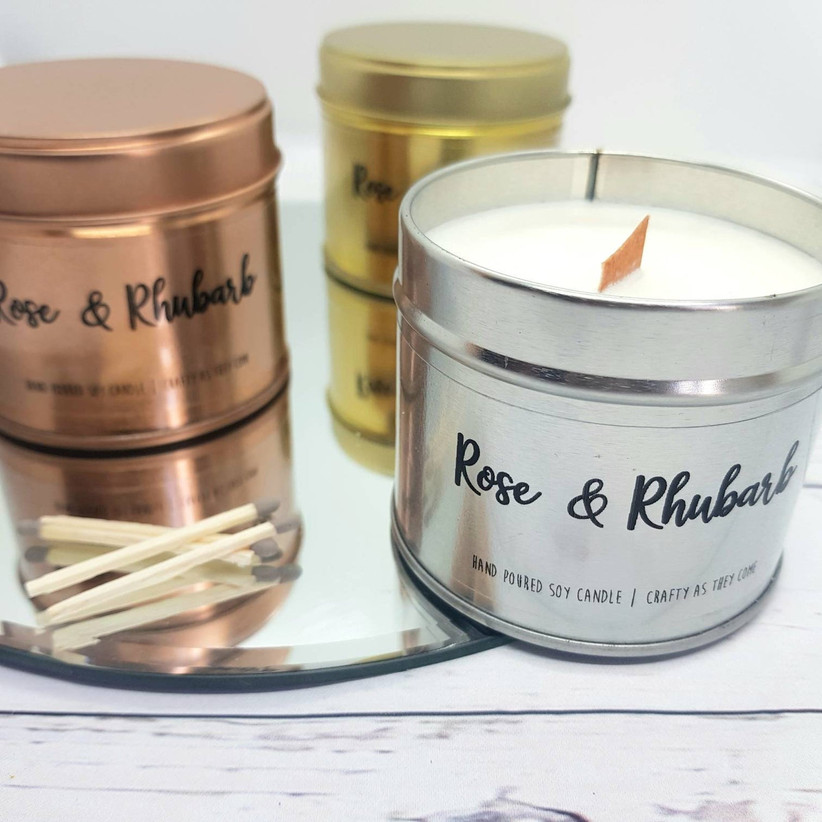 A tin gift doesn't have to cost the earth, and a little candle in a tin can does the job just as well as a pricier option. There are a huge amount of quirky scents available, including rhubarb & rose, proscecco, and coffee mocha.
Pirantin Tin Anniversary 10 Year Everlasting Rose - Amazon, £24.99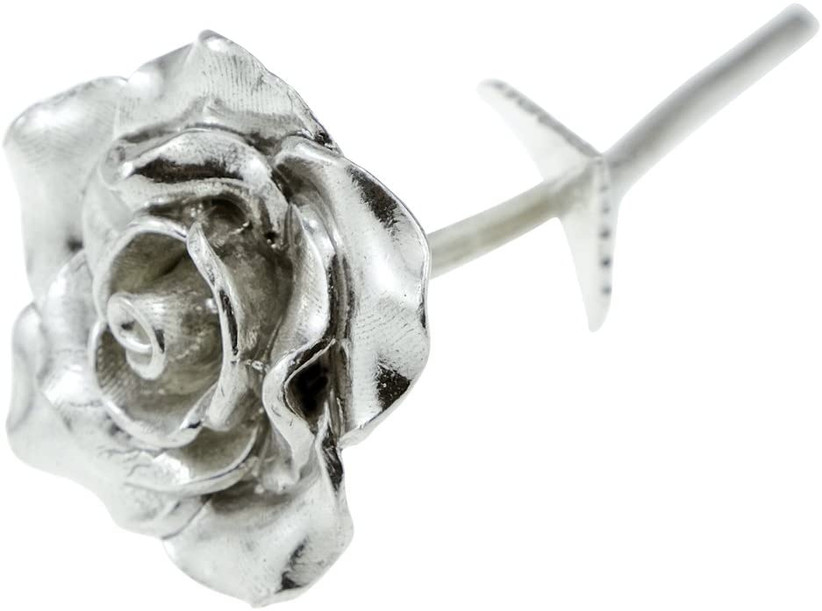 There's nothing more romantic than a rose, and this one will never die, just like your love! It's designed specifically for 10th anniversary presents, and is made from 100% tin, meaning you'll have fully committed to the theme.
Tenth Wedding Anniversary Tin Heart - A Few Home Truths, £39.95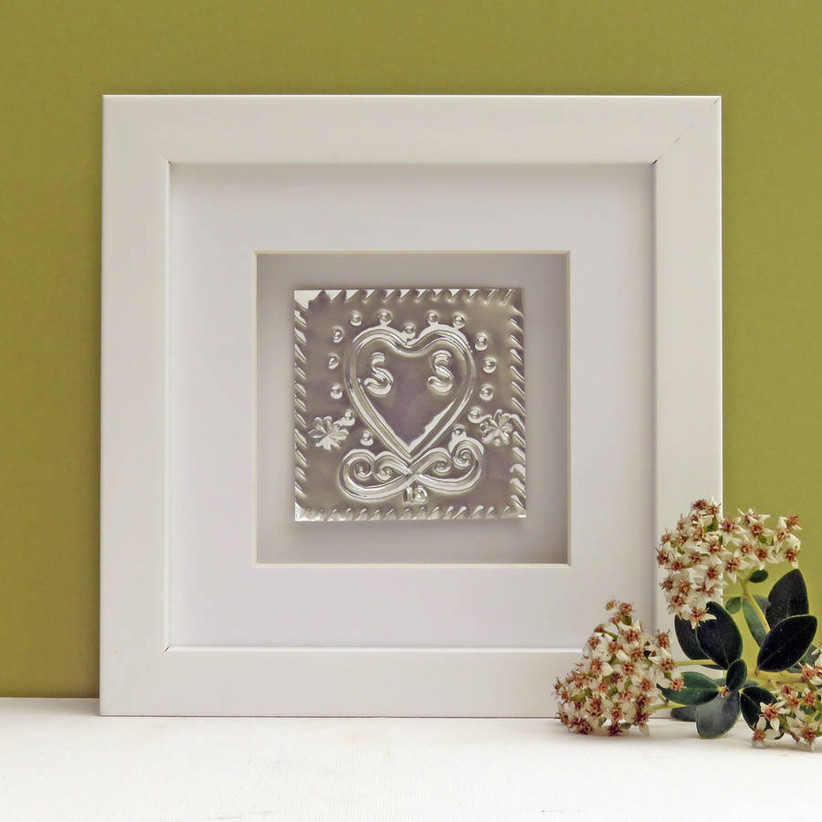 This classy yet unique gift is the perfect mid-range choice that your partner will want to keep forever. The framed piece of tin will be engraved with your initials, giving it a special, personalised touch.
Personalised 10 Reasons I Love You Heart Tin - Oakdene Designs, £13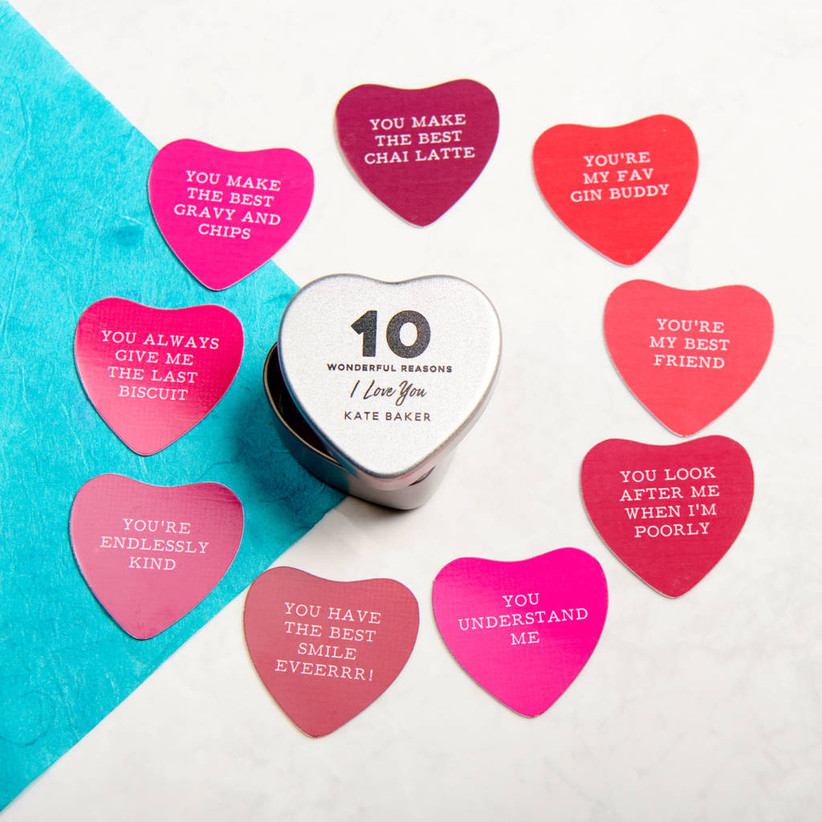 We can't think of a sweeter, more meaningful way to show your love after ten years than with this cute little tin. Each of the ten 'reasons' will be personalised and provided by you, and then printed onto delicate little hearts to be opened when appropriate.
Personalised Metal Wallet Insert Card - Metal Moments, £18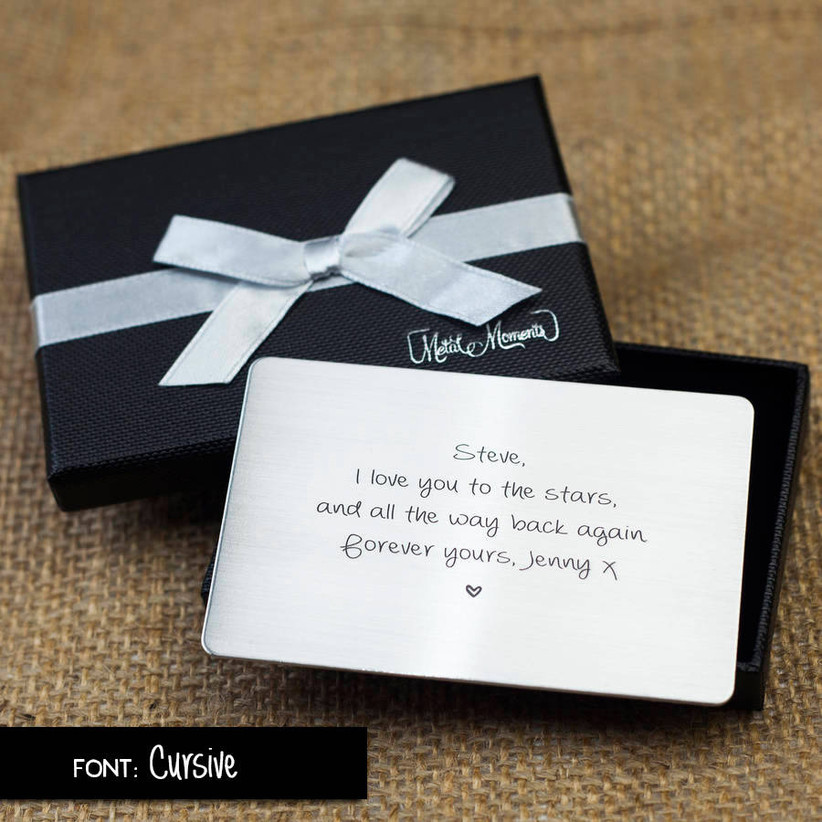 This is a gift that's perfect for any time of the year or occasion, but it works well for the 10 year tin theme especially. Write out a heartfelt note to your loved one on this metal card, which they can carry with them day in, day out.
Personalised Keyring - Tally Mark, £12.99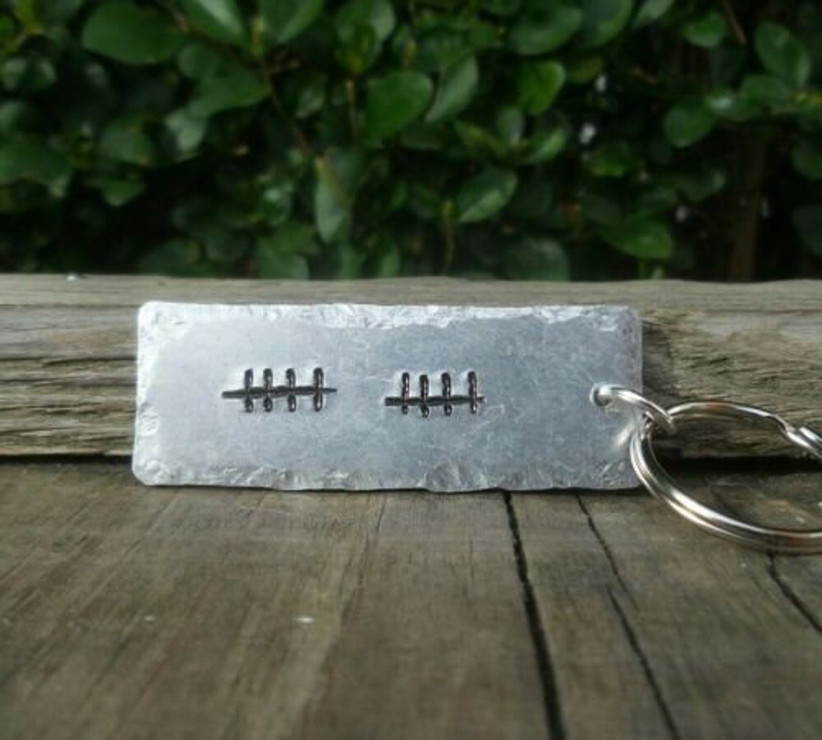 An affordable, yet well thought-out option, these key rings can be personalised on the back with initials, dates, or a little message. You can also pick one of many colours for the little fabric bag it comes in.
Personalised Anniversary Coffee Tin Gift – Novello, £11.50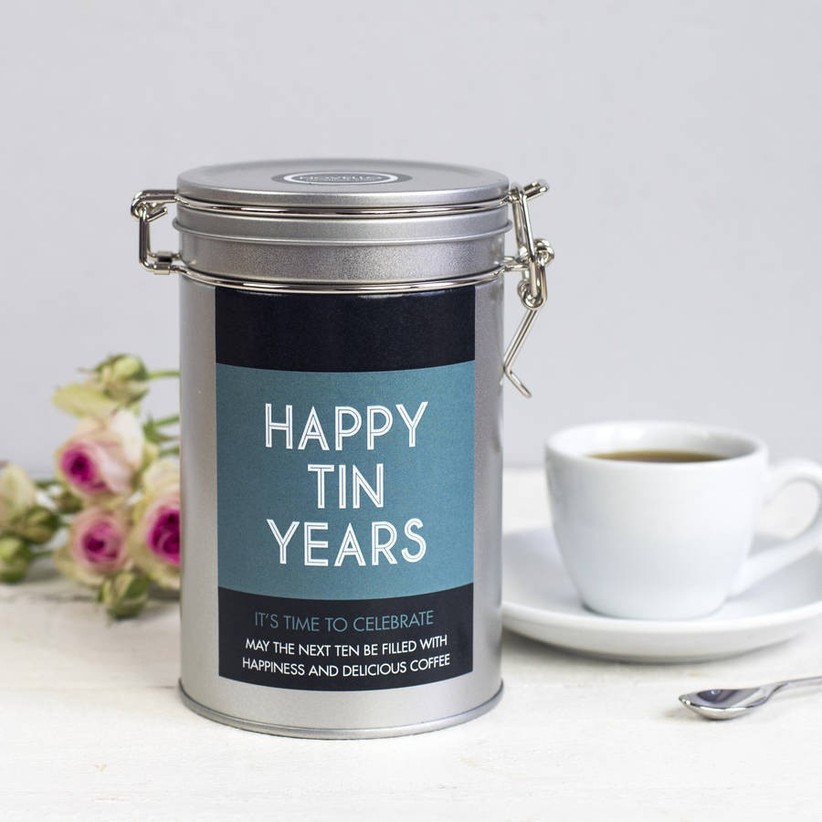 Does your other half love coffee and puns? Then this "Happy Tin Years" personalised coffee pot from Novello will be just perfect for them. If you're feeling extra kind then you can also buy them a special coffee mug to go with it.
10th Wedding Anniversary Heart Tin – Delightful Living, £31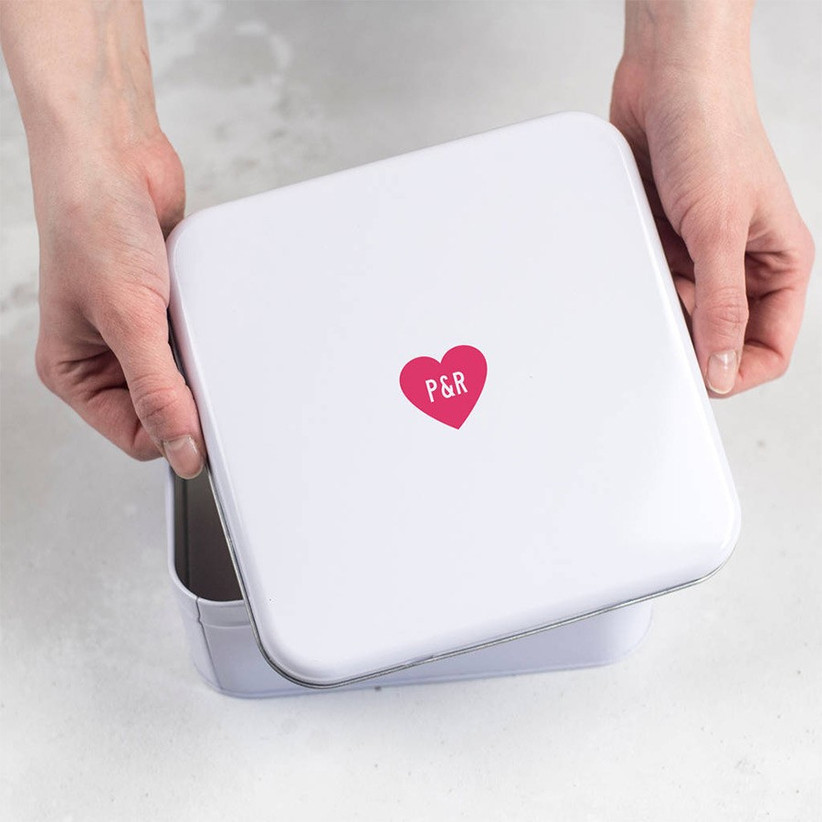 This personalised 10th wedding anniversary heart tin from Delightful Living will be the perfect place to hold all those special keepsakes. If you buy this tin for your other half then why not fill it with special things like a copy of your wedding invitations, photos of special moments and holidays together or tickets to places you have been?
Personalised Tin 10th Wedding Anniversary Print – Alex Ebdon Art, £49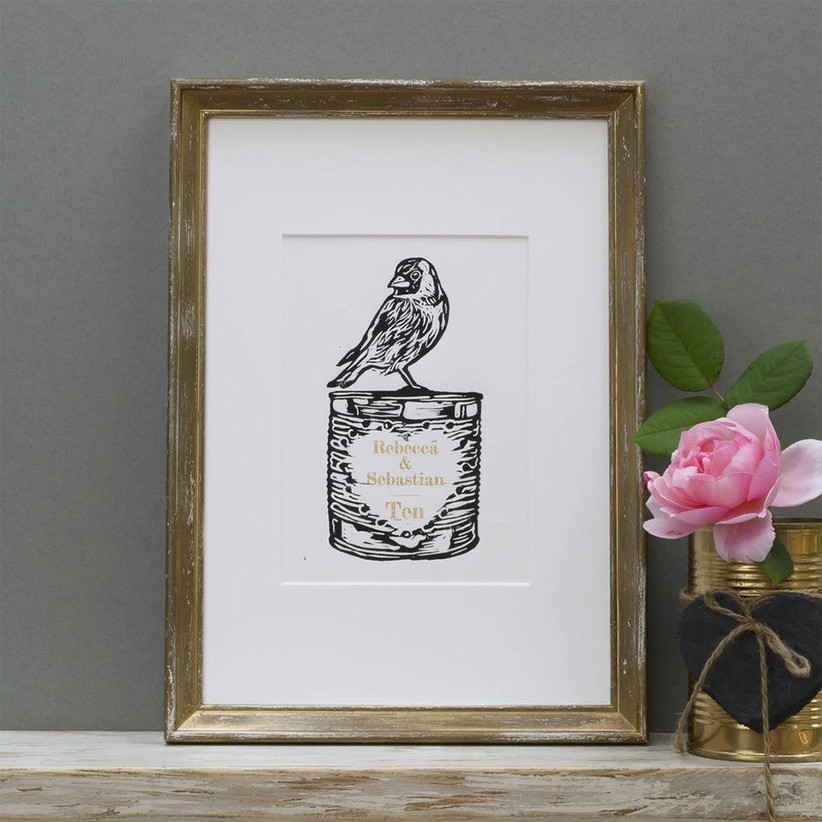 You don't need to be quite so literal with your tin wedding anniversary gift – this print of a bird standing on top of a tin from Alex Ebdon Art would be a pretty way to celebrate your anniversary. You can even choose from a range of birds and personalise the print with your names.
Special Dates Metal Print – Delightful Living, £35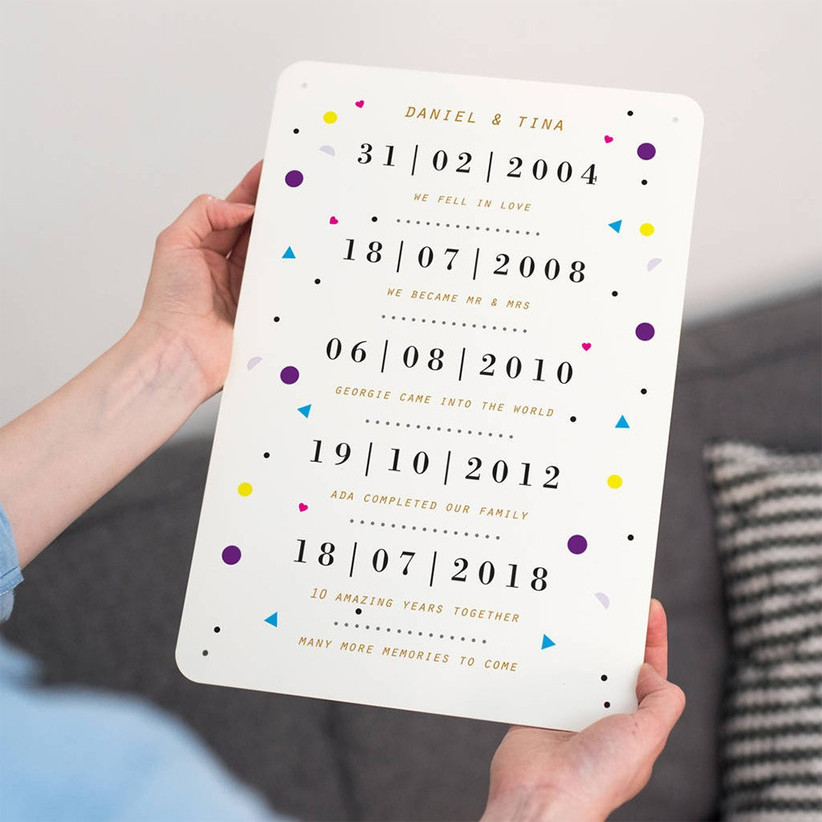 This pretty metal print from Delightful Living can be personalised with all those special milestones – like the date you met, when you got engaged and your wedding anniversary. It's a beautiful reminder to hang in your home – and means when those dates come around you can have a mini celebration!
Soundwave Art – Elizabeth James UK, £49.99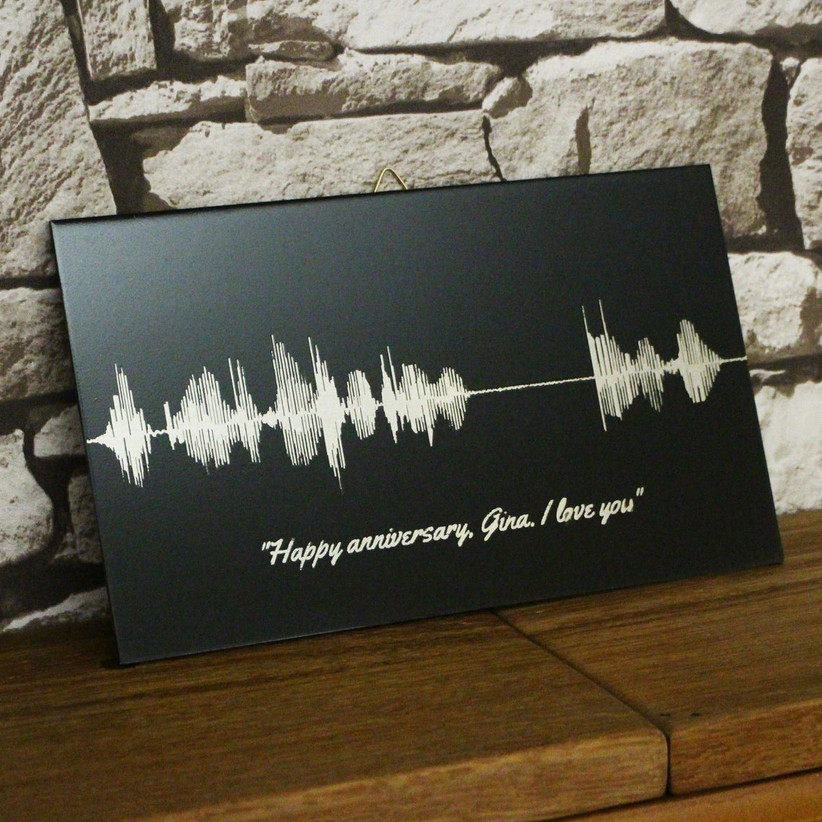 Whether it's the soundwaves to a special song or to some meaningful words, this metal soundwave print from Elizabeth James will be a unique gift for your 10th wedding anniversary. Perhaps you could choose your first dance song or the music you walked down the aisle to?
Diamond Wedding Anniversary Gifts
The modern alternative for your 10th wedding anniversary is diamond jewellery – and we are more than happy with that! Diamonds are beautiful but also strong and resilient, what a perfect way to celebrate 10 years of marriage.
Zap Black Diamond Ring - Zoe & Morgan, £350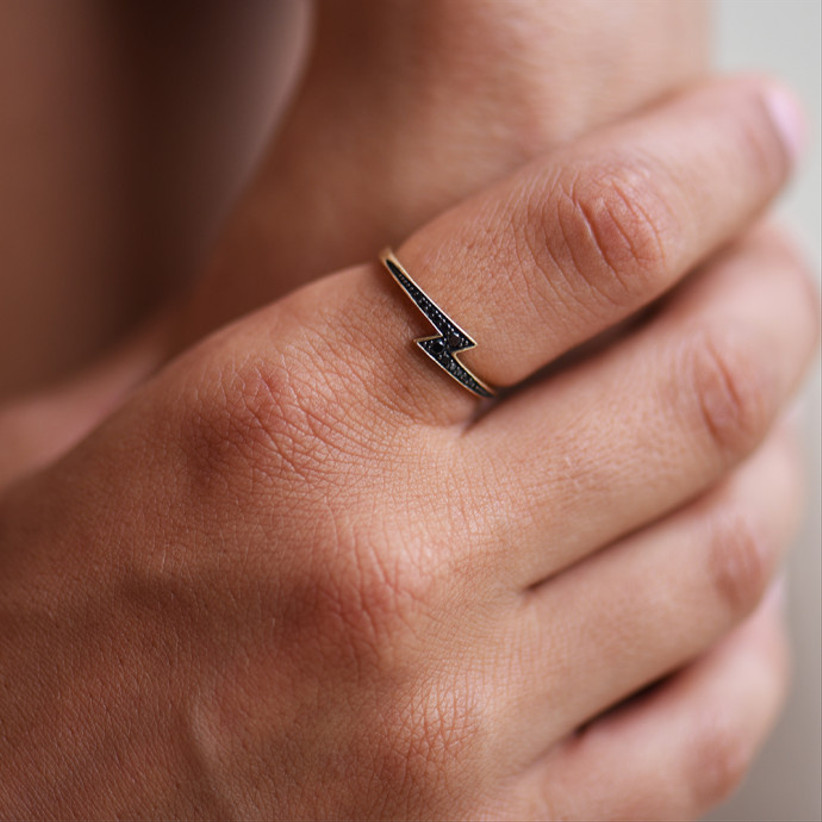 Forget tradition and opt for a black diamond if your partner doesn't usually play by the rules. We love this quirky lightening bolt shaped ring, which is stylish and insanely cool all in one.
Champagne Diamond Nest Structure Ring - Alex Monroe, £195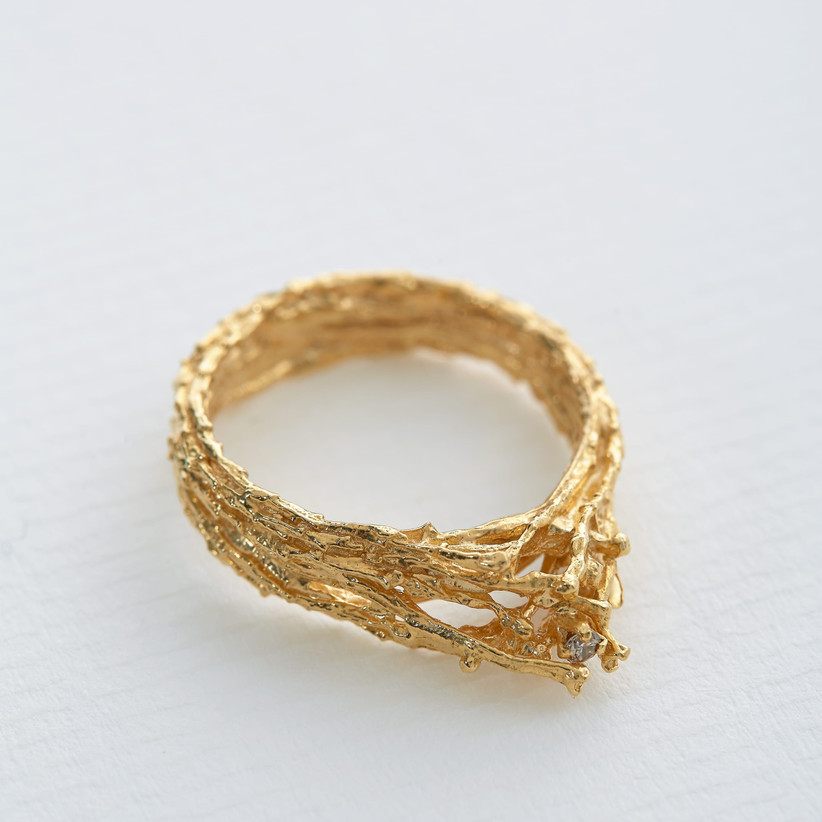 Alex Monroe's charming designs are so distinctive and unlike anything else in the jewellery world. The brand's diamonds can be costly, but if you pick up a design such as this one, which features a smaller stone, you can manage to pay much less and still obtain some sparkle.
Micro Pavé Triangle Pushpin End - BVLA, £240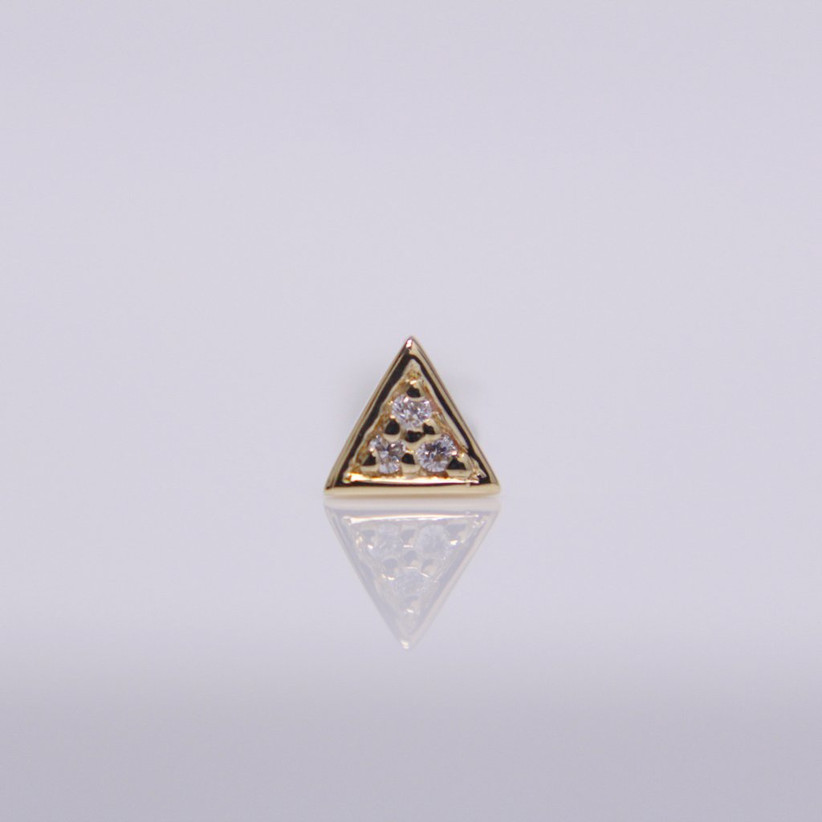 For the piercing fan partner, this little stud by BVLA can be worn anywhere in the ear, from the lobe to cartilage areas. It's subtle, yet its triangular shape makes it a little different and great for those who wouldn't usually wear a super traditional round or square stud.
Rose Gold Diamond Right Crawler - Roxanne First, £295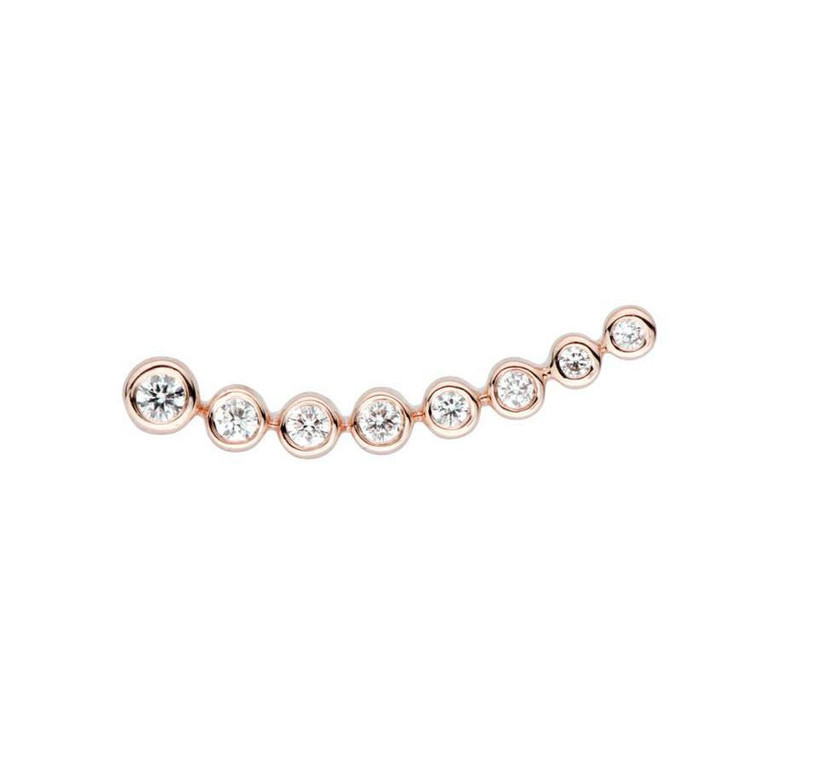 Roxanne First is one of the more impressive new diamond designers on the jewellery scene, and her stylish designs can be found all over Instagram. Pick up one of these crawlers for the cool, fashion-forward partner. It also comes in silver and yellow gold.
6.5mm Scalloped Diamond Hoop Earring - Maria Tash, £260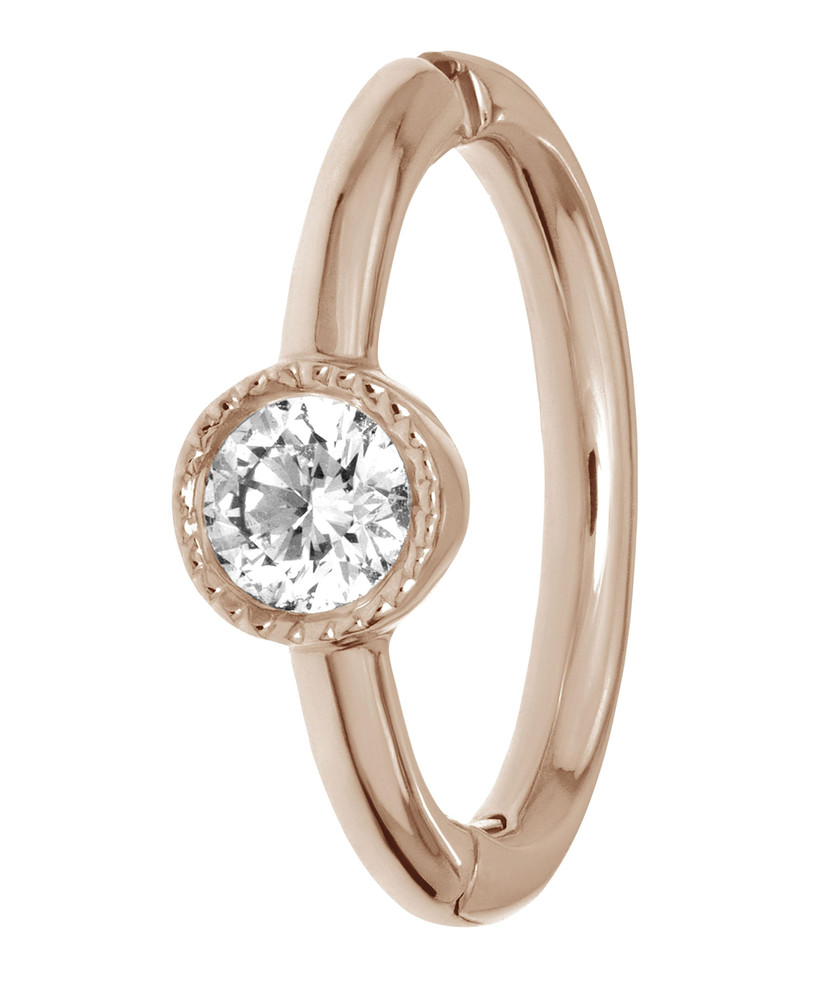 Everybody needs a Maria Tash earring in their life, and this little golden hoop with a prominent diamond is a great 10th anniversary present. It looks wonderful when worn stacked with other studs and huggies, and comes in silver and yellow gold as well.
Jasmine Diamond Studs - Stellar 79, £205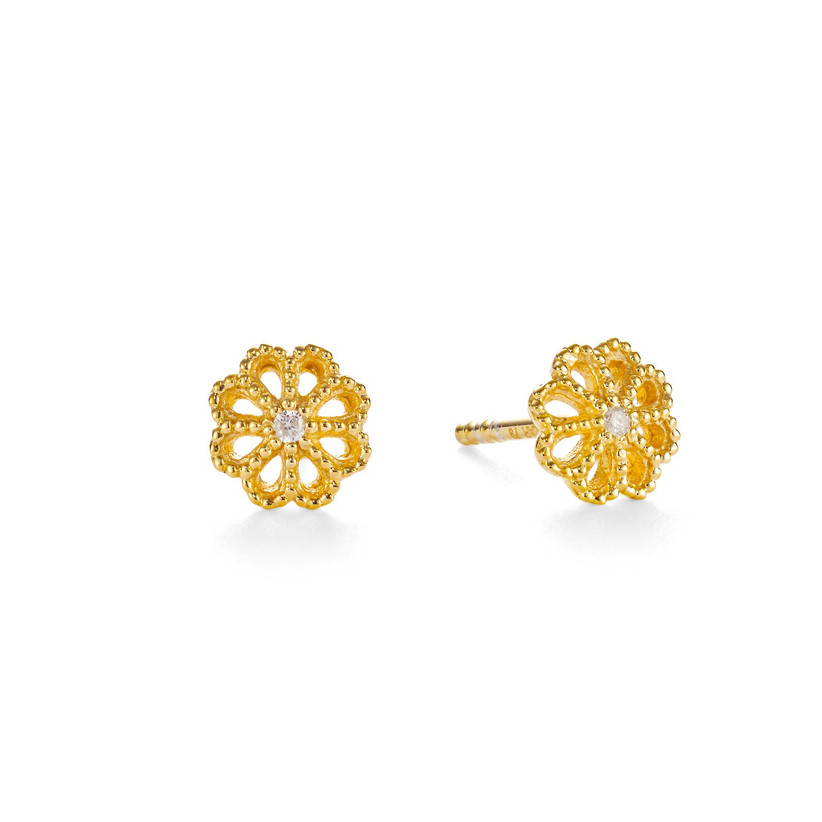 You truly can't go wrong with these dainty, delicate earrings, which will suit anyone. They're made from 18 karat gold, and feature mini little diamonds in the centre to add a touch of sparkle.
Diamond Double Bang Ring - Theodora Warre, £375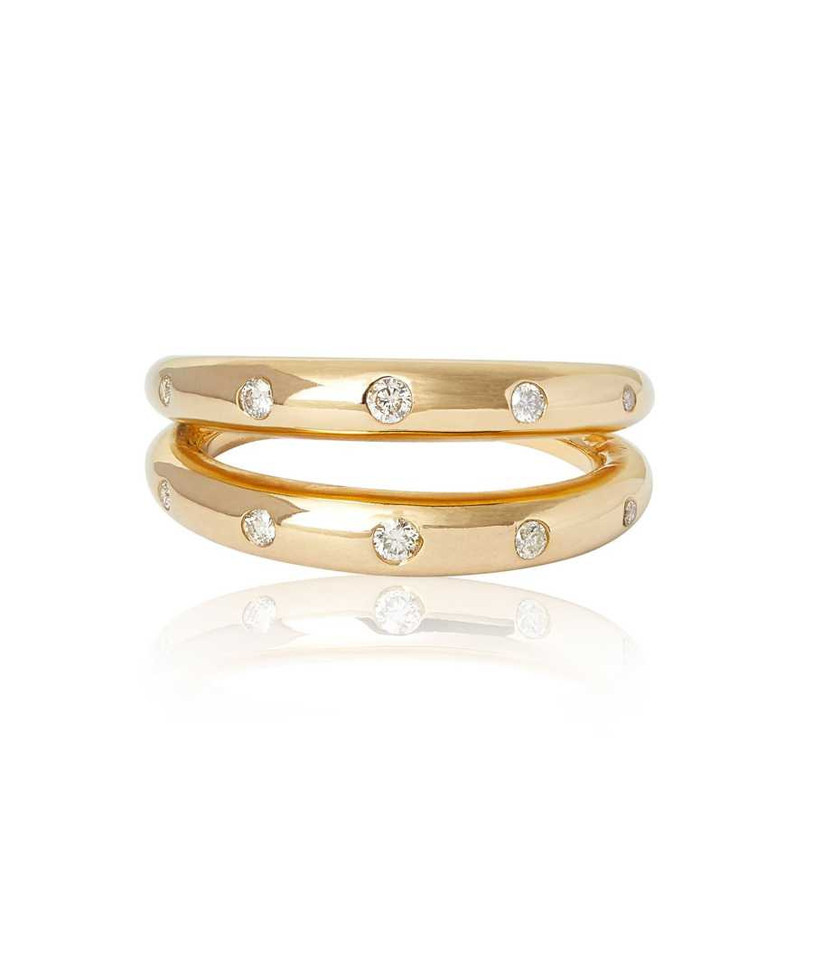 This ring features ten mini diamonds in total, and the band is made from gold-plated sterling silver. It's a great addition to any stacked ring finger, or if that's full, pop it on your middle finger for even more impact!
White Gold and Diamond Pendant – Goldsmiths, £400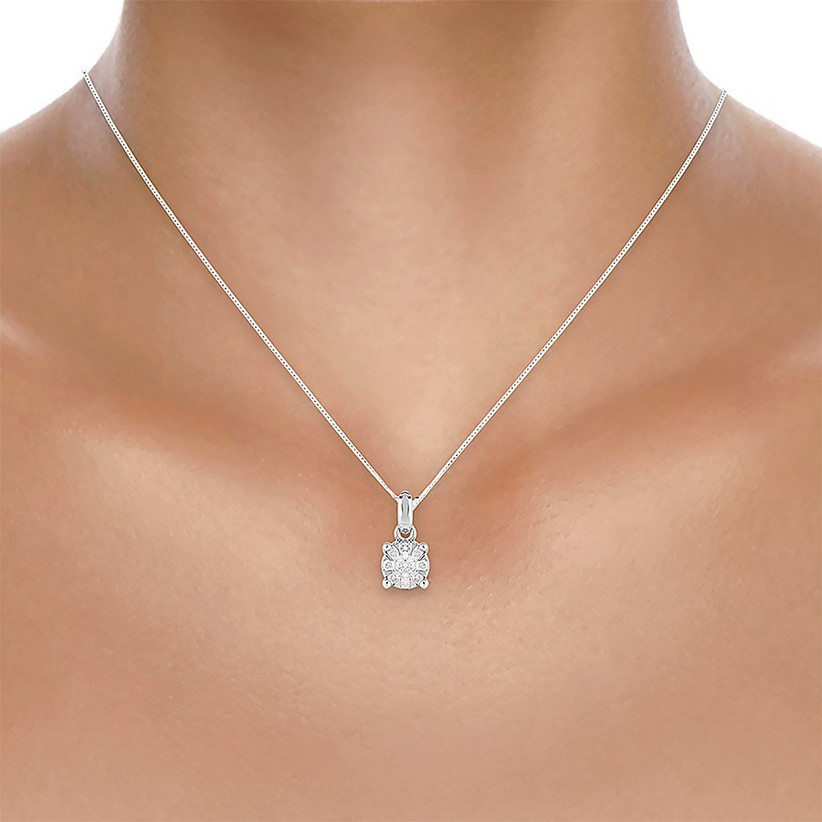 If you are looking for a diamond necklace that will be classic and timeless then this gorgeous white gold and diamond design from Goldsmiths is a beautiful choice. The multi stone design adds lots of extra sparkle (and for the more thrifty gift buyer – it's far cheaper than buying a diamond necklace with one larger stone).
Diamond Eternity Ring – Ferkos Fine Jewellery, £235.70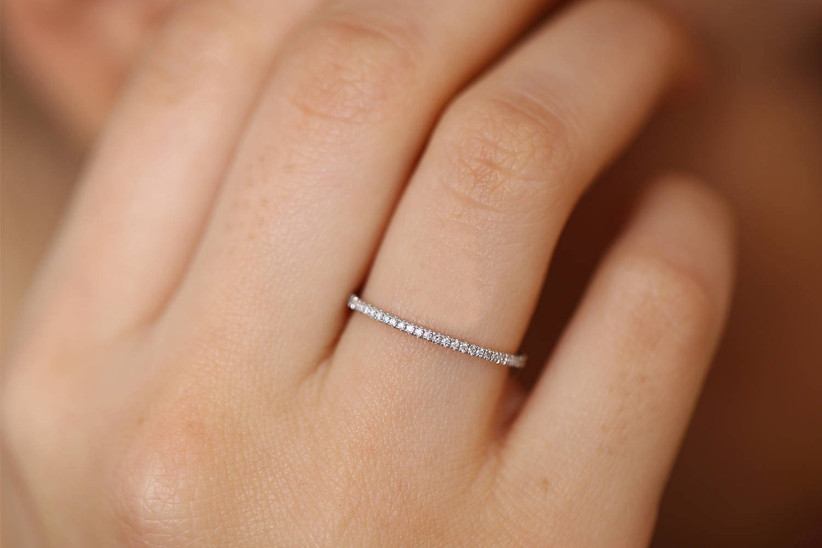 If you haven't already bought your other half an eternity ring then now could be a perfect time. Celebrate 10 years of marriage with this gorgeous diamond eternity band from Ferkos Jewellery.
Diamond Heart Necklace – Oh So Cherished, £169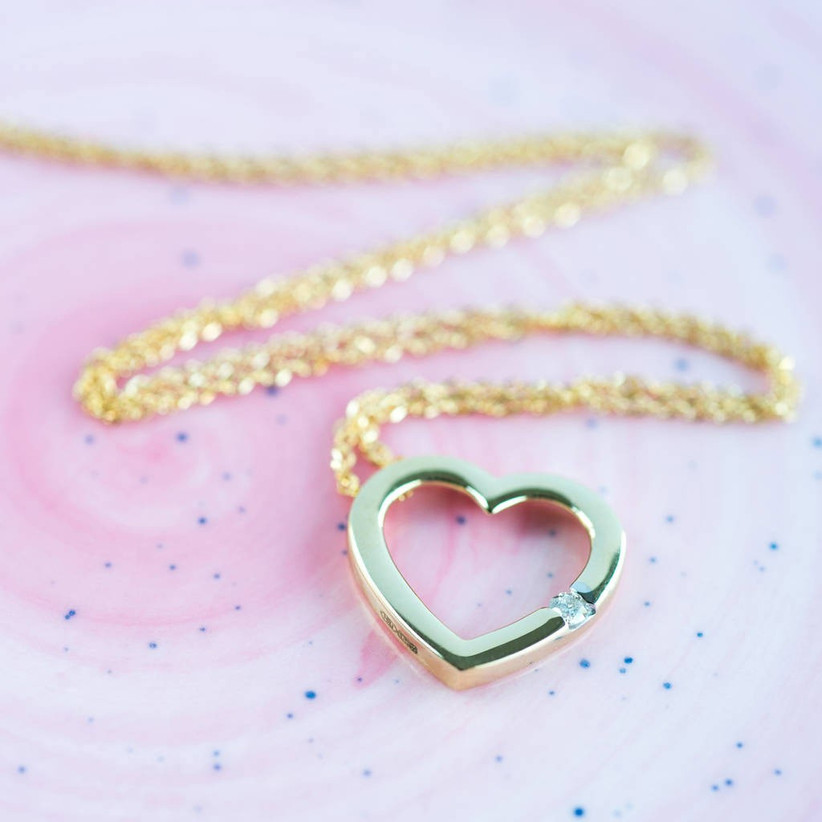 With it's warm tone, rose gold works beautifully with a range of skin tones and this simple heart necklace from Oh So Cherished will look incredible for years to come. The necklace also comes in a stylish grey gift box with a silver engraved nameplate, perfect for personalising with your loved one's name.
Rough Diamond Set of Three Stacking Rings – Embers, £216.75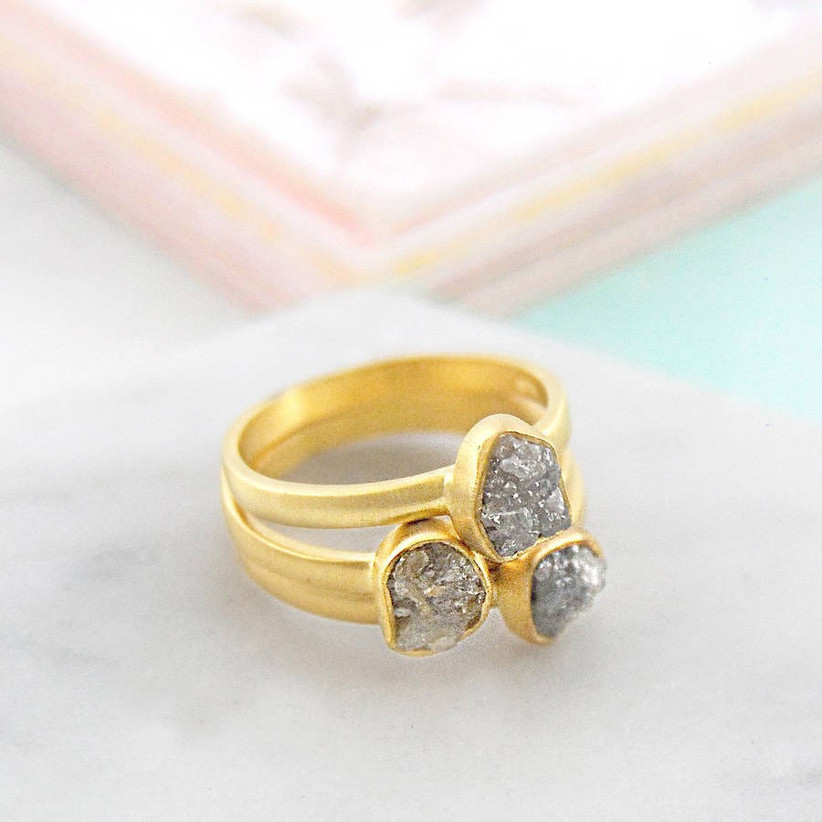 Add a stylish modern take on the traditional diamond ring by choosing this set of three diamond stacking rings from Embers. The rough cut diamonds and organic materials make this the perfect contemporary 10th wedding anniversary gift.
Riva Diamond Hoop Ring – Monica Vinader, £150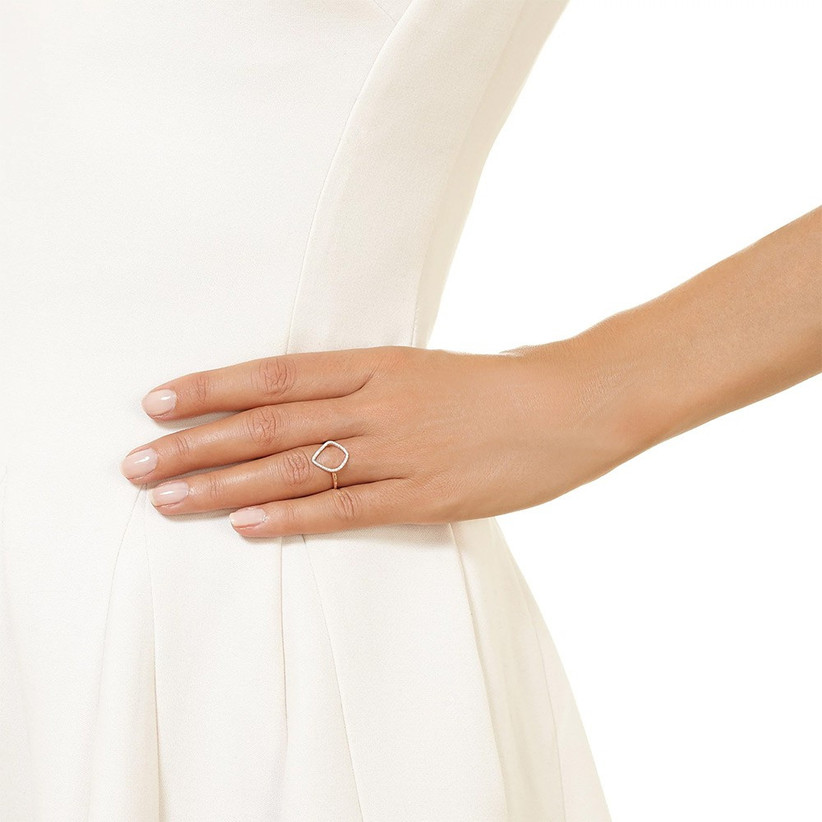 This gorgeous diamond ring from Monica Vinader is available in a rose gold, sterling silver or gold finish and the ring shape is influenced by the flowing shape of the Italian Riviera.
Rose Gold Skinny Curve Necklace – Monica Vinader, £495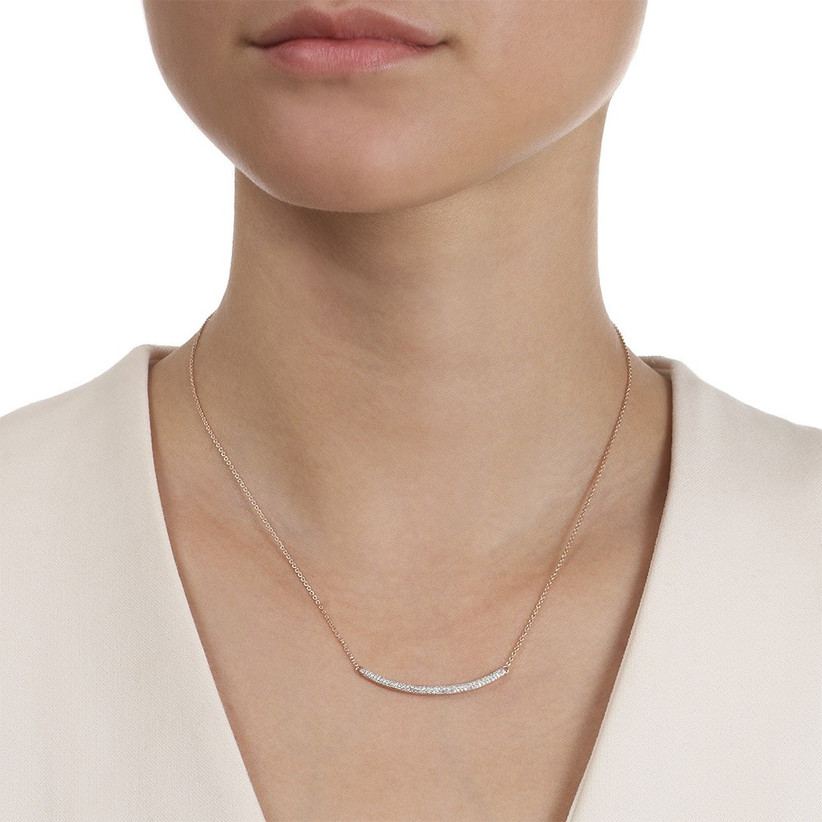 This gorgeous rose gold and diamond necklace from Monica Vinader can be ordered with a diamond, blue diamond or champagne diamond and is the perfect understated piece of jewellery that can be worn every day.
Read our ultimate guide to all wedding anniversaries for even more ideas, or start browsing some of our favourite date ideas so you can plan a romantic anniversary night.