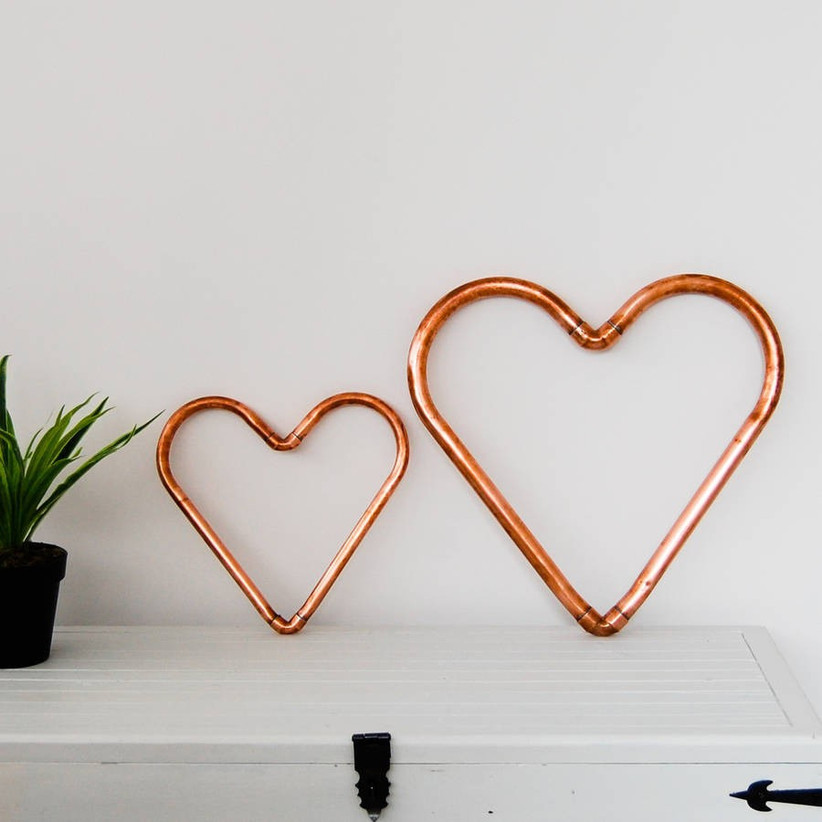 If you are about to celebrate your seventh wedding anniversary then congratulations! After seven years of wedded bliss you probably know your partner pretty well – but if you're still struggling to decide what to buy them an an anniversary gift then we are here to help.
READ MORE: Wedding Anniversaries – The Complete Guide
The traditional seven year wedding anniversary gift is copper and wool, so you could choose a gift made from one of these materials – or one of each. If you instead want to go for the modern seven year wedding anniversary gift then it's a desk set – yes really!
Copper Wedding Anniversary Gifts
Keep things traditional with your seven year wedding anniversary gift by giving a present made from copper. Copper is said to traditionally represent prosperity, good luck and good fortune and we think this is a lovely meaning for a wedding anniversary gift.
Jigsaw Keyring – Cali Girl Customs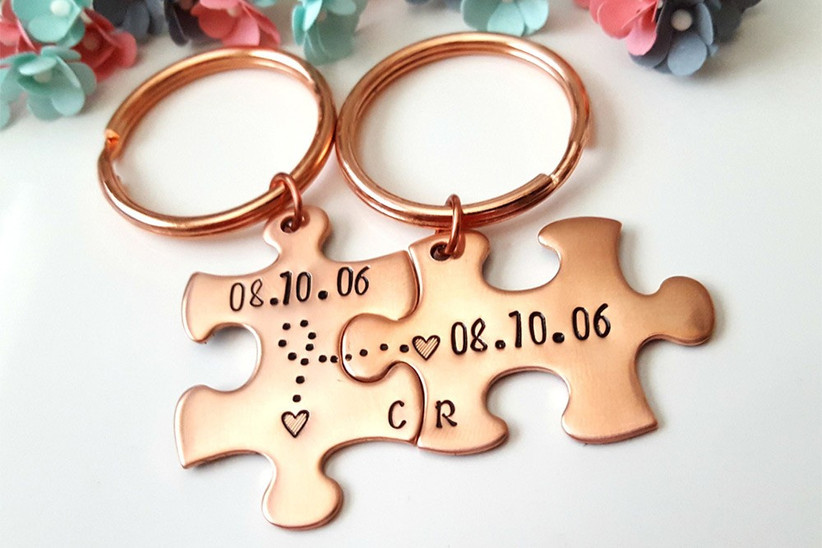 How romantic is this copper jigsaw keyring from Cali Girl Customs? It perfectly suits the copper theme and can be personalised with your wedding date to make it even more special. The keyring also comes in two parts so you can each have a little piece of your puzzle together to always remind you of this special anniversary.
Industrial Copper Lamp – Halkes Copper Work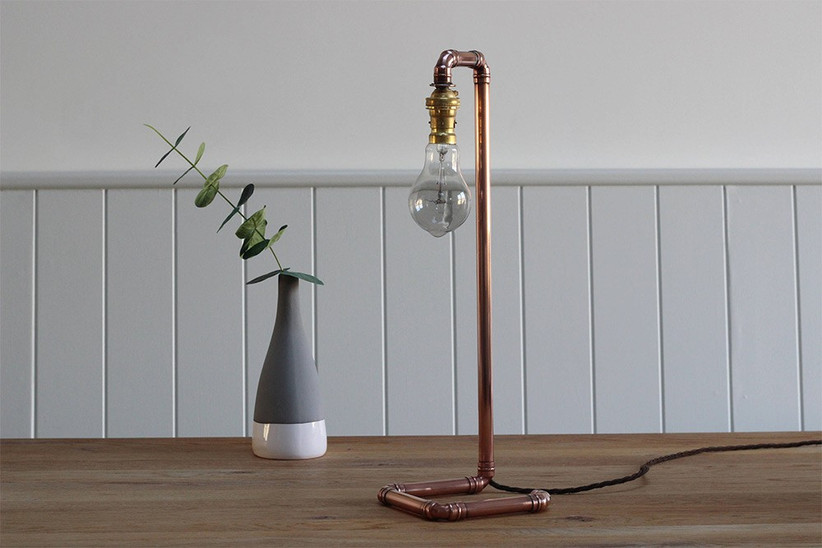 Add some industrial style to your home with this stylish copper lamp from Halkes Copper Work. It will be a beautiful addition to your home and will look gorgeous sat on your bedside table or in your lounge as a constant reminder of your seven happy years together.
READ MORE: Fourth Wedding Anniversary Gift Ideas
Copper Table Centrepiece – Halkes Copper Work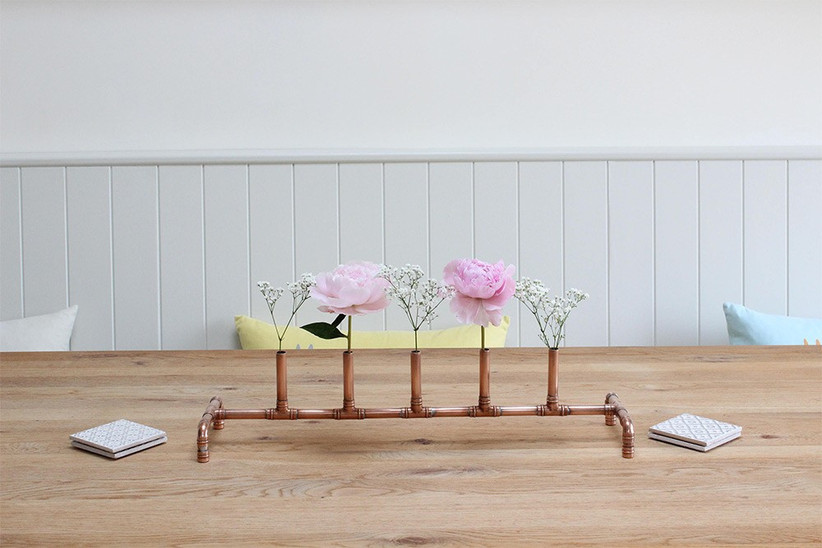 Another gorgeous design from Halkes Copper Work – give a traditional bouquet an industrial makeover with this gorgeous vase-style table centrepiece. Bonus points if when you gift this to your other half you fill with with the same flowers featured in your wedding (and if you're not quite sure what they were then our guide to wedding flowers may help!).
Handmade Copper Heart – Copper & Hall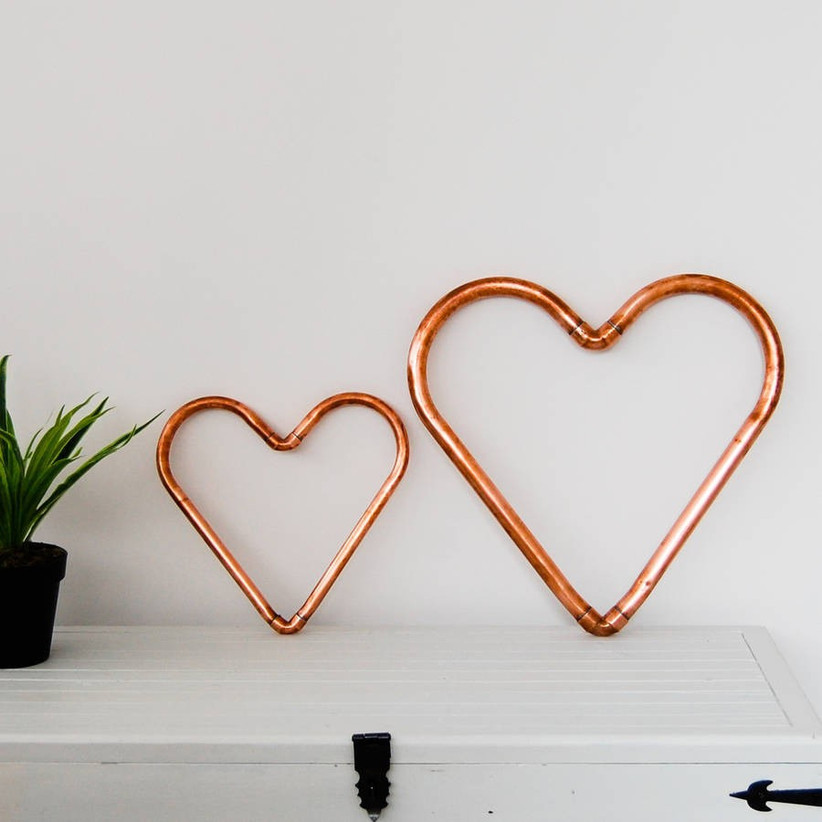 If you have come over all romantic then this handmade copper heart decoration will be the perfect choice. This handmade copper heart from Copper & Hall is available in a range of sizes and is the perfect romantic gift to celebrate seven years of marriage.
Copper Pineapple – All Things Brighton Beautiful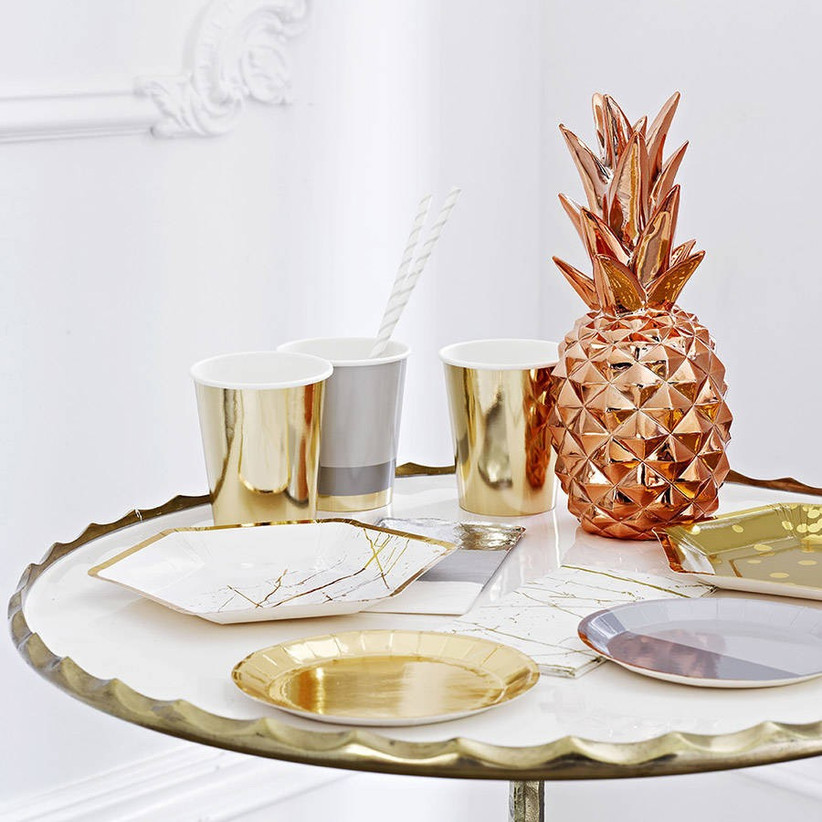 Turn your home into an instagrammer's paradise with this copper pineapple from All Things Brighhton Beautiful. This fun decor piece will be a fab addition to your home and will be a fun reminder of this special wedding anniversary.
Hammered Copper Wine Cooler – Becky Broome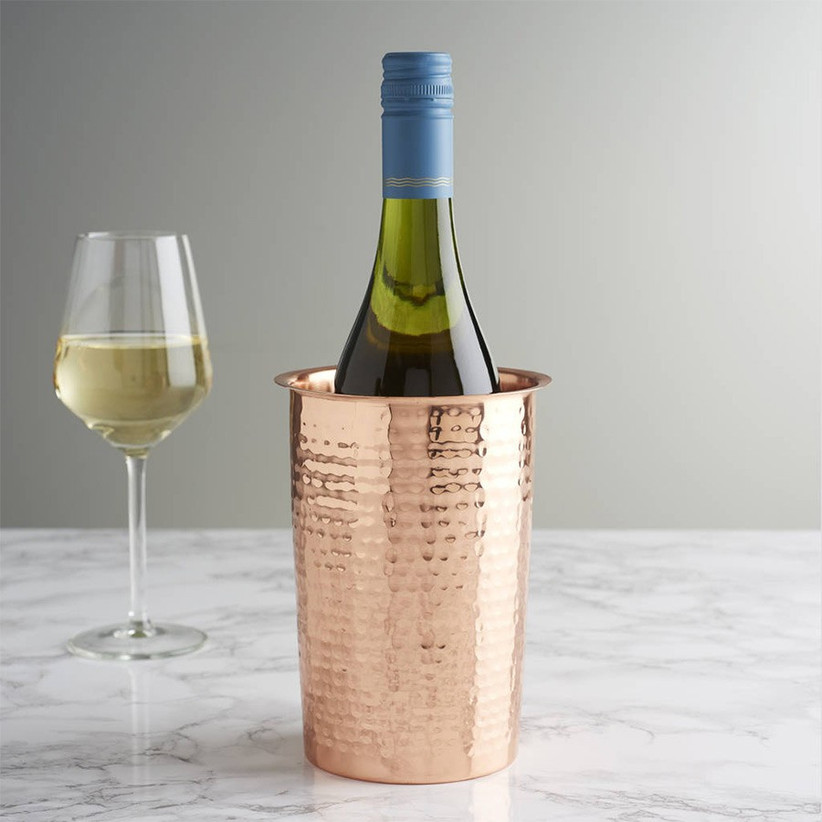 This hammered copper wine cooler from Becky Broome is so pretty and can be used again and again as a reminder of your special anniversary. If you want to give this gift some extra sentimental meaning then include a bottle of the same wine you had at your wedding.
Hand Painted Copper Dinosaur Planter – Dingading Terrariums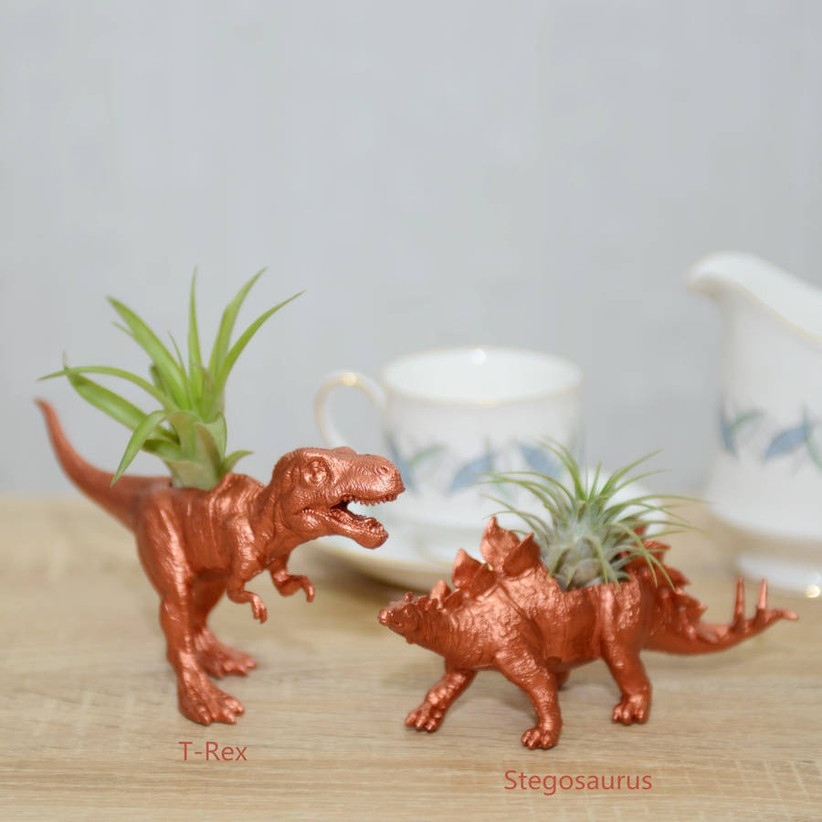 What do you get the person who literally has everything? Copper dinosaur plant pots of course! These cute copper planters will be a completely unexpected gift and are a great talking point for your home.
Rose Gold and Morganite Ring – Dori Ring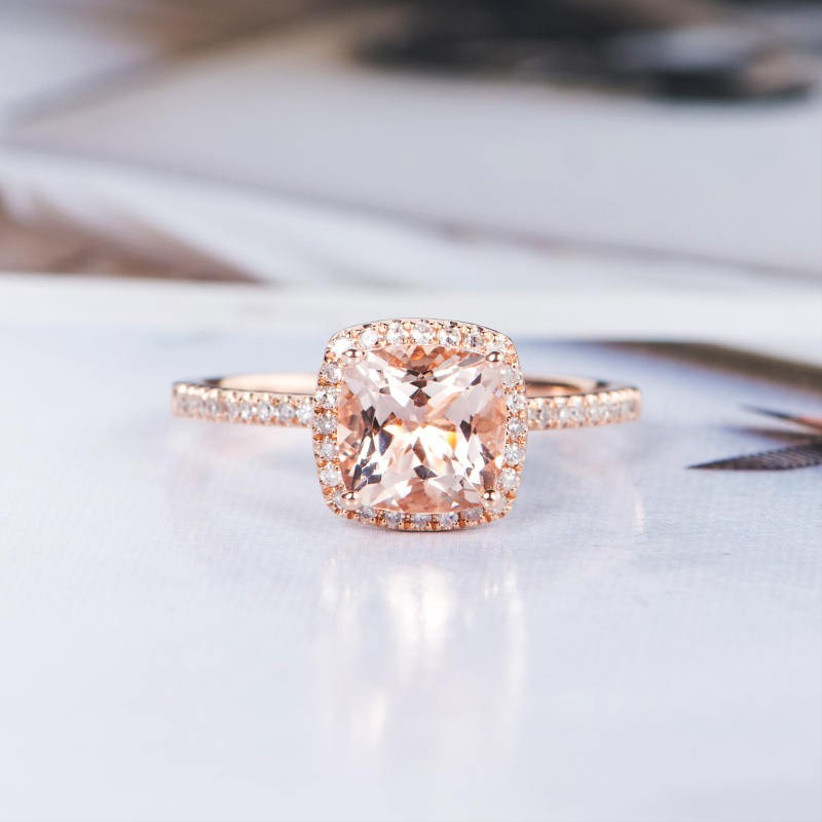 Ok so this isn't technically copper, it's rose gold BUT it's so beautiful we're pretty sure your other half won't mind! This gorgeous ring includes a cushion cut morganite stone is surrounded by a halo of diamonds as well as a half diamond eternity band, we are in love.
Wool Anniversary Gifts
Said to represent the comfort and warmth you feel in your marriage after seven years together, a wool gift will be a cosy gift and you have plenty of ways to get creative.
DIY Chunky Knit Blanket – Wool Couture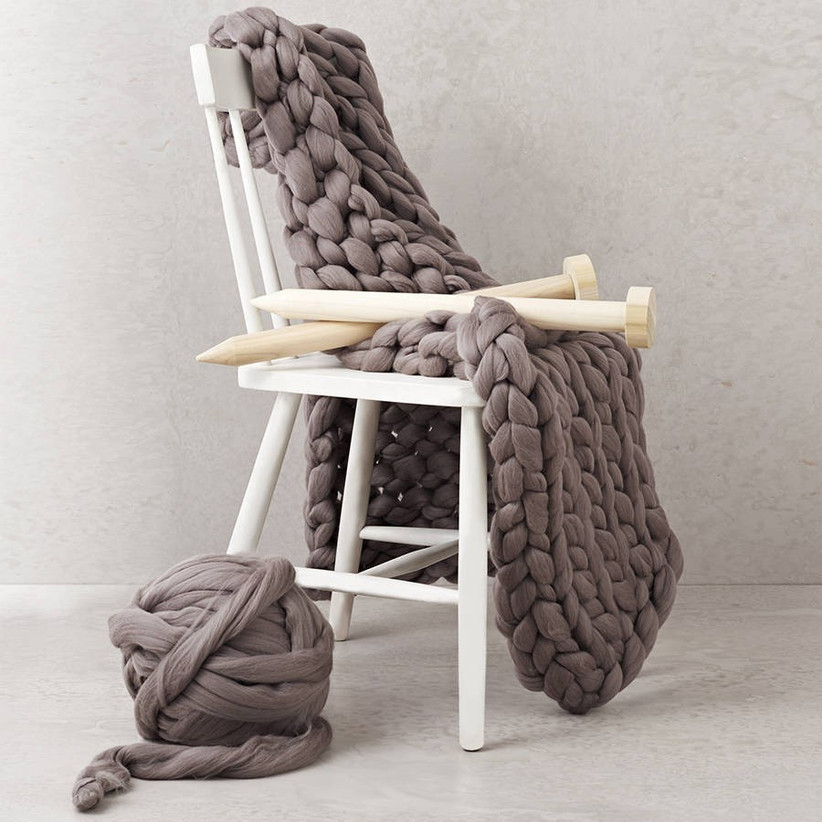 We are obsessed with this chunky knit blanket from Wool Couture – if you want to give your partner a gift you have put time and effort into then knit this DIY blanket yourself and give them the completed product. If your knitting skills aren't up to scratch and your other half is the creative one then gift them the DIY set so they can create something extra special.
Alpaca and Merino Wool Mittens – Poppy Warwicker-Le Breton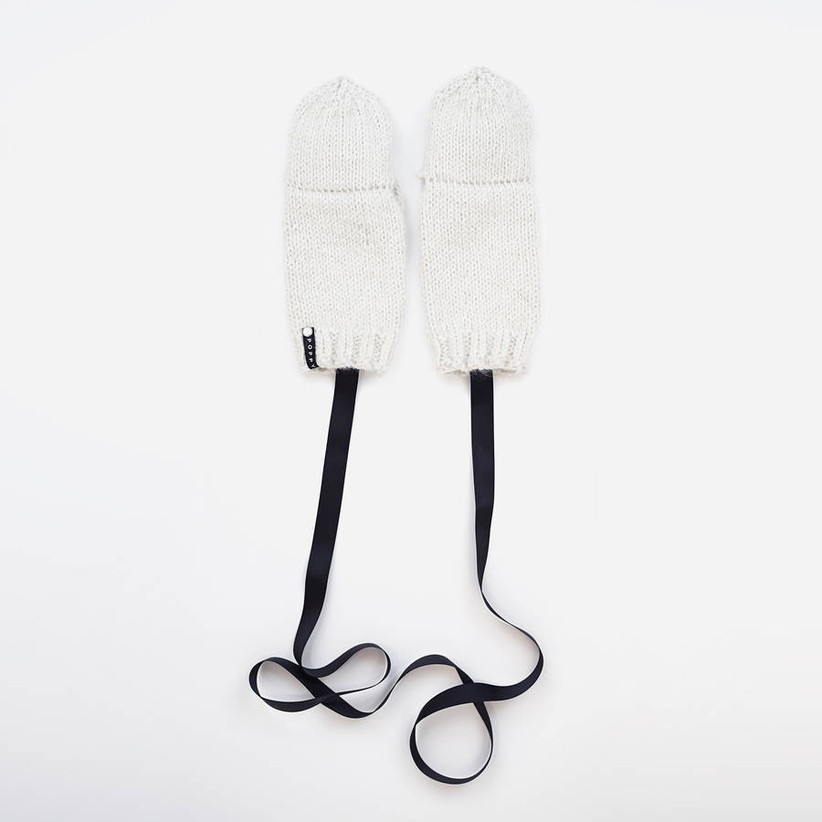 How adorable are these alpaca and merino wool mittens from Poppy Warwicker-Le Brenton? We think they would make an perfect wedding anniversary gift, particular if you had a winter wedding.
Pure Silk and Wool Scarf – Vida Vida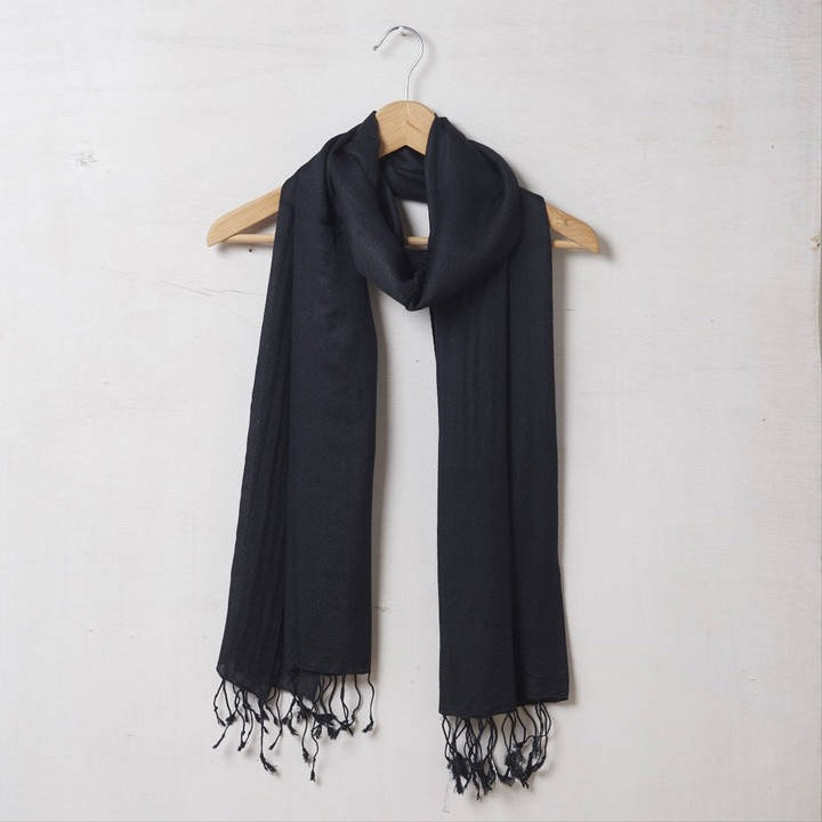 Add some luxury to your wool wedding anniversary gift with this gorgeous silk and wool pashmina from Vida Vida, available in a range of colours, it will be a classic staple for your partner to add to their wardrobe and they will think of you every time they wear it.
Desk Set Anniversary Gifts
Stationery lovers rejoice! The modern seven year wedding anniversary gift is a desk set. If you have a serious stationery addict for a spouse then forget the copper and wool and gift them with a cute desk set.
Leather Mini Desk Set – Ginger Rose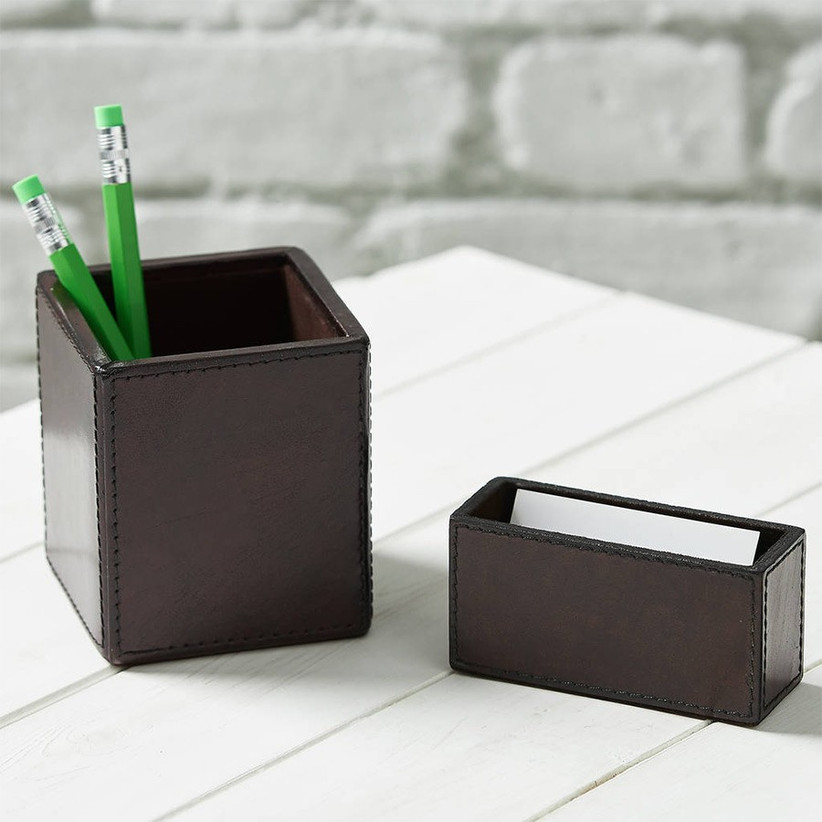 This leather desk set from Ginger Rose is timeless and will be a stylish and sophisticated addition to any desk – even better it can be personalised so you can add a name or a romantic note for your loved one.
Wooden Desk Tidy – Mijmoj Design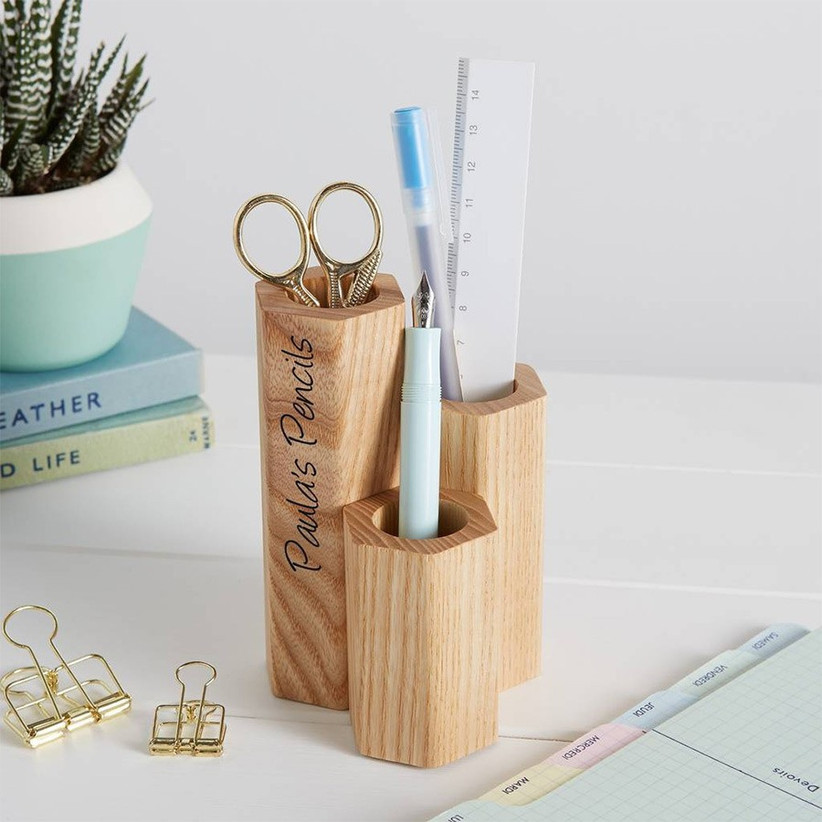 This wooden desk tidy is perfect for both desk bits and bobs as well as makeup brushes and nail files. Personalise with your partner's name for an extra special touch.
If you are looking for romantic ways to celebrate your wedding anniversary then also don't miss our favourite date night ideas.