15th Wedding Anniversary Gift Guide: 32 Traditional & Modern Present Ideas
Our 15th wedding anniversary gift guide is packed full of ideas to celebrate 15 years of marriage with the traditional gift of crystal or the modern gift of a watch
We have included third party products to help you navigate and enjoy life's biggest moments. Purchases made through links on this page may earn us a commission.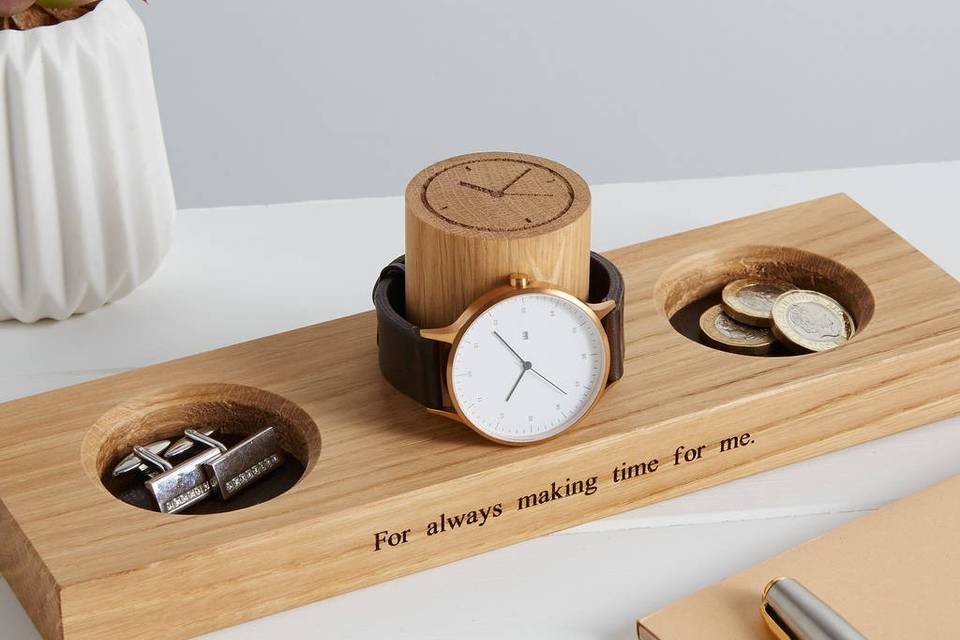 If you're about to celebrate your 15th wedding anniversary then congratulations. The traditional gift for a milestone 15 years of marriage is crystal. However, if you'd prefer to go with a modern gift alternative, a watch is the suggested gift for this anniversary. After all, 15 years is a long time and what better way to nod to that than with a watch!
If you're buying a 15th wedding anniversary gift for a couple you know then you'll also find a great selection of gifts that are simply perfect for your favourite married couple – all at a wide range of price points and styles.
From the finest crystal Champagne flutes to on-trend watches, we've found 32 amazing 15th wedding anniversary gifts to celebrate this special day.
Crystal Wedding Anniversary Gifts
Keep things traditional and classy with a crystal wedding anniversary present. From jewellery to crystalware, you have plenty of options when searching for a crystal-inspired gift.
1. Sterling Silver Crystal Pave Ring Bracelet – £24, Ashiana London
We love the idea of gifting your partner with something they can wear every day, and we adore this sterling silver crystal bracelet from Ashiana London. Pretty enough to be special but delicate enough to wear daily, it's a total winner.
2. Silver Champagne Flutes With Crystals – £80, Hitched Shop
Toast to 15 years of marriage with these stunning crystal-embellished Champagne glasses that can be engraved with your own special message. For a classic gift that beautifully suits the crystal theme, these gorgeous glasses would be perfect.
3. Waterford Crystal Lismore Photo Frame – £105, Havens
We adore this beautiful Waterford Crystal photo frame from Havens, available in a variety of frame sizes. If you're looking to earn some extra brownie points, you could fill the frame with a treasured wedding photograph.
READ MORE: 85 Wedding Anniversary Wishes: What to Write in a Wedding Anniversary Card
4. Dartington Crystal Copa Gin Glasses – £45 for Six, John Lewis
If you know a couple who love a G&T then these Dartington Crystal gin glasses would be the ideal gift for them. With six in a set we bet that means you'll be invited round for some celebratory gin in no time!
5. Barewell Cut Crystal Martini Shaker – £105, Soho Home
Jazz up the bar cart of your married besties or your other half, with this fancy crystal martini shaker that will have them feeling as though they're sipping cocktails in a swish London bar!
6. Personalised Crystal Pen – £16, Hurleyburley
If you're looking for an anniversary gift for someone quirky who has everything, then we feel pretty confident they won't have a personalised crystal pen. These glittering pens from Hurleyburley are filled with tiny crystals, come in a range of colours and can be engraved with your own special message.
READ MORE: The Best Anniversary Gifts for Couples
7. Waterford Crystal Lismore Black Crystal Bowl – £115, Selfridges
Add some sparkle with the glittering Lismore bowl from Waterford Crystal. The traditional design of the crystal combined with its contemporary dark colour makes it the perfect sentimental gift to celebrate 15 years of marriage.
8. Crystal Opal and Diamond Ring – £420.69, NY Fine Jewellery
This vintage-style ring features a pretty crystal opal centre with a spray of baguette diamonds. If opals aren't your partner's thing, you can choose from a variety of centre stones, including diamond, sapphire, aquamarine, emerald and ruby, so you can pick one they'll adore.
9. Utah Crytsal Vase – £473, Skandium
This unique crystal vase can be displayed in the home to make every day feel extra special. We love the statement cut crystal pattern which will shine beautifully in the sunlight.
READ MORE: The Best Poems to Write in Your Anniversary Card
10. Agate Crystal Wine Bottle Stopper – £20, Nikita by Niki
15 years together is something to celebrate so why not have a toast with a glass of Champagne? If you don't quite finish the bottle you can use this pretty crystal bottle stopper, an alternative spin on the traditional 'crystal' anniversary theme.
11. Dartington Crystal Cushion Small Posy Vase – £27, John Lewis
Not all crystal gifts have to be clear y'know! If your partner is a lover of colour (us too!) then this amethyst posy vase is likely to go down a treat!
12. Versace Bright Crystal Eau de Toilette – £59, Boots
Often considered to be one of their very best perfumes, Versace Bright Crystal is sure to add an extra level of luxury to your better half's life. With tones of lotus flower, magnolia, and pomegranate, its sweet scent is sure to delight the senses.
13. Crystal Glass Whisky Decanter and Tumblers Set – £60, John Lewis
This classic decanter and glass set is the perfect choice for any whiskey enthusiast. What a truly glamorous way to add an extra level of luxury to your home!
14. Crystal Floral Drop Earrings – £14, Urban Outfitters
With their bright pink and purple colours, dazzling crystals, and timeless gold-tone setting, these crystal floral drop earrings are a treat for the eyes. Their fun design is sure to add whimsy to any outfit, making them the ideal gift for those who love to add a bit of fun to their look.
15. Personalised Brushed Silver Cufflinks With Crystal – £22.99, Magpiegift
These sleek cufflinks feature a more subtle touch of crystal elegance and can elevate a look within seconds. With the ability to add your own personalisation in the form of initials, you can create a one-of-a-kind gift.
16. Digital Thermos Flask With Swarovski Crystals - £44, Diamond Affair
This is not your average drinking flask! Covered in Swarovski crystals, this high-tech gadget features a Smart Temperature Display and a removable filter.
17. Crystal Candlesticks – £159, Skandium
These unique crystal detail candle sticks can be lit in the home to make every day feel extra special. We love the statement cut crystal pattern which will shine beautifully in the candlelight.
18. Crystallized Smartphone Case - £65, Swarovski
For the couple who has everything, why not go the extra mile to add a little bit of luxury to their everyday routine? This smartphone case exudes extravagance and is the perfect choice for those hard-to-buy-for loved ones.
Watch Wedding Anniversary Gifts
The modern wedding anniversary gift for 15 years of marriage is a watch. Take a look at some of our favourite designs to inspire you.
19. Apple Watch Series 6 – £349, John Lewis
Yes, this watch is a little on the spendy side but it's also a guaranteed hit. Sleek and stylish, the Apple Watch can track workouts, help to monitor heart health and help you out with directions – your partner will wonder how they ever lived without it!
READ MORE: The Best Fitness Trackers and Smart Watches
20. Cocktail Watch – £380, Swarovski
How smug would you feel if you found a gift that combined both the modern and traditional gifts for your 15th anniversary? Well, we've found it for you! This rose gold watch is also adorned with sparkling Swarovski crystals to make it even more special.
21. Neutra Chronograph Leather Watch – £139, Fossil
Is your spouse into classic styles? They'll love this Fossil watch that strikes the perfect balance between modern and traditional with its chronograph design and stylish tan leather strap.
READ MORE: The Best Anniversary Gifts for Parents
22. Lucky Bee Grey & Rose Gold Watch – £139, Olivia Burton
For something pretty and elegant, this pearl and grey Olivia Burton watch is delicate enough to be worn everyday but also special enough that it would be a perfect anniversary gift.
23. Samsung Galaxy Watch Active – £219, Argos
This amazing rose gold watch can receive calls, calendar reminders and notifications as well as track daily activity, making it a must-have accessory for any partners out there with a Samsung.
24. Mocha Matt Milanese Watch – £175, Coeur De Lion
From the stunning mocha dial, to the pops of colour from the sparkling Swarovski crystals, this watch from Coeur De Lion oozes sophistication making it ideal for a fashion-forward partner.
25. No.27 Rose Gold and Black – £165, The Camden Watch Company
Paying homage to the rich maritime history of Greenwich this all black timepiece from The Camden Watch Company is sleek and stylish. Not only is the design timeless, it's incredibly well crafted too so your partner can cherish this gift for a lifetime.
26. Personalised Pocket Watch – £50, Hitched Shop
If you're after something a little unique, why not opt for a pocket watch? Even better, this one from the Hitched Shop allows you to personalise it with your other half's initials and wedding date which is a really lovely touch.
READ MORE: 25 Personalised Anniversary Gifts
27. Chronograph Stainless Steel Watch and Bracelet Set – £399, Emporio Armani
Treat your partner this anniversary to a stunning watch and bracelet set from Emporio Armani. Featuring a deep blue sunray dial with gunmetal stick indexes, they'll look superb as a pair or worn on their own.
28. Pyper Gold-Tone Leather Watch - £149, Michael Kors
This modern everyday Michael Kors watch is a muted yet elegant accessory. Its brown leather, gold tones, and crystal embellishments are sure to elevate your everyday attire.
29. Vivienne Westwood Orb Pastelle Swarovski Crystal Leather Strap Watch - £225, John Lewis
For a sense of luxury and opulence, look no further than this stunning Vivienne Westwood timepiece. The simplicity of its leather strap is complemented perfectly by the intricate details of the Swarovski crystals and eye-catching iconic charm.
30. Crystalline Chic Watch - £330, Swarovski
Inspired by the natural beauty of a raindrop, this remarkable timekeeper contains an impressive 1,000 sparkling crystals. What better way to say 'happy anniversary' than this?
31. Classic York Watch - £169, Daniel Wellington
This timeless watch will remain fashionable for years to come. The eye-catching, polished rose-gold setting along with its croc-embossed deep brown leather makes it an eye-catching statement piece for both everyday wear and the most special of occasions.
32. Watch Stand – £49.95, Mijmoj Designs
Add something personal to your watch gift with a custom watch stand so they can store their new present safely at night. This stand comes with your choice of number of columns and brown leather-lined trays, and you can personalise a special message on the front and back.
If you are still searching for the perfect anniversary gift then browse our best anniversary ideas for him and for her.