10 Best Wedding Stationery Businesses in the UK According to Real Couples
Get ready to wow your guests with stunning save the dates, invitations, and more! We've rounded up the 10 best wedding stationery suppliers' in the UK, based on real reviews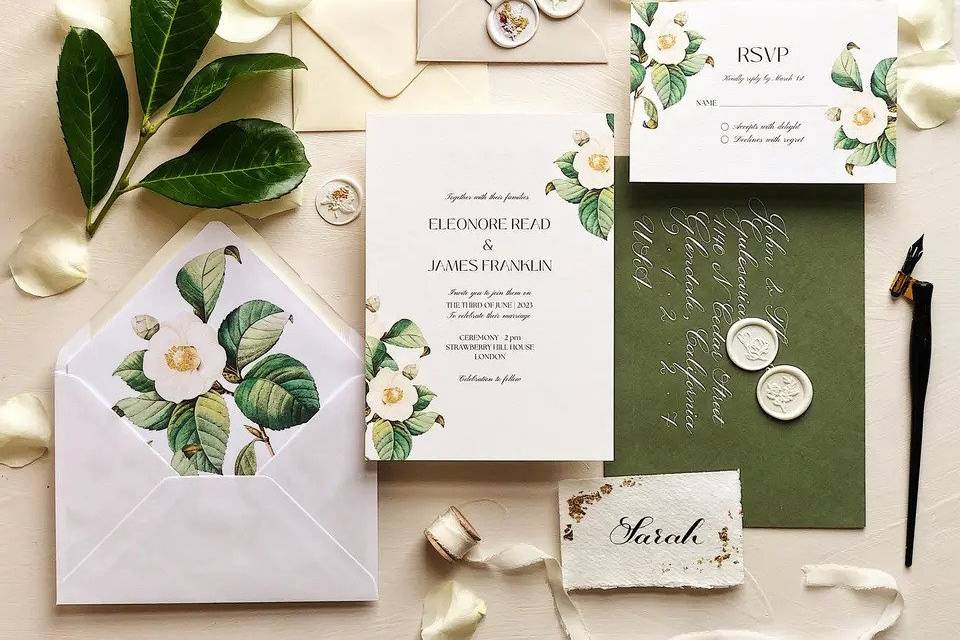 When it comes to planning your wedding, there are few elements more crucial than your wedding stationery. These carefully designed paper creations will provide essential information for your guests, both before your wedding and on the big day itself. We've rounded up the best wedding stationery businesses in the UK to show what's out there for all your digital and paper needs.
These hardworking creatives are the recent recipients of a Hitched Wedding Award 2023, based on real reviews from real clients. These customers didn't only receive beautiful wedding stationery, but also high-quality customer care from these top wedding stationery suppliers.
So, if you're still at the beginning of your wedding planning process and want to check out the best the UK has to offer, then you're in luck. You'll be spoilt for choice with these talented designers!
10 Award-Winning Wedding Stationery Businesses in the UK
We know there's so much choice out there when it comes to finding the perfect stationer for your wedding - you want someone whose work you love, but also who gets your style and your vision for your wedding day. So how do you know if you've found the perfect wedding stationery supplier? Real reviews are going to be your best friend here - and our Hitched Wedding Awards are based on exactly that.
So you'll know all these UK-based wedding stationery companies offer the very best service, as they've received such a high quantity of positive reviews from satisfied customers.
Elysian Wonder - West Yorkshire
Elysian Wonder is a wedding stationery company with a special talent for bringing their customers' imaginative artistic ideas to life. Based in Pontefract, West Yorkshire, owner Naomi Rogers has been working in the wedding stationery industry since 2016 and is passionate about bringing every vision, no matter how ambitious, to fruition.
Elysian Wonder wants to help every couple find a stationery style that's perfect for them, and to that end, will provide expert insight and advice at every stage in the planning process. Clients aren't limited to wedding invitations; they can also design save-the-date cards, name cards, place cards and more. Whether it's classic and floral wedding stationery or sleek and modern, you're sure to find the design for you.
Elysian has received six five star reviews from satisfied Hitched users, with one client saying, "Naomi was an absolutely wonderful communicator, and we managed to go above and beyond my vision for well within budget. I'll be keeping in contact with Naomi for my future wedding stationary and I would recommend her to anyone, especially anyone in West Yorkshire."
Naomi was delighted to receive a Hitched Wedding Award, saying: "I would just like to say thank you to everyone. As a small, relatively new business at the start of covid, the pandemic hit hard, as it did with everyone. I have had to almost rebuild the business since the pandemic, so to get this award is amazing!
"Feedback and reviews really help small businesses to thrive, and being able to create beautiful stationery for a couple is so rewarding."
Bee Invited Wedding Stationery - Edinburgh
Established in 2003, Bee Invited Wedding Stationery are a wedding invitations and stationery business based in a studio in Edinburgh. This small independent business sets itself apart with its friendly service and constant willingness to offer couples guidance when it comes to choosing their wedding stationery. All printing is carried out in-house, allowing for flexibility and last minute alterations.
Bee Invited can produce save the date cards, thank you cards, framed table plans, unique guest books and more! Different designs are available throughout the year, carefully tailored to each season. Bee Invited's wedding invitations come in a variety of styles including classic folds, pocketfolds and flat invite bundles, and all on-the-day stationery will be designed to match.
Invitations are finished off with luxury materials such as paper leaves, glitter belly bands, vellum and wax seals for that extra special finishing touch. Discover more about wedding stationery paper types here.
Bee Invited's gorgeous stationery and high-quality customer care have earned them 27 five star reviews on their Hitched listing. One client wrote "Absolutely delighted with all our wedding stationery from Bee Invited. So many of our guests commented on how beautiful everything was. Gillian was a pleasure to do business with and communication throughout was first class.
"Nothing was too much bother to her, even when on several occasions we had to change or add on items. Delivery was prompt and very well packaged and I would definitely recommend this company to anyone looking for wedding stationery."
After receiving a Hitched Wedding Award, owner Gillian said "Winning this award is a huge honour in recognition of my work and the personal friendly service I provide. I am deeply thrilled to win this award again and appreciate every single fabulous review which made this achievable.
"Customer feedback means the world and it provides valuable trust for other couples considering Bee Invited. I would like to take this opportunity to thank all my amazing customers, I couldn't have done it without you."
ATW Creations - Essex
ATW Creations are a wedding stationery business specialising in bespoke wedding invitations and other stationery, all personalised to fit your unique wedding day. They also offer the option of choosing from the existing in-house collection designs. All stationery is created in Epping, Essex, and can be shipped all over the world.
No matter whether you want printed stationery or are after modern digital wedding invitations, ATW Creations has got you covered. Their passion lies in bringing your wedding illustration vision to life and create unique stationery that your guests will remember for years to come.
ATW Creation's satisfied clients have left five five star reviews on their Hitched listing, including one happy newlywed who said "ATW Creations produced the most beautiful stationery for our wedding, and I loved how transparent their pricing was. Amy was so helpful and accommodating from start to finish, the whole process was a lot of fun.
"Our guests commented on how lovely the stationery was, and the invitations brought the day to life. Thank you Amy!"
Owner Amy was thrilled to receive her Hitched Wedding Award and said "Winning the Hitched Wedding 2023 Awards really meant the world to my small business. Having started this business a few years ago, to win an award shows we are fully trusted, appreciated and people love what we do, which is just amazing!
"We can't thank our couples enough who are so kind to leave us a review, and we really look forward to the next year and what's in store for us."
Design Inspired By You - Wiltshire
Based in the Wiltshire village of Trowbridge, Design Inspired by You is a wedding stationery designer that specialises in bespoke stationery and paper goods. Owner Jess listens closely to each client's creative ideas and uses this to craft tailor-made stationery inspired by their sense of style. According to Jess, working closely with the client is the bets way to ensure a perfect collection.
It's not just wedding invitations on offer here: customer can also collaborate with Jess on bespoke save-the-dates, thank you cards, menus and more, which can be personalised with an illustration of your venue. Embellishments such as fine line illustrations and foil printing are also an option.
Design Inspired by You has received seven five star reviews, each packed full of praise. This happy customer commented "Jess is a fantastic creator and designer! Nothing was too much trouble and everything gorgeous and delivered on time. She has so many fresh ideas and and a great sense of style that completely matched what I had in mind for our special day.
"Very much an 'anything is possible' bespoke service with really high standards and top quality. Highly recommend!"
On receiving her Hitched Wedding Award, Jess said "Wow, what an amazing start to 2023! I feel so lucky to have worked with the most amazing couples last year. Giving a really personal customer experience when working on your wedding stationery is super important to me. Thank you so much to you all - I am so excited for this year!"
The Illustrated Invitation - Somerset
The Illustrated Invitation is a family-owned-and-operated wedding stationery company based in Taunton, Somerset. This business specialises in personalised pieces with sketches of your chosen wedding venue which will feature throughout all elements of your wedding stationery suite. The Illustrated Invitation can cater to couples throughout the UK, thanks to their national mailing service.
Not only will your stationery feature a customised sketch of your venue, but you can also personalise the colours, fonts and wording to complement your style and wedding theme. Upon request, clients can receive a sample pack and a product proof before fully confirming their commission, and orders can be staged so that elements like place cards and seating plans can be ordered closer to the day. See some of our favourite illustrated wedding invitations here.
The Illustrated Invitation's high-quality bespoke products have earned them 52 glowing reviews, including one from this happy newlywed: "Rachael and Jamie are fantastic. They produced beautiful invites and stationery for our wedding and we were delighted with the quality as well as value for money.
"Rachael was fantastic at communicating with us, responding to all emails quickly and helpfully. I would recommend them to anyone looking for wedding stationery!"
Owners Rachael and Jamie were thrilled to receive a Hitched Wedding Award, saying "Getting reviews from our customers is amazing, and we get such a buzz when we know that we have exceeded expectations or really helped to make someone's day perfect with all the little touches that stationery can add.
"As we are also a small family business and only take on a certain number of orders at any one time, this allows us to provide a personal touch too as we are passionate about the service we give. So to get an award as a result of our customers' reviews is really the cherry on the cake. Thank you so much to our lovely Hitched customers!"
Stephanie Grace Bespoke Stationery - Greater Manchester
Oldham-based Stephanie Grace Bespoke Stationery is a designer of bespoke stationery for weddings and other special occasions. Owner Stephanie works closely with each of her clients and is passionate about listening to their ideas and preferences, as well as flexing her creative muscles. With a degree in Graphic Design and years of experience, you're in good hands with Stephanie.
Stephanie's services will always begin with a consultation where you can share your creative vision, whether this is for a full stationery packages or individual designs. You can choose from RSVP cards, seating plans, welcome signage, table numbers and much more. Stephanie will also take your wedding theme into account, especially when choosing colours and materials.
Stephanie's satisfied Hitched customers have given her five five star reviews, including one from this nearlywed: "Stephanie is SO talented. She designed our bespoke save the dates and really listened to us to understand exactly what we were looking for. The process was really fun and fast!
"She made beautiful some additions we didn't even know we wanted, and we loved them. We got so many lovely messages about our beautiful save the dates. I can't wait for her to design our invitations next!"
After receiving her Hitched Wedding Award, Stephanie said "Winning an award within 18 months of setting up my wedding stationery business was completely unexpected! Receiving feedback from my couples fills me with so much joy, and the importance of real opinions allows others to feel like they can trust me with just one part of their special day.
"I am so grateful for anyone who believes we can produce the perfect stationery for them, the kindness and patience is never under-appreciated."
Ivy & Gold Stationery - East Riding of Yorkshire
Ivy & Gold Stationery is a wedding stationery business that specialises in crafting unique and striking wedding stationery packages. Based in East Yorkshire, owners Steph and Sami create stationery that displays their clients' personalities and complement their wedding theme. From the traditional to the modern, Ivy & Gold Stationery can bring make your wishes come true.
No matter where you're tying the knot, Ivy & Gold can tend to your needs. Clients can either choose designs from the gorgeous pre-existing collections, or work with Steph and Sami on developing a personalised design for your wedding invitations, save the dates, welcome signs and more!
11 glowing reviews can be found on Ivy & Gold Stationery's Hitched listing, full of praise such as "From start to finish we had such a perfect experience with Ivy and Gold. The girls took in everything I wanted and were so helpful with ensuring we had exactly what we were after. The invitations were beautiful and we received so many comments about them.
"My mum even ended up buying her own wedding invites from Ivy and Gold as she was so impressed by the quality and design of ours! Our on the day stationery was beautiful and again we had so many comments about how lovely it all was and how it tied together our tables. I couldn't recommend this company any more if I tried. The quality, the design, the timings and the service are all perfect!"
Steph and Sami were delighted with their customer feedback and Hitched Wedding Award, saying "It was a real shock to receive this award, yet we wouldn't have received this recognition without our lovely, loyal clients taking the time to share their feedback .
"We are so grateful that we are able to provide our services to our newly engaged couples and build a strong relationship throughout their stationery process with us. We cannot thank our clients enough for taking the time to review and share their feedback and photos of our stationery via Hitched."
Ivy White - Berkshire
Ivy White is a wedding stationery business based in Windsor, Berkshire, Business owner and graphic designer Rachel has years of experience working in the design industry, before founding her own design business in 2013. Since then, she has been working with couples and helping them to express their one-of-a-kind vision in their wedding stationery.
Clients can either choose between the beautiful in-house designs or a bespoke service for a more personalised result. There are a variety of finishes to choose from, including hot and digital foiling, wax seals and lined envelopes. No matter your brief or budget, Rachel can help you out - you can even organise a client consultation to fully explain your vision.
Excellent customer service is a cornerstone of Ivy White, and Rachel prides herself on her ease to order and making the design process fun for each client.
This excellent customer service and skilful design has earned Ivy White 25 five star reviews on their Hitched listing. One satisfied customer commented "It was a great experience working with Rachel. She was very quick to respond and was able to answer all my questions. When I asked for the invitation to be personalised, she gave me that option and it was nice to be able to decide what I wanted.
"She gave great advice on colour matching and I received samples very quickly to help me with my choices. When she delivered my invites she had been very kind and upgraded my RSVP envelopes! I'm very happy with how the invites look and would certainly recommend her business to others!"
The Liquid Letter - East Sussex
Brighton-based wedding stationery company The Liquid Letter is headed up by calligraphy expert Nina Jackson. Nina worked in the makeup artistry industry for 14 years before turning her artistic skills to paper. Nina's eye-catching bespoke creations are the perfect way to capture your guests' attention.
At The Liquid Letter, every product is made by hand and customised to perfectly complement your wedding day. Nina can provide wedding invitations, envelopes, place cards, personalised gifts and even more. Consultations can be arranged, the perfect opportunity for Nina to learn more about you and your vision for your wedding before getting to work on your dream stationery.
Nina's happy customer have left her 18 glowing reviews on her Hitched listing, including this one from a very satisfied newlywed: "Working with Nina on our wedding invites has been such a beautiful process. She was fully committed, kind and worked hard to encompass our vision and style. Just extraordinary. I will always recommend her to all of my friends and family. We couldn't be happier!"
After winning her Hitched Wedding Award, Nina said "l love creating beautiful stationery for my clients - whether they have a clear vision or a vague idea, I can work with them to bring it to life. From handwritten calligraphy and bespoke design to ready made wedding stationery - the range I offer can accommodate most people's needs and I dedicate myself wholeheartedly to any project.
"I know what kind of service and support I wanted for my wedding day and that is what I offer to every single client."
Always The Hostess - London
Modern, chic, elegant, luxurious - these are just some of the words that come to mind when looking at the designs from Always The Hostess. This London-based wedding stationery company is owned by Jules, also the lead designer, who has 15 years' experience in the design industry. She specialises in elegant yet bold designs and works with the best UK printers who offer vibrant printing and luxury card.
Sample invitations are available to view in person at the Always The Hostess shop in London and designs can be shipped to locations throughout the UK. Whether you're looking for RSVP cards, table numbers, menus or a full wedding stationery set, you can find it all here.
Hitched customers have left 12 glowing reviews on her Hitched listing, including praise from this satisfied client: "Juliana worked with us to create our dream wedding invites and also some wedding favours. Nothing was too much trouble and the work she does is truly 5 star. I would fully recommend and wouldn't hesitate to use her for any other invitation or design needs."
Jules was delighted to receive a Hitched Wedding Award, saying "We are strong believers in letting our designs speak for themselves. That being said, it is YOUR glowing reviews, which truly empowers our designs. I was so thrilled to find out that we have won a 2023 Hitched wedding award.
"We couldn't have done this without the fantastic feedback, which our amazing clients have very kindly taken the time to write. Thank you all for helping us get to where we are!"
Not sure when to send out your save the dates and wedding invitations? Don't fear; our wedding stationery timeline is here to help.