22 of the Best Wedding Planners You'll Want to Book Right Now
Ready to be matched with your dream wedding planner? These 22 suppliers are the best in the business, all receiving outstanding customer reviews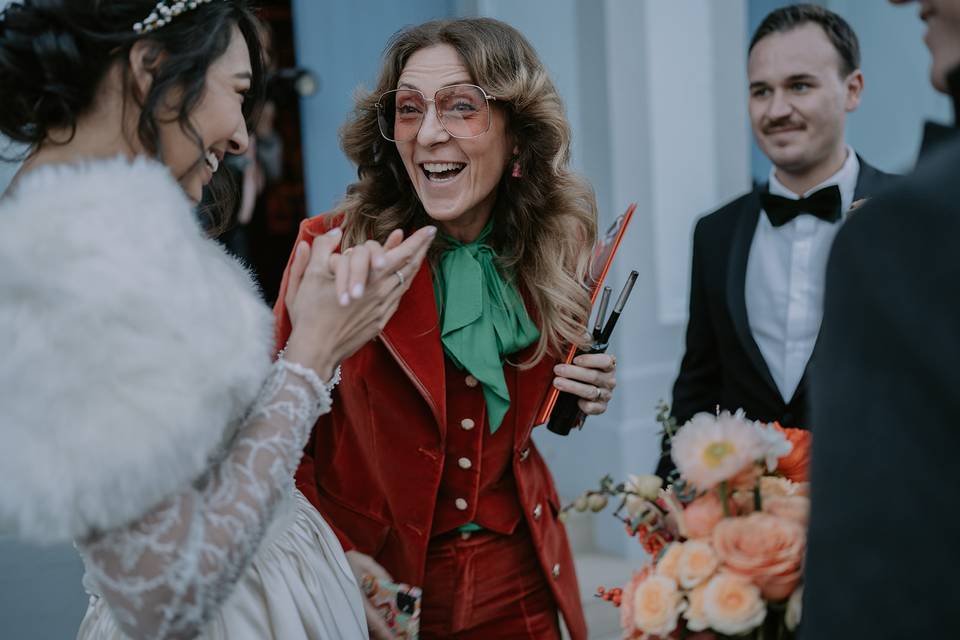 Thinking of hiring a wedding planner to help with the logistics of your wedding? We'd certainly recommend it! But when it comes to hiring any wedding supplier, with so much choice (especially in the Hitched marketplace!), it can be hard to whittle it down to just one.
Luckily for you, we've rounded up a list of some of the most high profile and award-winning wedding planners in the UK for you to choose from. With hundreds of five-star reviews between them, these UK wedding planners have gone above and beyond for countless couples, helping them turn their wedding vision into a reality.
Booking a wedding planner may seem out of budget for some couples, but it really doesn't have to be. Some of these wedding planners have fixed costs starting at just £500 for a planning package and many work with couples who have wedding budgets much lower than the average wedding cost. Honestly, it's much more effective than a wedding planner book...
So many of these planners are one of our Hitched Wedding Award winners, meaning their couples have left them so many outstanding reviews in the last 12 months, we just had to recognise them as the best in their field! What's more, hiring a wedding planner doesn't have to mean hiring someone to plan your day from start to finish in its entirety.
In fact, almost all of these award-winning wedding planners offer a wide range of wedding packages which start from on-the-day coordination, for couples who just want someone there to take care of things on the wedding day itself, right the way up to full-frontal wedding planning where you can be as hands-off as you like.
22 of the Best Wedding Planners in the UK
Our roundup also includes UK wedding planners who offer services for destination weddings, weddings held in your own home and a range of other styles, themes and tastes including purely on-the-day coordination, which can really help if you don't have one at your venue.
And if that wasn't enough to convince you, just wait until you read their reviews. Some of the wedding planners featured in this article told us their Hitched reviews reduced them to (happy!) tears, and we can totally see why.
Ready to meet the best wedding planners in the UK?
Niemierko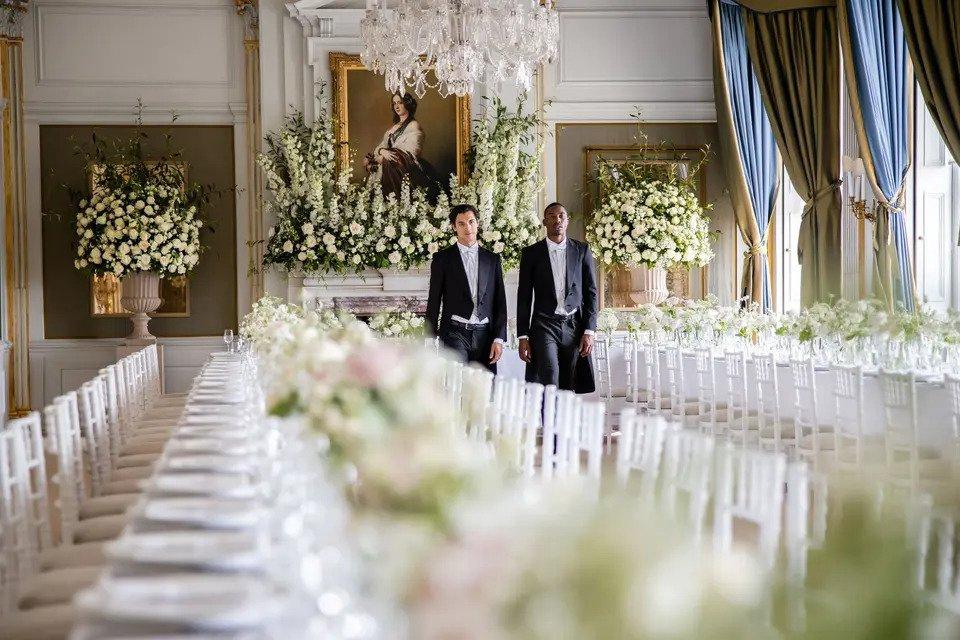 Arguably the most famous wedding planner in London, Mark Niemierko of Niemierko is no stranger to creating one-of-a-kind celebrations. He plans weddings and events in London, the UK and across the world, and has several years of experience to his name.
He's planned weddings for seriously VIP couples, including James and Julia Corden, and Hitched faves Rochelle and Marvin Humes (including their recent 10-year vow renewal!). He's also very familiar with catering for VIP guests too, having planned events with various names in attendance, including Prince Harry.
When it comes to bringing your vision to life, Mark is the wedding planner you need on side - he knows exactly what it takes to create a chic, unforgettable celebration and will work with you to make sure your wedding is everything you imagined. This expert wedding planner has also made numerous media appearances discussing wedding news and trends, including on the BBC and for Vogue, Vanity Fair, the Telegraph and more.
Mark is also a regular contributor to Hitched, most recently sharing his expert input as a celebrity wedding planner to our celebrity wedding trends article, and our yearly wedding trends report. Mark has 100% positive reviews from Hitched couples who have used his wedding planner services, with one five star review reading: "Our wedding was a two-day event with guests from all over the world, so the planning had to be extremely well organized.
"Calling it a "logistical nightmare" is a huge understatement! The team made sure the whole thing ran without any complications. It felt absolutely flawless to us and all our guests. Mark is an amazing combination of crazy creative energy with ultimate attention to detail. The event was outrageous, visually stunning and seamlessly executed.
"Our wedding has been the ultimate party people still talk about. I can't tell you how many times I have been told by friends and family that it's the best event they've ever attended. I will never use another event planner again. Mark Niemierko and his team are simply the best in the industry."
Events of Splendour Wedding Coordinators
With more than 15 years of experience in event planning and the wedding industry and their very own in-house wedding photographer and venue stylist, you'll be in very good hands hiring Events of Splendour as your wedding planners.
From sourcing suppliers and coordinating on the day, to planning the finer details and helping couples realise their dream wedding vision, the team here are dedicated to removing the wedding planning stress from couples so all that's left for you to do is enjoy your day.
And don't just take our word for it, Events of Splendour have seven five-star reviews on Hitched and are recommended by a whopping 99% of their couples. One customer said, "Fantastic service - very professional and went above what we'd asked for. Even though it was a last minute booking, I received first class standards. I'd definitely use them again."
Adding to that, another customer shared just how impressed they were with the finished product, explaining, "Events of Splendour did such an amazing job of transforming the venue. It was just absolutely stunning and Claudette managed to pull off exactly what I wanted. From the décor to the lighting it was simply beautiful.
"It was one to remember. Would I use them again? Definitely. Would I recommend them? Most certainly!"
Just About Weddings
Helping to plan celebrations in the UK as well as destination weddings, the team at Just About Weddings are completely dedicated to helping couples plan their day, their way. They pride themselves on their flexibility, promising to never specify or restrict the number of meetings, level or service or amount of hours you can have them for.
No matter what your wedding budget is, Just About Weddings can help. With an affordable fixed fee, there's no hidden wedding costs or unwanted surprises along the way. The "people's planner", the team here work with couples planning a £10,000 wedding to those with budgets of £100,000 plus and don't discriminate against a couples wedding budget.
Recommended by an impressive 100% of their customers and with 11 glowing five star reviews, it's clear to see why they won one of the Hitched Wedding Awards this year. One customer said, "Working with Nick and the team here to plan our wedding was probably one of the best decisions we ever made."
Another said, "After initially starting to plan our wedding ourselves with a family and busy lives, this became quite overwhelming and decided to look into a wedding planner to assist us. This was by far the best decision we made. Nick, we are so grateful for everything you did for us, you helped give us our dream day and we highly recommend you to everyone!"
Nick Harris, Managing Director at Just About Weddings said, "Winning the Hitched Wedding Award was a really lovely surprise. Being able to say that I'm now not just the largest professional wedding planner in the UK, but also recognised as one of the best, is a really wonderful thing, particularly as it's my client reviews that have given me that 'title'.
"Thanks to all the couples who have allowed me to be their dream maker, and to all the fabulous suppliers who have worked with me over the last year. Here's to the next year of dream making!"
Ann Nicholas Wedding Planning
After running a wedding dress boutique for 11 years, Ann Nicholas decided to venture into the world of wedding planning back in 2016 - and there are dozens of couples who are so thankful she did!
With a goal to provide both professional and stress-free wedding planning services that serve a range of styles and visions, Ann Nicholas Wedding Planning covers weddings in both London and the South East, but is happy to travel further afield for couples getting married elsewhere.
Whether it's helping you find the perfect wedding venue, look over wedding supplier contracts or help to coordinate on-the-day, Ann can make it happen. Offering full wedding planning packages as well as partial planning and on-the-day coordination, couples can get the help they need however substantial or minimal that may be.
With 38 amazing customer reviews, and 100% of her couples recommending her, it's clear to see why Ann has snagged one of our prestigious awards. One couple titled their review, "The words 'thank you' are inadequate…"
They went on to explain, "The words 'thank you' are simply inadequate to recognise the massive impact you have had on the design and delivery of our wedding day. We really appreciate your guidance and ideas, your coaching and your calmness, your absolute attention to detail and your ability to just get things done. I would definitely recommend to friends, family and anyone reading this."
READ MORE: Shannon Martin from the Apprentice Shares Her Dress Shopping Tips
Occasion Queens
On the day wedding coordinators Occasion Queens have more than 15 years of industry experience and specialise in bespoke and unique weddings, completely tailored to the individual couple and their vision - there is no one-size-fits-all with these guys!
When it comes to services, the Occasion Queens can take care of everything from venue consultancy to day-of coordination and have a number of flexible packages including their signature 'Queen Plan' which compromises of inspiration sessions, consultations, vendor recommendations, customised and bespoke timelines, on-the-day logistics and more.
Occasion Queens' couples cannot praise them enough, with many claiming that hiring the team was the 'best investment' they made in terms of wedding suppliers. One couple said, "I don't dare imagine what our wedding would have been like without Occasion Queens. They were absolutely incredible and I don't know how to thank them enough for making our big day better than we could have dreamed.
"My husband and I realised quite soon into the process that we're not exactly cut our for wedding planning - thank goodness we found Nina! Our inspiration session with her was amazing. It lasted over five hours due to our cluelessness and Nina patiently talked us through every detail of our big day.
"Despite seeming like the world's busiest human, somehow Nina always managed to reply to our emails remarkably quickly, supporting us fully throughout the run-up. She even did a Zoom call the morning of her holiday to help me work out a seemingly impossible logistical quandary.
"Nina was really sensitive to our desire to keep costs as low as possible, helping us source affordable but high quality suppliers. On the big day, Nina and Katie were absolute stars. They worked tirelessly and made sure everything went flawlessly. I really wish they could run my life for me! I honestly couldn't recommend Nina and her team more. I'm not really sure how they do what they do so well, but they're pretty magical!"
Penelope Weddings
Penny from Penelope Weddings offers several different wedding planning services and packages ranging from full wedding planning to lighter support. Ready to be your 'wedding guardian angel', Penny will be on-hand to ensure your wedding is all happy tears, laughter and dancing, ensuring everything runs like a dream.
Specialising in UK-based weddings, Penelope Weddings have experience planning weddings in a number of venue styles from luxury hotels and rustic barns to country estates and historic castles, meaning that no matter your wedding style, you're in good hands here.
And clients of Penelope Weddings agree, with one saying that Penny was "Professional, attentive and creatively exciting!"
They continued to say, "Penny organised the most perfect day for us! It was more than we could have ever imagined. For us, it was the small details that made it so special and she really does think of everything. We couldn't be more grateful."
With seven five star reviews and 100% of couples recommending Penelope Weddings, you're guaranteed an amazing experience here.
The Wedding Day Coordinators
When you think 'wedding planner', most of us instantly assume that means having a person or team organise the entire thing - but with The Wedding Day Coordinators, the experience is very different.
Specialising exclusively in on-the-day wedding coordination, you and your partner can plan the wedding of your dreams yourselves, but relax on the day knowing there are a team of pros who have everything under control.
Based in Kensington, London, wedding coordinators Zeleka and Maria have more than 17 years of wedding and event experience under their belts between them. With a team of eight professional on-the-day wedding coordinators, The Wedding Day Coordinators empower couples to enjoy their wedding day completely uninterrupted.
Proving they deliver the goods time and time again, this wedding planning duo have had almost 20 reviews and an impressive 100% of their couples would recommend them or use them again!
Speaking to their skills, one couple said hiring The Wedding Day Coordinators was the 'single greatest choice' they made when planning their wedding.
Another added, "By bringing in a wedding coordinator, you and your family are enjoy every minute of the day, knowing everything is in hand. From the first meeting to the big day, we always felt so confident and calm that everything was going to be okay! We couldn't have done it without them."
When speaking with Hitched, Zeleka and Maria from The Wedding Day Coordinators said, "Wedding couples are still learning about the difference between planners and on-the-day coordinators so it's an honour to hear first hand how our service is received and the impact it is having.
"Some of our reviews this year literally reduced us to tears, we love WhatsApp messages and cards from couples but when they post them on Hitched it allows other couples to hear how we can support them which is priceless for our business."
READ MORE: On-the-Day Coordinator Nina Beer Explains the Difference Between Coordination & Planning
Whole Lotta Love Weddings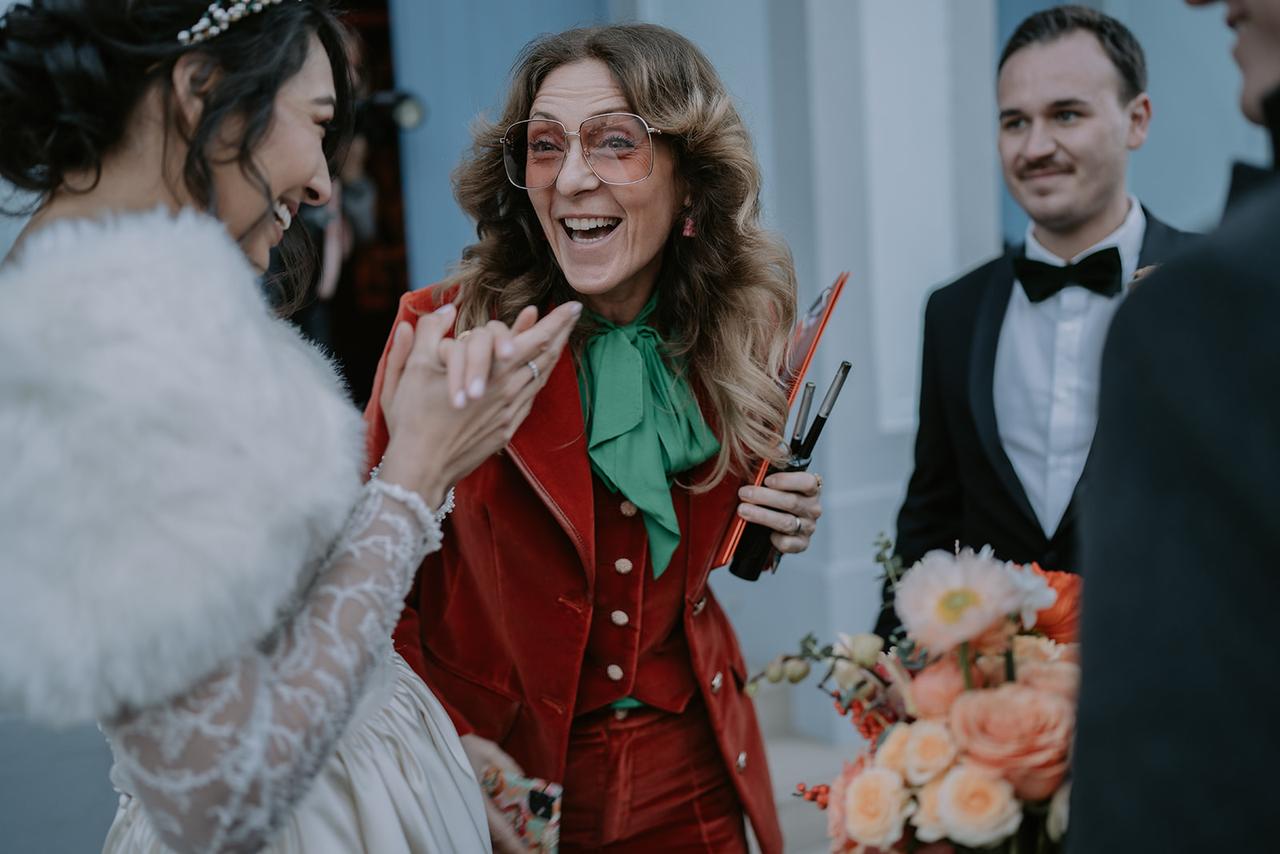 Zuza McKen, who runs Whole Lotta Love Weddings in South West London is a real champion for retro-inspired, non-traditional weddings. Anything that involves modernity, creativity and uniqueness is right up her street and that's evident when you look at the incredible and one-of-a-kind weddings she's planned.
Passionate about creating atmospheres and memories that'll last a lifetime, Zuza works with her couples to create events that really bring their unique visions to life. Perfect for those who want real guidance with their wedding planning, her full planning package sees her take care of everything from venue and supplier sourcing and design concepts to creating timelines and analysing the budget.
Loved by her couples, all of the reviews left for Whole Lotta Weddings are five-star and 100% would recommend to a friend. Referring to Zuza as the 'backbone of their wedding' one client wrote, "The stars aligned when we came upon Zuza - she wowed us the whole way through.
"What I loved about Zuza was her bold passionate energy, her warmth, her realness and her collaborative spirit. Thank you so so much for everything. Frankly it's a shame I only plan to get married once! Everyone book Zuza immediately."
LMJ Weddings & Events
If you and your partner are planning a festival-style wedding at a tipi wedding venue, are getting married at a dry-hire wedding venue or are planning to get married at home, Lauren from LMJ Weddings and Events is your go-to!
Specialising in all of the above, Lauren's wedding planning business is based out of Merseyside and aims to provide the most bespoke and personalised wedding planning service with a seamless feel from start to finish. With her keen eye for detail and optimistic attitude, it's no surprise Lauren's clients have complimented her incredible can-do attitude and professionalism.
One couple said, "If you are thinking of using Lauren as your wedding planner, do it! Having Lauren allowed us to relax and completely enjoy the build up to our wedding - we didn't feel stressed once as Lauren was constantly on top of things and generally several steps ahead of us!
"She thought of things we wouldn't have even considered and, as a result, the day was absolutely perfect. Simply put, hiring Lauren is the best money you could ever spend in order to make your wedding day magical."
100% of Lauren's couples said they would recommend her and she has seven glowing five-star reviews. Speaking to Hitched, she said, "What a fabulous surprise to win this award from Hitched. Being part of such a well recognised platform is great for couples planning their weddings.
"Receiving my couples reviews on Hitched warms my heart! I love hearing how I've made a couples day so perfect and it also helps to reassure potential new clients that I am worth the investment of hiring a wedding planner."
Rohita Pabla Weddings & Events
London-based wedding planners Rohita Pabla Weddings and Events are a company who specialise in luxury Indian celebrations both in the UK and world-wide. Talented wedding planner Rohita runs a passionate and precise team of planners who strive to add a touch of traditional Indian charm to every event they design.
Though luxurious celebrations are their speciality, thanks to their decades of experience, Rohita Pabla and her team can expertly plan events of all size from intimate home ceremonies to lavish weddings in a destination wedding. As well as full-service wedding planning packages, this Indian wedding planner also offers a range of other packages designed to suit a range of preferences.
Their packages include far more than just design, with services such as consultations, budget analysis, timeline creation, and management of suppliers all included in their fee! Having worked with Rohita Pabla and her team, one couple said, "We had Rohita Pabla and her team for our wedding and reception in October 2022. She was absolutely FANTASTIC!
"She was organised, supportive and had everything under control. All of this with a smile on her face throughout! I was so grateful to have her there on my wedding, it allowed me to enjoy my wedding stress-free. All my family also got on with her and praised her and the team for their efficiency. Thanks again, I will definitely be recommending her to all brides!"
OBOL Events Consultancy
Based in Essex and London, OBOL is an event consultancy and wedding planning company who specialise in milestone celebrations and love working with couples to bring their incredible visions to life.
A lot of couples worry that hiring a wedding planner means they won't be involved in the planning process, but this isn't the case with OBOL Events - they are committed to ensuring couples feel present and involved in their wedding planning experience without having to feel or deal with any of the stress - sounds pretty dreamy to us.
Dedicated to telling couples' stories through their events, they have worked tirelessly in dozens of weddings and their reviews reflect that. With five five-star reviews and a 100% recommendation rate, couples love that they do.
One reviewer said, "When looking for a wedding planner, I was mindful that I was planning an Asian wedding and there would be certain expectations on the order of ceremonies. When speaking with Loveth who represented OBOL Events, I immediately developed trust in her.
"She came to our initial introductory conversation having done research, asking intellectually curious questions which all went to show her attention to detail, and her genuine desire to create an event that was tailored to me, not a vision that she had rolled out before.
"I genuinely appreciated the great work she and her team did, and would 100% recommend her to anyone - don't assume you need someone who's done everything you want before, because Loveth will deliver on your vision regardless."
Speaking to Hitched, the team said, "OBOL is very grateful to be selected. We truly treasure our couples feedback, that's what drives us to wow our clients, and gives us the opportunity to implement improvements to our service."
Camilla Boniek Events
Originally from Rome, Camilla Boniek brings the Italian taste to London with her wedding planning company. Whether it's on the day support, wedding design, wedding consultations or full-blown wedding planning services, Camilla can make it happen for you.
With experience planning Christian, Catholic, symbolic and civil wedding ceremonies, Camilla is able to bring your vision to life. Whether it's getting married in a chic city London wedding or saying 'I do' in a scenic countryside setting, this award-winning wedding planner has done it.
Speaking about her Hitched Wedding Award, Camilla said, "I'm extremely happy I won this award! Thank you for all the amazing reviews - my greatest reward is to see my couples' happiness on their dream day. That's really my 'why'!"
Proving her couples' happiness really is the driving force of her business, Camilla has received ten five-star reviews on Hitched, all of which said they would recommend her services. One couple said, "If we had a doubt, she already had the answer. If we thought of something, she was already on it. Genuinely the best, most easy-going person to work with. We'd highly recommend her."
Several of Camilla's couples praised her positive attitude with many saying they'd hire her 'over and over again' if they could!
By Chenai
Calmness and collaboration are at the heart of everything that wedding planning company By Chenai do. Though located in West London, By Chenai have experience planning outstanding weddings in Surrey, the Cotswolds, Scotland and numerous other locations all over the UK.
Lead wedding planner and founder Chenai emphasises that this company aren't about 'style over substance' - creating meaningful, bespoke events filled with stunning details is what they do best. Whether you're tying the knot in a marquee at home, or in a grand and luxury wedding venue, they promise to create your dream day.
Loved by their clients, one said, "Words cannot describe Chenai and her team. They are just perfection in every way. As I look back at photos from our wedding and relive every moment, I see Chenai's input throughout - from the music and the venue, to flowers, invites and food.
"We were living abroad at start of our planning and Chenai helped with every detail; the extensive venue search to find the one venue that ticked every box, the guest list, the design, the website, the budget. Chenai was always on the other end of a video call to discuss anything, no matter how small - and she also made us feel that nothing wasn't important to her."
The Planner
Having planned more than 100 weddings in eight years, it's safe to say The Planner wedding planners are experts in what they do. As well as planning countless weddings and bringing couples' visions to life, Emma from The Planner has helped and coached several wedding businesses to reach their goals, too.
In her own words, being a wedding planner is more than a job for Emma, it's a way of life. She loves to design and plan wedding events that really speak to a couples' uniqueness and tells their story. Offering full logistical planning as well as day management services, Emma can also help couples find their dream wedding venue and suppliers and can advise on managing the wedding budget, too.
Every single one of Emma's reviews are five-star, with 100% of her reviewers saying they would recommend her wedding planning services to a friend. Proving she's a problem-solver and excellent at what she does, one couple said, "We only engaged Emma's services in March when we realised that we may need the help of a professional to finesse our ideas and help us deliver on them.
"Emma was fantastic from the off. She immediately understood our ideas, made them workable and in many instances better. She discovered a major issue with the caterer we thought we had booked and resolved that situation promptly, sourcing a brilliant caterer local to the venue. Her idea of bloody Marys for the Sunday brunch was a highlight among many over the weekend!
"Nothing was too much trouble. She was always available, had answers to every question and was an absolute pleasure to deal with."
Speaking to Hitched, Emma said, "It is such an honour to win an award based on the words of those I have worked for. I love what I do and who I do it for, so this really means the world. For those looking to hire suppliers for their best day, having the honest words of others brings not only kudos but trust. So I have to give a huge thanks to my couples for taking the time and to Hitched for the platform."
Atelier Weddings
If you're looking for an award-winning wedding planner who can help you with every aspect of your special day from planning a hen party and helping with wedding invitations to styling the happy couple and finding you wedding suppliers, Atelier Weddings are your people!
Ready to turn wedding dreams into reality are the team at Atelier Weddings, run by wedding planner Kelly who has more than 13 years of experience in the industry. Ensuring they have something for everyone, their services range from full wedding planning to on-the-day coordination and everything in between.
When speaking to Hitched about their award, Kelly said, "We are thrilled to announce that we have won one of the Hitched Wedding Awards! This recognition is a testament to the hard work and dedication of our team.
"We would like to extend our heartfelt thanks to our wonderful customers who have trusted us to make their special day unforgettable. Your love and support means everything to us. Thank you for choosing Atelier Weddings, we look forward to creating many more beautiful memories together."
And speaking of their couples, they had some pretty nice things to say about them back. Amongst their 12 five-star reviews, words like 'seamless experience', 'trusted company', 'incredibly easy', 'flexible' and 'amazing' - if that's not an endorsement, we're not sure what is.
Diamond Days Events
Diamond Days Events and its owner Lorraine Faccini have been organising weddings and bespoke events for more than 30 years. In that time, they have organised hundreds of weddings that span over several themes and styles. From intimate weddings and grand soirees to elaborate affairs and destination weddings - Lorraine and the team have done it all!
Offering a range of services, Diamond Days Events can help with designing wedding invitations, referring the best suppliers, full wedding planning services and even planning a wedding abroad.
With 11 reviews and 98% of couples who would recommend them, it's no surprise they were one of our esteemed wedding award winners this year. One couple said, "Lorraine and the entire Diamond Days Events Team were incredible.
"From start to finish they completely lifted all the stress and made wedding planning the enjoyable process it's meant to be. The décor was beautiful and exactly as requested. On the day, Lorraine was wonderful and took control of hiccups so that my husband and I did not have to worry! I could not sing her praises more."
When speaking to Hitched about the award, Lorraine said, "Winning a Hitched Wedding Award for the second year running is a wonderful achievement for Diamond Days Events. Thank you to all my lovely couples who took the time to write a review, I'm so grateful that you care.
"Winning this award means so much to me and it's helped my business flourish so much that when I won, my enquiries doubled! I am pleased to say that I have taken on more destinations now, with the most recent being Portugal. Keep the enquiries coming for your dream wedding!"
Spires Lonton
Spires Lonton are a wedding planning company based in East Central London, but fear not - couples who aren't getting married in England's capital can still enlist their services. In fact, owner Jess has arranged hundreds of weddings which have taken place all around the world!
From rustic countryside barns to luxurious elegance, Jess draws inspiration from each individual couple and helps them plan a wedding that is representative of who they are and what they want. With exquisite attention to detail and bags of creativity, she can really bring your vision to life and even spark ideas you didn't know you had!
Her couples have nothing but nice things to say about her - one said that hiring Jess to plan their wedding was 'quite easily the best thing we spent money on for the whole wedding' while another praised her experience and skills.
One reviewer said, "There is no question, you NEED Jess for your wedding. Jess not only helped us find our perfect wedding venue, but she truly mastered our vision and brought this together with some incredible supplier recommendations. She offers practical advice all the way through thanks to tons of experience. If you haven't already, secure Jess's services now!"
Francesca Lucibello Weddings
Getting married in Italy was one of the celebrity wedding trends we spoke about recently - so if you're not sure how to make your Italian wedding vision become a reality, you need to get in touch with Francesca Lucibello Weddings.
We'd always recommend hiring a wedding planner for anyone who's planning a destination wedding and the reviews and comments from couples who have used Francesca's services really help to explain why. From the initial design of the event to finding the best local suppliers for your wedding, they can support you from start to finish and help you plan your dream Italian wedding.
With seven five-star reviews and a 100% recommendation rate, she's clearly left her mark on her couples. One pair said, "Francesca's expert advice helped guide our vision to reality from planning entirely remote during the pandemic, to last second changes due to guests drop out, to all the extra time she devoted to us once we arrived, to surprising us with sweet little videos she recorded throughout the big day since we didn't have a videographer.
"She is professional, thoughtful, an amazing problem solver, and best of all a wonderful person. You know someone is incredible when every single guest mentions how great they are! We can't thank her enough for making our dream day a reality!"
Your Italian Wedding Planner
From one Italian destination wedding planner to another, Your Italian Wedding Planner is another incredibly talented industry professional who's ready to make your destination wedding dreams a reality.
Native to Italy, the business' owner Carolina relocated to the UK more than 13 years ago after her own experience planning her wedding in Rome inspired her to start helping others with the same goal.
Able to create completely bespoke wedding planning packages, Your Italian Wedding Planner is able to cater their services to whatever it is you need. Carolina's laid-back and friendly demeanor is what has made her such a hit with the couples she's worked with. She says, "For me, it's vital to establish an honest relationship with my couples, making sure the process is fun, personal and most of all stress-free."
Her couples rave about their experiences using Carolina as a wedding planner with nine five-star reviews and 100% of them recommending her to others.
Giving Caroline the title of the 'perfect wedding planner', one said, "I'm sure most couples say that their wedding planner was amazing, however I cannot put into words how perfect Carolina is. She made every single decision seem easy and simple and I can assure you I was not always an easy bride to deal with!
"Carolina brought so much joy to the planning of our wedding, which can normally seem stressful and overwhelming. Planning weddings in Italy is clearly what she was born to do. If we ever decide to renew our vows or have any other large parties or events without question we would 100% want Carolina to plan it with us."
When talking to Hitched about her reviews, Carolina said, "In this industry where a pretty Instagram and a well-made website are so important, I strongly believe that having real, heartfelt reviews is what really matters at the end it all: as a buyer myself I strongly rely on online reviews and I take time to read them and really try to connect with the 'vibe' of a certain supplier.
"There's so much you can learn about a business by reading its reviews, and I will be forever grateful to all my couples who have taken the time to sit down and write honest, heartfelt reviews about their experience with me as a planner!"
Lushurious Weddings
Specialising in luxurious, elegant wedding styling, Lushurious Weddings in Greater Manchester know how to style an event that'll really take your guests' breath away. The team here believe that your wedding day is the start of your very own personal fairy-tale and are committed to ensuring that it feels that way.
With extensive wedding planning packages available, couples can sit back and relax during the wedding planning process with full confidence that the team at Lushurious Weddings have everything under control.
After hiring them to plan their wedding, one newlywed said, "Lushurious weddings created the most intimate marquee wedding of my dreams and I will be forever grateful. Their vision and professionalism made me very confident in my choice and allowed me to be relaxed and feel less stressed during one of the most exciting times of my life.
"The communication was very good throughout the planning stages all the way through till the wedding day. The details that went into my wedding were amazing and I would certainly not have come up with those myself. So thank you so much and I definitely recommend Amira's services as she's got an amazing eye for detail and her work is just stunning!"
READ MORE: Who Pays for What at a Wedding?
Lucy Meehan Events Ltd
Located in Brentwood, Essex, Lucy Meehan is a wedding planner with more than 13 years of experience under her belt. Having planned a huge array of different wedding events, she's able to cater her bespoke wedding planning packages to exactly what you need.
From grand weddings at listed stately homes to intimate weddings hosted in your very own home - she's had experience doing them. A firm believer in developing a relationship with her couples as friends, not just clients, she's always around for a cup of tea or glass of wine with you to really get to know what your dream wedding day looks like.
A member of the UK Alliance of Wedding Planners and having planned weddings across the UK, here you have an experienced wedding planner you really can trust. Her couples agree, too! Amongst her 13 five-star reviews on Hitched, one read, "I am not sure exactly where to start, but hiring Lucy's services was the best decision we ever made.
"After three cancelled weddings due to Covid, we knew we needed help otherwise we probably wouldn't have ended up getting married. From the first meeting, I knew I wanted Lucy. She just seemed to get exactly what we wanted and needed and she put us both at ease.
"We had Lucy do the full planning and she was worth her weight in gold. We tasked Lucy with the ultimate challenge: turn my mum and dad's garden into a wedding venue and she absolutely delivered! Everything was perfect, all the suppliers she put us in contact with were spectacular and the day went off without a hitch! All of our guests said it was the best."
Caribou Events
Based in West London, Caribou Events is a wedding planning business which strives to deliver the most unforgettable weddings you and your guests could imagine. With years of experience in the industry and numerous gorgeous weddings under their belt, the team here are experts in every style of event from traditional weddings and large-scale events to intimate affairs and fairytale ceremonies.
Though based in the capital, Caribou Events are available for both UK and world-wide weddings. Having planned weddings for royal family members and well-known celebrities, their little black book of clientele is more than impressive - and you could find yourself on that list, too!
With tons of industry recognition, there's no doubt these guys know what they're doing.
Now you have your wedding planner sorted, it's time to think about what's next on the wedding planning checklist!