Wedding Confetti: Can You Throw it, How Much to Buy & More
From beautiful biodegradable buys to how to capture the moment, our wedding confetti guide covers everything you need to know about this lovely tradition
We have included third party products to help you navigate and enjoy life's biggest moments. Purchases made through links on this page may earn us a commission.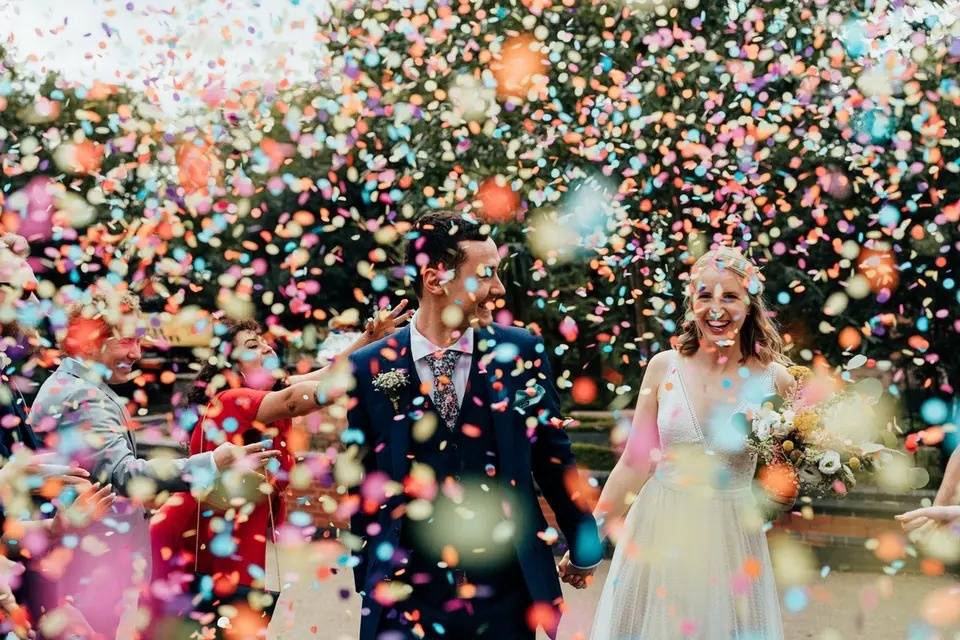 Throwing wedding confetti at newlyweds is a wedding tradition which is still really popular with couples. Not only does it result in some spectacular photographs (take a look at these confetti photos for inspiration), it's a lovely way to get your wedding guests involved in the celebration as you exit the ceremony.
The word 'confetti' is an Italian word for sugared almonds and traditionally these sweet treats were thrown in the air during special occasions in Italy, while in the UK we tended to throw rice - less delicious, but not as likely to cause injury. This was then switched to the modern colourful alternatives which we know as wedding confetti.
These days you can forget plastic confetti - as more couples look to plan eco-friendly weddings and the industry focuses on sustainability, biodegradable wedding confetti is a brilliant substitute which means you can still take part in all the fun, without damaging the environment.
We've rounded up some gorgeous biodegradable wedding confetti ideas that you can shop now, as well as asking wedding industry experts everything you need to know about this tradition, including how much to buy, which venues allow it and how to make DIY paper cones.
13 Biodegradable Wedding Confetti Ideas
1. Petal Wedding Confetti Cones - from £45.45, Etsy
We adore these pick and mix style wedding confetti petals cones - you can choose as many types of flower variety as you like and they'll arrive with rustic brown recycled paper cones. There are tons of flowers to choose from, including jasmine, cornflower, peony and heather, so you'll find a colour to suit your wedding theme.
2. Dried Rose Petal Confetti Pouches - 89p each, Etsy
These beautiful biodegradable organza pouches are filled with real petal confetti from Adamapple. Their sun-dried petals are imported from small family-run farming communities worldwide, providing jobs for local communities. Choose from six different petal mixes.
3. Woodland Wedding Confetti Pops - £37.70 for 10, Not On The High Street
A woodland wedding venue calls for a recyclable confetti pop filled with natural leaves and petals. They look like they've been gathered from the forest floor and will look so whimsical when popped. You can also personalise them with your names and wedding date.
See even more woodland wedding ideas here.
4. Book Wedding Confetti Cones - from £8.25, Etsy
Book lovers - this one's for you! These adorable wedding confetti cones are crafted from your favourite book. Simply let them know which novel you want your wedding confetti to be made from and they'll do the hard work for you. Each book is purchased from a charity shop and every month they choose a new charity to donate a portion of their profits to.
5. Rose Petal Wedding Confetti Bags - 70p each, Etsy
When it comes to flower meanings, rose petals are synonymous with romance so they make an ideal pick for wedding petal confetti. These biodegradable bags are filled with dried petals and are labelled with 'throw me' - so sweet!
READ MORE: 18 Eco-Friendly Wedding Favour Ideas
6. Flower Girl Petal Confetti Basket - £26.70, Not On The High Street
Are your flower girls throwing wedding confetti down the aisle? This wicker basket is filled with enough natural petal confetti for approximately 15 handfuls. There's a rainbow of colours to choose from, including delphiniums and hydrangeas, plus the petal mix combinations are small and light ensuring they stay in the air for longer.
7. Eucalyptus Wedding Confetti Pack - £14 for 10, Etsy
Botanical wedding ideas are having a major moment so if that's the theme you've gone for, these eucalyptus wedding confetti bags will be perfect. Dried eucalyptus will look so chic and we love how these biodegradable packs are sealed with you and your partner's names.
8. Rainbow Confetti Cannon Popper - £2.49, Not On The High Street
Wedding guests will love these fun rainbow confetti cannons and the confetti photo you will be able to capture with these will be spectacular. They are a really unique way to add a playful touch to your special day.
9. Wildflower Wedding Confetti Packs - £8 for 5, Etsy
Each biodegradable packet contains dried delphinium and wildflower petals and you can choose from sizes small or medium. A wildflower bouquet would look lovely if you are opting for these boho style wedding confetti blooms.
10. Snow Wedding Confetti - 65p each, Etsy
Being showered in snow wedding confetti is a magical and romantic Christmas wedding idea if you are tying the knot during the festive season. This biodegradable snow is non-toxic and will dissolve within 24 hours so won't cause any damage.
READ MORE: 25 Winter Wedding Favour Ideas
11. Petal Wedding Confetti Wands - £12.99 for 10, Etsy
A modern take on confetti cones, these recyclable wands hold a generous amount of real petal confetti. Personalise the tubes with you and your partner's names and watch your guests delight in showering you in blooms.
12. Personalised Confetti Packet & Petals - £1.20 each, Not On The High Street
We're obsessed with the font on these custom wedding confetti bags - it is so chic and sophisticated. Each bag is filled with a ivory flutterfall which is their best-selling petal. A classic and traditional choice.
13. Pick & Mix Confetti Circles - £20, Etsy
If you are making your own DIY wedding confetti cones, you'll need something to fill them with! These colourful circles will be enough for around 30 guests and they are made from biodegradable tissue paper. They are cut into large circles so they fall slower for better confetti shots.
14. Natural Wedding Confetti Bags - £1.55 each, Etsy
These stylish wedding confetti packets are filled with cream and green dried petals and leaves for a neutral look. We adore the addition of the rustic wood-effect personalised sticker that can be customised with your names and wedding date.
Wedding Confetti FAQs
Can You Throw Confetti at Weddings?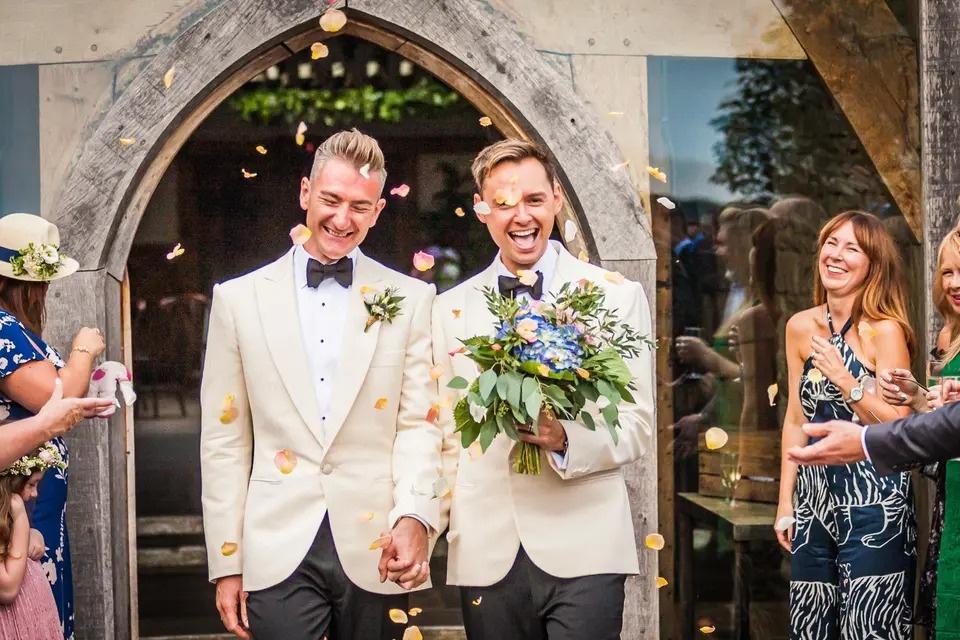 Most wedding venues do allow you to use biodegradable confetti however, this is not always the case. Beki Garside from The Confetti Cone Company explains that, "it is essential to check with the venue to see if it is okay as sometimes confetti is not permitted so you may have to organise the throwing for somewhere else."
Throwing wedding confetti is a lovely idea and an amazing way to celebrate that 'just married' moment. "It brings nothing but a fun aspect for not only the happy couple but also the guests - it creates a magical photo opportunity which is usually a top favourite as it is so authentic and full of joy," Beki says.
When to Throw Confetti at a Wedding?
It is completely up to you when you throw confetti at your wedding but the most popular time is straight after the ceremony. "Doing this provides some of the best photos, as you can always see this as a natural non-staged photo and it is when the couple and the rest of their guests are on their greatest high," Beki says.
If you want to mix it up, Jen Murray from Adamapple suggests "having the confetti shot as your last formal photo opportunity and embracing the 'confetti in my hair, don't care' vibe. You can also start the confetti from the aisle with your flower girl, confetti man or flower granny. Some couples use confetti during their first dance and cannons are a popular choice for this."
For the perfect confetti shot, photographer Radek Dranikowski recommends "making sure guests have enough confetti in their hands, creating a tunnel, staying fairly close to each other and throwing the confetti up, not directly into the couple's face. I always advise they keep their heads up and enjoy the moment."
How Much Confetti to Buy For Weddings?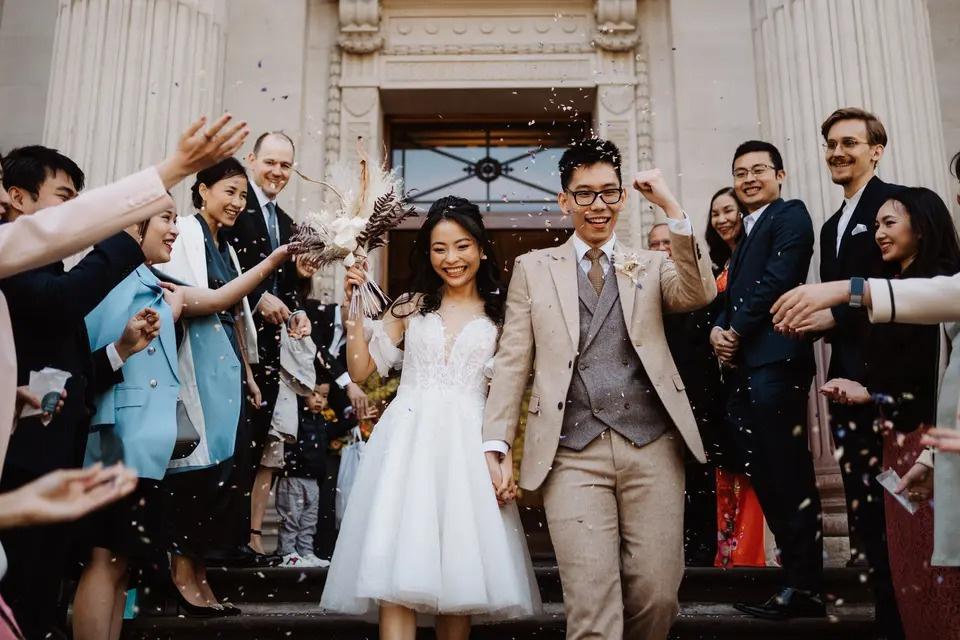 How much confetti you buy for your wedding will depend on your own wedding budget, but Beki advises to cater for about half your guests with one litre of their petals providing 10 small handfuls. That being said, "as little as two litres will still give you a beautiful confetti moment without having to cost the earth."
Jen agrees, saying: "Usually we suggest that not everybody will need to be catered for as generally not every single one of your guests will take part in the confetti throwing. Ordering for around three quarters of your guest list may be the best option for you but if you're a 'more is more' kind of person, you can definitely order enough for everyone."
Planning an eco-friendly wedding? "Another option some couples go for is completely packaging free. Popping your confetti loose into a reusable basket or box creates so much less waste," explains Jen.
"You do run the risk of greedy guests grabbing the biggest handful of confetti on the way out which may not leave enough for others so if you are going with the packaging free option, we would recommend that one litre will serve around 15 guests."
How to Make Paper Cones for Wedding Confetti?
Confetti cones are a brilliant way to serve your wedding guests confetti. Fill them with petals or coloured tissue paper and leave them in your ceremony venue for guests to pick up. If you want to make your own DIY paper cones we have a handy guide that includes an easy-to-follow video.
As well as planning your confetti photo, here are some important questions you must ask your wedding photographer