What Is a Wedding Celebrant? Everything You Need to Know
Celebrant-led weddings have boomed in popularity in recent year - but what is a celebrant and what do celebrant weddings involve?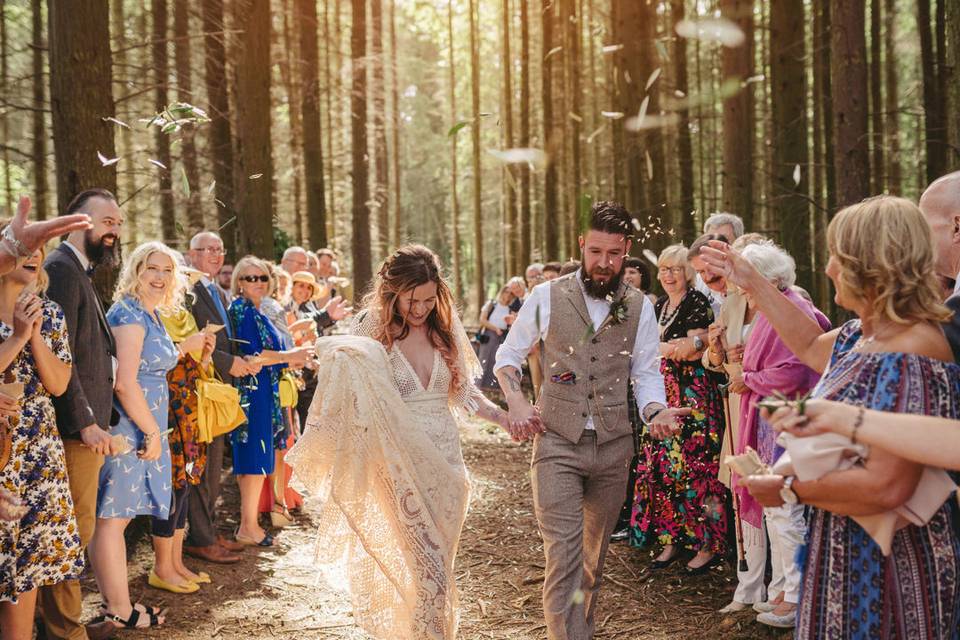 When couples think of marrying, two traditional options usually pop into their heads: wed in a religious ceremony or have a civil ceremony with a registrar. But there is a third, and increasingly popular, option: get married by a celebrant.
If you've always wanted to get married under the stars, on a beach, among beautiful gardens, beside castle ruins or at your own home, a celebrant is the choice for you. Religious and civil ceremonies can feel very limiting for some couples, which is why they turn to a celebrant-led wedding that is personal, flexible and as formal as you'd like.
If you're interested in learning more about wedding celebrants, here's you ultimate guide to what they do, the legalities and practicalities, and how to find the right celebrant for you.
READ MORE
What is a Celebrant?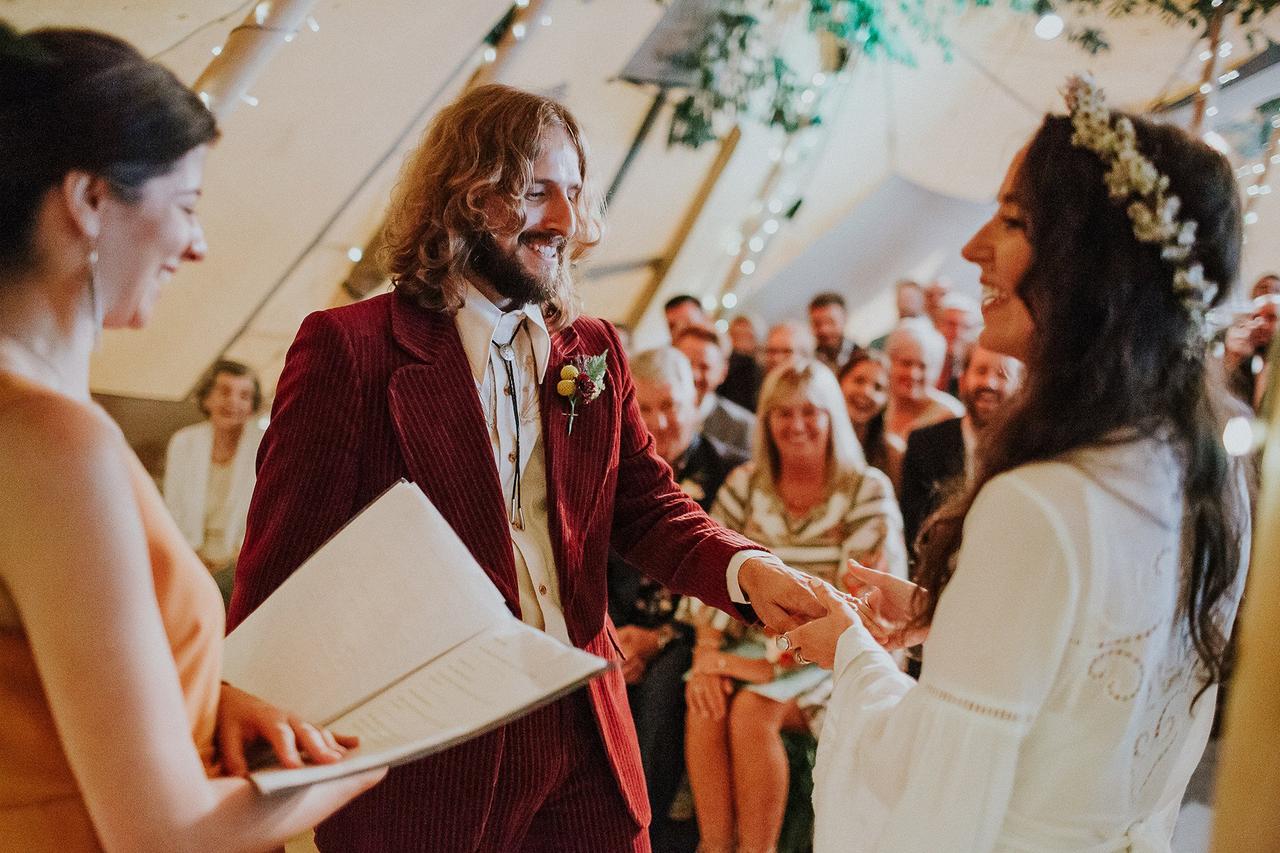 A celebrant is a person who performs ceremonies marking some of life's biggest milestones. As well as officiating weddings, celebrants often perform vow renewals, baby naming ceremonies and funerals.
For weddings, a celebrant will create a bespoke, meaningful ceremony that isn't religious. They do not have to follow templates or 'tick boxes' meaning couples will have complete creative freedom to make their day how they want it to be.
What is the Difference Between a Humanist Celebrant and an Independent Celebrant?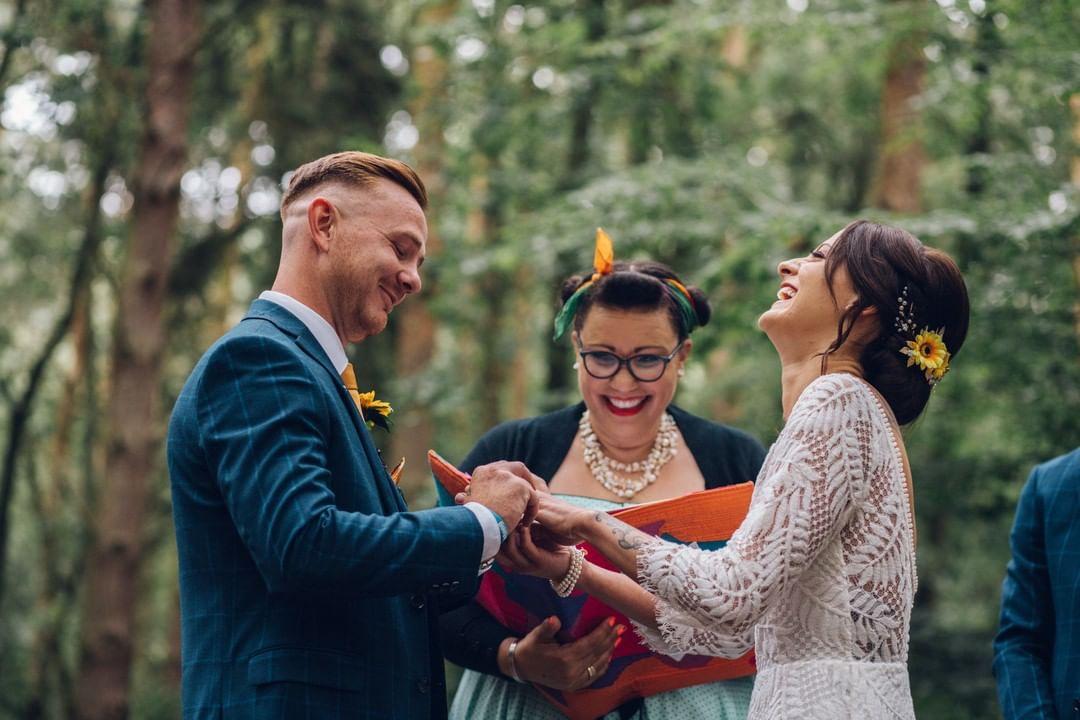 There are two types of celebrant you may have heard about, humanist celebrants and independent celebrants (also known as civil celebrants), and they cater to different couples.
In the most basic terms, Humanists conduct weddings within the Humanist belief system. Independent celebrants conduct ceremonies independently from any belief system but will happily incorporate religious and spiritual elements into the ceremony.
Independent celebrant Sarah Noble explains that she performs weddings for couples of all beliefs and none: "Couples can be mixed faith, no faith, interfaith, humanist, gay or straight, traditional or modern, spiritual but not religious. For a truly heartfelt ceremony; love is all you need."
Humanist celebrants perform weddings for Humanists and those who consider themselves to be non-religious. The vast majority of these ceremonies won't include religious elements like prayers. However Humanist celebrant Laura Gimson says they will always be warm and welcoming to everyone, regardless of faith, and that there so many meaningful ways celebrants can celebrate a couple's background and culture.
"You don't have to identify as Humanist to have a Humanist wedding," says Laura, "but almost everyone will find they have values which align with Humanism. It boils down to making the most of the one life you have and to being good without god.
"You might have heard that Independent celebrants will incorporate religious and spiritual elements into their ceremonies where Humanists won't. But that's not strictly true. Whilst I wouldn't lead a prayer, I'll always jump at the chance to celebrate different cultures and traditions!
"For instance, I married a couple with an Irish Catholic family who were keen to include a moment where guests shook hands and said 'Peace be with you'. For their guests, it was a moment which felt recognisably part of their family's Catholic culture. But the simple sentiment of wishing peace to your neighbour felt universally positive and became symbolic of humanity rather than religion."
What Are the Benefits of Choosing a Celebrant Over a Civil Ceremony with a Registrar?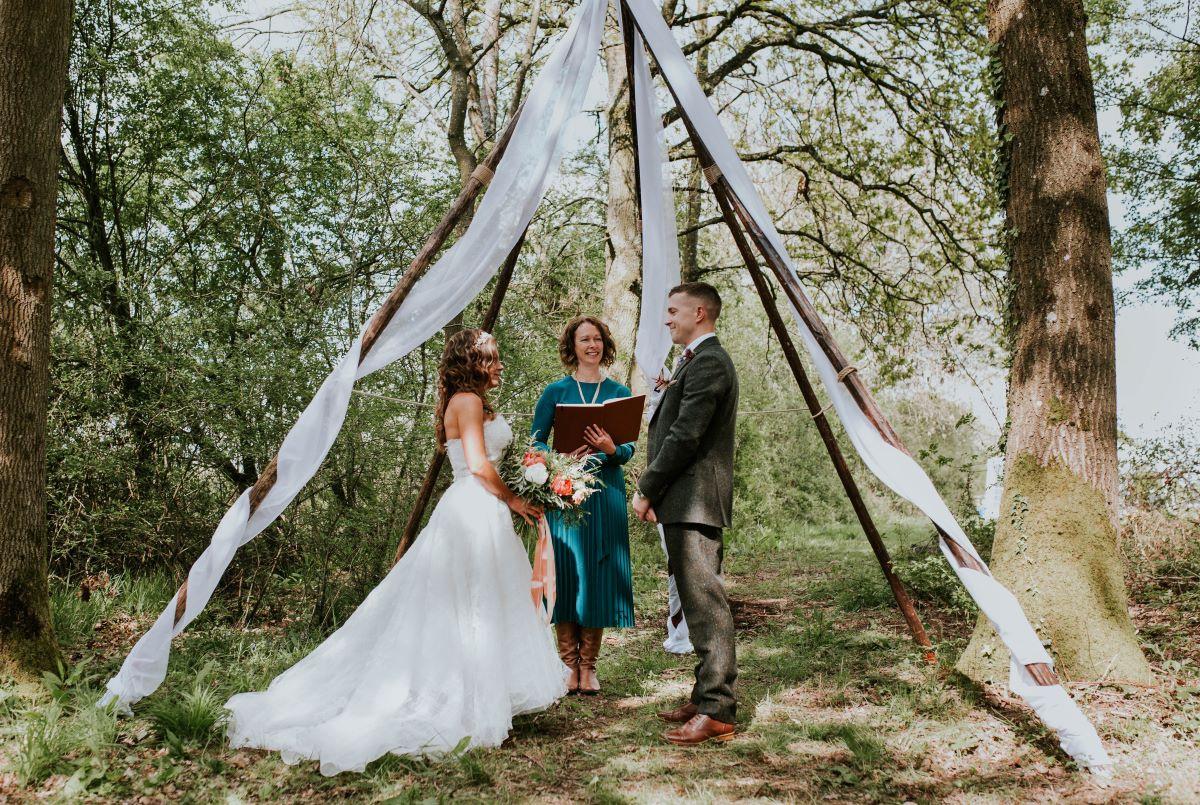 When you marry at a licensed wedding venue or a registry office, a registrar will perform your legal civil ceremony. There are rules, regulations and red tape with a registrar weddings which may include a couple not being able to share personalised vows, bring in any decorations or use certain music they would like to. Additionally, a registrar is likely to have more than one wedding to attend per day so you'll have a restricted amount of their time time too.
A celebrant wedding is the exact option to this, says Laura: "You have absolute creative freedom. Your ceremony is written with you and only you in mind.
"Your celebrant will take time getting to know you. We'll help and guide you so that you have the confidence to make authentic and meaningful choices. We'll find ways to include and involve all your favourite people. And ultimately we'll craft a ceremony which does your love justice."
While you are assigned a registrar, you will choose your celebrant; they will be someone you feel comfortable with, who understands your vision and values, and wants to give you a unique, personal day.
"A celebrant brings individuality," says Independent celebrant Michelle Taylor. "We are lucky, we get to know our couples and are very rarely time poor, we aren't rushing off to be somewhere else. Each ceremony is personal to the couple, its not an 'insert name here' template of a ceremony.
"As an independent celebrant, I can add in religion if required. I certainly like to dress up and am happy to theme a ceremony, pets are allowed, and most requests for symbolic elements can be accommodated. The only two things I won't personally do are jump out of a plane or get naked BUT there are celebrants who will!"
Where Can Celebrants Marry You?
"A celebrant-led ceremony is free of restrictions," explains Laura. "It can take place anytime and anywhere that has meaning to you - a forest, a garden, a cliff overlooking the sea, a narrowboat, a cinema, a ski slope; just say the word and we'll be there in our finest garb!"
Are Celebrant Weddings Legal?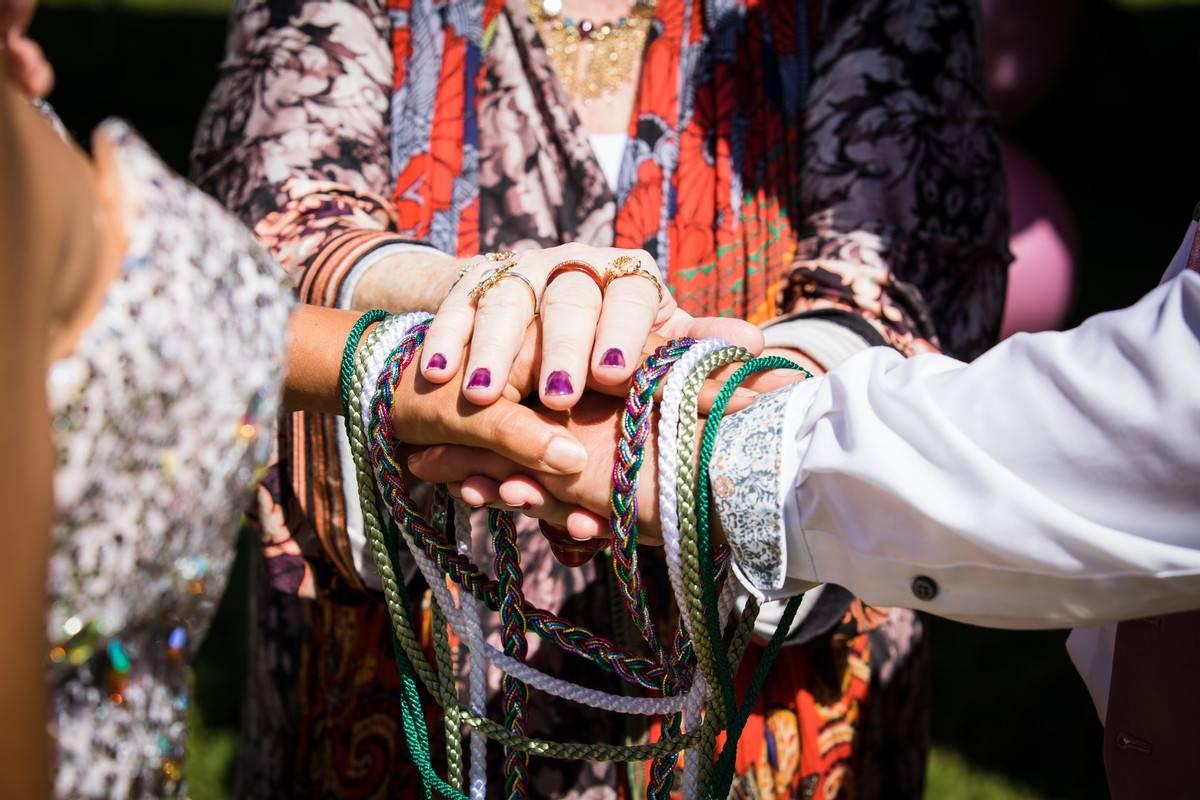 This depends on which part of the UK you are in and the type of celebrant.
Humanist celebrants who are accredited by Humanists UK are able to perform legally binding weddings in Scotland, Northern Ireland and Jersey. They are currently not legally recognised in England and Wales, although they are campaigning hard for this. Independent celebrants cannot perform legally binding weddings in the UK.
Don't let this put you off! All that's required is that the couple make the standard legal declarations and register their marriage with a registrar. You can do this either before or after your wedding day at your local registry office, it takes about 15 minutes and can cost from as little as £46 plus the cost of the marriage certificate (usually £11). You will need two witnesses for the marriage ceremony (no witnesses are required for a civil partnership registration) and there is no time limit on when it can be done.
Couples consider the day they host their celebrant ceremony and reception to be their "real" wedding day, not the day of the formal registration. Humanist celebrant Rachael Meyer compares it to registering the birth of a child - we celebrate the baby's day of birth, not the day they were legally registered.
"A wedding ceremony is a sincere but joyful, public commitment of love in the presence of friends and family– the legal recognition of the ceremony is just a formality!" she adds.
How Do We Choose a Celebrant?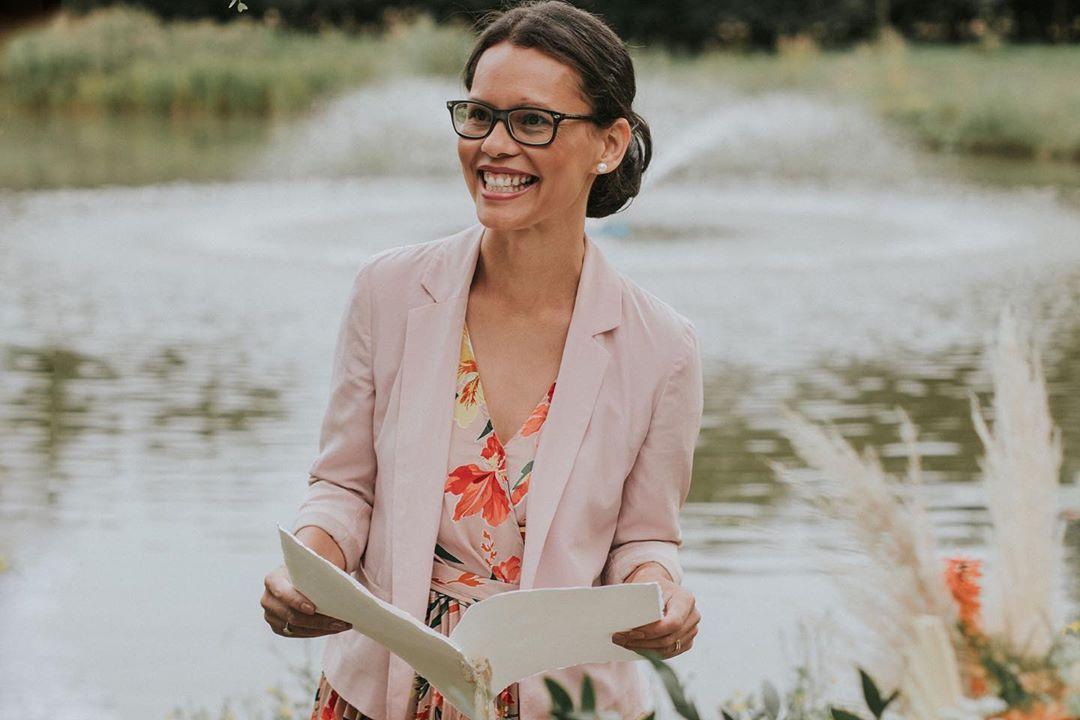 "No one will remember the colour of the chair sashes but they will remember how your celebrant made them laugh and cry and created the most wonderful and individual ceremony for you," Michelle says. Choosing the right one is a very important task; you'll need to feel comfortable with them, laugh with them and have a genuine connection.
Michelle has a few tips for where to start and, as usual, Google is a great go-to:
"Decide if you want an Independent celebrant, a Humanist, Spiritualist, Pagan or Church-affiliated celebrant. There are a lot of different ones out there! Don't just look for 'Humanist' when you do your search, instead search for 'celebrant' - it really opens up your field of choice."
"Ask your other suppliers, especially the photographers. They love working with celebrants on the whole because we are different!"
"Go on recommendations from friends and family, especially if they have recently attended a celebrant-led ceremony."
"A lot of us are on social media, so that's a good place to browse, follow us, interact with us and see if what we are posting appeals to you."
"Once you have a short list, look at their website and see if their personality shines out to you," she recommends. "Have they got video, photos, testimonials?" Remember celebrants who are just starting out won't have this but it doesn't mean they aren't right for you!
Next, "drop them a line or give them a call...we like talking!" says Michelle. "Ask questions. A good celebrant won't be shy in coming forward and will probably be able to answer all your questions before you actually ask them!"
We recommend you look for a celebrant who is accredited by a professional body, like the UK Society of Celebrants or Humanists UK, as they'll have undertaken professional training.
What Can We Expect to Happen Once We've Chosen a Celebrant?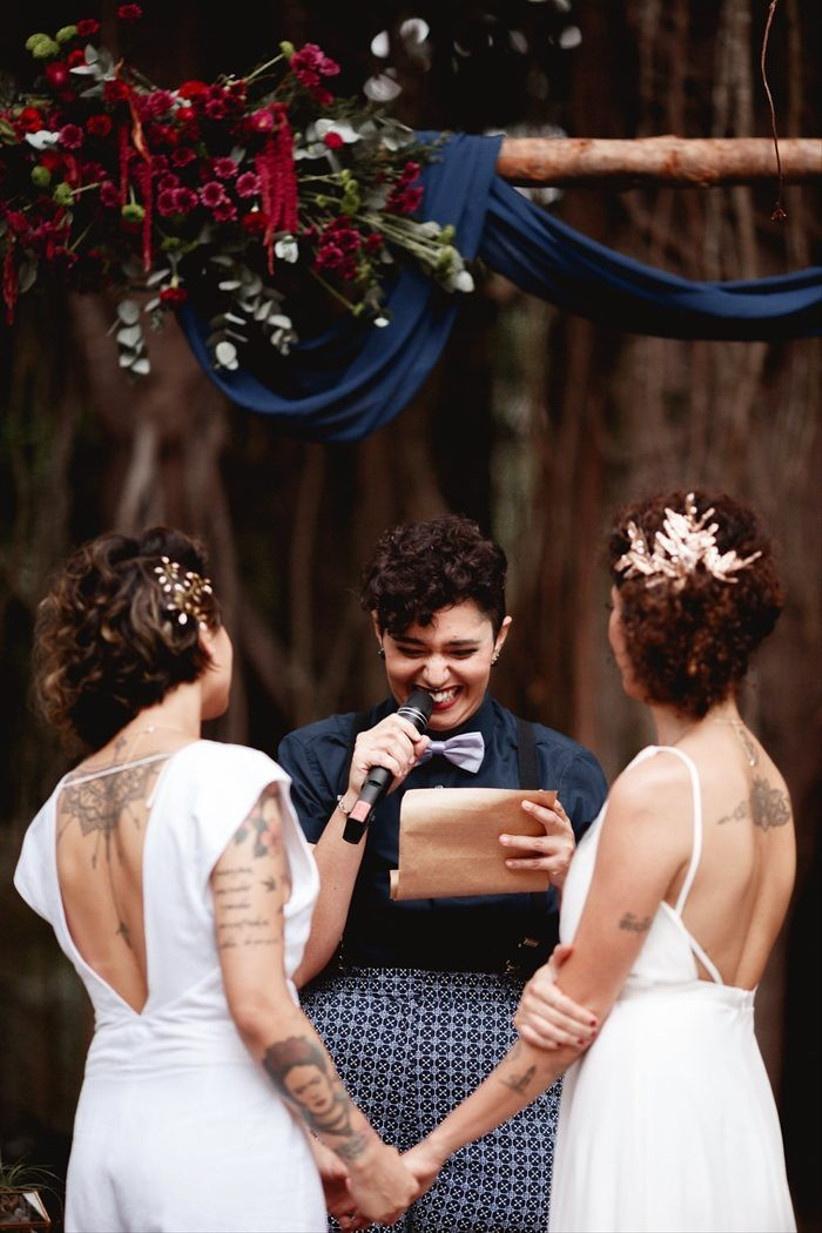 You might book your celebrant a year before you wedding day, so what actually happens between then and standing before your loved ones at the ceremony?
1) Discovering Your Love Story
Each celebrant will write a script for their couples; this tells the couple's story - of how they met, fell in love, their shared values, and their hopes for the future - and it is the first task for the celebrant.
How each celebrant goes about this will be different, but most will have face-to-face meetings with couples, phone calls, email conversations or a mixture of all three.
Michelle meets her couples face to face (where possible) before they book her and starts garnering information about them. She also uploads a questionnaire for each couple to fill in on her website and once she's got it back (usually three months before the ceremony), she starts to write the first draft. This is where celebrants come into their own: they will throw themselves into researching the finer details of your love and finding music, poems and readings that reflect you.
2) Writing a First Draft
"Once I have completed a first draft I will always send it to my couples," explains Michelle. "I would hate to have for a tiny detail wrong and for it not to have been checked over. That said, depending on how much free rein I have been given, I may well have roped in family members and friends to provide me with the secret gossip on our happy couple. And this, of course, will remain a secret until the big day. I LOVE including little bits and pieces from their loved ones as it really add an extra element to the ceremony.
3) Preparing for the Ceremony
"Once the script is signed off, I will print a copy for me, a keepsake copy for the couple, certificates, vows, readings etc and they'll all be packed away in a keepsake box along with a few little goodies for the couple for the morning after.
"I like to conduct a practice with all the key players so everyone knows their cues and it also helps ramp up the excitement...as if it needs ramping up!"
4) Meeting You on the Day
"On the day, I will be at the venue at least an hour before the ceremony, along with portable amp and mic if needed, and mingle with the guests, calm nerves and generally prep for the ceremony.
"I never rush off and 99% of the time will only do one ceremony per day. There are a few odd occasions when two are feasible but they are very, very rare! I love putting my energy and time into each ceremony and invariably am driving home afterwards with a big grin on my face."
What Happens During a Celebrant-Led Wedding?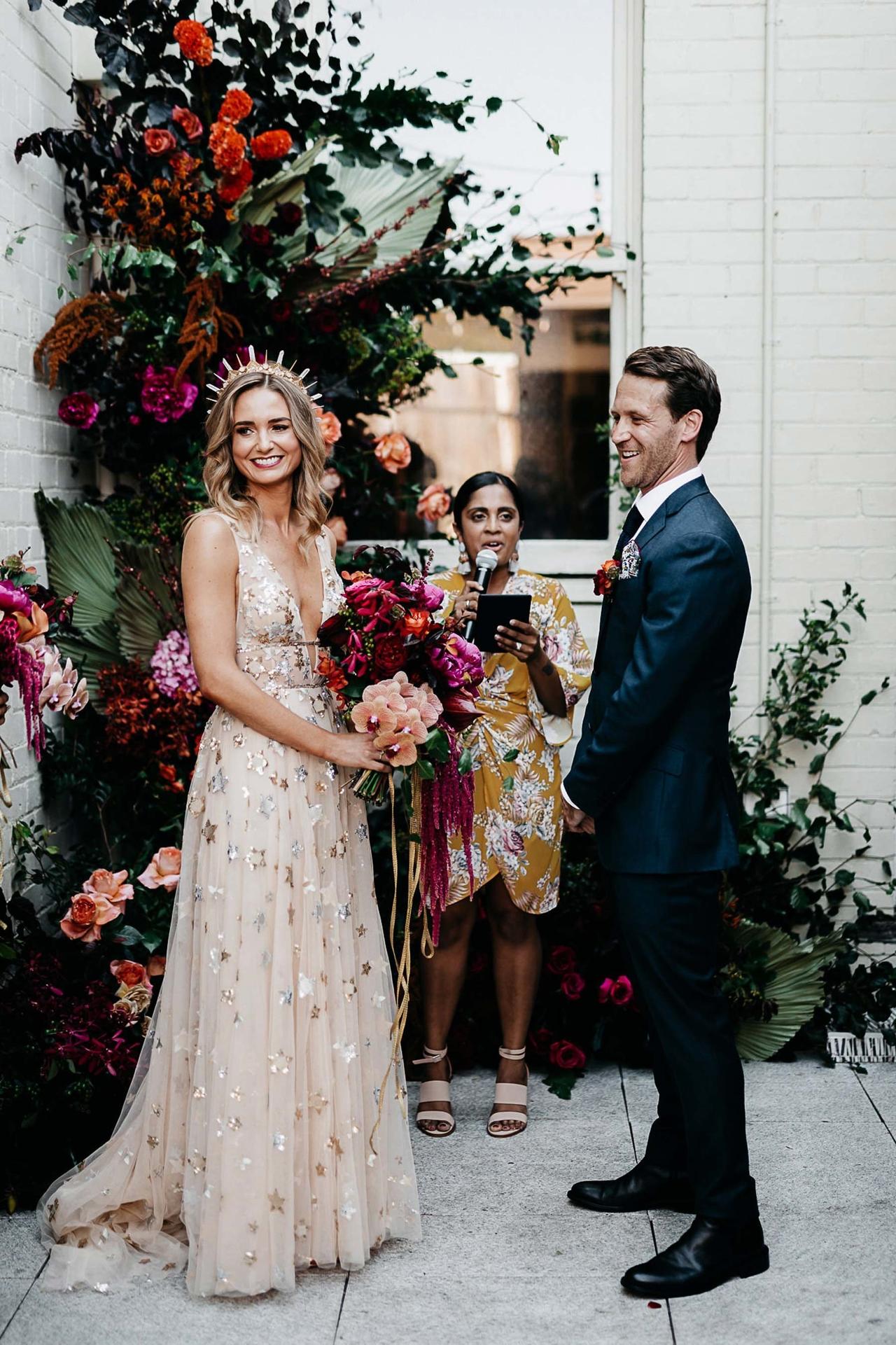 "I cannot stress enough – no two celebrant-led ceremonies are ever the same!" says Laura. Basically, it really is up to the couple. That said, there's elements that most will include, although some may choose a symbolic act over the exchange of rings and vice versa:
Arrival of the couple
Introduction and welcome
Reading or poem
The couple's love story
Reading, poem or song
The couple's vows
Symbolic act (optional, but couples may like to perform a ritual like hand-fasting, unity sand ceremony or candle ceremony)
Exchange of rings
Pronouncement of marriage
Closing and departure
Just How Unique Can Our Wedding Be?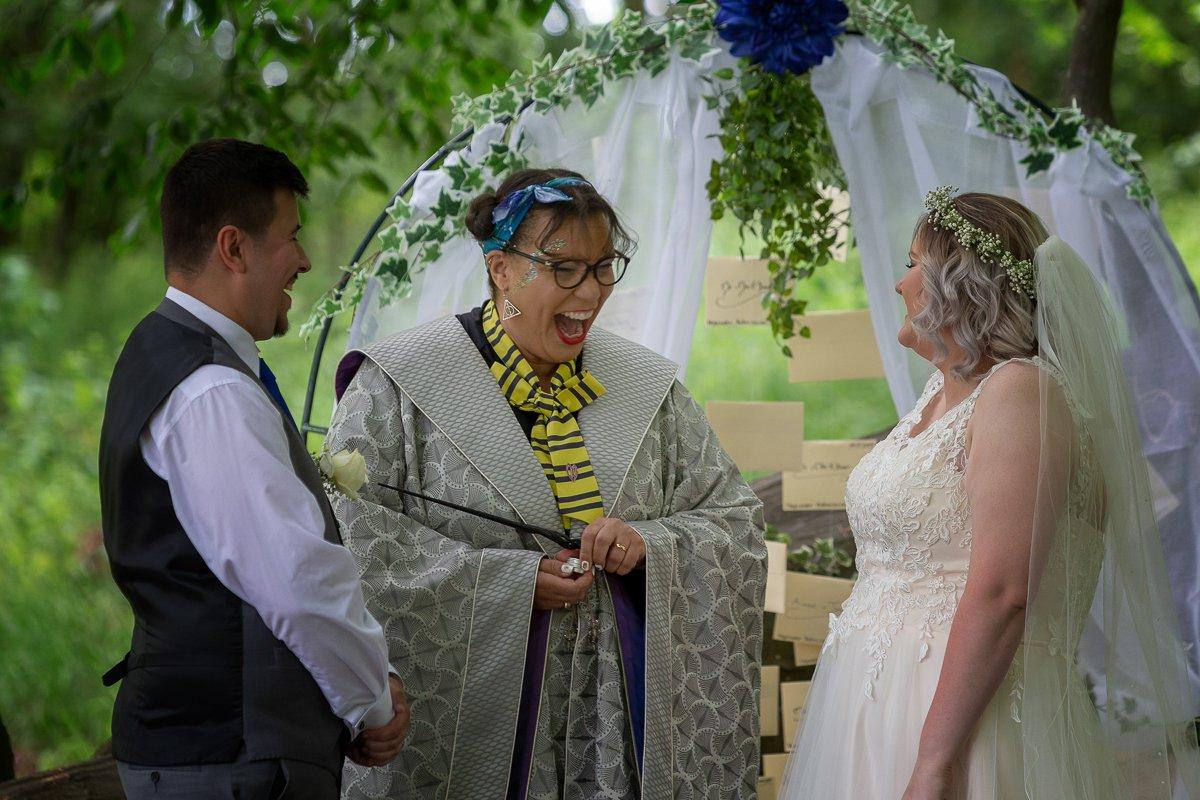 Utterly unique, seriously! Here's a few of the weddings our celebrants have done and you can see how the couples have embraced their passions and chosen venues special to them.
A Harry Potter themed wedding where Michelle was "Dumbeldora" (pictured above) and waved her magic wand over the happy couple.
Freddie and Mathias were married by Laura on the back of a wooden wagon built by the bride's dad and overlooking a lake. They arrived in an open top vintage Land Rover and drove down the aisle to 'March of the Valkyries'. Friends and family then joined them to help with their hand-fasting.
Michelle was the celebrant at a Bletchley Park, 1940s-themed wedding where a crossword was included as part of the ceremony
At Sarah and Phill's wedding, they took the brave step of asking their guests to share why they thought they were a perfect match. They wrote their answers on cards and during the ceremony they all picked out a handful of them to share. "Admittedly, it added an element of risk but it also gave us some of the biggest laughs!" says Laura.
Laura hosted one wedding in the centre of a circle of Poplar trees in the garden of couple Sarah and James' family home. James had felled a branch of one of the trees and inlaid pieces in their wedding rings. "As they exchanged them, they shared vows about how their wedding bands weren't about status – they weren't meant to be shiny and perfect and they weren't a symbol of ownership. Instead, their rings would serve as a reminder of the exact place and time that they made the choice to live their lives side by side."
How Much Does a Celebrant Cost?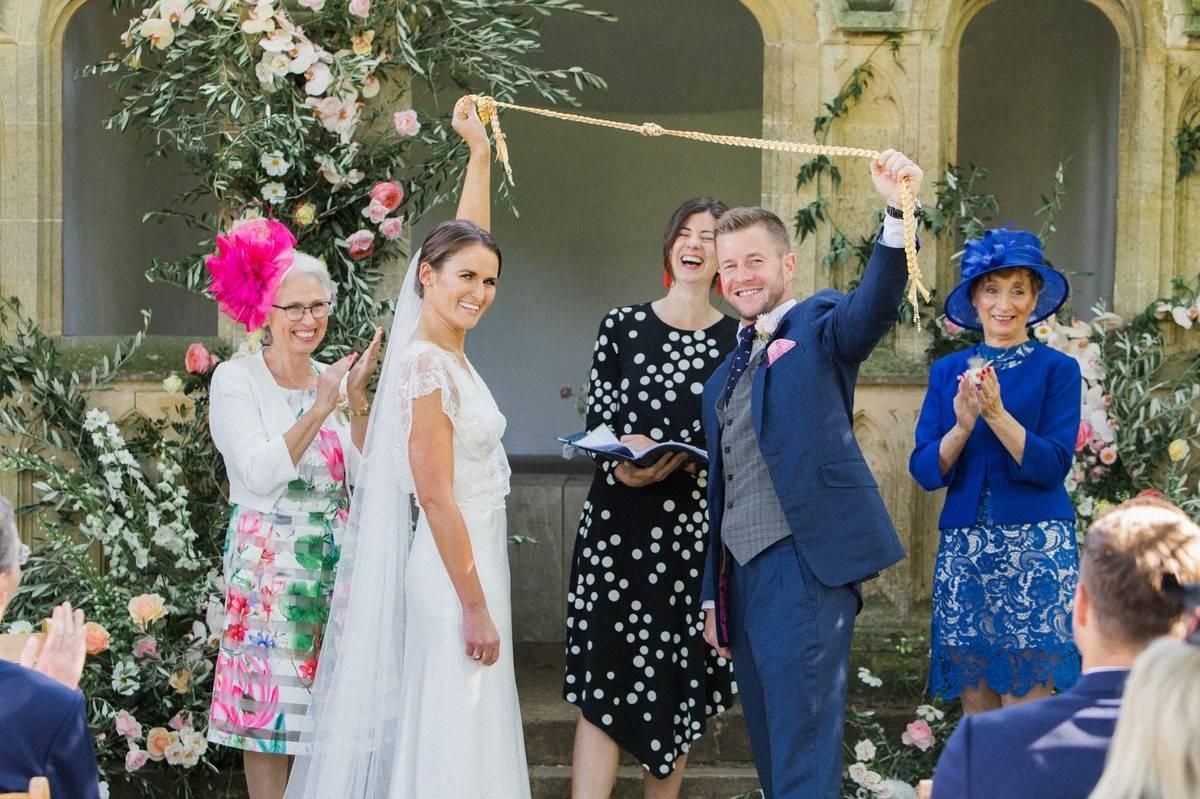 The cost of hiring a celebrant can vary greatly. Depending on the experience of your celebrant and the area you live in, celebrants can cost from £450 to £1,300.
Michelle's prices start from £675 for a local wedding, which includes all meetings, the writing, rehearsing, printing and ceremony delivery.
She recommends not to be led by price when choosing your celebrant. "That fabulous celebrant you have your eye on IS worth the investment... without a ceremony there is no wedding!"
How Long Before the Wedding Should We Book Our Celebrant?
Independent celebrant Sarah says she is often booked up a year in advance so it's best to work out whether you want a celebrant early on in the planning process. If you've already decided you want a non-traditional wedding venue then you'll know you need a celebrant, but there's plenty of other reasons to choose one too.
Having a same-sex wedding? Here are the traditions to ditch or reinvent for an LGBTQ+ wedding.