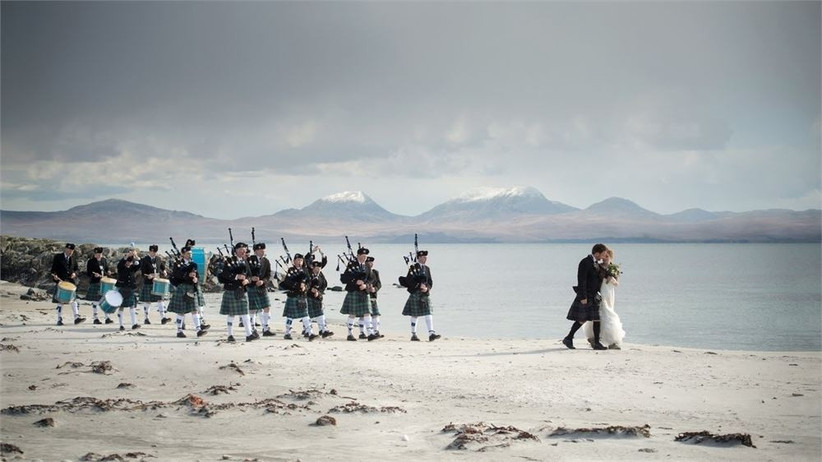 If you've wondered how to cut the cost of your wedding, a change to the law could save you thousands of pounds.
More couple will be allowed to get married outdoors, at home or in pubs and restaurants under a shake-up of the law in the Chancellor's 2018 autumn budget.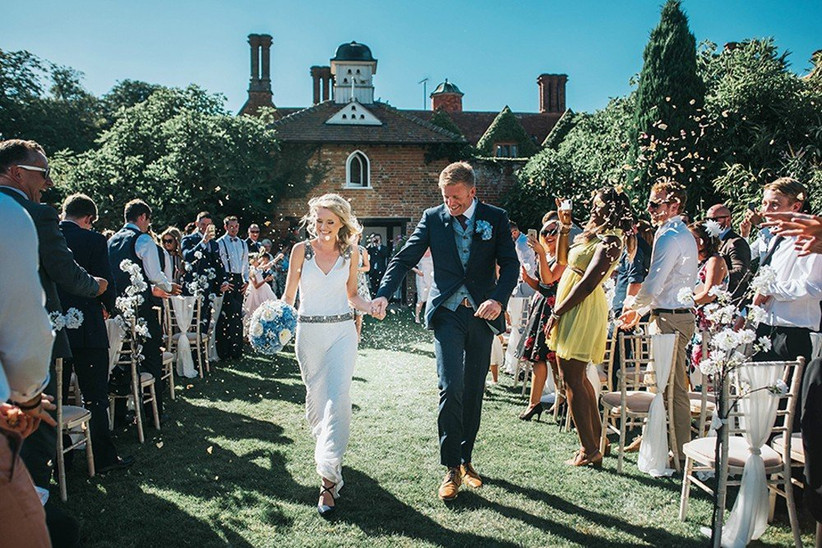 Image: Woodhall Manor
Currently there are a lot of restrictions on where you can tie the knot, banning you from saying 'I do' outside or in temporary structures like a marquee.
READ MORE: Our Favourite Outdoor Wedding Venues
But with the average wedding costing £32,273 – and £5,221 of that going on venue hire alone – the change to the rules could save couples lots of money on their wedding venue and let them be much more creative with where they choose to marry.
What Are the Current Wedding Venue Laws?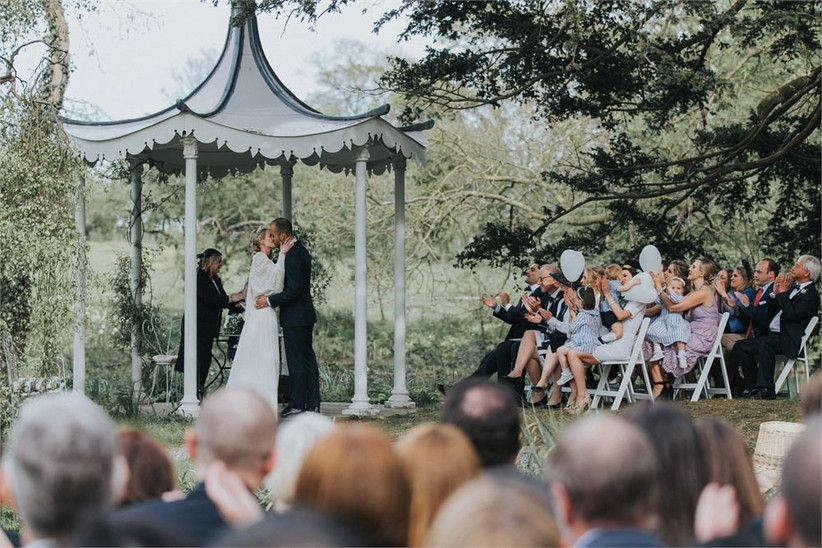 Image: Preston Court
Weddings can only legally take place outside if they are solemnised in a permanent structure with a solid roof. This means you can marry in a gazebo, but a temporary structure like a marquee is not allowed. Couples must be able to specify the building in which the ceremony is taking place.
Pubs and restaurants are not able to sell food or drink for an hour before or during the ceremony, which limits many of them from getting licences.
READ MORE: The Best Marquee Wedding Venues
The idea behind Chancellor Philip Hammond's proposal to relax these restrictions is to reduce the costs of getting married, boost the wedding industry and support more people to get married.
In Scotland, couples have had these freedoms for years and, as these rules were written 180 years ago, many people are calling for a change.
What Do the New Outdoor Wedding Venue Laws Mean for Couples?
Image: Moddershall Oaks
While it's possible to have a wedding on a low budget, relaxing restrictions on where you can have your venue will give couples more options, creativity and flexibility.
Your Budget
There'll be two types of couple who read this news: ones who are hugely excited that they can now marry outdoors, and ones who'd never have considered it anyway.
If you'd love an outdoor wedding, then there's lots of potential to save on your budget. As long as you keep in mind that your guests will always need food, drink, seating, some shelter and toilet facilities, you can DIY a lot of your wedding and keep costs down (although this can make your planning more complex). If you want a package, undoubtedly more venues will offer outdoor weddings for mid- and lower-range budgets which should make prices more competitive.
READ MORE: How to Negotiate With Your Venue and Suppliers
If your heart is set on an popular stately home or hotel, then you aren't likely to see a big slash in their prices because they'll always be in demand. (Don't panic though, there's still savvy ways to save if you're smart with your wedding date).
What you will see instead is more options and packages opening up for couples. If you are now able to marry in the grounds, gardens or farmland of an existing venue, you might be able to get a cheaper package because, for example, more than one wedding can now be hosted on the same day.
The relaxing of restrictions means that more pubs and restaurants are likely to apply for licences too. If you're having an intimate wedding, a pub can be a very cost-efficient wedding venue.
Your Venue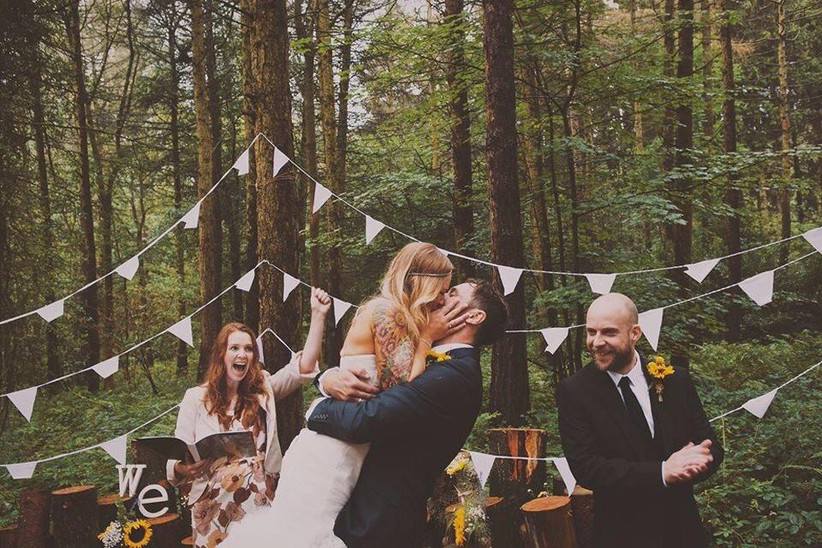 Image: Camp Katur
With the outdoors opened up to you, couples can now be hugely creative with their wedding venue. More and more couples are putting having a day personal to them at the top of their wish-list. What's more personal than marrying in your back garden, at the beach you got engaged, or the park where you had your first date?
You could legally marry in a field at Glastonbury festival. By the side of a lake or up a mountain. By an outdoor swimming pool. The possibilities are endless but you need two key things: the land owner's consent, and the prior notification and agreement of the registrar. You still need to be specific about the location where you're marrying, so if it's up a mountain, you'll need a grid reference!
READ MORE: 37 Budget-Friendly Ways to Cut Costs
Ultimately whether you can marry on the day will come down to whether the registrar is happy and they can put their foot down if they think the weather isn't good enough, for example. It could be wise to have a licensed indoor area as a Plan B nearby, which a hotel or barn can easily arrange.
Your Ceremony
Some couples feel they have to compromise by having a legal ceremony separate from their "wedding" if they're marrying in an outdoors or unlicensed area.
It can be an inconvenience for couples to have to spend the morning of their wedding or the day before getting the formal, legal part out the way before they can have their "real day". Being able to hold your ceremony and reception all in one place will both save you money and make for a smoother experience.
READ MORE: How to Plan the Perfect Wedding for £10,000
Having your legal ceremony separately can be a point of contention with families too. Many couples will have a blessing or ceremony with a celebrant if they can't legally marry at their venue, but older relatives can get upset to discover they've missed the bit where you legally said your vows and signed the register.
But in general, these new rules can keep everyone happy by finally being able to hold your legal ceremony and reception all in one place.
Things to Think About if You're Considering an Outdoor Wedding Ceremony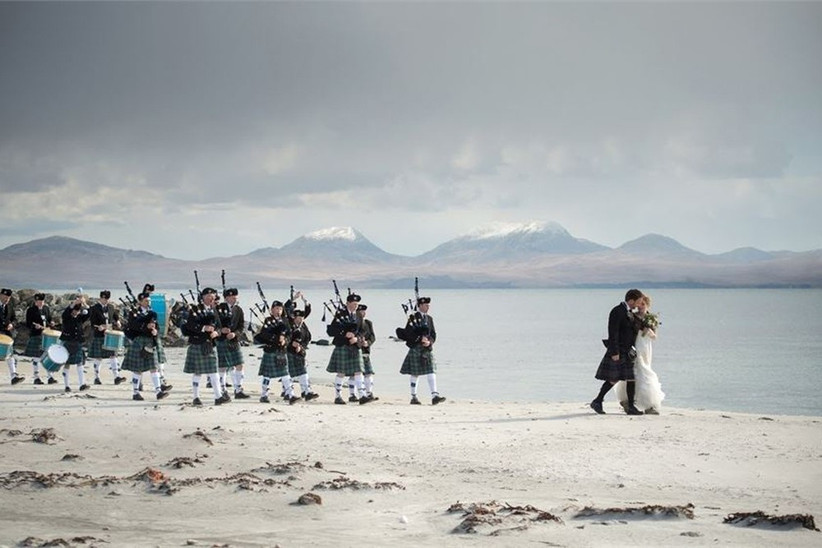 Image: Crear
Weather – It's the UK; we have sunny days and we have torrential downpours! Speak to your venue early about whether there's an indoor space to move to, or have a Plan B if you're organising the day yourself.
Logistics – Weddings take a lot of time and effort to arrange and doing it outdoors adds an extra layer of stress. Only take it on if you really think you can pull off the day as you want and provide for all your guests' needs.
Accessibility – It may simply not be possible for elderly or disabled guests to get to your chosen location. If a wheelchair, pushchair or Grandma and her bad hip can't make it down the beach, it's time to find another option.
Outfit – Stiletto heels will be a no-no in sinking grass, and the hem of your dress might be ruined if it's dragged along a muddy river bank. These certainly aren't deal breakers but you need to bear in mind how an outdoor ceremony will affect what you can wear.
Timings – You'll need to consider all the things that might not occur to you otherwise if you go outdoors. For example, avoid high tide at the beach if you don't want a soggy dress and maybe stick to seasons other than summer if you know your partner has terrible hay fever.
If you're looking for other clever ways to save money on your wedding day, check out the best supermarket wedding cakes and 10 Ikea wedding decor hacks.