19 Alternative Food and Drink Ideas for Couples Looking for Something Different
Forget the formal sit-down dinner and book one of these super cool alternatives for your wedding
We have included third party products to help you navigate and enjoy life's biggest moments. Purchases made through links on this page may earn us a commission.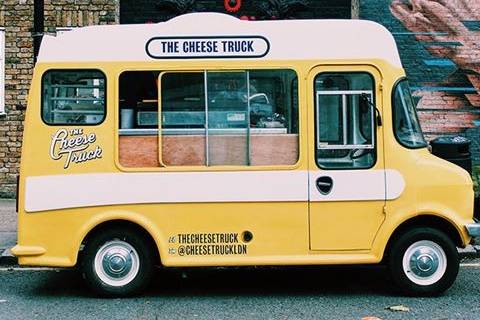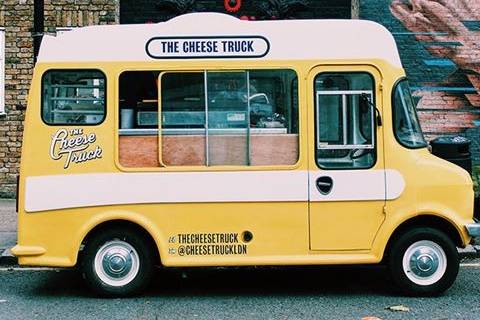 Choosing the food and drink is one of the most fun parts of the wedding planning process.
Traditionally, a wedding breakfast consisted of a three course dinner and an evening buffet but many couples have decided to ditch the formalities in exchange for something more casual!
If you are holding your wedding at a venue that doesn't have its own caterers, you have the freedom to feed your guests whatever you want. Make the most of it by serving something totally different.
We have found some of our favourite alternative wedding catering options available.
Laura's Travelling Teapot
Afternoon tea is a great choice for a rustic summer wedding full of English charm. Laura's Travelling Teapot is a friendly company who provide delicious sandwiches, cakes and tea for your wedding reception. They serve their food and drink on vintage crockery, using mismatched china, retro drinks dispensers and they will even bring pretty table cloths too.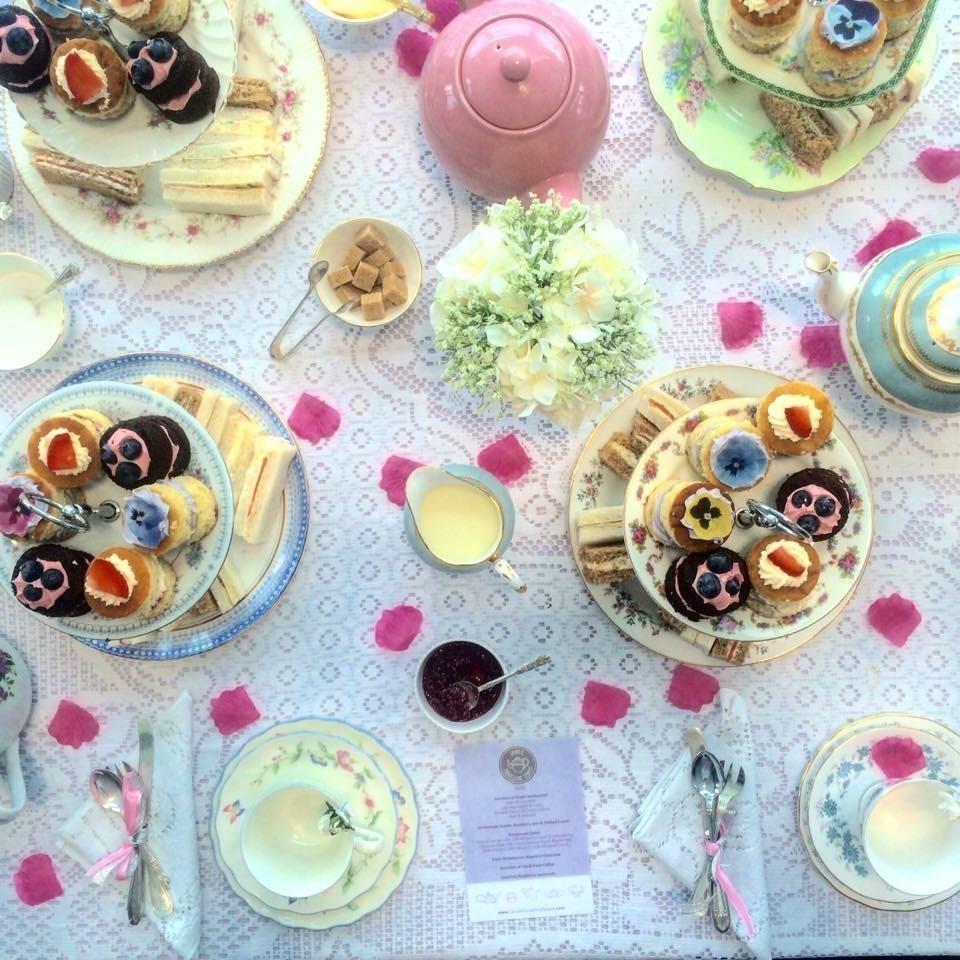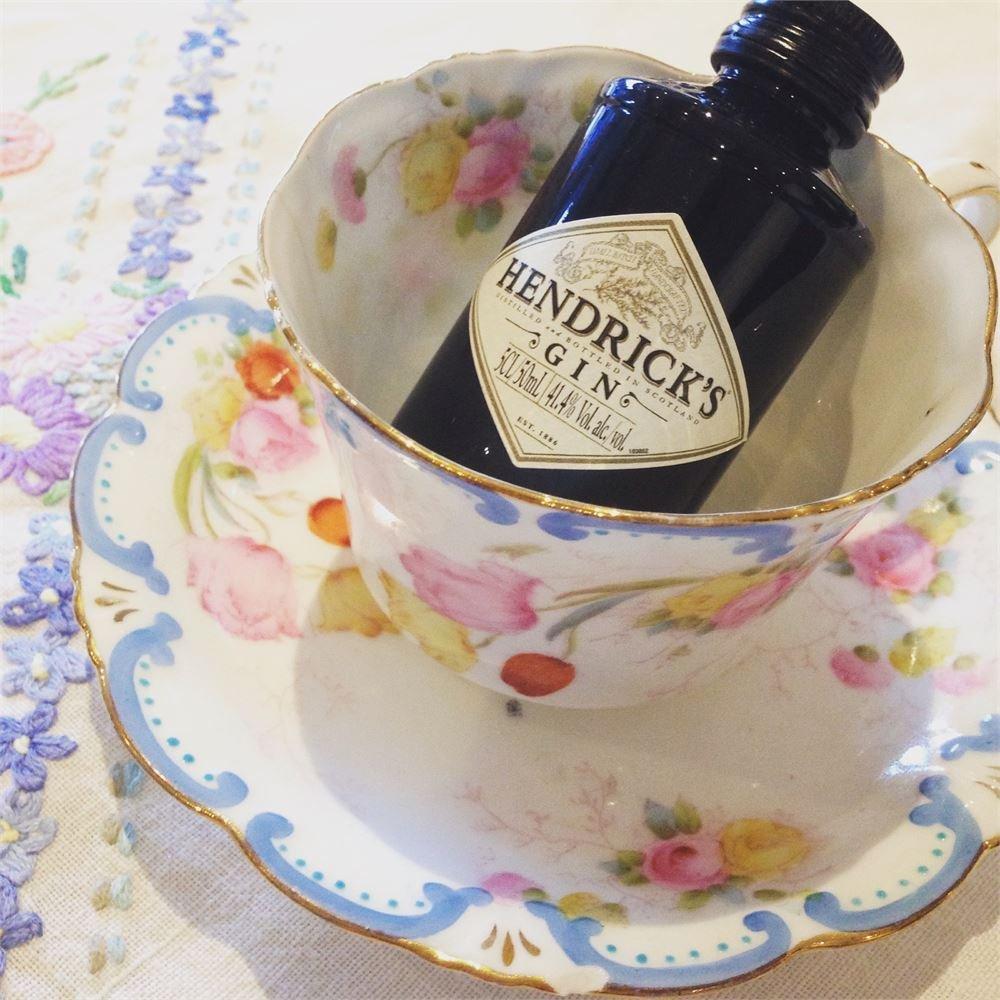 There are a number of set menus available but are very flexible, allowing you to create a menu you are totally happy with. As well as that, you can also request extras such as favours, name places and even fresh flowers!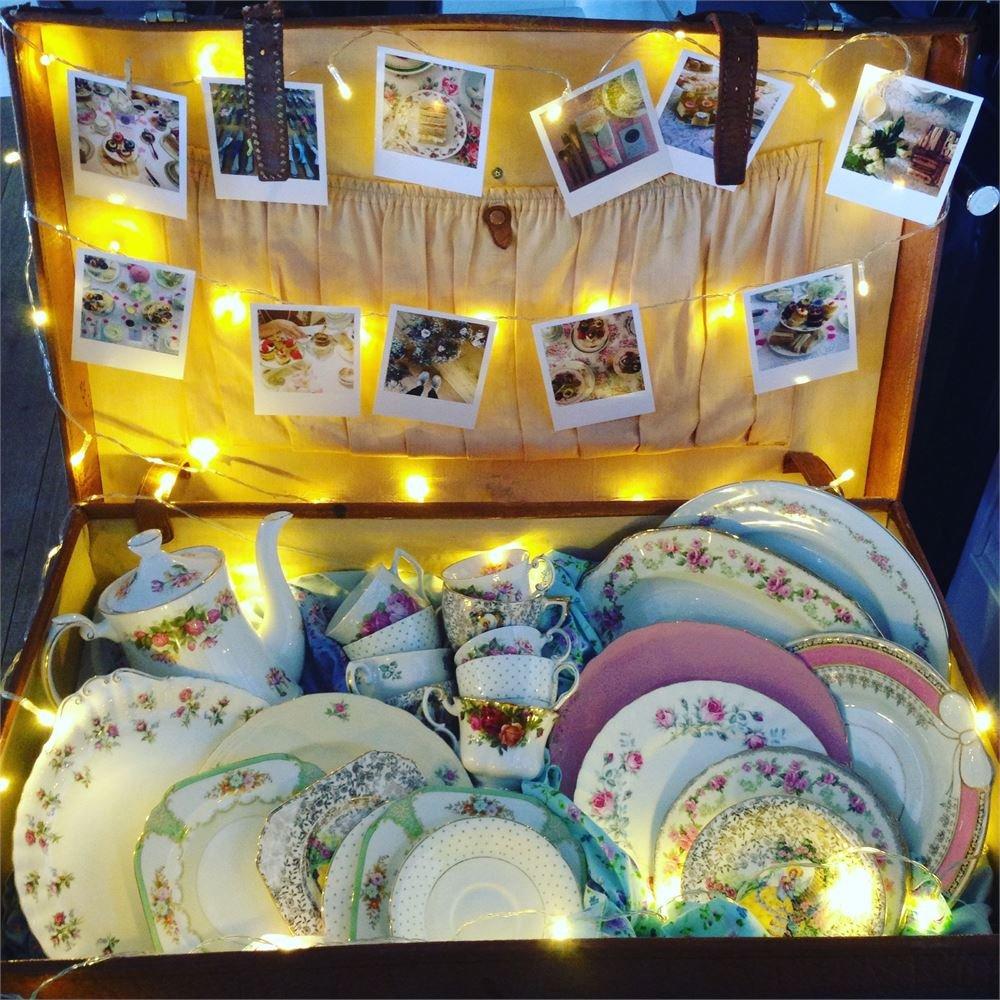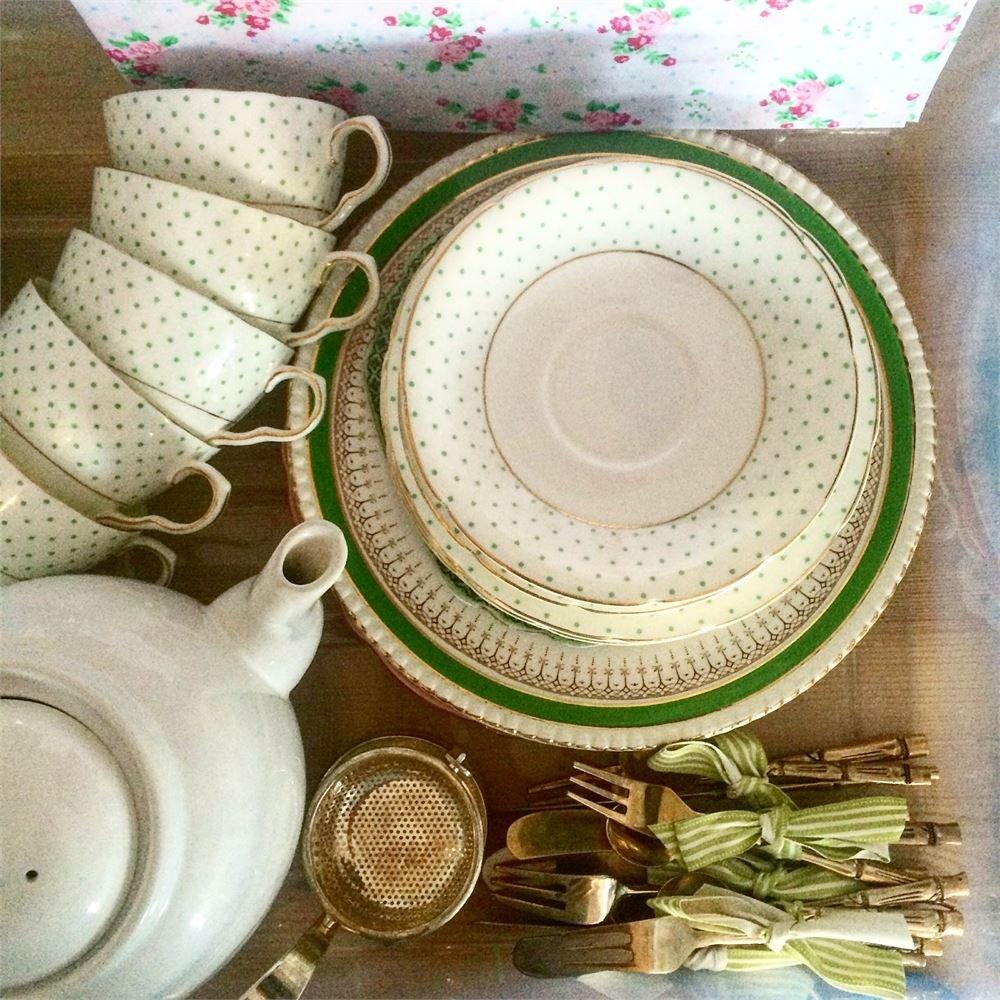 Big Al's Bar
If your venue doesn't have a bar, you will need to think about bringing in an external company. We love the idea of Big Al's Bar a mobile bar, built into a fabulous 1960s bus.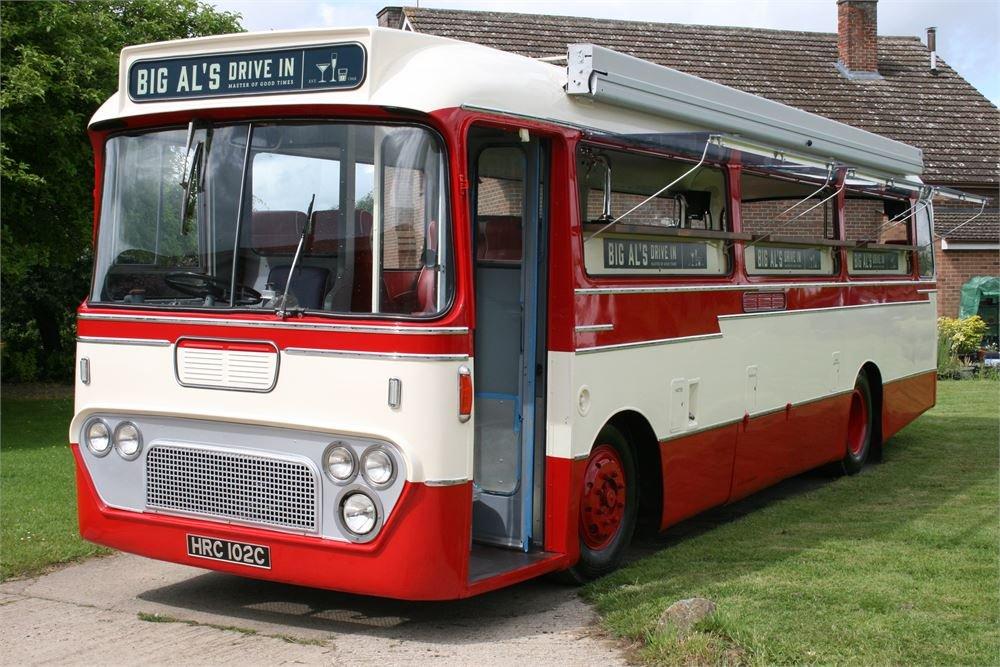 Not only do they serve great drinks, with a range of packages but the bus is a great way of adding some old school style to your day, perfect if you're planning a retro theme.
Ruff Wood
Pizza makes great party food, ideal for feeding hungry party guests late into the night.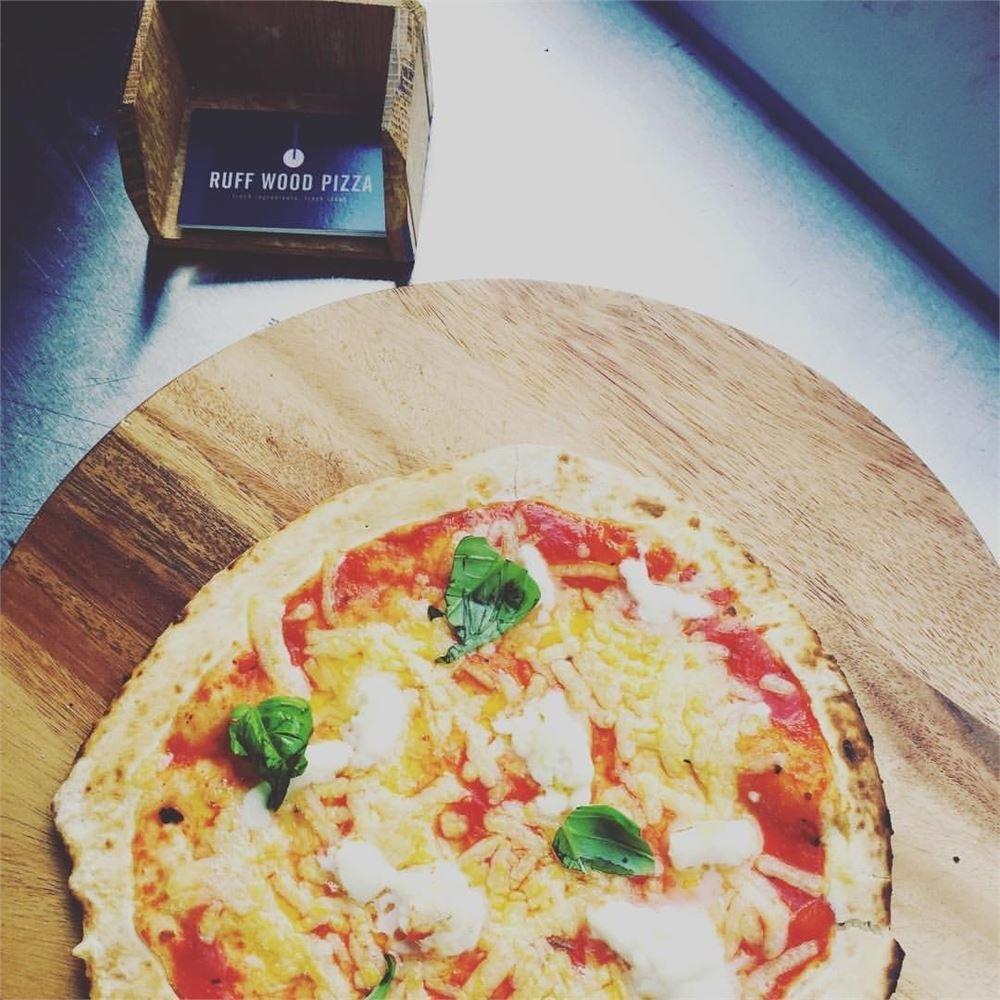 The team at Ruff Wood will come to your wedding and prepare fresh and tasty pizzas for a fun alternative to the traditional wedding breakfast.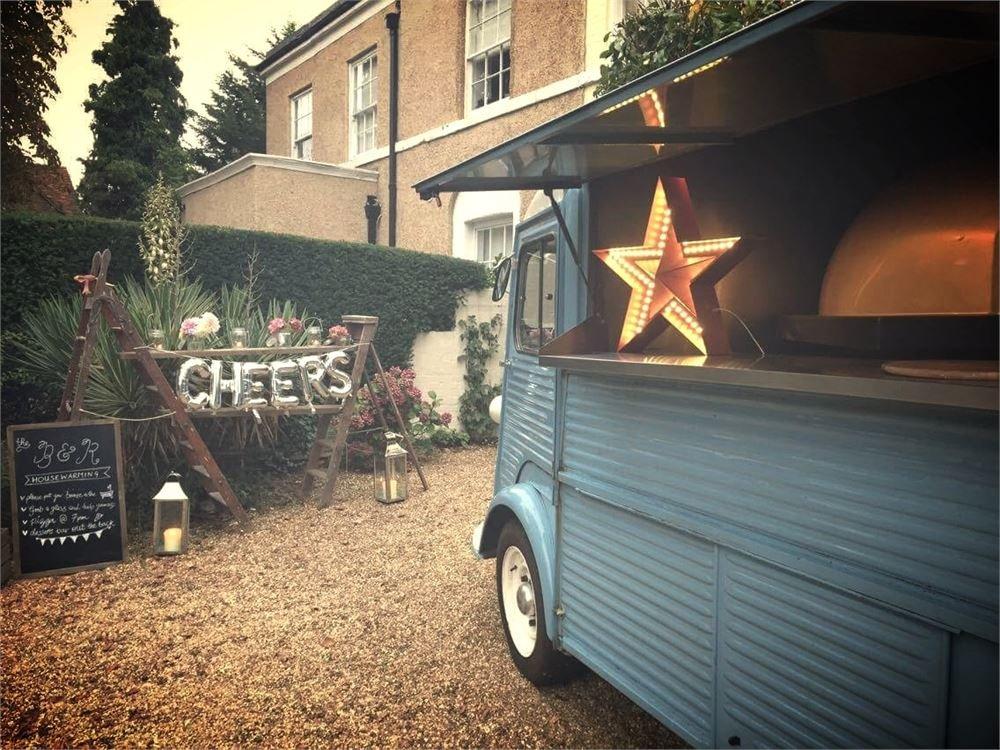 We especially love their classic Citroen HY van. Not only is it fitted with its own wood fired oven, but it also looks amazing too.
The Lovely Bubbly Co Prosecco Van
If you are looking of ways to include prosecco in your wedding day the gorgeous Lovely Bubbly Co prosecco van could be the answer!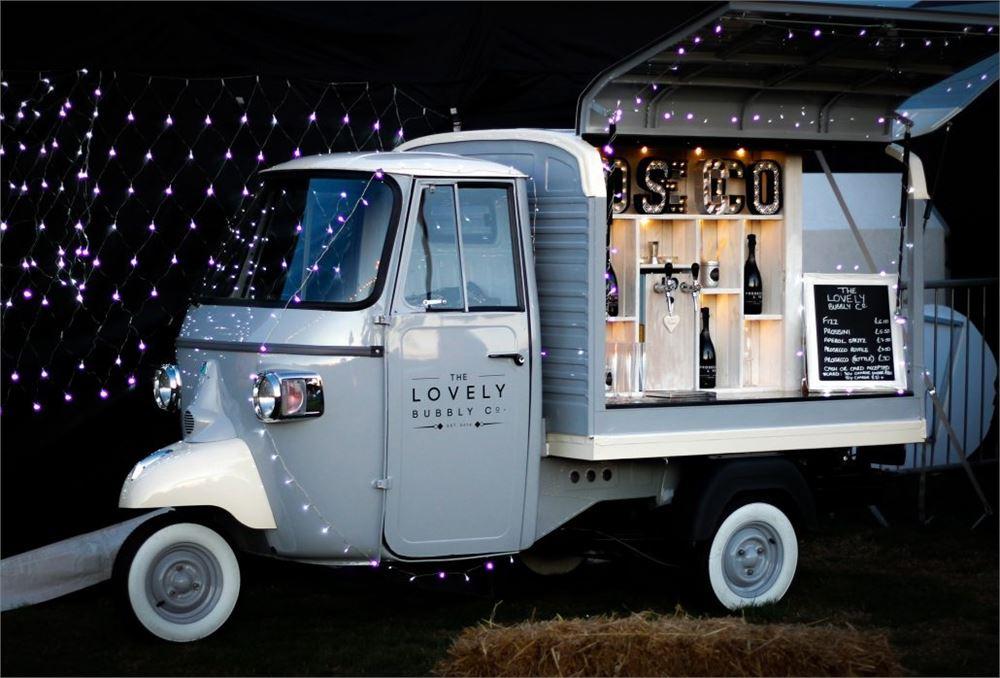 Husband and wife team Charlie and Ben will put the sparkle into your day, providing ice cold prosecco, delicious prossinis, Aperol Spritz and a Prosecco Royale.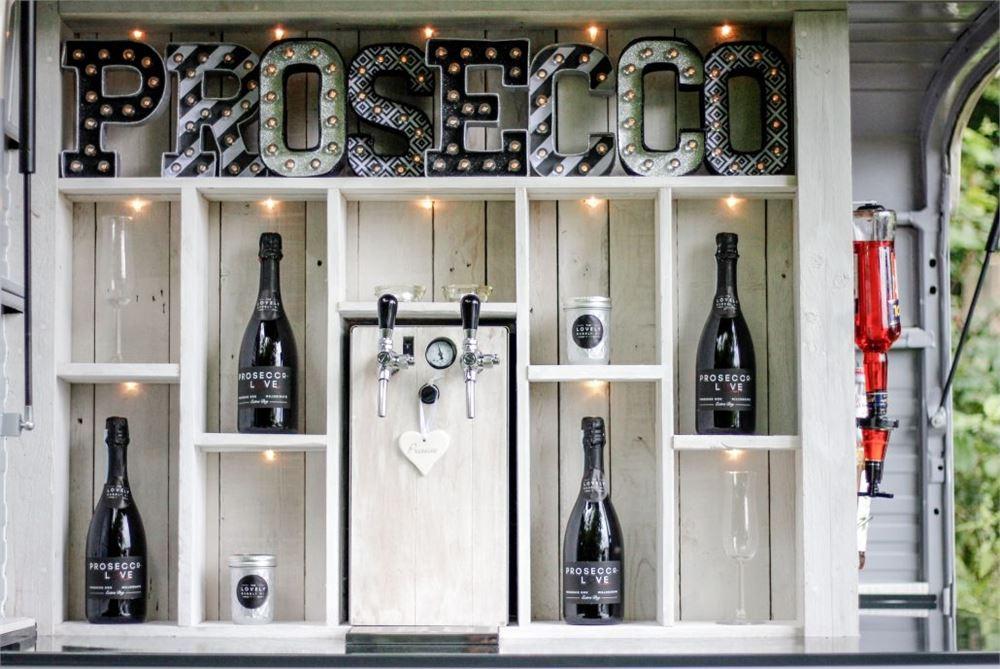 Lucky Cow Ice Cream
Lucky Cow Ice Cream offer delicious ice cream and sorbet made at Marshfield Farm in the Cotswolds.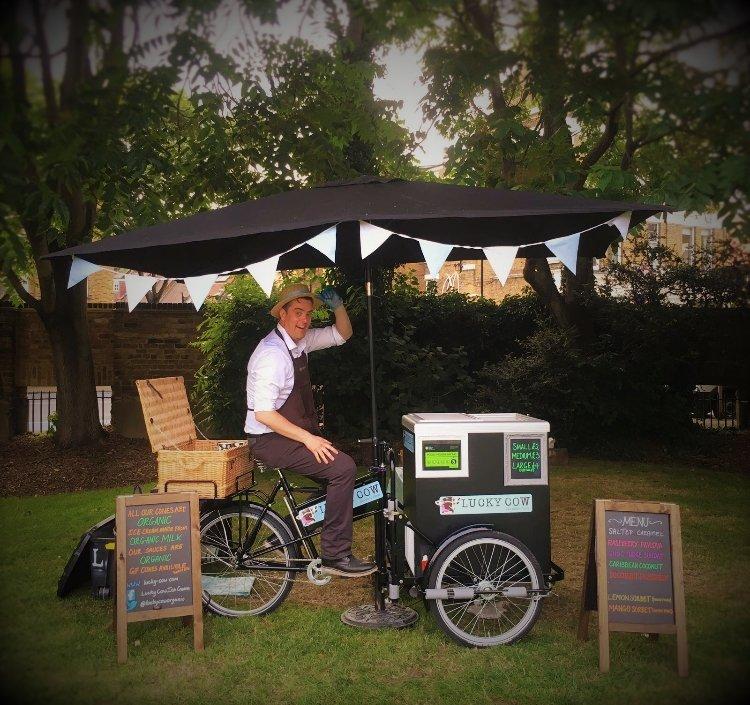 You can choose six flavours to be served on the day, from over 30 flavours of dairy ice cream and six flavours of sorbet.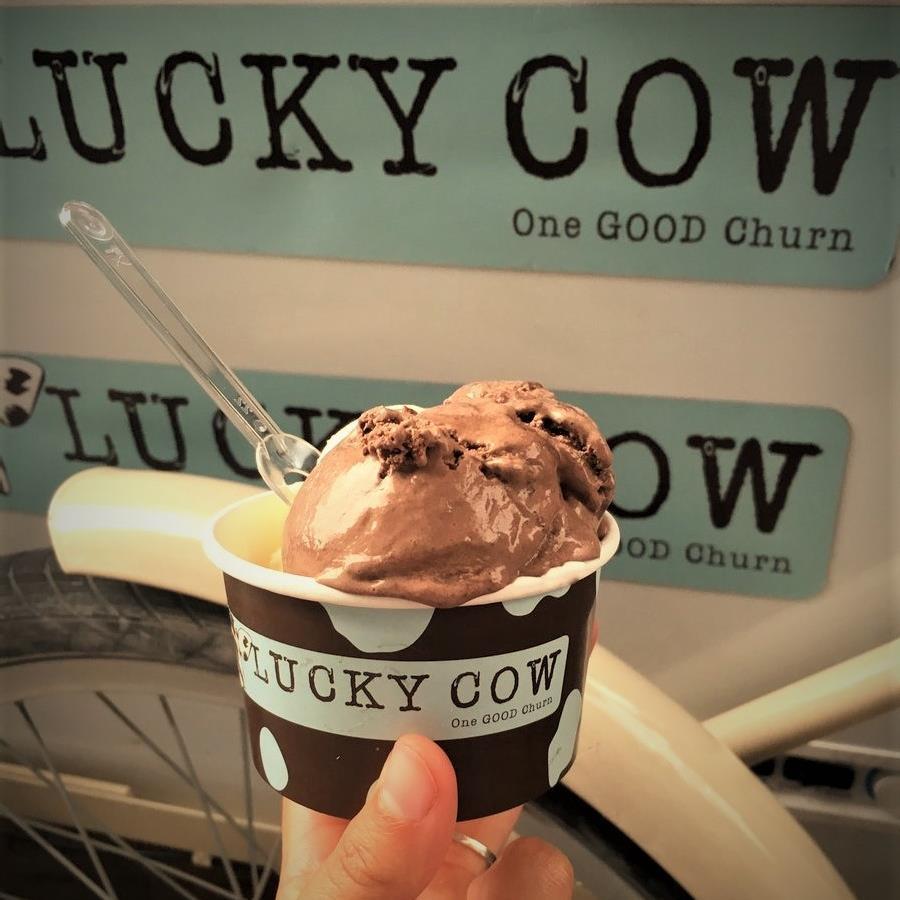 The real selling point of this company is their quirky mode of transport – the traditional Pashley tricycles, which would look fabulous at a traditional English country wedding.
Hermanos Paella
A one pot dish is a simple alternative to a sit down dinner and you can add a touch of Spanish sunshine to your wedding day with tasty paella.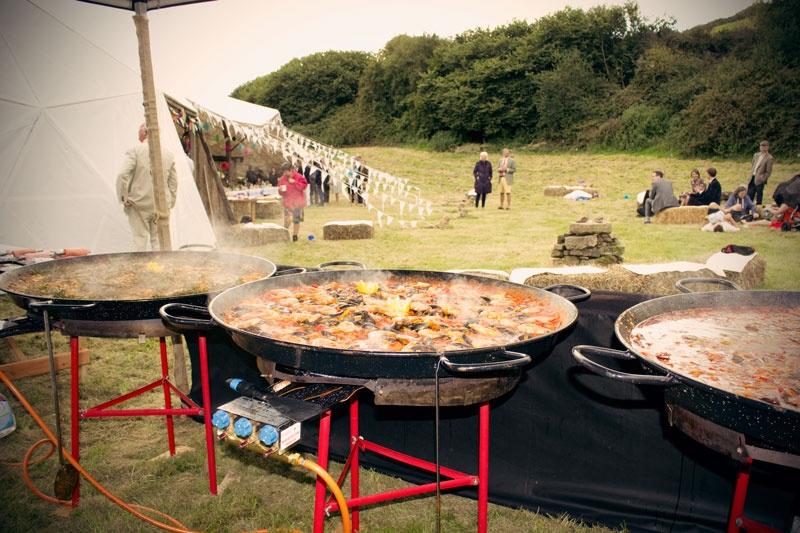 Hemanos Paella will make a fresh paella at your wedding, offering a friendly and professional service.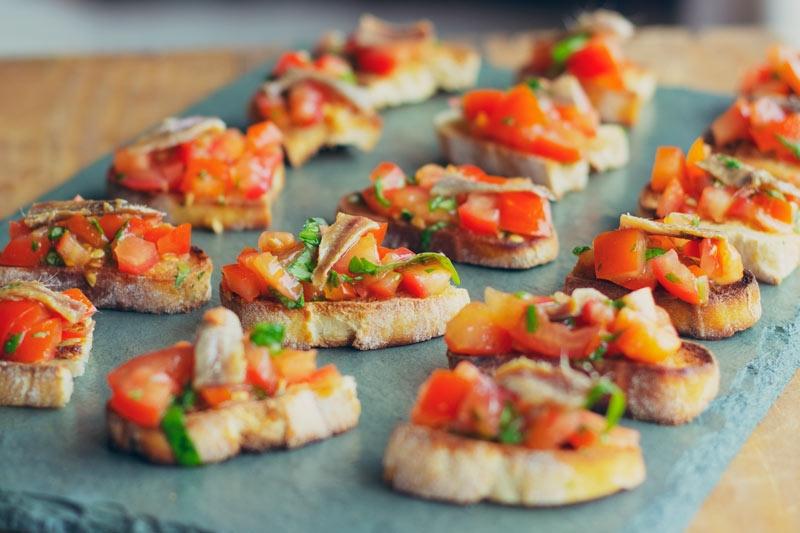 La Flamenca
Stick with the Spanish theme for dessert by serving your guests churros and melted chocolate – a traditional street food.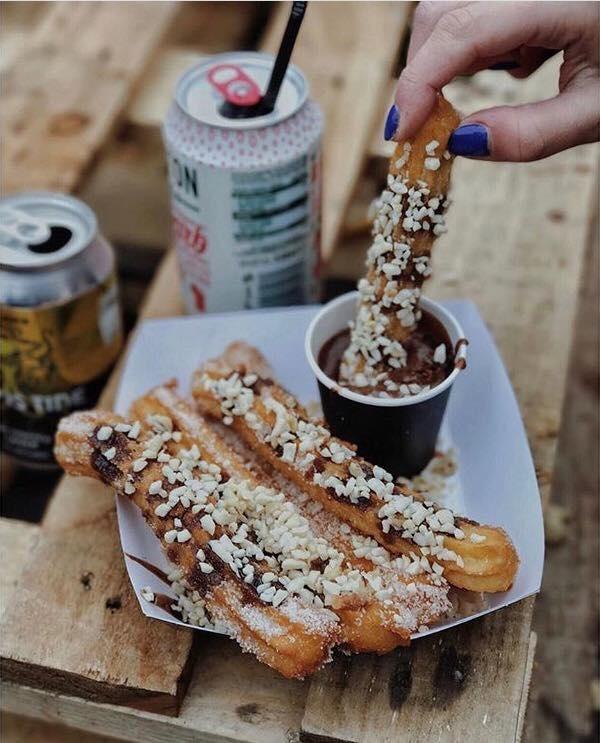 La Fmenca will bring their catering unit to your venue and cook churros to order! They cater for everyone's needs with the option of vegan churros, served with vegan toffee.
Auntie Elsie's Extraordinary Bar and Kitchen
If you want to give your guests something to talk about, Auntie Elsie's Extraordinary Bar and Kitchen is a mobile bar with a difference.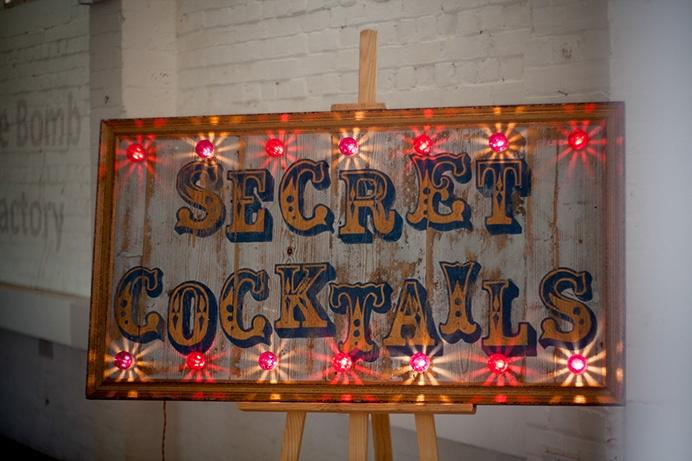 They don't just take care of the drinks, their unique brand of entertainment is guaranteed to create an amazing atmosphere at your wedding.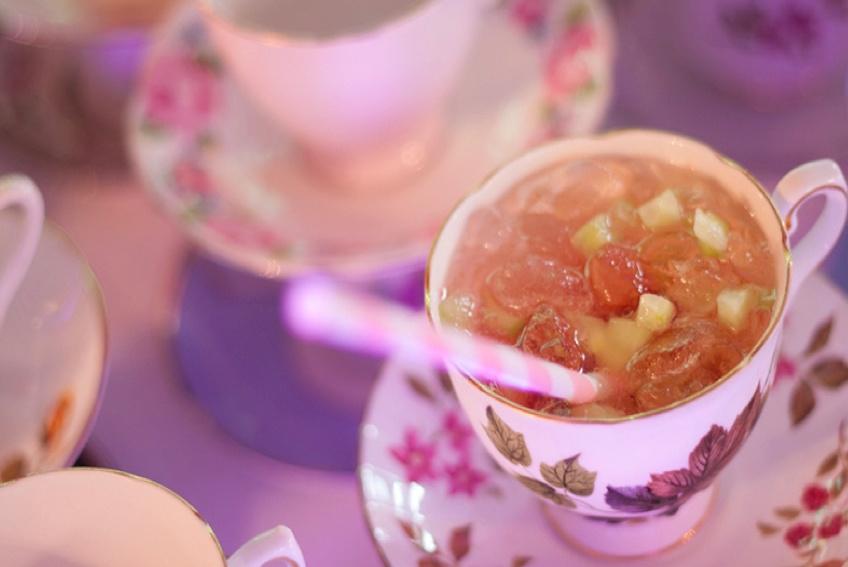 So whether you want a sophisticated drinks reception or an outlandish cocktail bar, this company will take care of it all.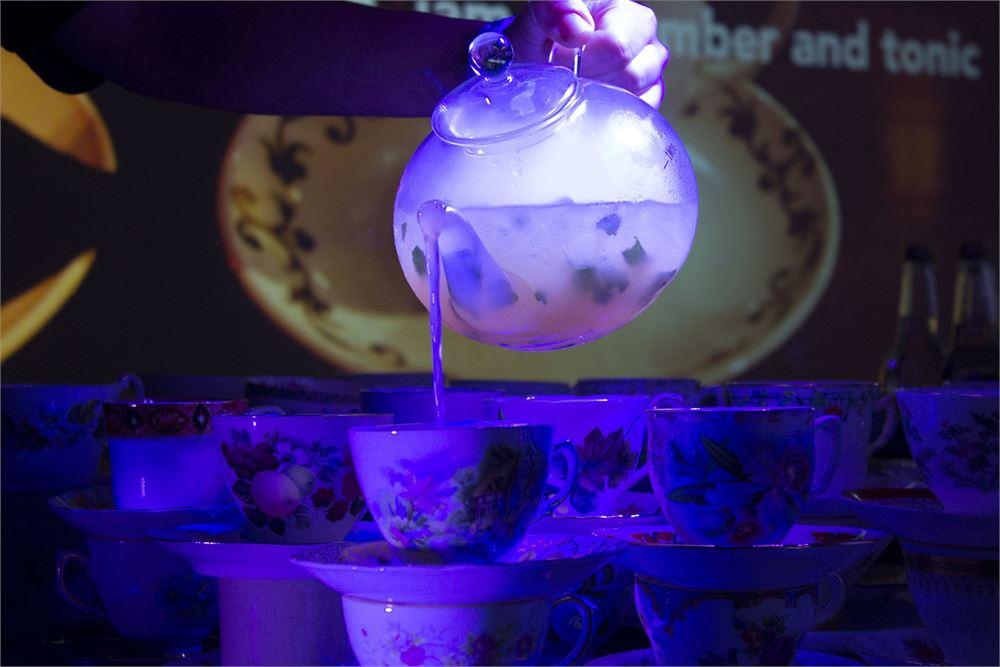 Bodeans
Bodeans is a cool American smokehouse that can be found at a number of locations across London. If you are a fan of their awesome ribs, delicious burnt ends and amazing nachos then why not hire their mobile BBQ team for your wedding day?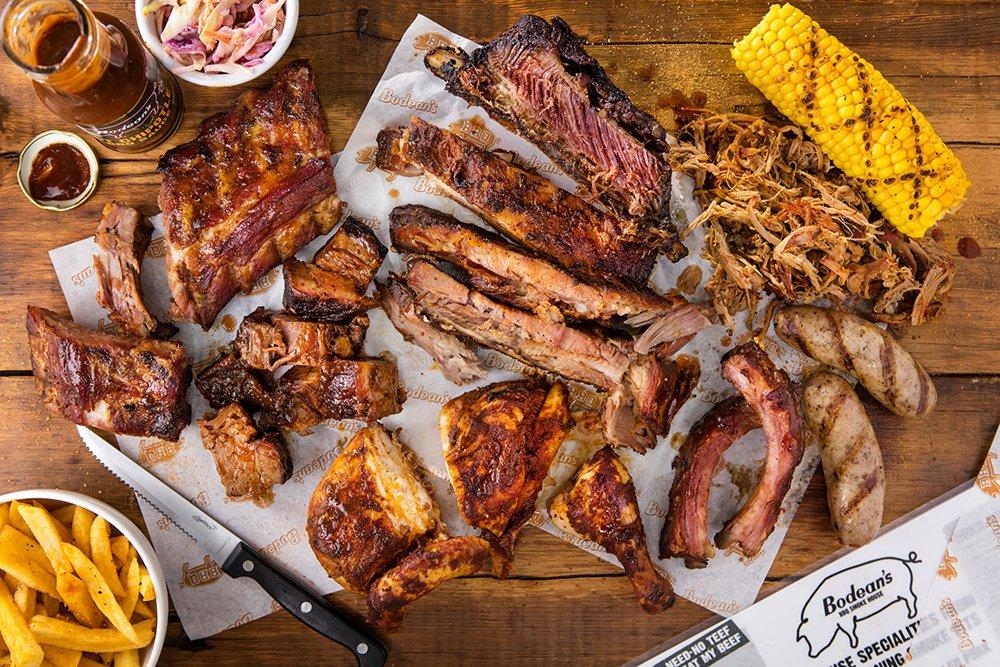 They offer two set packages which start at £16 per person, or you can build your own menu from their extensive menus.
Kombi Keg
Kombi Keg is a super cute VW camper that has been kitted out with taps for beer, prosecco and Pimms! Underneath the taps, there is a bespoke surfboard shelf – perfect for a beach wedding.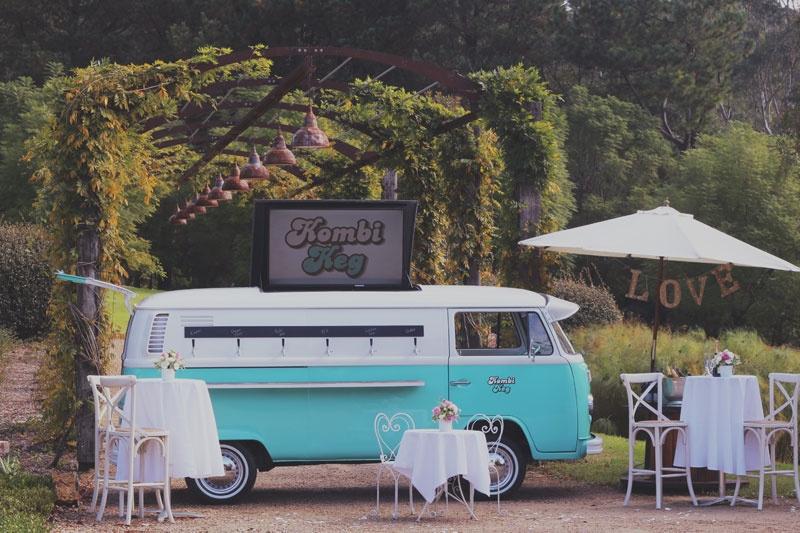 The company allow you to source and provide your own beer, so you can make sure you have your favourite on tap!
Thai Angle
If you like the idea of feeding your guests authentic home-made Thai food, you must check out Thai Angle, a Brighton based company.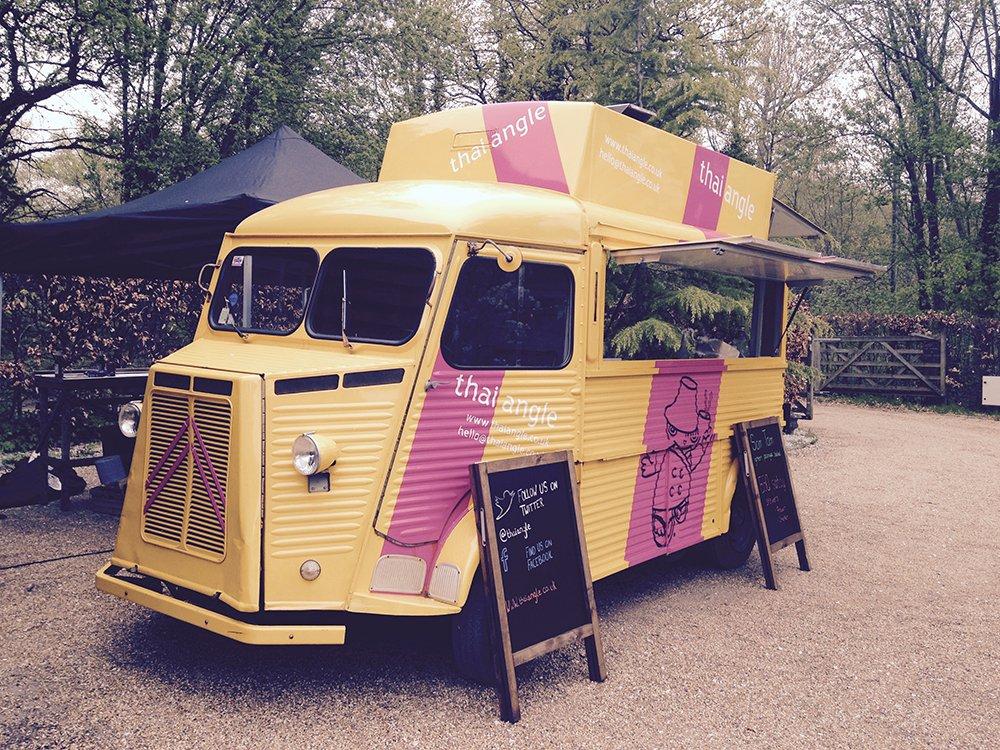 Director Nic Eadie, told us a bit about what they offer at weddings:
"With the rise in popularity of festival-style weddings in recent years, here at Thai Angle we're doing more and more weddings each year, bringing our authentic, home-made Thai food and our funky 1957 vintage yellow and pink Citroen H van to fields and other venues across the south east.
"We love a good wedding as much as anyone, and we work closely with our customers to make sure that everything is taken care of and that the food is exactly what you want. We specialise in Thai food, but we've also done Indian, Sri Lankan and pan-South East Asian food at weddings over the last couple of years or so, with prices varying from £8 per head up to £35.
"We can serve straight from our van, festival-style, or offer a full table service if required, and can also run the bar and do late night snacks, as well as canapes, starters, sides and mains. While Thai curries and Pad Thai noodles are always our most popular dishes, we can do pretty much anything you like. Get in touch and we can work it out."
Bish Bash Bangers
Bish Bash Bangers serve traditional Currywurst and Bratwurst from their hot dog stand – ideal for a relaxed wedding reception or perfect for evening snacks.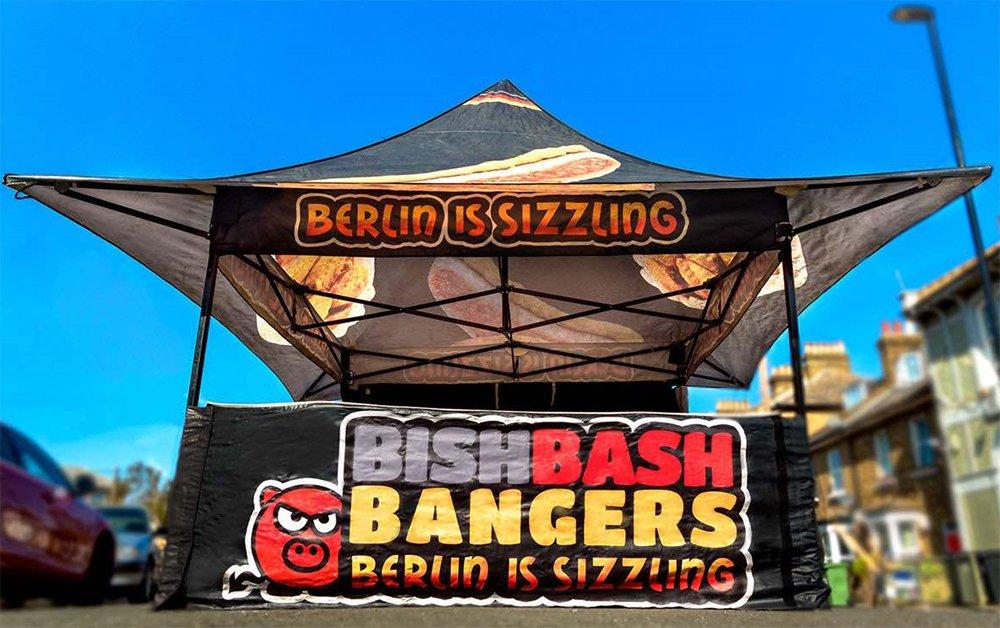 Founder Katja and her friendly team will attend your wedding, serving your guests award winning sausages, imported from Germany and their secret recipe homemade curry tomato sauce.
The Travelling Tap
The Travelling Tap is a great choice for beer-lovers! The mobile rustic bar specialising in on tap keg and cask craft beer and with the option of creating a bespoke drinks menu for you special day.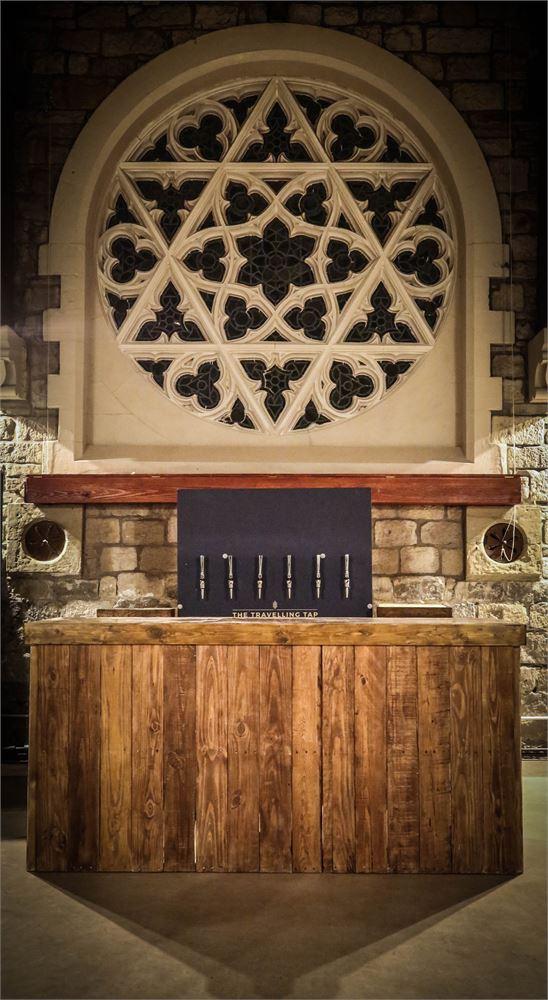 They can work in most locations and give the option of a pre-paid or cash bar.
Pieminister
If you're planning a traditional English wedding, how about feasting on good, old fashioned pies?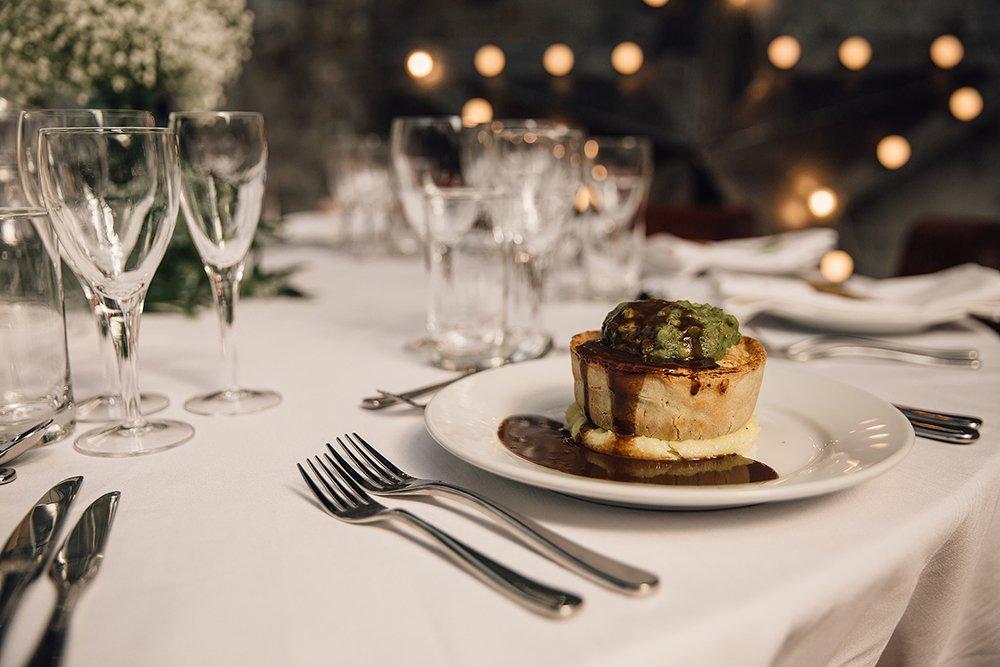 Pieminister make delicious dishes, created using fresh produce, sourced from the very best suppliers.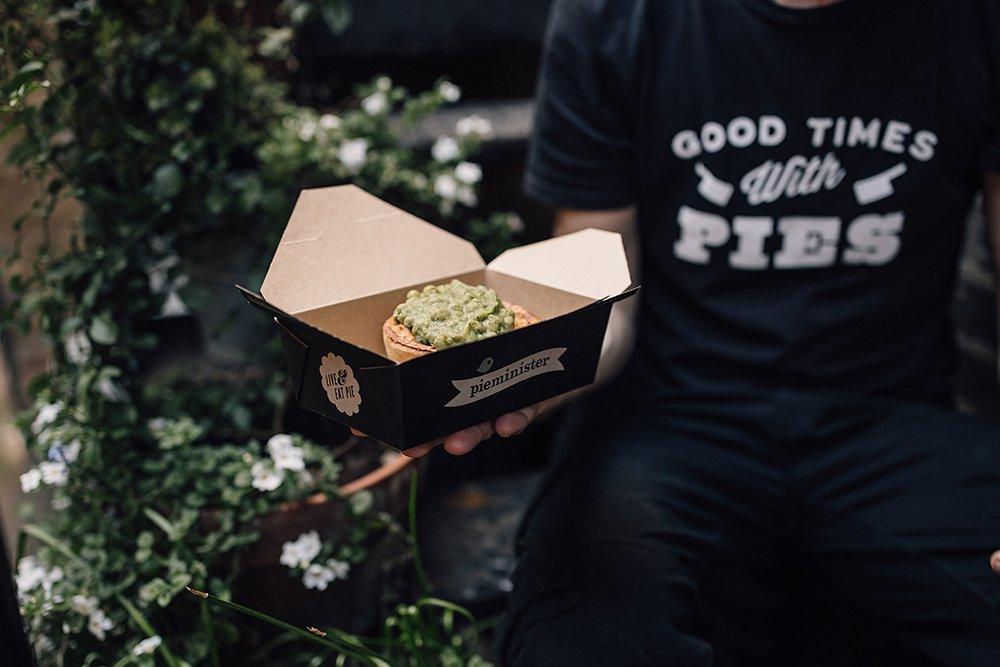 It's not just pies – they can also serve drinks, canapés, sharing platters, desserts and the all-important late night snacks!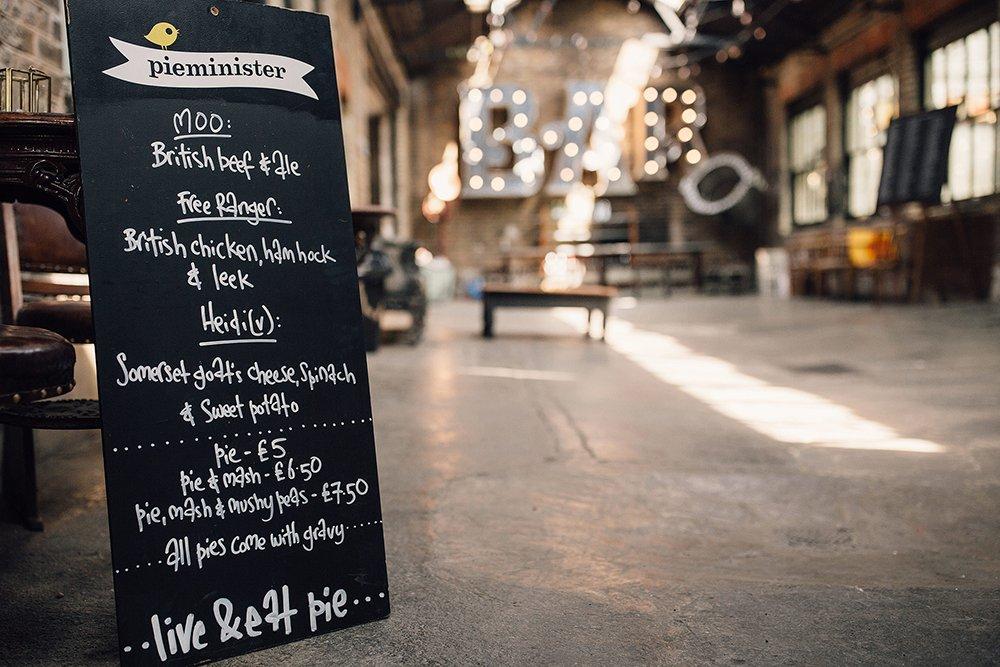 The family run company is a super cool brand and even attends Glastonbury each year!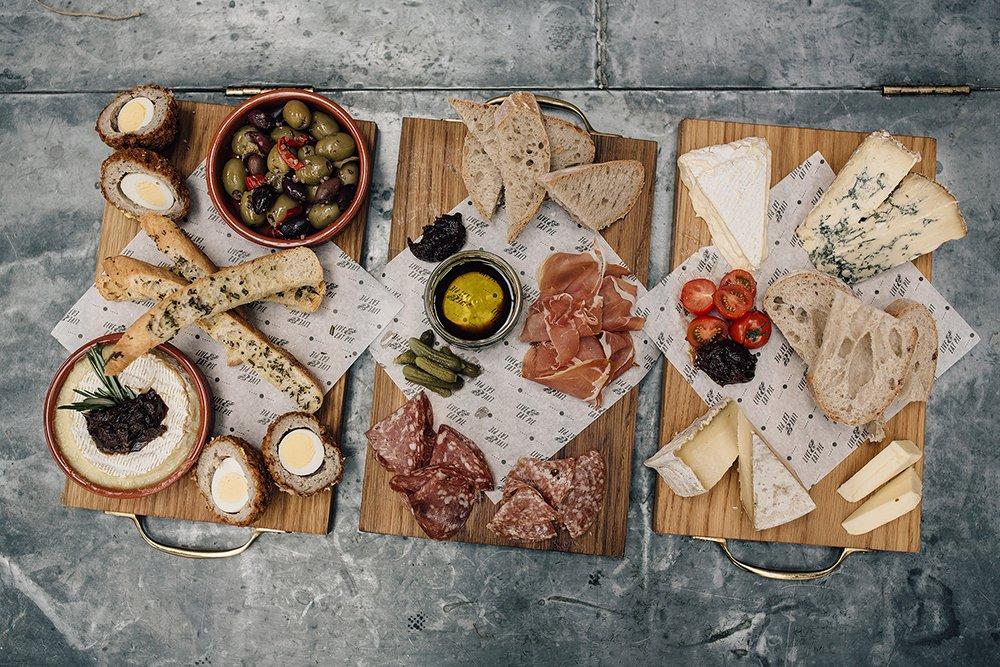 Polly's Parlour
Perhaps you're planning on serving your guests a sit-down dinner – why not go less formal for dessert with an ice cream van?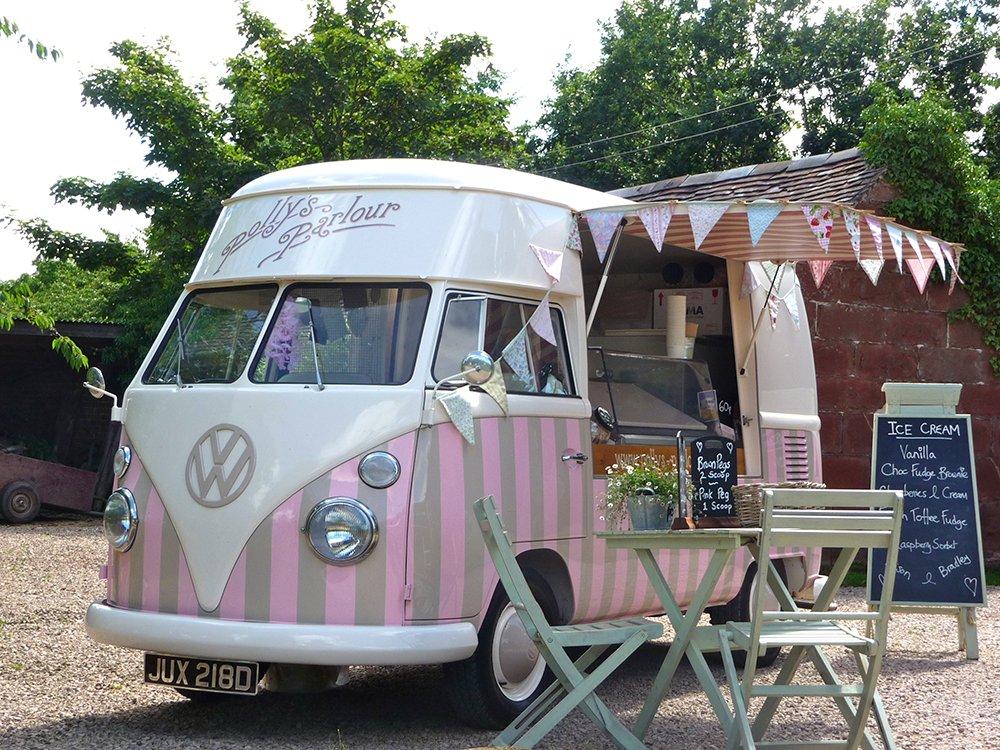 We love Polly's Parlour amazing ice cream van, Florence – a vintage VW camper, which is available for your celebration.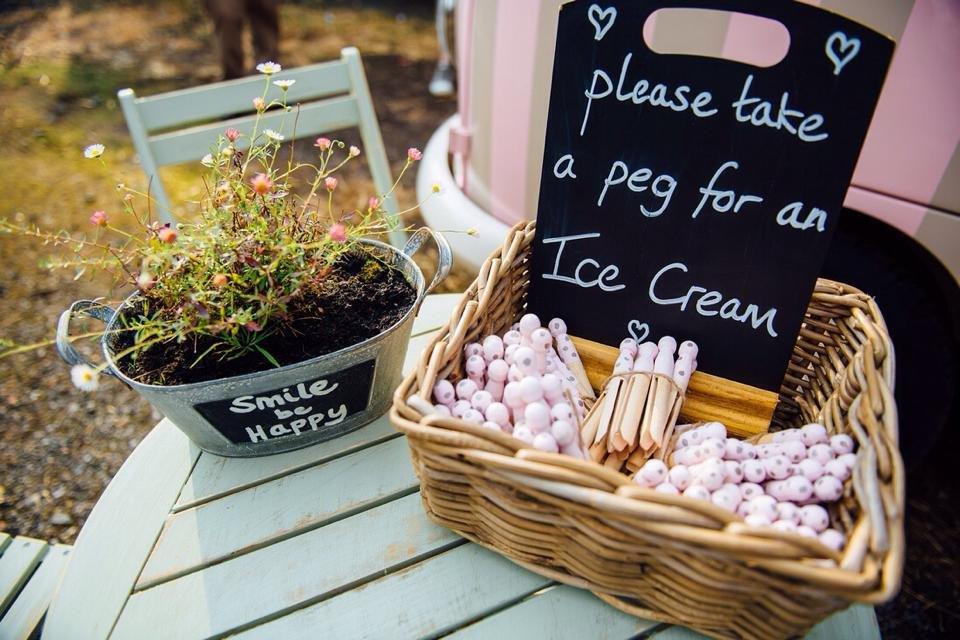 How sweet are these rustic dolly pegs, which are exchanged for an ice cream? This would double up as an excellent favour!
The Cheese Truck
Hire the amazing Cheese Truck for your wedding day and enjoy mouth-watering grilled cheese sandwiches, made from the very best British cheese.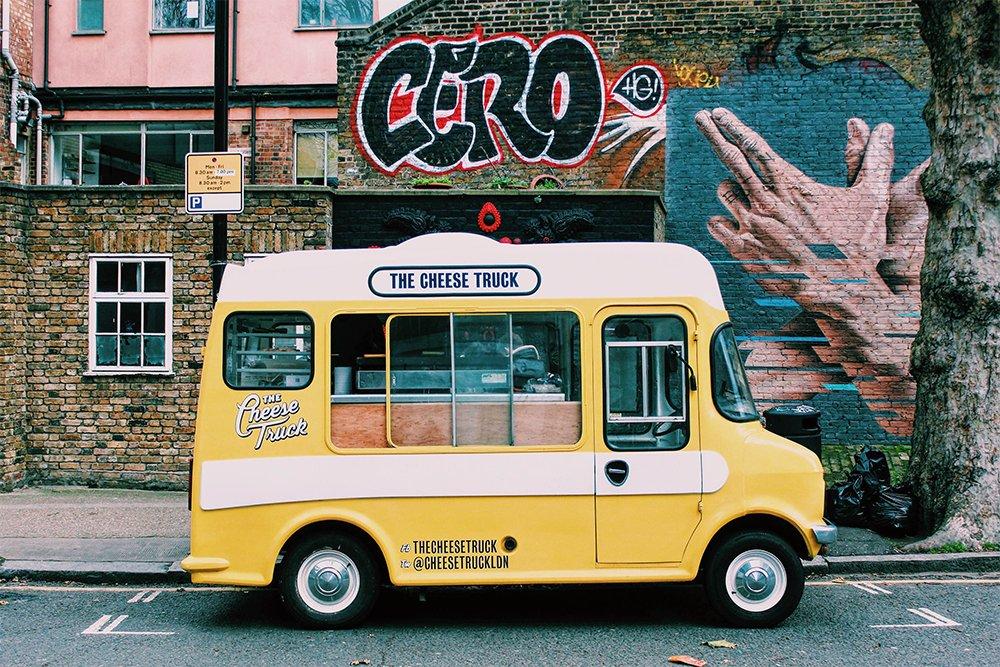 The Cheese Truck can normally be found in the in very trendy Maltby Street Market in East London.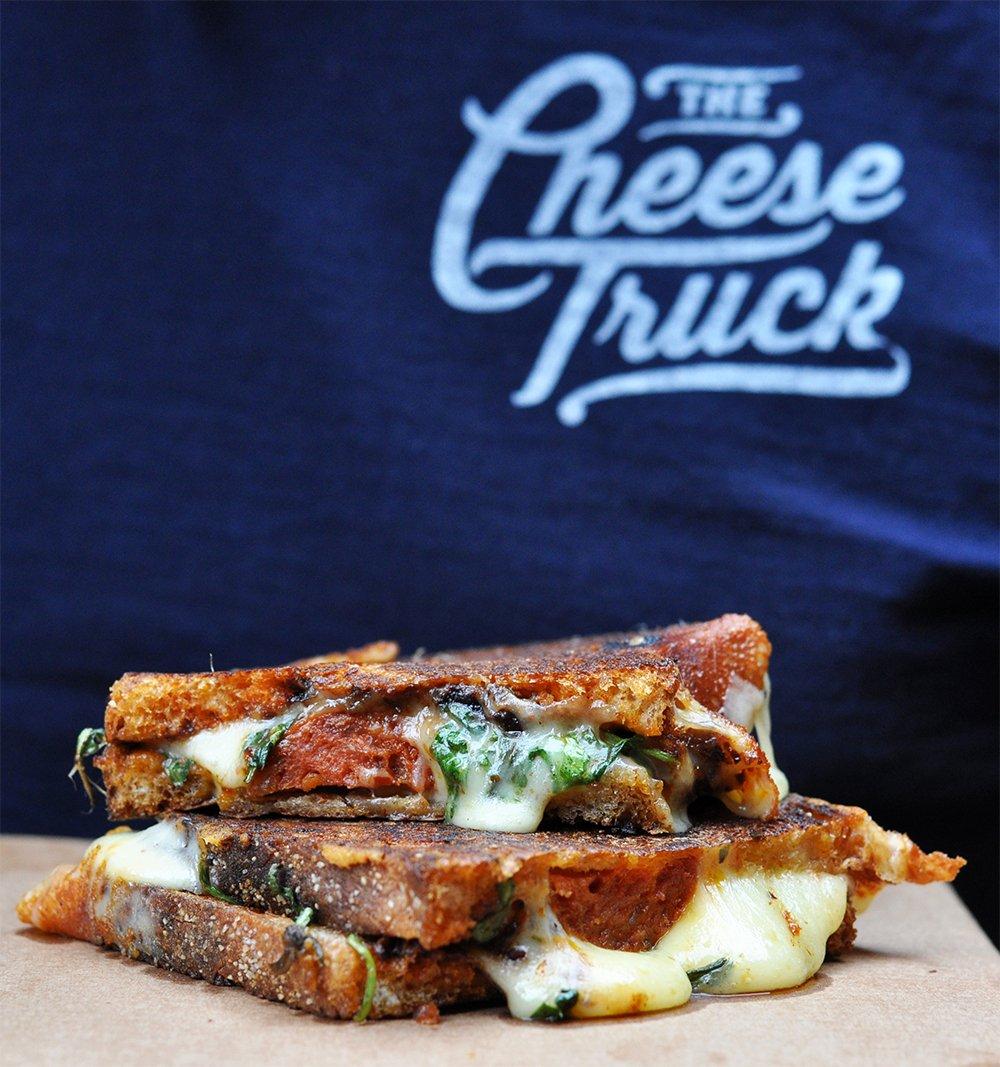 Woody's Event Bars
This stylish, converted Mercedes Camper Van is a bar on wheels which serves whatever your heart desires. Whether you want a prosecco van, a cocktail wagon or a craft beer bus, Woody's Event Bars can make your beverage dreams come true.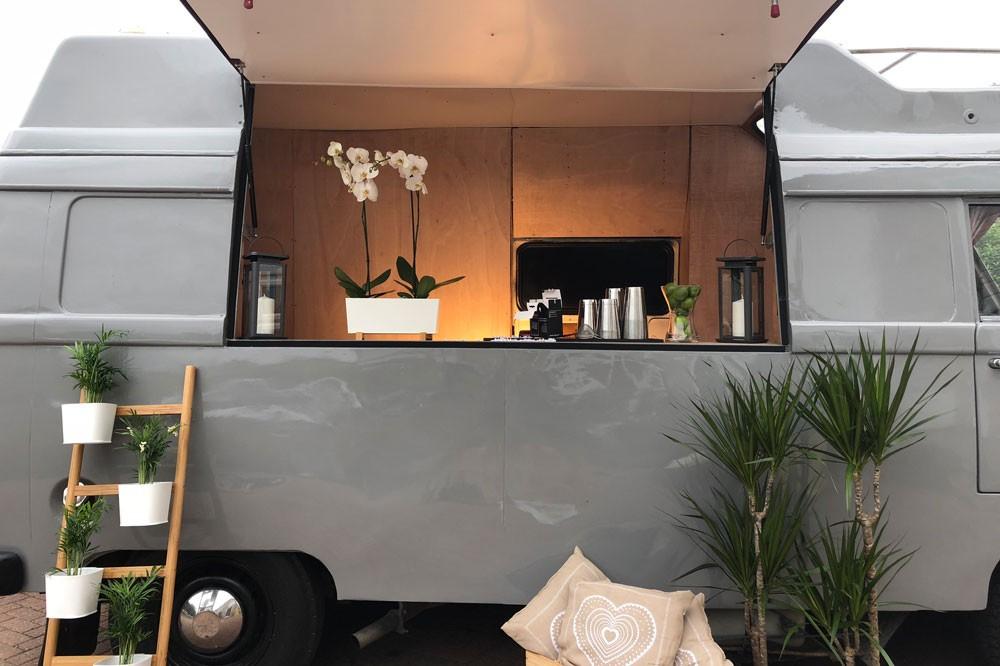 The sleek external paint job makes it the perfect blank canvas to decorate to the theme of your big day or leave cool and contemporary. That is why we love it so much here at Hitched!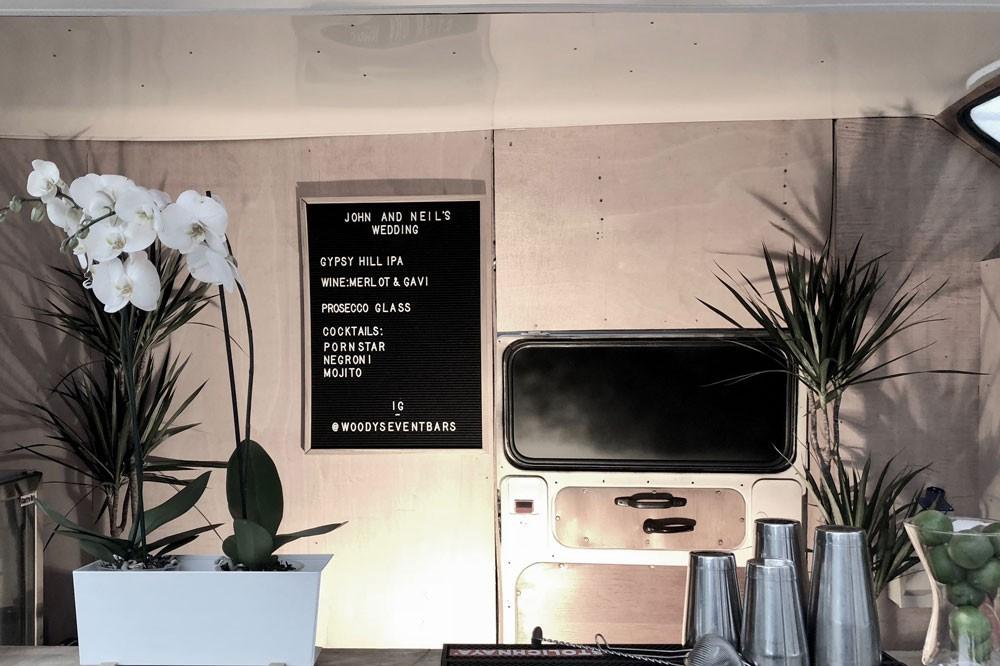 The Dosa Deli
If you are looking for a vegetarian food option, it doesn't get much better than The Dosa Deli.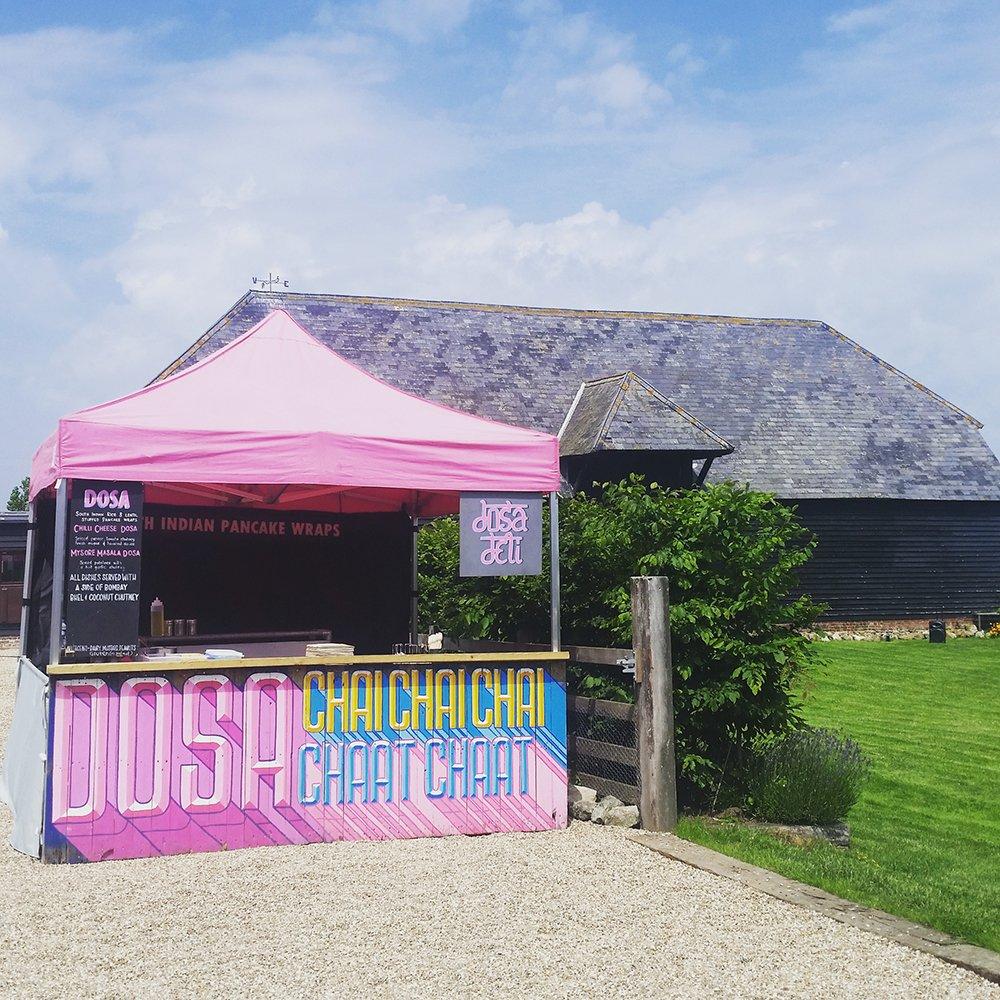 Winners of the 2016 Best Vegetarian Dish at the British Street Food Awards, Dosa Deli will bring a taste of South India to your wedding day.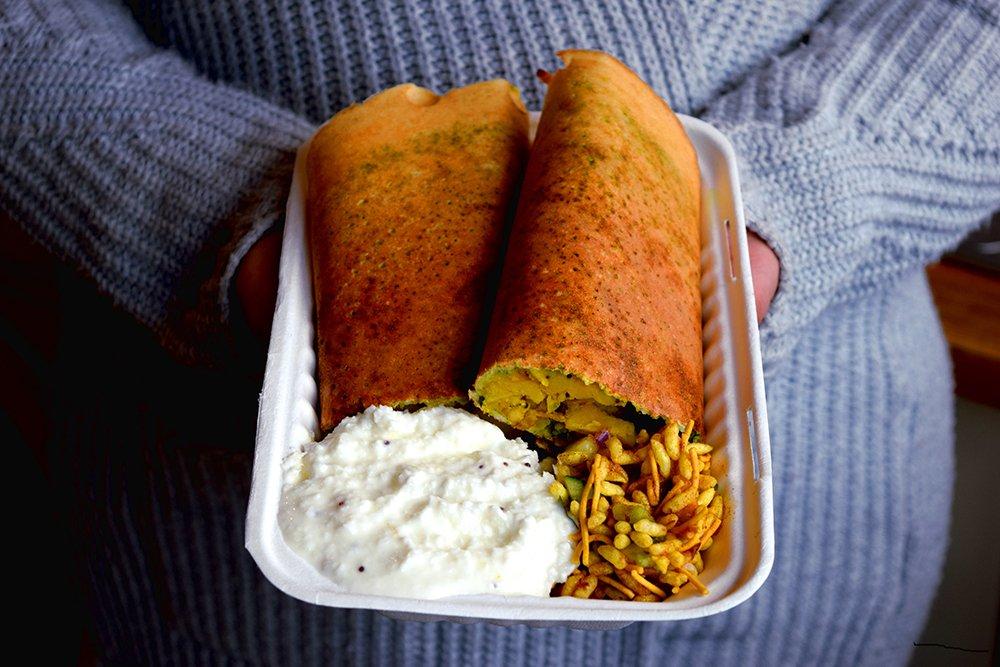 They serve colourful wraps, stuffed with chili cheese and potato masala, covered in delicious coconut chutney.
Crabbie Shack
Crabbie Shack is an amazing food company, who will bring a taste of the Kent coast to your wedding day!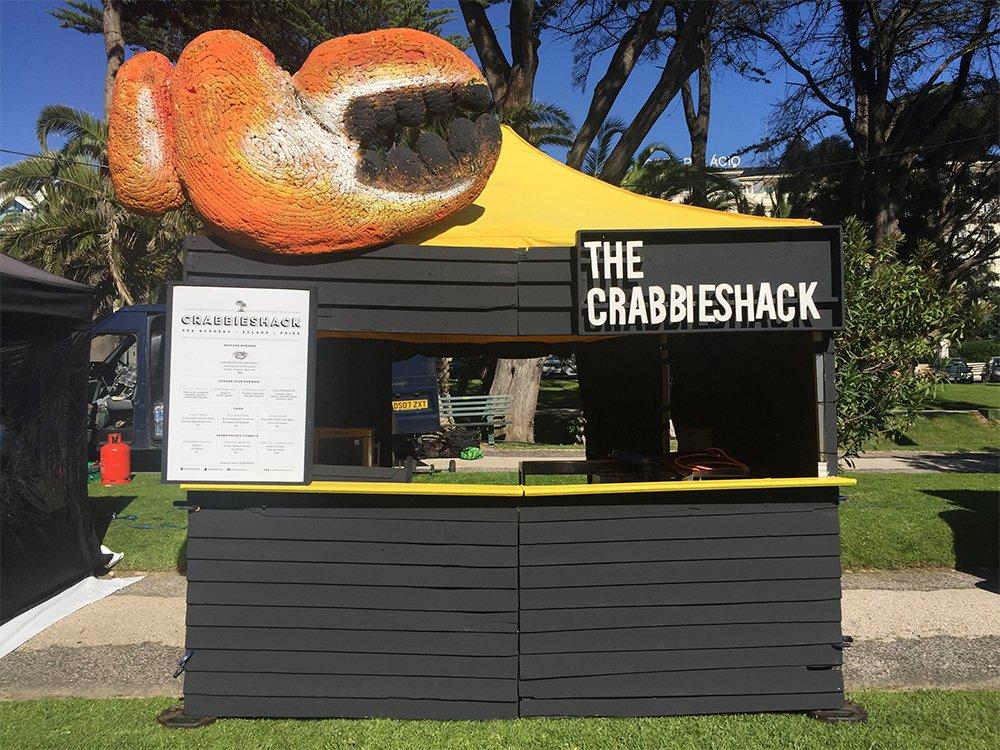 The shack uses seasonal produce to create delicious dishes, from soft shell crab burgers and crab fries, to their epic lobster grilled cheese toastie.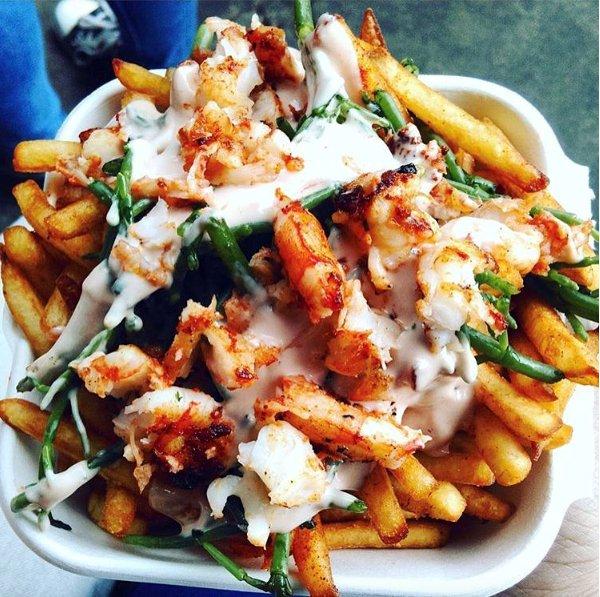 This is a great way of serving high quality food, in a casual, fun way.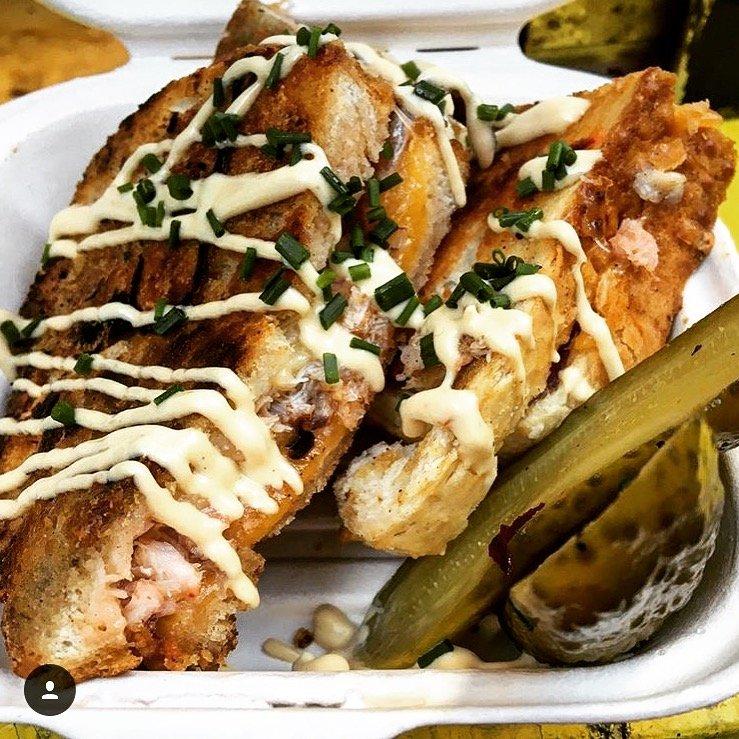 Whole Food Heaven
David and Charlotte Bailey run Whole Food Heaven from their rustic Citroen H van, serving dishes inspired by their love of travel.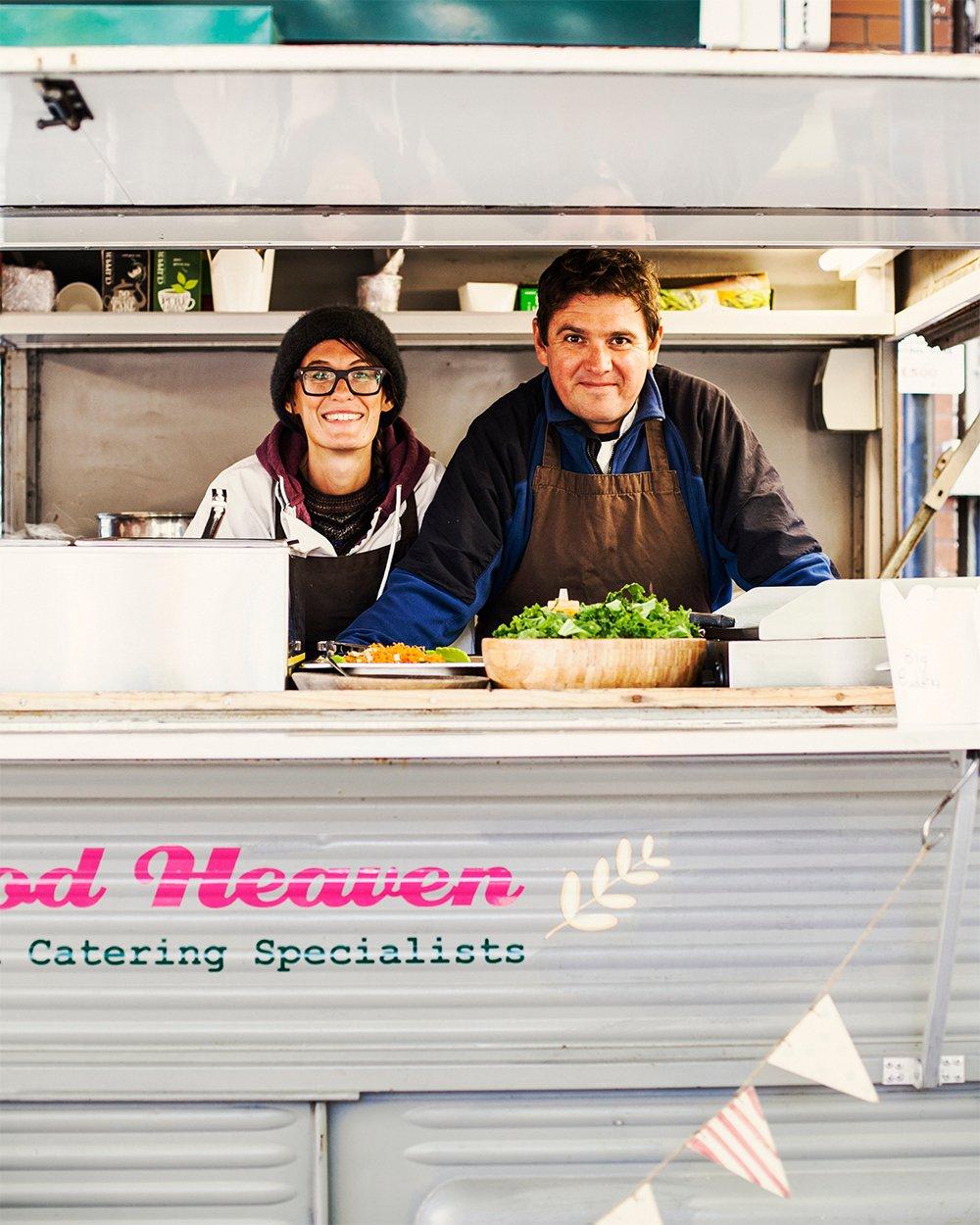 Their vast experience within the food industry and their fresh approach to cooking has made them popular amongst vegetarians, vegans and carnivores too!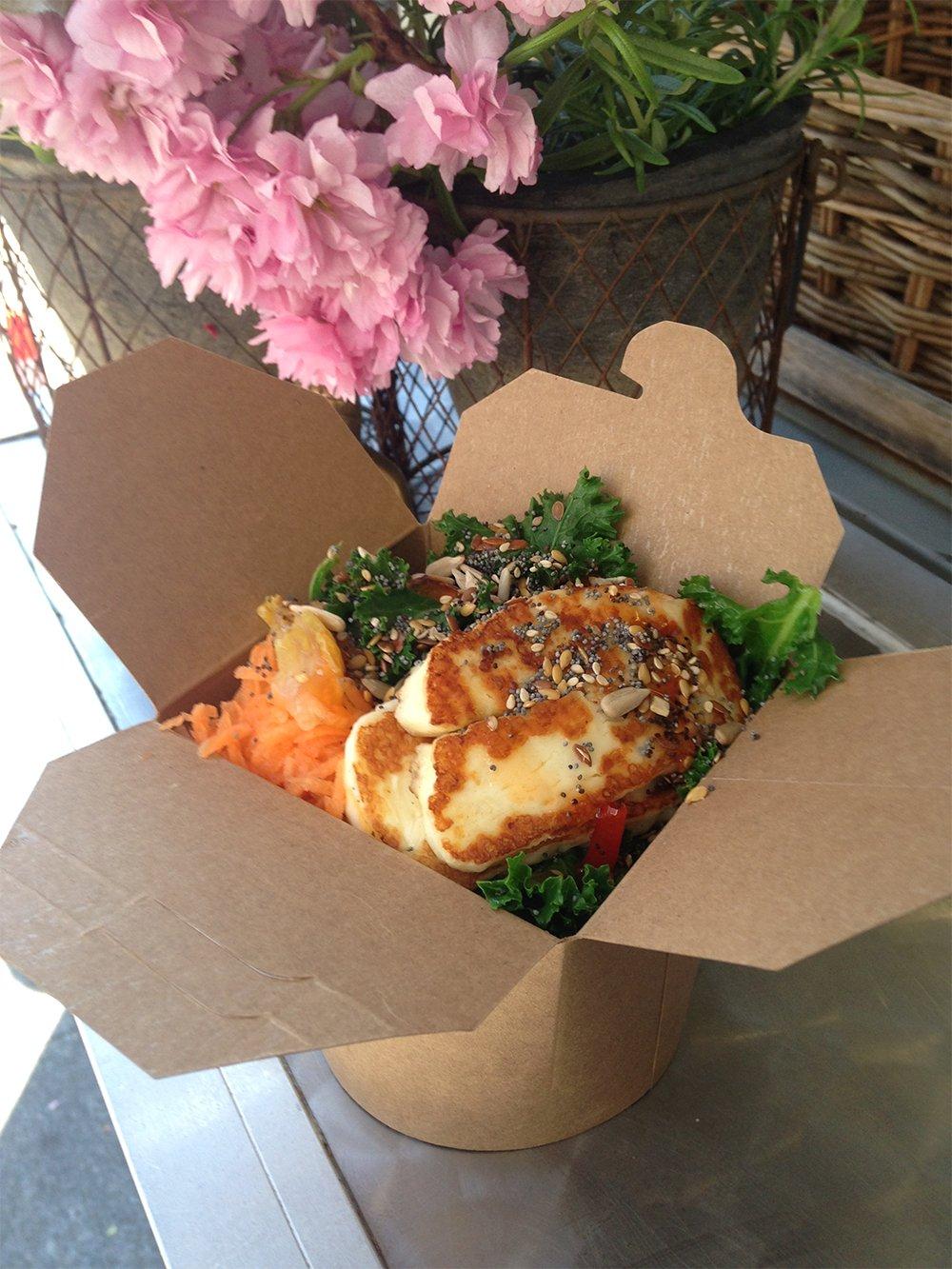 They take their delicious food across the country to events and festivals and would be the perfect addition to your wedding day!
If you and your partner love food but you would rather get married somewhere that has in-house caterers, then consider one of these fabulous venues for foodie couples.
–          https://www.hitched.co.uk/images/articleContent/[IMAGE-NAME].jpg